This Buttermilk Brined Roast Turkey is marinated in a seasoned buttermilk brine for 24 hours, glazed in a seasoned herb butter and roasted to perfection, this juicy turkey is definitely worthy of being the star of your Thanksgiving feast!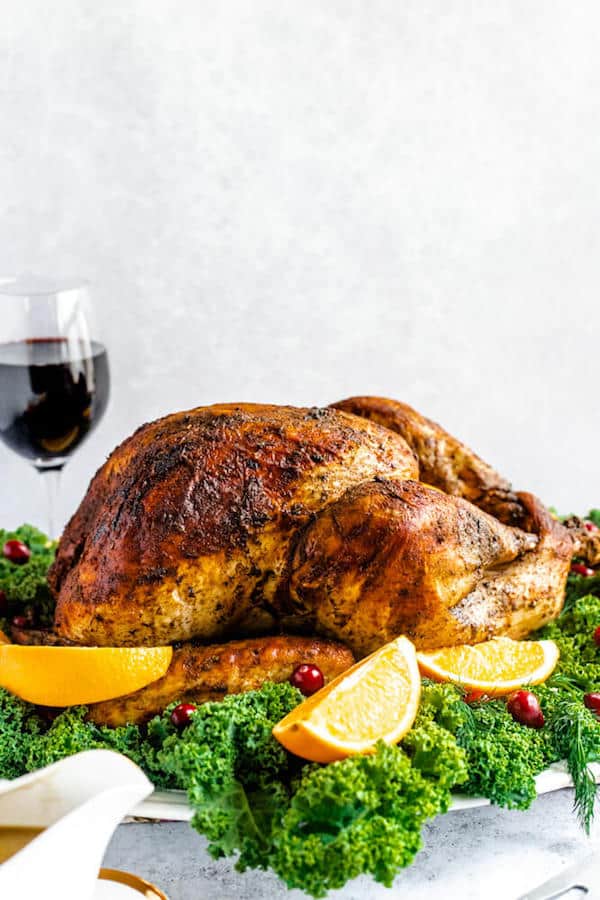 This post may contain affiliate links. As an Amazon Associate I earn from qualifying purchases. Please see my full disclosure policy for details.
Oh my God, oh my God, oh my God I'm so excited to finally share this recipe! I've been wanting to roast my own turkey for as long as I can remember and I finally did it! I was extremely intimidated by roasting turkey, like I'm sure many others are.
And although my first time was a bit stressful, I made sure to take a bunch of notes on what works and what doesn't so I could provide tips that'll make your roasting experience go far smoother!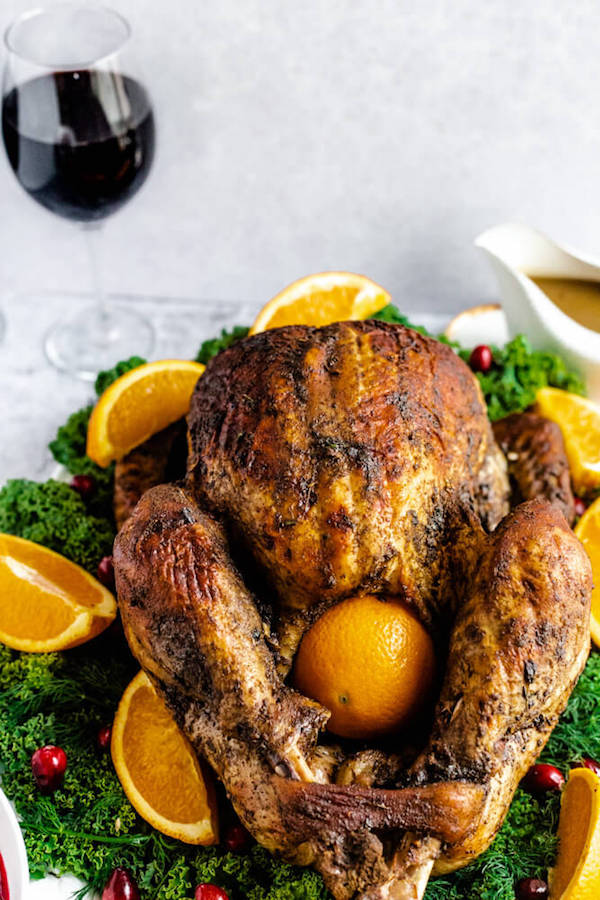 Juicy Buttermilk Brined Roast Turkey
Y'all, this turkey is sooooo juicy! I spent months stressing over this turkey recipe, because honestly every turkey I've had in the past, was extremely dry. To be fair, those turkeys were roasted by my Jamaican grandparents who don't even like or care for turkey in the first place and only made it because their annoying Canadians grandkids insisted. Well don't worry, grandma. I've got it handled from now on.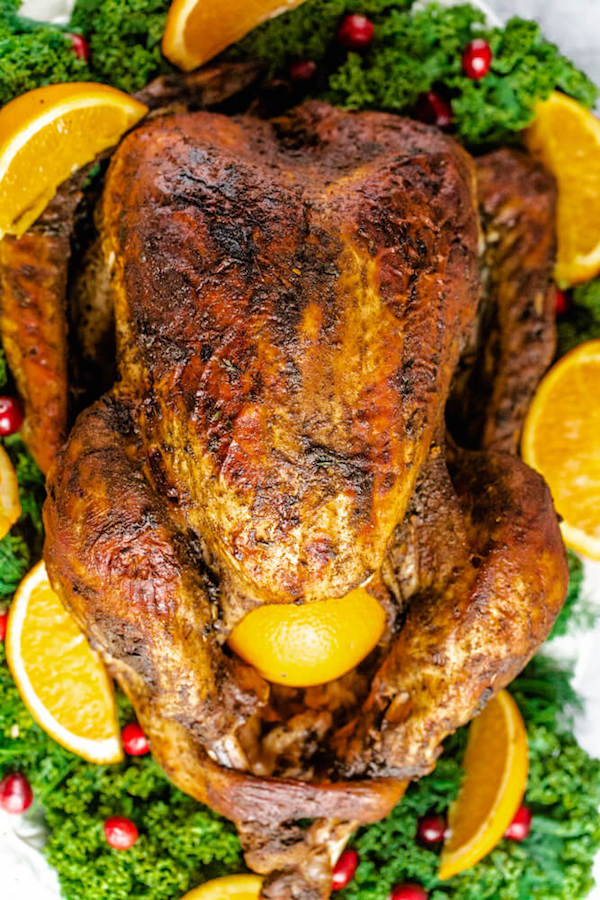 What To Love About This Juicy Roast Turkey Recipe
Ahh, where do I start with this turkey? First of all, I just wanna shoutout one of my faves, DivasCanCook, for inspiring this recipe and inspiring me to finally take the dive and make my first roast turkey!
So what makes this turkey recipe so amazing?
Super juicy and tender thanks to the overnight buttermilk brine
Nice and crispy skin
Incredibly flavourful!

So, so easy to make. If I can nail it the first time, so can you!

Ingredients For Roast Turkey
Ok, this isn't really one of those "only 5 ingredients are needed" types of recipes. In order to make a delicious roast turkey from scratch, you're gonna need quite a few ingredients.
Turkey: obviously you need one of these. I used a 10 pound turkey, but this recipe will work with any sized one. You may need to adjust the seasonings a bit, along with the baking time, but we'll get to that later.

Buttermilk
Kosher Salt
Poultry Seasoning

Ground Black Pepper
Garlic
Onions
Dried Thyme
Garlic Powder

Paprika
Cajun
Apple + Orange
Fresh Herbs
Butter
Olive Oil
These are the combined ingredients needed for the brine, inside of the cavity, inside the roasting pan and to season the outside of the turkey. And as you can see, most of the ingredients needed are seasonings, so it isn't really a hefty ingredient list.
Let me walk you through each step!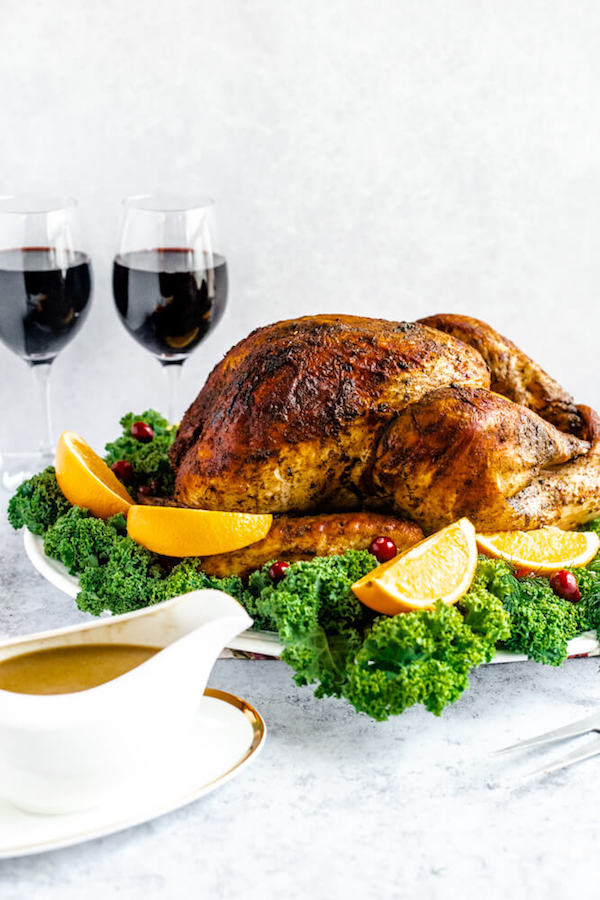 Preparing the Turkey
Alright, so you've bought your turkey and your ingredients, but wait! You can't jump into the brining part right away, there's still a few things you need to do to prepare your turkey.
Start by thawing
Almost every grocery store turkey is sold completely frozen, so you'll have to thaw it out in the package before beginning. Give yourself a few days for this, since turkey takes a few days to thaw in the refrigerator.
The timing depends on the size of your turkey, my 10lb. turkey took 3 days to thaw, but if yours is bigger it may take longer. You can also place the turkey in a bucket of cold water, changing the water every few hours until it's thawed. A 10lb. Turkey should take about 10 hours to thaw in water.
So now the turkey's thawed, but you may notice that there's a few little giblets inside — the neck and the heart. Pretty gross, right? I'm a wimp so I had to get my grandmother to remove them for me.
You can discard the neck and heart, or you could keep the turkey neck to make soup or another dish. Pat the turkey dry, then set aside while you prepare the buttermilk brine.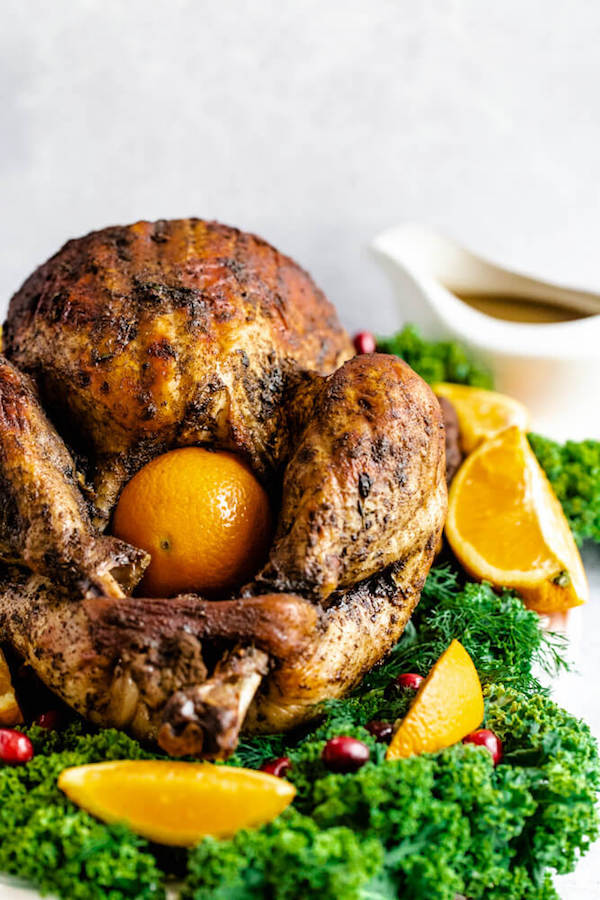 Buttermilk Brine
Oh man, so you know how marinating fried chicken in buttermilk gives the meat the softest/juiciest texture? Well it does the exact same thing to turkey, who knew?!
To prepare the buttermilk brine, start with an extra large bowl. We need enough buttermilk to completely submerge the turkey during the brining period. I used 15 cups for my 10lb. turkey. Yes, 15 whole cups!
To the buttermilk, add the salt, poultry seasoning, black pepper, crushed garlic cloves and chopped onion. Stir them all together, this is why you need an extra large bowl, to make sure it doesn't spill over.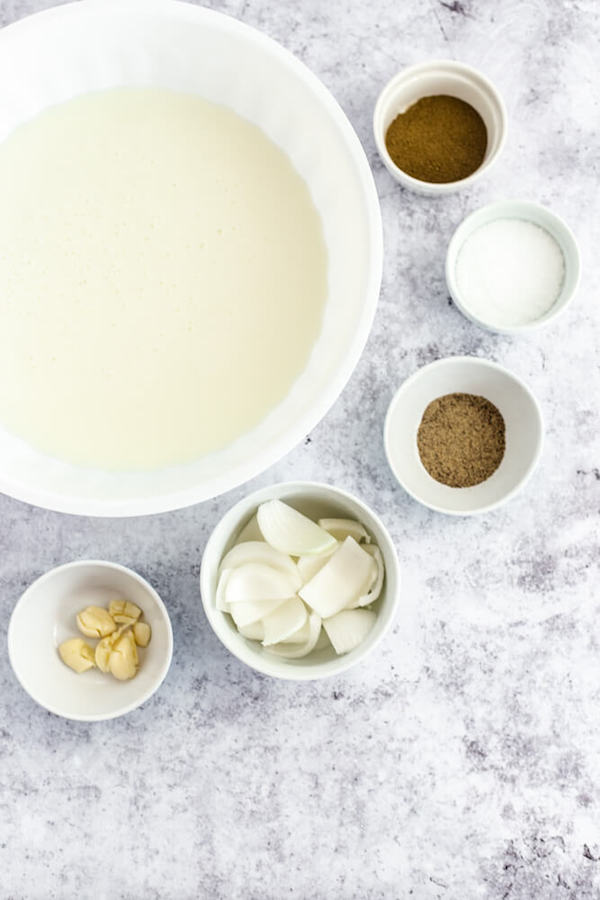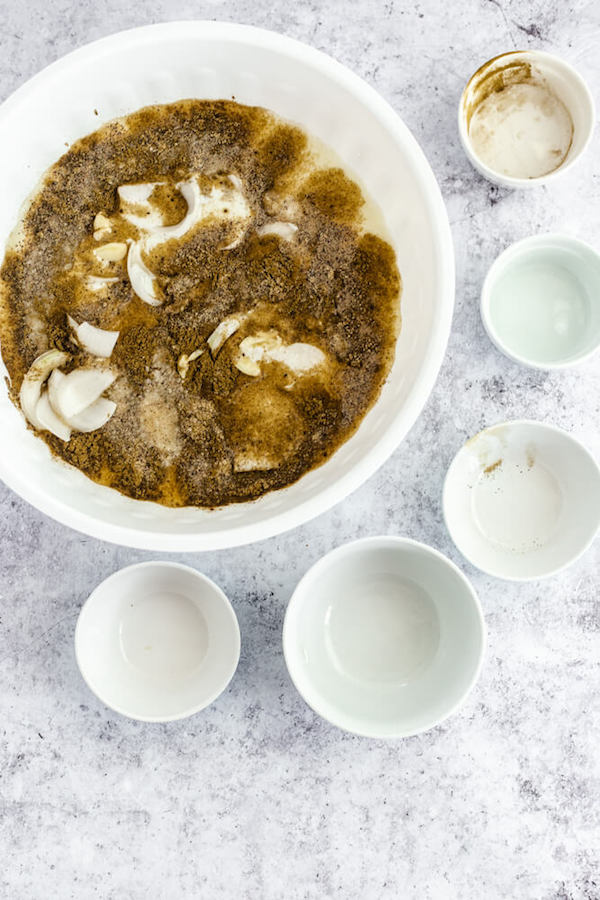 How to Brine a Turkey
I don't recommend brining the turkey in the bowl, instead, line a separate extra large bowl or bucket with a roasting bag. Place the turkey in the bag, then pour in the buttermilk mixture.
Twist and tie the bag and make sure the turkey is completely covered in the brine. Now the bag I got was like a large ziplock bag, so I couldn't tie it. And it was HUGE, like for a 20 pound turkey, so I had to use some ribbon to tie it as tight as possible.
I also had to turn the bag a few times every few hours to give every part of the turkey a chance to sit in the brine. My bag was so wide that the buttermilk only covered ¾ of my turkey. However, if you use a more appropriately sized roasting bag, you shouldn't have this problem.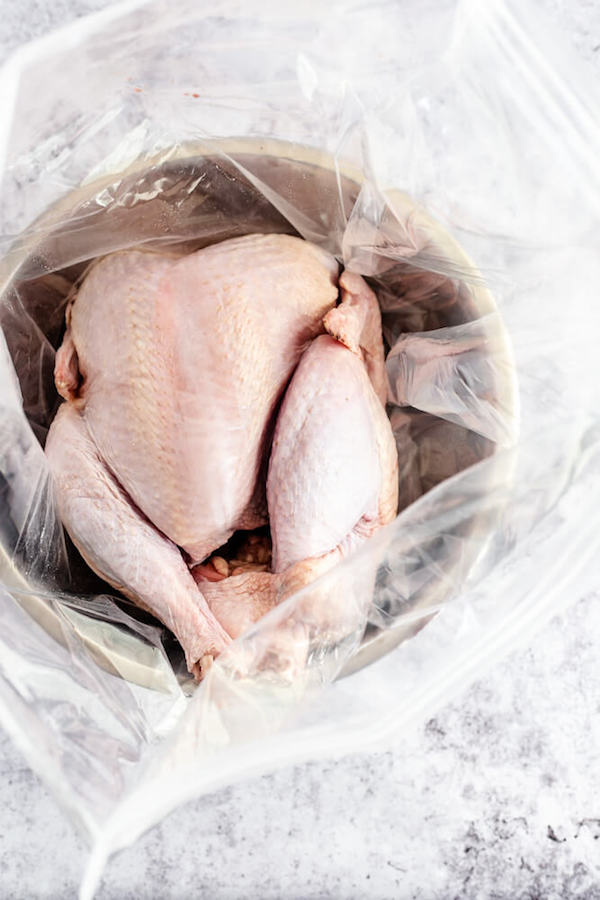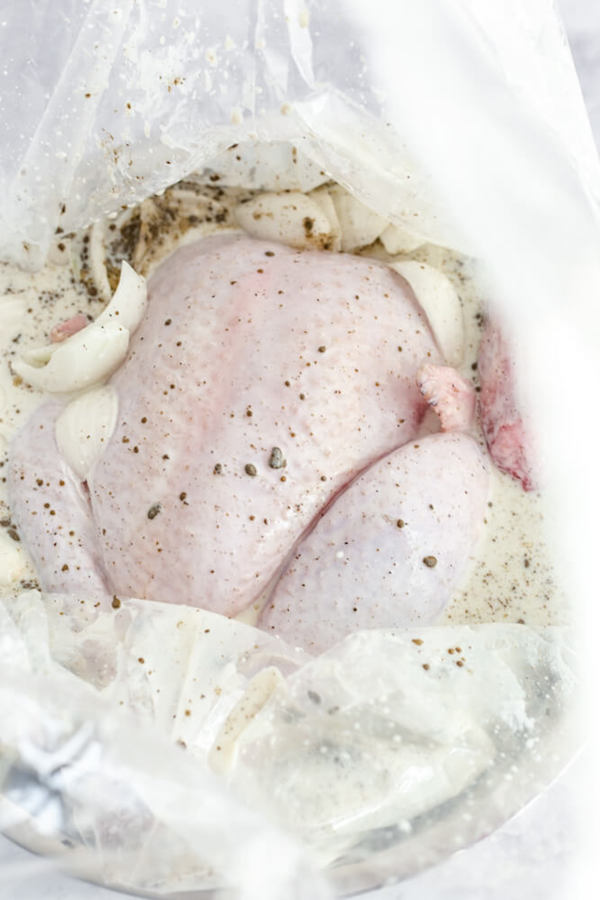 How to Prepare a Turkey For Roasting
Once the turkey has brined for a maximum of 24 hours, pour out the brine and rinse the turkey completely, then dry. To prepare the turkey for roasting, you've gotta:
Season the cavity: combine a few seasonings, then sprinkle and rub it inside of the turkey cavity.
Stuff the cavity: you can stuff the cavity with whatever you'd like. I stuffed it with an apple and orange, because they provide a ton of moisture. But you can stuff the turkey with fresh herbs, garlic, onion, melted butter etc. As for turkey stuffing, I recommend baking that separately instead of inside the turkey.
Oh, I almost forgot! Turkey wings and legs usually need to be tied, but I found a nice hack! Instead of tying the wings, twist them behind the back. As for the legs, my turkey came with a flap that held the legs together. Wish I knew that before I bought twine, thread and unflavoured floss just to be sure the legs would hold together.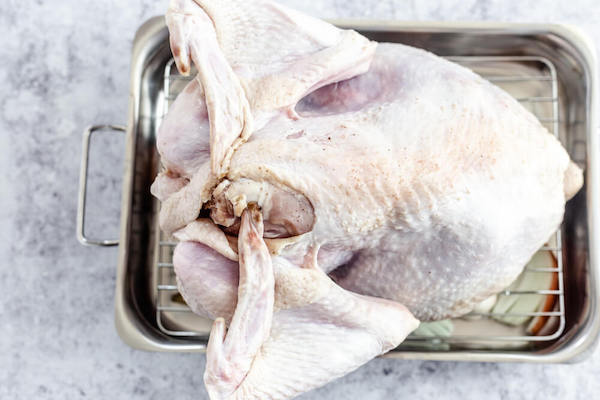 Prepare the roasting pan
Throw some garlic heads, a chopped onion (unpeeled) and a small bunch of herbs into the bottom of the roasting pan. Then place the turkey upside down on the roasting pan. I do this so the bottom of the turkey can get some of that seasoned butter.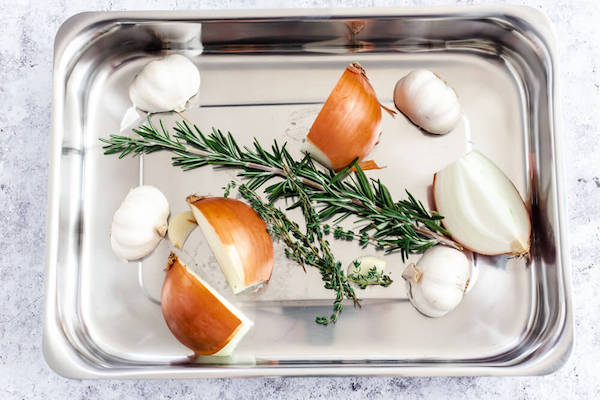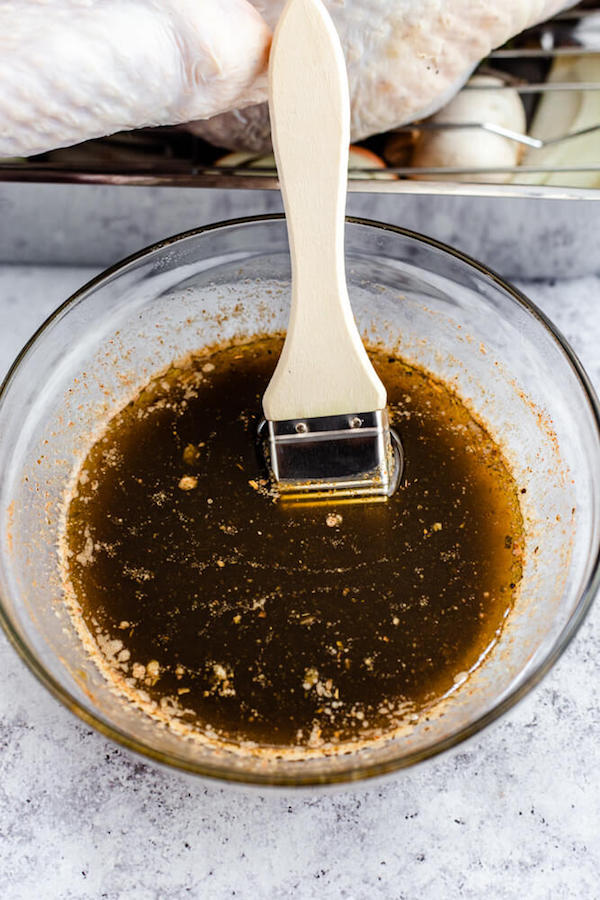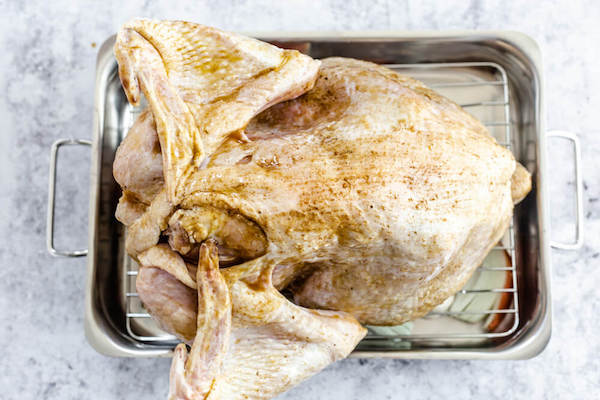 How Long To Roast A Turkey
This was the most nerve-wrecking part for me because I was afraid of both under and over-cooking the turkey. The package of turkey I bought recommended I roasted my 10lb. turkey for 3 and ½ hours, and it was the perfect amount of time. So here's a recommended roasting time for different sized turkeys:
10-12 lb: 2 and ½ - 3 hours (unstuffed) | 3 and ½ hours (stuffed)
14-16 lb: 3 and ½ hours (unstuffed) | 4 hours (stuffed)
20-24 lb: 4 - 4 and ½ hours (unstuffed) 4 and ½ - 5 hours (stuffed)
USE AN INTERNAL THERMOMETER
Don't look at these roasting times and think "okay, I'll just roast the turkey for said amount of time and all will be great." Believe me, I searched up roasting times and every last one was different. My head almost exploded! One site even said I should roast my sized turkey for 2 hours and around that time, my turkey was still light brown.
So the roasting times above are just what's suggested for the size of turkey you have but it's not 1000% certain, which is why I recommend using an internal thermometer!
Insert an internal thermometer between the turkey breast and leg and if it reads 165°F - 170°F, it's cooked through. And to be 100% sure, pierce the thigh of the turkey, where it meets the body. If the juices run clear, it's definitely done.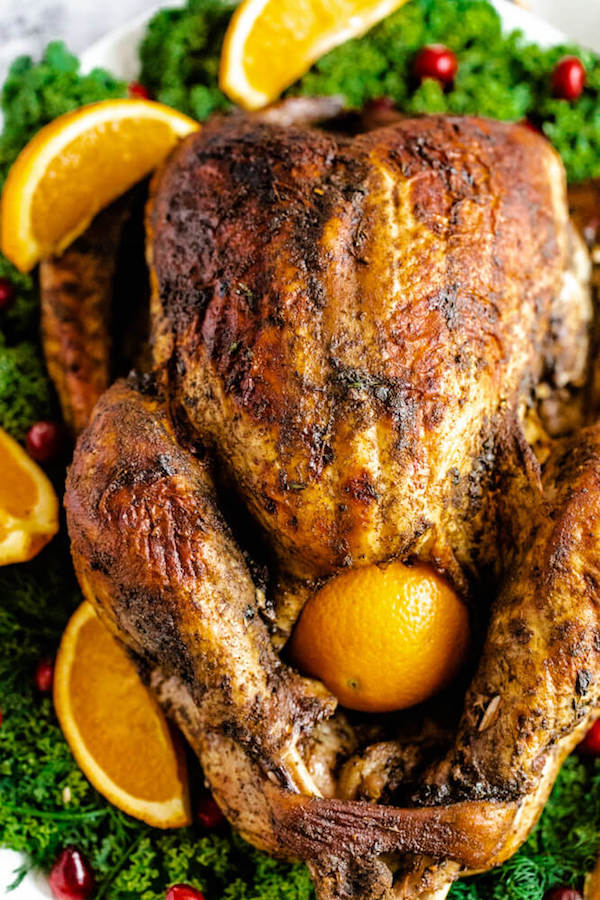 How to Style A Turkey Platter
After days of hard work preparing your turkey, it deserves to have a fancy presentation. Styling a turkey platter is actually very easy and should only take about 5 minutes to do.
Start with a large platter, far bigger than your turkey so we have some space to put the greens. Now you can either decorate the platter, then place your turkey on. Or if you don't want to get the turkey juices all over them, you can place the turkey on first, then put greens around it.
What greens are best for platter decorating?
I love to use bunched kale as a platter decoration. I used it for this Cranberry Baked Ham and decided to use it again for the turkey. I also threw in some dill weed, which are these gorgeous feathery green leaves that add a beautiful texture to the platter.
Now for a pop of colour, I stuffed the turkey with another orange, then garnished the leaves with orange slices and fresh cranberries. The deep golden brown turkey paired with the bright green leaves, oranges and red cranberries are so eye appealing, everyone will be drooling when you present it at the dinner table!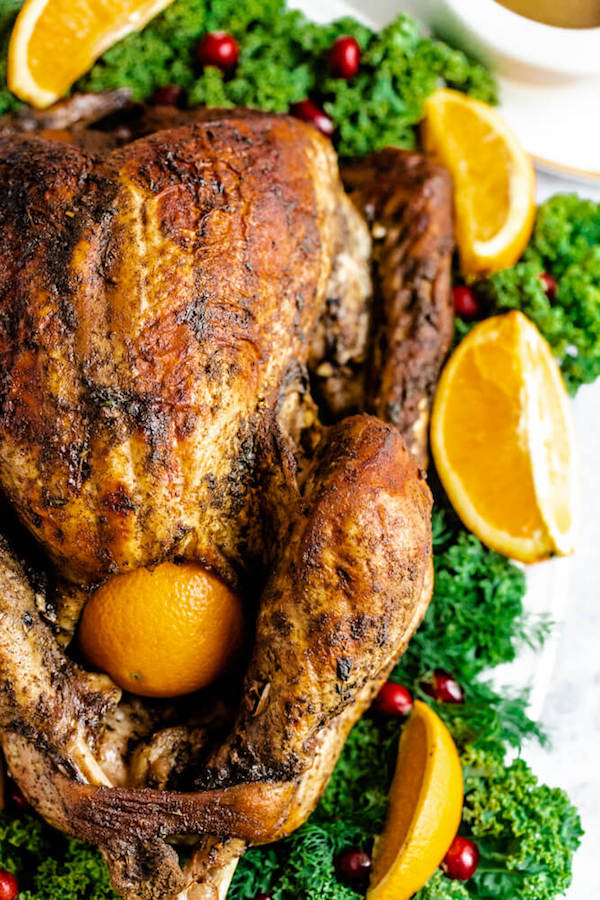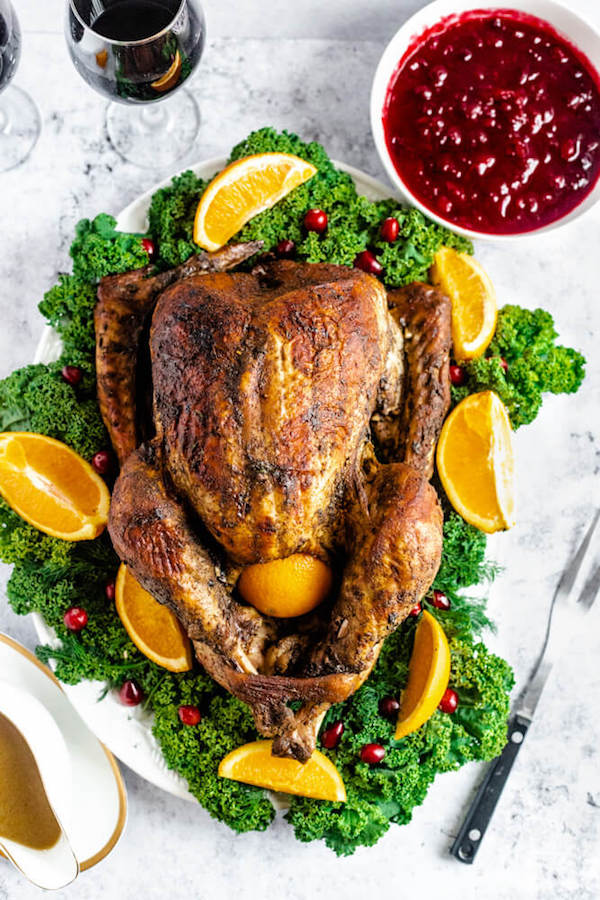 Complete Your Thanksgiving Menu
You've got the main attraction, but what about the other Thanksgiving dishes? Well, here's a few recipes you can make to complete your Thanksgiving menu:
Hope you all have an amazing Thanksgiving! Now let's roast some turkey!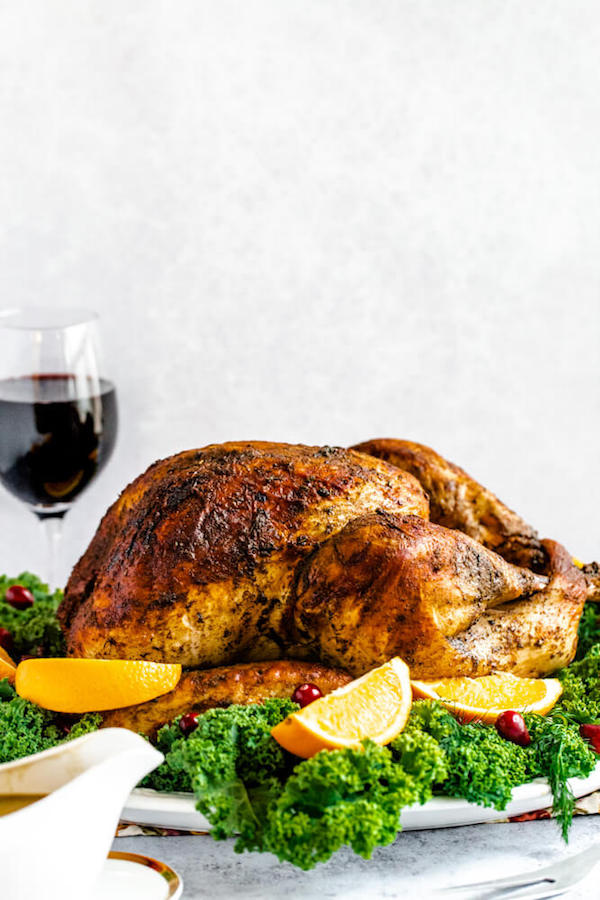 >>PIN THIS FOR LATER<<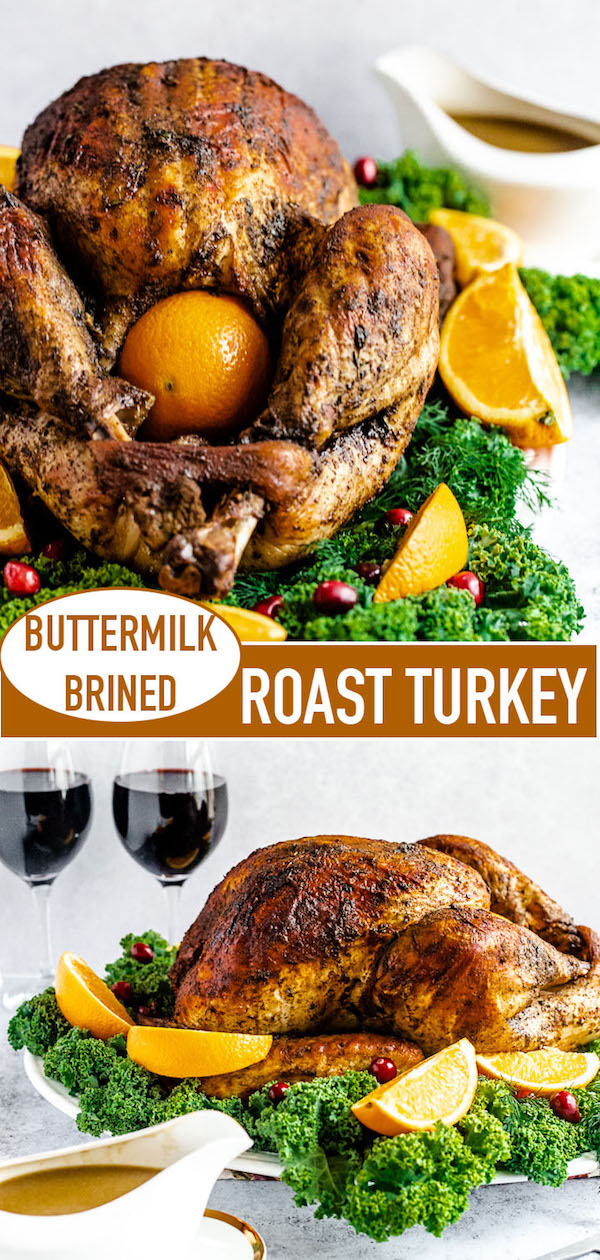 FOLLOW QUEENSLEE APPÉTIT
Like what you see? Make sure you're following Queenslee Appétit for more tasty recipes!
Pinterest | Instagram | Facebook | Twitter |
Have any questions about the recipe? Contact me here, and I'll be happy to help!
SHARE YOUR PICS!
Tag me on Instagram @queensleeappetit or use the hashtag #queensleeappetit so I could see your gorgeous creations!
Let's get roasting!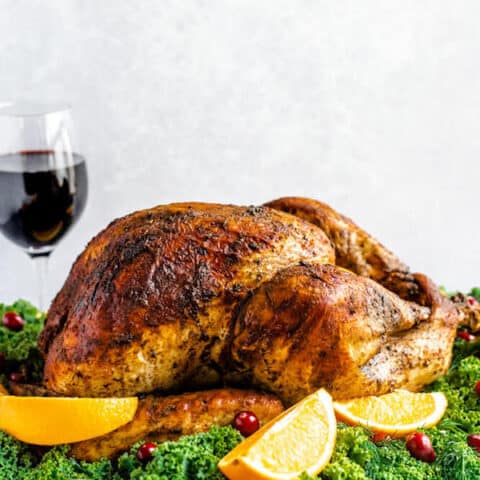 Juicy Buttermilk Brined Roast Turkey
Yield:
1 (10 pound/5kg) turkey
Cook Time:
3 hours
30 minutes
Total Time:
1 day
4 hours
This Buttermilk Brined Roast Turkey is marinated in a seasoned buttermilk brine for 24 hours, glazed in a seasoned herb butter and roasted to perfection, this juicy turkey is definitely worthy of being the star of your Thanksgiving feast!
Ingredients
1 whole plain turkey (10 lb/5kg)
Buttermilk Brine:
15 cups buttermilk
8 tablespoon kosher salt
2 tablespoon poultry seasoning
1 tablespoon ground black pepper
6 garlic cloves, peeled and crushed
1 white onion, chopped
Inside Cavity:
¾ teaspoon kosher salt
½ teaspoon dried thyme
½ teaspoon garlic powder (optional)
½ teaspoon black pepper
¼ teaspoon paprika
1 apple
1 orange
To Roast:
2 garlic heads, halved horizontally
1 yellow onion, quartered
1 small bunch of rosemary, thyme and sage
1 and ½ cups water
Seasoned Butter Glaze:
¾ cup unsalted butter, melted
2 tablespoon olive oil
1 tablespoon poultry seasoning
1 teaspoon garlic powder
1 teaspoon Cajun seasoning
½ teaspoon paprika
2 garlic cloves, minced
1 teaspoon fresh oregano
1 teaspoon fresh basil
1 teaspoon fresh thyme
To Serve:
Serving Platter Decoration:
Bunched kale
Orange slices
Cranberries
Instructions
Read the directions ENTIRELY before beginning!
Thaw the Turkey:
Refrigerator: A 10 pound turkey should take about 3 days to thaw in the refrigerator.
Fast Thaw: A quicker method is to place the wrapped turkey in a bucket of cold water, for about 10-12 hours, changing the water every few hours.
Prepare the Turkey:
Remove the turkey neck, heart and liver from inside. You can either throw them away or set aside for other uses.
Pat the turkey dry with paper towels, then set aside.
For the Buttermilk Brine:
In a very large bowl, add the buttermilk, salt, poultry seasoning, black pepper, crushed garlic and chopped onion. Stir a few times to combine.
Line a large bowl, bucket or pot (make sure it's something that can fit in your fridge) with a large roasting bag. You can even use one of those cheap large plastic storage boxes instead of a bag if they're big enough to hold the turkey and brine.
Place the turkey inside of the brining bag, then pour the buttermilk brine over the turkey. Make sure the turkey is completely submerged in the brine. If not, you may have to turn the bag every few hours to make sure every side of the turkey gets a chance to marinate.
Tie or seal the brining bag tightly, making sure all the air is pushed out. Transfer to the refrigerator overnight or preferably for a maximum of 24 hours.
24 Hours Later:
Pour the brine out into the sink. Remove turkey and rinse the brine off completely.
Pat completely dry with paper towels, then set aside to sit for 30 minutes.
Prepare for Roasting:
Place your oven rack on the bottom. Preheat the oven to 425°F (220°C).
Inside the Cavity: combine the salt, thyme, garlic powder, black pepper and paprika. Sprinkle half of the mixture inside of the turkey and use your hands to spread it around.
Flip the turkey around and sprinkle in the other half of the seasoning mixture. Rub it on the underside.
Stuff the cavity with an apple and orange. Tie the legs together with kitchen twine or unflavoured dental floss.
Place the halved garlic heads, onion and herbs into the roasting pan, then place a roasting rack on top.
Place the turkey upside down on the rack, then twist the wings so they are laying flat on the back (see photo above)
Seasoned Butter Glaze:
In a medium bowl or a liquid measuring cup, combine the melted butter, minced garlic, olive oil, poultry seasoning, garlic powder, cajun seasoning and paprika.
Brush the back and sides with the seasoned butter. Pour the water into the roasting pan.
Roasting:
Transfer pan to oven and roast for 30 minutes.
After 30 minutes: remove the pan from the oven and use a clean dish towel to carefully flip the turkey around so it's front is facing up.
Brush the entire turkey with some more of the butter mixture. The oil may have separated, so you'll need to give the mixture a good stir before brushing on.
Turn the oven down to 325°F and continue to roast the turkey for another hour.
Add the minced garlic, chopped fresh oregano, fresh basil and fresh thyme to the butter mixture and stir to combine.
After 1 hour: Remove the apple and orange from the cavity.
Brush the entire turkey with more of the butter mixture.
Roast the turkey for another hour, then brush with the remaining butter.
After another hour: Scoop some of the juices inside of the cavity and pour it over the turkey to baste it.
Continue to roast for a final 30 minutes - 1 hour, or until an internal thermometer inserted between the breast and leg reads 165°F/75°C. Also test by piercing the meat between the leg and the thigh, if the juices run clear, it's cooked through.
You can cover the turkey loosely with foil for the last 30 minutes if you don't want it to brown too much.
Remove turkey from the oven and transfer to a large plate or baking sheet. Loosely cover with the foil and allow to rest for 20-30 minutes.
Transfer turkey to your presentation platter, take a photo, get a few oo's and awe's, then carve and serve with cranberry sauce or gravy (made from the pan drippings!) Enjoy!!
Notes
Roasting Time: The roasting time is for a 10 pound turkey, and was also the recommended roasting time on the package of the turkey. The time for you may be longer or shorter depending on the size of your turkey, so I highly recommend using an internal thermometer to make sure it's fully cooked.
BON APPÉTIT!
Love, Dedra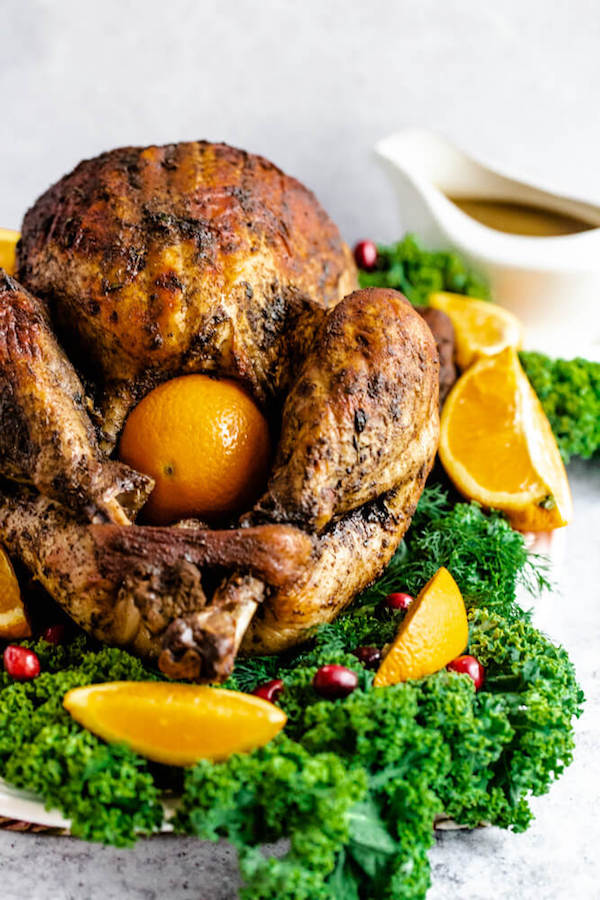 ©QUEENSLEE APPÉTIT. All images & content are copyright protected. Please do not use my images without prior permission. If you want to republish this recipe, please re-write the recipe in your own words, or link back to this post for the recipe.