This Lasagna is the best I've ever had! Layers of a thick and meaty sauce, creamy ricotta filling and a cheesy topping. I guarantee this will be your new favourite go-to recipe for the holidays!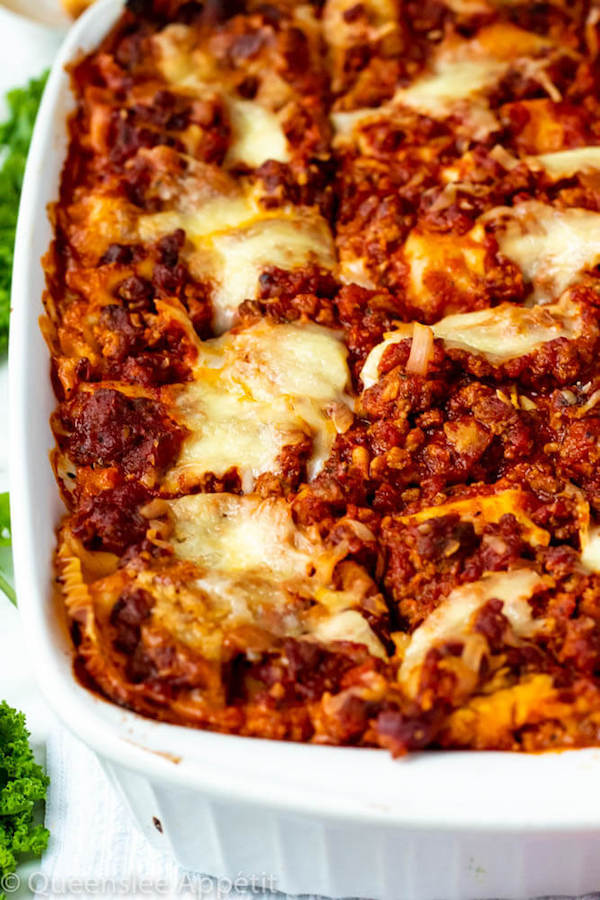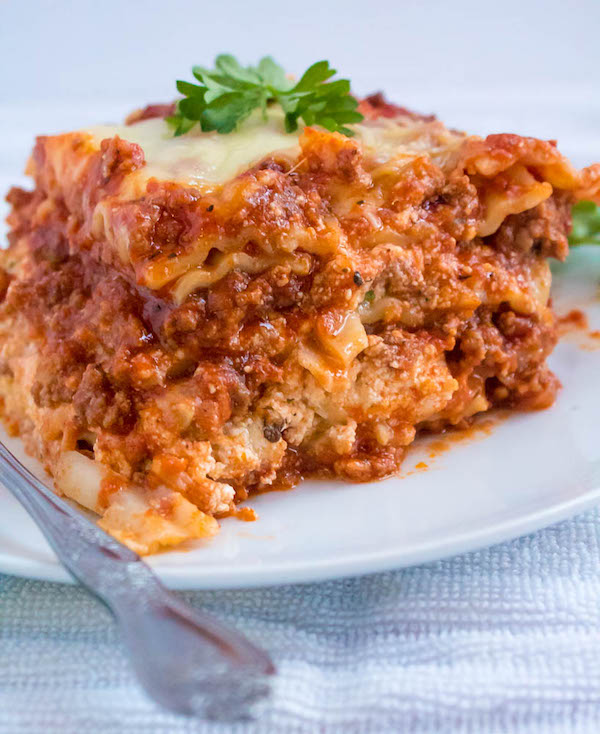 Post Updated: 11/13/2018
Christmas is only a week away and it's time to start preparing your menu. No holiday dinner is complete without lasagna! I'm not gonna lie, my family sucks at making lasagna. To them, lasagna is just a layer of noodles, canned pasta sauce, and cheap shredded cheddar cheese. That's just not the case at all, especially when making real authentic Italian lasagna. Ever since I gave them a taste of my lasagna making skills, I've been in charge of making this heavenly pasta dish every Christmas.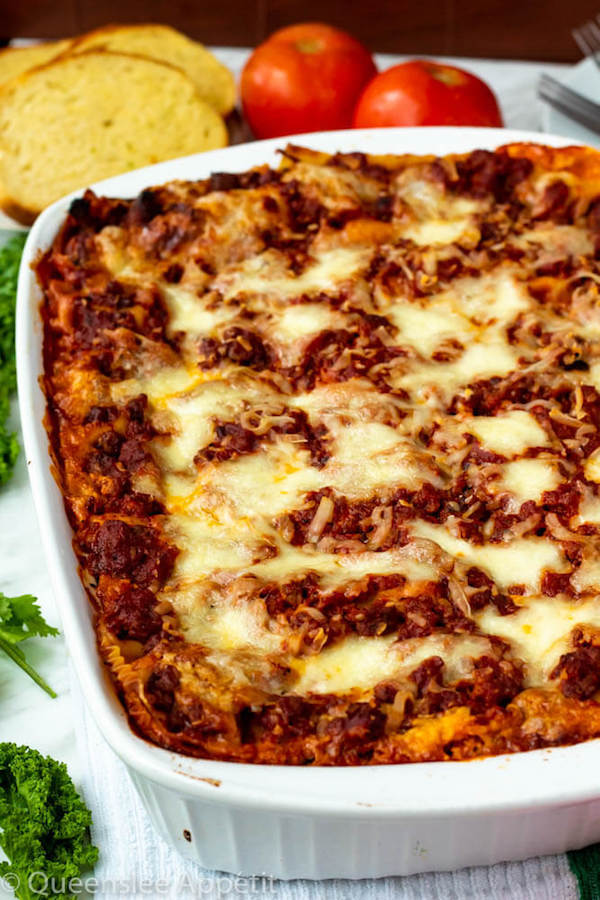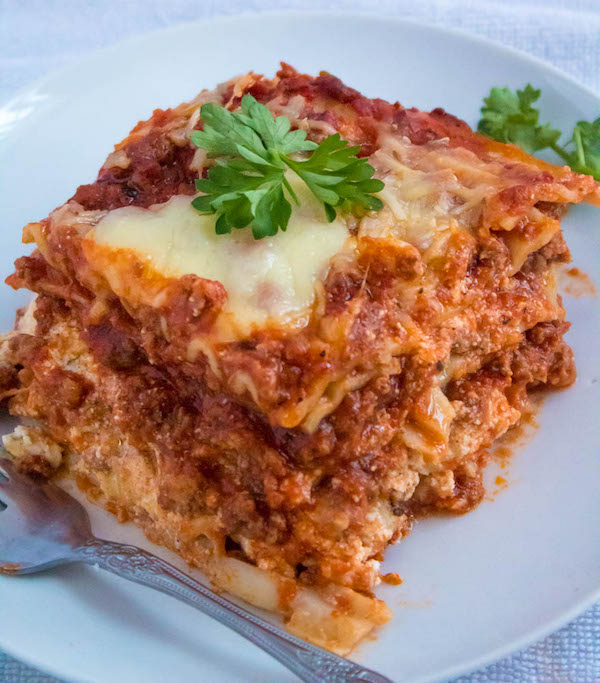 The Best Lasagna Ever!
The lasagna recipe that I made every Christmas was the lovely Chef Johns Worlds Best Lasagna. He's the one who taught me how to make the BEST LASAGNA EVER, and I've used some of the tips & tricks I learned to make my own!
My lasagna recipe is just as amazing as his and is my new favourite go-to recipe from now on — and once you try it, it'll be yours too!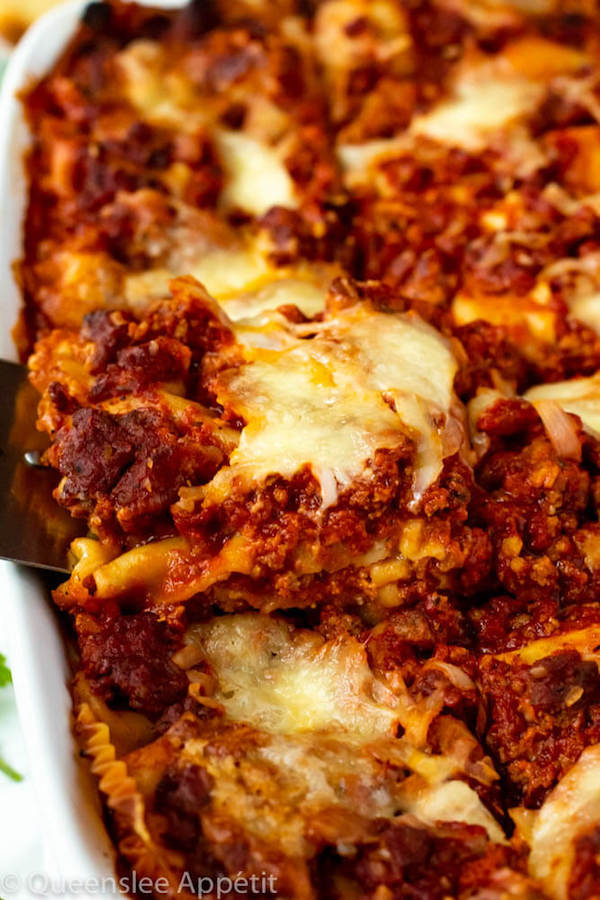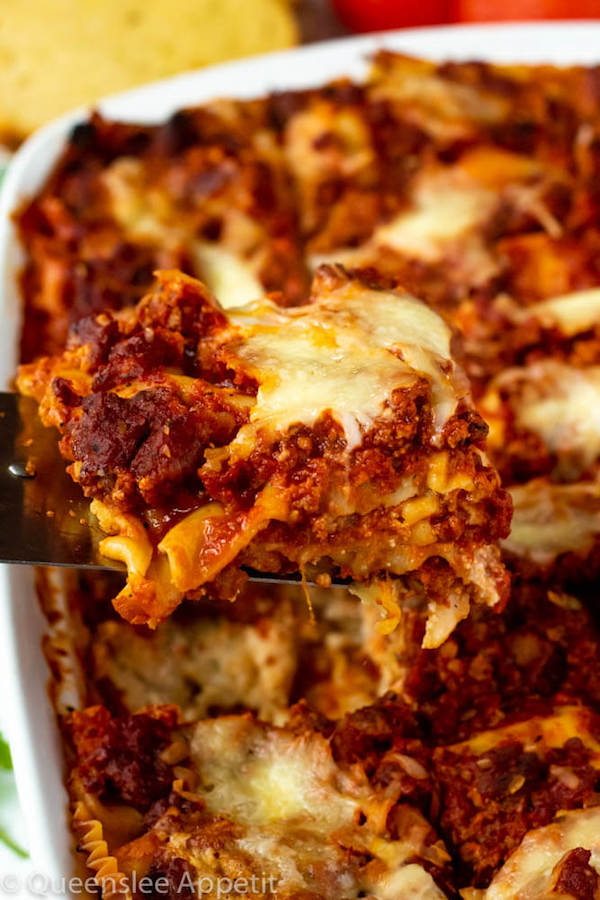 Just a little warning, this lasagna is pretty time consuming. From the preparation of the meat sauce and ricotta, to boiling the noodles, then assembling everything, this will definitely take a few hours. For instance, I started the lasagna at around 10:30 a.m. and didn't finish until 3:00p.m. Yeah. It's a lot of work. But all of the time put into this lasagna is one of the reasons why it's the best! All that work will pay off once you get that first bite of cheesy, meaty goodness.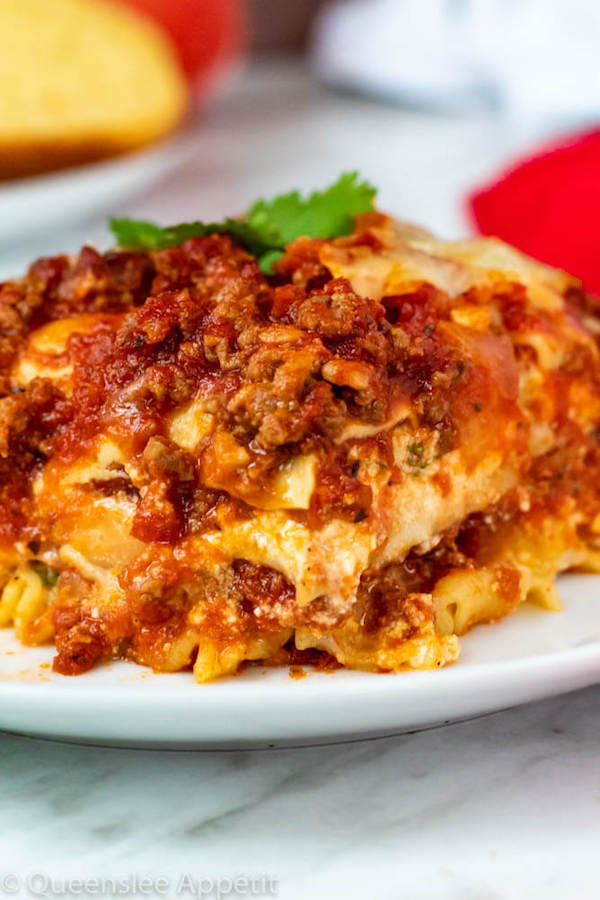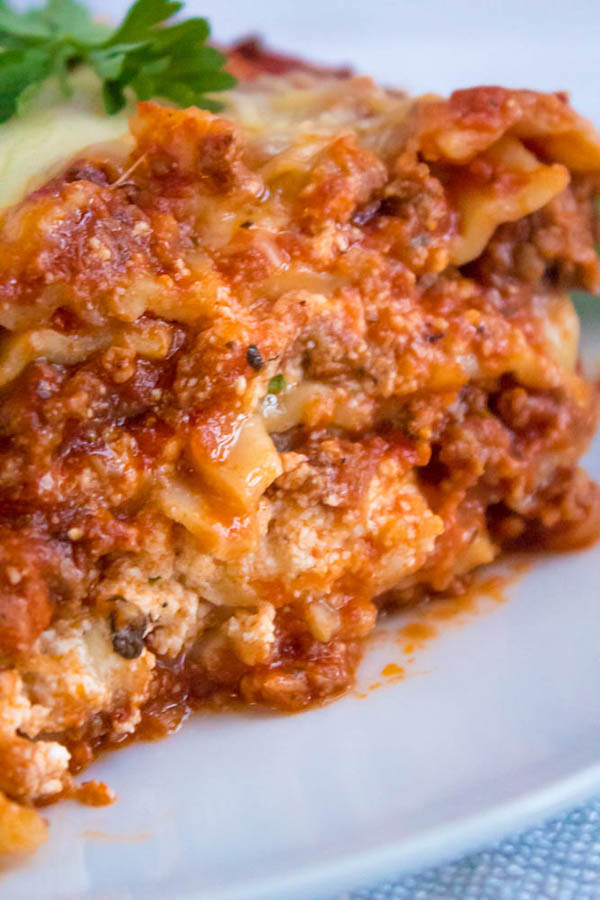 So, why is this the best lasagna ever? Well, let's go through the layers!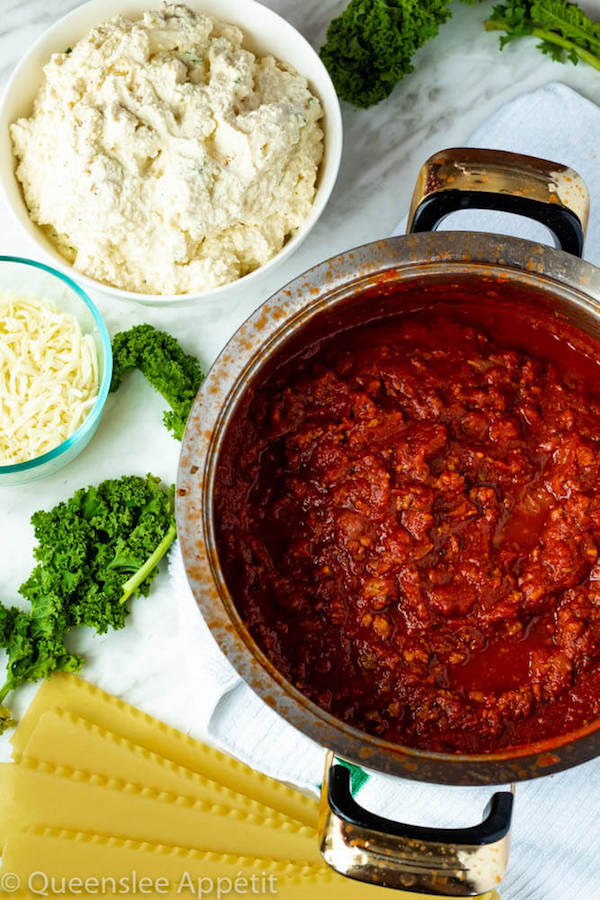 The Best Meat Sauce
One of the keys to an amazing lasagna is an amazing meat sauce! This sauce is thick, hearty and super meaty! It uses a combination of lean ground beef and Italian sausage for the most amazing flavour. I used Hot Italian sausage for an extra spicy flavour, but you can use sweet, mild or any flavour you prefer.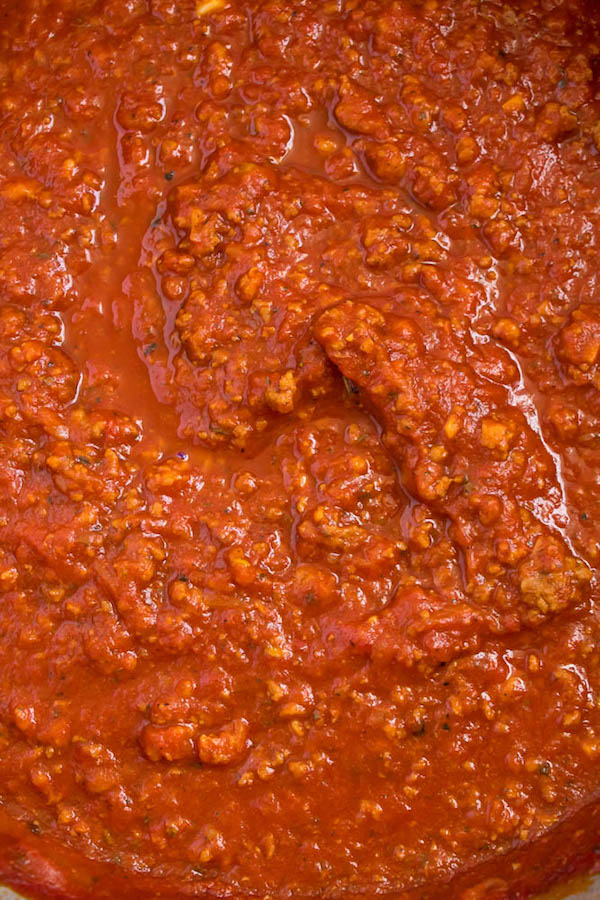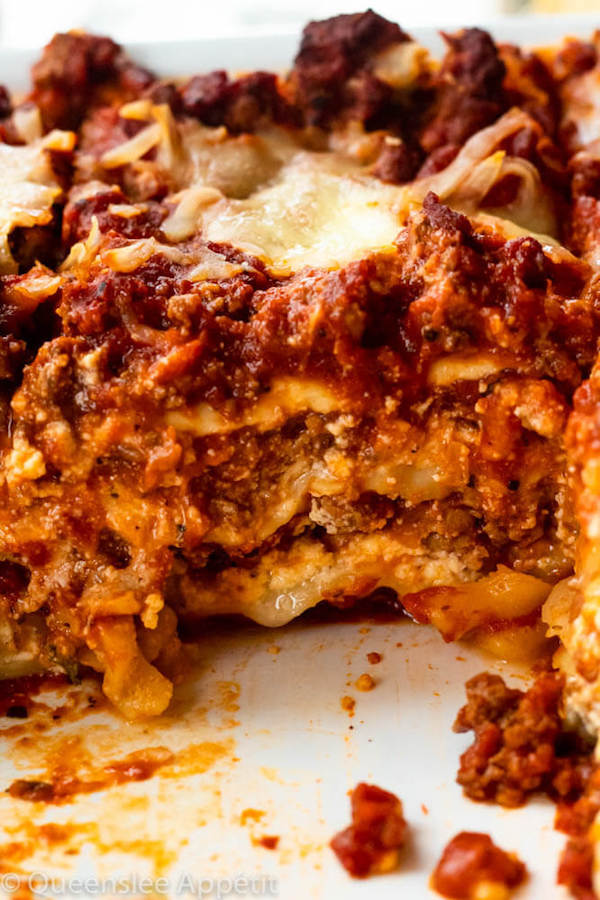 The sauce begins with cooking onions and garlic in a large, deep pot — like a dutch oven. Then add the beef and sausage and cook until it's browned. For the tomatoes, I used a mixture of crushed tomatoes, tomato sauce and tomato paste to make the sauce thicker. When adding the tomatoes, add a little bit of water to the can, swirl it around, and pour it into the sauce.
To season the sauce, I added salt, pepper, dried basil, Italian seasoning, fennel seeds and crushed red pepper flakes to add some more spice. I then threw in some brown sugar for a bit of sweetness.
Now we're gonna allow the sauce to simmer on low heat for not 30 minutes, not an hour, but 2 WHOLE HOURS! You want the meat to be extremely tender. Simmering will also reduce some of the water and enhance the flavour! The longer you simmer, the better the flavour!
Just look at this beauty: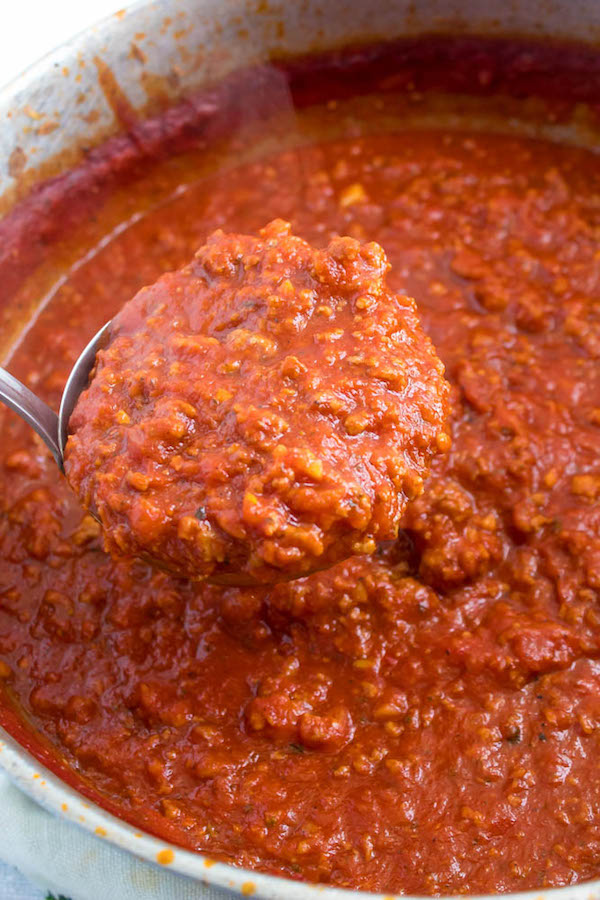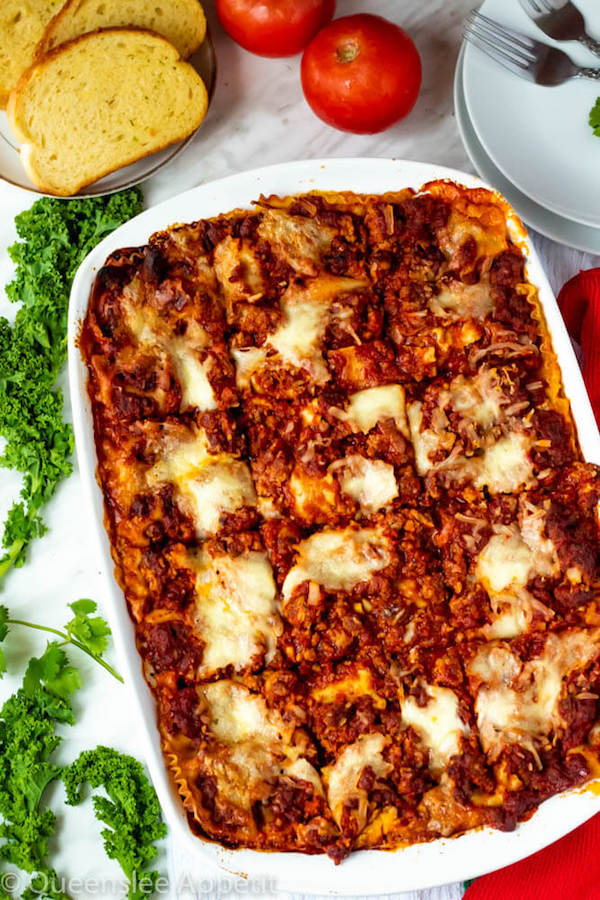 Creamy and Cheesy Ricotta Filling
This isn't your basic ricotta filling that only adds eggs, salt, pepper and parsley. I took a page out of Chef John's book and upped the cheesiness by adding 8 oz. of soft mozzarella cheese. I used those yummy little Bocconcini mozzarella balls, tore them into pieces, and added to the ricotta filling. Then I added about ¾ cup of Parmesan for pure cheesy goodness.
Update: You can also use the soft mozzarella that comes in a tub of water and just tear it into pieces.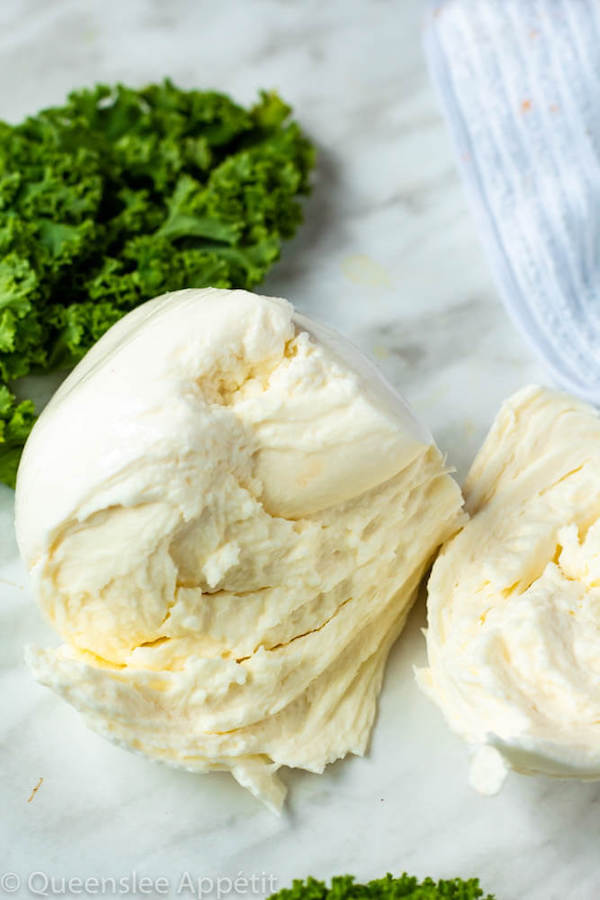 Let's discuss the ricotta for a second. I know a lot of people, myself included, always have one problem with ricotta — there's never enough! Every lasagna I've made requires 2 layers of ricotta, yet I always ended up with 2 layers of random splotches of ricotta. When making this recipe, I found a few solutions to this problem.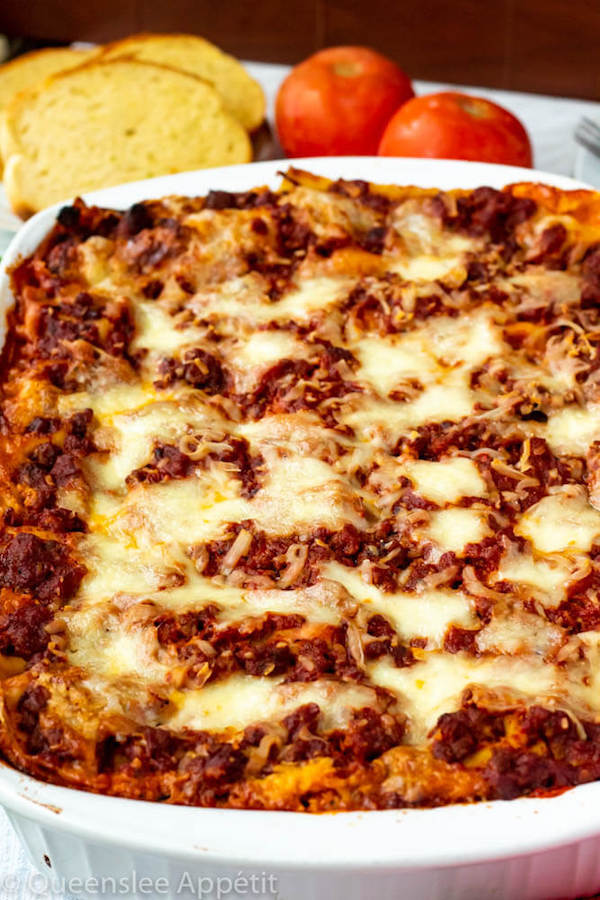 First off, I evenly divided the filling between 2 bowls and weighed them each to make sure I would have 2 even layers of ricotta. Now, spreading the ricotta will be a bit more difficult since we have those chunks of mozzarella inside the filling. To solve this, I put dollops of the filling over the entire surface to ensure every inch would be covered. Then I gently spread each dollop into each other as best as I could.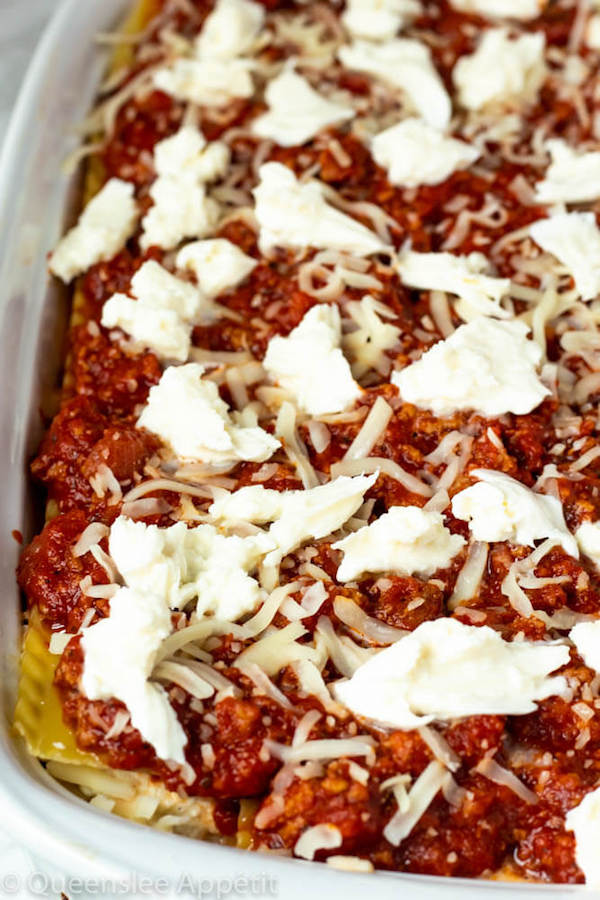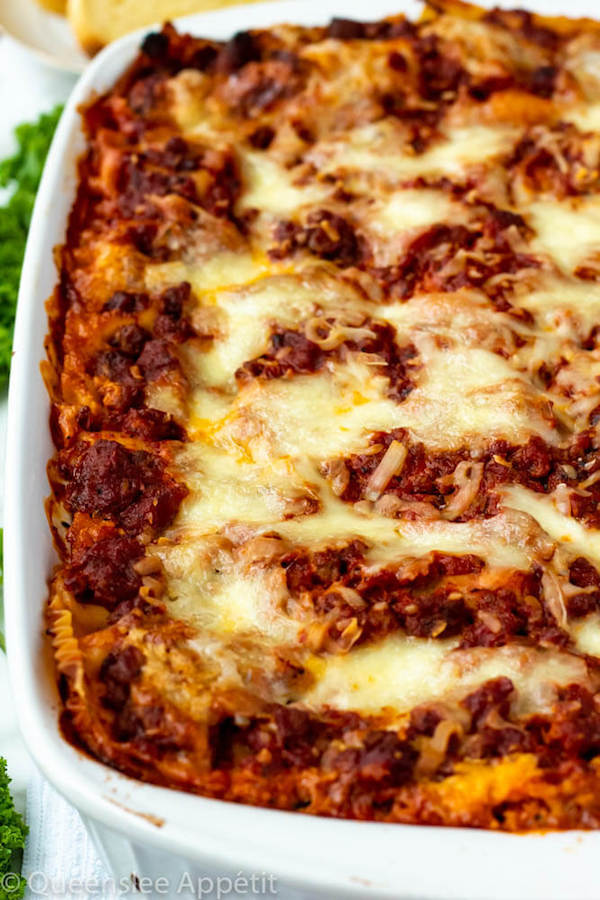 The last thing I want to discuss is the pan. For this recipe, you're going to need a 9x13-inch dish, BUT it needs to be very deep! My dish was about 3-inches deep and as you can see, the lasagna just barely fit. I mean, there's 4 layers of meat, 3 layers of noodles and 2 layers of cheese! This monster lasagna was not meant to be small and simple.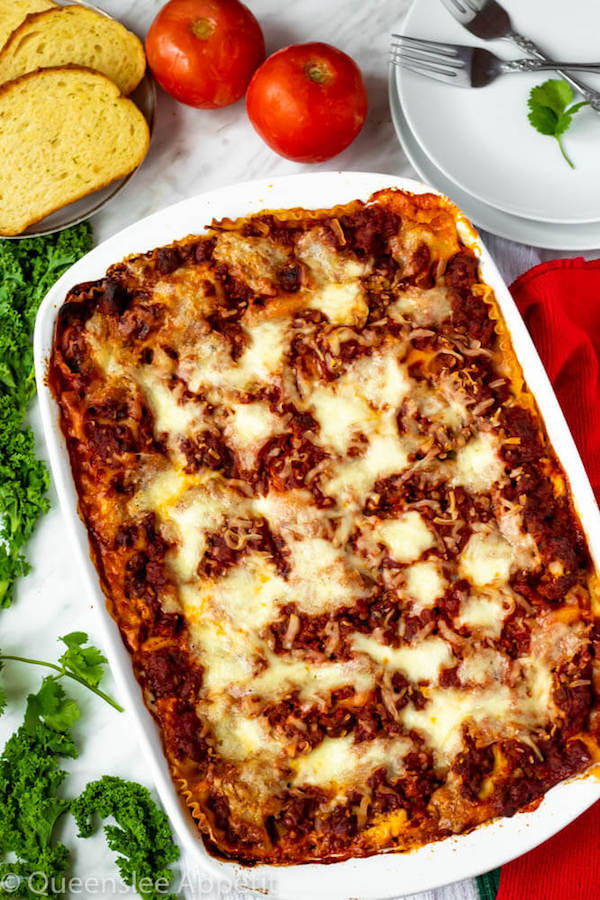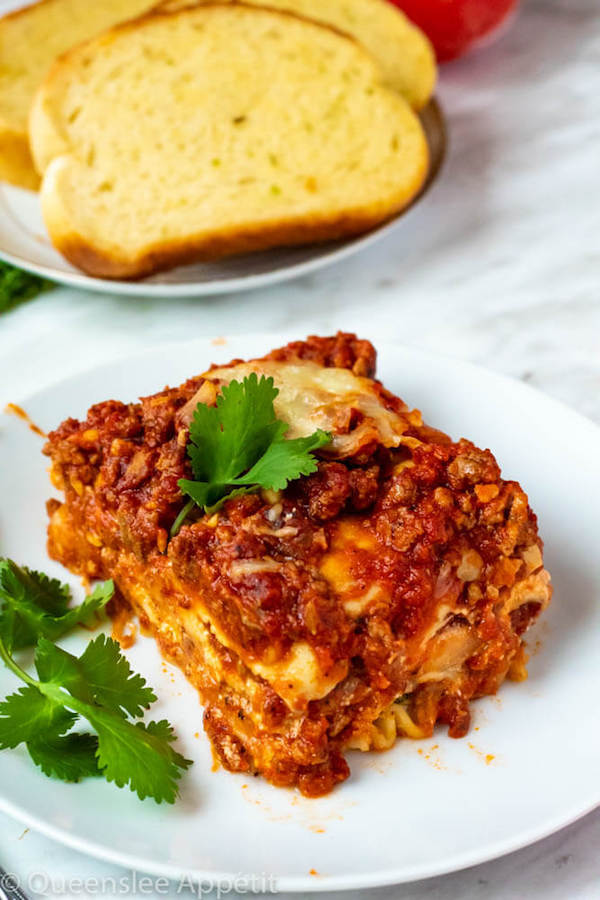 There you have it! The best lasagna you will ever make! Tasty beef and sausage meat sauce and ooey, gooey, cheesy ricotta filling. The leftovers for this lasagna tastes even better the next day! Unfortunately, once everyone tries it, there may not be any leftovers to enjoy!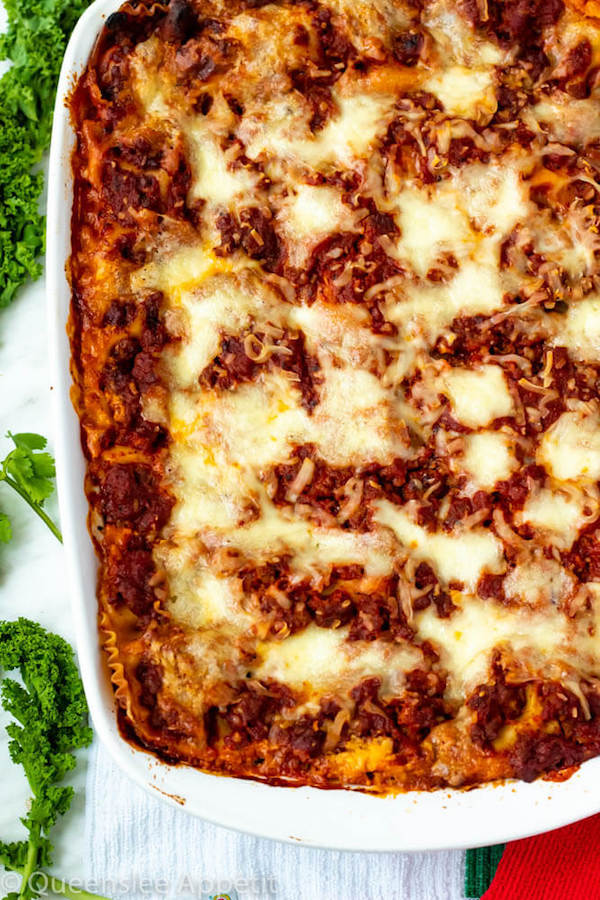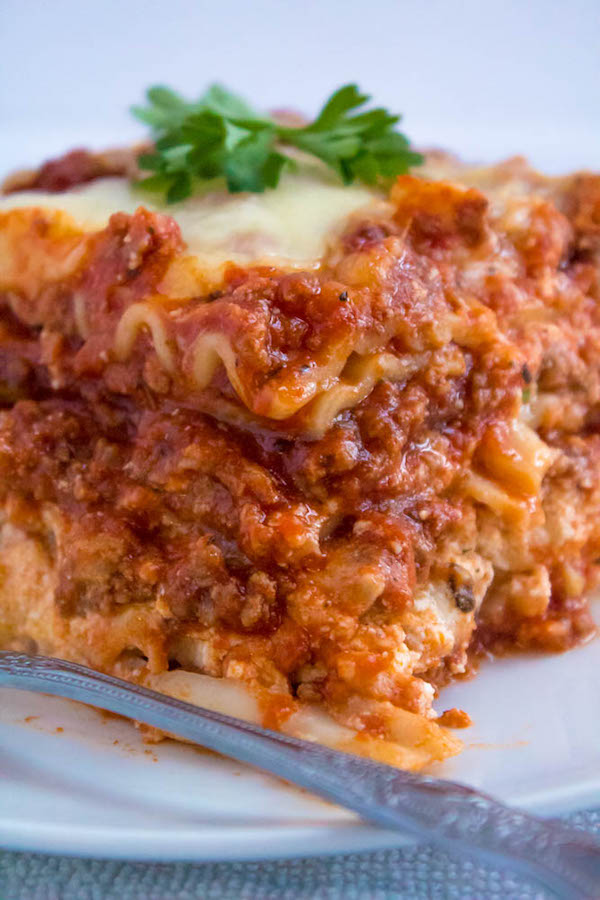 DID YOU MAKE A RECIPE?
Take a photo and post it on Instagram with the hashtag #queensleeappetit, or tag me @queensleeappetit. I love seeing your creations, they make my day!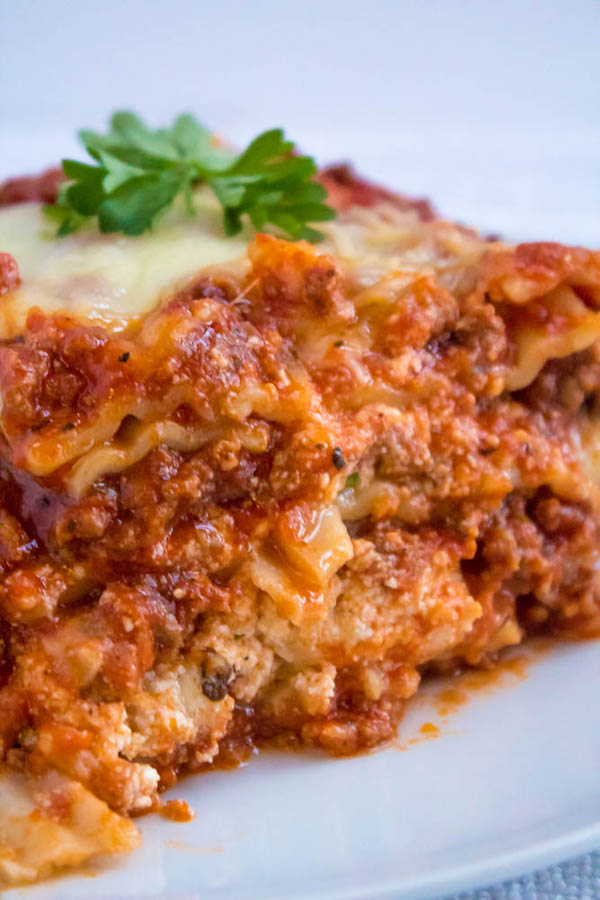 Need more delicious recipes to add to your Holiday menu? Try these:
Cajun Shrimp and Crab Mac and Cheese
>>PIN ME FOR LATER<<

FOLLOW QUEENSLEE APPÉTIT
Like what you see? Make sure you're following Queenslee Appétit for more tasty recipes!
Pinterest | Instagram | Facebook | Twitter |
Never miss a recipe, SUBSCRIBE at the bottom of this post!
Have any questions about the recipe? Contact me here, and I'll be happy to help!
Let's get cooking!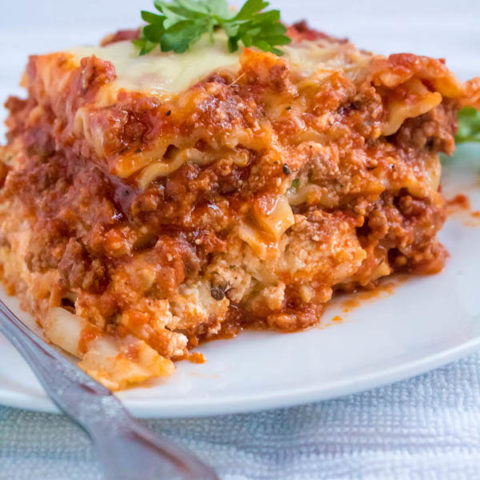 THE Best Lasagna EVER
This Lasagna is the best I've ever had! Layers of a thick and meaty sauce, creamy ricotta filling and a cheesy topping. I guarantee this will be your new favourite go-to recipe for the holidays!
Ingredients
Meat Sauce:
2 tablespoon olive oil
1 large white onion, diced
5 garlic cloves, finely minced
1 pound Italian sausage, removed from their casings (I used Hot Italian Sausage)
1 and ½ pounds lean ground beef
3 cups (28 ounce) crushed tomatoes
2 cups (16 ounce) tomato sauce
1 (6 ounce) can tomato paste
2 tablespoon brown sugar
1-2 teaspoons salt, to taste
½ teaspoon ground black pepper
2 teaspoon dried basil
2 teaspoon Italian Seasoning
½ teaspoon fennel seeds
¼-1/2 teaspoon crushed red peppers flakes (optional)
Cheese Filling:
1 large egg
1 large egg yolk
4 cups (2 Ib.) Whole milk ricotta cheese
8 oz. soft mozzarella cheese, torn into pieces (I used Bocconcini)
¾ cup Parmesan Cheese, grated
1 teaspoon salt, or to taste
½ teaspoon freshly ground black pepper, or to taste
⅛-1/4 teaspoon cayenne (optional)
⅓ cup fresh parsley, chopped
Noodles:
½ teaspoon salt
1 tablespoon olive oil
1 Ib. lasagna noodles, uncooked
Topping:
8 oz soft mozzarella cheese, torn into pieces
1 cup freshly grated Parmesan cheese
Instructions
For the Meat Sauce:
In a large dutch oven, heat the olive oil over medium heat. Once it's hot, add the diced onion and minced garlic. Toss around with a wooden spoon and cook until onions are softened and slightly browned, about 5-6 minutes. Be careful as the garlic can easily burn.
Once the onions are cooked, add the Italian sausage and ground beef. Cook until it's no longer pink, breaking it up with a wooden spoon.
Once meat is browned, drain any juices in the pot. Return to heat and pour in the crushed tomatoes and tomato sauce and add a little water to the jars, shake a bit and pour into the pot.
Add tomato paste, sugar, salt, pepper, dried basil, Italian Seasoning, fennel seeds and red pepper flakes. Stir to make sure everything is combined. Turn the heat to low and simmer for at least 1 and ½ to 2 hours to reduce the water and enhance the flavour. Skim the fat on top and stir occasionally, tasting the sauce and adjusting the seasonings to your preference.
Once sauce is finished cooking, turn off the heat and preheat the oven to 375F.
For the Cheese Filling:
In a large mixing bowl, beat the egg and egg yolk. Add the ricotta, mozzarella pieces and parmesan and stir until well combined. Mix in salt, pepper, cayenne (if using) and chopped parsley. Set aside.
For the Noodles:
Fill a large pot with water and add ½ teaspoon of salt and 1 tablespoon of olive oil. Bring to a boil.
Add the lasagna noodles to the boiling water and cook according to package directions.
Once noodles are cooked, drain and rinse and place in a large bowl with cold water.
Assembly:
Spread ¼ of the meat sauce into the bottom of a deep 9x13 inch baking dish. Top with ⅓ of the noodles and spread ½ of the cheese filling on top. Repeat with ¼ meat sauce, ⅓ noodles, remaining cheese filling, ¼ meat sauce, remaining noodles and remaining meat sauce. Top with mozzarella pieces and shredded parmesan.
Loosely cover the dish with aluminum foil, making sure the foil is not touching the cheese. Place dish on a larger baking sheet incase anything leaks out.
Bake in preheated oven for 30 minutes. Remove the foil and bake for an additional 30 minutes, or until the top of the lasagna is nice and golden and bubbling.
Remove from oven and allow to set for 20 minutes before slicing. Enjoy!
Notes
You can use sweet Italian sausage, or any flavour of your choice.
You can also use oven ready lasagna noodles instead of boiling.
Recommended Products
As an Amazon Associate and member of other affiliate programs, I earn from qualifying purchases.
©QUEENSLEE APPÉTIT. All images & content are copyright protected. Please do not use my images without prior permission. If you want to republish this recipe, please re-write the recipe in your own words, or link back to this post for the recipe.
Bon Appétit!
Love, Dedra ❤️