This perfect Pumpkin Cake uses the same batter as my irresistibly moist and fluffy Pumpkin Cupcakes to produce the best pumpkin cake you'll ever have! The crumb is extremely soft and tender and loaded with brilliant pumpkin spice flavour! Pair it with the silkiest cream cheese frosting for an easy and tasty dessert!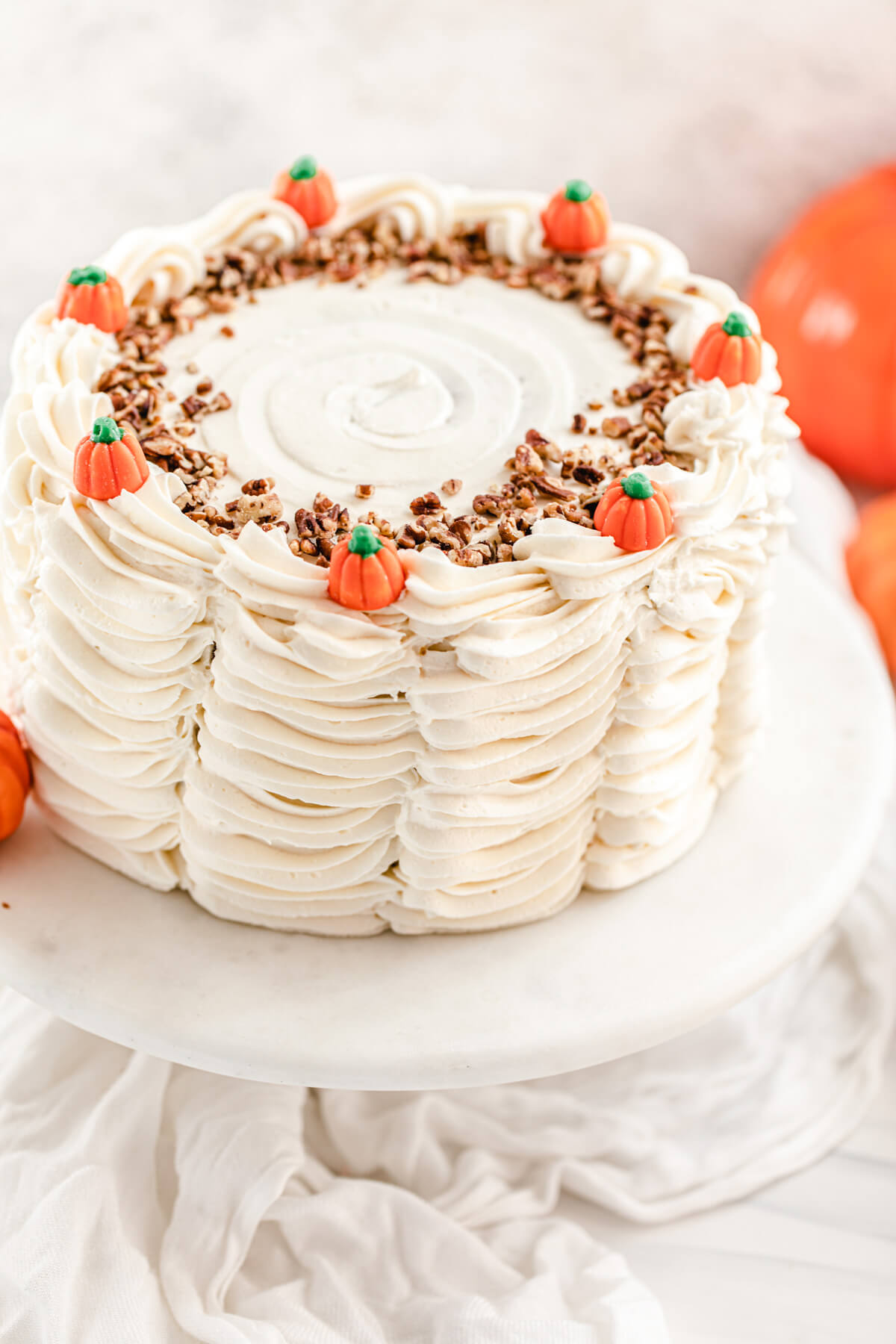 This post may contain affiliate links. As an Amazon Associate I earn from qualifying purchases. Please see my full disclosure policy for details.
If you're not ready to let Fall go, a slice of this pumpkin cake is the way to go! God, that was the corniest thing I've ever typed out, but hey! It's true!
I know Thanksgiving is near, but this cake is perfect any time of the year.
Ok, I promise I'm done rhyming. Let's have cake!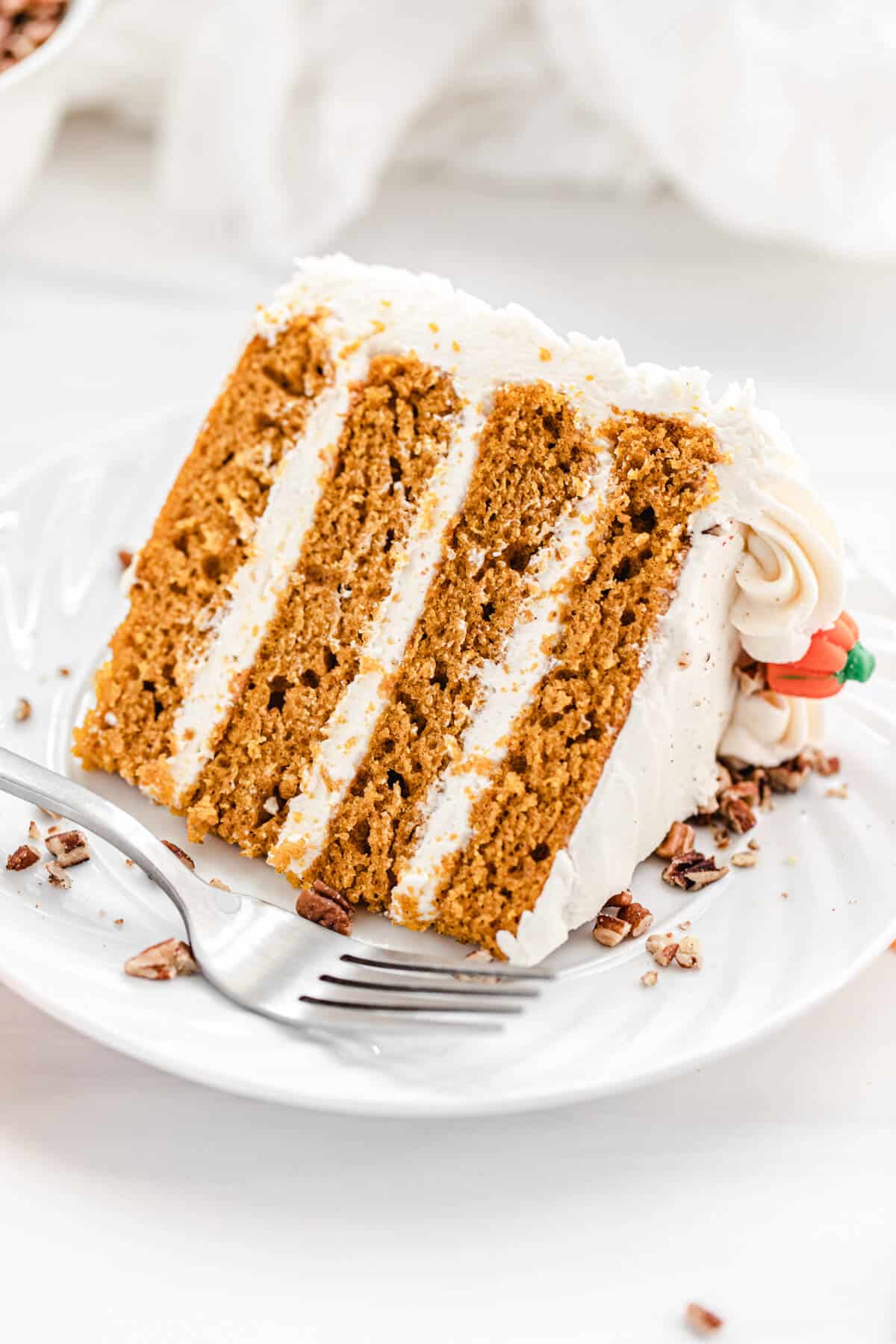 Why You'll Love This Pumpkin Cake
This is my tried and true pumpkin cake recipe! I've used this recipe to make my famous Pumpkin Cupcakes, an easy Pumpkin Sheet Cake and now we're making a layer cake! Here's why I, and many others, LOVE this recipe:
Loaded with pumpkin flavour: We'll be using 2 full cups of pumpkin purée in the cake to ensure there's no lack of that pumpkin flavour we all love!
Spices: The pumpkin purée isn't enough to give us a great pumpkin flavour, so to enhance it, I added a tablespoon of pumpkin spice along with 2 teaspoons of cinnamon! Flavour for days!
Stays Moist: I'm just gonna quote a text I received by one of my taste testers (my aunt): "I was impressed by the moisture, like it wasn't too wet but even the next day it wasn't dry at all. Like perfect moisture level and it wasn't too sweet." Totally agree!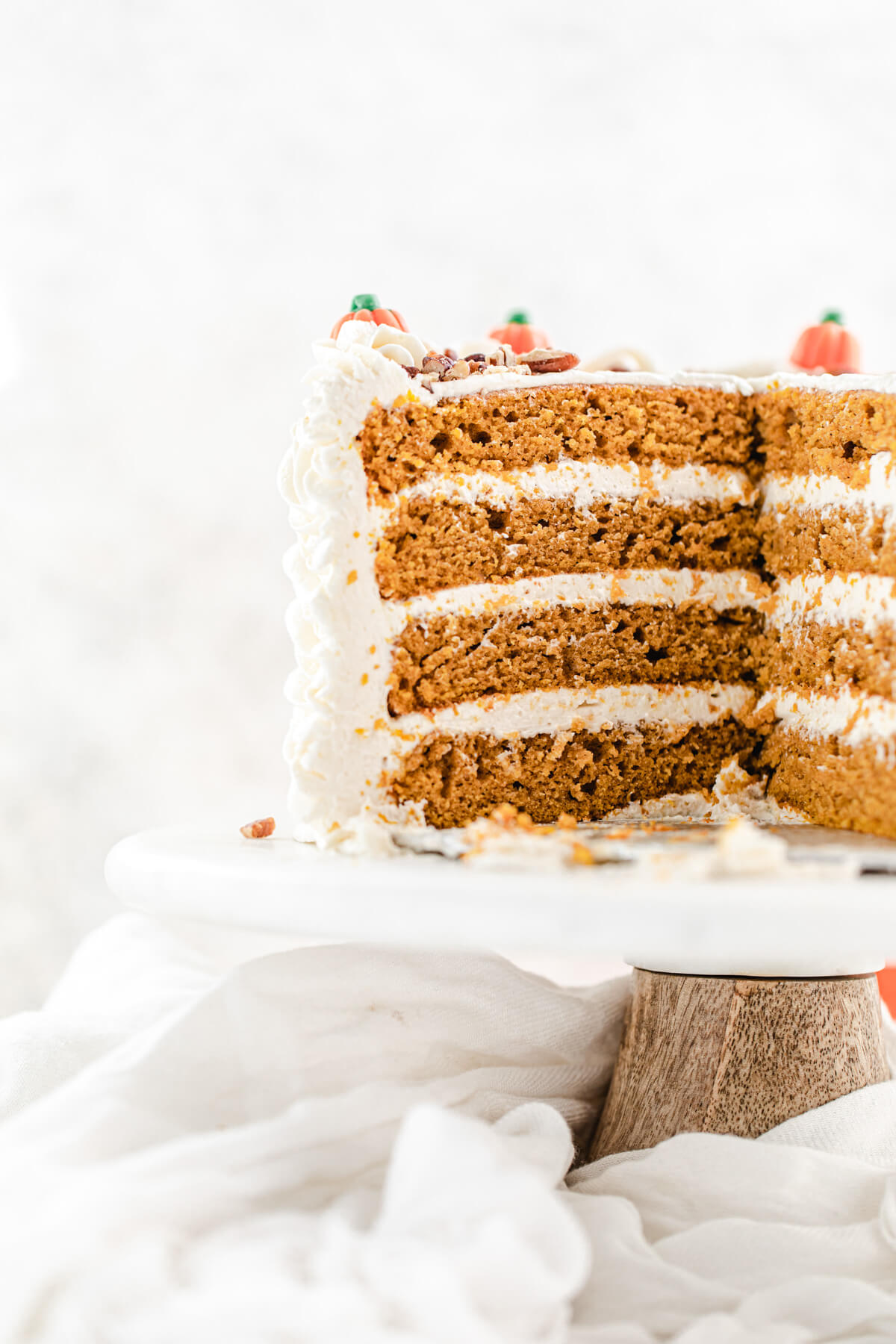 Ingredients in Pumpkin Cake
There's 13 simple ingredients used in this pumpkin cake recipe:
Flour: All Purpose Flour is the type you'll want to use for this cake. The batter is already destined to be light and fluffy thanks to a few other ingredients, so cake flour is not needed.

Pumpkin Spice + Cinnamon: You really cannot have a good pumpkin dessert without either of these spices. Now pumpkin spice may not be the easiest thing to find, especially if you decide to make this any time other than Fall season. So in the notes below the recipe, I'll provide a substitute of spices you can combine to make your own!
Baking Powder + Baking Soda: We gotta give the cake a good rise to get that nice, fluffy texture. A combination of baking powder and baking soda gives us just that!
Salt: This is to cut back some of the sweetness the sugar will add. As the review above showed, even though we use 2 cups of sugar, the cake isn't too sweet!
Pumpkin Purée: You read that right? Pumpkin PURÉE. Too many people mistake that for pumpkin pie filling, and I don't blame them because they both come in the exact same can. I'm not sure about America, but here in Canada, pumpkin purée is labeled as "Pure Pumpkin". And although most American recipes call for the whole can (2 cups) our big cans of pumpkin purée hold about 2 and ½ - 3 cups each. So make sure to measure out 2 cups, then if there's any leftover, store it in a ziplock bag in the freezer (or make some pumpkin spice lattes!).

Eggs: I know I mentioned in my pumpkin cookie recipe that eggs are not needed because the pumpkin acts as a substitute. But that's not the case when it comes to cake. Even though there's plenty of pumpkin, we still need some eggs to provide extra structure in the cake.

Vanilla: Always needed to boost the flavours around it!
Vegetable Oil: A full cup of vegetable oil gives us all the moisture that keeps the cake moist for days!
Brown and White Sugar: Not only does the brown sugar enhance the pumpkin and spice flavours, it provides extra moisture thanks to the molasses throughout it! We'll only be adding a little bit of granulated (white) sugar to add some sweetness.

Buttermilk: Last, but not least, the buttermilk! This is THE ingredient to add when you want your cake to have a soft and tender crumb!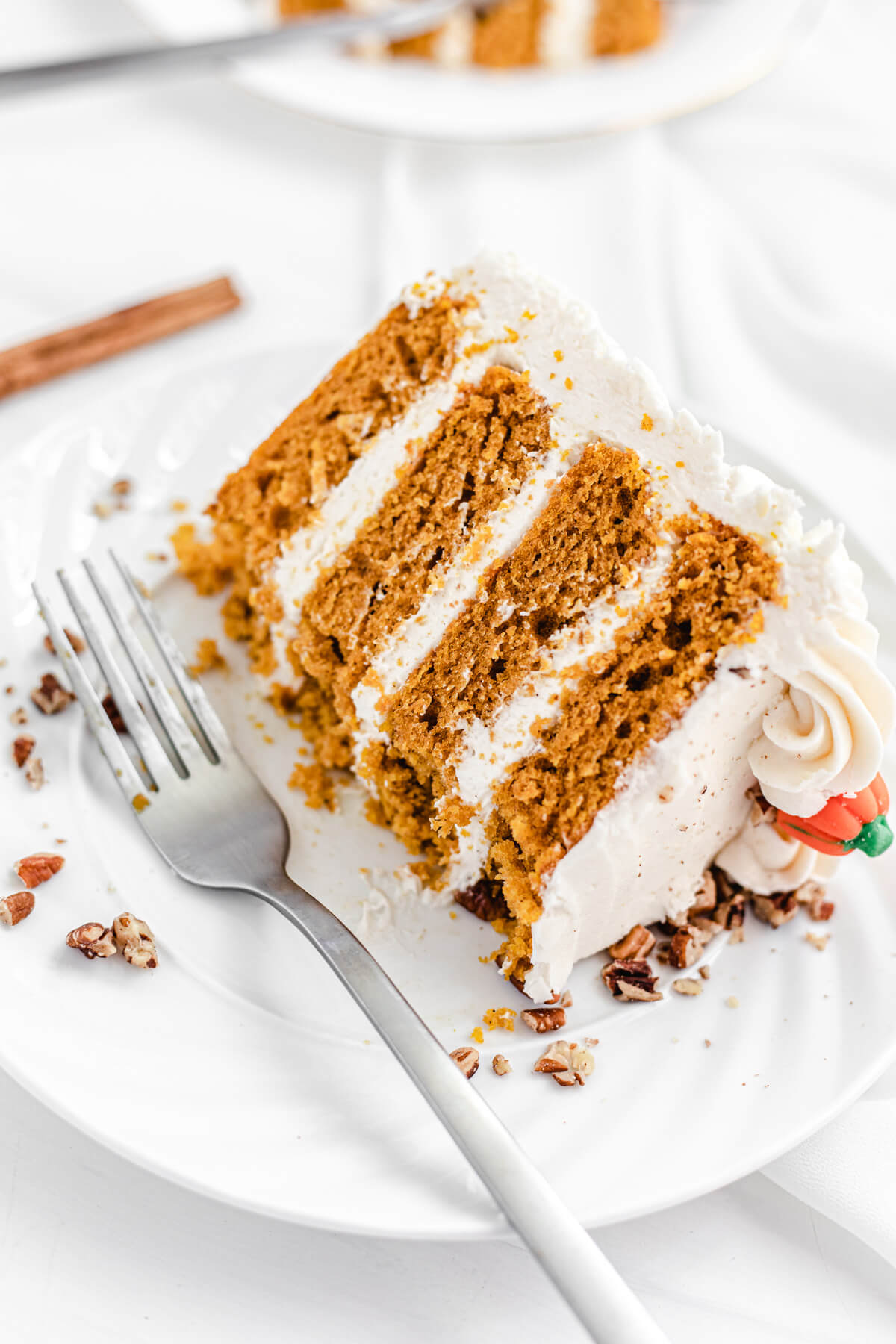 How to Make Pumpkin Cake
Before you begin, make sure your ingredients are all at room temperature. From there, making the cake should be a breeze! Here's the simplified instructions:
Combine the dry ingredients in one bowl.

Combine the wet ingredients in a separate, larger bowl.

Add the dry ingredients to the wet ingredients and mix until combined.
It's literally that easy! Isn't that awesome? I usually use a whisk, but this batch was doubled, so I found using a hand mixer to be easier. It's totally not needed though. As long as you got a big whisk and a strong arm, you'll be fine!
Bake 4 cake layers, 2 at a time, for 20 minutes each. Yup, even the baking time is short! Let it cool completely while you make the irresistible frosting.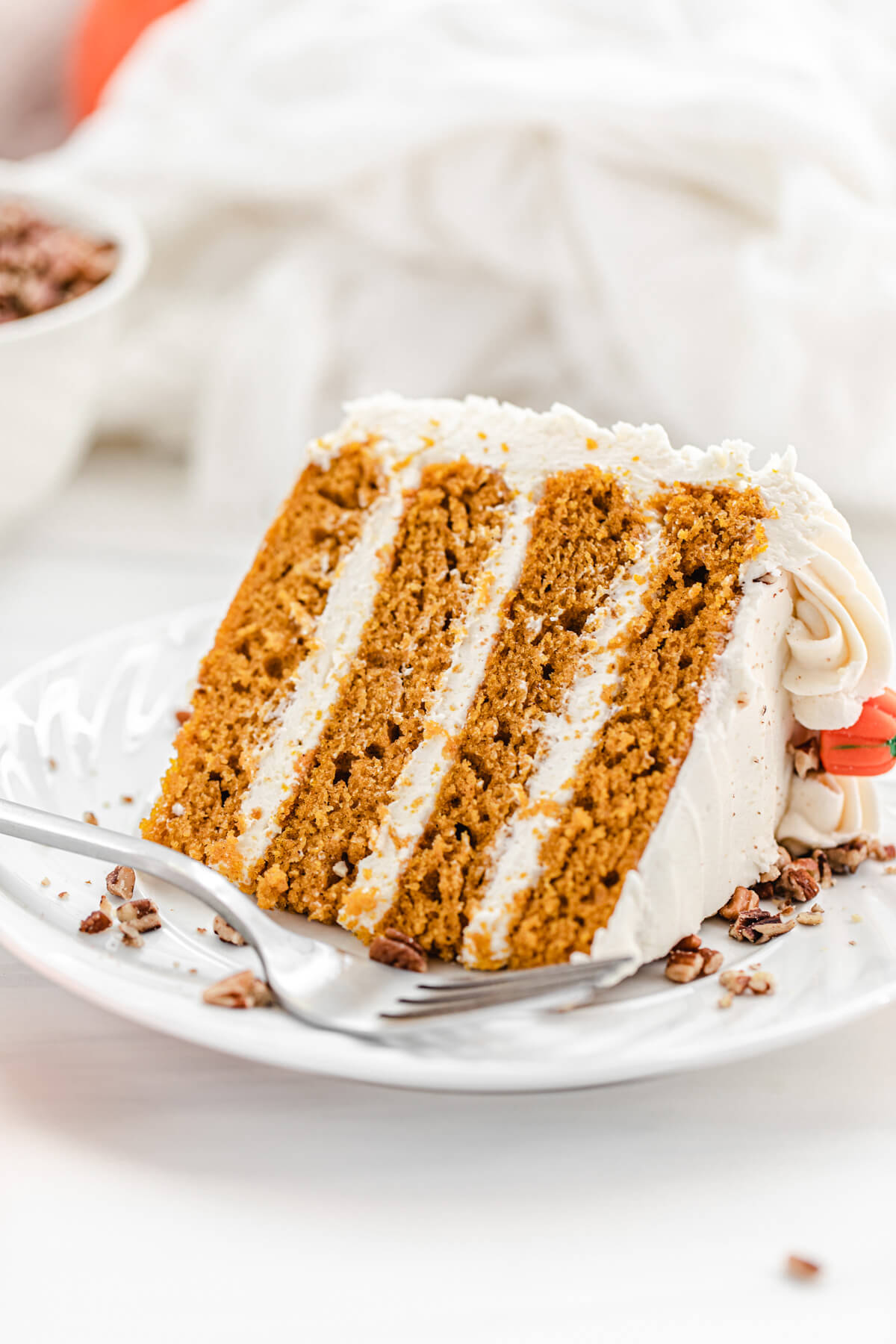 Cream Cheese Frosting
What's one thing red velvet cake, carrot cake, banana cake and pumpkin cake have in common? They were all destined to be paired with cream cheese frosting!
When you have a light, pillow soft cake, you need a light frosting to go with it. I made a big batch of my silky smooth cream cheese frosting to fill and decorate this cake.
We replace some of the butter with shortening and use 10 cups of icing sugar. I know it sounds like a lot, but since I wanted to pipe a design onto the cake, I needed the frosting to be stable.
Now if you just wanna spread the frosting on with no fancy decorations, feel free to cut the recipe in half!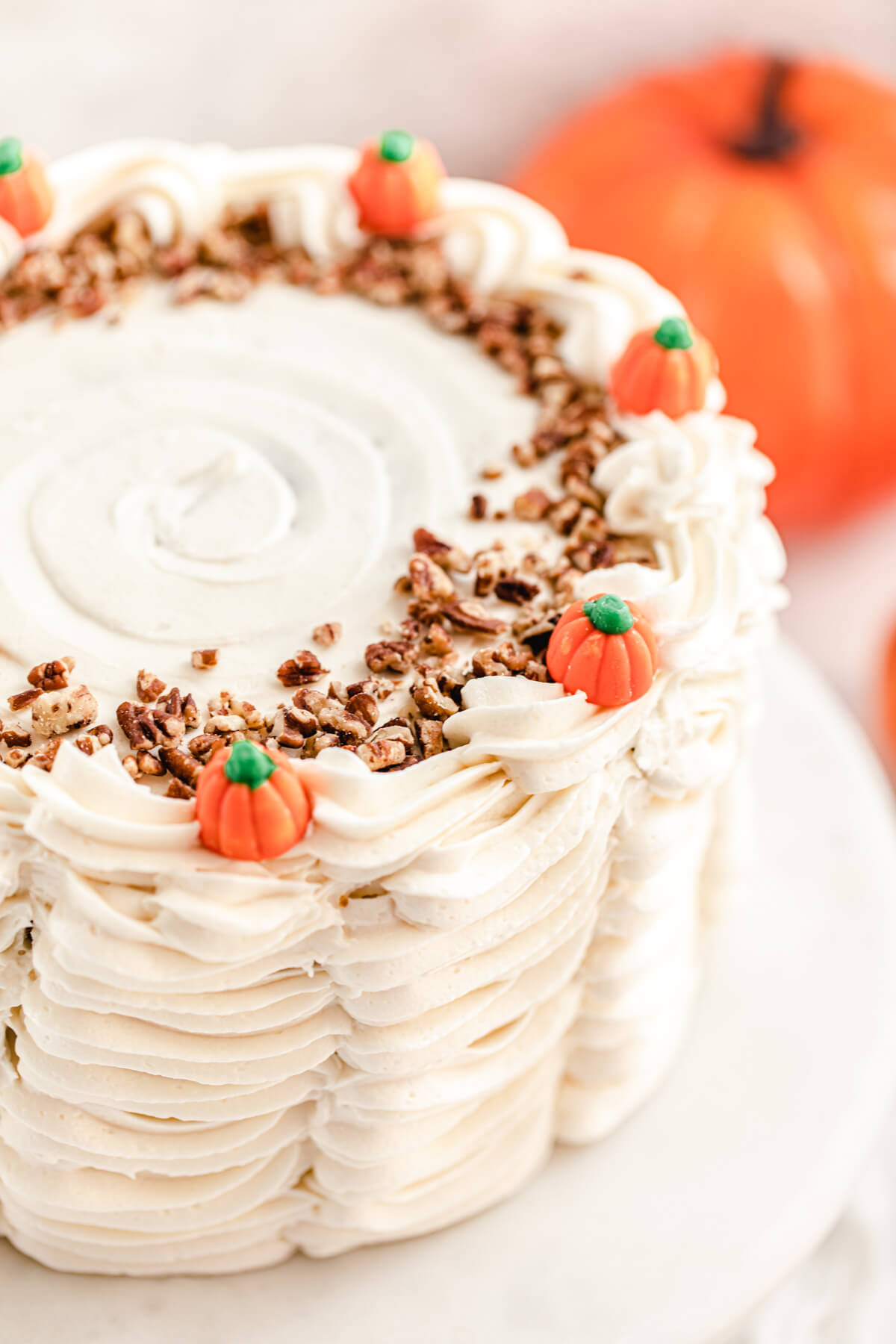 How I Decorated This Cake
I wanted to try something new when it comes to decorating. So after filling and crumb coating the cake, I spread another layer of frosting on top. Then I took a bench scraper to clean up the sides.
Now for those little swoops on the sides, I used the side of a ruler to mark the sections I wanted to pipe in. Then I filled a piping bag with a Wilton 1M tip with the cream cheese frosting. Starting from the bottom, pipe a shell border that curves up into a "smile". This didn't turn out as neat as I wanted it to be, but it's still pretty gorgeous!
For further decoration, I sprinkled some chopped pecans in the centre. And to show people what flavour the cake is, add some mellowcreme pumpkins on top!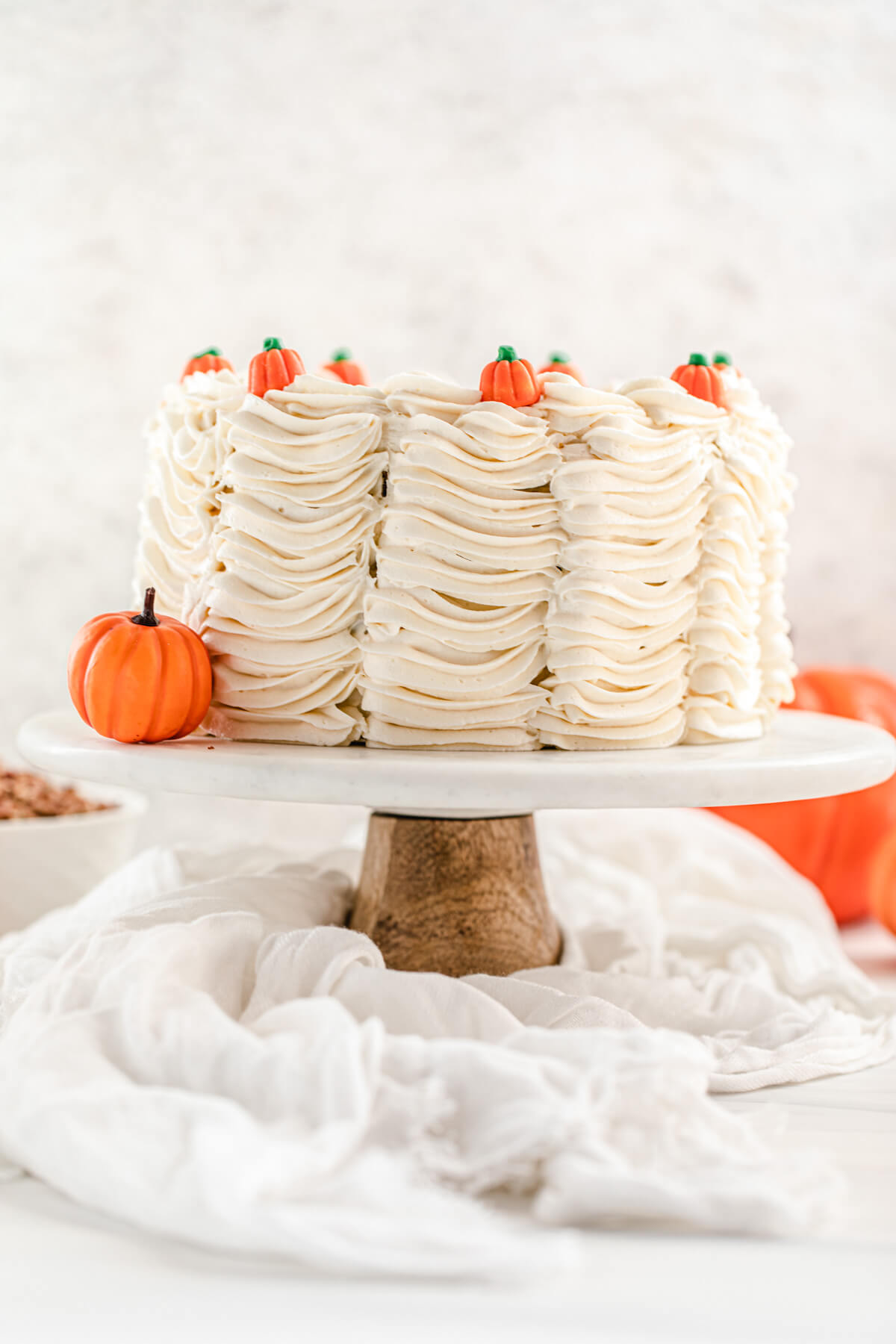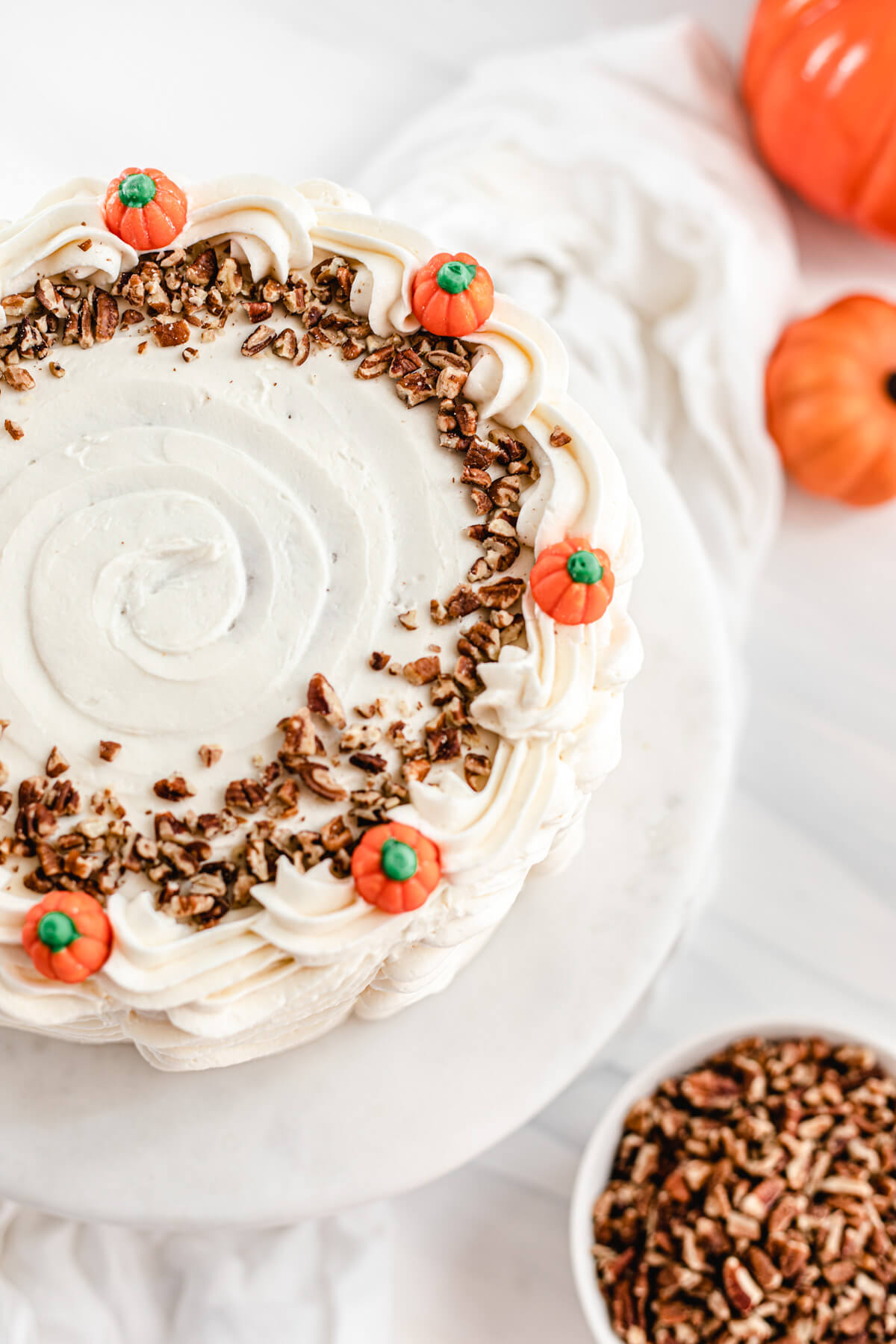 SHARE YOUR PICS!
Follow me on Instagram and tag #queensleeappetit so I can see and share all of your Queenslee Appétit creations in my stories and the QA Newsletter!
FOLLOW QUEENSLEE APPÉTIT
Like what you see? Make sure you're following Queenslee Appétit for more tasty recipes!
Pinterest | Instagram | Facebook |
Have any questions about the recipe? Contact me here, and I'll be happy to help!
SWEETEN UP YOUR INBOX!
SUBSCRIBE to the Queenslee Appétit Newsletter to recieve new recipe notifications, monthly baking tips, sneak peeks to upcoming recipes, exclusive recipes and more!
Let's get baking!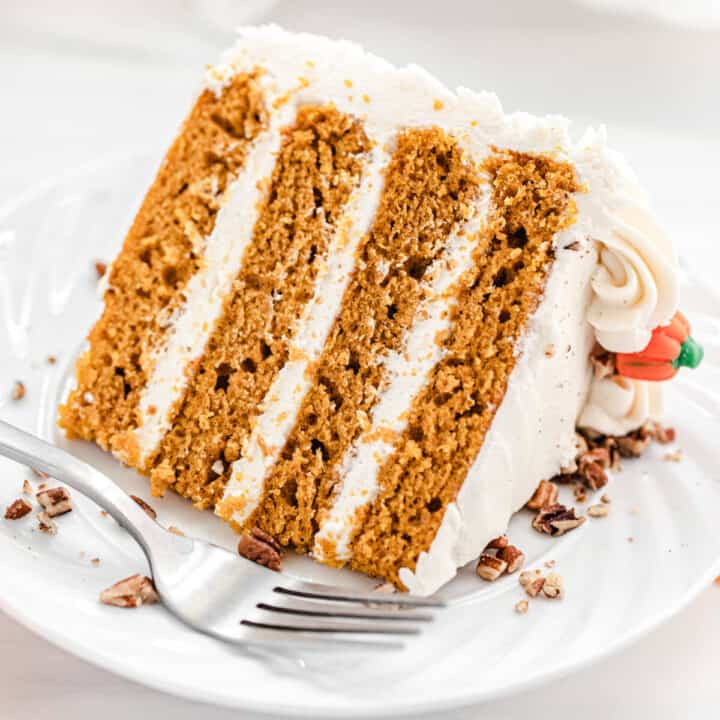 Pumpkin Cake with Cream Cheese Frosting
Total Time:
1 hour
40 minutes
This perfect Pumpkin Cake uses the same batter as my irresistibly moist and fluffy Pumpkin Cupcakes to produce the best pumpkin cake you'll ever have! The crumb is extremely soft and tender and loaded with brilliant pumpkin spice flavour! Pair it with the silkiest cream cheese frosting for an easy and tasty dessert!
Ingredients
Pumpkin Cake:
3 cups All purpose flour
1 tablespoon pumpkin spice*
2 teaspoon ground cinnamon
1 tablespoon Baking powder
1 teaspoon Baking soda
1 teaspoon salt
2 cups canned pumpkin purée
4 large Eggs, room temperature
2 teaspoon Pure Vanilla Extract
1 cup Vegetable oil
1 and ½ cups light brown sugar, packed
½ cup granulated Sugar
⅔ cup buttermilk, room temperature
Cream Cheese Frosting:
¾ cup unsalted butter, room temperature
¼ cup vegetable shortening (preferably high-ratio)
2 (8 ounce) packages (16 oz.) cream cheese, softened to room temperature
10 cups powdered sugar, sifted
1 tablespoon Pure Vanilla Extract
¼ teaspoon salt
Toasted pecans
Mellowcreme Pumpkins
Instructions
For the Pumpkin Cake:
Preheat the oven to 350°F (177°C), and grease two-four 8-inch round cake pans with nonstick cooking spray. Line the bottom with parchment rounds. Set aside.
In a medium mixing bowl, sift the flour, pumpkin spice, cinnamon, baking powder, baking soda and salt. Whisk to combine.
In a separate large mixing bowl, add the pumpkin purée, eggs, vanilla, oil, brown sugar, granulated sugar, and buttermilk. Mix, using a hand mixer, on medium speed until combined and smooth. Do not over mix.
Add the flour mixture to the pumpkin mixture and mix until everything is fully combined and smooth.
Divide batter between the four pans. If you only have 2 pans, add the other two halves of batter to two separate bowls and set them aside, covered until ready to use.
Bake in preheated oven for 20-23 minutes or until a butterknife inserted into the centre comes out clean. Cool in pans for 10 minutes, then remove cakes from pan and cool completely on a wire rack.
Repeat with the remaining cake batter.
For the Cream Cheese Frosting:
In the bowl of a stand mixer, beat the softened butter, shortening and cream cheese until super pale and fluffy, about 5-6 minutes.
Scrape down the sides and bottom of the bowl. Add the powdered sugar, one cup at a time and beat on low speed after each cup until combined.
Once combined add vanilla and salt and continue to beat until combined and smooth.
Increase speed to medium-high and beat for about 5-7 minutes, or until frosting is light and fluffy.
Assembly:
Place one cake layer on a serving plate or cake board on a turntable. Spread about 1 cup of frosting on top using an offset spatula.
Repeat with remaining layers and place final layer top side down.
Frost entire cake in a thin layer of the cream cheese frosting to seal the crumbs.
Frost the top of the cake with another thick layer of frosting. Use a long straight spatula to smooth it out and create a swirl. Use a bench scraper to clean up the sides.
Using a ruler, create vertical lines around the sides of the cake to make 3-4 inch sections.
Transfer remaining cream cheese frosting to a piping bag fitted with a large star tip. Pipe swoops in each section from the bottom to the top of the cake.
Top with mellowcreme pumpkin and sprinkle some chopped pecans in the centre. Slice, serve and enjoy!
Notes
Pumpkin Spice Substitute: If you can't find pumpkin spice, substitute with:
* 1 and ½ teaspoon ground cinnamon
* ½ teaspoon ground ginger
* ½ teaspoon ground nutmeg
* ¼ teaspoon ground cloves
* ¼ teaspoon ground allspice
Cream Cheese Frosting: If you don't want to pipe a design with the cream cheese frosting, feel free to halve the recipe and just spread it around the cake.
Recommended Products
As an Amazon Associate and member of other affiliate programs, I earn from qualifying purchases.
Nutrition Information:
Yield:

14
Serving Size:

1
Amount Per Serving:
Calories:

768
Total Fat:

32g
Saturated Fat:

10g
Trans Fat:

0g
Unsaturated Fat:

20g
Cholesterol:

84mg
Sodium:

465mg
Carbohydrates:

118g
Fiber:

2g
Sugar:

93g
Protein:

6g
BON APPÉTIT!
Love, Dedra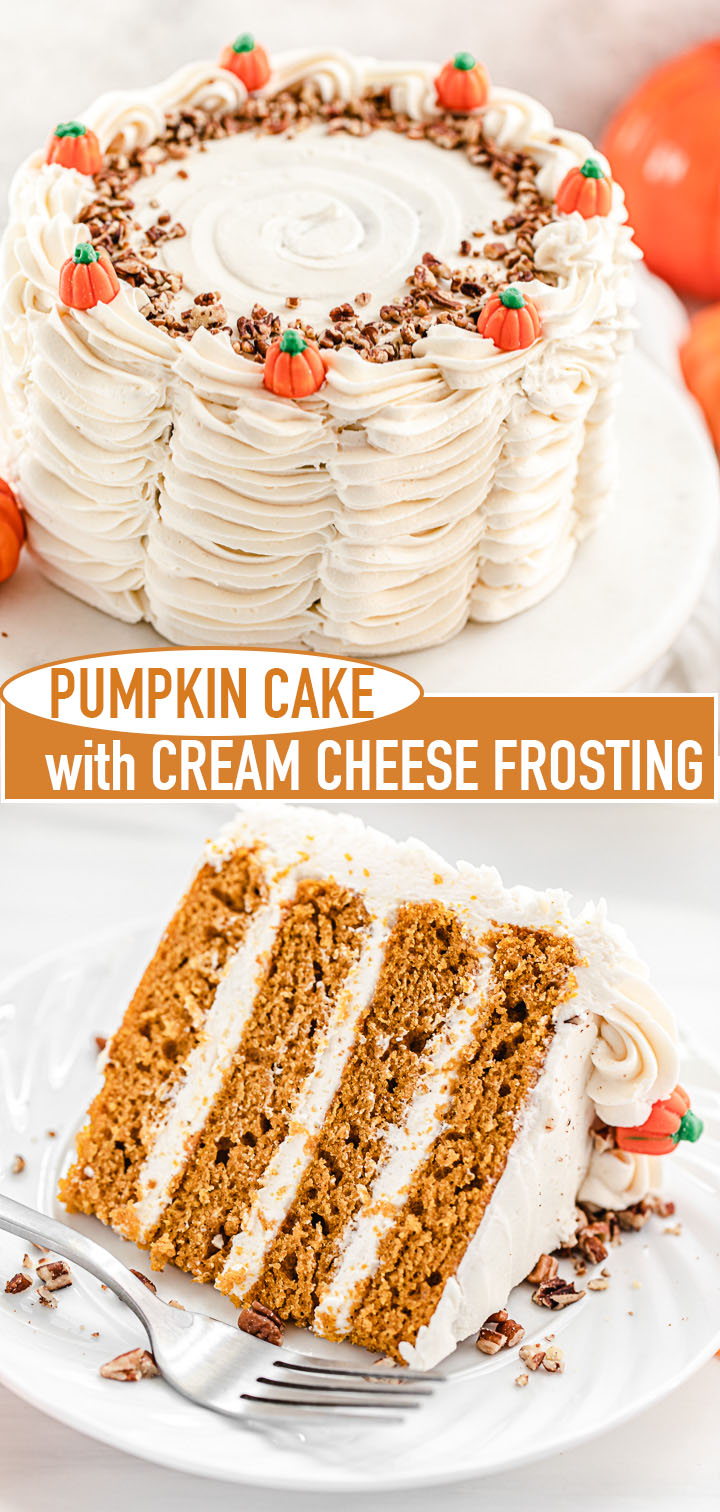 ©QUEENSLEE APPÉTIT. All images & content are copyright protected. Please do not use my images without prior permission. If you want to republish this recipe, please re-write the recipe in your own words, or link back to this post for the recipe.