These Carrot Cake Cupcakes are to die for! A moist and tender carrot cake cupcake made with loads of fresh carrots, topped with silky cream cheese frosting and dipped in chopped pecans for extra crunch!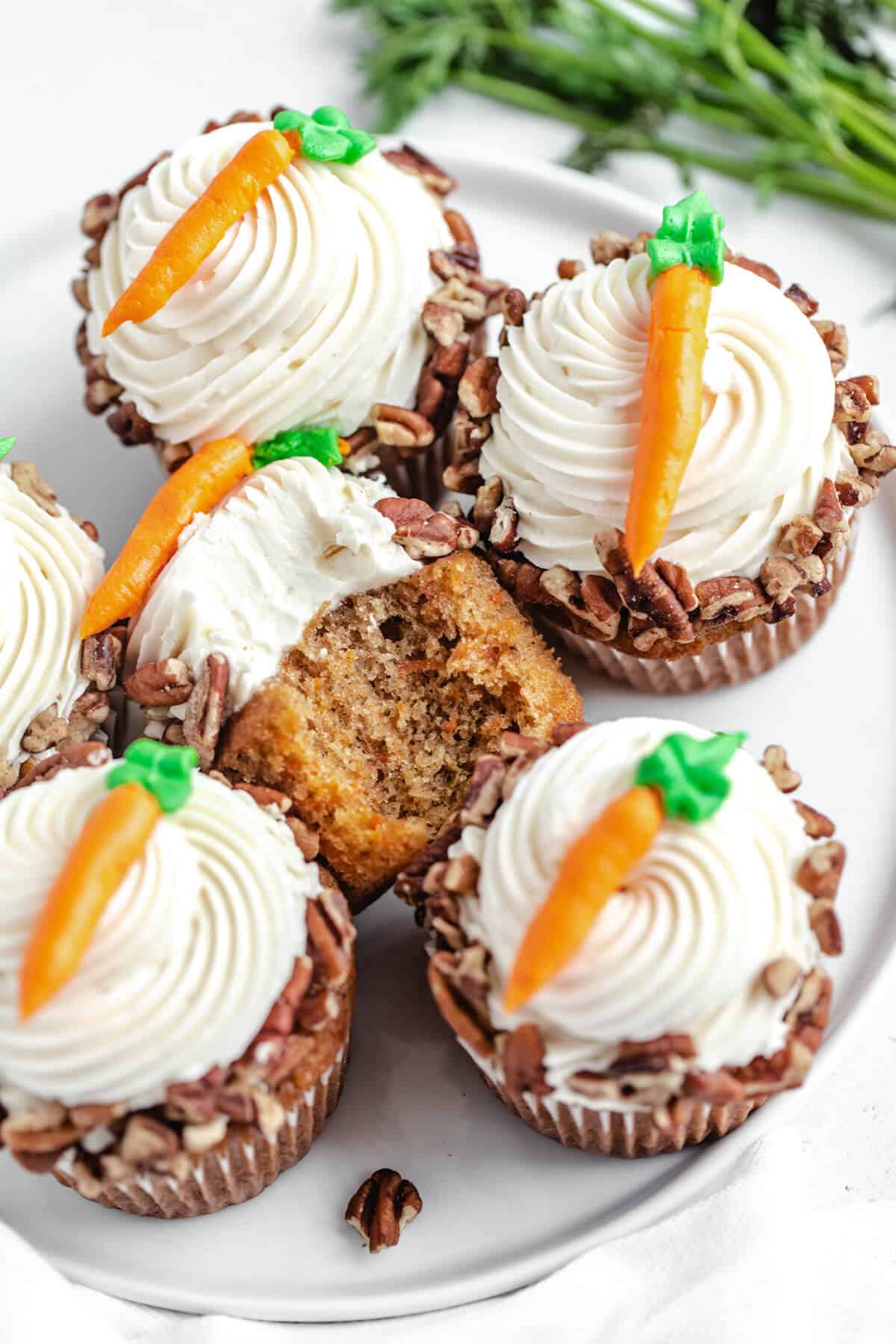 This post may contain affiliate links. Please see my full disclosure policy for details.
Moist and Fluffy Carrot Cake Cupcakes
About a week ago I posted a recipe for The Perfect Carrot Cake. In that post I mentioned that I had a ton of shredded carrots leftover, so what better way to use them than to make a cupcake version of that unforgettable cake!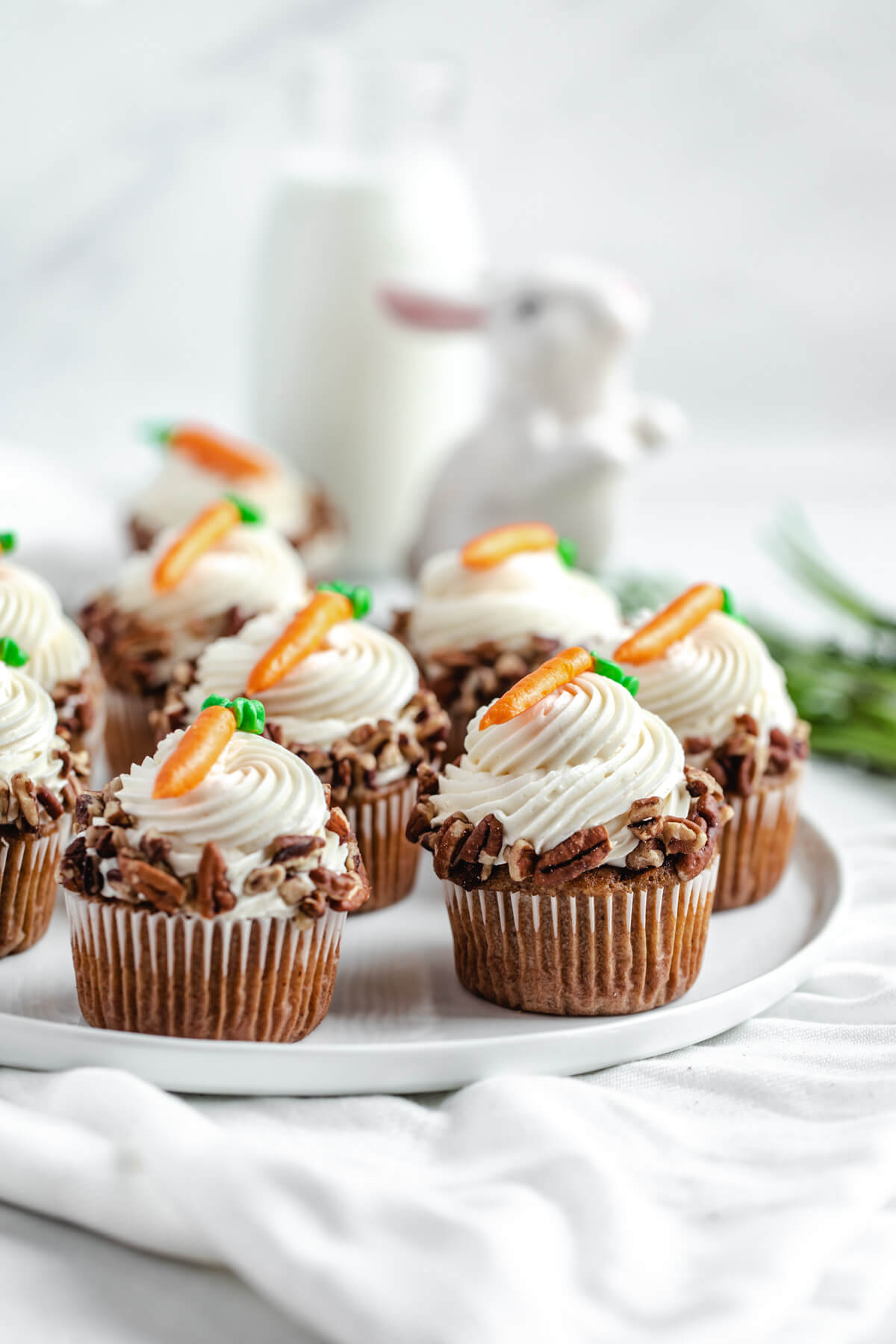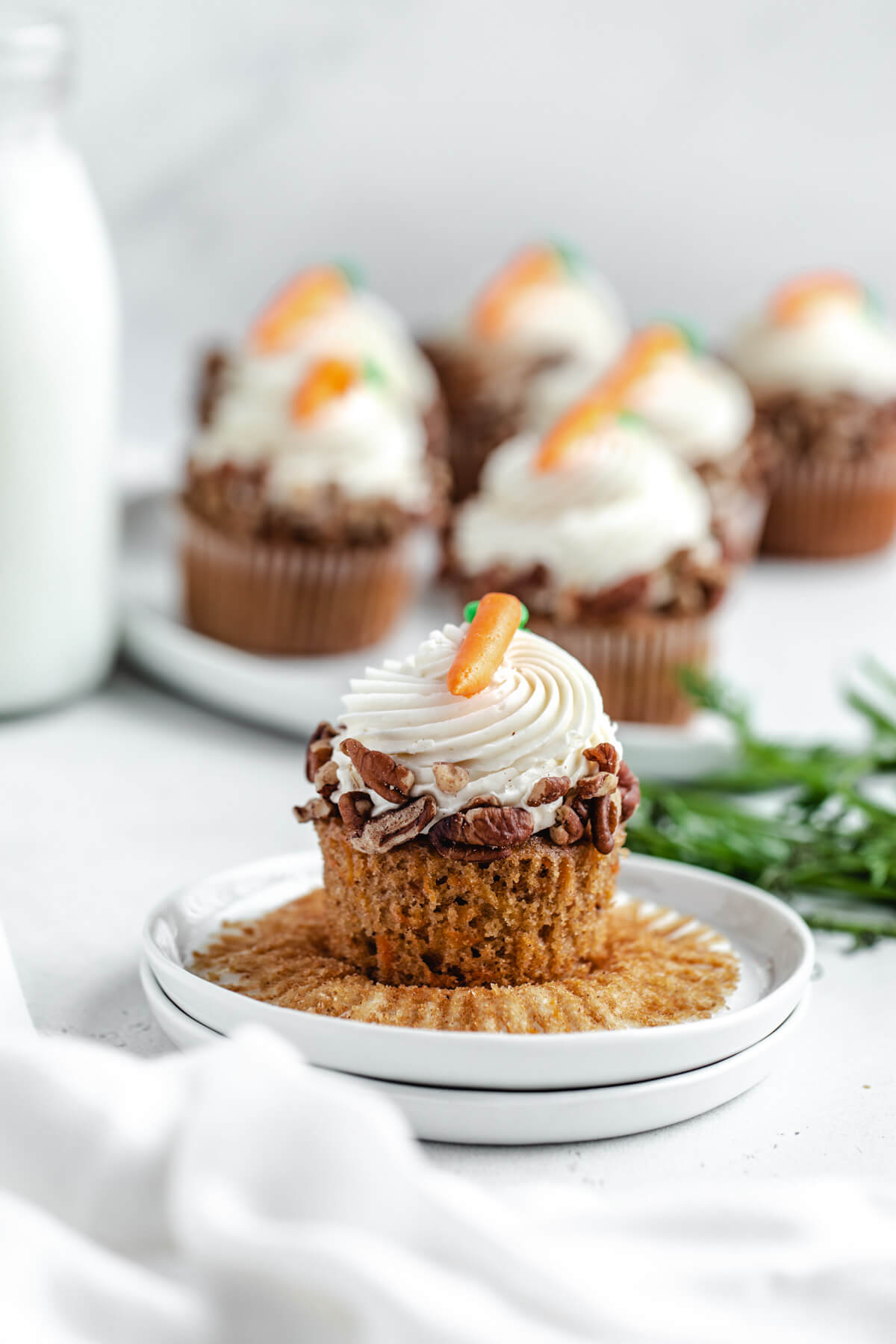 And even in the smaller size, these cupcakes are equally as delightful as that carrot cake! I thought my family finished the cake fast, but these cupcakes were gone in record time. I'm talking a day and a half.
They would try one, then immediately come back for another, and another! Thankfully I hid a few away for myself, otherwise I would've never gotten the opportunity to sink my teeth into these glorious treats!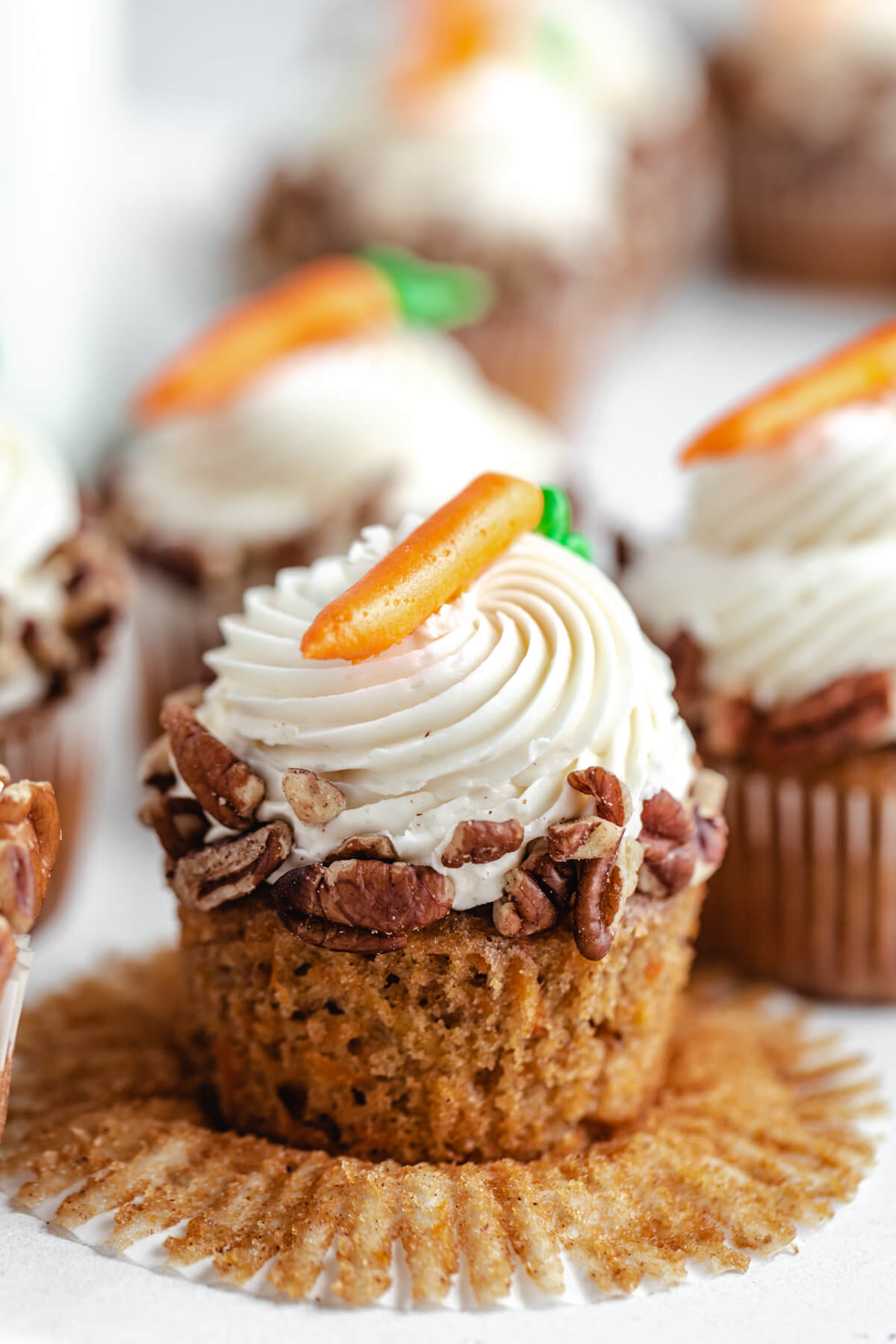 How to Make Carrot Cake Cupcakes
The recipe for these carrot cake cupcakes is pretty much identical to the cake version, except the measurements were cut in half to make less cupcakes. But if you wanted to make these for a large crowd, you can definitely use my full carrot cake recipe and just bake them in cupcake pans for the same amount of time listed in this recipe.
The method for making these carrot cake cupcakes is even easier than it was for the cake. Since we're making a smaller batch, you can simply use a handheld mixer or even just a whisk!
Start by whisking together the dry ingredients: flour, baking powder, baking soda, salt and some warm spices to boost the flavour.
Just like the cake, these carrot cake cupcakes are oil based, so in a separate bowl, whisk together the oil with the brown and white sugar. I like using a mixture of 2 sugars because not only does it add sweetness, it enhances the moisture, flavour and texture of the cake.
Next add the applesauce. I like adding applesauce to my carrot cake because it boosts the flavour of the spices and the brown sugars molasses. I also add a bit of sour cream to soften the texture and give it a nice and tender crumb.
Then we add 3 eggs, not as much as we used for the cake, but enough to build some structure in the cupcakes since no butter is being used. A bit of vanilla and of course some shredded carrots and you're good to go!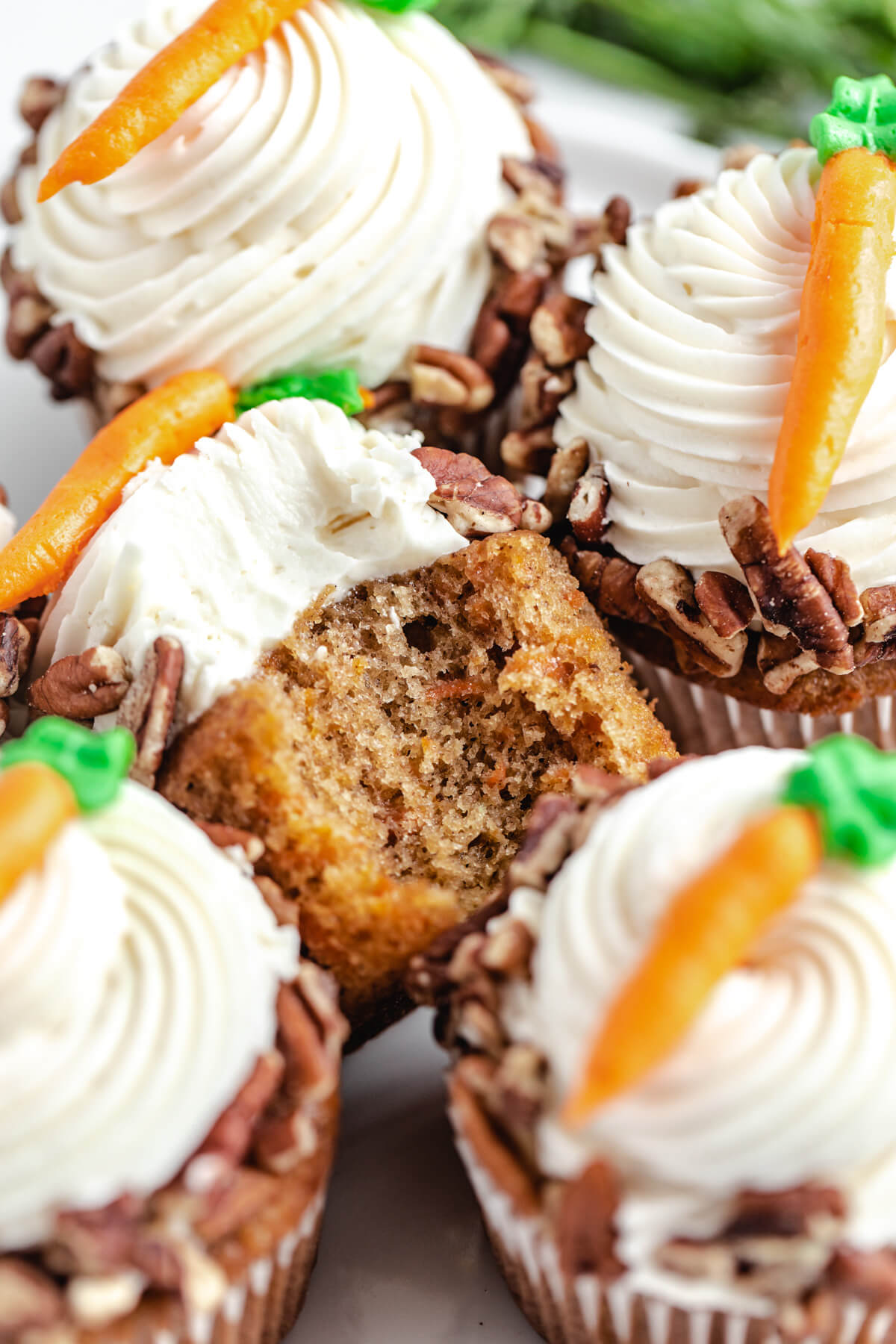 Best Ever Cream Cheese Frosting
I mean obviously the only type of frosting that's good enough for carrot cake is the super delicious cream cheese frosting. You just can't have carrot cake without cream cheese frosting. It's like having peanut butter without jelly, pasta without cheese, cinnamon rolls without the silky glaze. You get what I mean, you absolutely cannot have one without the other!
So sitting on top of these cupcakes, in all of its silky, creamy glory, is the best cream cheese frosting ever!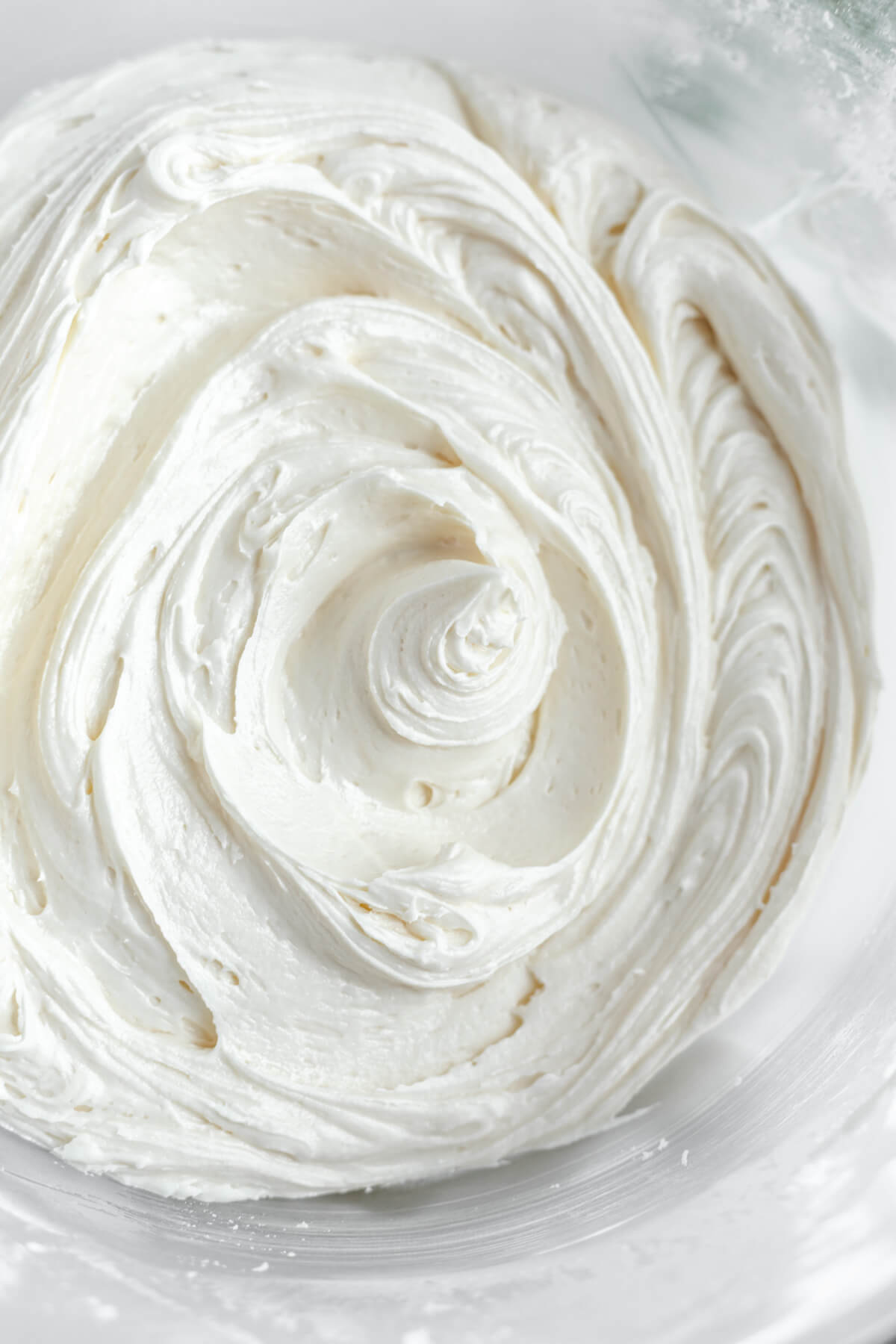 Making the frosting is really, really simple. All you need is a mixing bowl and a hand mixer. Just beat the butter and cream cheese together, then add the icing sugar, vanilla for flavour, and salt to help cut back some of the sweetness.
This batch of frosting is obviously smaller than the giant batch we made for the cake, but it's still slightly more than you'll need for the cupcakes since we'll be using some to make the carrot decoration on top.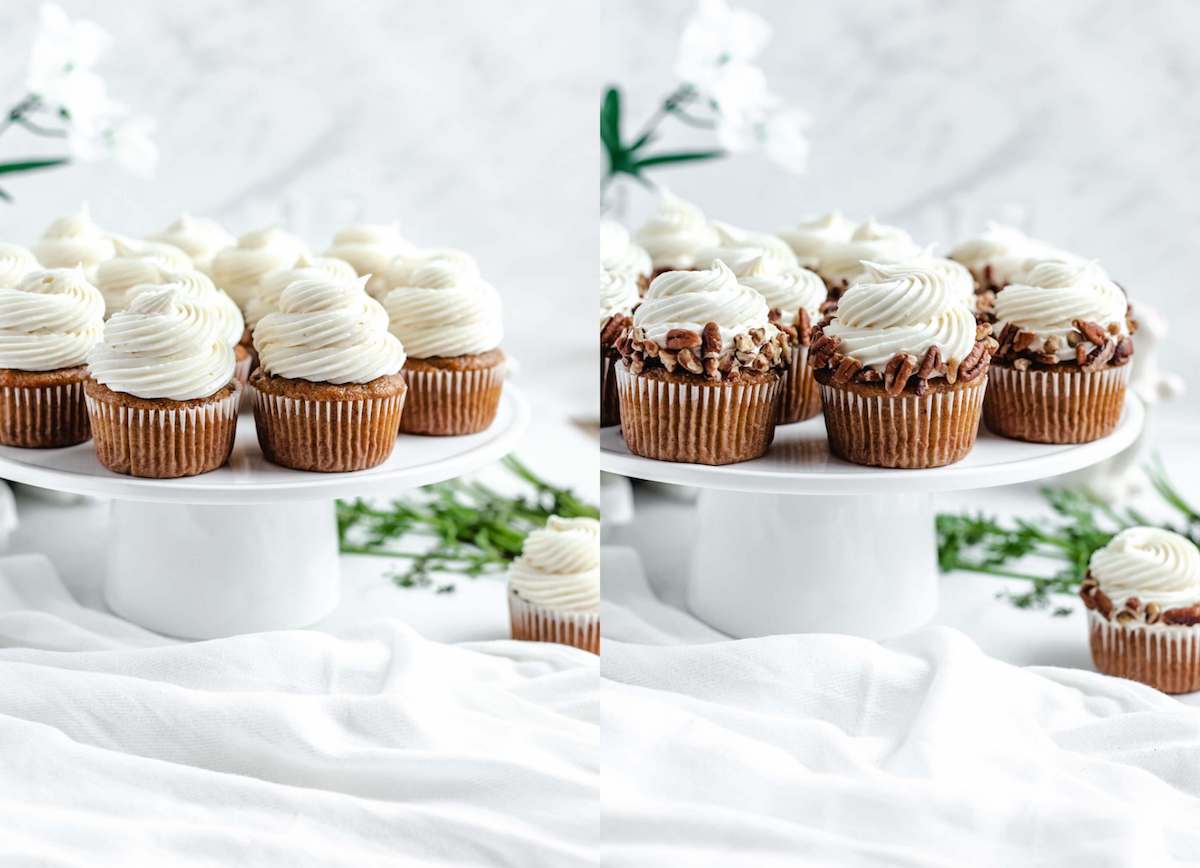 Cream Cheese Carrot Topping
I explain how to make the carrots in detail in the recipe below, but here's a bit of a summary:
Scoop out a bit of frosting between 2 bowls and tint one orange and the other green.

Put the orange frosting into a disposable piping bag with a small round tip.

Gently pipe out straight lines on a lined baking sheet, releasing pressure on the bag before pulling away to create the pointy tip.

Put the green frosting into a disposable piping bag with a small leaf tip.

Pipe leaves on top of the carrot lines. Freeze for a few minutes, then place on top of cupcakes.
It's really that easy! I like to make a lot more than I need, that way if I mess up or one of them gets ruined while transferring, I have plenty extra!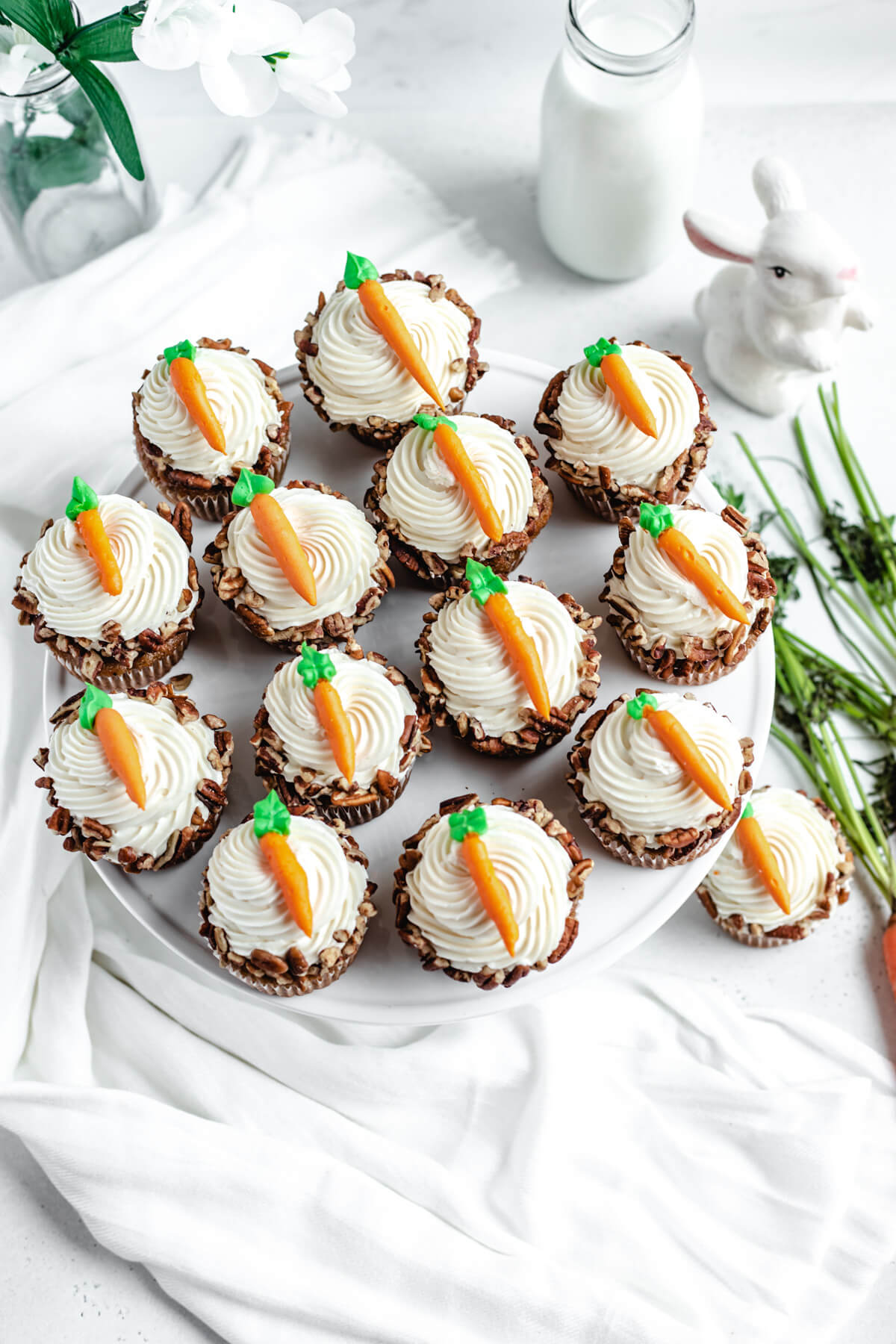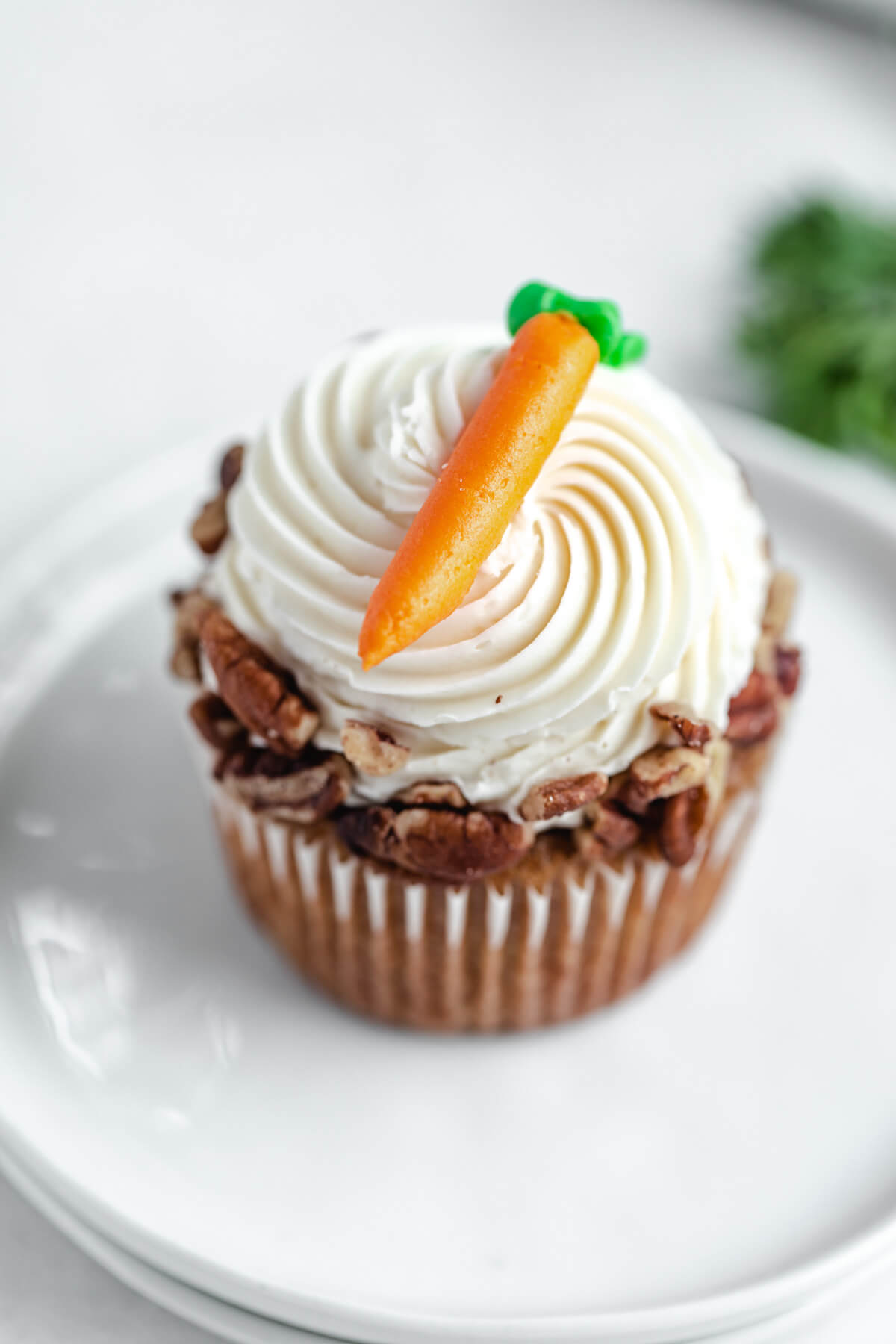 Tips for Making Carrot Cake Cupcakes:
I've talked about the process of making carrot cake cupcakes, but I still have a few tips to share to ensure your attempt goes as smoothly as possible.
You want to shred the carrots very fine so they can blend into the batter perfectly and you don't end up with crunchy chunks of carrot in your cupcake.

To shred the carrots, I recommend using a food processor shredding blade. This method is the easiest because all you need to do is push the carrot through and the blade will do all the work, creating nice thin strips of carrot.

If you DON'T own a food processor, you can shred the carrots by hand using the smallest holes on your grater.

Remember to wash and peel the carrots before shredding. If you're using a food processor, I suggest also cutting off the top of the top of the carrot before putting it through the shredder.

I used vegetable oil as the base oil for these cupcakes, but you can substitute with many other types of oils like: canola oil, sunflower oil, extra virgin olive oil, avocado oil and more!
Although I prefer my carrot cakes/carrot cupcakes to be pure carrot, you can throw in a handful of add-ins if you desire, like nuts or raisins.

Also do not add too many add-ins. About ½ cup will do. You don't want to add too many extra things that will disturb the structure and texture of the cupcake.

I dipped the cupcakes in some chopped toasted pecans to add a nice crunch to each bite. This is optional, but highly recommended! You can also substitute with chopped toasted walnuts if you choose.

To dip the sides of the cupcake, I just held the frosted cupcake over a bowl of chopped pecans and grabbed a handful and pressed them to the sides.

An alternate method of doing this is to pipe a rim of frosting around the cupcakes, dip the top and sides into the pecans, then pipe another swirl on top (which is the method I used for these turtle cupcakes)!
Lastly, these cupcakes are best stored in an airtight container in the refrigerator for up to 4-5 days. Though I doubt they will last that long ;).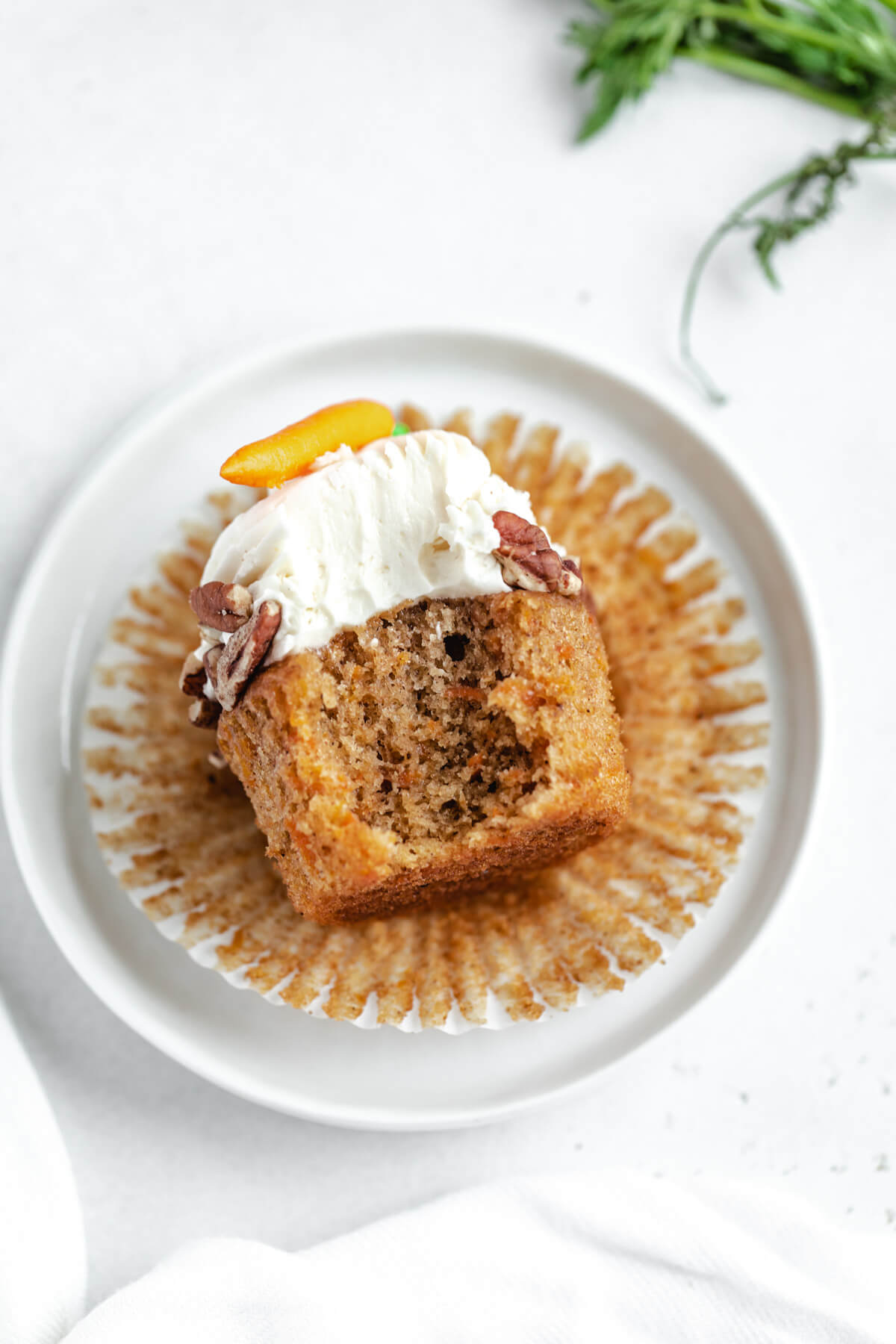 Craving More Carrot Desserts? Try this out:
>>PIN FOR LATER<<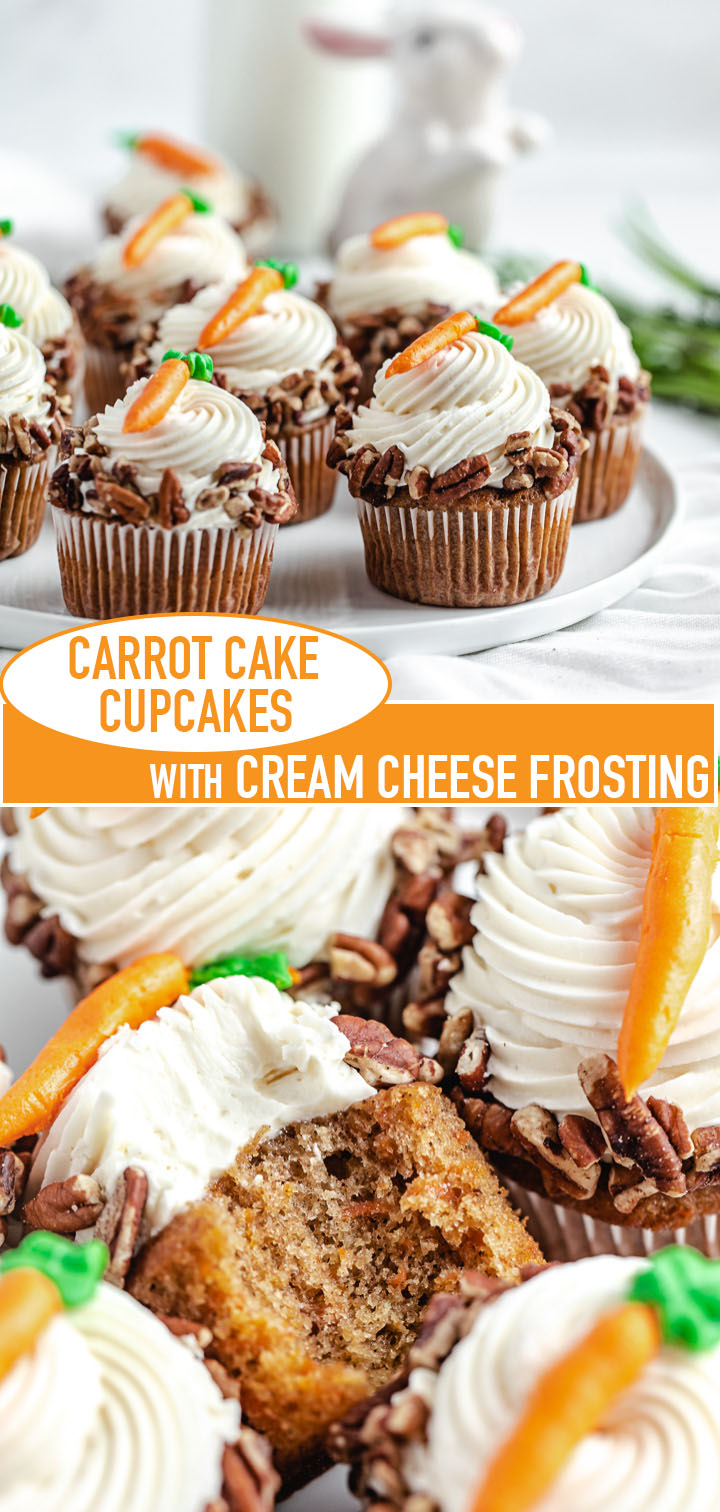 FOLLOW QUEENSLEE APPÉTIT
Like what you see? Make sure you're following Queenslee Appétit for more tasty recipes!
Pinterest | Instagram | Facebook | Twitter |
Have any questions about the recipe? Contact me here, and I'll be happy to help!
SHARE YOUR PICS!
Tag me on Instagram @queensleeappetit or use the hashtag #queensleeappetit so I could see your gorgeous creations!
SWEETEN UP YOUR INBOX!
SUBSCRIBE to the Queenslee Appétit Newsletter to recieve new recipe notifications, monthly baking tips, sneak peeks to upcoming recipes, exclusive recipes and more!
Let's get baking!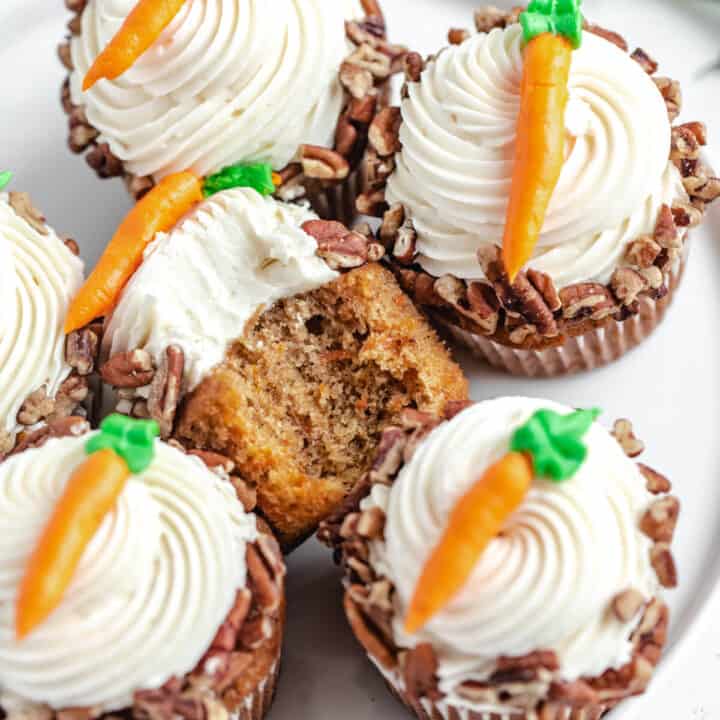 Carrot Cake Cupcakes with Cream Cheese Frosting
These Carrot Cake Cupcakes are to die for! A moist and tender carrot cake cupcake made with loads of fresh carrots, topped with silky cream cheese frosting and dipped in chopped pecans for extra crunch!
Ingredients
Carrot Cake Cupcakes:
1 and ½ cups All purpose flour
1 and ½ teaspoon Baking powder
¼ teaspoon Baking soda
½ teaspoon salt
1 and ½ teaspoon ground cinnamon
½ teaspoon ground nutmeg
½ teaspoon ground ginger
⅛ teaspoon ground cloves
⅔ cup Vegetable oil (can use canola oil, avocado oil, or sunflower oil)
¾ cups dark brown sugar, packed
¾ cups granulated Sugar
¼ cup unsweetened applesauce, room temperature
¼ cup sour cream, room temperature
3 large Eggs, room temperature
1 and ½ teaspoon Pure Vanilla Extract
2 cups shredded carrots (3-4 large carrots)
Cream Cheese Frosting:
½ cup unsalted butter, room temperature
1 (8 ounce) packages cream cheese, softened to room temperature
6 cups powdered sugar
1 and ½ teaspoon Pure Vanilla Extract
⅛ teaspoon salt
Carrot Topping:
⅔ cup cream cheese frosting (recipe above)
Orange gel food colouring
Green gel food colouring
Decoration:
1 and ½ cups chopped toasted pecans
Instructions
For the Carrot Cake Cupcakes:
Preheat oven to 350° F (177°C) and line a standard cupcake pan with paper liners. Line a second standard pan with 4-5 liners. This recipe makes about 17 cupcakes. Set aside.
In a large bowl, add the flour, baking powder, baking soda, salt, cinnamon, nutmeg, ginger and cloves. Whisk to combine. Set aside.
In a large mixing bowl using a hand mixer or a whisk, add the oil and both sugars. Mix on medium-high speed until combined.
Add the applesauce and sour cream and continue to mix until completely combined.
Scrape down the sides and bottom of the bowl. Lower the speed to medium-low and mix in the eggs, one at a time until just combined. Mix in the vanilla.
Add the dry ingredients in three additions, mixing on low speed after each addition until completely combined.
Using a rubber spatula, fold in shredded carrots and about ½ cup of any add-ins IF you desire (see tips above).
Divide batter equally between the cupcake liners, filling each ⅔ way full. Bake for 18-20 minutes or until a toothpick inserted into the cupcake comes out with a few moist crumbs.
Remove cupcakes from oven and allow to cool in pans for about 5 minutes, then transfer to cooling racks to cool completely before frosting.
For the Cream Cheese Frosting:
In the bowl of a stand mixer, or in a large mixing bowl using a hand mixer, beat the softened butter and cream cheese until super pale and fluffy, about 5-6 minutes.
Scrape down the sides and bottom of the bowl. Add the powdered sugar, one cup at a time and beat on low speed after each cup until combined.
Once combined add vanilla and salt and continue to beat until combined and smooth.
Increase speed to medium-high and beat for about 5-7 minutes, or until frosting is light and fluffy.
For the Carrot Topping:
Line a baking sheet with wax paper. Set aside.
Add ⅔ cup of the cream cheese frosting to 2 separate bowls (⅓ cup for each bowl). Tint one half orange and the other green.
Spoon the orange frosting into a disposable piping bag fitted with a small round tip. Put the green frosting into a piping bag fitted with a small leaf tip. Set aside.
With the orange frosting, pipe a short line onto the baking sheet, release pressure on the piping bag, then drag the piping bag out without squeezing so you get a pointy tip. Repeat a few more times, piping out as many as you can. It's good to have extra in case you mess up. Make sure you leave enough room at the top of the carrot for the leaf.
Use the green frosting with the leaf tip to pipe small leaves onto the top of each carrot. Transfer baking sheet to the freezer.
Assembly:
Transfer remaining frosting to a piping bag fitted with a large star tip (I used Wilton 6B) pipe a swirl onto each cupcake.
Pour the chopped toasted pecans into a bowl, hold the cupcake over the bowl and grab a handful of pecans and gently press them onto the sides of the cupcake. Repeat with all cupcakes.
Remove frosting carrots from the freezer and use an offset spatula or butter knife to gently slide underneath the carrots to loosen. Pick up the carrots and place on top of each cupcake. Enjoy!
Recommended Products
As an Amazon Associate and member of other affiliate programs, I earn from qualifying purchases.
Nutrition Information:
Yield:

17
Serving Size:

1
Amount Per Serving:
Calories:

449
Total Fat:

20g
Saturated Fat:

6g
Trans Fat:

0g
Unsaturated Fat:

13g
Cholesterol:

51mg
Sodium:

161mg
Carbohydrates:

68g
Fiber:

1g
Sugar:

62g
Protein:

2g
BON APPÉTIT!
Love, Dedra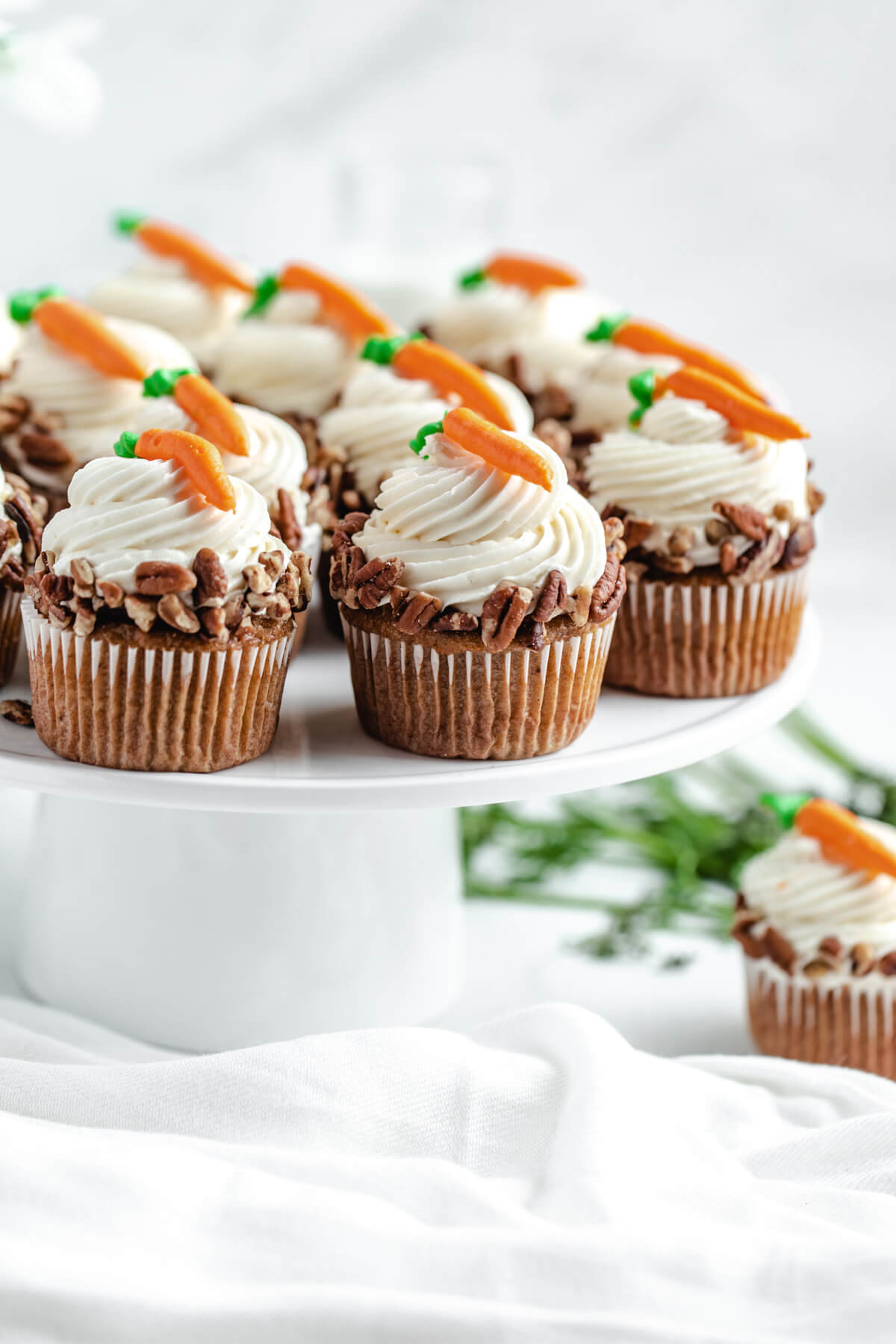 ©QUEENSLEE APPÉTIT. All images & content are copyright protected. Please do not use my images without prior permission. If you want to republish this recipe, please re-write the recipe in your own words, or link back to this post for the recipe.