These Turtle Chocolate Cupcakes feature a moist and fudgy chocolate cupcake that's filled with pecan caramel sauce and topped with the most heavenly caramel cream cheese frosting! Multiple easy recipes come together to create cupcake perfection!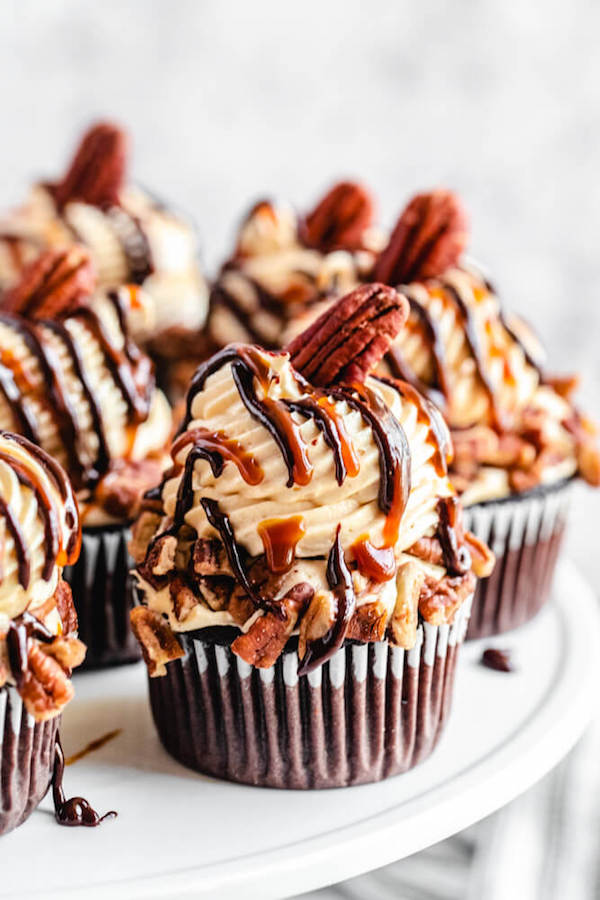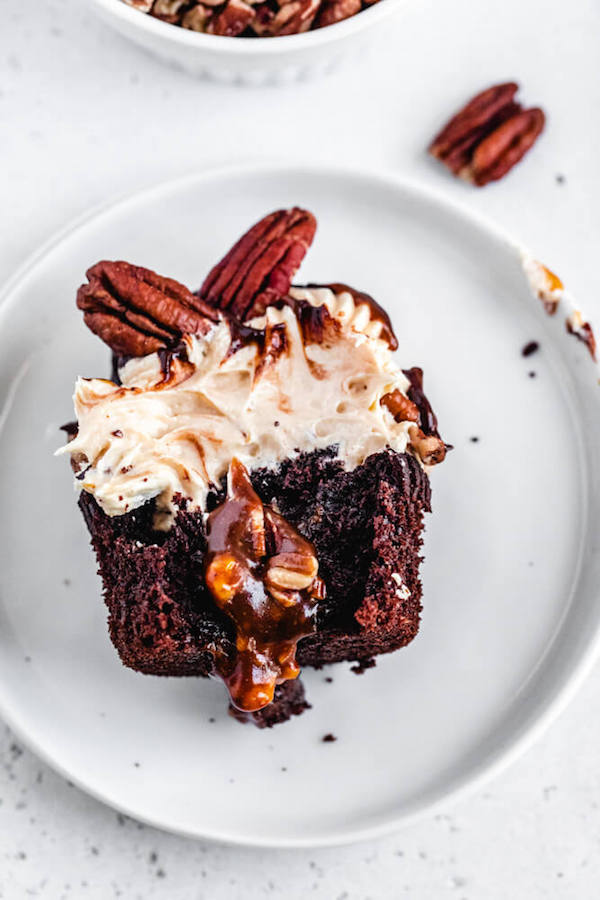 This post may contain affiliate links. As an Amazon Associate I earn from qualifying purchases. Please see my full disclosure policy for details.
Turtle Chocolate Cupcakes
Ahh, I'm so excited for today's recipe! We're kicking off the New Year by taking my favourite cake ever and turning it into cupcakes! I've been wanting to turn my incredible Turtle Chocolate Layer Cake into cupcakes ever since it exploded in popularity.
Now that cake is amazing in every way possible, but as a 4 layered cake filled with a homemade pecan caramel sauce and covered in caramel buttercream, caramel sauce, ganache and loads of pecans — you could see how time consuming it could get.
So to make up for that, I've created a cupcake version that's far easier to make and is far less time consuming. But don't get it twisted, these cupcakes are still just as delicious as the iconic cake!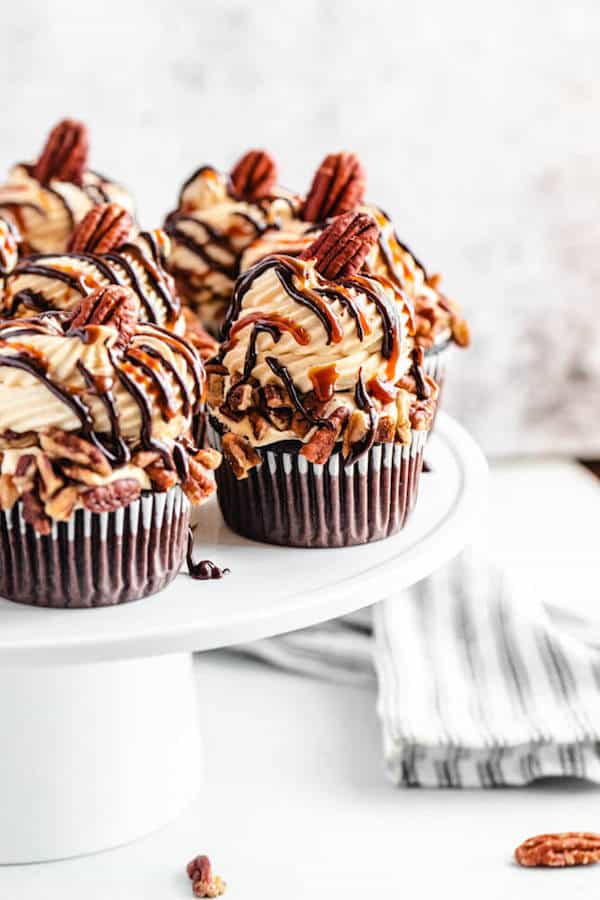 3 parts to this Recipe
You'll be learning how to make 3 things today:
Chocolate cupcakes

Salted Caramel sauce/Caramel Pecan Filling
Caramel Cream Cheese Frosting
Every part of this recipe is very simple to prepare. And if you've already made my turtle cake recipe, these cupcakes should be a breeze! Let's break down each part.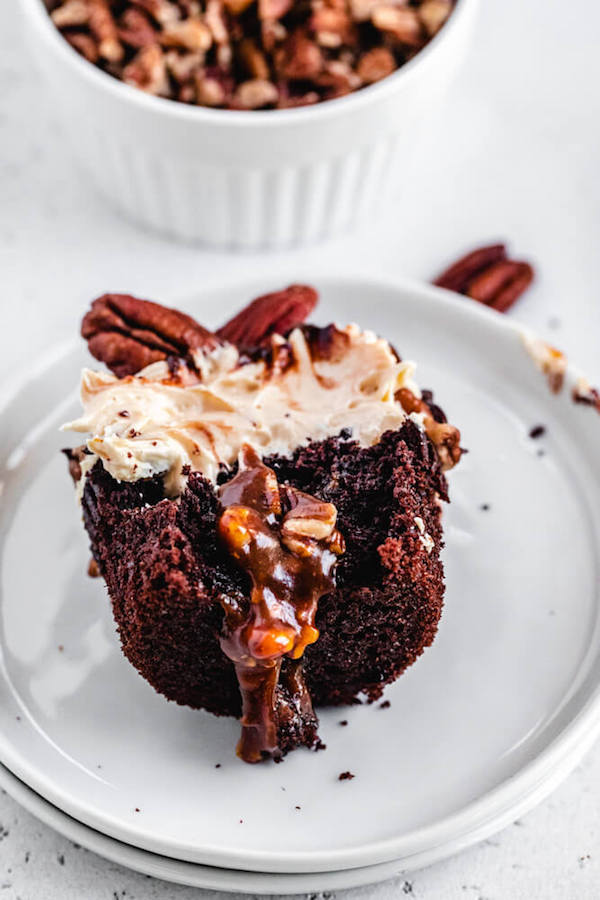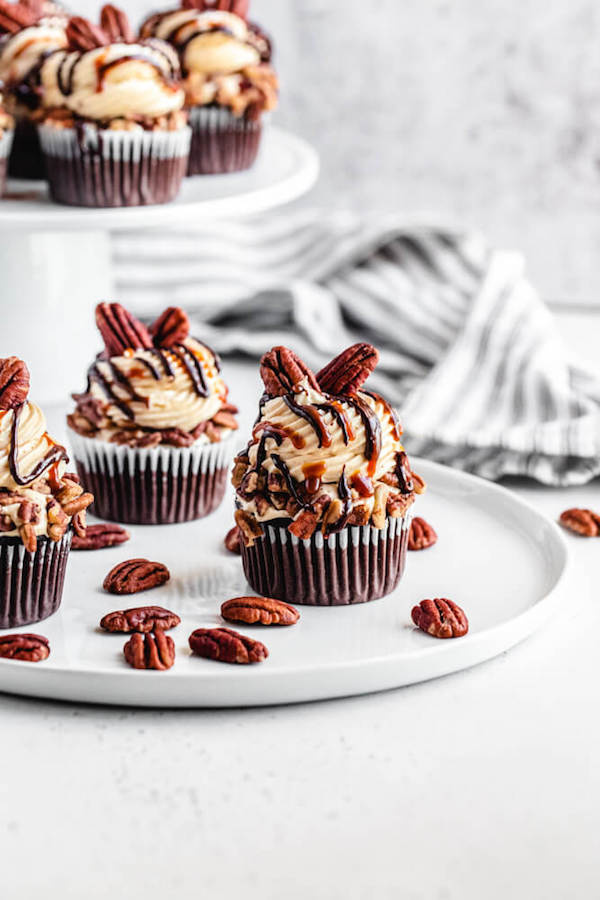 Moist Chocolate Cupcakes
I really can't get enough of my new chocolate cupcake recipe. It's packed with loads of chocolate flavour and it's moist, soft and fluffy! Like little chocolate clouds! This recipe is different from my other chocolate cupcake recipe which is a bit simpler.
That recipe only requires a whisk and a bowl and 3 simple steps. However, though this recipe requires a mixer and a few more steps, it's still very easy to make AND in my opinion, it's so much better than the "basic" version!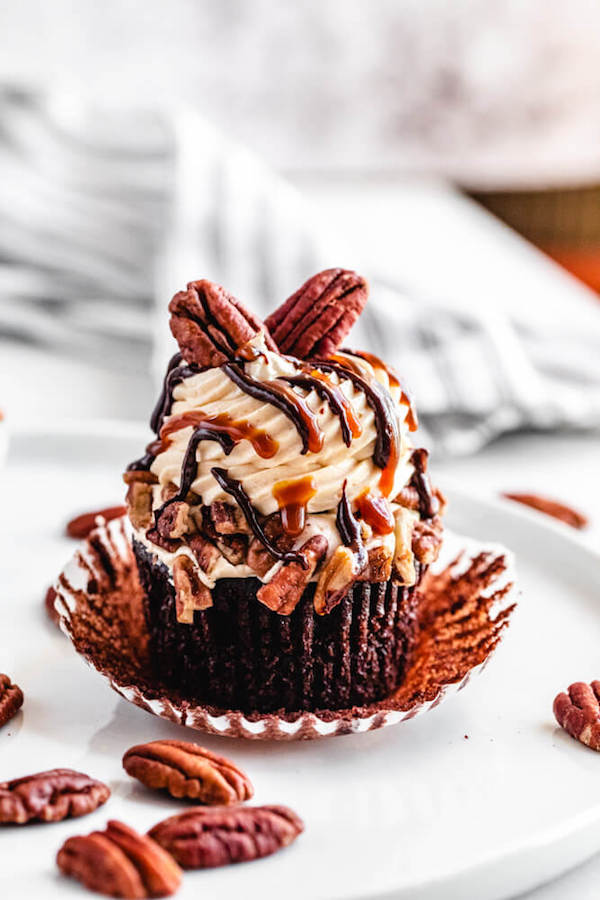 To get that super fluffy texture, we begin by creaming the butter and sugar. You always wanna cream butter and sugar until the colour is almost white. This base is the main key to the final cupcakes results. If you skimp on the creaming, you will not end up with the same texture.
To the creamed butter/sugar, we add eggs for structure, sour cream for softness, and a blend of vanilla and instant coffee to heighten up those rich chocolate flavours! If you're not a coffee fan, don't worry you won't taste the coffee once the cupcakes are baked. And I highly recommend it if you want these cupcakes to taste as chocolatey as possible!
Lastly, you'll need to alternate between adding the dry ingredients and buttermilk. This means you start off by adding ⅓ of the dry mixture, beating it until it's almost completely combined, then add half of the buttermilk and do the same. Continue by adding ½ of the remaining dry ingredients, mix, remaining buttermilk, mix, then the rest of the dry ingredients.
It may sound confusing if you're a beginner but it's super simple:
3 additions of dry
2 additions of wet
Begin and end with dry
Why do we do this? To keep the batter nice and smooth while mixing!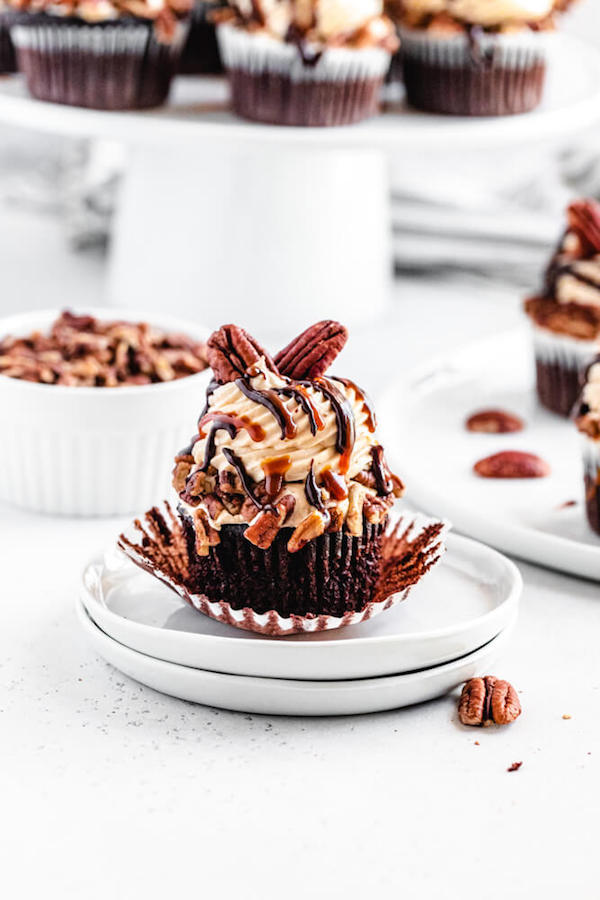 How to Make Caramel Pecan Filling
If you've ever had a Turtle chocolate, you'd know that sitting inside the chocolate shell is a caramel pecan filling so that's exactly what we have inside these cupcakes!
So, how do we make pecan caramel filling? Well, first we need to toast the pecans. Just toss the pecan halves in some melted butter, then spread onto a baking sheet and toast in the oven for a few minutes. Chop them up, then set them aside.
Once that's done, all you gotta do is make the caramel sauce. I already taught you how to make caramel sauce in this post, but the recipe below is doubled because we'll be using half for the pecan filling and the other half for the frosting and drizzling.
Salted Caramel Cream Cheese Frosting
Ok this is officially my second favourite frosting, next to my dreamy chocolate buttercream. I'm positively obsessed with it! I'm kinda sad that I didn't use it in my turtle cake recipe. As great as my salted caramel buttercream is, the sweet and tangy cream cheese frosting is so much better!
Tip: Make sure the caramel sauce has cooled completely before you add it to the frosting. If you make the caramel ahead of time, you can get away with microwaving it for 20-25 seconds to get it back to pourable consistency.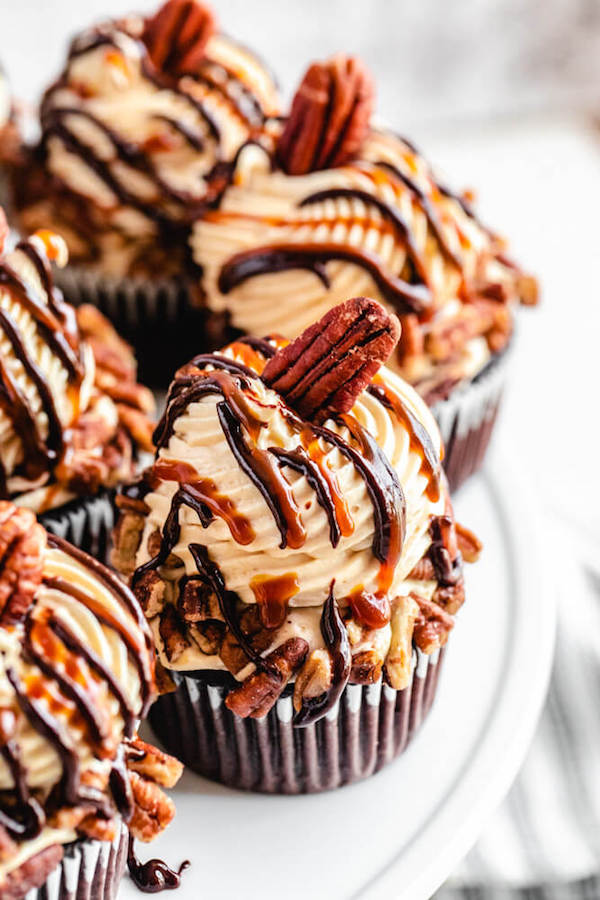 Assembling the Turtle Cupcakes
It's time to assemble! We gotta fill the cupcakes, so cut a hole out the centre. I like to use a cupcake corer, but you can use a pairing knife or the bottom of a piping tip.
Make sure to save the top of the cut out cupcake because we need to cover the cupcake back up after filling! Why? Well, next you'll need to pipe a rim of frosting around the edge of the cupcake, then dip it into some chopped pecans. Placing the tops back on stops the caramel pecan filling from spilling out when you dip the cupcakes!
Pipe a final swirl of frosting in top, then drizzle with extra salted caramel sauce, ganache then garnish with pecan halves. Now brace yourself for the heavenly flavour explosion in each bite!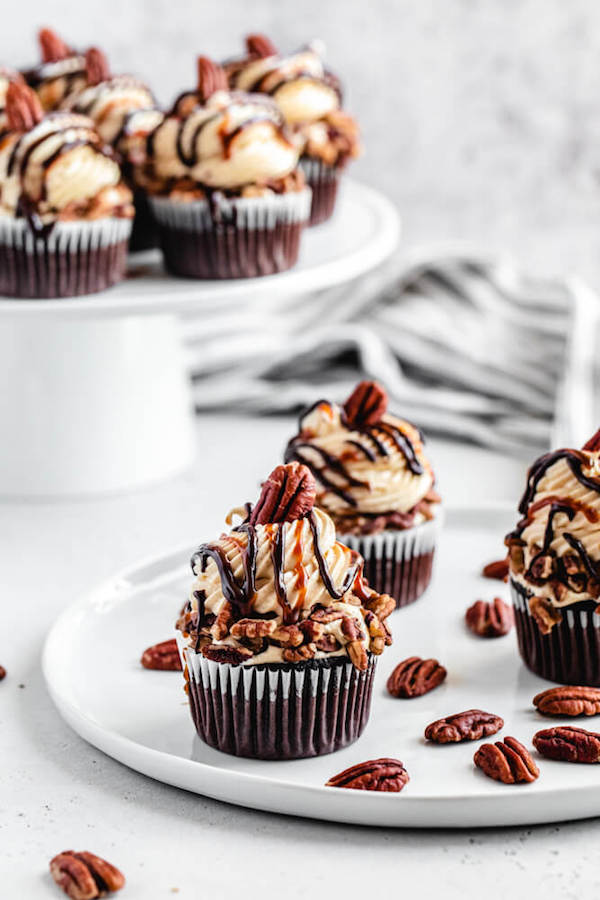 You May Also Like
>>PIN RECIPE FOR LATER<<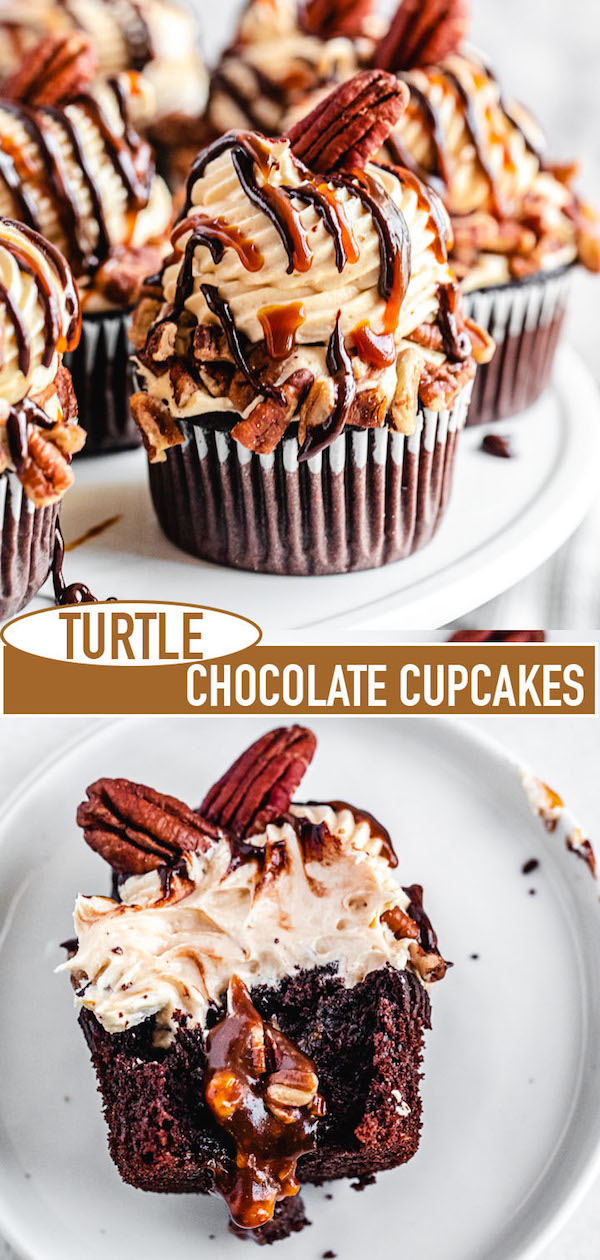 FOLLOW QUEENSLEE APPÉTIT
Like what you see? Make sure you're following Queenslee Appétit for more tasty recipes!
Pinterest | Instagram | Facebook | Twitter |
Have any questions about the recipe? Contact me here, and I'll be happy to help!
SHARE YOUR PICS!
Tag me on Instagram @queensleeappetit or use the hashtag #queensleeappetit so I could see your gorgeous creations!
Let's get baking!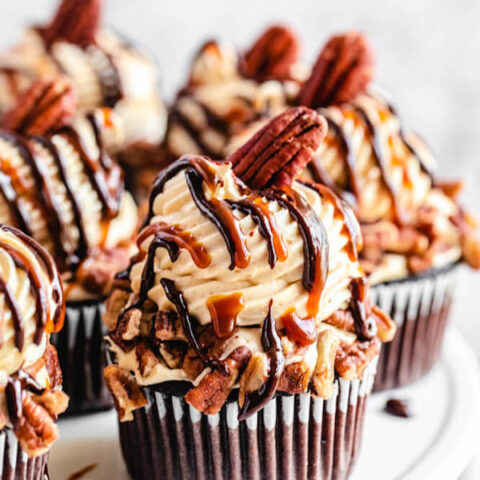 Turtle Chocolate Cupcakes
Total Time:
1 hour
35 minutes
These Turtle Chocolate Cupcakes feature a moist and fudgy chocolate cupcake that's filled with pecan caramel sauce and topped with the most heavenly caramel cream cheese frosting! Multiple easy recipes come together to create cupcake perfection!
Ingredients
Caramel Pecan Filling + Salted Caramel Sauce:
2 tablespoon unsalted butter
1 cup pecan halves
2 cups granulated sugar
¾ cup salted butter, cut into cubes
1 cup heavy cream, room temperature
2 teaspoon pure vanilla extract (optional)
2 teaspoons fine sea salt
Chocolate Cupcakes:
1 cup + 2 tablespoon all purpose flour
¾ cup unsweetened cocoa powder
¾ teaspoon salt
1 and ⅛ teaspoon baking soda
½ teaspoon baking powder
¾ cups unsalted butter, room temperature
1 cup + 2 tablespoon granulated sugar
2 large eggs, room temperature
6 tablespoon sour cream, room temperature
2 and ½ teaspoon pure vanilla extract
2 and ½ teaspoon instant coffee granules
1 cup + 2 tablespoon buttermilk, room temperature
Salted Caramel Cream Cheese Frosting:
1 cup unsalted butter, room temperature
1 and ½ packages (12 oz) cream cheese, softened to room temperature
7 and ½ cups powdered sugar, sifted
6 tablespoon Salted Caramel Sauce (recipe above)
1 and ½ teaspoon Pure Vanilla Extract (see notes)
Ganache:
½ cup dark chocolate chips
¼ cup heavy cream
Garnish:
2 cups chopped pecans
Pecan halves, for topping
Instructions
For the Caramel Sauce + Caramel Pecan Filling:
For the Toasted Pecans: Preheat oven to 350°F and line a baking sheet with parchment paper or a silpat mat.
In a small bowl, melt 2 tablespoons of butter in the microwave for about 30 seconds. Drizzle the melted butter onto the pecans and toss together to coat pecans.
Spread pecans onto prepared baking sheet and bake in oven for 5-6 minutes until toasted and fragrant.
Remove the pecans from the oven and roughly chop. Set aside.
For the Caramel Sauce: Add the sugar to a large heavy-bottomed non-stick saucepan and heat over medium heat, stirring constantly using a heat resistant rubber spatula or a wooden spoon until the sugar is melted and turns a medium amber caramel colour. Don't worry if the sugar clumps up, just keep stirring and it will melt smoothly. Keep a close eye on the pot as the sugar can easily burn, and you would have to start over again.
As soon as the caramel turns a deep amber, add the butter cubes, whisking constantly until butter is melted and fully combined.
Once butter is combined, slowly pour in the heavy cream while whisking vigorously, be careful as it will begin to bubble up furiously. The caramel may begin to clump together if your cream is too cold. If so, just continue stirring until caramel melts back down.
Allow caramel to boil for 1 minute, then remove from heat. Stir in the vanilla (optional) and salt. You can leave out the salt if you don't want the caramel to be salted.
Pour half of the caramel into a jar and set that aside.
Add the chopped toasted pecans to the other half of caramel sauce and stir until combined.
Let caramel pecan filling cool to room temperature before pouring into a jar or an airtight container. Set aside or store in the refrigerator until ready to use.
For the Chocolate Cupcakes:
Preheat the oven to 350°F (177°C), and line 2 standard cupcake pans with paper liners.
In a large bowl, sift flour, cocoa, salt, baking powder and baking soda. Whisk to combine, set aside.
In the bowl of a stand mixer fitted with a paddle attachment, or in a large mixing bowl using a hand mixer, beat the butter and sugar on medium speed until pale and fluffy, 4-5 minutes. Scrape down the sides and bottom of the bowl.
Lower the speed to medium-low and add eggs one at a time, mixing after each addition until just combined. Scrape down the sides and bottom of the bowl.
In a small bowl, combine the vanilla and instant coffee granules. Add the sour cream to the batter along with the vanilla coffee mixture and beat on medium speed until combined.
Add ⅓ of the dry ingredients and beat until just combined, add ½ of the buttermilk and continue to mix. Repeat mixing in ½ of the remaining dry ingredients, then the remaining buttermilk followed by the remaining dry ingredients.
Scoop batter into cupcake liners, filling them ⅔ way full. Bake for 18-20 minutes or until a toothpick inserted into the centre comes out clean.
Remove cupcakes from oven and allow to cool in pans for about 5 minutes, then transfer to cooling racks to cool completely before frosting.
For the Salted Caramel Cream Cheese Frosting:
In a large mixing bowl, using a handheld mixer, beat the butter and cream cheese until smooth and fluffy, about 3-4 minutes.
Add 4 cups of powdered sugar, one cup at a time, mixing on low after each addition until combined.
Add caramel sauce and vanilla and beat until completely smooth and combined.
Add remaining powdered sugar and beat on low until combined.
Once combined, increase the speed to high and continue to beat for about 1-2 minutes until smooth and fluffy.
For the Ganache:
In a heat safe bowl, microwave the heavy whipping cream and chocolate chips together in 30 second intervals, until the cream is steaming hot. This takes me about 1 minute, but it may be longer for you, so stir after each interval to check if the chocolate is melted enough.
Stir until the mixture comes together to form a thick and silky ganache. Set aside to cool.
Assembly of the Cupcakes:
Core the centre of each cupcake using an apple corer. Keep the cored piece intact and cut off the bottom. Keep the tops!
Transfer caramel pecan filling to a disposable piping bag or a medium ziplock bag and snip off a corner.
Fill the cupcakes with the pecan filling. Then take the reserved cupcake tops and place back into the cupcake to cover the filling.
Scoop the frosting into a piping bag fitted with a large star tip (I used Wilton 8B) and pipe a rim around the edge of the cupcake.
Dip the frosting rim into the chopped pecans. Top down first, then the sides!
Pipe another swirl on top of the pecan rim. Drizzle top with remaining caramel sauce and ganache. Garnish with pecan halves, if desired. Enjoy!!
Notes
Make ahead: (1) cupcakes can be made ahead of time and stored in an airtight container at room temperature for up to 2 days. (2) Caramel Pecan Filling and Salted Caramel Sauce can be made ahead of time and stored in an airtight jar in the refrigerator. Microwave in 10 second intervals until the caramel is smooth and pourable again. (3) Salted Caramel Cream Cheese Frosting can be made ahead of time and stored in an airtight container in the refrigerator for up to 1 week, or in the freezer for several months. Before using — allow frosting to come to room temperature, then re-whip in a stand mixer or with a hand mixer until the frosting is smooth and fluffy.
Recommended Products
As an Amazon Associate and member of other affiliate programs, I earn from qualifying purchases.
BON APPÉTIT!
Love, Dedra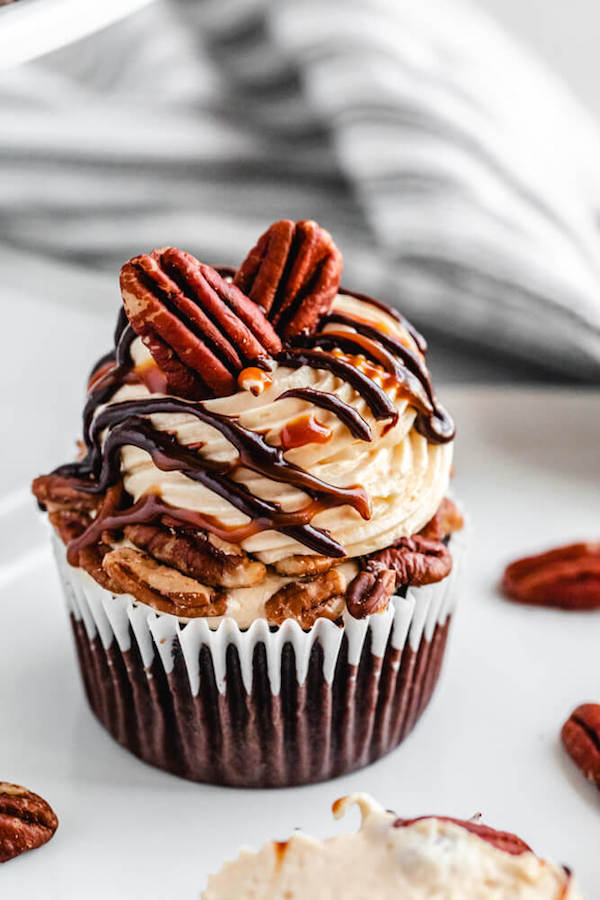 ©QUEENSLEE APPÉTIT. All images & content are copyright protected. Please do not use my images without prior permission. If you want to republish this recipe, please re-write the recipe in your own words, or link back to this post for the recipe.