If you're interested in food blogging, or blogging in general, here are some of the products and services that are used here at Queenslee Appétit. This list may continuously change or update as this site evolves.
Disclaimer: some of the links below are affiliate links. This means, at no additional cost to you, I will earn a commission if you are to click and purchase any of these products. I have used all of the products and services listed below and trust them enough to recommend to you.
Tools to start your own food blog
BlueHost — BlueHost is my current hosting company. This is hands down the best option for those who are very new to the technical world of blogging and have no idea how to run a website. At only $3.95/month, It's incredibly affordable and if you purchase one of their hosting plans, you get your first domain for free!They'll also help get WordPress.org installed on your domain so you can have your website up and running in no time! If this all sounds confusing, don't worry! You can check out my detailed step-by-step guide on how to start your own blog using BlueHost.
The Genesis Framework — This is one of the most popular themes used by food bloggers, and I'm currently using it here at Queenslee Appétit. The best thing about Genesis is that is has many gorgeous "child themes" that you can easily customize. Think of Genesis as the base of your theme (or "parent theme" as they call it). It's the foundation of a WordPress site, and the child themes are the pretty little decorations you add to make it your own. The child themes can be purchased as a package with the Genesis Framework. Although, if you want to purchase another WordPress theme that isn't on the StudioPress site, that'll have to be purchased separately.
Foodie Pro Theme — This is the "child theme" I have running on Queenslee Appétit. This is definitely one of the most popular themes among food bloggers and I highly recommend it as a beginner theme. The default look is very clean and simple, but as you can see on my site, there are many different ways you can customize it to your liking. As I mentioned above, the child themes can be purchased with the Genesis Framework, so together it costs $129.95 (or more depending on your currency. It can be quite costly, but it's definitely worth it if you want your site to have a clean and professional look.
Vaultpress — Backing up your blog is vital. I can't count how many heart-stopping experiences I've had with my site suddenly disappearing or messing up in one way or another. Those situations usually got fixed without me having to do anything since the problem wasn't on my side, but it's still a terrifying experience. In order to avoid suffering a heart attack at 20, I finally decided to get Vaultpress. I sleep so much better knowing that if, God forbid, anything goes horribly wrong with my site, Vaultpress allows me to recover everything I lost with a backup.
WordPress Plugins
Limit Login Attempts — This is a plugin to buff up security for your blog. I'm honestly amazed at the amount of people who attempt to hack my site everyday, so far there's been 1,411 blocked malicious login attempts on my site. Insane, right? This plugin limits the amount of times a person can attempt to login. This means if you enter the incorrect password once, you have 3 tries left before you're blocked.
EasyRecipe — Every food blog needs a recipe card! This is the plugin I use for my recipes. Just like the title states, it's easy to use! The thing I love most about this plugin is that it helps with your SEO rankings when people search for recipes on google. It even displays a nice little thumbnail next to your blogs recipe in the search results, which will encourage more people to click on your blog! Another perk is that every recipe you share using this plugin automatically gets posted on fooderific.com so more people can see your yummy creations. Yay for traffic!
Social Warfare — This is the social media plugin I use on Queenslee Appétit. I chose the buttons: Pinterest, Facebook, Google+, StumbleUpon and Twitter. These are all the sites visitors can share my recipes on with a simple click of a button. I'm currently using the free version, but the pro version has a lot more perks like additional sharing buttons, a Pinterest button on all your images and more!
Akismet — Akismet is the anti-spam plugin I use on my blog. This plugin is what guards my blog from spam comments, which you'll find gets worse and worse the more your blog grows.
Contact Form 7 — Displaying your email address on your blog can lead to countless spam. Using a contact form plugin allows your readers to contact you and makes them certify that they're humans and not robots.
Build Your Community
Social Media
If you have a blog, brand, business etc. you HAVE to bee on social media. It's an absolute must! A majority of my traffic comes from social media. When you hit publish, you can't just leave it there and expect people to see it. You have to promote your content for people to notice you, and social media is the best way to do it. You don't have to be on every social media platform ever made, but it's good to be on at least 2 or 3. Here are the platforms I'm on, in the order from most traffic to least.
Pinterest — This is definitely my highest source of traffic! A majority of my visitors come from Pinterest. If you check out some of my most popular posts (like this one and this one) you'll see that almost all of the shares are from Pinterest. I'll go into more details about Pinterest in a future post, but here's a few things you should do to get your blog noticed on Pinterest:
Make a business account.

Create long appealing pin images
Join a few group boards
Instagram — This is my second most popular social media site. This is the first social media site I joined when I decided to take my baking hobby to the next level.
I love to follow other foodies on here and see all of their delicious creations. I also love the kind comments and feedback I get when I share photos of my own recipes.
Twitter — Honestly, this is the social media site I use the most, but I barely have any followers on here. I'm sure it's because I'm pretty inactive on my business account, because I'm always tweeting from my personal account (which I won't share because it's far from professional). I don't know, I love twitter but I'm just having a hard time putting my focus on my professional account. I'll put more effort into it one day, I promise.
FaceBook — I have never gotten into Facebook. It's to the point where I feel like an elderly woman when I'm on it because I don't know how it works! I do share all of my posts on there, but that's about it. I do get a bit of traffic from here, but it's mostly from people who share my recipes on their own Facebook pages. I honestly don't see my Facebook page getting a ton of views and followers unless I "pay to promote" like they insist. Don't nobody got time for that.
StumbleUpon — This is another site I don't understand very much. I know that you're supposed to set your interests and then you get shown different articles/blog posts that relate. I recently downloaded the app and made an account, but the most I do is submit my posts. Once again, the traffic I get from here is mostly from others sharing my recipes on their accounts.
SEO
Also known as Search Engine Optimization. This is an essential part of blogging. Good SEO makes your content more visible so that search engines can actually find your blog. I use Yoast SEO and I love it! You basically have to input a keyword (that's relevant to your post) and write a meta description summarizing what the post is about. This helps search engines index your blog. So for instance, if someone were to search up "banana caramel cupcakes" or "dark chocolate buttercream" they'll find my recipes.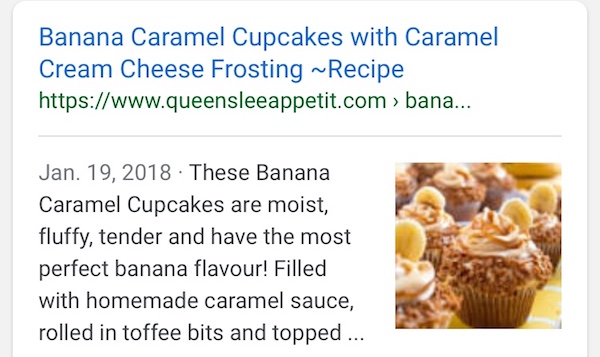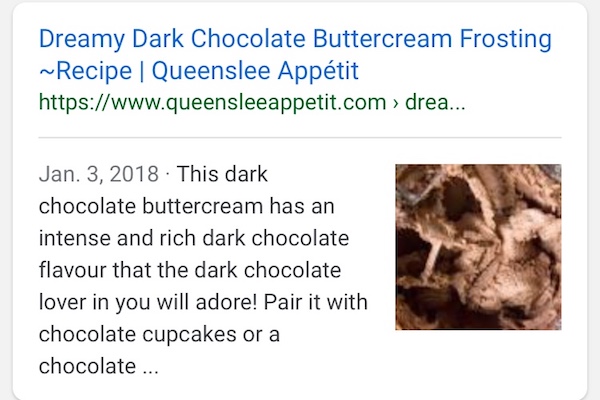 These two posts were found on page 1 and page 2 on google. The more views your post gets, the higher up it'll be in the search results!
Food Sites
These are some of the most popular food photo submission sites out there. Apparently, back in the day, if your photo was published on these sites you would gain thousands of visitors. Unfortunately, that isn't really the case anymore, but it's still a great source of traffic and the sense of accomplishment you feel if your photo manages to be approved is totally worth it. So far I've only submitted my photos to Foodgawker, and to my surprise they actually approved all of my submissions! They are pretty strict with their submissions though, so you need to make sure your photos are high-quality and appealing. Aside from Foodgawker, there's also:
Food Photography

Canon EOS Rebel T6 Digital SLR Camera — A lot of food bloggers start off with a simple point and shoot camera, which you can totally do too. I really, really, REALLY wanted to start off with a DSLR camera so I bought this camera. This camera is pretty cheap in the world of DSLR's, so if you can afford it, I highly recommend it as a beginner DSLR camera.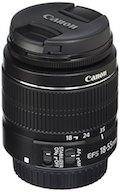 Canon EF-S 18-55mm f/3.5-5.6 Lens — Instead of buying the DSLR body separately, I bought the lens kit and this is the lens it comes with. I've had my ups and downs with this lens, but I'm almost certain it's my own doing. I'm still working on improving my food photography skills, and I've gotten some gorgeous photos from using this lens. This is a cheap lens and, as they say "you get what you pay for". However, it's great for beginners, but if you want to get the best photos, you can't depend entirely on the lens. As long as you have a great setup, great lighting and delicious looking food, you'll get great photos.

Canon EF 50mm f/1.8 STM lens — I just upgraded to this lens, but I haven't gotten a chance to use it yet. When I do, I'll let you know how it goes. Fingers crossed!

Sandisk Ultra 16GB Memory Card — Myself having absolutely no knowledge on cameras, had no idea that I needed a memory card to save my photos. I was so angry when I had to buy one, especially after spending so much on the camera, but it was worth it! I have a really small budget so I bought a 16GB card and I have to delete my photos after uploading them to my laptop in order to free up space. If you want a memory card with more space, I recommend the SanDisk 64GB Extreme SD Memory Card.

Adobe Photoshop & Lightroom — Photoshop is pretty darn expensive, but it's an amazing photo-editing tool. I mainly use it to create my long Pinterest images and touch up photos. Lightroom is my favourite! This is where I edit a majority of my photos. It's super easy to get a hang of and you can take your photos from dull and boring to vibrant and stunning! If you can't afford to purchase the software, you can either get a free trial, or preferably purchase a monthly subscription, like I did.
Must Have Baking Tools
If you're a new baker looking for the best tools to stock your kitchen with, then look no further. Here's a list of tools every baker needs:

Kitchenaid Stand Mixer — I know they can be quite expensive, but if you're serious about baking, this is a must! This is the stand mixer I have, but you don't have to buy a kitchenaid. There are a lot of great stand mixers out there with many different brands. I love the colours and look of the Kitchenaid mixer, and it makes baking a breeze! My favourite kitchen tool ever!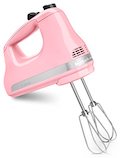 Kitchenaid Hand Mixer — Before I purchased my stand mixer, I bought a hand mixer. I still use my hand mixer regularly since it's perfect for mixing up smaller batches. I definitely recommend this for beginner bakers. It's completely affordable, great quality, and it's a lot easier than mixing by hand.
Silicone Baking Mat — Parchment paper is great for lining cake pans and all, but when it comes to using baking sheets, these silicone mats are unbeatable! I love these baking mats because they can be used over and over again, they're non-stick and they're easy to clean! Whether I'm baking cookies, dipping truffles, roasting nuts or rolling dough, I always do it on a silicone baking mat.

Baking Sheets — Every baker needs to own at least 1 or 2 of these. I own 4 right now, and I don't know what I would do without them! I use them for baking cookies, biscuits, sheet cakes, roasting nuts and vegetables, making chocolate barks and so much more! The ones with a rim are best because they prevent any batter or liquids from dripping off the sides.

Cake Caddy — This is a great thing to have if you need to transport cakes, cupcakes, cheesecakes, or any other dessert. It's also a perfect storage container for your cakes.

Cookie Scoops — Don't let the name fool you, these aren't only for cookies. You can buy one in each size and use the large ones to evenly divide cupcake batter or scoop ice cream. The medium ones can be used for cookies, and the small ones can be used to scoop out truffles! These are the scoops I own and adore!