These Apple Crumble Cinnamon Rolls are the perfect homage to the classic apple treat! Fluffy, cinnamon spiced dough is filled with a gooey brown sugar cinnamon filling and soft baked apples. Topped with a crunchy brown sugar streusel and a drizzle of cream cheese icing, these rolls are the perfect way to start your Fall baking journey!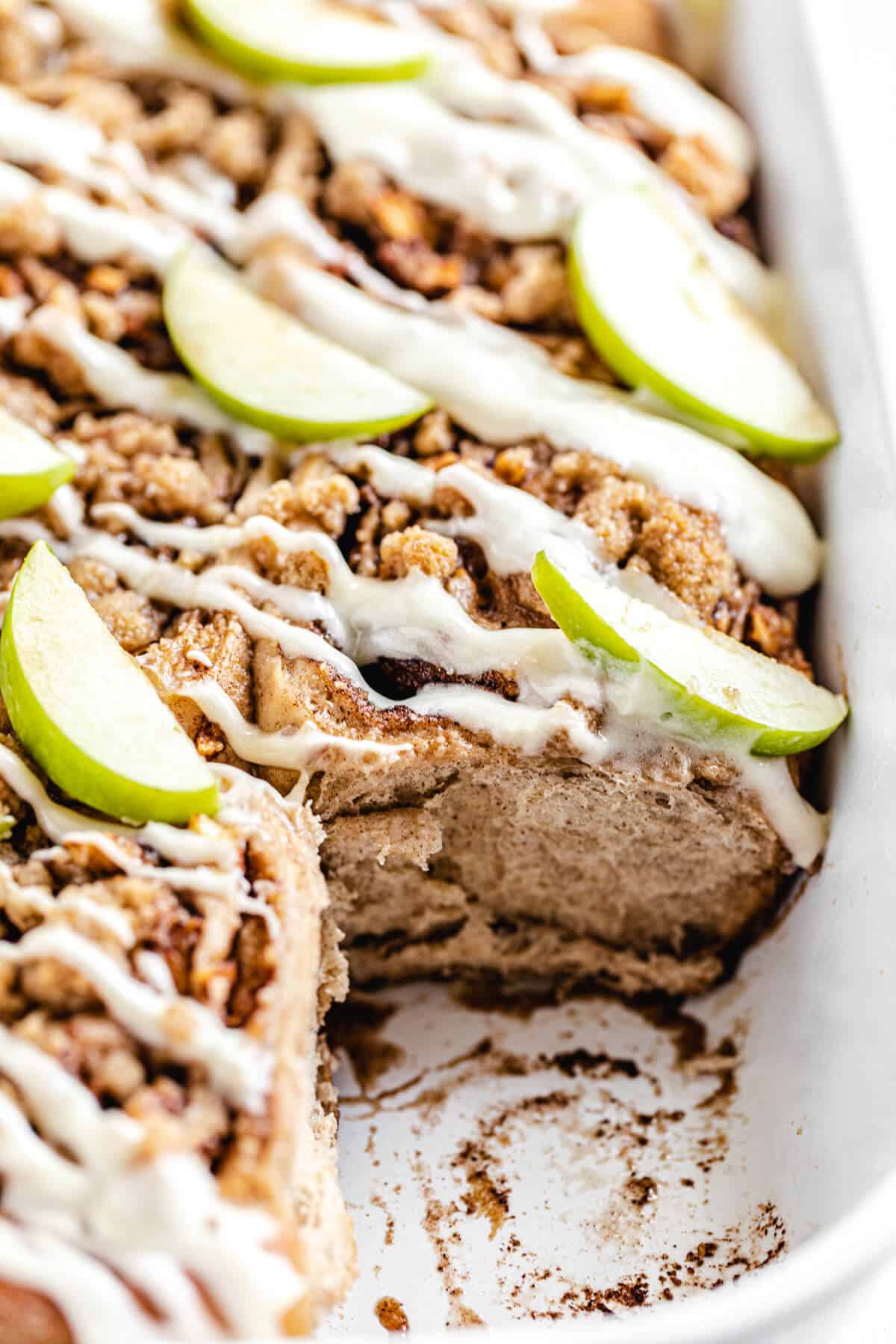 This post may contain affiliate links. As an Amazon Associate I earn from qualifying purchases. Please see my full disclosure policy for details.
If you have that one perfect cinnamon roll recipe you make over and over again, the flavour variations are endless! Seriously, it's so easy to add something special to the dough, filling and frosting to create an even more delicious cinnamon roll flavour!
For instance, add some coffee granules to all three parts of the roll to get Coffee Cinnamon Rolls, same with Chai Spice. For an Autumn twist, add some pumpkin purée to the dough and pumpkin spice to the filling: Pumpkin Cinnamon Rolls! And with the holidays coming up, replace the milk and vanilla with eggnog and rum extract for Eggnog Cinnamon Rolls, or molasses and gingerbread spice for Gingerbread Cinnamon Rolls!
So versatile! I definitely have a million more cinnamon roll flavours to share with you guys, but let's start with my new creation: Apple Crumble Cinnamon Rolls!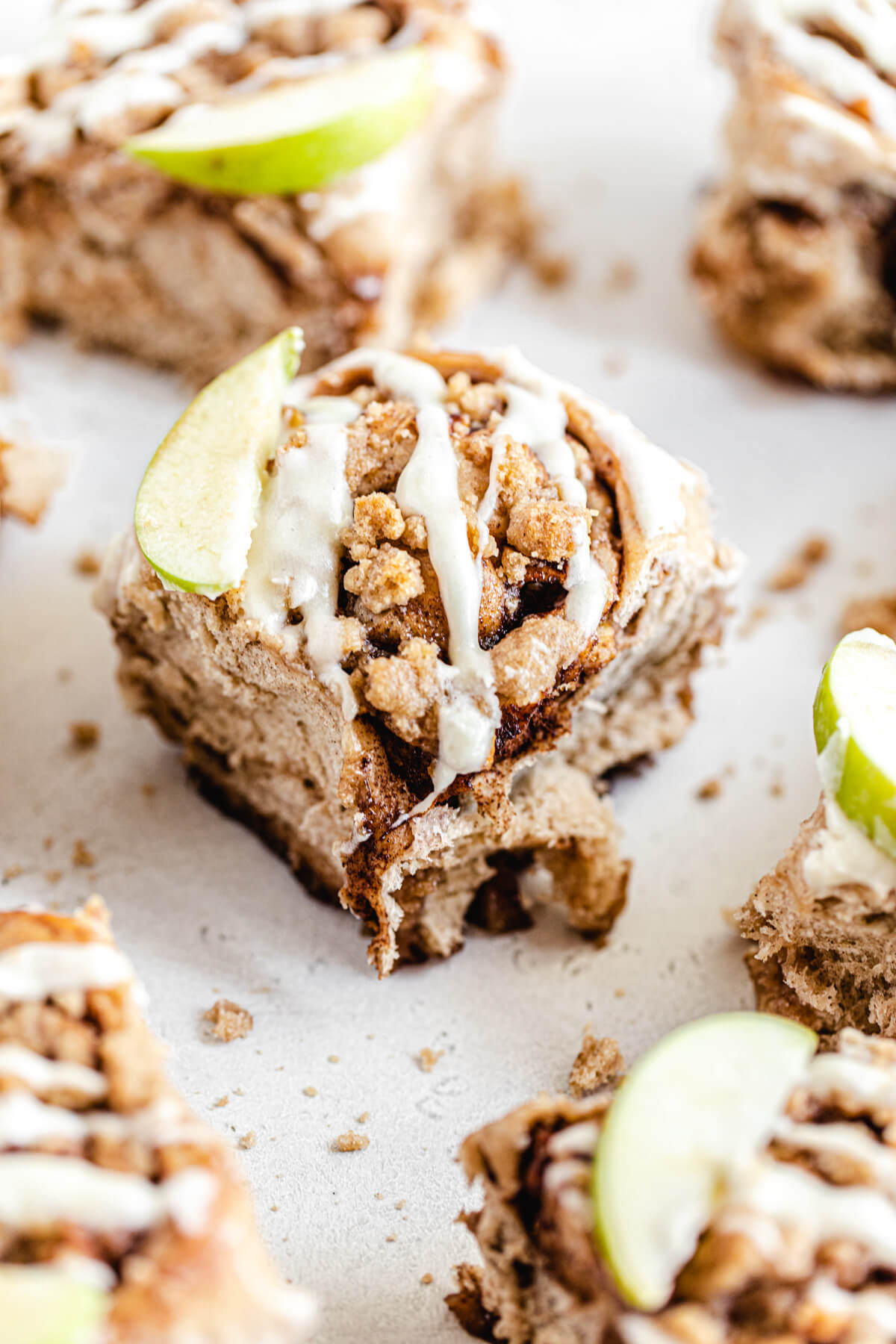 Apple Crumble Cinnamon Rolls
If you follow me on Instagram, you've probably seen the stories I shared back in September when I originally made these cinnamon rolls. Yes, they've been sitting in my drafts for that long! I got so busy planning out the rest of my Fall/Thanksgiving/Christmas recipes that I completely forgot about them!
Luckily my neighbour sent me a good ole reminder text along the lines of "girl, I'm still waiting on this recipe", so girl, here it is!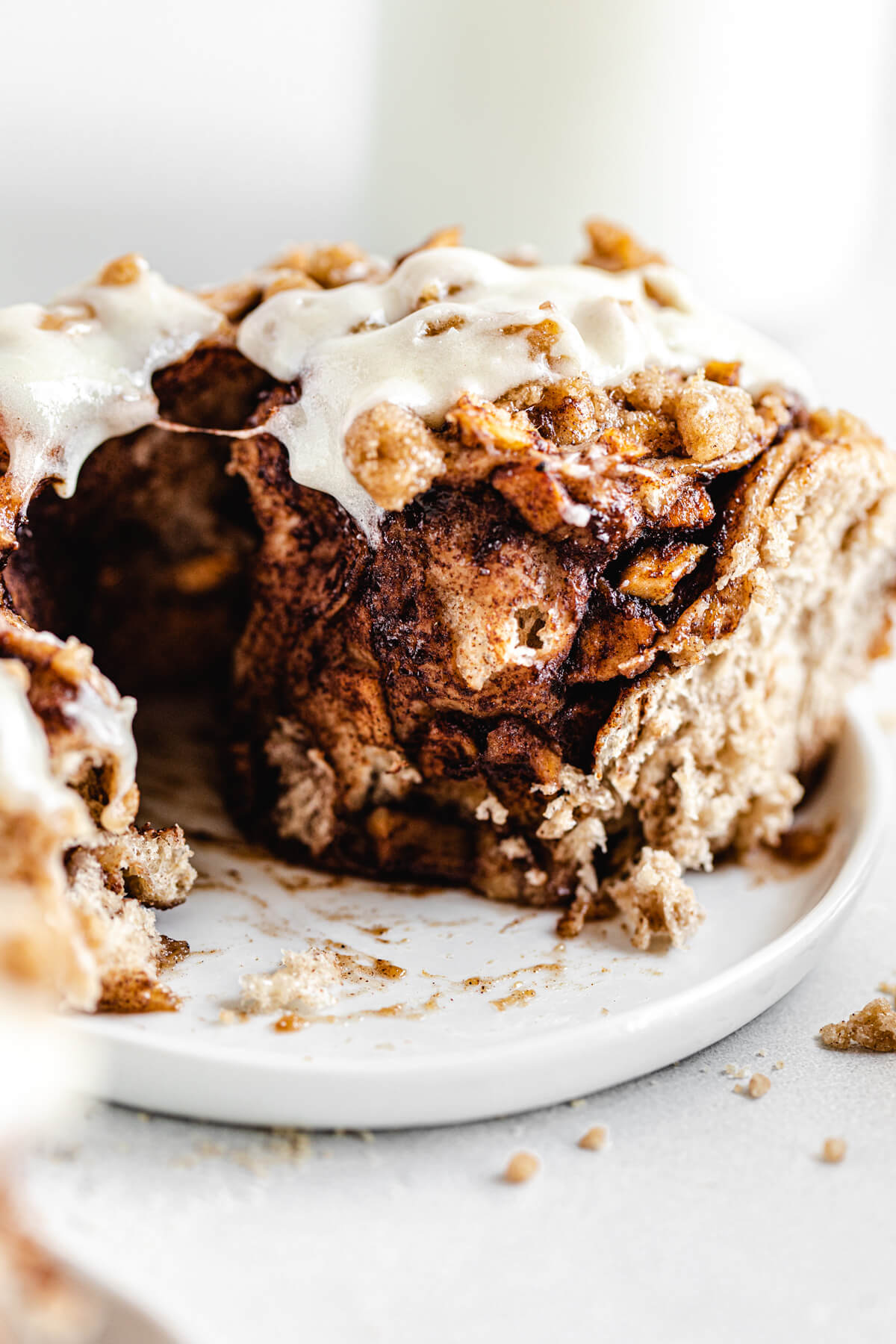 What to Love About These Cinnamon Rolls
Not only does the incredibly soft and fluffy dough just melt in your mouth, it's filled with cinnamon!
Chunks of apple in the middle that tastes heavenly combined with the ooey gooey cinnamon sugar filling
Topped with a crunchy brown sugar crumble (super easy to make!)
Drizzled with a silky cream cheese frosting that ties all the flavours together perfectly!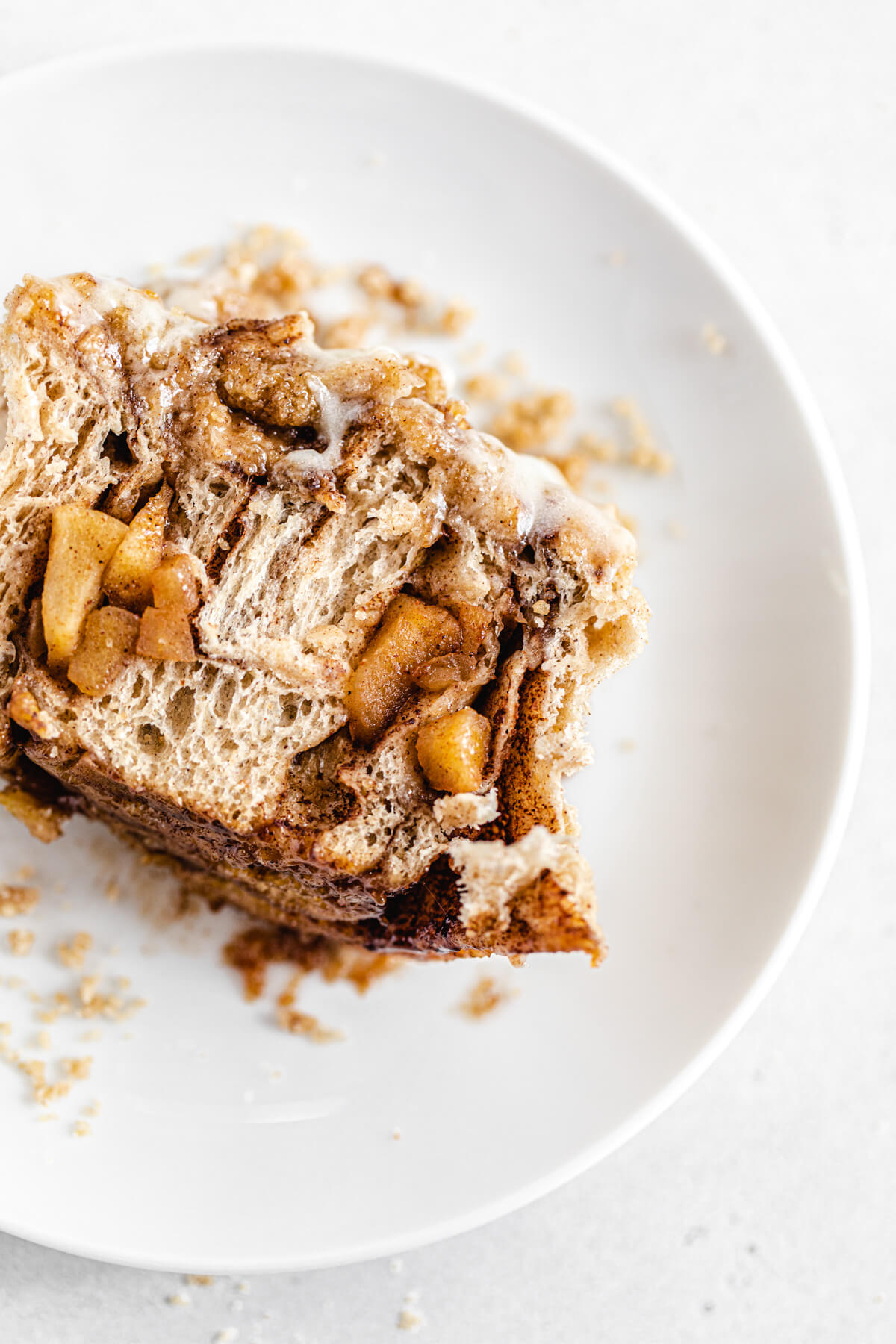 Cinnamon Dough
This is the same easy/rich dough I use for just about all of my cinnamon roll recipes. To ensure we don't end up with a crispy, pizza crust like dough, I like to use milk as a base instead of water. Warm up the milk and add some yeast and a bit of sugar to help it proof. Add some melted butter and vanilla for flavour, and eggs for a bit of structure, softness and even more flavour!
For the dry ingredients, we use all purpose flour to provide structure, sugar for sweetness and salt and cinnamon for even more flavour!
Knead the dough for 7-10 minutes. I used my trusty Kitchenaid stand mixer for this, but you can do this by hand on a floured surface. Now place it into a greased bowl and let it rise, covered for around 1 and ½ hours.
Cinnamon/Apple Filling
The cinnamon sugar filling is pretty easy. Simply combine the brown sugar and cinnamon in a bowl. Roll out the dough and spread on the melted butter, then sprinkle on brown sugar mixture and pat it down.
Now peel the apples and dice into small pieces. Then sprinkle them onto the brown sugar filling and pat them down as flat as possible. Carefully roll up the dough, making sure it's tight. I like to fold up the dough, a little bit a time, lightly squeezing the log to make sure the filling holds inside and doesn't spill out.
Use a sharp knife to slice the rolls into 8 large rolls or 12 smaller rolls. Place into a greased 9x13-inch dish and let it rise for another hour.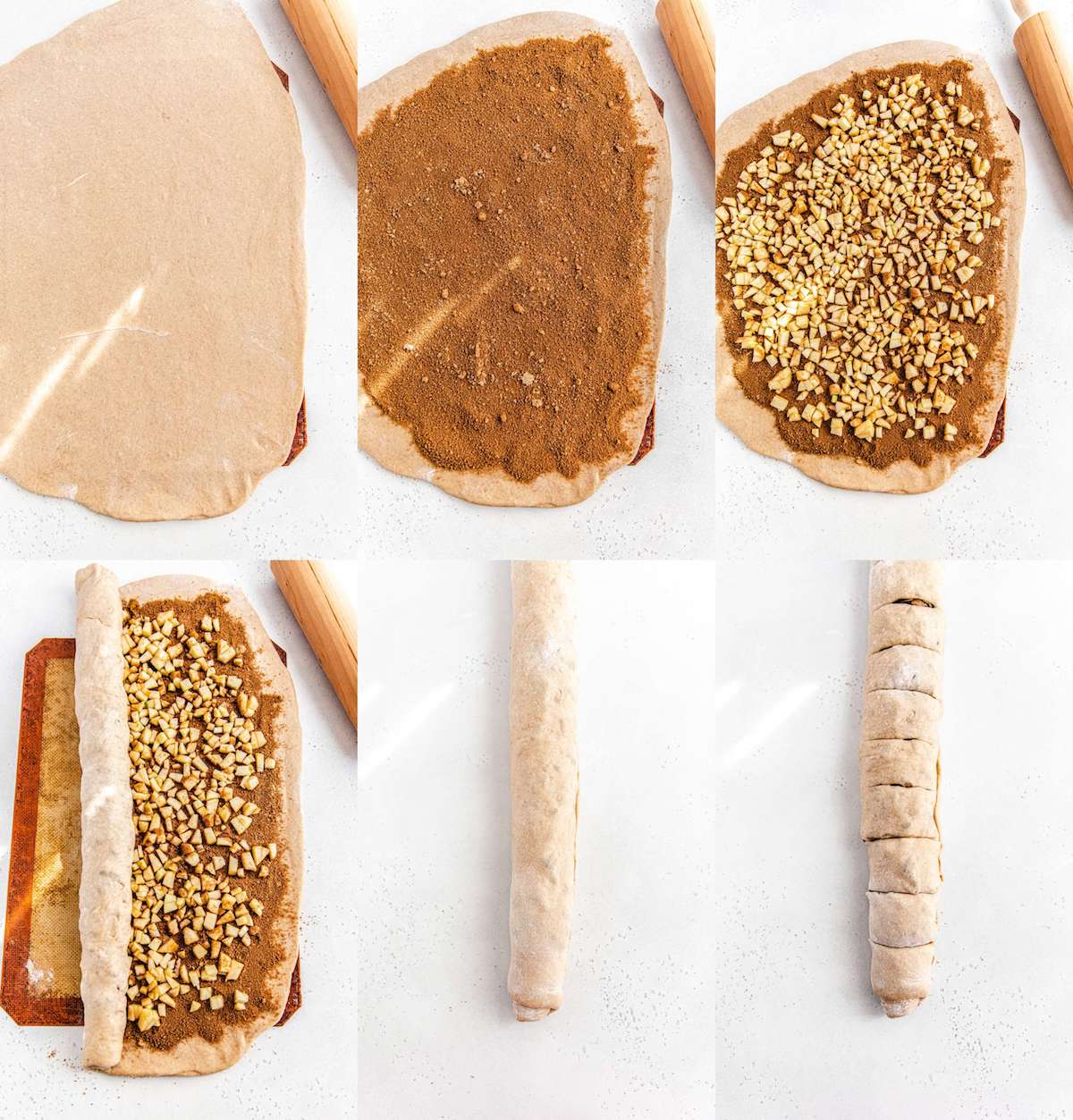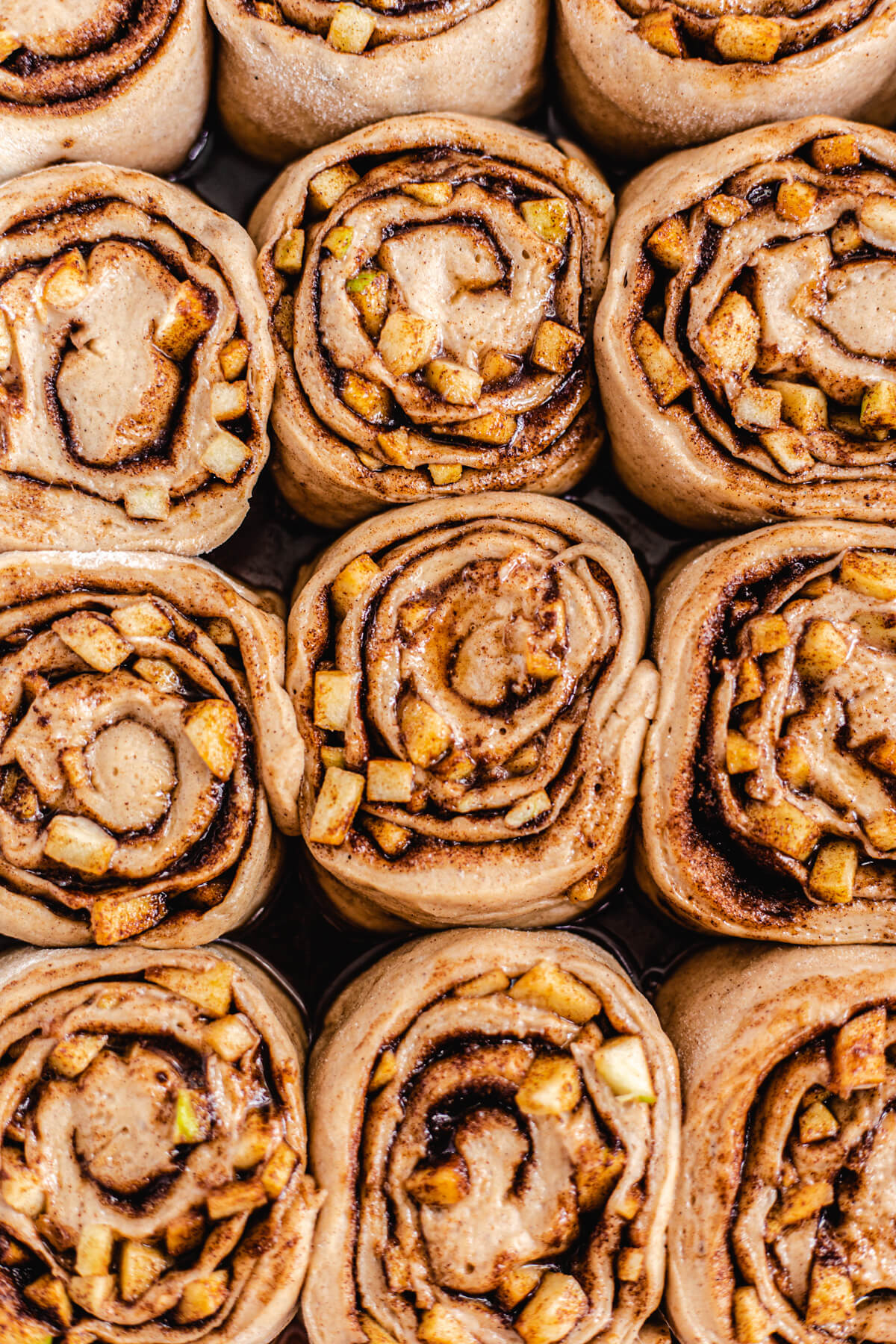 Brown Sugar Crumble Topping
Ok this is actually the first thing you want to make, because it needs to chill overnight in the refrigerator. This is because we'll be using melted butter instead of cutting cold butter into the mixture like you usually do with crumbles.
All you need to do is combine some flour, brown sugar, cinnamon, salt, baking powder and nutmeg in a bowl with a fork. Add the melted butter and stir until the mixture is completely coated. Cover it and let it chill in the refrigerator. Do this the night or a few days before you plan to make the rolls, so it can be ready to use.
You'll need to break it up with a spoon, then sprinkle it onto the rolls after they've risen. The crumble needs to be cold when it goes into the oven, so don't take it out of the refrigerator until the rolls are ready to go into the oven.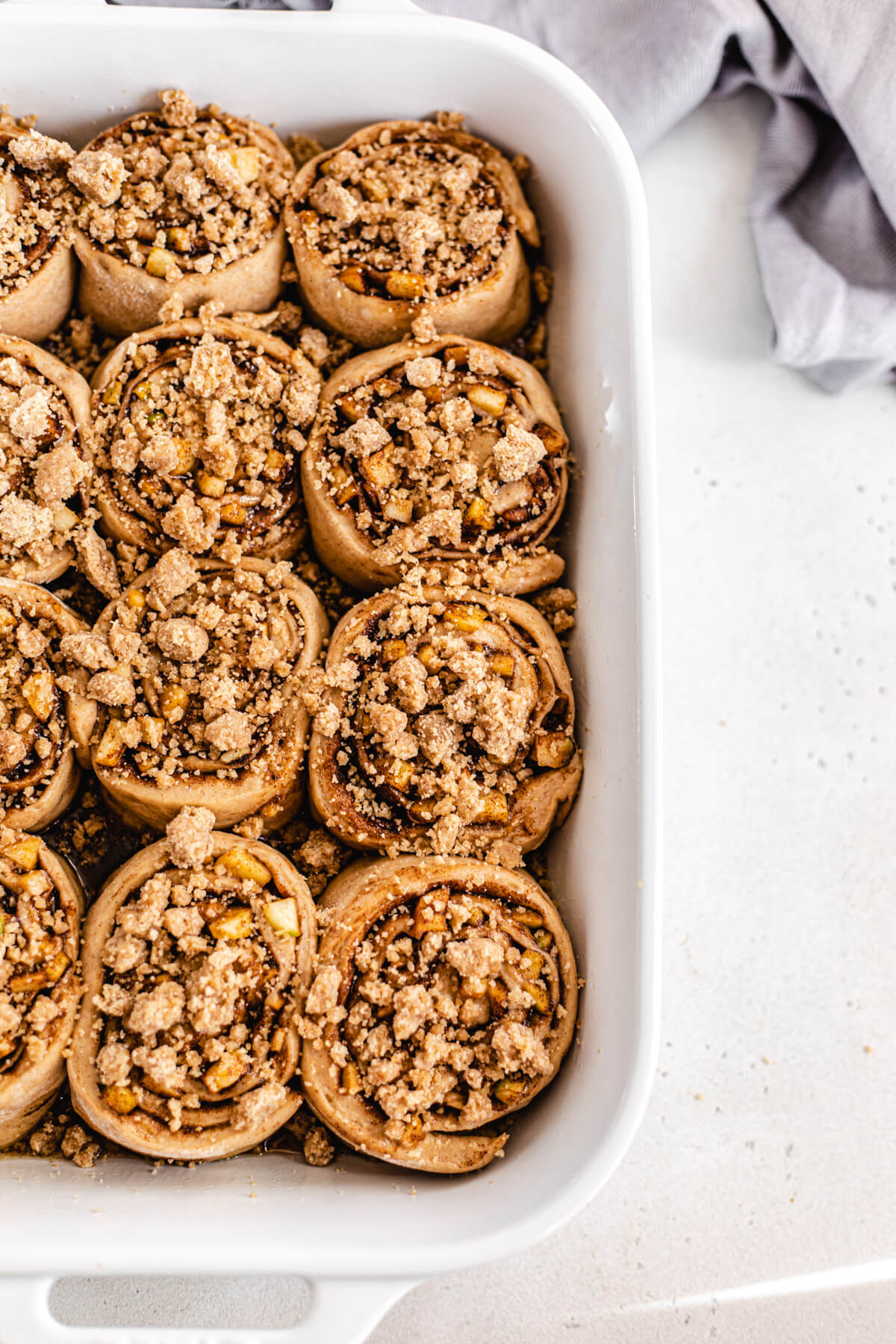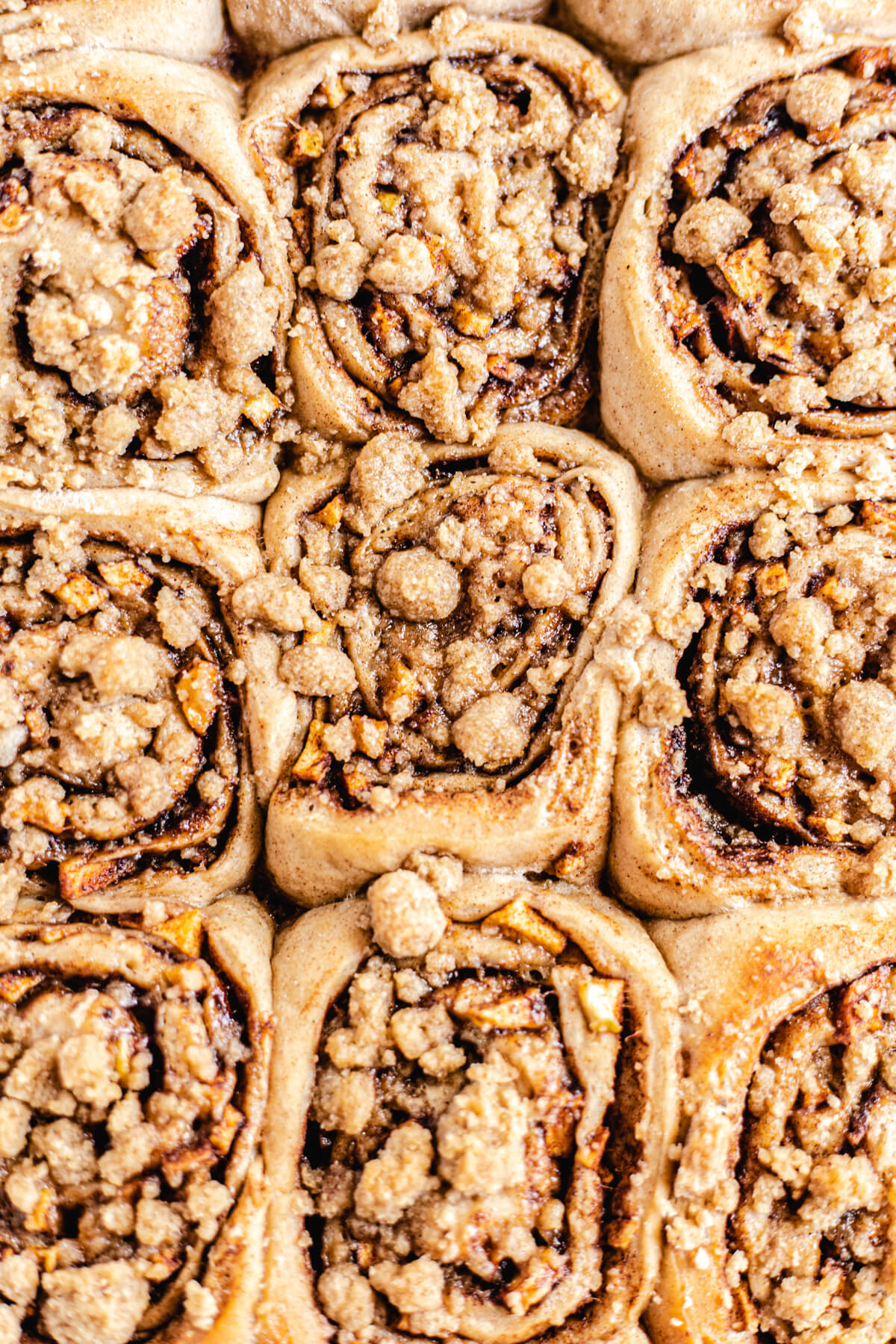 Make the simple cream cheese icing and set it aside. Once the rolls have finished baking, immediately drizzle the icing on top. I drizzled on the icing so you could see the crumble topping, but if you don't care about the appearance that much, I highly recommend spreading all the icing onto the rolls. You might not see the crumble, but it'll be a nice surprise for your guests once they take that first crunchy bite!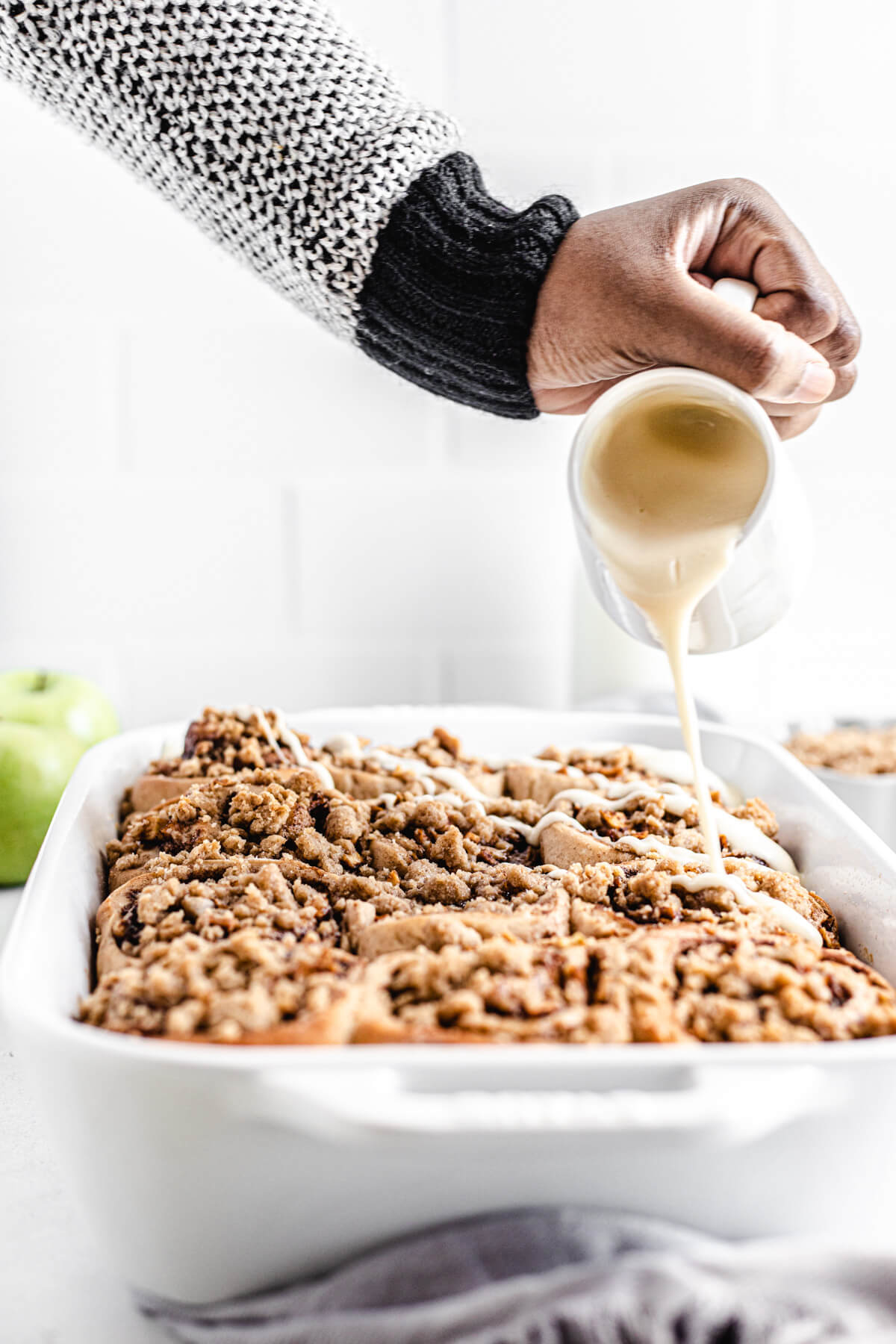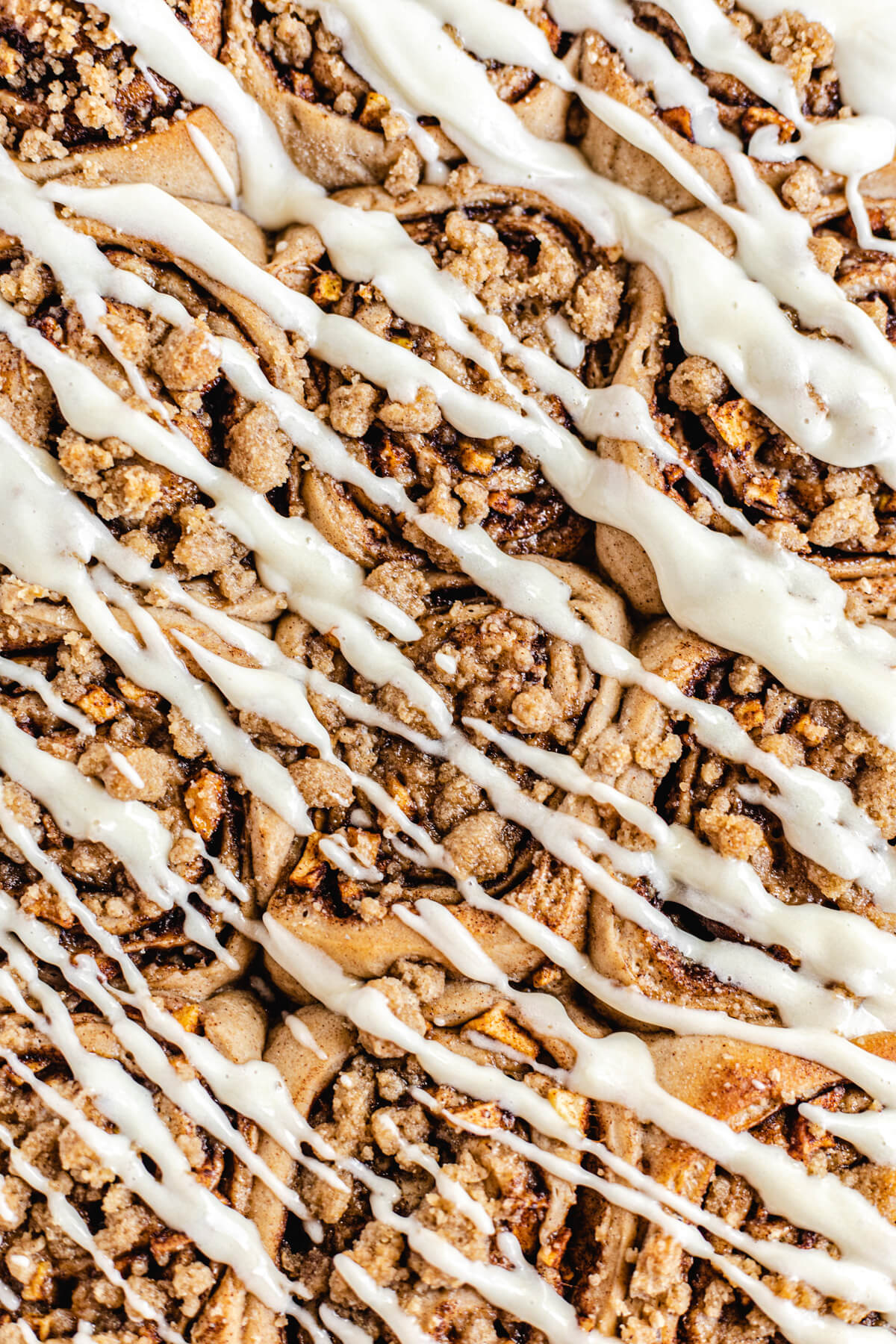 If you love the smell of cinnamon rolls in the oven, just wait until you get a whiff of these Apple Crumble Cinnamon Rolls! They're seriously a life changer!
These are a must-make during the Fall season! I just love the textural difference between the soft and fluffy cinnamon dough, gooey cinnamon filling, soft apples and crunchy crumble! THIS, my friends, is what I call a Fall Breakfast Paradise.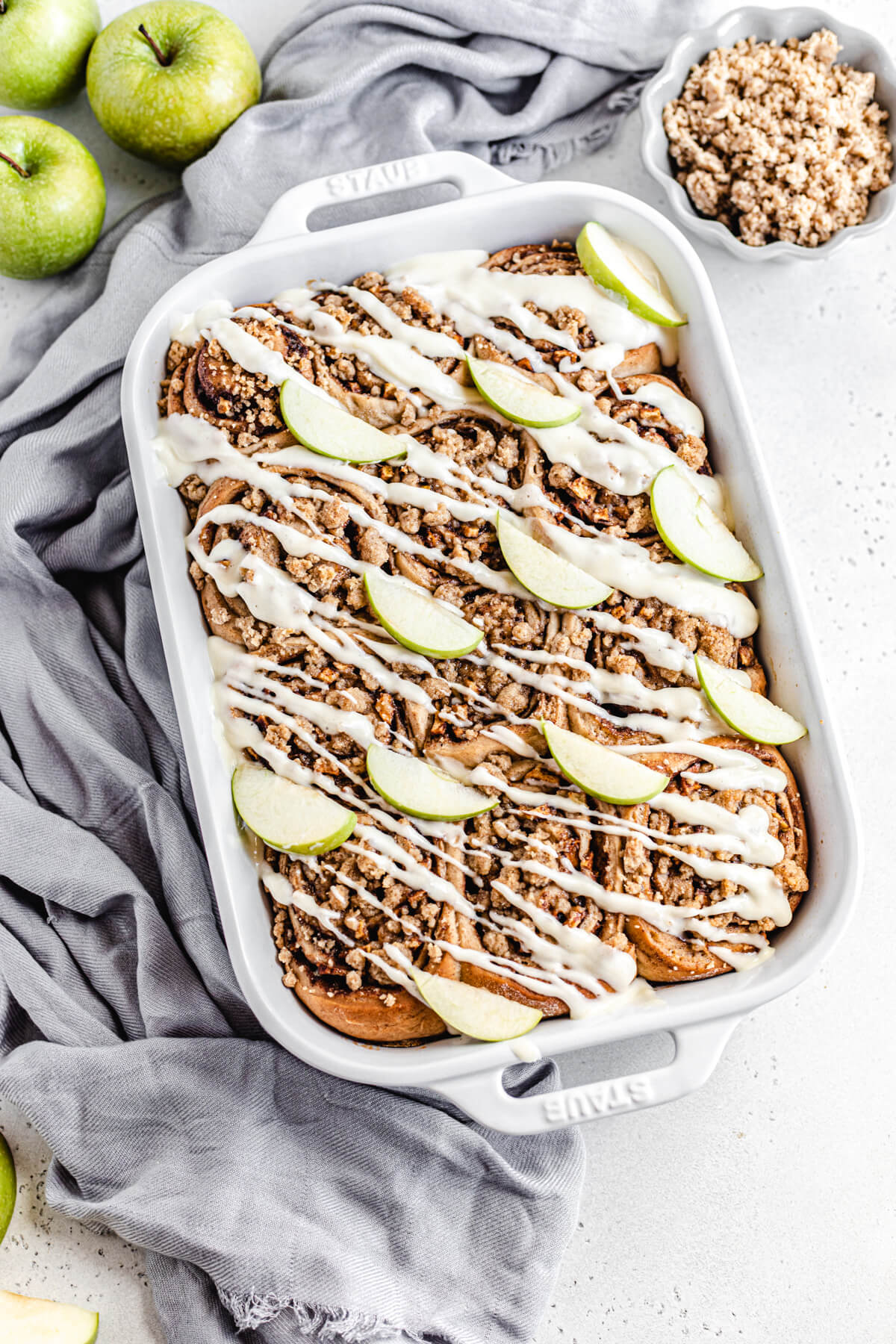 SHARE YOUR PICS!
Follow me on Instagram and tag #queensleeappetit so I can see and share all of your Queenslee Appétit creations in my stories and the QA Newsletter!
>>PIN ME FOR LATER<<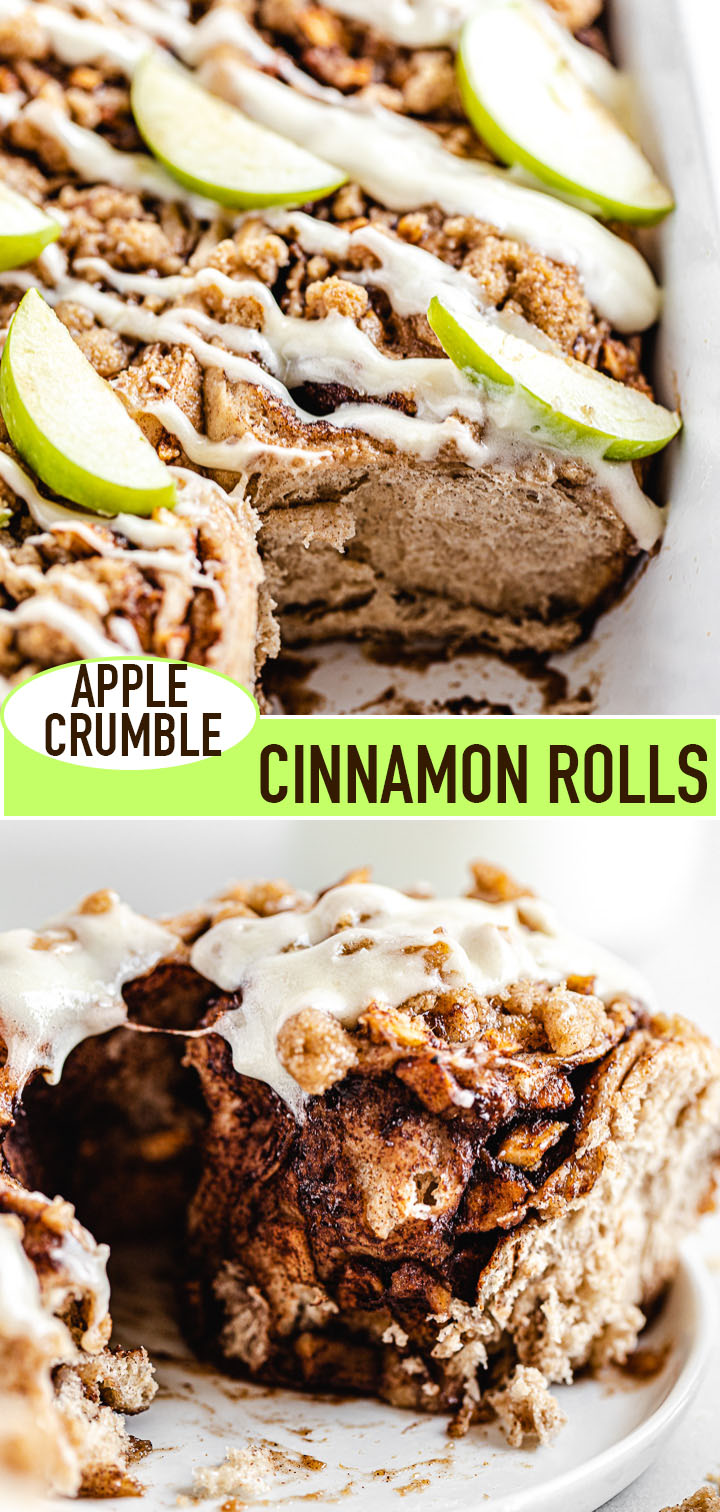 FOLLOW QUEENSLEE APPÉTIT
Like what you see? Make sure you're following Queenslee Appétit for more tasty recipes!
Pinterest | Instagram | Facebook |
Have any questions about the recipe? Contact me here, and I'll be happy to help!
SWEETEN UP YOUR INBOX!
SUBSCRIBE to the Queenslee Appétit Newsletter to recieve new recipe notifications, monthly baking tips, sneak peeks to upcoming recipes, exclusive recipes and more!
Let's get baking!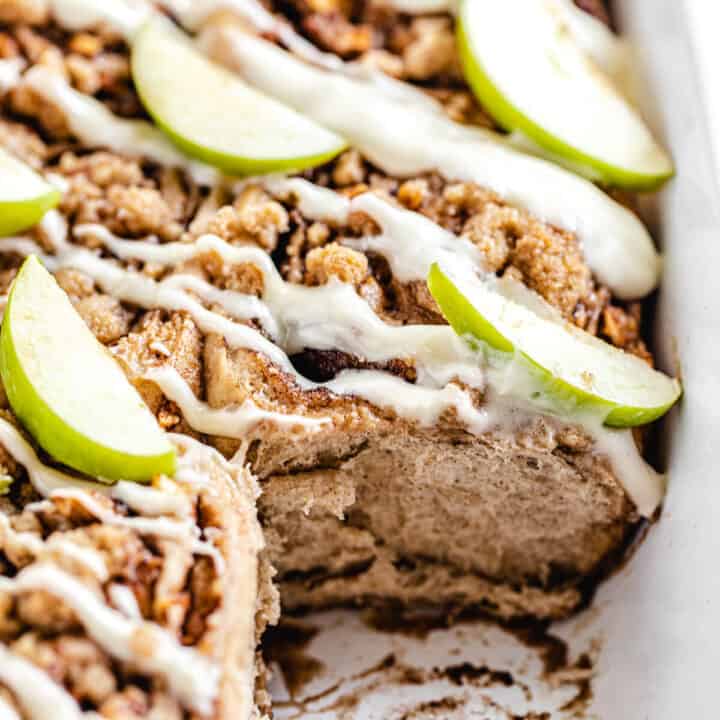 Apple Crumble Cinnamon Rolls
Additional Time:
2 hours
3 seconds
Total Time:
3 hours
10 minutes
3 seconds
These Apple Crumble Cinnamon Rolls are the perfect homage to the classic apple treat! Fluffy, cinnamon spiced dough is filled with a gooey brown sugar cinnamon filling and soft baked apples. Topped with a crunchy brown sugar streusel and a drizzle of cream cheese icing, these rolls are the perfect way to start your Fall baking journey!
Ingredients
Crumble Topping:
½ cup all-purpose flour
½ cup light brown sugar, packed
½ teaspoon ground cinnamon
¼ teaspoon salt
⅛ teaspoon baking powder
⅛ teaspoon ground nutmeg
¼ cup unsalted butter, melted
Cinnamon Dough:
1 cup warm milk (110-115˚F)
1 package (2 and ¼ tsp) active dry yeast
½ cup + ½ teaspoon granulated sugar, divided
¼ cup unsalted butter or margarine, melted
1 teaspoon pure vanilla extract
2 large eggs, lightly beaten
4 - 4 and ½ cups All purpose flour
1 teaspoon salt
1 tablespoon ground cinnamon
Apple Cinnamon Filling:
1 cup brown sugar, packed
3 tablespoon ground cinnamon
¼ cup butter, melted
2-3 large apples, peeled and diced into small pieces (I used granny smith)
Cream Cheese Icing:
¼ cup unsalted butter, softened
4 oz. cream cheese, softened to room temperature
1 cup powdered sugar
½ teaspoon pure vanilla extract
⅛ teaspoon salt
4-6 tablespoon milk or heavy cream
Instructions
For the Crumble Topping:
In a medium bowl, combine flour, brown sugar, baking powder, cinnamon, and salt using a fork.
Add melted butter and mix until clumps form. Cover and chill in the refrigerator until ready to use.
For the Cinnamon Dough:
In a medium heat-proof bowl, or a glass liquid measuring cup, heat the milk in the microwave until warm, about 30-60 seconds. It should be around 110-115˚F. If you don't have a thermometer, test it out by sticking your finger inside. The milk should be warm enough for you to hold your finger inside comfortably. It should not be too hot, if it is, let it sit for 5 minutes to cool.
Sprinkle the yeast and ½ teaspoon of sugar into the warmed milk, do not stir. Allow to sit for about 5-10 minutes or until frothy. If yeast doesn't foam up, your yeast is either dead or the milk is too hot, which means you have to start over.
Add melted butter, vanilla and eggs to the milk and yeast mixture and whisk to combine.
In a stand mixer bowl fitted with the dough hook attachment, add 4 cups of flour, remaining ½ cup sugar, salt and cinnamon. Mix on low to combine. Alternatively: add the dry ingredients to a large mixing bowl and whisk to combine.
Pour in liquid mixture and mix on low until just combined, about 30 seconds. Increase speed to medium-low "2 on a kitchenaid mixer" and knead dough until it's smooth, elastic and pulls away from the sides of the bowl, about 7-10 minutes. Alternatively: mix the dough with a wooden spoon, then transfer it to a lightly floured surface and knead by hand for about 7 to 10 minutes until dough is smooth. If the dough is too sticky after 5 minutes, add more flour 1 tablespoon at a time until dough is smooth.
Lightly oil a separate large bowl with olive oil or cooking spray, place dough inside and turn to cover both sides. Loosely cover with plastic wrap and let it rest in a warm place for 1 to 1 and ½ hours, or until dough has doubled in size.
For the Filling:
In a small heat-proof bowl, microwave the butter in 30 second intervals, until melted. Set aside.
In a separate bowl, add brown sugar and cinnamon and stir with a fork to combine. Set aside until ready to use.
Peel and dice apples into small pieces.
Assembly of the Apple Crumble Cinnamon Rolls:
Lightly grease a 9x13 inch baking dish with cooking spray or softened butter and place a piece of parchment on the bottom. Set aside.
Once dough has doubled in size, gently punch it down and turn onto a floured work surface.
Using a rolling pin, roll out dough into a 10x18-inch rectangle. Use a pastry brush to brush melted butter over the dough. Sprinkle brown sugar and cinnamon mixture over the top, leaving about 1 and ½ inches of the border uncovered. Lightly press mixture into the dough.
Sprinkle on the diced apples and gently press them flat into the filling.
Starting on the long side, roll the dough into a tight log and pinch the seams to seal. Slice the log into 12 rolls and place in prepared baking dish.
Lightly cover with a damp towel or plastic wrap and let rise for 30 minutes to 1 hour, until doubled in size. While rolls are rising, preheat oven to 350°F (180°C).
Once rolls have doubled in size, break up the chilled crumble into chunks and sprinkle onto the rolls.
Bake in preheated oven for 25-30 minutes, or until lightly golden. Meanwhile, prepare the icing.
For the Icing:
In a medium mixing bowl using a handheld mixer, beat beat butter and cream cheese until light and fluffy, 3-5 minutes.
Add powdered sugar and mix on low until combined. Add vanilla and salt and beat until combined and smooth.
Remove the rolls from the oven and immediately drizzle or spread the icing on top so the glaze can melt into the rolls. Allow rolls to cool for about 10-15 minutes. Serve warm.
Notes
Make Ahead: (1) The crumble can be made a day or even a week ahead of time. Store in an airtight container in the refrigerator. (2) The Cinnamon Filling can be made ahead of time and stored in an airtight container at room temperature.
Apples: You can use a mixture of sweet and tart apples like Honey Crisp and Apple Smith. Instead of dicing into small pieces, you can cut them in thin slices and line them up in vertical rows on the filling.
Crumble: This is a small crumble recipe, but it still makes quite a lot for these rolls. You can sprinkle them all onto the rolls for extra crunch, halve the recipe, or double the cinnamon roll recipe and add half of the crumble to each batch.
Nutrition Information:
Yield:

12
Serving Size:

1
Amount Per Serving:
Calories:

471
Total Fat:

22g
Saturated Fat:

13g
Trans Fat:

0g
Unsaturated Fat:

7g
Cholesterol:

88mg
Sodium:

409mg
Carbohydrates:

65g
Fiber:

4g
Sugar:

38g
Protein:

7g
BON APPÉTIT!
Love, Dedra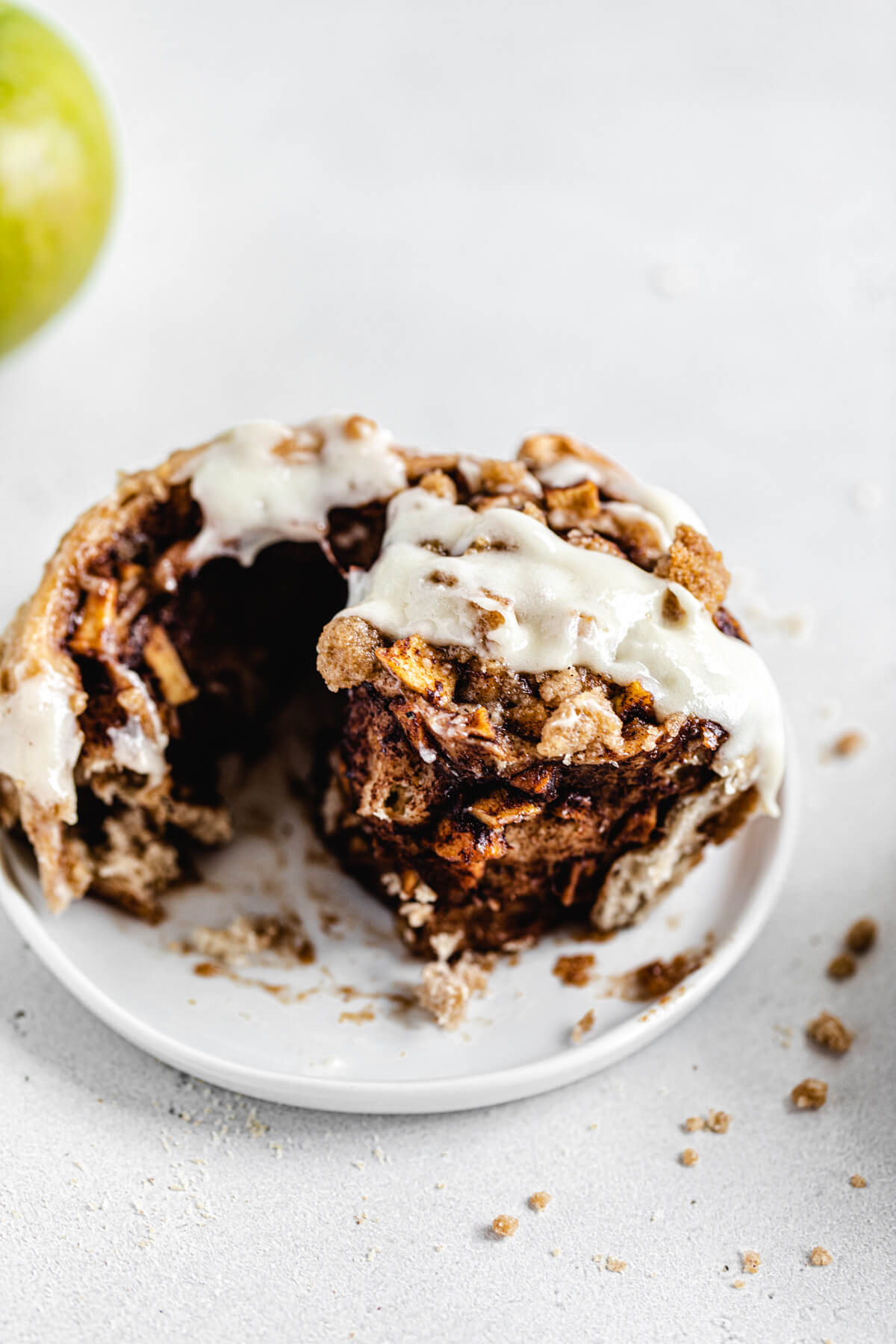 ©QUEENSLEE APPÉTIT. All images & content are copyright protected. Please do not use my images without prior permission. If you want to republish this recipe, please re-write the recipe in your own words, or link back to this post for the recipe.