These delicious Chai Latte Cinnamon Rolls are made with Chai tea milk in the dough, along with homemade Chai Spice in the filling and cream cheese icing!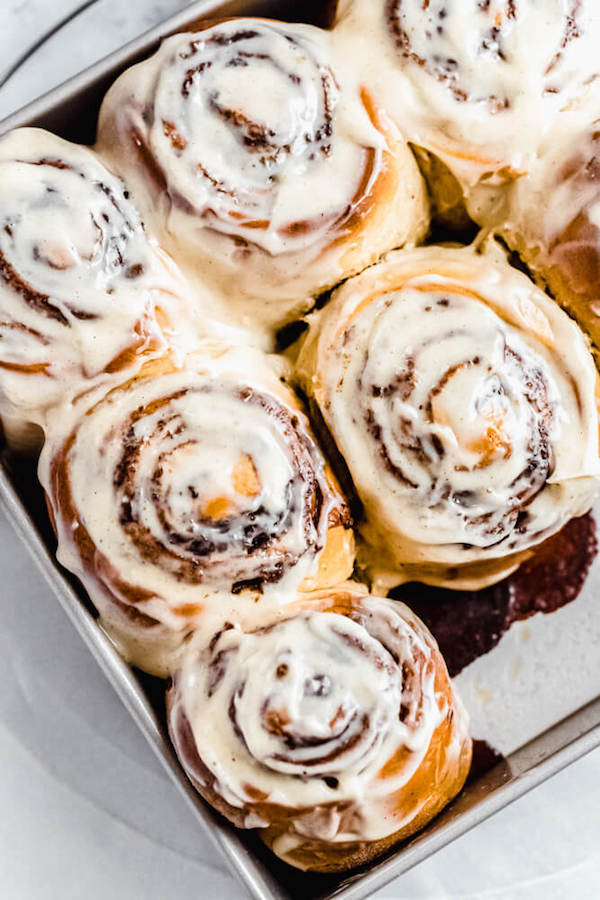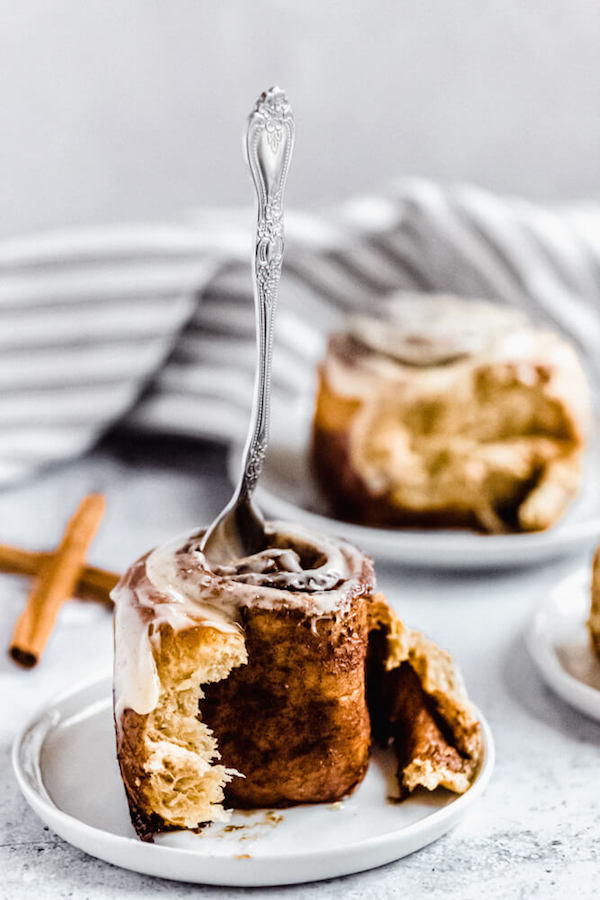 This post may contain affiliate links. As an Amazon Associate I earn from qualifying purchases. Please see my full disclosure policy for details.
Hello, everyone! How was your Thanksgiving? Did you eat yourself into a food coma? Did you make any of my recipes for the big day? Few people have already emailed me and sent photos of sweet and savoury Thanksgiving recipes they've made, so if you did make something of mine and took photos, send them to me! They make my day 🙂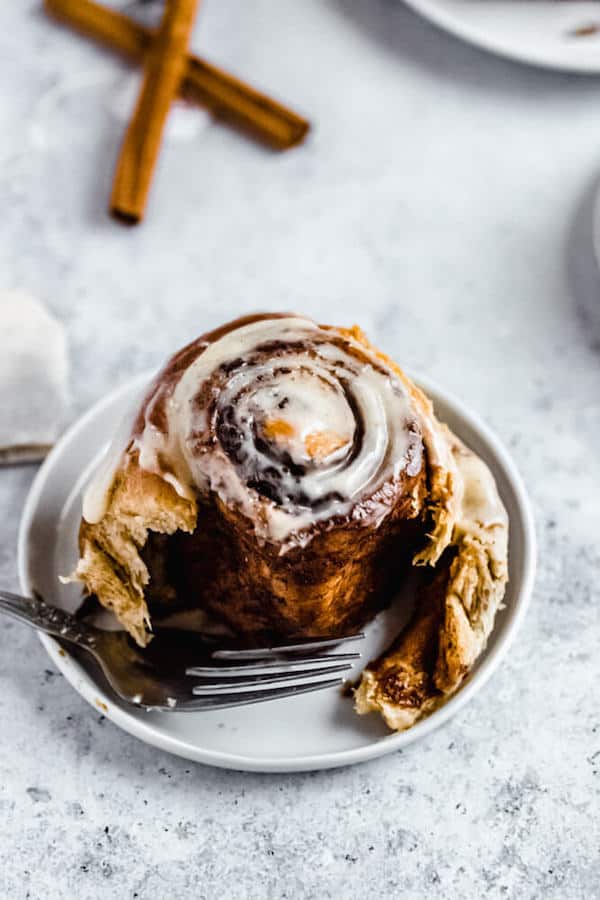 Chai Latte Cinnamon Rolls
Now as full as you may be, I'm sure you could make some room for cinnamon rolls! I mean you can always make these Pumpkin Cinnamon Rolls if you're not ready to say goodbye to Fall, or you could make these Eggnog Cinnamon Rolls if you're more than ready for Christmas.
But if you're in the middle, these Chai Latte Cinnamon Rolls are the best option!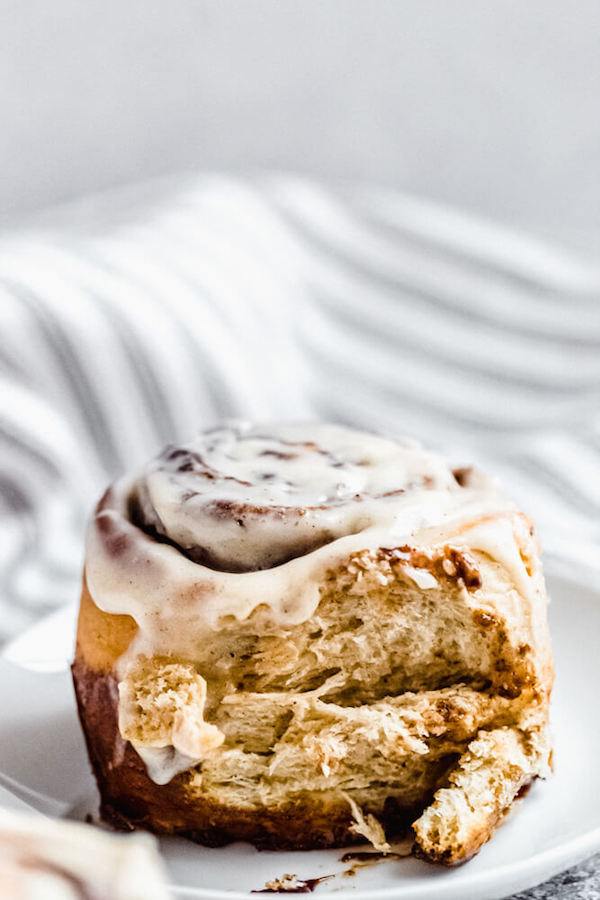 I'll be honest, I've never drank chai tea before, but I've always wanted to make a chai flavoured dessert and I'm so glad I finally did! I've fallen in love with these cinnamon rolls, and if chai is your thing, you'll definitely fall in love with them too!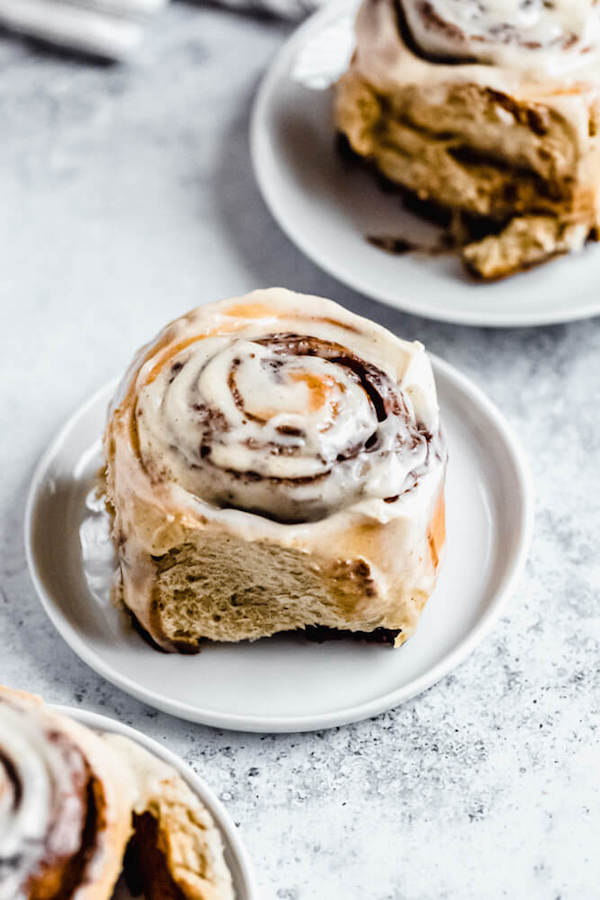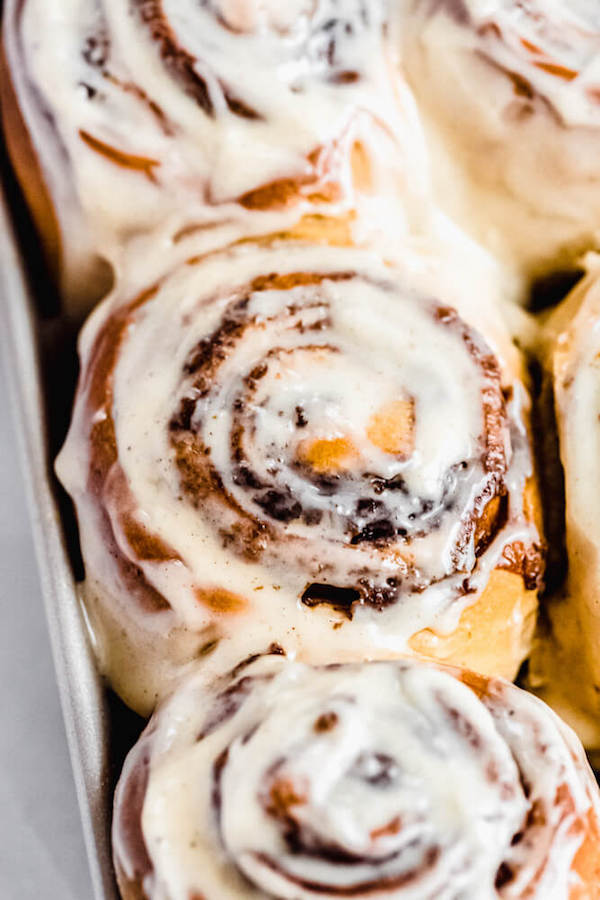 There are 4 Parts to These Chai Latte Cinnamon Rolls
The thing about me is that when I make specific flavoured desserts, like Coffee Cinnamon Rolls or Guinness Cheesecake, I like to make sure that flavour is all throughout the dessert, not just one part. Which is why in these cinnamon rolls, every single part is chai flavoured!
Chai Spice Mix: I couldn't find chai spice anywhere, so I made my own! 6 different spices combined to make our own chai spice that we'll be adding to the dough, filling and icing, so there's no lack of chai flavour in these rolls.

Chai Sweet Dough: I took my best ever cinnamon rolls sweet dough recipe and replaced the regular milk with "chai tea milk".

Chai Cinnamon Filling: regular cinnamon roll filling, but some of the cinnamon was replaced with chai spice.

Chai Cream Cheese Icing: add more of the chai spice mix to some silky cream cheese icing for an incredibly flavourful topping to the rolls!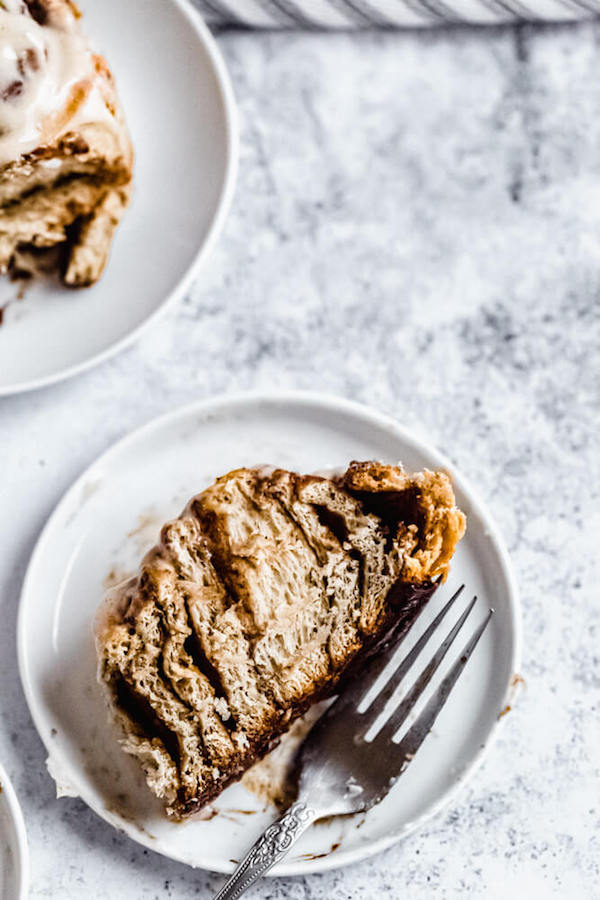 How to Make Chai Latte Cinnamon Rolls
To make these cinnamon rolls, start by making the chai tea milk. To do this, just heat the milk in the microwave, then add a chai tea bag and allow it to steep for about 30 minutes. It'll cool down by then, but we want the milk to be warm to wake the yeast, so you'll have to pop it back in the microwave to heat it back up.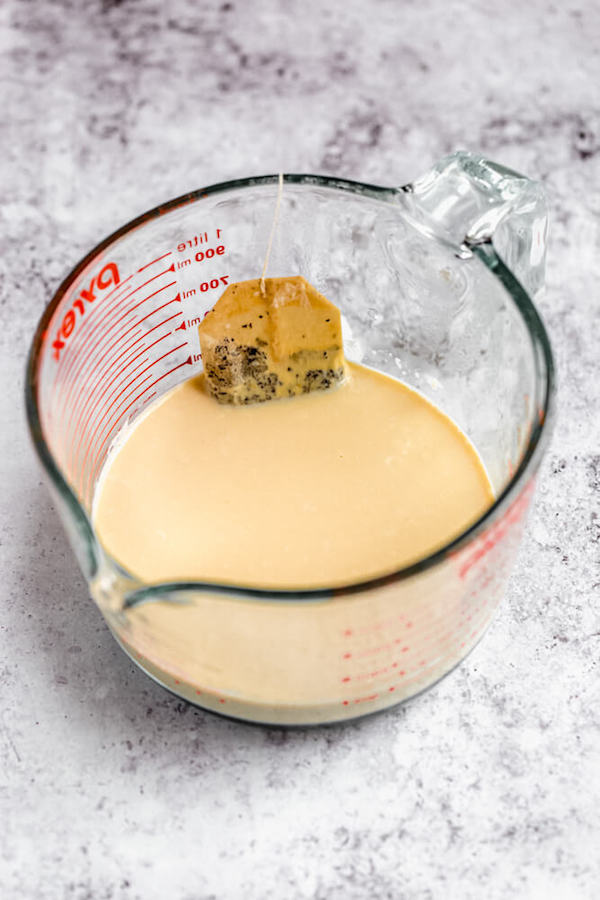 Add the yeast and some sugar to the chai milk and allow the yeast to foam up. Mix in the melted butter, vanilla, and eggs. For the dry ingredients, combine the flour, salt and the homemade chai spice mix.
For the chai spice, I combined cinnamon, cardamom, ginger, allspice, cloves and nutmeg. I know there's black pepper in chai spice, but I chose not to add any. You'll have enough spice to add to the dough, filling and icing. You can even double the recipe if you want to dust some on top of the rolls, or have some extra on hand to add some chai flavour to other desserts!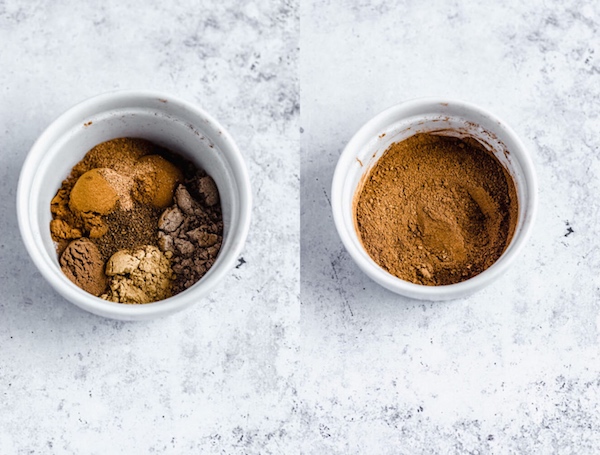 Knead the dough until smooth, then let it rise for at least 1-2 hours. Once it's risen, punch it down and roll it out. This dough is so gorgeous, just look at those flecks of chai spice!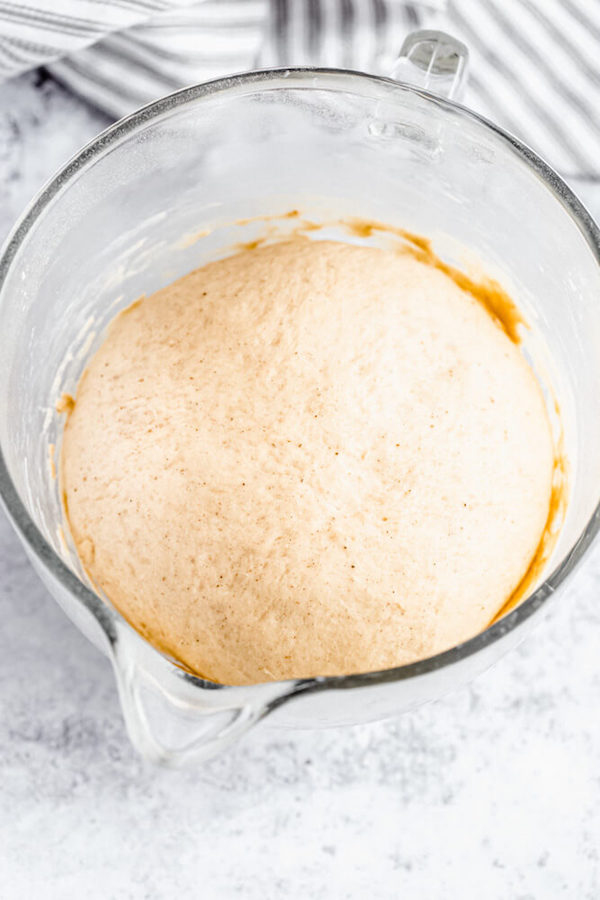 Roll the dough out, spread on butter, sprinkle on chai cinnamon mixture, then roll tightly to seal everything in. Slice up the rolls, then put them in your baking dish to rise for a second time.
I wanted my rolls to be pretty big, so I only cut them into 7 rolls, but you can cut out 9 rolls or even 12 if you want smaller portions.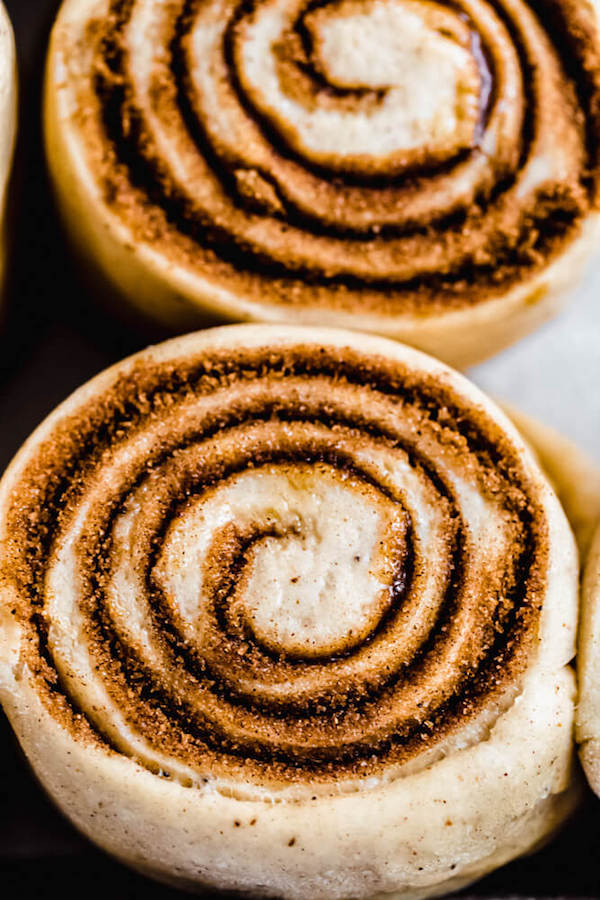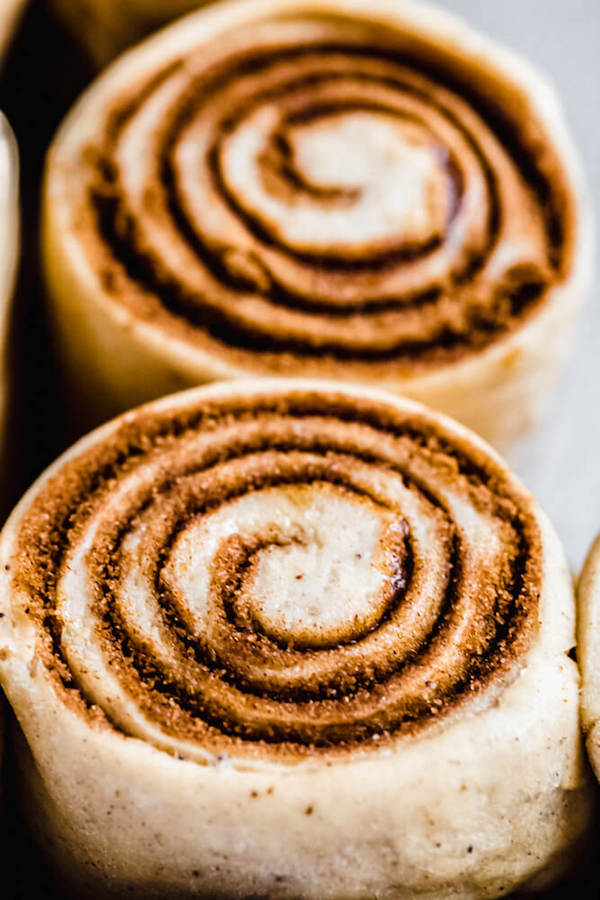 Chai Spice Cream Cheese Icing
This chai spice cream cheese icing is DREAMY, to say the least! It starts off as a plain and simple cream cheese icing, but that little bit of chai spice takes this silky frosting to new delicious heights!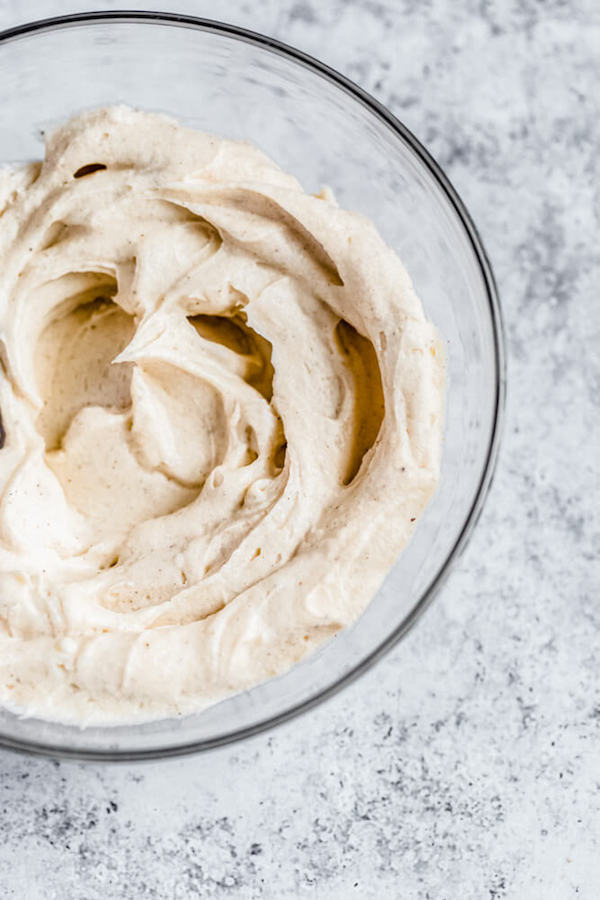 Bake the rolls until they're golden brown, then immediately spread half of the frosting on top. This initial slather of cream cheese icing will melt into every crevice of the rolls! Then spread on the rest of the frosting and allow that to melt into the rolls too. As always, with all of my cinnamon roll recipes, I had to keep the frosting minimal so you could see the beauty of the rolls in the photos.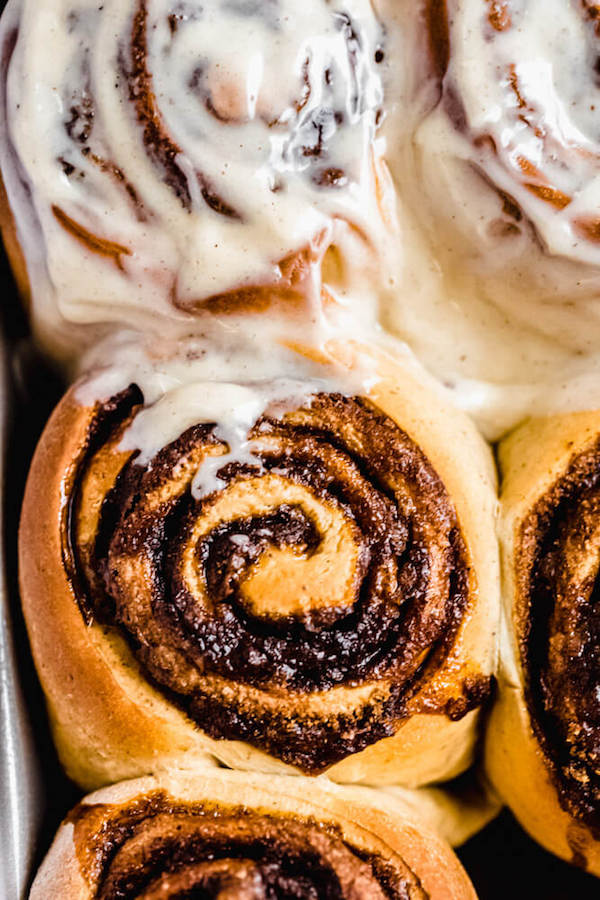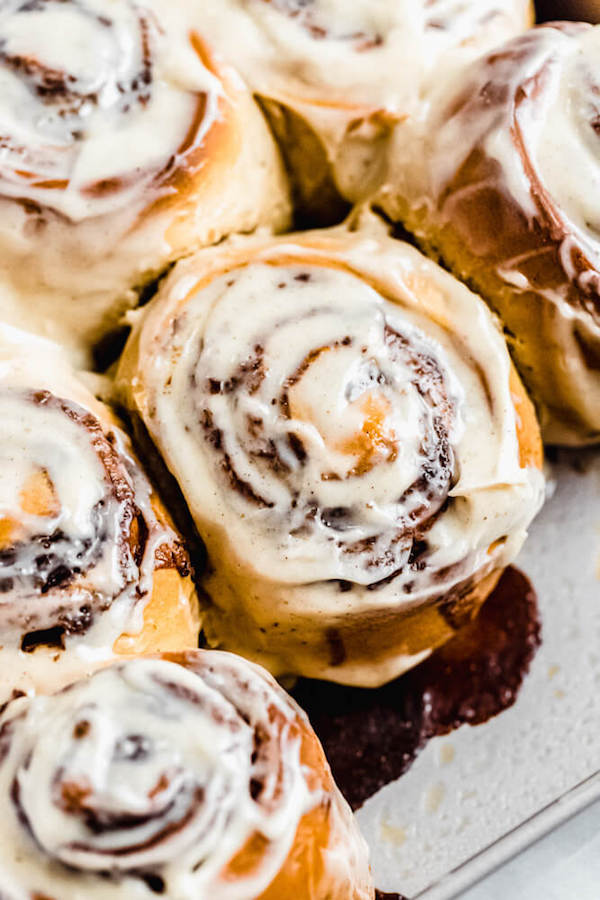 These rolls were gone within a day! Unfortunately, I only got to enjoy 1 and ½ of them because for some reason people expect me to share the things I make. But everyone raved over them! The chai flavoured soft dough, gooey filling and silky glaze will have everyone obsessing and begging for another!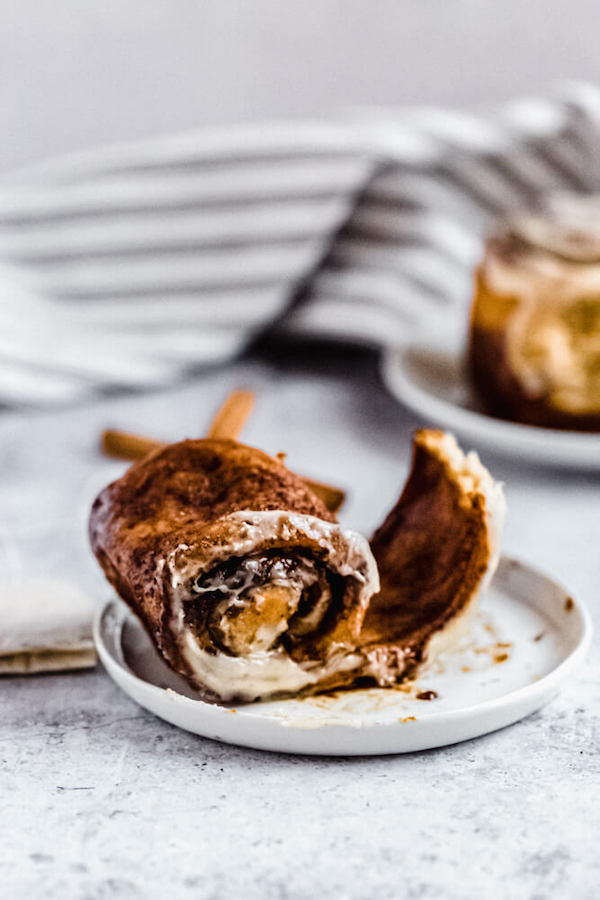 Did you make these Chai Latte Cinnamon Rolls? Let me know how they turned out in the comments below! And don't forget to leave a rating!
>>PIN THIS FOR LATER<<

FOLLOW QUEENSLEE APPÉTIT
Like what you see? Make sure you're following Queenslee Appétit for more tasty recipes!
Pinterest | Instagram | Facebook | Twitter |
Have any questions about the recipe? Contact me here, and I'll be happy to help!
SHARE YOUR PICS!
Tag me on Instagram @queensleeappetit or use the hashtag #queensleeappetit so I could see your gorgeous creations!
Let's get baking!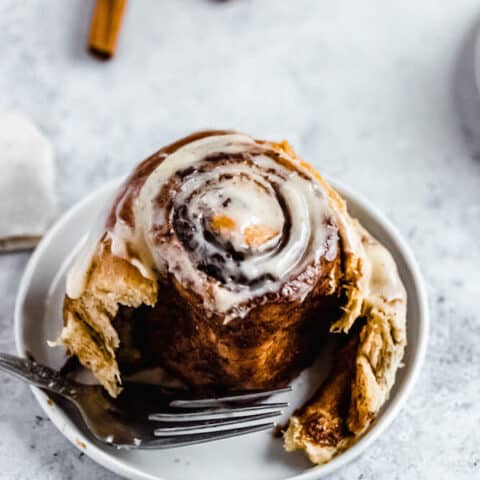 Chai Latte Cinnamon Rolls
Total Time:
3 hours
30 minutes
These delicious Chai Latte Cinnamon Rolls are made with Chai tea milk in the dough, along with homemade Chai Spice in the filling and cream cheese icing!
Ingredients
Chai Spice Mix:
2 and ½ teaspoon ground cinnamon
1 and ¼ teaspoon ground cardamom
1 teaspoon ground ginger
½ teaspoon ground allspice
½ teaspoon ground cloves
¼ teaspoon ground nutmeg
Chai Latte Dough:
1 cup milk, room temperature
1 bag Chai Tea
1 package (2 and ¼ tsp) active dry yeast
½ cup + ½ teaspoon granulated sugar, divided
¼ cup unsalted butter or margarine, melted
1 teaspoon pure vanilla extract
2 large eggs, lightly beaten
4 - 4 and ½ cups All purpose flour
1 tablespoon chai spice mix (recipe above)
1 teaspoon salt
Chai Cinnamon Filling:
1 cup dark brown sugar, packed
2 tablespoon ground cinnamon
2 teaspoon chai spice mix (above)
¼ cup margarine, melted
Chai Cream Cheese Icing:
¼ cup unsalted butter, softened
4 oz. cream cheese, softened to room temperature
1 cup powdered sugar
½ teaspoon pure vanilla extract
1 teaspoon chai spice mix
Instructions
For the Chai Spice Mix:
Combine all of the spices together in a small bowl. You'll have about 6 teaspoons.
For the Chai Dough:
In a medium heat-proof bowl, heat the milk in the microwave until hot, about 1-2 minutes. Place tea bag inside and allow to steep for 30 minutes.
After 30 minutes, the milk will be cool again, so remove the tea bag (squeeze out the excess) and reheat in the microwave for 50-60 seconds. It should be around 110-115˚F. If you don't have a thermometer, test it out by sticking your finger inside. The milk should be warm enough for you to hold your finger inside comfortably. It should not be too hot, if it is, let it sit for 5 minutes to cool.
Stir the milk, then sprinkle in the yeast and ½ teaspoon of sugar into the warmed milk, do not stir. Allow to sit for about 5-10 minutes or until frothy. If yeast doesn't foam up, your yeast is either dead or the milk is too hot, which means you have to start over.
Add melted butter, vanilla and eggs to the chai milk and yeast mixture and whisk to combine.
In a stand mixer bowl fitted with the dough hook attachment, add 4 cups of flour, remaining ½ cup sugar, 1 tablespoon of the chai spice mix and salt. Mix on low to combine. Alternatively: add the dry ingredients to a large mixing bowl and whisk to combine.
Create a well in the centre of the dry ingredients, then pour in liquid mixture and mix on low until just combined, about 30 seconds to 1 minute.
Increase speed to medium-low "2 on a kitchenaid mixer" and knead dough until it's smooth, elastic and pulls away from the sides of the bowl, about 7-10 minutes. Or you can mix the dough with a wooden spoon, then transfer it to a lightly floured surface and knead by hand for about 7 to 10 minutes until dough is smooth.
Lightly oil a separate large bowl with olive oil or cooking spray, place dough inside and turn to cover both sides. Loosely cover with plastic wrap and let it rest in a warm place for 1 to 1 and ½ hours, or until dough has doubled in size.
For the Chai Cinnamon Filling:
In a small heat-proof bowl, microwave the butter in 30 second intervals, stirring after each until melted. Set aside.
In a separate bowl, add brown sugar, cinnamon and 2 teaspoons of the chai spice. Stir with a fork to combine. Set aside until ready to use.
Assembly of the Chai Latte Cinnamon Rolls:
Lightly grease a baking dish with cooking spray or softened butter and place a piece of parchment on the bottom. Set aside.
Once dough has doubled in size, gently punch it down and turn onto a floured work surface.
Using a rolling pin, roll out dough into a large 10x12-inch rectangle. Use a pastry brush to brush melted butter over the dough. Sprinkle chai cinnamon mixture over the top, leaving about 1 and ½ inches of the border uncovered. Lightly press mixture into the dough.
Starting on the long side, roll the dough into a tight log and pinch the seams to seal. Slice the log into either 6 jumbo rolls, 8 medium rolls, or 12 small rolls and place into prepared baking dish.
Lightly cover with a damp towel or plastic wrap and let rise for 30 minutes to 1 hour, until doubled in size. While rolls are rising, preheat oven to 350°F (177°C).
Once rolls have doubled in size, bake in preheated oven for 25-30 minutes, or until lightly golden. Meanwhile, prepare the icing.
For the Chai Cream Cheese Icing:
In a medium mixing bowl using a handheld mixer, beat beat butter and cream cheese until light and fluffy, 3-5 minutes.
Add powdered sugar and mix on low until combined. Add vanilla and 1 teaspoon of chai spice and beat until combined and smooth.
Remove the rolls from the oven and immediately spread half of the icing on top so the glaze can melt into the rolls. Allow rolls to cool for about 5-10 minutes, then spread remaining icing on top. Serve warm.
Notes
Make Ahead: Chai Spice Mix can be made ahead of time and stored in a small jar. Chai Tea Milk can be steeped the day before, then kept in the refrigerator until the next day. For the rolls, instead of allowing them to rise at room temperature for an additional hour, cut rolls can be transferred to the refrigerator to rest overnight. Before baking, allow to come to room temperature and rise for 1 hour. Continue baking per recipe instructions. Chai Cinnamon Mixture can be prepared a day ahead and stored in an airtight container at room temperature. Cream Cheese Icing can be made the day before and stored in the refrigerator. Microwave for about 30 seconds to soften it back up before spreading on the rolls.
Storage: Store rolls in an airtight container in the refrigerator for up to 4 days. Reheat in the microwave for 30-40 seconds until soft and gooey!
Recommended Products
As an Amazon Associate and member of other affiliate programs, I earn from qualifying purchases.
Nutrition Information:
Yield:

12
Serving Size:

1
Amount Per Serving:
Calories:

335
Total Fat:

16g
Saturated Fat:

8g
Trans Fat:

1g
Unsaturated Fat:

7g
Cholesterol:

63mg
Sodium:

283mg
Carbohydrates:

44g
Fiber:

2g
Sugar:

24g
Protein:

5g
BON APPÉTIT!
Love, Dedra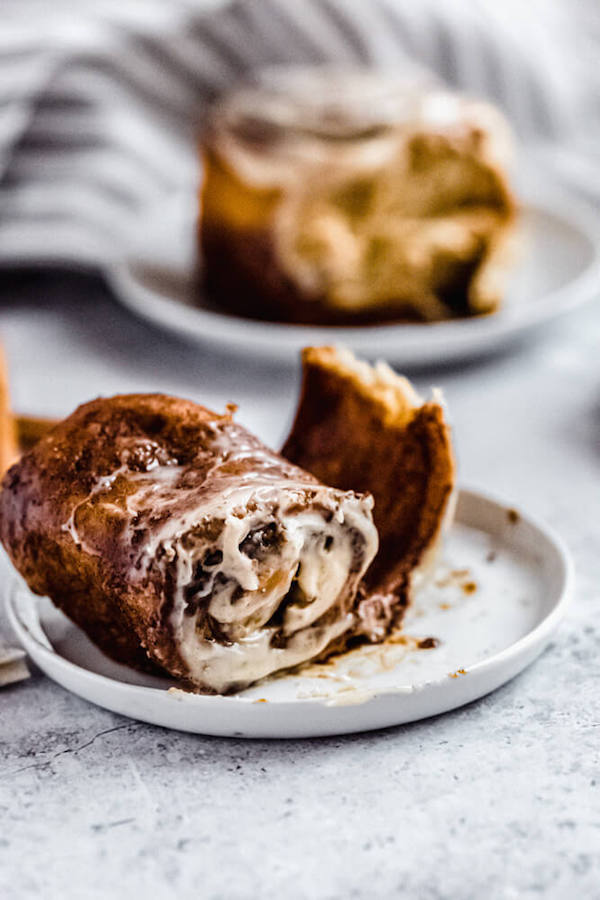 ©QUEENSLEE APPÉTIT. All images & content are copyright protected. Please do not use my images without prior permission. If you want to republish this recipe, please re-write the recipe in your own words, or link back to this post for the recipe.