Best Ever Blueberry Pancakes! Thick and fluffy buttermilk pancakes filled with fresh blueberries — the perfect way to start your day!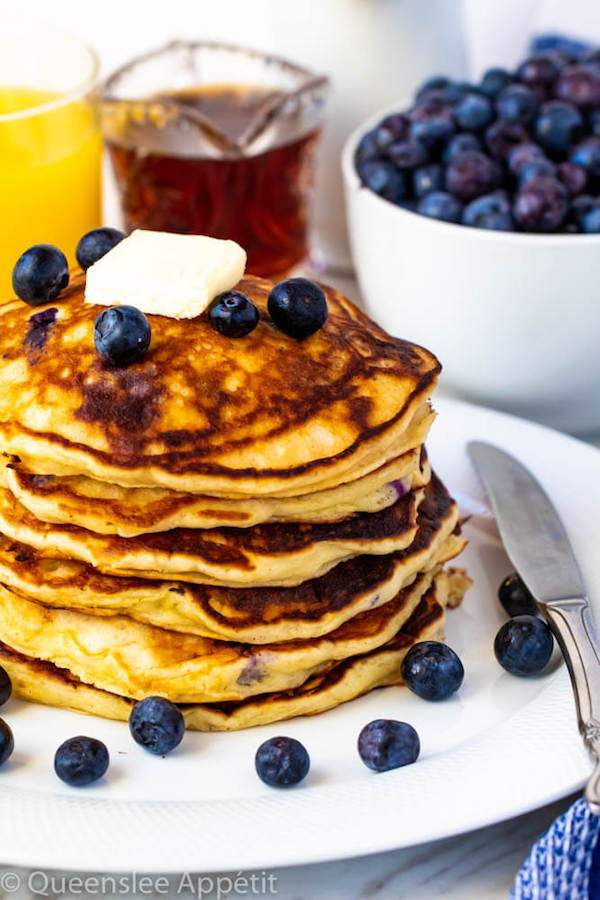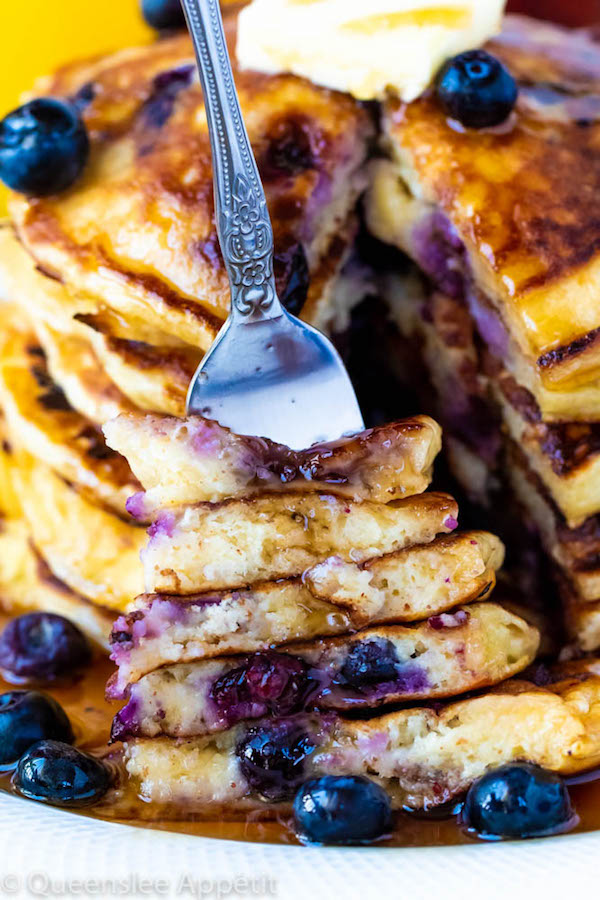 A little birdie told me that today was National Blueberry Pancake Day, which gave me the perfect excuse to create the most amazing recipe for these classic pancakes!
These blueberry pancakes are such an easy and delightful breakfast. The texture is so incredibly soft and fluffy, your whole family is gonna want them every morning!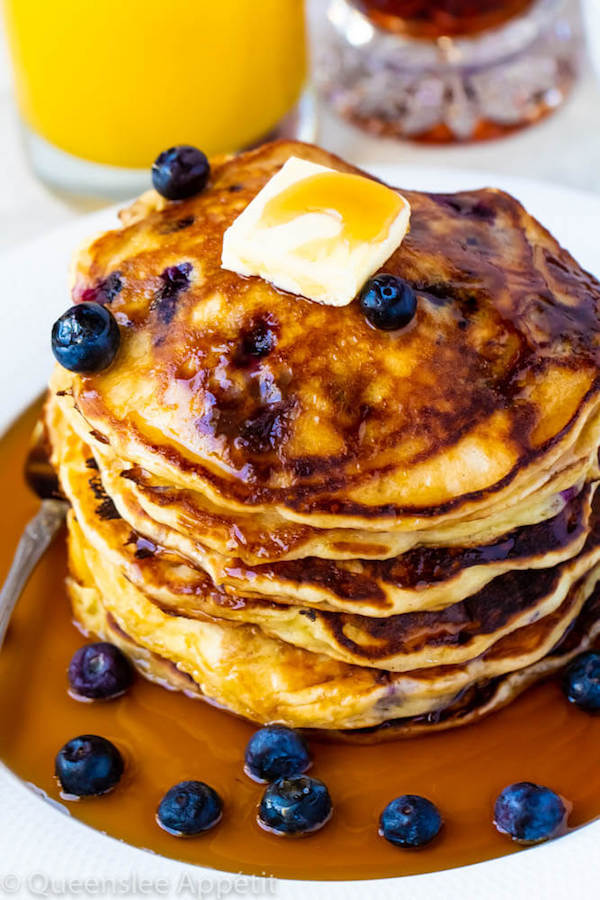 Tips on How to make the best Blueberry Pancakes
Making pancakes from scratch may seem intimidating or difficult to some people, but trust me it's just as easy as using a box mix, just with a few more ingredients.
That being said, as easy as from scratch pancakes are to make, there are a few tips and tricks I recommend you follow to ensure you end up with the most perfect pancake!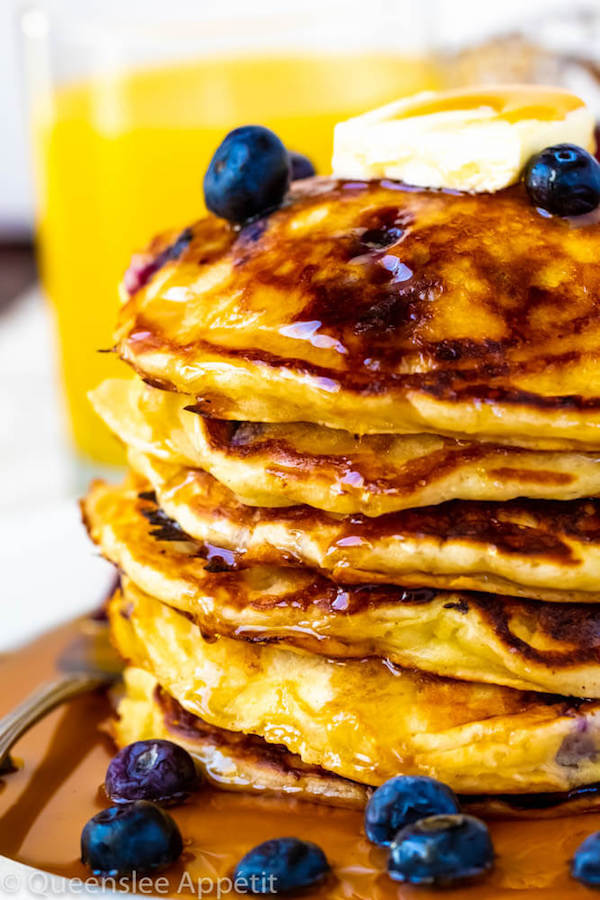 Batter
Whether or not you end up with the best pancakes mainly depends on your batter. Sure the ingredients play a part in the final results, but you need to know how to mix everything together the right way.
If the batter is too thick, you can end up with ugly undercooked pancakes. If the batter is too runny, your pancakes won't have the perfect circle shape because it'll end up spreading out into every direction. Thin batter also means thin pancakes, and that's fine if that's your preference, but today we want them thick and fluffy!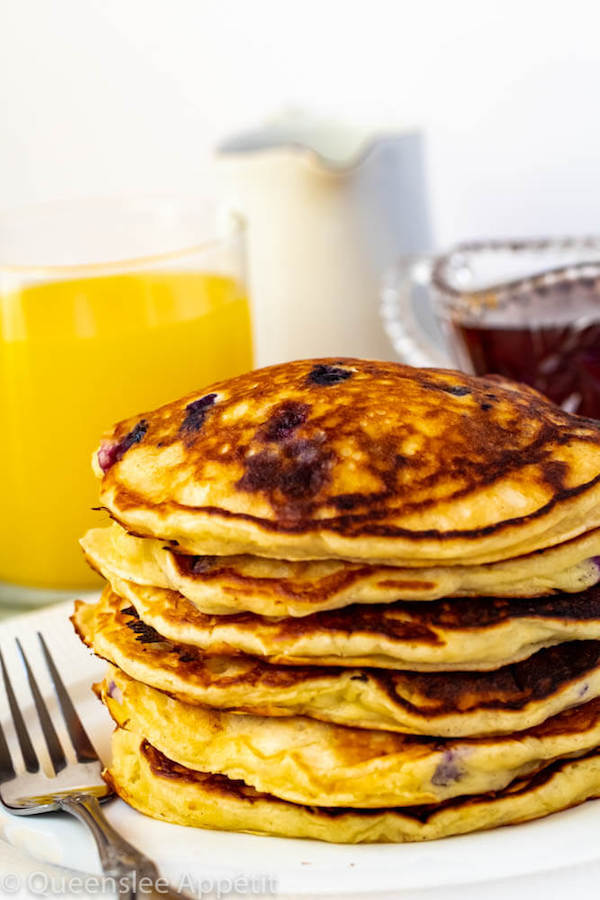 The mixing method is as easy as mixing the dry ingredients together and mixing the wet ingredients together, then combining the two. However, you'll need to create a "well" in the centre of the dry ingredients where you'll pour in your wet ingredients. This way you can easily and gently combine the wet and dry ingredients so you won't have to over-work the batter.
In my recipes, I usually say "mix until smooth", however when it comes to pancakes, you want your batter to be lumpy. Just mix the batter until no streaks of flour remain and the batter is still lumpy. If there's still lumps in your batter, that means you haven't overmixed it, which is good!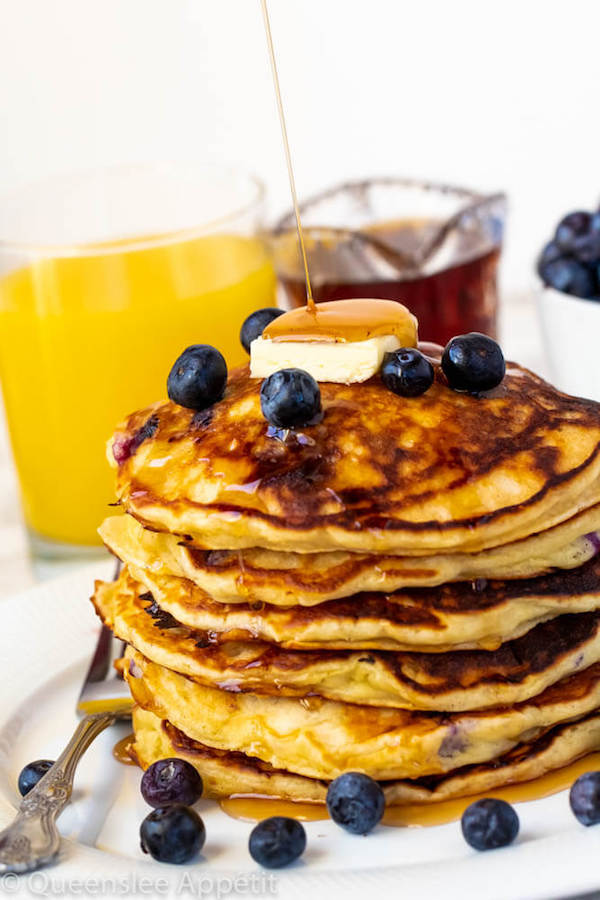 Can I use Frozen Blueberries?
Of course! Although, if you plan on using frozen blueberries, do NOT thaw them out. Just gently break them apart with your fingers. They're small enough to cook through while you're cooking the pancakes.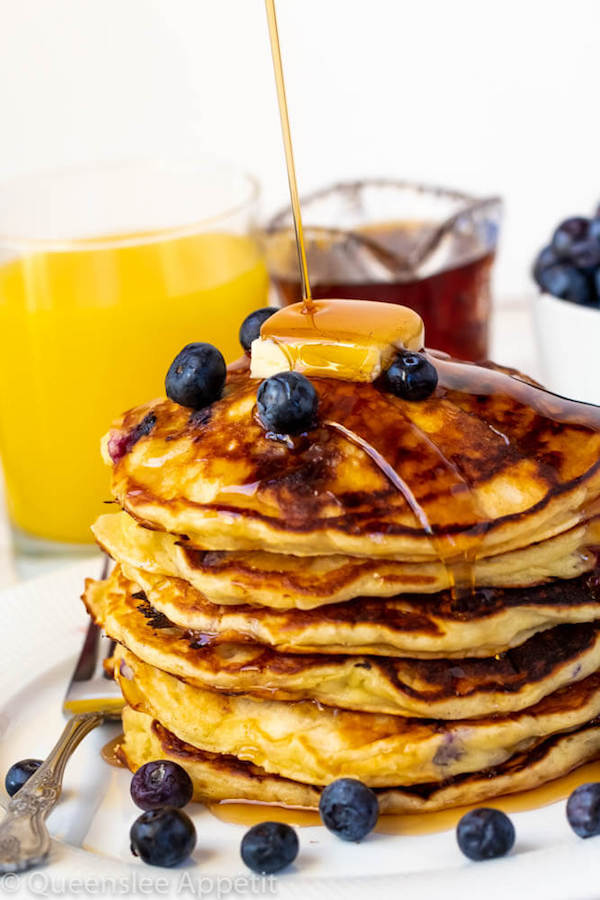 How to cook perfect blueberry pancakes
Start by pre-heating your pan over medium-low heat. For the pan, I recommend either using a non-stick griddle or a cast iron pan.

When greasing your pan, you can use butter, oil or nonstick cooking spray. If you're using oil, pour a little bit into a paper towel, then wipe the pan with the same paper towel to spread the oil around.

If you're using butter, you can use 1 of 2 methods: melt the butter in the pan. Once it's melted, use a paper towel to wipe the excess butter off. You can also dip a clean paper towel into some margarine and spread it around your pan. Remember you'll have to re-grease your pan while you're making the pancakes.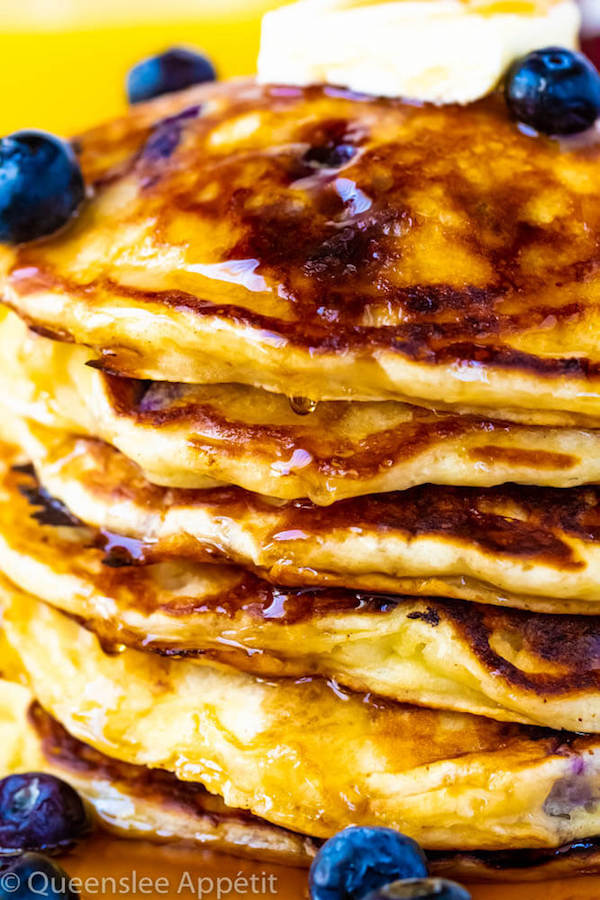 To ensure all your pancakes are the same size and that they're all perfectly shaped, use a ¼ or ⅓ cup measuring cup. Just scoop out the batter with the measuring cup, pour it into your pan, then use the bottom of it to spread the batter out into a circle.

Now the blueberries! You can add all of the blueberries directly into the batter, just fold them in very gently to avoid creating blue streaks that'll discolour your batter.

You can also use the method in step 4 with the plain pancake batter, then drop some blueberries onto the uncooked surface and spoon some more batter on top to cover them slightly.

Once bubbles begin to pop on the surface and the edges look dry. Use a wide spatula to carefully flip the pancakes. This usually takes 2 minutes per side for me, however the time may vary for you so look for the above signs to see when it's ready.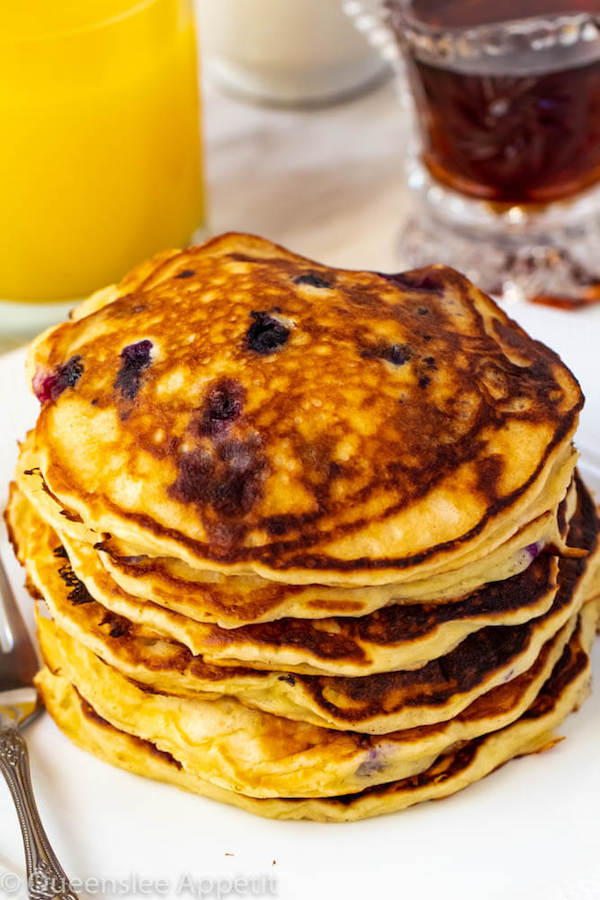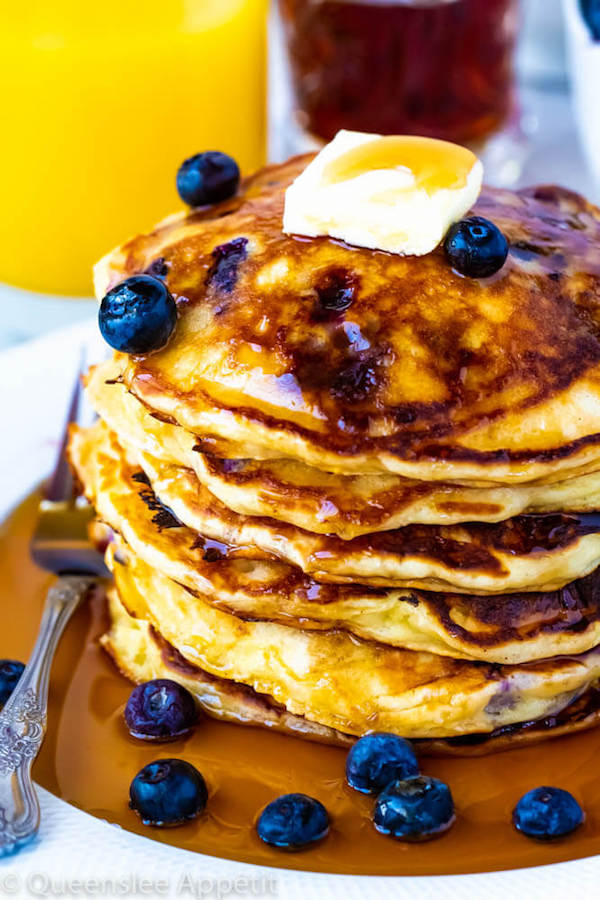 I've never been a huge blueberry fan, but I can definitely get behind a tall stack of these babies! The slightly crispy edges, the thick, soft and fluffy inside and the burst of warm blueberry in every bite is out of this world!
Serve with a square of butter and soak with some hot maple syrup. Or you can go a different route and enjoy these with some of my Homemade Strawberry Sauce (my grandma's favourite option), for an extra fruity and fun breakfast!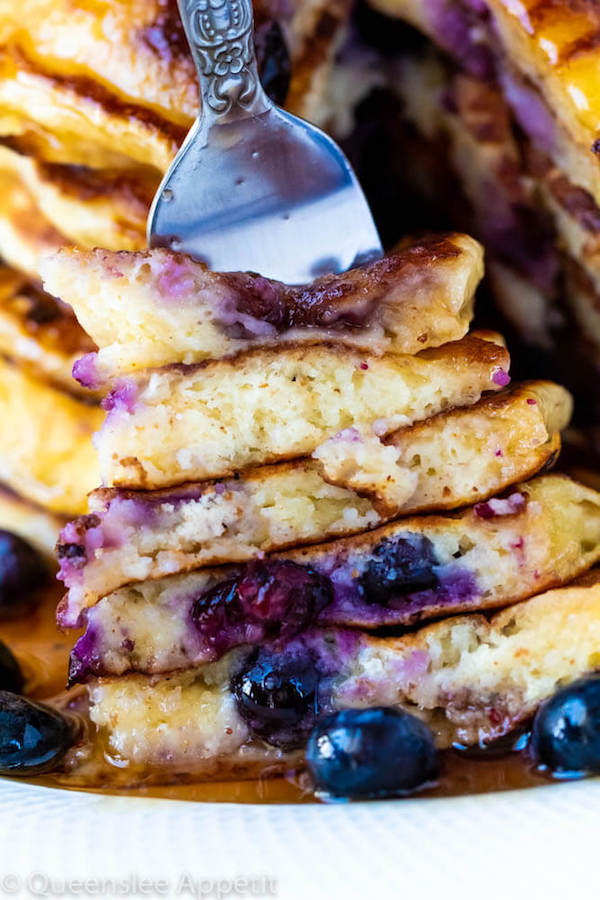 >>PIN ME FOR LATER<<

FOLLOW QUEENSLEE APPÉTIT
Like what you see? Make sure you're following Queenslee Appétit for more tasty recipes!
Pinterest | Instagram | Facebook | Twitter |
Have any questions about the recipe? Contact me here, and I'll be happy to help!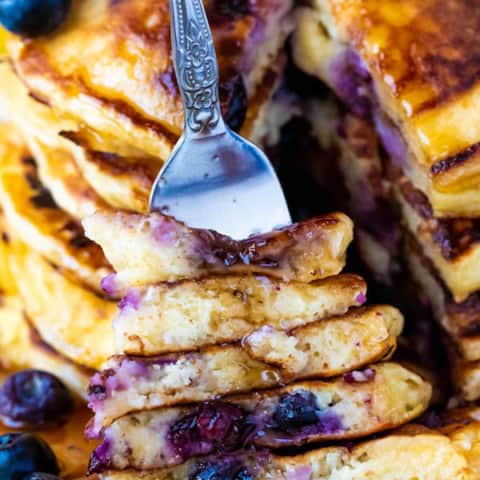 Best Ever Blueberry Pancakes
Best Ever Blueberry Pancakes! Thick and fluffy buttermilk pancakes filled with fresh blueberries — the perfect way to start your day!
Ingredients
2 cups all-purpose flour
¼ cup granulated sugar
1 tablespoon + 1 teaspoon baking powder
¼ teaspoon baking soda
½ teaspoon salt
¼ teaspoon ground nutmeg (optional)
2 cups buttermilk
2 large eggs, room temperature
¼ cup unsalted butter, melted and cooled
2 teaspoon pure vanilla extract
1 and ½ cups fresh or frozen blueberries
Maple Syrup, for serving
Instructions
In a large bowl, add flour, sugar, baking powder, baking soda, salt and nutmeg (optional). Whisk to combine. Heat the buttermilk in the microwave until lukewarm, about 30 seconds.
In a separate bowl, add the buttermilk, eggs, melted butter and vanilla and whisk to combine.
Create a well in the centre of the dry ingredients and pour the wet ingredients in the centre. Whisk in the beginning until just combined, then use a rubber spatula to fold the batter until no streaks of flour remain. Do not overmix. Batter will be lumpy.
Note: You can carefully fold in the blueberries now, or you could leave them to scatter onto the pancakes while they're cooking.
Allow batter to rest. Meanwhile, preheat a griddle or a skillet over medium-low heat.
Use a tablespoon of butter to grease the pan or spray with cooking spray. Use a paper towel to wipe off the butter. Pour ¼ or ⅓ cup of batter (depending on how big you want your pancakes) into the pan and gently spread into a circle shape using the measuring cup.
IF you chose to add the blueberries while cooking, drop a few onto the uncooked surface and spoon some extra batter on top to slightly cover the berries.
Cook until bubbles form on the top and the edges look dry, about 2 minutes. Flip and cook for another 1-2 minutes. Repeat with remaining batter.
Serve with melted butter, maple syrup or homemade strawberry or raspberry sauce. Enjoy!
Recommended Products
As an Amazon Associate and member of other affiliate programs, I earn from qualifying purchases.
BON APPÉTIT!
Love, Dedra ❤
DID YOU MAKE A RECIPE?
Tag @queensleeappetit and use the hashtag #queensleeappetit so I can see all of the Queenslee Appétit recipes you've made!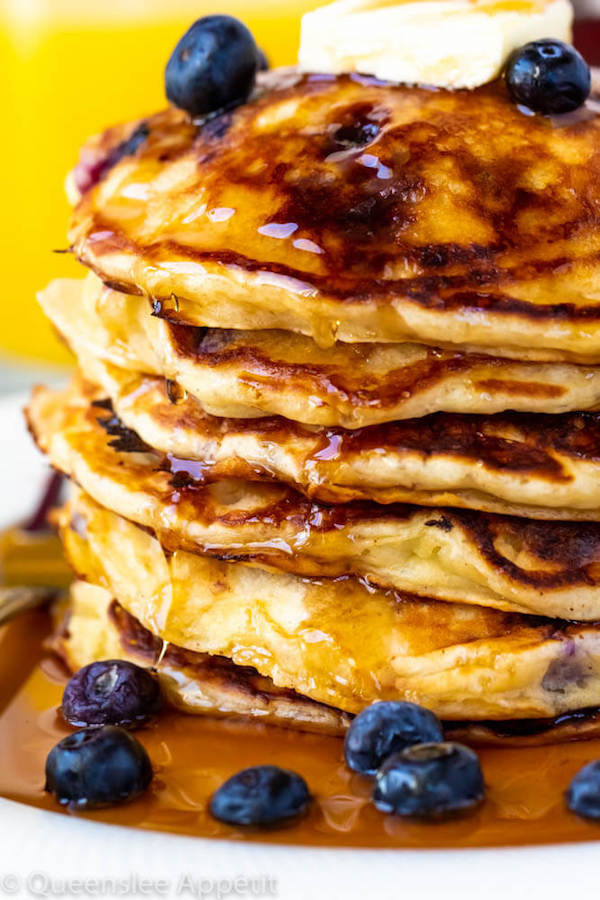 ©QUEENSLEE APPÉTIT. All images & content are copyright protected. Please do not use my images without prior permission. If you want to republish this recipe, please re-write the recipe in your own words, or link back to this post for the recipe.
This post may contain affiliate links. Please see my full disclosure policy for details.