This Brownie Milkshake is a super decadent treat every chocolate lover should taste at least once! Loaded with brownie chunks and decorated with ganache, this milkshake is packed with delicious chocolate flavour.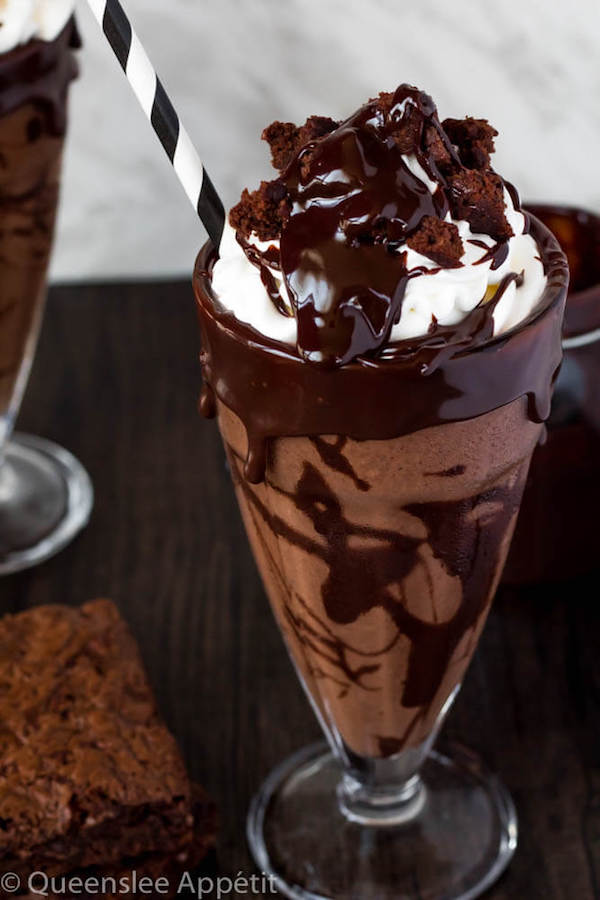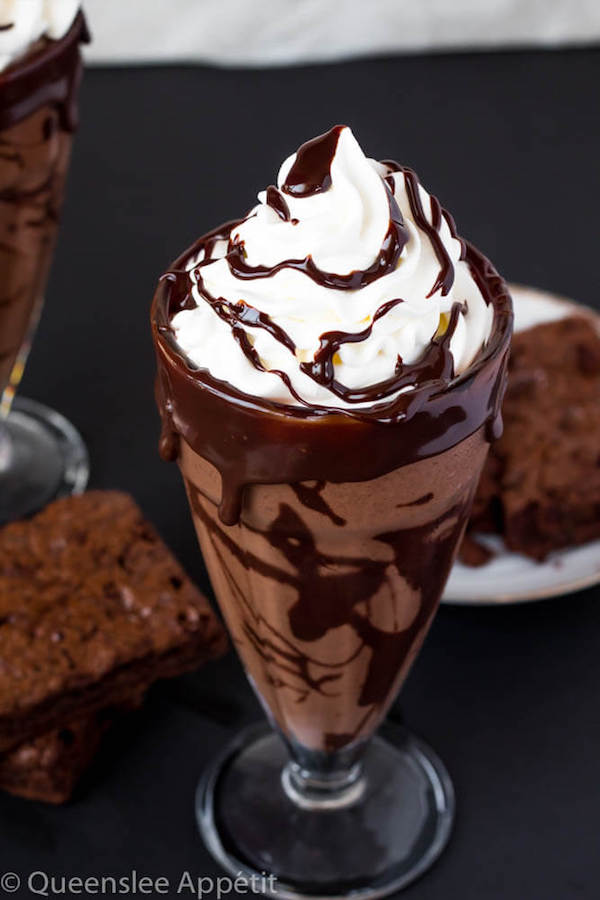 Hey! So remember that No-Churn Brownie Fudge Swirl Ice Cream I shared earlier this week? Well if you were wondering what I did with that recipe, I threw it in a blender and made something just as delicious!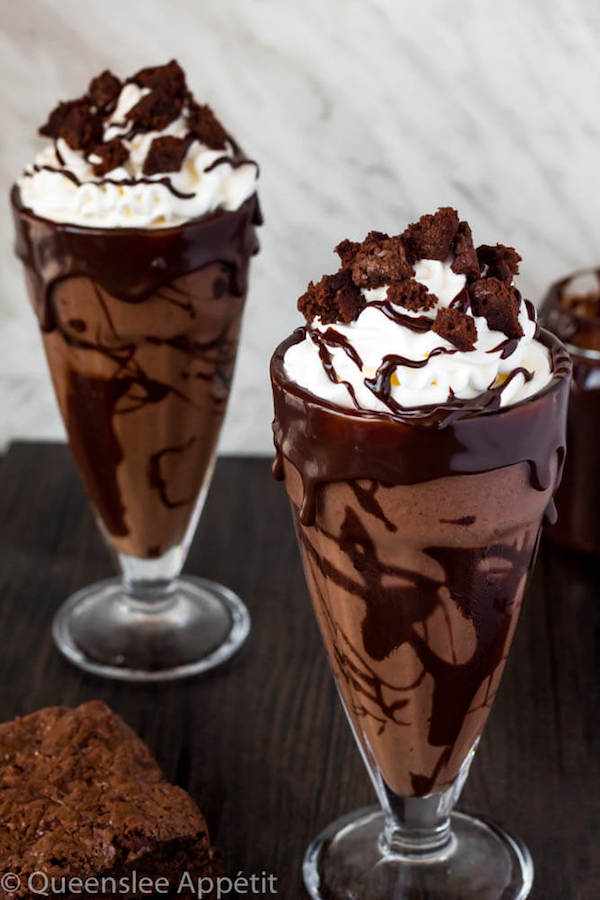 Brownie Milkshake
Rich ✔️ Decadent ✔️ Indulgent ✔️ Chocolatey ✔️ This milkshakes got it all! It's also super creamy and thick —everything all good milkshakes outta be.
On top of being super incredibly delicious, this is super fun and easy to make! I just took the leftover Brownie Fudge Swirl Ice Cream I had, added a splash of milk and blended it until everything was smooth.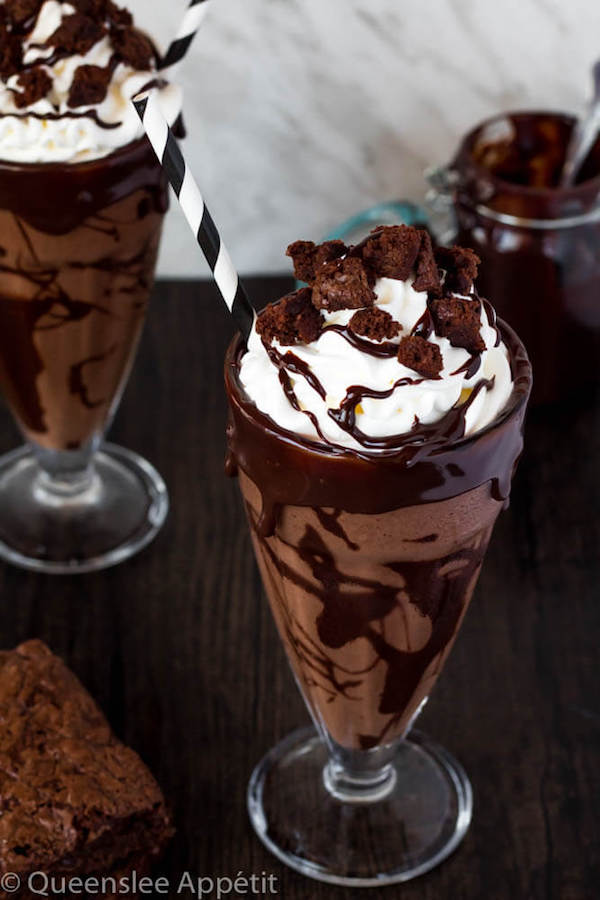 I know most of you may not want to go through the extra trouble of making the no-churn brownie ice cream (although it is HIGHLY recommend). So to make this recipe easier, the recipe below only requires 3 ingredients: brownies, chocolate ice cream and a bit of milk or cream.
You could use store bought brownies, or you can make a batch of brownies using a box mix. Just cut 2 of the brownies into chunks, add to the milkshake and eat the rest!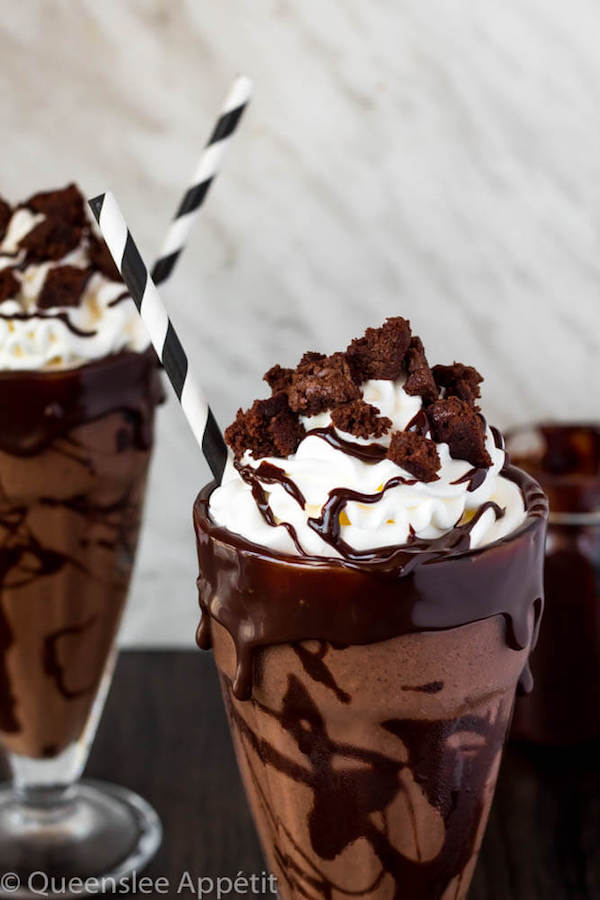 Chocolate Ice Cream or Vanilla Ice Cream
For this recipe, you can use either chocolate ice cream or vanilla ice cream. I prefer the chocolate ice cream because I have a serious incurable chocolate addiction. If you used vanilla ice cream, this milkshake may taste more like a vanilla milkshake with brownie pieces and a light chocolate taste.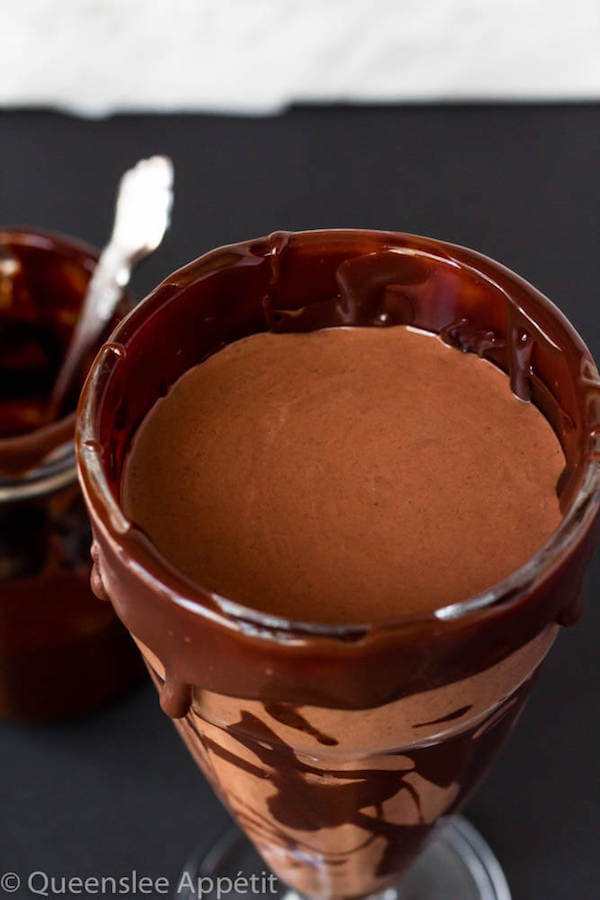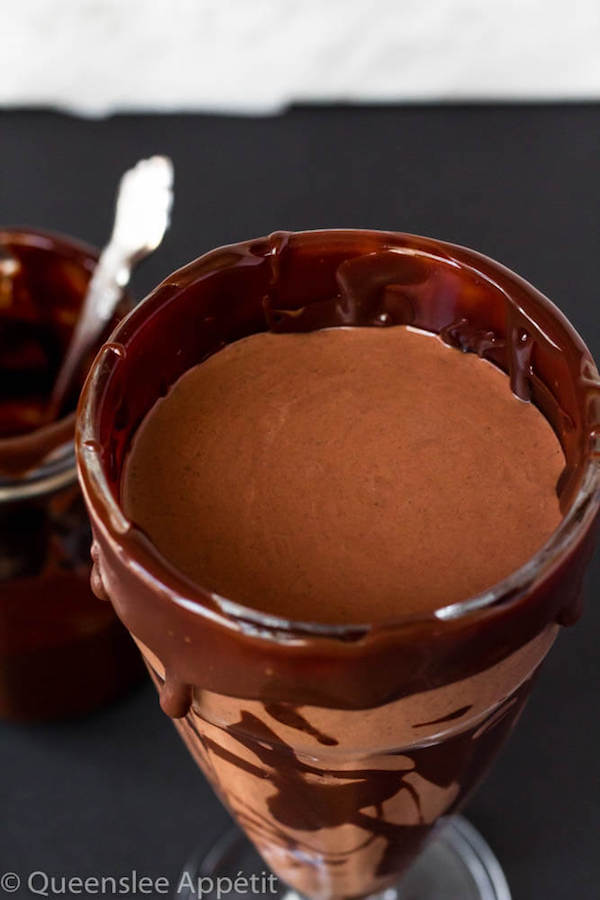 Glass Decoration
Every time I make a milkshake, I just have to decorate the glass to fit the milkshakes flavour theme. Since this milkshake is chocolate flavoured, I decided to decorate the glass with chocolate. A little (or a lot of) extra chocolate won't hurt anybody, right?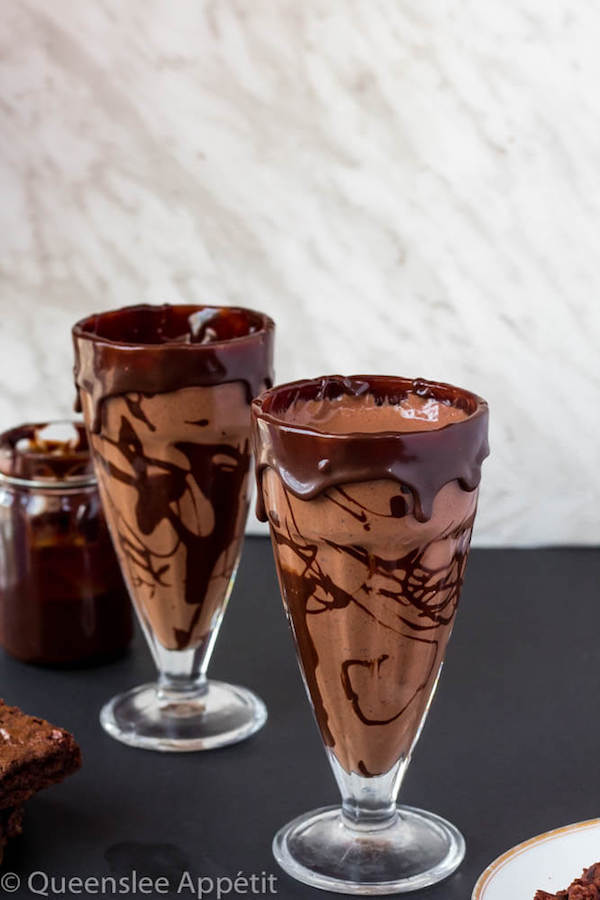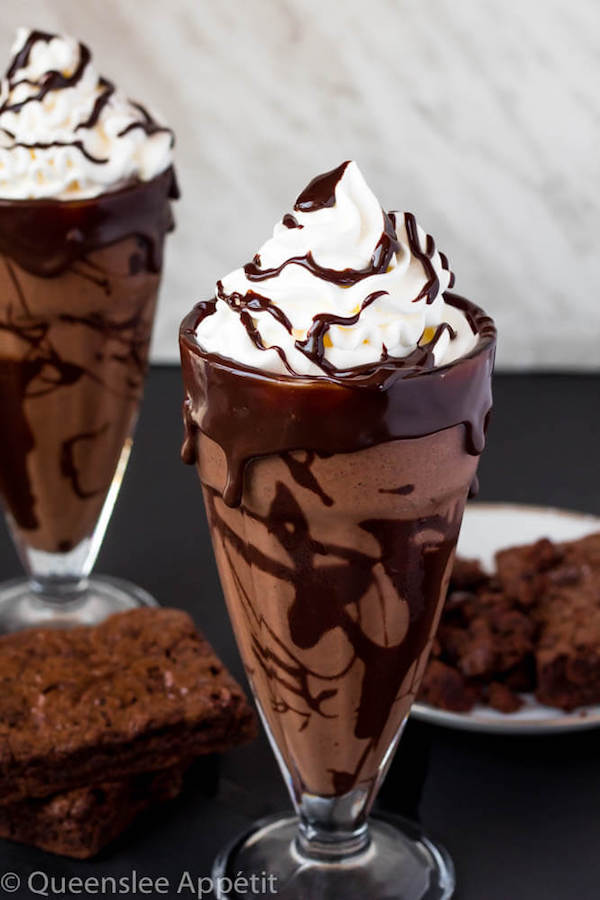 Ganache or Melted Chocolate?
Using melted chocolate may be the easier option because all you have to do is melt it. I had plenty of ganache left from the brownie ice cream recipe, so I just used some of it to decorate the glasses.
The glass decoration was inspired by my Salted Caramel Milkshake. I started by swirling the ganache inside of the glass. To do this, just scoop up some of the melted chocolate or ganache with a small spoon and swirl it around inside the glass in a fast circle motion.
To decorate the rim, I spooned some of the ganache around the entire rim. When I place the glass down, the ganache dripped down the glass to create that gorgeous design.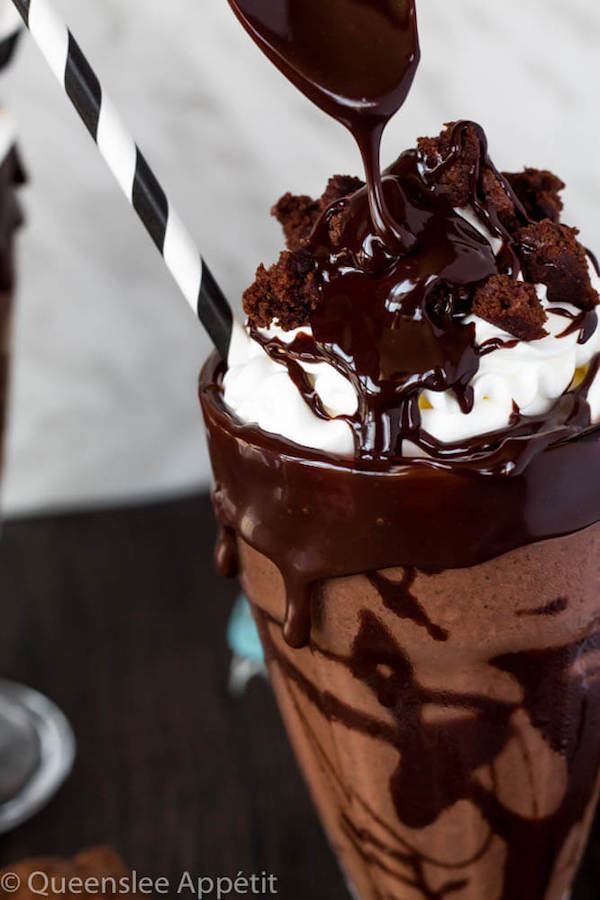 Toppings
Every good milkshake needs a whipped cream topping so I swirled a generous amount on top of this one. To finish it off, I drizzled on some more ganache and garnished the top with bits of brownie.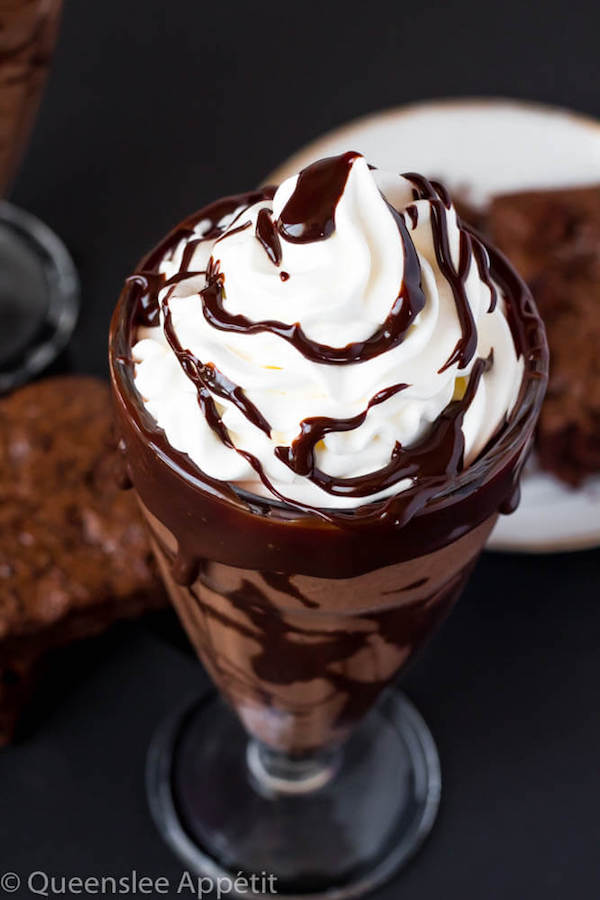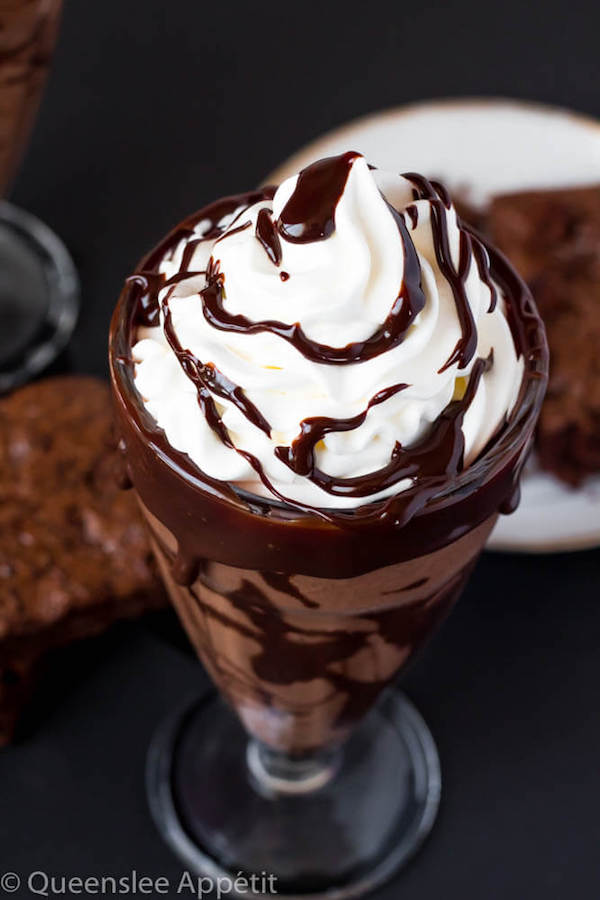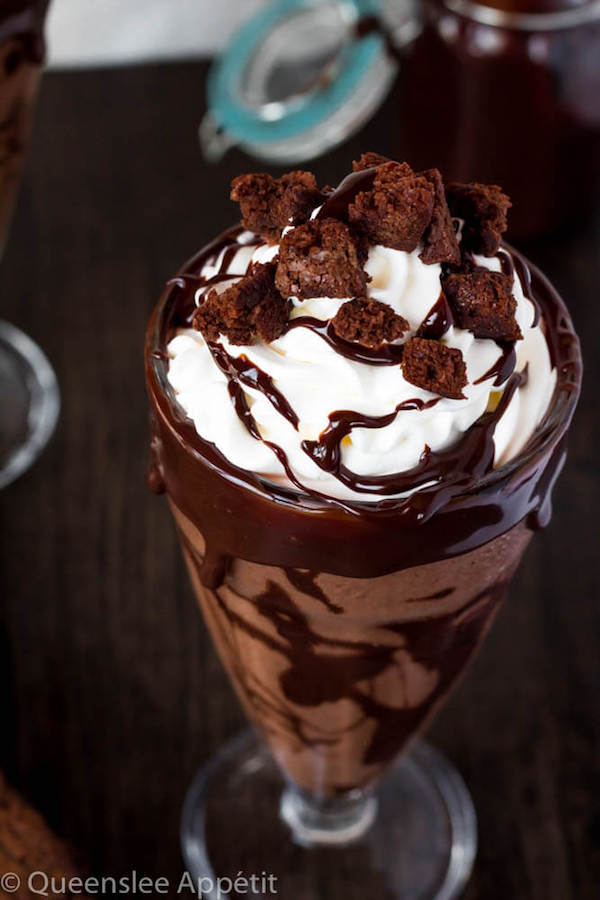 Grab a straw and scoop up that delicious topping (it's a treat in itself), then once it's out of the way, drink up the cold creamy chocolatey goodness underneath! Enjoy.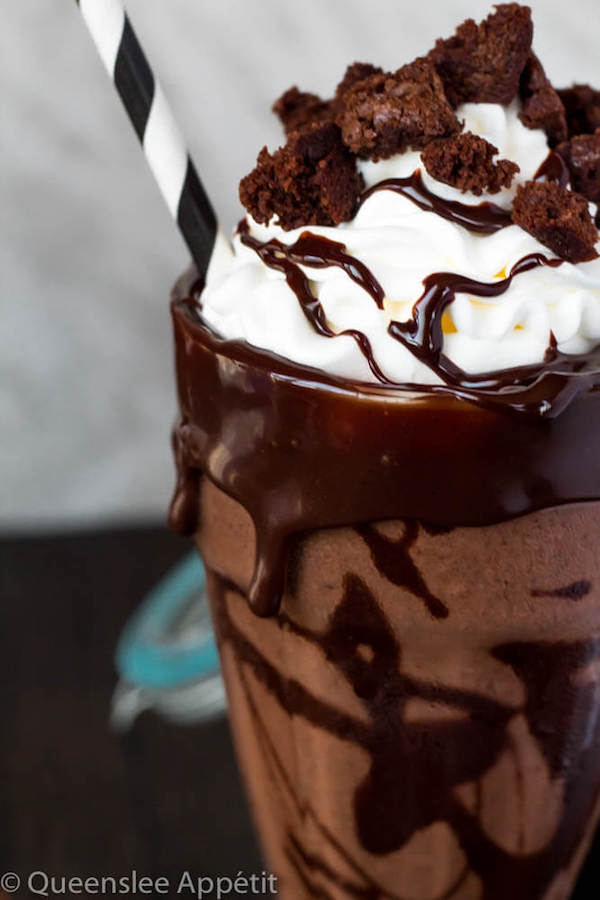 >>PIN ME FOR LATER<<

FOLLOW QUEENSLEE APPÉTIT
Like what you see? Make sure you're following Queenslee Appétit for more tasty recipes!
Pinterest | Instagram | Facebook | Twitter |
Never miss a recipe, SUBSCRIBE for updates!
Have any questions about the recipe? Contact me here, and I'll be happy to help!
Let's get baking!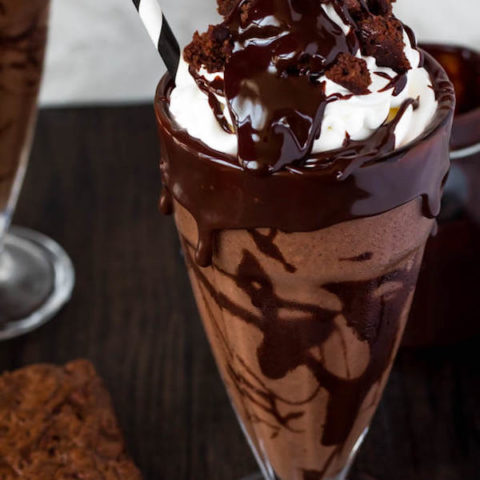 Brownie Milkshake
This Brownie Milkshake is a super decadent treat every chocolate lover should taste at least once! Loaded with brownie chunks and decorated with ganache, this milkshake is packed with delicious chocolate flavour.
Ingredients
Rim & Glass:
Melted Chocolate or Ganache (see notes)
Brownie Milkshake:
2 brownies, cut into chunks
4 cups chocolate or vanilla ice cream (8 large scoops), slightly softened
¼ cup whole milk or heavy cream
Topping:
Whipped Cream
Melted Chocolate or Ganache
Brownie crumbs
Instructions
For the Rim & Glass:
Using a small spoon, drizzle some melted chocolate or ganache inside of the glass (ganache recipe below).
Spoon some more of the chocolate OR ganache over the rim of the glass and allow it to drip down. Place glasses in the freezer while you prepare the milkshake.
For the Brownie Milkshake:
Add softened ice cream, brownie chunks and whole milk to a blender. Blend until smooth. You can add more brownies if desired.
Pour milkshake into glasses and garnish with whipped cream, extra ganache or melted chocolate and brownie crumbs. Serve and enjoy!
Notes
To make the ganache you need:
1 cup dark or semisweet chocolate chips
½ cup heavy whipping cream
Directions:
Put the chocolate chips into a medium bowl. Set aside.
Heat the heavy whipping cream in a small saucepan until it just begins to boil.
Remove hot cream from heat then pour it over the chocolate chips. Cover the bowl and allow it to sit for 5 minutes.
Remove cover and stir ganache until smooth.
Recommended Products
As an Amazon Associate and member of other affiliate programs, I earn from qualifying purchases.
BON APPÉTIT!
Love, Dedra
DID YOU MAKE A RECIPE?
I'd love to see how it turned out! Follow me on Instagram and use the hashtag #queensleeappetit so I can see all of the Queenslee Appétit recipes you've made!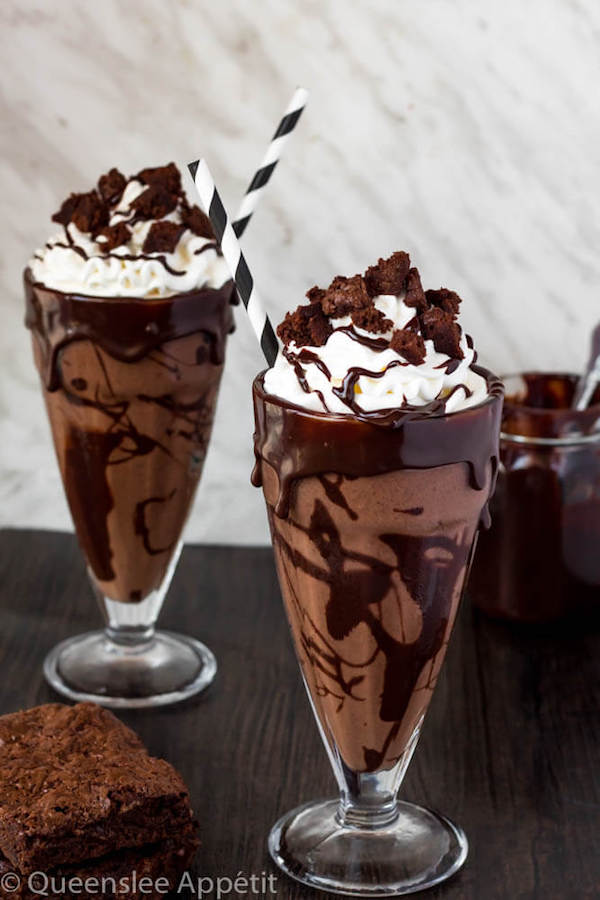 You May Also Like:
No-Churn Brownie Fudge Swirl Ice Cream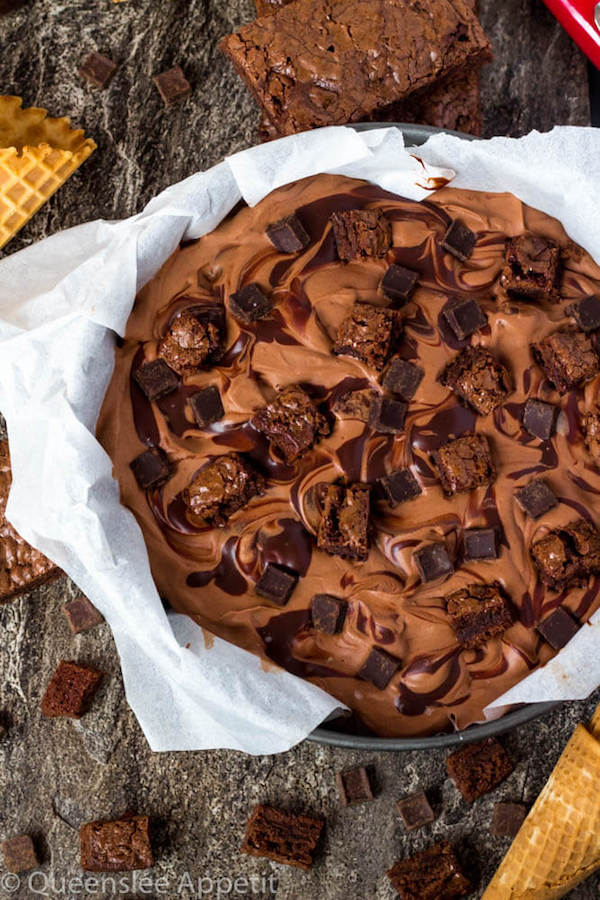 ©QUEENSLEE APPÉTIT. All images & content are copyright protected. Please do not use my images without prior permission. If you want to republish this recipe, please re-write the recipe in your own words, or link back to this post for the recipe.
This post may contain affiliate links. Please see my full disclosure policy for details.