Rich and creamy Homemade Butterscotch Pudding made completely from scratch and takes only 10 minutes to make! A fantastic comfort dessert to enjoy every day!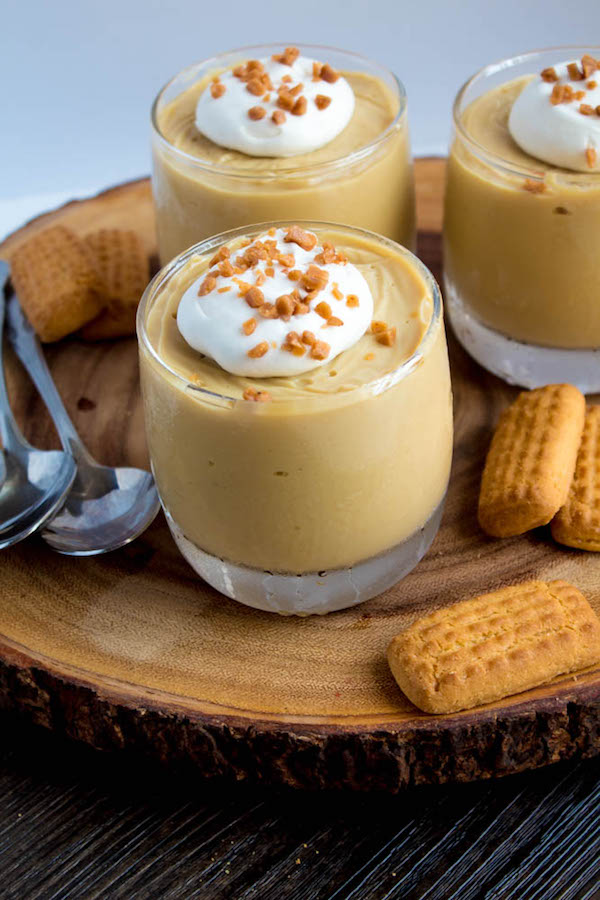 Ever since I gave scratch-made pudding from scratch, I wanted to make it over and over again in every flavour I can. First I made Homemade Chocolate Pudding, then Homemade Vanilla Pudding, now I'm making Homemade Butterscotch Pudding!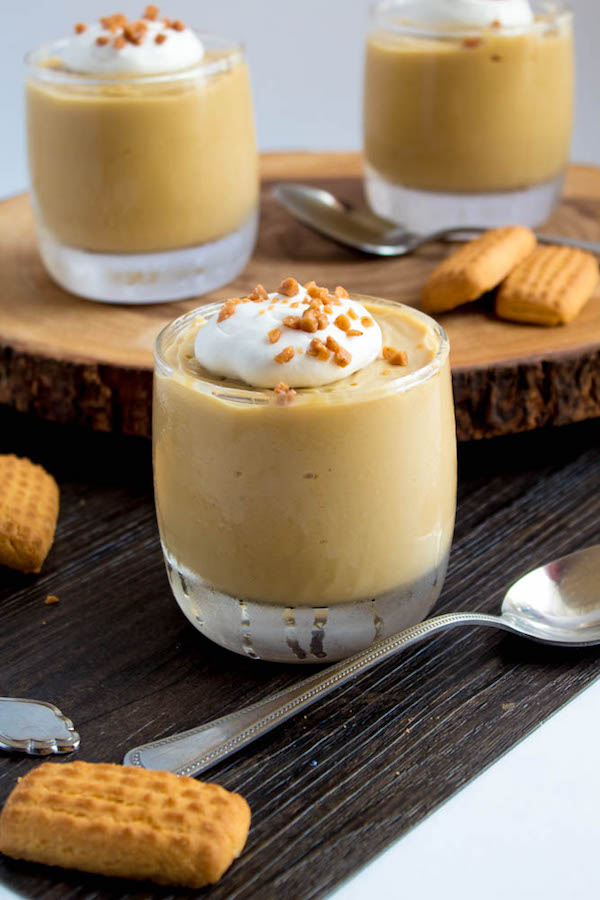 Homemade Butterscotch Pudding
This butterscotch pudding is creamy, buttery and full of rich butterscotch flavour! I topped mine with whipped cream and toffee bits. You can also top the pudding with chopped toasted pecans or even edible gold glitter. The crunchy toppings really add a great flavour and texture to the pudding.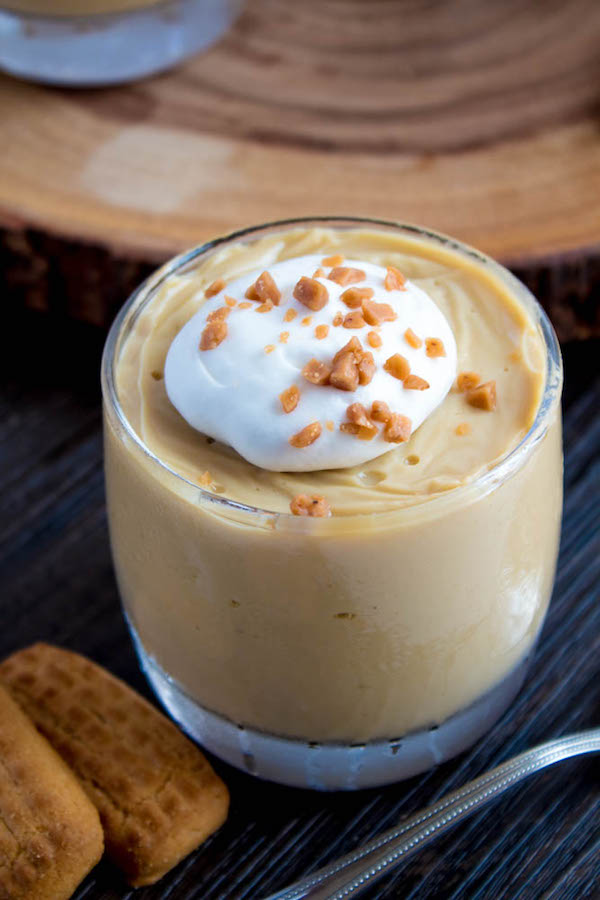 This recipe is very simple to make. It follows the same instructions as my previous pudding recipes. Stir the ingredients together, cook it on the stove for a few minutes, strain, chill. The only difference is that I used dark brown sugar instead of white sugar, and added more butter, since this is a BUTTERscotch recipe.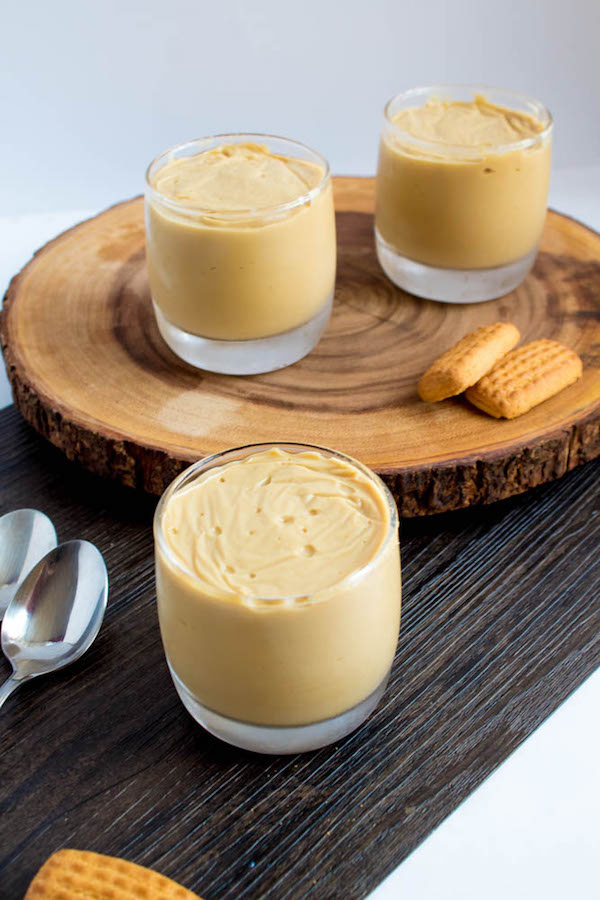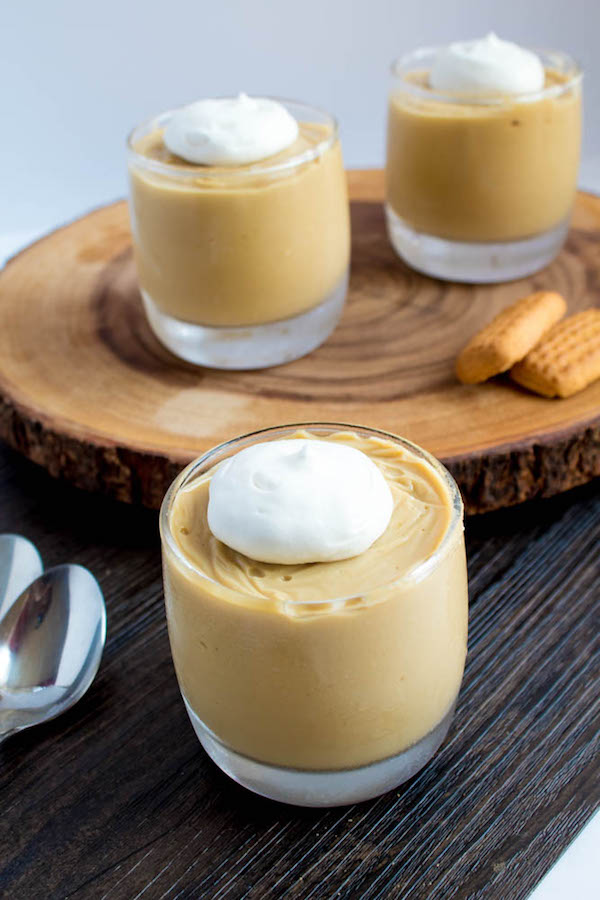 How to make Butterscotch Pudding
I decided against cooking the sugar to make a butterscotch, because I wanted this recipe to be as easy as possible. All you need to do is mix the sugar, cornstarch and salt together in a saucepan.
Then mix the milk, cream and egg yolks, then add to the saucepan and mix everything together. Cook it on the stove, whisking constantly for about 10 minutes so the pudding can become nice and thick. Add vanilla for flavouring and butter for added richness.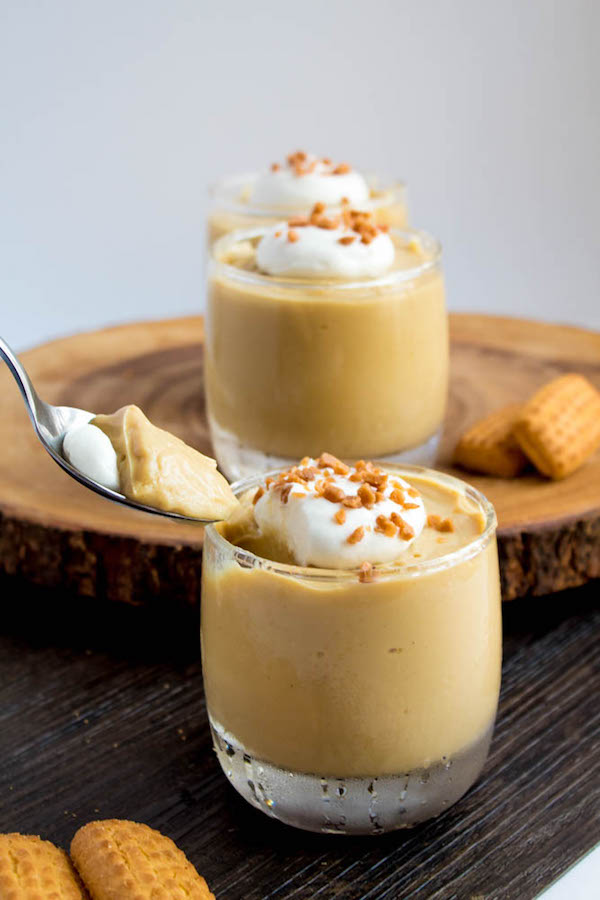 Like I've mentioned in my other pudding recipes, you're going to want to strain the pudding through a fine mesh strainer at least once. This will guarantee that there are no yucky lumps of curdled egg in your pudding. For the best results, I recommend you strain it again after the pudding chills, just to be 100% sure there are no lumps.
If you whisk the mixture constantly, there shouldn't be any lumps, but I always press it through a strainer. Better safe than sorry, am I right?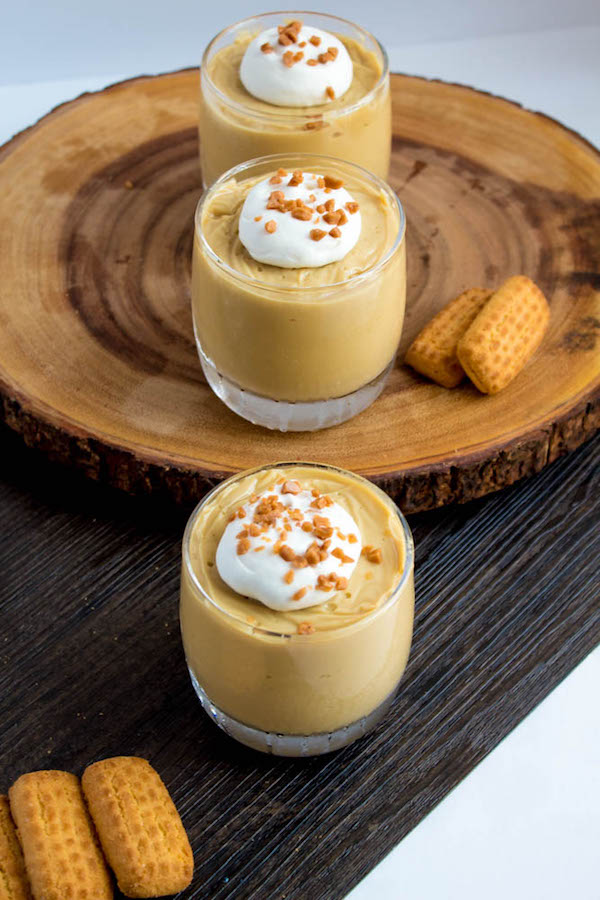 That's all! It doesn't get any simpler than that. Unless, of course, you use a box mix and if that's the case, we can't be friends. Well, we can, but I'm definitely gonna look at you sideways.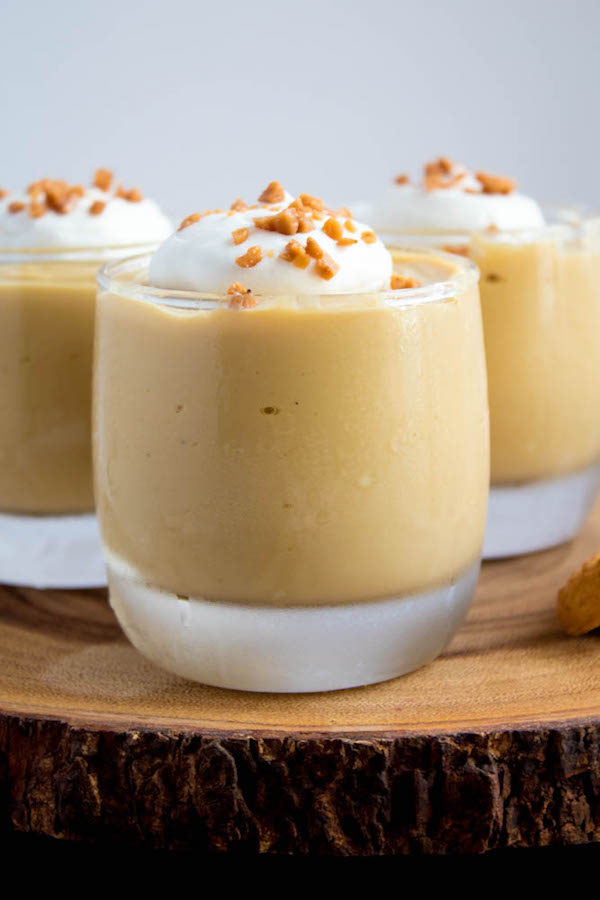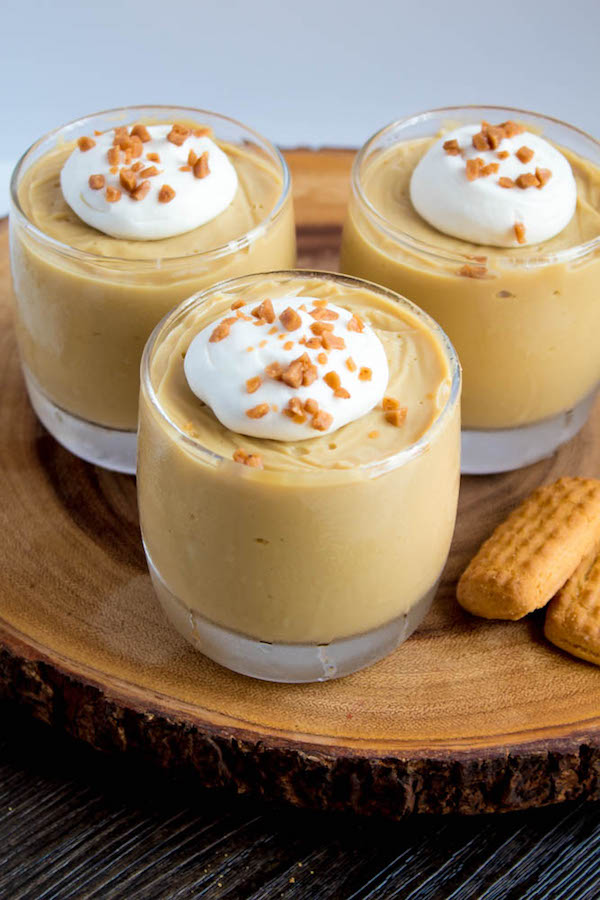 Did you make a recipe? I'd love to see how it turned out! Follow me on Instagram and use the hashtag #queensleeappetit so I can see all of the Queenslee Appétit recipes you've made!
Enjoy!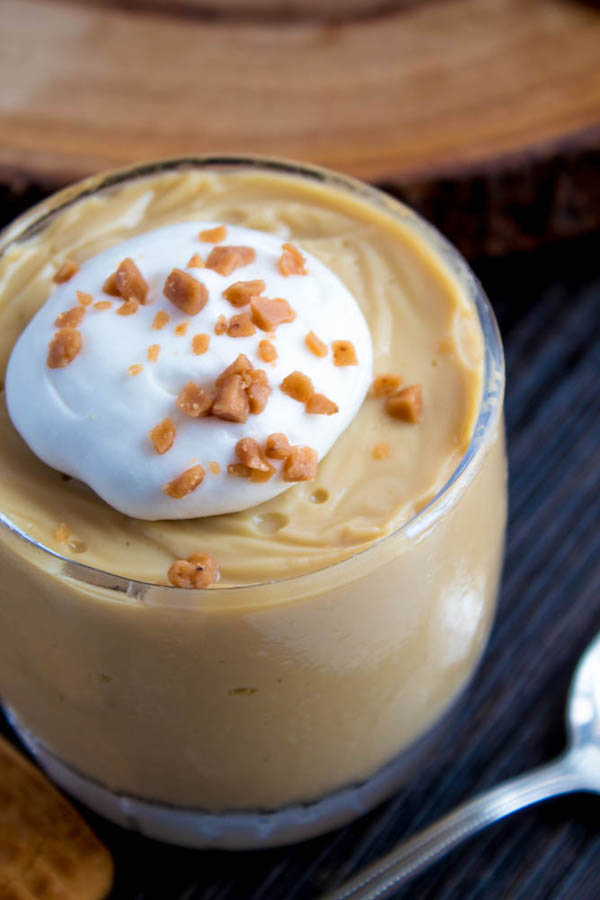 FOLLOW QUEENSLEE APPÉTIT
Like what you see? Make sure you're following Queenslee Appétit for more tasty recipes!
Pinterest | Instagram | Facebook | Twitter |
Have any questions about the recipe? Contact me here, and I'll be happy to help!
Let's get baking!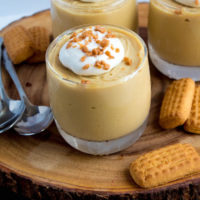 Homemade Butterscotch Pudding
Rich and creamy Homemade Butterscotch Pudding made completely from scratch and takes only 10 minutes to make! A fantastic comfort dessert to enjoy every day!
Ingredients
1 cup (220g) dark brown sugar, packed
4 Tbsp (28g) cornstarch
1/2 teaspoon (3g) salt
2 and 1/2 cups (600ml) whole milk
1/2 cup (120ml) heavy whipping cream
4 large egg yolks
4 tablespoons (55g) unsalted butter, cubed
1 and 1/2 tsp pure vanilla extract
Whipped cream, toffee bits, or toasted pecans for topping (optional)
Instructions
Add the brown sugar, cornstarch and salt to a medium saucepan and whisk together.
In a glass measuring cup, combine the milk and heavy cream. Add the egg yolks and whisk until combined.
Slowly pour the egg mixture into the saucepan while whisking constantly until combined and smooth.
Place saucepan on the stove and heat on medium heat and cook, whisking constantly until the mixture is thickened and begins to boil, 8-10 minutes. Mixture should coat the back of a spoon. Allow to boil for an additional 30 seconds.
Remove from heat and add butter and vanilla. Whisk until melted and smooth. Strain pudding through a fine mesh sieve into a bowl.
Divide pudding into individual serving cups and cover each with plastic wrap, placing the plastic directly on top of the pudding so it doesn't form a skin while cooling. Chill in the refrigerator for 2 hours or overnight.
Garnish with whipped cream and optional garnishes. Serve and enjoy!
Bon Appétit!
Love, Dedra

©All images & content are copyright protected. Please do not use my images without prior permission. If you want to republish this recipe, please re-write the recipe in your own words, or link back to this post for the recipe.