This Pumpkin Streusel Bread is super moist, fluffy and topped with a crunchy streusel topping!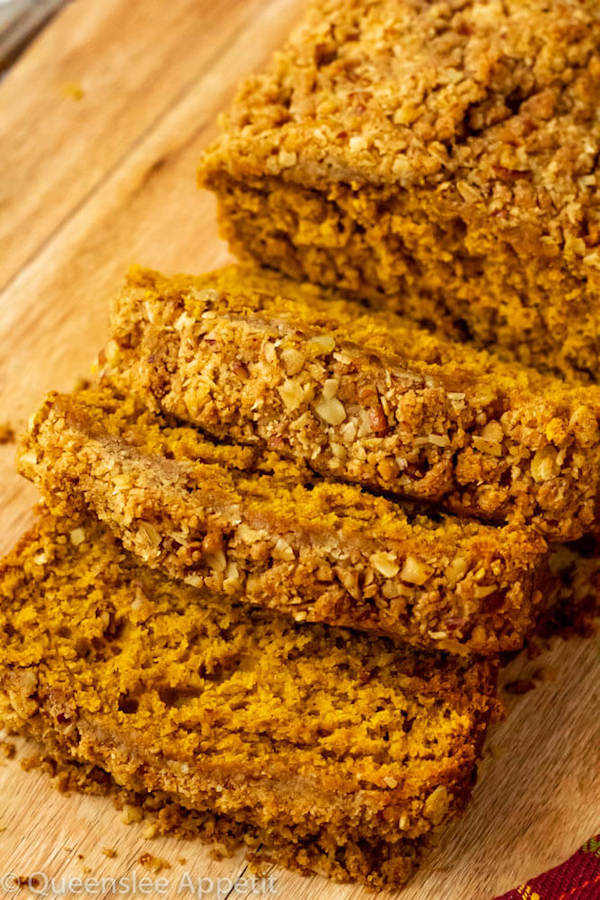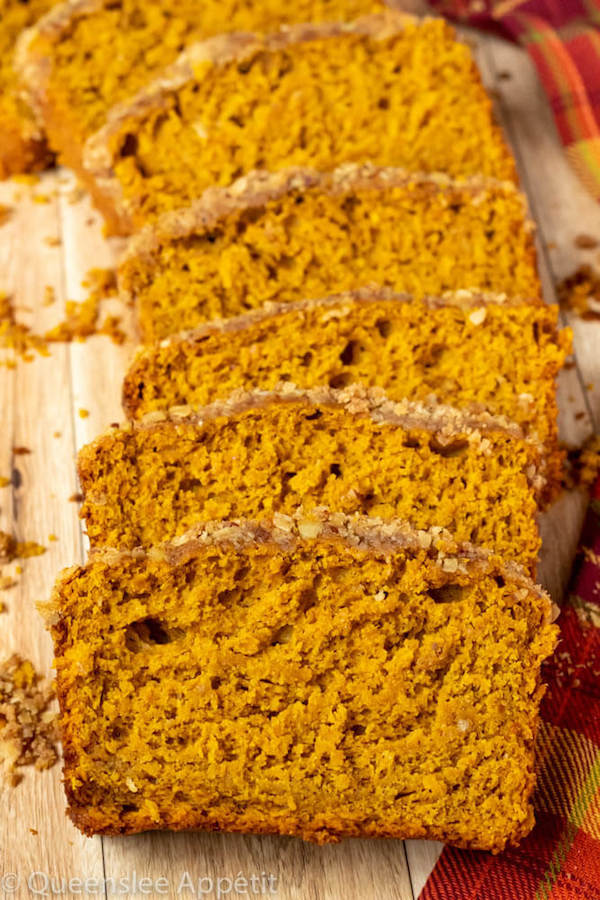 The weather has been horrendous lately. I'm talking freezing rain/snow storms every single day! It's clear that Winter, once again, can't wait for its turn and is trying to steal Autumn's shine. But you know what, I'm not gonna let it, because it's still November, which means it's still Fall, which also means it's still Pumpkin Season!
So I'm going extra crazy on the pumpkin this year. Between last month and now, I've shared these pumpkin cupcakes, streusel pumpkin pie, pumpkin donuts, pumpkin pie bars and now I'm sharing this delicious pumpkin bread with you.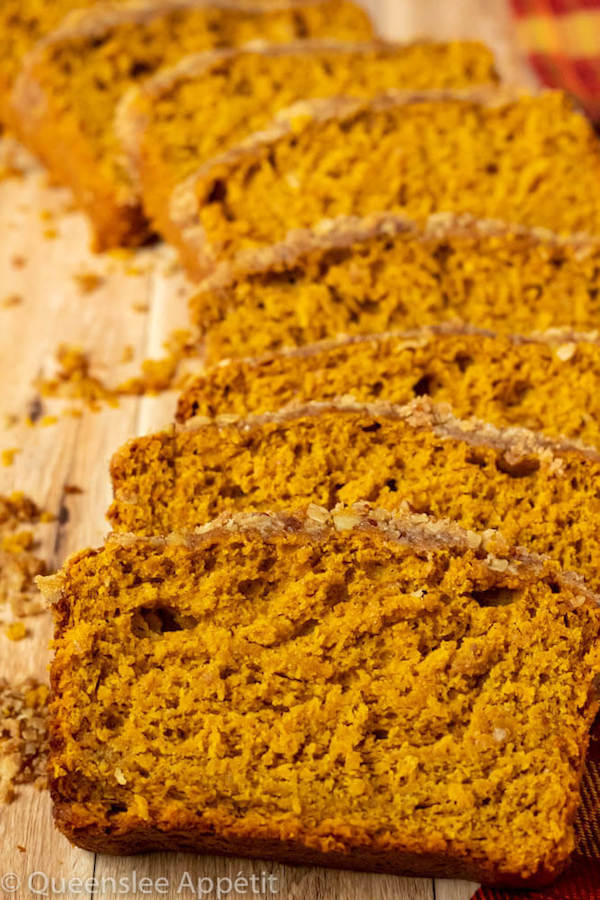 How to Make Pumpkin Streusel Bread
To get started, you'll cream together some butter and brown sugar. This step is very important as it gives the bread its light and fluffy texture.
It's super important for the butter to be at room temperature. That means it should be firm enough for your finger to leave an imprint when you press down on it, not too soft and not too hard. I recommend taking your butter out of the fridge at least 30 minutes before you begin to let it come to room temperature.
Since this is a pumpkin recipe, I just had to use brown sugar. It adds a deeper flavour to the bread and really allows the pumpkin flavour to shine.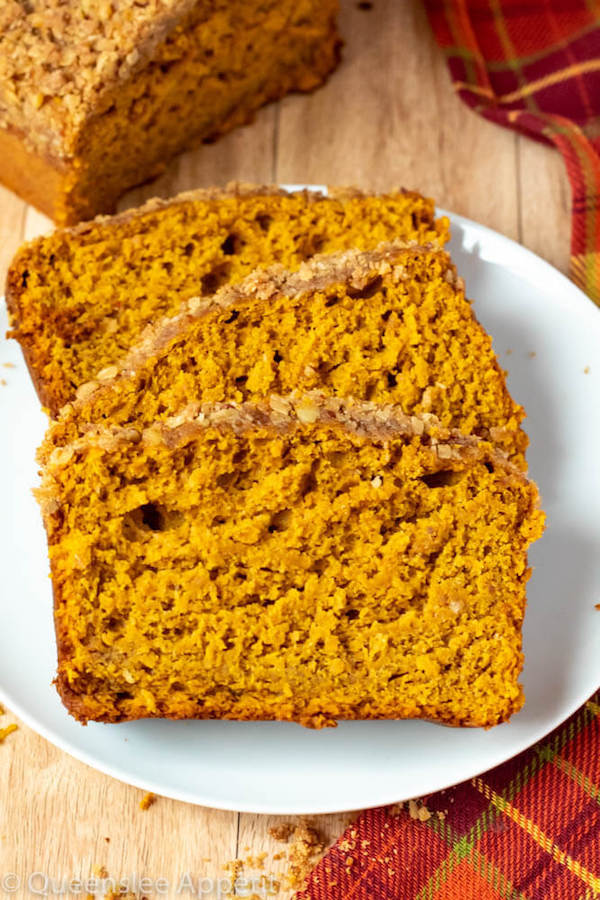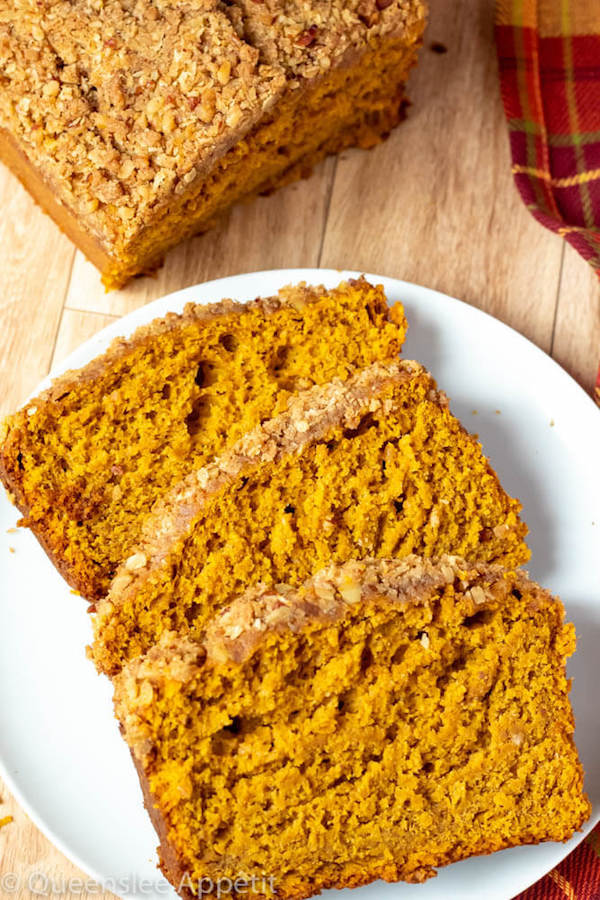 Next, you'll add the eggs. I add 2 eggs for extra moisture and structure, then a touch of vanilla for flavour. But the real flavour comes from the full cup of pumpkin purée I added. Not only does the pumpkin purée add our lovely pumpkin flavour, but it also adds moisture. Win, win!
I also added about 3/4 cup of sour cream which gives the bread its soft and tender texture. For the dry ingredients, we use all purpose flour, baking powder and baking soda.
We use a full tablespoon of baking powder, which may seem like a lot, but it creates a nice fluffy loaf. And trust me, it won't overflow in your pan.
Next we add some salt, cinnamon, nutmeg, ginger and cloves which boost the pumpkin flavour in this yummy loaf!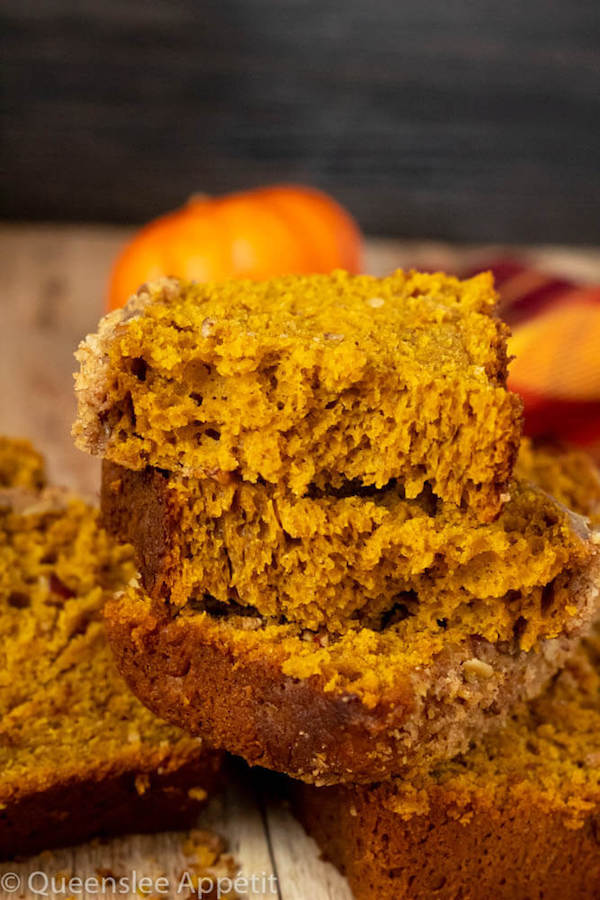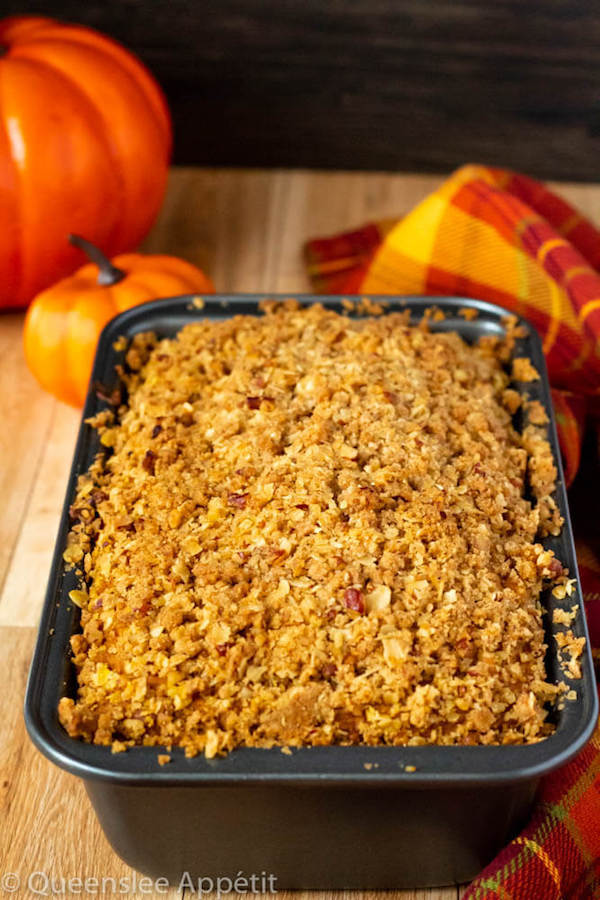 Streusel Topping
You can totally fold in some chopped pecans into the batter, or just keep the entire loaf plain. However, after making this Streusel Pumpkin Pie, I fell in love with the pumpkin/streusel combination so I just had to put some on top of this bread!
The soft and fluffy pumpkin bread paired with the crunchy and flavourful pecan streusel topping is out of this world!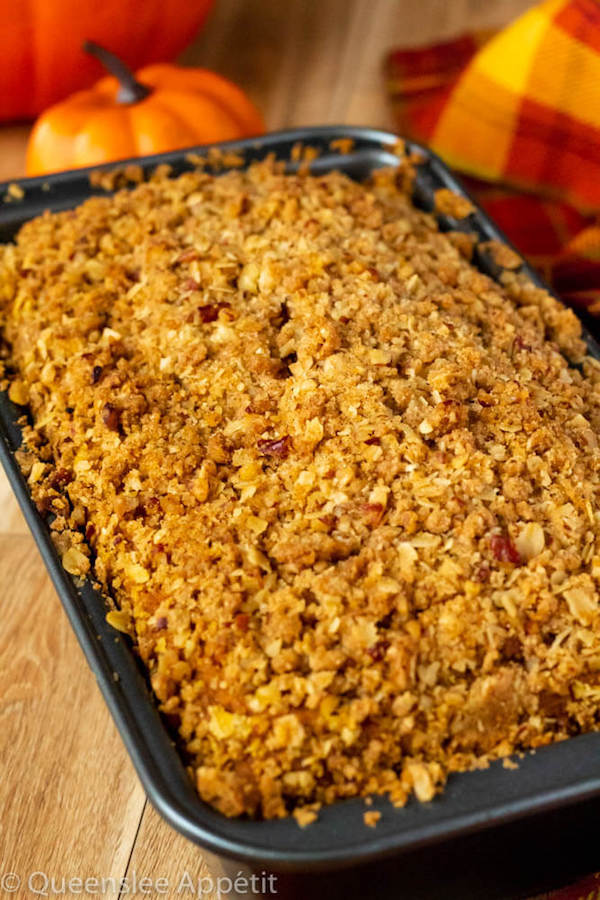 To make the streusel topping, simply throw the flour, brown sugar, baking powder, cinnamon, nutmeg, salt, and butter into a food processor and pulse until everything becomes nice and crumbly. Then mix in the chopped pecans and oats, this is where the fabulous crunch comes from.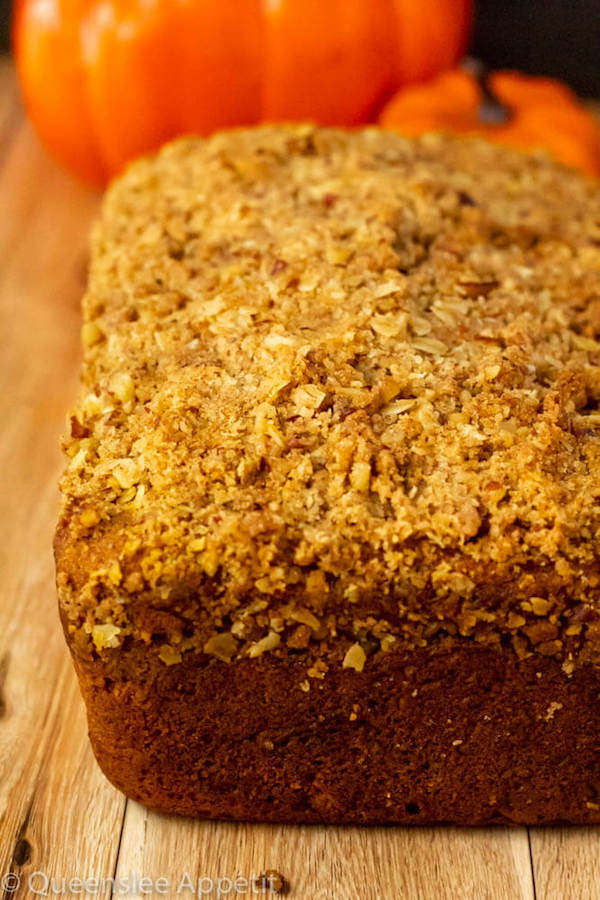 If you don't own a food processor, you can use a fork to cut the butter into the flour, or your hands so you can really get a feel of the butter to make sure it's crumbled well enough.
Unlike my pumpkin pie, this batter is pretty thick so we won't need to pre-bake the bread so the top can set before we add the streusel. Just sprinkle on the streusel before putting the bread in the oven and it'll stay on the top instead of sinking to the bottom.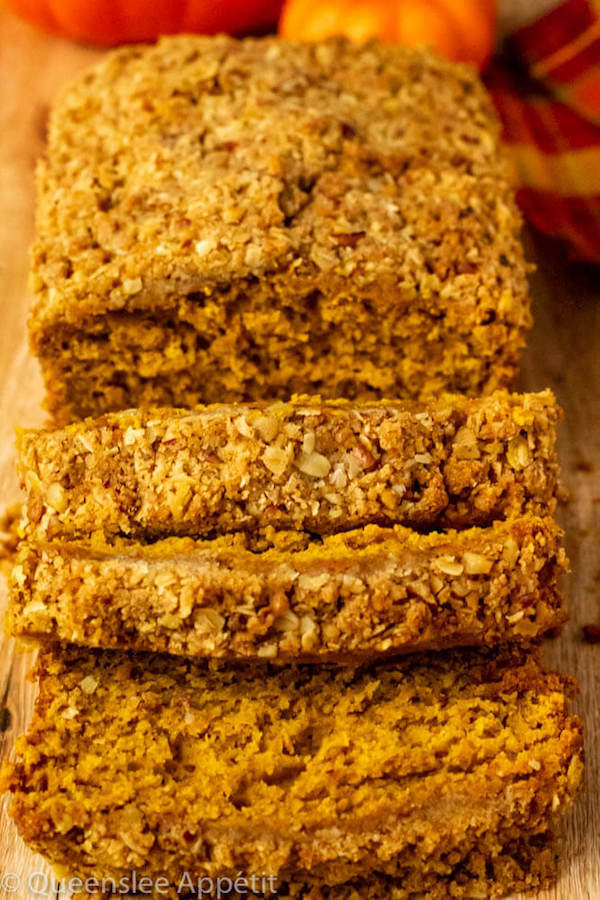 After the bread is done baking and your house is engulfed in the sweet smell of baked pumpkin bread, allow it to cool for a while, then slice and enjoy! The bread is best on the first day, but it'll stay moist in an airtight container at room temperature for up to 5-6 days!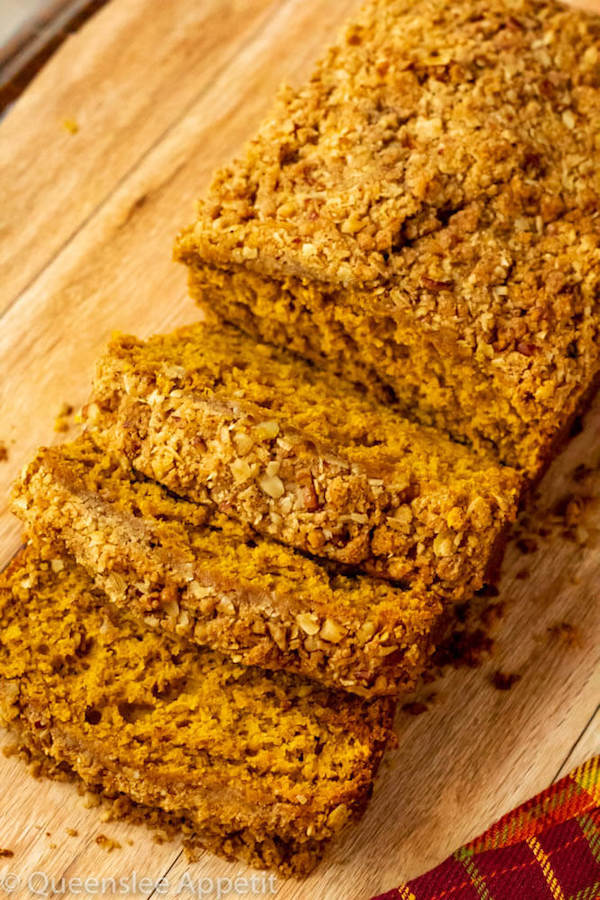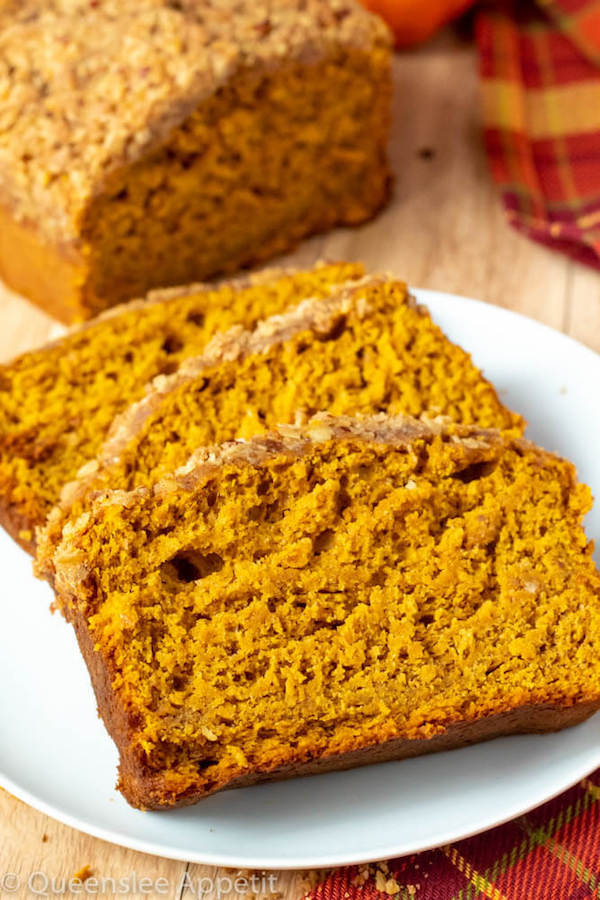 Did You Make a Recipe?
Take a photo and post it on Instagram with the hashtag #queensleeappetit, or tag me @queensleeappetit. I love seeing your creations, they make my day!
>>PIN ME FOR LATER<<

FOLLOW QUEENSLEE APPÉTIT
Like what you see? Make sure you're following Queenslee Appétit for more tasty recipes!
Pinterest | Instagram | Facebook | Twitter |
Never miss a recipe, SUBSCRIBE at the bottom of this post!
Have any questions about the recipe? Contact me here, and I'll be happy to help!
Let's get baking!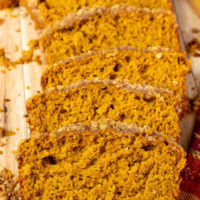 Pumpkin Streusel Bread
Total Time:
1 hour
10 minutes
This Pumpkin Streusel Bread is super moist, fluffy and topped with a crunchy streusel topping! 
Ingredients
Streusel Topping:
1/4 cup all-purpose flour
1/4 cup light brown sugar, packed
1/4 tsp baking powder
1/2 teaspoon ground cinnamon
1/8 tsp ground nutmeg
Pinch of salt
4 Tbsp unsalted butter, chilled and cut into cubes
1/4 cup pecan halves, finely chopped
1/4 cup old-fashioned oats
Pumpkin Bread:
1/2 cup unsalted butter, softened to room temperature
1 cup light brown sugar, packed
2 large eggs, room temperature
1 tsp pure vanilla extract
1 cup canned pumpkin purée
3/4 cup sour cream, room temperature
2 cups all purpose flour
1 Tbsp baking powder
1/4 tsp baking soda
1/2 teaspoon salt
2 tsp ground cinnamon
½ tsp ground nutmeg
½ tsp ground ginger
⅛ tsp ground cloves
Instructions
For the Streusel Topping: 
Add the flour, brown sugar, baking powder, cinnamon, nutmeg, salt, and cold butter to a food processor and pulse until combined and crumbly. Mix in the chopped pecans and oats. 
Alternatively: If you don't have a food processor, add the all ingredients (except the pecans and oats) to a medium bowl and use a fork or pastry cutter to cut butter and into the mixture until everything is crumbly. Then stir in the chopped pecans and oats. Cover the streusel and refrigerate until ready to use.
For the Pumpkin Bread:
Preheat oven to 350℉ (177℃). Lightly grease a 9x5-inch loaf pan with non-stick cooking spray. Set aside.
In the bowl of a stand mixer fitted with a paddle attachment, or in a large mixing bowl using a handheld mixer, cream the butter and sugar on medium speed until light and fluffy, about 3 minutes. Scrape down the sides and bottom of the bowl.
With the mixer on low, add the eggs one at a time, mixing after each addition until just combined. Add vanilla and pumpkin purée and mix on low to combine.
Add the sour cream and continue to mix until combined. Turn off the mixer and scrape down the sides and bottom of the bowl.
In a separate bowl, sift the flour, baking powder, baking soda, salt, cinnamon, nutmeg, ginger and cloves. Whisk to combine.
Add all of the dry ingredients to the wet ingredients and mix on low speed until just combined. Do not overmix.
Pour batter into a 9x5-inch loaf pan. Remove streusel from refrigerator and sprinkle on top of the bread. 
Bake in preheated oven for 55-60 minutes, or until a toothpick inserted into the bread comes out clean. Allow bread to cool completely on a wire rack.
Remove pumpkin bread from the loaf pan and transfer to a serving platter. Slice, serve and enjoy! 
Notes
The bread will stay moist in an airtight container at room temperature for up to 5 days.
You can substitute the spices with 2 teaspoons of pumpkin spice.
Recommended Products
As an Amazon Associate and member of other affiliate programs, I earn from qualifying purchases.
You May Also Like:
Pumpkin Pie Bars with Maple Pecan Praline Sauce
©QUEENSLEE APPÉTIT. All images & content are copyright protected. Please do not use my images without prior permission. If you want to republish this recipe, please re-write the recipe in your own words, or link back to this post for the recipe.