This Cajun Shrimp Fettuccine Alfredo is creamy and full of spicy Cajun flavour. Serve with a side of breadsticks for an easy and delicious pasta dinner!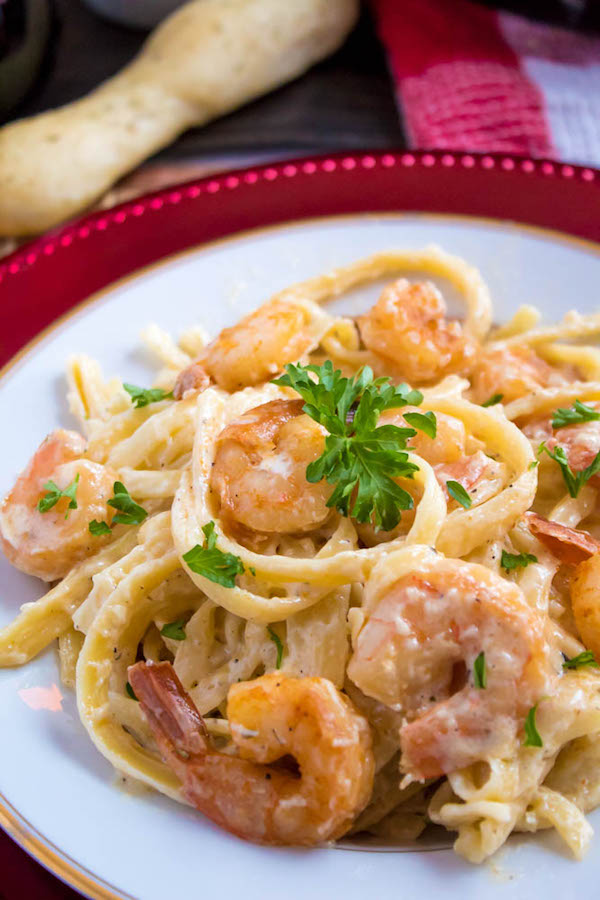 Fettuccine Alfredo has always been one of my favourite Italian dishes. I make it all the time! It's become a signature dish of mine now that my family constantly begs me to cook it.
Here's the thing, I've never made the Alfredo sauce from scratch before. I always used the store-bought jar of sauce, and I'm not ashamed. The pasta was made the same way this recipe is made — boiling the fettuccine, cooking the Cajun shrimp, mixing everything with the Alfredo sauce. The only difference was that all I needed to do with the sauce was heat it up on the stove instead of making it from scratch.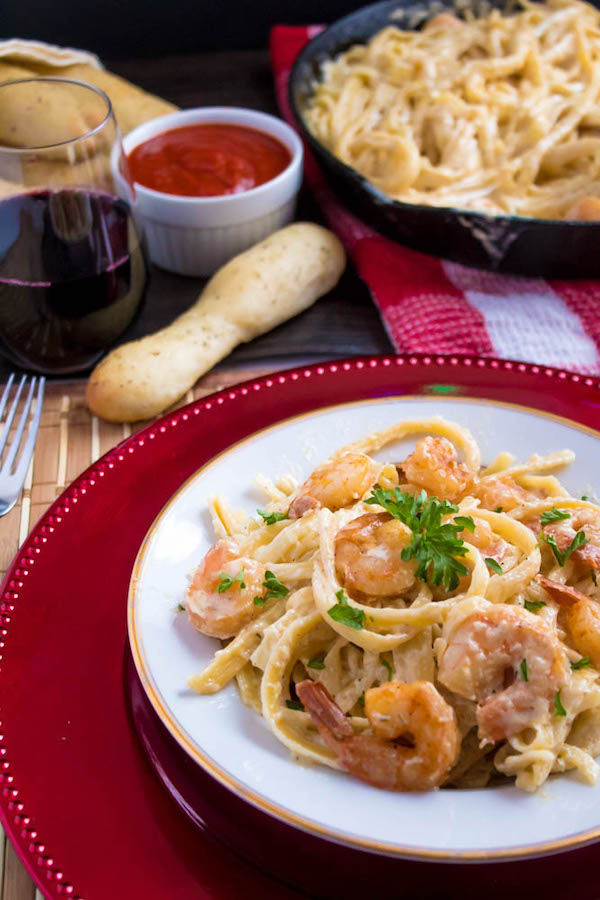 So this dish has 3 easy parts — the Cajun shrimp, the fettuccine and the alfredo.
Let's start with the Cajun shrimp!
The shrimp is my favourite part about this dish. It's extremely easy to make and only requires 5 ingredients — shrimp, olive oil, cajun seasoning, salt and pepper. Just mix all those ingredients together, then cook it on the stove until shrimp is pink.
You're gonna end up with a lot of cajun flavoured sauce, but it may make the pasta too oily so I ended up draining it out. I ended up adding the shrimp to the alfredo sauce before the pasta, and although it washed away the beautiful browned appearance, it added a ton of delicious flavour to the alfredo sauce!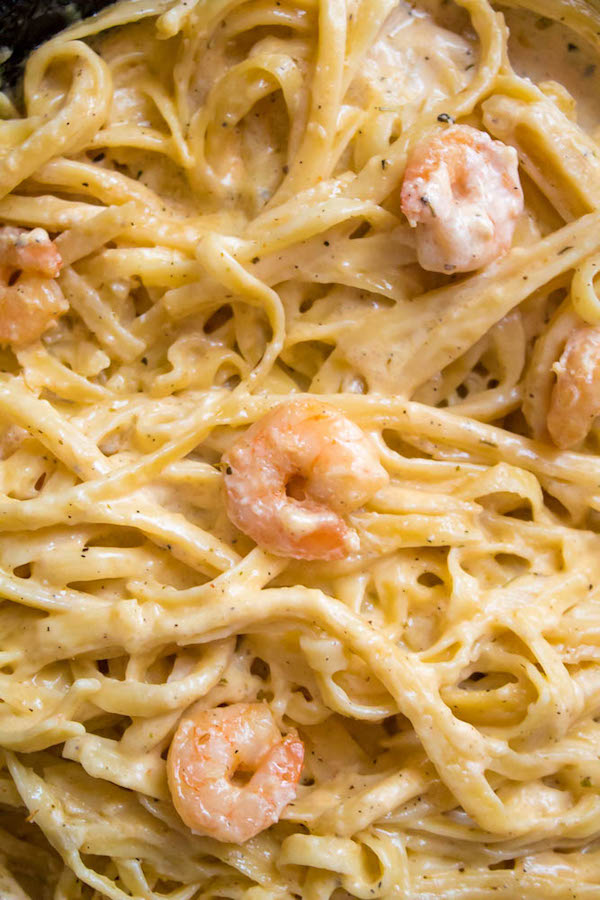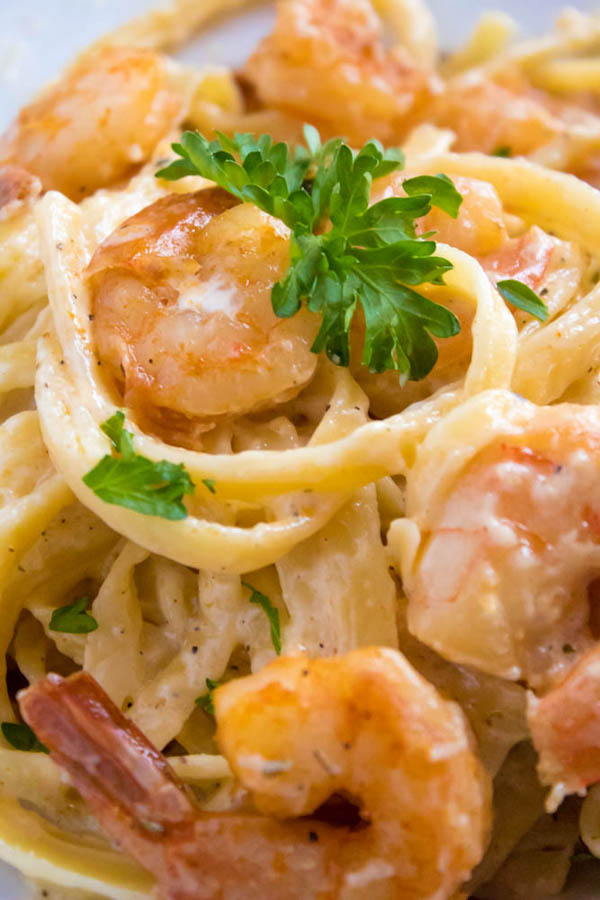 The pasta is pretty simple, of course. You can use any type of fettuccine you want, whole wheat, gluten-free etc. It must be fettuccine though, I mean it says it in the title. When boiling the pasta, you're gonna wanna add salt and olive oil to the water. The salt boosts the flavour in the pasta and the olive oil ensures your pasta doesn't stick together.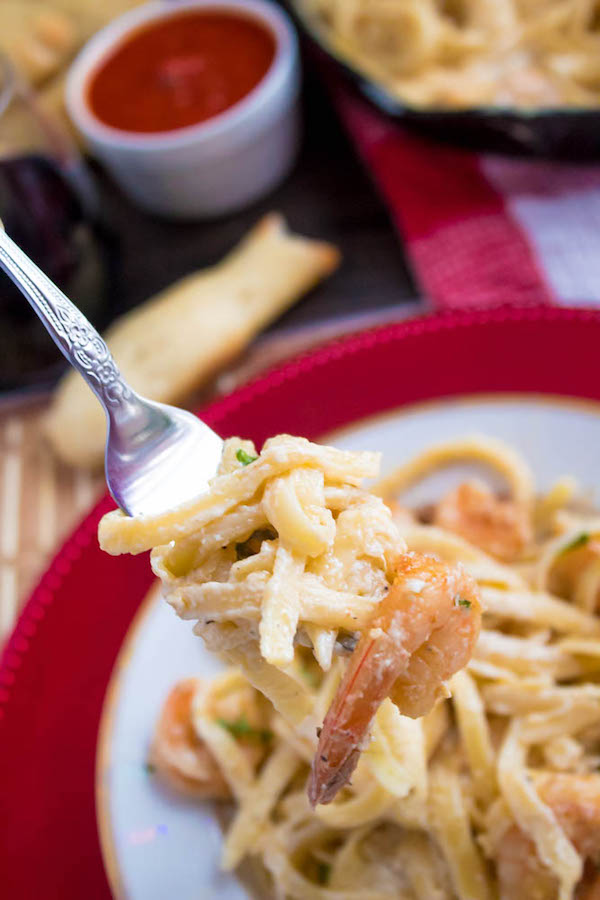 Now time for the creamy, flavourful and delicious Alfredo sauce. Although the shrimp is my favourite part, the sauce is the real star of this dish! Just like every other part of this recipe, the sauce is super EASY and only requires 8 simple ingredients you probably have on hand already — butter, heavy whipping cream, cream cheese, garlic powder, Italian seasoning, salt, pepper and Parmesan.
Instead of starting with a roux, I decided to use heavy cream to thicken the sauce. The cream cheese makes the sauce extra rich and creamy, and the garlic powder, Italian seasoning, salt and pepper gives the sauce a heavenly boost of flavour.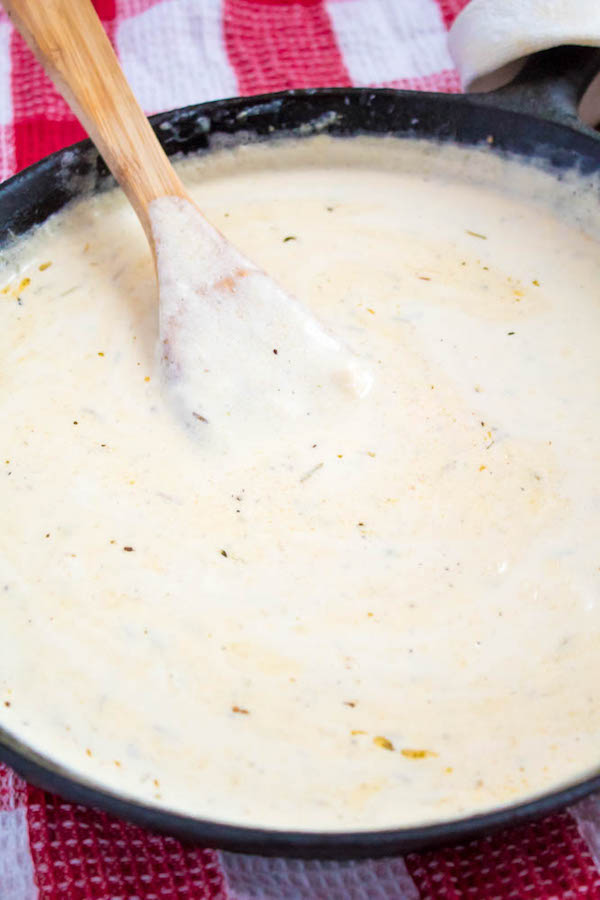 This is the easiest, quickest and tastiest comfort food. It takes less than 30 minutes to make and it makes enough to feed an entire family for less than it would be to order it from Olive Garden. You can't go wrong! Top it with fresh parsley or extra parmesan cheese, then serve it with these Homemade Garlic Butter Breadsticks and enjoy an inexpensive Olive Garden dinner from home!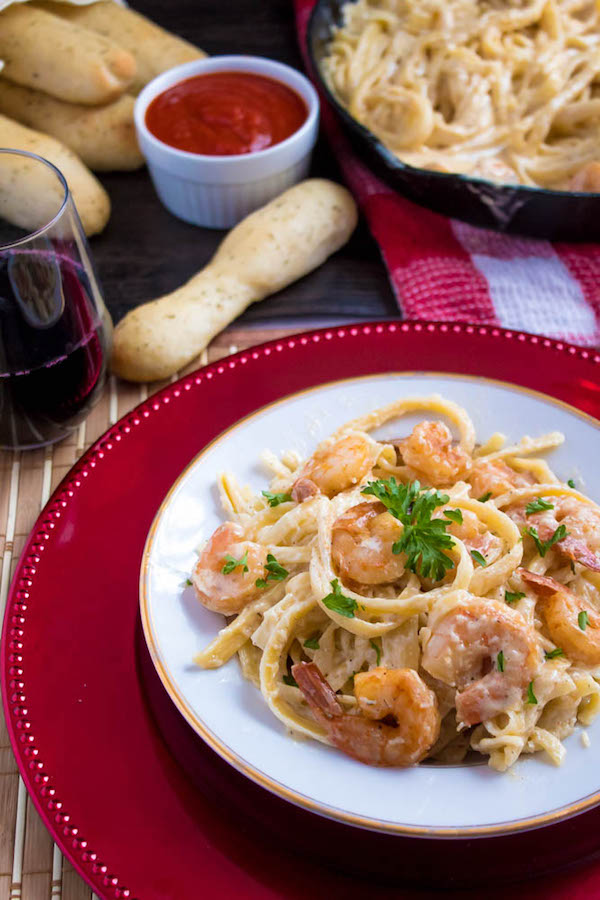 >>PIN ME FOR LATER<<

You May Also Like:
Homemade Garlic Butter Breadsticks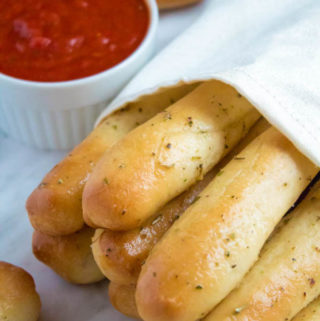 Cajun Shrimp and Crab Mac and Cheese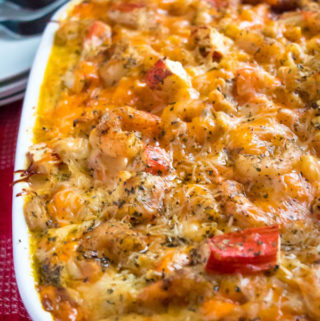 Follow Queenslee Appétit
Pinterest | Instagram | Facebook | Twitter |
Did you make a recipe? I'd love to see how it turned out! Follow me on Instagram and use the hashtag #queensleeappetit so I can see all of the Queenslee Appétit recipes you've made!
Let's get cooking!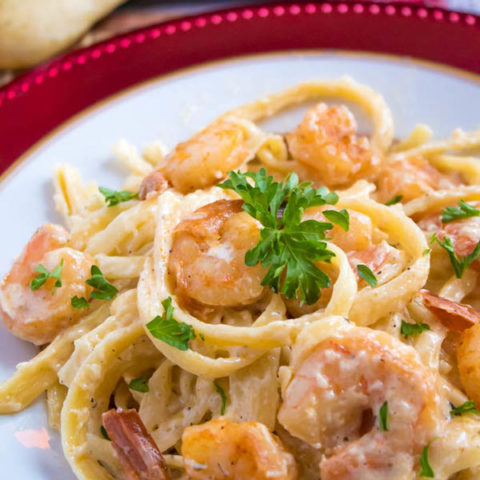 Cajun Shrimp Fettuccine Alfredo
This Cajun Shrimp Fettuccine Alfredo is creamy and full of spicy Cajun flavour. Serve with a side of breadsticks for an easy and delicious pasta dinner!
Ingredients
Pasta:
½ teaspoon salt
1 tablespoon olive oil
1 Ib. fettuccine
Cajun Shrimp:
1 pound shrimp, peeled and deveined
2 tablespoons olive oil
1-2 tablespoon cajun seasoning
Pinch of Salt
Pinch of freshly ground black pepper
Alfredo Sauce:
½ cup unsalted butter
2 cups (1 pint) heavy cream
4 oz. cream cheese
1 teaspoon garlic powder
¼ teaspoon onion powder
1 teaspoon Italian seasoning
¼-1/2 teaspoon salt, or to taste
¼-1/2 teaspoon freshly ground black pepper, or to taste
1 and ½ cups freshly grated Parmesan
Additional:
Chopped fresh parsley or shredded parmesan, for garnish (optional)
Instructions
For the Pasta:
Fill a large pot with water and add ½ teaspoon of salt and 1 tablespoon of olive oil. Bring to a boil.
Add the fettuccine noodles to the boiling water and cook according to package directions. Drain the pasta water and set the noodles aside.
For the Cajun Shrimp:
Heat a large skillet or a large pot over medium heat. In a medium bowl, add shrimp, olive oil, cajun seasoning, and a pinch of salt and pepper and toss to combine and coat the shrimp.
Once skillet is hot, add shrimp and cook, stirring constantly until shrimp is pink. Scrape shrimp into a separate bowl and set aside.
For the Alfredo Sauce:
In the same skillet the shrimp was cooked in, melt the butter over medium-low heat. Once the butter is melted, add the cream cheese and heat until softened.
Pour in heavy cream and season with garlic powder, onion powder, Italian seasoning, salt and pepper. Whisk to combine.
Bring to a low boil. Once boiling, decrease the heat to low and allow the sauce to simmer for 8-10 minutes, whisking occasionally. The sauce should be thick enough to coat a spoon.
Once sauce has thickened, turn off the heat and add the parmesan. Stir until cheese is melted and combined. Taste the sauce and adjust the seasonings to your preference.
Add the shrimp to the sauce and toss to coat in the Alfredo, this also adds a little cajun flavour to the sauce!
Add the fettuccine and toss around to coat in the Alfredo and shrimp. Garnish with chopped parsley leaves or shredded parmesan, if desired. Serve and enjoy!
©QUEENSLEE APPÉTIT. All images & content are copyright protected. Please do not use my images without prior permission. If you want to republish this recipe, please re-write the recipe in your own words, or link back to this post for the recipe.
Bon Appétit!
Love, Dedra ❤