This Eggnog Cheesecake sits on top of a spiced gingersnap crust and is topped with beautiful sugared cranberries. This is the ultimate dessert for the holidays!
Post, photos and recipe updated: 12/11/2019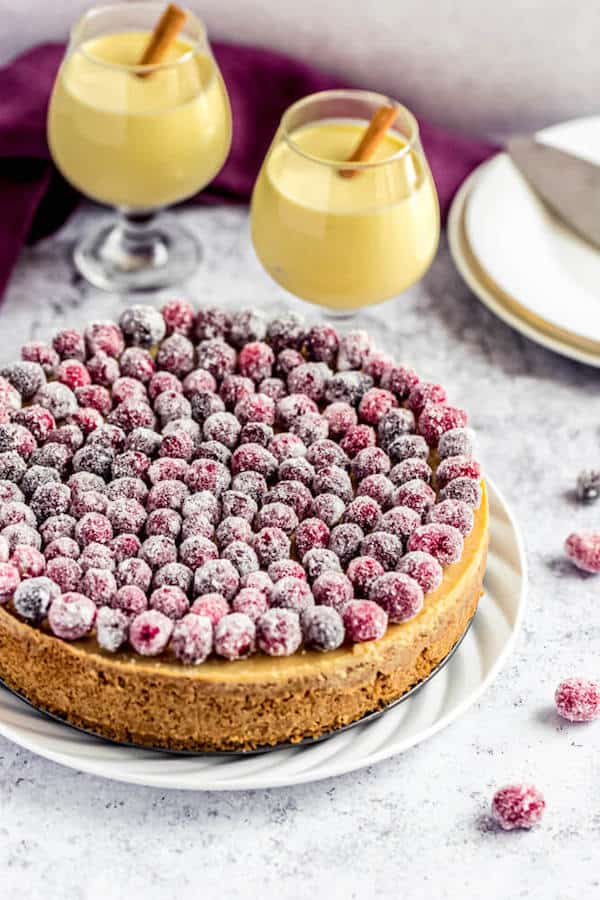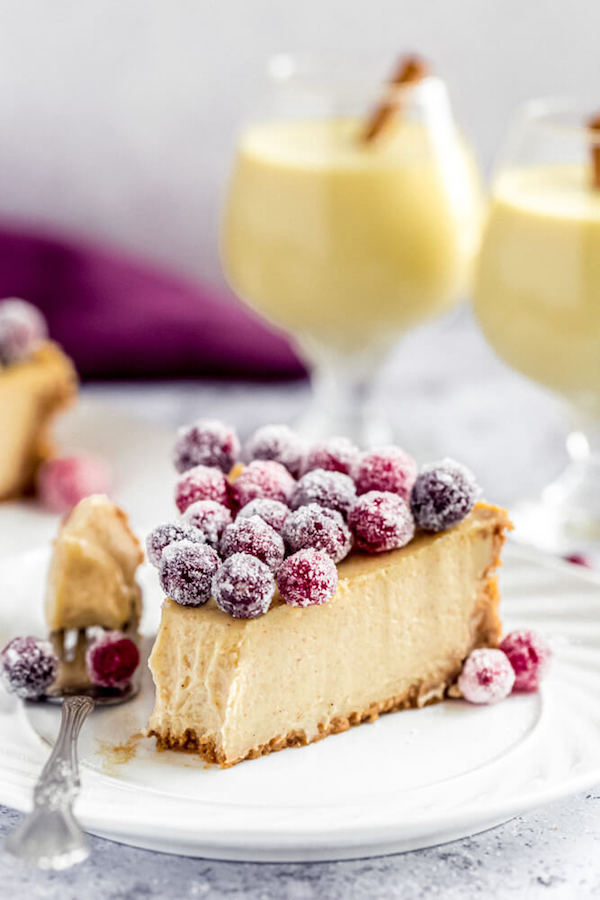 This post may contain affiliate links. As an Amazon Associate I earn from qualifying purchases. Please see my full disclosure policy for details.
Eggnog Cheesecake with Sugared Cranberries
It's officially time for Holiday Baking, and what's a better way to kick it off than with this creamy eggnog cheesecake with a gorgeous cranberry topping?
All the best flavours of Christmas are wrapped up in this creamy and delicious cheesecake. It is super easy to whip up and I'm sure your guests will be very impressed when it's time for dessert!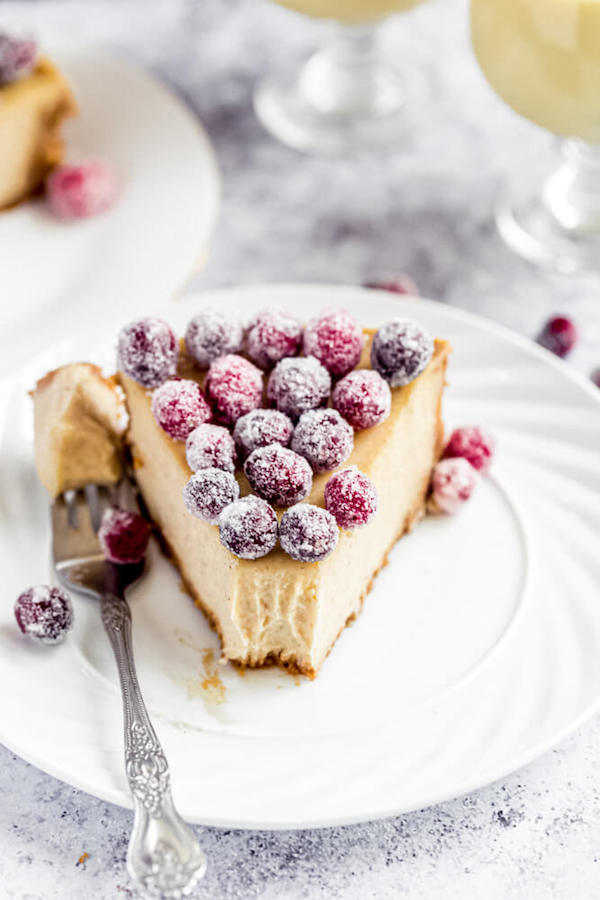 I'll admit, I've never really understood the obsession for eggnog. I understand it's like THE Christmas drink, but it just doesn't do anything for me. It's too strong for me and the thought of drinking raw eggs makes me sick. But for some reason, every food/drink I despise on its own — whether it's bananas, lemons or eggnog, tastes AMAZING in desserts!
Enjoying eggnog in a rich and creamy cheesecake is a million times better than drinking it straight up. And if you're a lover of eggnog, this dessert will make all of your eggy milk dreams come true.
UPDATE: It's been 2 years since I've originally posted this recipe and I'm proud to say that not only do I now enjoy eggnog as a drink, I've become one of the people who is OBSESSED with drinking as much as I can every holiday season!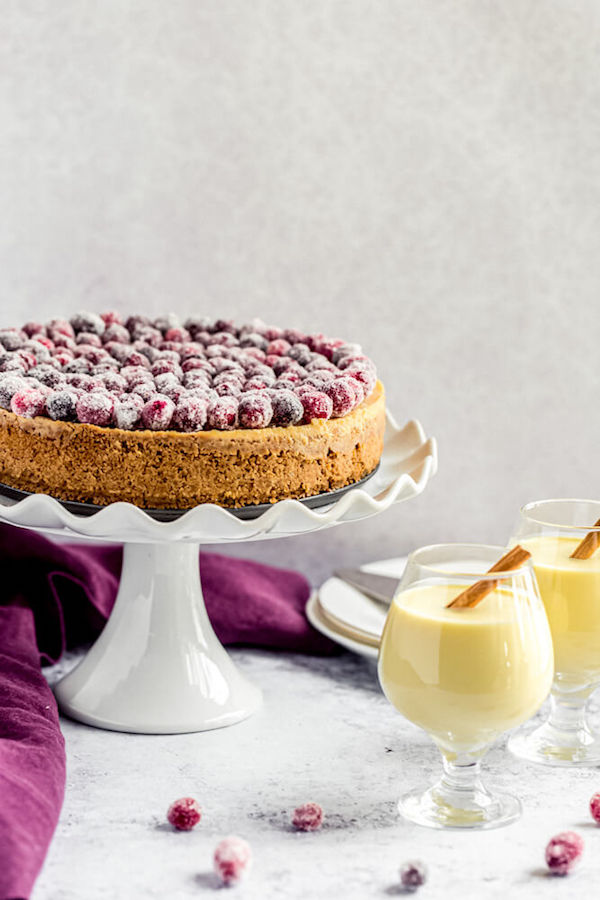 3 Parts in this recipe
There are 3 parts to this eggnog cheesecake:
Gingersnap Crust
Eggnog Cheesecake Filling
Sugared Cranberry Topping
So today you'll be learning how to turn regular old cheesecake into a velvety rich and creamy cheesecake that tastes EXACTLY like my new favourite holiday drink, and at the same time you'll learn how to turn regular cranberries into a gorgeous Christmas dessert garnish!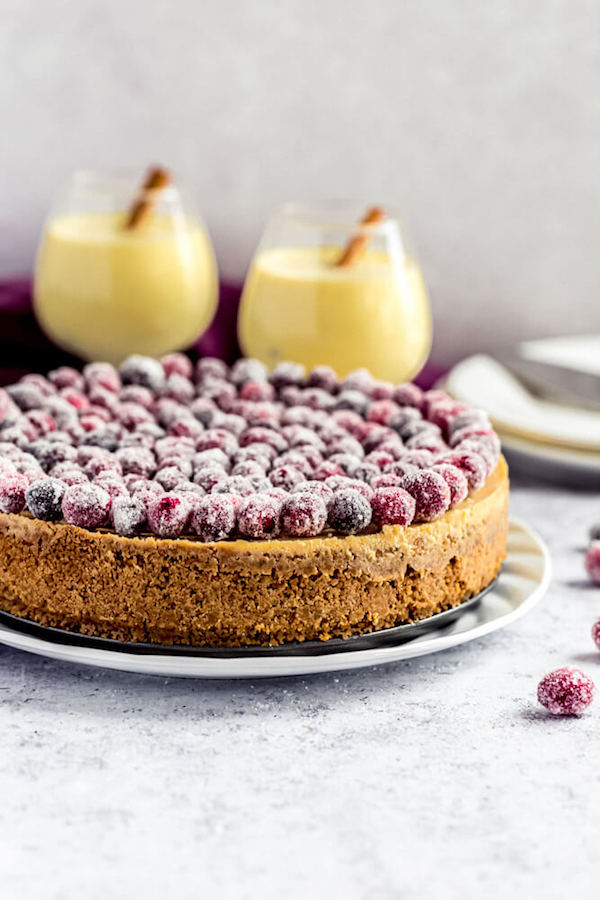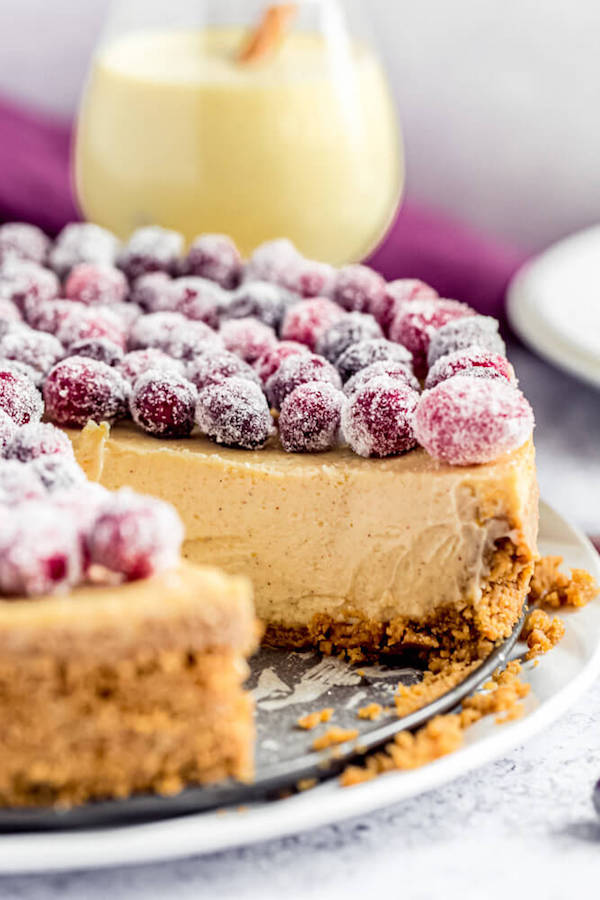 Let's begin with the crust
After using a Gingersnap crust in the perfection that was my Pumpkin Cheesecake, I just had to make it again for this eggnog cheesecake! These yummy cookies add so much flavour to the cheesecake and pairs perfectly with the spiked eggnog flavour.
Crush the gingersnap cookies into fine crumbs, then mix in some brown sugar, for extra flavour, and melted butter to hold the crust together. You'll need 3 cups of crumbs. Yes, THREE cups! We want enough crumbs to cover the bottom, but also go all the way up the sides of your pan.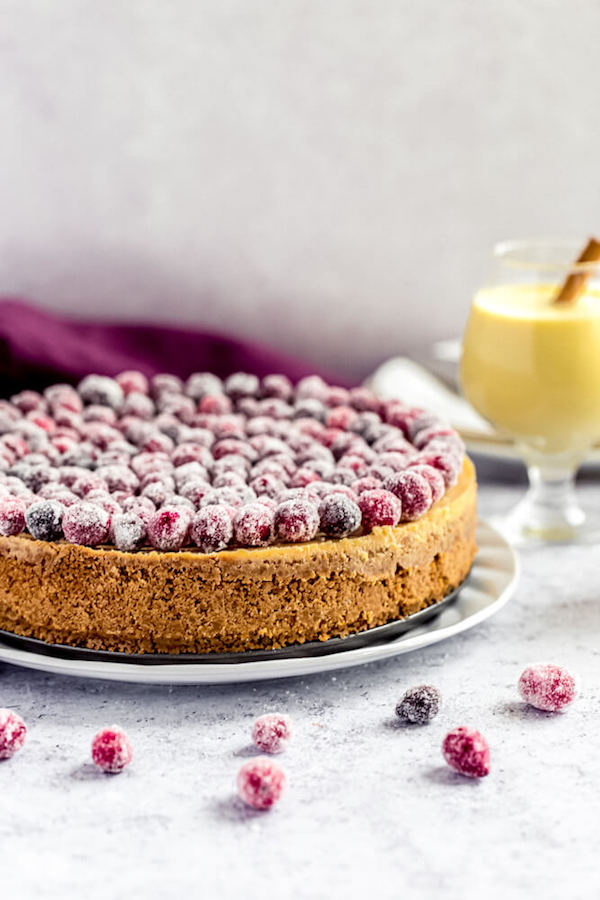 Rich and Creamy Eggnog Cheesecake
I've adapted the old eggnog cheesecake recipe and scaled things down a bit, because the last recipe used 4 packages of cream cheese which created this huge monster cheesecake. This time I went with the normal 3 packages, which means I had to adjust the other ingredient amounts too.
Other than that, not too much has changed. Nothing was added or taken away because my original eggnog cheesecake recipe tasted perfect just the way it is. Just needed to be a bit smaller :).
The rich and creamy filling is a simple cheesecake base that's made special by adding a full cup of Eggnog, cinnamon, nutmeg and a touch of rum extract to enhance the flavour. Honestly, if you drink eggnog religiously (like I now do), you will absolutely devour this cheesecake!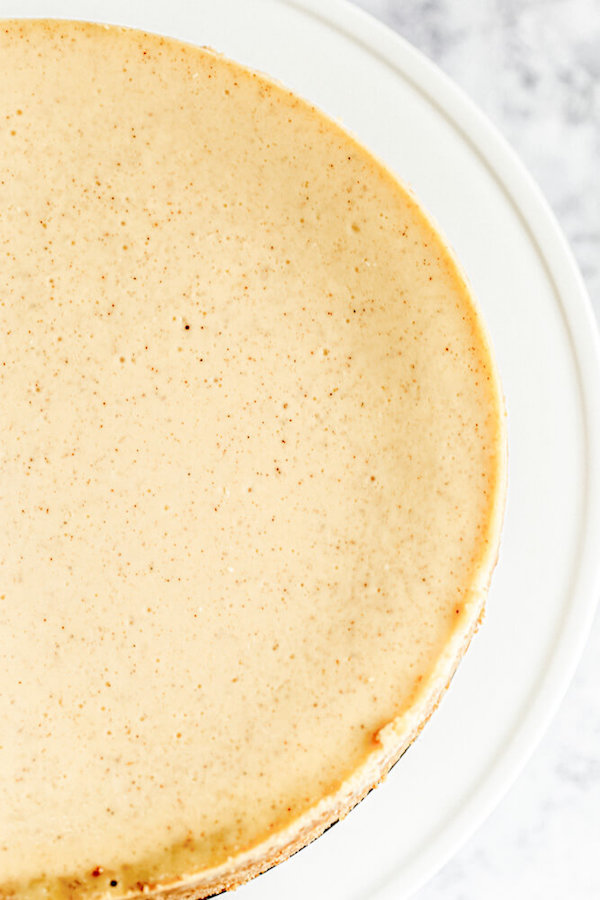 I know cheesecake can be intimidating to some people, but as long as you follow the instructions to the T, it should be easy. It doesn't require a lot of preparation, although it does take a long time to bake and an even longer time to chill.
The cheesecake will need to be baked in a water bath. Water baths prevent the cheesecake from cracking, drying and browning on the top. It also plays a part in making cheesecakes super creamy! Most importantly, it helps the cheesecake bake evenly throughout.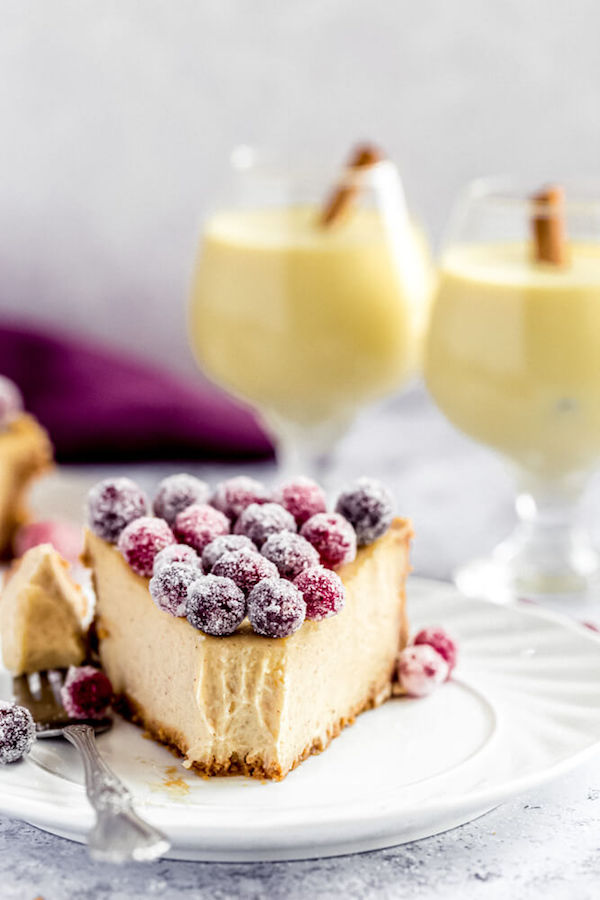 Prevent Leaking Water bath
One of the biggest issues people have with water baths is the water leaking into the pan. It used to always happen to me, until I found the perfect solution — a POT! Look through your cupboards for a round pot that's big enough for your springform pan to fit in. But not too big, it should only be about ½ an inch to 1 inch bigger because we still want the hot water to be super close to the springform pan to help bake the cheesecake.
Place the springform pan into the slightly bigger pot. The pot is the perfect replacement to the usual foil that always has rips and crevices that the water manages to sneak through. Now place that pot into a larger pan. I always use a large rectangular pan because the pot fits perfectly.
Boil a few cups of water, then pour it into the larger pan. I used to be terrified of this part, because I thought "welp, there goes my crispy crust". Now I pour that water with a ton of confidence because I know that water will never sneak into my pan, no matter what!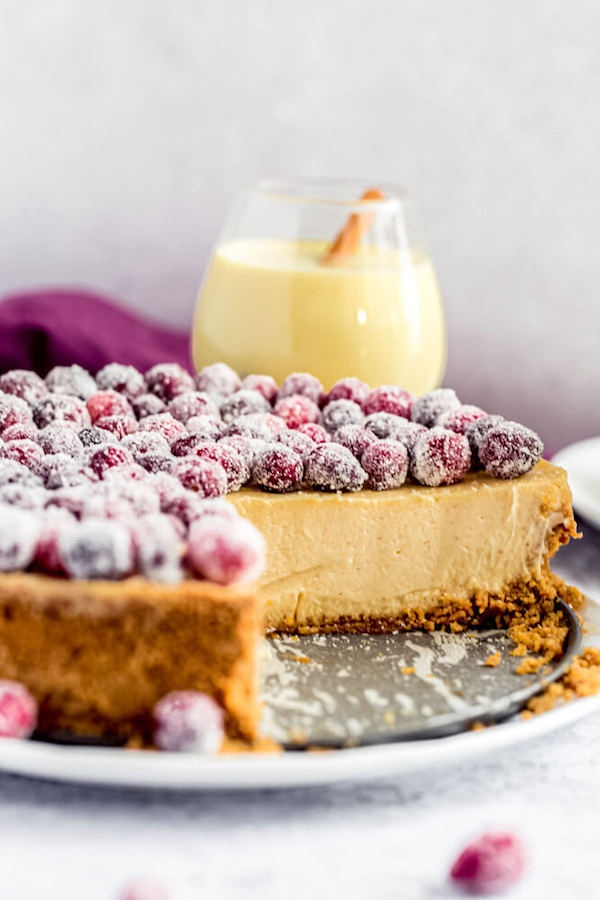 How to Make Sugared Cranberries
This is my favourite part of this holiday dessert. The sugared or "sparkling" cranberries take this cheesecakes appearance from dull to dazzling! On top of making the cheesecake look like a Christmas dream, the sugared cranberries add a sweet and tangy flavour that pairs perfectly with the rich eggnog!
Sugared cranberries are super easy to make, especially since they only require 3 ingredients: sugar, water and cranberries. However, they can take a while to make, so I recommend starting them either before or after you do the cheesecake, that way they can stay in the refrigerator overnight.
To make the sugared cranberries, we'll begin by creating a simple syrup. To do this, combine some water and sugar in a saucepan and let it simmer. Then pour it into a bowl to cool.
Add your cranberries to the simple syrup and stir around. Then place it in the refrigerator overnight while stirring it around every few hours to thoroughly coat the cranberries.
The next day, remove the cranberries from the syrup and place them on a rack to dry for an hour. When the syrup dries up, it'll give the cranberries a sticky coating so the sugar can adhere to the surface!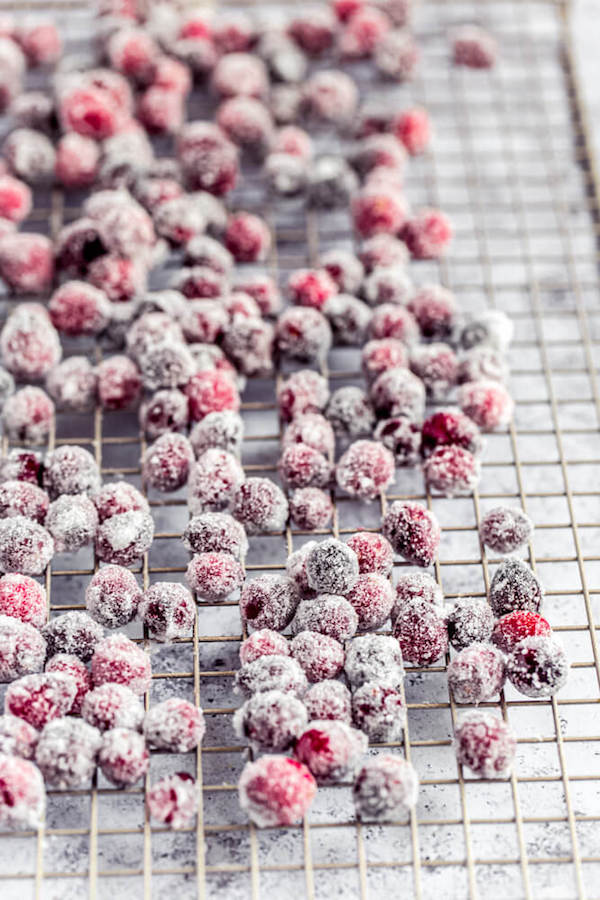 From there it's as simple as placing the cranberries in a bowl of sugar and tossing them around and placing them back on the rack to dry for another hour to harden the sugar coating.
Once dried, line them on top of your cheesecake! They also stay good for a few days, so you can use them as a garnish for many other desserts to make them pop!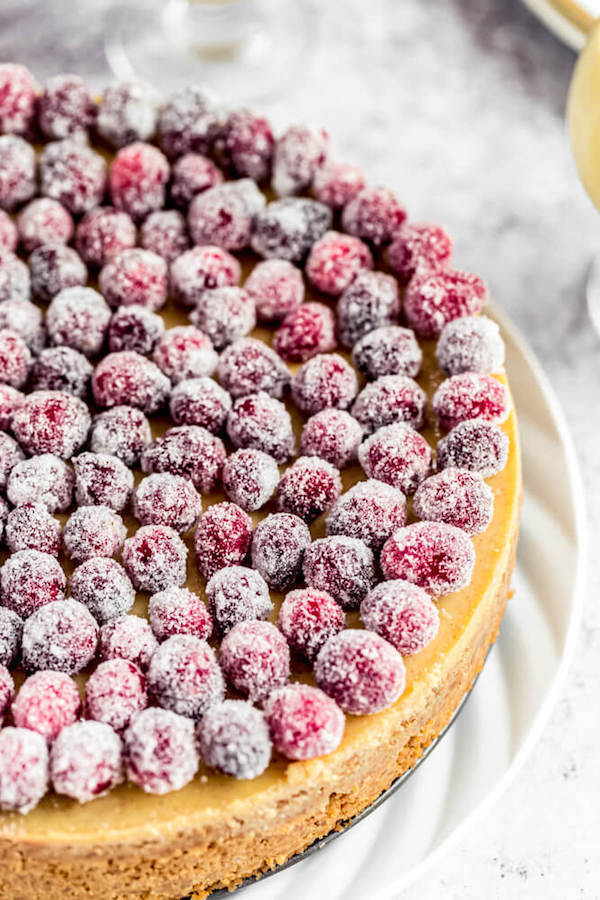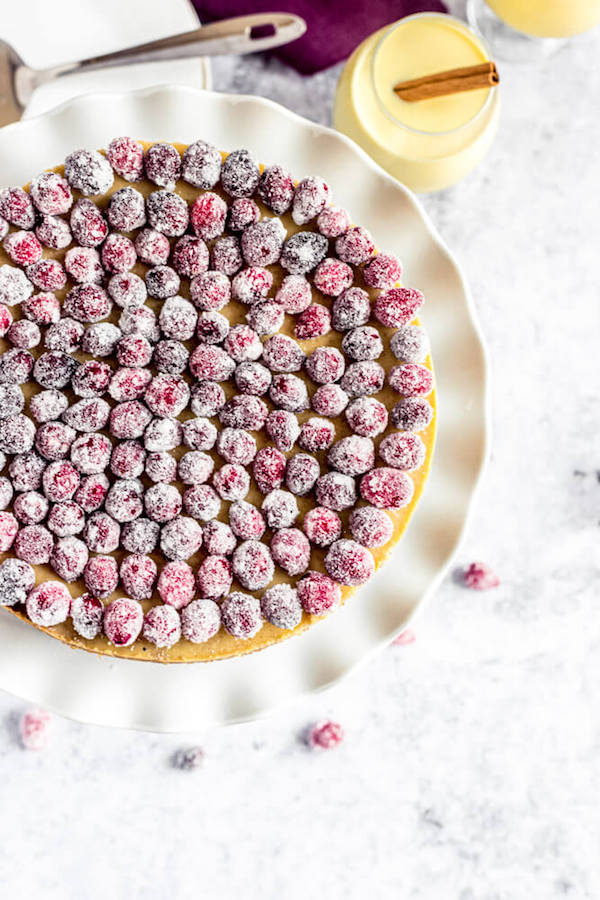 This festive Eggnog Cheesecake will be the perfect addition to your Holiday party. The gingersnap crust, eggnog filling, and cranberry topping make this the ultimate Christmas dessert!
Did you make this Eggnog Cheesecake? Let me know how they turned out in the comments below! And don't forget to leave a rating!
More Eggnog Desserts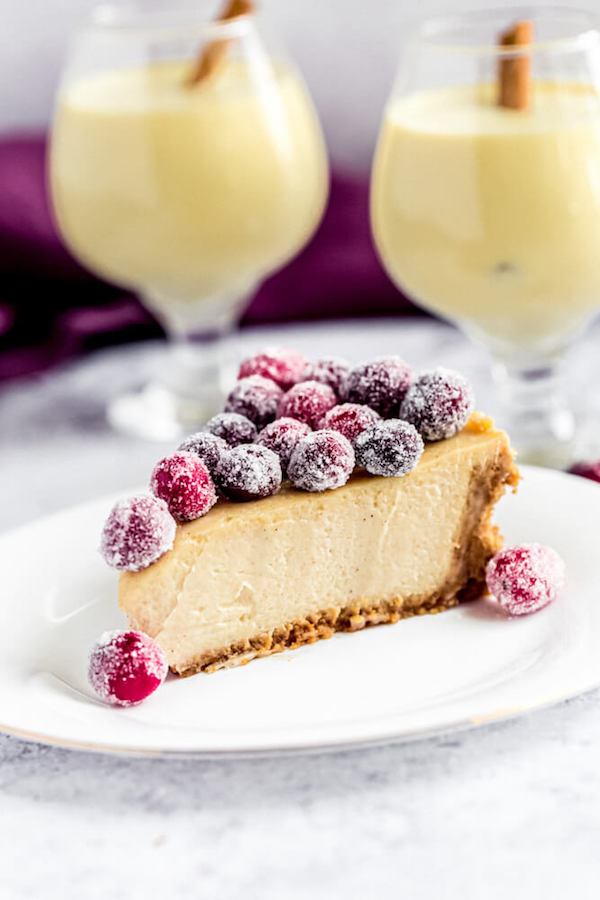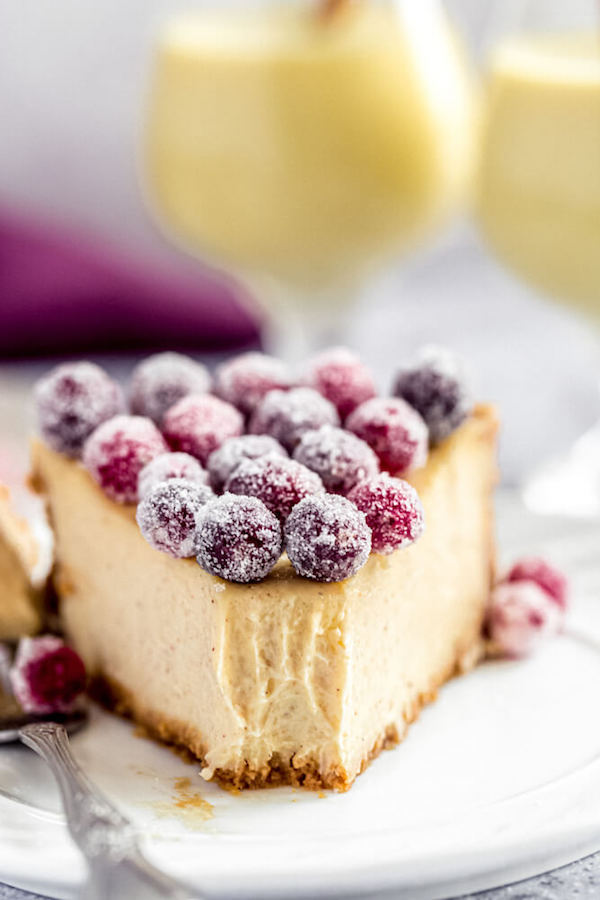 >>PIN ME FOR LATER<<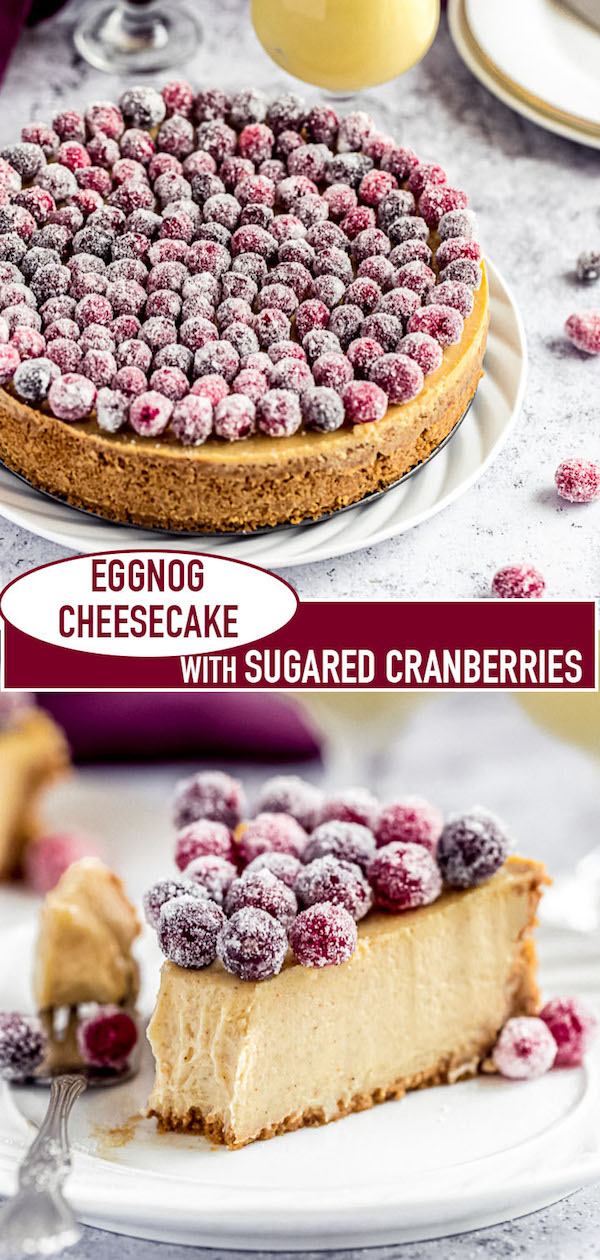 FOLLOW QUEENSLEE APPÉTIT
Like what you see? Make sure you're following Queenslee Appétit for more tasty recipes!
Pinterest | Instagram | Facebook | Twitter |
Have any questions about the recipe? Contact me here, and I'll be happy to help!
SHARE YOUR PICS!
Tag me on Instagram @queensleeappetit or use the hashtag #queensleeappetit so I could see your gorgeous creations!
Let's get baking!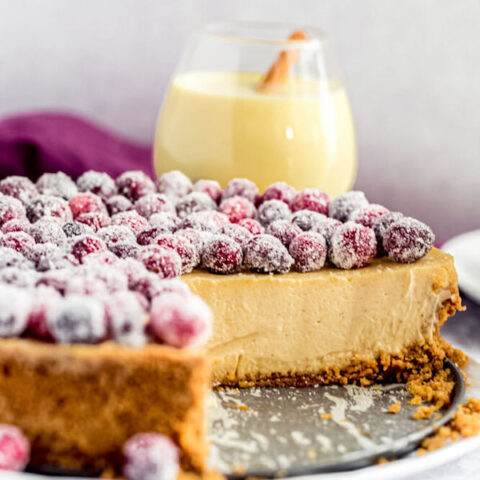 Eggnog Cheesecake with Sugared Cranberries
Cook Time:
2 hours
20 minutes
Total Time:
4 hours
50 minutes
This Eggnog Cheesecake sits on top of a spiced gingersnap crust and is topped with beautiful sugared cranberries. This is the ultimate dessert for the holidays!
Ingredients
Gingersnap Crust:
3 cups gingersnap cookie crumbs (about cookies)
¼ cup brown sugar, packed
6 tablespoon unsalted butter, melted
Eggnog Cheesecake:
3 (8 ounce) packages (24 oz) cream cheese, room temperature
1 cup granulated sugar
1 tablespoon cornstarch
1 teaspoon ground cinnamon
½ teaspoon ground nutmeg
½ cup sour cream, room temperature
1 cup eggnog, room temperature
1 teaspoon pure vanilla extract
½ teaspoon rum extract
3 large eggs, room temperature
1 large egg yolk
Sugared Cranberries:
1 and ¾ cups granulated sugar, divided
1 cup water
3 cups fresh cranberries
Instructions
For the Gingersnap Crust:
Preheat oven to 325°F. Grease sides and bottom of one 9-inch springform pan with cooking spray and line with parchment rounds.
In a food processor or using a rolling pin and a large Ziploc bag, crush ginger snaps into fine crumbs. In a medium bowl, mix together the cookie crumbs and ¼ cup of brown sugar.
Mix in melted butter and using a fork, combine the ingredients until it clumps together.
Transfer mixture to the greased 9-inch springform pan and, using the flat bottom of a glass or measuring cup, press into the bottom and up the sides of the pan.
Bake crust in preheated oven for 10-12 minutes. Remove from the oven and reduce the temperature to 300°F. Set aside to cool.
For the Eggnog Cheesecake:
Take 1 extra large piece of aluminum foil that's bigger than your springform pan. Place springform pan in the centre and fold aluminum up to the sides to cover the outside of the pan. This ensures that no water seeps into the pan during the water bath. Alternatively, I like to place my pan in a slightly larger pot, which I place in a bigger rectangular pan. This completely protects my crust from the water.
In the bowl of an electric mixer fitted with the paddle attachment, or in a large bowl using a handheld mixer, beat the cream cheese on low speed until creamy, about 2-3 minutes.
Scrape down the sides of the bowl and add sugar, cornstarch, cinnamon and nutmeg. Beat until smooth and combined. Add sour cream and continue beating until smooth.
Add both rum and vanilla extract to the eggnog. While mixer is running, slowly pour eggnog into the mixture and continue beating until smooth. Batter will be very runny.
Add eggs and yolk one at a time, beating slowly until just combined, do not overbeat. Scrape sides and bottom of the bowl with a rubber spatula to make sure everything is combined.
Pour the cheesecake onto the cooled crust and place into a larger pan. Bring a few cups of water to a boil and carefully pour into the larger pan. The water should only be a few inches up the sides of the pan. Do not go over the top.
Bake at 300F for about 1 hour and 30 minutes to 1 hour and 40 mins. The cheesecake is done when the edges are set and the center jiggles just slightly - not too much.
Turn off oven and leave the cheesecake to cool inside for 30 minutes. After 30 minutes, crack the door open and continue cooling the cheesecake for another 30 minutes. This helps prevent cracking.
After an hour, remove cheesecake from waterbath, aluminum foil and slow cooker liner. Run a knife around the edge of the pan so it's not sticking to the sides and allow to cool completely on a rack.
Refrigerate cheesecake until firm and chilled, about 8 hours or overnight.
For the Sugared Cranberries:
Add water and 1 cup of sugar to a medium saucepan over medium heat, stirring constantly until the sugar is dissolved. Once sugar dissolves, stop stirring and allow the mixture to come to a simmer. Pour simple syrup into a glass bowl and allow it to cool for 5-10 minutes.
Once syrup is cool, add the fresh cranberries and stir until they're all coated. Transfer to the refrigerator and allow them to sit overnight, stirring every now and then to coat the cranberries. It's best to do this right after you make the cheesecake so they can both be ready the next day.
The next day: Line a baking sheet with a silpat mat or wax paper. Place a wire rack on top. Using a slotted spoon, remove the cranberries from the syrup and place onto the wire rack. Allow cranberries to dry for about 1 hour.
Pour remaining ¾ cup of sugar into a shallow dish. Add about ⅓ of the cranberries to the sugar and roll or shake the dish to coat the cranberries.
Use a clean slotted spoon to pick up the cranberries and shake out the excess sugar. Place them back onto the wire rack to dry for about an hour. Repeat with remaining cranberries.
Once cheesecake is cooled, remove from springform pan and transfer to serving plate.
Line the sugared cranberries over the top and around the bottom of the cheesecake. Slice, Serve and Enjoy!
Notes
Store cheesecake covered in the refrigerator for up to 3 days.
Sugared Cranberries can be stored in an airtight container in the refrigerator for up to one week.
Do not top the cheesecake until you're ready to serve, as the sugar on the cranberries will begin to dissolve overtime.
Recommended Products
As an Amazon Associate and member of other affiliate programs, I earn from qualifying purchases.
Nutrition Information:
Yield:

14
Serving Size:

1
Amount Per Serving:
Calories:

345
Total Fat:

11g
Saturated Fat:

6g
Trans Fat:

0g
Unsaturated Fat:

4g
Cholesterol:

104mg
Sodium:

132mg
Carbohydrates:

61g
Fiber:

1g
Sugar:

53g
Protein:

4g
BON APPÉTIT!
Love, Dedra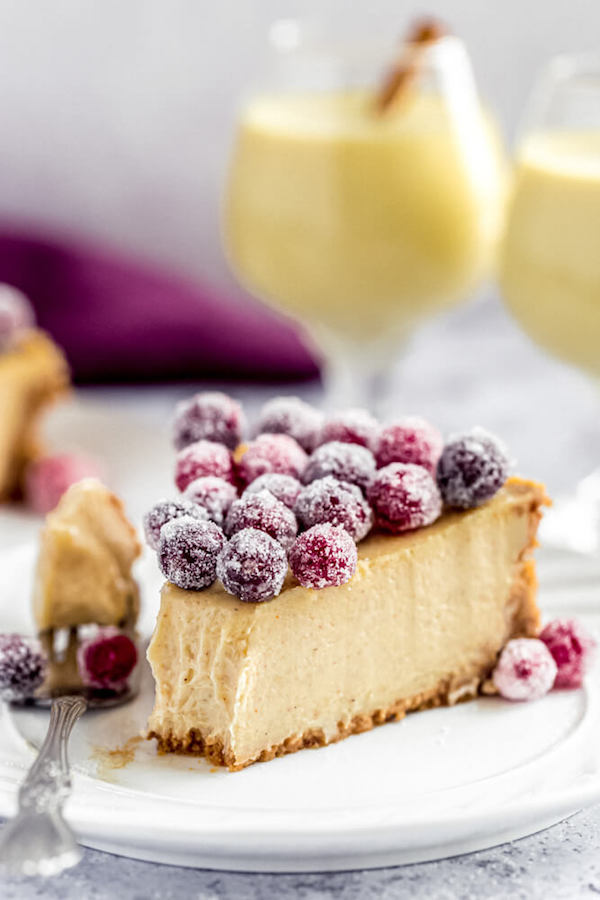 ©QUEENSLEE APPÉTIT. All images & content are copyright protected. Please do not use my images without prior permission. If you want to republish this recipe, please re-write the recipe in your own words, or link back to this post for the recipe.