This sweet and creamy Homemade Eggnog Pudding is the best way to use up any extra eggnog from your holiday celebration! Top it off with sweetened whipped cream and sugared cranberries for a yummy and festive holiday treat!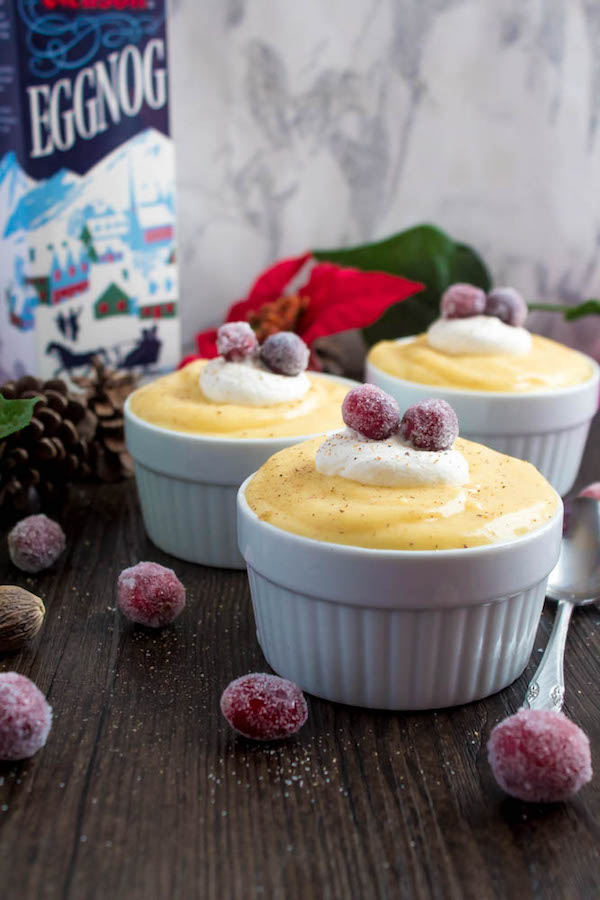 The Christmas season has come and gone, but you probably have loads of eggnog still sitting in your fridge. I've recently become a lover of eggnog after despising it for many years. After tasting it in different delicious recipes, I've grown to really enjoy drinking eggnog on its own.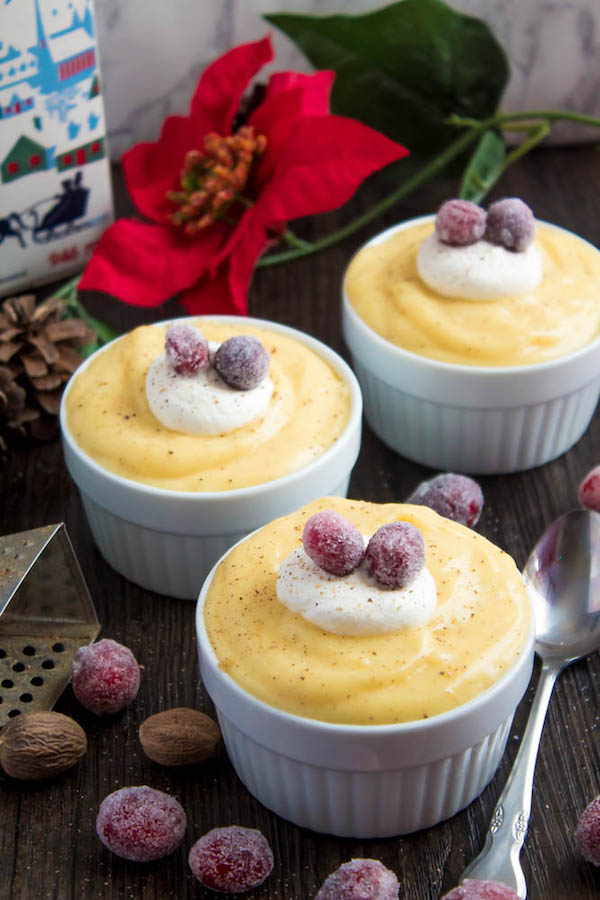 Homemade Eggnog Pudding
My local grocery store had eggnog on sale for $1! That was the perfect excuse to by cartons and cartons of it. Once I finished drinking my third carton, I decided to use the fourth to make yet another eggnog flavoured treat!
Introducing my Homemade Eggnog Pudding. I've gotta say, out of all my pudding recipes, this one is hands down my favourite! It's ridiculously smooth and creamy and the eggnog flavour makes your tastebuds explode!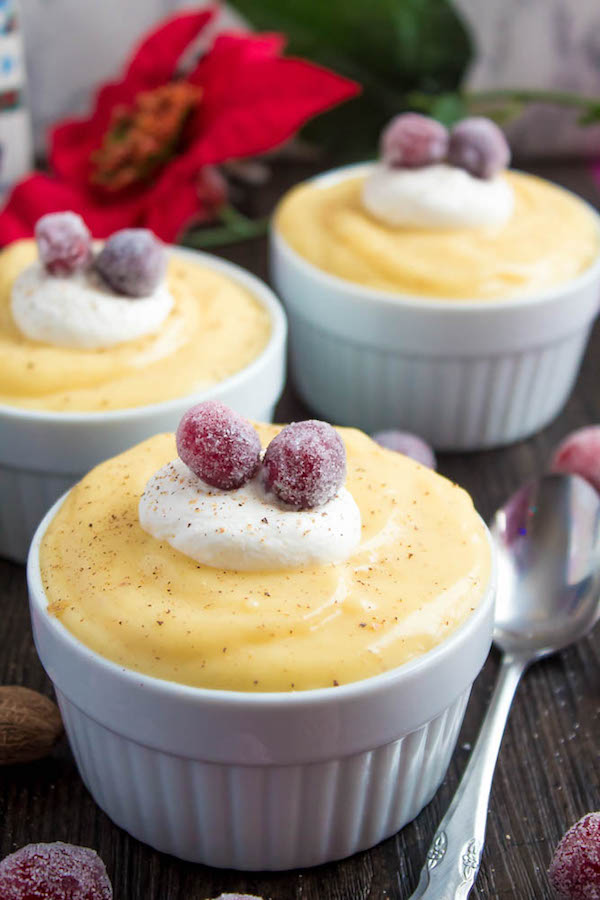 I tried a spoonful after it chilled in the refrigerator for a few hours, and my knees went weak. Unfortunately, I couldn't have a cup of it because I had to take the photos in the morning.
I tell you, as fun as food blogging is, the most painful part is having to set up your photography station and spend hours trying to take the perfect photos before eating your delicious creation.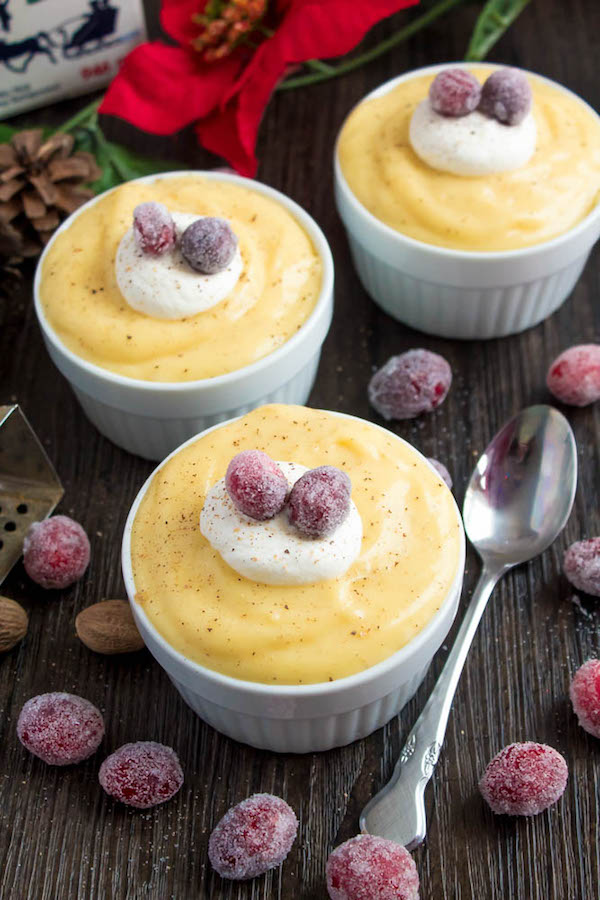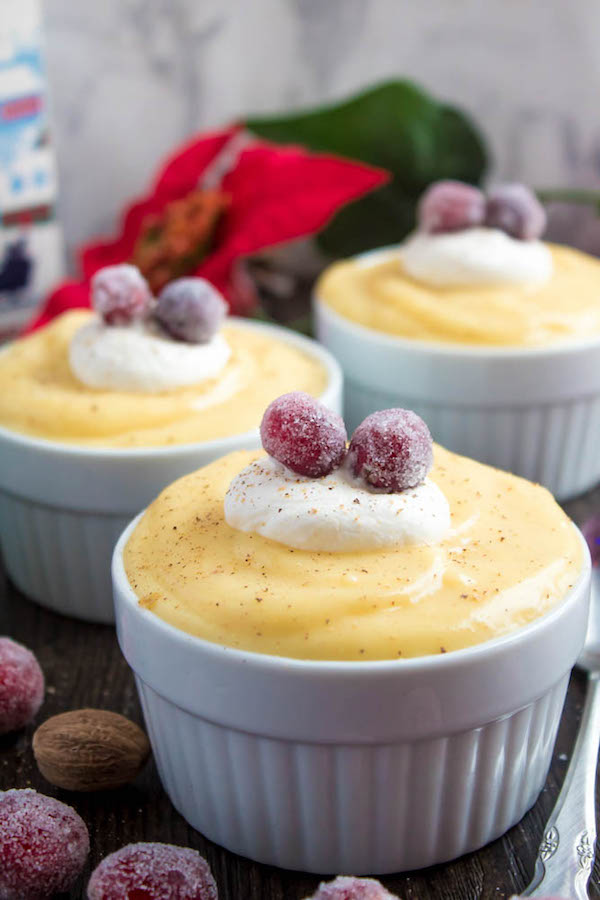 I've mentioned in my other eggnog recipes that you'd enjoy it whether you were a lover of eggnog or not. This recipe, however, leans more towards the eggnog lovers. This pudding tastes exactly like eggnog!
Trust me, I alternated between spoonfuls of this pudding and sips of eggnog. They're exactly the same, this pudding is like a richer, creamier, thicker eggnog that you have to eat with a spoon.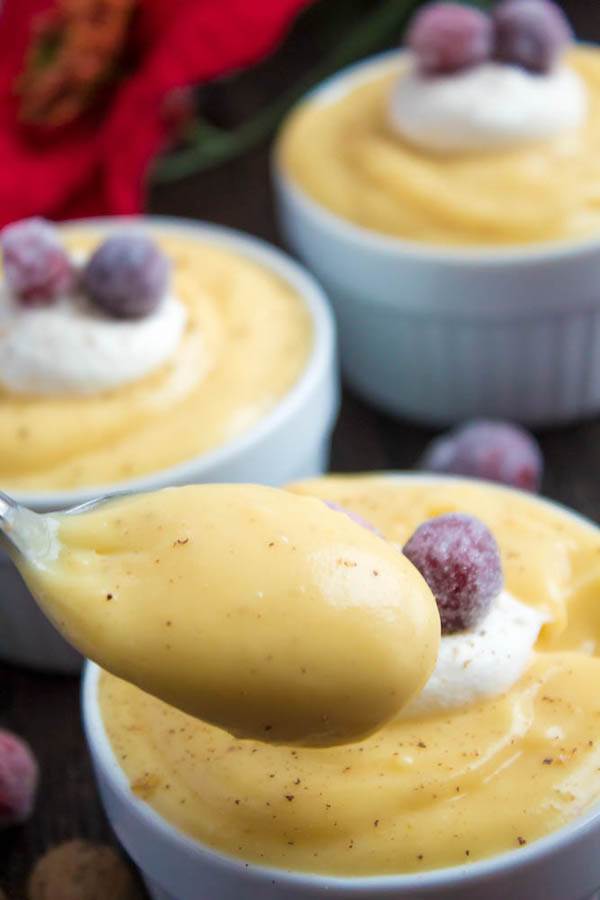 The best part of this pudding, other than the silky texture and perfect flavour, is how easy it is to make! It only takes about 5 minutes to prep and 10 minutes to cook! The recipe is exactly like my other pudding recipes, except I replaced the milk with eggnog and added some nutmeg. The pudding is also spiked with rum for an amazing boost in flavour!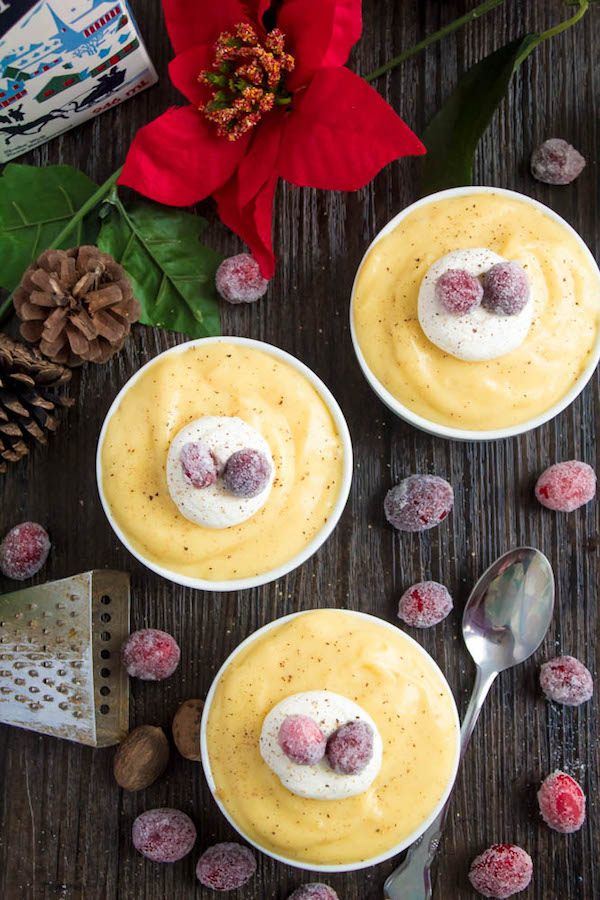 The Best Toppings for Eggnog Pudding
You can enjoy this pudding on its own, or top it with sweetened whipped cream, grated nutmeg, and sugared cranberries. The sugared cranberries make a gorgeous and festive topping, and perfectly compliments the sweet and rich eggnog flavour!
And if you don't want to spend extra time preparing the sugared cranberries, you can crush up some gingersnaps and sprinkle them on top. I tried it and the spicy cookies add so much flavour. Also the crunch of the cookies paired with the silky smooth pudding is pure heaven!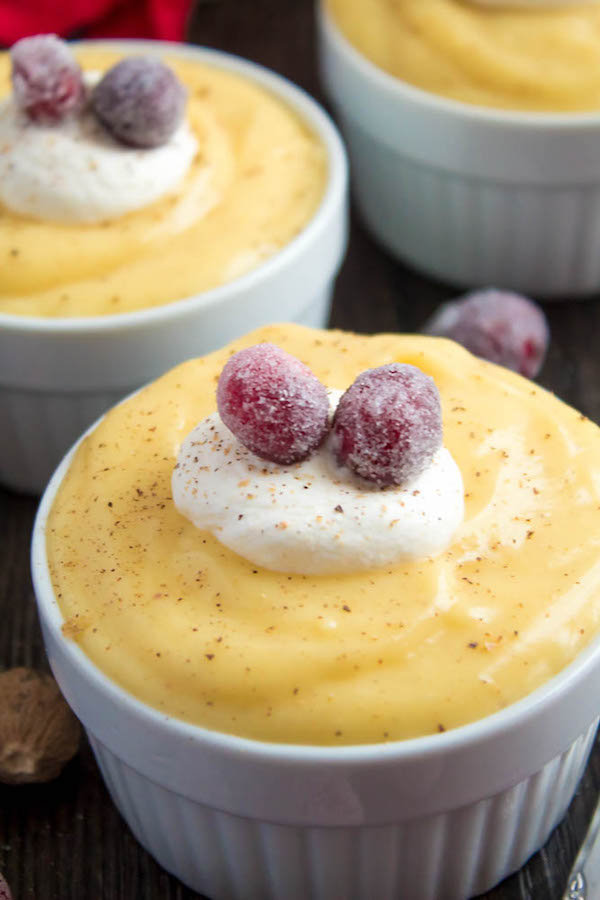 Decadent, sweet, thick and creamy — this eggnog pudding is the perfect post-holiday snack. This is also a great addition to other desserts like cookie cups, parfaits, donut filling and more! Enjoy ❤️.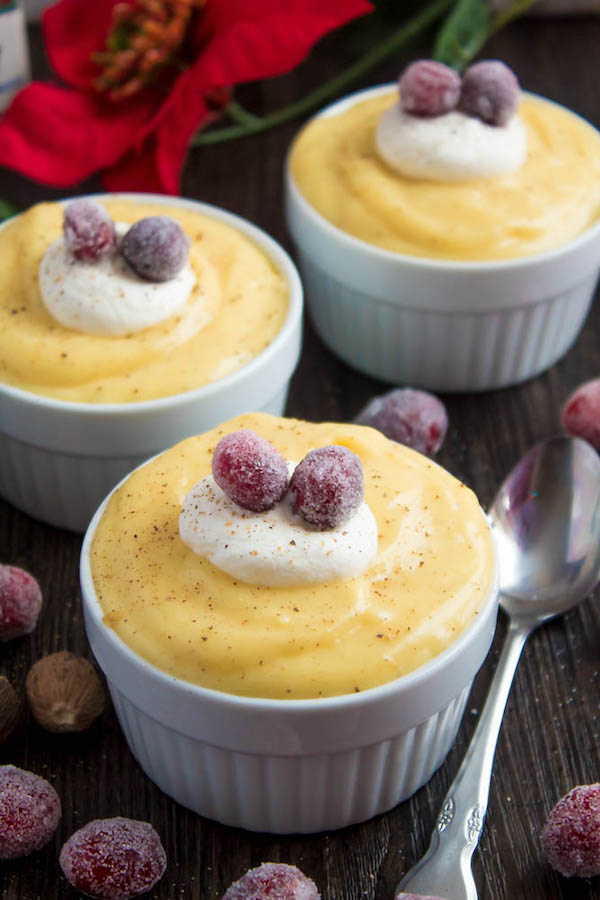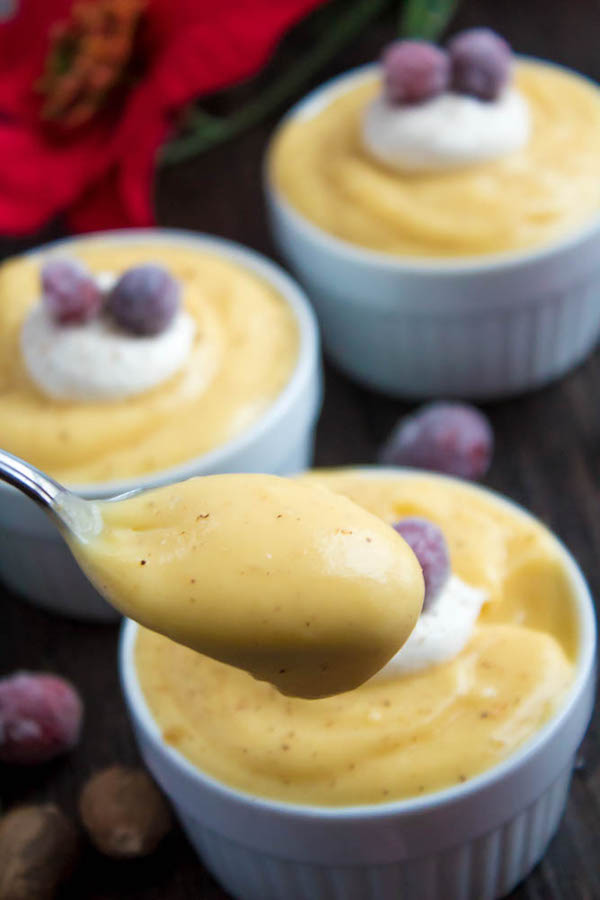 >>PIN ME FOR LATER<<

FOLLOW QUEENSLEE APPÉTIT
Like what you see? Make sure you're following Queenslee Appétit for more tasty recipes!
Pinterest | Instagram | Facebook | Twitter |
Have any questions about the recipe? Contact me here, and I'll be happy to help!
Let's get baking!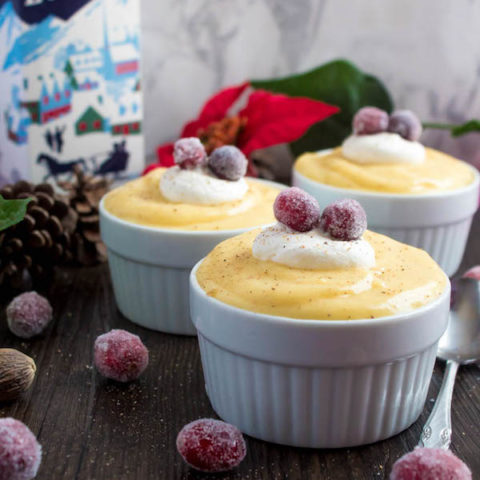 Homemade Eggnog Pudding
This sweet and creamy Homemade Eggnog Pudding is the best way to use up any extra eggnog from your holiday celebration! Top it off with sweetened whipped cream and sugared cranberries for a yummy and festive holiday treat!
Ingredients
Eggnog Pudding:
2 and ½ cups Eggnog
½ cup heavy whipping cream
⅔ cup granulated sugar
4 tablespoon cornstarch
¼ teaspoon salt
½ teaspoon ground nutmeg
4 large egg yolks
1 teaspoon rum extract
3 tablespoons unsalted butter, cut into pieces
Optional Toppings:
Whipped cream
Grated Nutmeg, for garnish
Sugared Cranberries (recipe below)
Instructions
For the Eggnog Pudding:
In a glass measuring cup, combine the eggnog and heavy cream. Set aside.
Sift sugar, cornstarch, salt and nutmeg into a medium saucepan and whisk together. Add egg yolks and whisk until combined and smooth.
Slowly pour the eggnog mixture into the egg mixture while whisking constantly until combined.
Place saucepan on the stove and heat on medium heat and cook, stirring constantly until the mixture is thickened and begins to boil, 8-10 minutes. Mixture should coat the back of a spoon. Allow to boil for an additional 30 seconds.
Remove from heat and add rum extract and butter. Whisk until melted and smooth. Strain pudding through a fine mesh sieve into a bowl.
Divide pudding into individual serving cups and cover each with plastic wrap, placing the plastic directly on top of the pudding so it doesn't form a skin while cooling. Chill in the refrigerator for 2 hours or overnight.
Garnish with whipped cream, grated nutmeg and sugared cranberries. Enjoy!
Notes
Rum extract can be substituted for vanilla extract.
To make the sugared cranberries:
Add ⅓ cup of water and ⅓ cup of sugar to a small saucepan over medium heat, stirring constantly until the sugar is dissolved. Once sugar dissolves, stop stirring and allow the mixture to come to a simmer. Pour simple syrup into a small glass bowl and allow it to cool for 5-10 minutes.
Once syrup is cool, add 1 cup of fresh cranberries and stir until they're all coated. Transfer to the refrigerator and allow them to sit overnight, stirring every now and then to coat the cranberries. It's best to do this right after you make the pudding so they can both be ready the next day.
The next day: Line a baking sheet with a silpat mat or wax paper. Place a wire rack on top. Using a slotted spoon, remove the cranberries from the syrup and place onto the wire rack. Allow cranberries to dry for about 1 hour.
Pour ⅔ cup of sugar into a shallow dish. Add about ⅓ of the cranberries to the sugar and roll or shake the dish to coat the cranberries.
Use a clean slotted spoon to pick up the cranberries and shake out the excess sugar. Place them back onto the wire rack to dry for about an hour. Repeat with remaining cranberries. Store in an airtight container in the refrigerator for up to 1 week.
Recommended Products
As an Amazon Associate and member of other affiliate programs, I earn from qualifying purchases.
©QUEENSLEE APPÉTIT. All images & content are copyright protected. Please do not use my images without prior permission. If you want to republish this recipe, please re-write the recipe in your own words, or link back to this post for the recipe.
Bon Appétit!
Love, Dedra ❤️