This sweet and creamy Homemade Eggnog Pudding recipe is the best way to use up any extra eggnog from your holiday celebration! Top it off with sweetened whipped cream and sugared cranberries for a yummy and festive holiday treat!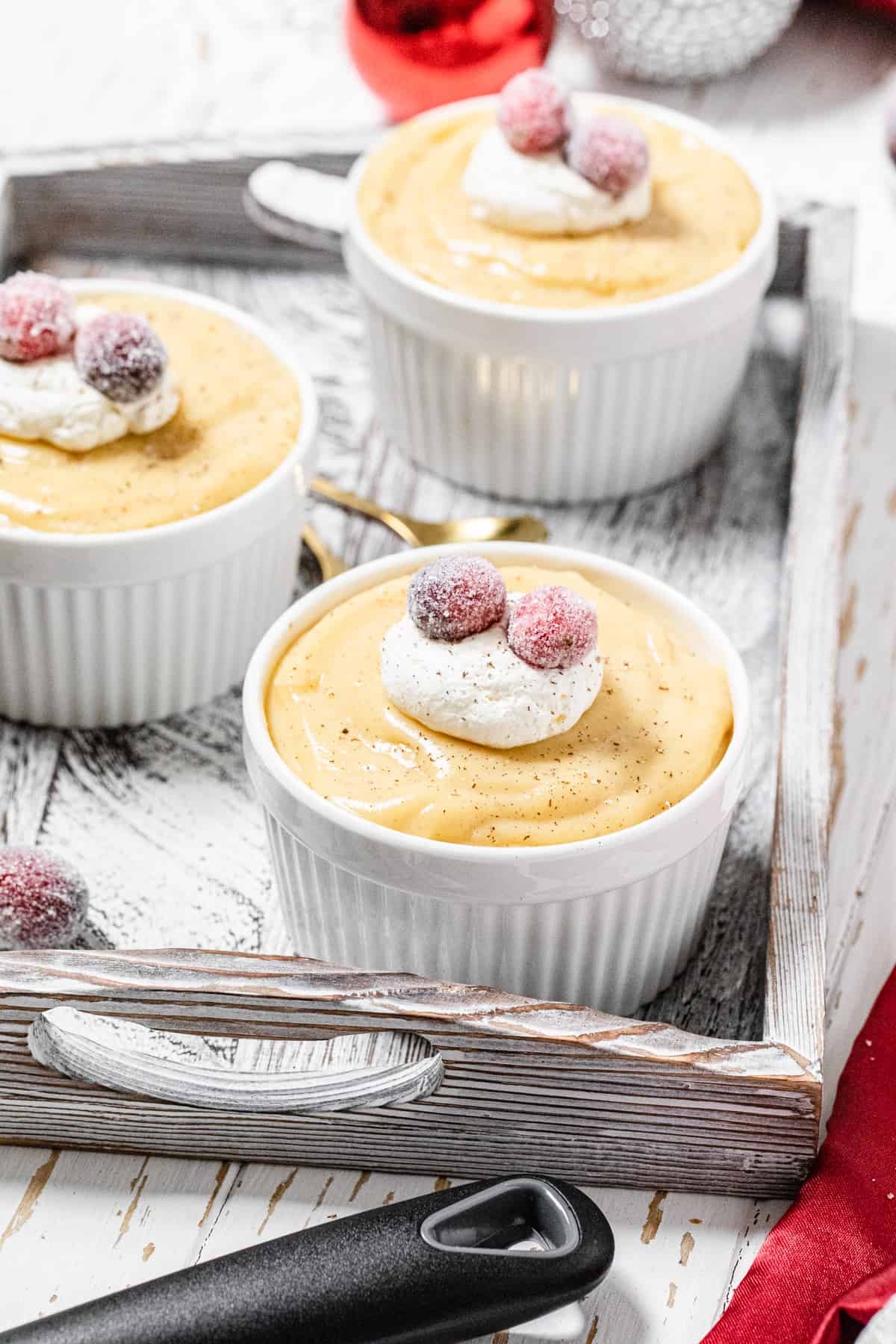 This post may contain affiliate links. As an Amazon Associate I earn from qualifying purchases. This in no way affects my opinion of those products and services. All opinions expressed on this site are my own. Please see my full disclosure policy for details.
**This recipe was originally posted on December 26, 2017. The photos and post were updated on November 27, 2021**
Thanksgiving has come and gone, so now it's time to dive into holiday baking! If you're anything like me, you've probably stocked up on loads of eggnog already! If you don't plan on drinking it all in one sitting, a great way to use some of it is to make one of my delicious eggnog recipes.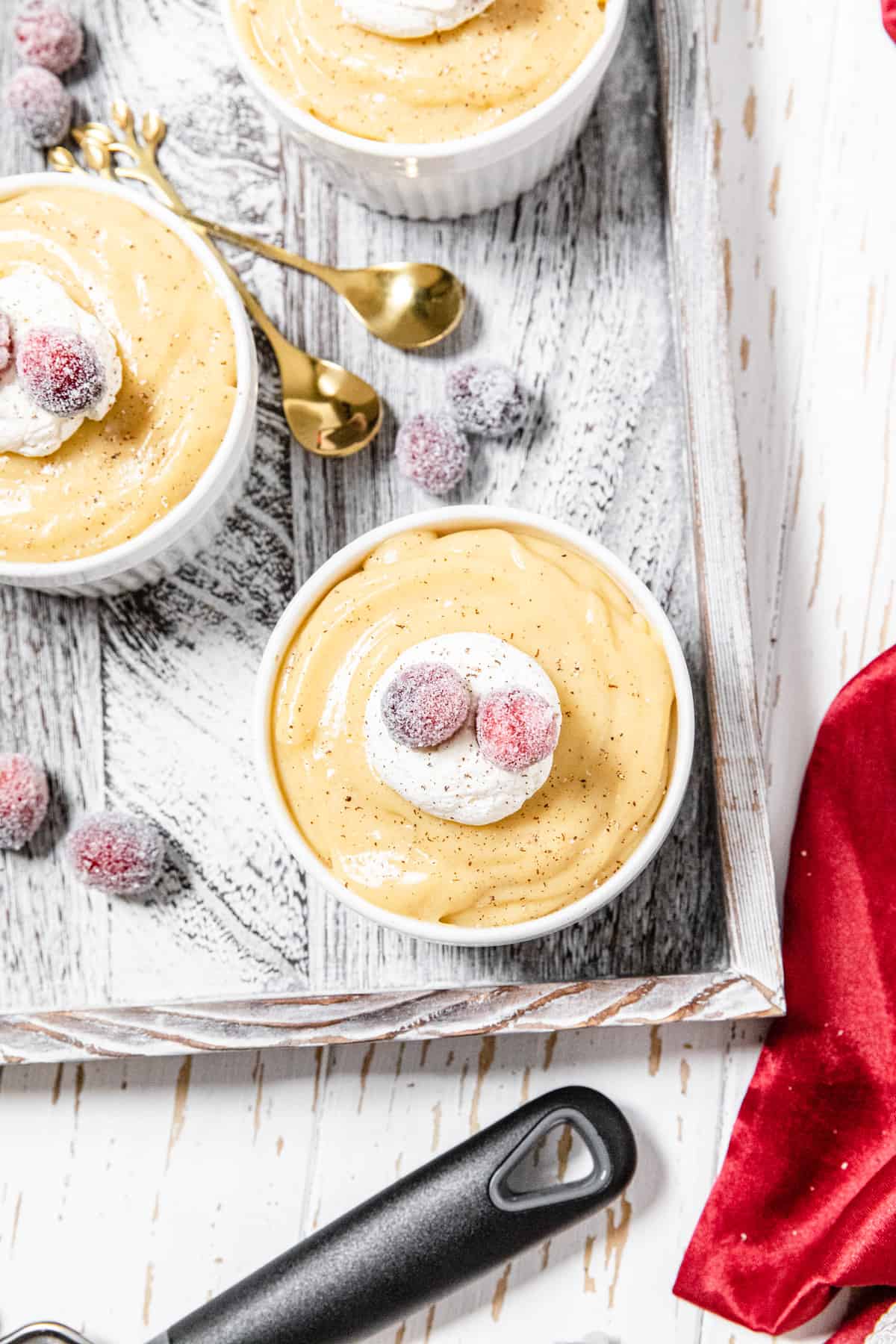 The Creamiest Pudding Ever!
My local grocery store had eggnog on sale for $1! That was the perfect excuse to by cartons and cartons of it. Once I finished drinking my third carton, I decided to use the fourth to make yet another eggnog flavoured treat!
Introducing my Homemade Eggnog Pudding. I've gotta say, out of all my pudding recipes, this one is hands down my favourite! It's ridiculously smooth and creamy and the eggnog flavour makes your tastebuds explode!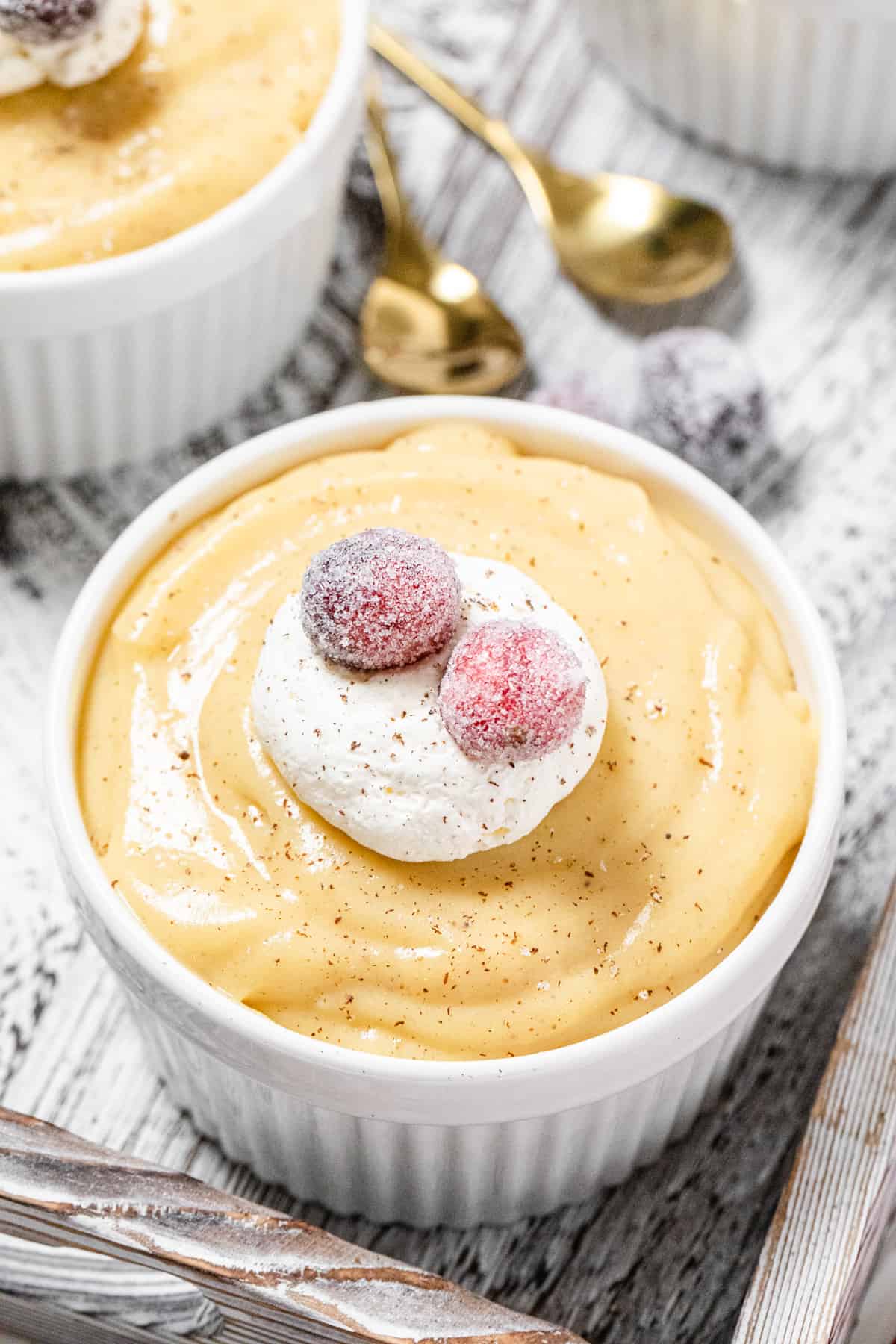 I tried a spoonful after it chilled in the refrigerator for a few hours, and my knees went WEAK. Unfortunately, I couldn't have a cup of it because I had to take the photos in the morning.
I tell you, as fun as food blogging is, the most painful part is having to set up your photography station and spend hours trying to take the perfect photos before eating your delicious creation. Pain.
Ingredients in Eggnog Pudding
No instant pudding mixed here. We're making this completely from scratch, but trust me when I tell you it's SUPER EASY! The recipe is exactly like my other pudding recipes, except I made a few adjustments to make it eggnog flavoured. Here's what you can find in this recipe:
Eggnog: obviously we need eggnog in an eggnog recipe. For my other pudding recipes, I use a mixture of milk/heavy cream. So for this recipe, the eggnog takes the milk's place. THIS is one of the main reasons why it's so incredibly smooth and silky!
Heavy Cream: this thickens up the pudding while also adding extra creaminess.
Granulated Sugar: not too much, but we still need a little bit of sweetness.
Salt: just a little bit to cut back said sweetness.
Cornstarch: this is a key ingredient to transform the pudding from liquid to custard.
Ground Nutmeg: every good eggnog dessert needs a touch of nutmeg!
Egg Yolks: even though the cornstarch helps, this is the main thing that thickens up your pudding giving it a smooth and rich texture.
Rum Extract: this helps boosts the flavour of eggnog! You can replace it with a tablespoon of rum if you can't find extract.
Unsalted Butter: just a few tablespoons adds that extra richness that really takes this pudding above and beyond in the flavour/texture department!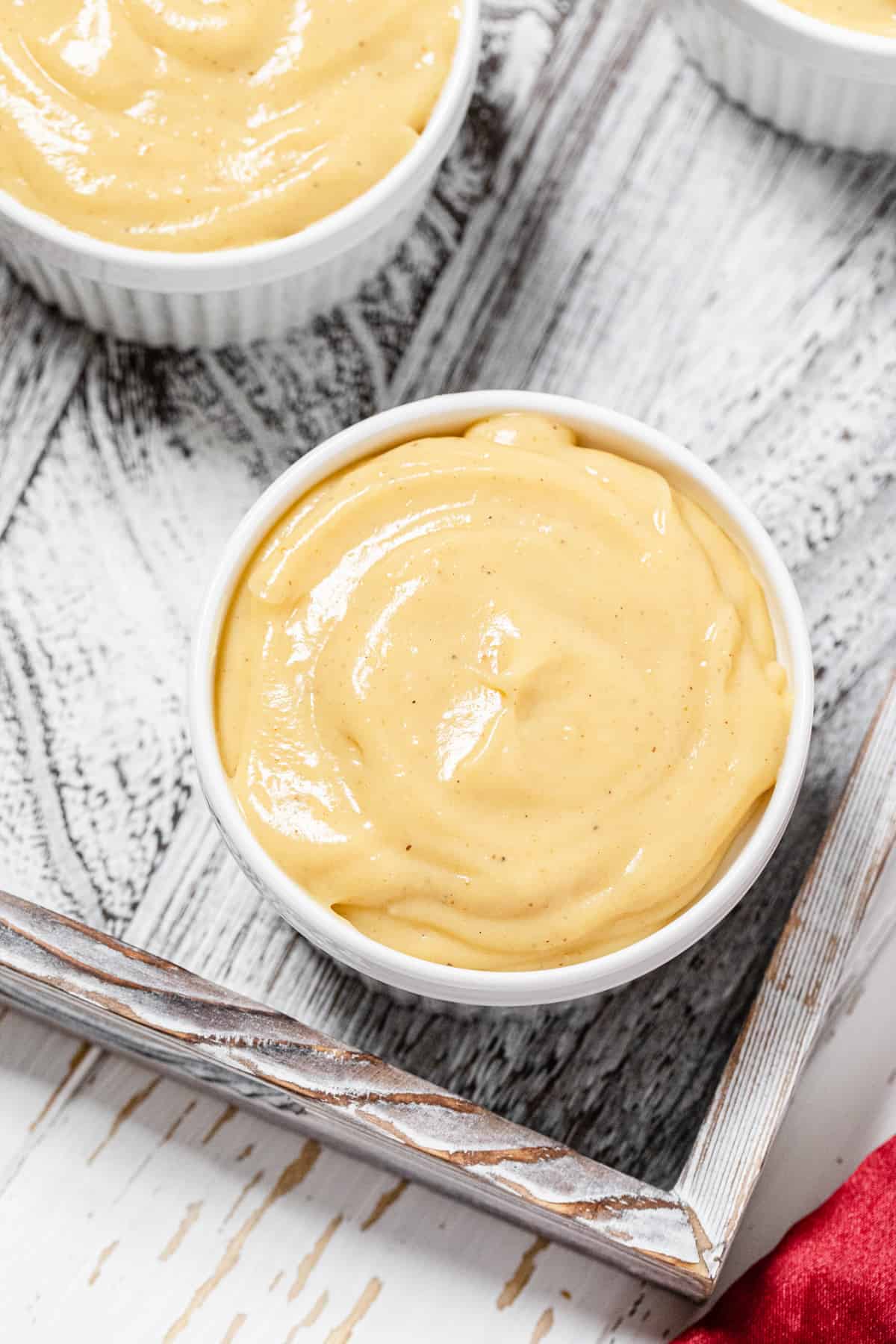 How to Make Eggnog Pudding
The best part of this pudding, other than the silky texture and perfect flavour, is how easy it is to make! It only takes about 5 minutes to prep and 10 minutes to cook!
Also, I finally FINALLY have video now! So if you're a visual learner, you can watch how I make this pudding on my new YouTube channel!
Mix dry ingredients: add the sugar, salt, cornstarch and nutmeg to a medium saucepan and whisk them together.
Beat in the egg yolks: this parts a bit more difficult. We have to beat the egg yolks with the dry ingredients until they make a smooth paste. It may seem like it's not coming together, but keep mixing. Check the video to see what it's supposed to look like.
Stir in the eggnog/cream: add the cream to the eggnog in a measuring cup. You want them to be in something with a spout because you'll have to pour it into the egg mixture while stirring.
Keep stirring until thick: now turn on the stove to medium heat and keep stirring for a couple minutes until the pudding begins to bubble up. Once it boils, let it boil for 30 more seconds. This cooks off the cornstarch so you don't have a gritty taste in the end.
Mix in butter and rum extract: while the pudding mixture is hot, immediately add the butter and rum extract. Stir until the butter is melted.
Strain the lumps: pour the pudding into a large strainer over a medium bowl and stir it so the smooth pudding can fall into the bowl and any bits of cooked egg or burnt bits can be discarded. The bottom of my pan did burn a little, but once you strain it out it has no effect on the flavour.
Cover and chill: place some plastic wrap directly onto the surface of the pudding and chill overnight. The plastic wrap prevents the pudding from forming a skin on top so it all stays smooth.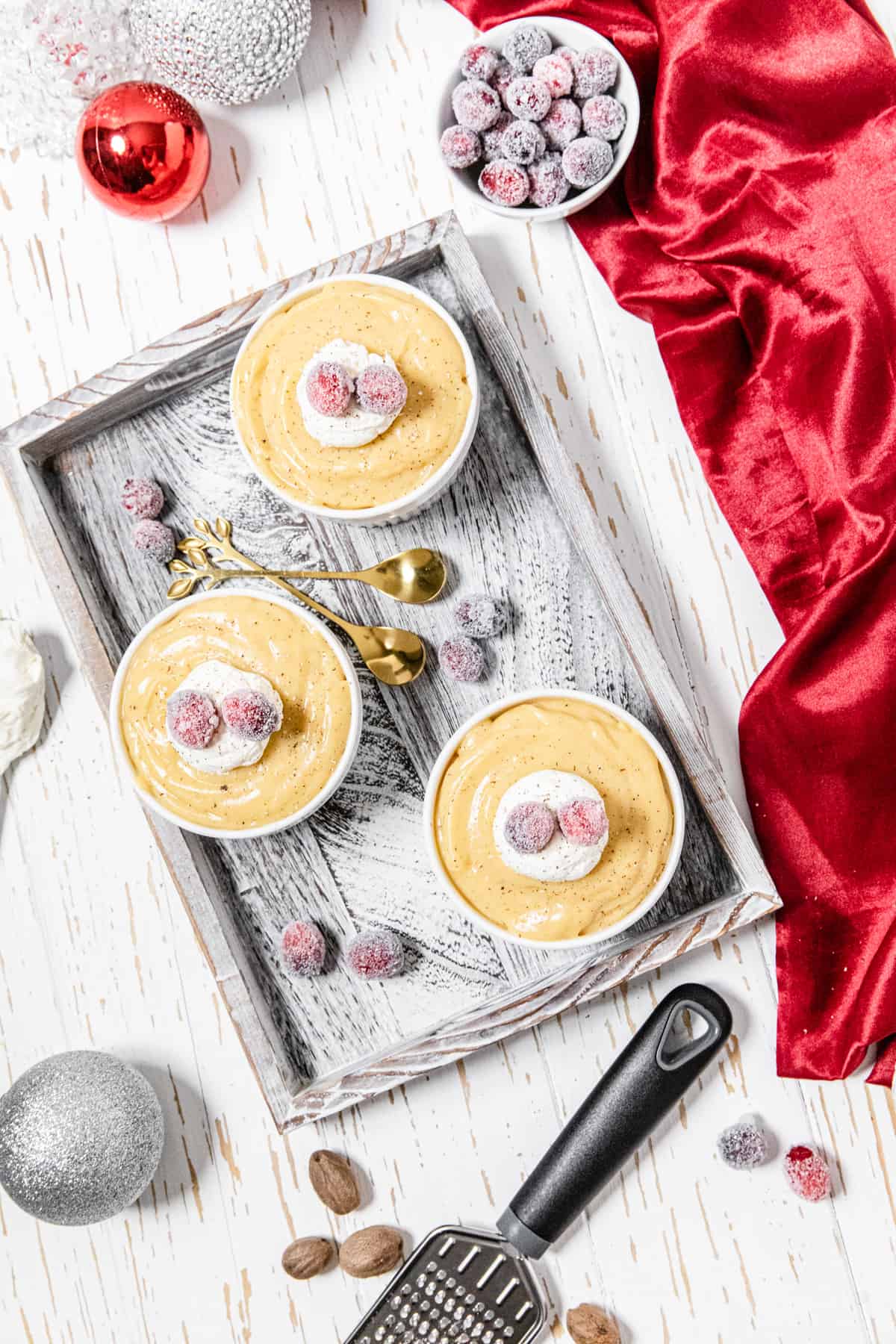 A Recipe for Eggnog Lovers Only
I've mentioned in my other eggnog recipes that you'd enjoy it whether you were a lover of eggnog or not. This recipe, however, leans more towards the eggnog fans.
This pudding tastes exactly like eggnog! Trust me, I alternated between spoonfuls of this pudding and sips of eggnog. They're exactly the same, this pudding is like a richer, creamier, thicker eggnog that you have to eat with a spoon!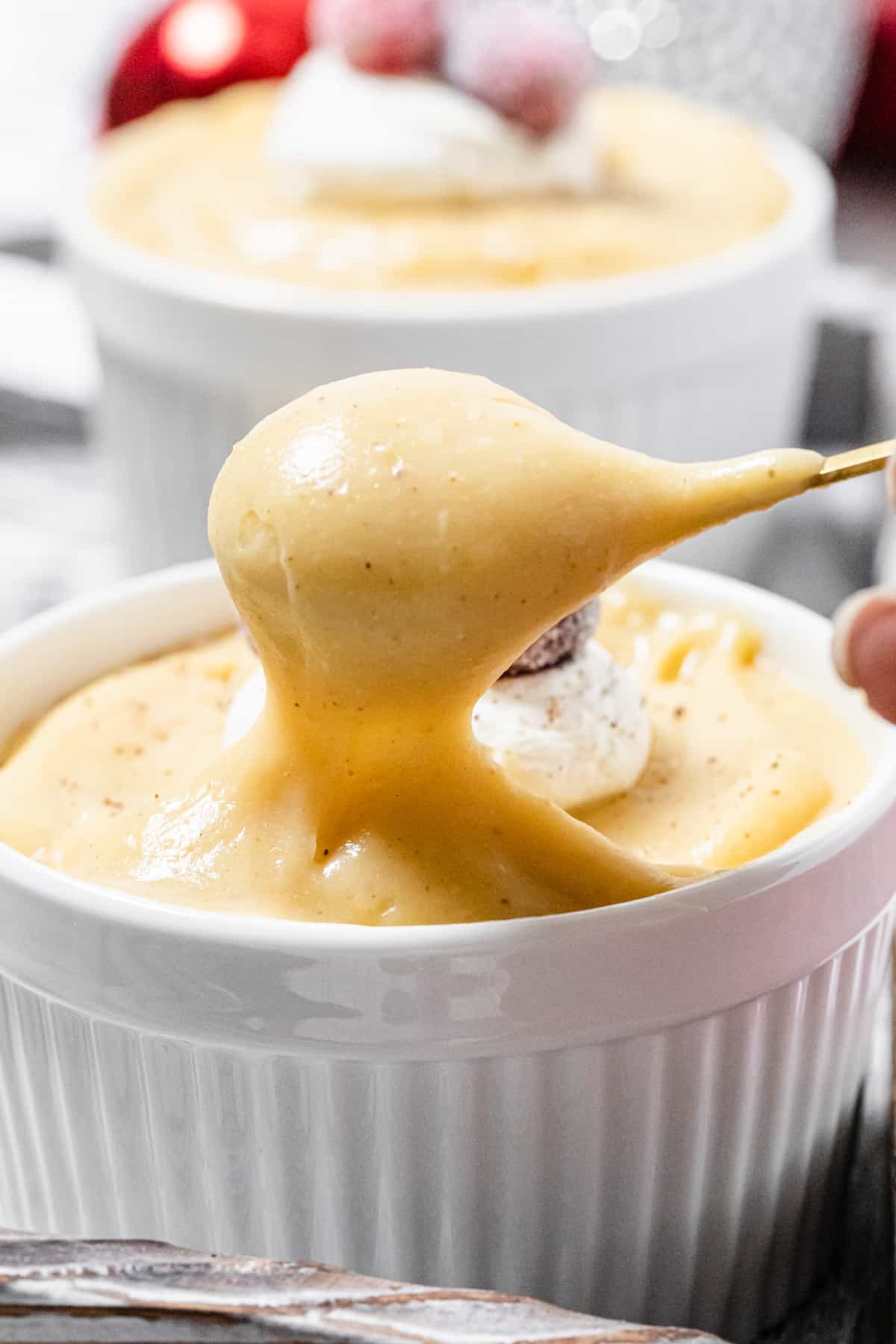 Festive Toppings
You can enjoy this pudding on its own, or top it with sweetened whipped cream (I used cool whip), freshly grated nutmeg, and sugared cranberries.
The sugared cranberries make a gorgeous and festive topping, and perfectly compliments the sweet eggnog flavour! I included a simple recipe for sugared cranberries in the recipe card notes below.
If you don't want to spend extra time preparing the sugared cranberries, you can crush up some gingersnaps and sprinkle them on top. I tried it and the spicy cookies add so much flavour. Also the crunch of the cookies paired with the silky smooth pudding is pure heaven!
Decadent, sweet, thick and creamy — this eggnog pudding is the perfect dessert for the holiday season. This is also a great addition to other desserts like cookie cups, parfaits, donut filling and more!
You can even serve this in little shot glasses and serve festive eggnog pudding shots at your holiday party. Enjoy!
More Eggnog Desserts:
SHARE YOUR PICS!
Follow me on Instagram and tag #queensleeappetit so I can see and share all of your Queenslee Appétit creations in my stories and the QA Newsletter!
FOLLOW QUEENSLEE APPÉTIT
Like what you see? Make sure you're following Queenslee Appétit for more tasty recipes!
Pinterest | Instagram | Facebook | YouTube
Have any questions about the recipe? Contact me here, and I'll be happy to help!
SWEETEN UP YOUR INBOX!
SUBSCRIBE to the Queenslee Appétit Newsletter to recieve new recipe notifications, monthly baking tips, sneak peeks to upcoming recipes, exclusive recipes and more!
Let's get baking!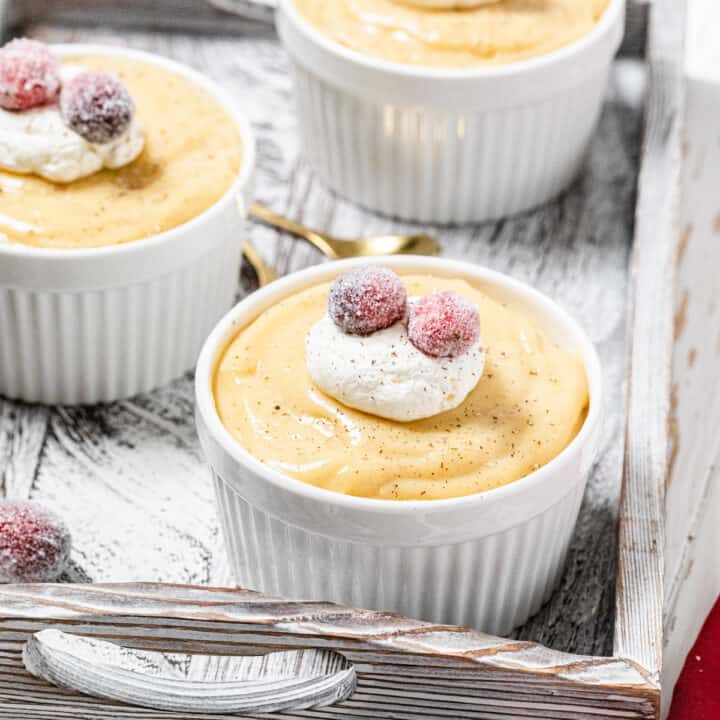 Homemade Eggnog Pudding
This sweet and creamy Homemade Eggnog Pudding recipe is the best way to use up any extra eggnog from your holiday celebration! Top it off with sweetened whipped cream and sugared cranberries for a yummy and festive holiday treat!
Ingredients
Eggnog Pudding:
2 and ½ cups Eggnog
½ cup heavy whipping cream
⅔ cup granulated sugar
4 Tablespoons cornstarch
¼ teaspoon salt
½ teaspoon ground nutmeg
4 large egg yolks
1 teaspoon rum extract
3 Tablespoons unsalted butter, cut into pieces
Optional Toppings:
Whipped cream
Grated Whole Nutmeg, for garnish
Sugared Cranberries (recipe below)
Instructions
For the Eggnog Pudding:
In a glass measuring cup, combine the eggnog and heavy cream. Set aside.
Add sugar, cornstarch, salt and nutmeg to a medium saucepan and whisk together.
Add egg yolks and whisk until combined and smooth.
Slowly pour the eggnog mixture into the egg mixture while whisking constantly until combined.
Place saucepan on the stove and heat on medium heat. Cook, stirring constantly until the mixture is thickened and begins to boil, 8-10 minutes. Mixture should coat the back of a spoon. Allow to boil for an additional 30 seconds.
Remove from heat and add rum extract and butter. Stir until melted and smooth. Strain pudding through a fine mesh sieve into a bowl.
Cover bowl with plastic wrap, placing the plastic directly on top of the pudding so it doesn't form a skin while cooling. Chill in the refrigerator for 4 hours or preferably overnight.
Garnish with whipped cream, grated nutmeg and sugared cranberries (recipe below). Enjoy!
Notes
To make the sugared cranberries:
Add ⅓ cup of water and ⅓ cup of sugar to a small saucepan over medium heat, stirring constantly until the sugar is dissolved. Once sugar dissolves, stop stirring and allow the mixture to come to a simmer. Pour simple syrup into a small glass bowl and allow it to cool for 5-10 minutes.
Once syrup is cool, add 1 cup of fresh cranberries and stir until they're all coated. Transfer to the refrigerator and allow them to sit overnight, stirring every now and then to coat the cranberries. It's best to do this right after you make the pudding so they can both be ready the next day.
The next day: Line a baking sheet with a silpat mat or wax paper. Place a wire rack on top. Using a slotted spoon, remove the cranberries from the syrup and place onto the wire rack. Allow cranberries to dry for about 1 hour.
Pour ⅔ cup of sugar into a shallow dish. Add about ⅓ of the cranberries to the sugar and roll or shake the dish to coat the cranberries.
Use a clean slotted spoon to pick up the cranberries and shake out the excess sugar. Place them back onto the wire rack to dry for about an hour. Repeat with remaining cranberries. Store in an airtight container in the refrigerator for up to 1 week.
Recommended Products
As an Amazon Associate and member of other affiliate programs, I earn from qualifying purchases.
Nutrition Information:
Yield:

3
Serving Size:

1
Amount Per Serving:
Calories:

669
Total Fat:

38g
Saturated Fat:

22g
Trans Fat:

1g
Unsaturated Fat:

14g
Cholesterol:

436mg
Sodium:

334mg
Carbohydrates:

68g
Fiber:

2g
Sugar:

55g
Protein:

15g
BON APPÉTIT!
Love, Dedra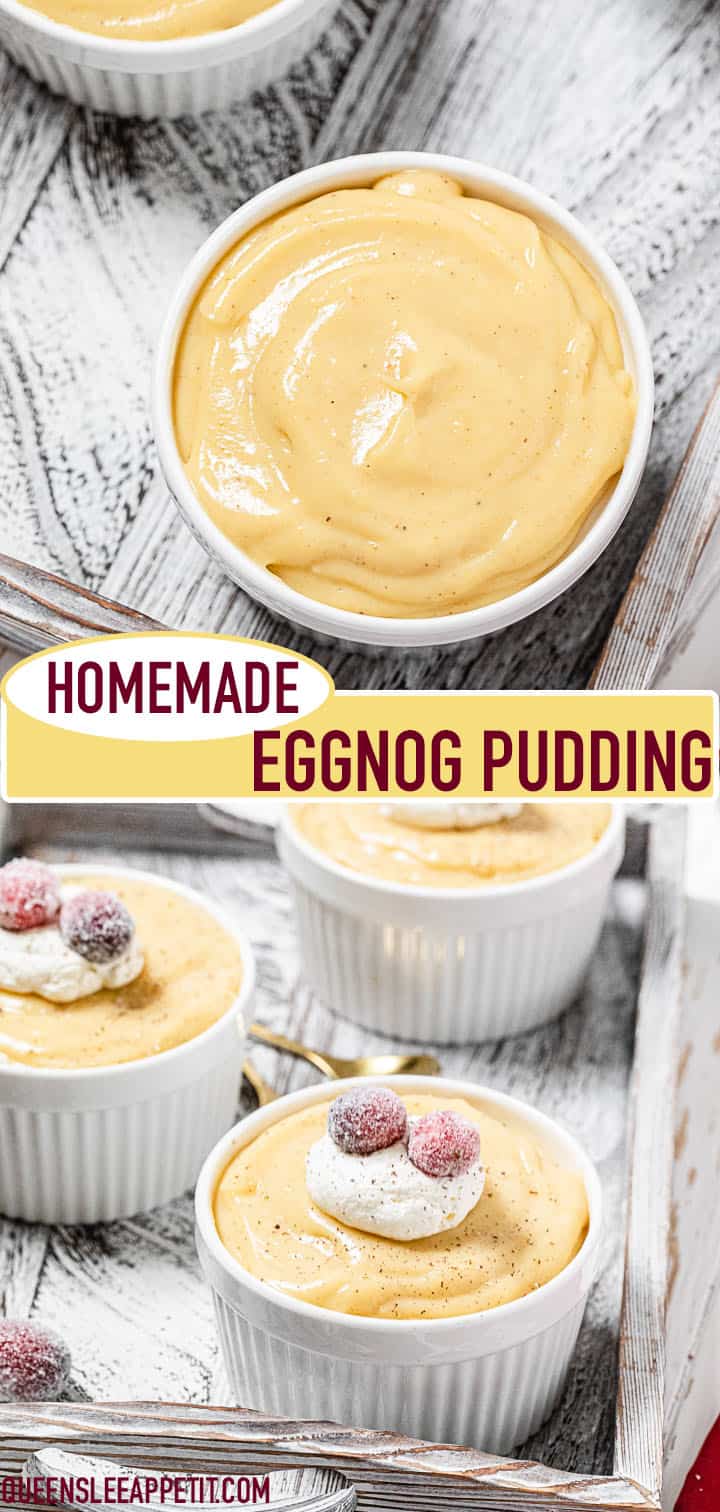 ©QUEENSLEE APPÉTIT. All images & content are copyright protected. Please do not use my images without prior permission. If you want to republish this recipe, please re-write the recipe in your own words, or link back to this post for the recipe.