These Eggnog Cinnamon Rolls are incredibly soft, fluffy and full of amazing eggnog and spice flavour! Top them off with a delicious Eggnog Cream Cheese Icing for the perfect holiday breakfast!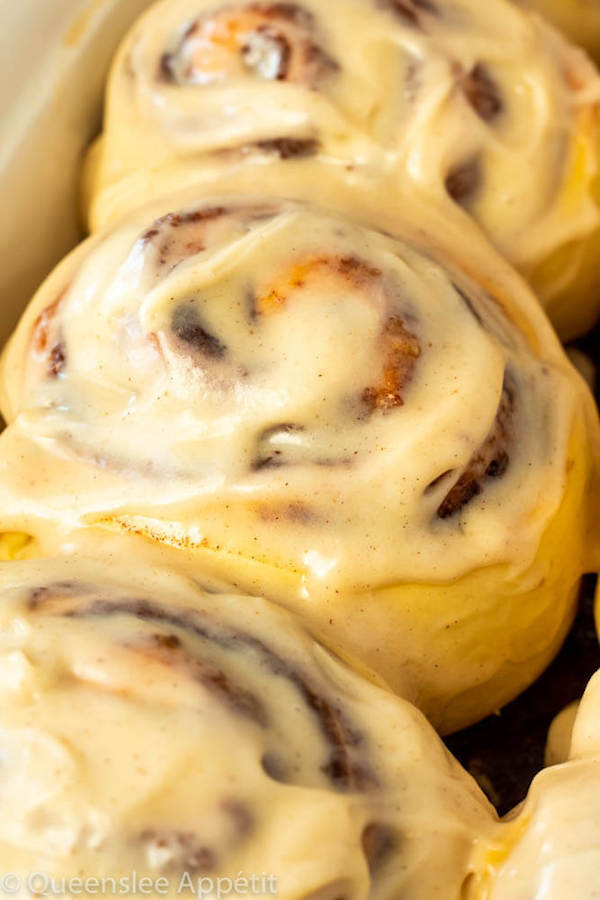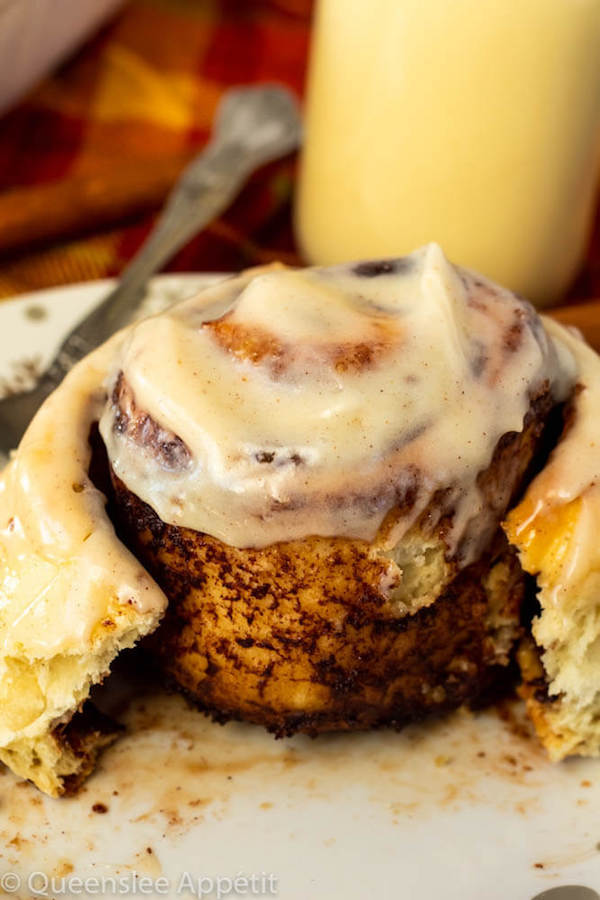 Can you believe Christmas is only 2 weeks away?! I could've sworn it was just Halloween! But of course, with Christmas comes eggnog — lots and lots of eggnog! A year ago I HATED eggnog with a passion. But one day I decided to suck it up and at least use it in baked goods to see if I'd like it then — and so this Eggnog Cheesecake, Eggnog Pudding, Eggnog Pancakes and Eggnog French Toast was born!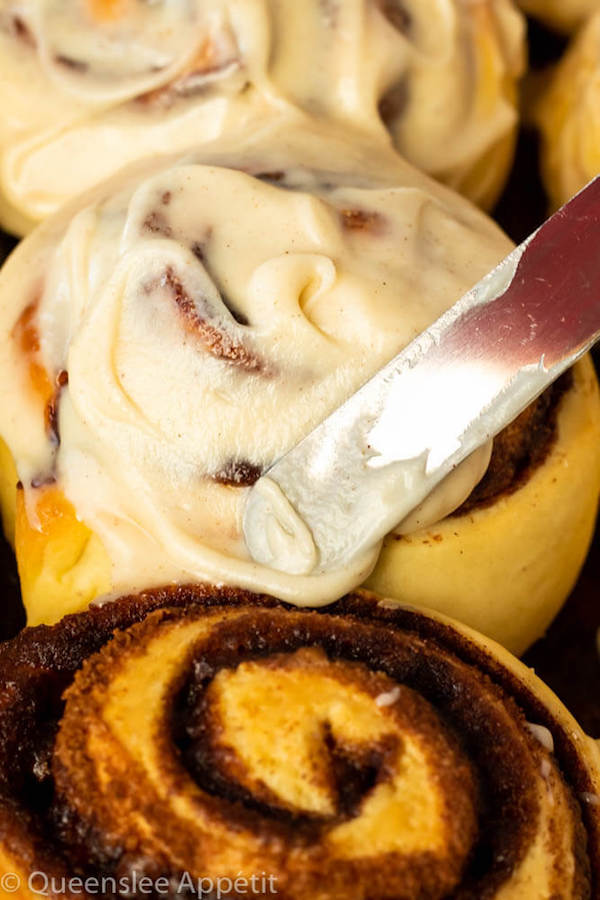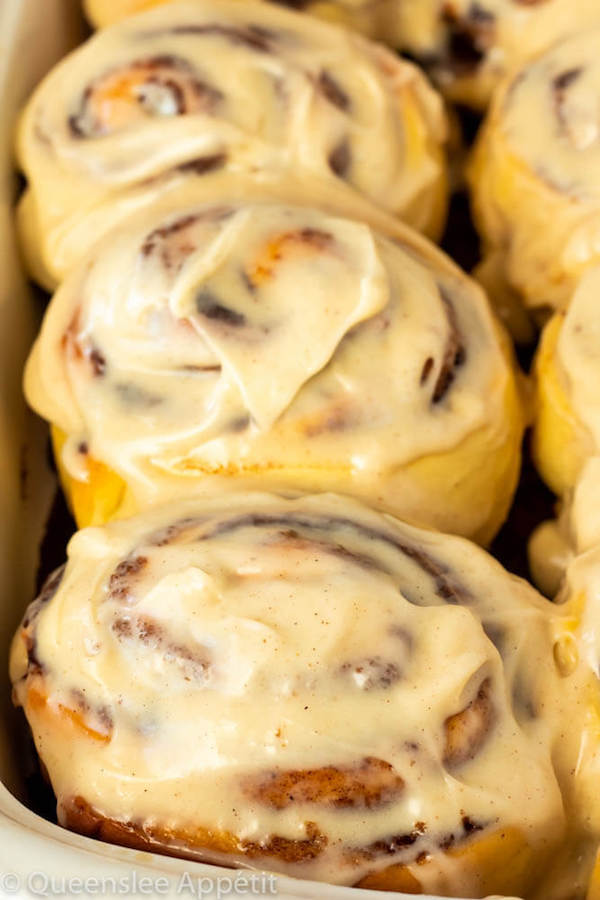 And during that eggnog baking madness, I fell in love with the traditional holiday drink. I've been waiting all year just to take a sip of some good ole nog and it's just as delicious as I remember!
After drinking 4 cartons in 3 days (and making hot chocolate out of some), I thought I should try making some more eggnog flavoured baked goods — starting with these Eggnog Cinnamon Rolls!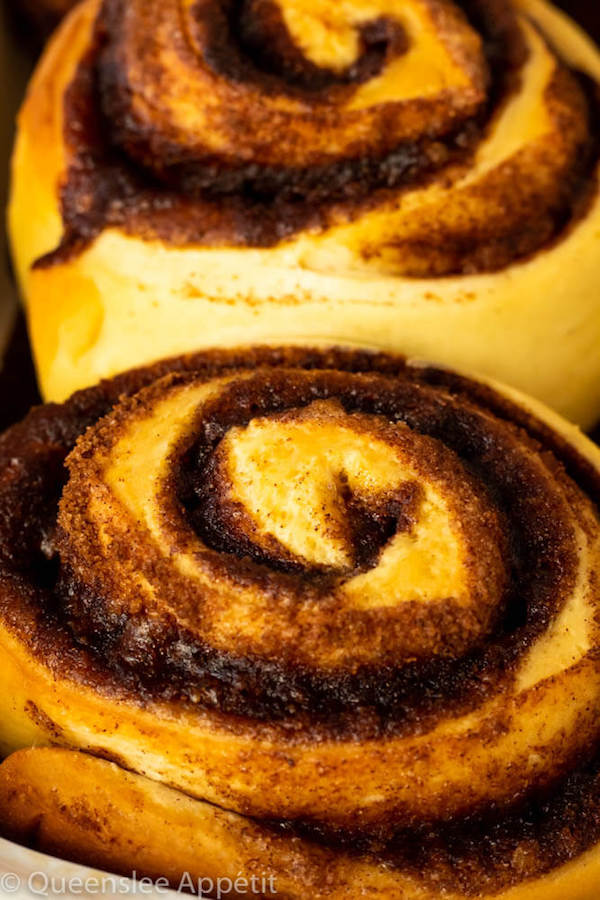 Eggnog Cinnamon Rolls
These Eggnog Cinnamon Rolls are just as incredible as my Best Ever Cinnamon Rolls, and the addition of eggnog and spices takes them to a whole other level of cinnamon roll bliss!
I had some people taste my regular cinnamon rolls and these eggnog rolls, and a majority of them said that THESE were the best, even the people who insisted that they hated eggnog. So if anyone in your family says they hate eggnog, give them one of these rolls and I guarantee they'll ask for more!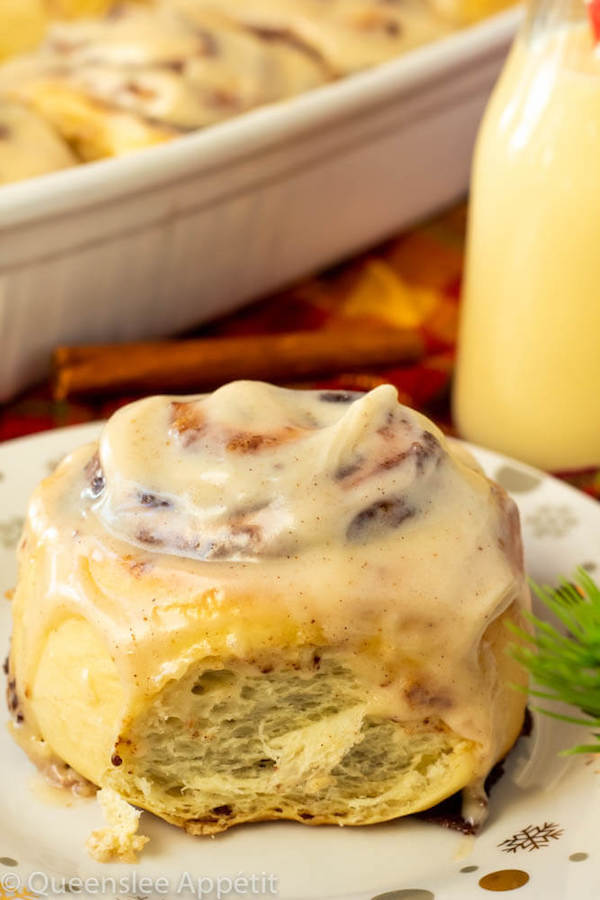 Eggnog Dough
Every cinnamon roll recipe has 3 important parts: the dough, the filling and the icing. Starting with the dough, I used the same recipe as my regular cinnamon rolls, except I replaced the milk with eggnog (YUM!) and added a bit of nutmeg and rum extract to boost the eggnog flavour. Can't find rum extract? Use my affiliate link to purchase some on amazon, or substitute with a drop of rum!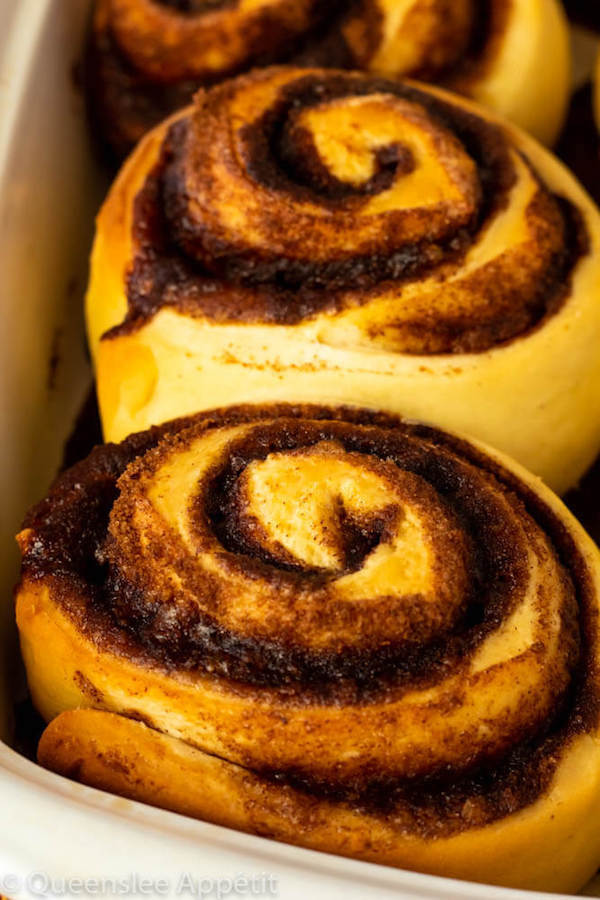 Cinnamon Nutmeg Filling
Ahh, the yummy ooey gooey cinnamon centre. Only 4 simple ingredients are needed to make the filling — butter, brown sugar, cinnamon and nutmeg. You can leave out the nutmeg if you want, but these are Eggnog cinnamon rolls, so I just had to add some eggnog spice to the centre!
A little tip for the assembly of the cinnamon rolls is to microwave your butter for about 20 seconds so it's super soft and easy to spread. Then sprinkle on the cinnamon sugar filling with a spoon, then use that spoon to press it down flat. This will pack in the filling so it doesn't spill out when you cut the rolls.
Eggnog Cream Cheese Icing
Every part of a cinnamon roll is the best part, but the frosting is definitely my favourite! Cinnamon rolls are great straight out of the oven, but they're not perfect until you slather them in copious amounts of cream cheese icing!
The way that icing melts between every crevice of the cinnamon roll and just blends with the soft dough and gooey filling — nothing on earth can compare.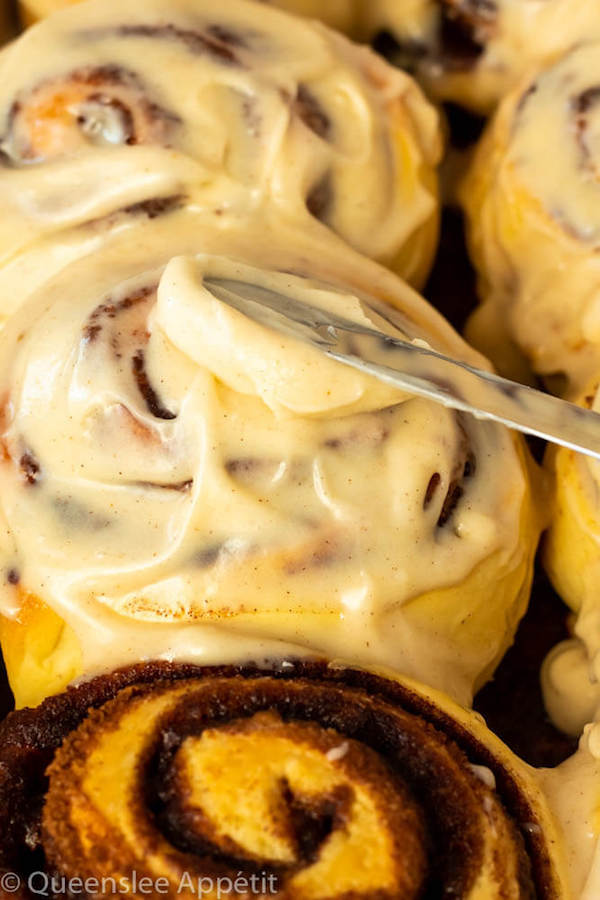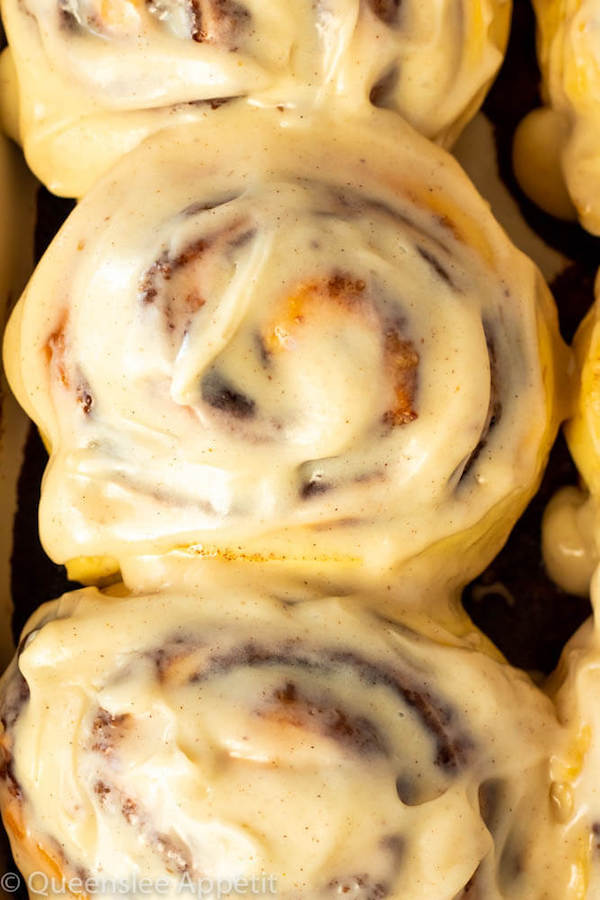 To make the icing, I used the same recipe for the cinnamon cream cheese icing I slathered on top of my regular cinnamon rolls. Now to nog it up, I replaced the vanilla with rum extract, added a dash of nutmeg, then of course, poured in some eggnog!
As always with my cinnamon roll recipes, the frosting recipe below makes a TON of frosting. You can either cut the recipe in half, or just go crazy and dump it all onto the rolls. Or you could put some into a small container to use for dipping while you eat the cinnamon rolls. Have I done this before? You'll never know.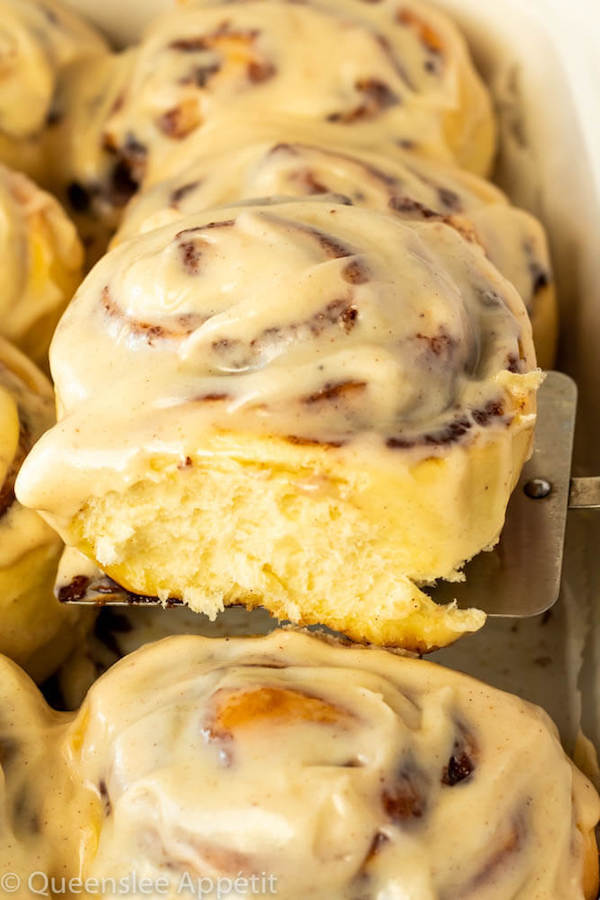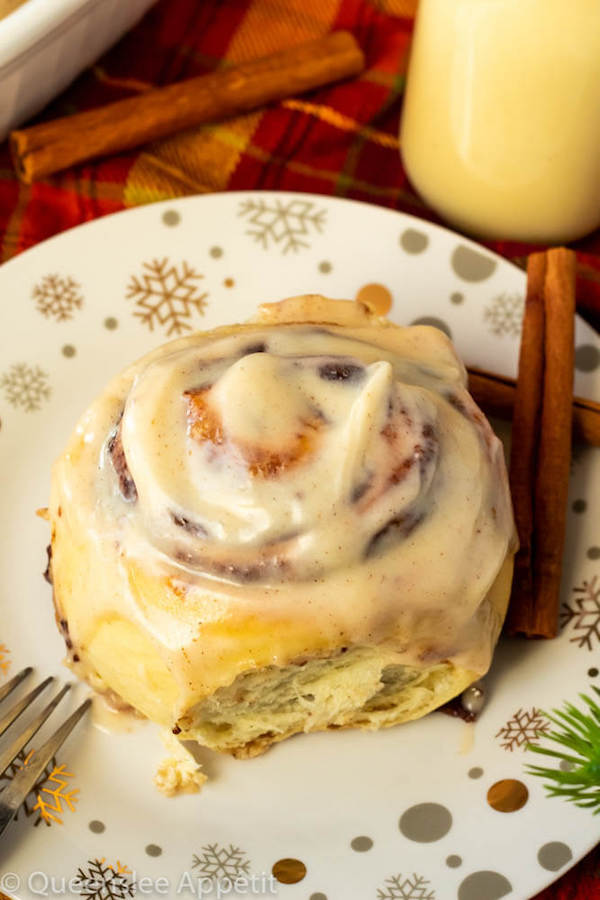 This may be my new favourite cinnamon roll recipe! The soft and fluffy eggnog dough, supremely gooey cinnamon nutmeg filling and the eggnog cream cheese icing make these the most incredible Christmas breakfast ever!
Happy Holiday Baking! <3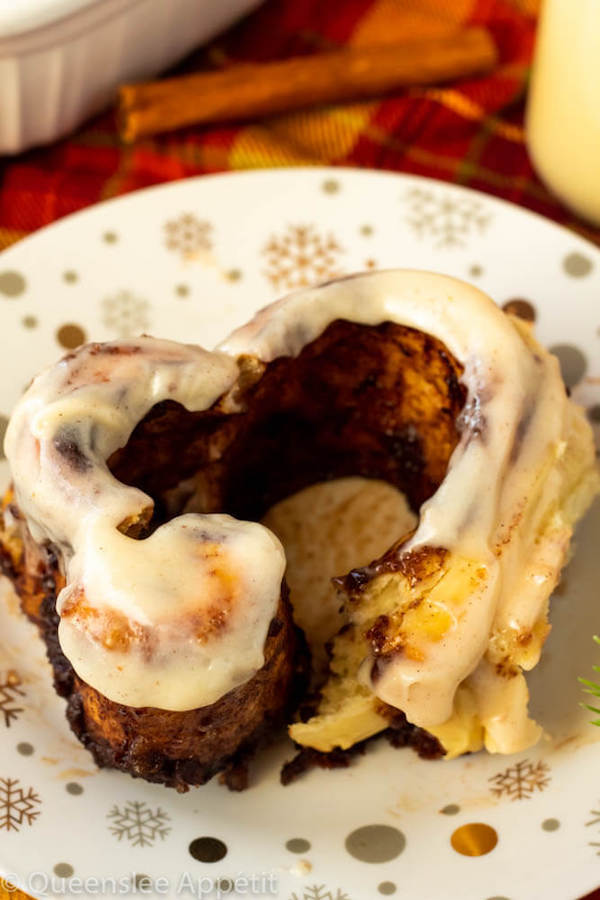 >>PIN ME FOR LATER<<

FOLLOW QUEENSLEE APPÉTIT
Like what you see? Make sure you're following Queenslee Appétit for more tasty recipes!
Pinterest | Instagram | Facebook | Twitter |
Have any questions about the recipe? Contact me here, and I'll be happy to help!
Let's get baking!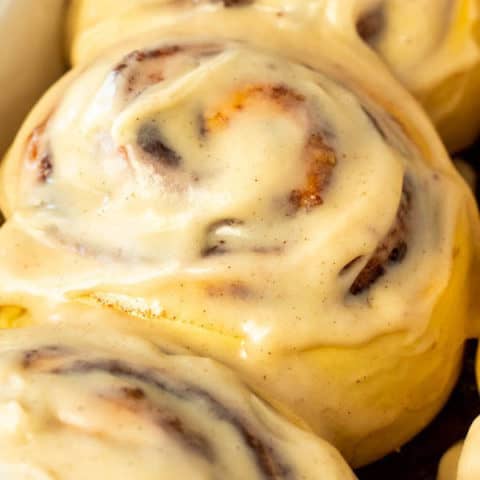 Eggnog Cinnamon Rolls
Total Time:
3 hours
30 minutes
These Eggnog Cinnamon Rolls are incredibly soft, fluffy and full of amazing eggnog and spice flavour! Top them off with a delicious Eggnog Cream Cheese Icing for the perfect holiday breakfast!
Ingredients
Eggnog Dough:
1 cup warm Eggnog (110-115˚F)
1 package (2 and ¼ tsp) active dry yeast
½ cup + ½ teaspoon granulated sugar, divided
⅓ cup unsalted butter or margarine, melted
1 teaspoon pure rum extract
2 large eggs, lightly beaten
4 - 4 and ½ cups All purpose flour
1 teaspoon salt
¼ teaspoon freshly ground nutmeg
Cinnamon Nutmeg Filling:
1 cup dark brown sugar, packed
3 tablespoon ground cinnamon
½ teaspoon ground nutmeg
¼ cup butter
Eggnog Cream Cheese Icing:
½ cup unsalted butter, room temperature
1 (8 oz) package of cream cheese, softened to room temperature
2 cups powdered sugar
1 teaspoon pure rum extract
¼ teaspoon ground cinnamon
¼ teaspoon freshly ground nutmeg
⅛ teaspoon salt
2-4 tablespoon Eggnog
Instructions
For the Eggnog Dough:
In a medium heat-proof bowl, heat the Eggnog in the microwave until warm, about 50-60 seconds. It should be around 110-115˚F. If you don't have a thermometer, test it out by sticking your finger inside. The Eggnog should be warm enough for you to hold your finger inside comfortably. It should not be too hot, if it is, let it sit for 5 minutes to cool.
Sprinkle the yeast and ½ teaspoon of sugar into the warmed Eggnog, do not stir. Allow to sit for about 5-10 minutes or until frothy. If the yeast doesn't foam up, it is either dead or the eggnog is too hot, which means you'll have to start over.
Add melted butter, rum extract and eggs to the eggnog and yeast mixture and whisk to combine. Set aside.
In a stand mixer bowl fitted with the dough hook attachment, add 4 cups of flour, remaining ½ cup sugar, salt and nutmeg. Mix on low to combine. Alternatively: add the dry ingredients to a large mixing bowl and whisk to combine.
Pour in liquid mixture and mix on low until just combined, about 30 seconds. Increase speed to medium-low "2 on a kitchenaid mixer" and knead dough until it's smooth, elastic and pulls away from the sides of the bowl, about 7-10 minutes. Or you can mix the dough with a wooden spoon, then transfer it to a lightly floured surface and knead by hand for about 7 to 10 minutes until dough is smooth. If the dough is too sticky after 5 minutes, add more flour 1 tablespoon at a time until dough is smooth.
Lightly oil a separate large bowl with olive oil or cooking spray, place dough inside and turn to cover both sides. Loosely cover with plastic wrap and let it rest in a warm place for 1 to 1 and ½ hours, or until dough has doubled in size.
For the Cinnamon Nutmeg Filling:
In a small heat-proof bowl, microwave the butter for about 20-30 seconds until it's super soft. Set aside.
In a separate bowl, add brown sugar, cinnamon and nutmeg and stir with a fork to combine. Set aside until ready to use.
Assembly of the Eggnog Cinnamon Rolls:
Lightly grease a 9x13 inch baking dish with cooking spray or softened butter and place a piece of parchment on the bottom. Set aside.
Once dough has doubled in size, gently punch it down and turn onto a floured work surface.
Using a rolling pin, roll out dough into a 10x12-inch rectangle. Use a small angled spatula or a butter knife to brush softened butter over the dough. Sprinkle cinnamon mixture over the top, leaving about 1 and ½ inches of the border uncovered. Lightly press mixture into the dough.
Starting on the long side, roll the dough into a tight log and pinch the seams to seal. Slice the log into either 6 jumbo rolls, 8 medium rolls, or 12 small rolls and place in prepared baking dish.
Lightly cover with a damp towel or plastic wrap and let rise for 30 minutes to 1 hour, until doubled in size. While rolls are rising, preheat oven to 350F (180C).
Once rolls have doubled in size, bake in preheated oven for 25-30 minutes, or until lightly golden. Meanwhile, prepare the icing.
For the Eggnog Cream Cheese Icing:
In a medium mixing bowl using a handheld mixer, beat beat butter and cream cheese until light and fluffy, 3-5 minutes.
Add powdered sugar and mix on low until combined. Add rum extract, cinnamon, nutmeg and salt and beat until combined and smooth. Mix in 2-4 tablespoons of eggnog. You can add more, if desired!
Remove the rolls from the oven and immediately spread half of the creamy icing on top so the glaze can melt into the rolls. Allow rolls to cool for about 10-15 minutes, then spread remaining icing on top. Serve warm.
Notes
It is super important that your flour is measured CORRECTLY! You don't want to scoop out the flour with your measuring cup. Instead, use a flour scoop or spoon to scoop and sprinkle the flour into your measuring cup. Fill the flour over the top of the measuring cup, then use the back of a butter knife to scrape off the excess flour.
The frosting recipe makes a lot, so it can easily be halved if you want less.
Recommended Products
As an Amazon Associate and member of other affiliate programs, I earn from qualifying purchases.
BON APPÉTIT!
Love, Dedra ❤
DID YOU MAKE A RECIPE?
Tag @queensleeappetit and use the hashtag #queensleeappetit so I can see all of the Queenslee Appétit recipes you've made!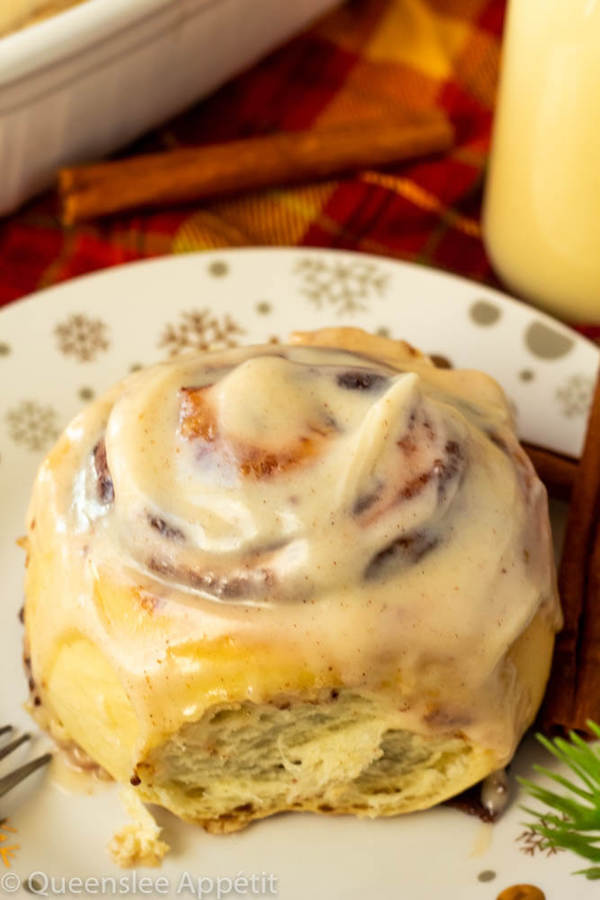 ©QUEENSLEE APPÉTIT. All images & content are copyright protected. Please do not use my images without prior permission. If you want to republish this recipe, please re-write the recipe in your own words, or link back to this post for the recipe.
This post may contain affiliate links. Please see my full disclosure policy for details.