Enjoy thick slices of fluffy Eggnog French Toast — a perfect breakfast for Christmas morning. Serve with a dust of powdered sugar, a drizzle of pure maple syrup and a dollop of Whipped Cranberry Honey Butter!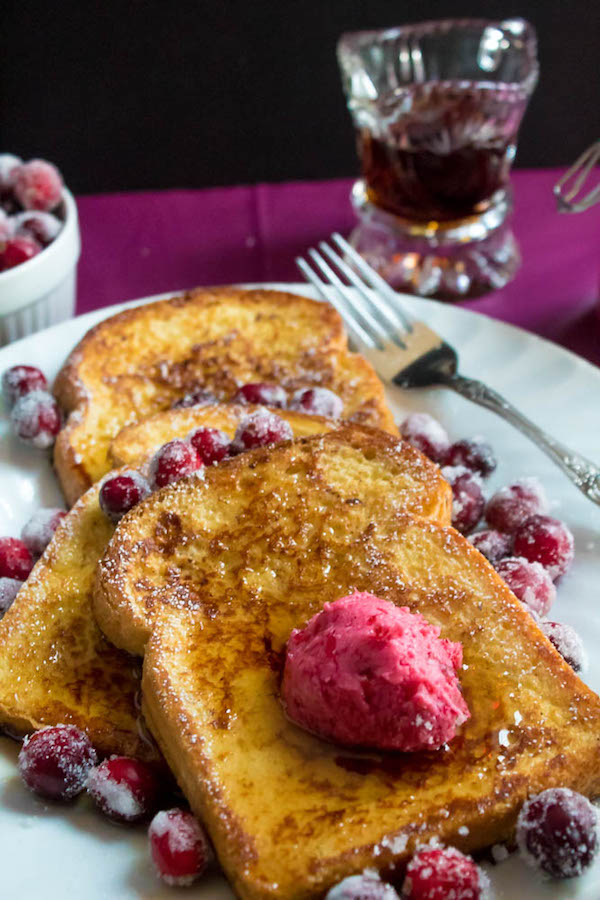 This Eggnog French Toast is the perfect breakfast for the holidays. Whether you're a lover of Eggnog or not, I promise you'll love this simple and festive breakfast. I myself can't stand to drink Eggnog straight up, but in a dessert? Perfection.
Eggnog to me is like buttermilk, it's absolutely dreadful on its own, but it does AMAZING things as an ingredient (for instance, this Eggnog Cheesecake — to DIE for!)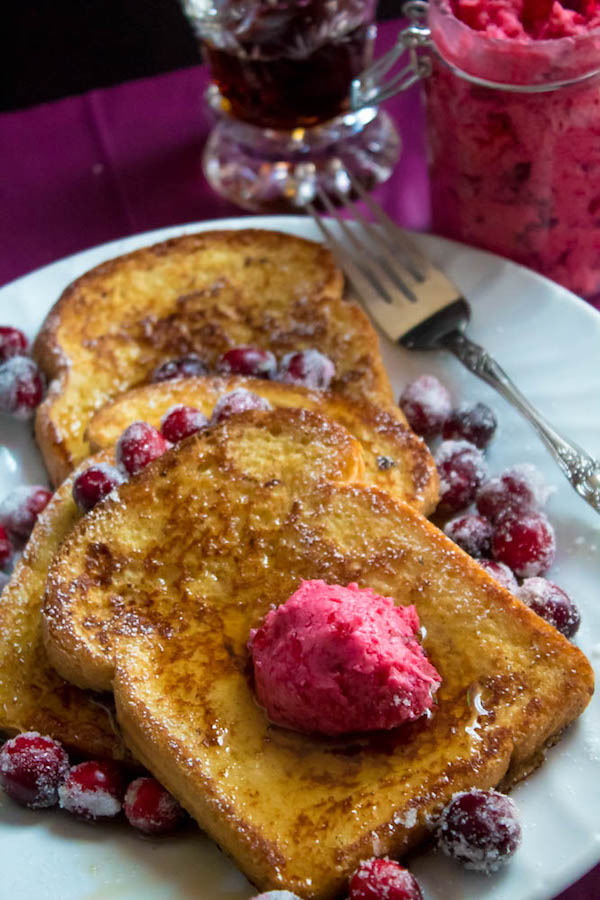 French toast has always been my favourite breakfast growing up. My grandma didn't really know how to make it so I had many failed attempts at making it myself (soggy omelette bread). And if I didn't feel like making it from scratch, I would just have store bought french toast sticks, or that amazing french toast cereal they had the nerve to discontinue.
It's been a while since I've made french toast at home, so I decided to try it out again. I recently tested my french toast making skills by making this Pumpkin French Toast, and I succeeded! That french toast was themed for fall/Thanksgiving, and with it being the holidays, it only made sense to make a french toast featuring the most popular holiday drink.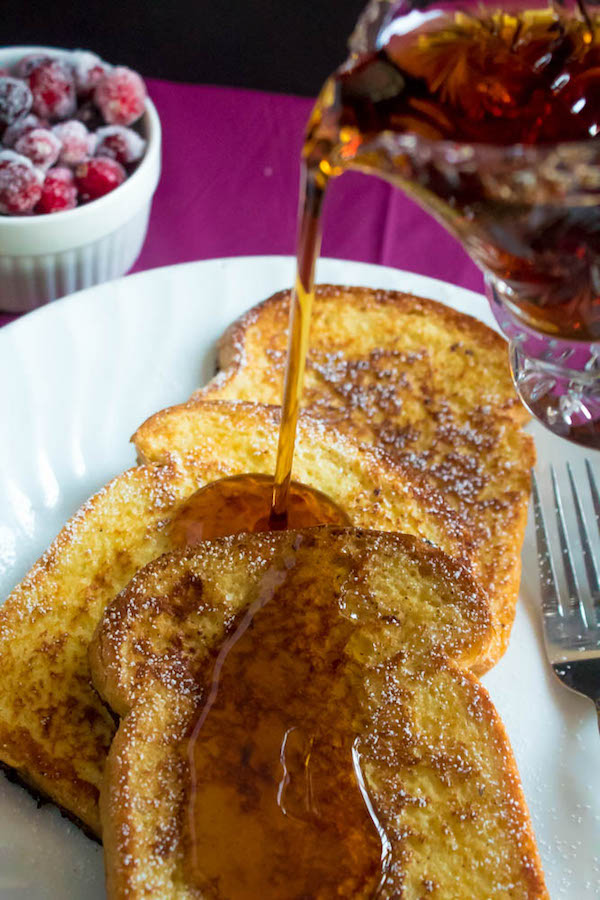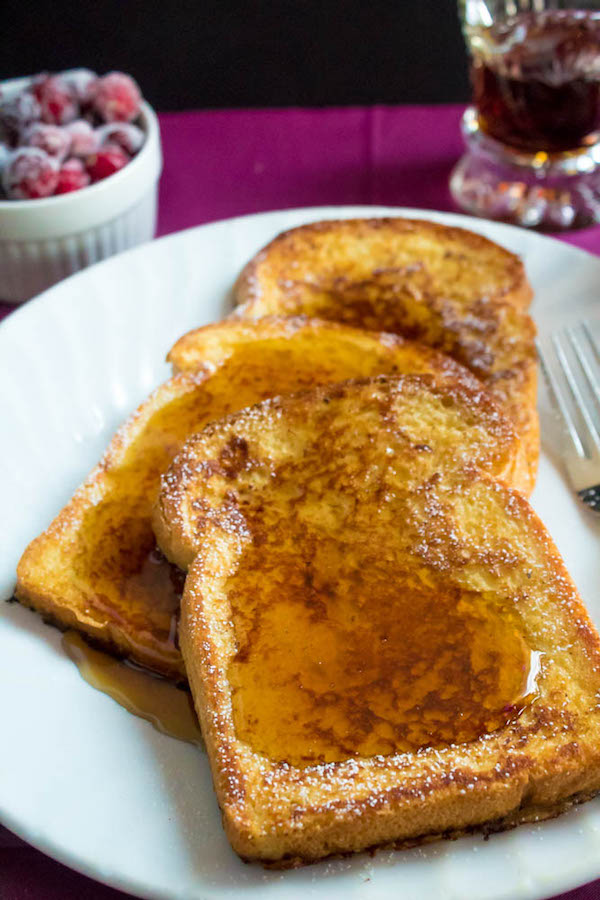 Basic french toast is extremely easy to make, and this holiday version is no different. It only requires 7 simple ingredients! Eggs, Eggnog, salt, rum extract (to boost the noggy flavour), cinnamon, nutmeg, and bread.
You can use any type of bread you like when making french toast — challah, french bread, croissants, sandwich bread, Texas toast, whole wheat etc. My favourite french toast bread is Texas Toast, but it was sold out at the grocery store so I settled for regular sandwich bread. Whatever you use, I guarantee this french toast will still taste like perfection!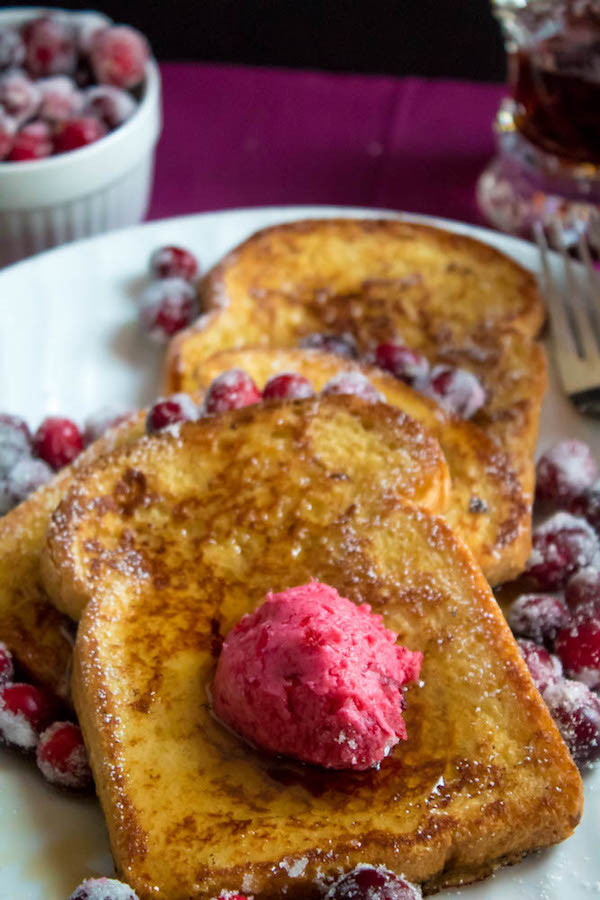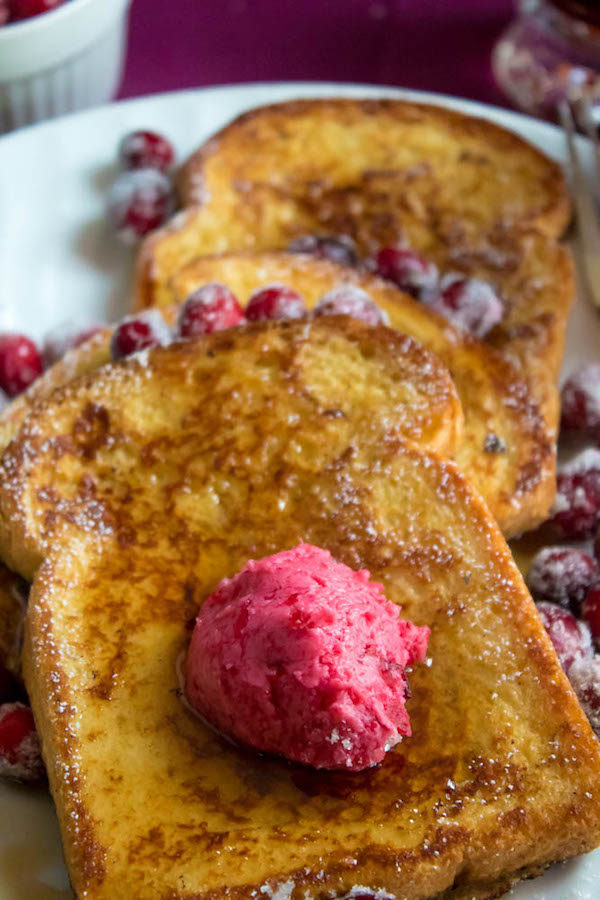 To top the french toast off, dust with powdered sugar, drizzle with maple syrup, and dollop on a generous amount of Whipped Cranberry Honey Butter! You heard me.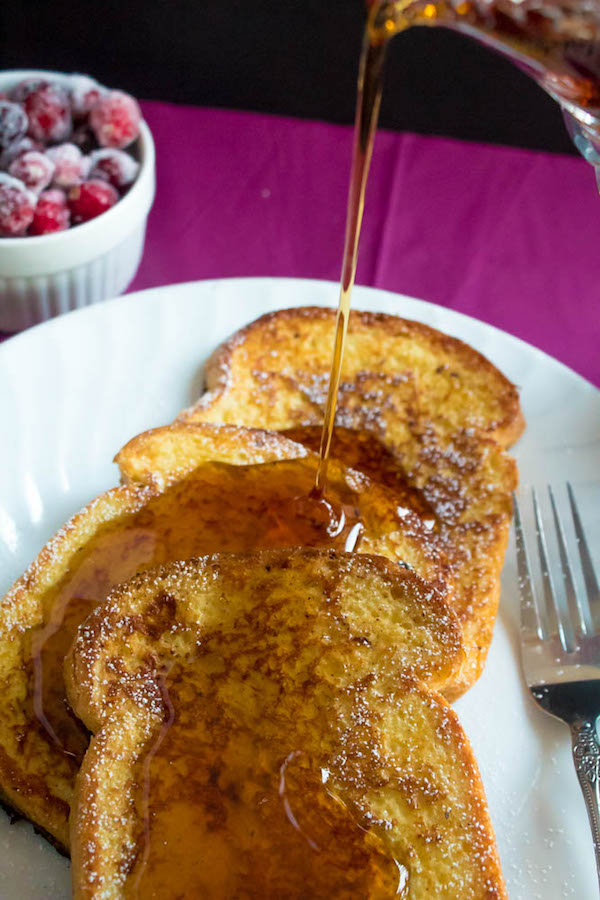 Eggnog and cranberry make such a perfect flavour combination. The sweet and tangy cranberry butter paired with the sweet eggnog french toast is too good to be true! I also threw some sugared cranberries on top to give this breakfast a more festive appearance.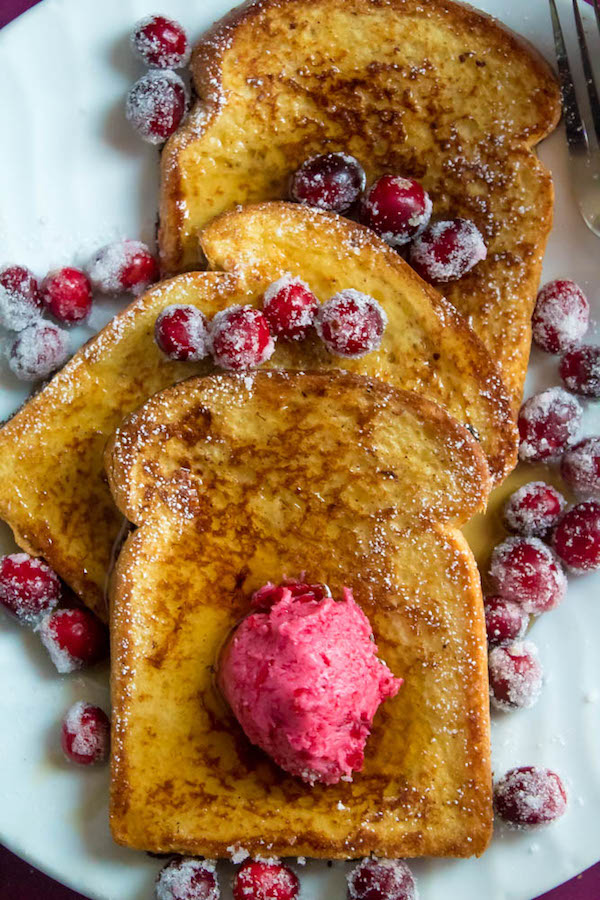 This eggnog french toast will surely get you in the Holiday Spirit. Soft, fluffy and golden french toast that tastes just like eggnog! Topped with a mouth-watering cranberry butter for the perfect holiday flavour. It's like Christmas in breakfast form! Enjoy!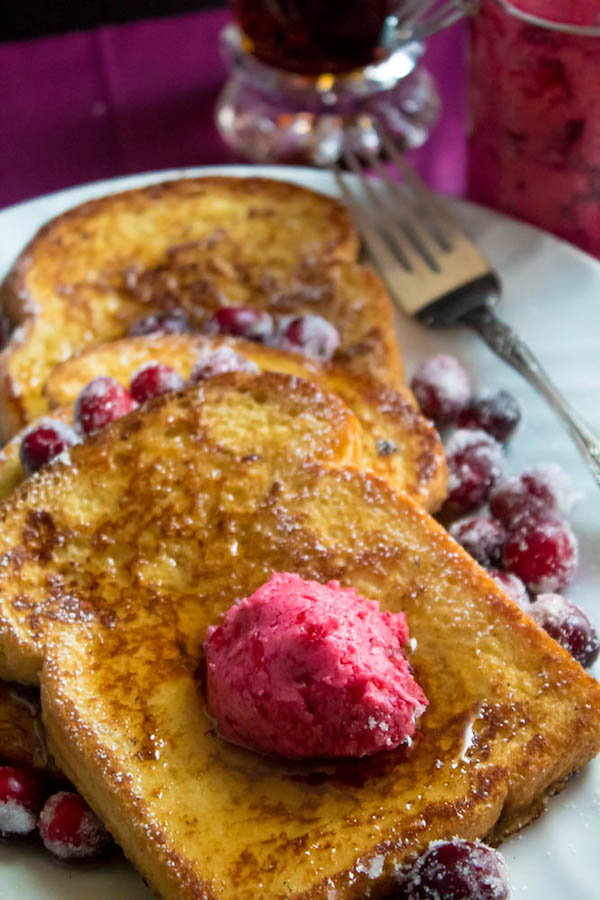 >>PIN ME FOR LATER<<

Follow Queenslee Appétit
Pinterest | Instagram | Facebook | Twitter |
Did you make a recipe? I'd love to see how it turned out! Follow me on Instagram and use the hashtag #queensleeappetit so I can see all of the Queenslee Appétit recipes you've made!
Let's get baking!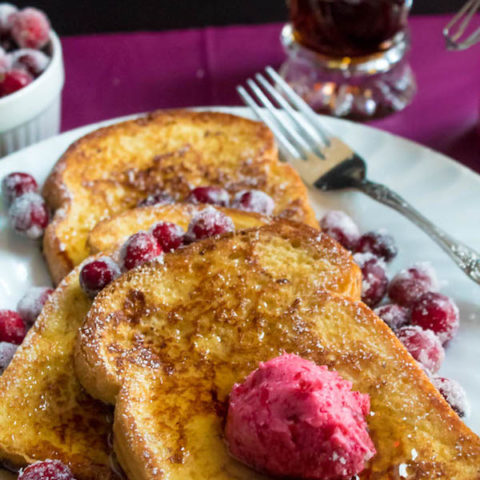 Eggnog French Toast with Whipped Cranberry Honey Butter
Enjoy thick slices of fluffy Eggnog French Toast — a perfect breakfast for Christmas morning. Serve with a dust of powdered sugar, a drizzle of pure maple syrup and a dollop of Whipped Cranberry Honey Butter!
Ingredients
Eggnog French Toast:
4 large eggs, beaten
1 and 1/2 cups Eggnog
Pinch of salt
1 tsp pure rum extract
1/2 tsp ground cinnamon
1/2 tsp ground nutmeg
9 - 12 slices sandwich bread (such as Texas toast, challah, or any bread of your choice)
Butter, for greasing the pan
Additional:
Powdered sugar, for dusting
Maple syrup, for drizzling
Instructions
Preheat a griddle or a skillet over medium-low heat.
In a shallow dish, add eggs, Eggnog, salt, rum extract, cinnamon and nutmeg and whisk until combined and smooth.
Use about a tablespoon of butter to grease the pan. Place bread slices (only dip the amount of slices that can fit in your pan) into the egg mixture, then flip it over to coat both sides.
Transfer slices to pan and cook until golden brown, about 2-3 minutes. Flip bread and cook on the other side for another 2-3 minutes, or until golden brown. Transfer to a serving plate. Repeat with remaining slices, re-greasing the pan as necessary.
Serve warm with a dust of powdered sugar, maple syrup and whipped cranberry butter. Enjoy!
Notes
- This recipe makes a lot of french toast. If you don't need that much, the recipe can easily be cut in half to make less.

- Store any leftovers in an airtight container in the refrigerator.

- To reheat French Toast: Preheat oven to 375F. Line a baking sheet with foil paper or a silpat mat and place the slices on the sheet. Heat in the oven for 8-10 minutes. Heating the french toast in the oven prevents it from getting soggy and helps it stay crispy. This can also be done in a toaster oven.



©QUEENSLEE APPÉTIT. All images & content are copyright protected. Please do not use my images without prior permission. If you want to republish this recipe, please re-write the recipe in your own words, or link back to this post for the recipe.
Bon Appétit!
Love, Dedra ❤️