Everyone needs a go-to French Toast recipe, welcome to yours! This is the best french toast I've ever had! Thick slices of brioche bread dipped in eggs, milk, cinnamon etc. and cooked for a few minutes until crispy and golden. Served with your favourite toppings (syrup is a MUST!), this is the perfect way to start your mornings!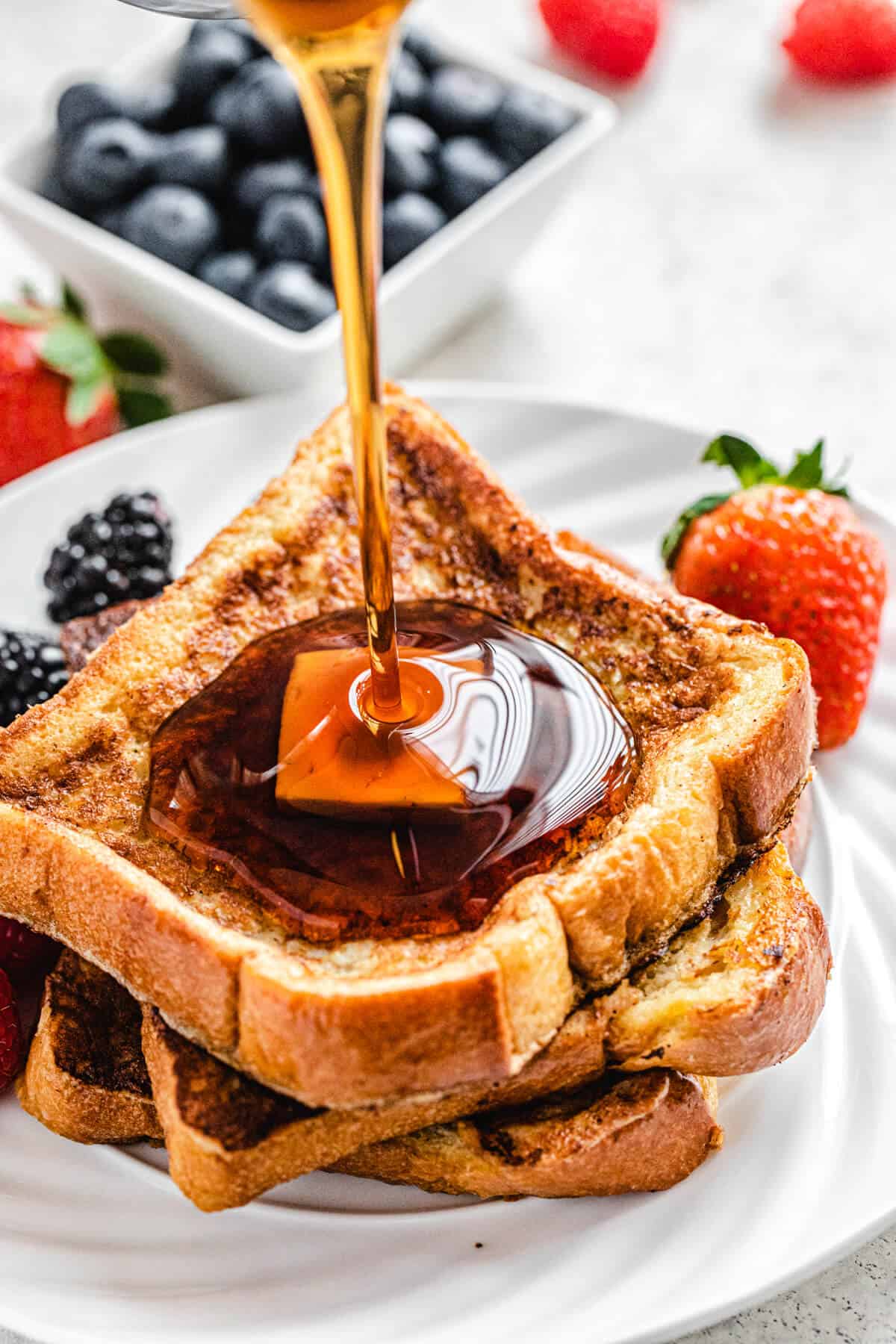 This post may contain affiliate links. As an Amazon Associate I earn from qualifying purchases. Please see my full disclosure policy for details.
This recipe has been sitting in my drafts for 4 years now. Yes, even before I started this blog, I was trying to perfect my own french toast recipe. Mainly because I was tired of eating cereal and frozen waffles every morning.
When I first developed this recipe, it was far different. I was combining 2 eggs with 2 cups of milk and a tablespoon of sugar. Yeah, not that great. And I had the nerve to wonder why my french toast was always so soggy.
This time we up the eggs, cut back on the milk, substitute some of the milk for cream, and add more sugar and flavouring. The result is french toast greatness!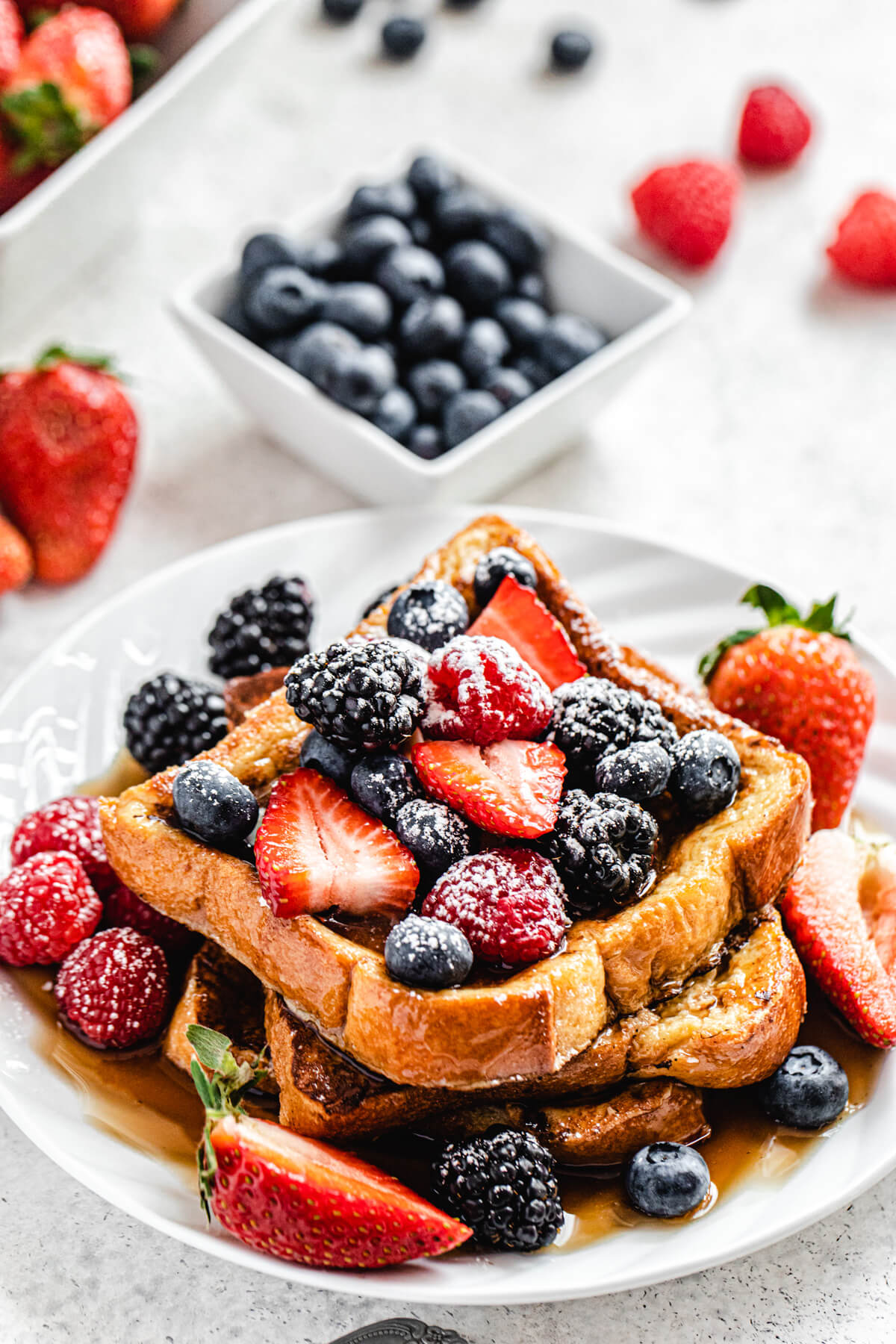 What is The Best Bread for French Toast?
I've been making french toast for years now, and I've used all types of bread. The one bread I don't recommend you use, is that basic sandwich bread. You'll end up with some soggy french toast, which you definitely don't want.
Here's the other types of bread I have used and recommend:
Brioche: This is now my number 1 choice! I just love Brioche bread. It's so soft, fluffy, thick and buttery and it soaks up the egg mixture perfectly without making the bread super soggy. This is definitely the BEST option for french toast!
French bread: This has a more dense texture than the brioche, so it doesn't soak up the egg mixture as quickly. If using french bread, you won't be able to just dip and cook. Let the bread sit in the egg for a few minutes on each side to ensure it soaks thoroughly.

Challah: It isn't as buttery as brioche, but it is thicker and denser, so it makes less french toast.

Texas toast: I used to use this bread for my older french toast recipes. It's definitely a good simple bread to use, but it's become a last option for me now.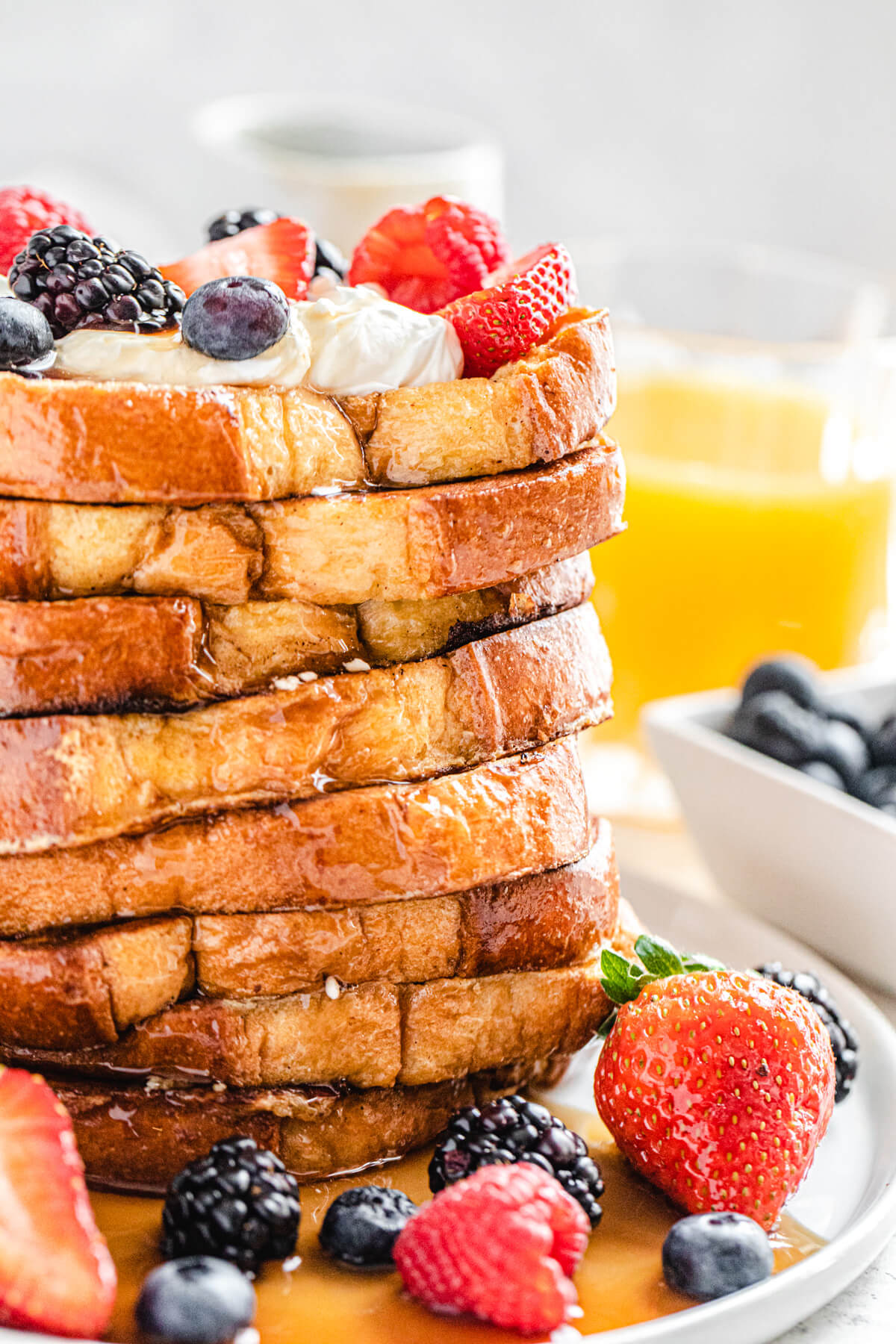 Ingredients for The Best French Toast
Eggs: For an extra custardy taste, use 5 large eggs.

Milk/Heavy Cream: Milk makes the egg mixture more watery, while the heavy cream created a thicker mixture. However, all heavy cream takes longer for the bread to soak up, and leaves a greasy mouth feel. But when we combine the two, perfection!
Granulated Sugar/Brown Sugar: I used a combination of brown and white sugar. The white sugar adds sweetness, while the brown sugar further enhances the flavours! I added 2 tablespoons of each, because sweeter is better, but you can cut it down to a tablespoon each if you want.

Vanilla/Cinnamon/Nutmeg: Flavour, flavour, flavour!
Salt: This cuts back a bit of the sweetness.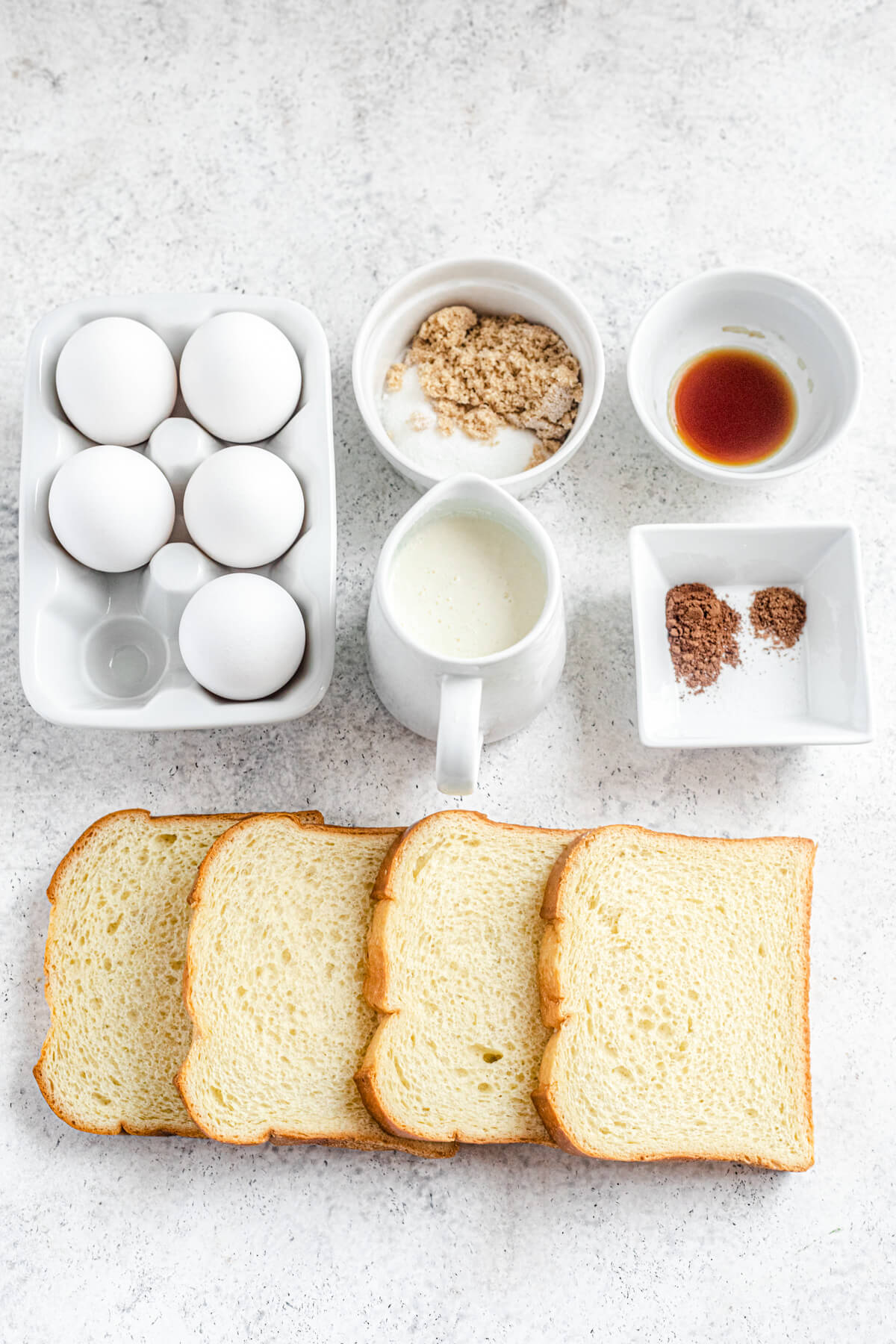 How to Make French Toast
French toast is super simple to make. Let's start with the sweet egg mixture!
Whisk the Eggs: In a large mixing bowl whisk the eggs for 1 minute.

Pour in the Milk/Cream: Continue whisking until combined.

Add both sugars: along with the vanilla and spices. Give it one final whisk until everything's combined.
From there you're gonna pour the mixture into a shallow dish, preferably a 9x13-inch dish. The amount of slices you dip depends on how many can fit inside your pan. I could only fit 2 slices in my pan, so I'd only dip 2 slices at a time.

Cooking Tips
Preheat: your pan over medium heat. Don't even add the french toast until the pan is completely heated. I also recommend using a nonstick pan to make things easier.

Do not turn the heat up: lower is better. If the heat is too high, the outside will cook to fast and end up burning, while the inside won't have a chance to cook at all. Leaving you with soggy burnt/uncooked french toast. Yuck!
Grease: the pan with some butter.

Once the butter has melted, the pan should be hot enough for you to get started.

Cook several slices: for 2-3 minutes on each side. Feel free to lower the heat a bit if the pan gets too hot.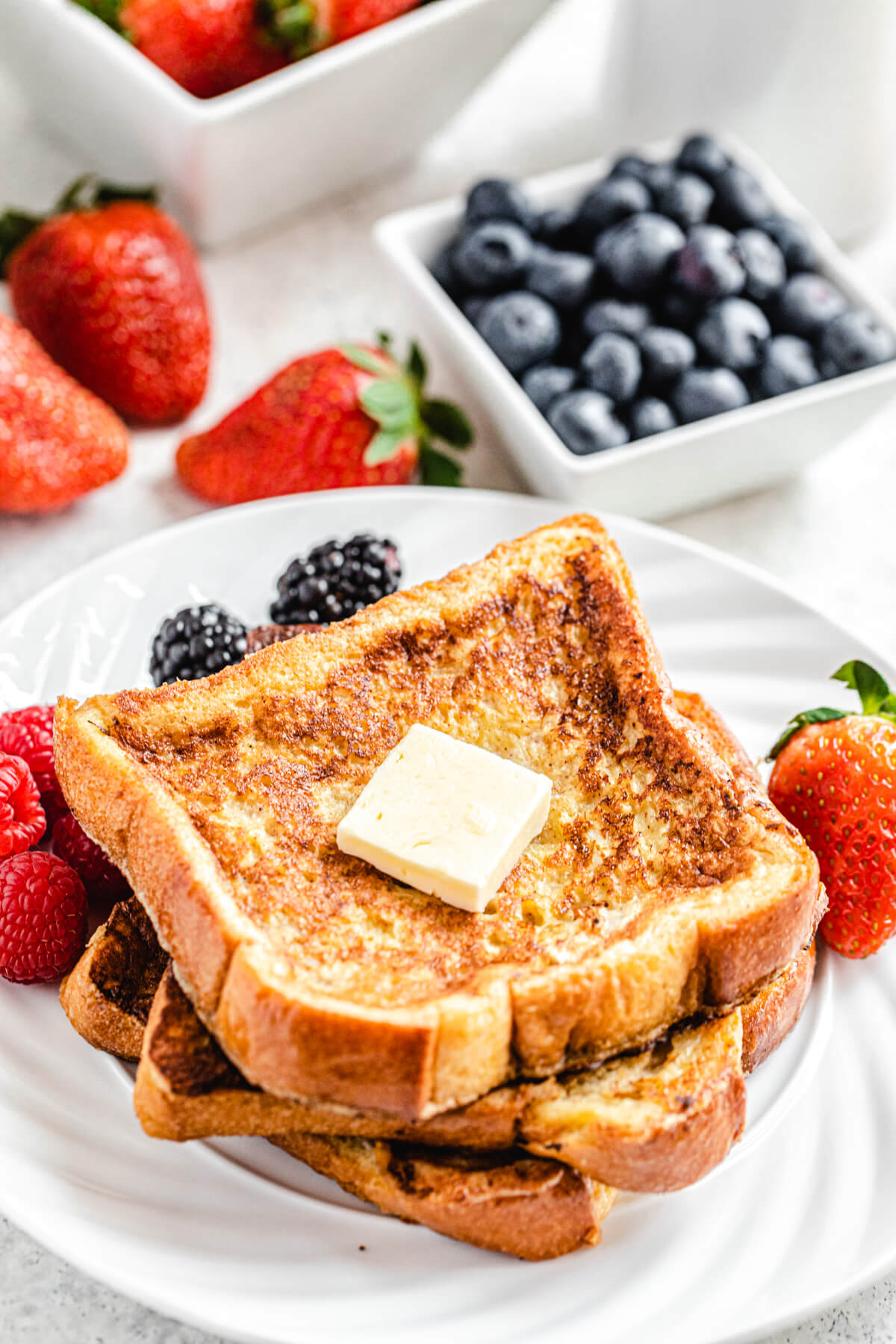 Best French Toast Toppings
When you're ready to eat your french toast, the first thing you definitely reach for is the maple syrup, right? Well to be honest, that's all you really need, but there's so many more delicious options (to pair with the maple syrup. I mean you gotta have maple syrup!).
Here's all the toppings I tried my french toast with:
Butter
A little square of butter on top just adds so much flavour! My french toast was cold because I had to take photos, but when you add the butter while the french toast is warm, it'll melt right in!
Powdered Sugar
A simple dust of powdered sugar adds a bit more sweetness to your toast and just makes everything prettier!
Fresh Fruit
I LOVE pairing sweet, buttery, crisp french toast with fresh fruit! You don't have to use every berry ever, like I did in these photos. Just one kind will do!
Dust some powdered sugar on top of the berries, and drench with syrup (mandatory).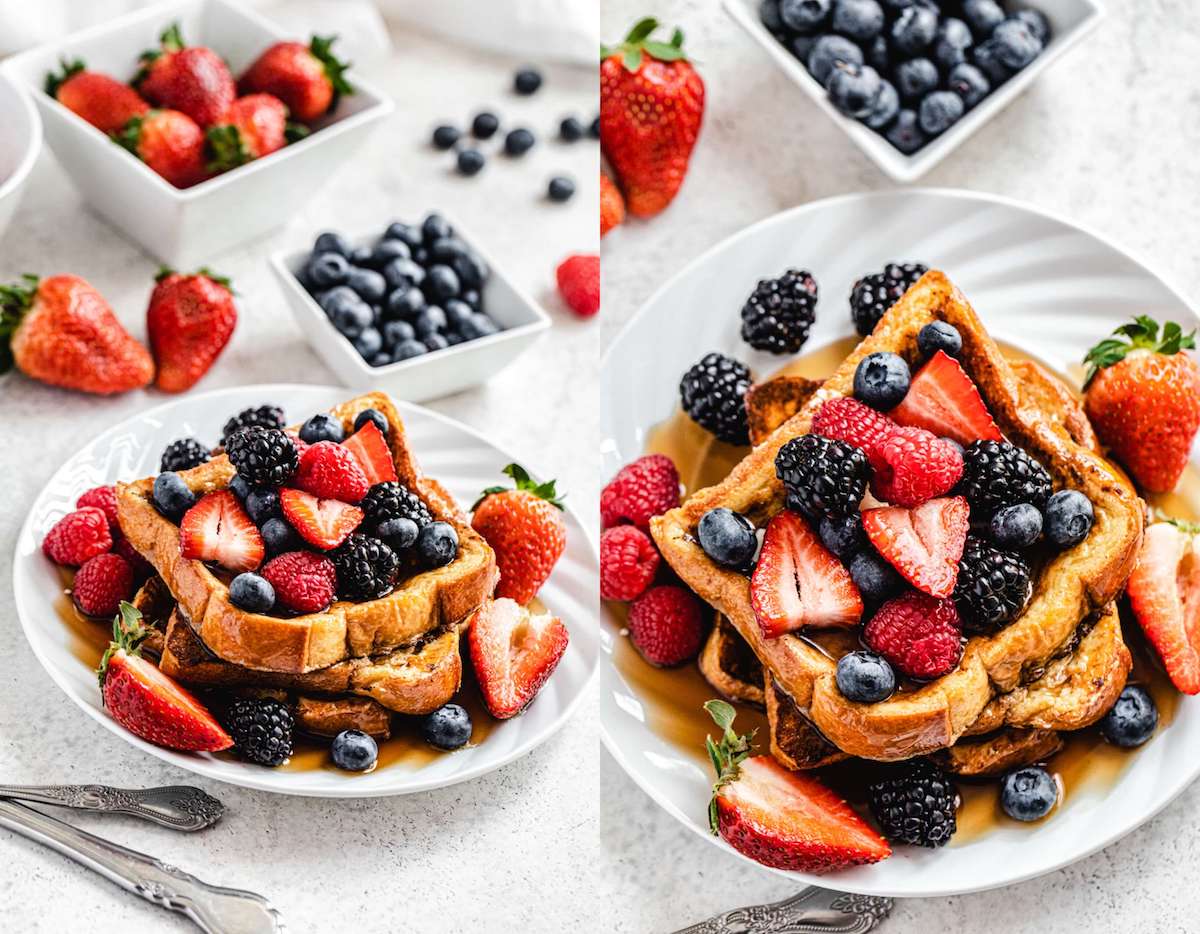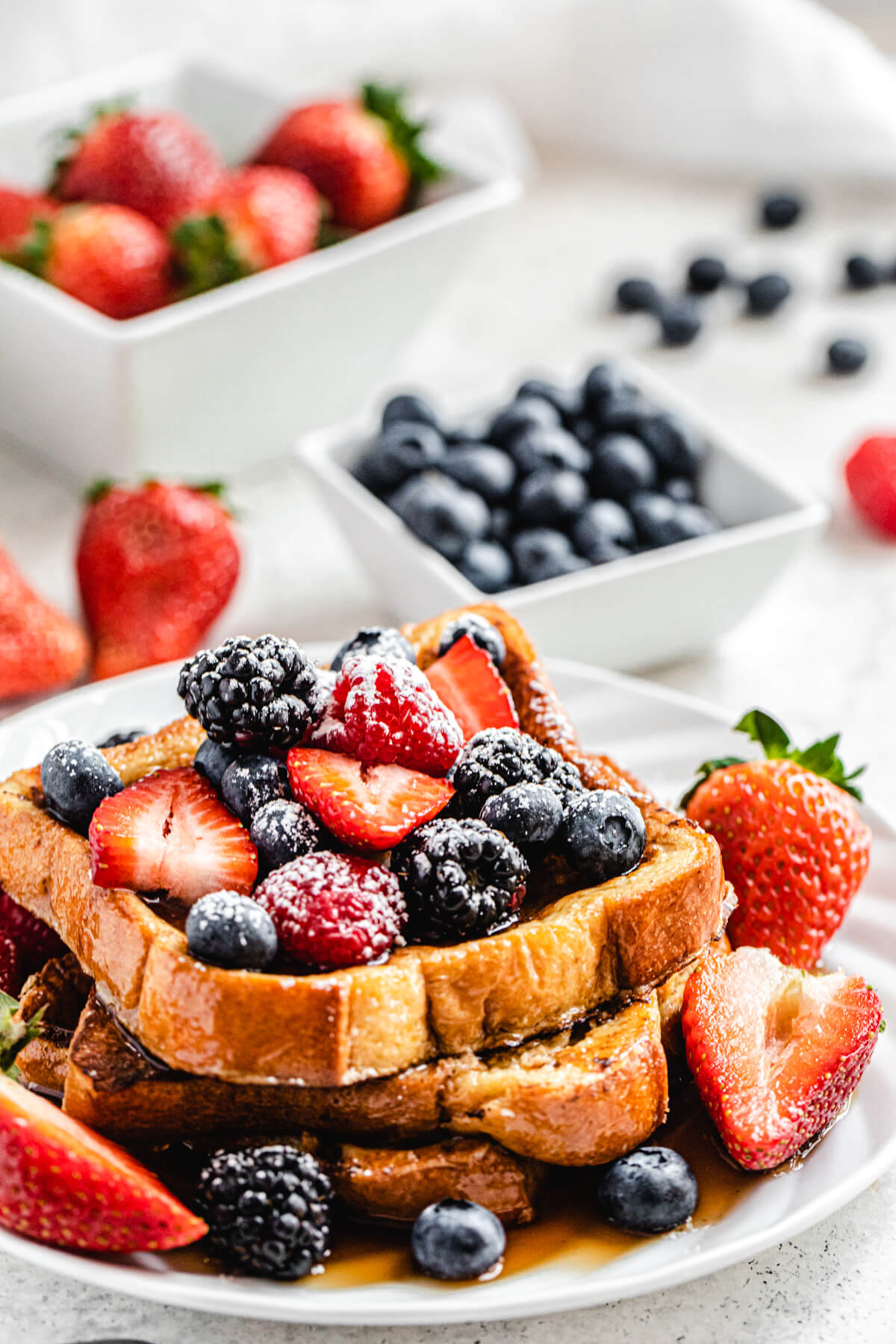 Whipped Cream
Before topping the french toast with fruit, you could add a dollop of whipped cream! And if you want an extra sweet dessert breakfast, add a scoop of vanilla ice cream! So delicious!
Macerated Strawberries
Instead of topping the toast with a blend of different berries, you can just top it with strawberries. Macerated strawberries, to be exact. But what are macerated strawberries?
They're strawberries that you toss in sugar and let sit for a while so the sugar melts and creates a yummy syrup! Macerated strawberries are definitely my second favourite french toast topping (next to the plain old butter and syrup)!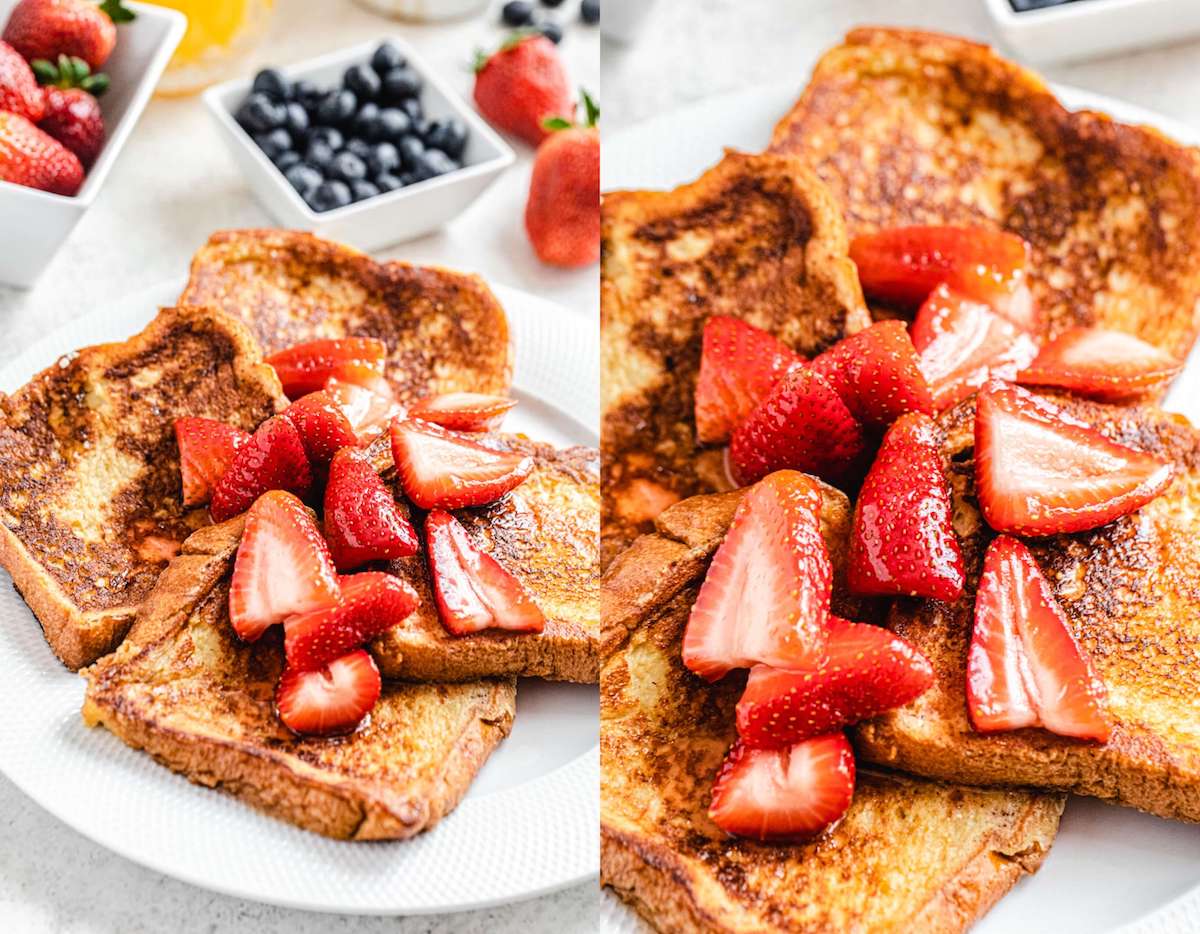 This golden french toast is my new favourite! It's simple to make and doesn't take much effort. Whether you enjoy it plain, drenched in syrup or topped with one of the many toppings listed above — there's absolutely no doubt that this is one of the best french toasts you'll ever have!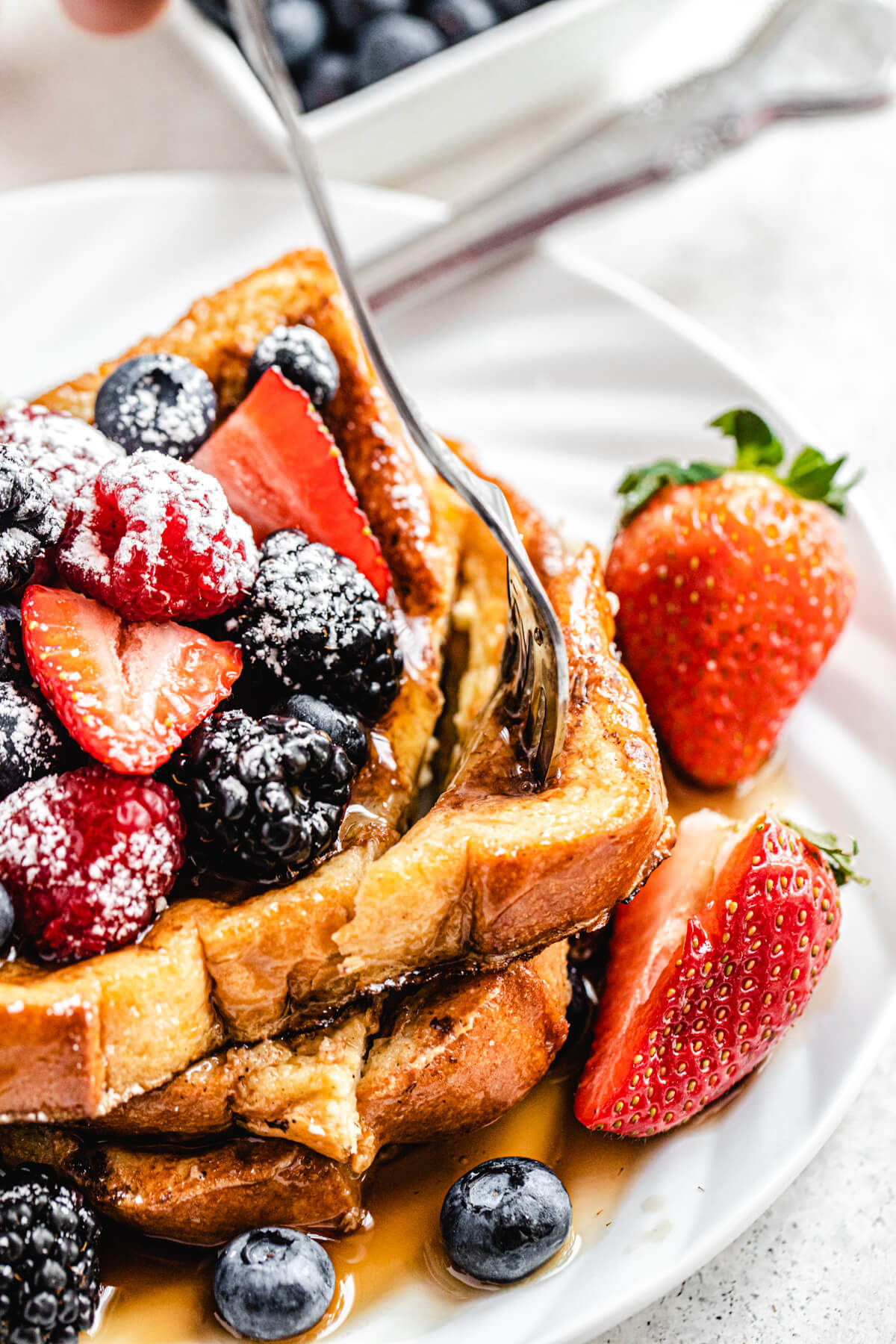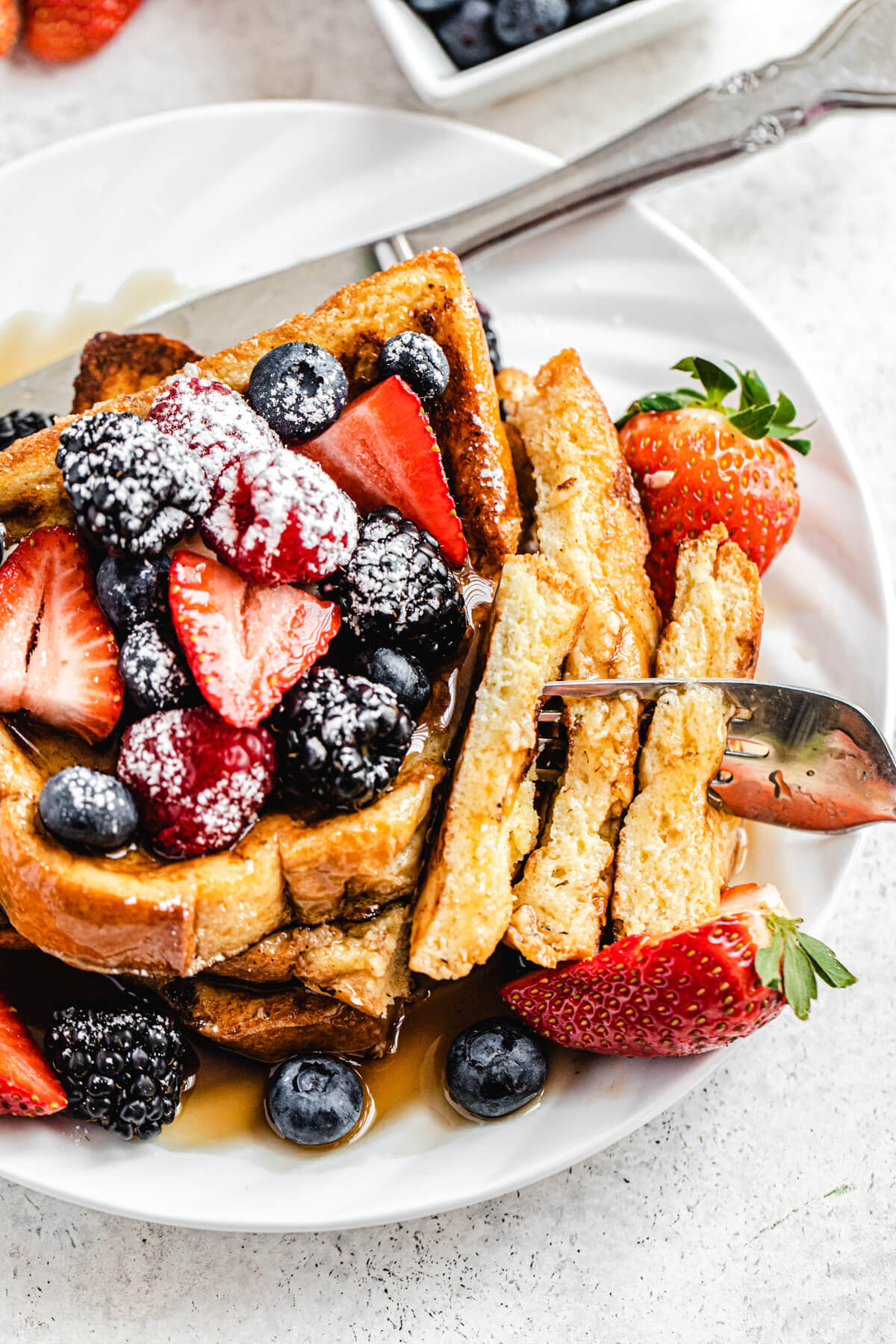 More French Toast:
SHARE YOUR PICS!
Follow me on Instagram and tag #queensleeappetit so I can see and share all of your Queenslee Appétit creations in my stories and the QA Newsletter!
>>PIN ME FOR LATER<<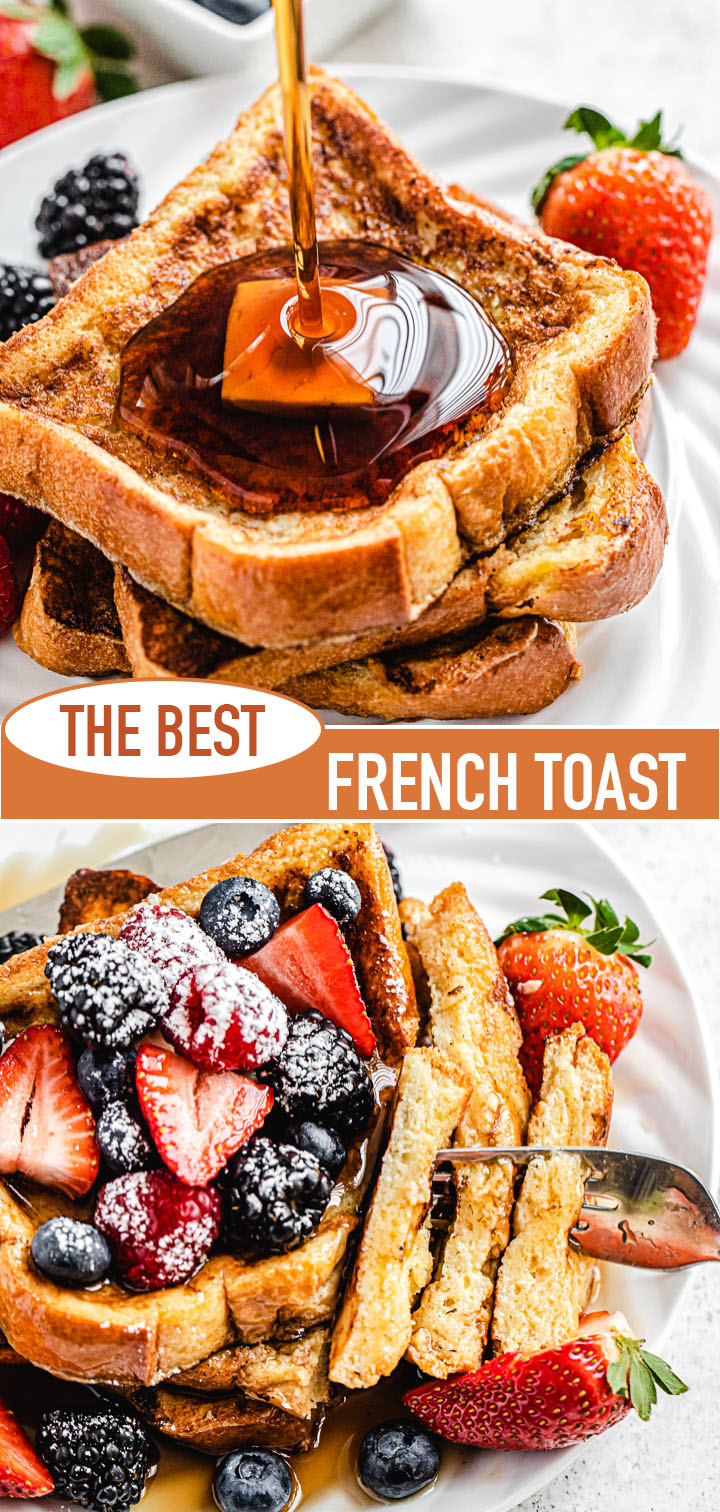 FOLLOW QUEENSLEE APPÉTIT
Like what you see? Make sure you're following Queenslee Appétit for more tasty recipes!
Pinterest | Instagram | Facebook |
Have any questions about the recipe? Contact me here, and I'll be happy to help!
SWEETEN UP YOUR INBOX!
SUBSCRIBE to the Queenslee Appétit Newsletter to recieve new recipe notifications, monthly baking tips, sneak peeks to upcoming recipes, exclusive recipes and more!
Let's get baking!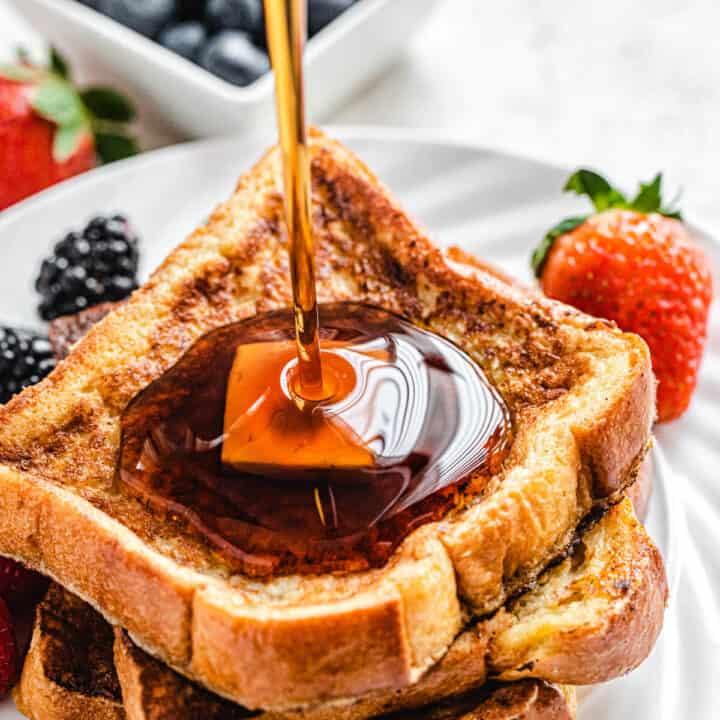 The Best French Toast
Everyone needs a go-to French Toast recipe, welcome to yours! This is the best french toast I've ever had! Thick slices of brioche bread dipped in eggs, milk, cinnamon etc. and cooked for a few minutes until crispy and golden. Served with your favourite toppings (syrup is a MUST!), this is the perfect way to start your mornings!
Ingredients
Macerated Strawberries (optional):
6 strawberries, halved
1 tablespoon granulated sugar
French Toast:
5 large eggs, beaten
½ cup (120ml) whole milk
½ cup (120ml) heavy cream
2 tablespoon (25g) granulated sugar
2 tablespoon (28g) brown sugar, packed
1 teaspoon pure vanilla extract
½ teaspoon ground cinnamon
⅛ teaspoon ground nutmeg
Pinch of salt
15 slices bread (Brioche, Texas toast, french bread, challah, or any bread of your choice)
Butter, for greasing the pan
Optional Toppings:
Powdered sugar, for dusting
Whipped cream
Fresh fruit
Maple Syrup
Instructions
For the Macerated Strawberries:
In a small bowl, toss the strawberries with a tablespoon of sugar. Cover and let it sit in the refrigerator until ready to serve.
For the French Toast:
Preheat a griddle or a skillet over medium heat.
In a mixing bowl, add eggs and whisk for 1 minute.
Pour in milk and cream and whisk to combine. Add both sugars, vanilla, cinnamon, nutmeg and salt and whisk until combined and smooth.
Pour egg mixture into a shallow dish. Use about a tablespoon of butter to grease the pan.
Place bread slices into the egg mixture, then flip it over to coat both sides.
Transfer slices to pan and cook until golden brown, about 2-3 minutes. Flip bread and cook on the other side for another 2-3 minutes.
Transfer to a serving plate. Repeat with remaining slices, re-greasing the pan as necessary.
Serve warm with butter, syrup or listed toppings. Enjoy!
Notes
Serving: The serving size is for the brioche slices I used. If you use any other type of bread, you may end up with less or more slices, depending on how much of the egg mixture your bread soaks up.
Reheat: the french toast in a preheated 350°F oven for 5-7 minutes, turning halfway.
Nutrition Information:
Yield:

15
Serving Size:

1
Amount Per Serving:
Calories:

174
Total Fat:

4g
Saturated Fat:

2g
Trans Fat:

0g
Unsaturated Fat:

2g
Cholesterol:

66mg
Sodium:

196mg
Carbohydrates:

29g
Fiber:

1g
Sugar:

14g
Protein:

5g
BON APPÉTIT!
Love, Dedra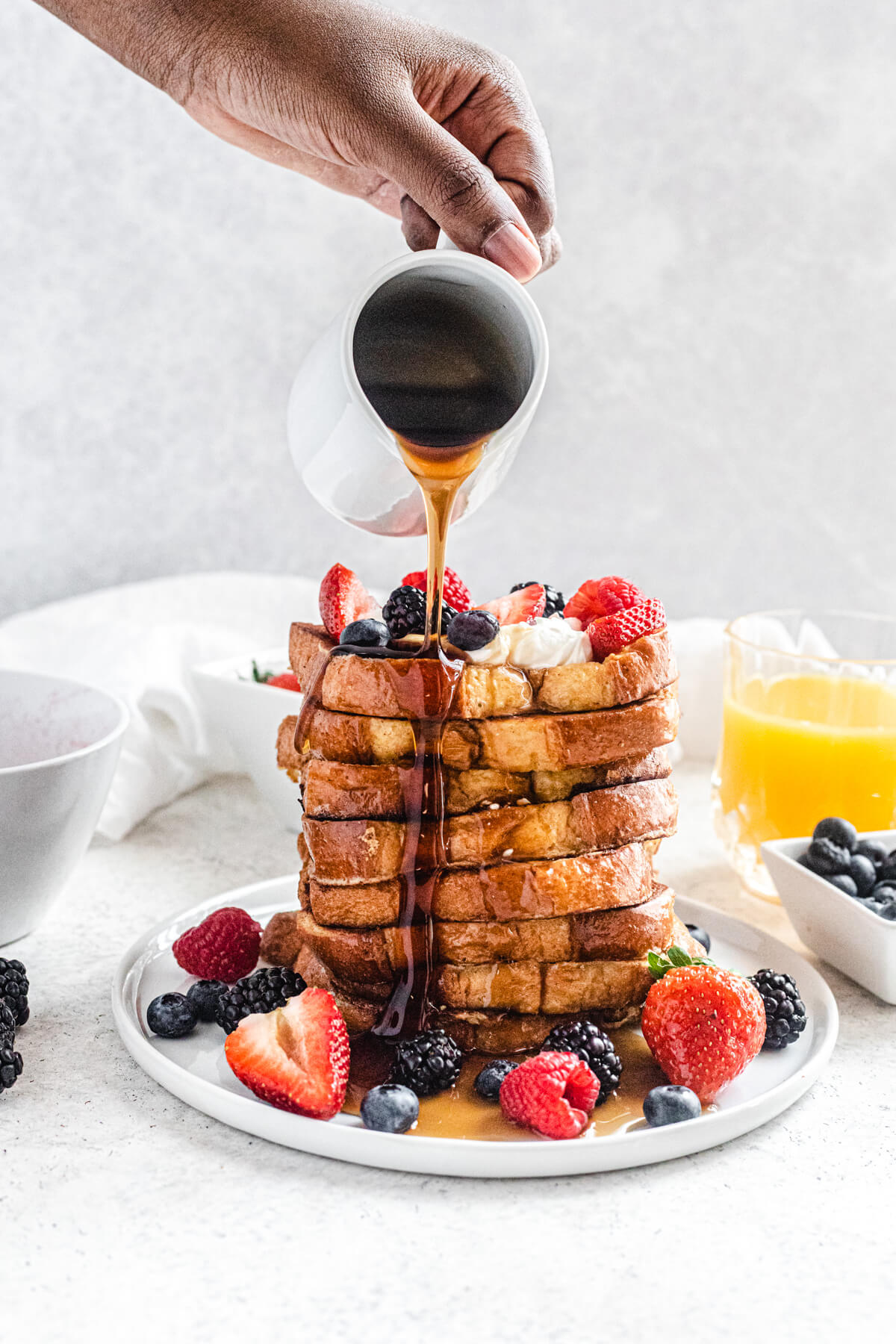 ©QUEENSLEE APPÉTIT. All images & content are copyright protected. Please do not use my images without prior permission. If you want to republish this recipe, please re-write the recipe in your own words, or link back to this post for the recipe.