Pizza Night just got a whole lot better! This Homemade Pizza is topped with a flavourful sauce, two types of cheeses and slices of pepperoni. What makes this classic pepperoni pizza so special? The crust is stuffed with cheese!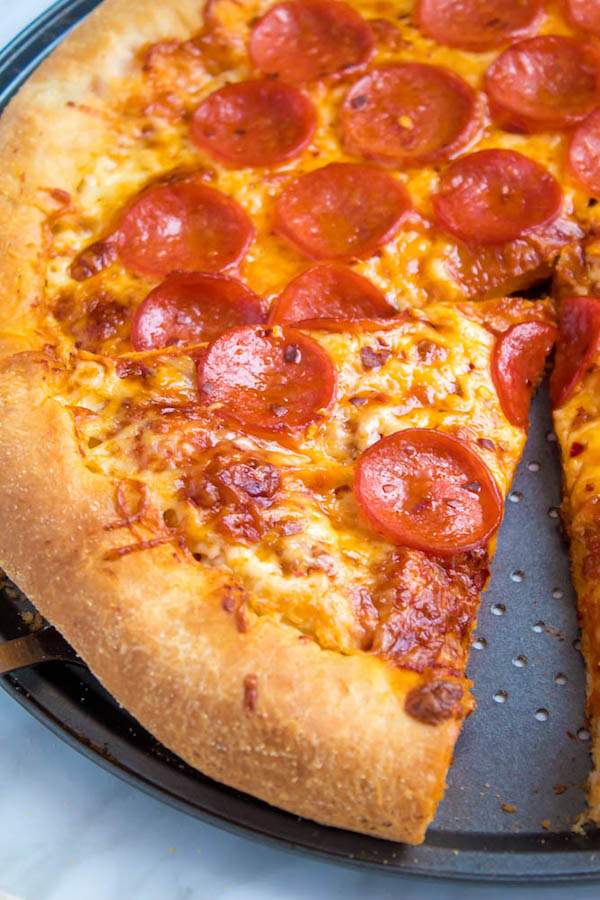 You didn't think I'd share a recipe for perfect pizza dough and perfect pizza sauce and not give you a perfect pizza recipe to go with it, did you? Classic Pepperoni Pizza, the most popular pizza out there. But this isn't a recipe for any ordinary pepperoni pizza — the crust is stuffed with ooey gooey mozzarella!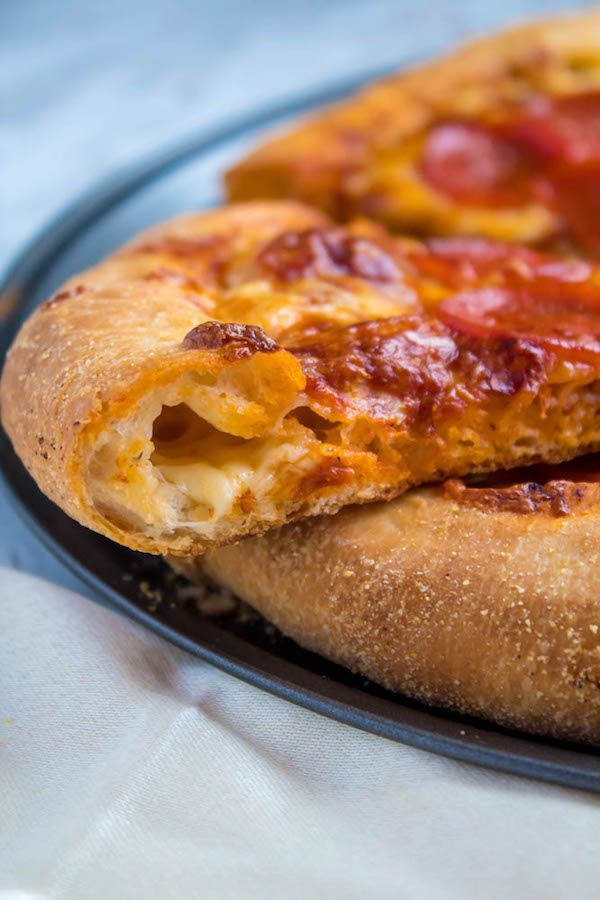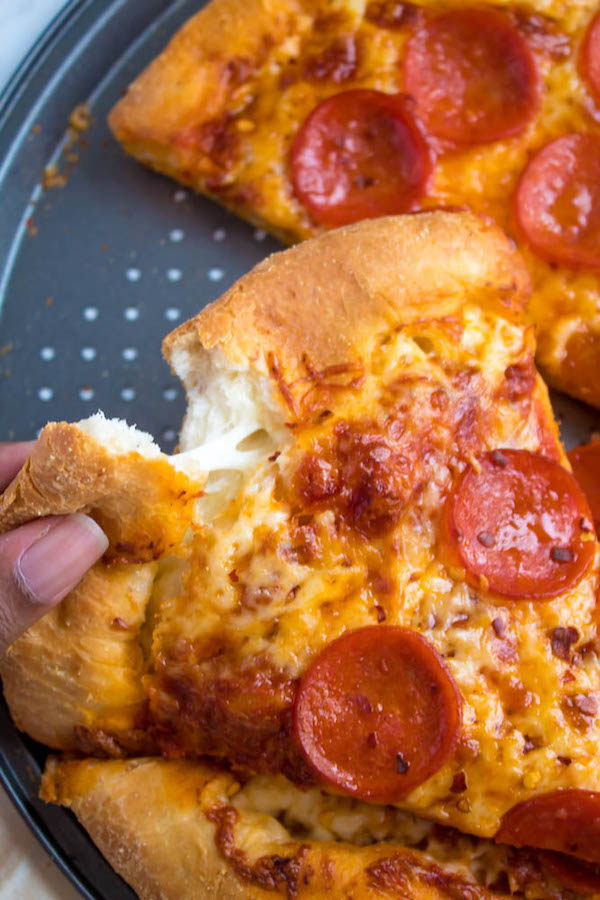 Although this is a pepperoni pizza, the real star of this recipe is the cheese-stuffed crust. This means you can top the pizza with any topping you wan. You can also make a vegetarian version of this pizza and top it with all of your favourite veggies!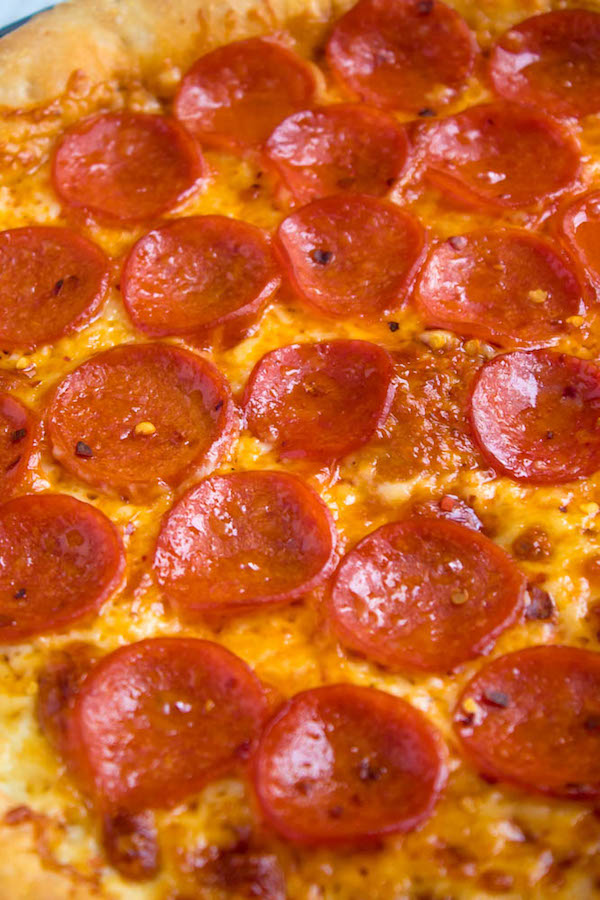 We begin by making the pizza dough. I only recommend using store-bought dough if you have absolutely no time to make it from scratch. Otherwise, please, please, PLEASE make a homemade pizza dough. Trust me, it's a billion times better. I've made an entirely separate post about how to make homemade pizza dough, including step-by-step photos.
When it comes to time, you should know the yeast takes around 5-10 minutes, mixing takes 1 minute, kneading takes 7 minutes, rising takes 1 and ½ hours. Once the dough rises, you divide it, then let it rest for 15 minutes, roll it out and let it rest for another 15 minutes. So all together the crust should take about 2 hours and 18 minutes to make. That may sound like a long time, but you can easily prepare the crust ahead of time and keep it in the refrigerator or store it in the freezer for a few months. This way you already have your dough prepared when you're ready to make your pizza!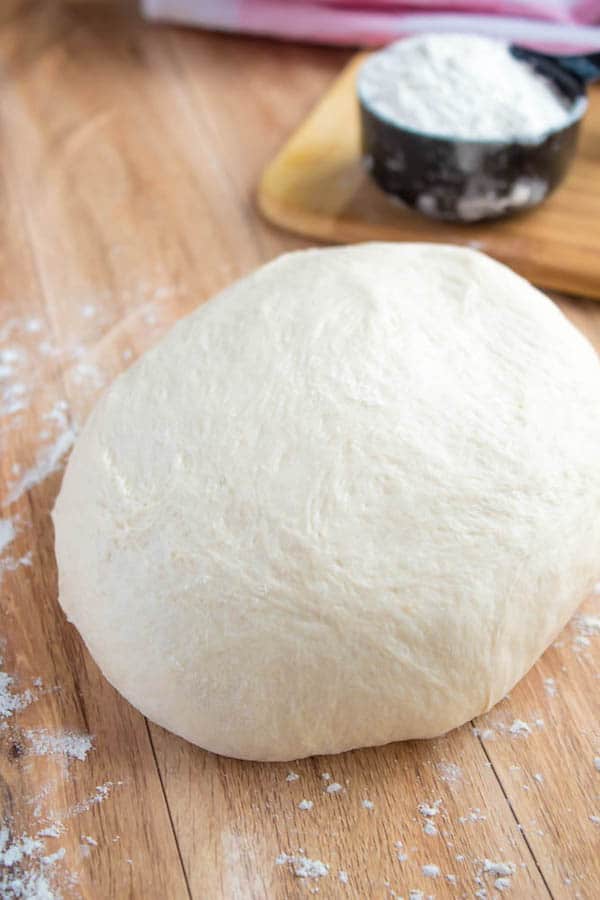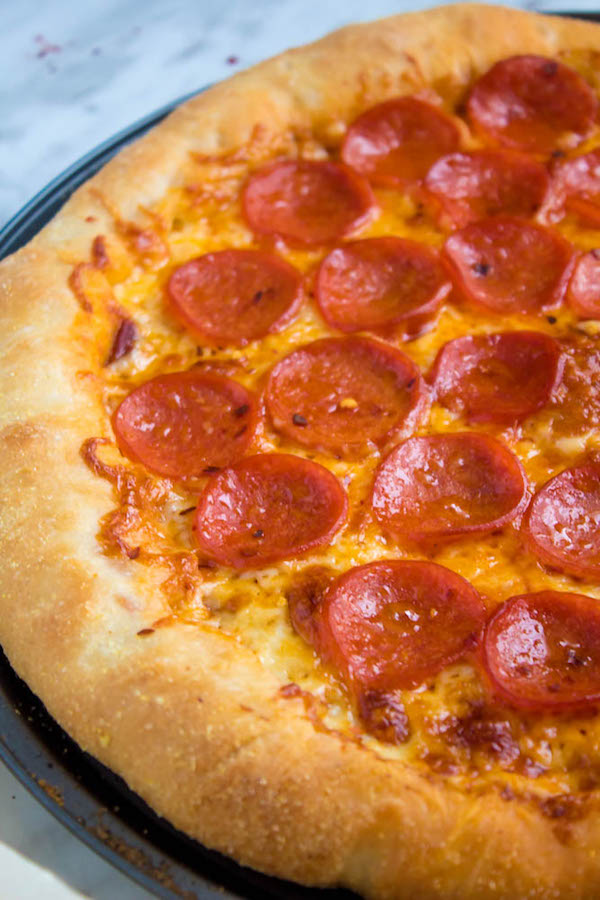 The Assembly
Making a stuffed crust pizza is actually super simple. Start by rolling out your pizza dough into a flat circle that's a bit larger than your pan.
Before we continue, let's discuss the cheese. A lot of people use string cheese, which I was planning to use but it was way too expensive. For a cheaper alternative, I took the remaining block of cheese I shredded for the topping, and sliced out pieces to line inside the crust. The full slice was a bit too big to wrap my crust around so I had to cut it in half. If you want a cheesier crust, go ahead and use cheese strings instead.
Alright, back to the assembly. Line your cheese sticks closely around the crust, leaving space at the edges to fold over. Then wrap the excess dough over the cheese and tuck and seal it tightly. I went over it a few times to make sure it was nice and secure, you don't want your cheese to ooze out of the crust. Not until you slice into it, that is.
After that, we're gonna allow the dough to rest for a few minutes. At this point you can prepare your favourite toppings. For the sauce, I used my amazing homemade recipe, and just like my dough, it tastes way way WAY better than store-bought.
Once you've added all of your tasty toppings, bake the pizza in a 475°F oven. The oven needs to be very HOT before adding your pizza. I recommend preheating your oven for at least 30 minutes before you bake the pizza. This allows every inch of the oven to get super hot, which ensures your pizza bakes evenly. And if you want a beautiful golden brown crust, move it to the top rack for 2 minutes.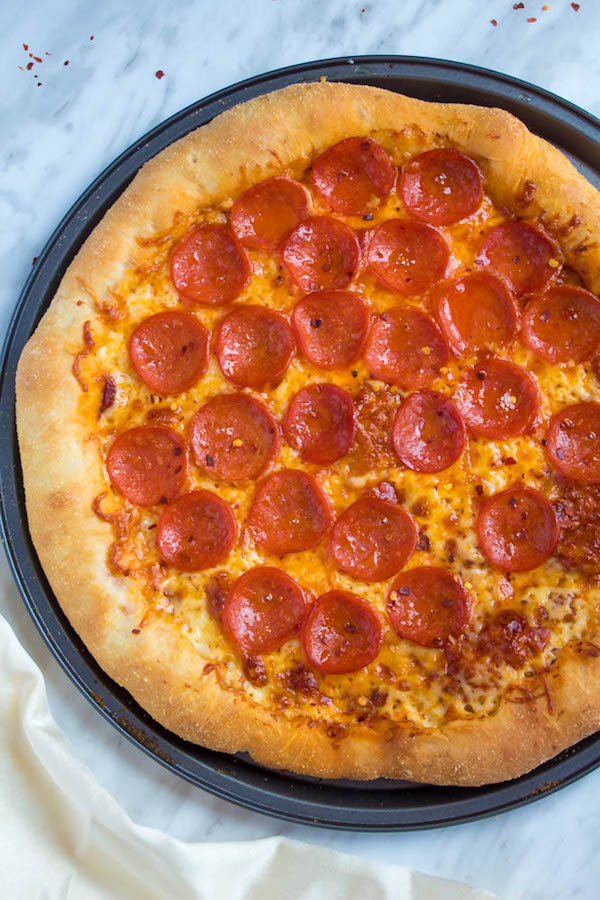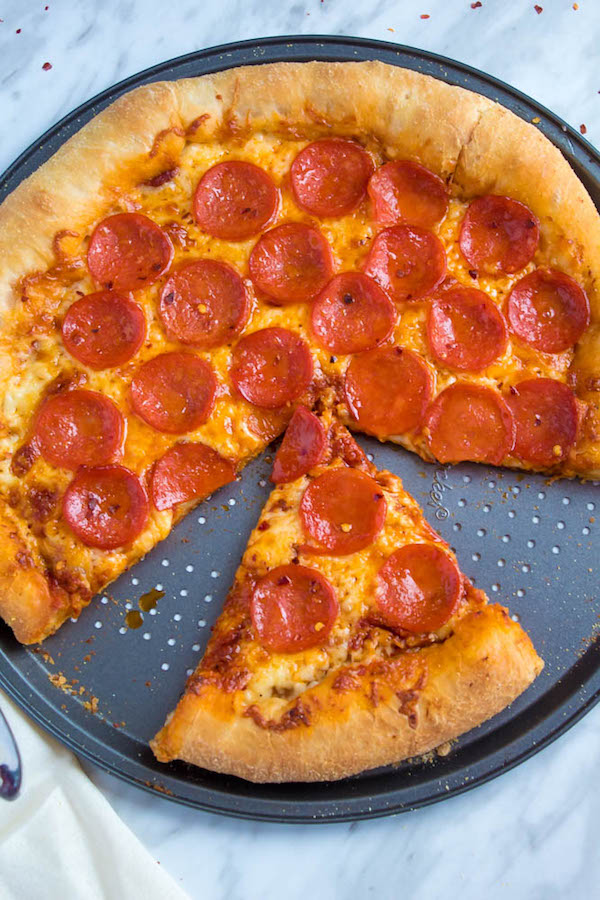 You can slice the pizza right away if you want the cheese to ooze out, or you can let it cool for a few minutes. As you can see there's a lot of empty space in my crust, that's because I cut my cheese in half. If you used a full cheese string, that space would be packed with gooey cheese.
Damn, now I really regret not using cheese strings.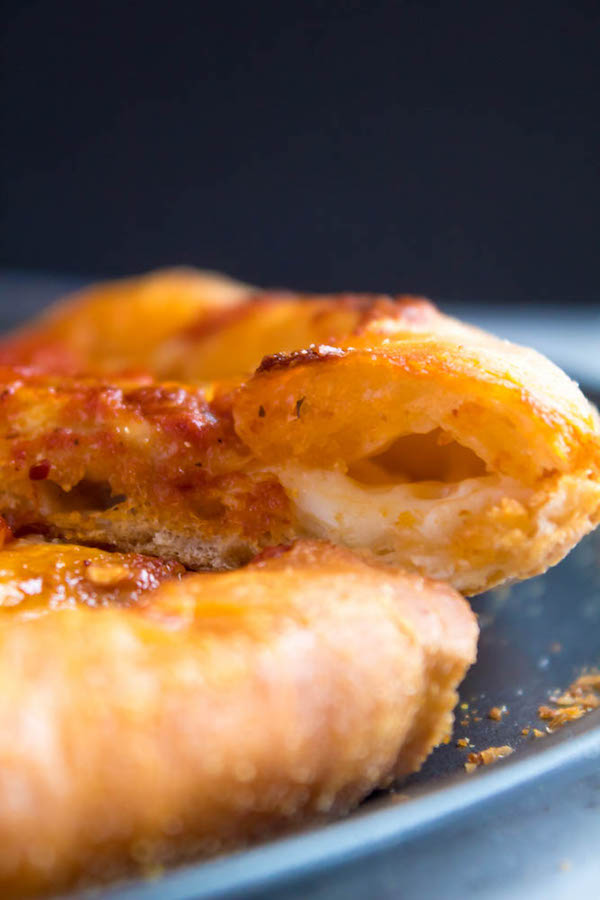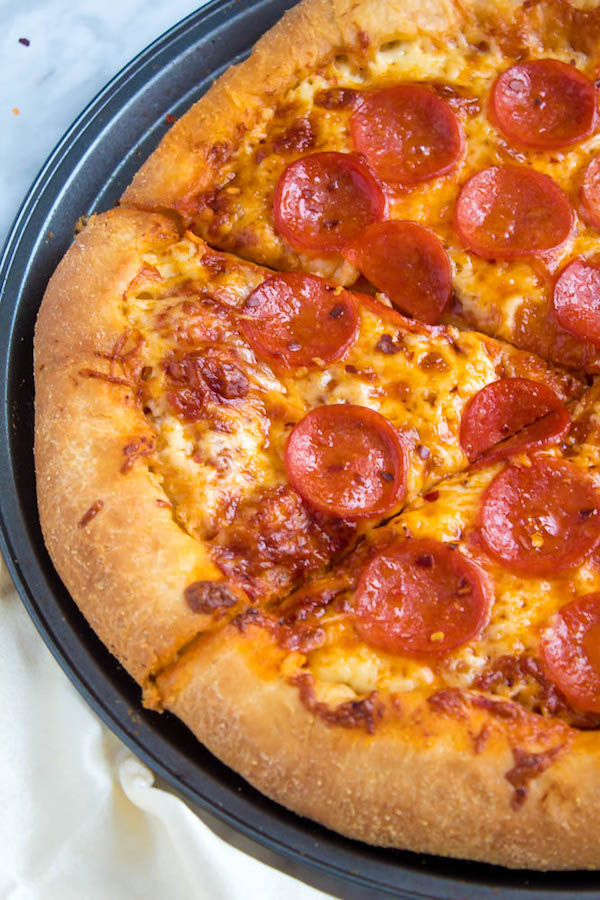 >>PIN ME FOR LATER<<

SHOP THE RECIPE
Pizza Pan | Stand Mixer | Pastry Brush | Pizza Cutter |
Follow Queenslee Appétit
Pinterest | Instagram | Facebook | Twitter |
Did you make a recipe? I'd love to see how it turned out! Follow me on Instagram and use the hashtag #queensleeappetit so I can see all of the Queenslee Appétit recipes you've made!
Let's get cooking!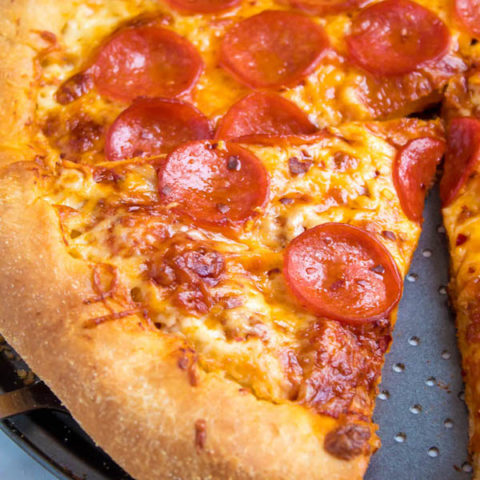 Stuffed Crust Pizza
Pizza Night just got a whole lot better! This Homemade Pizza is topped with a flavourful sauce, two types of cheeses and slices of pepperoni. What makes this classic pepperoni pizza so special? The crust is stuffed with cheese!
Ingredients
Crust:
Cornmeal, for sprinkling
Mozzarella string cheese sticks
Olive oil, for brushing
Toppings:
2 cups shredded mozzarella cheese
⅓ cup shredded parmesan cheese
Pepperoni Slices or your favourite toppings
Red pepper flakes, for serving (optional)
Instructions
Assembly of the Stuffed Crust Pizza:
Preheat oven to 475° F and allow to heat for at least 30 minutes. Grease a pizza pan with cooking spray and sprinkle with cornmeal.
Using a rolling pin, roll out dough into a circle larger than your pizza pan. Place dough on prepared baking pan with excess hanging over the edge.
Line mozzarella sticks around the edge and fold the excess dough over the sticks, pressing to seal tightly. Let dough rest for 10-15 minutes before topping.
Brush the crust with olive oil, top with pizza sauce, shredded cheeses and your favourite toppings.
Bake in preheated oven for 15-18 minutes or until the edges of the crust are golden brown.
If you prefer a darker crust, move pan to the top rack and broil for 1-2 minutes (optional).
Sprinkle with red pepper flakes (optional). Slice and serve!
Notes
- My pizza dough recipe makes 2 crusts. You can halve the recipe, or you can store one ball of dough in the freezer to make a second pizza.

- The pizza sauce recipe makes a lot of sauce, but you can easily store the rest in a ziploc bag in the freezer. It also makes a perfect spaghetti topping!
©QUEENSLEE APPÉTIT. All images & content are copyright protected. Please do not use my images without prior permission. If you want to republish this recipe, please re-write the recipe in your own words, or link back to this post for the recipe.
Bon Appétit!
Love, Dedra ❤
This post may contain affiliate links. Please see my full disclosure policy for details.