Mint, chocolate and Oreos all come together in these Mint Oreo Fudge Brownies. A fudgy mint brownie stuffed with mint Oreos, a chewy, melt-in-your-mouth mint Oreo fudge and a rich chocolate topping. These decadent bars are loaded with minty flavour!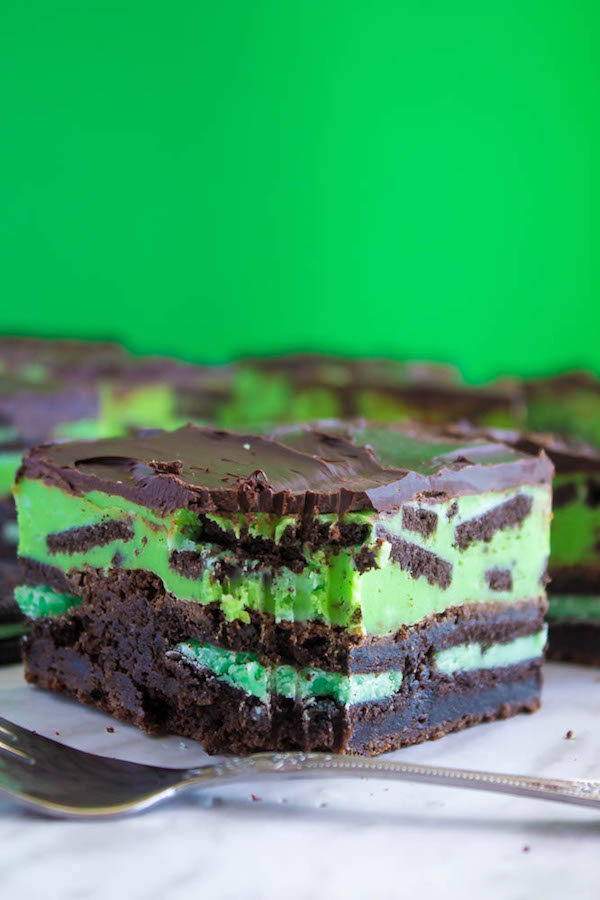 Mint and chocolate are a match made in flavour heaven. It's one of the greatest flavour combinations to ever exist, right up there with chocolate and peanut butter or chocolate and hazelnut. Hell, any flavour combination that includes chocolate is a win in my book.
Chocolate and mint make the perfect pairing. The deep rich flavour of the chocolate combined with the fresh and cold flavour of mint is absolutely irresistible! It was definitely time for me to share a mint and chocolate recipe on the blog, especially with St. Patrick's Day coming up.
I went to Walmart the other day and stumbled upon a rare package of mint flavoured Oreos, and a lightbulb immediately went off in my head. So I decided to take my insane Oreo Fudge Brownies and give them a minty twist!
I've shared quite a few fudge brownie recipes on the blog now. Every one of them were themed for the holiday, so I just had to make a St. Patrick's Day version! There are three mouth-watering layers that make up this dessert — the Oreo stuffed fudgy mint brownies, the chewy and delicious mint Oreo fudge, and the rich chocolate topping.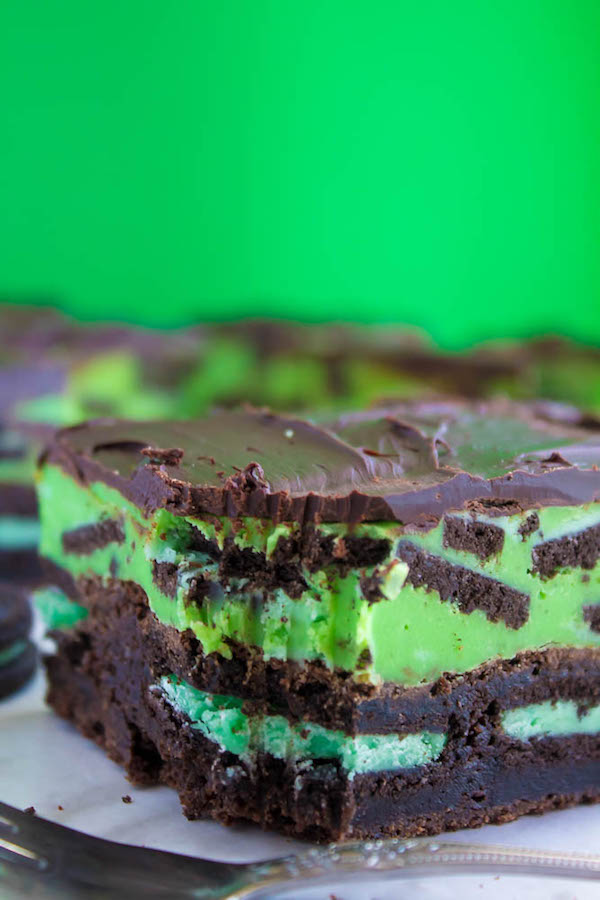 These decadent fudge bars start off with my tried and true brownies that I've used in just about every brownie recipe I've made. I like my brownies to be incredibly chewy, dense and fudgy with that beautiful crackly top, and my homemade brownies have never failed me yet. One day I'll have to post a recipe for the brownies themselves without anything sitting on top, because they're that amazing on their own.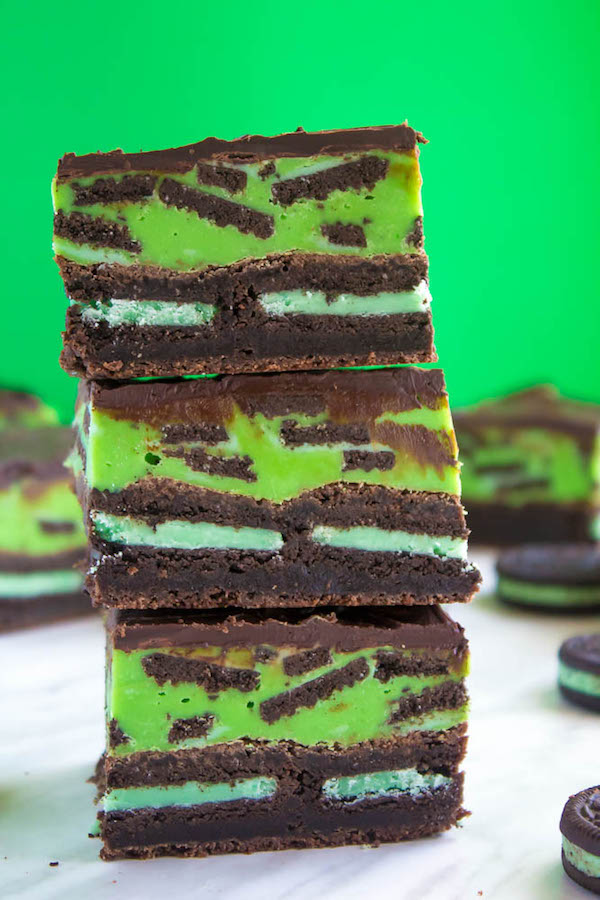 To make the brownies, we start by melting the butter and chocolate together in a bowl over a saucepan of simmering water. As soon as the mixture is melted, add both brown and white sugar. The mixture of these two sugars create a more moist and chewy texture in the finished brownies. Now you're gonna need to allow the chocolate mixture to cool down a bit because you don't want the eggs to curdle when added. To flavour the brownies, I used ClubHouse mint and peppermint extract, which gives these bars the perfect minty flavour. Next, add the flour, cocoa (for a deeper chocolate flavour) and salt. I used less than a cup of flour for these brownies, because the less flour you use, the fudgier your brownies will be!
I used a 9×9-inch square pan, but you can use a 9×13-inch pan to make these bars thinner, especially since they're a mouthful. You'll also want to line your pan with aluminum foil and let some hang over the edges so you can easily lift the bars out of the pan once they're set.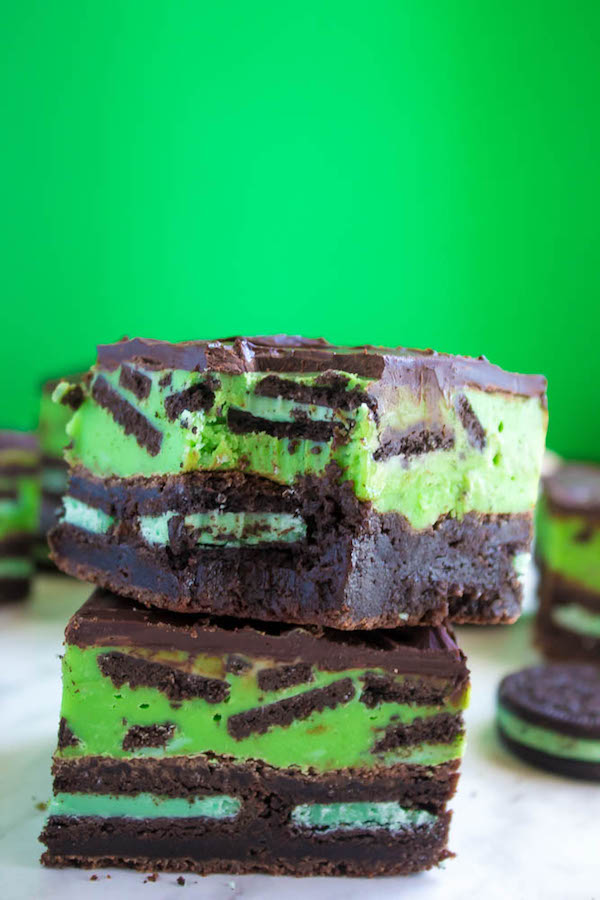 In my Oreo Fudge Brownies recipe, I stuffed the brownies with Oreos, so I decided to do the same here but with mint Oreos instead. If you can't find mint Oreos, feel free to use regular Oreos or any other kind of mint cookie, like thin mints. You could even leave the Oreos out completely, they'll still taste just as good without them!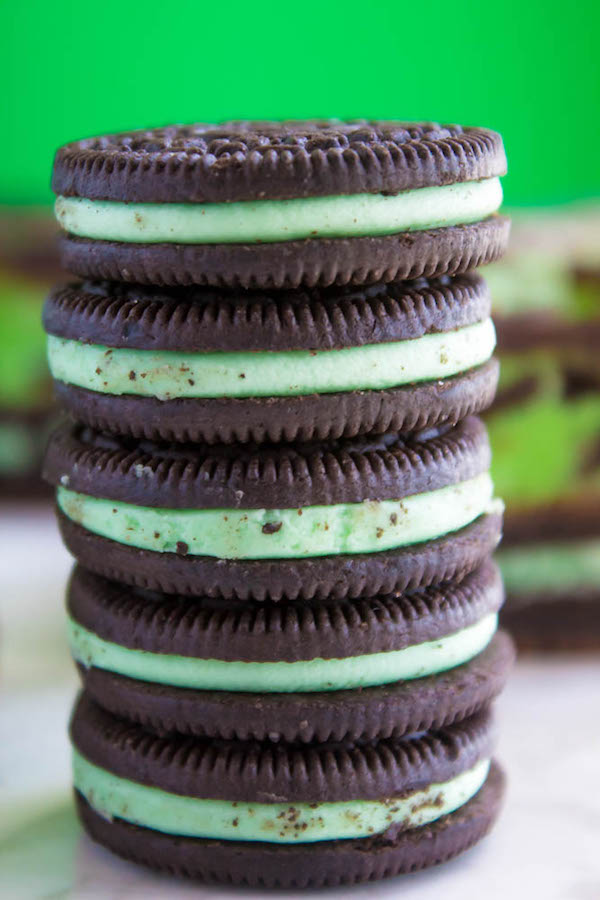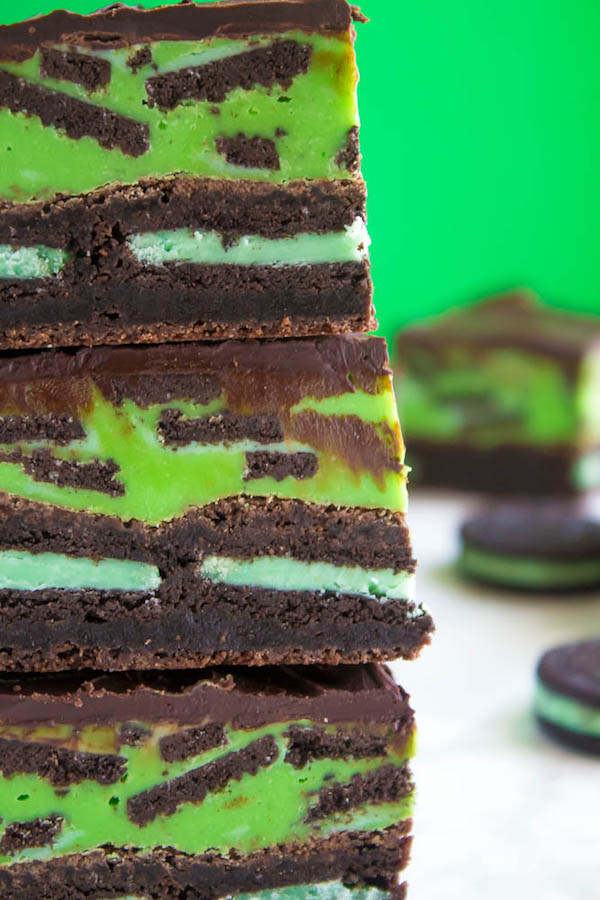 Next up is the fudge! Only 5 ingredients are needed for this simple fudge — sweetened condensed milk, white chocolate chips, mint extract, green food colouring (optional) and mint Oreos. Simply add the condensed milk and white chocolate chips to a bowl over a saucepan of simmering water and stir until melted and smooth. Flavour with mint extract and tint with green food colouring. The green colouring is optional, but I mean it's the colour of mint, and I also wanted these to be St. Patrick's Day themed! Next, we fold in the chopped mint Oreos. The fudge will be pretty thick. Spread over the brownies and transfer to the refrigerator to chill while you prepare the chocolate topping.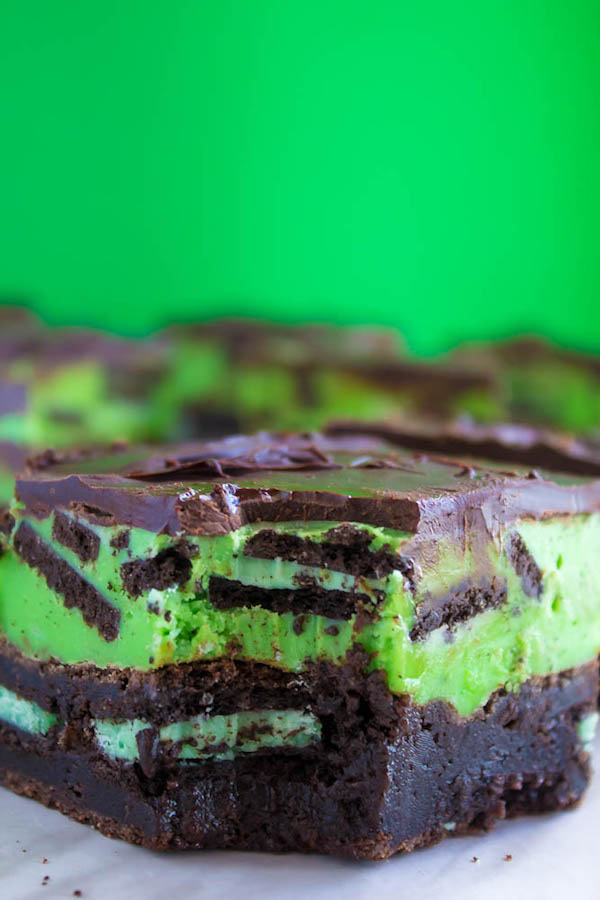 The chocolate topping is simply chocolate chips and shortening melted together. The shortening makes the chocolate topping smooth and shiny. I recommend using dark chocolate chips because it balances out the sweetness of the fudge and brownies. I originally meant for the chocolate topping to be mint flavoured, but when I added the mint extract I immediately remembered that chocolate and water do not mix well. My melted chocolate started to clump a bit, but luckily I didn't add too much extract so it was still smooth enough to spread on top.
Once all of the layers have set, lift them out of the pan and slice them with a hot knife. You'll get cleaner slices while the brownies are chilled, but they're best enjoyed at room temperature. With a fork, mind you, unless you can get your jaws wide enough to bite into these humongous bars. Or you can cut them in half, which is preferred because these bars are pretty large and sweet.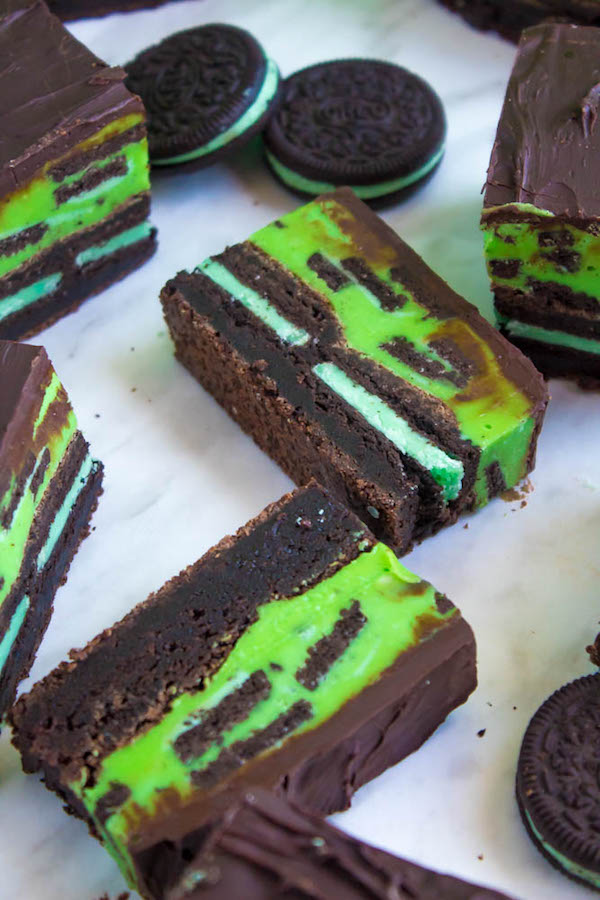 With the Oreos, brownies and fudge, these bars are like enjoying three desserts in one! Although there's a lot of ingredients and three layers, each layer is extremely easy to make and worth every bite! Trust me, you'll fall in love with these minty and chocolate-y fudge-packed treats! Enjoy!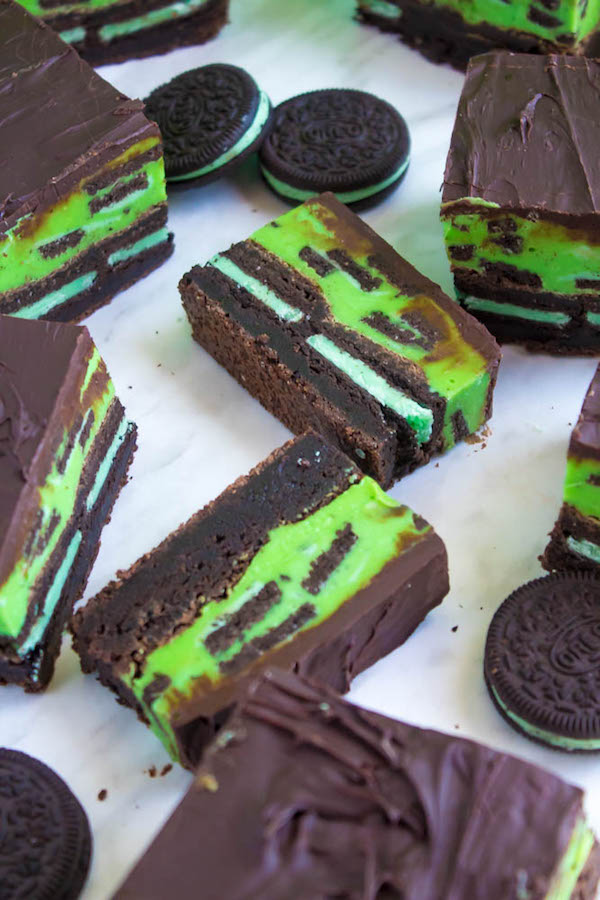 You May Also Like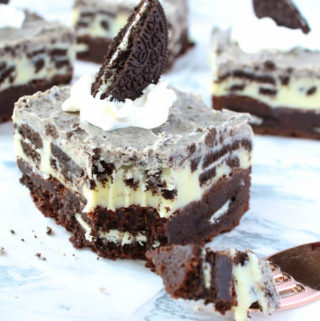 White Chocolate Fudge Red Velvet Brownies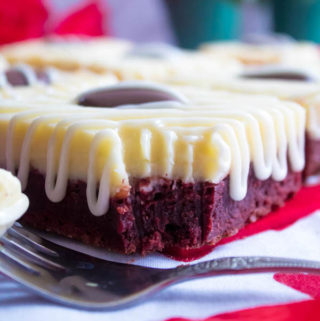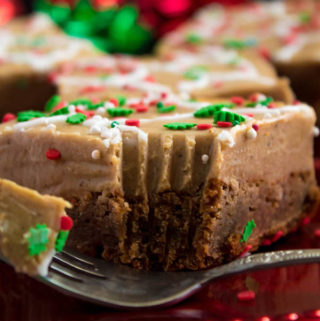 White Chocolate Pumpkin Spice Fudge Blondies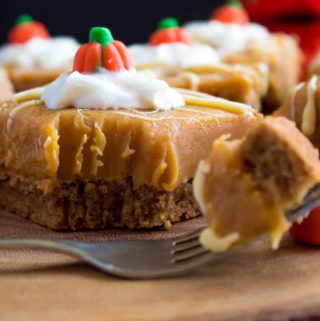 >>PIN ME FOR LATER<<

SHOP THE RECIPE
9×9-inch square pan | Green gel food colouring | Mint Oreos |
Follow Queenslee Appétit
Pinterest | Instagram | Facebook | Twitter |
Did you make a recipe? I'd love to see how it turned out! Follow me on Instagram and use the hashtag #queensleeappetit so I can see all of the Queenslee Appétit recipes you've made!
Let's get baking!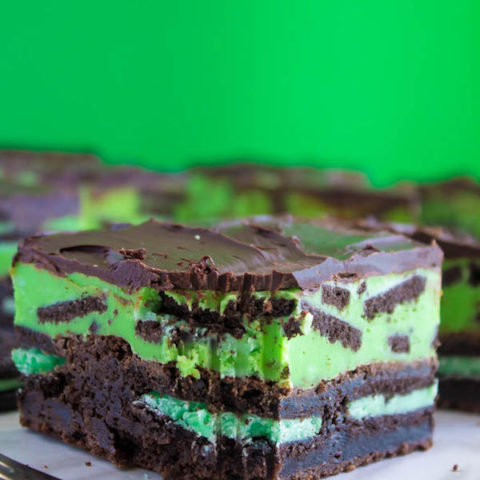 Mint Oreo Fudge Brownies
Yield: 9 brownies

Cook Time: 25 minutes

Total Time: 25 minutes

Mint, chocolate and Oreos all come together in these Mint Oreo Fudge Brownies. A fudgy mint brownie stuffed with mint Oreos, a chewy, melt-in-your-mouth mint Oreo fudge and a rich chocolate topping. These decadent bars are loaded with minty flavour!
Ingredients
Mint Oreo Brownies:
6 oz bittersweet chocolate (70%), chopped
3/4 cup unsalted butter, cubed
3/4 cup granulated sugar
1/2 cup light brown sugar, packed
2 large eggs, room temperature
1 large egg yolk
1 teaspoon pure mint extract
3/4 cup all-purpose flour
2 tablespoons unsweetened cocoa powder, sifted
1/4 teaspoon salt
16 Mint Oreos
Mint Oreo Fudge:
1 and 1/4 cup (14 oz) sweetened condensed milk
4 cups white chocolate chips
1 tsp pure mint extract
Few drops of green gel food colouring
15 Mint Oreos, roughly chopped
Chocolate Topping:
1 and 1/2 cups dark chocolate chips
1 Tbsp vegetable shortening
Instructions
For the Mint Oreo Brownies:
Preheat the oven to 350°F (325°F for dark non-stick pans) (180°C). Line a 9x9-inch square baking pan with aluminum foil or parchment paper, leaving about 2-inches hanging over the sides and spray with non-stick spray. Set aside.
Place chopped chocolate and cubed butter in a large bowl over a saucepan of simmering water. Stir constantly until the butter and chocolate are both melted and combined, about 3-4 minutes.
Remove bowl from heat and immediately add both sugars, whisk until sugar is dissolved and mixture is smooth. Use your fingertip to check the temperature of the batter to make sure it's not too hot--it should be warm. If it is too hot, let it cool for a few minutes before proceeding. This is so the eggs don't curdle when added.
Add eggs, egg yolk and mint extract and slowly whisk until combined. Do not overmix. Add flour, cocoa, and salt and stir with a rubber spatula until well blended.
Pour half of the batter into the prepared pan and place Oreos in an even layer. Pour the rest of the batter on top and spread into an even layer to cover Oreos. Bake for 25-30 minutes or until a toothpick inserted into the brownie comes out with a few moist crumbs, not wet batter. Allow to cool completely in the pan on a wire rack.
For the Mint Oreo Fudge:
Add sweetened condensed milk and white chocolate chips to a medium bowl over a saucepan of simmering water and heat on medium-low, stirring constantly until chocolate is fully melted and mixture is combined and smooth. Remove from heat and mix in mint extract and a few drops of green food colouring. Fold in chopped Oreos.
Spread over cooled brownies and place in the refrigerator to set, about 2 hours.
For the Chocolate Topping:
Add chocolate chips and 1 tablespoon of shortening to a microwave safe bowl and microwave in 30 second intervals, stirring after each until completely melted and smooth. Spread over fudge layer. Return to the refrigerator for 15-20 minutes, or until the chocolate is set.
Once the fudge and chocolate layers are both set, lift the bars out of the pan and slice into 9 even squares, or 18 smaller portions. Enjoy!
Notes
- Store fudge brownies at room temperature for up to 1 week, or in the refrigerator for up to 2 weeks.

- This recipe yields 9 large bars, but I recommend cutting them in half and enjoying them in smaller portions because of the sweetness.



©QUEENSLEE APPÉTIT. All images & content are copyright protected. Please do not use my images without prior permission. If you want to republish this recipe, please re-write the recipe in your own words, or link back to this post for the recipe.
Bon Appétit!
Love, Dedra ❤
This post may contain affiliate links. Please see my full disclosure policy for details.