These Oreo Fudge Brownies feature 3 outstanding layers including decadent oreo-stuffed brownies, thick cookies and cream fudge and a cookies and cream chocolate topping! The ultimate brownie!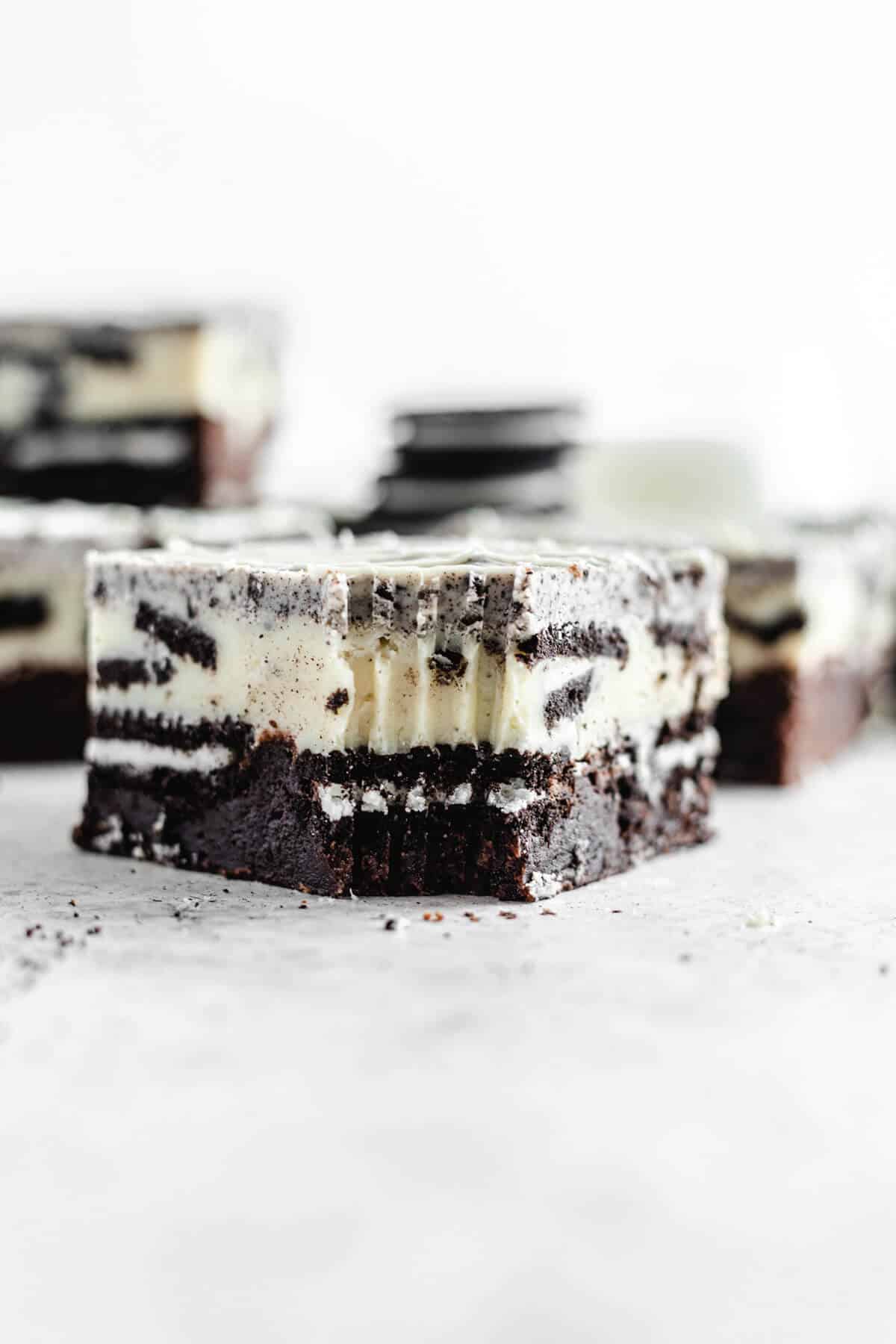 *This was originally posted on July 5th, 2017 and has been updated with new photos, an updated recipe and more helpful tips and information in the post*
This post may contain affiliate links. As an Amazon Associate I earn from qualifying purchases. Please see my full disclosure policy for details.
I've shared sooooo many Fudge Brownie recipes since this was originally posted, so today we're coming back to where it all started! I've upgraded the recipe, changed up the decoration (I mean, the whipped cream on top of fudge brownies was a bit much, no?) and included much more helpful information in the post.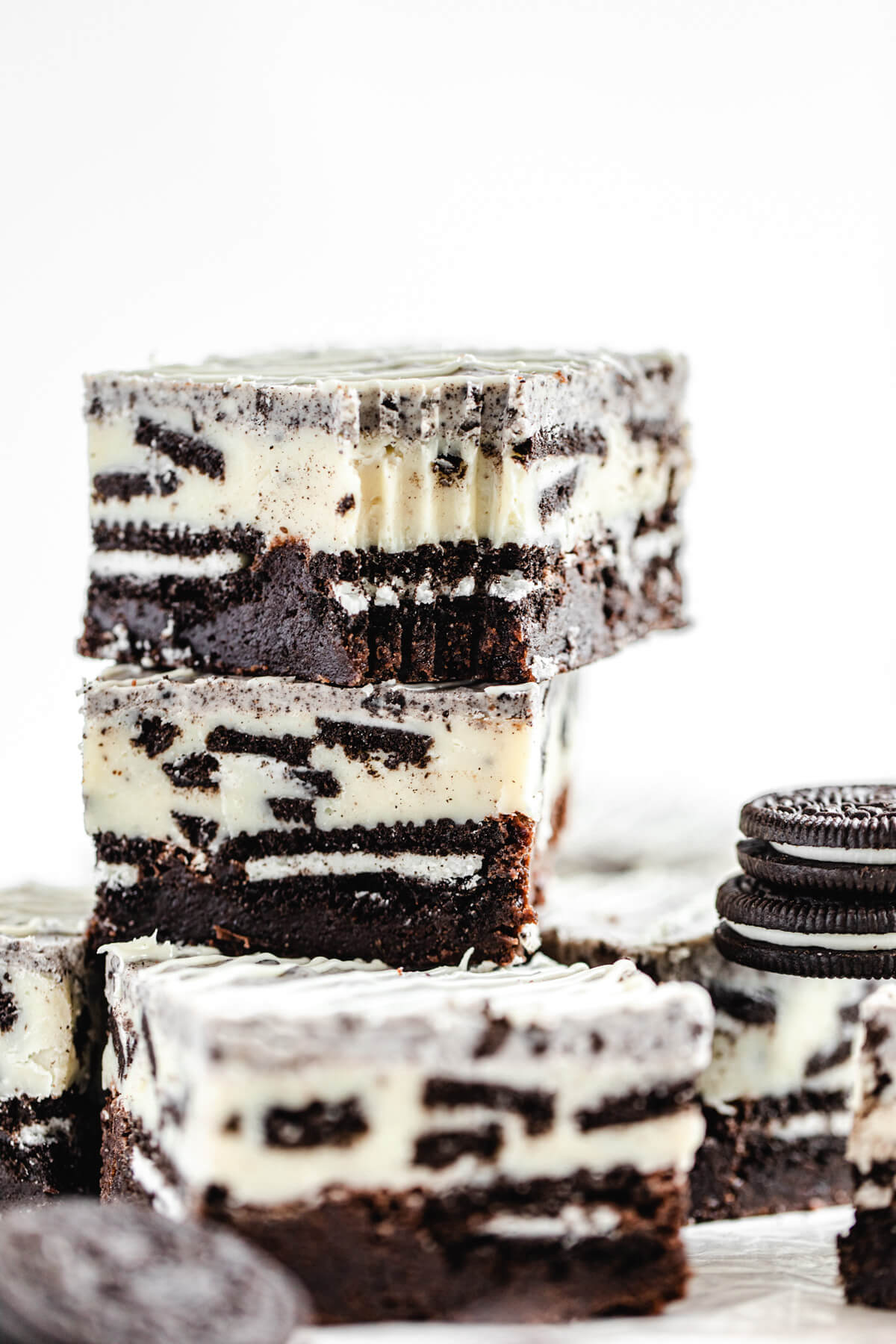 Behind the Recipe
Three years ago, before starting this blog, I was thinking of recipe ideas to develop. Back then I was so hellbent on having the most unique recipes that strayed away from other bloggers, and so I thought of the crazy idea to pile some fudge on top of brownies. 2 desserts in 1!
I thought that was the most original idea ever, but it turns out a handful of people have already done it before me. Ah, well! This is still the only fudge-topped Oreo brownie recipe on the internet!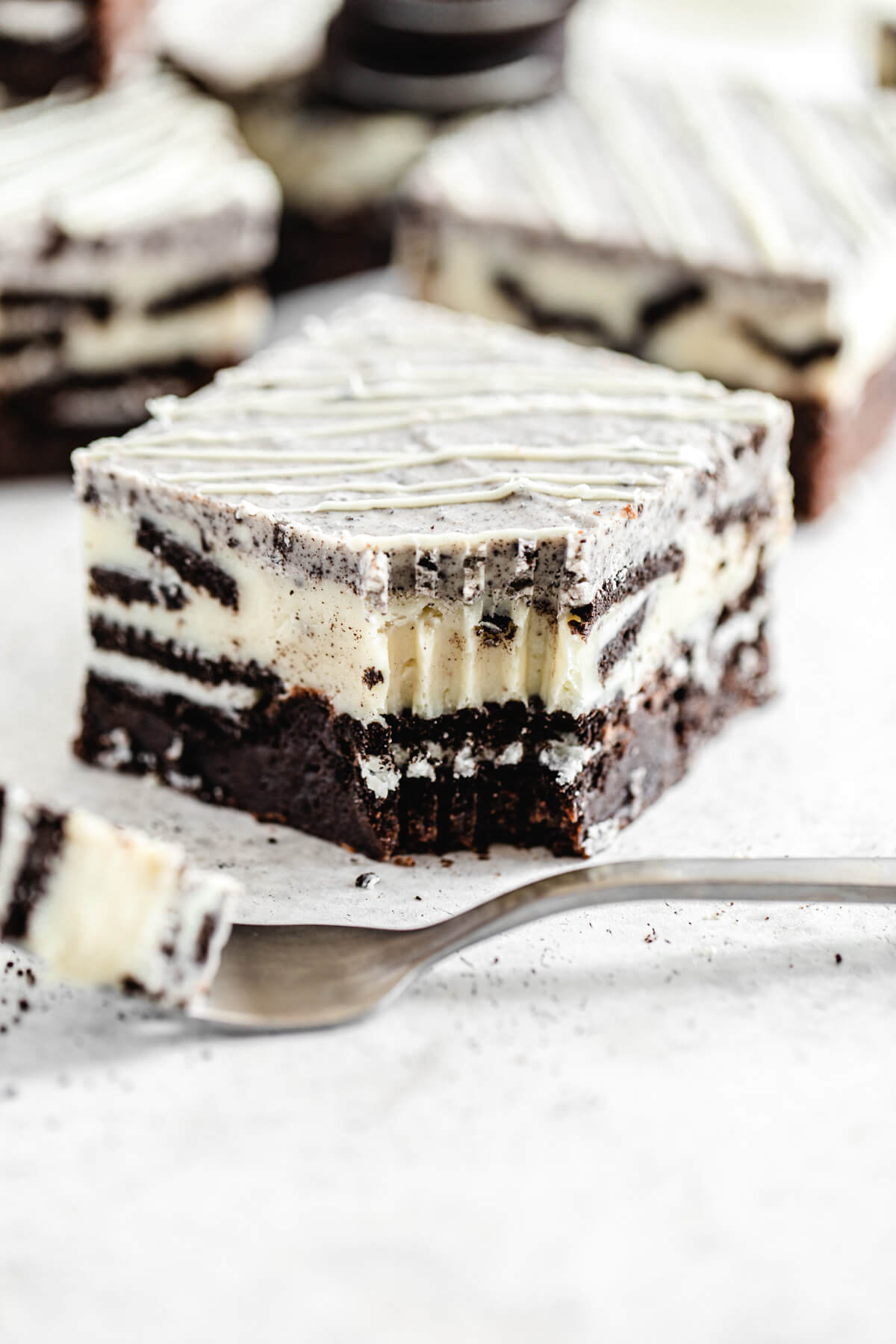 3 Parts to These Bars
So let's go through the layers of this little monster.
Oreo Brownies: If you're familiar with my blog, you've probably seen this brownie recipe before. This was the first recipe I used it in and I've been using it ever since! Tried and true!
Cookies and Cream Fudge: Only 4-ingredients needed, including LOADS of chopped Oreos!
Cookies and Cream Topping: Melted white chocolate and Oreo cream filling with tons of crushed Oreos mixed in!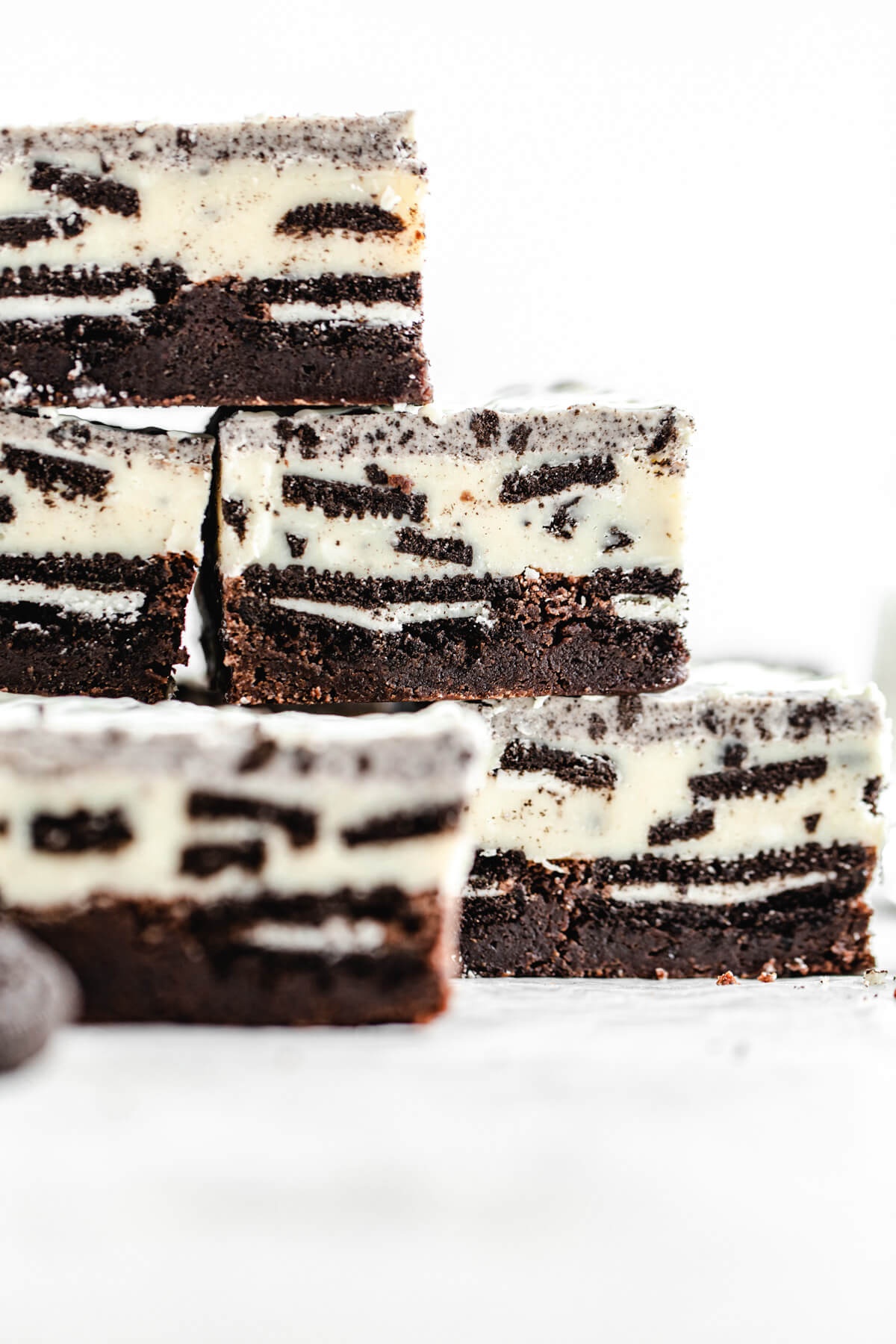 Oreo Stuffed Brownies
You're gonna need a total of 37 Oreo cookies for this recipe, 16 for the brownies, 15 for the fudge and 6 for the cookies and cream topping. A regular package of Oreos has around 36 cookies, so you can leave a cookie out of the topping or fudge if you don't have enough.
Now let's talk about these decanter brownies! My brownie recipe is pretty much fool-proof.
Melt the chocolate and butter.

Whisk in both sugars.

Add eggs and vanilla.

Stir in flour, cocoa and salt.
Yes, it is THAT easy! When I first made this recipe, I poured half of the batter into the pan, lined it with Oreos, then spread the remaining batter on top. Now I've learned that there's no need to do all of that unnecessary work. Just pour the entire batter into a 9x9-inch pan, then push the brownies into the batter. Simple, Oreo stuffed brownies!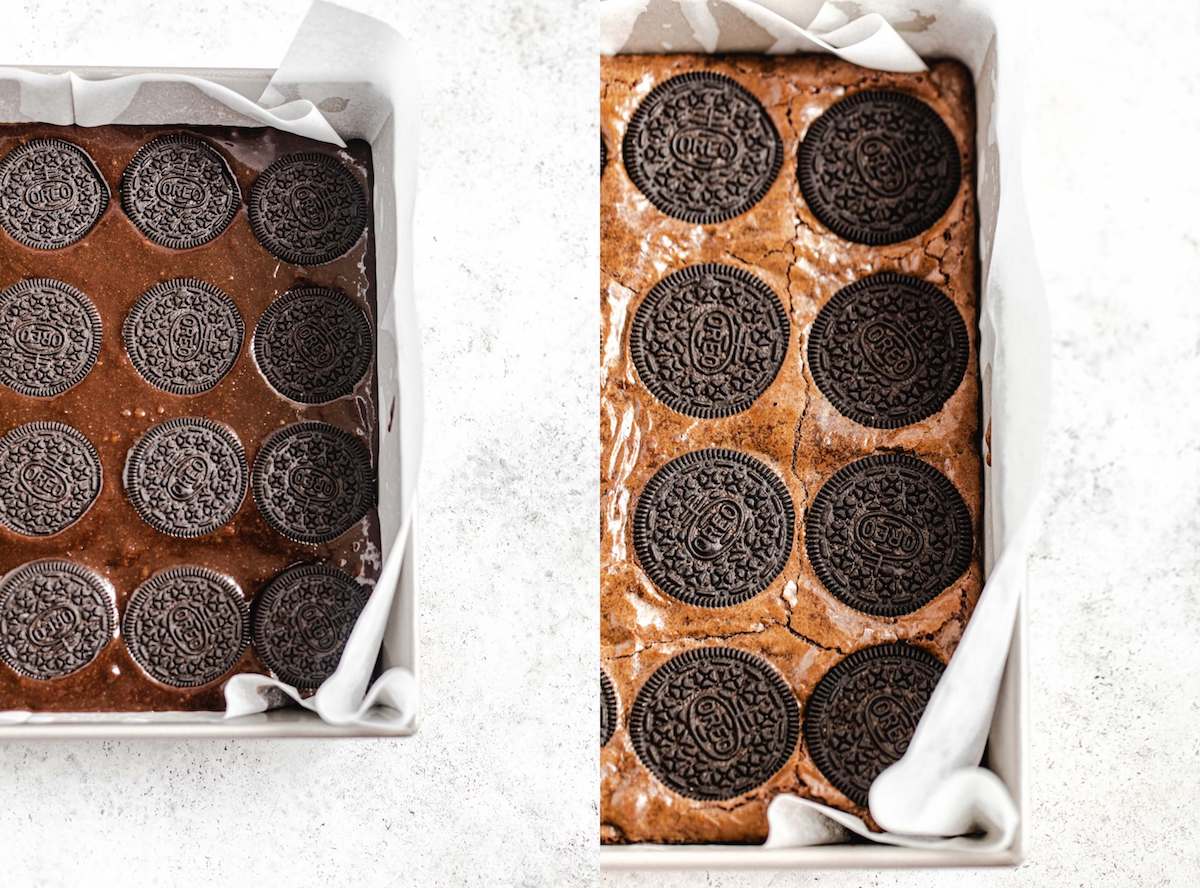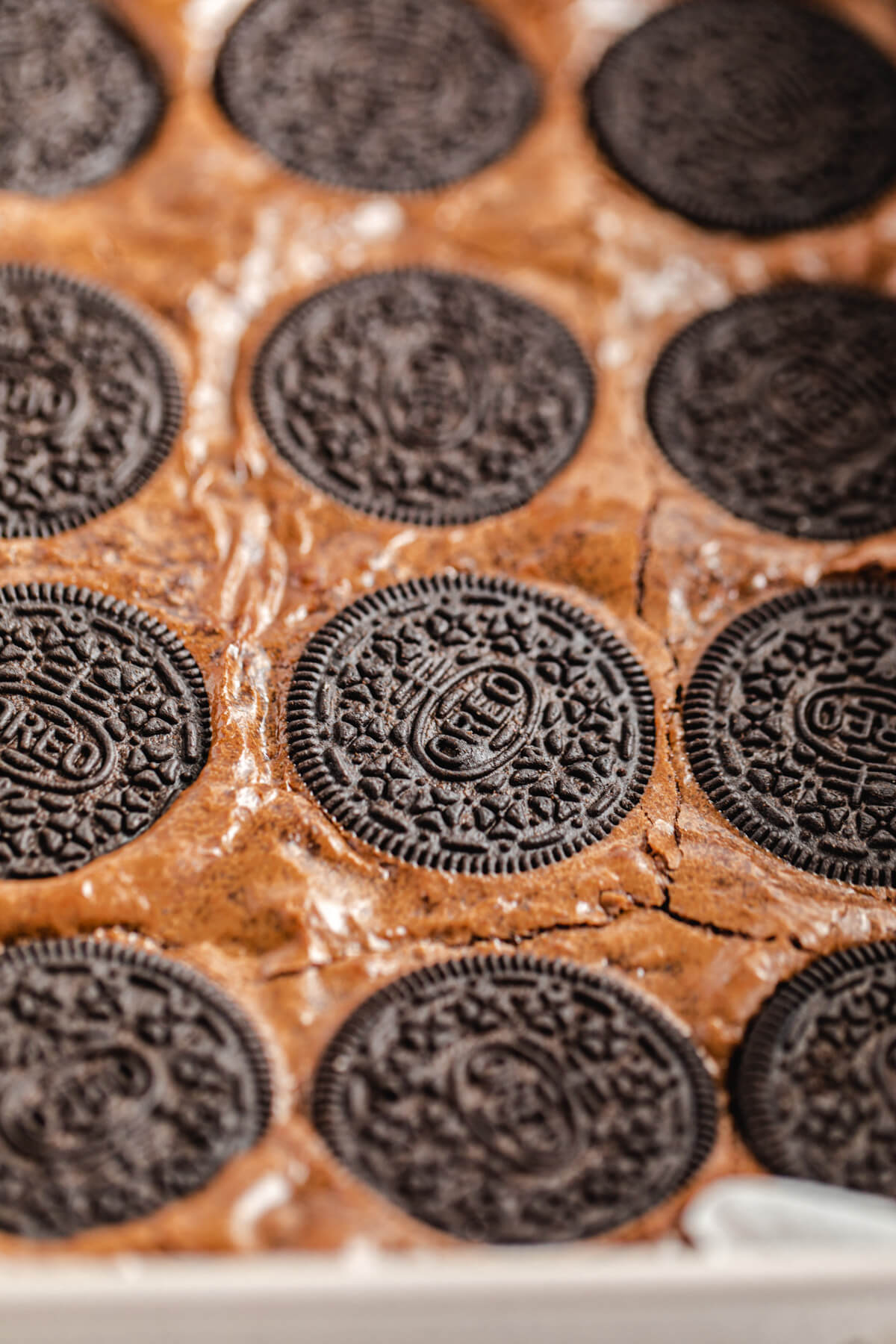 Cookies and Cream Fudge
This thick, melt-in-your-mouth fudgy fudge fudge only needs 4 ingredients to make: sweetened condensed milk, white chocolate chips, vanilla, Oreos. I chopped my Oreos into quarters, but you can pop them into a food processor and pulse them into fine crumbs, that way there'll be cookie in every inch of the fudge!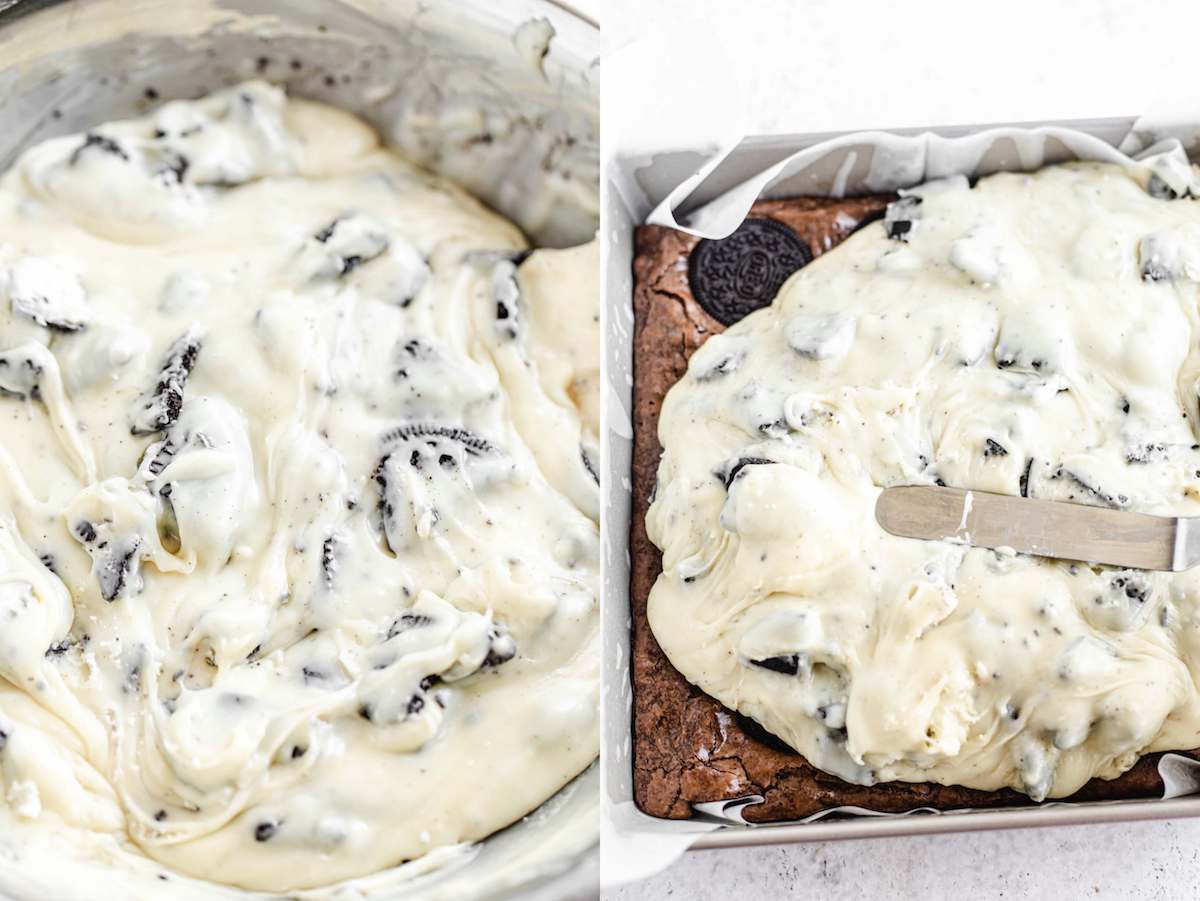 Cookies and Cream Topping
This white chocolate topping is cookies and cream HEAVEN! If you didn't know, for every Oreo recipe of mine where I have to scrape our the filling to make crumbs, I always added the cream filling to the batter.
When this recipe was first made, I scraped out the filling and discarded it (into my mouth). This time I was curious to see what would happen if I melted that cream filling with the white chocolate chips.
This was probably one of my greatest ideas yet! It came together so smoothly and with the added cookie crumbs, this tasted just like a cookies and cream chocolate bar!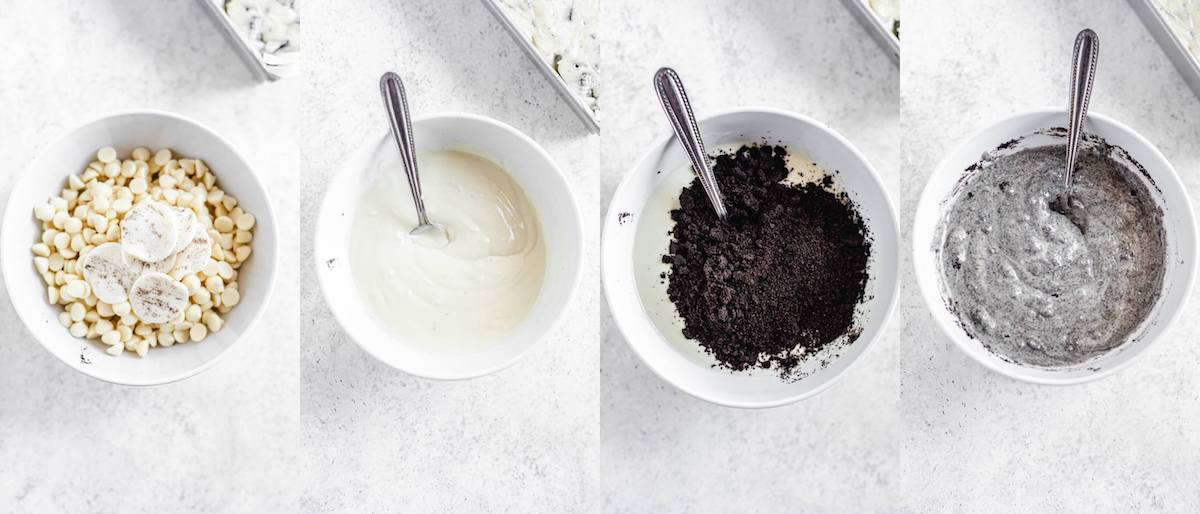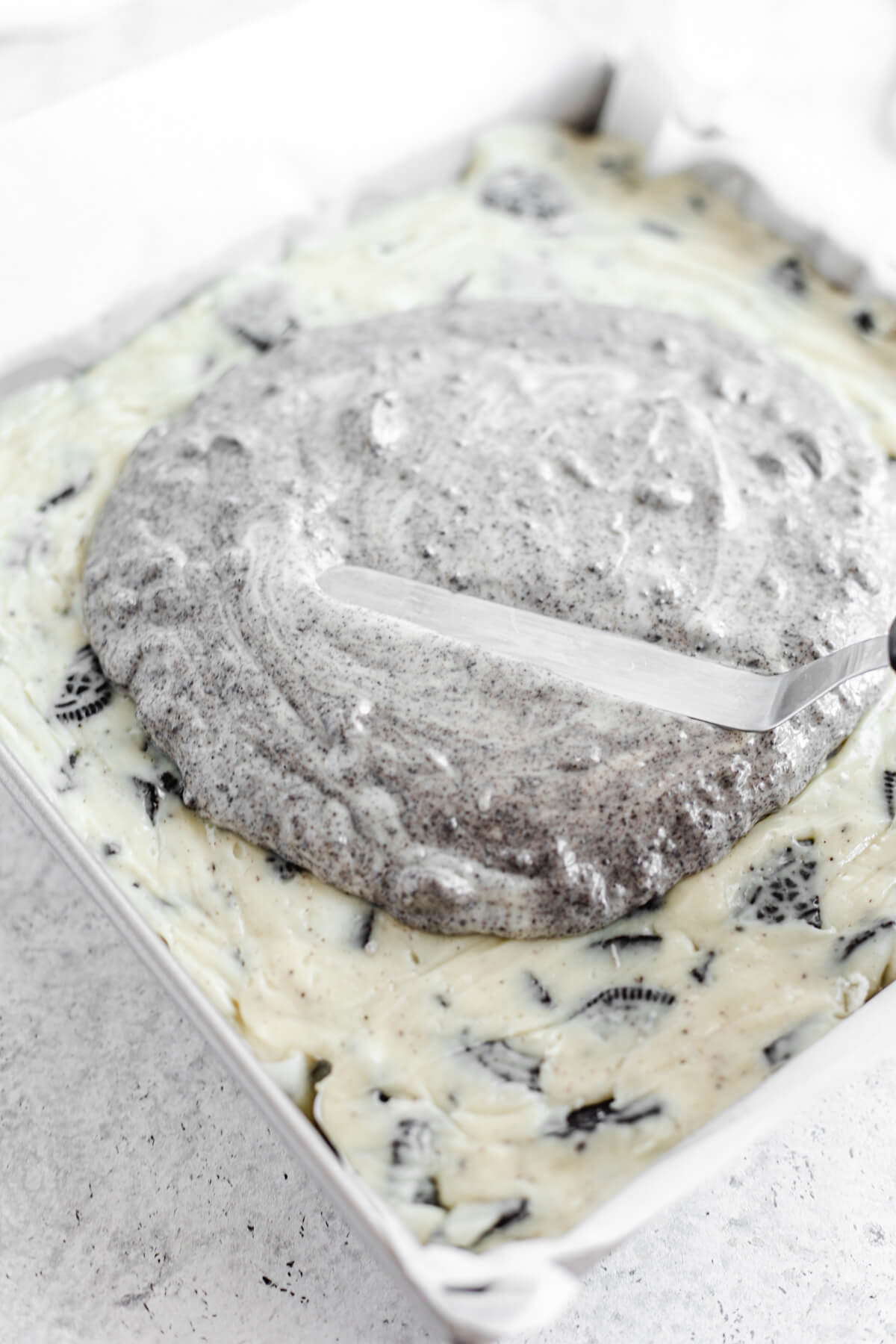 Once the brownies have set, finish them off with a drizzle of melted white chocolate, then slice into bars. As I always say with my fudge brownies, I only cut them into 9 squares for the photos. This is 3 layers of pure sweetness, so I highly recommend you cut them into smaller portions. Maybe 9 squares that you cut in half to make 18 smaller rectangles. Or cut those rectangles into 1-inch cubes and serve them to a crowd!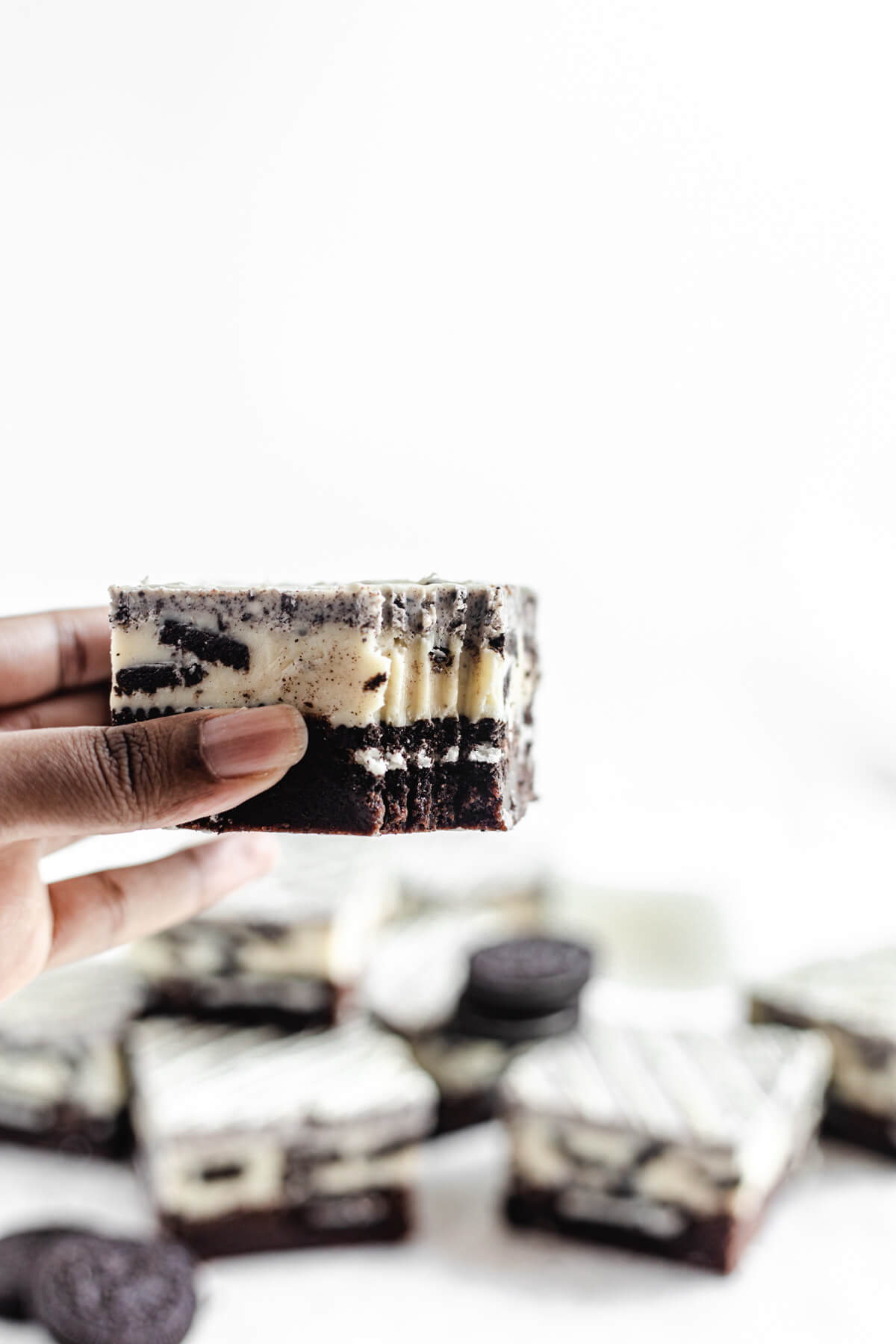 More Fudge Brownies
SHARE YOUR PICS!
Follow me on Instagram and tag #queensleeappetit so I can see and share all of your Queenslee Appétit creations in my stories and the QA Newsletter!
>>PIN FOR LATER<<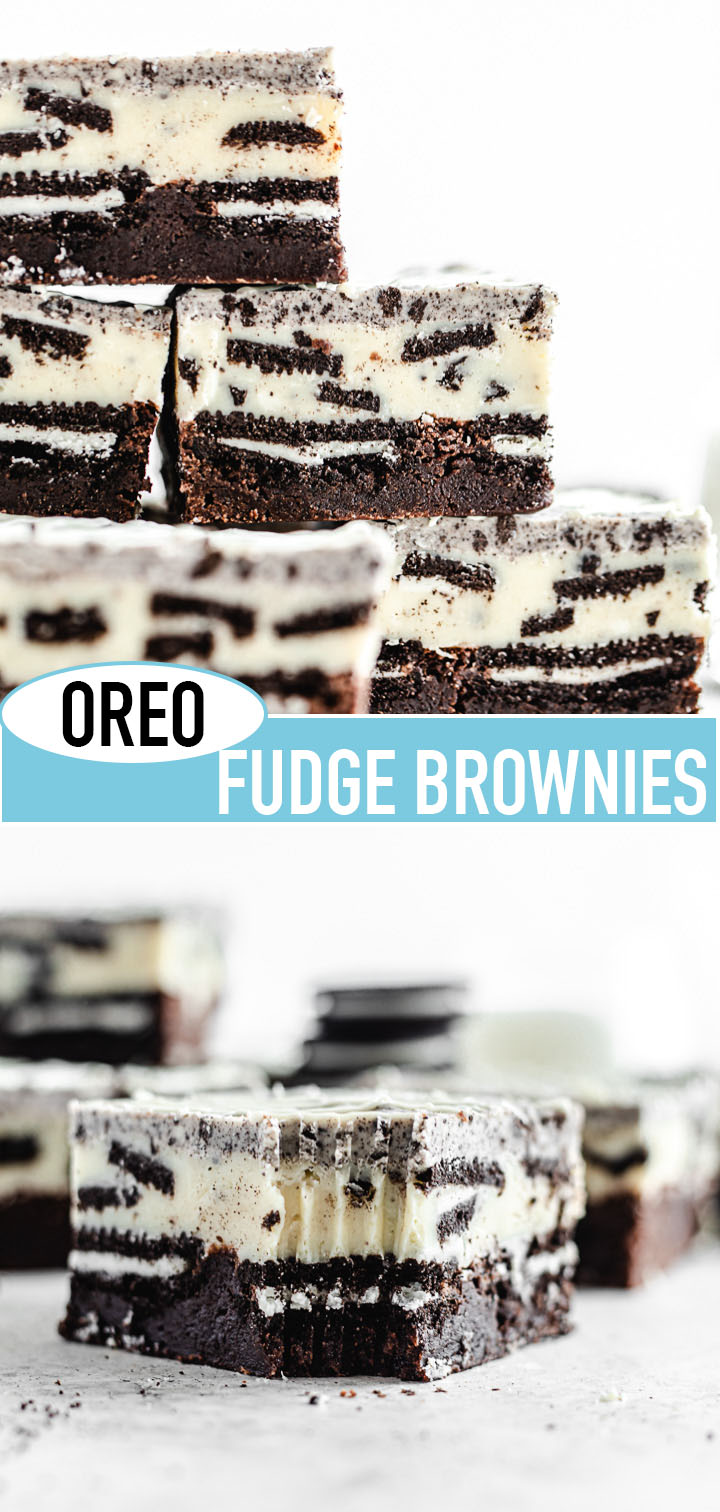 FOLLOW QUEENSLEE APPÉTIT
Like what you see? Make sure you're following Queenslee Appétit for more tasty recipes!
Pinterest | Instagram | Facebook | Twitter |
Have any questions about the recipe? Contact me here, and I'll be happy to help!
SWEETEN UP YOUR INBOX!
SUBSCRIBE to the Queenslee Appétit Newsletter to recieve new recipe notifications, monthly baking tips, sneak peeks to upcoming recipes, exclusive recipes and more!
Let's get baking!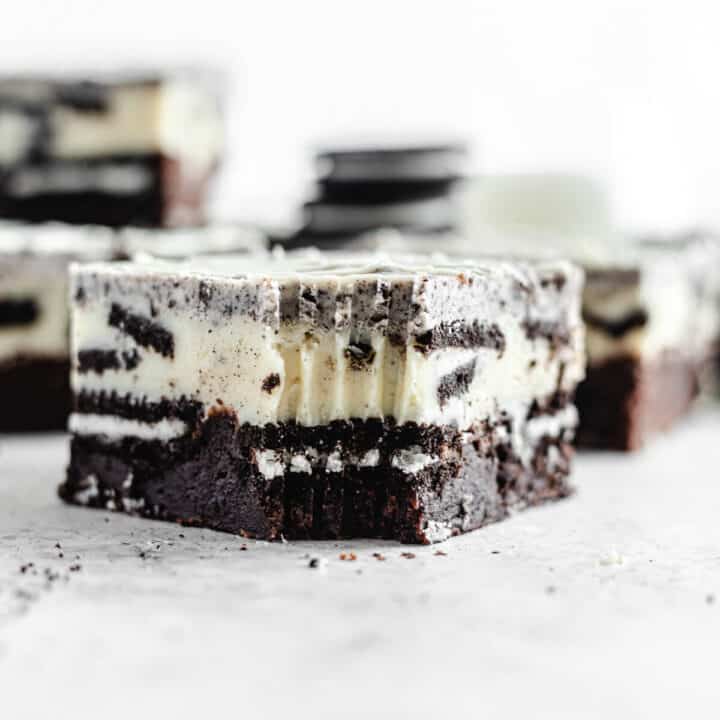 Oreo Fudge Brownies
Additional Time:
2 hours
15 minutes
Total Time:
3 hours
10 minutes
These Oreo Fudge Brownies feature 3 outstanding layers including decadent oreo-stuffed brownies, thick cookies and cream fudge and a cookies and cream chocolate topping! The ultimate brownie!
Ingredients
Brownies:
6 oz. (175g) dark chocolate (70%), chopped
¾ cup (170g) unsalted butter, cubed
¾ cup (150g) granulated sugar
½ cup (110g) light brown sugar, packed
2 large eggs, room temperature
1 large egg yolk
1 teaspoon pure vanilla extract
¾ cup (96g) all-purpose flour
2 Tablespoons (15g) unsweetened cocoa powder, sifted
¼ teaspoon salt
16 Oreos
Cookies and Cream Fudge:
1 and ¼ cup (14 oz) sweetened condensed milk
3 cups (525g) white chocolate chips
1 teaspoon pure vanilla extract
15 Oreos, roughly chopped
Cookies and Cream Topping:
6 Oreos, filling scraped off
1 and ½ cups white chocolate chips
Oreo filling (above)
½ tablespoon vegetable shortening
¼ cup white chocolate chips, melted for drizzling
Instructions
For the Brownies:
Preheat the oven to 350°F (325°F for dark non-stick pans) (180°C). Line a 9x9-inch square baking pan with aluminum foil or parchment paper, leaving about 2-inches hanging over the sides and spray with non-stick spray. Set aside.
Place chopped chocolate and cubed butter in a large bowl over a saucepan of simmering water. Stir constantly until the butter and chocolate are both melted and combined, about 3-4 minutes.
Remove bowl from heat and immediately add both sugars, whisk until sugar is dissolved and mixture is smooth.
Add eggs, egg yolk and vanilla extract and slowly whisk until combined. Do not overmix.
Add flour, cocoa, and salt and stir with a rubber spatula until well blended.
Pour the batter into the prepared pan and spread into an even layer. Press the Oreos on top.
Bake for 25-30 minutes or until a toothpick inserted into the brownie comes out with a few moist crumbs. Allow to cool completely in the pan on a wire rack.
For the Cookies and Cream Fudge:
Add the condensed milk, white chocolate chips and vanilla to a large heat-proof bowl and melt over a saucepan of simmering water stirring constantly until fully melted and smooth.
Fold in the chopped Oreos and spread over cooled brownies. Place a sheet of plastic wrap and flatten into an even layer.
For the Cookies and Cream Topping:
Add white chocolate chips to a microwave safe bowl.
Scrape the filling out of 6 Oreos and add it to the white chocolate chips along with the shortening.
Microwave in 30 second intervals, stirring after each until the chocolate and cream are melted and smooth.
In a food processor, or using a Ziploc bag and a rolling pin, crush the Oreo wafers into fine crumbs. Add to the white chocolate chips and fold until combined. Spread chocolate over fudge layer. Cover and refrigerate until set, about 1-2 hours.
Once everything is set, lift the brownies out of the pan and drizzle on the melted white chocolate. Allow to set in the refrigerator for 10-15 minutes. Cut into even squares. Enjoy!
Notes
Storage: Store Brownies in an airtight container at room temperature for up to 1 week.
Pan: You can use an 8-inch square pan if you don't have a 9-inch pan. The brownies will be taller and you will only need 12 Oreos for the brownie layer.
Servings: These brownies are very sweet, so I recommend cutting them into smaller pieces, as a little goes a long way.
Nutrition Information:
Yield:

9
Serving Size:

1
Amount Per Serving:
Calories:

523
Total Fat:

25g
Saturated Fat:

11g
Trans Fat:

0g
Unsaturated Fat:

5g
Cholesterol:

90mg
Sodium:

312mg
Carbohydrates:

73g
Fiber:

3g
Sugar:

46g
Protein:

7g
BON APPÉTIT!
Love, Dedra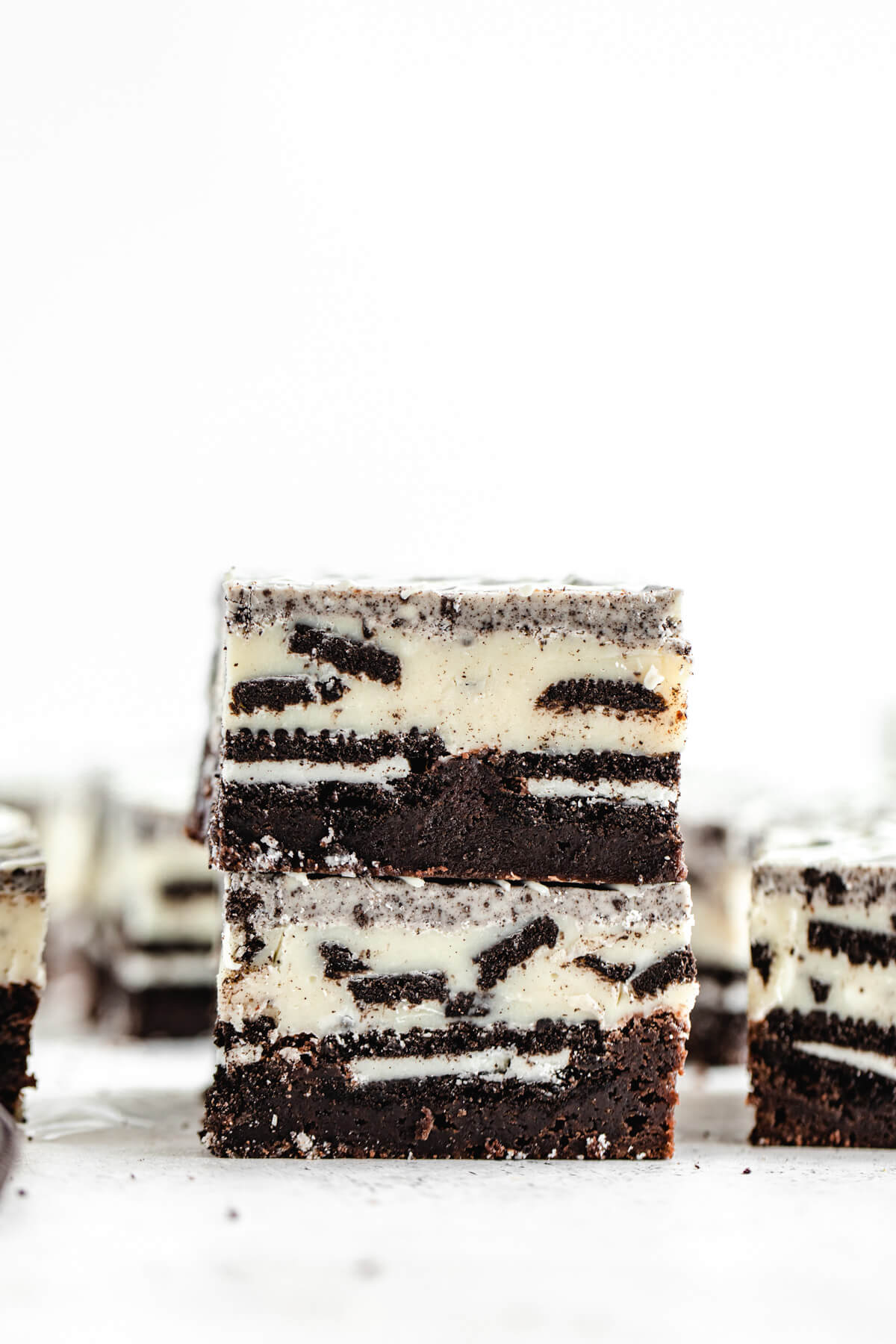 ©QUEENSLEE APPÉTIT. All images & content are copyright protected. Please do not use my images without prior permission. If you want to republish this recipe, please re-write the recipe in your own words, or link back to this post for the recipe.