This post may contain affiliate links. Please see my full disclosure policy for details.
WARNING: If you're on a diet, turn away, NOW! As for my diet-free individuals, welcome! I present you with the ULTIMATE dessert – Oreo. Fudge. Brownies!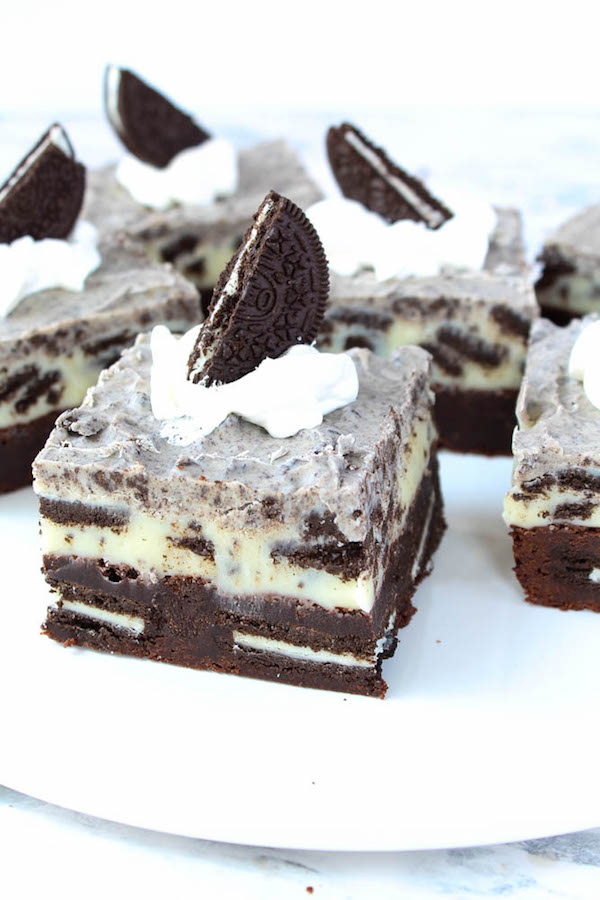 These devilish little bars consist of a fudgy Oreo stuffed brownie on the bottom, white chocolate Oreo fudge in the middle and cookies and cream chocolate on top *faints*. If that isn't enough for you, you can also garnish these brownies with whipped cream and more Oreos like I did.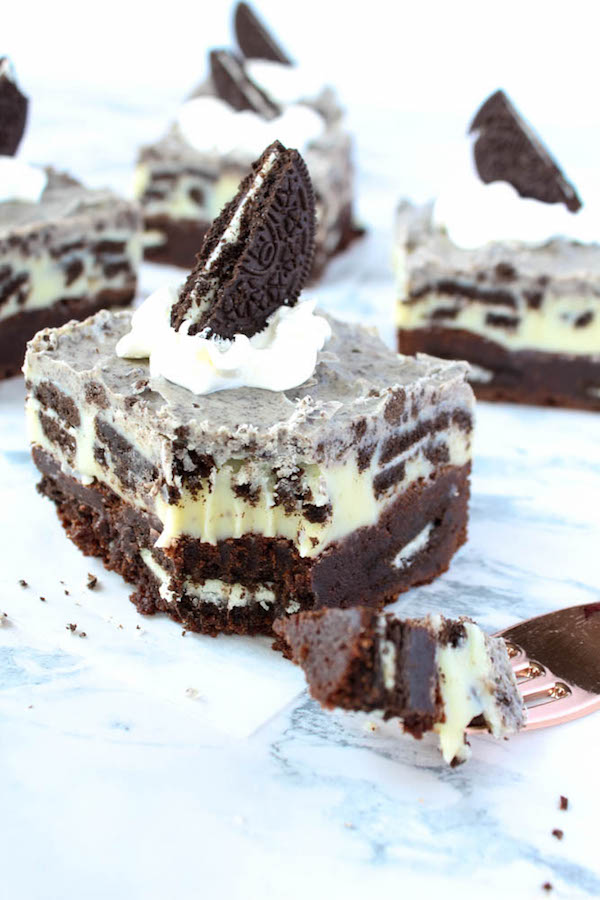 So let's go through the layers of this little monster. For the brownies, I used melted dark chocolate instead of cocoa powder because I wanted these brownies to be extra fudgy, but I still added a small amount of cocoa powder at the end for a deeper chocolate flavour.
I also decided to add a mixture of granulated sugar AND brown sugar to create a more moist and chewy texture in the finished brownies.
Now since these brownies are OREO themed, I went ahead and added a layer of Oreos inside of the brownies so that these bars will be filled with Oreos from top to bottom.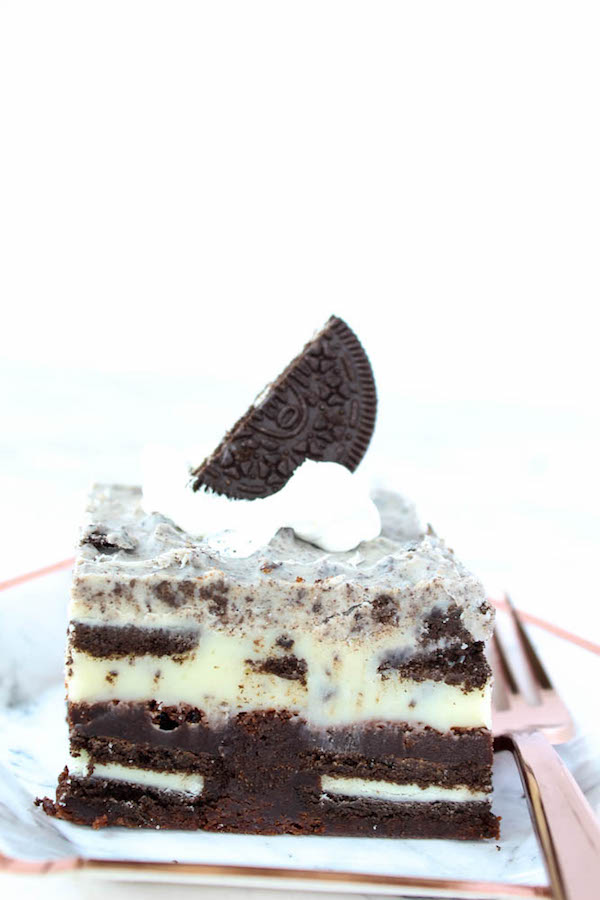 These brownies are fantastic on their own, buuuuuutt as always, we're gonna go over the top here and add FUDGE! The fudge is extremely simple to make and it only needs 3 ingredients: sweetened condensed milk + white chocolate + chopped Oreos. Mix that all together and spread it on top of your brownies. Fudge on fudge, hallelujah!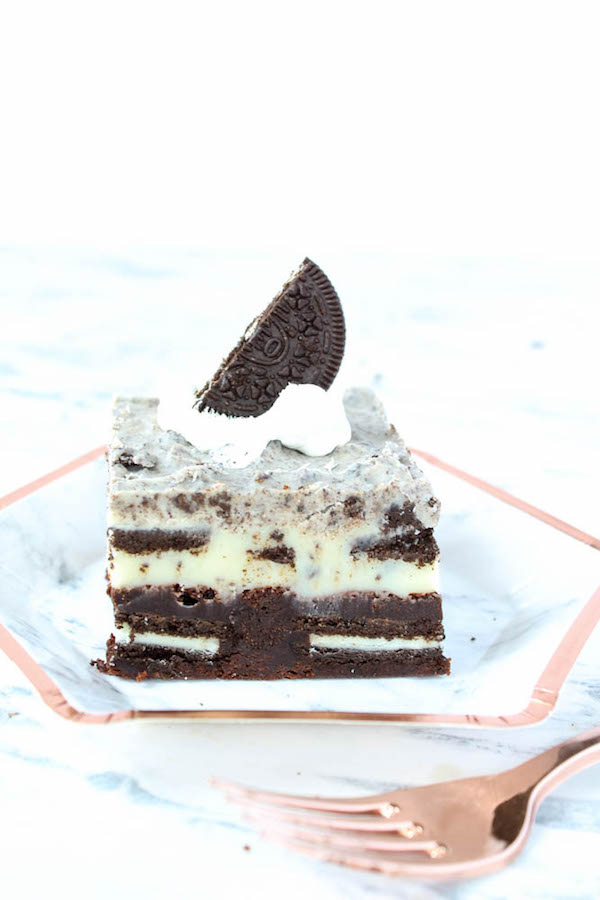 As I mentioned many times before, I am extra and over the top, so I decided to add a layer of cookies and cream chocolate on top of the fudge layer, along with some whipped cream and an Oreo to top it all off.
I sliced these bars pretty big for the photos, but I recommend cutting them into small squares since a little goes a long way.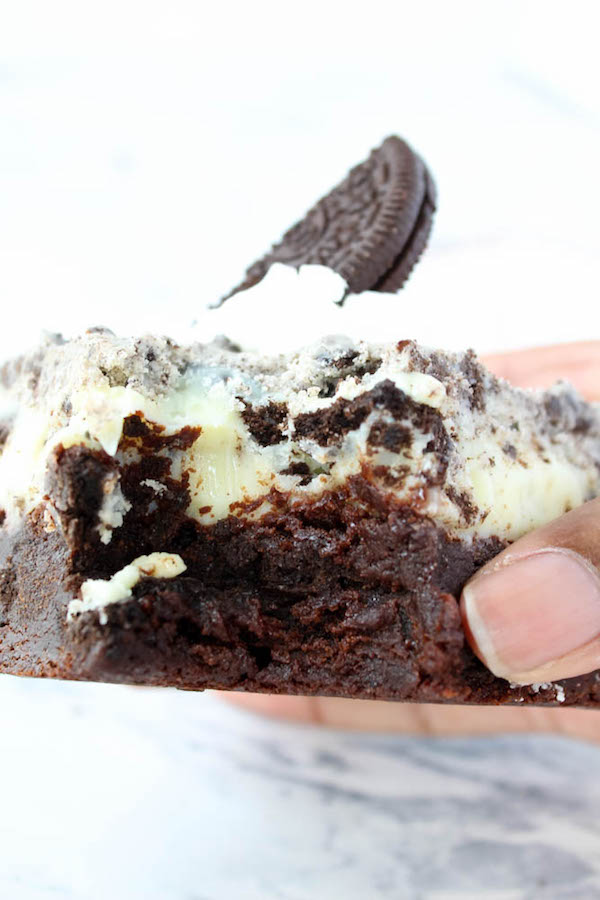 Shop The Recipe
Here are some items I used to make this recipe
Let's get baking!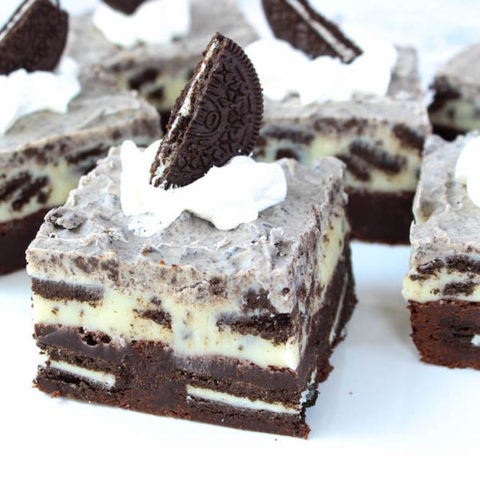 Oreo Fudge Brownies
Yield: 9 Large Bars, 18 Small Bars

Prep Time: 4 minutes

Cook Time: 25 minutes

Total Time: 29 minutes

Fudgy chocolate brownies stuffed with Oreos, topped with cookies and cream fudge, cookies and cream chocolate and garnished with whipped cream and more Oreos! The ULTIMATE dessert!
Ingredients
Brownies:
6 oz (175g) bittersweet chocolate (70%), chopped
3/4 cup (170g) unsalted butter, cubed
3/4 cup (150g) granulated sugar
1/2 cup (110g) light brown sugar, packed
2 large eggs, room temperature
1 large egg yolk
1 teaspoon pure vanilla extract
3/4 cup (96g) all-purpose flour
2 Tablespoons (15g) unsweetened cocoa powder, sifted
1/4 teaspoon salt
16 Oreos
Cookies and Cream Fudge:
1 and 1/4 cup (14 oz) sweetened condensed milk
2 cups (350g) white chocolate chips
15 Oreos, roughly chopped
Topping:
6 Oreos, filling scraped off + extra Oreos for topping
1 and 1/2 cups (265g) white chocolate chips
1 Tablespoon vegetable shortening
Cool whip, for garnishing
Instructions
For the Brownies:
Preheat the oven to 350℉ (177℃). Line a 9x9-inch square baking pan with aluminum foil or parchment paper, leaving about 2-inches hanging over the sides and spray with non-stick spray. Set aside.
Place chopped chocolate and cubed butter in a large heat-safe bowl over a saucepan of simmering water. Stir constantly until the butter and chocolate are both melted and smooth, about 3-4 minutes.
Remove bowl from heat and immediately add both sugars. Whisk until sugars are dissolved and mixture is smooth. Use your fingertip to check the temperature of the batter to make sure it's not too hot---if it is, allow it to cool down for a few minutes until it is just warm. This is to make sure the eggs don't curdle when added.
Once the batter cools down, add the eggs, egg yolk and vanilla and slowly whisk until combined. Do not over-mix. Add flour, cocoa, and salt and stir with a rubber spatula until well combined.
Pour half of the batter into the prepared pan and spread into an even layer. Place Oreos on top of the batter side-by-side. Pour the rest of the batter on top and spread into an even layer to cover the Oreos.
Bake for 25-30 minutes or until a toothpick inserted into the centre of the brownie comes out with a few moist crumbs, not wet batter. Allow to cool completely in the pan on a wire rack.
For the Cookies and Cream Fudge:
Add sweetened condensed milk and white chocolate chips to a medium bowl over a saucepan of simmering water and heat on medium-low, stirring constantly until chocolate is fully melted and mixture is combined and smooth. Remove from heat and fold in chopped Oreos.
Spread fudge over cooled brownies and place in the refrigerator to set, about 2 hours.
For the Topping:
Scrape (or lick) the filling out of 6 Oreos. Put Oreos in a food processor, or in a ziploc bag using a rolling pin, and crush into fine crumbs, you should have 1/2 cup. Set aside.
Add white chocolate chips and 1 tablespoon of shortening to a microwave safe bowl and microwave in 30 second intervals, stirring after each until completely melted and smooth. Stir in Oreo crumbs and spread over fudge layer. Return to refrigerator for a few hours or overnight.
Once everything is set, lift the brownies out of the pan and cut into even squares. Garnish with cool whip and half an Oreo. Serve and Enjoy!
Notes
•Store Brownies in an airtight container at room temperature or in the refrigerator for up to 1 week.

•If the sugars are having trouble dissolving, return bowl to heat and continue to stir until smooth.

• You can use an 8-inch square pan if you don't have a 9-inch pan. The brownies will be taller and you will only need 12 Oreos for the brownie layer.

•These brownies are very sweet, so I recommend cutting them into smaller pieces, as a little goes a long way.
Bon Appétit!
Love, Dedra ❤