These Ferrero Rocher Fudge Brownies are the ultimate dessert bars! A Ferrero Rocher stuffed fudge brownie, topped with a creamy Nutella Fudge filled and topped with Ferrero Rochers and roasted hazelnuts. Take these bars to another level with a drizzle of silky Nutella Ganache and you've got the greatest brownie ever!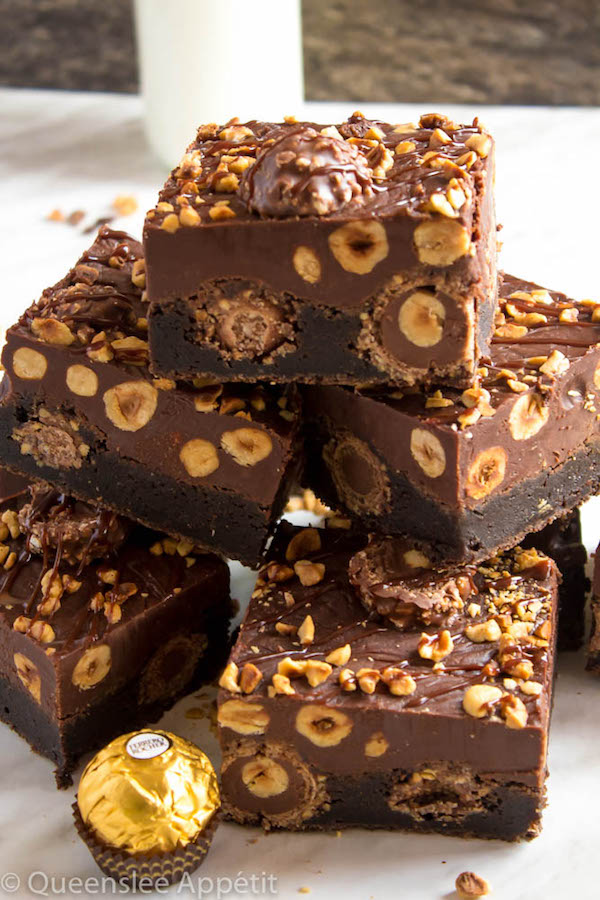 Ferrero Rocher Fudge Brownies
Introducing my new FAVOURITE fudge brownie recipe! I just wanna start off by thanking the baking Gods for putting this incredible recipe idea in my head. If you're a fan of Ferrero Rochers, Nutella and brownies, you'll fall head over heels for these decadent brownies.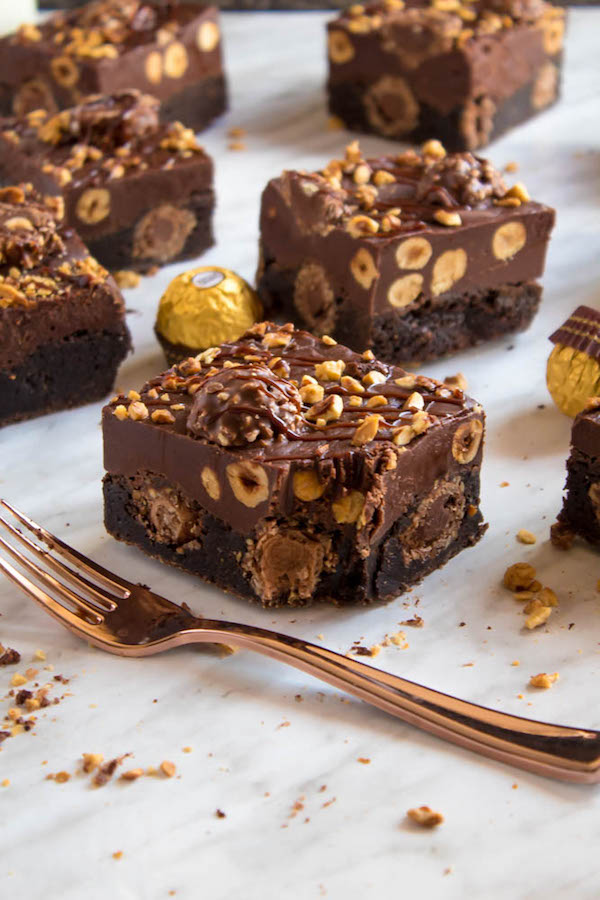 What is a Ferrero Rocher?
If you're not familiar with a Ferrero Rocher, it's basically a whole roasted hazelnut surrounded by a chocolate hazelnut filling (I think it's Nutella), around that filling is a thin wafer shell. All of this deliciousness is then encased in a milk chocolate coating with chopped hazelnuts mixed in. Now imagine all of that yummy perfection stuffed inside of a fudgy brownie and a thick and creamy Nutella fudge!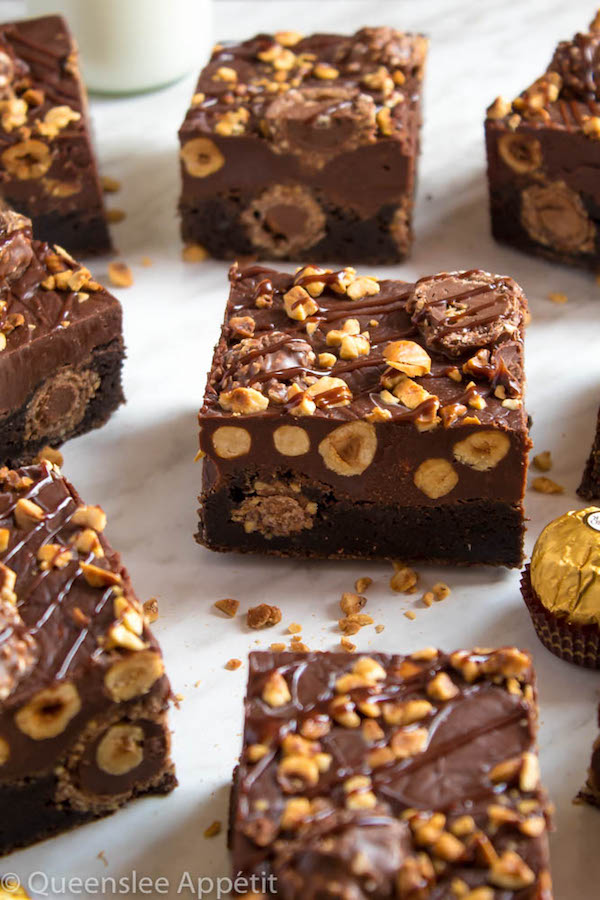 Ferrero Rocher Stuffed Brownies
To begin, I whipped up a batch of my favourite brownie recipe that originally made their debut in these Oreo Fudge Brownies. This time, instead of stuffing them with Oreos, I stuffed them with Ferrero Rochers!
To do this, I poured half of the brownie batter into the baking pan. I then placed about 12 frozen Ferrero Rochers on top, in an even layer. Make sure your Ferrero Rochers are frozen so they don't melt while baking.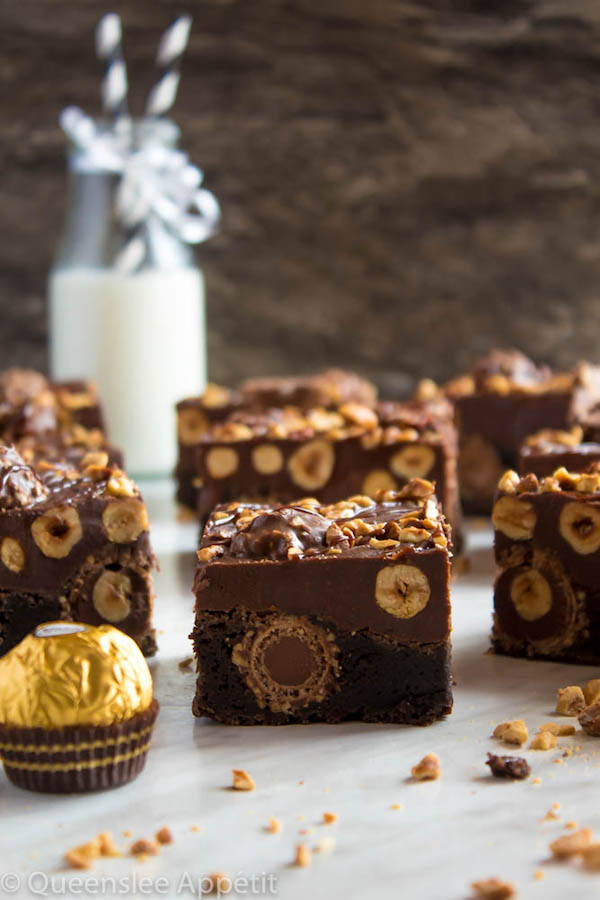 Now this next part can be a bit tricky. For my Oreo stuffed brownies, I simply pour the remaining batter on top and spread it into an even layer. We can't do that for this recipe because when you pour the batter on top of the Ferrero Rochers, it doesn't set into an even layer. The batter sort of sinks around the Ferrero Rochers, leaving them visible.
So to cover the chocolates, I poured the batter directly on top of each truffle to make sure they were all completely covered. When the brownies bake, the batter will rise up and cover the truffles, keeping them nice and snug inside the brownie.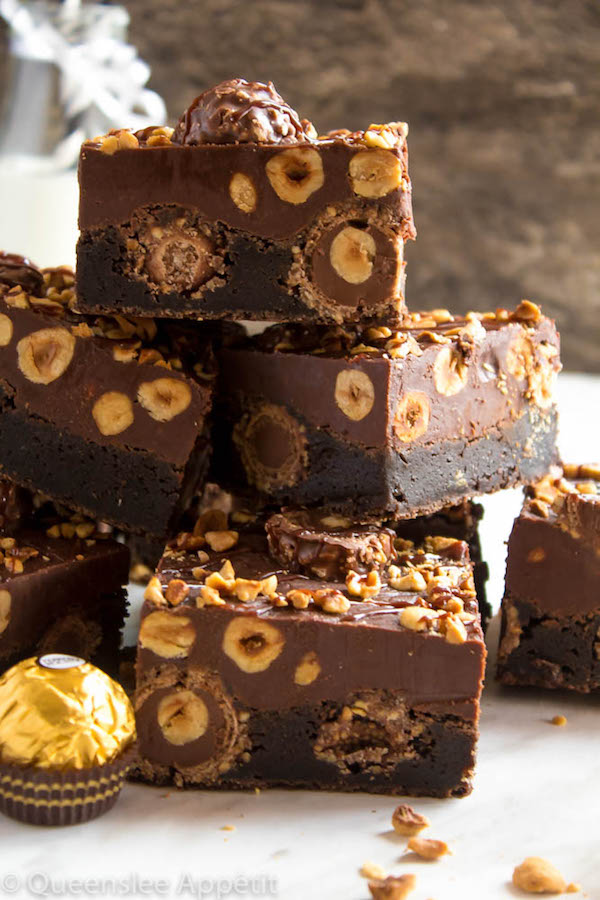 Creamy Nutella Fudge
To take these Ferrero Rocher stuffed brownies to the next level, I topped them with a thick, beautiful Nutella fudge! I got the fudge recipe from this other amazing Nutella fudge brownie recipe, but to take it up a notch, I mixed in some whole roasted hazelnuts. The crunch of the hazelnuts pairs perfectly with the smooth, creamy fudge.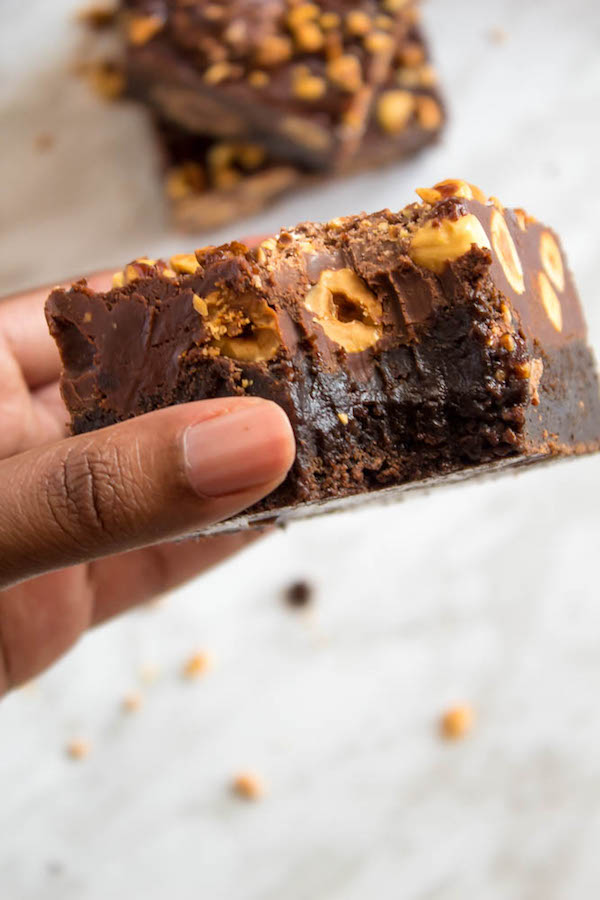 To finish these bars off, I topped them with some more chopped hazelnuts, Ferrero Rochers and a drizzle of my outstanding Nutella Ganache! I originally planned on drizzling these with melted chocolate, but I had plenty of Nutella Ganache leftover from this No-Churn Coffee Oreo Nutella Swirl Ice Cream. Besides, this is a Nutella recipe, so it's fitting.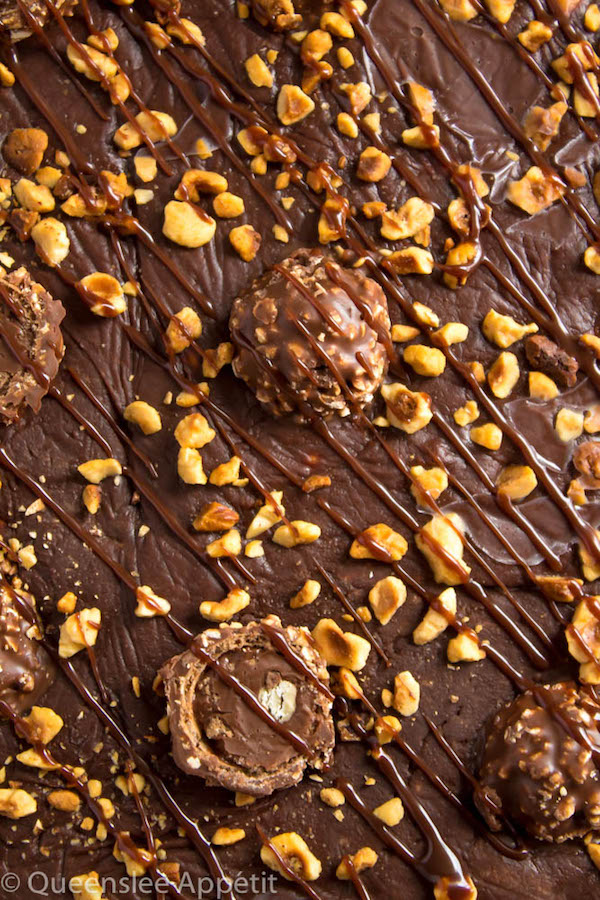 Once all of the layers have set, lift them out of the pan and slice them into squares with a hot knife. Chilled brownies + hot knife = clean, beautiful squares!
Although I cut these while cold, I prefer to enjoy them at room temperature, that way the fudge and the brownie melts in your mouth. Ugh God, just thinking about these brownies makes me want to have another one. Unfortunately, I'm writing this long after I made them so there's none left. There are tears in my eyes as I type this.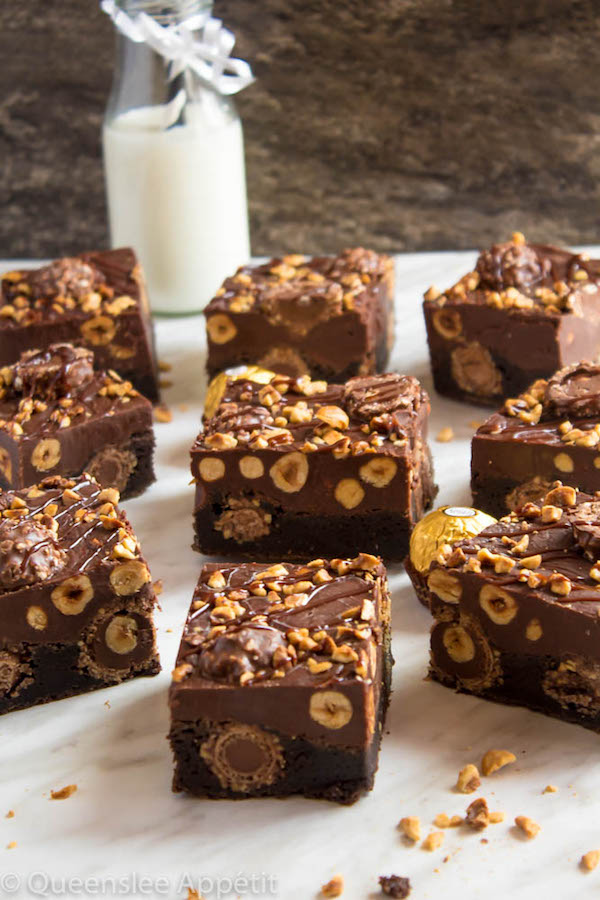 Thick, fudgy, rich, chocolate-y — these brownies are mind blowingly delicious. They're super easy to make and are absolutely divine for any hardcore Nutella lover! So what are you waiting for? Gather up those ingredients and make your own batch of the greatest. brownies. ever!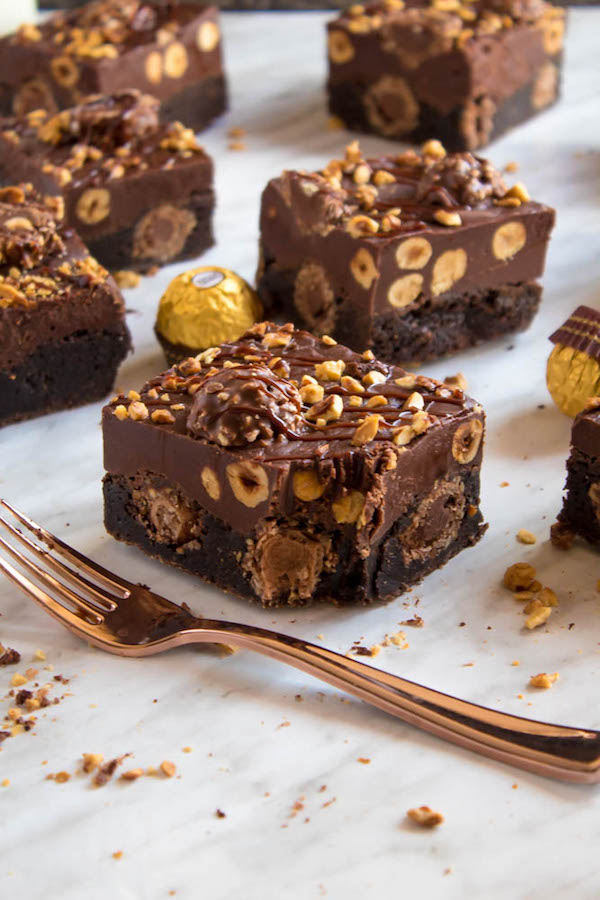 Try these Fudge Brownies Next: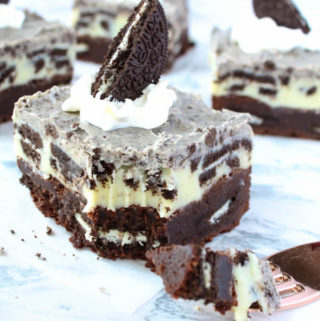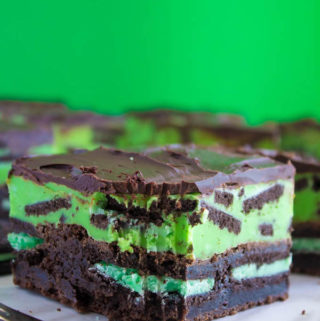 White Chocolate Fudge Red Velvet Brownies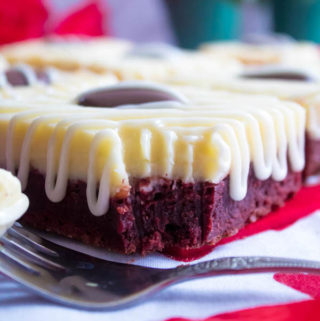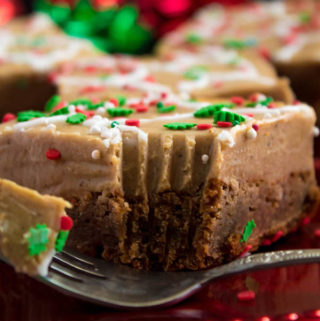 White Chocolate Pumpkin Spice Fudge Blondies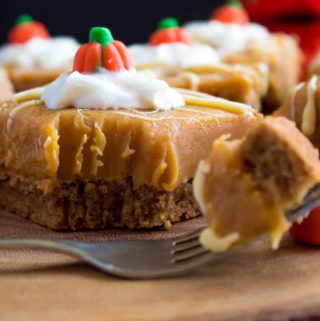 >>PIN ME FOR LATER<<

FOLLOW QUEENSLEE APPÉTIT
Pinterest | Instagram | Facebook | Twitter |
Did you make a recipe? I'd love to see how it turned out! Follow me on Instagram and use the hashtag #queensleeappetit so I can see all of the Queenslee Appétit recipes you've made!
Let's get baking!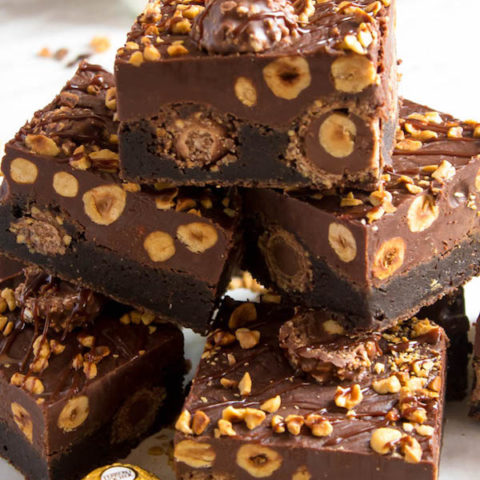 Ferrero Rocher Fudge Brownies
Inactive Time:
3 hours
18 minutes
Total Time:
3 hours
50 minutes
These Ferrero Rocher Fudge Brownies are the ultimate dessert bars! A Ferrero Rocher stuffed fudge brownie, topped with a creamy Nutella Fudge filled and topped with Ferrero Rochers and roasted hazelnuts. Take these bars to another level with a drizzle of silky Nutella Ganache and you've got the greatest brownie ever!
Ingredients
Brownies:
6 oz dark chocolate, chopped
¾ cup unsalted butter, cubed
¾ cup granulated sugar
½ cup light brown sugar
2 large eggs
1 large egg yolk
1 teaspoon pure vanilla extract
¾ cup all-purpose flour
2 tablespoon unsweetened cocoa powder
¼ teaspoon salt
16 Fererro Rochers, frozen
Nutella Fudge:
14 oz can sweetened condensed milk
1 and ½ cups semisweet chocolate chips
1 cup Nutella
¾ cup whole roasted hazelnuts, skinned + ½ cup hazelnuts, finely chopped
6 Ferrero Rochers, sliced in half
Instructions
For the Brownies:
Preheat the oven to 350°F (325°F for dark non-stick pans) (180°C). Line a 9x9-inch square baking pan with aluminum foil or parchment paper, leaving about 2-inches hanging over the sides and spray with non-stick spray. Set aside.
Place chopped chocolate and cubed butter in a large bowl over a saucepan of simmering water. Stir constantly until the butter and chocolate are both melted and combined, about 3-4 minutes.
Remove bowl from heat and immediately add both sugars, whisk until sugar is dissolved and mixture is smooth. Use your fingertip to check the temperature of the batter to make sure it's not too hot--it should be warm. If it is too hot, let it cool for a few minutes before proceeding. This is so the eggs don't curdle when added.
Add eggs, egg yolk and vanilla extract and slowly whisk until combined. Do not overmix. Add flour, cocoa, and salt and stir with a rubber spatula until well blended.
Pour half of the batter into the prepared pan and place frozen Ferrero Rochers in an even layer. Pour the rest of the batter on top of each Ferrero Rocher to cover completely, do not spread. Bake for 25-30 minutes or until a toothpick inserted into the brownie comes out with a few moist crumbs. Allow to cool completely in the pan on a wire rack.
For the Nutella Fudge:
Add the condensed milk, chocolate chips and Nutella to a large heat-proof bowl and melt over a saucepan of simmering water stirring constantly until fully melted and smooth.
Fold in ¾ cup of whole roasted hazelnuts and spread over cooled brownies. Sprinkle on the ½ cup of chopped hazelnuts and place the sliced Ferrero Rochers on top. Place in the refrigerator to set, 2 hours.
Make a recipe of my Nutella Ganache, or melt about ½ cup of chocolate chips and drizzle on top, if desired.
Once everything is set, lift the brownies out of the pan and cut into even squares. Enjoy!
Notes
- Store in an airtight container in the refrigerator for up to 1 week. Serve at room temperature.
©QUEENSLEE APPÉTIT. All images & content are copyright protected. Please do not use my images without prior permission. If you want to republish this recipe, please re-write the recipe in your own words, or link back to this post for the recipe.
BON APPÉTIT!
Love, Dedra ❤