This Jamaican Sorrel Drink is the staple Christmas beverage in all Jamaican households! But Jamaican or not, EVERYONE needs to try this beautiful, refreshing, flavourful and super easy drink! Easily customizable, you can adjust the quantities of the recipe AND I provided both a boozy adult version and a non-alcoholic kid-friendly version!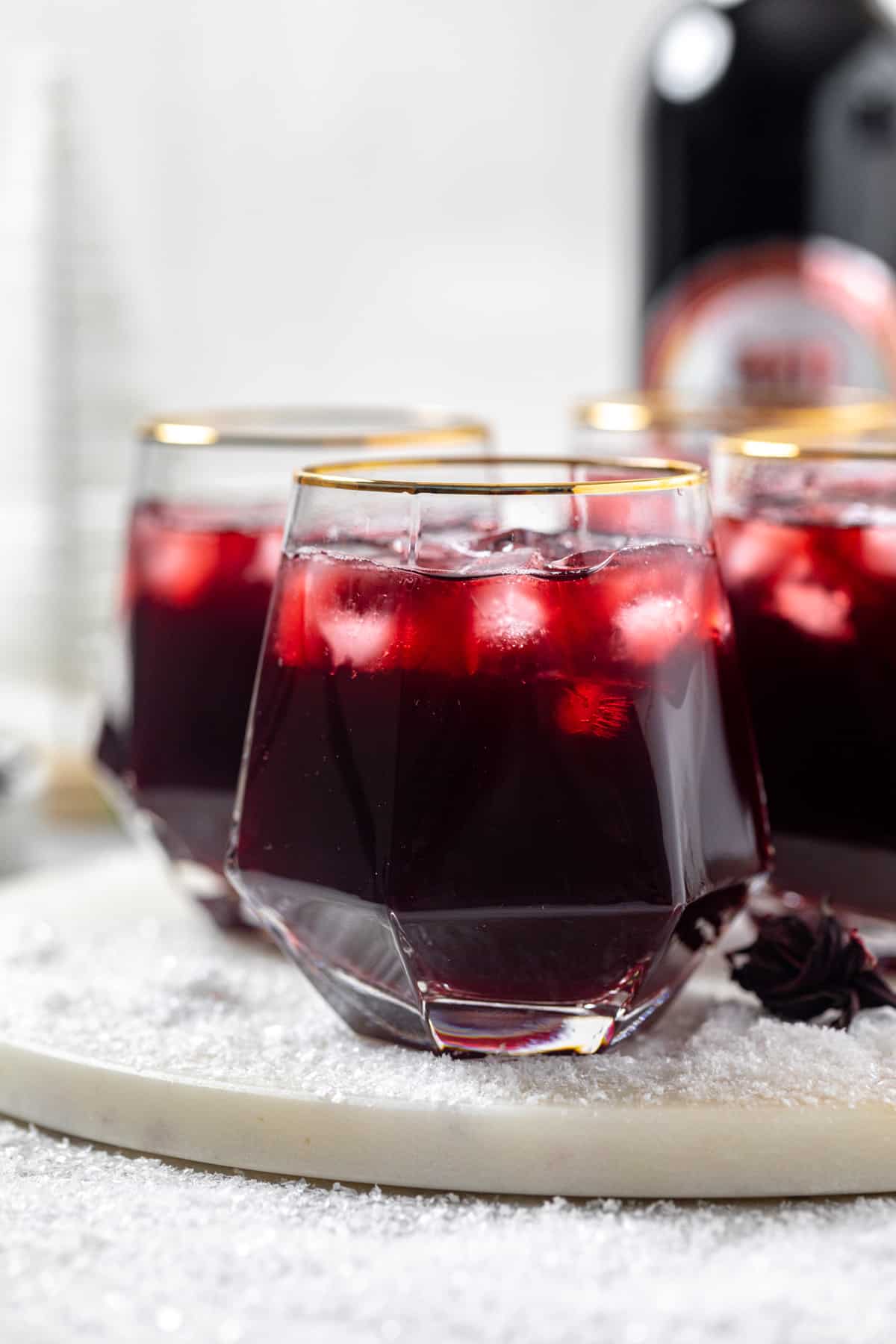 This post may contain affiliate links. As an Amazon Associate, I earn from qualifying purchases. This in no way affects my opinion of those products and services. All opinions expressed on this site are my own. Please see my full disclosure policy for details.
I'll admit, growing up I HATED sorrel with a passion. I'm not even sure why. I think as I child I just found the flavours way too strong. Now that my tastebuds have matured, I can't get enough of it!
Unfortunately for me, I'm in a family where only one or two people make sorrel every Christmas and the rest of the family expects a bottle from them. So I can't even enjoy the whole pot like I want to since I have to share. Hopefully, my family takes a look at this recipe and learns how to MAKE IT THEMSELVES!
Sorry, I'm sick of sharing my sorrel.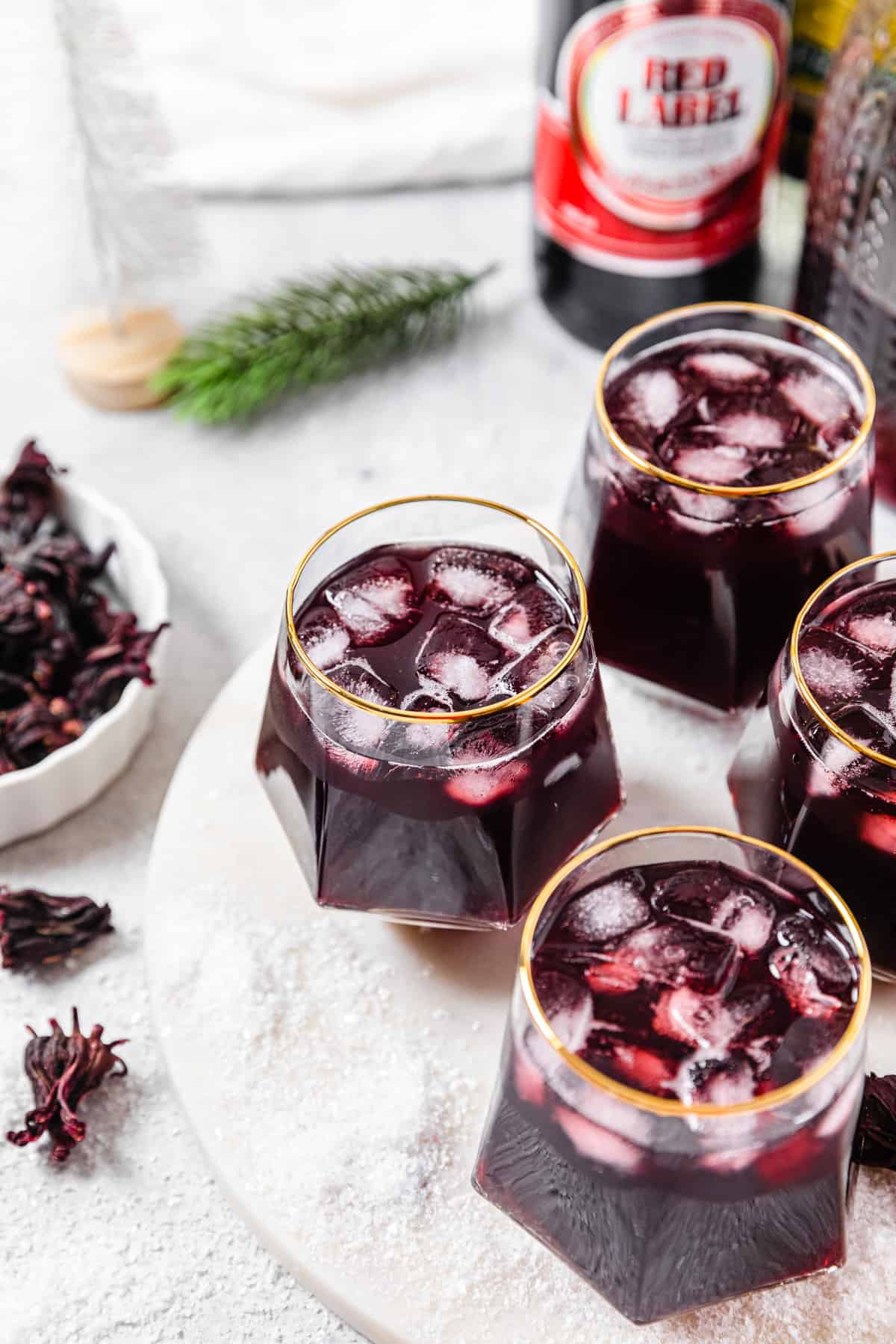 What is Sorrel?
Sorrel is a drink made from the hibiscus flower named "Roselle". It's practically called "hibiscus" drink, but since sorrel is the Jamaican word for hibiscus, we just call this drink sorrel.
When the sepals or calyx of the flower are combined with boiling hot water, it releases its beautiful deep red colour and can be combined with different flavours and sweeteners to create a delicious spiced-up beverage!
Ingredients in Sorrel Drink
Many different people all over the Caribbean make their sorrel differently. Some add different spices, fruit, wine etc. Today I'll be teaching you guys how to make the more simplified, yet incredible version my grandmother's been making for decades.
Here are the ingredients you need for sorrel:
Water — the base of our drink. The amount of water you use depends on how big your pot is and how much sorrel you wanna make. I used a 7.3-quart dutch oven so I used about 20 cups of water.

Fresh Ginger Root — adds so much great flavour to the drink, when you add the right amount that is. If you add too much it'll be too strong. So for 20 cups of water, I used a pound of ginger.

Dried Sorrel — the main ingredient! You don't need the fresh hibiscus calyx, just use a package of the dried stuff. You can find this at your local West Indian or African store (or any grocery store that has a Caribbean section. You can also find a package here.
Sugar — sorrel is pretty tart, so you need to sweeten it to balance things out. I use granulated sugar to sweeten mine, but you can use brown sugar too.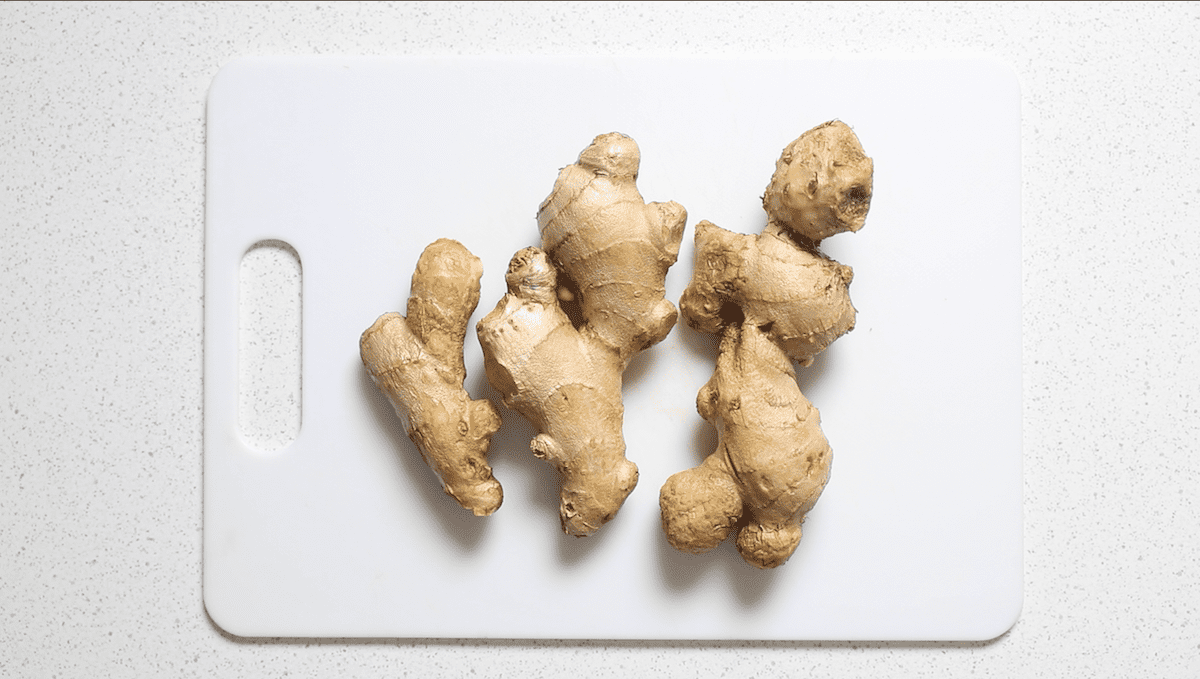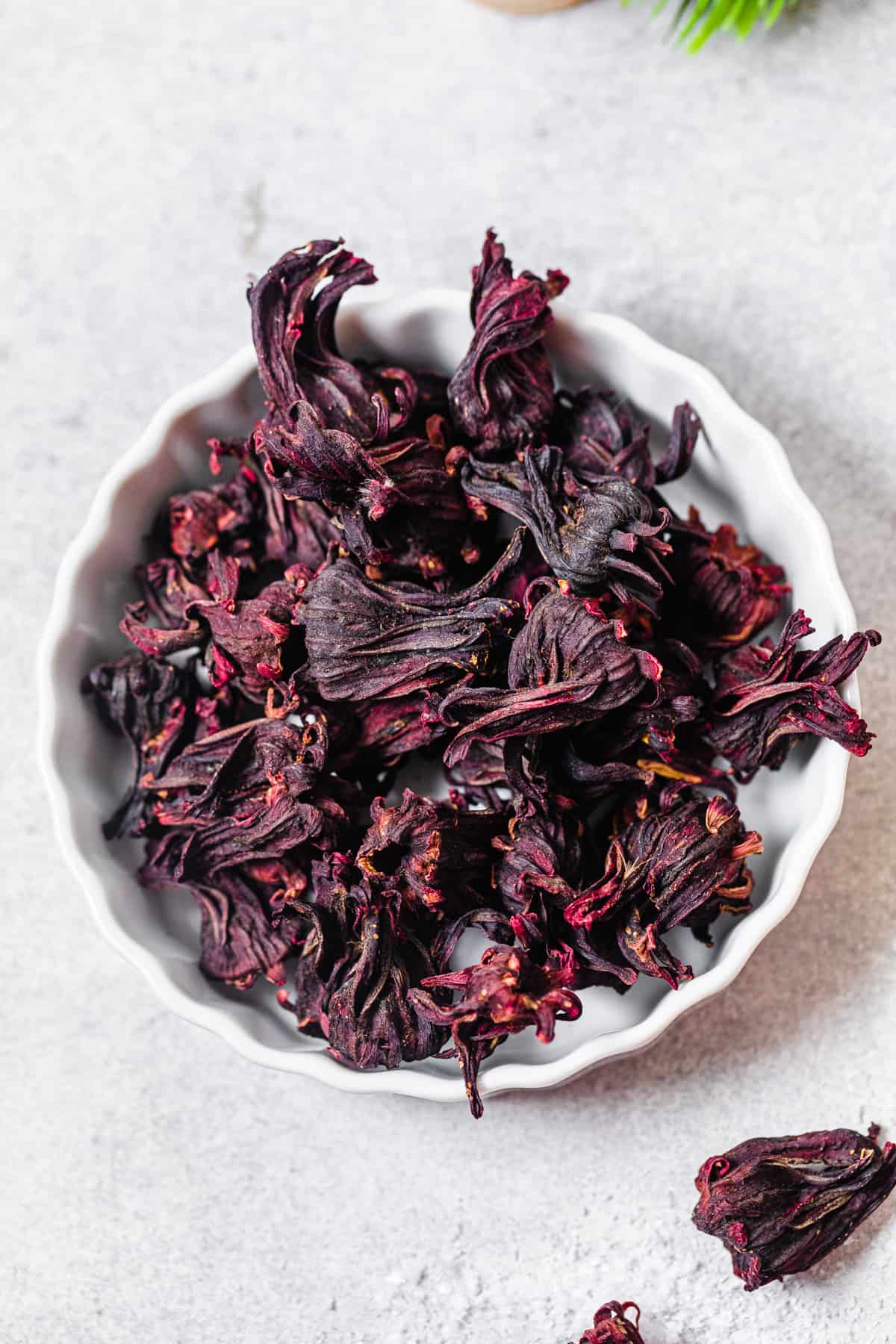 Optional Add-Ins:
Ginger-ale — this is what my grandmother adds to all her sorrel to give it it a stronger flavour.

Rum — you can add as much or as little as you want. I only add a few tablespoons to give it a small kick, but not too much to get me tipsy.

Red Label Wine — a Jamaican wine that gets its sweet flavours from raisins, marzipan, candied berries and a hint of dark chocolate. Once again, a few tablespoons of this in your sorrel drink makes a world of difference!
Citrus Fruit — Limes, Lemons, Oranges etc. my family and I do not add any of this to our sorrel, but many people do. You can boil the peels with the ginger or maybe slice it up and let it sit and steep in the pot for a day.

Cinnamon Stick — again, we never use it but it is very common to boil a cinnamon stick with the sorrel, so you can add it with the ginger at the beginning of the recipe.

Cloves — a handful of cloves can also add a nice Christmas flavour!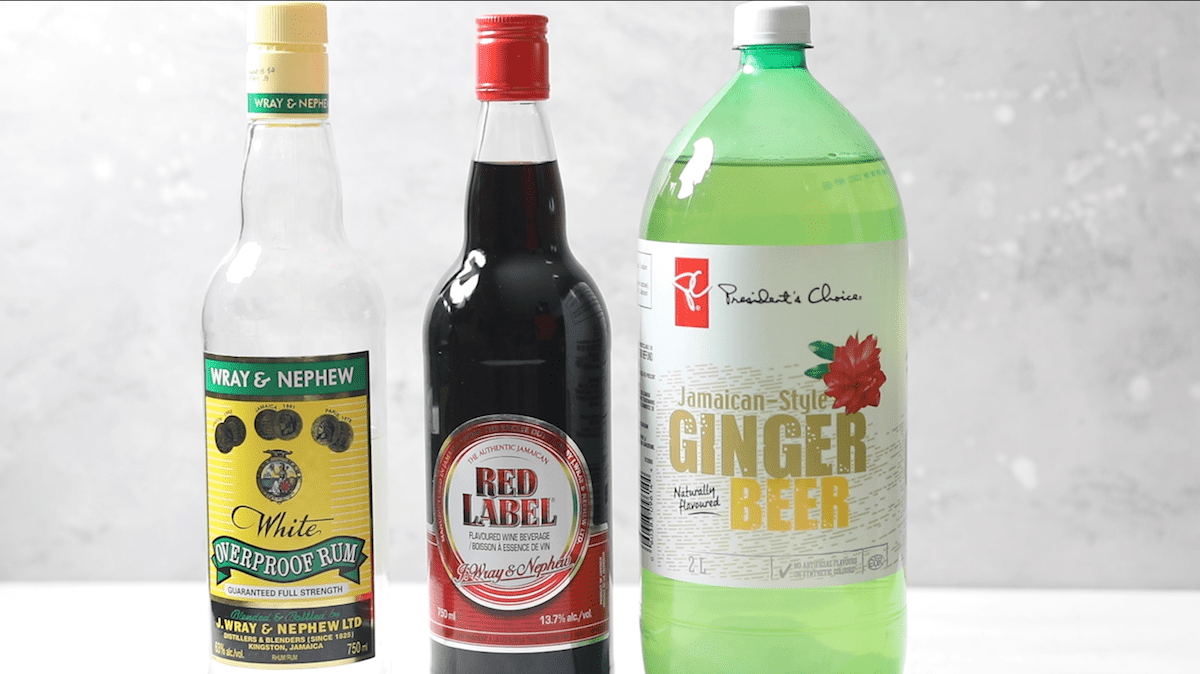 How to Make Jamaican Sorrel + Tips & Tricks
Trust me when I tell you sorrel is one of the easiest drinks you could ever make. Here's how my family does it:
Wash the Sorrel: remember, sorrel comes from a flower so there's gonna be some dirt in there. Throw your sorrel into a large bowl and fill it with lukewarm water. Use your hands to stir it around to get out some of that dirt, then drain the water. I do this a total of three times. Don't worry about losing some of that colour, there'll be plenty left over for our drink!
Grate the Ginger: wash your ginger, then use a box grater to grate it all. Grating the ginger makes it stronger and extracts more of the flavour when you boil it. Don't throw away the chunks you have left after you've grated the ginger as much as you can. Just throw them into the water as well.

Boil the Ginger: fill your pot with the right amount of water (as I said before, 20 cups in a 7.3-quart pot) and bring it to a boil. Once it starts boiling, add your grated ginger (and the cloves or cinnamon stick if you plan to use one) and let it boil for 10 minutes.

Boil the Sorrel: after 10 minutes, add your washed sorrel to the pot (you can also add any citrus peels like orange, lemon or lime if you want a more fruity flavour) and let it boil for another 3-5 minutes.

Let it Steep for a few days: remove your pot from the heat, then cover it and let the sorrel cool down and seep for a few days.

Strain: after a few days, strain your sorrel into a separate bowl and discard all the bits. Do this at least 2-3 times to ensure it's all smooth.

Sweeten: gradually add your sugar a cup at a time, taste the sorrel after each ½ - 1 cup, and decide if you need to add more.

Add-Ins: now it's time to add any extra flavour you want to the sorrel. In my case, this is when I added the rum and red-label wine.

Bottle & Serve: find lots of big bottles and jugs, then use a funnel to bottle up your sorrel (see below for storage tips).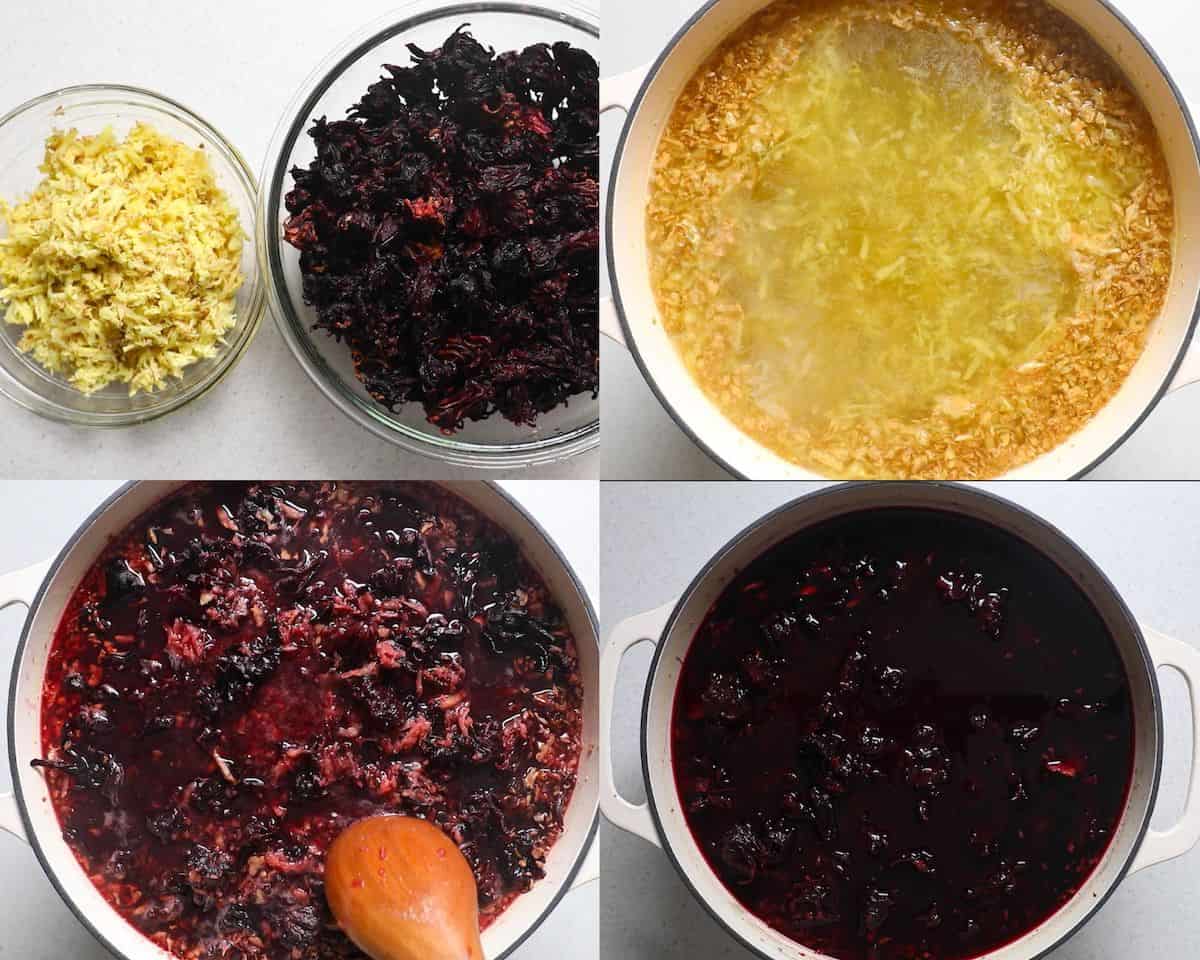 How Long Should I Let Sorrel Seep?
The longer, the better! This year I let my sorrel sit and steep for 3 days, but last year I left it for 5. You wanna give it time to soak in all of that flavour.
And since it has to seep for a few days before you strain and serve it, that makes this the perfect make-ahead drink! Start making it a week before Christmas, bottle and refrigerate it a day or two before and when it comes time for dinner everyone can help themselves to a nice cold glass!
How to Strain Sorrel
You could strain your sorrel two ways: a strainer or a cheesecloth. Since I strainer my sorrel 3 times, I ended up using both.
First, I scooped the sorrel and bits into a cheesecloth, a few cups at a time and squeezed all the juice out. Then I put one of those small fine mesh strainers used for tea and coffee inside a larger strainer and double-strained my sorrel through that.
Sweetening the Drink
There are a few ways you could sweeten your sorrel. I use granulated sugar, but some folks use brown sugar, maple syrup, honey or simple syrup.
Whatever you use will vary on how much sweetener is needed. My sorrel needed 4 and ½ cups of granulated sugar (no it wasn't too sweet, don't worry) but if you use something else you may need less or more than 4 cups. This is why you need to add a little at a time and give it a taste as you go.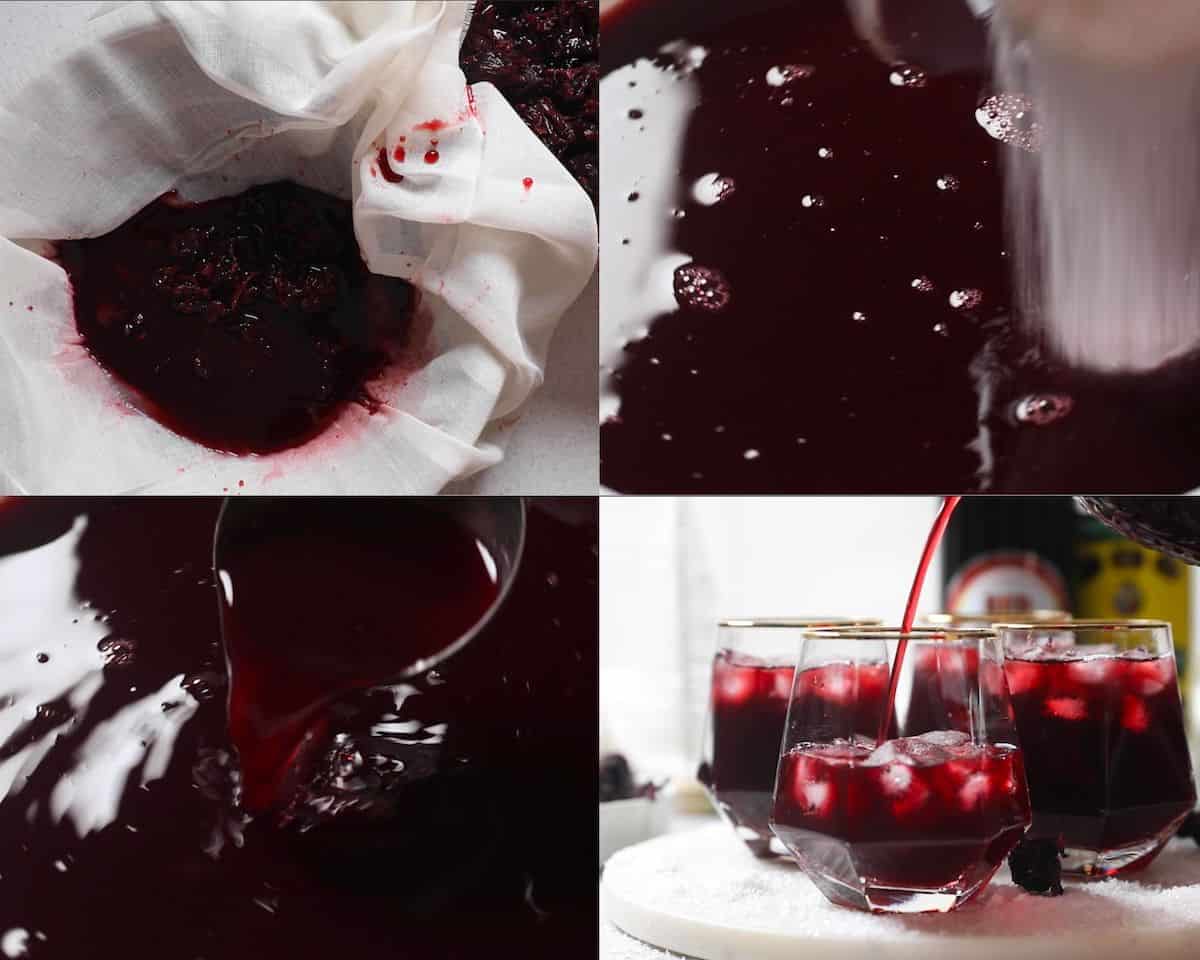 Sorrel Fruit Punch
I'll make a separate recipe for this one day, but if you wanna turn this sorrel into a fruit punch, pour the sweetened sorrel into a punch bowl and add some ginger ale (1-2 cups), white rum (optional, about a cup), sliced oranges, lemons, limes, raspberries, strawberries and some ice.
The perfect Jamaican Christmas punch!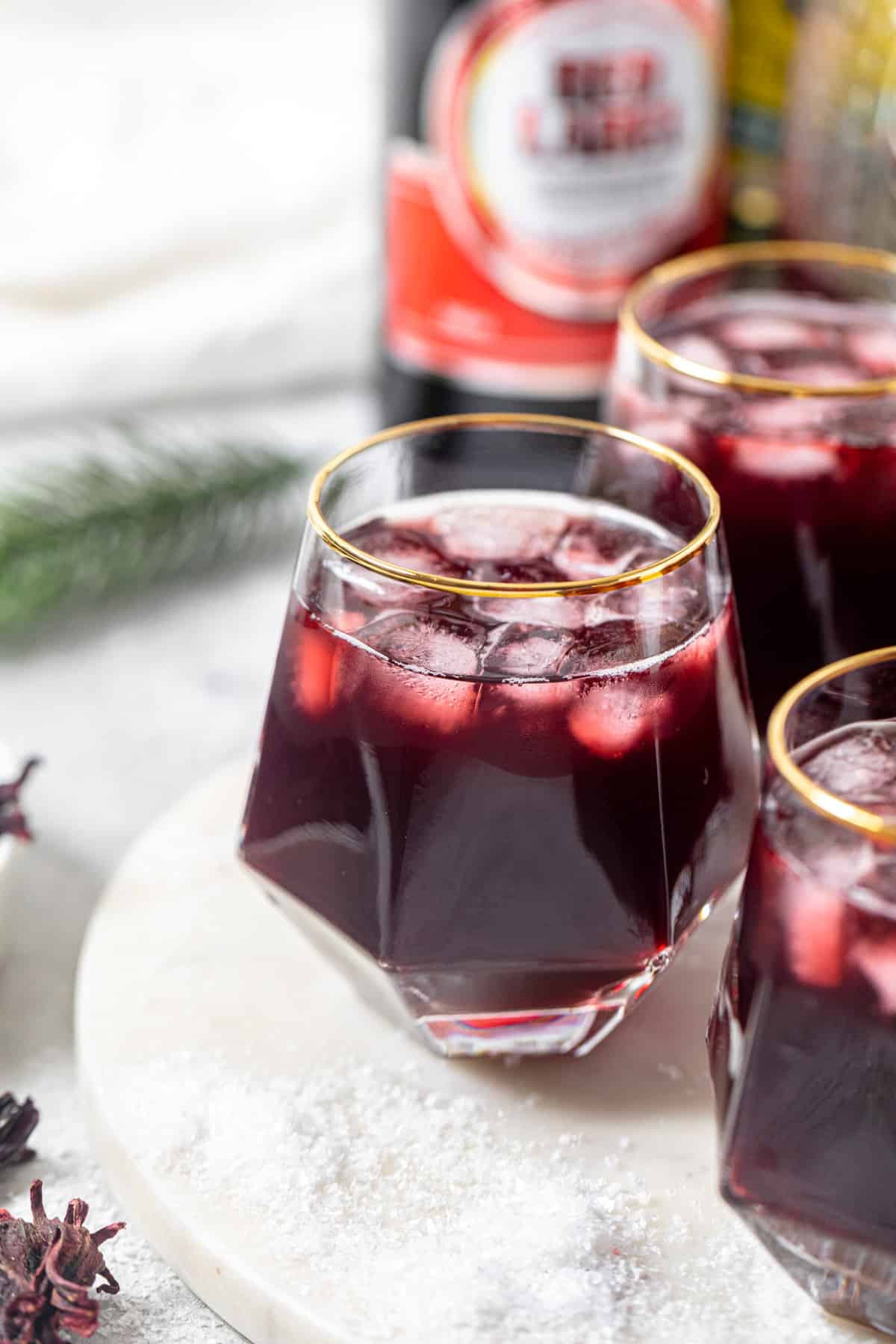 How To Store Sorrel
Here's what I learned from my grandmother when it comes to storing sorrel:
It can get sour at room temperature after 2-3 days without alcohol in it
You'll know it's sour when a white froth forms on top after about 3-4 days
Always keep it refrigerated (mine is still good after a week of being refrigerated)
If you wanna keep it for longer, pour ⅓-1/2 cup of dried rice or pimento seeds into the bottom of your bottle before filling it with sorrel. It can last a long time when kept like this (I did this last December and had a glass from that same bottle in May and it was still perfect!)
And according to grandma, the older men in Jamaica would dig holes in the ground and store their bottled sorrel there for over a year because it ages like wine.
So you could try that too :).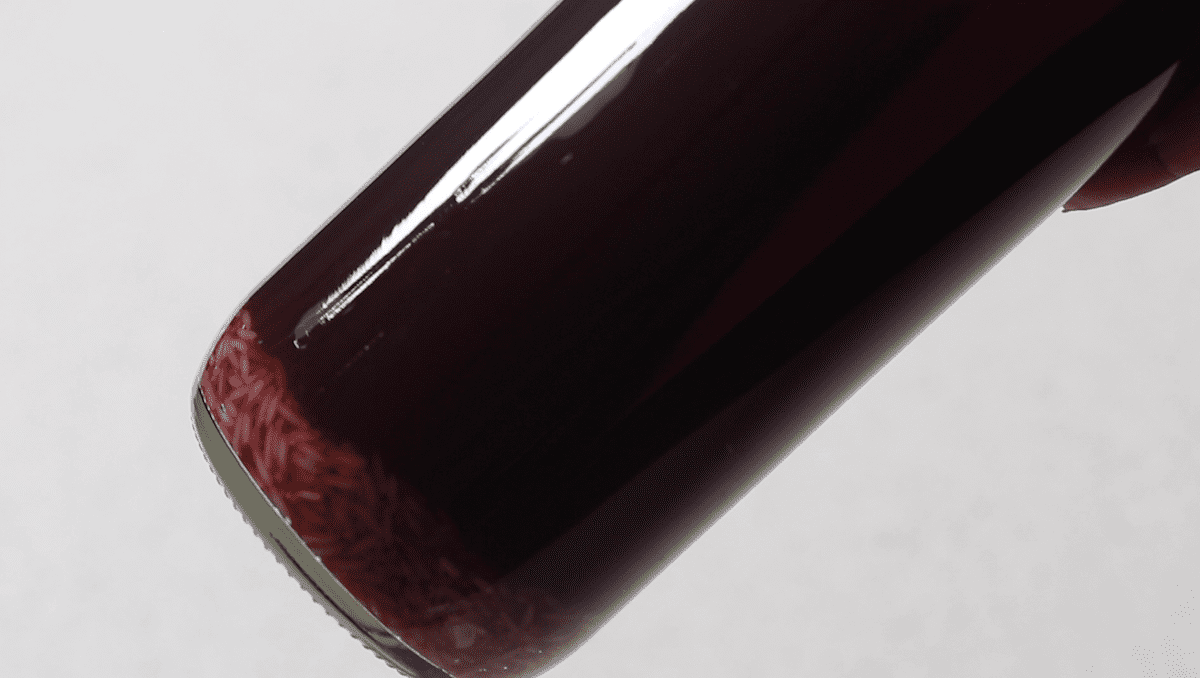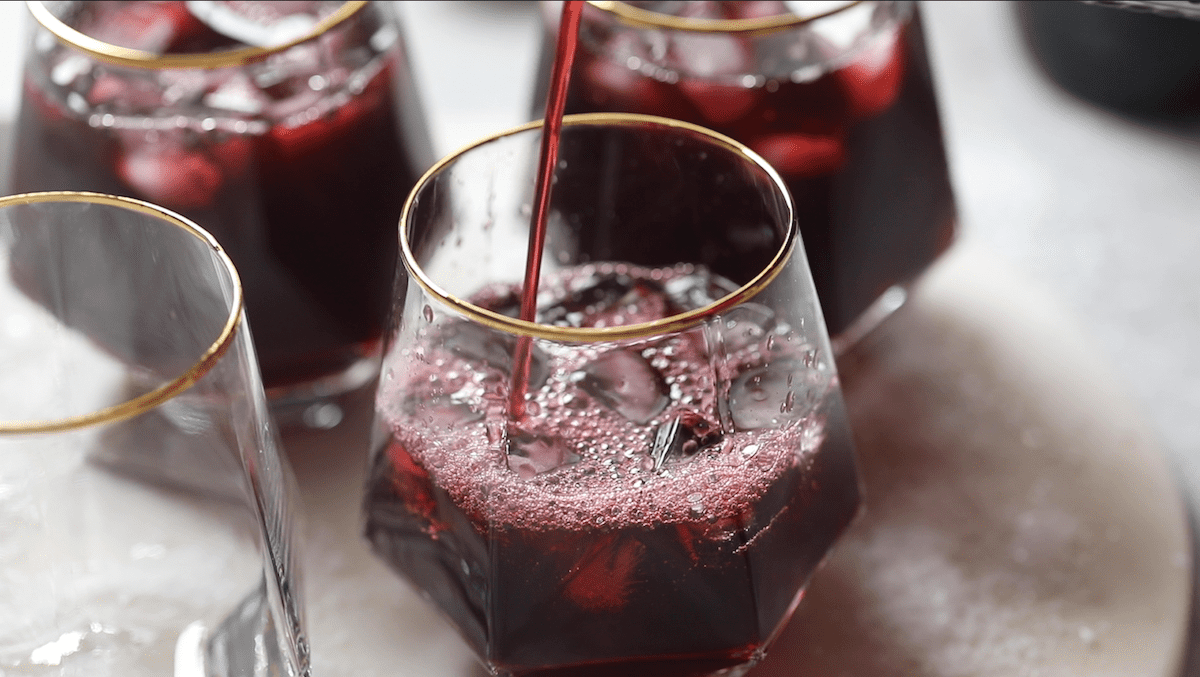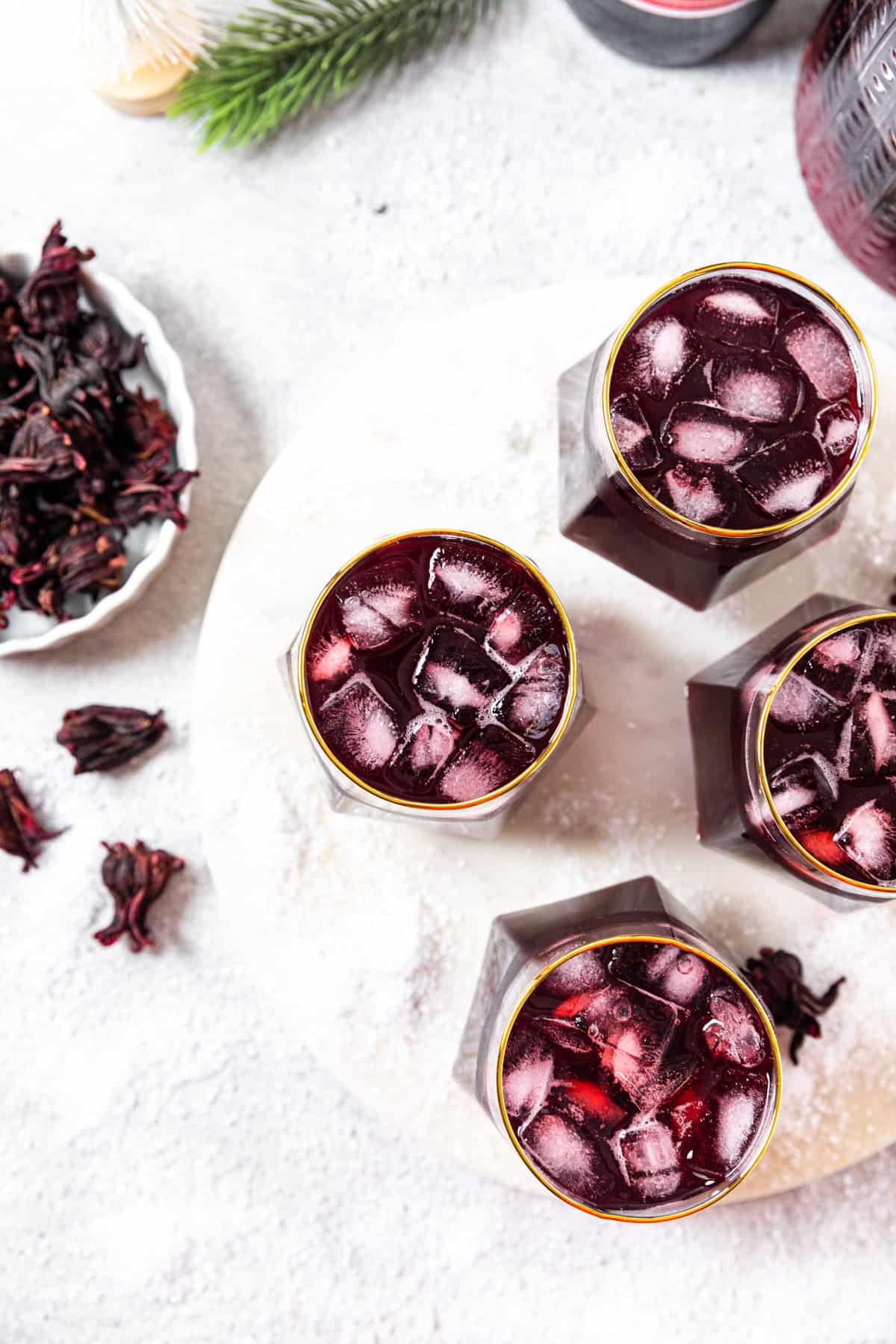 More Drink Recipes:
SHARE YOUR PICS!
Follow me on Instagram and tag #queensleeappetit so I can see and share all of your Queenslee Appétit creations in my stories and the QA Newsletter!
>>PIN THIS FOR LATER<<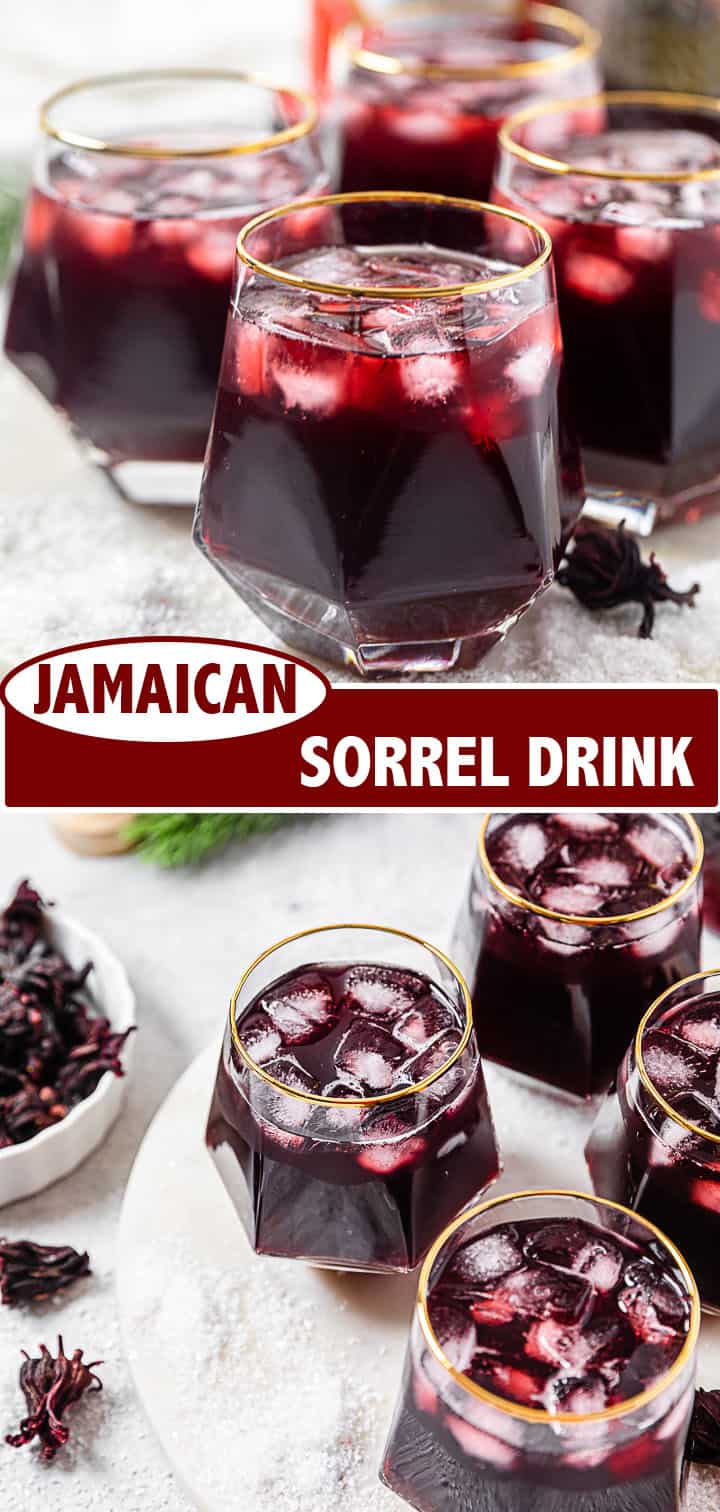 FOLLOW QUEENSLEE APPÉTIT
Like what you see? Make sure you're following Queenslee Appétit for more tasty recipes!
Pinterest | Instagram | Facebook | YouTube
Have any questions about the recipe? Contact me here, and I'll be happy to help!
SWEETEN UP YOUR INBOX!
SUBSCRIBE to the Queenslee Appétit Newsletter to receive new recipe notifications and sneak peeks at upcoming recipes and more!
Let's Make Drinks!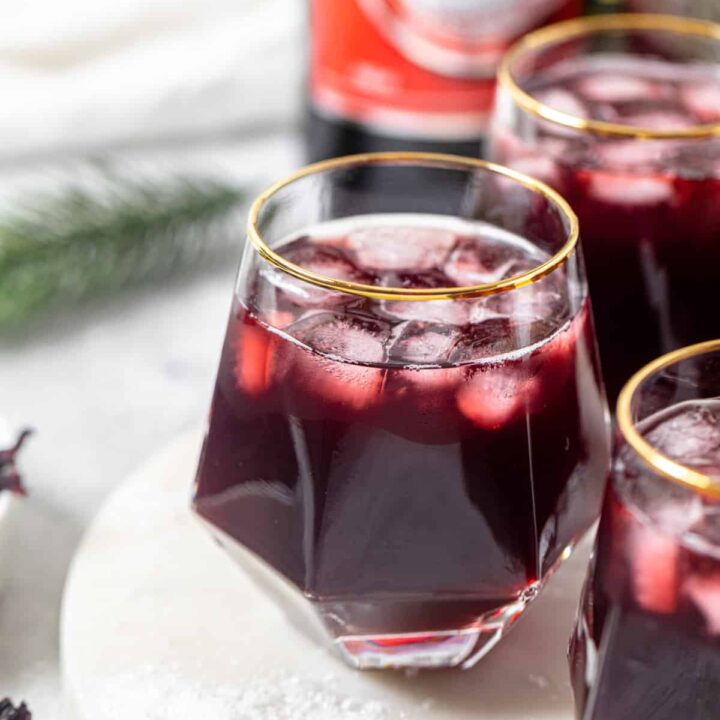 Jamaican Sorrel Drink
Total Time:
3 days
25 minutes
This Jamaican Sorrel Drink is the staple Christmas beverage in all Jamaican households!
Ingredients
20 cups water
1 Ib. Fresh Ginger, washed and grated
10 cups Dried Sorrel
3 - 4 and ½ cups granulated sugar, or to taste
6 tablespoon red label wine, or to taste
3-6 Tablespoons white rum, or to taste
Instructions
Prep Your Ingredients:
Fill a large 7.3-quart pot with 20 cups of water. Cover and bring to a boil over high heat.
Add your sorrel to a large bowl and wash it under the tap. Drain the water and repeat two more times to ensure all the dirt has washed away. Drain and set aside.
Wash and dry the ginger, then grate into a separate bowl.
Make the Sorrel:
Once the water starts boiling, add the grated ginger along with any remaining chunks. Boil for 10 minutes.
Add sorrel to the pot and boil for another 3-5 minutes. Turn off the heat.
Cover the pot and place it in a cooled place to steep at room temperature for anywhere between 2-5 days. I let mine sit for 3 days.
Strain and Sweeten:
Using a cheesecloth or a fine mesh strainer, strain the sorrel a few cups at a time. Throw away the bits. I recommend straining the sorrel 2-3 times to make sure it's perfectly clear.
Gradually add your sugar ½ cup at a time and stir until all the sugar has dissolved. Taste the sorrel after each addition to determine if you need to add more or not. I used a total of 4 and ½ cups in mine and it was just right.
You can leave it plain or throw in some add-ins of your choice. I added 6 tablespoons of white rum and 6 tablespoons of red-label wine, but you could add more or less if you'd like.
Storing:
Place a funnel over a bottle or jugs and use a measuring cup to pour in the sorrel. I filled up 2 jugs and 1 bottle. Chill in the refrigerator for up to 5 days.
P.S.: Sorrel is best when served over ice! Enjoy!
Notes
Tools I Used: 7.3-quart dutch oven | Liquid Measuring Cup | Box Grater | Extra-Large Mixing Bowl | Cheesecloth | Fine Mesh Strainer | Ultra-Fine Mesh Strainer
Preserve the Sorrel: if you aren't adding alcohol to your sorrel, fill the bottom of your bottle with dried rice before filling it with the unsweetened sorrel to preserve it in your cupboard for at least 1 year. When you're ready to serve it, strain it, sweeten it then chill it before serving.
OPTIONAL Add-Ins: you can boil 2 cinnamon sticks or ¼ cup of whole cloves with the ginger if you'd like. You can also add 1-2 cups of ginger ale and fresh sliced fruit for a sorrel punch.
Nutrition Information:
Yield:

20
Serving Size:

1
Amount Per Serving:
Calories:

89
Total Fat:

0g
Saturated Fat:

0g
Trans Fat:

0g
Unsaturated Fat:

0g
Cholesterol:

0mg
Sodium:

10mg
Carbohydrates:

20g
Fiber:

0g
Sugar:

20g
Protein:

0g
BON APPÉTIT!
Love, Dedra
©QUEENSLEE APPÉTIT. All images & content are copyright protected. Please do not use my images without prior permission. If you want to republish this recipe, please re-write the recipe in your own words, or link back to this post for the recipe.