This Homemade Lemon Iced Tea is one you'll want to add to the recipe book! A cold, refreshing and easy 5-ingredient drink that'll keep you cool all summer long!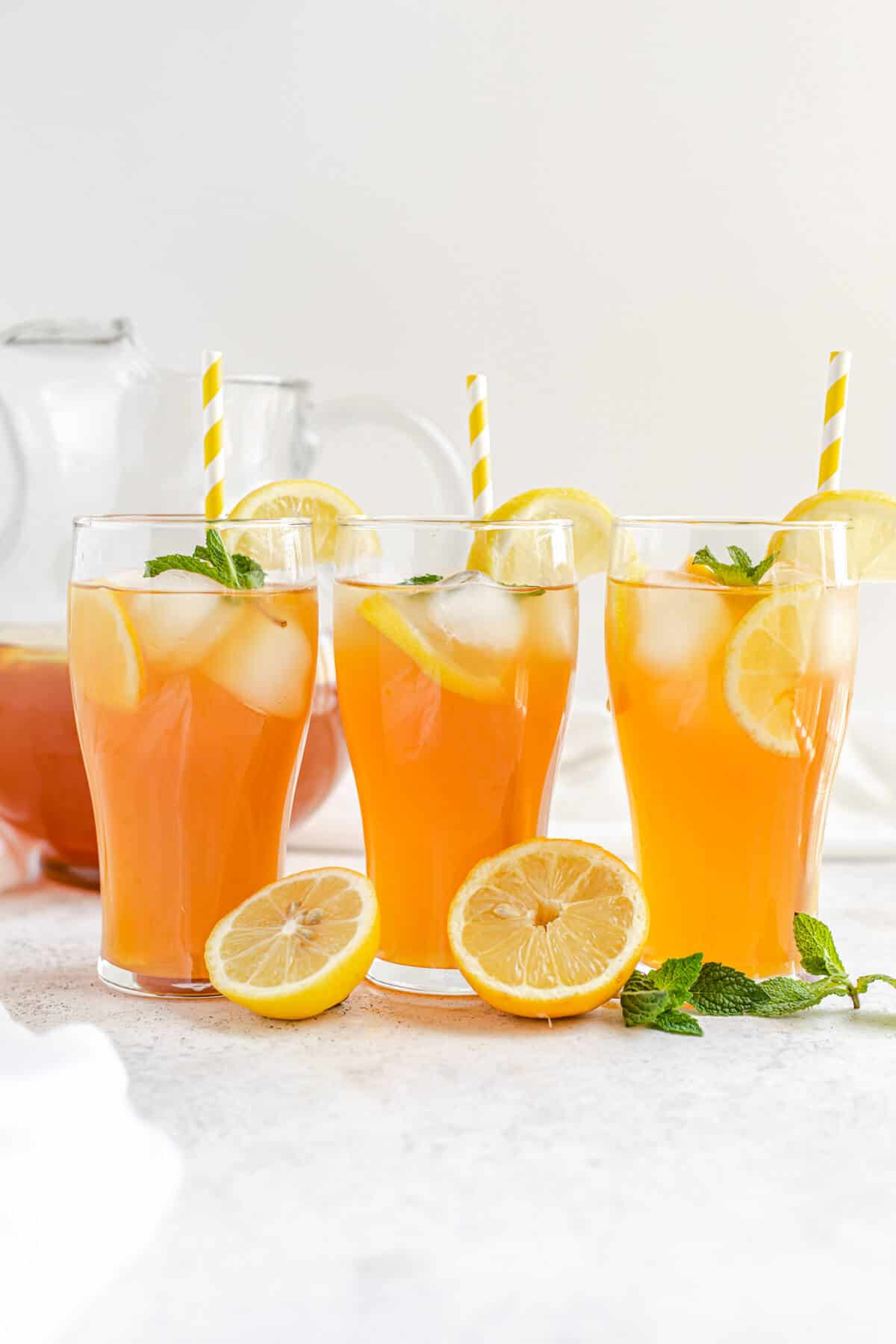 This post may contain affiliate links. As an Amazon Associate I earn from qualifying purchases. Please see my full disclosure policy for details.
Even though it snowed last week (ridiculous, right?), it's still summer, which means cool and refreshing drinks for everyone!
One of my all time favourite drinks is iced tea or "sweet tea". I drink it as much as I possibly can, I'm seriously obsessed. As you all know, every grocery store is almost completely empty. Sucks for me, right?
So after three attempts of trying to order my favourite drink from the grocery store being a failure, I decided to try making my own.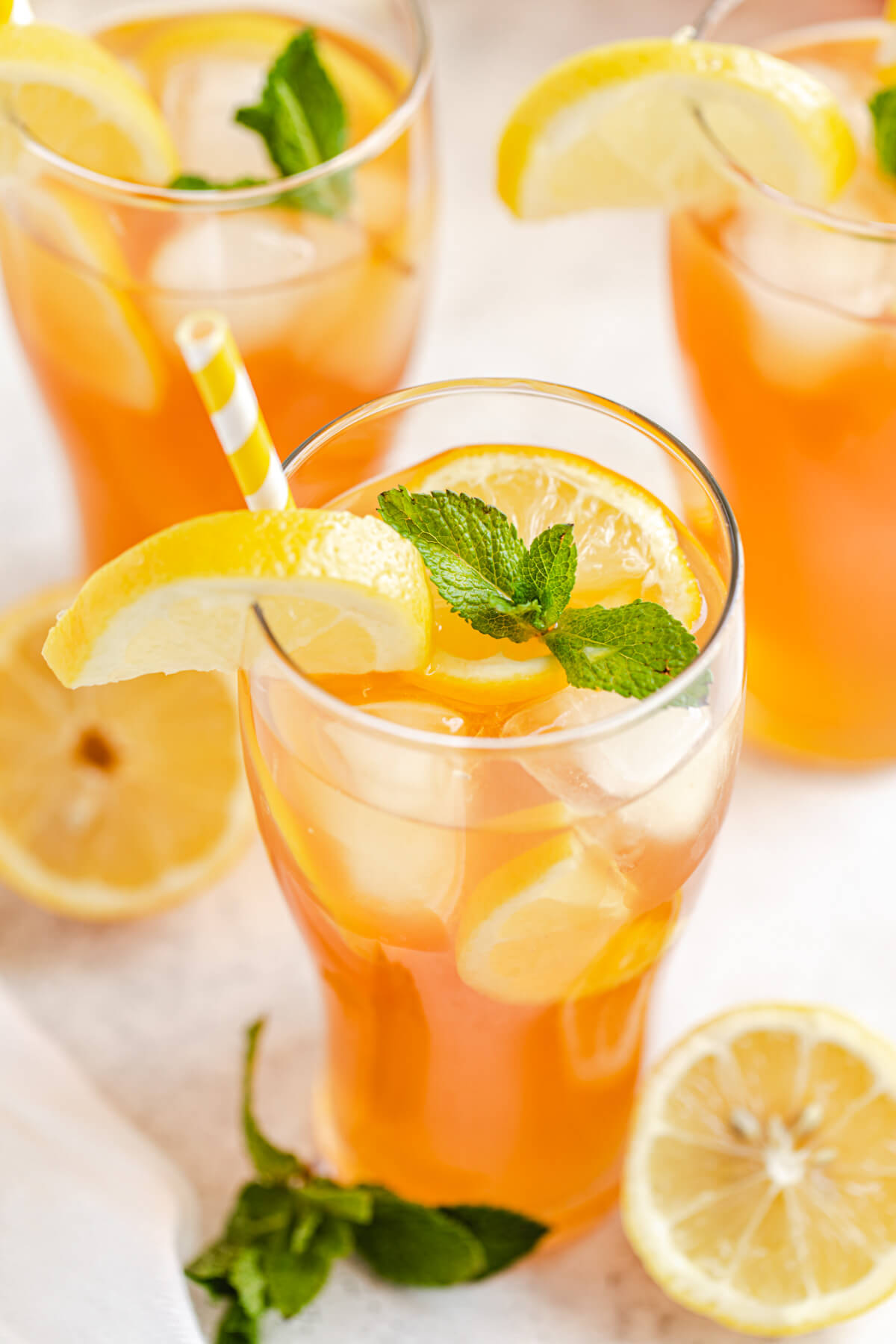 Why You'll Love This Homemade Iced Tea Recipe
You'll only need 5-ingredients

Every ingredient is your basic everyday ingredient, some of which you almost certainly already have on hand
You will undoubtably let out a satisfied sigh after every refreshing sip
It's not too sweet, but you can control the sweetness yourself by adjusting the amount of sugar you add
All the ingredients combined are cheaper than a carton of iced tea from the grocery store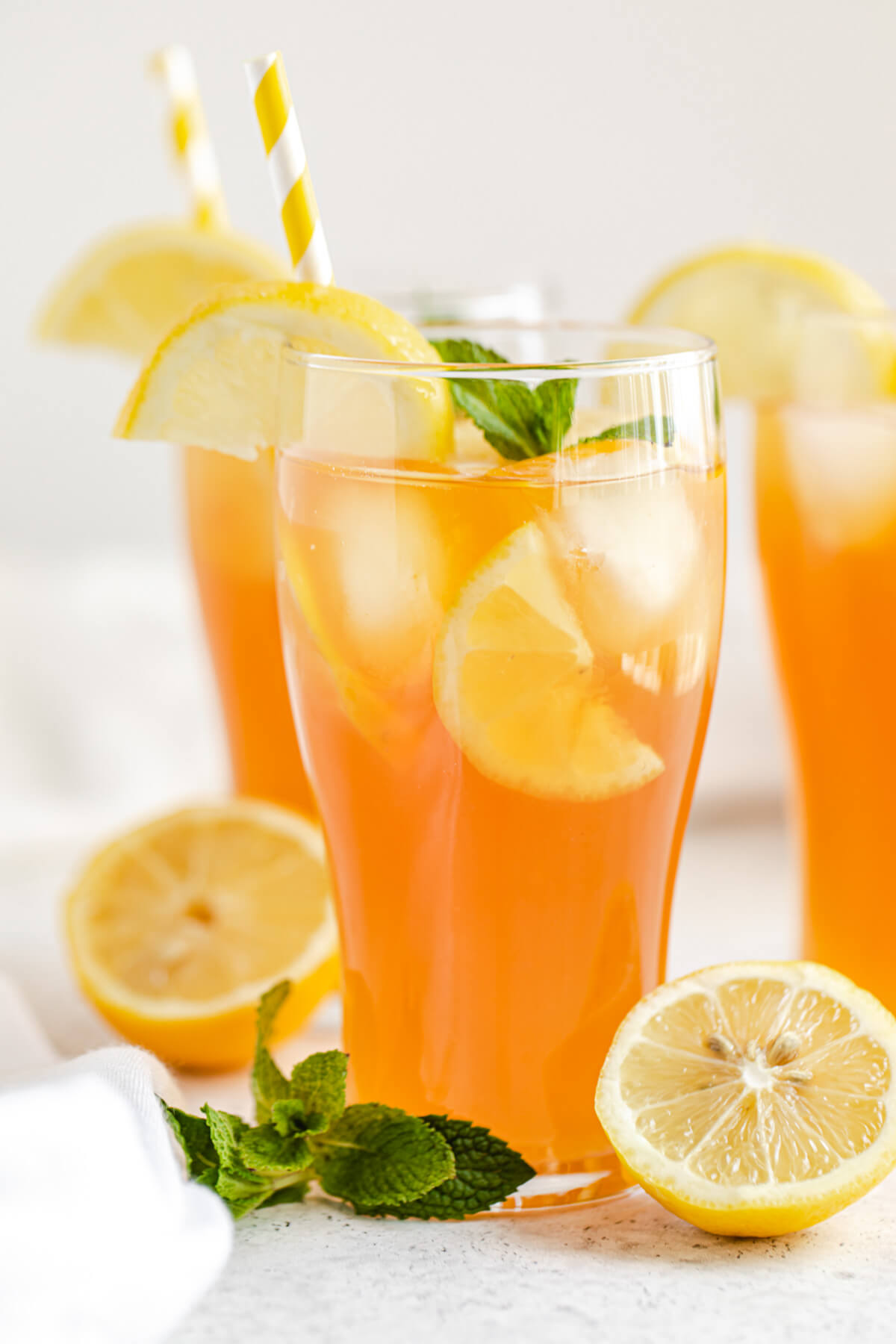 Ingredients Breakdown
Water — We'll be using 10 cups of water. Half boiling and half cold.
Black Tea Bags — This is where most of the flavour comes from! Since we're using 10 cups of water, we'll be using 10 bags of tea. Want a different flavour? Use flavoured tea bags!
Lemon Juice — This is lemon flavoured iced tea, so grab a few lemons and get to squeezing! You could even use lime juice if you want.
Sugar — Black tea can be quite bitter, so I added 1 and ¼ cups of sugar (talk about sweet tea). It's very simple to adjust the amount of sugar. Add a little, stir, taste, add more if needed.
Baking Soda — Secret ingredient! The baking soda causes a chemical reaction with the bitter caffeine in the black tea to give the tea a more neutral flavour. A lot of Southerners also claim that baking soda makes their sweet tea less cloudy.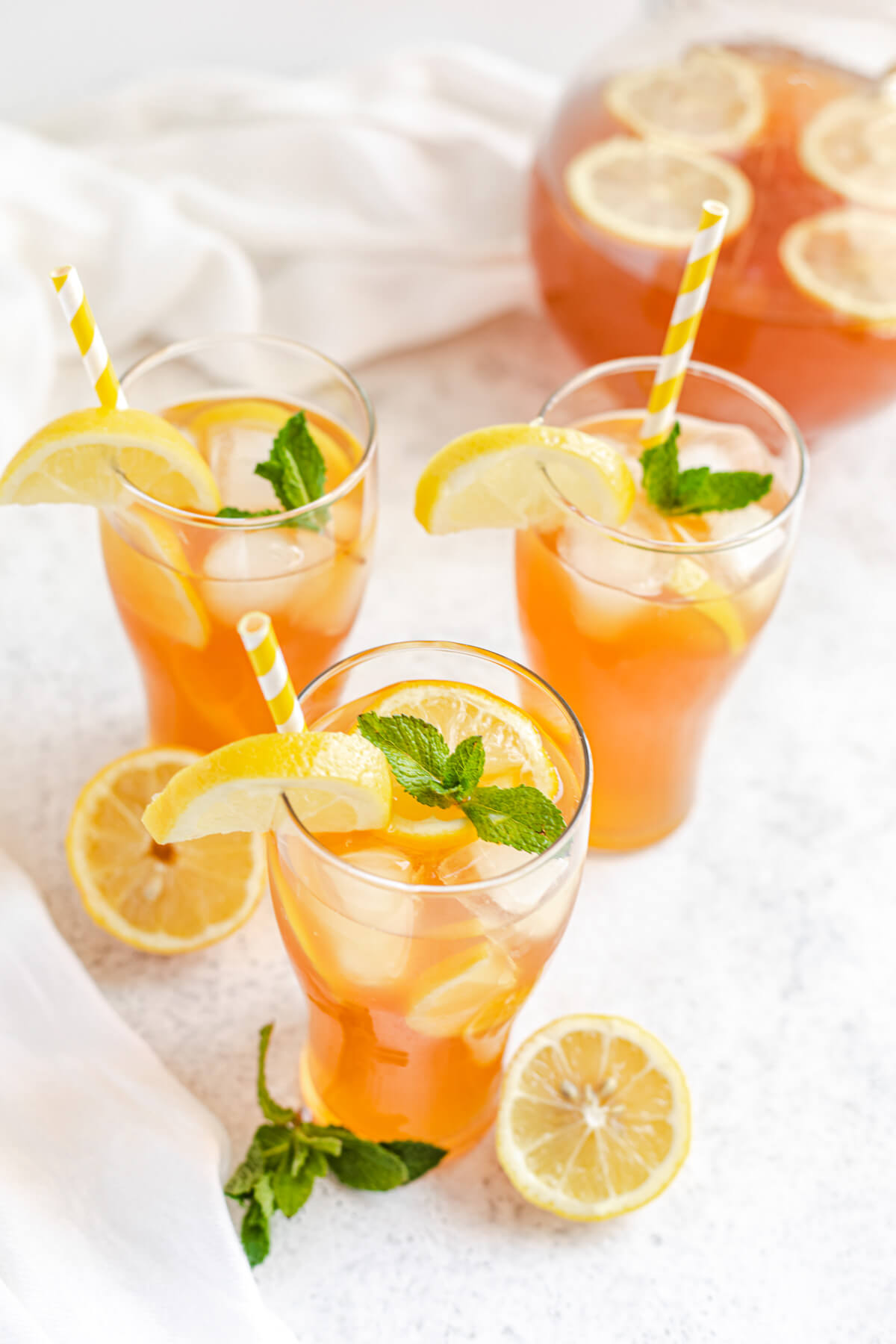 How to Make Iced Tea
Iced tea comes together in 6 easy steps:
Boil the water: Add the first 5 cups of water to a saucepan and heat until it just begins to boil.

Steep the tea bags: Place all 10 tea bags into a large bowl. Make sure the string is hanging off the edge, or you can tie all the bags together. Pour in the hot water and let it steep for 5 minutes. Want a stronger tea? Steep for an extra 5 minutes.

Stir in the lemon juice: I pre-measured my freshly squeezed lemon juice, but if you wanna do it Southern-style, just grab about 5-6 lemons and squeeze the juice directly into the tea!
Add the sugar: For this part, I measured out 1 cup of sugar and slowly poured it into the tea while stirring and occasionally tasting. After I stirred in the full cup, I could still taste a bit of the bitterness from the tea, so I threw in an extra ¼ cup and it was perfect!

Add the baking soda: throw in the baking soda and stir constantly until the fizzing subsides.

Pour in cold water: Lastly, add the remaining 5 cups of water and give the tea a few more good stirs.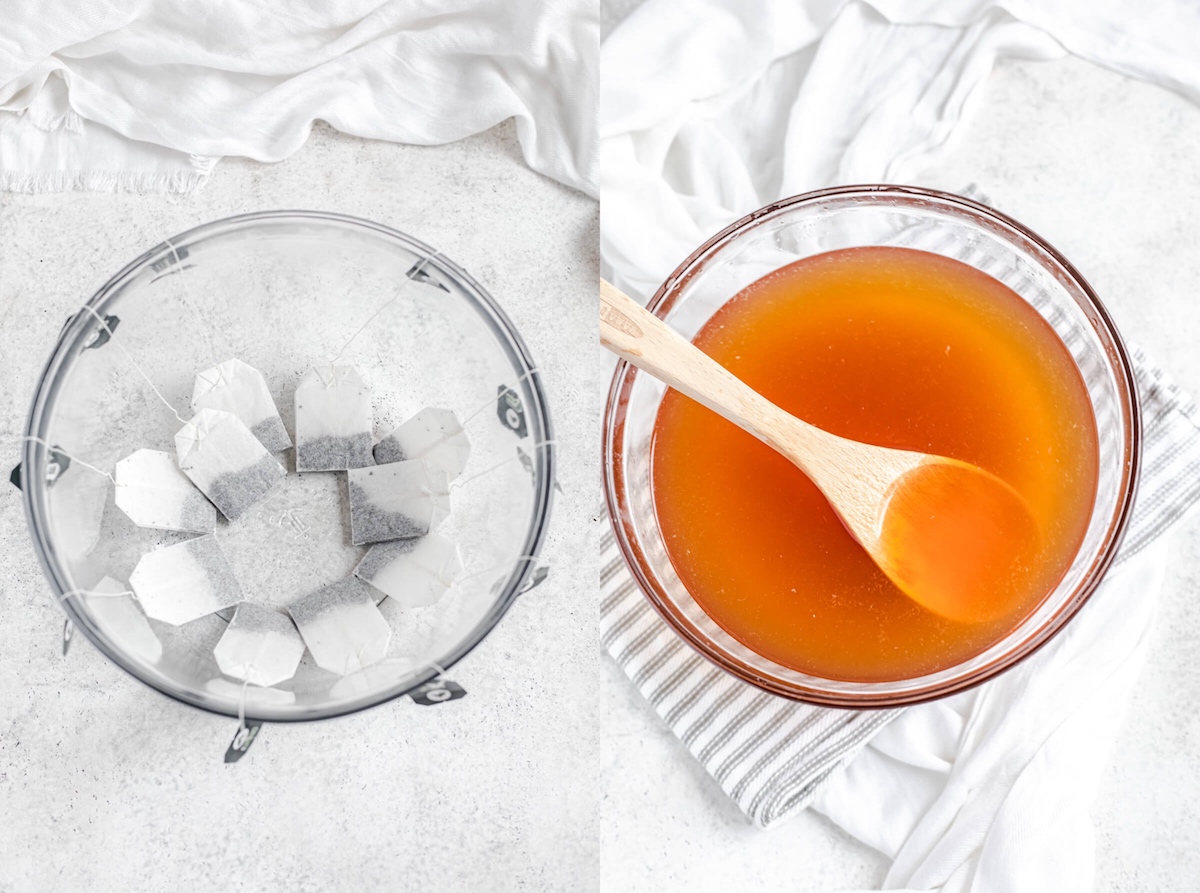 Now the tea won't be super refreshing right away, you gotta keep it in the refrigerator until it's completely chilled. I covered my bowl with plastic wrap and let it chill in the refrigerator overnight. Believe me when I tell you it improved the flavour immensely!
Don't get me wrong, the tea tasted amazing after I finished mixing it up, but it wasn't "sluuuurrpp" "aaaahhhhh" amazing, ya know? Get it nice and chilled, then pour it over a glass filled with ice cubes and sliced lemons.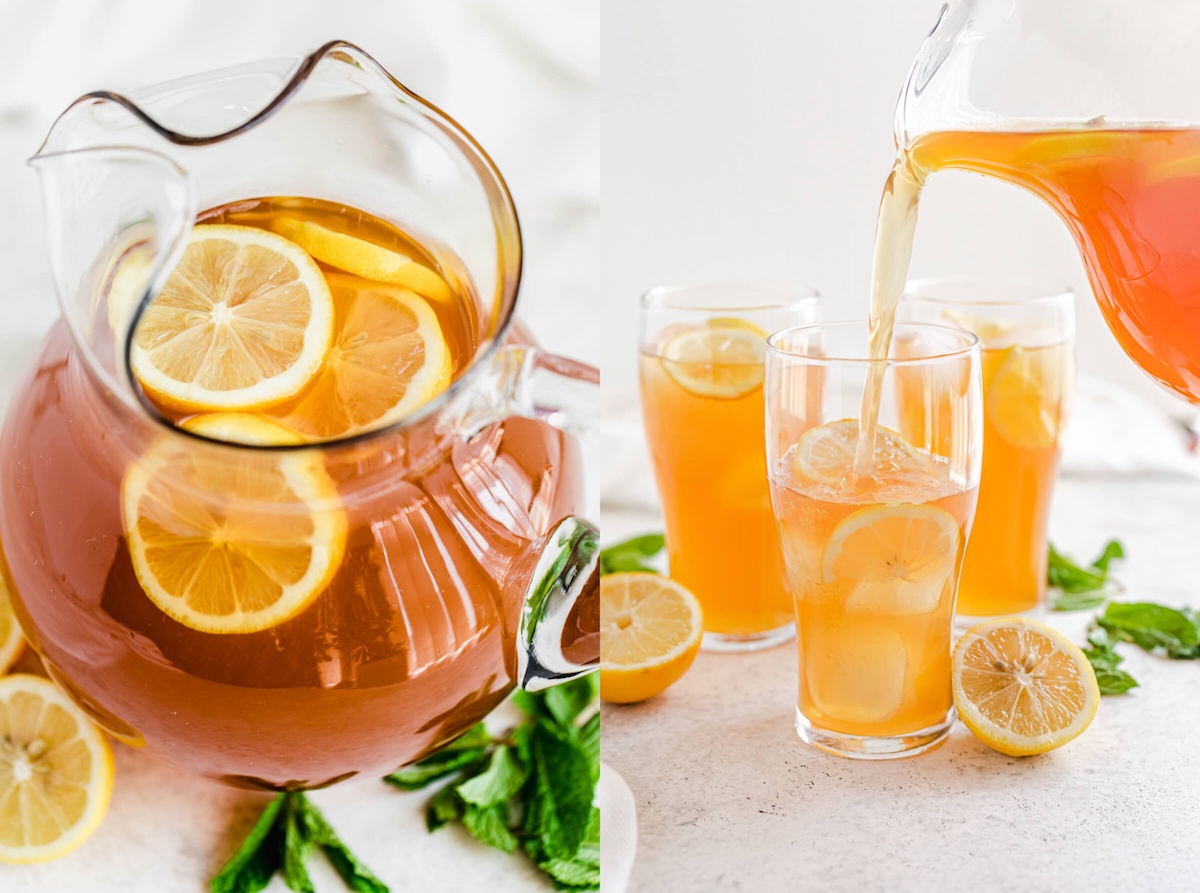 A sprig of mint, a lemon wedge on the side and a bright yellow straw just adds to the summery perfection. That first ice cold sip will have you daydreaming about lying back on a beach basking in the sun with the cool breeze flowing through your hair!
Sip and savour, my lovelies.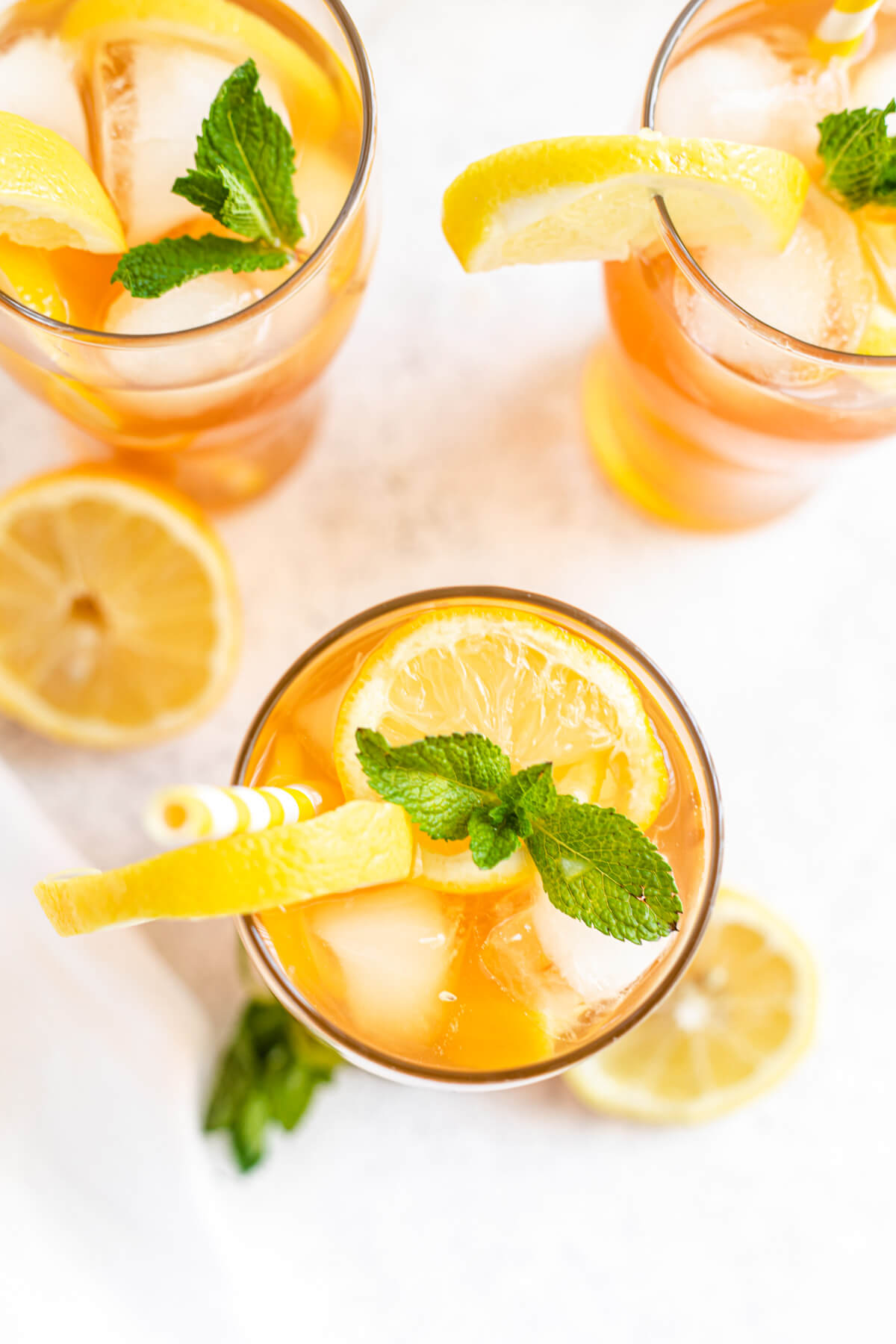 SHARE YOUR PICS!
Follow me on Instagram and tag #queensleeappetit so I can see and share all of your Queenslee Appétit creations in my stories and the QA Newsletter!
>>PIN ME FOR LATER<<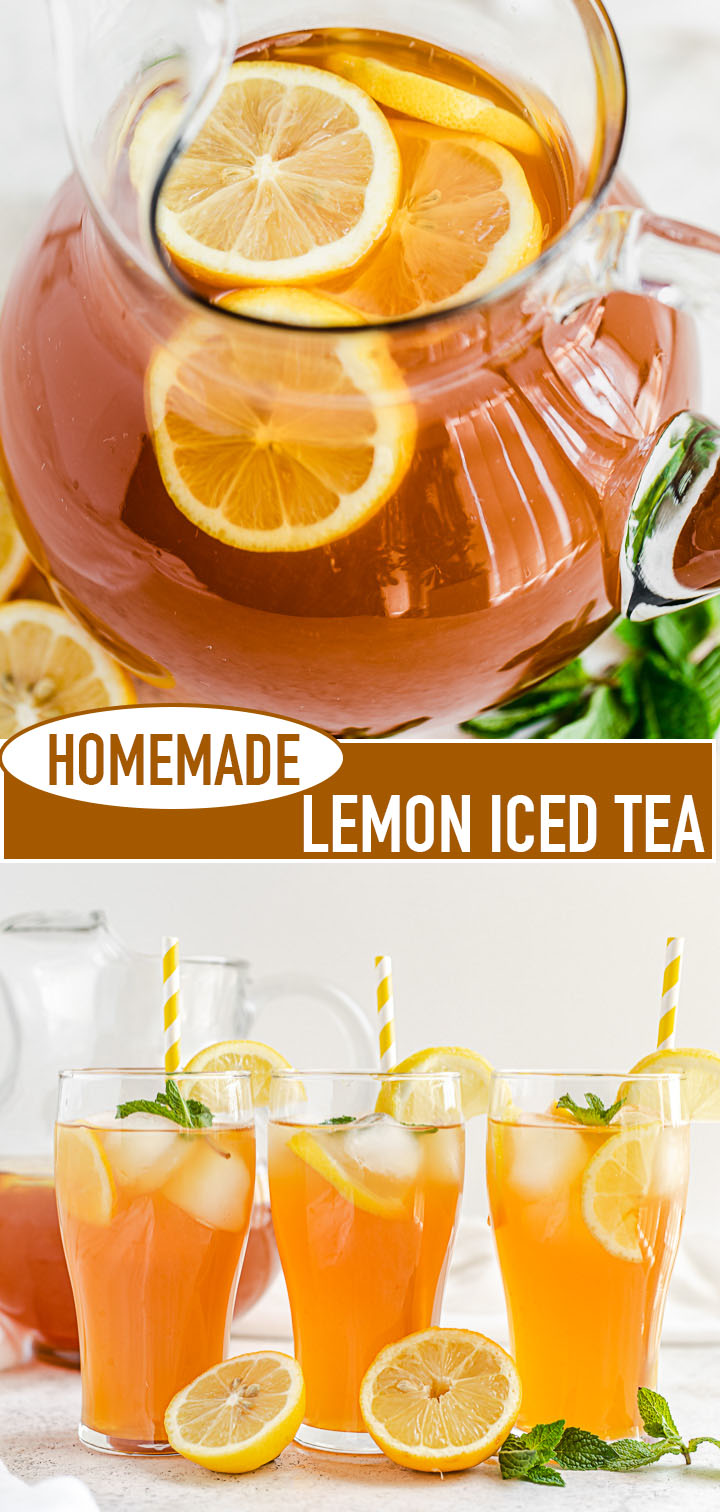 FOLLOW QUEENSLEE APPÉTIT
Like what you see? Make sure you're following Queenslee Appétit for more tasty recipes!
Pinterest | Instagram | Facebook | Twitter |
Have any questions about the recipe? Contact me here, and I'll be happy to help!
SWEETEN UP YOUR INBOX!
SUBSCRIBE to the Queenslee Appétit Newsletter to recieve new recipe notifications, monthly baking tips, sneak peeks to upcoming recipes, exclusive recipes and more!
Let's get baking!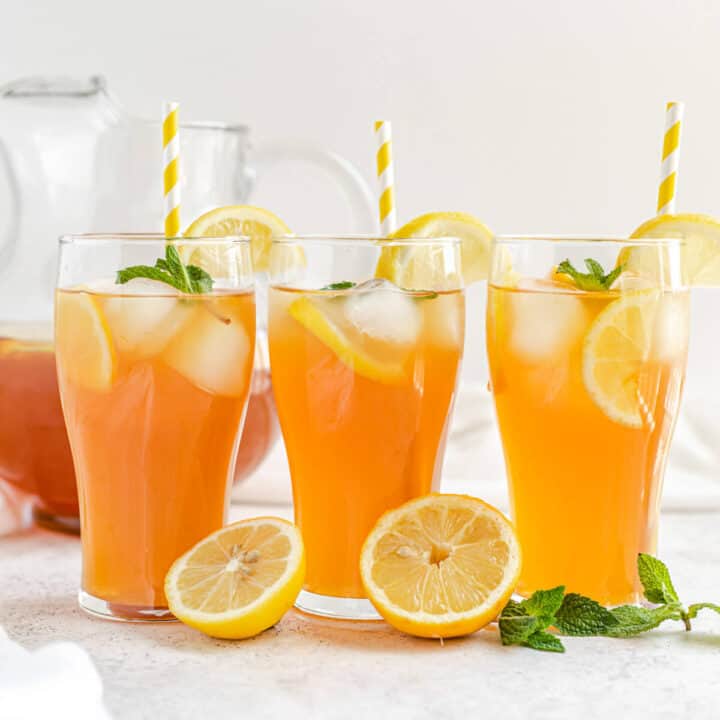 Homemade Lemon Iced Tea
This Homemade Lemon Iced Tea is one you'll want to add to the recipe book! A cold, refreshing and easy 5-ingredient drink that'll keep you cool all summer long!
Ingredients
Lemon Iced Tea:
5 cups boiling water
10 black tea bags
¾ cup freshly squeezed lemon juice
1 - 1 and ¼ cup granulated sugar
1 teaspoon baking soda
5 cups cold water
To Serve:
Ice Cubes
Sliced Lemons
Fresh Mint Leaves
Instructions
Bring 5 cups of water to a boil.
Meanwhile, place the tea bags into a large bowl. Make sure the strings are hanging off the edge, alternatively, you can tie the strings together.
Pour the boiling water over the tea bags and let it steep for 5 minutes. If you want a stronger tea, steep for 10 minutes.
Remove the tea bags and discard. You can either pour the tea into a large pitcher, or continue mixing in the bowl.
Pour in the lemon juice and sugar and stir with a wooden spoon until sugar has completely dissolved.
Add the baking soda and stir until the fizzling subsides. Baking soda takes the bitterness away from the tea!
Pour in the 5 cups of cold water and give it a few more stirs. If you used a bowl, cover with plastic wrap and allow tea to chill in the refrigerator overnight.
To serve, either pour into a pitcher or serve with a ladle. Add a few slices of lemons to the tea and individual cups, along with ice and fresh mint leaves!
Notes
Sugar: You can measure out the full 1 cup of sugar, then add it to the tea a little at a time while tasting occasionally to decide whether you want to add more.
Recommended Products
As an Amazon Associate and member of other affiliate programs, I earn from qualifying purchases.
Nutrition Information:
Yield:

10
Serving Size:

1
Amount Per Serving:
Calories:

27
Total Fat:

0g
Saturated Fat:

0g
Trans Fat:

0g
Unsaturated Fat:

0g
Cholesterol:

0mg
Sodium:

140mg
Carbohydrates:

7g
Fiber:

0g
Sugar:

5g
Protein:

0g
BON APPÉTIT!
Love, Dedra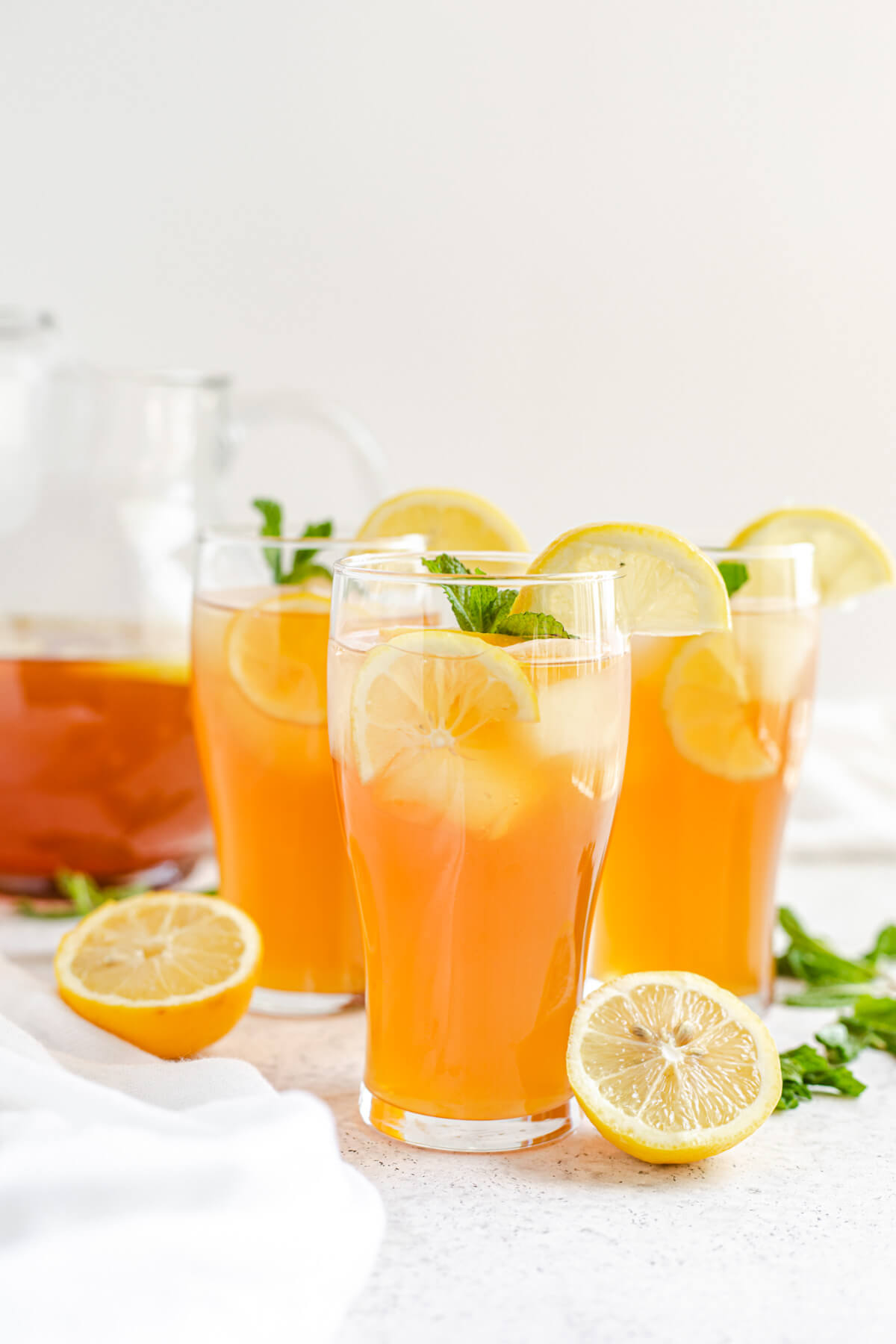 ©QUEENSLEE APPÉTIT. All images & content are copyright protected. Please do not use my images without prior permission. If you want to republish this recipe, please re-write the recipe in your own words, or link back to this post for the recipe.