This post may contain affiliate links. Please see my full disclosure policy for details.
MY FIRST BLOG POST! I've been waiting for this day for about 3 years now, ever since I decided to take my passion for baking to the next level. It's been a long and difficult journey, but I made it and I'm so excited to share all of my amazing recipes (that I've spent MONTHS testing and crying over) with all of you!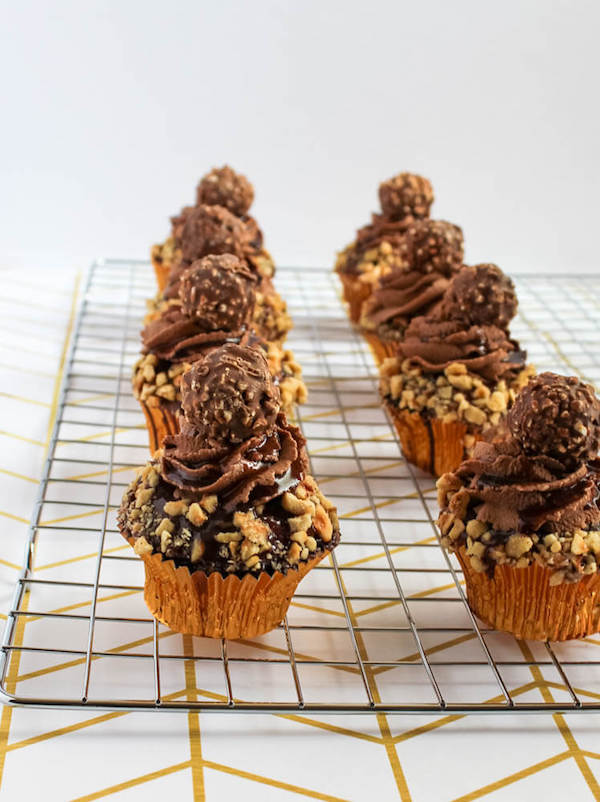 Anyways, speaking of recipes, let's talk about this one. This recipe started off as a basic chocolate cupcake with a Ferrero Rocher stuffed inside and Nutella buttercream on top, but me being as extra and over the top as I am, I had to take it to the next level.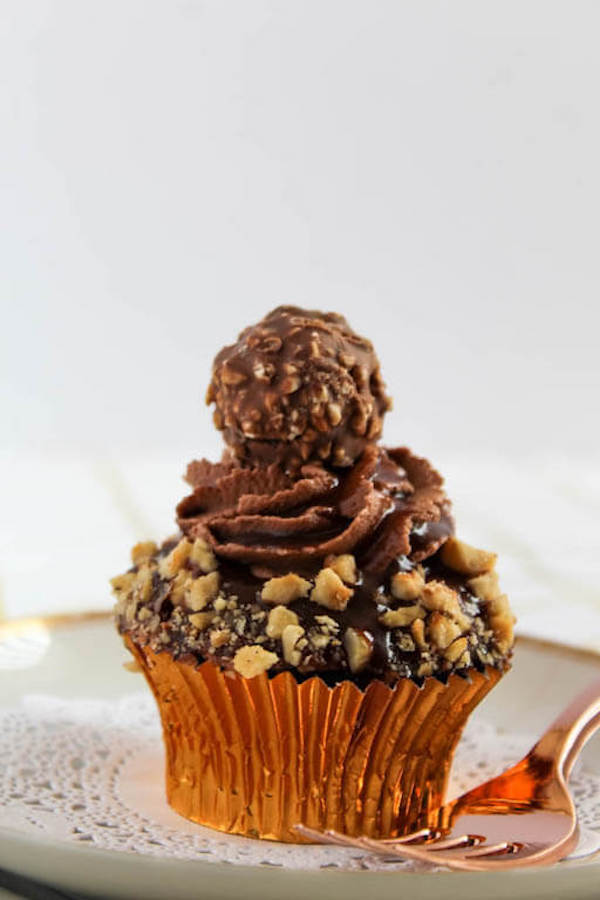 To keep within the theme of Ferrero Rochers, rather than using a basic chocolate cupcake base, I decided to use a mixture of regular all-purpose flour and hazelnut flour in the cupcake to get that intense chocolate hazelnut flavour throughout. Now, if you can't find hazelnut four where you live, or prefer not to use it, you can substitute with the same amount of all-purpose flour.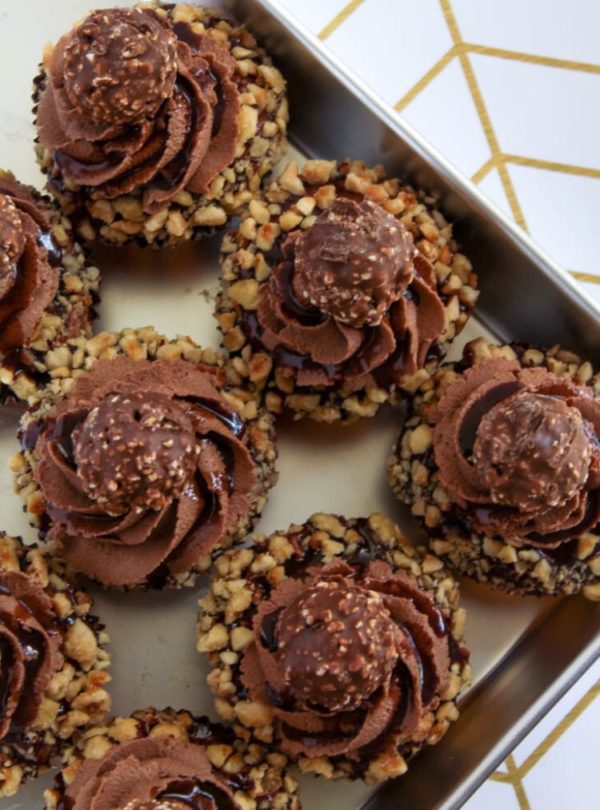 Let's talk about the Ferrero Rochers, this recipe yields 22-24 cupcakes and each one is stuffed and topped with a truffle, which means you need 48. Yikes, I know. You could cut the recipe in half to make less, or you can get this 48 pack of Ferrero Rochers. 48 Ferrero Rochers under $20? Look at God.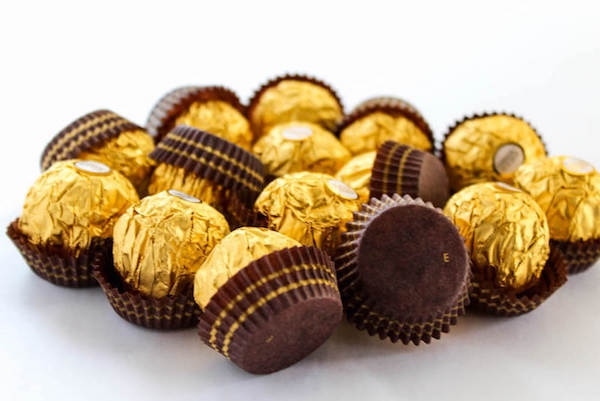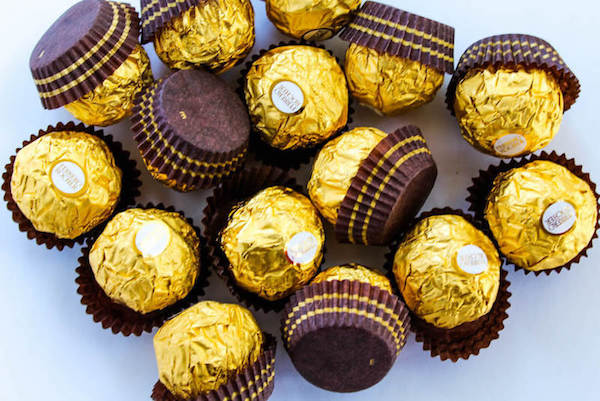 Once the cupcakes are baked and beautiful, we make the Nutella buttercream. Listen, this frosting screams NU-TELL-A. I started with a simple buttercream base of butter and icing sugar, then I added a TON of Nutella because you could never have too much, right? Right? Right. I left out the vanilla because I wanted the flavour to be purely Nutella, and believe me, it is. But you could include it if you wanted that hint of vanilla flavour.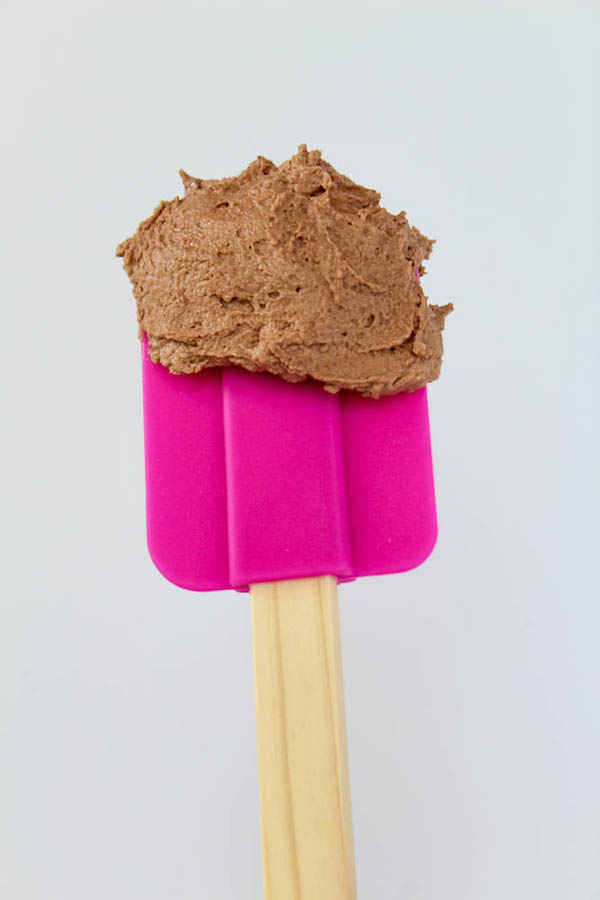 Now let's move on to the Nutella ganache, yes NUTELLA GANACHE! Who knew you could turn Nutella into a ganache?! Matter of fact, ever since I discovered this beauty, I've decided to test multiple ways of creating this Nutella greatness!
This recipe for Nutella ganache is extremely simple though. Nutella + hot heavy cream + corn syrup. Easy! It's made the same way you would make chocolate ganache, just replace the chocolate with Nutella and VOILA!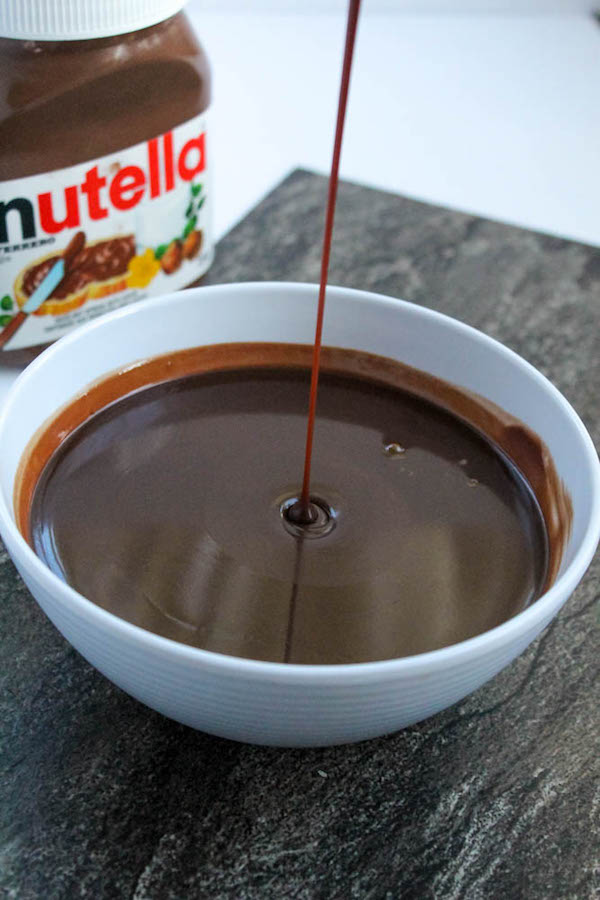 To assemble these cupcakes, I piped a layer of fluffy Nutella buttercream around the cupcake using a large round tip, froze it for a few minutes so it wouldn't turn into a melted mess when we dip them into the ganache. Speaking of which, once the buttercream is solid, dunk it into that silky, glossy Nutella ganache.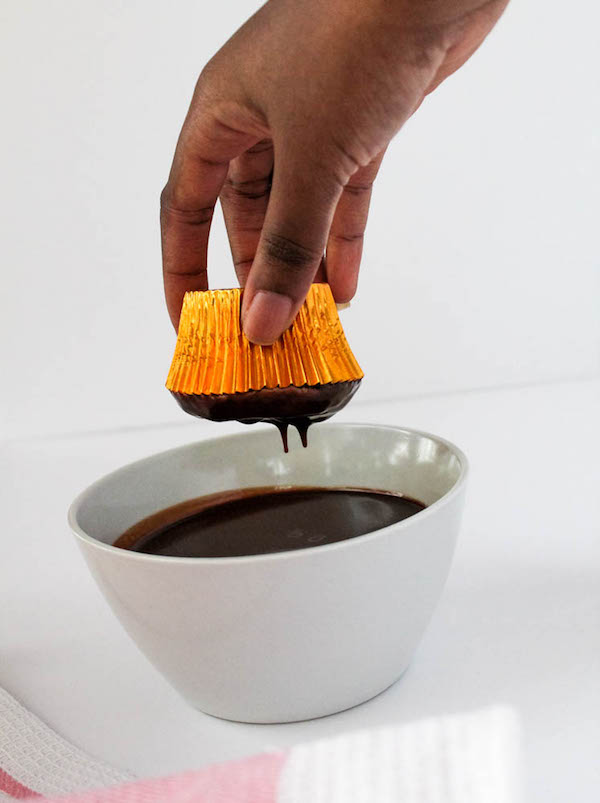 Then roll it in some chopped hazelnuts.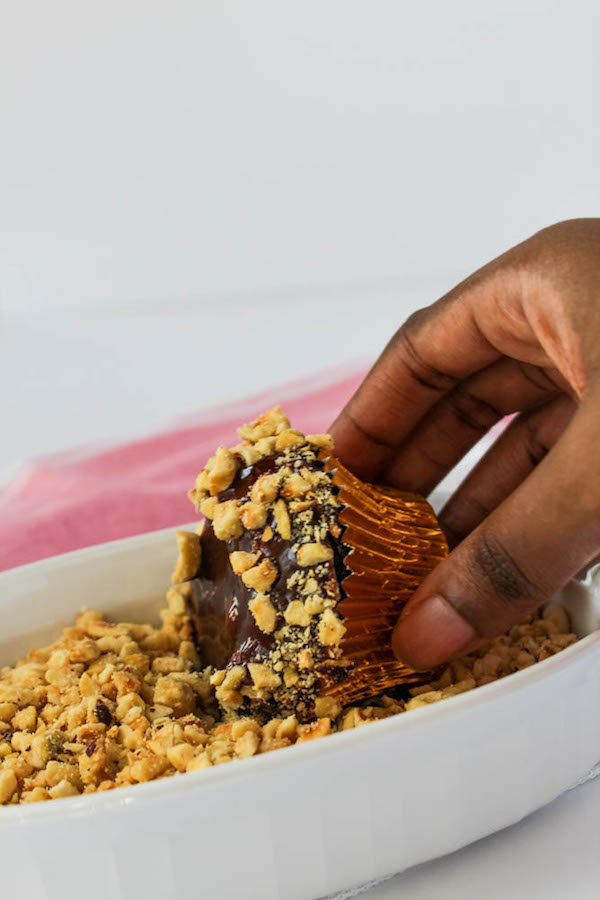 Then I switch to a large star tip and pipe a swirl of Nutella goodness on top.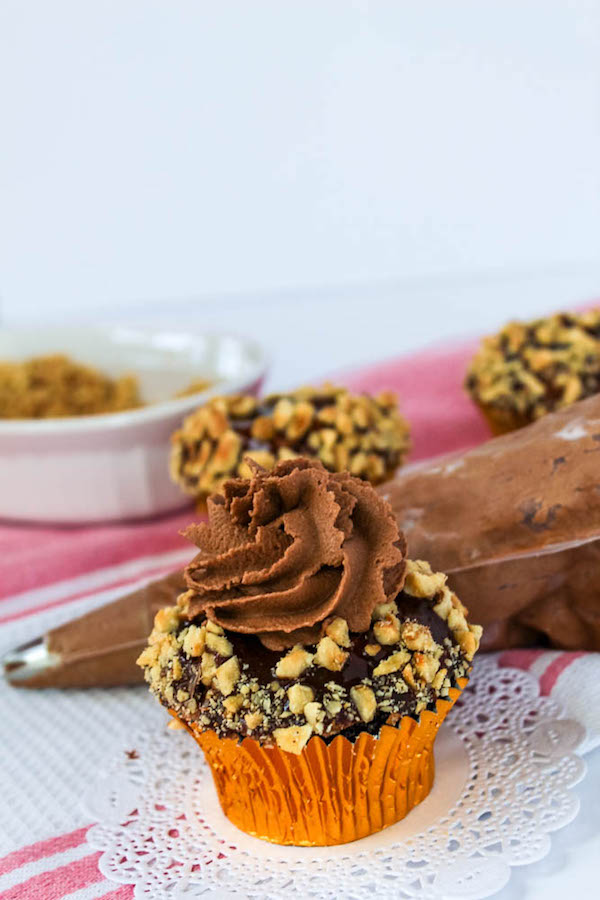 If you have any ganache left, you can drizzle some onto the cupcakes. And finally, top with a lovely Ferrero Rocher truffle.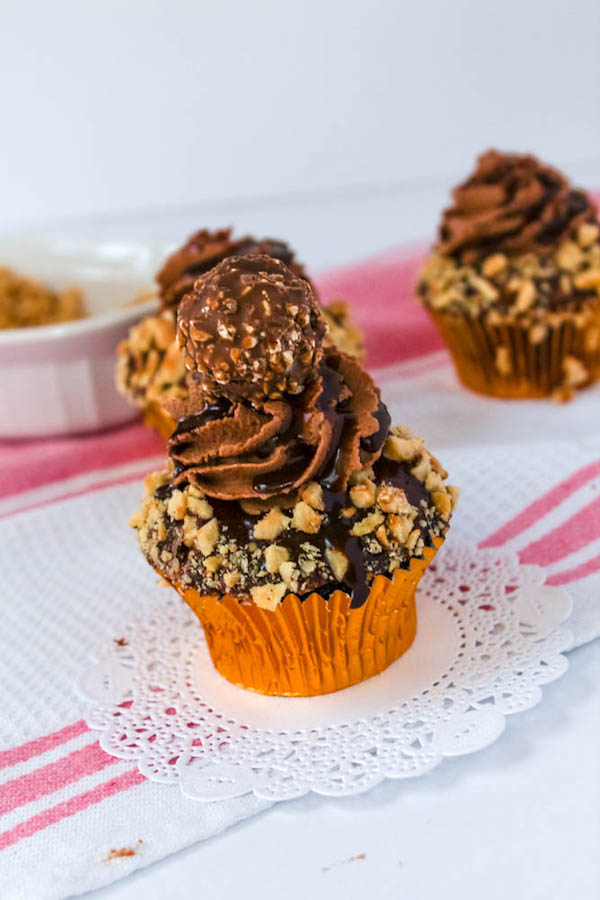 Sweet Nutella Jesus.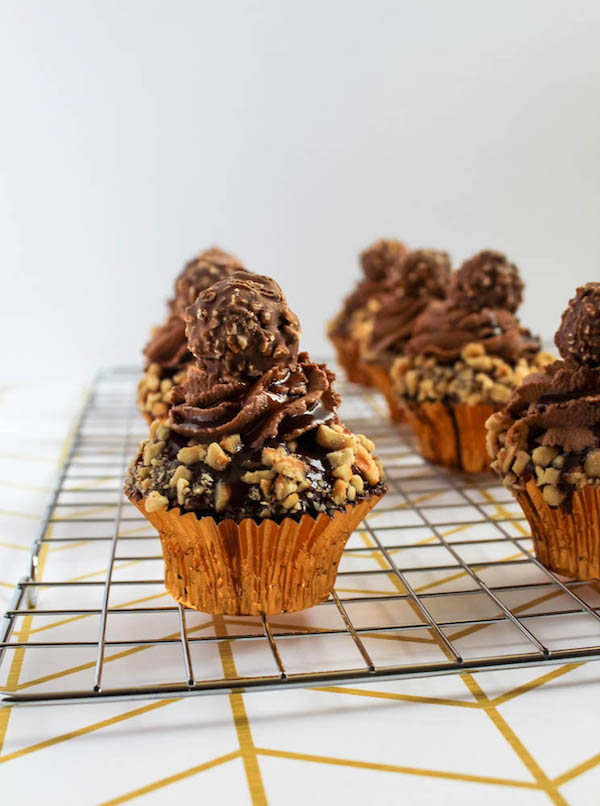 More Nutella Recipes:
Nutella Ganache: 4 Ways! | Ferrero Rocher Nutella Donuts
Shop The Recipe
Here are some items I used to make this recipe:
Hazelnut Flour | 48 pack of Ferrero Rochers |Round Piping Tip |Star Piping Tip |Gold Cupcake Liners |Squeeze Bottle
Let's get baking!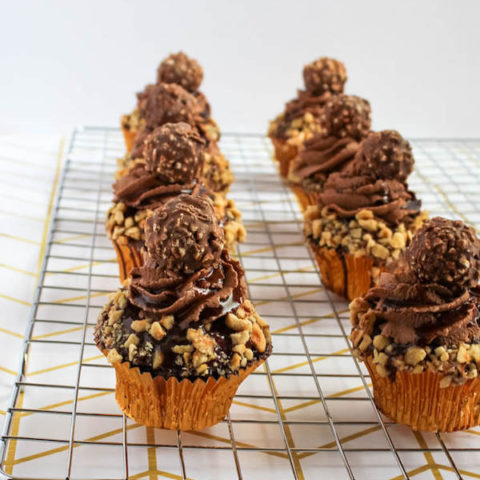 Ferrero Rocher Cupcakes
Moist, fluffy and rich chocolate-hazelnut cupcakes, stuffed with a Ferrero Rocher truffle, dipped in silky, glossy Nutella ganache and chopped hazelnuts, swirled with a fluffy Nutella buttercream, drizzled with more Nutella ganache and topped with another Ferrero Rocher truffle. A Nutella OVERLOAD!
Ingredients
Chocolate Hazelnut Cupcakes
¾ cup (96g) all-purpose flour
¾ cup (75g) hazelnut flour (see notes)
1 and ½ cups (301g) granulated sugar
¾ cup (75g) unsweetened cocoa powder, sifted
1 and ½ teaspoons (6g) baking powder
½ teaspoon (3g) baking soda
½ teaspoon (3g) salt
2 large eggs, room temperature
⅓ cup (80ml) vegetable oil
½ cup (120ml) buttermilk, room temperature
1 teaspoon (5ml) pure vanilla extract
½ cup (120ml) boiling water
24 Ferrero Rochers, frozen
Nutella Buttercream
1 cup (227g) unsalted butter, room temperature
4 cups (454g) powdered sugar, sifted
1 and ½ cups (441g) Nutella
1 teaspoon (5ml) pure vanilla extract (optional)
2-4 Tablespoons (30-60ml) heavy cream or milk
Nutella Ganache
1 cup (294g) Nutella
¾ cup (180ml) heavy whipping cream
1 Tablespoon (15ml) light corn syrup
Garnish
1 cup (175g) chopped hazelnuts
Extra Nutella ganache
24 Ferrero Rochers
Instructions
For the Chocolate Hazelnut Cupcakes:
Preheat the oven to 350℉ (177℃), and line a standard cupcake pan with paper liners.
In a large mixing bowl, add both flours, sugar, cocoa, baking powder, baking soda and salt. Whisk to combine.
In a measuring cup, whisk together the eggs, vegetable oil, buttermilk and vanilla. Pour the wet ingredients into the dry ingredients and whisk to combine. Add boiling water and whisk until combined and smooth. Batter will be runny.
Place 2 tablespoons of batter into each cupcake liner. Place a Ferrero Rocher candy in the centre of each cup and add more batter until liners are ⅔ way full.
Bake in preheated oven for 14-16 minutes or until a toothpick inserted into the cupcake comes out with a few moist crumbs. Allow cupcakes to cool in the pan for 5 minutes.
Remove the cupcakes and transfer to a wire rack to cool completely before decorating.
For the Nutella Buttercream:
In the bowl of a stand mixer fitted with the paddle attachment (or using a handheld mixer), beat the butter on medium speed until light and fluffy, 3-4 minutes. Scrape down the sides and bottom of the bowl.
Turn the mixer speed to low and gradually add the powdered sugar and mix until combined.
Add the Nutella and vanilla, if using, and beat on medium speed until light and fluffy, 2-3 minutes.
Add milk or cream 1 tablespoon at a time until desired consistency is reached.
Fit one disposable piping bag with a large round tip and a second piping bag with a large star tip. Fill both piping bags with the Nutella buttercream.
Using the large round tip, pipe frosting starting from the centre towards the outer edge so you have an even layer. Use a small offset spatula to smooth the top and edges.
Freeze cupcakes for 10-15 minutes. This is to make sure the buttercream doesn't melt when dipping into the warm ganache. While the cupcakes are in the freezer, make the ganache.
For the Nutella Ganache:
Place Nutella in a medium bowl. Heat heavy whipping cream and light corn syrup in a small saucepan until it just begins to simmer.
As soon as mixture begins to simmer, remove from heat and pour over Nutella.
Cover the bowl and allow to sit for 5 minutes. After 5 minutes, slowly whisk until smooth and silky. Allow to cool at room temperature for 15 minutes before dipping.
Assembly of Ferrero Rocher Cupcakes:
Once the buttercream is solid, dip the top of the cupcakes into the Nutella ganache and let the excess drip off. Roll the sides in chopped hazelnuts.
Using the piping bag fitted with a large star tip, pipe a swirl of frosting on top.
Pour the remaining Nutella ganache into a squeeze bottle or a ziplock bag and snip off a tiny corner. Drizzle onto the cupcakes. Top with a Ferrero Rocher truffle.
Store cupcakes in an airtight container at room temperature for 3-5 days.
Notes
If you can't find hazelnut flour you can make your own by adding whole roasted hazelnuts to a food processor and pulsing into fine crumbs. Don't worry about sifting, the small bits of hazelnuts adds a wonderful crunch to the cupcakes!
Cupcake recipe adapted from: Cookies, Cupcakes and Cardio
Bon Appétit!
Love, Dedra ❤️
Did you make a recipe? I'd love to see how it turned out! Post a picture on Instagram and tag me @queensleeappetit and use the hashtag #queensleeappetit.