This post may contain affiliate links. As an Amazon Associate, I earn from qualifying purchases. Please see my full disclosure policy for details.
These Sweet Potato Swirl Maple Cheesecake Bars are such a delightful and flavourful Thanksgiving treat! With a spiced gingersnap crust, and swirls of silky maple cheesecake and brown butter sweet potato pie, these bars make the perfect fall dessert!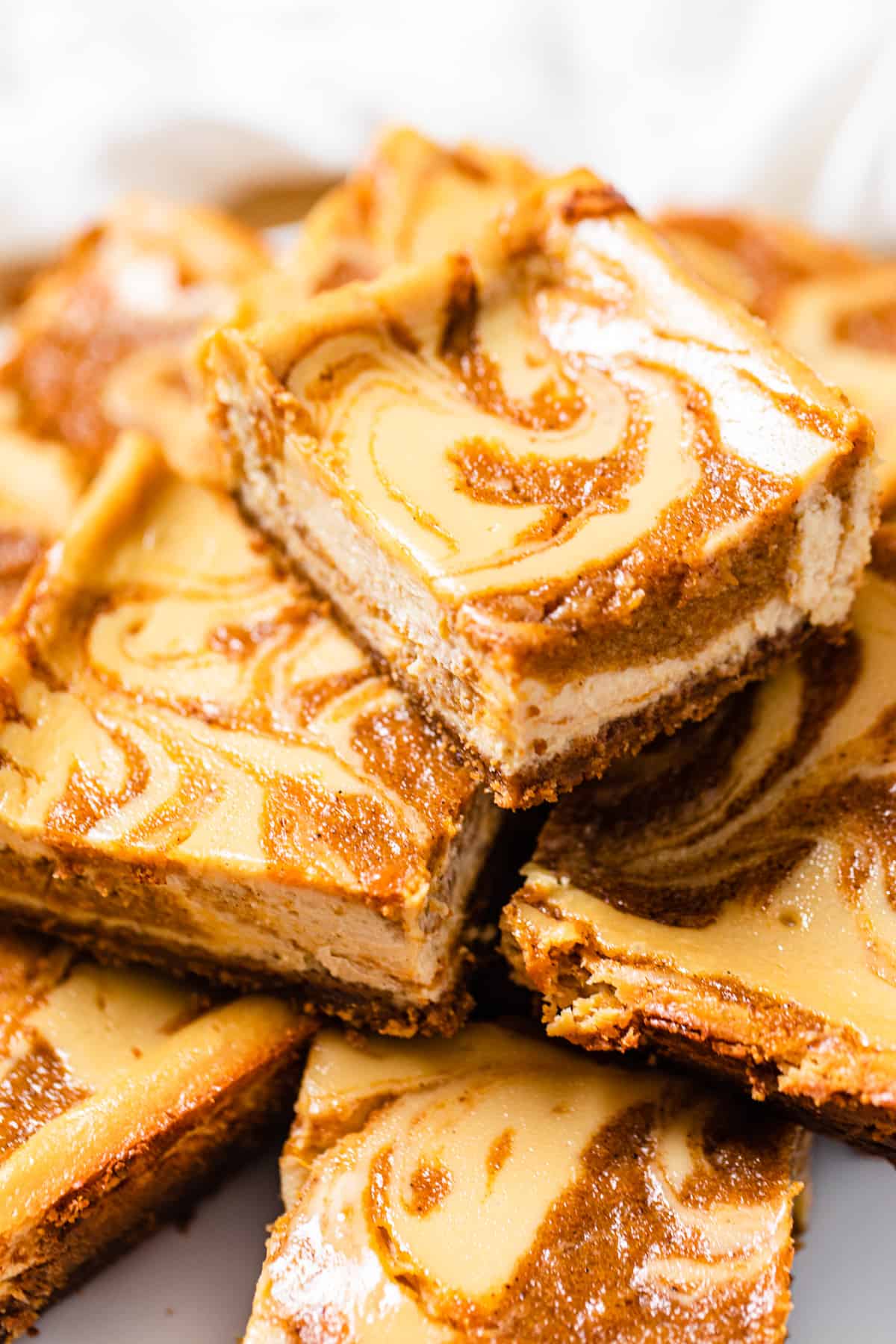 The Perfect Thanksgiving Dessert
I have plenty of incredible pumpkin desserts on here, as they're my go-to for Thanksgiving every year, but now I think it's finally time to share my first sweet potato dessert!
Have you ever made sweet potato pie before? I haven't until I made this recipe, so I wasn't sure how well it would work or taste but thankfully it turned out perfect!
Without a doubt, this is one of my favourite cheesecake recipes I've ever made!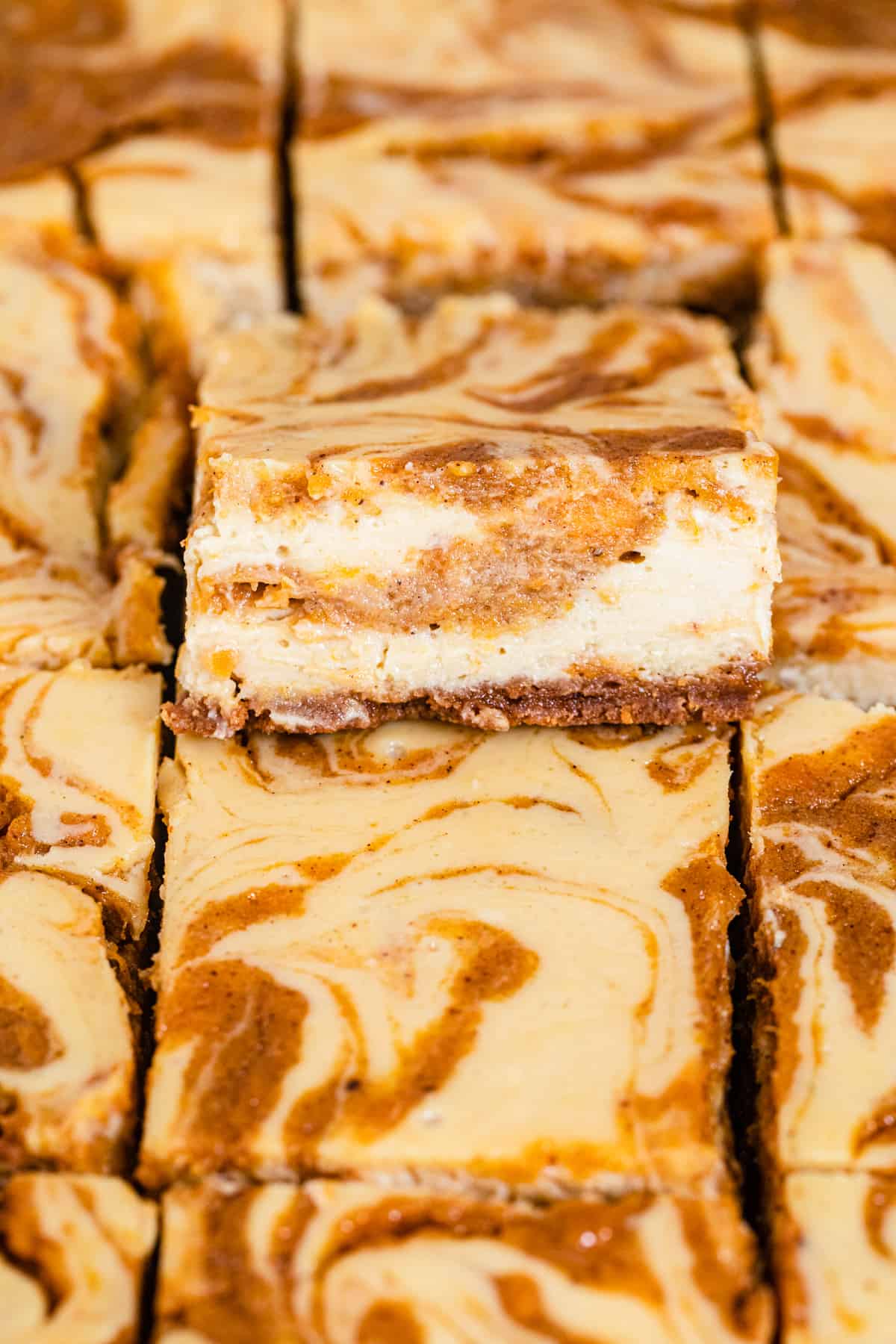 What to Love About These Sweet Potato Swirl Cheesecake Bars
Two Desserts in One — a sweet maple cheesecake and a brown butter sweet potato pie swirled into one bar? Yes, please!
Textures — you get the crunchy gingersnap crust, silky smooth cheesecake and the rich, dense sweet potato pie in each bite!

Three Amazing Flavours — the gingersnap crust is flavoured with brown sugar and cinnamon, the cheesecake is flavoured with brown sugar and maple syrup, and the sweet potato pie is filled with loads of warm spices and a flavourful browned butter!
No Need for a Water Bath: this isn't your traditional round cheesecake baked in a springform pan, so there's no need to place it inside a water bath!
Shorter Baking Time: once again, since these are cheesecake bars baked in a rectangular pan, we'll be baking them at a higher temperature resulting in a shorter baking time!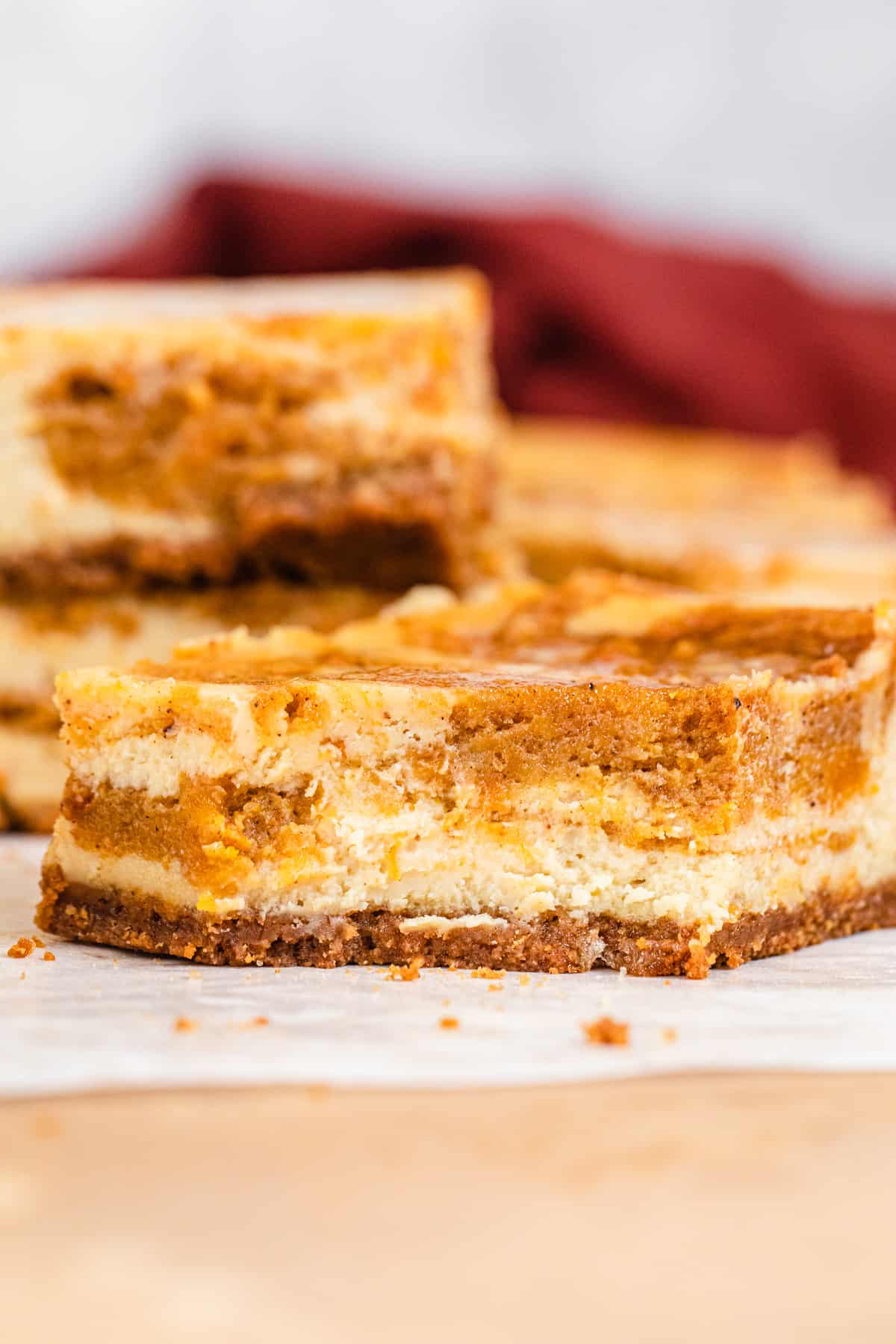 Spiced Gingersnap Crust
To start this recipe, we're gonna make an easy, crunchy spiced gingersnap crust. Below is a photo of the type of gingersnap cookies I used, and I used about 43 cookies which is the full package.
Note: If you wanna make a graham cracker crust, use 42 whole graham crackers (square or 21 rectangles).
Crush the cookies in a food processor until you end up with very fine crumbs. Now we're gonna add some extra sweetness and flavour by adding a little bit of brown sugar and cinnamon. Stir in some melted butter to help the crumbs hold together, then press the mixture into the bottom of your rectangle pan. Let it bake and cool on a wire rack, then make the other two components in this recipe.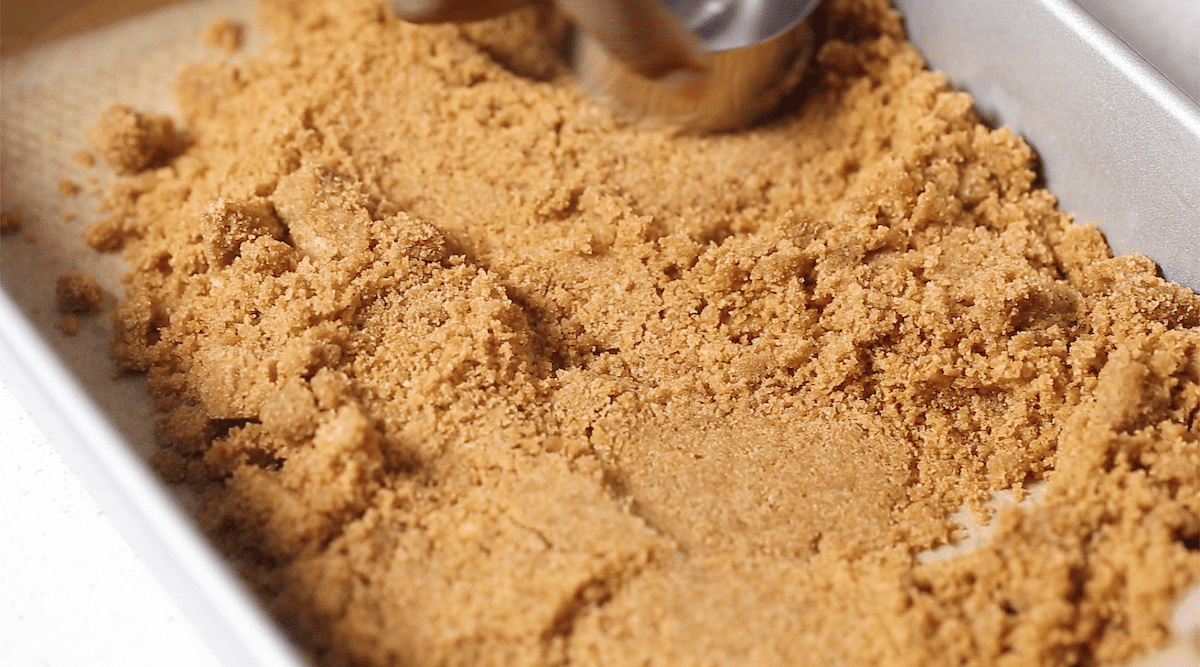 How to Make Browned Butter Sweet Potato Pie Filling
You may think making a sweet potato pie filling AND a cheesecake filling would be too much work, but I swear both parts are just as easy to make as the crust!
Here's how to make the sweet potato pie recipe:
Brown your Butter: add your butter to a saucepan over medium heat and allow it to melt. Then once the butter begins to bubble and foam, stir for a few minutes until the butter begins to brown. Pour the butter into a small bowl and refrigerate it so it can re-solidify. REMEMBER browning the butter is optional, you could just use softened butter instead.

Boil the Potatoes: fill a large pot with water and add your fresh sweet potatoes (not to be mistaken for the purple sweet potatoes that are white on the inside). Bring it to a boil and let the potatoes boil for 50 minutes to an hour. This will soften the potatoes and loosen the skin, making them easy to peel.

Peel and Mash the Potatoes: allow the potatoes to cool down for a bit, then carefully peel the skin. Add the softened potatoes to a large bowl and use your hand mixer (or a potato masher) to beat or mash the potatoes until they're smooth.

Make the Filling: at this point, it's as easy as adding all of your remaining ingredients, including the solid brown butter, and mixing everything together until smooth.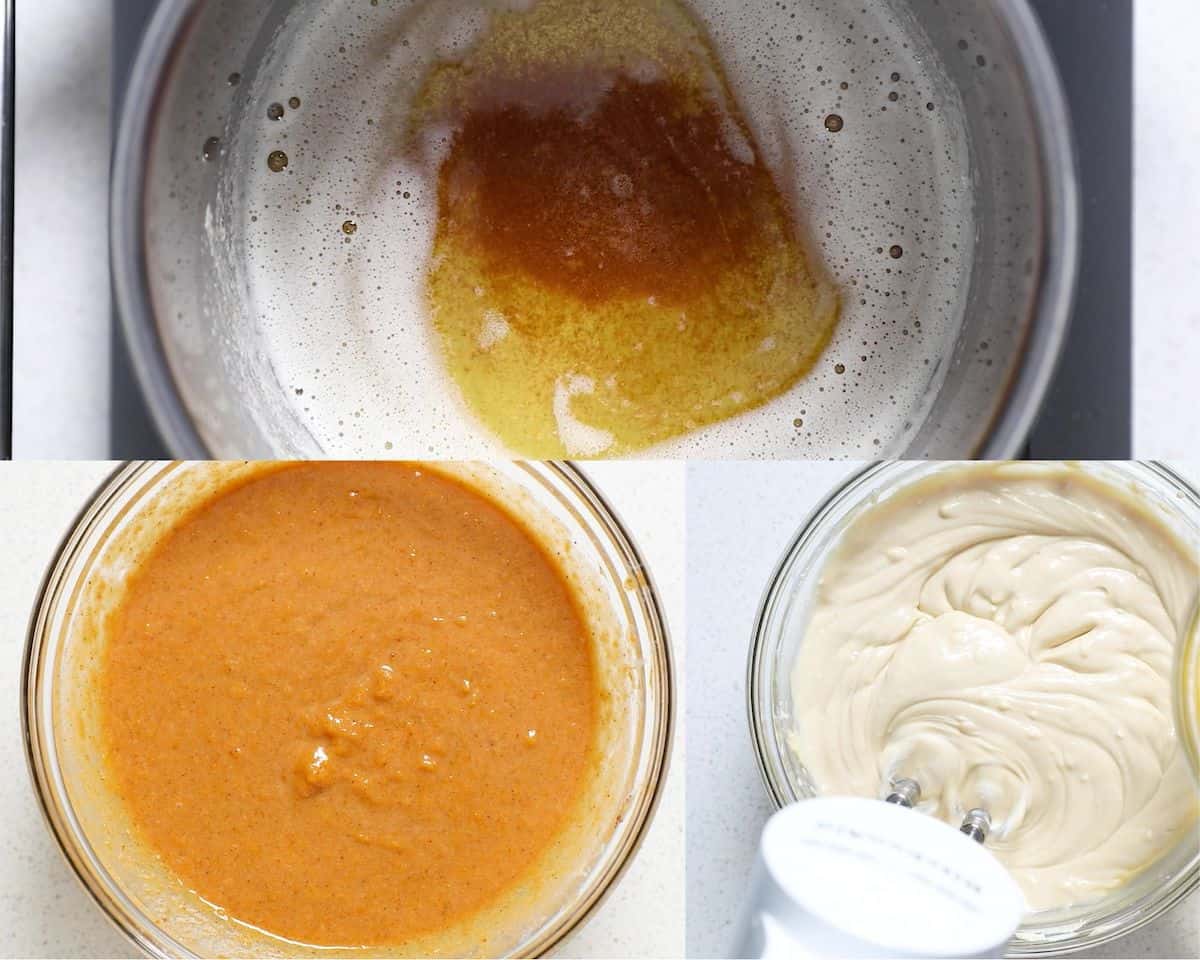 How to Make Maple Cheesecake
This recipe uses most of the same ingredients as my basic cheesecake recipe, the only difference is that I added maple syrup for that great maple flavour!
The cheesecake comes together in just four easy steps:
Step 1: beat the softened cream cheese in a large bowl on low speed until it's smooth and creamy.

Step 2: add your brown sugar and cornstarch and mix until they're combined.

Step 3: Add sour cream, maple syrup and vanilla extract and mix that in thoroughly.

Step 4: add your eggs one at a time. Mix after each addition until it's all well combined, but don't over-mix it.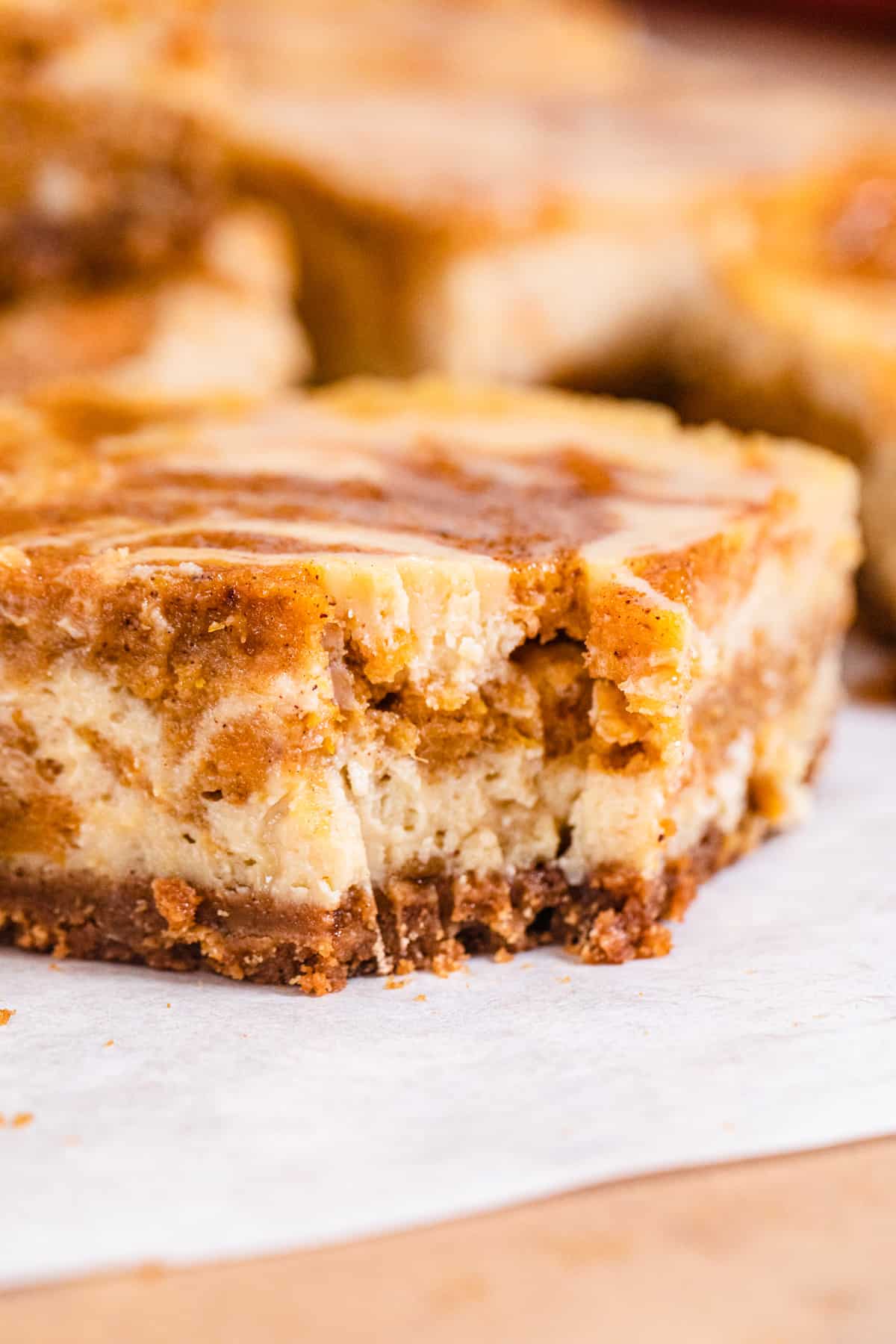 How to Make the Perfect Swirl
Now that our sweet potato pie and cheesecake fillings are made, it's time to swirl them together!
If you watch my video, you'll see that the way I swirl these two is by adding a few random scoops of cheesecake over the crust. Then I fill the empty spots with the sweet potato pie filling. I also like to scoop some sweet potato pie filling into the dollops of cheesecake, then scoop the cheesecake onto the dollops of sweet potato pie.
Repeat this until both fillings are all in the pan, then take a butter knife and make swirls in the batters.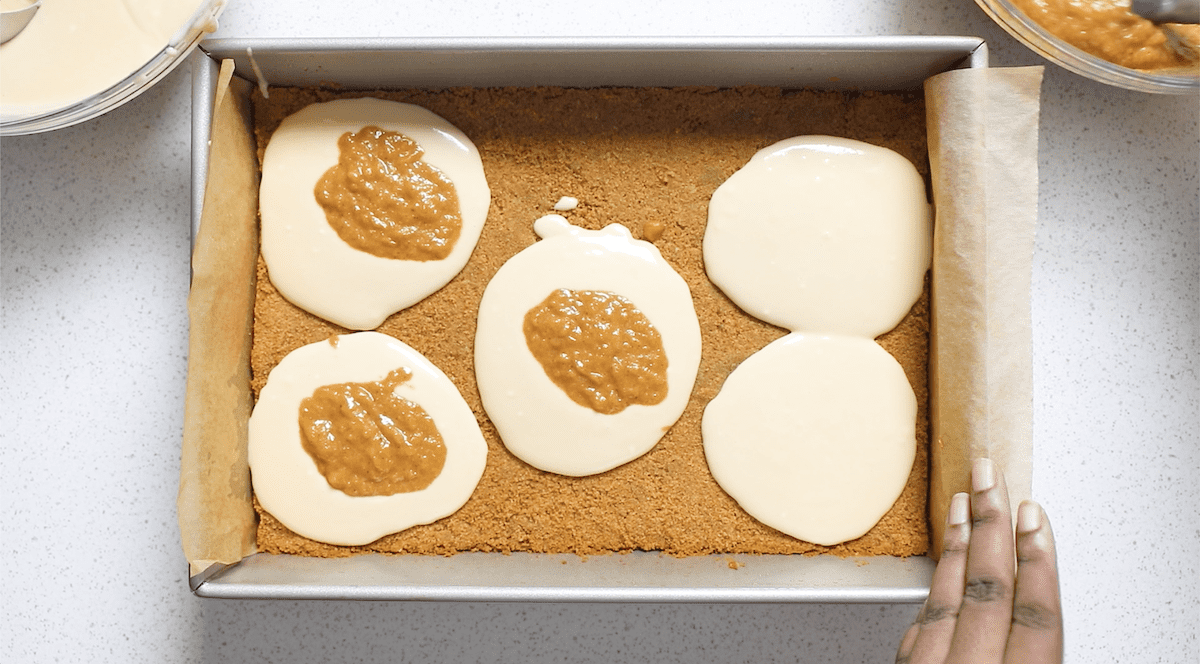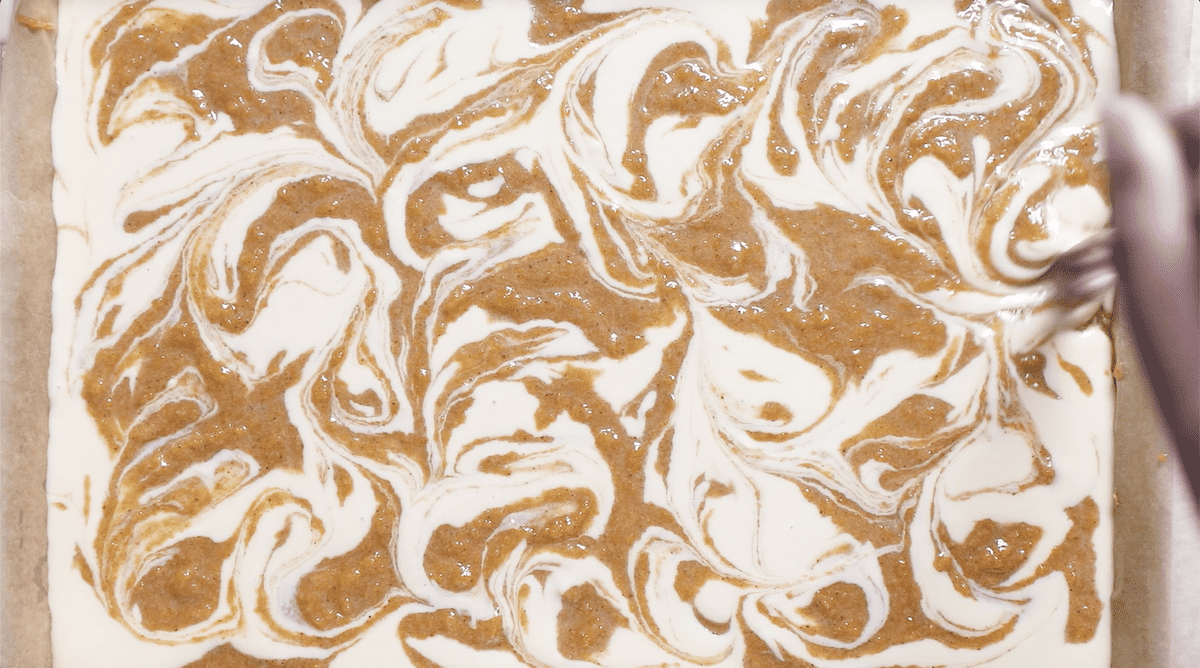 Tips For Sweet Potato Cheesecake Bars
Make sure all your ingredients are at room temperature: to ensure everything mixes together smoothly, make sure all of your refrigerator ingredients are softened and at room temperature.

Pre-measure all of your ingredients: to make sure the entire recipe goes smoothly, pre-measure all of your ingredients so you don't have to constantly stop and measure while mixing everything together.

Use good-quality maple syrup: for the best maple flavour in your cheesecake, use good high-quality pure maple syrup instead of cheap table syrup.

Strain your sweet potato pie filling: if you wanna avoid having chunks or stringy bits of sweet potato in your filling feel free to run the filling through a fine mesh sieve.

Make sure your parchment paper is long enough to hang over the sides: this will help you to easily lift the chilled cheesecake out of the pan so you can cut them into neat bars.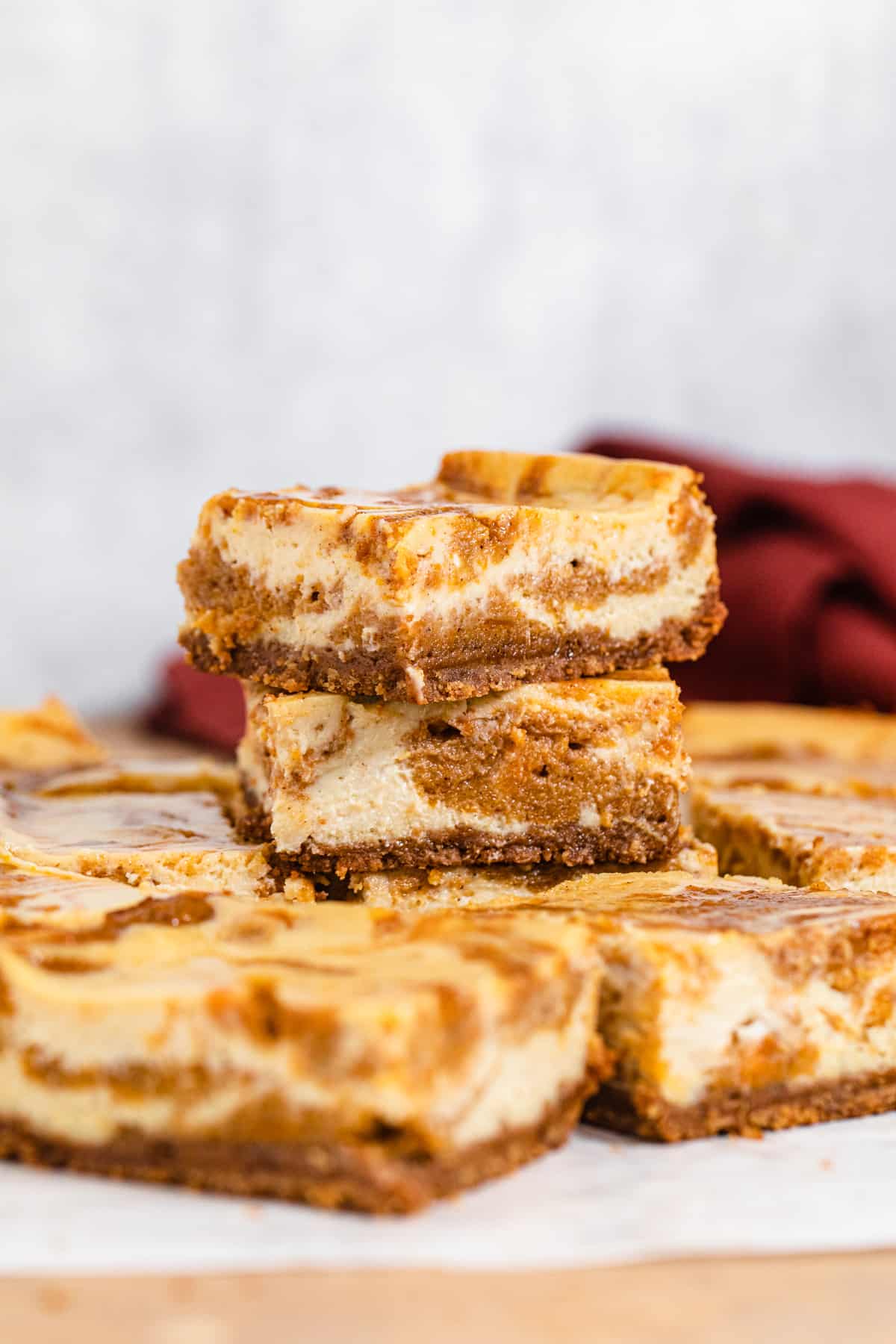 Tools I Used For These Dessert Bars
More Cheesecake Bar Recipes For You To Enjoy:
SHARE YOUR PICS!
Follow me on Instagram and tag #queensleeappetit so I can see and share all of your Queenslee Appétit creations in my stories and the QA Newsletter!
>>PIN THIS FOR LATER<<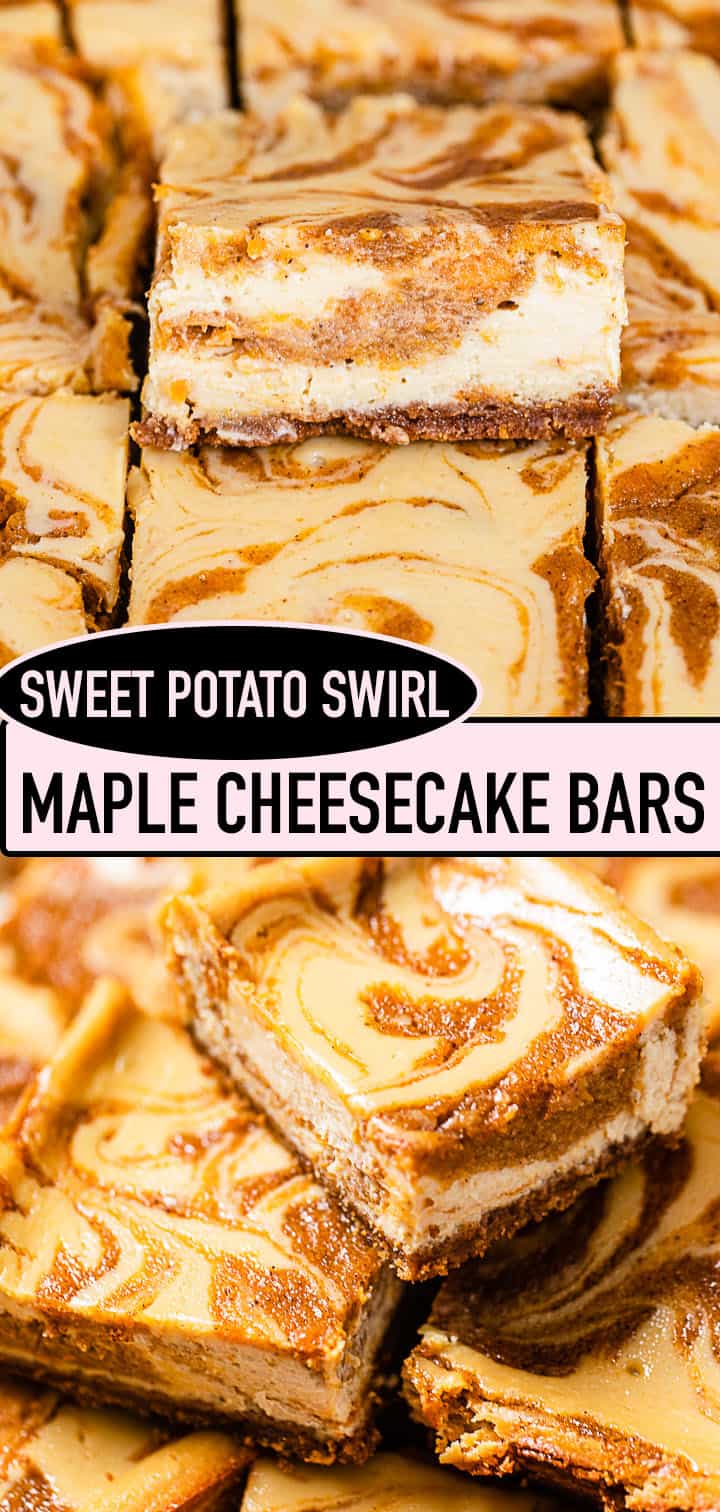 FOLLOW QUEENSLEE APPÉTIT
Like what you see? Make sure you're following Queenslee Appétit for more tasty recipes!
Pinterest | Instagram | Facebook | YouTube
Have any questions about the recipe? Contact me here, and I'll be happy to help!
SWEETEN UP YOUR INBOX!
SUBSCRIBE to the Queenslee Appétit Newsletter to receive new recipe notifications and sneak peeks at upcoming recipes and more!
Let's Get Baking!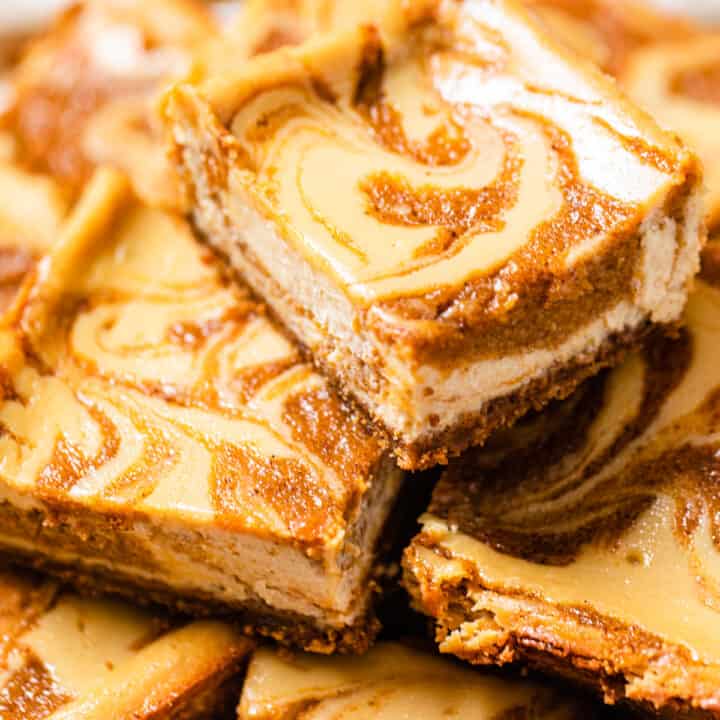 Sweet Potato Swirl Maple Cheesecake Bars
Prep Time:
1 hour
30 minutes
Total Time:
10 hours
25 minutes
These Sweet Potato Swirl Maple Cheesecake Bars are such a delightful and flavourful Thanksgiving treat! With a spiced gingersnap crust, and swirls of silky maple cheesecake and brown butter sweet potato pie, these bars make the perfect fall dessert!
Ingredients
Gingersnap Crust:
3 cups gingersnap cookie crumbs (about 43 cookies)
¼ cup brown sugar, packed
1 teaspoon ground cinnamon
6 Tablespoons unsalted butter, melted
Brown Butter Sweet Potato Pie Filling:
½ cup unsalted butter
1 lb sweet potatoes (2-3 medium)
1 cup light brown sugar, packed
1 and ½ teaspoons pure vanilla extract
1 Tablespoon cornstarch
1 teaspoon ground cinnamon
½ teaspoon ground nutmeg
½ teaspoon ground ginger
¼ teaspoon ground cloves
½ teaspoon salt
½ cup heavy cream
2 large eggs, room temperature
Maple Cheesecake:
3 (8-ounce) packages (24 oz) full-fat cream cheese, room temperature
1 cup light brown sugar, packed
1 Tablespoon cornstarch
½ cup sour cream, room temperature
½ cup maple syrup
1 Tablespoon pure vanilla extract
3 large eggs, room temperature
1 large egg yolk
Instructions
For the Gingersnap Crust:
Preheat oven to 350° F. Spray a 9x13-inch cake pan with nonstick spray and line it with parchment paper (leaving some hanging over the sides). Set aside.
In a food processor, pulse the gingersnap cookies until you get fine crumbs.
Add the brown sugar and cinnamon and pulse until combined. Add the melted butter and pulse until all the crumbs are coated. Pour and press the mixture into the bottom of the greased pan.
Bake the crust for 10 minutes, then set aside to cool.
For the Brown Butter Sweet Potato Pie Filling:
Add the butter to a small saucepan, preferably one with a light bottom so you can easily see the colour change.
Heat over medium heat until the butter has melted.
Once melted, the butter will begin to bubble and foam. Continue to stir, cooking until the butter turns golden brown. This can take about 5-10 minutes, but don't rely on time. Keep your eyes on the butter to see when it starts to turn brown. I recommend watching the video linked below to see how it's done.
Immediately remove the browned butter from the stovetop and pour it into a small bowl. Place in the refrigerator until it solidifies.
Add the sweet potatoes to a large pot of water. Turn the heat to high and boil potatoes for 45 minutes to an hour, or until they slip off a fork. Set aside to cool for 5 minutes before carefully peeling.
Add peeled sweet potatoes to a medium mixing bowl and use a hand mixer to beat them until smooth. Add the remaining pie ingredients including the solid browned butter, and mix until everything is combined and smooth. Set aside.
For the Maple Cheesecake:
In a large bowl using a handheld mixer beat the cream cheese on low speed until smooth and creamy.
Add brown sugar and cornstarch and continue to beat on low speed until completely combined and smooth.
Scrape down the sides of the bowl and add sour cream, maple syrup and vanilla and continue beating until smooth.
Add eggs and yolk one at a time, beating slowly until just combined, do not overbeat. Scrape the sides and bottom of the bowl with a rubber spatula to make sure everything is fully combined.
How to Swirl:
Using an ice cream scoop, add a few random dollops of cheesecake over the gingersnap crust.
Using a second ice cream scoop, scoop dollops of sweet potato pie filling into the cheesecake dollops. Repeat alternating between dollops of cheesecake and dollops of sweet potato pie until both batters are done.
Use a butter knife to swirl them together, then bake in preheated oven for 40-45 minutes. The cheesecake is done when the edges are set and the center jiggles just slightly.
Remove from oven and allow to cool completely on a cooling rack.
Loosely cover with plastic wrap and refrigerate until firm and chilled, about 6-8 hours or overnight. Slice and serve!
Notes
Baking the Sweet Potatoes: Preheat oven to 400ºF. On a baking sheet lined with aluminum foil, prick sweet potatoes all over with a fork. Bake until tender, 45 to 50 minutes.
Nutrition Information:
Yield:

12
Serving Size:

1
Amount Per Serving:
Calories:

666
Total Fat:

28g
Saturated Fat:

14g
Trans Fat:

0g
Unsaturated Fat:

12g
Cholesterol:

163mg
Sodium:

449mg
Carbohydrates:

97g
Fiber:

3g
Sugar:

56g
Protein:

8g
BON APPÉTIT!
Love, Dedra
©QUEENSLEE APPÉTIT. All images & content are copyright protected. Please do not use my images without prior permission. If you want to republish this recipe, please re-write the recipe in your own words, or link back to this post for the recipe.