These Flag Cheesecake Bars feature a thick, creamy vanilla cheesecake that's decorated with whipped cream, blueberries and fresh strawberries to look like the American flag! This easy treat is the perfect dessert to celebrate Fourth of July and makes enough to feed a crowd!
This post may contain affiliate links. As an Amazon Associate I earn from qualifying purchases. Please see my full disclosure policy for details.
Remember these Easy Mini Cheesecakes I shared not too long ago? Well, allow me to introduce you to the equally simple bar version!
This recipe was originally supposed to be a bigger version of my mini classic cheesecake. I topped those with whipped cream and fresh fruit, so I wanted to do the same with these. I was originally going to just spread on the whipped cream and pile the fresh fruit on top, but then I remembered seeing a lot of desserts online that use whipped cream, blueberries and sliced strawberries to create the American flag.
So I used that idea to turn what was supposed to be a simple vanilla cheesecake bar recipe into American Flag Cheesecake Bars that would make a wonderful addition to your Fourth of July parties this year!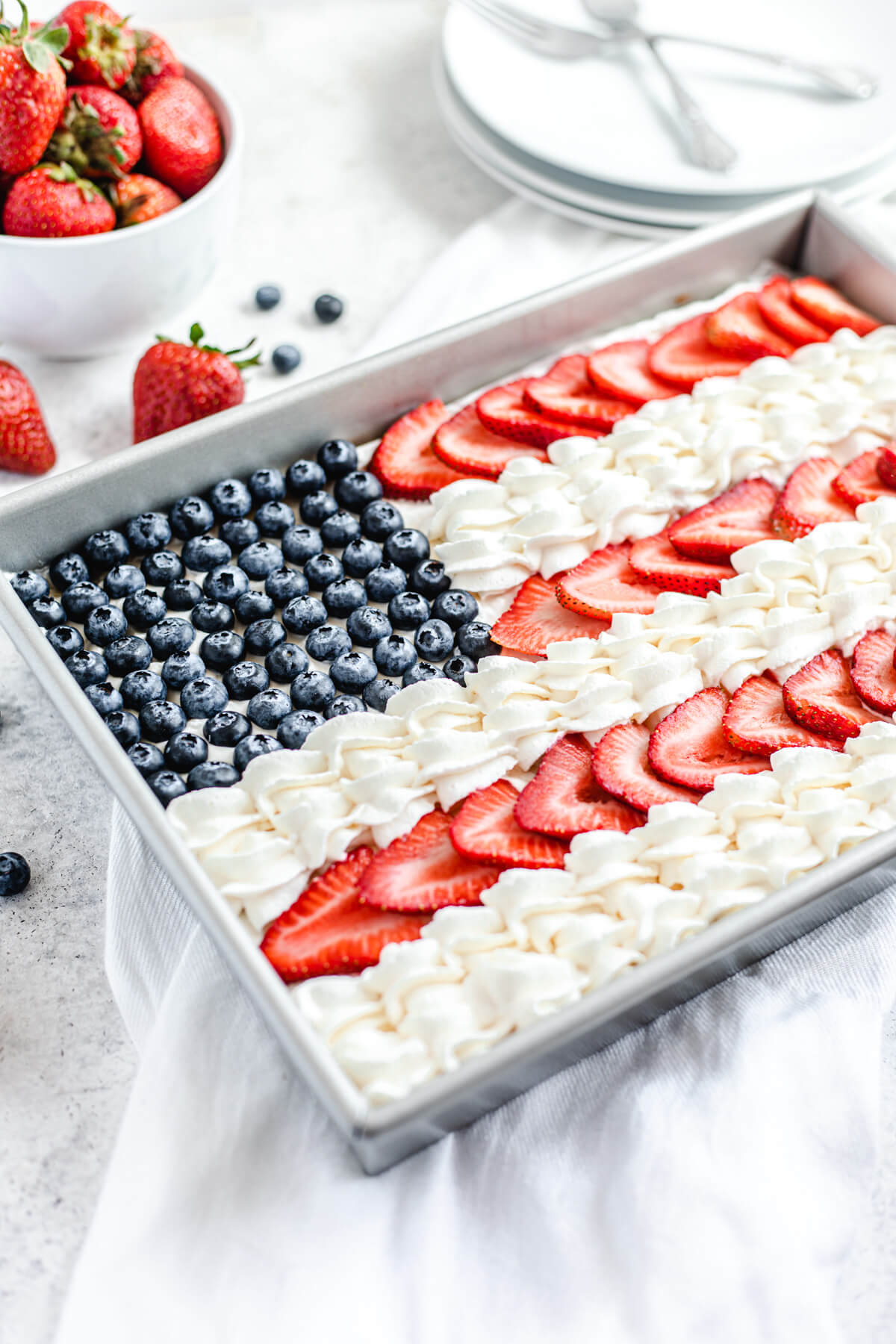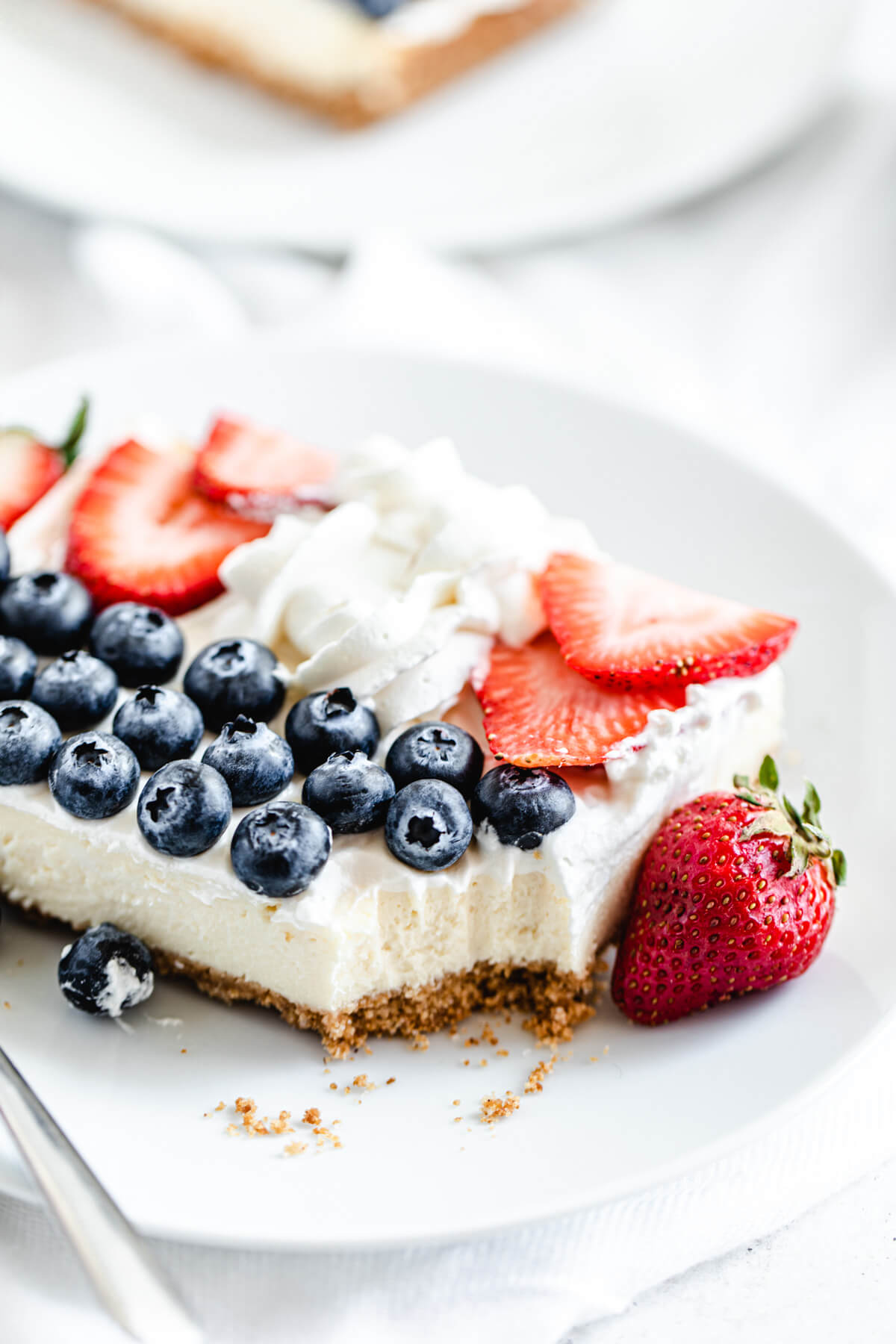 3 Parts to these Cheesecake Bars
To better help you understand, I'll be breaking down each part of the recipe. There are 3 parts to these bars, and each recipe is super easy to put together.
Graham Cracker Crust: A simple 4-ingredient cookie crust. Don't want a graham cracker crust? Use vanilla cookie wafers or Oreos for a chocolate/vanilla flavour!
Vanilla Cheesecake Filling: This may be the creamiest cheesecake I've ever had! The recipe amount is enough for a full-sized cheesecake and can be baked in either a 9x13-inch pan or a 9-inch square pan if you want thicker bars.

Whipped Cream & Fruit Topping: The 3-ingredient whipped cream is very easy to make, same with the flag design! You can substitute the sliced strawberries with rows of raspberries to create the stripes.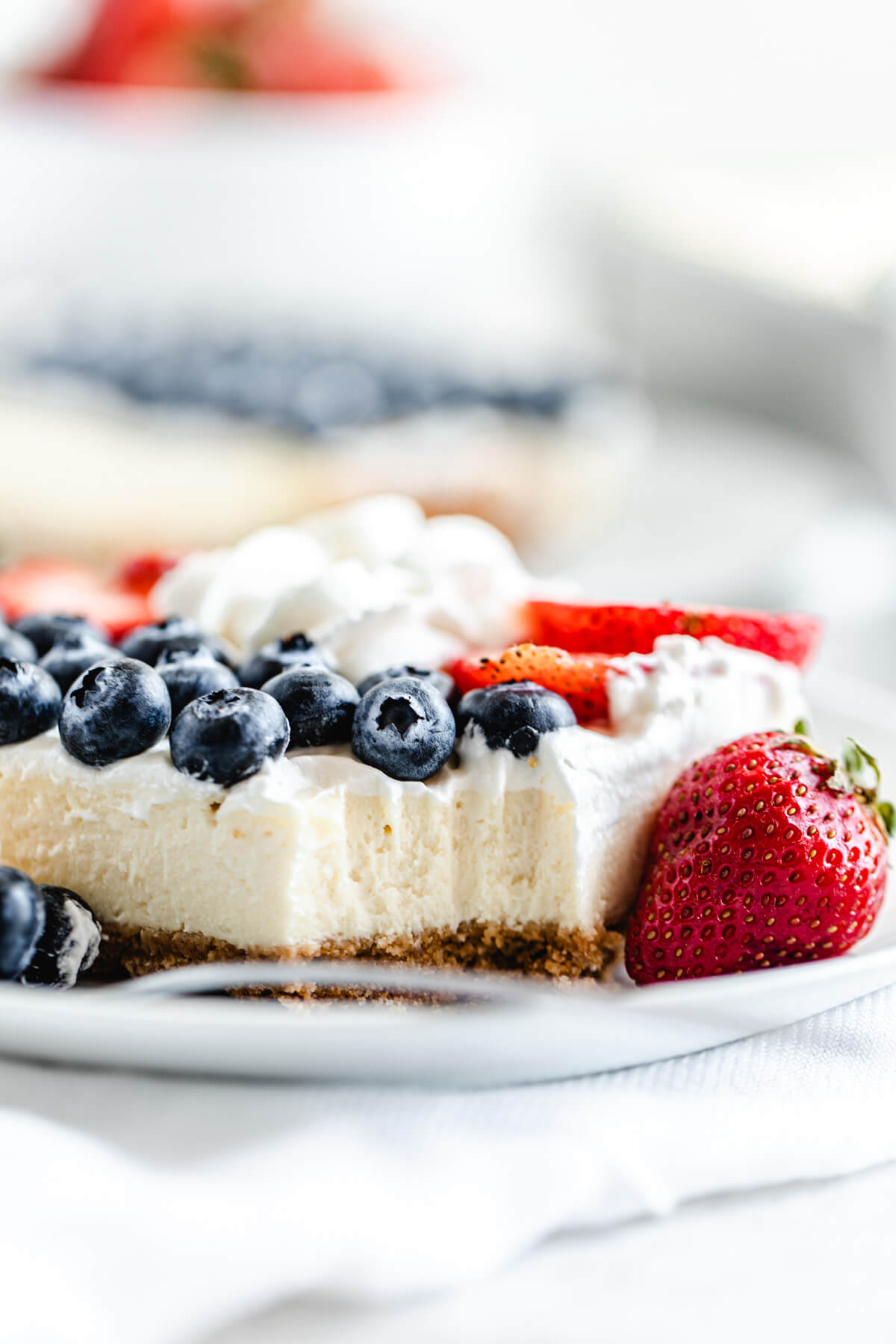 Graham Cracker Crust
You're gonna need 2 and ½ cups of graham cracker crumbs (between 15-18 sheets), ¼ cup of sugar, a dash of cinnamon for extra flavour and ½ cup of melted butter.
You can buy pre-crushed graham cracker crumbs, or you can pulse a few sheets of graham crackers in a food processor. Add the sugar and cinnamon and use a fork to stir everything together. Pour in the melted butter and mix until all of the crumbs have been coated. It should resemble wet sand (see photo below).
Pour the crumbs into your lined pan and use the bottom of a glass or measuring cup to pack it down into an even layer. Pre-bake for a couple minutes, then set it aside to cool as you prepare the filling.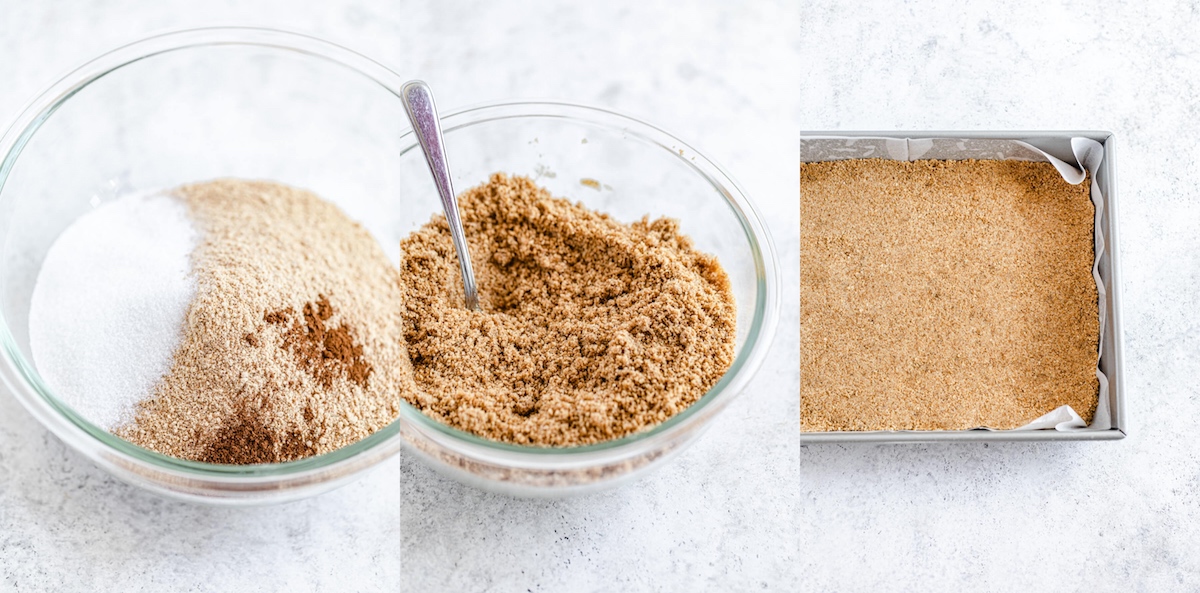 Creamy Vanilla Cheesecake
Part 2: the vanilla cheesecake filling. You'll need 3 bricks of cream cheese, granulated (white) sugar, cornstarch, sour cream, fresh lemon juice, vanilla and eggs.
Start by beating the softened cream cheese until it's creamy.

Add the sugar and cornstarch and beat until it's combined.

Add sour cream, lemon juice, and vanilla. This is where all the creaminess and flavour comes from!
Beat in the eggs and yolk, one at a time.

Pour it onto the pre-baked crust and bake!
Unlike the 1+ hours needed to bake a regular cheesecake, these bars only need 35-38 minutes to bake at a higher temperature. And guess what? No water bath is needed! Even at a higher temperature, my cheesecake didn't crack and remained ultra creamy!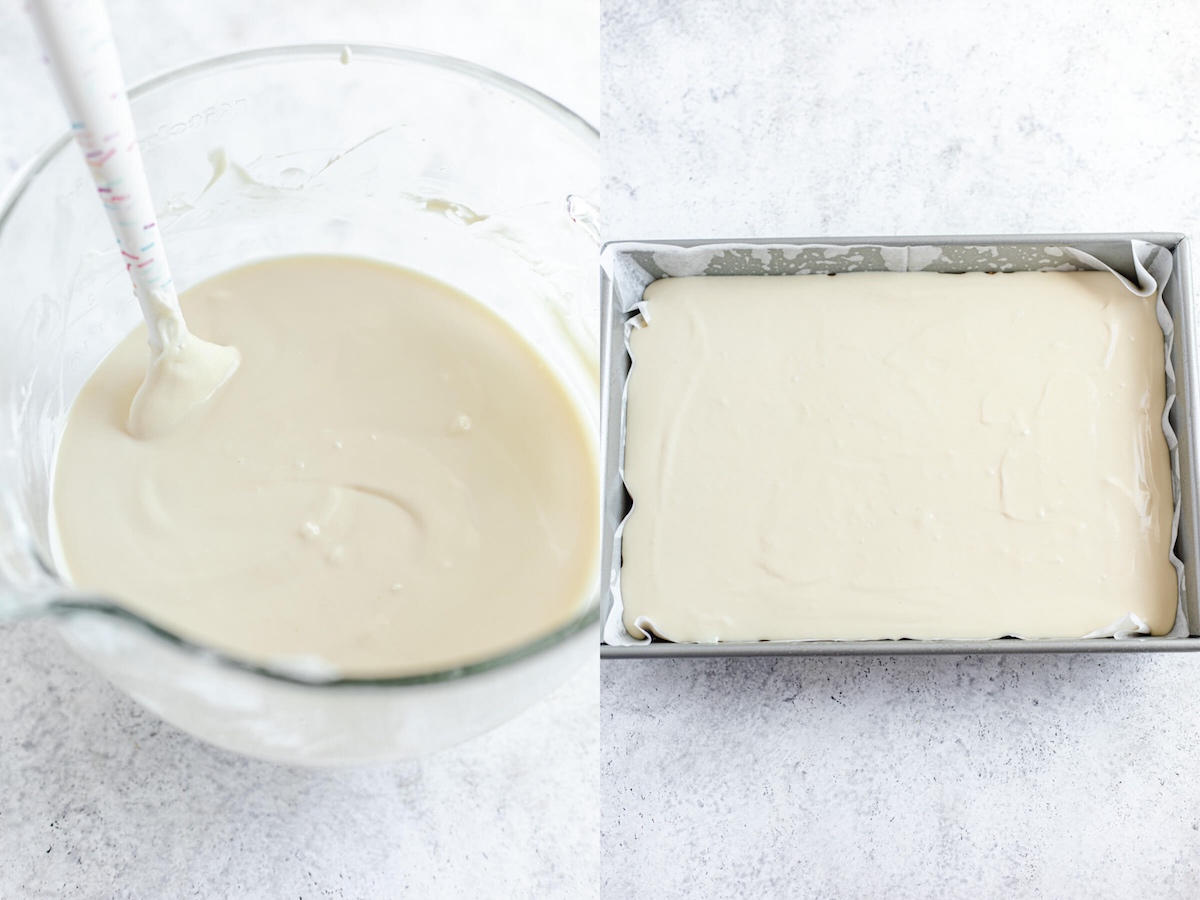 Sweetened Whipped Cream
Once your cheesecake has baked and chilled completely in the refrigerator, you can begin decorating. To start, prepare the sweetened whipped cream. All you'll need is heavy cream, powdered sugar and vanilla, but you'll need a lot of it because we'll need to spread some on top of the cheesecake before piping on the designs.
Perfect Whipped Cream Tips
Use a stainless steel or glass bowl: whipping cream won't work well in a plastic bowl, so make sure you use a bowl made of glass or stainless steel.

Use a chilled bowl & beaters: now the type of bowl won't mean a thing if it's warm! I use a hand mixer when making whipped cream, so I place the beaters into the bowl and place them both into the refrigerator for 20-30 minutes until they're completely chilled. Cold cream + cold bowl = nice fluffy whipped cream!
Start on low: Start beating the cream at low speed to avoid splatter. Slowly increase the speed to medium, then once it begins to thicken up, increase the speed to high and beat until the whipped cream holds its shape. I test this by lifting up the beaters. If the cream holds straight on the beaters, it's ready.
How to Make the Flag Decoration
Finally, the moment you've all been waiting for — making the flag! It's actually quite simple, and you may not even need instructions if your a visual learner like me. Just looking at the photos, you could probably guess how it's made. Let me give you a few tips, though.
First, you can use a toothpick and a ruler to trace out the shapes of the flag if you need a template. Then, line the blueberries in the square corner. Try finding blueberries that are the same size, and place them all facing upwards. Make sure there's the same amount of blueberries per row and that they're all lined up with each other.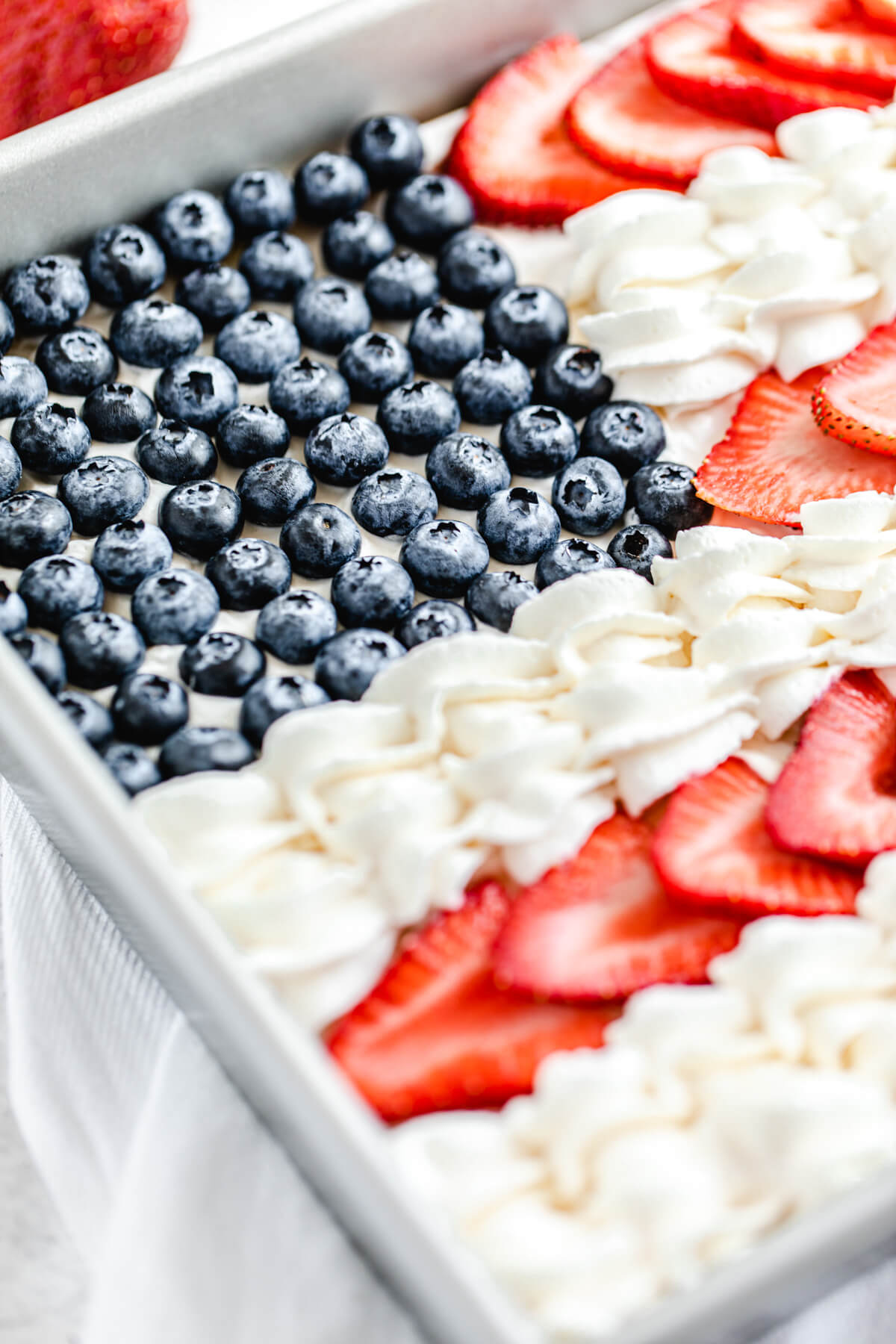 Next, the strawberries. Yeesh, this part was more difficult than I thought it would be. This is because I only got about 2 pieces of sliced strawberries per whole strawberry that looked good enough to place onto the cheesecake. If you don't care, you can use each slice of strawberry including the edges. However, they won't be the same size which will make keeping the lines straight pretty challenging.
For the white stripes, use a 1M tip to pipe two rows of shells. I created a post about how to pipe different cake borders if you need more detailed instructions on how to pipe a shell.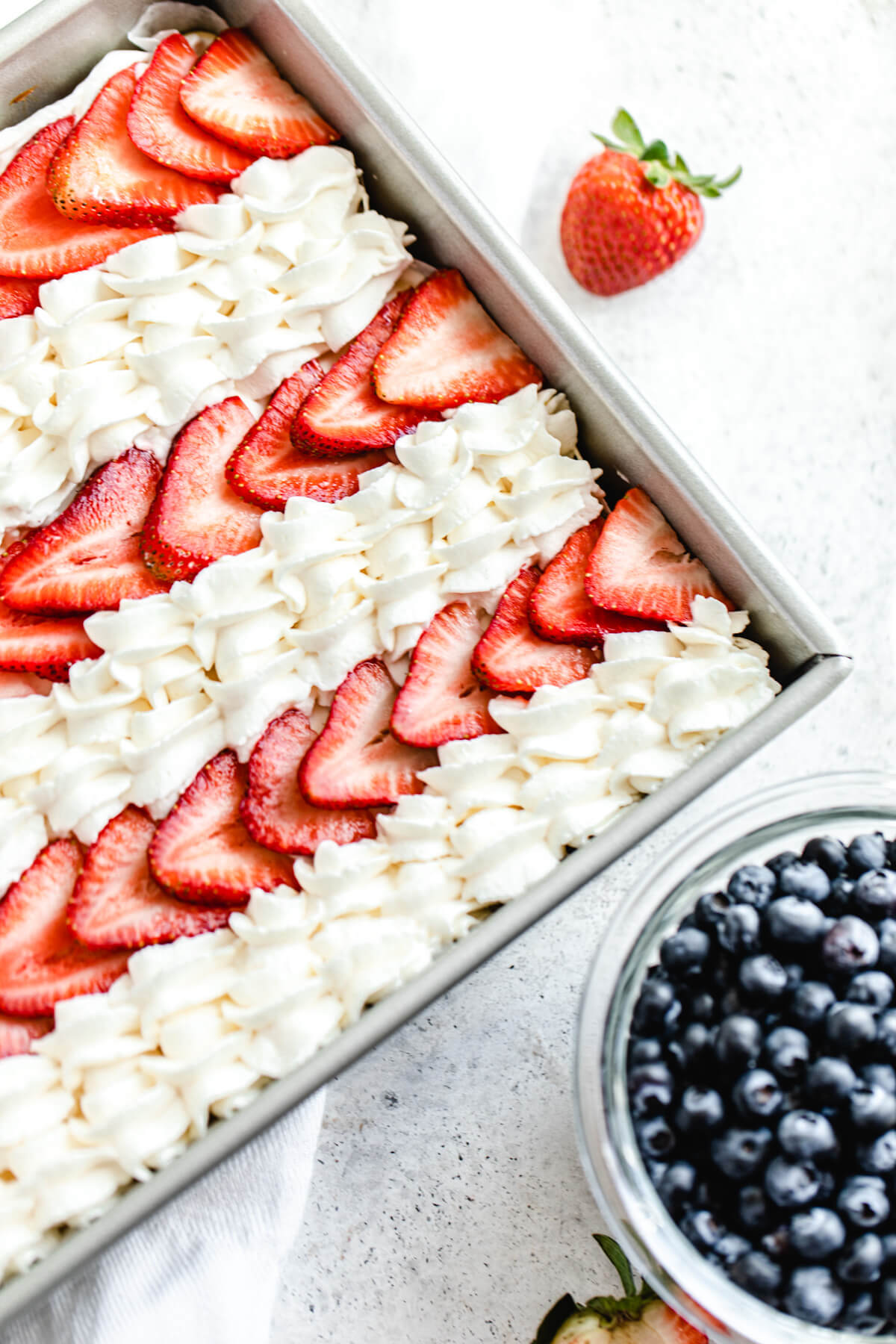 Alternate between rows of strawberries and whipped cream shells and you've got a tasty flag dessert!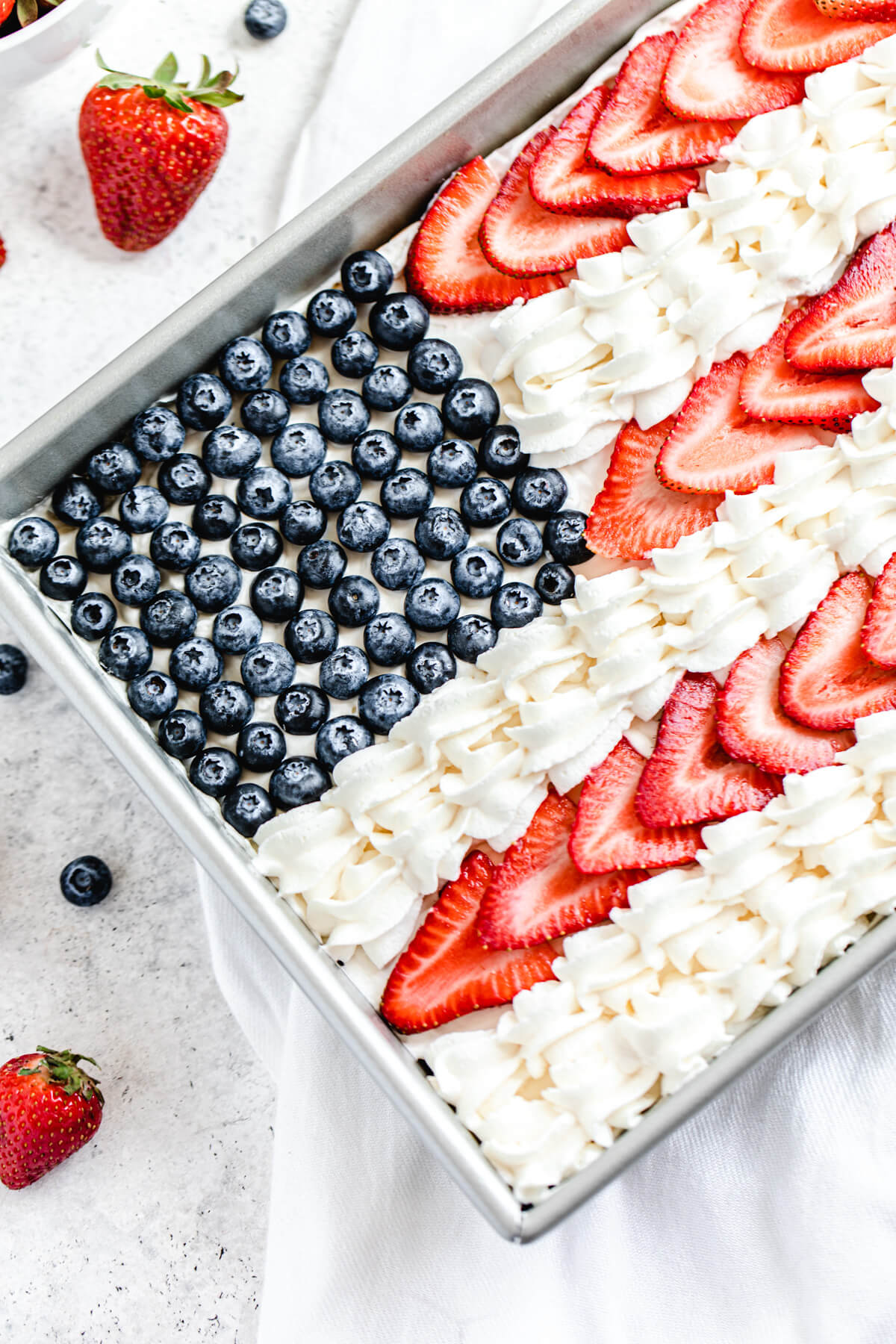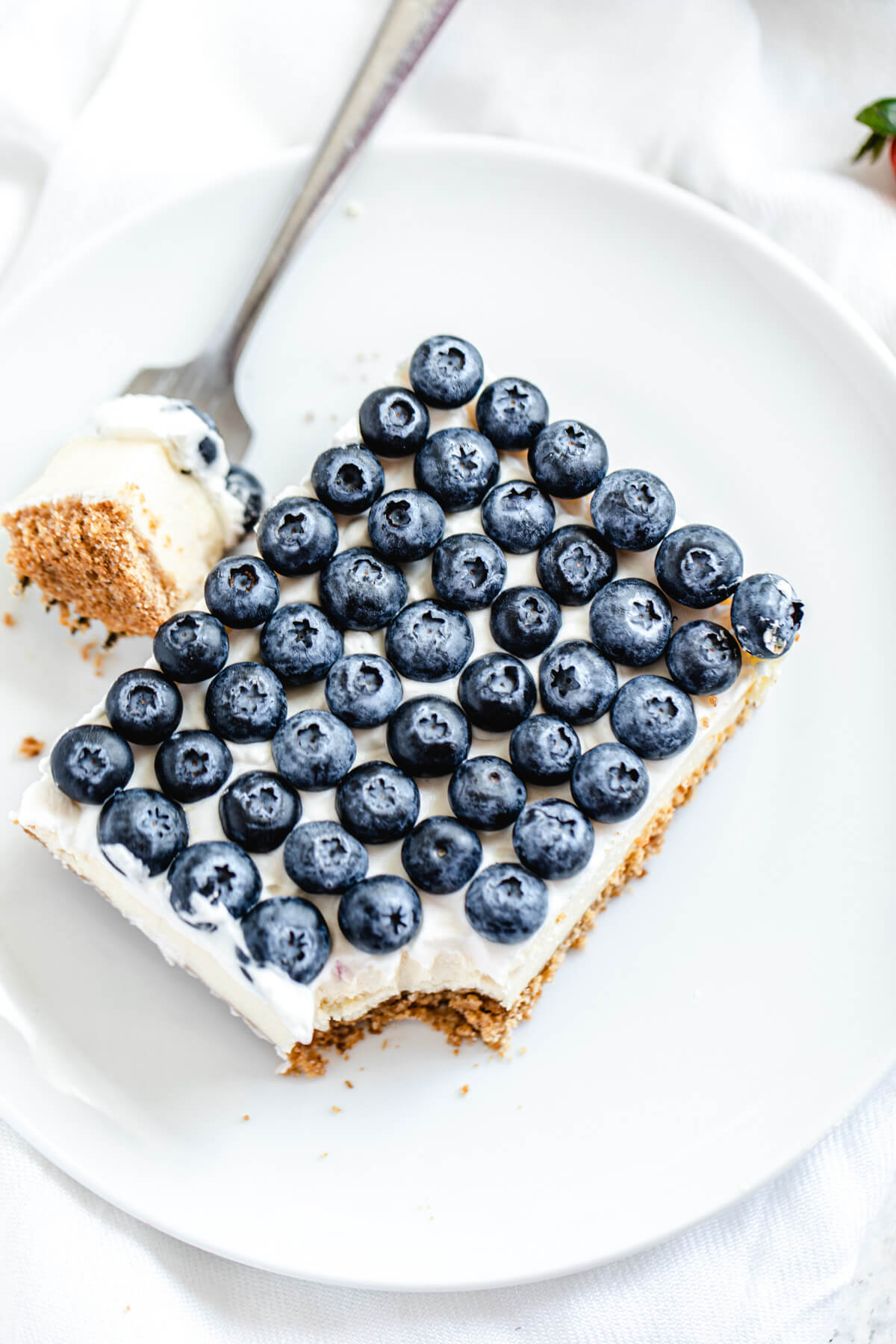 More Fourth of July Recipes
SHARE YOUR PICS!
Follow me on Instagram and tag #queensleeappetit so I can see and share all of your Queenslee Appétit creations in my stories and the QA Newsletter!
>>PIN FOR LATER<<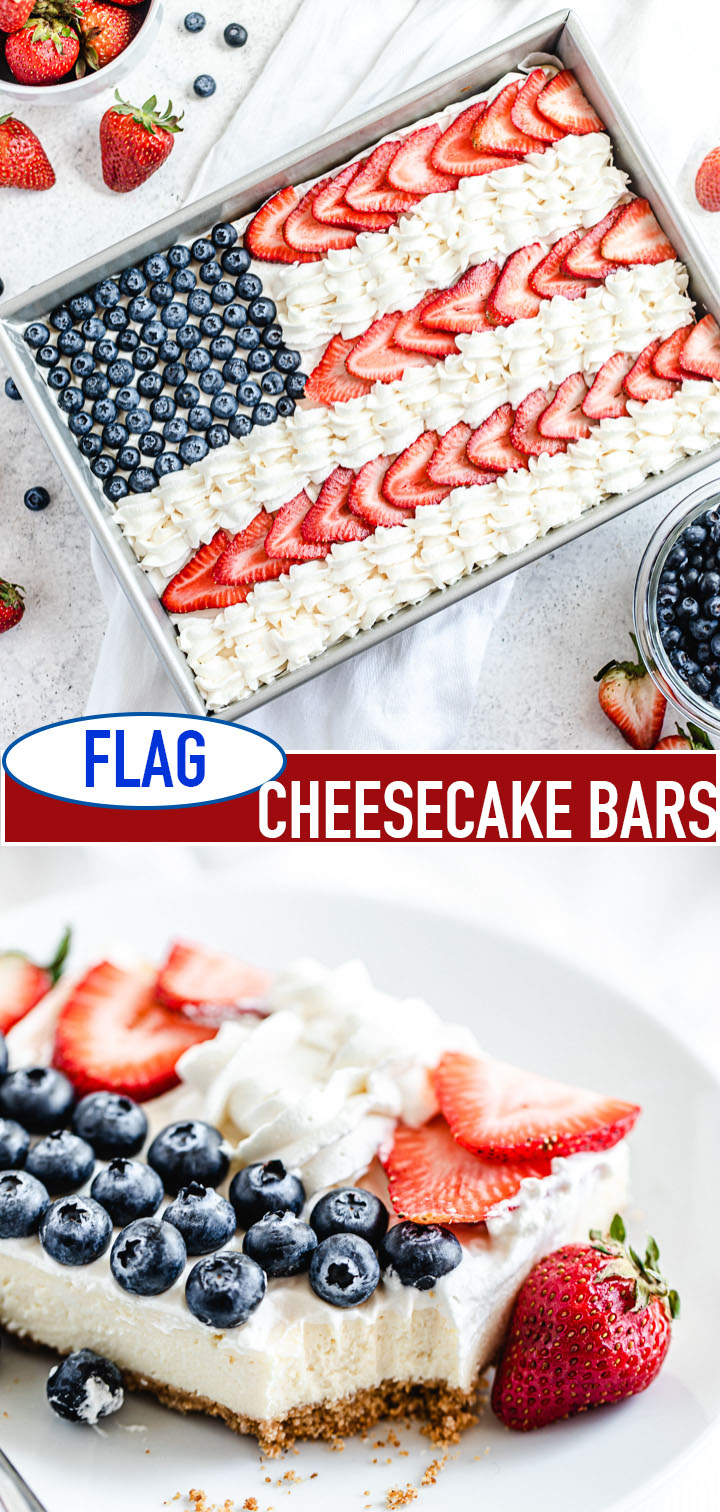 FOLLOW QUEENSLEE APPÉTIT
Like what you see? Make sure you're following Queenslee Appétit for more tasty recipes!
Pinterest | Instagram | Facebook | Twitter |
Have any questions about the recipe? Contact me here, and I'll be happy to help!
SWEETEN UP YOUR INBOX!
SUBSCRIBE to the Queenslee Appétit Newsletter to recieve new recipe notifications, monthly baking tips, sneak peeks to upcoming recipes, exclusive recipes and more!
Let's get baking!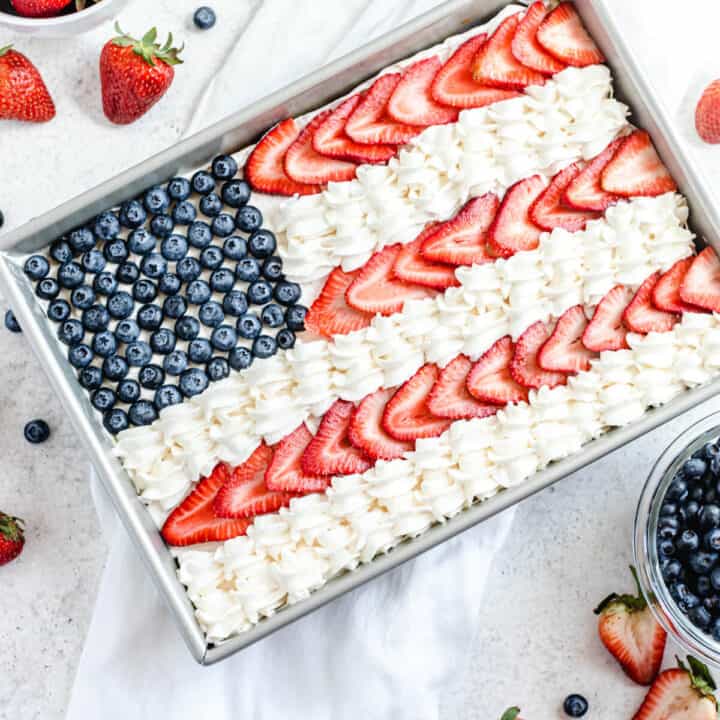 Flag Cheesecake Bars
Total Time:
5 hours
18 minutes
These Flag Cheesecake Bars feature a thick, creamy vanilla cheesecake that's decorated with whipped cream, blueberries and fresh strawberries to look like the American flag! This easy treat is the perfect dessert to celebrate Fourth of July and makes enough to feed a crowd!
Ingredients
Crust:
2 and ½ cups graham cracker crumbs
¼ cup granulated sugar
¼ teaspoon ground cinnamon (optional)
½ cup salted butter, melted
Vanilla Cheesecake:
3 (8-ounce) packages (24 oz) full-fat cream cheese, room temperature
1 cup granulated sugar
1 Tbsp. cornstarch
1 cup sour cream, room temperature
3 tablespoon fresh lemon juice
1 tablespoon pure vanilla extract
3 large eggs, room temperature
1 large egg yolk
Sweetened Whipped Cream:
2 cups heavy cream, chilled
1 cup powdered sugar
2 teaspoon pure vanilla extract
Topping:
Fresh Strawberries, stems removed and thinly sliced
Fresh blueberries
Instructions
For the Crust:
Preheat oven to 350° F. Line a 9x13-inch cake pan with parchment paper and spray with non-stick spray. Set aside.
Combine the graham cracker crumbs, sugar, cinnamon and melted butter in a medium bowl. Pour and press the mixture into the bottom of the greased pan.
Bake the crust for 10 minutes, then set aside to cool.
For the Vanilla Cheesecake Bars:
In a large bowl using a handheld mixer, beat the cream cheese on low speed until smooth and creamy.
Add sugar and cornstarch and continue to beat on low speed until completely combined and smooth.
Scrape down the sides of the bowl and add sour cream, lemon juice and vanilla and continue beating until smooth.
Add eggs and yolk one at a time, beating slowly until just combined, do not overbeat. Scrape sides and bottom of the bowl with a rubber spatula to make sure everything is fully combined.
Pour into prepared pan and bake in preheated oven for 35-38 minutes. The cheesecake is done when the edges are set and the center jiggles just slightly.
Remove from oven and allow to cool completely on a cooling rack.
Loosely cover with plastic wrap and refrigerate until firm and chilled, about 4 hours or overnight.
For the Sweetened Whipped Cream:
In a medium stainless steal bowl, using a handheld mixer, whip the chilled cream, powdered sugar and vanilla until cream holds peaks.
Flag Decoration:
Spread some of the whipped cream over the chilled cheesecake. Add the rest to a piping bag fitted with a large star tip (I used Wilton 1M).
You can decorate by eye, or you can use a toothpick to trace out the square and stripes of the American flag on the whipped cream so you have an outline to follow.
The Blue Square: Start with the blue square. Neatly line rows of blueberries on the top left corner of the cheesecake. Check the photos above for reference on how it's supposed to look.
Red and White Stripes: Line the sliced strawberries in a row on the top right of the cheesecake, starting from the blueberries to the end.
Using the piping bag filled with whipped cream, pipe two rows of shell borders underneath the strawberries (see notes).
Repeat with another row of strawberries, whipped cream, strawberries, then a final row of whipped cream on the bottom. Slice, serve and enjoy!
Notes
Shell Border: I've got a tutorial here on how to pipe cake borders in case you don't know how to pipe a shell border. You can also use that post to find other piping ideas for the white stripes like stars or ropes!
Blueberries and Strawberries: For the best results, try using blueberries that are close to the same size and slice strawberries that are about the same size so the slices look even.
Raspberries: a great substitution for the red stripes are two rows of raspberries!
Blue Square: I didn't do this, but you could push the blueberries in the blue square down so the whipped cream pushes through the cracks and resembles the white stars!
Nutrition Information:
Yield:

16
Serving Size:

1
Amount Per Serving:
Calories:

326
Total Fat:

22g
Saturated Fat:

13g
Trans Fat:

1g
Unsaturated Fat:

7g
Cholesterol:

117mg
Sodium:

107mg
Carbohydrates:

30g
Fiber:

0g
Sugar:

26g
Protein:

4g
BON APPÉTIT!
Love, Dedra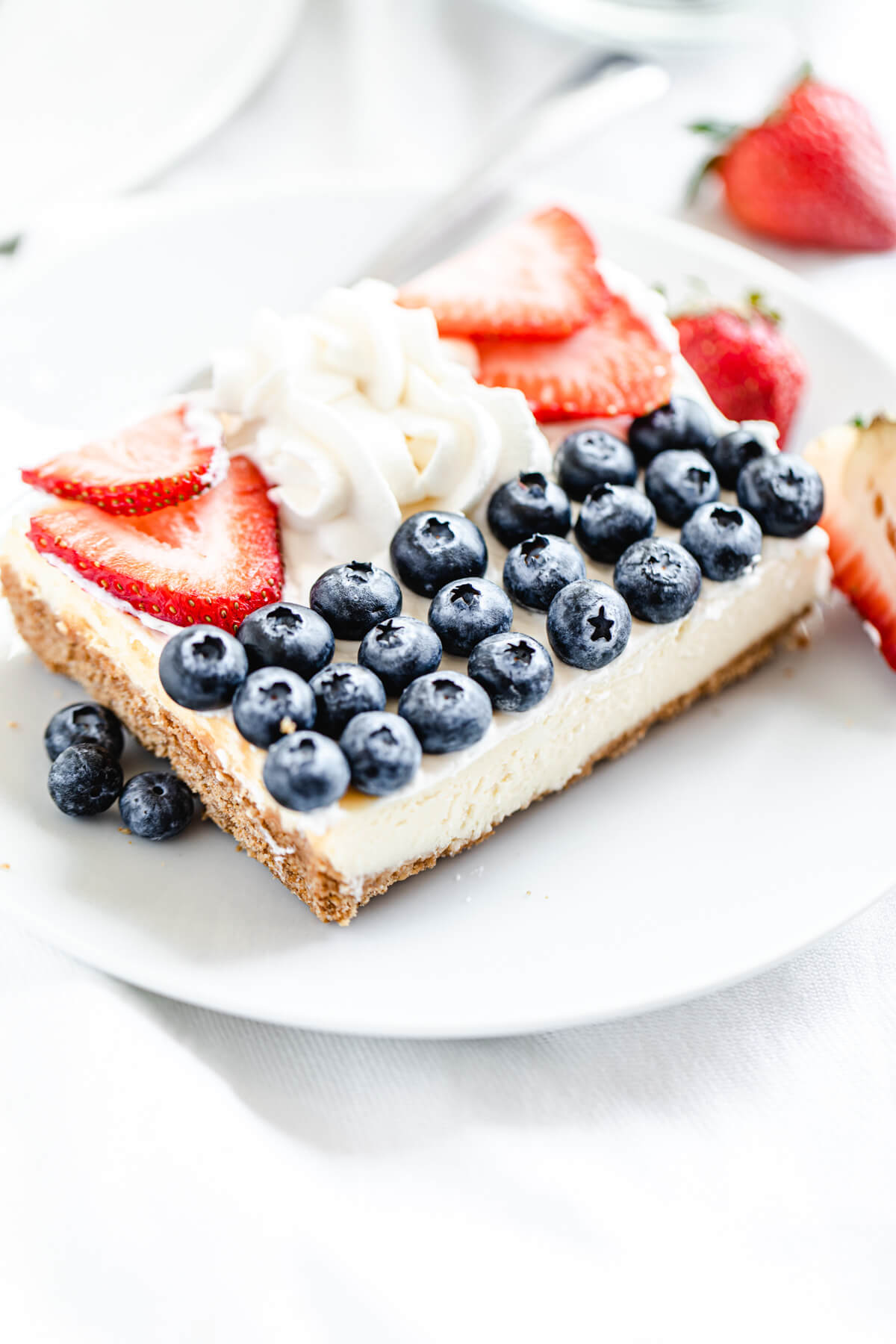 ©QUEENSLEE APPÉTIT. All images & content are copyright protected. Please do not use my images without prior permission. If you want to republish this recipe, please re-write the recipe in your own words, or link back to this post for the recipe.