These Red, White and Blue Fudge Brownies are a delicious and fun dessert coloured for the 4th of July. It has a red velvet brownie on the bottom, a layer of white fudge in the middle and a layer of blue fudge on top. Top these adorable bars off with a swirl of whipped cream and some patriotic sprinkles and you have the perfect dessert to add to your celebrations!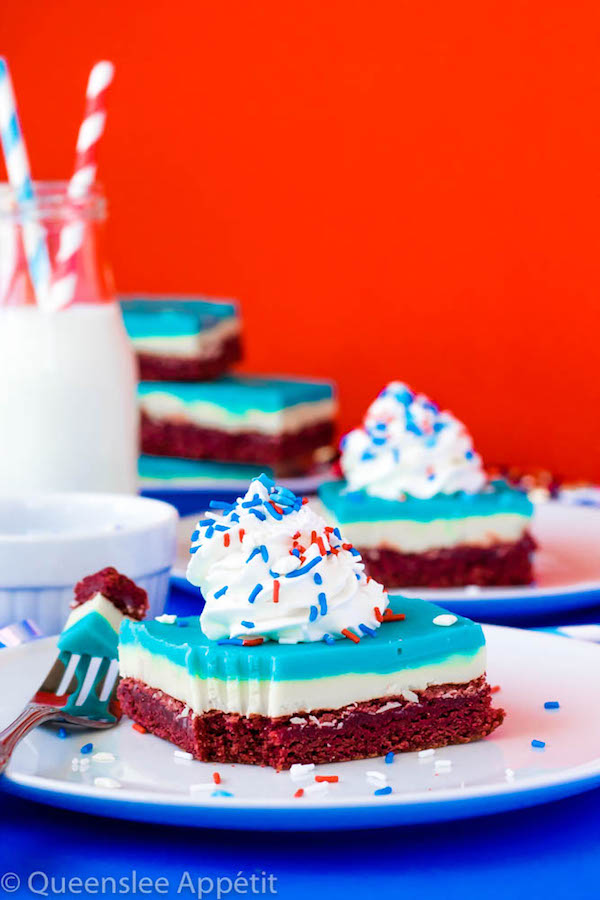 Although I'm not American and I don't live in America, I still wanted to share a Fourth of July themed recipe for my American readers to enjoy. I had a million and one ideas for American themed desserts, but I decided to make a quick and simple dessert this year and save the more extravagant desserts for the future.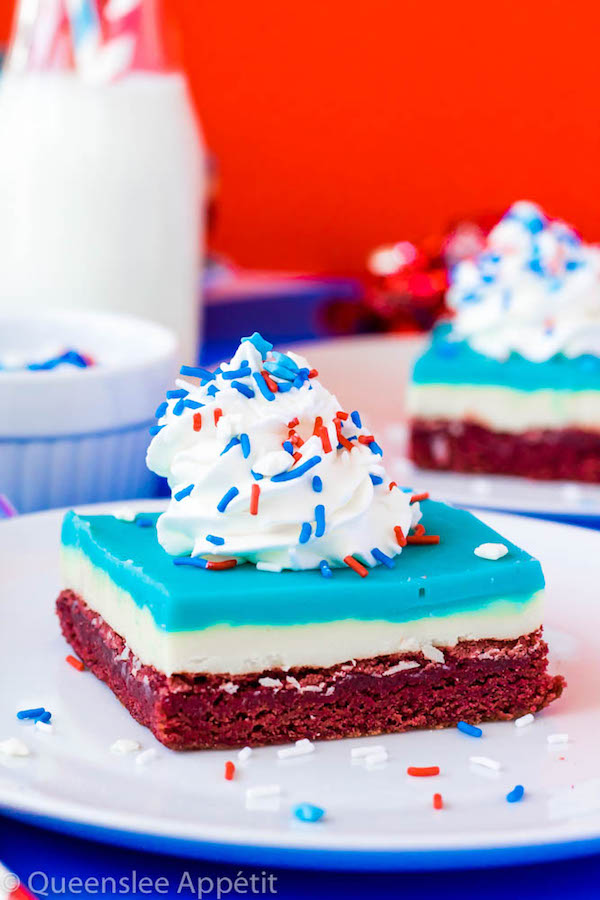 One dessert that has become a regular on this blog is the Fudge Brownie! My fudge brownies are definitely some of the most popular recipes of mine and for good reason. I mean who wouldn't love a decadent, fudgy brownie topped with thick and creamy fudge? They're irresistible!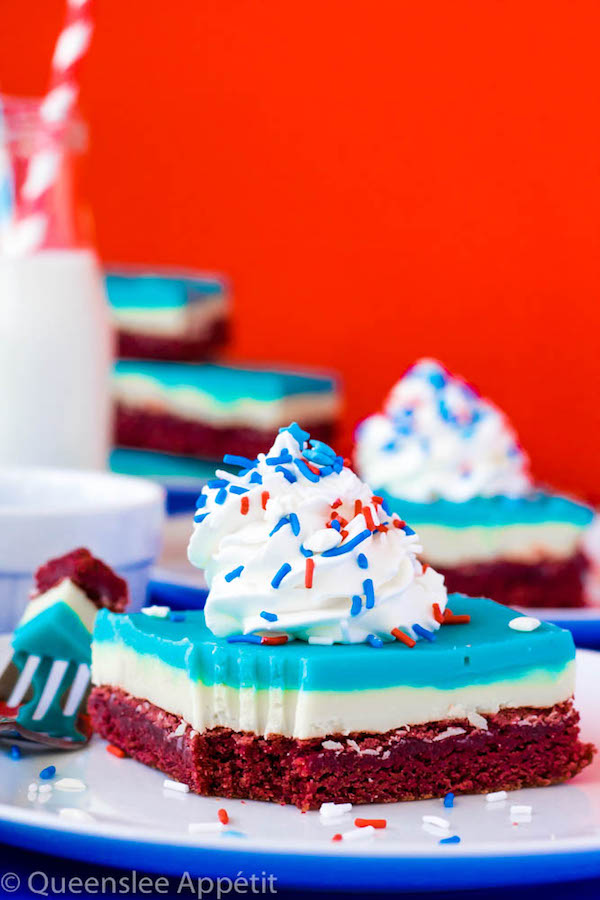 Most of my fudge brownies/blondies are themed for a certain holiday, and with Fourth of July coming up, it was the perfect opportunity to make an American version. I was going to make a Canada Day fudge brownie, but that basically would've been the exact same recipe as these White Chocolate Red Velvet Fudge Brownies. Besides, I already have a unique and exciting Canada Day recipe coming soon, and I can't wait to share it with my fellow Canadian readers!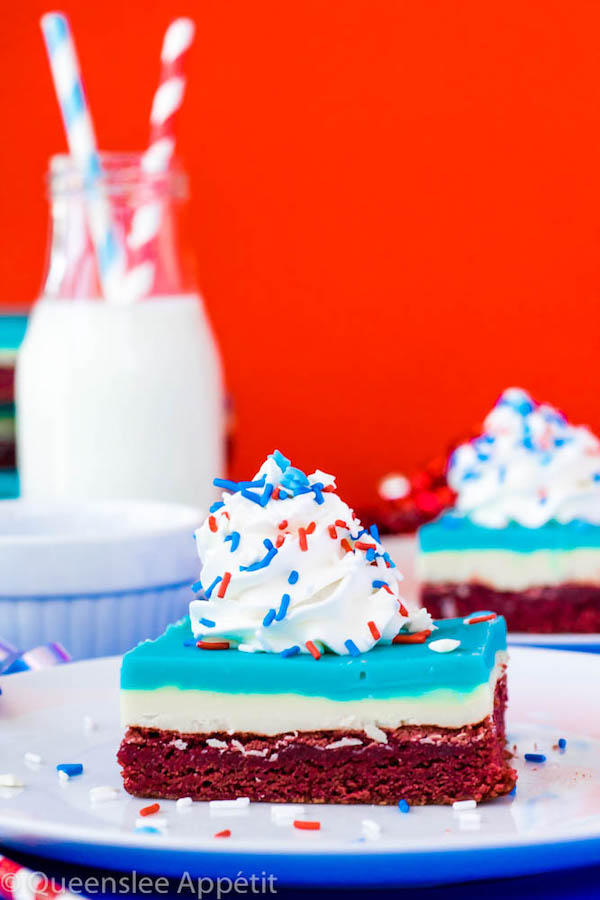 This recipe starts off with a perfectly moist and chewy red velvet brownie. Instead of using melted chocolate like I do for all of my brownie recipes, I decided to add a few tablespoons of cocoa powder. I didn't want to add too much cocoa because I wanted the red colour to pop. It's super important to make these brownies as red as possible, especially since the goal was to make this dessert look like an American flag!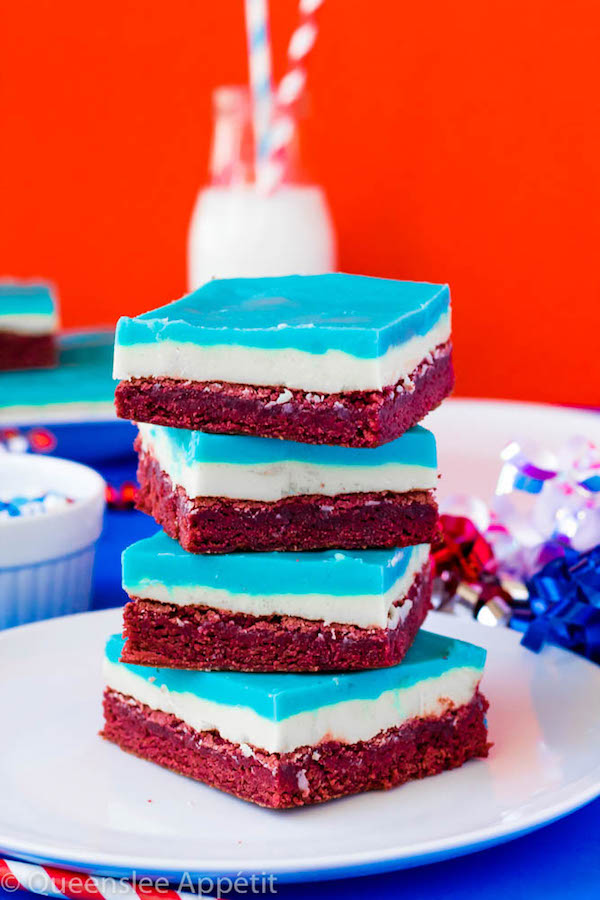 To make these brownies, I took a different approach. Instead of melting the butter and dissolving the sugar like usual, I creamed the butter and sugar together in a stand mixer. I also used all white sugar rather than a mixture of white sugar and brown sugar. This was mainly because I didn't want to add anything that would make the batter even darker.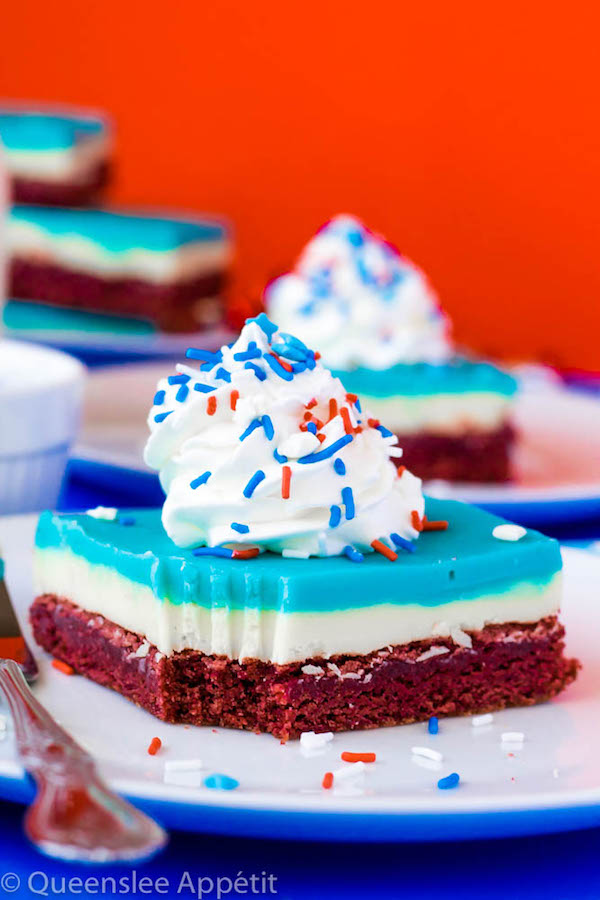 To colour the brownies, you can use liquid or gel food colouring to tint the brownies, I just find it easier to use liquid since we need quite a bit. You should start by adding 1 tablespoon of food colouring to the batter after adding the cocoa powder.
After that we're going to add a touch of white vinegar to make the red colour pop a bit more. Then add the flour and salt. If you're still not satisfied with the colour, you can add a remaining tablespoon of food colouring. Try not to add to much or else it'll effect the taste and texture of the brownies.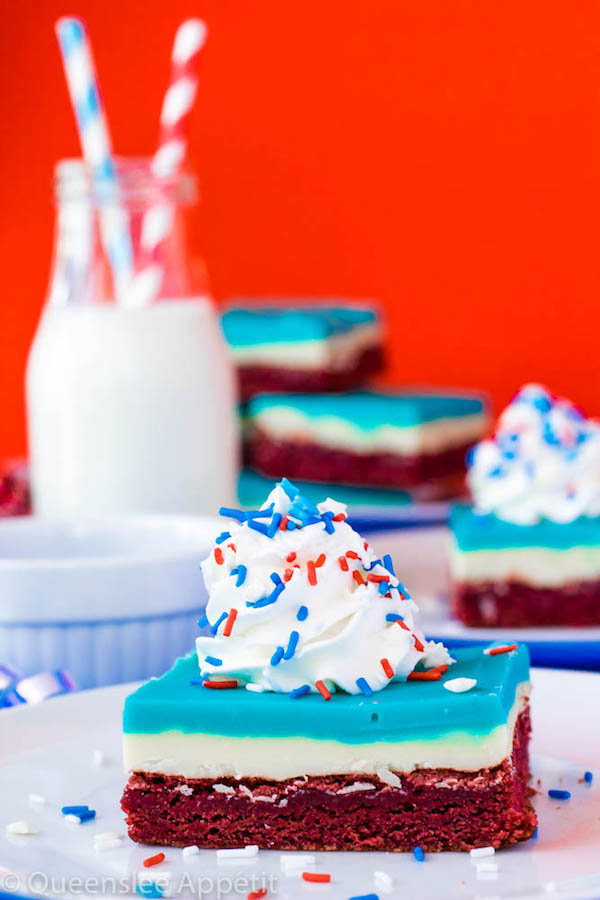 Next up is the white chocolate fudge! This fudge is so insanely easy, it's unbelievable! Only 3 ingredients are required, and that's including the food colouring.
The fudge on this brownie is different from my other recipes because there are two layers. To create these layers, start by dividing the sweetened condensed milk and chocolate chips in half. So that's 1 and ½ cups of white chocolate chips and ⅔ cup sweetened condensed milk per bowl. Simply microwave each bowl one at a time, in 30 second intervals until the mixture is melted and smooth.
Start with the white layer and spread that on top of the brownies. Transfer to the refrigerator to firm up while you melt the second bowl. I recommend tinting this bowl with gel food colouring instead of liquid because the liquid colouring may effect the texture of the fudge. Spread the blue layer on top of the white layer and transfer to the refrigerator to set completely.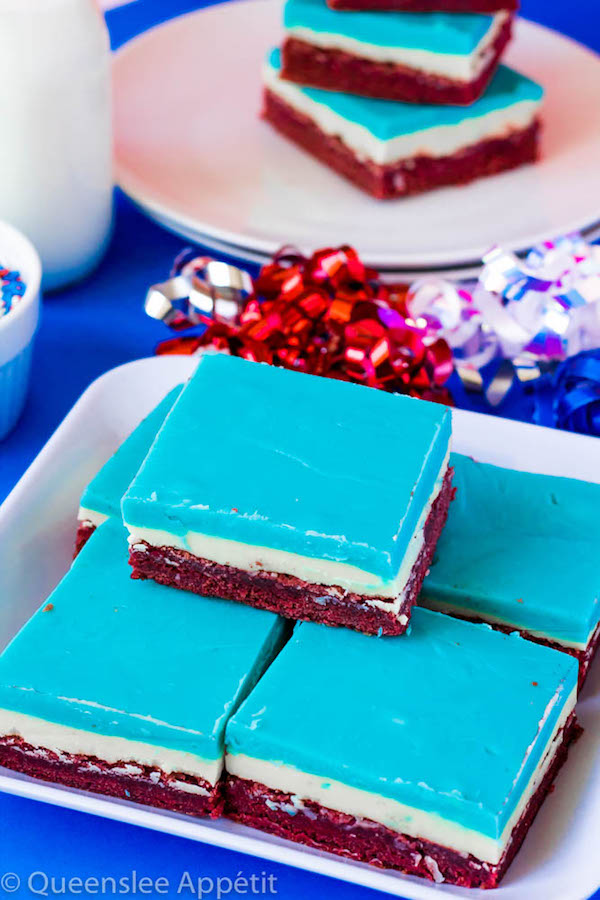 I was planning on leaving these bars plai—just kidding, no I wasn't. I had every intention of taking these American themed babies to the next level. To dress the bars up, I started by piping a swirl of cool whip on top. Since I live in Canada I couldn't find Fourth of July sprinkles ANYWHERE, so I decided to make my own!
To make the sprinkles, I combined red white and blue sprinkles. Then I painfully picked out every white and blue star from a pack of colourful star quins and added those to my sprinkle mix. I'm actually quite impressed with the outcome.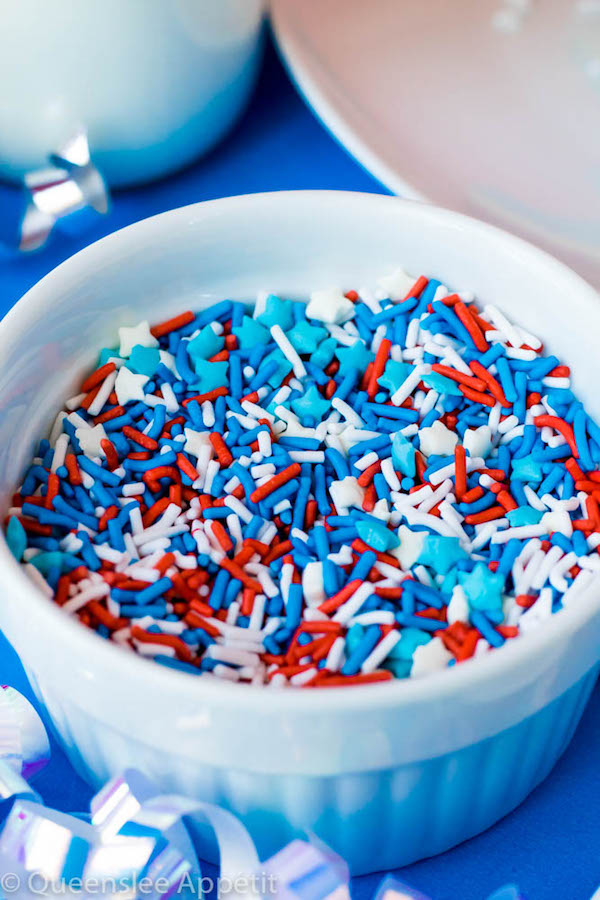 These Fourth of July themed fudge brownies are a definite must add to your picnic food list! They're super delicious and easy to make. This recipe yields 9 bars, but you can certainly cut them in half to make 18. The perfect party treat!
>>PIN ME FOR LATER<<

SHOP THE RECIPE
Here are some of the tools I used to create today's recipe:
Stand Mixer | 9x9-inch Square Pan | Red Food Colouring | Blue Food Colouring | Piping Bag | Wilton 1M Tip | Fourth of July Sprinkles |
FOLLOW QUEENSLEE APPÉTIT
Like what you see? Make sure you're following Queenslee Appétit for more tasty recipes!
Pinterest | Instagram | Facebook | Twitter |
Did you make a recipe? I'd love to see how it turned out! Follow me on Instagram and use the hashtag #queensleeappetit so I can see all of the Queenslee Appétit recipes you've made!
Never miss a recipe, SUBSCRIBE at the bottom of this post!
Let's get baking!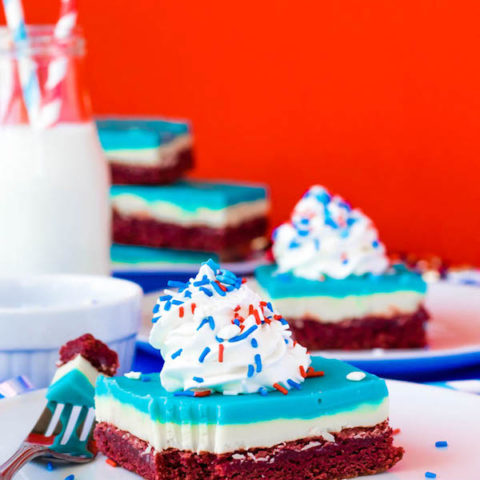 Red, White and Blue Fudge Brownies
Yield:
9 large bars, or 18 smaller bars
Inactive Time:
3 hours
18 minutes
Total Time:
3 hours
50 minutes
These Red, White and Blue Fudge Brownies are a delicious and fun dessert coloured for the 4th of July.
Ingredients
Red Velvet Brownies:
¾ cup unsalted butter, softened to room temperature
1 and ¼ cup granulated sugar
2 large eggs, room temperature
1 large egg yolk
2 teaspoons pure vanilla extract
3 tablespoon unsweetened cocoa powder, sifted
1-2 tablespoon red liquid or gel food colouring
¾ teaspoon white vinegar
¾ cup all-purpose flour
⅛ teaspoon salt
White Chocolate Fudge:
3 cups white chocolate chips, divided
14 oz. sweetened condensed milk, divided (⅔ cup each)
Few drops of blue gel food colouring
Topping:
Whipped cream
Fourth of July Sprinkles
Instructions
For the Red Velvet Brownies:
Preheat the oven to 350F (325F for dark pans) (180C). Line a 9x9-inch square baking pan with aluminum foil or parchment paper, leaving about 2-inches hanging over the sides and spray with non-stick spray. Set aside.
In the bowl of a stand mixer fitted with the paddle attachment, or in a large bowl using a hand mixer, beat the butter and sugar on medium-high speed until light and fluffy, 3-4 minutes.
Scrape down the sides and bottom of the bowl. Lower the speed to medium-low and mix in the eggs and yolk one at a time until just combined. Mix in the vanilla and cocoa powder.
Mix in 1 tablespoon of red food colouring and the vinegar. If you're not satisfied with the colour, add another tablespoon of red food colouring.
Add flour and salt and stir with a rubber spatula until well blended.
Pour the batter into the prepared pan and spread into an even layer. Bake for 25-30 minutes or until a toothpick inserted into the brownie comes out with a few moist crumbs. Allow to cool completely in the pan on a wire rack.
For the White Chocolate Fudge:
Add 1 and ½ cups of white chocolate chips to 2 separate bowls. Add ⅔ cup of sweetened condensed milk to each bowl.
Microwave one bowl in 30 second intervals, stirring after each interval until mixture is fully melted and smooth.
Spread white fudge in an even layer over the brownies. Transfer to the refrigerator to firm up while you melt the second batch.
Once the second bowl of fudge is melted, tint with the blue food colouring.
Remove brownies from refrigerator and pour the blue fudge on top of the white fudge and spread into an even layer. Place in the refrigerator to set, about 2 hours or overnight.
Once the fudge layers are set, lift the bars out of the pan and slice into 9 even squares, or 18 smaller portions.
Pipe a swirl of whipped cream on top of each bar and garnish with red, white and blue sprinkles. Enjoy!
Notes
- Store in an airtight container in the refrigerator for up to 1 week. Serve at room temperature.
©
QUEENSLEE APPÉTIT
. All
images & content are copyright protected. Please do not use my images without prior permission. If you want to republish this recipe, please re-write the recipe in your own words, or link back to this post for the recipe.
BON APPÉTIT!
Love, Dedra ❤
This post may contain affiliate links. Please see my full disclosure policy for details.