Canadians, Americans and people around the world, gather around and let me show you how to make Authentic Canadian Poutine with my absolute FAVOURITE poutine recipe!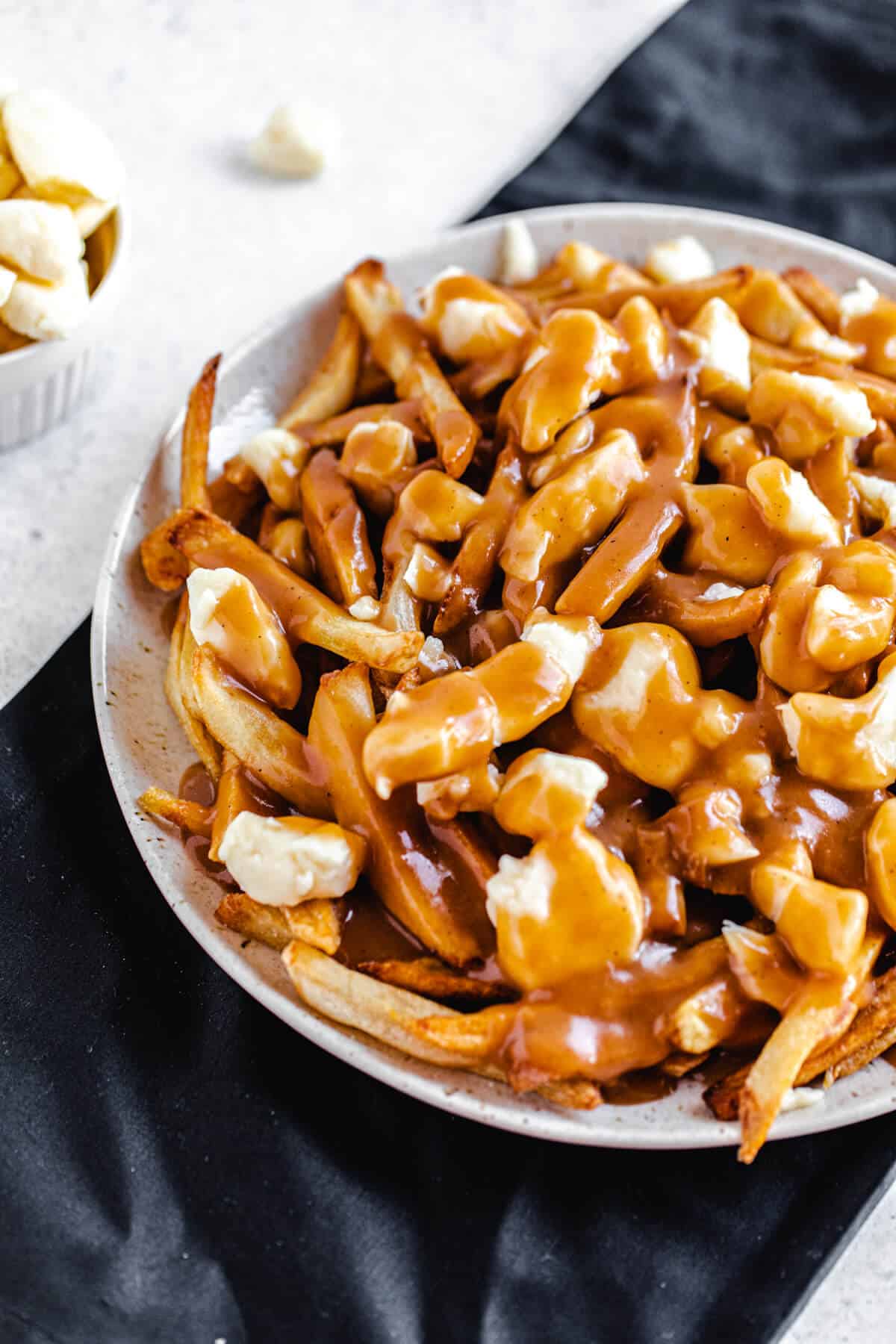 This post may contain affiliate links. As an Amazon Associate I earn from qualifying purchases. Please see my full disclosure policy for details.
It's my duty as a Canadian to share popular Canadian recipes on the blog, just like it's my duty as a Jamaican to bring you guys popular Jamaican recipes (coming soon!).
Every Canadian loves a good poutine, and with this recipe, you can now make your very own authentic poutine in the comforts of your home!
What is Poutine?
As a Canadian, it's seriously shocking to me when someone asks "what's poutine?" I need to remind myself that not everyone has been blessed enough to enjoy this dish for most of their life. So let me explain to you what you've been missing out on!
Poutine is a dish that originated in Quebec back in the 1950's. I've heard stories of a man asking a restaurant to add cheese curds to his fries, that said restaurant later added to their menu. A couple years later, the restaurant served these fries and cheese curds on a plate, then added gravy to keep them warm. This, my friends, is what we call Poutine!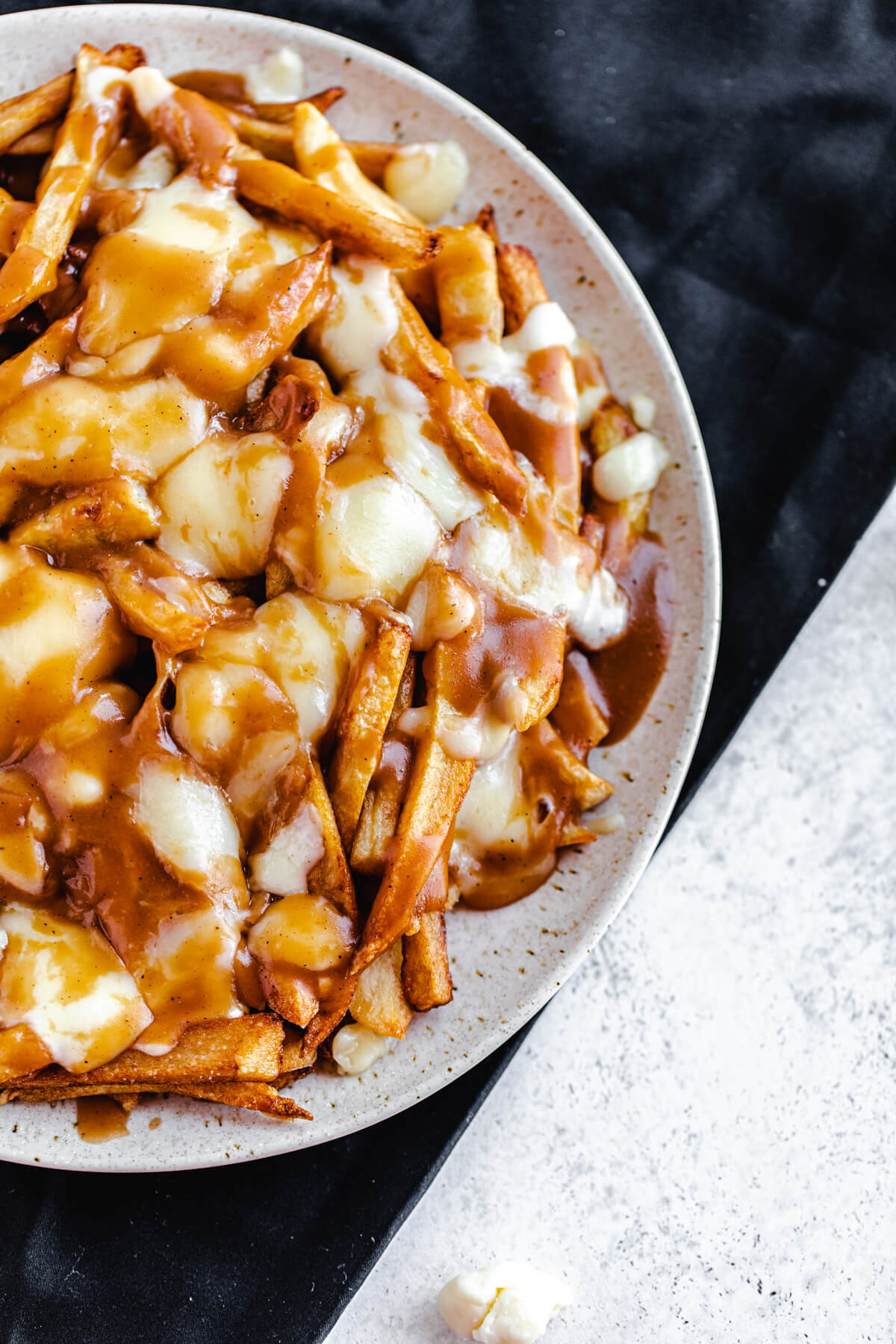 Now that's just one of many origin stories, but just like with the Nanaimo Bars, no one really knows how it truly originated. Either way, I'm glad it did because this is one of my most favourite dishes ever!
Poutine has always been popular in Canada, but it's grown even more in popularity over the past few years. Pretty much every restaurant that has fries, has included a poutine variation onto their menu, even McDonalds!
Now if you don't live in Canada, you're probably not gonna find poutine in every corner of your city. Well today I'll be showing you how to make your own poutine that tastes just as good (and dare I say BETTER) than the ones at the restaurants!
Peeling and Cutting the Fries
Alright, let's start with the fries! You'll need 4 pounds of Russet potatoes, preferably all the same size. A lot of people like to keep the skin on their potatoes when making fries or wedges, so if you do, wash your potatoes before slicing. I don't like the skin, so I run the potatoes under cold water while peeling.
To cut the potatoes into french fry sticks, start by slicing your potato into ¼-inch thick "disks". Then slice each disk into sticks. See the photos below to better understand what I'm talking about.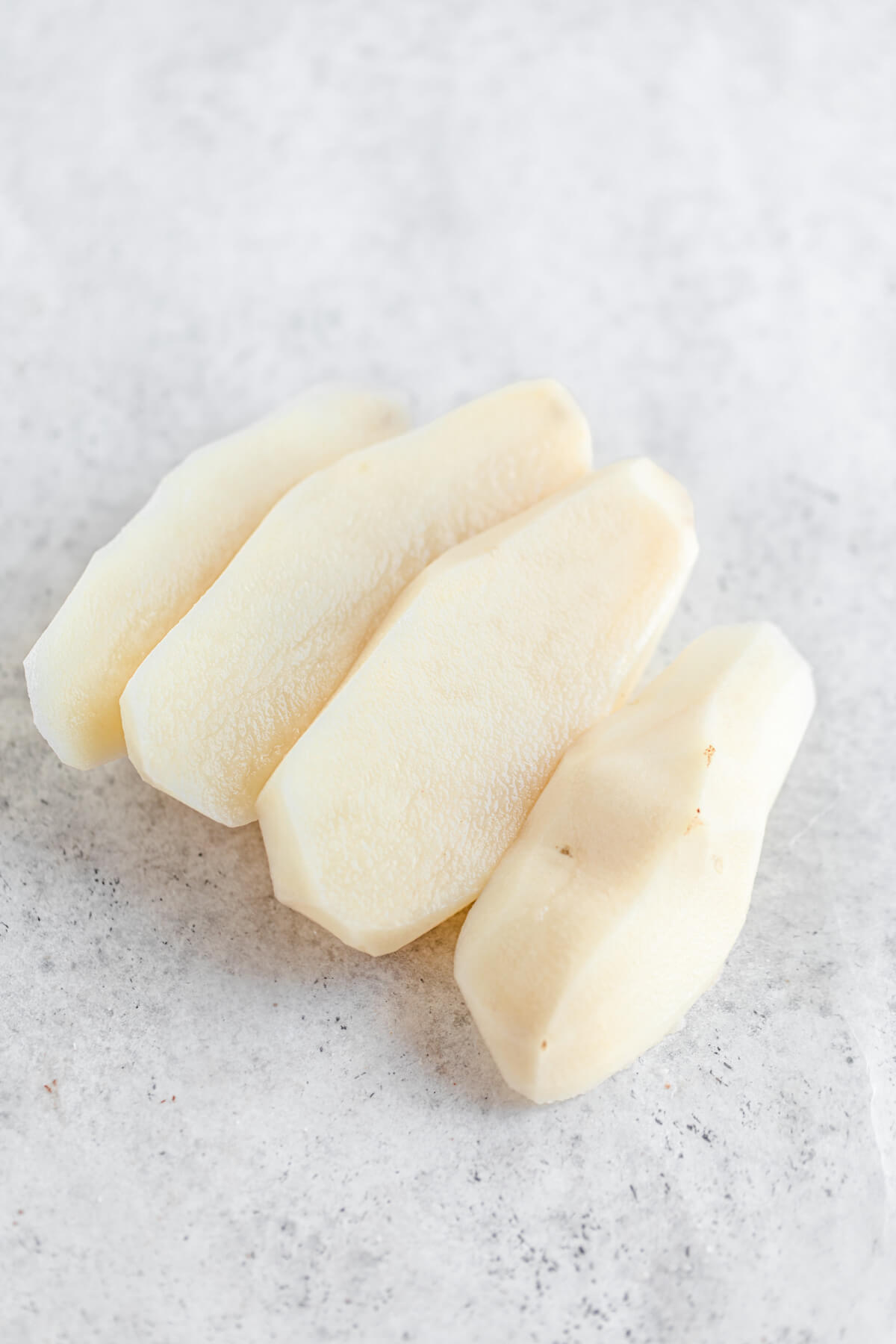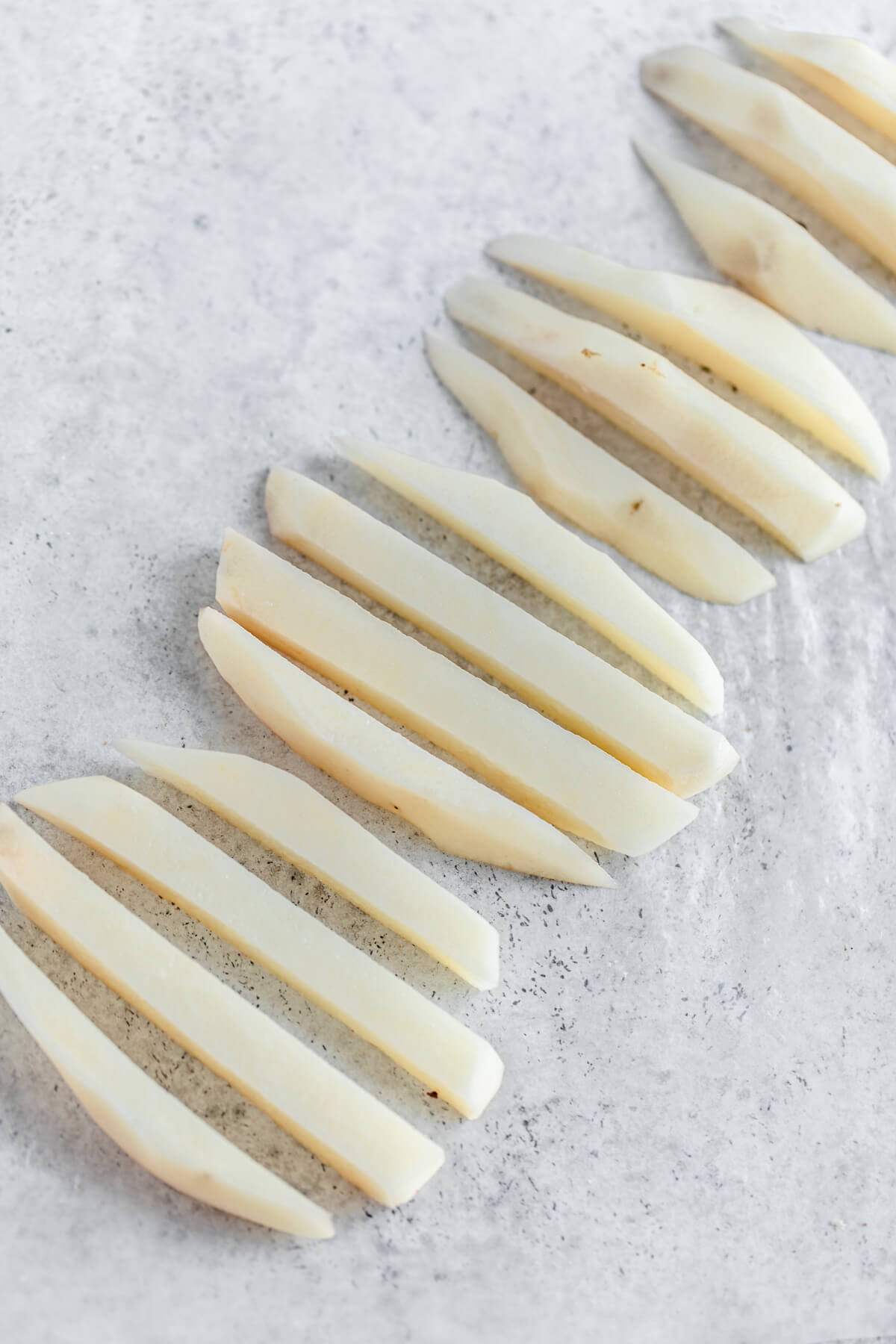 As you're cutting your fries, place them into a large bowl or container filled with cold water. You'll want to do this right away as the potatoes will start to brown if left out too long. Once all of your fries are in the cold water, cover and refrigerate overnight. This is important because it removes the starch which results the crispiest fries!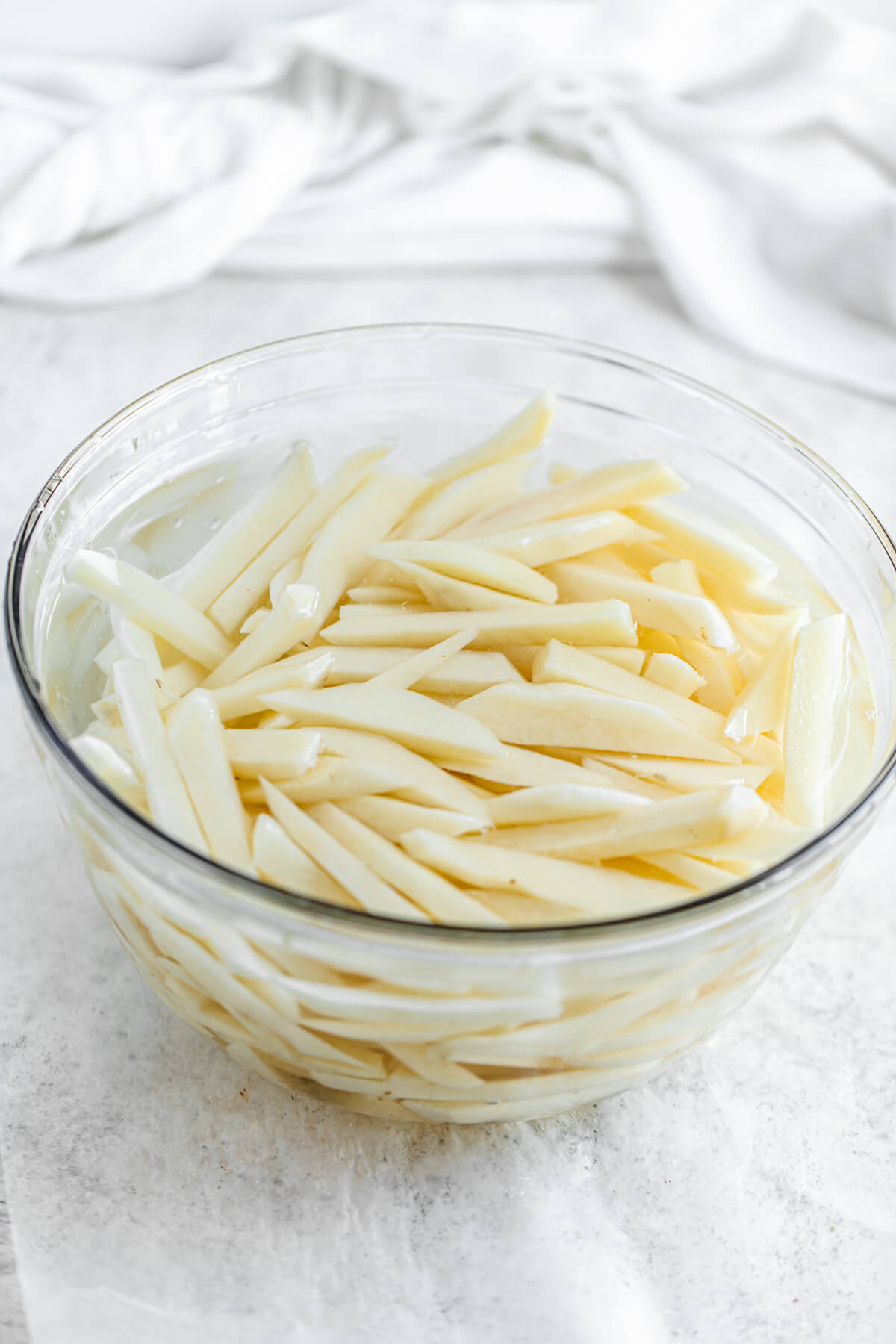 Frying the French Fries
Before frying, you'll need to drain the starch water from the fries, then rinse them TWICE to make sure all the starch is gone. After the fries have been rinsed, dry them as well as you can. Water and oil is not a good mix, so after you place them on paper towel, use another sheet or two to dry them a handful at a time before adding to the oil.
Fill a very deep pot with 3-inches of oil, then heat it to 300°F. I used a thermometer, but you can test it by adding a small fry after a few minutes, and once it begins to fry gently, the oil is ready.
You'll be frying the fries twice, once at 300°F for 4-5 minutes to cook the inside, then again at 400°F for 3-5 minutes to get a golden brown crispy outside.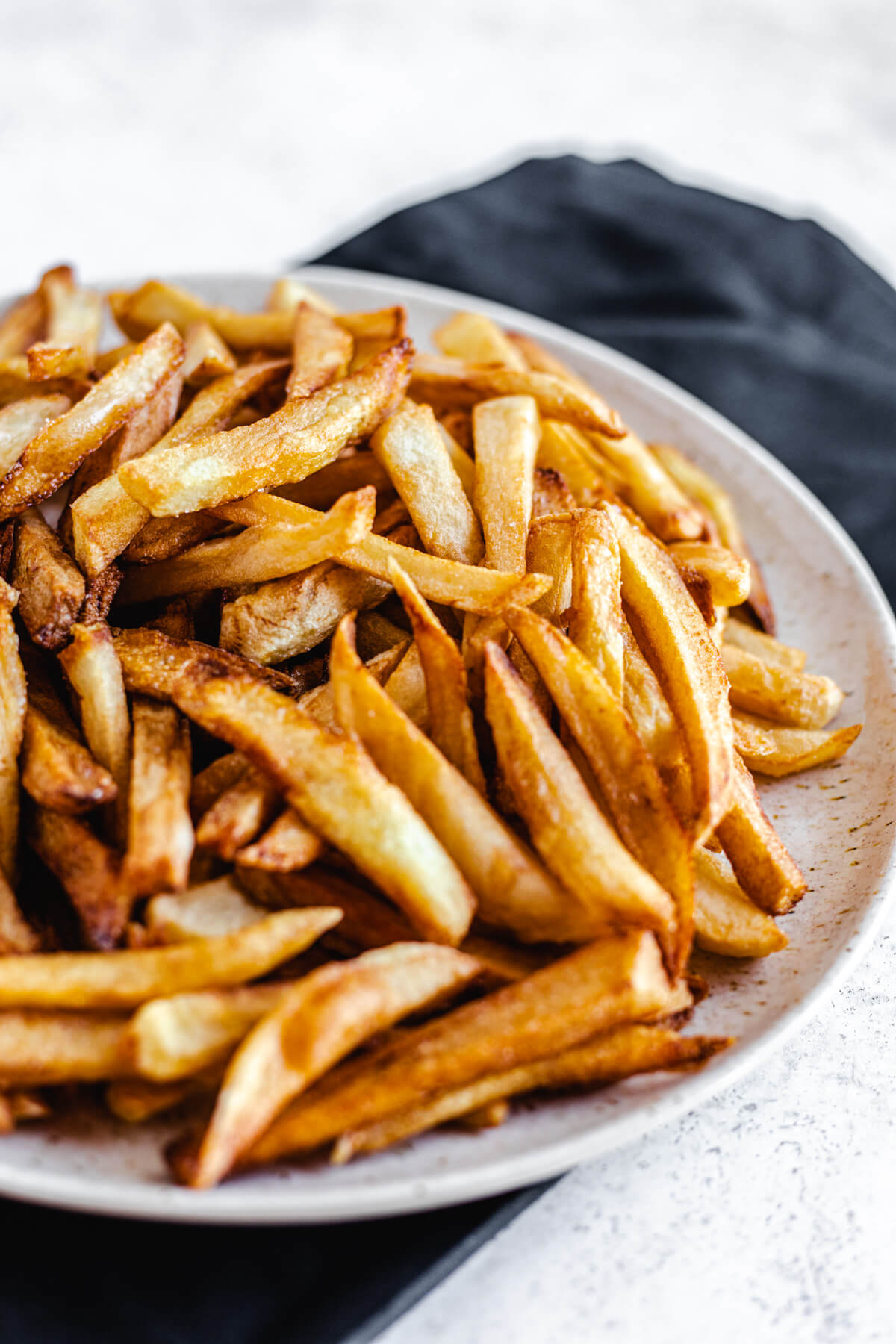 Tips for Frying the Fries
Use a large deep pot: Since we'll be deep frying, we need a lot of oil. Like enough to go 3-inches up your pot, so you'll need a pot that's at least 6-inches high or more, because once the fries are added, the oil will rapidly bubble up and you wanna make sure there's enough room so it doesn't spill over.

Fry in small batches: There's a lot of fries, so you may be tempted to fry a ton at once to get it over with but DON'T! The first time I fried french fries, I accidentally added too many fries to the pot and the oil bubbled up, spilled over, and set the entire pot on fire. Yes, it's THAT dangerous! I was able to put it out without problem and continue frying, but it could've ended way worse so please fry in very small batches to avoid this.

Don't leave the pot: Pay close attention to the fries when frying. Even though I gave you a time, this is the time it took ME to fry. Things may end up differently for you, especially with the second fry. Some batches took 3 minutes to reach the golden crispy stage, while other batches took 5 minutes or more which is why the time is 5-3 minutes. Once you see the fries getting brown and crispy, take them out. You don't want them to burn.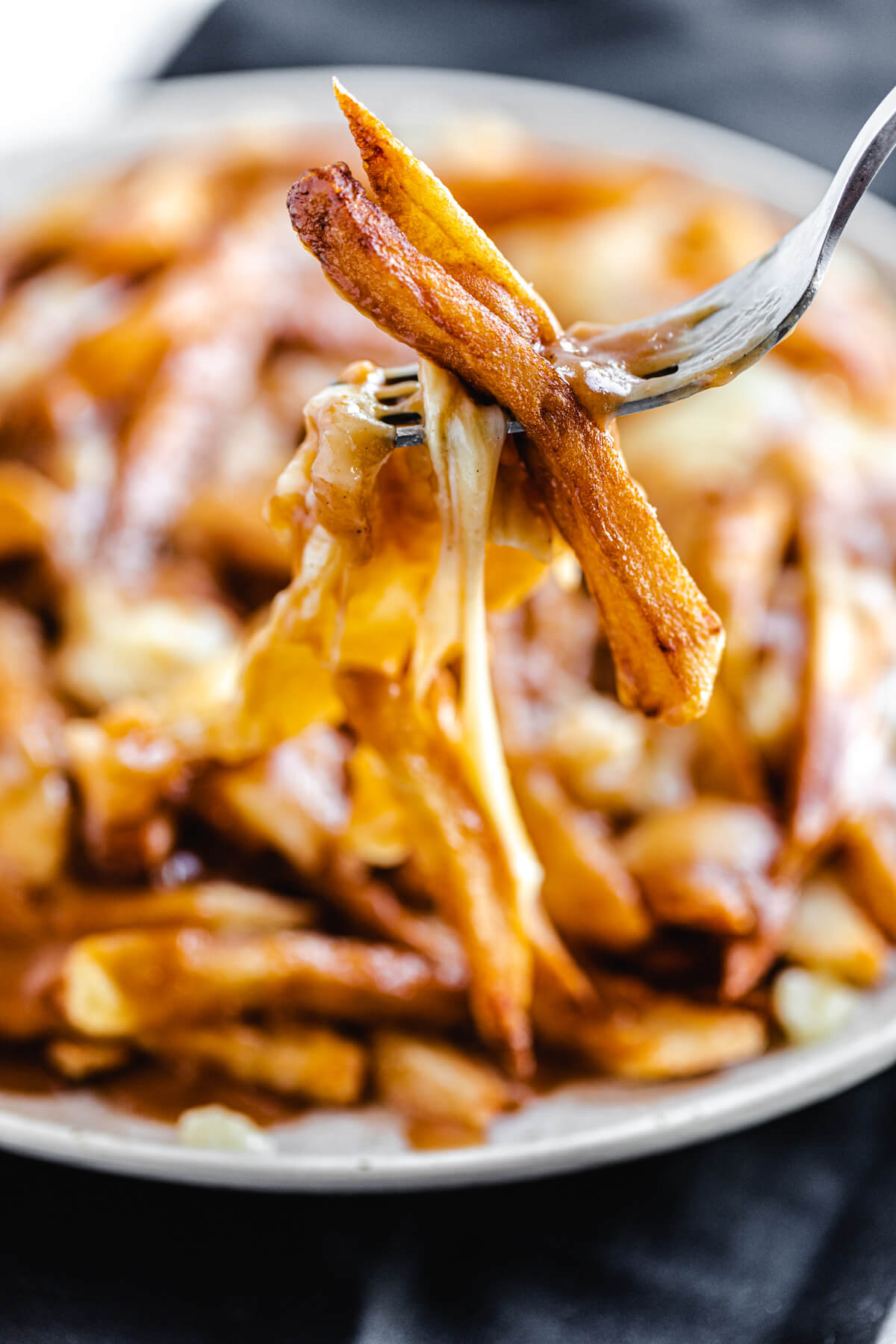 What Kind of Cheese Should I Use?
White cheese curds is the cheese used in every authentic Canadian poutine! Once again, poutine is so popular here that our grocery stores specifically sell "poutine cheese curds".
Cheese Curd Substitutions
Alright, chances are you're probably gonna have a hard time finding cheese curds so a great substitution is a ball of soft mozzarella torn into chunks. The type of mozzarella you can't use a shredder for, I use this soft mozzarella every time I make lasagna! When adding the gravy, the cheese is supposed to get melty and gooey, only soft, torn pieces of mozzarella can give you similar results.
Speaking of the cheese curds, one thing that's always annoyed me is how much some restaurants skimp on the curds! Like a bucket of fries with 3-4 cheese curds, ridiculous! So now that I have full control over my curds, I went a bit crazy and added 2 full cups :D.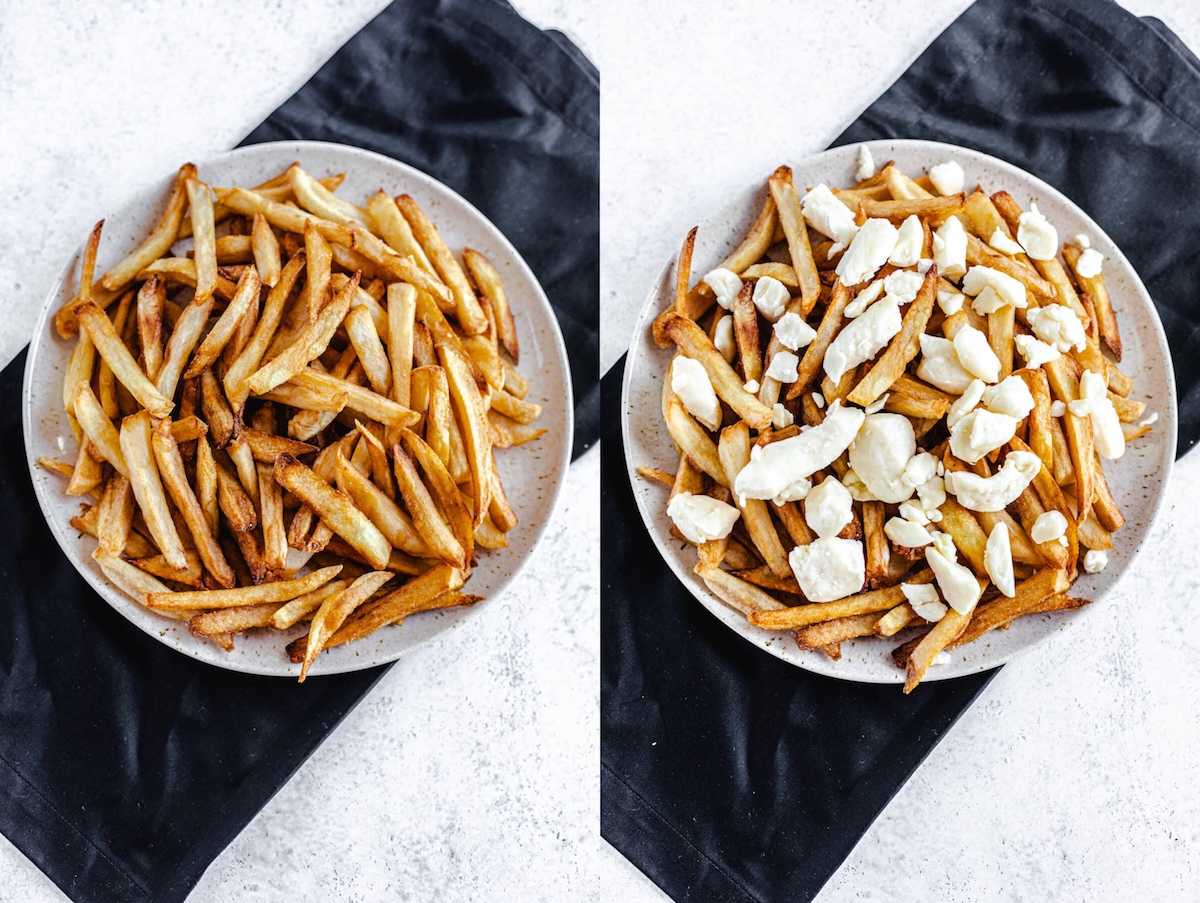 How to Make Poutine Gravy
The GRAVY! This is what ties the whole dish together. The gravy can make or break a good poutine. For instance, Popeyes has amazing fries, and the cheese curds made them better, but their poutine gravy did not taste great to me so after the first try, I never bought it again.
So if you've got bad gravy, you've got bad poutine.
That's why I was so nervous the entire time I was making this gravy. Thankfully it turned out AMAZING! I'm talking dip your already gravy-soaked fries into a side bowl of more gravy, amazing!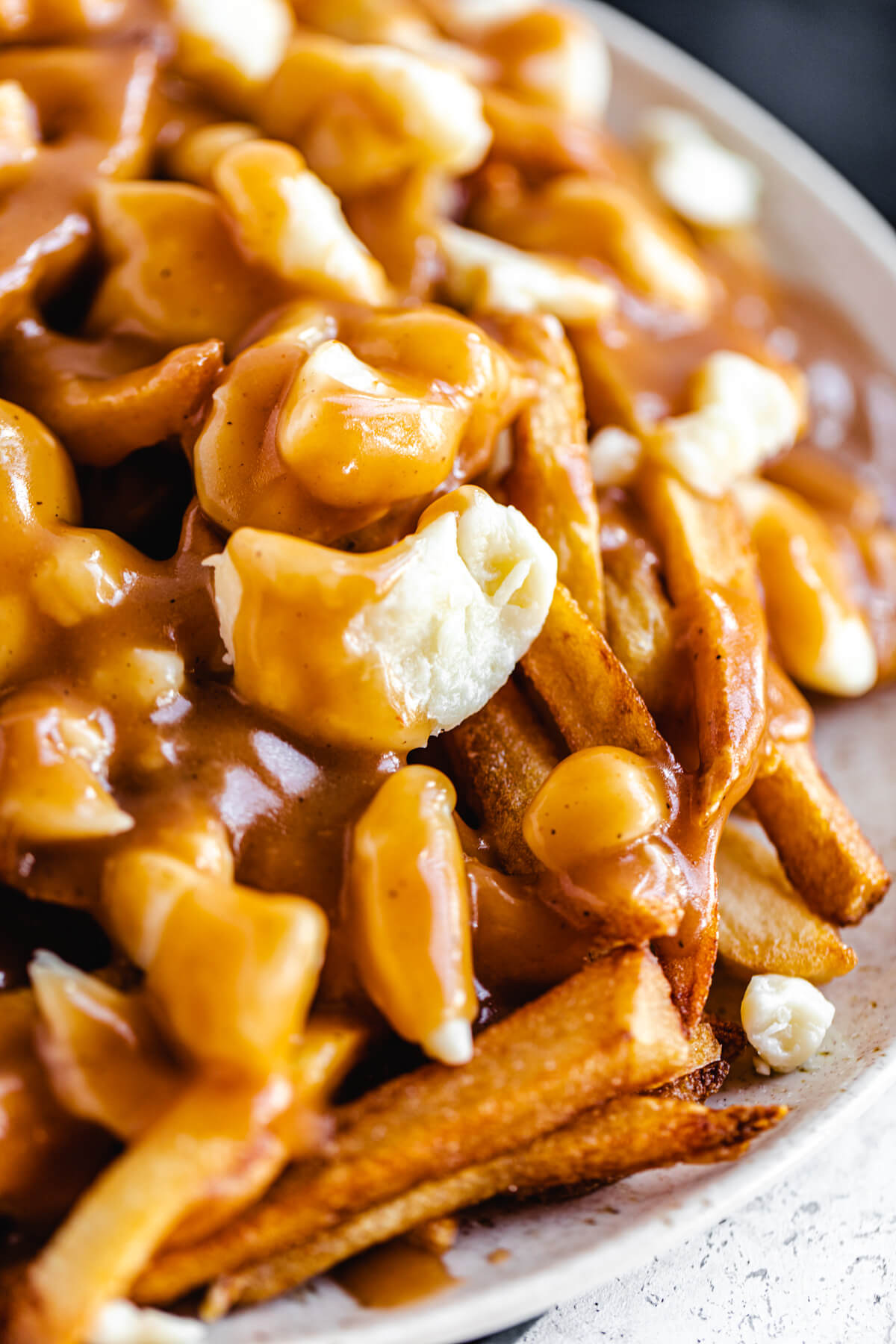 Making the gravy is very simple. Start by making a roux, which is butter and flour cooked together on the stove. Once the roux is bubbling, slowly pour in the beef stock. You can substitute with chicken stock, but you'll end up with a very light gravy when poutine gravy is supposed to be dark. The beef stock will also give the gravy a better flavour.
For additional flavour, you'll add ketchup, Worcestershire sauce, salt and pepper. Whisk everything together and let it come to a boil. Pour in a cornstarch slurry (water + cornstarch combined) into the gravy and whisk until it's incorporated. Let the gravy bubble and boil until it's thickened. From there, you can taste the gravy and adjust the salt and pepper to your liking.
Now immediately pour the gravy onto the fries and cheese curds while it's hot! The main purpose of the gravy is to melt the cheese curds into the fries so everything becomes one deliciously gooey mess!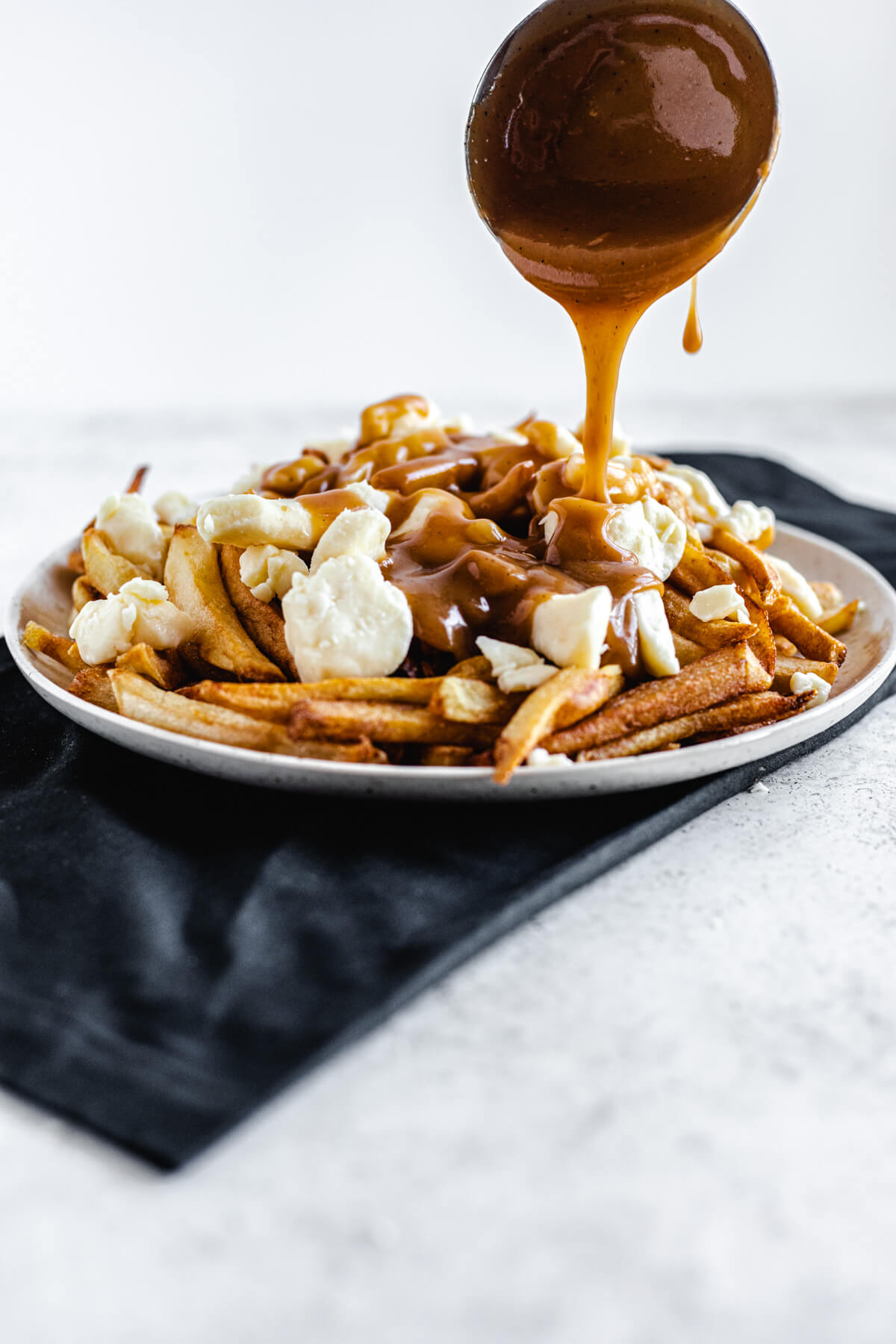 Variations
Want to spruce your poutine up a bit? Try some of these variations:
Add crumbled bacon
Add boneless chicken bites
Add steak
Pulled pork poutine, anyone?
Cut the fries into wedges instead of sticks
All of these variations would be incredible, but nothing beats the classic 😉.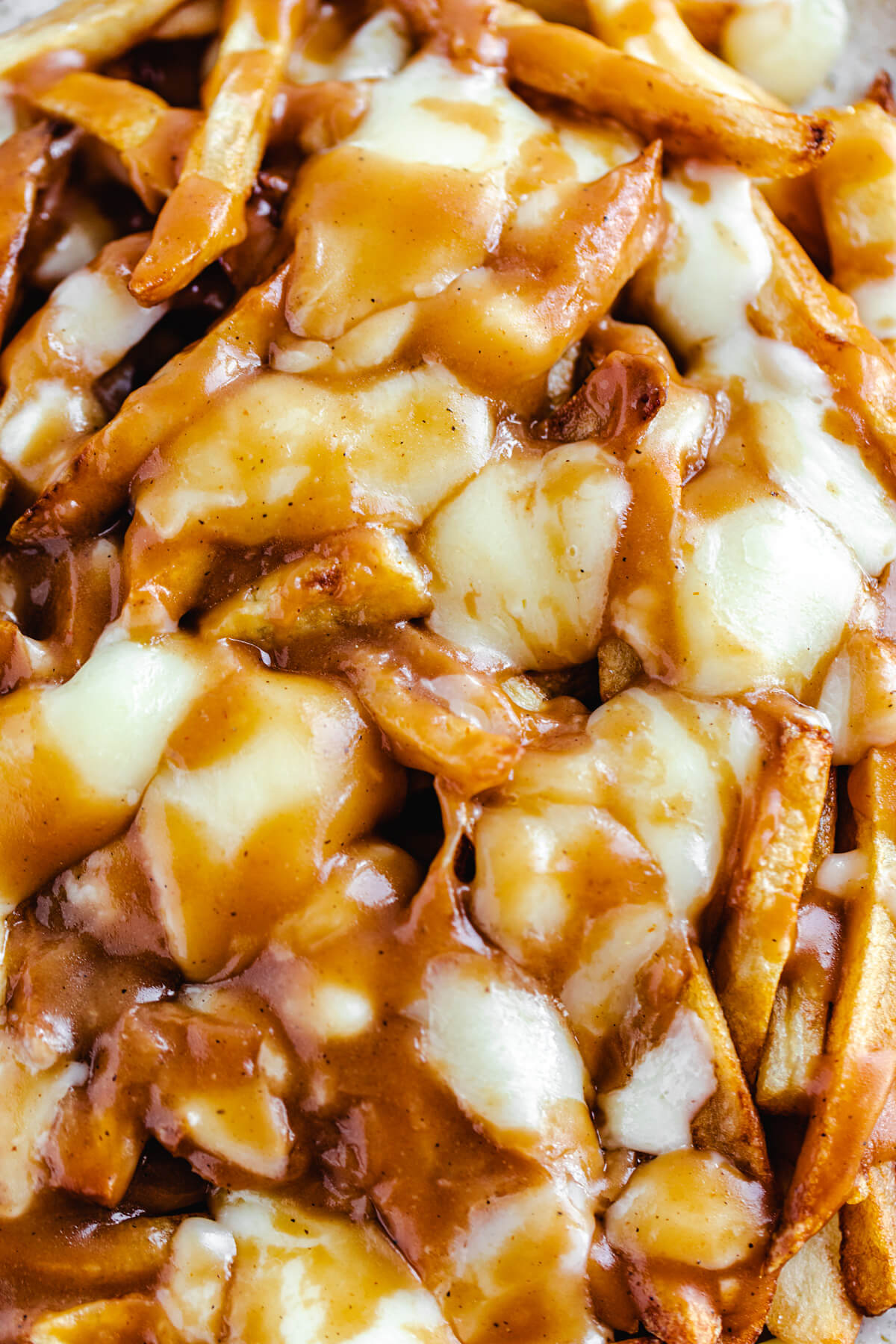 SHARE YOUR PICS!
Follow me on Instagram and tag #queensleeappetit so I can see and share all of your Queenslee Appétit creations in my stories and the QA Newsletter!
>>PIN FOR LATER<<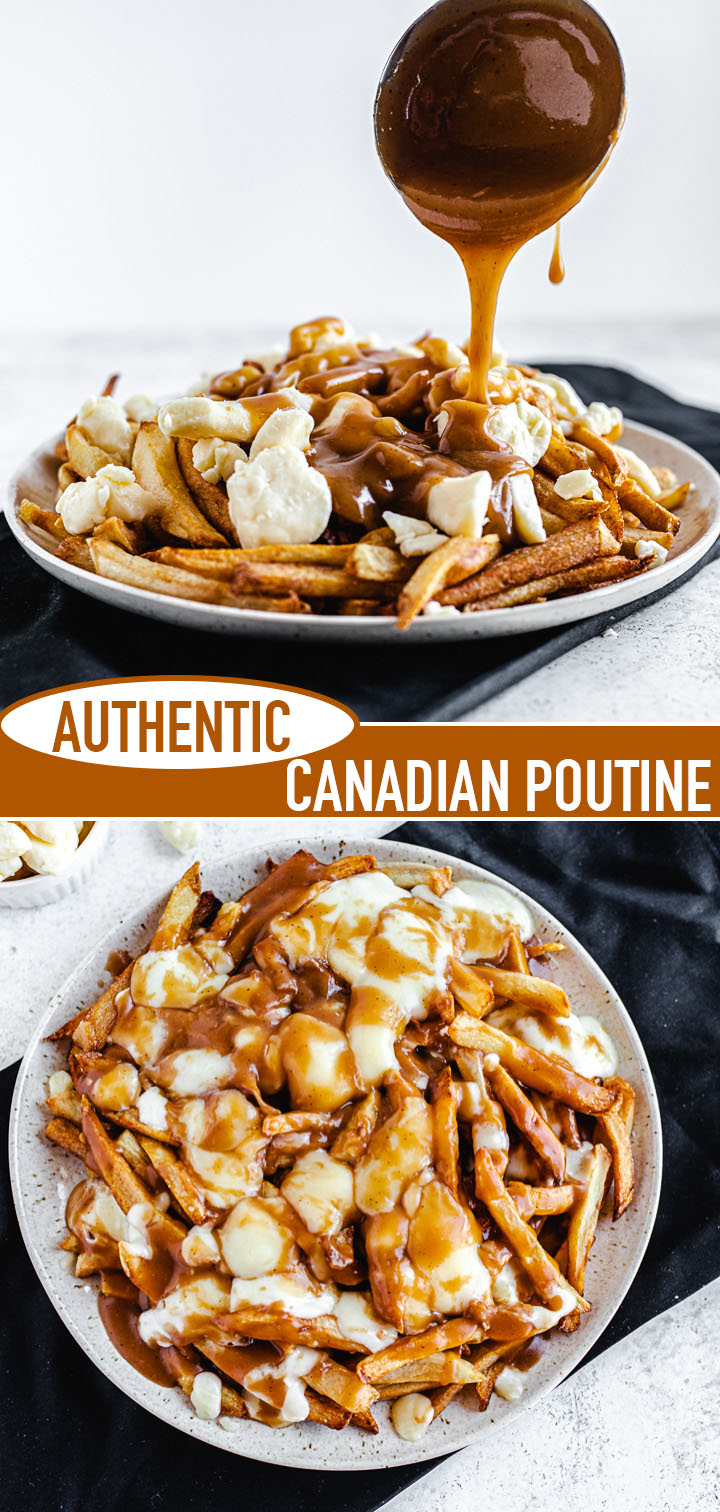 FOLLOW QUEENSLEE APPÉTIT
Like what you see? Make sure you're following Queenslee Appétit for more tasty recipes!
Pinterest | Instagram | Facebook | Twitter |
Have any questions about the recipe? Contact me here, and I'll be happy to help!
SWEETEN UP YOUR INBOX!
SUBSCRIBE to the Queenslee Appétit Newsletter to recieve new recipe notifications, monthly baking tips, sneak peeks to upcoming recipes, exclusive recipes and more!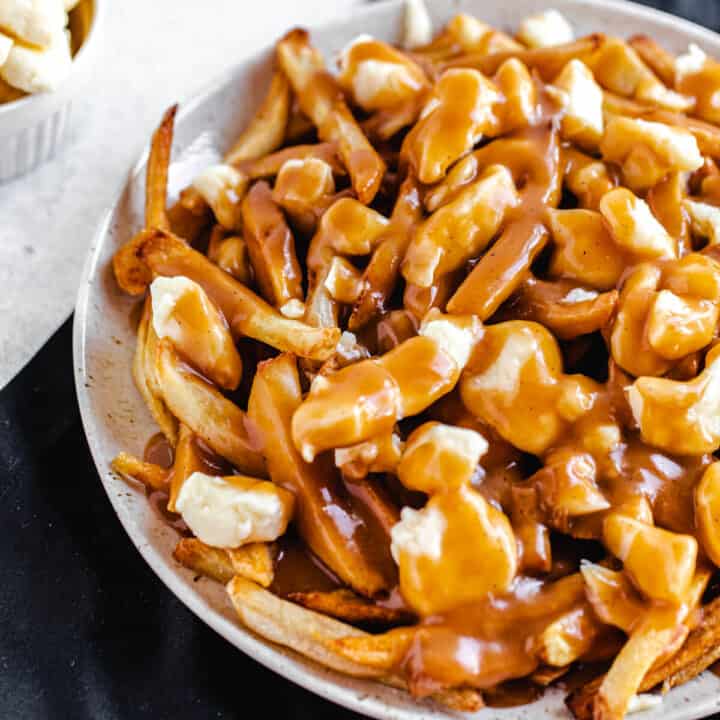 Authentic Canadian Poutine Recipe
Total Time:
2 hours
15 minutes
Canadians, Americans and people around the world, gather around and let me show you how to make Authentic Canadian Poutine with my absolute FAVOURITE poutine recipe!
Ingredients
Fries:
4 pounds (1814g) Russet potatoes, peeled and cut into ½" inch sticks
Vegetable oil, for frying
1-2 tablespoon salt
Gravy:
6 tablespoon (90g) unsalted butter
¼ cup (32g) all purpose flour
4 cups (960ml) beef or chicken stock (I used beef for a darker gravy)
2 tablespoon ketchup
1 tablespoon Worcestershire sauce
½ teaspoon salt + more to taste
½ teaspoon black pepper + more to taste
3 tablespoon cornstarch
2 tablespoon water
2 cups (250g) Cheese curds
Instructions
For the Fries:
Peel the potatoes and slice lengthwise into ¼-inch thick disks. Slice each disk into ¼-inch thick sticks. If you want to keep the skin on, wash the potatoes before slicing.
Place all of the potato sticks into a container or large bowl filled with cold water. Set aside to soak for at least an hour or preferably overnight. If soaking overnight, cover and keep in the fridge. This removes the starch, making the fries extra crispy!
Drain the starch water and rinse off the fries twice with cold water. Transfer fries to a paper towel lined baking sheet and use another sheet of paper towel to pat and dry them as much as possible.
Pour 3-inches of oil into a large deep pot, heat to 300°F. You can use a thermometer or wait a few minutes, then drop a small fry in the oil to check if it starts to fry gently. If it doesn't, wait a bit longer, if it begins to pop, turn the heat down.
Once the oil is hot enough, grab a handful of fries (don't actually use your hands) and place them in the oil. Fry for 4-5 minutes to cook the inside, remove them from the oil if they begin to brown.
Place fries onto another paper towel lined baking sheet or plate while you fry the remaining batches. You'll need to work in small batches because if too many fries are added at once, the oil can bubble up and spill over, so stick with a handful at a time to be safe.
Once all fries are cooked, heat the oil to 400°F, then once again fry the fries in small batches until they are golden and crispy, another 3-5 minutes. Keep an eye on them, you don't want them to burn.
Place them on paper towels to soak up the oil, then sprinkle with some salt. There's no measurements for this, feel free to sprinkle as much or as little salt as you like.
For the Gravy:
Add butter to a saucepan and heat over medium heat until melted.
Once butter has melted, add the flour and whisk until mixture begins to bubble and foam. Continue to whisk for another 1 minute.
Slowly pour in the beef stock while whisking constantly.
Once stock is incorporated, whisk in the ketchup, Worcestershire sauce, salt and pepper.
Allow gravy to reach a boil. Meanwhile, combine cornstarch and water to make a slurry.
Once gravy begins to boil, add cornstarch slurry and whisk to combine.
Turn the heat down to medium-low and allow gravy to simmer until the mixture begins to thicken, it should coat the back of a spoon. About 10-15 minutes. Taste the sauce and adjust the seasonings to your liking.
Assembly:
Transfer the fries to your serving plates. Place cheese curds on top of the fries and immediately pour the hot gravy on top so it can melt the curds. Serve and enjoy!
Notes
Fries: Don't wanna make homemade fries? This recipe can work with restaurant fries, or frozen fries that have been baked in the oven.
Cheese Curds: If you can't find cheese curds, a good substitute is soft mozzarella cheese.
Nutrition Information:
Yield:

4
Serving Size:

1
Amount Per Serving:
Calories:

529
Total Fat:

26g
Saturated Fat:

13g
Trans Fat:

1g
Unsaturated Fat:

11g
Cholesterol:

60mg
Sodium:

4422mg
Carbohydrates:

63g
Fiber:

4g
Sugar:

11g
Protein:

13g
BON APPÉTIT!
Love, Dedra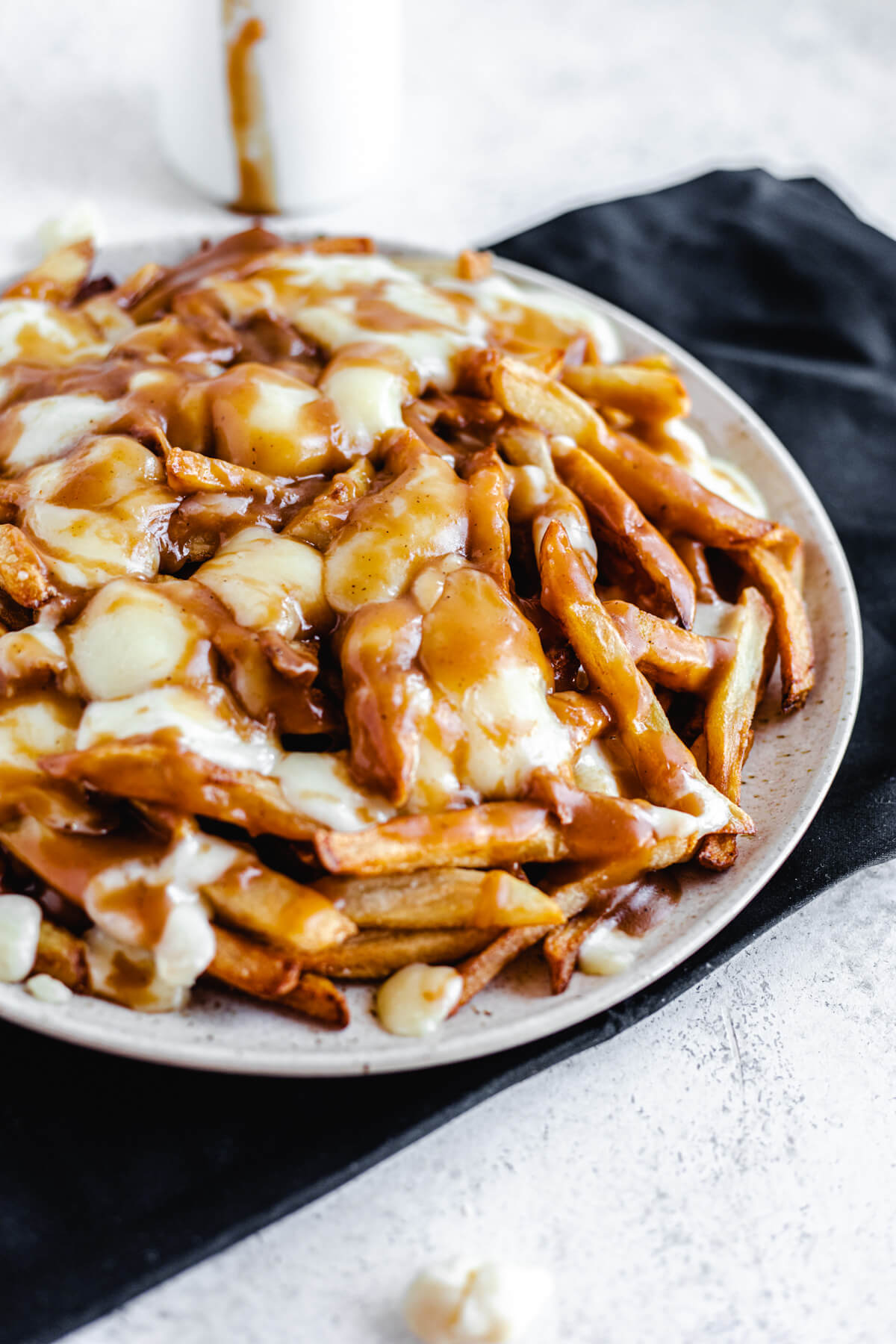 ©QUEENSLEE APPÉTIT. All images & content are copyright protected. Please do not use my images without prior permission. If you want to republish this recipe, please re-write the recipe in your own words, or link back to this post for the recipe.