Classic Canadian Nanaimo Bars in Brownie form! These Nanaimo Bar Brownies feature a fudgy brownie loaded with coconut, graham cracker crumbs and walnuts, a sweet custard filling and rich chocolate on top! This twist on the classic dessert is perfect for Canada Day!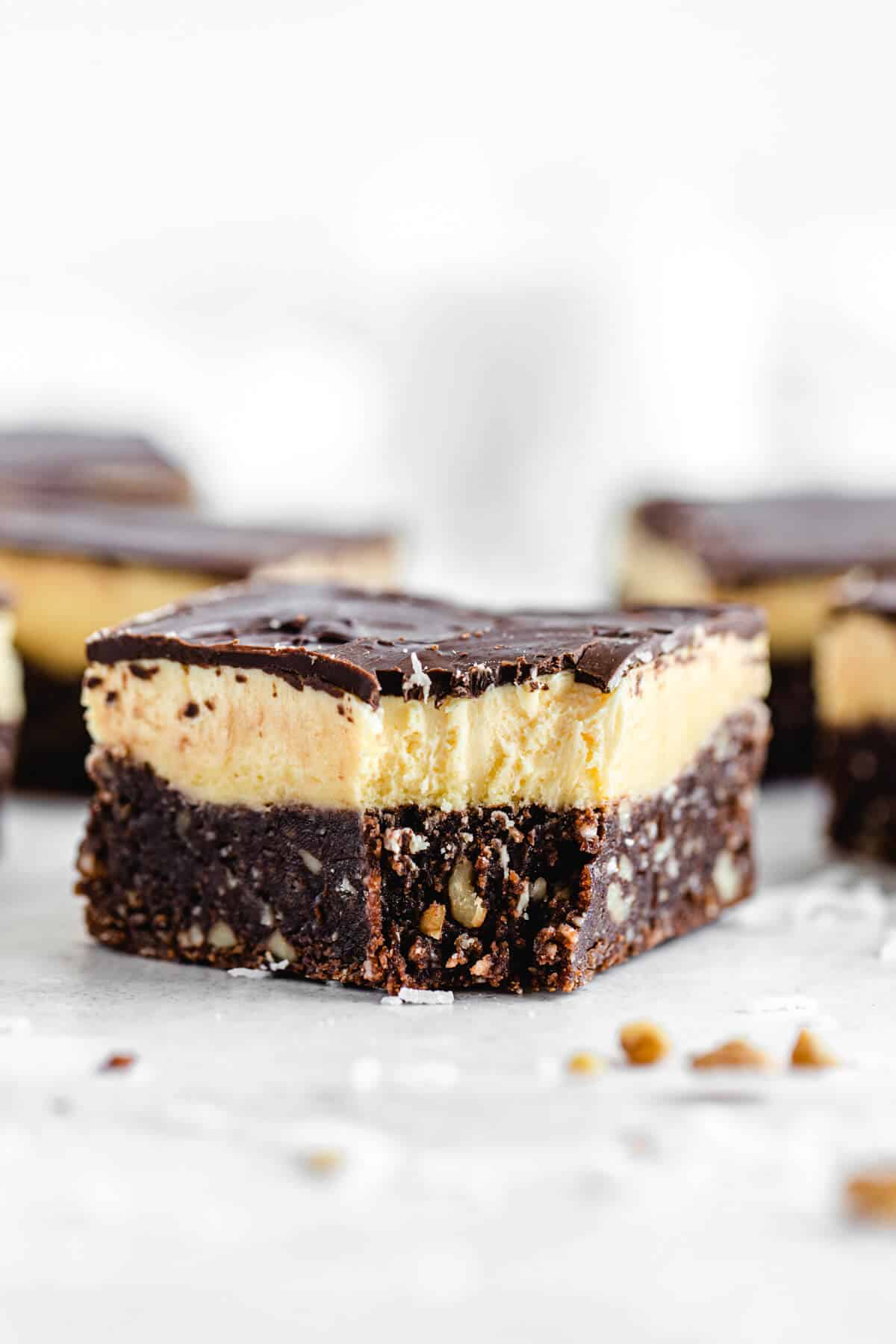 This post may contain affiliate links. As an Amazon Associate I earn from qualifying purchases. Please see my full disclosure policy for details.
What are Nanaimo Bars?
So Canada Day's coming up! And one of the most popular Canadian desserts is Nanaimo Bars. But what exactly are Nanaimo Bars?
Well, back in 1953, a no-bake recipe named "Nanaimo Bars" (named after the city Nanaimo in British Columbia, appeared in a cookbook. This recipe was then featured in many different publications as different names:
London Fog Bar
Mabel's Squares
Chocolate Square
Chocolate Slice
Chocolate Fridge Cake
All of these recipes were similar to the Nanaimo Bar, but where did they originate? No one really knows! Some say the first recipe was published in the 1930's others say the bars existed all the way back in the 19th century!
Wherever they came from, they're now a Canadian classic and a favourite amongst most of the people in our country.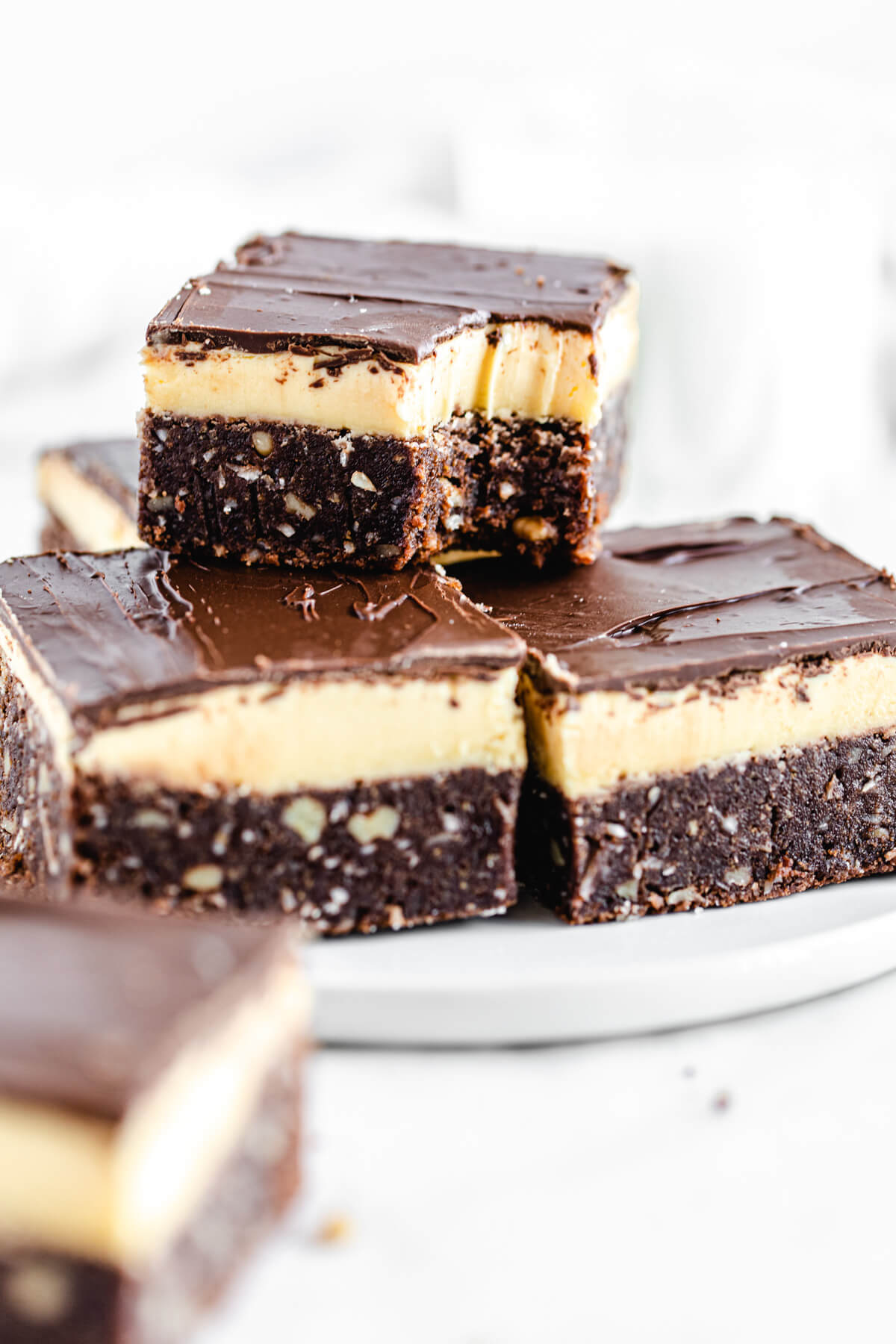 What's in a Nanaimo Bar?
Nanaimo Bars consist of 3 layers:
No-Bake Chocolate Base
Custard Frosting Filling

Chocolate Topping
The crunchy chocolate base is loaded with graham cracker crumbs, coconut and walnuts. The custard filling is a frosting made with Bird's Custard Powder. This may sound delicious to most of you, but these 2 layers are the reason why I've always disliked these bars.
It's no secret that I don't like and will never like coconut. Not only the flavour, but the texture just doesn't sit right with me. I've also never been the biggest fan of custard growing up, and found the custard buttercream filling to be too sweet.
Because of this, I stayed away from making a Nanaimo Bar recipe for the blog, until I thought of the genius idea to create a brownie version!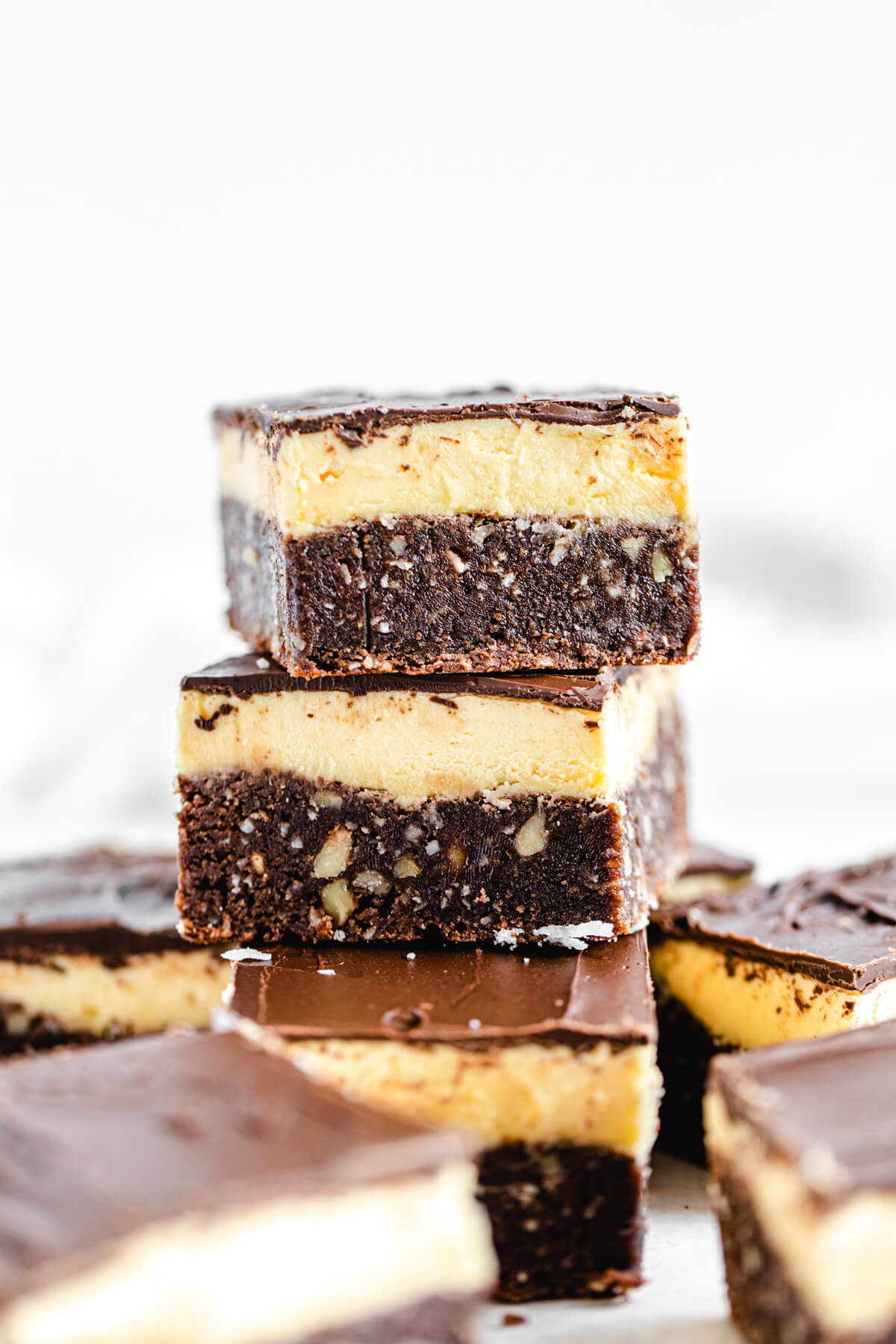 The Brownie Version
Today we'll be taking the traditional Canadian Nanaimo Bar and turn them into brownies! It's so funny because, although I dislike Nanaimo Bars for the reasons above, I managed to eat these brownies without cringing! That's because the thick, fudgy brownie made the coconut texture a lot more bearable for me!
3 Parts to these Brownies
Nanaimo Brownie: Instead of the no-bake crunchy chocolate base, we'll be making the fudgiest brownies loaded with the same coconut, graham crackers and walnuts you'd find in a Nanaimo Bar.

Custard Buttercream Middle: This sweet filling has the typical ingredients to make a buttercream with the addition of custard powder to make it extra special!
Chocolate Topping: A simple chocolate + butter topping. You can substitute the butter with heavy cream for a ganache topping!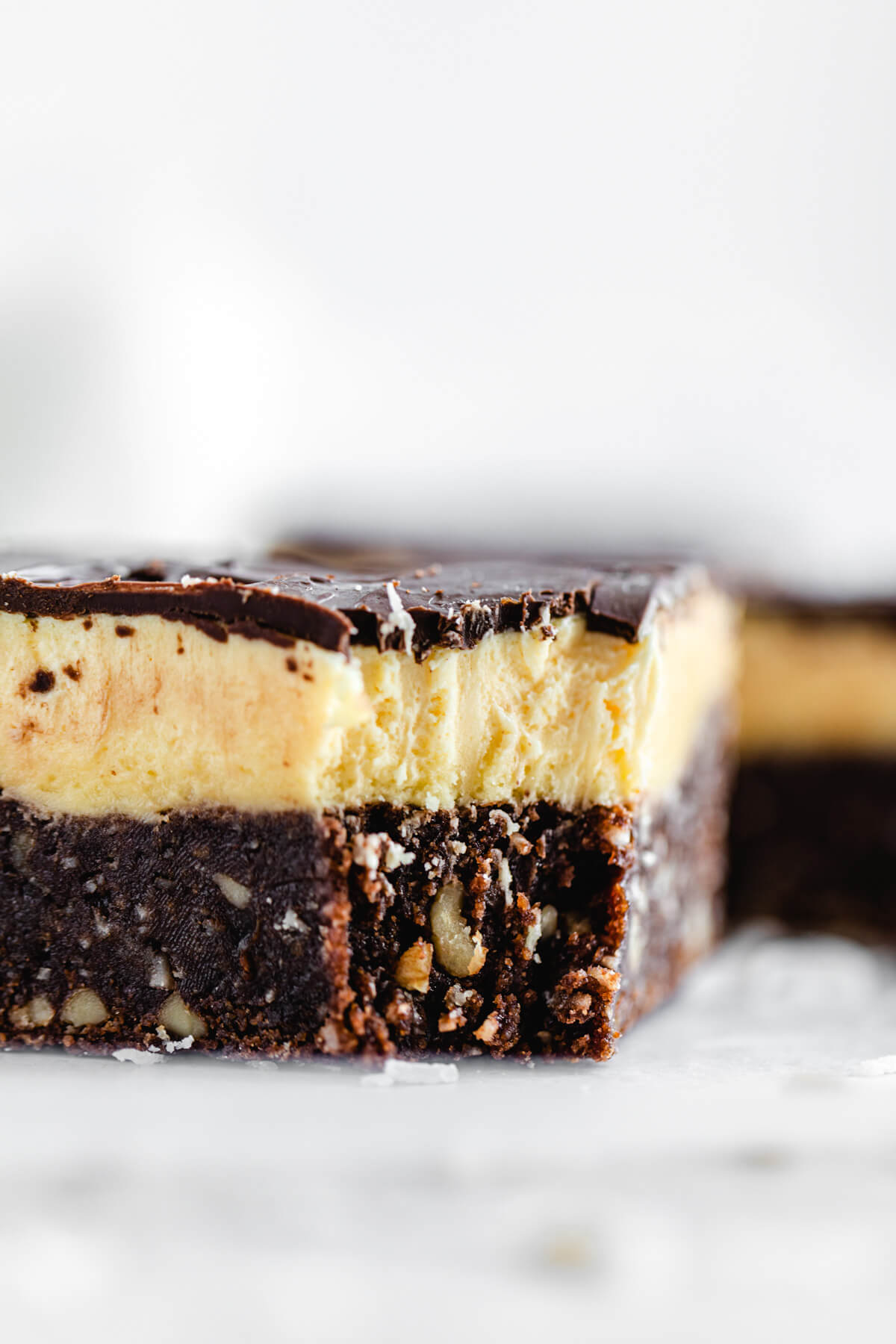 Brownie Base
I've gone into detail about these brownies in just about every post I've used them in, so I won't be doing so today. You actually don't have to use my homemade recipe if you don't want to, this recipe will work just fine with a box mix.
However, my homemade brownies have a much better texture and flavour than a box mix, so if you have the time and ingredients, I totally recommend making it! So to make these normal fudgy brownies NANAIMO brownies, we'll be stirring in graham cracker crumbs, shredded coconut and chopped walnuts!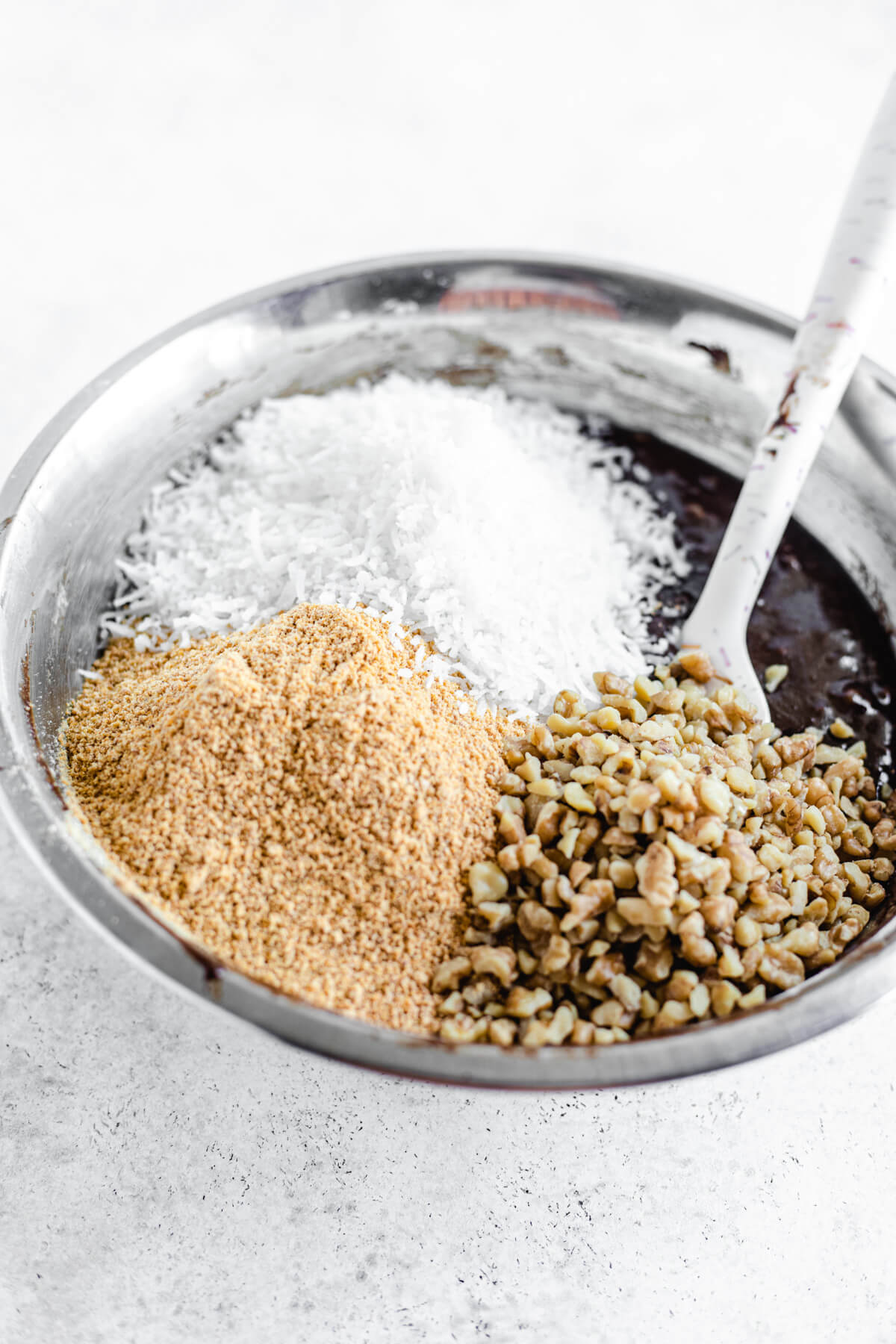 Looks like a lot, right? You'll have to work slow when folding everything in, but eventually it will all be incorporated. The graham crackers will blend right in to the brownie so you won't really get a crunch from them, but you will get a nice crunch of walnuts along with the shredded coconut.
Bake the brownies, then allow it to cool COMPLETELY before you spread on the custard filling or else it will melt.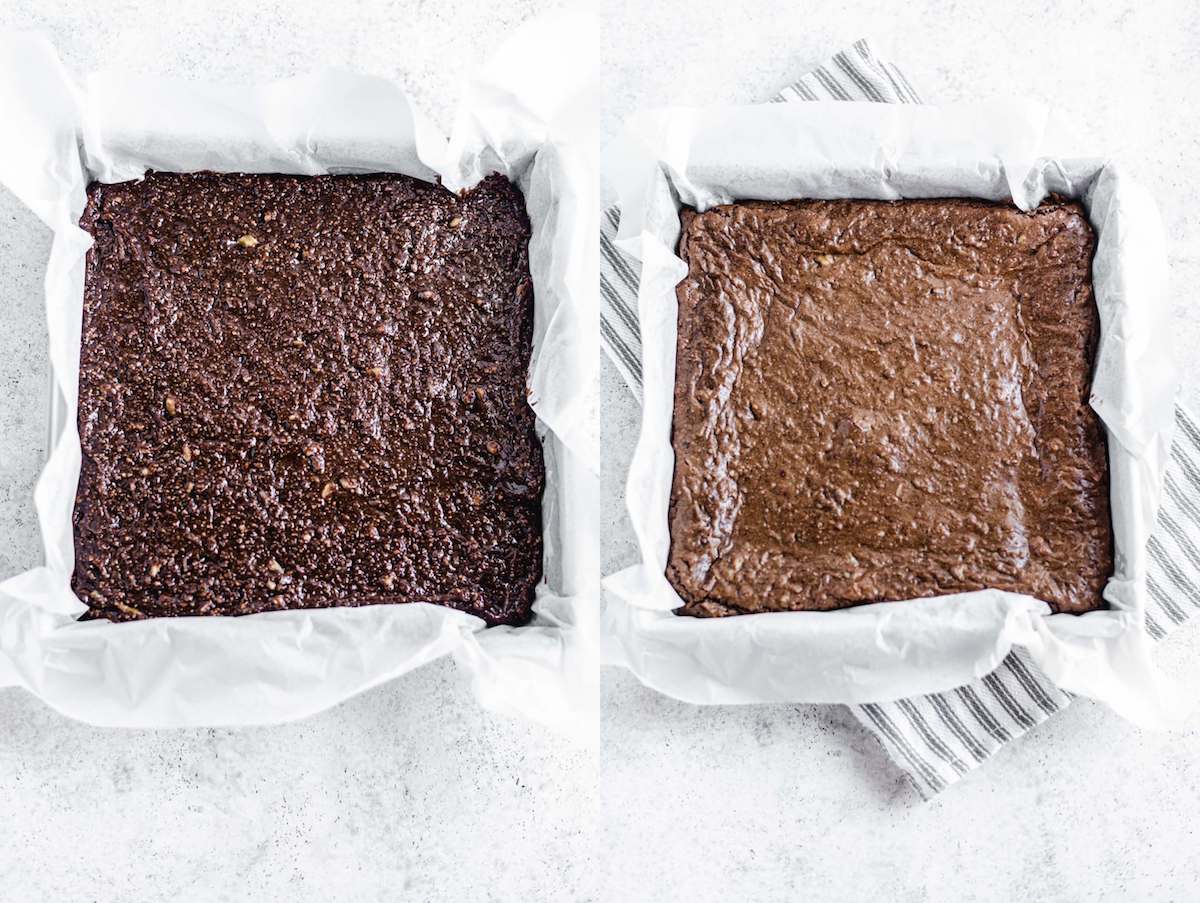 Custard Buttercream Filling
This is pretty much a custard-flavoured buttercream frosting. The custard filling gets its flavour, creamy texture and light yellow colour from custard powder. Custard powder may not be easy for everyone to find, so you can substitute with the same amount of vanilla pudding powder, but it won't have the same taste as a true Nanaimo bar.
To make the custard buttercream, start by beating the butter until creamy. Then we'll add in some milk and custard powder. The buttercream will be a orange/yellow colour at this point. Add in the powdered sugar 1 cup at a time, then once it's all combined, continue to beat on medium-high speed until the frosting lightens in colour and gets ultra fluffy!
Spread it onto the cooled brownies, then let it chill in the refrigerator. Few hours or overnight. You want the middle to hold its shape when sliced, so make sure it's solid before adding the chocolate topping.
Chocolate Topping
Melt together chocolate and shortening for the chocolate topping. Some use butter or oil, but I chose to use shortening. The reason we add one of these 3 things to the chocolate is to make slicing easier.
Because the custard buttercream was so cold, my chocolate began to set up immediately, but you should let it sit in the refrigerator for at least 10-15 minutes to ensure it's completely set.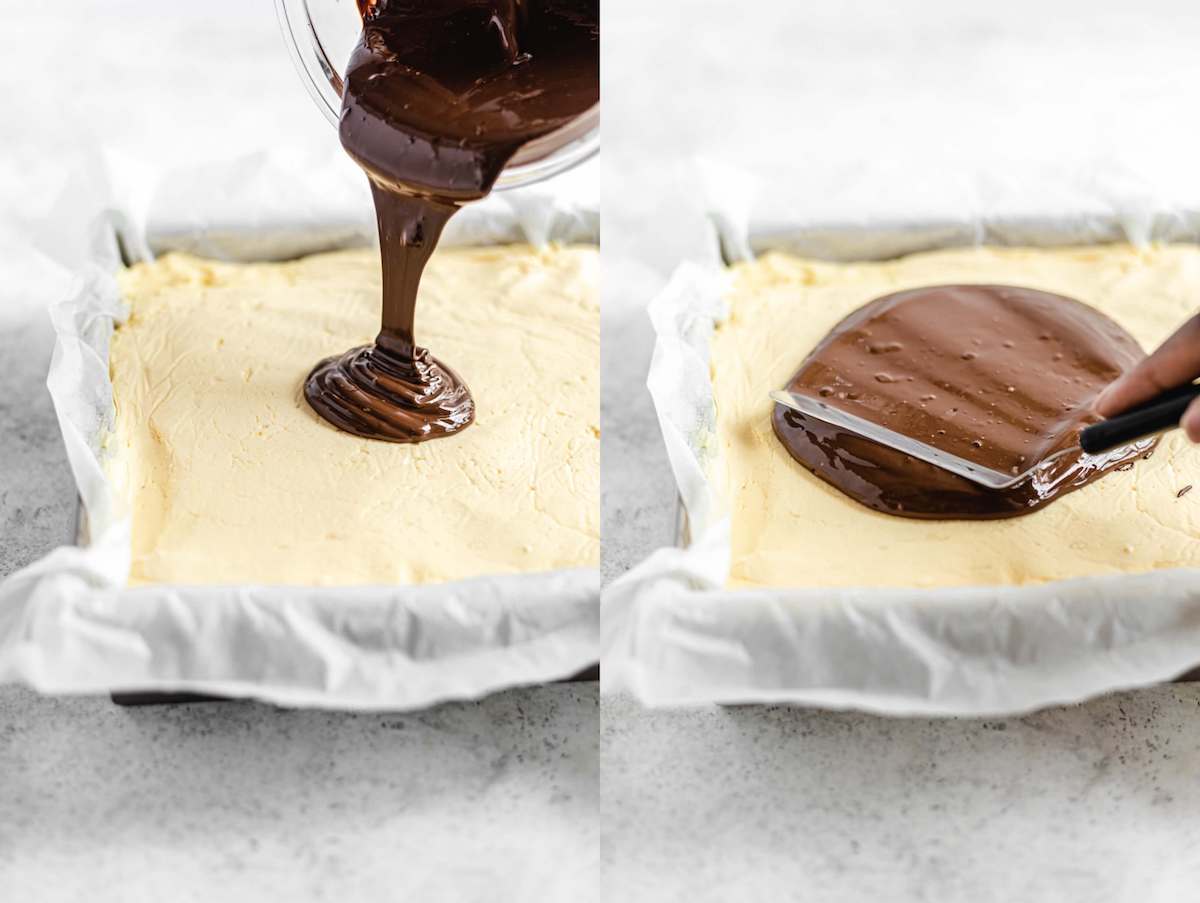 To slice the bars, I used a clean ruler and a knife to score the top of the chocolate. Then I gently stuck the knife into the centre of one line and slowly pushed it down to cut one side of the row, then repeat on the other side. I cut each row into 3 bars to get a total of 9, but you can slice them into smaller portions if you want to feed a crowd.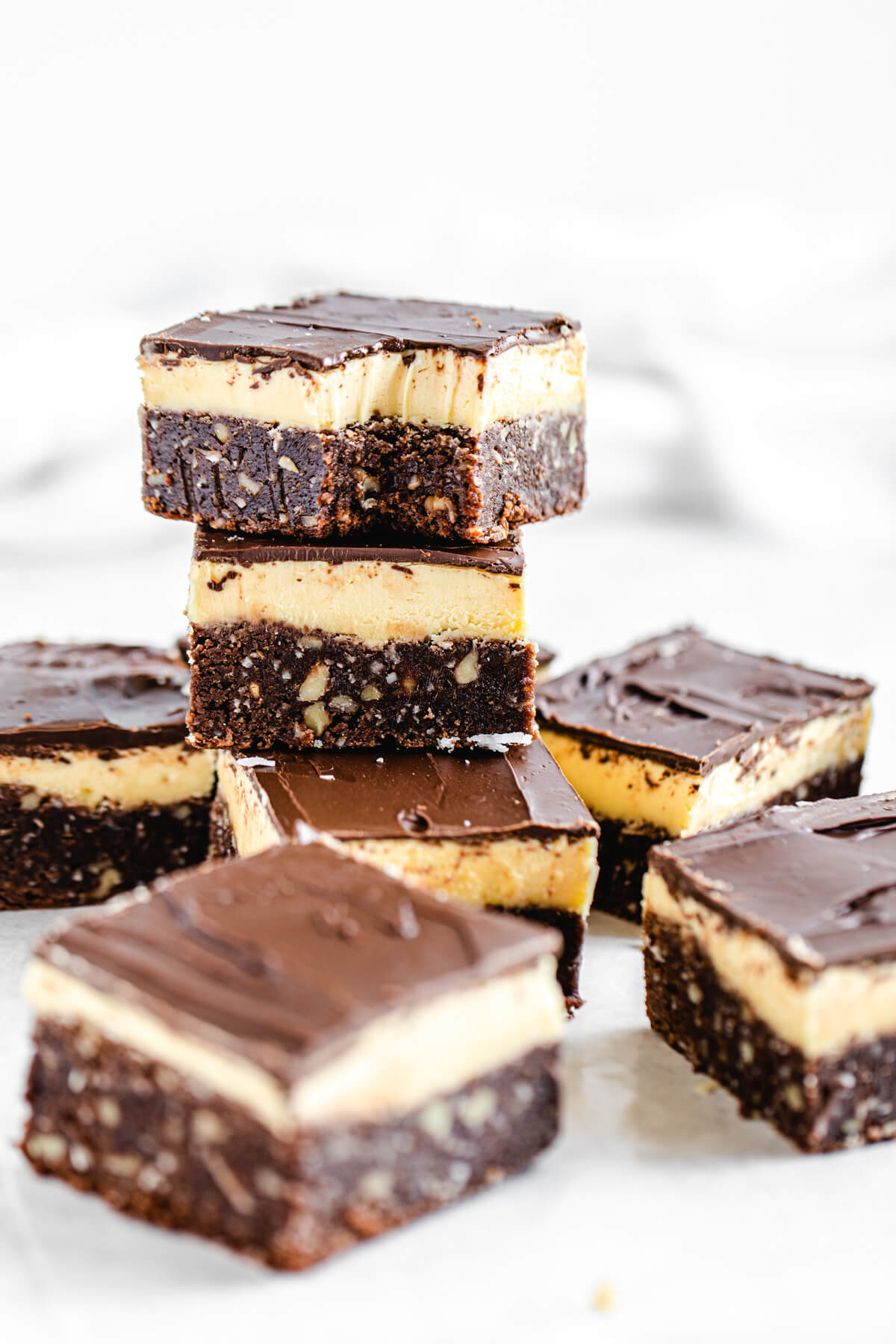 More Canada Day Recipes
SHARE YOUR PICS!
Follow me on Instagram and tag #queensleeappetit so I can see and share all of your Queenslee Appétit creations in my stories and the QA Newsletter!
>>PIN FOR LATER<<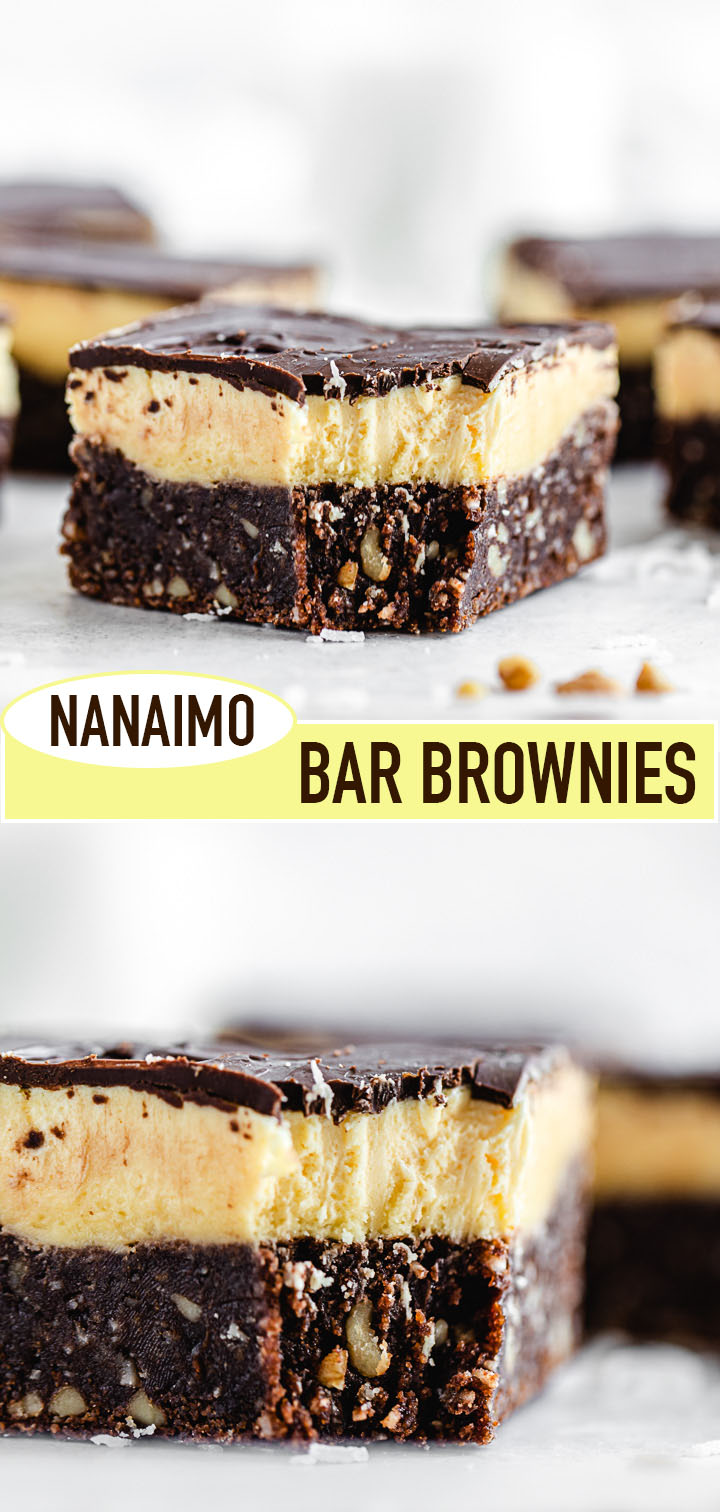 FOLLOW QUEENSLEE APPÉTIT
Like what you see? Make sure you're following Queenslee Appétit for more tasty recipes!
Pinterest | Instagram | Facebook | Twitter |
Have any questions about the recipe? Contact me here, and I'll be happy to help!
SWEETEN UP YOUR INBOX!
SUBSCRIBE to the Queenslee Appétit Newsletter to recieve new recipe notifications, monthly baking tips, sneak peeks to upcoming recipes, exclusive recipes and more!
Let's get baking!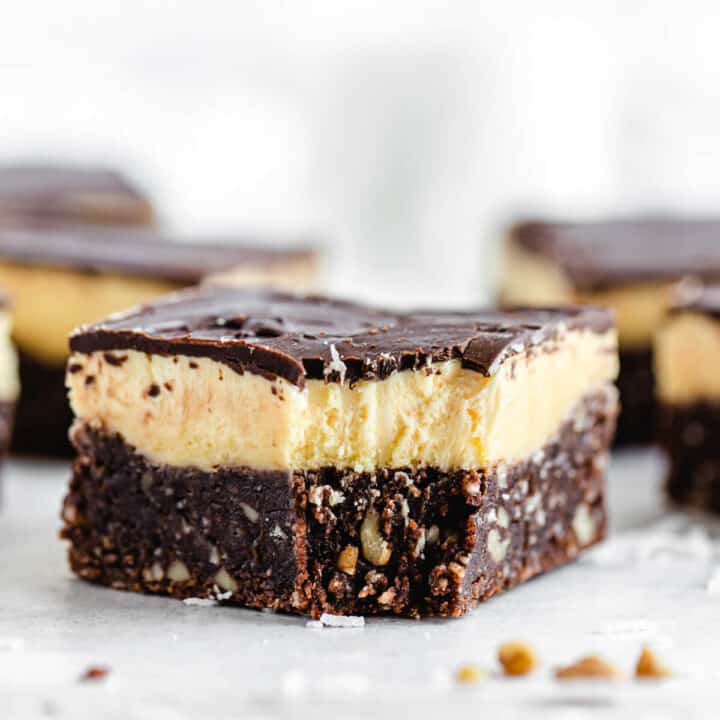 Nanaimo Bar Brownies
Classic Canadian Nanaimo Bars in Brownie form! These Nanaimo Bar Brownies feature a fudgy brownie loaded with coconut, graham cracker crumbs and walnuts, a sweet custard filling and rich chocolate on top! This twist on the classic dessert is perfect for Canada Day!
Ingredients
Nanaimo Brownies:
6 oz (175 g) bittersweet chocolate (70%), chopped
¾ cup (170 g) unsalted butter, cubed
¾ cup (150 g) granulated sugar
½ cup (110g) light brown sugar, packed
2 large eggs, room temperature
1 large egg yolk
1 teaspoon pure vanilla extract
¾ cup (96 g) all-purpose flour
2 tablespoons (15g) unsweetened cocoa powder, sifted
¼ teaspoon salt
1 and ¾ cups (150g) graham cracker crumbs
1 cup (60g) sweetened shredded coconut
½ cup (65g) finely chopped walnuts
Custard Buttercream Layer:
¾ cup (170g) unsalted butter, softened
¼ cup (60ml) milk or heavy cream
3 tablespoon (30g) vanilla custard powder or vanilla pudding mix
3 cups (360g) powdered sugar
Chocolate Layer:
6 oz. (175g) dark chocolate, chopped
1 tablespoon vegetable shortening
Instructions
For the Nanaimo Brownies:
Preheat the oven to 350°F (325°F for dark non-stick pans) (180°C). Line a 9x9-inch square baking pan with aluminum foil or parchment paper, leaving about 2-inches hanging over the sides and spray with non-stick spray. Set aside.
Place chopped chocolate and cubed butter in a large bowl over a saucepan of simmering water. Stir constantly until the butter and chocolate are both melted and combined, about 3-4 minutes.
Remove bowl from heat and immediately add both sugars, whisk until sugar is dissolved and mixture is smooth.
Add eggs, egg yolk and vanilla extract and slowly whisk until combined. Do not overmix. Add flour, cocoa, and salt and stir with a rubber spatula until well blended.
Add graham cracker crumbs, shredded coconut and chopped walnuts and slowly fold until everything's incorporated.
Pour the batter into the prepared pan and spread into an even layer.
Bake for 25-30 minutes or until a toothpick inserted into the brownie comes out with a few moist crumbs. Allow to cool completely in the pan on a wire rack.
For the Custard Buttercream Layer:
In a large mixing bowl, using a handheld mixer, beat the butter until smooth and fluffy, about 2-3 minutes.
Add milk and custard powder and beat until completely combined.
Add powdered sugar, one cup at a time, mixing on low after each addition until combined.
Once combined, increase the speed to high and continue to beat for about 1-2 minutes until smooth and fluffy.
Spread onto cooled brownies. Cover with plastic wrap and chill in the refrigerator for 3-4 hours or overnight.
For the Chocolate Layer:
Put chocolate and shortening in a heat-safe bowl and heat in the microwave for 30 second intervals, stirring after each interval until chocolate is completely melted and smooth. Set aside to cool for 2 minutes.
Remove brownies from refrigerator and spread melted chocolate on top. Place back into the refrigerator to set for 15-20 minutes.
Once brownies are set, lift out of the pan and slice into even squares. Serve and enjoy!
Notes
Storage: Store brownies in the refrigerator for up to 5 days. Serve at room temperature.
Walnuts: Walnuts can be substituted with almonds.
Nutrition Information:
Yield:

9
Serving Size:

1
Amount Per Serving:
Calories:

333
Total Fat:

14g
Saturated Fat:

8g
Trans Fat:

0g
Unsaturated Fat:

5g
Cholesterol:

115mg
Sodium:

336mg
Carbohydrates:

46g
Fiber:

2g
Sugar:

29g
Protein:

7g
BON APPÉTIT!
Love, Dedra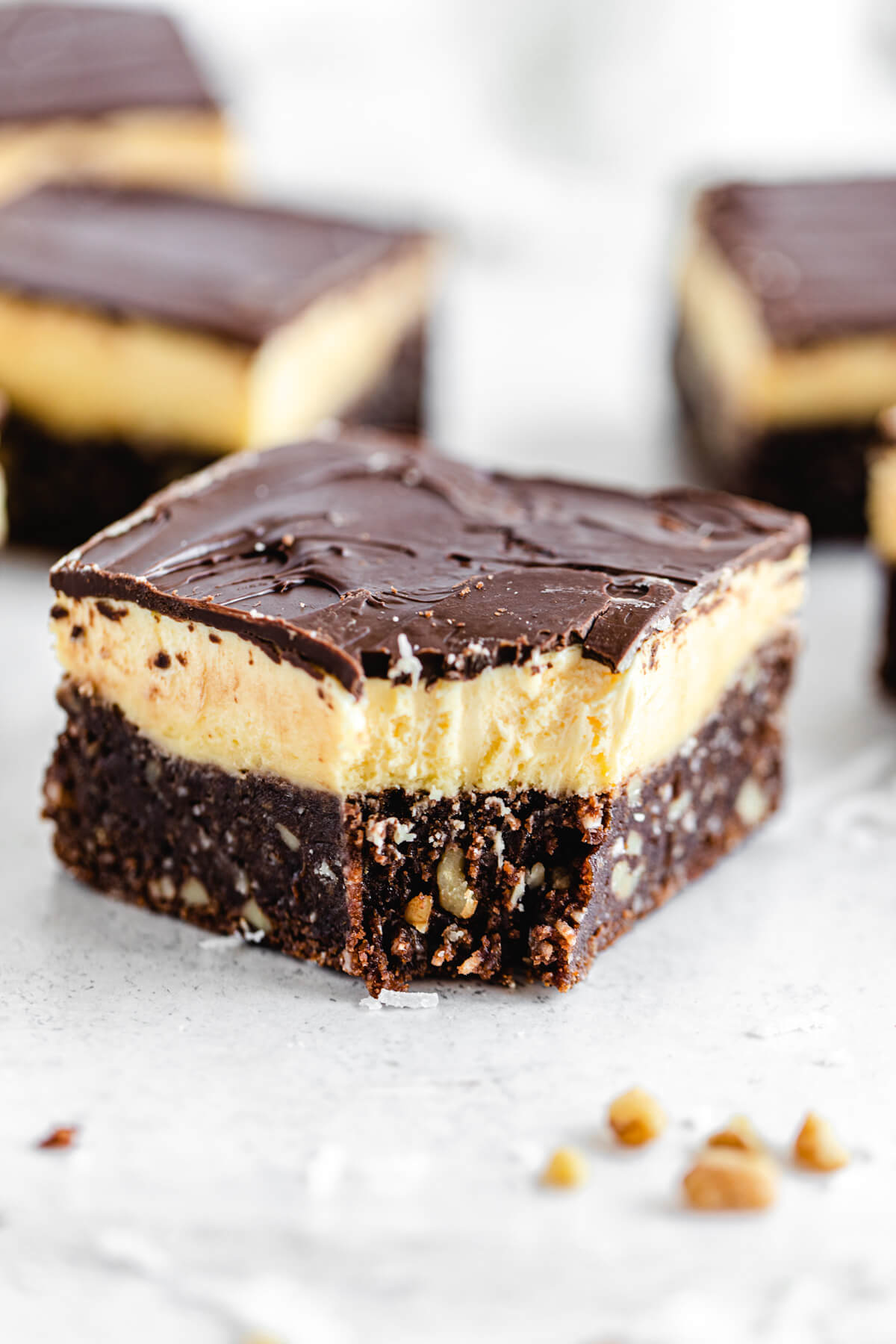 ©QUEENSLEE APPÉTIT. All images & content are copyright protected. Please do not use my images without prior permission. If you want to republish this recipe, please re-write the recipe in your own words, or link back to this post for the recipe.