Cinnamon Rolls in Muffin form! These Cinnamon Roll Muffins are fluffy, tender, gooey and delicious! Drizzle on some cinnamon cream cheese icing for a fun breakfast treat!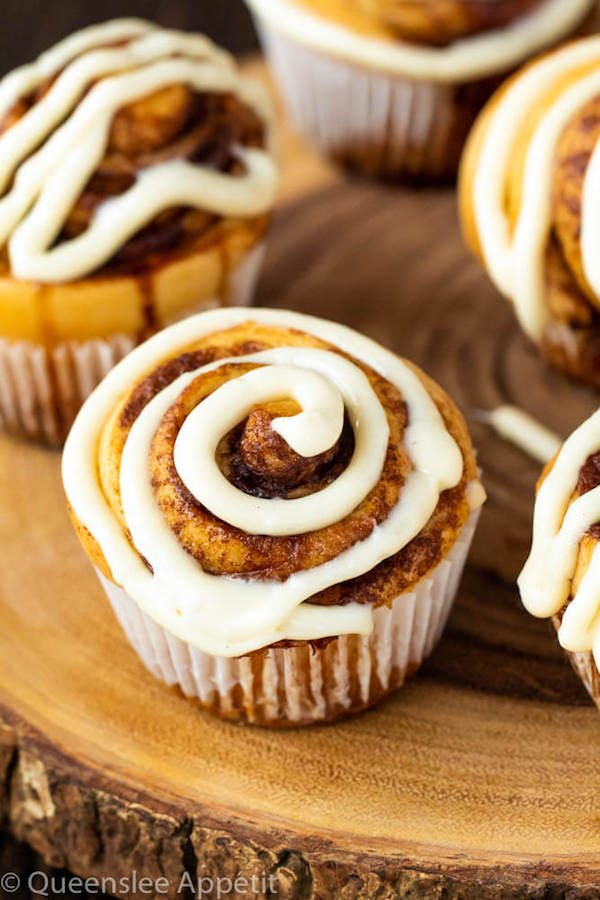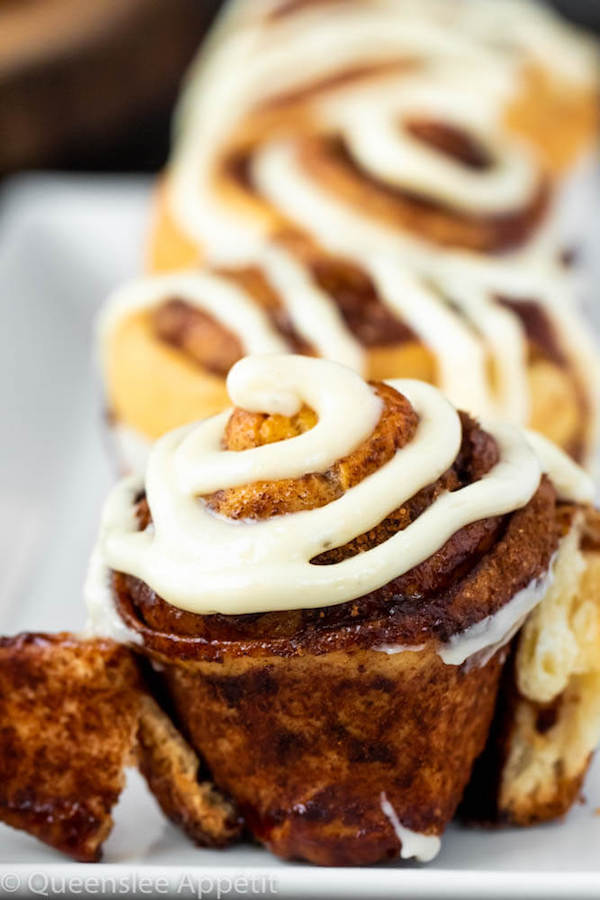 This post may contain affiliate links. Please see my full disclosure policy for details.
For the past few months, I've been up to my eyeballs in cinnamon rolls! If you didn't know, about a year ago I shared a recipe for the BEST Cinnamon Rolls Ever! Well I made another batch of those cinnamon rolls and shared them with a few people, who all agreed that it was the best they've ever had!
Those people ended up raving about the rolls to their friends and family and ever since then I've been getting order after order of pure cinnamon rolls! One of my clients wanted me to cater an event and asked if I could make the rolls in smaller individual portions. At first, I was planning on cutting them into bite-sized portions, then I got the genius idea of turning the rolls into cute little muffins!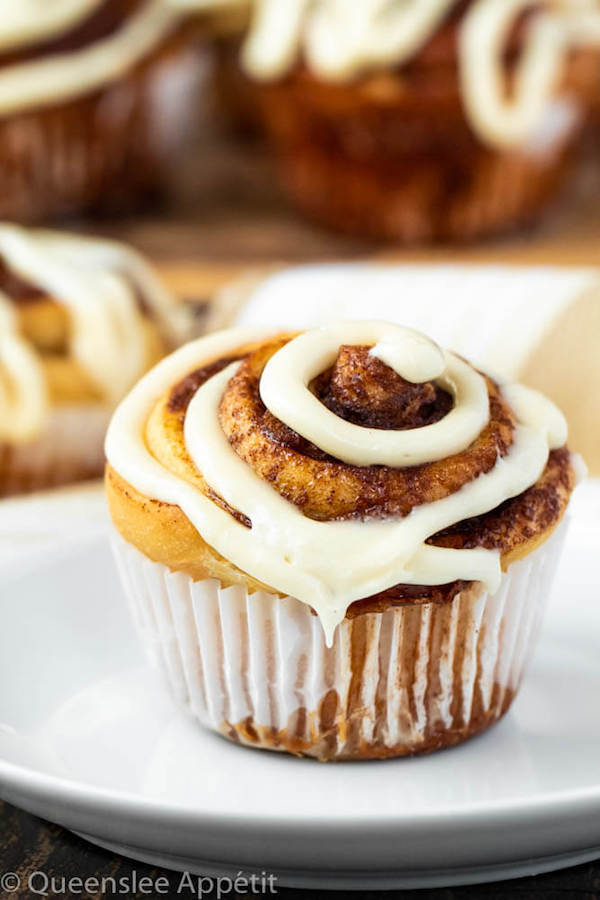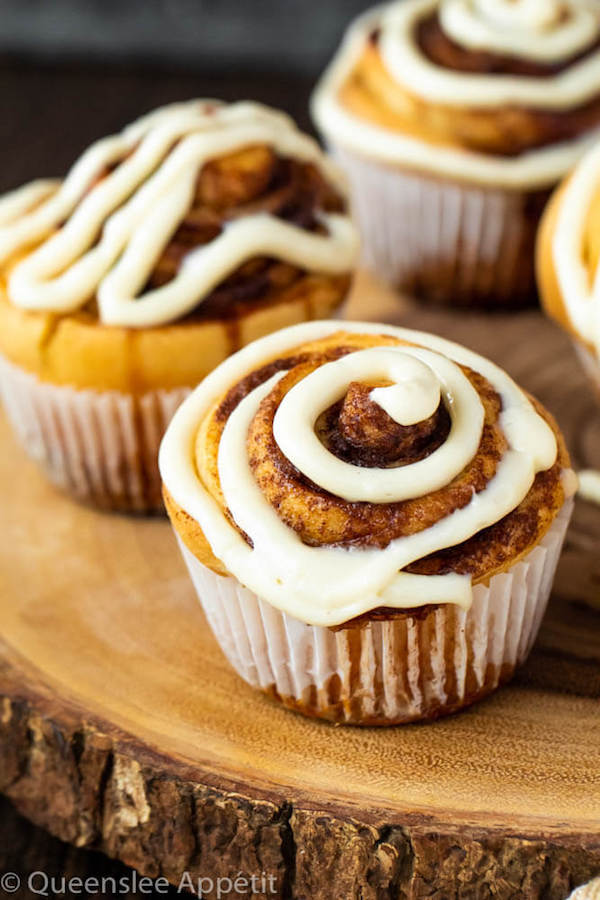 Cinnamon Roll Muffins
These Cinnamon Roll Muffins are the perfect breakfast treats to have on-the-go. I don't know about you, but I always eat my cinnamon rolls with a plate, fork and a side of icing. So these cinnamon rolls are a nice way to enjoy all that deliciousness in a more convenient way. Just grab a muffin roll, pop it in the microwave for a few seconds, then be on your way!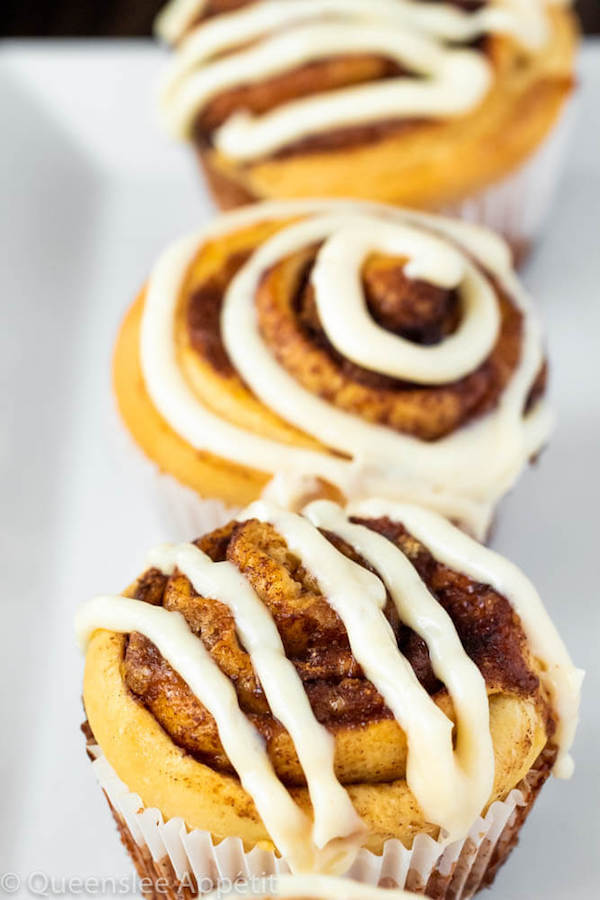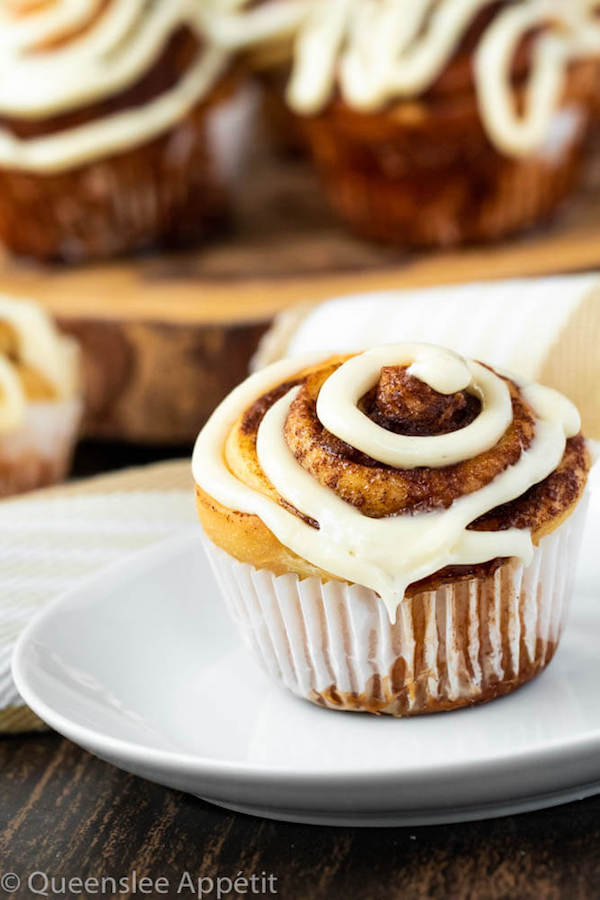 How to Make Cinnamon Roll Muffins
The process of making these muffins is almost exactly the same as making regular cinnamon rolls. Basically the only difference is where and how we bake them.
Start by making the dough. This is definitely one of my favourite parts. The dough is so fluffy and soft and with the addition of sugar, vanilla and nutmeg, it has the perfect amount of flavour! I hate eating cinnamon rolls where the filling and the icing are the only good parts while the dough is stale and flavourless. Yuck. Every part needs to have you swooning!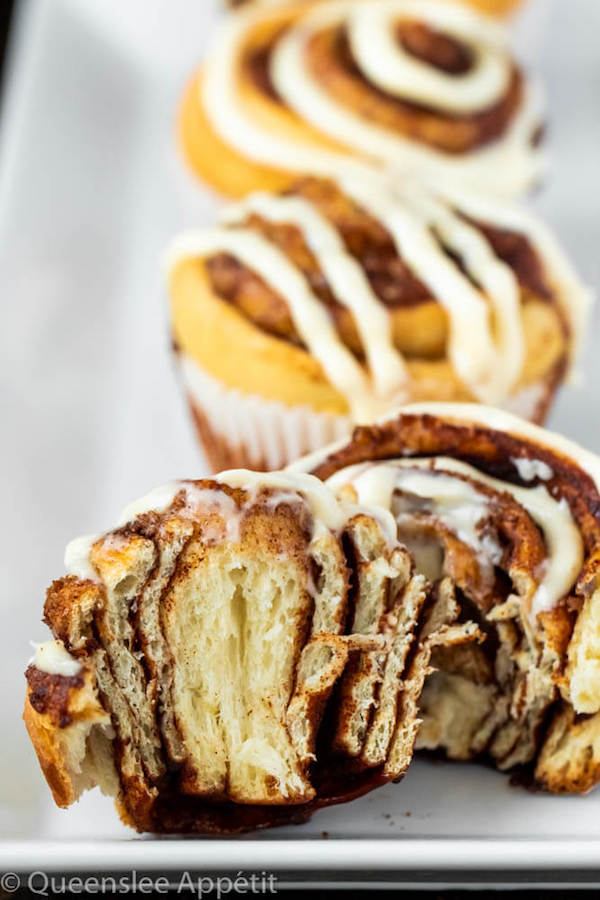 To make the dough, we start by "proofing" the yeast. This just means we need to wake up our yeast so it could make the dough rise. Combine the warm milk and yeast together, then add a tiny bit of sugar. The yeast feeds on the sugar and helps speed up the proofing process.
Once the yeast has foamed up, we add the melted butter, vanilla and eggs and mix those together. Then, in a stand mixer bowl or if you plan on kneading by hand, a large mixing bowl, add the flour, salt and ground nutmeg. The nutmeg is optional, but recommended since it enhances the doughs flavour.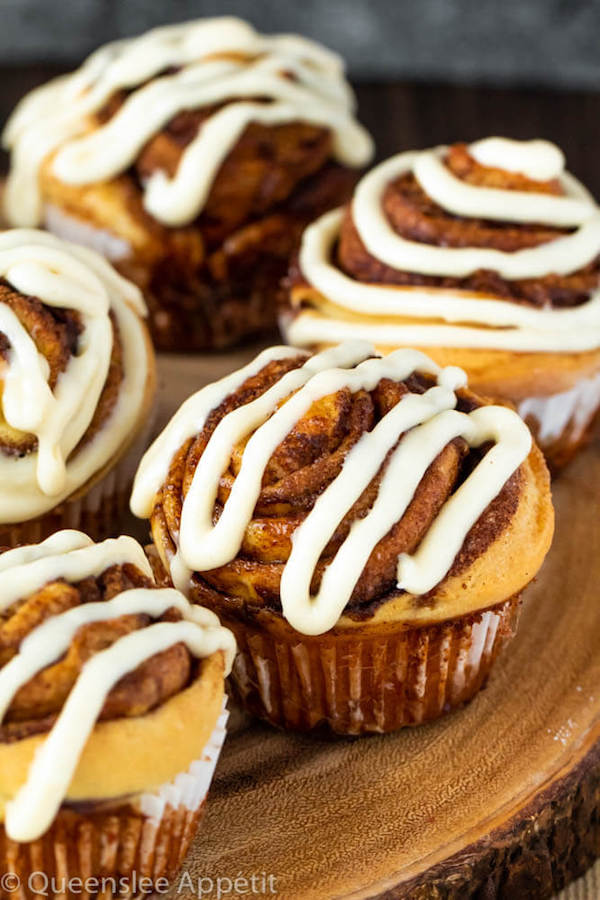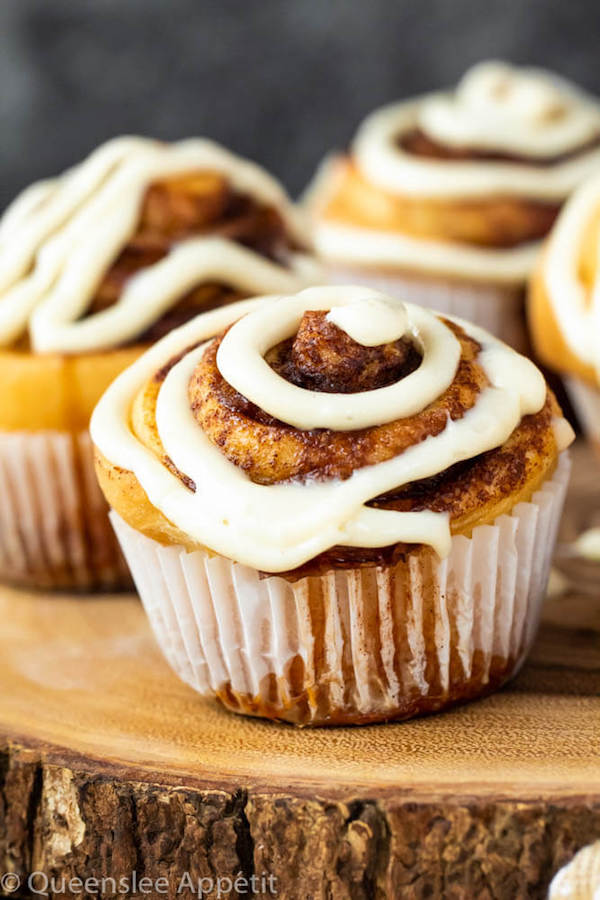 For the flour, I start with 4 cups, but after I add the wet ingredients and mix for about 3-5 minutes, I check to see if the dough is still sticky. If it is, I'll add more flour about 1 tablespoon at a time until It comes together as a nice smooth dough.
If you're kneading by hand, mix the dough with a wooden spoon, then scrape it out onto a floured surface, sprinkle some more flour on top, then start kneading for about 7-10 minutes until you yield the same smooth dough ball.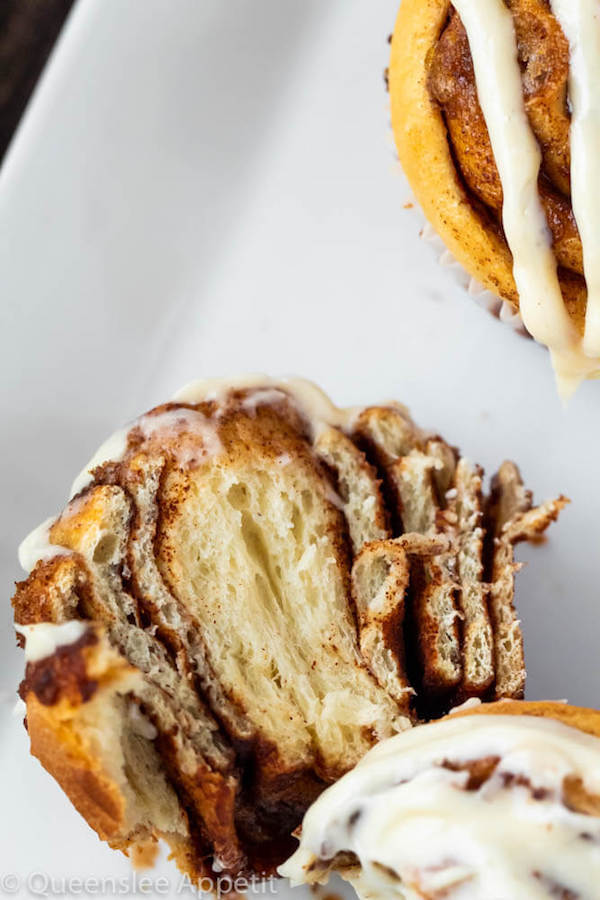 Gooey Cinnamon Sugar Filling
Once the dough has formed, transfer it to a greased bowl and allow it to rise, covered, for an hour to an hour and a half. Then move on to the filling. The ooey, gooey brown sugar cinnamon filling, another super delicious part of a cinnamon roll!
No real work goes into making the filling. Just combine the brown sugar and cinnamon together in a bowl. You may need to break up the brown sugar a bit with a fork so you don't end up with large chunks between the dough.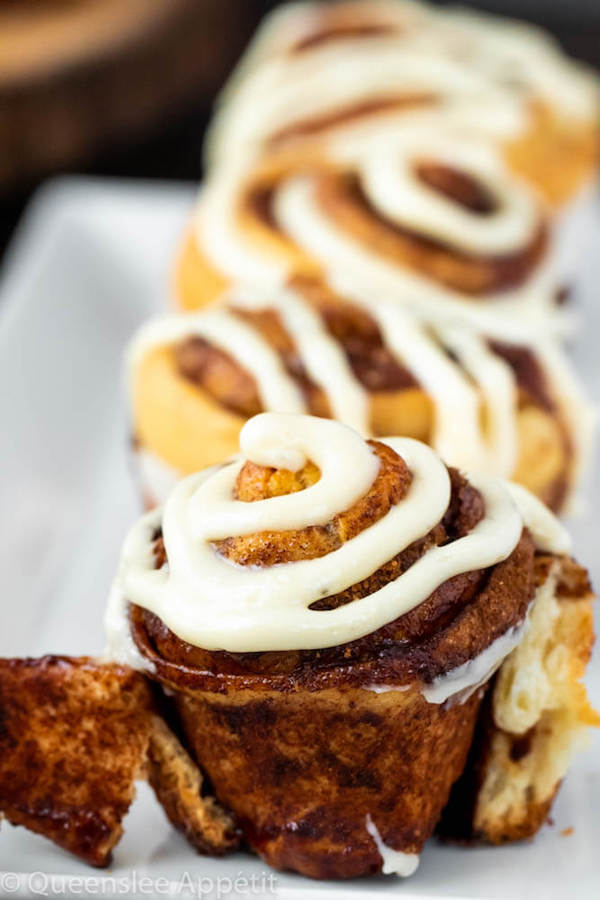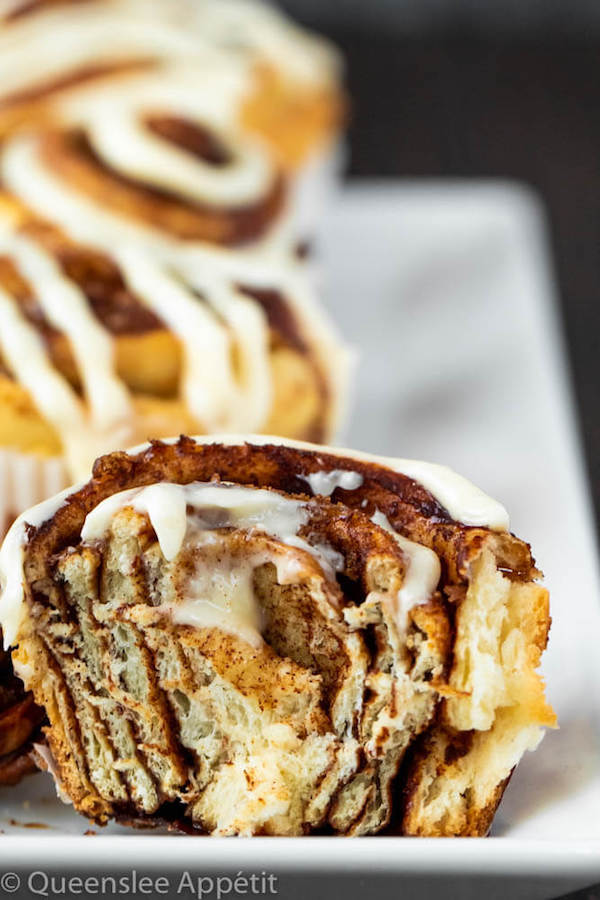 I wasn't too sure about how I was going to go about rolling and cutting the dough. The cinnamon rolls I usually make are far too big to fit into a muffin pan, so my initial plan was to use a pizza cutter to cut out thin strips after sprinkling on the filling. Then I would roll each strip into a mini cinnamon roll.
I ended up changing my mind last minute and just rolled up the dough as normal. However, this time I gently squeezed the dough out after rolling to make the log loner and skinnier. This way I was able to cut out 14-16 smaller sized rolls instead of 8 jumbo like I normally do. I used a ruler to cut out each roll to be about 1 and ½ - 2 inches, and to my luck, they fit perfectly inside of the muffin liners!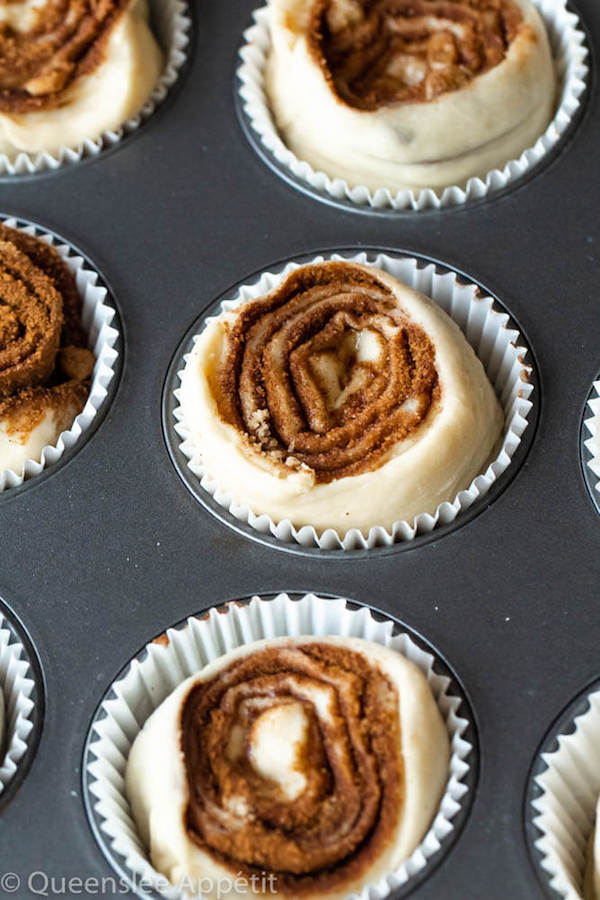 The Perfect Cinnamon Cream Cheese Icing Drizzle
The crown on top of the rolls, a perfectly silky cinnamon cream cheese icing! Made with butter, cream cheese, a bit of powdered sugar, vanilla and cinnamon for flavour.
My icing was thick enough to pipe out cute little swirl designs on top of my muffins, but if you want to be able to pour it over the rolls like a glaze, keep adding milk a tablespoon at a time until you end up with a very thin consistency.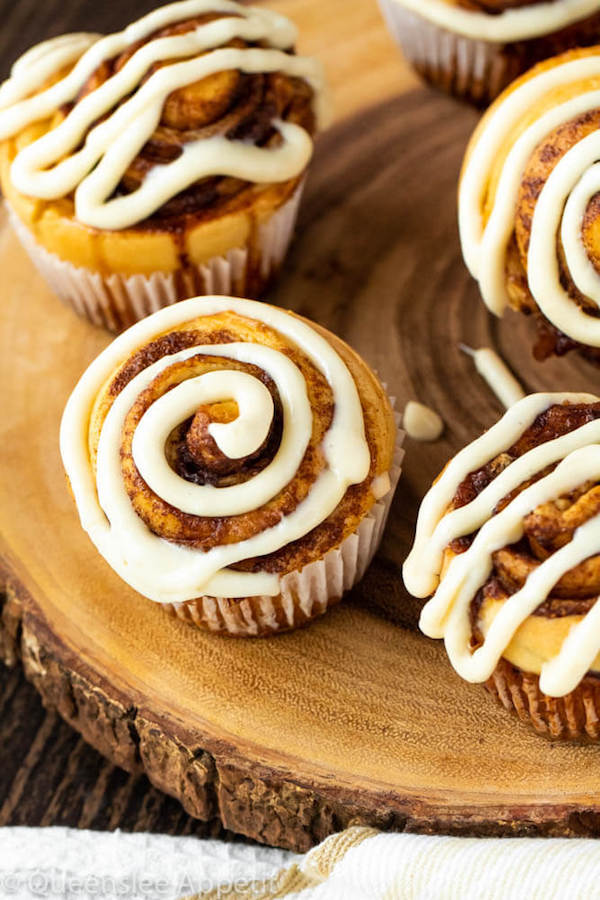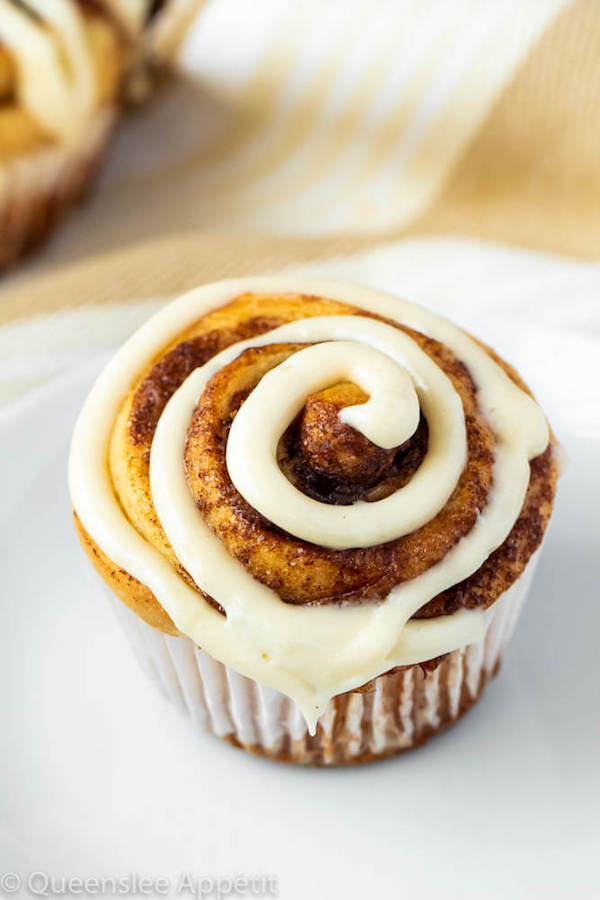 Tips for Creating Cinnamon Roll Muffins
This was my first batch of these muffins so obviously I ran into some difficulties. Here's a few tips I've gathered from my countless mistakes to help prevent you from making the same:
Milk Substitutes: Let's start from the beginning. I've only ever substituted the milk in my rolls once when I made these Eggnog Cinnamon Rolls last year. I thought it would have a negative effect, but it ended up making the rolls even better! So if you want to go the dairy-free route, you can try substituting the milk for soy milk, almond milk, rice milk etc. You can probably even get away with using buttermilk!
It's very important that your milk is the correct temperature! Around 110-115˚F is perfect. If you don't have a thermometer, you could test the temperature of the milk by microwaving it in 30 second intervals, then after each interval, stick a clean finger into it. You don't want the milk to be too hot or too cold, it should be warm enough for you to comfortably keep your finger in. If the milk does get too hot, you can simply leave it to sit at room temperature for a few minutes to cool down.
Make sure you roll your dough very, very tightly! This is super crucial because these rolls are gonna be baked in a muffin tin instead of the traditional baking dish, so the rolls have nowhere to go but up which means they may be misshapen.
Speaking of the muffin tins: 1) you can make these muffins with or without the liners. I prefer the liners because it makes the rolls easier to remove from the pan. 2) If you do use muffin liners, place the cinnamon roll inside of the liner before placing it into the muffin pan. 3) NON-STICK SPRAY!!! I don't know why I felt confident enough to skip using cooking spray, but it was the worst mistake ever. See, the brown sugar filling in a cinnamon roll almost always collects at the bottom and caramelizes. And that's exactly what happened, except it happened inside of the paper liners and the pan, and with the lack of non-stick spray, I had to use a knife to force them out of the pan! So make sure to spray your muffin tin AND the muffin liners before adding the rolls. This should make the process of removing them from the pans (and removing the paper liners) so much easier.
Lastly, the icing. I cut my usual cream cheese icing recipe in half, but it still yields quite a bit. As you can see, I only piped a small amount of icing onto each cinnamon roll. This was strictly for food photography purposes. If you care about appearance, you could do the same. If you don't, I highly recommend slathering each muffin in a generous amount of icing (which is what I did after taking the photos).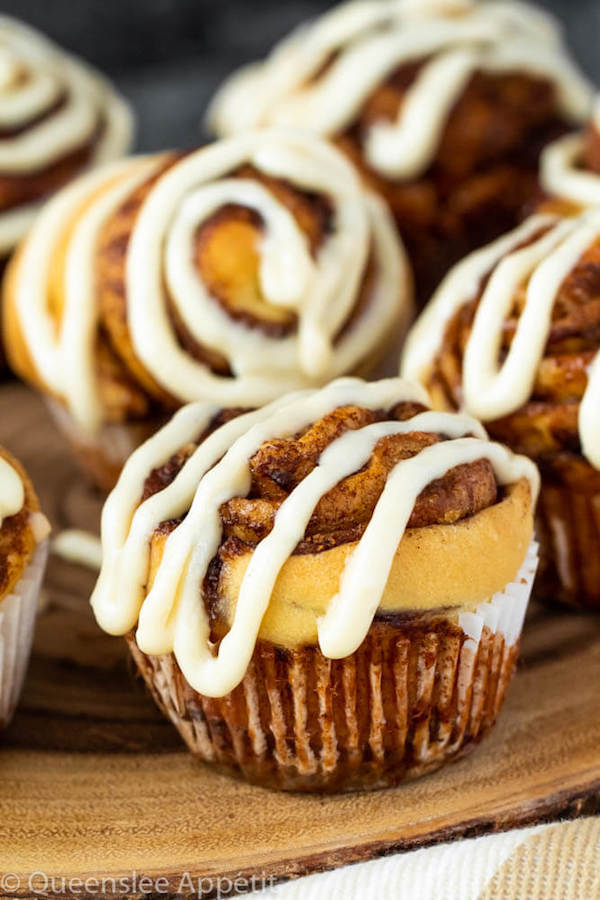 >>PIN ME FOR LATER<<

FOLLOW QUEENSLEE APPÉTIT
Like what you see? Make sure you're following Queenslee Appétit for more tasty recipes!
Pinterest | Instagram | Facebook | Twitter |
Have any questions about the recipe? Contact me here, and I'll be happy to help!
Let's get baking!
Cinnamon Roll Muffins
Total Time:
2 hours
55 minutes
Cinnamon Rolls in Muffin form! These Cinnamon Roll Muffins are fluffy, tender, gooey and delicious! Drizzle on some cinnamon cream cheese icing for a fun breakfast treat!
Ingredients
Dough:
1 cup warm milk (110-115˚F)
1 package (2 and ¼ tsp) active dry yeast
½ cup + ½ teaspoon granulated sugar, divided
⅓ cup unsalted butter or margarine, melted
1 teaspoon pure vanilla extract
2 large eggs, lightly beaten
4 - 4 and ½ cups All purpose flour
1 teaspoon salt
¼ teaspoon ground nutmeg (optional)
Filling:
1 cup dark brown sugar, packed
3 tablespoon ground cinnamon
¼ cup margarine, halfway melted
Cinnamon Cream Cheese Icing Drizzle:
¼ cup unsalted butter, softened
4 oz. cream cheese, softened to room temperature
1 cup powdered sugar
½ teaspoon pure vanilla extract
¼ teaspoon ground cinnamon
⅛ teaspoon salt
2-3 tablespoon milk
Instructions
For the Dough:
In a medium heat-proof bowl, heat the milk in the microwave until warm, about 50-60 seconds. It should be around 110-115˚F. If you don't have a thermometer, test it out by sticking your finger inside. The milk should be warm enough for you to hold your finger inside comfortably. It should not be too hot, if it is, let it sit for 5 minutes to cool.
Sprinkle the yeast and ½ teaspoon of sugar into the warmed milk, do not stir. Allow to sit for about 5-10 minutes or until frothy. If yeast doesn't foam up, your yeast is either dead or the milk is too hot, which means you have to start over.
Add melted butter, vanilla and eggs to the milk and yeast mixture and whisk to combine.
In a stand mixer bowl fitted with the dough hook attachment, add 4 cups of flour, remaining ½ cup sugar, salt and nutmeg. Mix on low to combine. Alternatively: add the dry ingredients to a large mixing bowl and whisk to combine.
Pour in liquid mixture and mix on low until just combined, about 30 seconds. Increase speed to medium-low "2 on a kitchenaid mixer" and knead dough until it's smooth, elastic and pulls away from the sides of the bowl, about 7-10 minutes. Or you can mix the dough with a wooden spoon, then transfer it to a lightly floured surface and knead by hand for about 7 to 10 minutes until dough is smooth. If the dough is too sticky after 5 minutes, add more flour 1 tablespoon at a time until dough is smooth.
Lightly oil a separate large bowl with olive oil or cooking spray, place dough inside and turn to cover both sides. Loosely cover with plastic wrap and let it rest in a warm place for 1 to 1 and ½ hours, or until dough has doubled in size.
For the Filling:
In a small heat-proof bowl, microwave the butter in 30 second intervals, stirring after each until melted and smooth. Set aside.
In a separate bowl, add brown sugar and cinnamon and stir with a fork to combine. Set aside until ready to use.
Assembly:
Lightly grease a 12-cup muffin pan with cooking spray. Spray each paper liner also. Set aside.
Once dough has doubled in size, gently punch it down and turn onto a floured work surface.
Using a rolling pin, roll out dough into a 16x18 inch rectangle. Use a pastry brush to brush partially melted butter over the dough. Sprinkle brown sugar and cinnamon mixture over the top, leaving about 1 and ½ inches of the border uncovered. Lightly press mixture into the dough with your fingers or the back of a measuring cup.
Starting on the long side, roll the dough into a very tight log and pinch the seams to seal. Gently squeeze the roll a bit while moving out to make it a bit thinner and longer and to pack everything in.
Slice the log into 12-14 small rolls, about 1 and ½ to 2-inches each. Remove paper liners from pan, place a roll inside the liner, then place them back into the pan.
Lightly cover with a damp towel or plastic wrap and let rise for 30 minutes, until doubled in size. While rolls are rising, preheat oven to 350°F (180C).
Once rolls have doubled in size, bake in preheated oven for 25-30 minutes, or until lightly golden. Meanwhile, prepare the icing.
For the Cinnamon Cream Cheese Icing Drizzle:
In a medium mixing bowl using a handheld mixer, beat beat butter and cream cheese until light and fluffy, 3-5 minutes.
Add powdered sugar and mix on low until combined. Add vanilla, cinnamon and salt and beat until combined and smooth.
Add milk 1 tablespoon at a time until you reach a desired consistency.
Remove the rolls from the oven and immediately spread half of the creamy icing on top so the glaze can melt into the rolls. Remove from pan, then allow rolls to cool for about 10-15 minutes on a wire rack, then spread remaining icing on top. Serve warm.
Notes
Store in an airtight container in the refrigerator for up to 5 days. Rewarm in the microwave for about 20-30 seconds before eating.
If you want to create the same swirl designs I did, instead of spreading the frosting on top, transfer the icing to a small ziplock bag or a disposable piping bag and snip of a small corner then pipe onto the rolls.
If you want the icing to be a thinner glaze consistency, add more than 3 tablespoons. Continue adding milk a tablespoon at a time until the icing is pourable.
Recommended Products
As an Amazon Associate and member of other affiliate programs, I earn from qualifying purchases.
BON APPÉTIT!
Love, Dedra
DID YOU MAKE A RECIPE?
Tag @queensleeappetit and use the hashtag #queensleeappetit so I can see all of the Queenslee Appétit recipes you've made!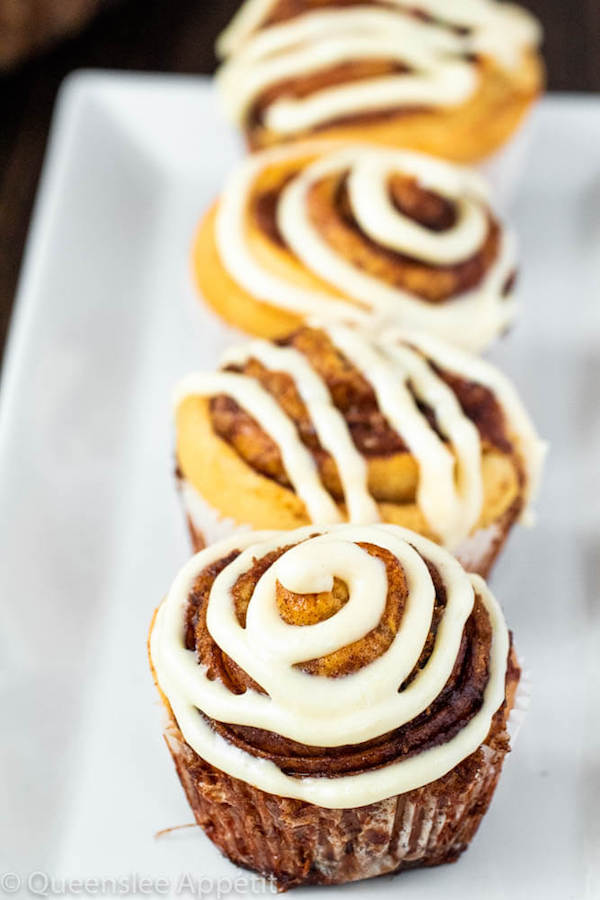 ©QUEENSLEE APPÉTIT. All images & content are copyright protected. Please do not use my images without prior permission. If you want to republish this recipe, please re-write the recipe in your own words, or link back to this post for the recipe.