Rich and creamy pumpkin cheesecake paired with a spicy gingersnap crust! This is the perfect dessert to enjoy after your Thanksgiving dinner.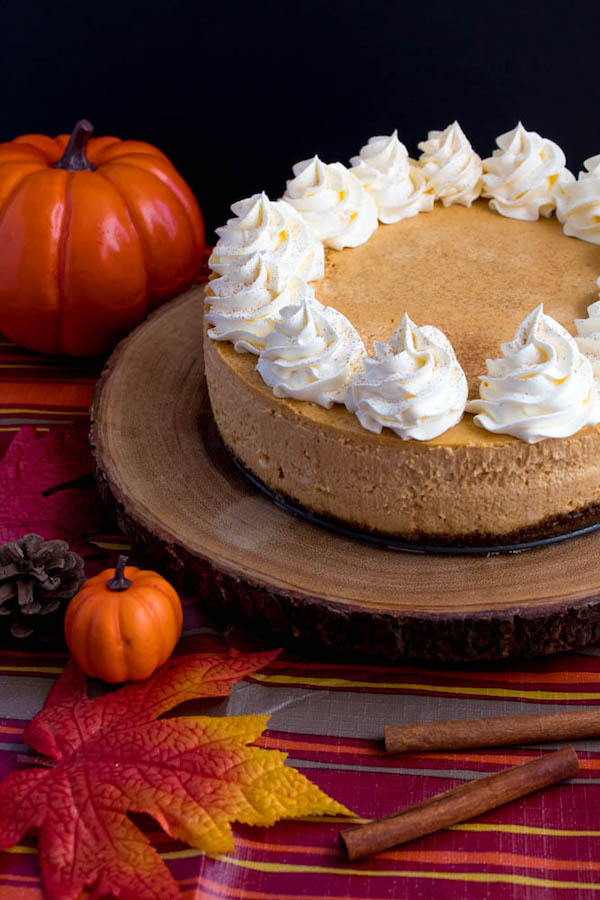 Thanksgiving is a month away, which means it's time to start choosing what's going to be on your table this year. Usually the first dessert to come to everyone's mind is Pumpkin Pie, but if you want to take your Thanksgiving dessert up a notch – you've come to the right place. This is like a pumpkin pie in cheesecake form! This dessert will definitely shake things up at your feast and it'll be a fabulous upgrade from your basic pumpkin pie.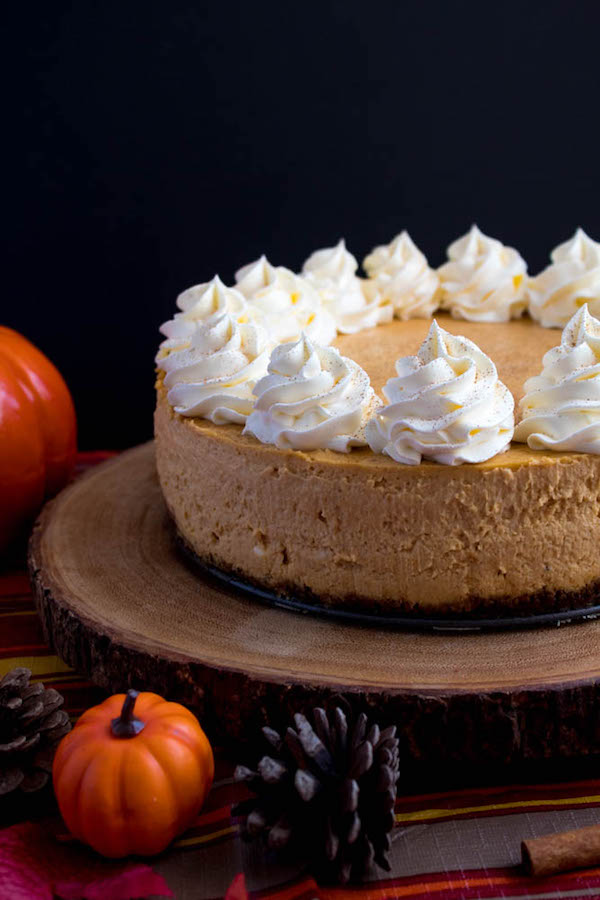 Pumpkin Pie Cheesecake
This cheesecake is so creamy and delicious. It's packed with a ton of pumpkin and fall spice flavour! I thought my pumpkin pie recipe was an amazing Thanksgiving dessert, but this cheesecake really takes the cake!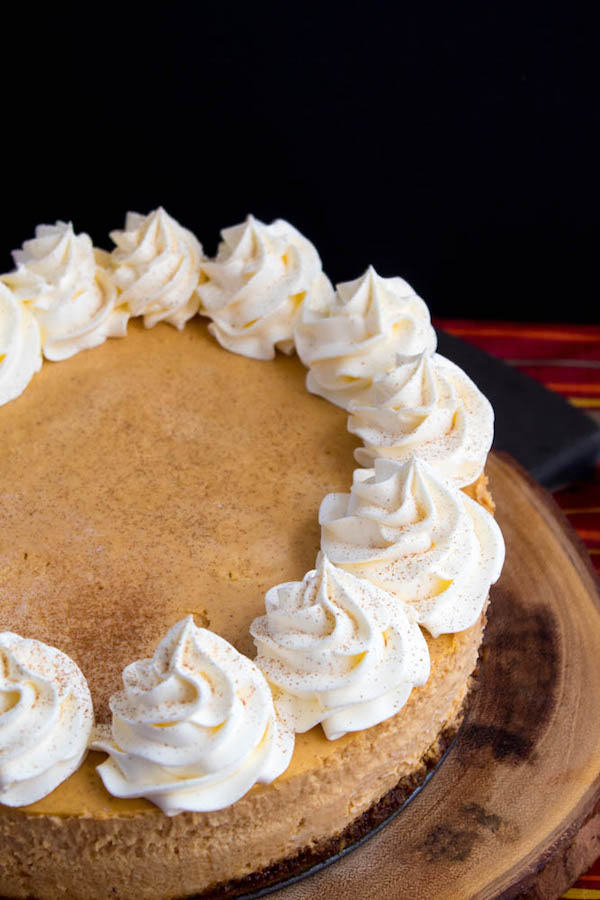 Gingersnap Crust
For the crust, I used Gingersnap Cookies. These spicy cookies paired with the creamy pumpkin spice flavour is just unbeatable! You can use graham crackers if you would like, but with the amount of extra flavour the gingersnaps add to this dessert, I really wouldn't recommend replacing it.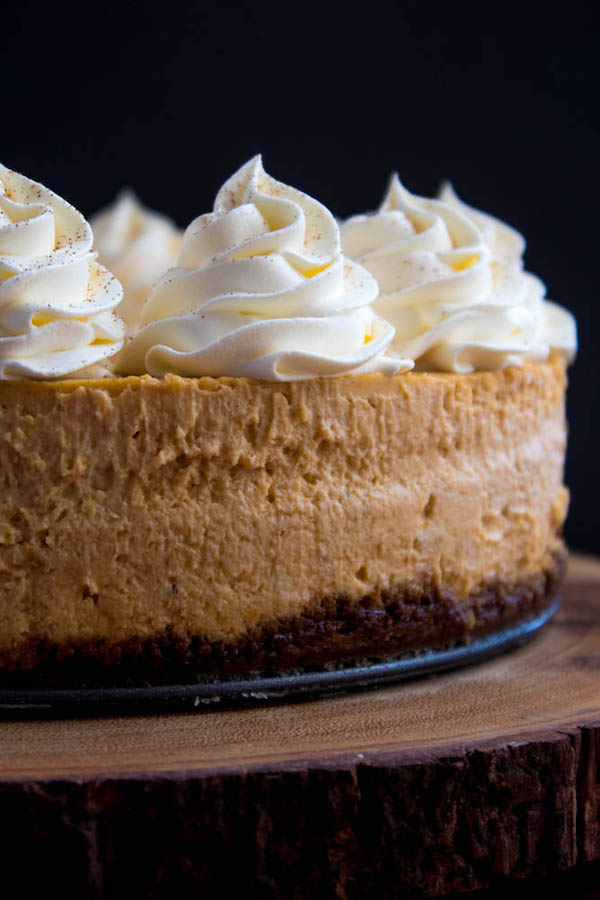 First, you will need to crush the cookies into fine crumbs. I prefer to use a food processor since it makes the job a whole lot easier, but you could crush them in a ziploc bag instead. Then I sweetened the cookie crumbs with a bit of sugar and some melted butter to hold it all together.
When you add the crust to the pan, you need to use the bottom of a glass to press it into the bottom so it's nice and flat and even.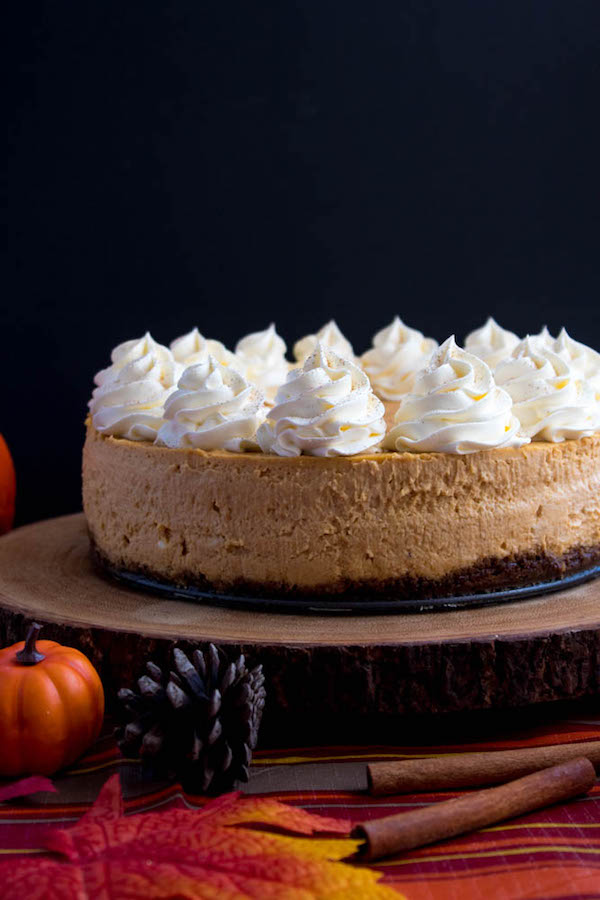 Pumpkin Cheesecake Filling
The pumpkin cheesecake filling is really easy to make. I know cheesecake can be a really intimidating dessert for some people (myself included), but believe me, it couldn't be easier!
3 ingredients in this recipe MUST be at room temperature before you begin: cream cheese, sour cream and eggs. Make sure you remove these three ingredients from the refrigerator 30 minutes before you begin. It's especially important that the cream cheese is softened, because it needs to blend smoothly into the other ingredients.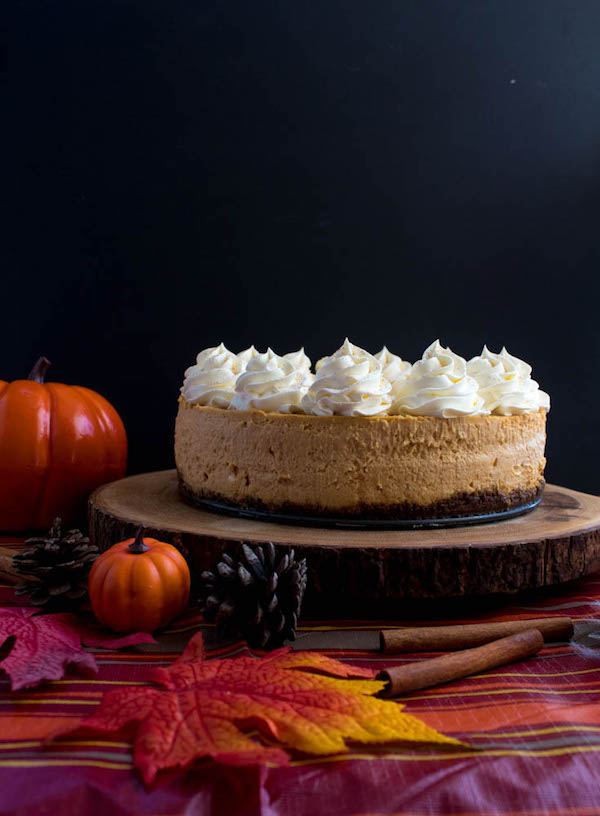 I baked the cheesecake in a water bath because it prevents the cheesecake from drying, cracking and browning on the top. It also plays a part in making cheesecakes super creamy! I go into more detail on how to prepare a water bath for your cheesecake in the recipe below.
I recommend wrapping your pan at least 2-3 times to guarantee no water ends up in your pan and ruins that crunchy crust. If water does get into your pan during baking, don't worry! The crust will set back up while cooling in the refrigerator and be as good as new.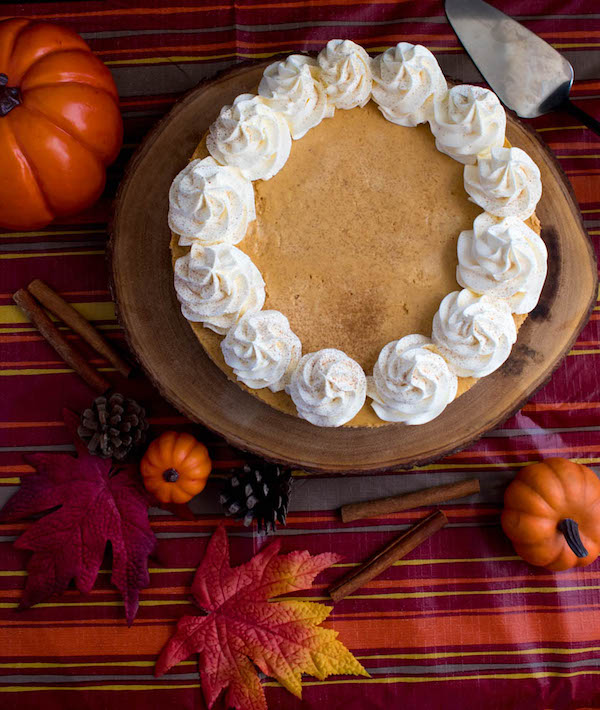 Once the cheesecake is baked and chilled, I topped it with sweetened whipped cream! I used a Wilton 2D tip and piped a swirl border around the edge of the cheesecake (check out my awesome border piping tutorial), then I dusted the top with pumpkin pie spice! This simple decoration takes your cheesecake from plain to pretty and will wow all your guests!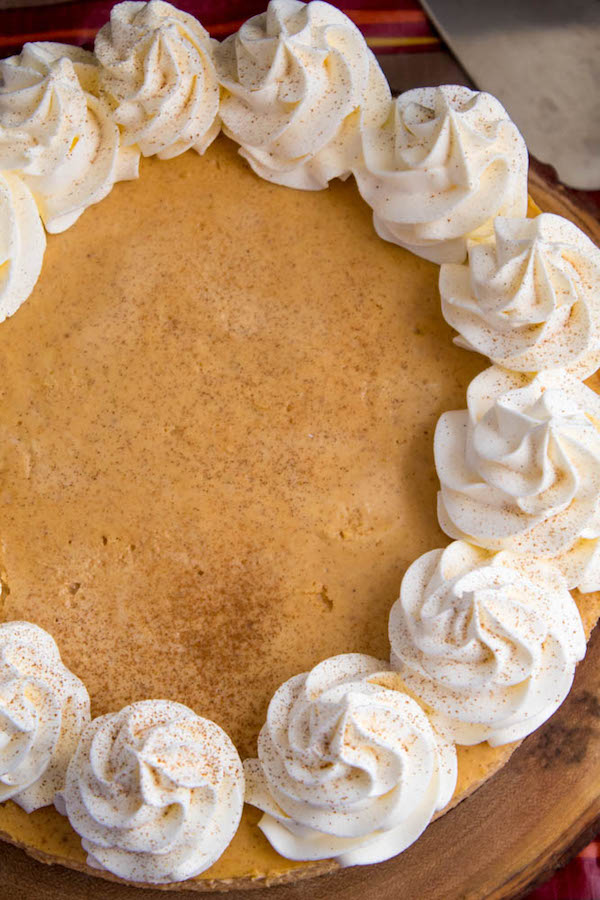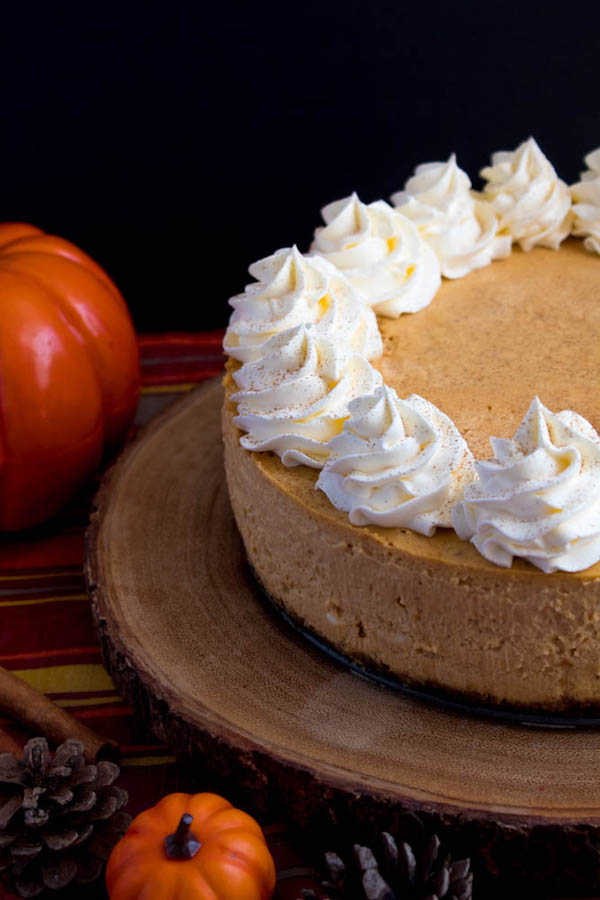 This Pumpkin Gingersnap Cheesecake will be the perfect addition to your Thanksgiving feast. It doesn't require a lot of preparation, although it does take a long time to bake and an even longer time to chill – which is great, because this means you can make it a day before Thanksgiving!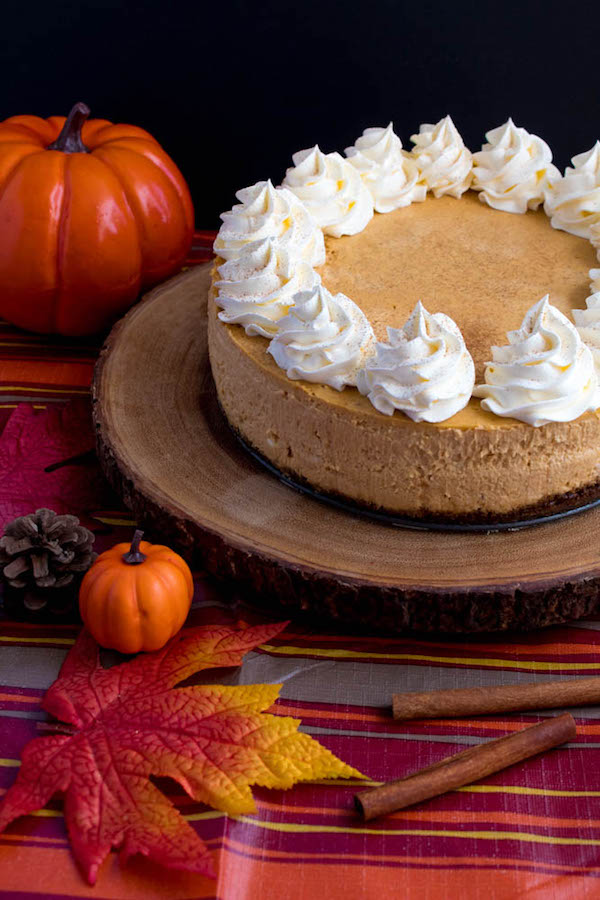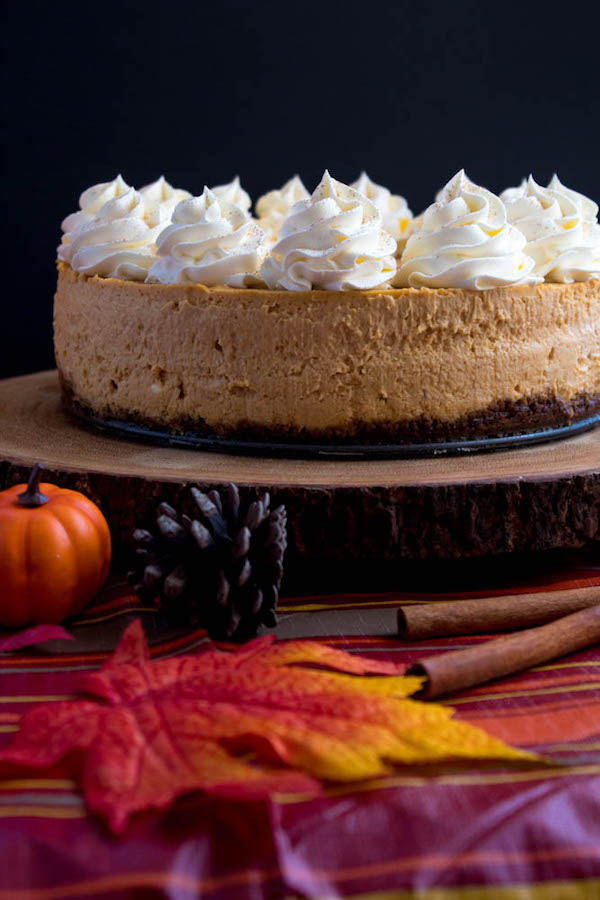 >>Pin Me for Later!<<

FOLLOW QUEENSLEE APPÉTIT
Like what you see? Make sure you're following Queenslee Appétit for more tasty recipes!
Pinterest | Instagram | Facebook | Twitter |
Never miss a recipe, SUBSCRIBE at the bottom of this post!
Have any questions about the recipe? Contact me here, and I'll be happy to help!
Let's get baking!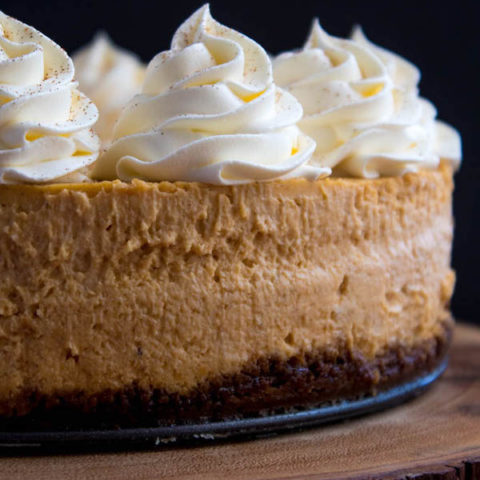 Pumpkin Cheesecake with Gingersnap Crust
Yield:
One 9-inch cheesecake
Cook Time:
1 hour
50 minutes
Total Time:
11 hours
50 minutes
Rich and creamy pumpkin cheesecake paired with a spiced gingersnap crust! This is the perfect dessert to enjoy after your Thanksgiving dinner.
Ingredients
Crust:
2 cups (200g) gingersnap cookie crumbs (about 35 cookies)
3 Tbsp granulated sugar
1/2 cup Unsalted Butter, melted + extra to grease the pan
Pumpkin Cheesecake:
4 (8-ounce) packages full-fat cream cheese, room temperature
1 cup light brown sugar, packed
1/2 cup granulated sugar
1/2 tsp salt
1 Tbsp. cornstarch (or 2 Tbsp. all purpose flour)
2 tsp Pumpkin Pie Spice
1/2 cup sour cream, room temperature
2 cups pumpkin purée
1 Tbsp. pure vanilla extract
3 large eggs, room temperature
2 large egg yolks
Sweetened Whipped Cream:
1 cup heavy whipping cream, chilled
2 Tbsp. powdered sugar
1 tsp. vanilla extract
Cinnamon or pumpkin pie spice, for dusting
Instructions
For the Crust:
Preheat the oven to 350F. Make sure the rack is positioned in the centre of the oven. Grease sides of one 9-inch springform pan with butter and add parchment rounds to bottom.
In a food processor or using a rolling pin and a large Ziploc bag, crush gingersnap cookies into fine crumbs. In a medium bowl, mix together the cookie crumbs and 3 Tbsp of sugar. Add 1/2 cup melted butter and using a fork, combine the ingredients.
Transfer mixture to the greased 9-inch springform pan and, using the flat bottom of a glass or measuring cup, press into the bottom and up the sides of the pan. Bake the crust until its slightly darkened, 8-10 minutes.
Take 2 large pieces of aluminum foil and lay them in a cross. Place springform pan in the centre and fold aluminum up to the sides to cover the outside of the pan. Repeat this at least 2 to 3 more times. This ensures that no water seeps into the pan during the water bath. Set aside to cool.
For the Pumpkin Cheesecake:
In the bowl of an electric mixer fitted with the paddle attachment, or in a large bowl using a handheld mixer, beat the cream cheese, both sugars, salt, cornstarch, and pumpkin pie spice on medium-low speed until creamy, about 1-2 minutes.
Scrape down the sides of the bowl and add sour cream, pumpkin purée and vanilla and continue beating until smooth.
Add eggs and yolks one at a time, beating slowly until just combined, do not overbeat. Scrape sides and bottom of the bowl with a rubber spatula to make sure everything is combined.
Pour the cheesecake onto the cooled crust and place into a larger pan. Bring a few cups of water to a boil and carefully pour into the larger pan. The water should only be a few inches up the sides of the pan. Do not go over the top.
Bake at 350F for about 1 hour and 30 minutes to 1 hour and 40 minutes. The cheesecake is done when the edges are set and the center jiggles slightly.
Turn off oven and crack the door open and leave the cheesecake to cool for 1 hour. This helps prevent cracking.
After an hour, remove cheesecake from waterbath and aluminum foil. Run a knife around the edge of the pan so it's not sticking to the sides and allow to cool completely on a rack.
Refrigerate cheesecake until firm and chilled, about 8 hours or overnight.
For the Sweetened Whipped Cream:
In a medium stainless steal bowl, using a handheld mixer, whip the chilled cream until it reaches soft peaks.
Add the powdered sugar and vanilla and beat until cream holds peaks.
Once cheesecake is cooled, remove from springform pan and transfer to serving plate.
Pipe sweetened whipped cream around the edges of the cheesecake. Sprinkle cinnamon or pumpkin pie spice on top, if desired. Enjoy!
Notes
Store Cheesecake in an airtight container in the refrigerator for up to 3 days.
Recommended Products
As an Amazon Associate and member of other affiliate programs, I earn from qualifying purchases.
Did you make a recipe?
I'd love to see how it turned out! Follow me on Instagram and use the hashtag #queensleeappetit so I can see all of the Queenslee Appétit recipes you've made!
Bon Appétit!
Love, Dedra ❤️
©QUEENSLEE APPÉTIT. All images & content are copyright protected. Please do not use my images without prior permission. If you want to republish this recipe, please re-write the recipe in your own words, or link back to this post for the recipe.
This post may contain affiliate links. Please see my full disclosure policy for details.