Big, fat, juicy beef and beer burgers topped with a spicy aioli, loads of bacon and a delicious unique Guinness Beer Cheese Sauce! These mouth-watering beer burgers are perfect for Father's Day or Game Day!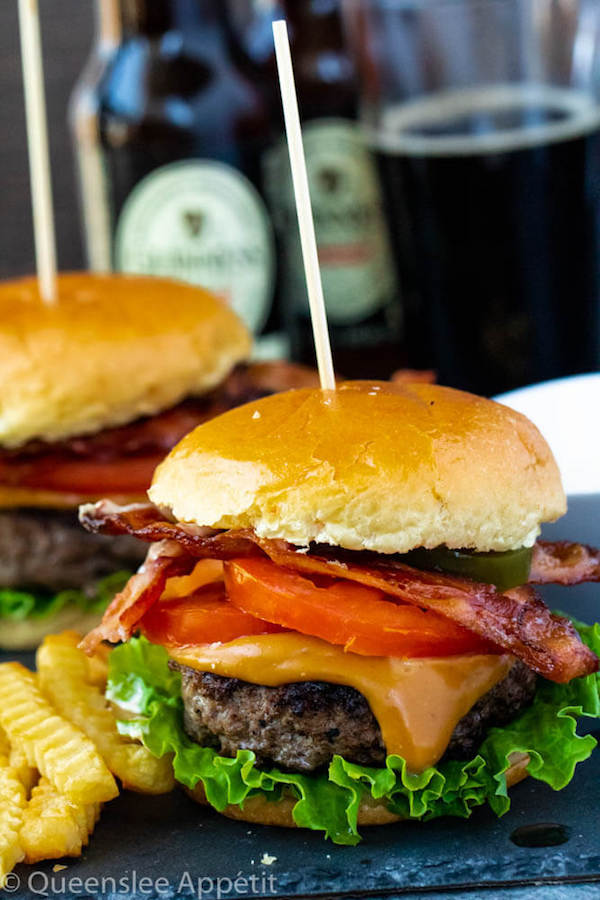 This post may contain affiliate links. Please see my full disclosure policy for details.
Beer Burgers with Beer Cheese Sauce
Here we go, another Father's Day recipe! I know, I know "where are the Fourth of July/Canada Day recipes??" They're coming, I promise. But for now, I have yet another recipe to celebrate good dads, and nothing says "I love you, Dad" like beer and burgers.
But when you put them together and throw on some beer flavoured cheese sauce for good measure? That's a worthy Father's Day gift that'll make Dad super proud!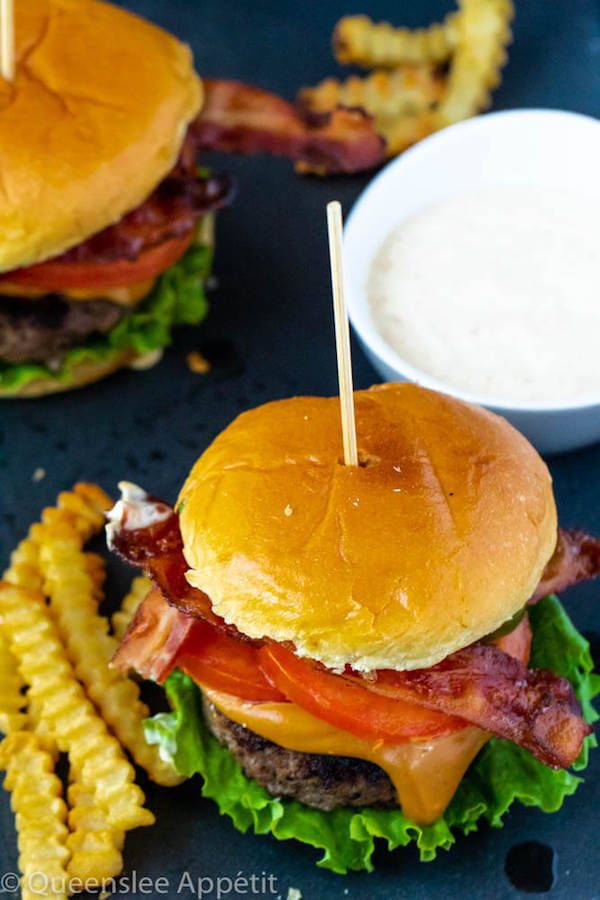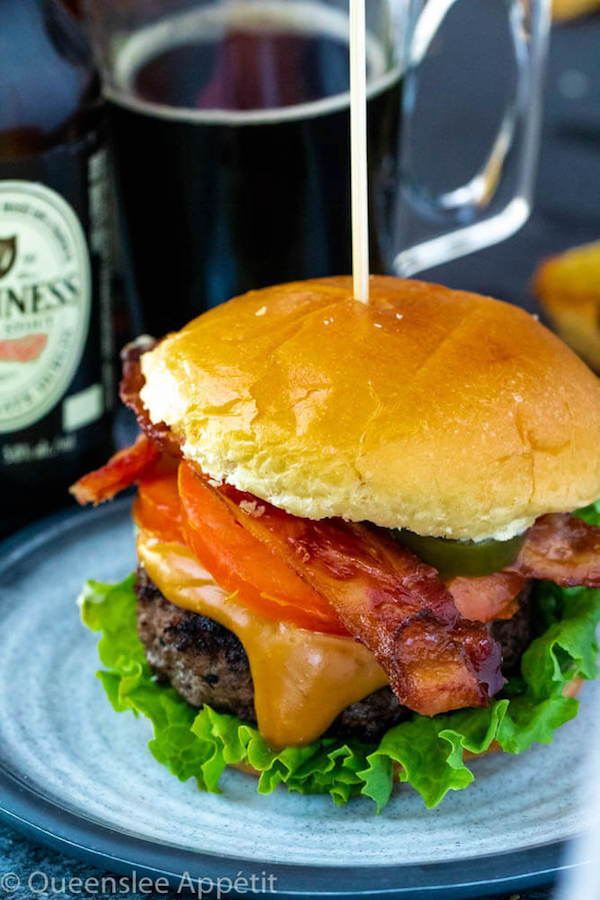 How to Make Beer Burger Patties
I know a lot of people say the best burgers only need salt and pepper, but I wanted to make these burgers extra special. I mean they are beer flavoured after all!
So for my burger patties, I started by adding ¾ cup of Guinness to a small saucepan and reduced it down to ¼ cup. I do this with almost all of my beer recipes because cooking alcohol on the stovetop is a great way to enhance its flavour when adding it to a recipe.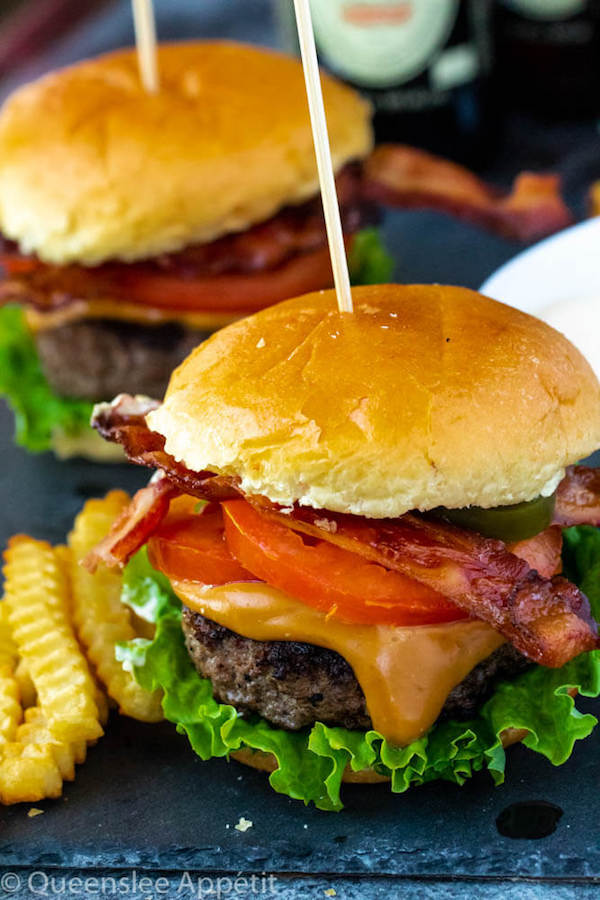 After reducing the beer, allow it to cool completely. I did this step the night before so I just allowed it to chill in the refrigerator overnight.
Now to make the actual patty, in a large bowl add the lean ground beef (80/20 lean-to-fat-ratio is best), along with the beer, Worcestershire sauce and dijon mustard. And for seasoning, add some salt, pepper, garlic powder and onion powder.
Then use your hands to mix it all together! I was a little afraid about adding the beer at first because I didn't think it would blend in well, but it surprisingly did! The beef soaked it all up just like I wanted.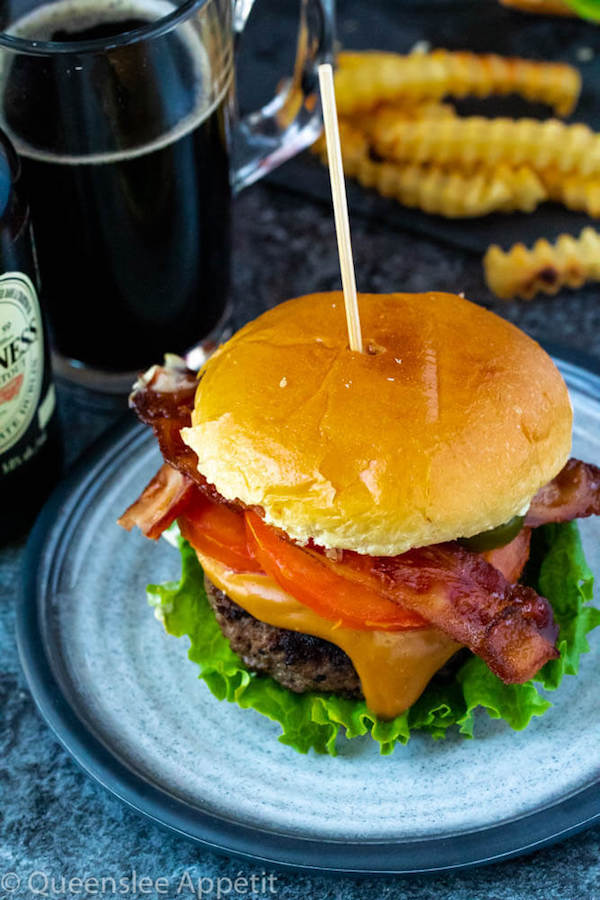 How to Shape the Perfect Hamburger Patty
This is one of the parts that had me stressing a lot. Should I buy a burger press? How thin or thin should the patty be?
Then I discovered the perfect hamburger shaping tool: a LID! That's right! A simple lid from a jar (or anything else that has a lid) can create perfectly shaped, evenly thick hamburger patties.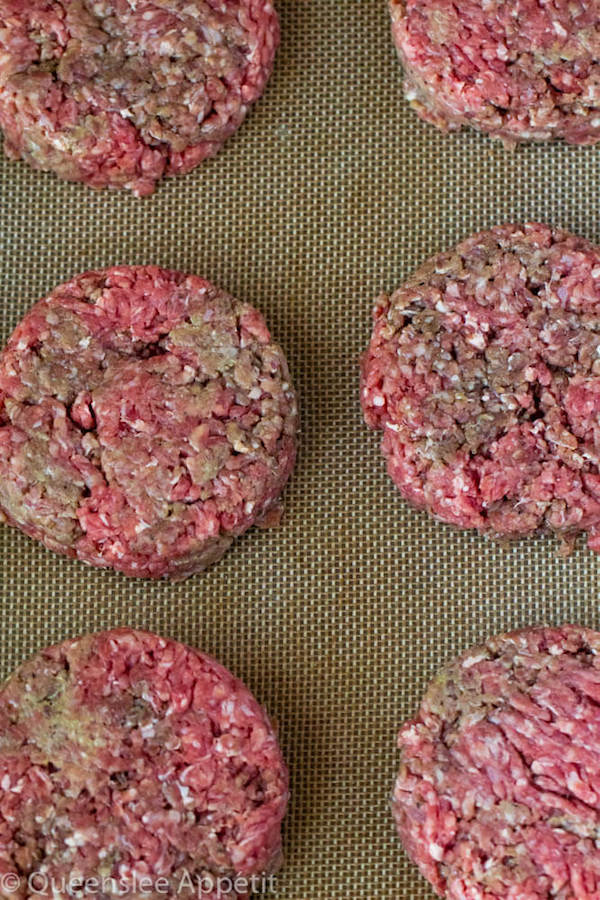 What Size Lid Should I Use?
It's all about your hamburger buns. I mean could you imagine having a hamburger that's like 90% bun and 10% patty? I wouldn't mind it the other way around, but we want our burger patty to burger bun ratio to be almost 50/50.
But here's the thing about burger patties, they always shrink when you cook them. So don't find a lid the exact size of your hamburger buns, use a lid that's slightly bigger so when the patty is done cooking it'll shrink down to the same size as the bun.
For example, my hamburger buns were pretty small, about 7 and ½ - 8"inches, so I had to find a lid that was 9-10"inches in size (a lid from a peanut butter jar).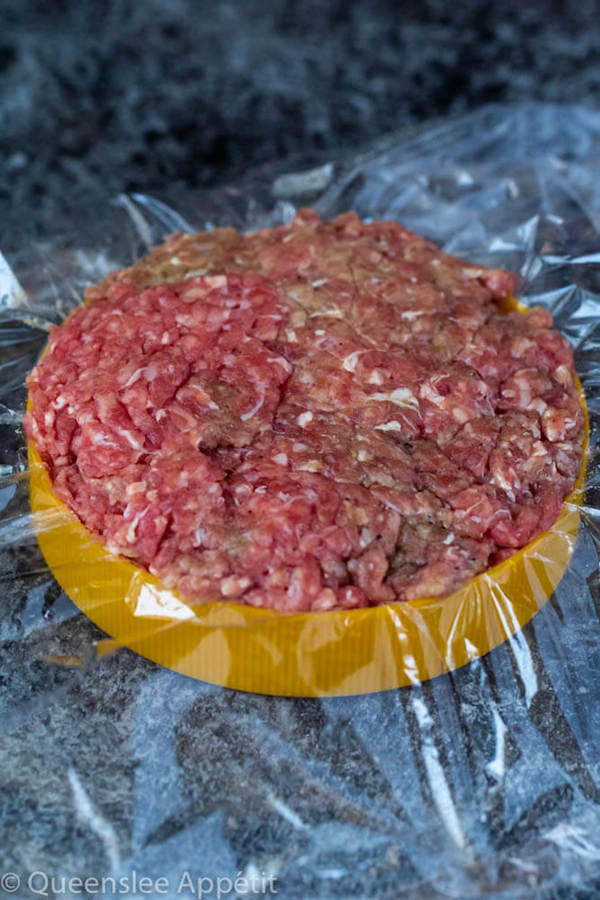 The actual process is super easy, start by placing a sheet of plastic wrap over the lid. Then add a dollop of meat into the lid, I used a large ice cream scoop to divide the meat.
Now place one side of the plastic wrap over the meat and gently press and pat it down into the lid. If there's too much meat spilling over the sides, you can trim it off. If there isn't enough to fill the lid, you could add more.
Remove the plastic from the top of the patty, then while holding the lid, flip patty over onto a parchment or silpat lined baking sheet and gently jiggle and shake and the patty should pop right out with no issues.
Repeat with the rest of the meat and you should end up with multiple perfectly shaped patties! Speaking of which, the amount you end up with depends on how big or small your burger patties are. So with 2 pounds of beef and 9 and ½ inch patties, I ended up with 11 but you can make more or less depending on the size of your lid.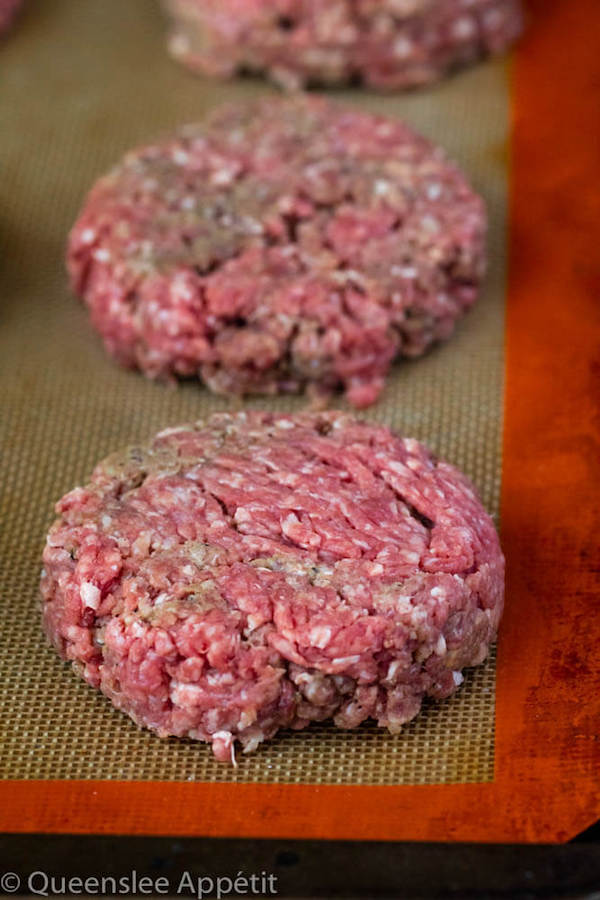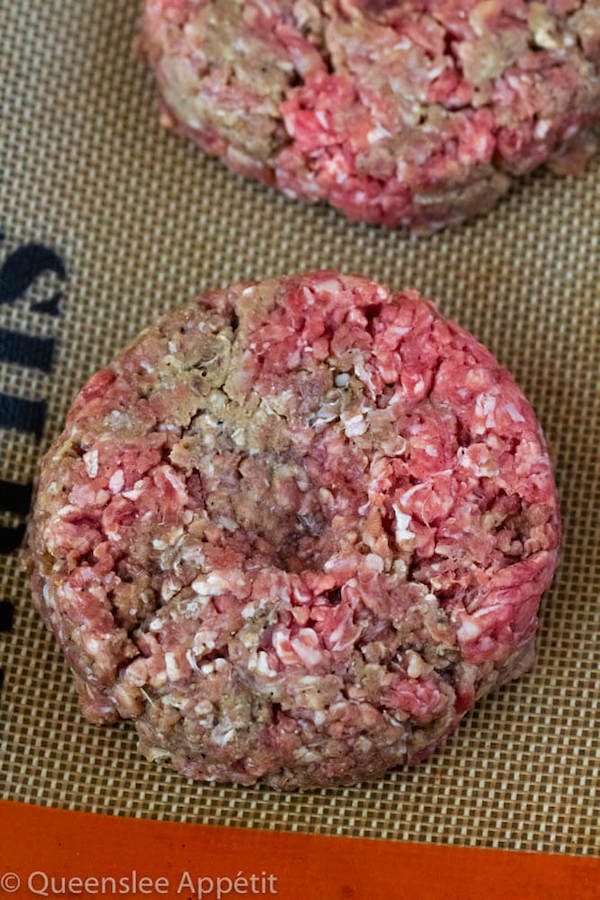 How Long Should I Cook My Hamburgers?
You can cook these burgers on the grill if you want, but this recipe is for the stove top. I used a cast iron skillet pan, but a grill pan could work too.
Make sure the pan is sizzling hot when you add the patties. To flip them, I used 2 spatulas just to prevent them from falling apart. A thin spatula to slide under the patty, then I flipped it onto the second spatula before gently sliding it back into the pan.
Now when it comes to cooking times, it all depends on how you like your burgers. According to thekitchn, the cooking times are:
Medium-Rare: 6 minutes total
Medium: 7 to 8 minutes total
Medium-Well: 9 minutes total
Well Done: 10 minutes total
These times can vary depending on the thickness of your burger patty and the type of pan you use. My burger patties were about ¾"inch thick, but the type of pan I used gets really, really hot so it only took me 7 minutes total to get to well done.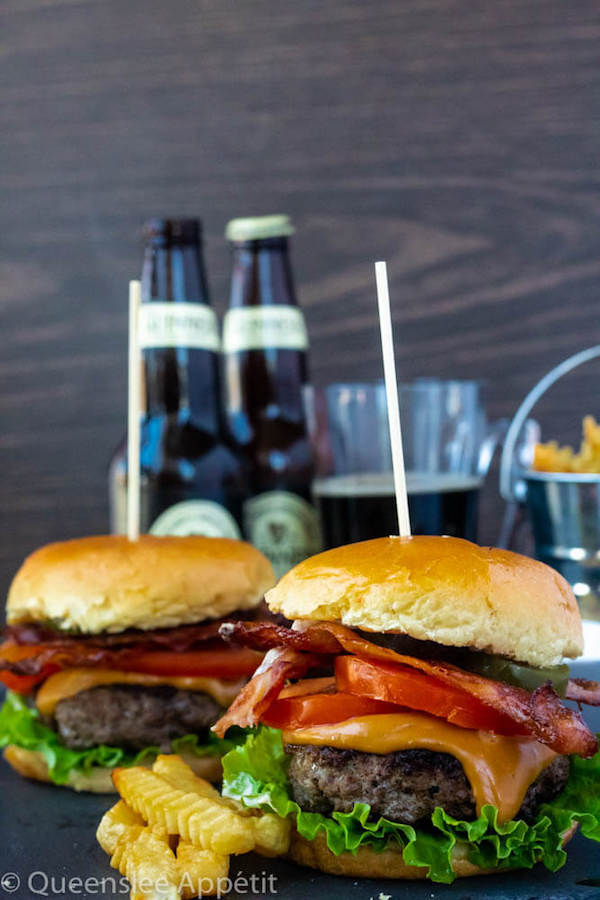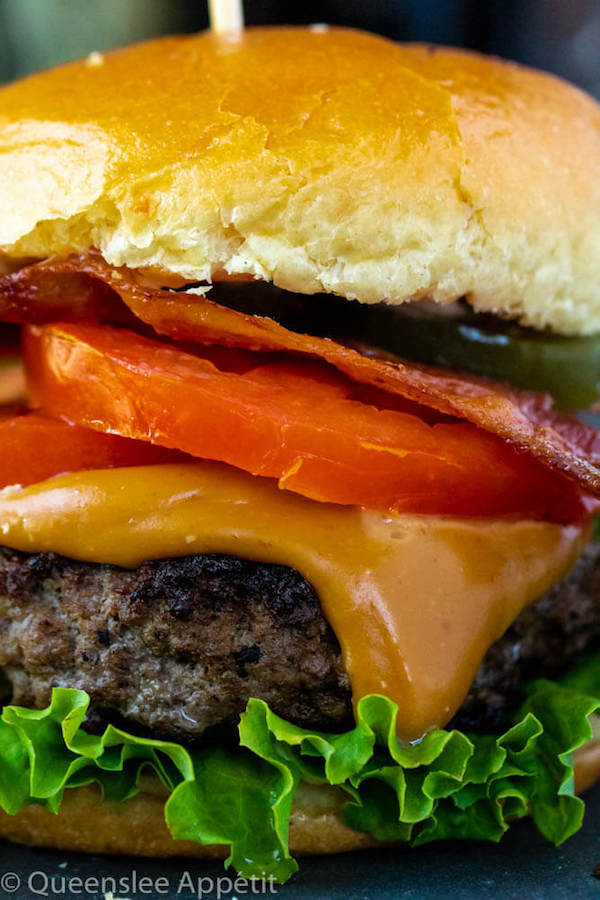 Beer Cheese Sauce
I was gonna make this a regular cheeseburger and just top it with sliced cheese, but then my mind went to these Loaded Cheese Fries I made last year.
My favourite thing about those cheese fries was the delicious silky cheese sauce, so a lightbulb went off in my head and I thought "why not make that cheese sauce and smother these burgers with it?" And since these are beer burgers, let's make the cheese sauce beer flavoured too!
I know it may sound weird to some, but if you're a beer lover then this will sound and taste heavenly to you!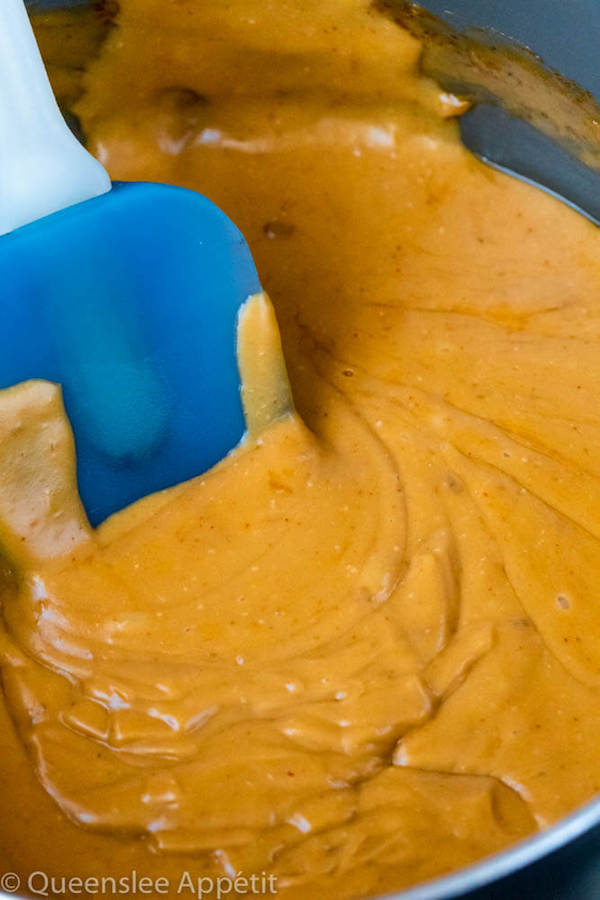 How to Make Beer Cheese Sauce
To make the beer cheese sauce, we begin by making a roux. Combine an equal amount of butter and flour, then cook until it begins to bubble. Now usually I'd stir in some milk at this point, but this time I replaced it with Guinness!
As you can see, the cheese sauce is a dark golden colour. That's because I used extra dark beer. If you want a lighter cheese sauce, you could use blonde beer! Stir the beer into the roux until it thickens up.
Once thickened, stir in 2 cups of cheddar cheese, 1 cup at a time until it's melted and smooth. Lastly, season it with a bit of salt, garlic powder and cayenne.
The longer the sauce sits, the quicker it'll begin to set up and form a skin so you'll want to spoon it on top of the burgers immediately after making.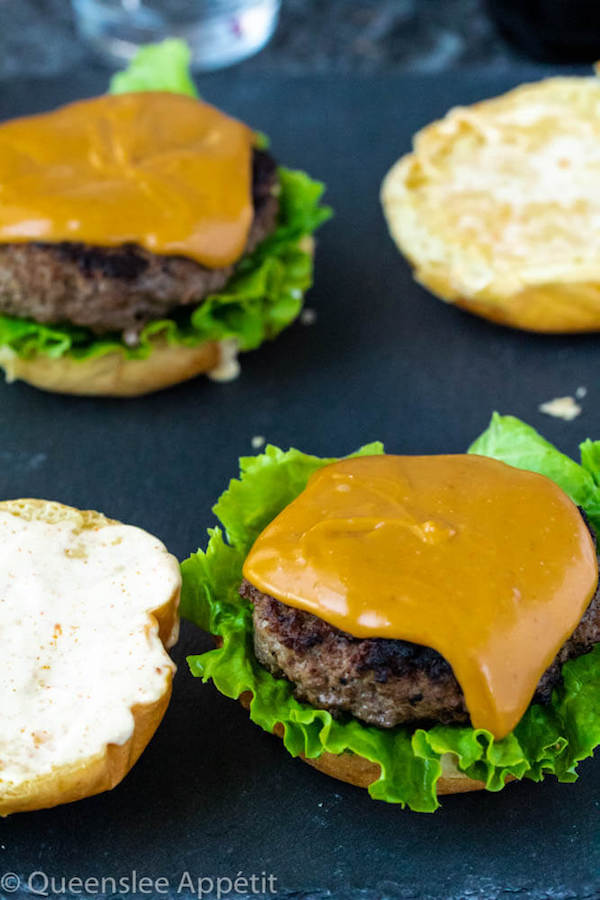 Assembling the Burgers
I used Brioche burger buns, but only because I couldn't find any pretzel buns at my local grocery store. I think pretzel buns would pair perfectly with these beer burgers. I mean beer and pretzels make a great match anyways, so I figured the same could be said for beer burgers and pretzel hamburger buns right?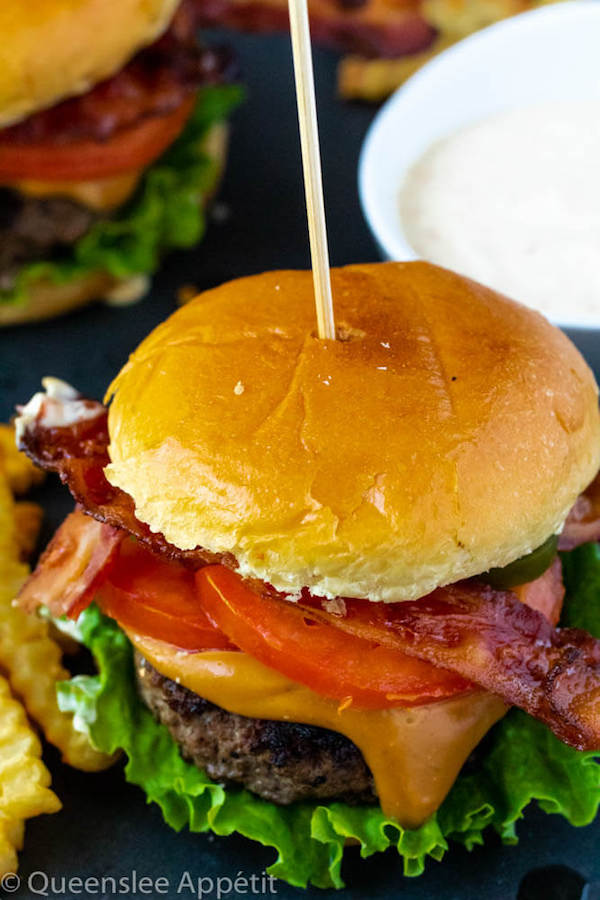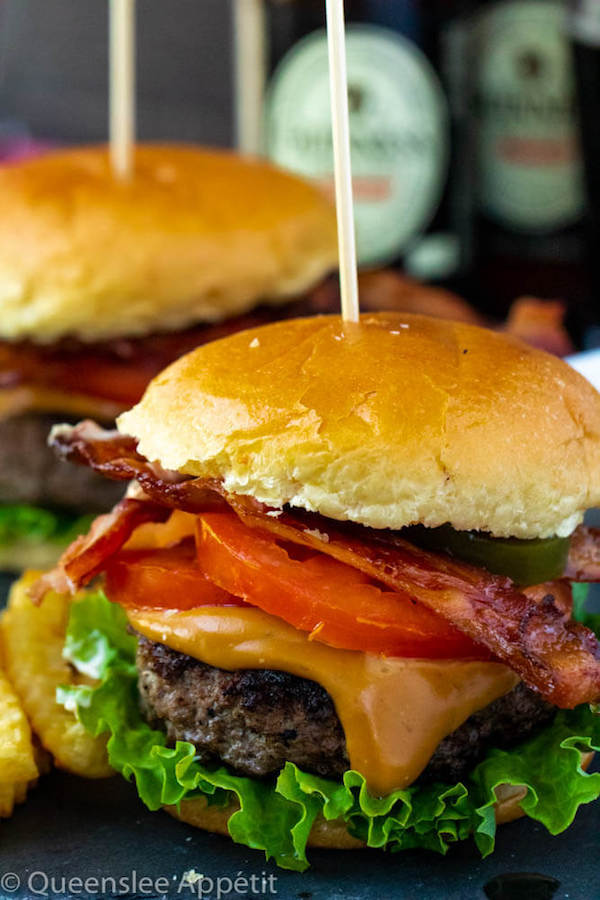 You can assemble these burgers with any toppings you choose. My favourite toppings are lettuce, tomatoes, jalapeños, my amazing spicy aioli and super crispy bacon!
Poor little ole me was trying to eat healthier, then I ended up eating both burgers in the photos and I don't even like beer! Oh well, better luck next time.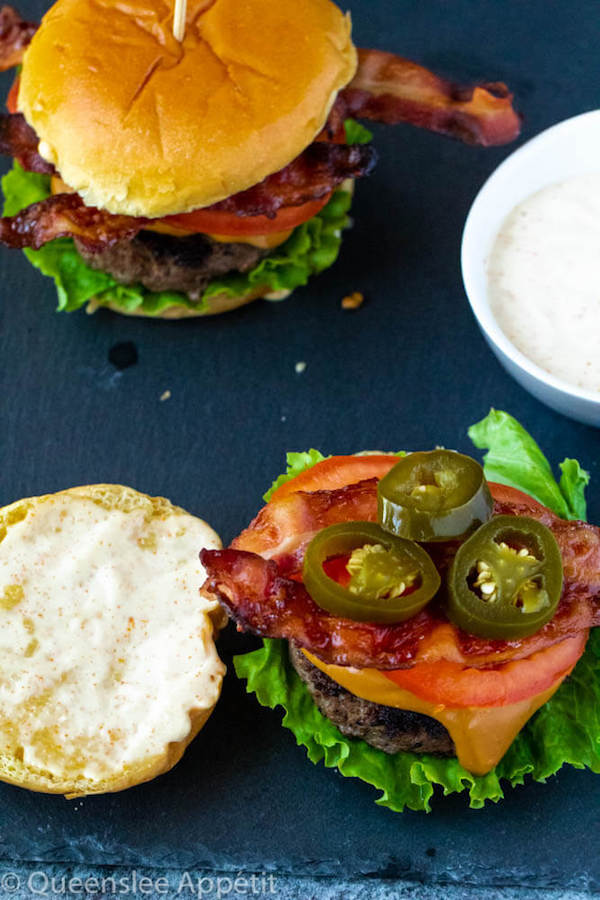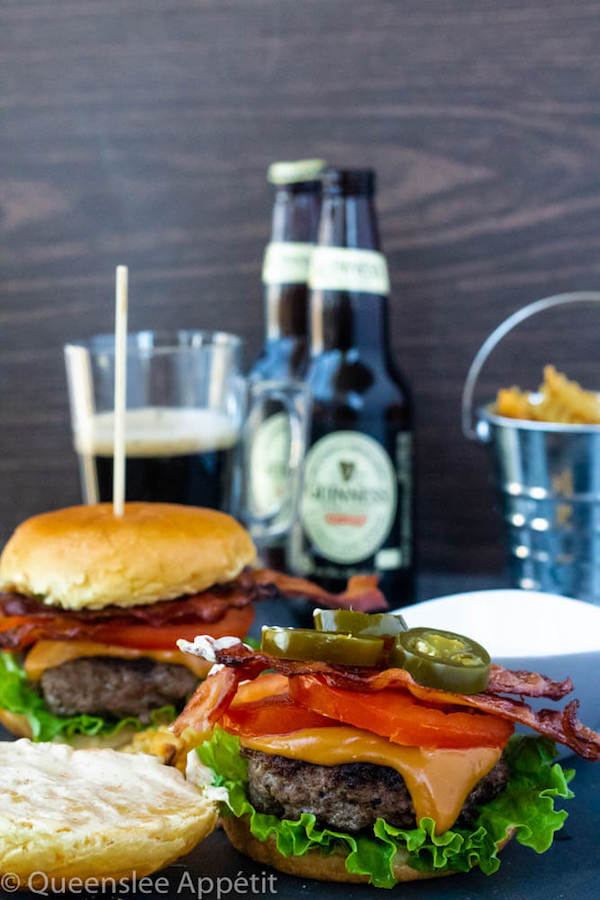 And don't forget to take photos and tag me on Instagram @queensleeappetit or use the hashtag #queensleeappetit so I could see your gorgeous creations!
>>PIN THIS FOR LATER<<
FOLLOW QUEENSLEE APPÉTIT
Like what you see? Make sure you're following Queenslee Appétit for more tasty recipes!
Pinterest | Instagram | Facebook | Twitter |
Have any questions about the recipe? Contact me here, and I'll be happy to help!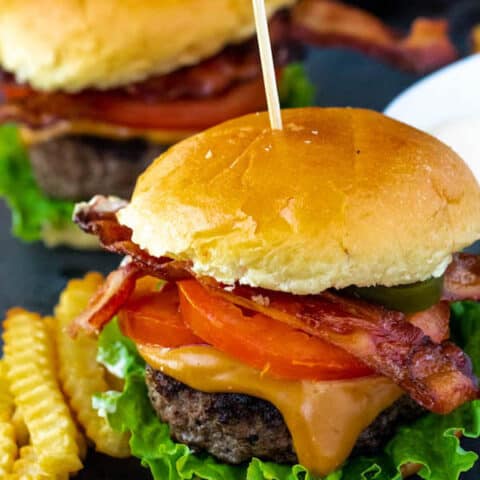 Beer Burgers with Beer Cheese Sauce
Total Time:
1 hour
30 minutes
Big, fat, juicy beef and beer burgers topped with a spicy aioli, loads of bacon and a delicious unique Guinness Beer Cheese Sauce! These mouth-watering beer burgers are perfect for Father's Day or Game Day!
Ingredients
Beer Burger Patties:
¾ cup Beer
2 pounds lean ground beef, (80/20 lean-to-fat ratio)
2 tablespoon Worcestershire sauce
1 and ½ tablespoon Dijon Mustard
1 and ½ teaspoon salt
1 and ½ teaspoon freshly ground black pepper
2 teaspoon garlic powder
1 teaspoon onion powder
Oil, for cooking
Beer Cheese Sauce:
¼ cup unsalted butter
¼ cup all-purpose flour
1 cup Beer (I used Guinness, but you could use your favourite brand of beer)
2 cups shredded cheddar cheese
¼ teaspoon salt
½ teaspoon garlic powder
¼ teaspoon cayenne pepper (optional)
To Assemble:
Brioche Buns (or any type of burger buns you prefer), toasted
Fresh green leaf lettuce
Ripe Tomatoes, sliced
4-6 slices crispy bacon
Jalapeños
Instructions
For the Beer Burger Patties:
Add the Guinness to a medium saucepan over medium-low heat and cook until the beer has reduced to ¼ cup, this took me about 20-25 minutes but it can be shorter or longer for you.
To test if the beer has reduced to the right amount, pour it into a liquid measuring cup. If you have too much, pour back into the saucepan and return to the stove and continue to cook, checking every now and then until you are left with the right amount. Set aside to cool completely. You can transfer it to the refrigerator to speed up the cooling process.
In a large bowl, add ground beef, cooled beer, Worcestershire sauce, dijon mustard, salt, pepper, garlic powder and onion powder. Mix to combine, you can use your clean hands.
Line a baking sheet with a silpat mat or parchment paper. Check the post above for tips on how to shape your burger patties. Once each patty is shaped, cover the baking sheet with plastic wrap and transfer to the refrigerator and chill the patties for an hour. This will help them hold together better when cooking.
Once chilled, heat up 1 tablespoon of oil in your pan (see notes) over medium-high heat. Meanwhile, press a dent into the middle of each patty. This should prevent the patties from shrinking too much while cooking.
Place the burger patties in the pan, working in batches. The oil should be sizzling hot, if not turn up the heat. Make sure there's space between each patty. Cook for 3-5 minutes on one side, gently flip and cook for another 3-5 minutes. Look at the post above to see the best burger cooking times for medium rare, medium, medium well, and well done burgers.
Place burgers on a paper towel lined plate. Meanwhile, prepare the beer cheese sauce.
For the Beer Cheese Sauce:
Add the butter to a medium saucepan and heat over medium heat until melted.
Once butter has melted, add the flour and whisk until mixture begins to bubble and foam. Continue to whisk for another 1 minute.
Slowly pour in the beer while whisking constantly. Once beer is incorporated, allow it to reach a simmer, whisking occasionally. Continue to simmer until milk mixture begins to thicken, it should coat the back of a spoon.
Turn off the heat and add cheese, 1 cup at a time, stirring after each addition until completely melted. If the cheese isn't melting, turn the stove back on to the lowest heat to help.
Once all the cheese has been melted, stir in the salt, garlic powder and cayenne. Taste the sauce and adjust the seasonings to your preference.
Assembly:
Prepare one recipe of my spicy aioli, if desired. Spread aioli on each toasted bun.
Top the buns with fresh lettuce. Place a burger patty on top and spoon on some of the beer cheese sauce. If a skin formed on top, stir to loosen.
Top cheese with the rest of your favourite toppings. Enjoy!
Notes
Because my burger patties were so small, I ended up with 11, though you may end up with more or less depending on the size of your patties.
I used a cast iron skillet pan, but you can use a grill pan or an outdoor grill if you choose but the cooking times may be different for you.
Store extra uncooked patties in a ziplock bag in the freezer for up to a month. Thaw in the refrigerator overnight before cooking.
Nutrition Information:
Yield:

11
Serving Size:

1
Amount Per Serving:
Calories:

452
Total Fat:

27g
Saturated Fat:

12g
Trans Fat:

1g
Unsaturated Fat:

12g
Cholesterol:

122mg
Sodium:

594mg
Carbohydrates:

13g
Fiber:

1g
Sugar:

2g
Protein:

32g
BON APPÉTIT!
Love, Dedra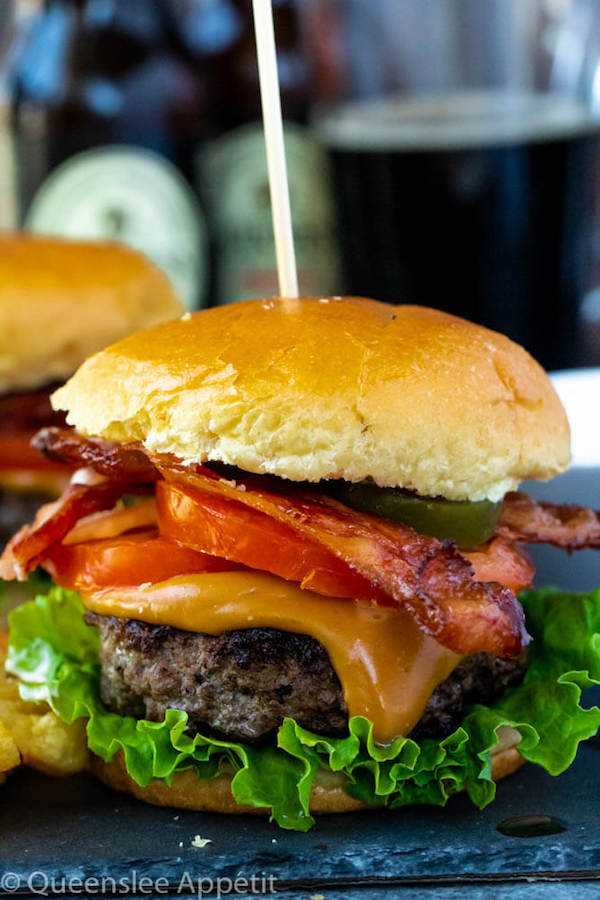 ©QUEENSLEE APPÉTIT. All images & content are copyright protected. Please do not use my images without prior permission. If you want to republish this recipe, please re-write the recipe in your own words, or link back to this post for the recipe.