This Strawberry Champagne Cheesecake is out of this world! With a pink champagne cake bottom, thick and creamy champagne cheesecake filling, and a strawberry sauce and strawberry champagne whipped cream topping, this is the ultimate dessert to celebrate New Years Eve!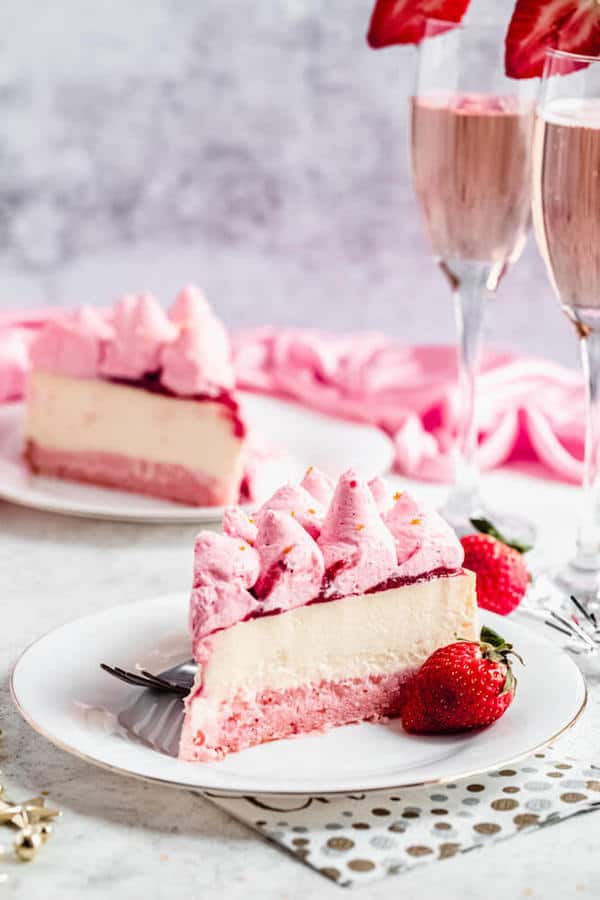 This post may contain affiliate links. As an Amazon Associate I earn from qualifying purchases. Please see my full disclosure policy for details.
Photos Updated: 12/29/2019
The end of the year has arrived. I can't believe we're less than a week away from 2019! Christmas has officially come and gone, so now I'm ready for the new year, and this cheesecake is the ultimate celebration dessert! With the beautiful pink, white and gold colour scheme and the bubbly flavour we all love, this decadent dessert is the perfect way to ring in the New Year!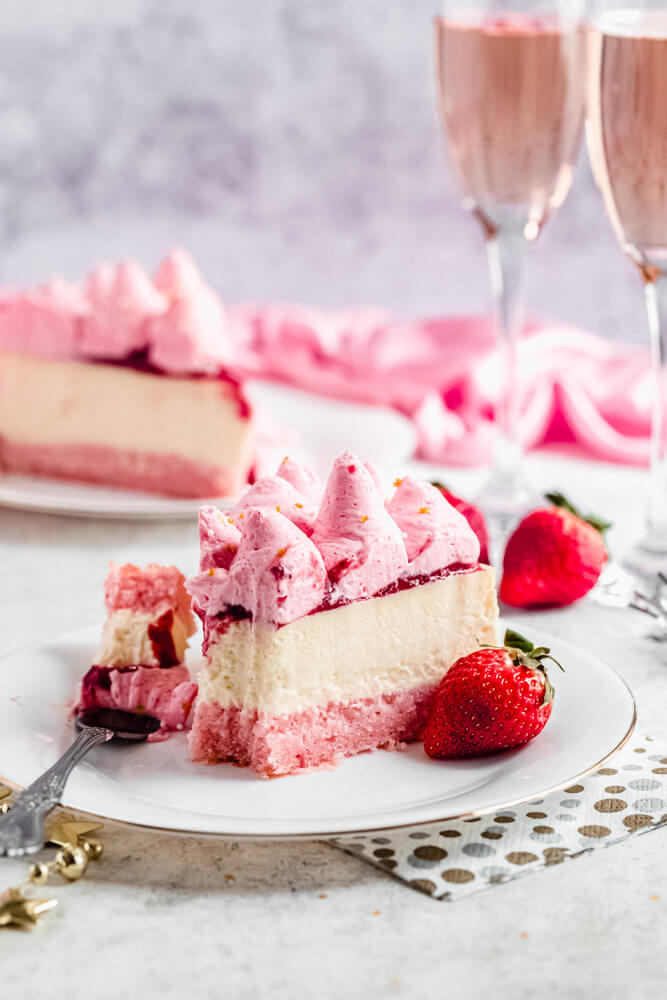 Strawberry Champagne Cheesecake
When it comes to New Years desserts, my go to is always champagne. It's a celebration drink for every occasion! And it pairs perfectly with strawberries! Last year I made this Pink Champagne Cake, and this year I wanted to make another champagne dessert, but I also wanted to add some strawberry flavour to spruce things up a bit — say hello to this Strawberry Champagne Cheesecake!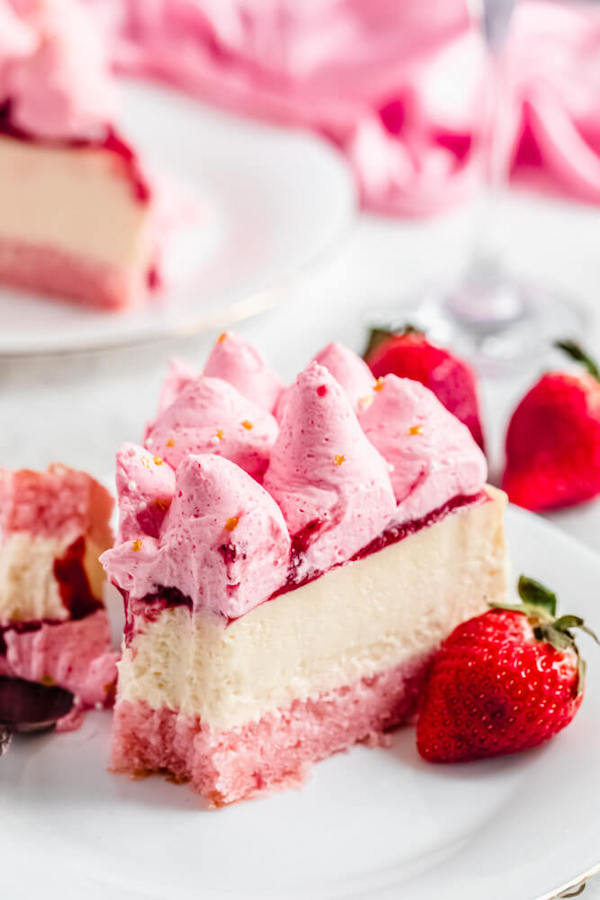 This cheesecake is absolutely stellar! The bottom starts with a pink champagne cake, then a champagne cheesecake filling that's topped with homemade strawberry sauce, strawberry champagne flavoured whipped cream and edible gold stars. This dessert definitely isn't lacking in either flavour!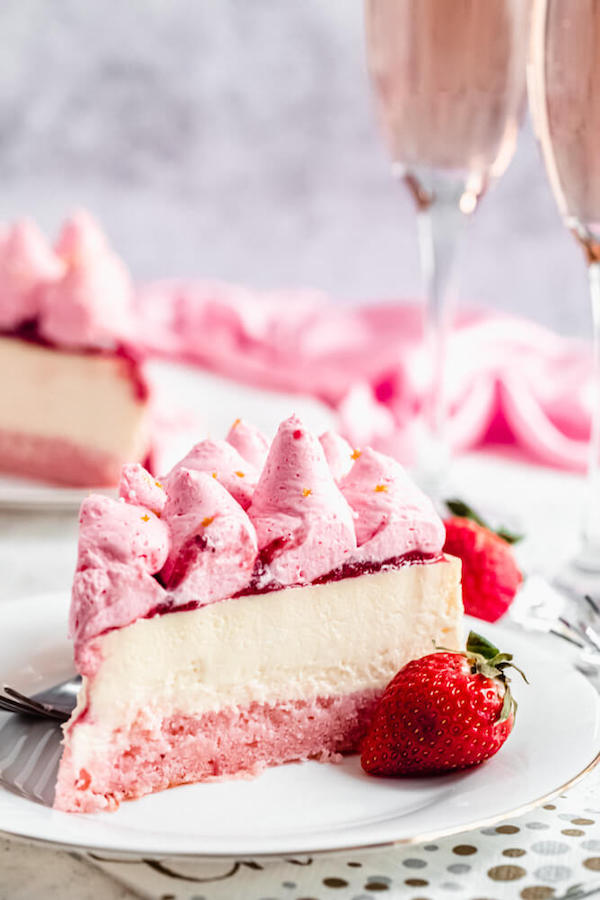 Pink Champagne Cake Bottom
This is no ordinary cheesecake, because instead of a simple cookie crust, the base of this cheesecake is a pink champagne cake!
To make the pink champagne cake, we start with the champagne. In my Pink Champagne Cake recipe, I just added the champagne to the cake straight from the bottle. This time I decided to cook down an entire bottle of champagne on the stove. Doing this strengthens the champagne flavour. I mean this is a champagne dessert, so we gotta make sure we taste the champagne!
So add all the champagne to a saucepan, then cook it over medium heat until it cooks down from 2 and 3/4 cups to 1 and 1/4 cups. I don't have a certain amount of time that this will take, just pour it into a liquid measuring cup and see how much you have. It's best to do this after a few minutes because you'd rather have more and cook it down more, than have less because you won't be able to add more. Not unless you have a second bottle of bubbly.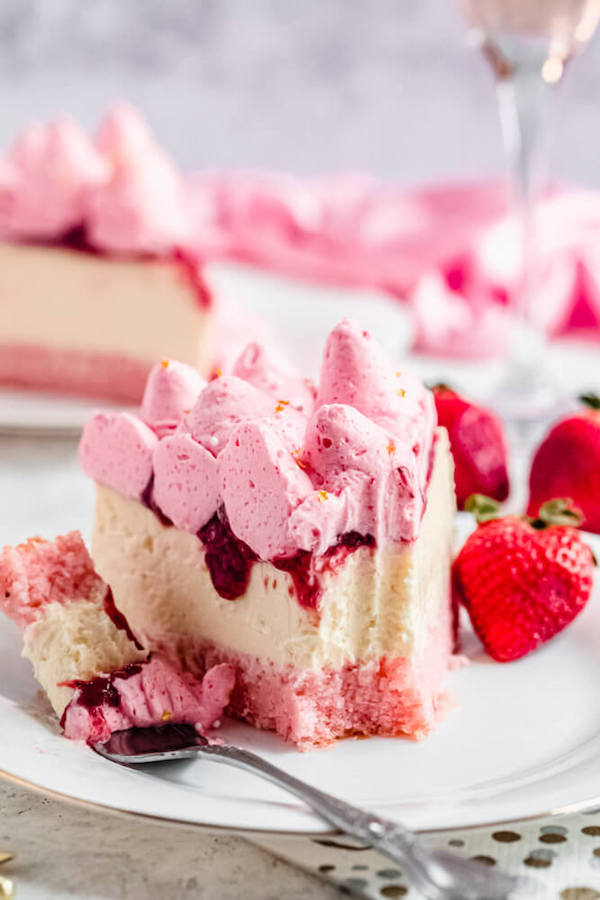 Once the champagne has cooked down to the right amount, set it aside to cool. You can put it in the refrigerator to speed up the process. While the champagne is cooling, whip up the cake batter.
To do this, we start by creaming the butter and sugar. This is a very important step as it gives the cake it's light and fluffy texture, so please make sure the butter and sugar are super pale and fluffy before moving on to the next step.
Next add sour cream for some extra moisture and tenderness, then vanilla for flavour and egg whites for structure. Lastly we need to alternate between adding the dry ingredients and the champagne. The reason we alternate between the wet and dry ingredients is to keep the batter from separating if we add the champagne all at once, or getting too thick if we add all the dry ingredients at once. We want our batter to be smooth and silky.
Before baking I tinted the batter pink to get the "pink champagne" look, but this is completely optional. If you don't tint the batter, the cake will be nice and white.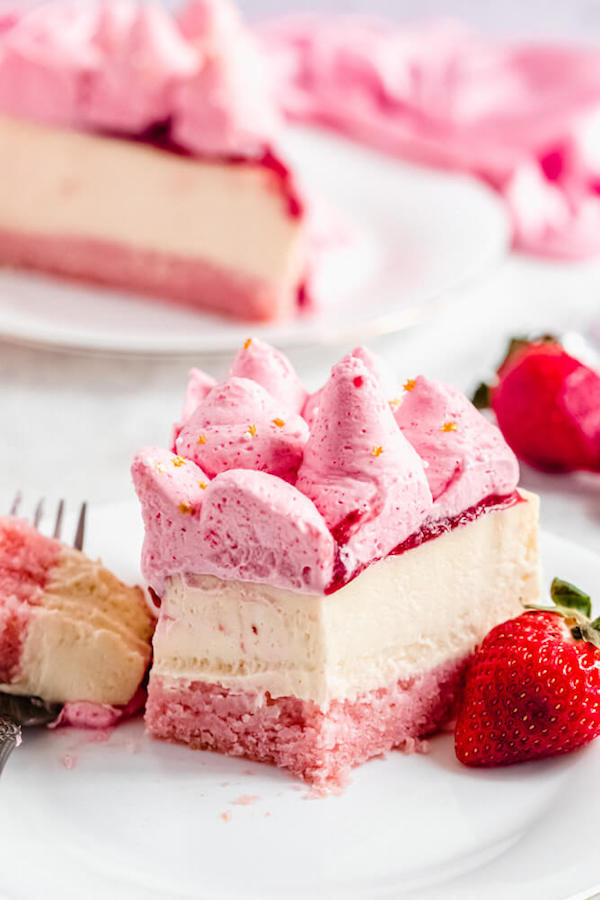 Champagne Cheesecake Filling
Ahh, yum yum yum! I'll never get enough of smooth and creamy cheesecake! The filling is your basic cheesecake recipe except with champagne added! We use some of that champagne reduction we made earlier, so the flavour can really stand out.
Once the cake base is baked and cooled, pour the champagne cheesecake filling on top, then prepare your waterbath. I've explained in the past ways to prevent your waterbath from leaking, and I'll also be making a post about it in the future.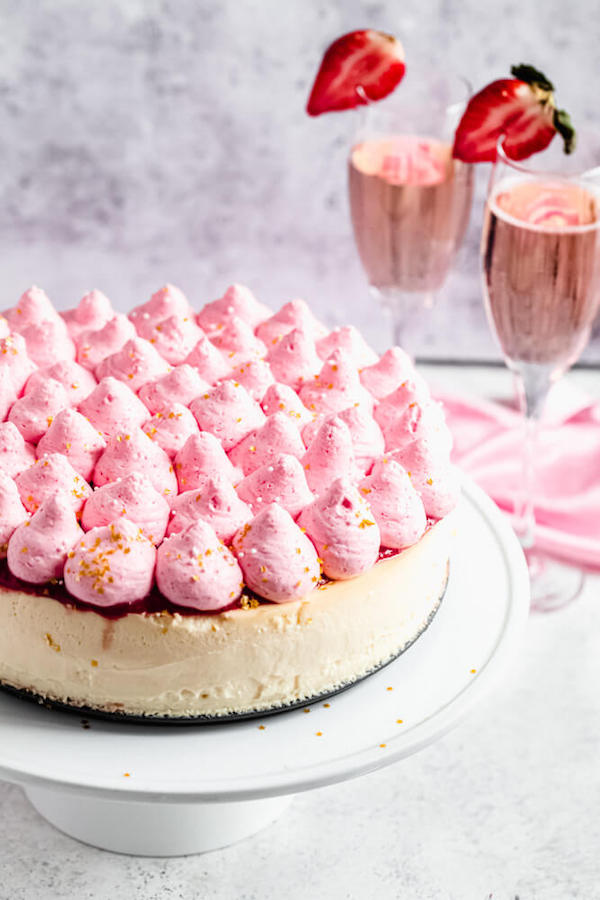 Now it sucks when your waterbath leaks and makes your crust soggy, but it can set up in the fridge, or you can scrape it off. Basically there's lots of solutions for a soggy cheesecake crust. However, the same can't be said with this recipe, because the base is a cake. I don't know about you, but soggy cakes sound less than appealing to me.
I have 3 main solutions to preventing waterbath leaks: leakproof springform pan, large sheet of heavy duty aluminum foil or a slightly larger pot or cake pan. The last option is my favourite because you will literally never ever worry about water getting to your crust because your cheesecake is completely protected by another pan! So since this recipe yields one 9-inch cheesecake, I recommend putting your springform pan in a 10-11 inch cake pan or pot, then putting the pot in a larger pan that you fill with boiling water.
No more soggy crusts!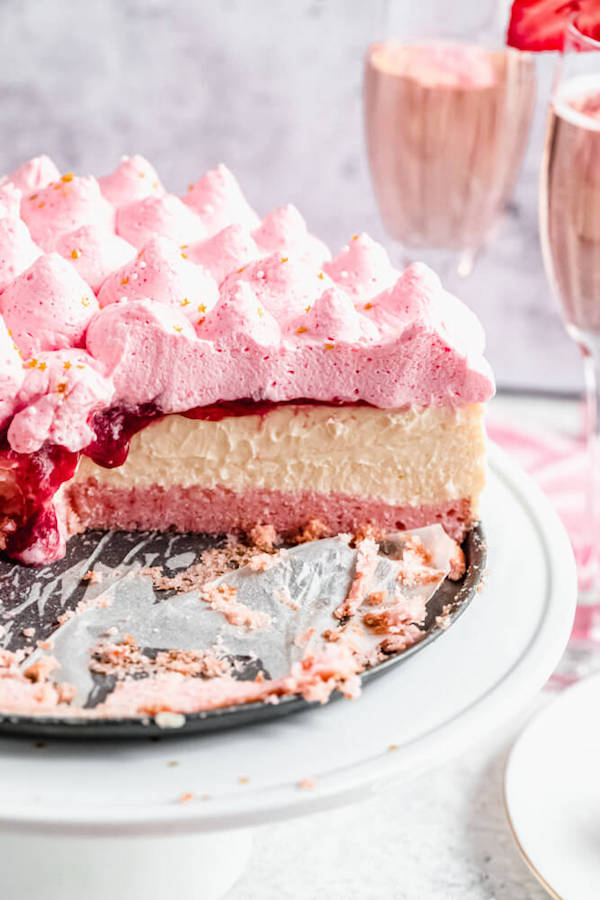 Strawberry Sauce Topping
Alright, we've discussed the champagne, now it's time to discuss the strawberry! 1 of 2 toppings for this cheesecake is a simple strawberry sauce.
Now I didn't use my Homemade Strawberry Sauce recipe like I usually do. Instead, I used a different method and cooked down some strawberries with sugar, water and lemon juice. Then, instead of adding cornstarch to thicken it, I just blended it all up. I recommend making the sauce right after you make the cheesecake, so they can both chill in the refrigerator overnight.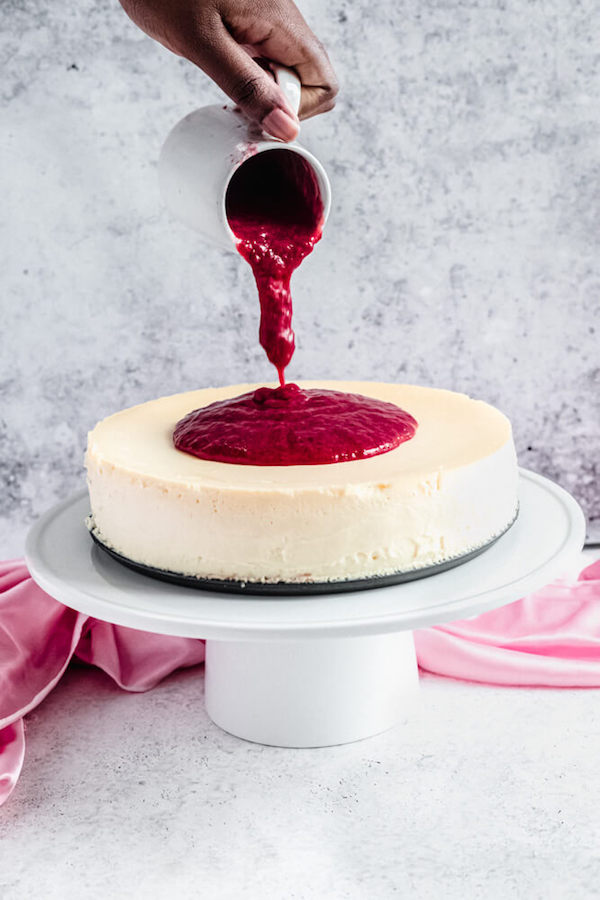 Strawberry Champagne Whipped Cream
In my opinion, every cheesecake needs a whipped cream topping. It just doesn't feel complete without it. So to finish off this cheesecake, I made some strawberry champagne whipped cream.
This is made with heavy whipping cream, the rest of that champagne reduction, a whole lotta powdered sugar and strawberry jell-o powder. Now if you want to give it a try, you can reserve 1/4 cup of that strawberry sauce and use it instead of the jell-o. I wasn't confident enough to test it out though because I thought adding the champagne and strawberry sauce would prevent the whipped cream from being thick and stable like I wanted it to be.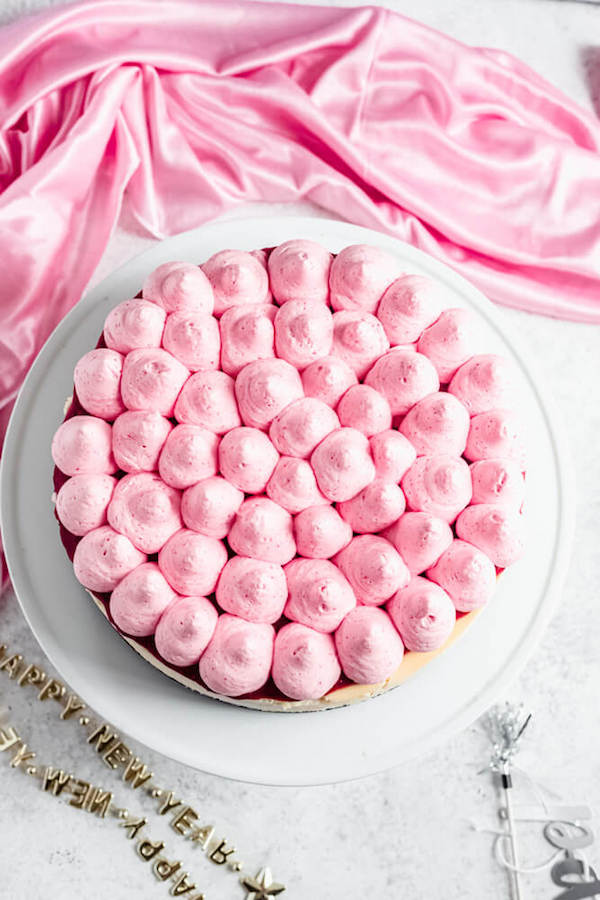 As you'll see in the recipe below, we make a lot of whipped cream. This is because I wanted to re-create the poof topping I did for this cheesecake. My round piping tip was too small so it didn't come out the way I wanted, so I recommend using a larger tip like this one to get the most gorgeous poofs.
Finish it off with some edible gold stars and you have a fun and festive treat perfect for New Years!
Enjoy my final recipe of the year, and I'll see you lovelies in the next one!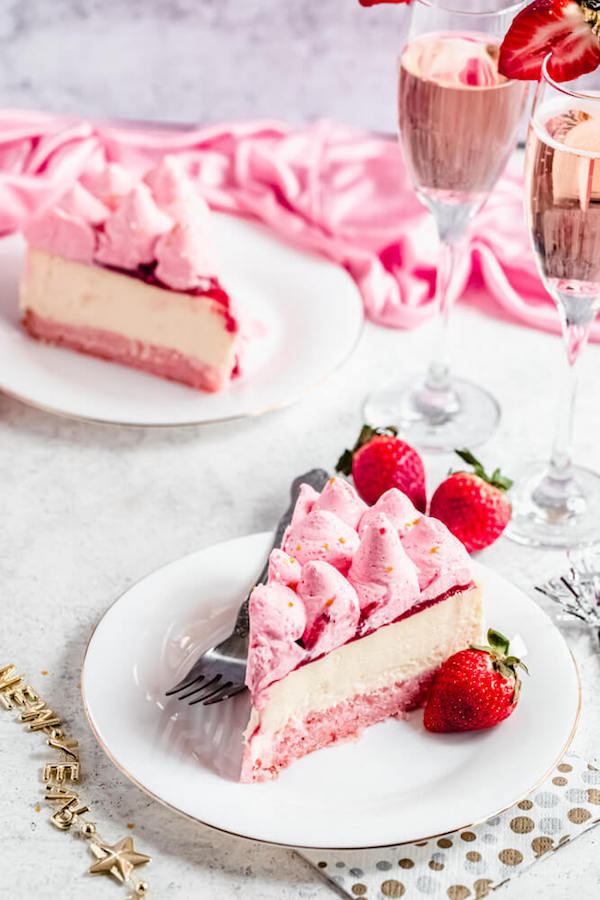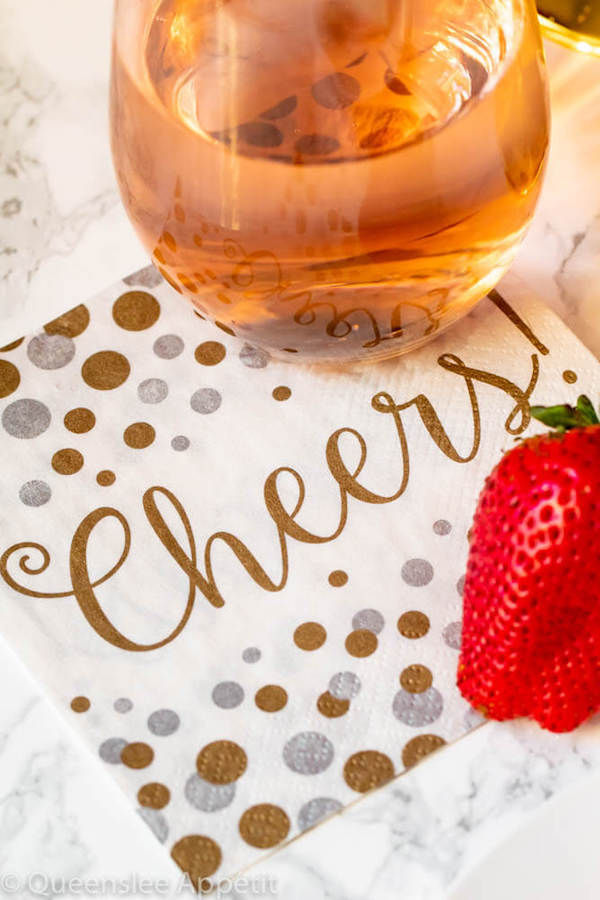 >>PIN RECIPE FOR LATER<<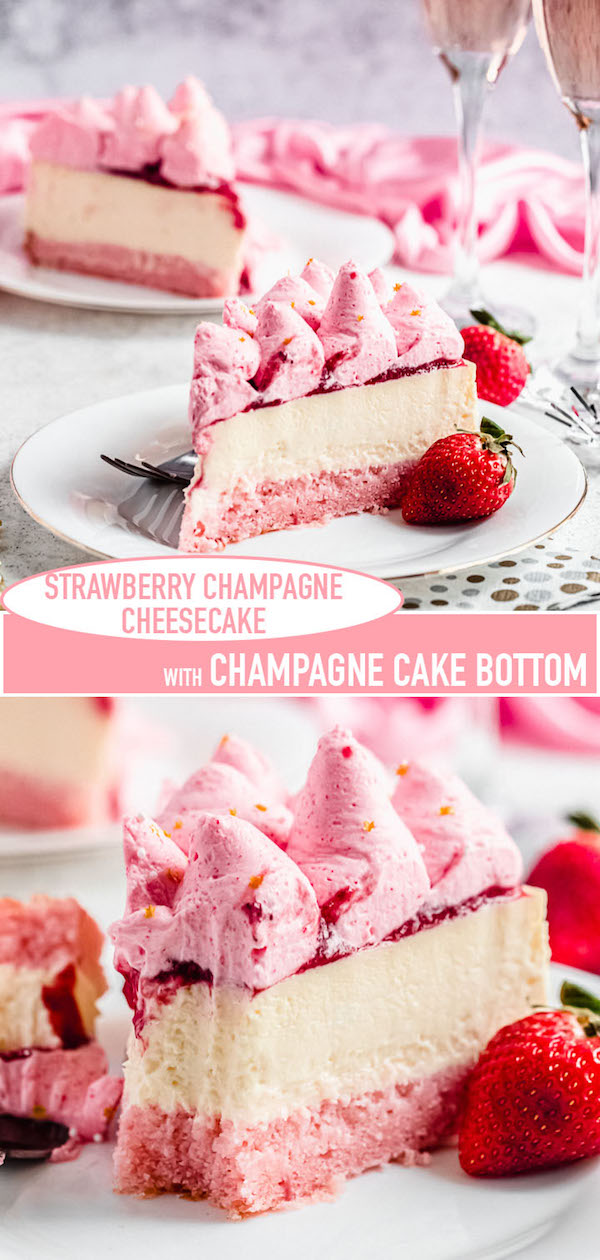 FOLLOW QUEENSLEE APPÉTIT
Like what you see? Make sure you're following Queenslee Appétit for more tasty recipes!
Pinterest | Instagram | Facebook | Twitter |
Have any questions about the recipe? Contact me here, and I'll be happy to help!
SHARE YOUR PICS!
Tag me on Instagram @queensleeappetit or use the hashtag #queensleeappetit so I could see your gorgeous creations!
Let's get baking!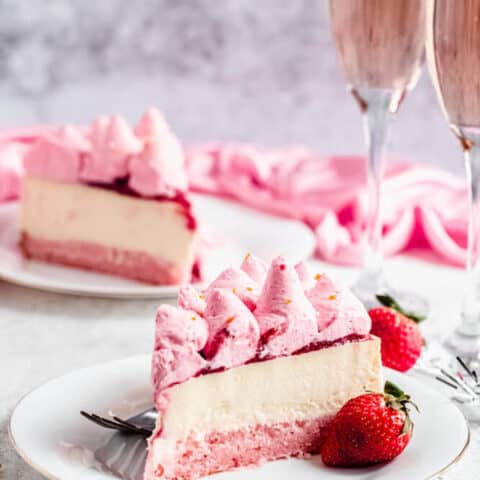 Strawberry Champagne Cheesecake with Champagne Cake Bottom
Cook Time:
1 hour
45 minutes
Total Time:
10 hours
25 minutes
This Strawberry Champagne Cheesecake is out of this world! With a pink champagne cake bottom, thick and creamy champagne cheesecake filling, and a strawberry sauce and strawberry champagne whipped cream topping, this is the ultimate dessert to celebrate New Years Eve!
BON APPÉTIT!
Love, Dedra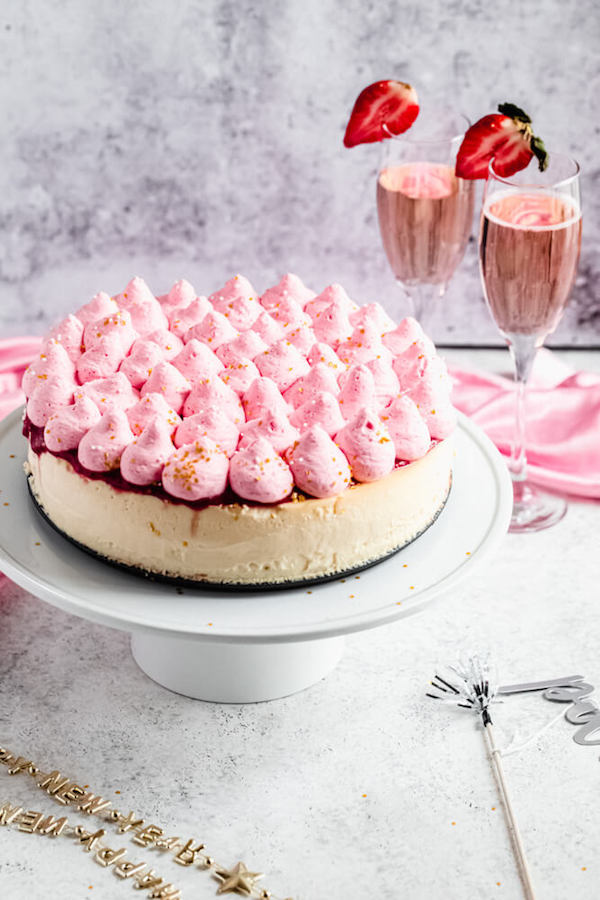 ©QUEENSLEE APPÉTIT. All images & content are copyright protected. Please do not use my images without prior permission. If you want to republish this recipe, please re-write the recipe in your own words, or link back to this post for the recipe.