This post may contain affiliate links. Please see my full disclosure policy for details.
These Lemon Meringue Sugar Cookie Sandwiches are made with a soft and chewy lemon sugar cookie and a ring of toasted meringue that is filled with creamy lemon curd. The perfect dessert for Summer!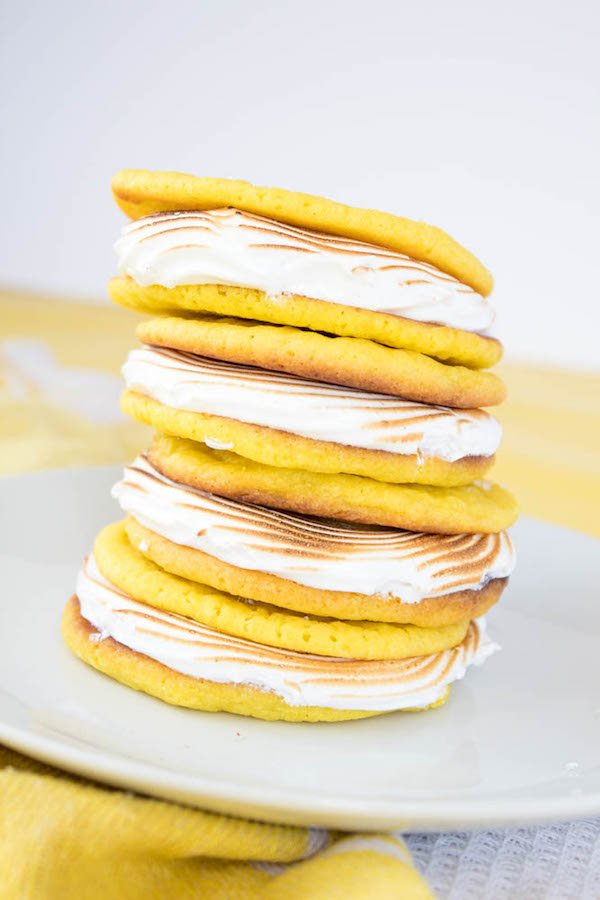 These sugar cookies are bursting with lemon flavour! I know, I know, everyone says that when it comes to lemon desserts, but hey, it's true! This is a basic sugar cookie recipe with some lemon zest and lemon juice added to give it that delectable and tangy lemon flavour. I also added some yellow food colouring to the dough, because I wanted these cookies to be a vibrant lemony yellow, but you can totally leave it out if you want.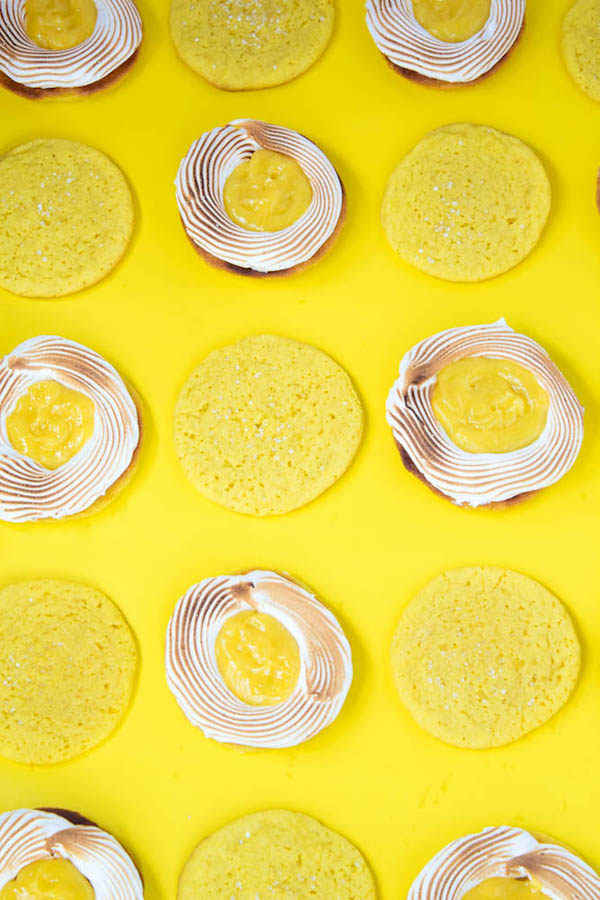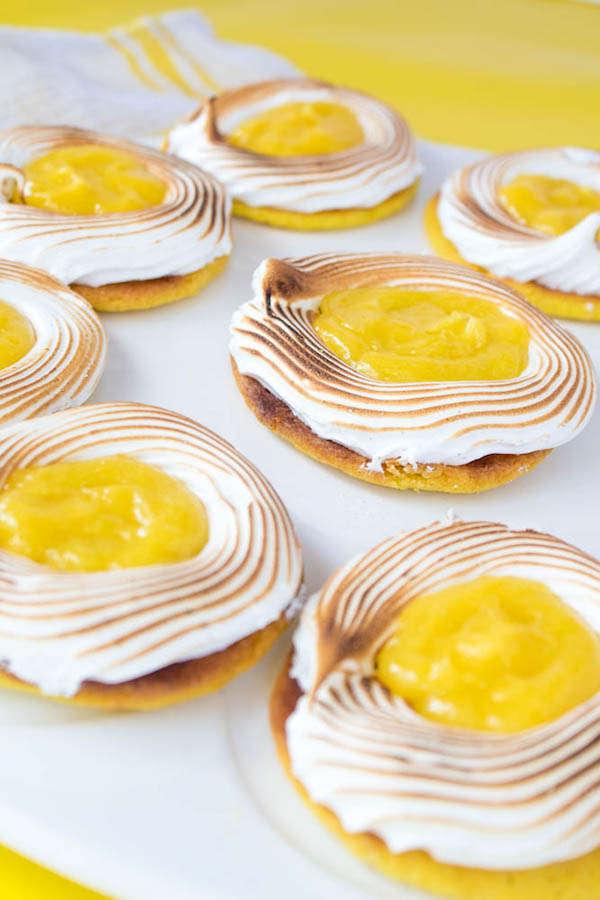 I recommend making a double batch of the lemon sugar cookies, so you could make half of them sandwiches and leave the rest plain because honestly, these cookies are absolutely amazing on their own. The edges are crispy and the centre is soft, chewy and oh so perfect! But if you've been following my blog so far you already know, we don't do plain and simple over here, we do over the top and extraordinary!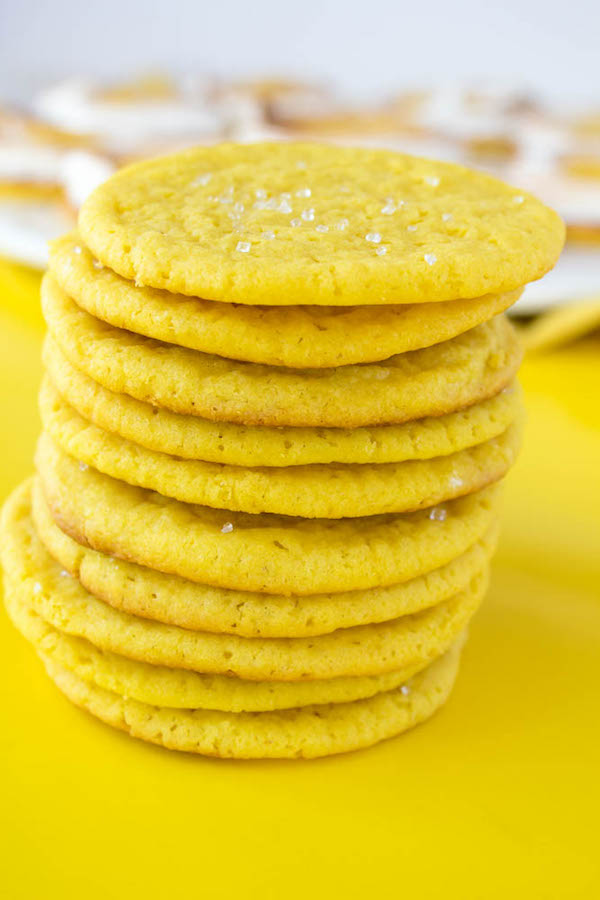 So I gave my lovely little lemon cookies an upgrade and turned them into Lemon Meringue Sugar Cookies! Which reminds me, I used my Perfect Lemon Curd recipe to fill these cookies, so if you plan on using homemade lemon curd you should make it a few hours or a day ahead of time and allow it to chill completely before using. And I 100% recommend you make homemade lemon curd. Please don't use store-bought, it is hot garbage. But my lemon curd recipe is incredibly easy to make, so give it a try.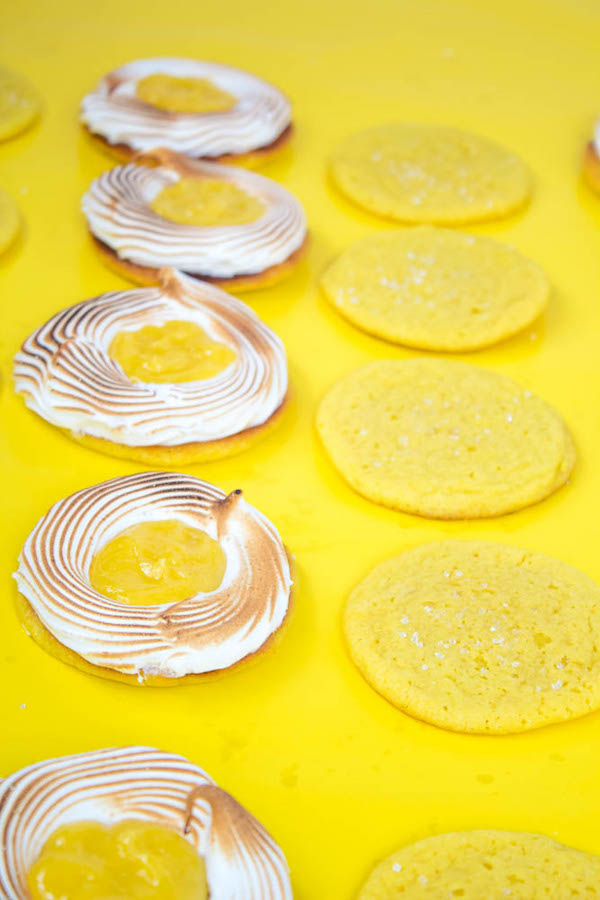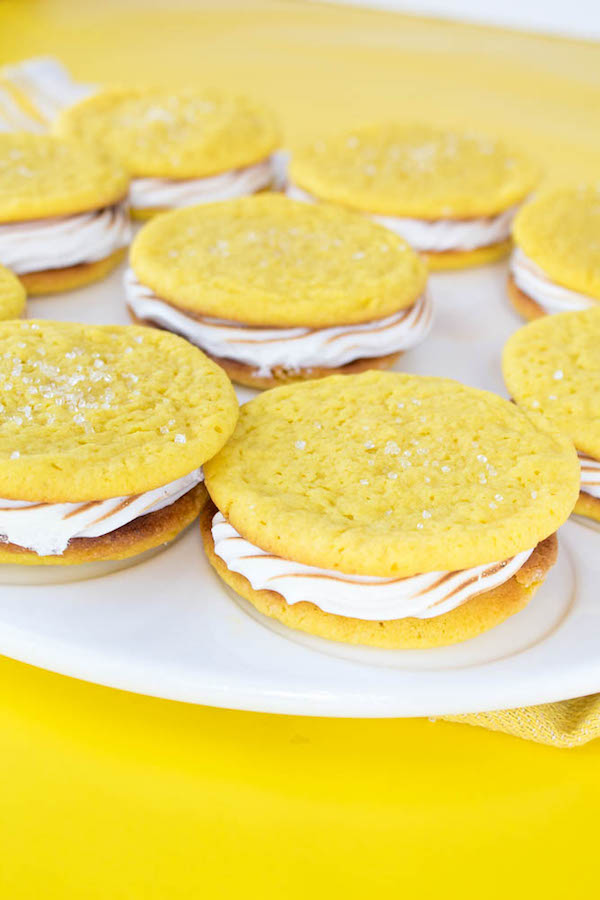 After making the sugar cookies and eating about half of them, like I did (See? a double batch is a must!), you will make a light and fluffy meringue. This meringue is super simple, all you have to do is heat the egg whites and sugar over a saucepan of simmering water, then use a stand mixer or hand mixer to whip it until it becomes a glossy, fluffy marshmallow cloud.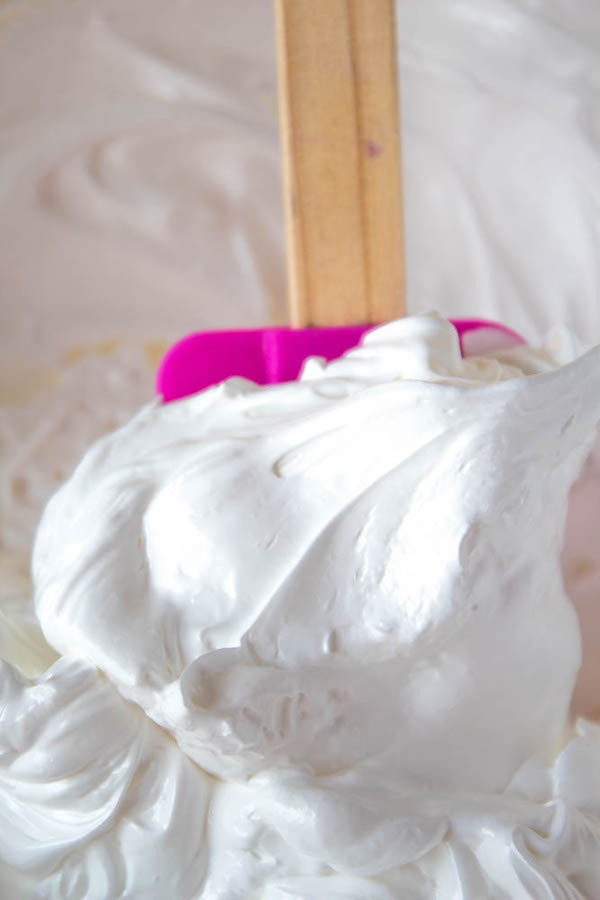 Then transfer the meringue to a piping bag fitted with a star tip and pipe a ring of meringue around the edge of the cookies. I used a kitchen torch to toast my meringue, but you could also broil the meringue in the oven for a few seconds if you don't own a kitchen torch. It might not turn out as pretty, but it'll still be delicious!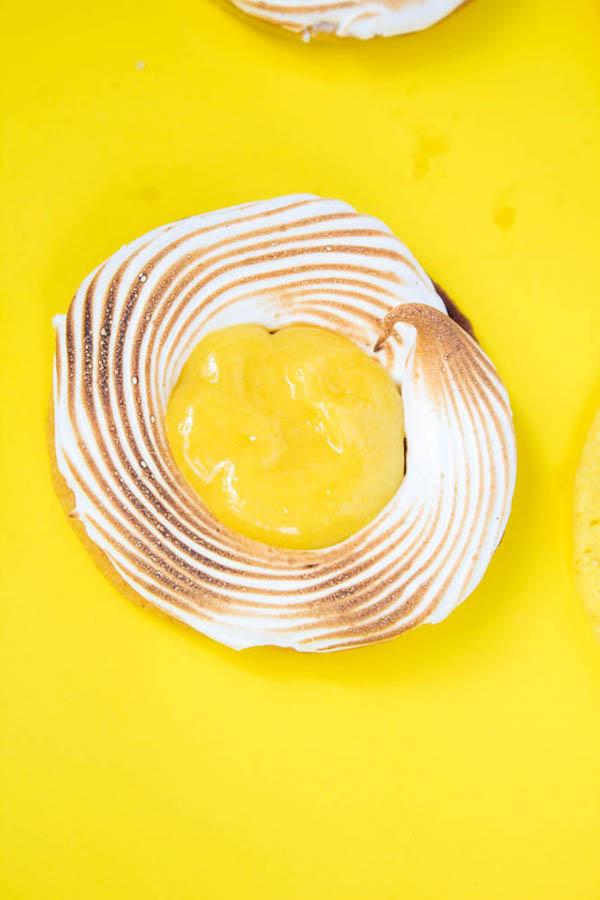 Once the meringue is nice and toasted, go ahead and fill the centres with some yummy lemon curd, then sandwich with another cookie.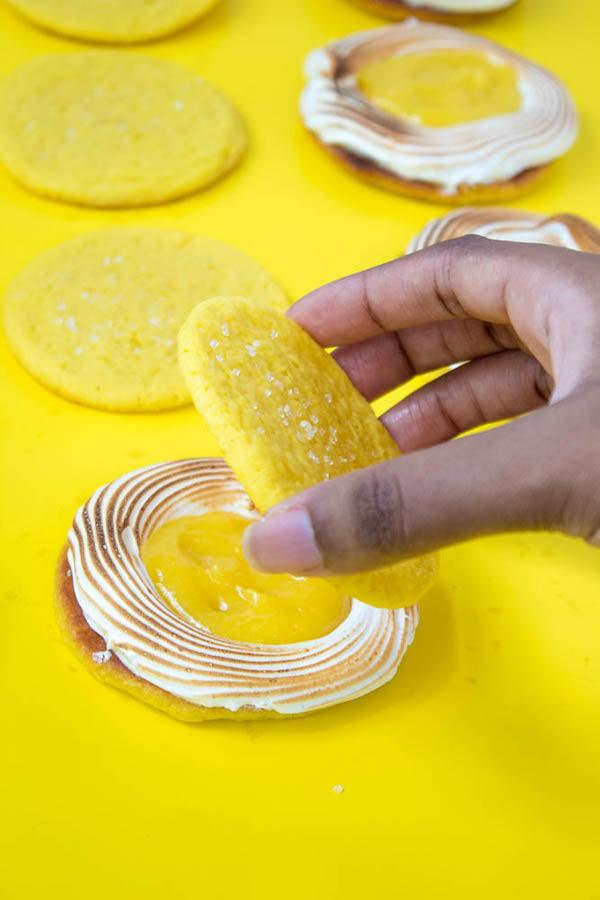 And there you have it! Lemon Meringue Pie in a cookie, how awesome is that?!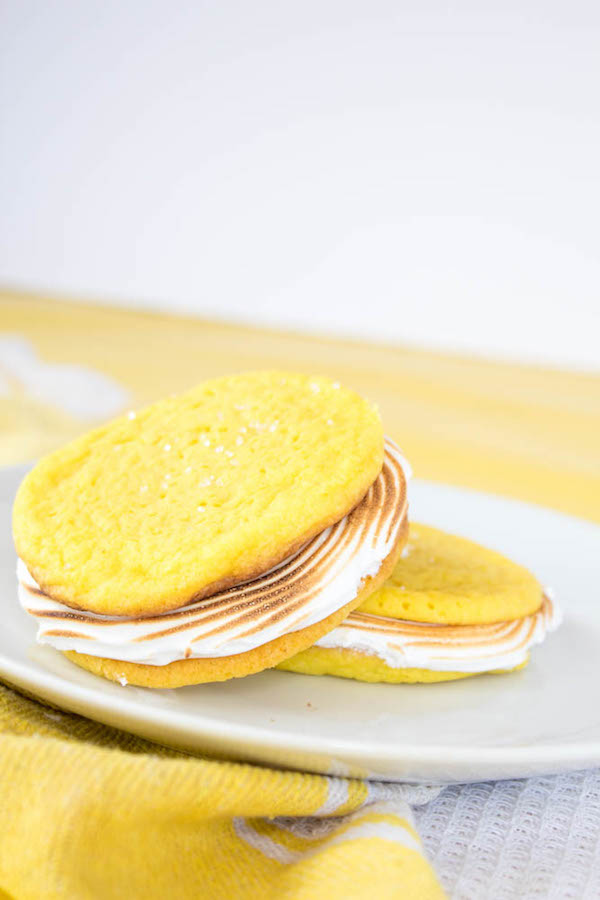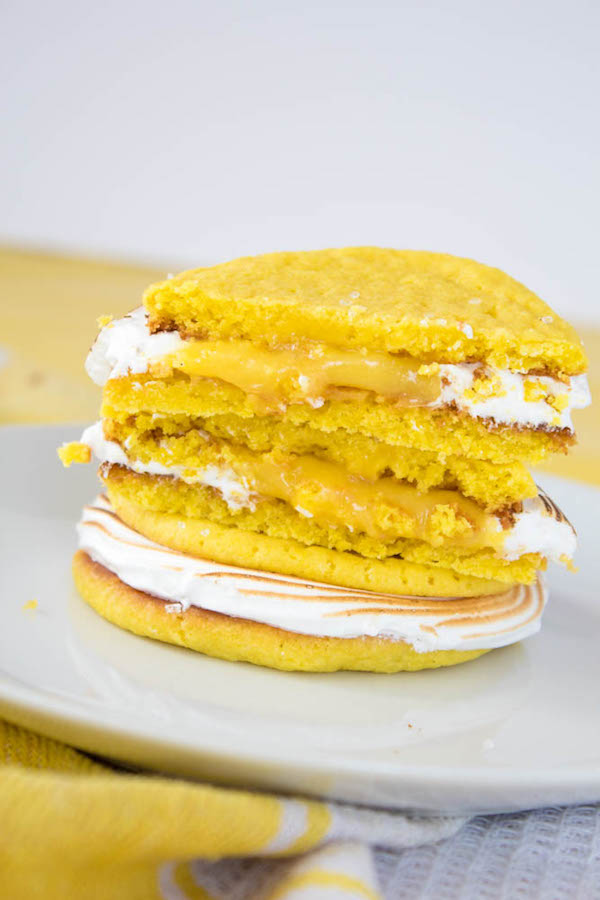 More Lemon Meringue Recipes:
Let's get baking!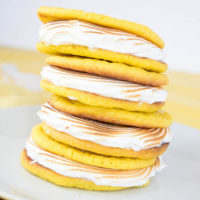 Lemon Meringue Sugar Cookie Sandwiches
Yield: 34 individual cookies, 17 cookie sandwiches

Prep Time: 20 minutes

Cook Time: 10 minutes

Total Time: 30 minutes

These Lemon Meringue Sugar Cookie Sandwiches are made with a soft and chewy lemon sugar cookie and a ring of toasted meringue that is filled with creamy lemon curd. The perfect dessert for Summer!
Ingredients
Filling:
Lemon Sugar Cookies:
1 cup (225g) unsalted butter, softened to room temperature
1 and 1/2 cups (300g) granulated sugar
1 large egg, room temperature
1 large egg yolk
1 tsp pure vanilla extract
1 Tbsp lemon zest
2 Tbsp freshly squeezed lemon juice
Few drops of yellow gel food colouring (optional)
2 and 1/2 cups (320g) all purpose flour
1 tsp baking powder
1 tsp baking soda
1/2 tsp salt
Coarse white sugar, for sprinkling (optional)
Meringue:
4 egg whites (120g)
1 cup (200g) granulated sugar
1 tsp vanilla bean paste or pure vanilla extract
Instructions
For the Filling:
Make one recipe of my Perfect Lemon Curd and allow it to chill completely before using.
For the Lemon Sugar Cookies:
Preheat oven to 350℉ (177℃). Line 2 to 3 large baking sheets with parchment paper or a silpat mat. Set aside.
In the bowl of a stand mixer fitted with a paddle attachment, or in a large bowl using a hand mixer, beat the butter and sugar on medium speed until light and fluffy, about 2-3 minutes. Use a rubber spatula to scrape down the sides and bottom of the bowl.
Add egg, egg yolk, vanilla, lemon zest and lemon juice and mix on medium-low until well combined. Add a few drops of yellow food colouring, if using, and beat until fully combined.
In a separate bowl, add flour, baking powder, baking soda and salt. Whisk to combine, then add to wet ingredients and mix on low speed until dough comes together. Do not overmix.
Using a medium cookie scoop, scoop out 2 tablespoons of dough and roll into a ball. Place on prepared baking sheet. Repeat with remaining cookie dough, spacing the cookies a few inches apart so they have room to spread.
Bake in preheated oven for 8-10 minutes, or until the edges are slightly browned. Remove from oven and immediately sprinkle coarse sugar on the tops.
Allow to cool on the baking sheet for 5 minutes, then transfer cookies to a wire rack to cool completely.
For the Meringue:
Bring an inch of water to a simmer in a medium saucepan over medium heat. Once it begins to simmer, turn heat to low so the water doesn't begin to boil.
Add egg whites and sugar to the bowl of a stand mixer or a large stainless steal or glass bowl. Place bowl over the saucepan of simmering water and whisk constantly until the sugar is dissolved and egg whites are warm (140℉). To test this without a thermometer: rub the mixture between two fingers. If it doesn't feel grainy, the sugar is dissolved and can be removed from the heat. If you still feel grains, continue whisking and testing until the sugar is fully dissolved.
Move bowl to a stand mixer, or using a handheld mixer, beat the egg whites on low speed until frothy, about 1 minute.
Gradually increase the speed to high and beat until the frosting is thick and glossy, 5-6 minutes.
Add vanilla and mix until combined.
Assembly of the Lemon Meringue Sugar Cookie Sandwiches:
Transfer meringue frosting to a piping bag fitted with a large star tip.
Pair cookies together and pipe a ring of meringue around the edge of one cookie.
Use a kitchen torch to toast the meringue. You can also place the cookies on a baking sheet and broil on the top rack of your oven, watching closely until meringue is toasted.
Fill the centre with a dollop of lemon curd and sandwich together with another cookie. Enjoy!
Notes
•You can make the dough ahead of time, just remove the dough from the bowl and wrap in plastic wrap and refrigerate or freeze until ready to bake.

•Store plain cookies in an airtight container at room temperature for up to 1 week. Filled cookies are best the same day, but will keep in an airtight container in the refrigerator for up to 3 days. Bring to room temperature before serving.

•When sandwiching the cookies, do not push down too hard or else the meringue and lemon curd will squeeze out.
Bon Appétit!
Love, Dedra ❤️
Did you make a recipe? I'd love to see how it turned out! Post a picture on Instagram and tag me @queensleeappetit and use the hashtag #queensleeappetit.