These spicy Buffalo Chicken Wings are seasoned with a blend of spices before being baked to an ultra crispy perfection then smothered in a homemade Buffalo Wing Sauce. These classic wings are super easy to make and are far better than the ones at the restaurant!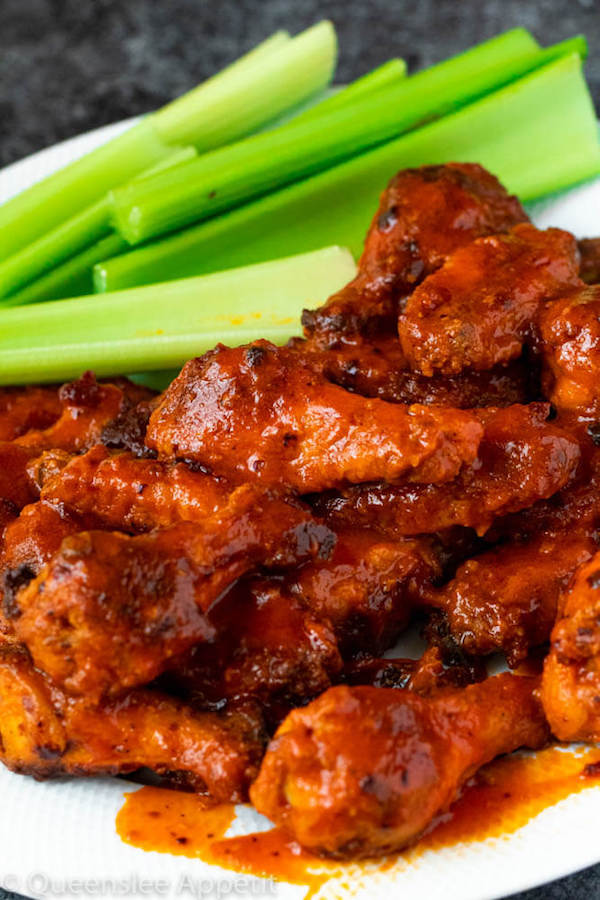 This post may contain affiliate links. Please see my full disclosure policy for details.
I've been going wings crazy these past few months. A few weeks ago, I posted a recipe for Honey BBQ Chicken Wings and in that post I mentioned that I had been making those wings over and over again since January! This is because everyone who's tried them is obsessed with them and keeps begging for more.
After making those wings no less than 100 times (I'm about to make them again, as soon as I finish typing this) I've pretty much gotten the hang of chicken wing making — season, bake, cover in delicious sauce. So with that in mind, I feel like it's time to try making different wing flavours, starting with the Classic Buffalo Wings!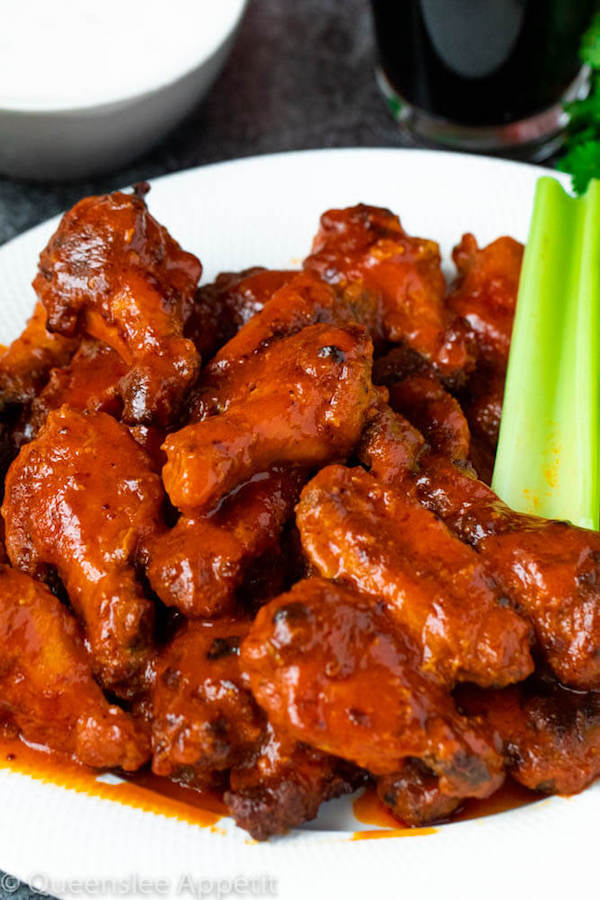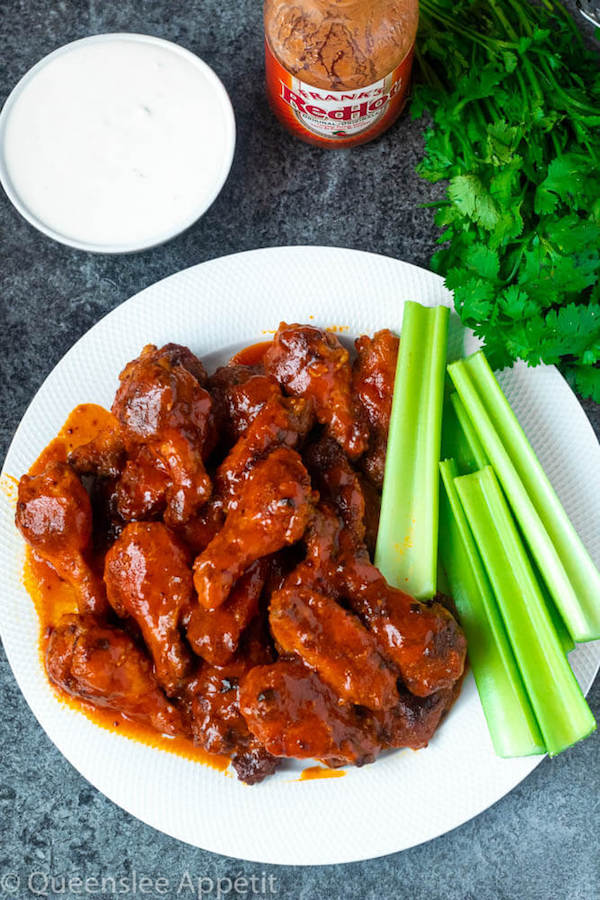 Buffalo Chicken Wings
Be warned, these Buffalo Chicken Wings are SPICY all throughout! I'm obsessed with everything spicy to the point where I'm almost immune to it. It wasn't until my friends started freaking out about needing water that I realized just how spicy these wings were.
So if you love, love, LOVE spicy foods like I do, you are gonna adore these hot wings. If you can't handle the heat, there's no need to get out of the kitchen. Just dip the wings in some ranch or blue cheese dressing and it should mellow things out a bit.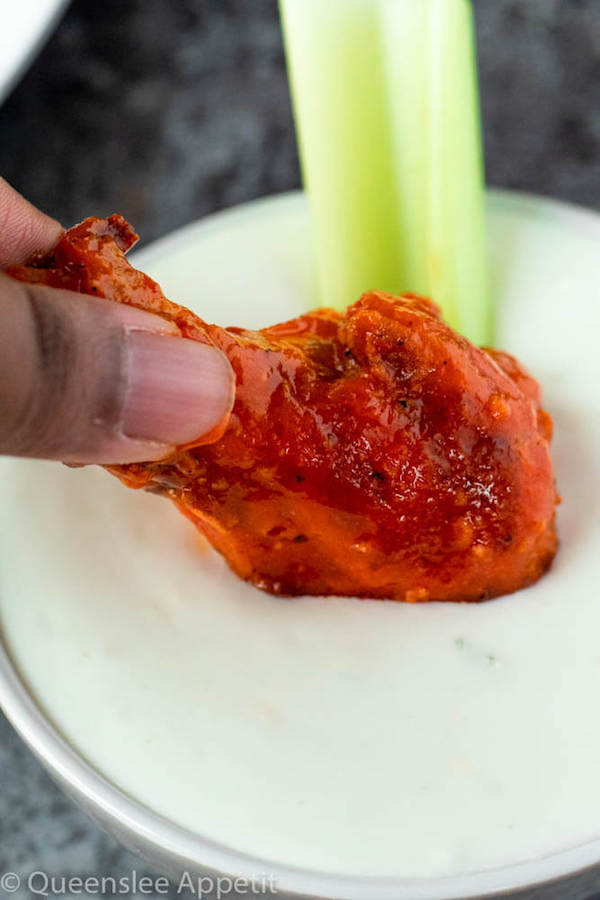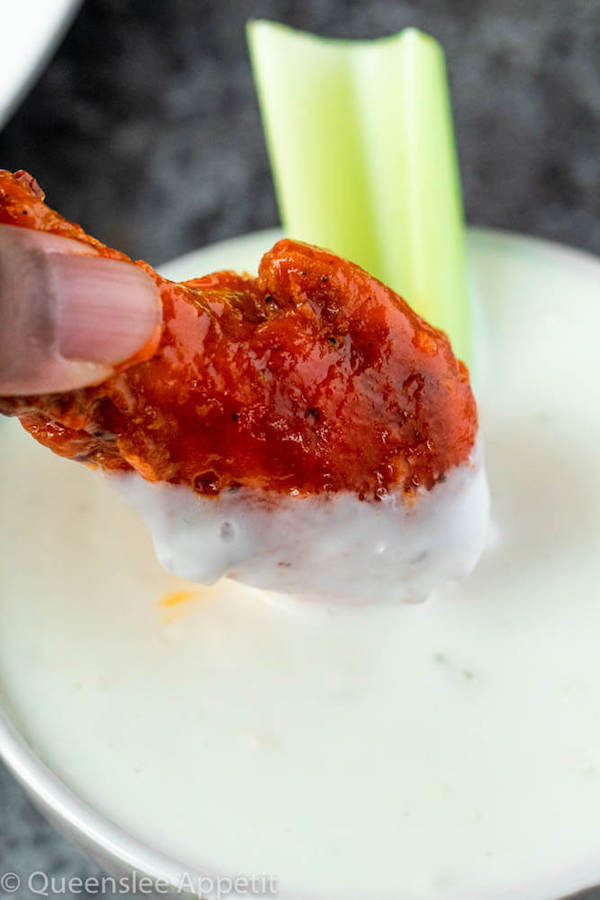 On top of being extra spicy, these wings are also extra crispy! And the best part is, you don't need to fry them to achieve that lovely crisp, just pop them in the oven until they bake up into a golden brown crisp perfection! But let's not get ahead of ourselves, there are a few important crispy tips and tricks you need to apply before the wings go into the oven.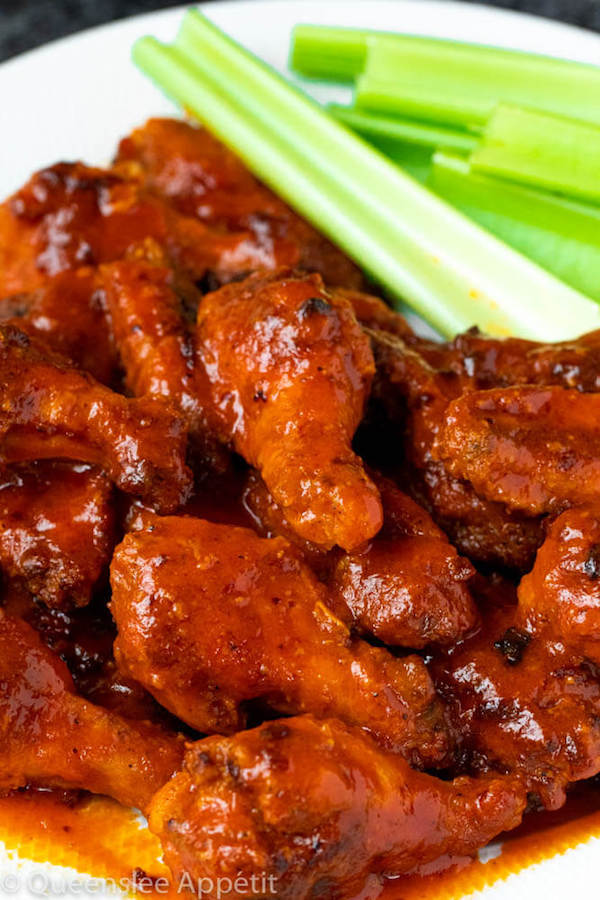 How Do You Make Crispy Baked Buffalo Chicken Wings?
Well to start you're obviously gonna need some wings. I used about 3 and ½ pounds of air chilled split chicken wings. It just makes my life so much easier because I don't have to manually cut them up. If you can only get your hands on the whole chicken wings, then cut off the tips and separate the flats from the drums. Split wings are a lot easier to eat than whole wings and they bake more evenly.
After washing your wings, place them on a rack lined baking sheet and place them in the refrigerator to dry uncovered for about an hour, turning halfway so both sides can dry evenly. This is a new drying method I learned that creates a crispy skin on the wings.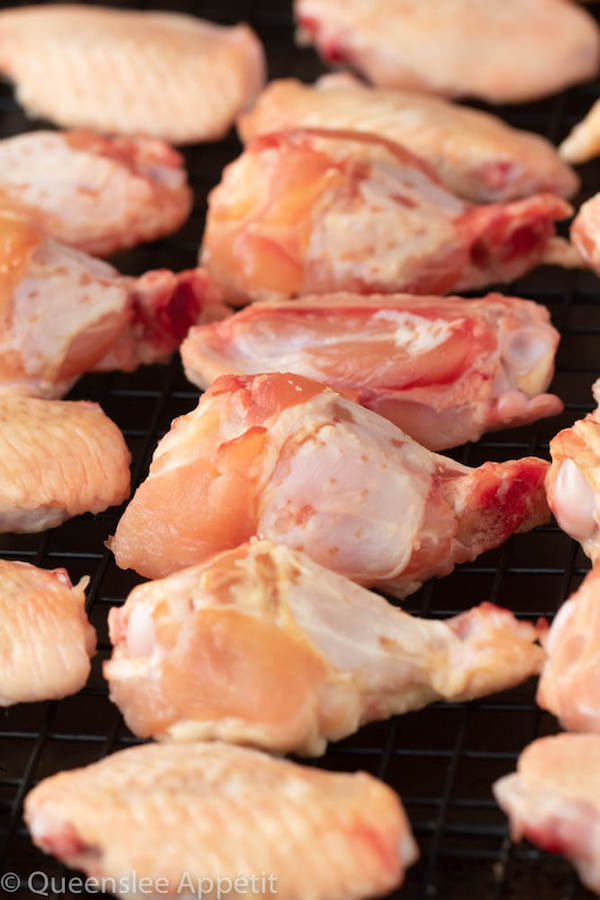 Aside from the drying method, there's also a secret ingredient that gives these wings a nice and crispy coating: aluminum-free baking powder! And don't worry, you won't taste it at all in the end.
People usually add 1 tablespoon, but I found that a tablespoon barely covered all my wings so I had to add more. The recipe below says 1-2 tablespoons, so start with 1 tablespoon, then if there are still some wings left uncovered, add another tablespoon.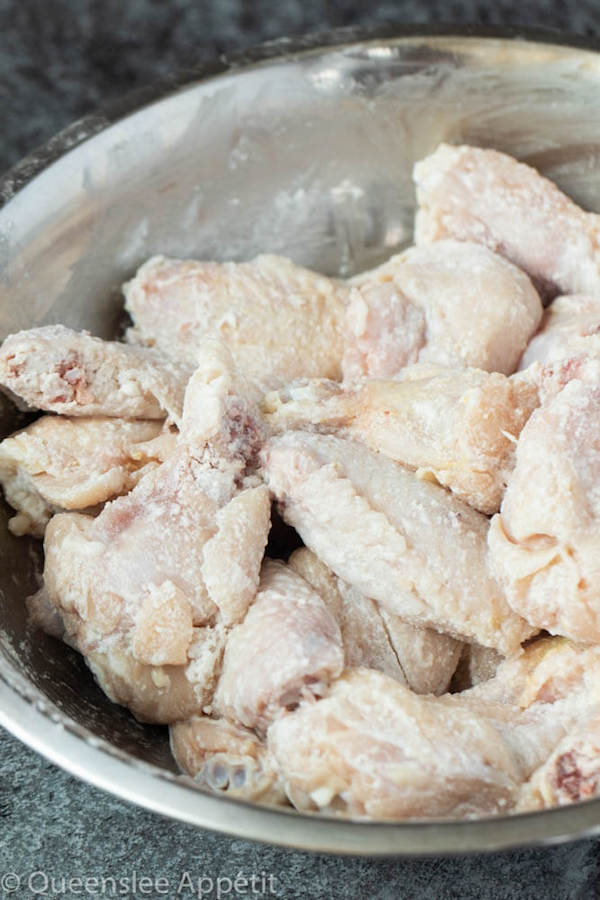 Seasonings
To give the chicken the best flavour, I created a seasoning blend using five spices: salt, pepper, garlic powder, onion powder and hot chilli powder. The last one is optional, but it adds an extra kick of heat so I love it! Mix them all together to make a little over 2 tablespoons of seasoning.
Then sprinkle it onto the chicken a little bit at a time. If you throw it in all at once you may be left with pieces that have too much seasoning while other pieces have little to no seasoning at all. So by adding a little bit, tossing the chicken around, then adding a little more and repeating will ensure the seasoning blend is evenly distributed throughout the chicken wings.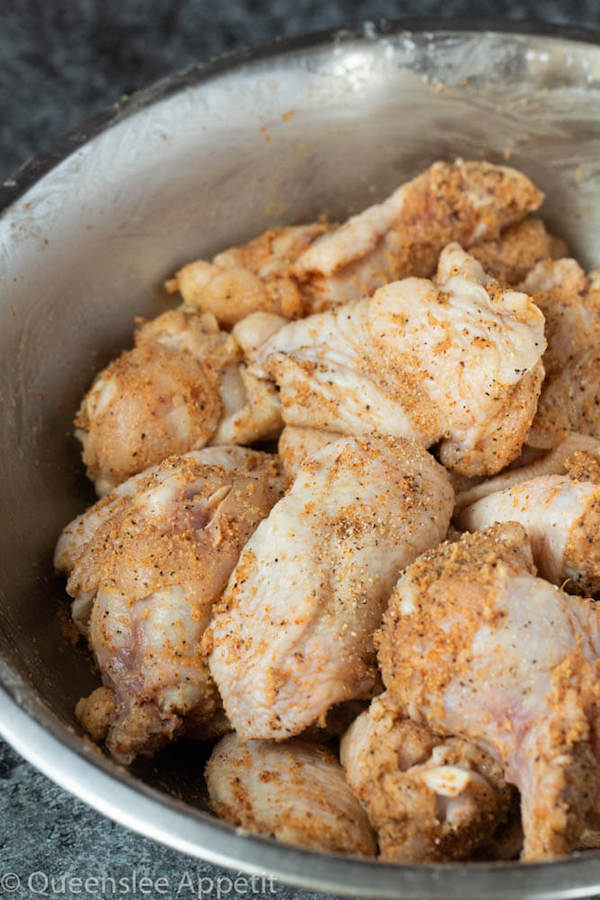 How to Bake Chicken Wings in the Oven
Funny story, I ordered a baking rack online to bake chicken wings on, and by the time I was ready to put the wings in the oven I found out that it DOESN'T FIT! Imagine my extreme disappointment. So I sadly had to bake the wings on a parchment lined baking sheet.
Here's why you SHOULD bake the wings on an oven proof rack, it allows the heat to circulate around the chicken pieces so it bakes evenly from top to bottom. And since the chicken is elevated, the fat can drip down onto your parchment or silpat lined baking sheet instead of soaking into the chicken (like mine did), this will create an even crispier skin on your chicken!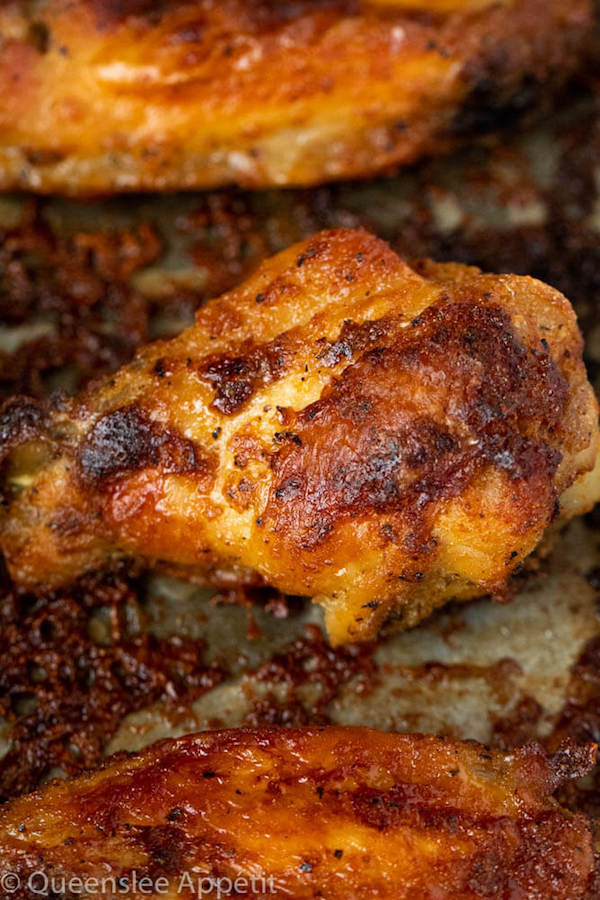 How Do You Make Buffalo Wing Sauce?
You could buy pre-made Buffalo Sauce from the grocery store if you want, but why would you when it's so easy to make from scratch! You only need 3 simple ingredients.
Unsalted butter
Hot Sauce (I used and recommend Frank's Red Hot Sauce)
Honey
Add your butter to a saucepan and heat until it's melted, then add the hot sauce and honey and stir until it's all combined. Remove from heat then pour it over those deliciously crispy wings!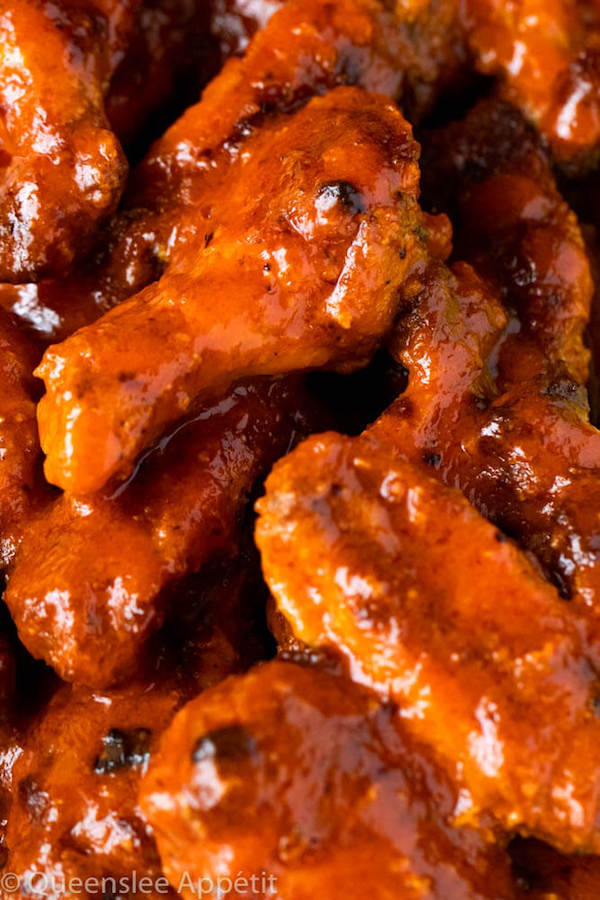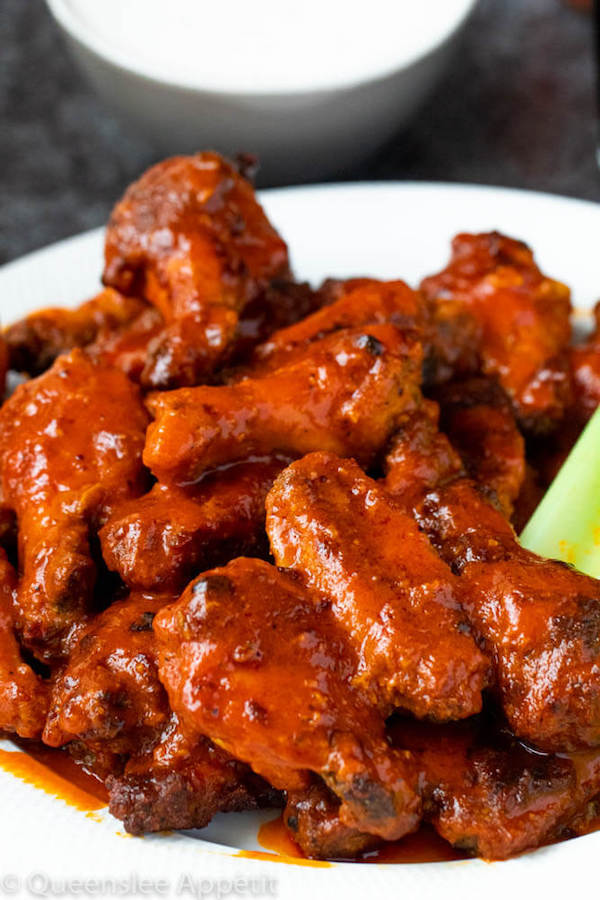 Spicy, irresistible and addictive, these wings are nice and crispy on the outside but so juicy and tender on the inside! Serve them with a side of blue cheese dip and celery sticks and watch the entire plate disappear before your eyes!
Only if you're willing to share, that is.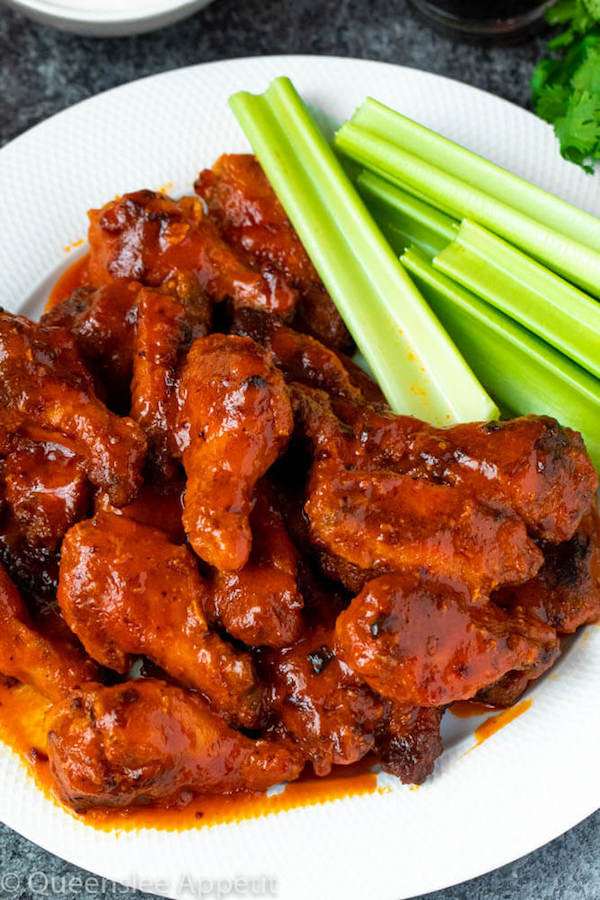 >>PIN ME FOR LATER<<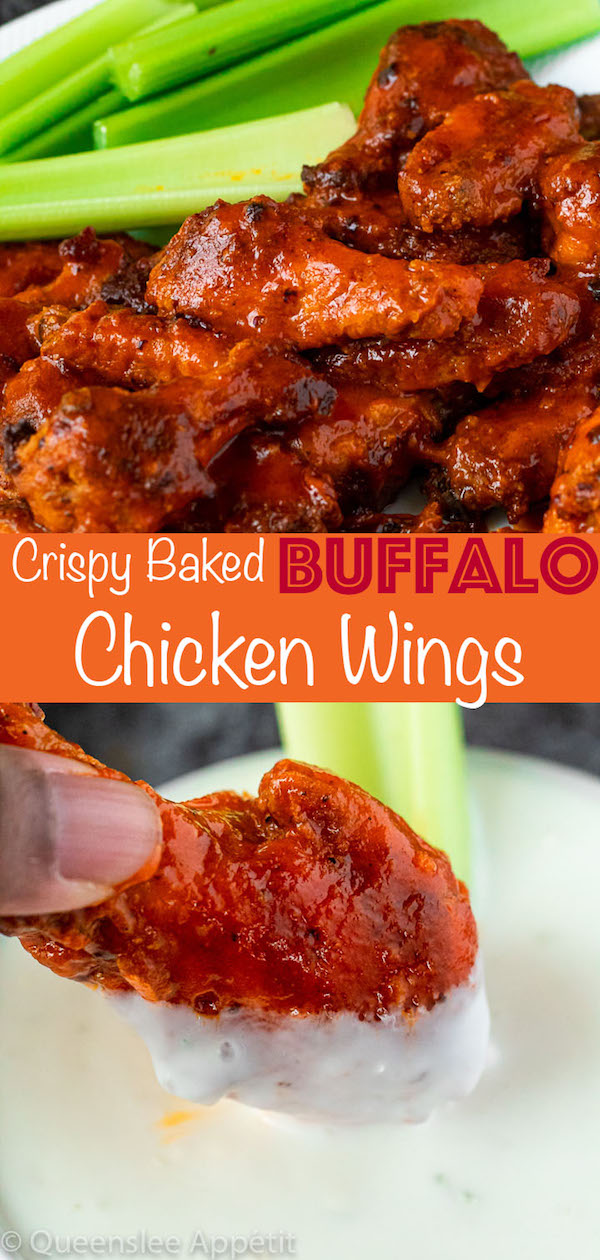 FOLLOW QUEENSLEE APPÉTIT
Like what you see? Make sure you're following Queenslee Appétit for more tasty recipes!
Pinterest | Instagram | Facebook | Twitter |
Have any questions about the recipe? Contact me here, and I'll be happy to help!
And don't forget to take photos and tag me on Instagram @queensleeappetit or use the hashtag #queensleeappetit so I could see your gorgeous creations!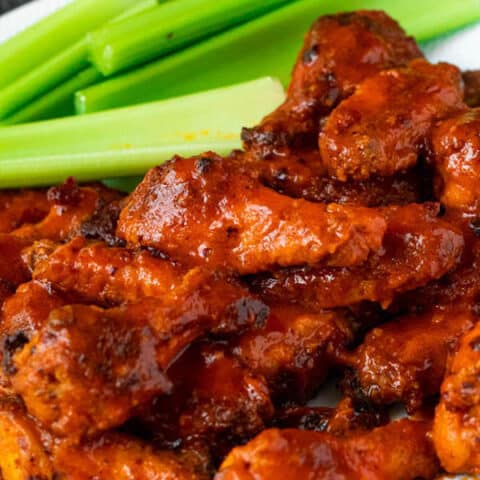 Crispy Baked Buffalo Chicken Wings
Yield:
3 and ½ - 4 lbs. chicken wings
Total Time:
1 hour
5 minutes
These spicy Buffalo Chicken Wings are seasoned with a blend of spices before being baked to an ultra crispy perfection then smothered in a homemade Buffalo Wing Sauce. These classic wings are super easy to make and are far better than the ones at the restaurant!
Ingredients
To Wash Wings:
3 and ½ - 4 lbs. chicken wings, tips removed, drums and flats separated
Cold Water
Vinegar
1 lemon
Buffalo Chicken Wings:
1-2 tablespoon aluminum-free baking powder (do NOT substitute with baking soda)
1 and ½ teaspoon salt
1 and ½ teaspoon ground black pepper
1 and ½ teaspoon garlic powder
1 and ½ teaspoon onion powder
½ teaspoon hot chilli powder (optional)
Buffalo Sauce:
½ cup unsalted butter
1 and ½ cups hot sauce
2 tablespoon honey
For Serving:
Blue cheese or Ranch dressing, for dipping
Celery sticks
Instructions
Washing and Drying the Wings:
Place a wire rack on top of a parchment lined baking sheet. The rack and sheet should be close to the same size. Set aside.
Wash the chicken wings with equal parts of cold water and vinegar. Cut lemon in half and squeeze one half of the juice into the water/vinegar. Allow wings to soak for about 20-30 minutes, then drain the water (Note 1).
Line the wet wings on the wire rack and place in the refrigerator uncovered to dry for about 1 hour or overnight. Flip the wings halfway through so both sides can dry evenly. If you don't have much time, you can go ahead and pat the wings dry with a clean paper towel. (Note 2).
For the Chicken Wings:
Preheat oven to 425°F (220°C). Line a baking sheet with parchment paper or a silpat mat. If you have an oven proof rack that fits on top of your baking sheet, you can place that on top.
In a small bowl, combine the salt, black pepper, garlic powder, onion powder and hot chilli powder (optional). Set aside.
Place all the chicken in a medium bowl, then sprinkle on 1 tablespoon of aluminum-free baking powder and toss to coat the chicken. If there's still pieces of chicken that aren't covered, gradually add up to a tablespoon of extra baking powder.
Once the chicken is coated, sprinkle in ⅓ of the seasoning blend. Use a wooden spoon to toss and coat the wings. Continue to sprinkle on more and more of the seasoning blend while tossing the wings until all the seasoning has been added (Note 3).
Line all the wings onto the lined baking sheet, don't worry about them touching. Bake in preheated oven for 30 minutes. After 30 minutes, remove the wings and flip them to the other side. Return to oven and bake for another 20-25 minutes, or until wings are a deep golden brown. While wings are baking, prepare the Buffalo Sauce.
For the Buffalo Sauce:
Add the unsalted butter to a medium saucepan over medium heat. Heat until melted.
Once butter has melted, add the hot sauce and honey. Stir to combine, then allow to come to a simmer.
As soon as the sauce begins to simmer, remove from heat, give it another stir then set aside.
When the wings have finished baking, place them all into a large clean bowl. Pour the Buffalo Sauce over chicken, then use a clean wooden spoon to toss the wings until they're completely coated in the sauce.
Transfer to a serving platter with celery sticks and blue cheese dipping, if desired. Serve and Enjoy!
Notes
If you want, you can pluck out the very fine "hairs" otherwise known as filaments which are natural parts of the chicken that get left behind when the feathers are removed. If you've ever eaten wings before, you've most likely eaten them so they're not really a big deal. I spent a long time trying to pluck them out the first time I made these wings and didn't bother after that and didn't notice any difference.
I prefer drying my wings on a rack in the refrigerator rather than patting them dry with a paper towel, because not only can the paper towel leave behind bits of paper on the chicken, but leaving the wings uncovered in the refrigerator is supposed to help create a crispy skin on the chicken once they're baked.
The reason you wanna add the seasoning blend in portions is so that every inch of the wings are covered. So add some of the mix, toss, then add more seasoning blend where you see uncovered spots.
Recommended Products
As an Amazon Associate and member of other affiliate programs, I earn from qualifying purchases.
BON APPÉTIT!
Love, Dedra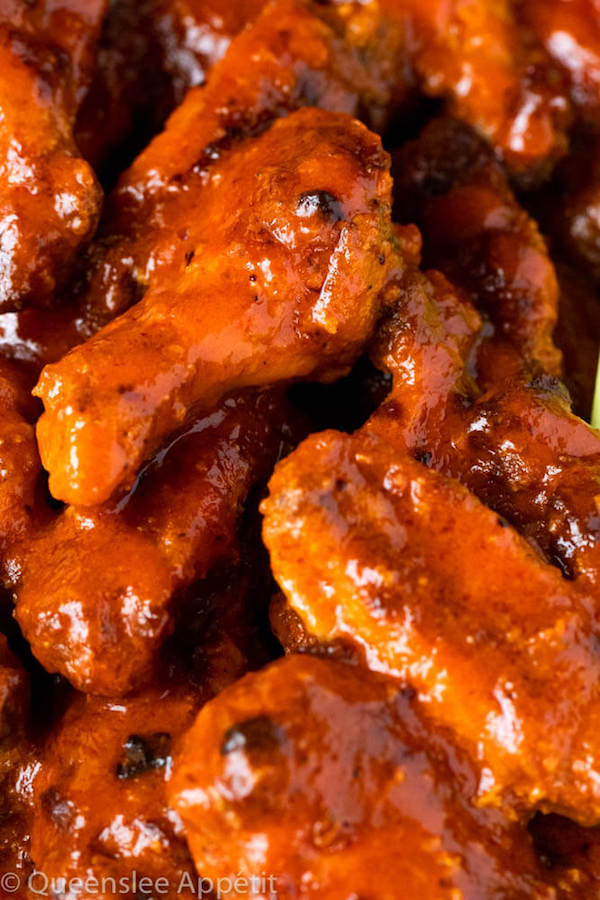 ©QUEENSLEE APPÉTIT. All images & content are copyright protected. Please do not use my images without prior permission. If you want to republish this recipe, please re-write the recipe in your own words, or link back to this post for the recipe.