Cranberry BBQ Turkey Pizza — Thick homemade pizza crust topped with sweet homemade cranberry bbq sauce, roasted turkey, red onions, bacon, cilantro and two different cheeses! This is the perfect use for all that leftover Thanksgiving turkey!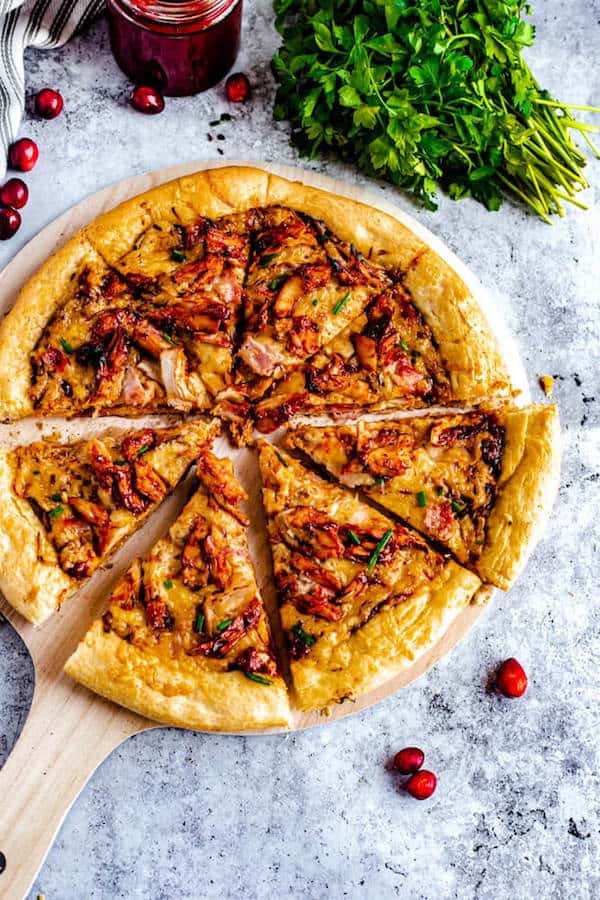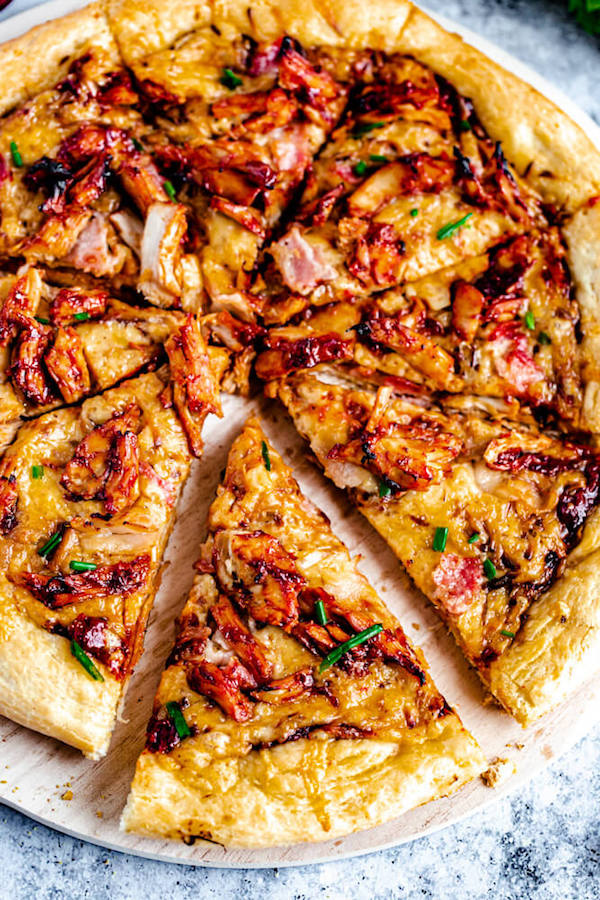 This post may contain affiliate links. As an Amazon Associate I earn from qualifying purchases. Please see my full disclosure policy for details.
Photos updated: 11/30/19
Mmm homemade pizza. Crispy, soft, fluffy, cheesy, flavourful pizza jam packed with any toppings you desire. Is there anything better?
After creating my Homemade Pizza Dough recipe, I've been coming up with a ton of incredible pizza ideas like: Stuffed Crust Pizza, Hawaiian BBQ Pizza, Stuffed Crust Poutine Pizza, Chicago Deep Dish Pizza and now this Cranberry BBQ Turkey Pizza!
Sweet homemade cranberry BBQ sauce, shredded roasted turkey, crispy bacon, red onions, a sprinkle of cilantro and two different cheeses! It's fabulously delicious!
Like most people, I love Thanksgiving dinner. On day one. After a while, Thanksgiving leftovers just get boring. Once you're finished eating dinner, you spend the rest of the night trying to recover from the ridiculous amount of food you consumed in record time. This just isn't something you want to experience everyday for the next week or two, so it's best to take those leftovers and create something better, like pizza!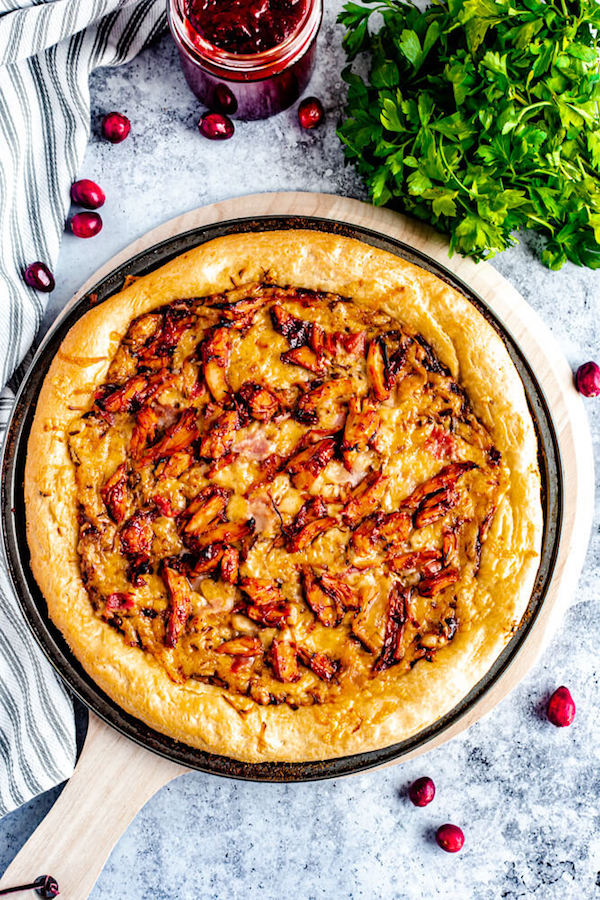 Cranberry BBQ Turkey Pizza
Today's recipe is a normal BBQ pizza, with a Thanksgiving twist! Instead of regular BBQ sauce, we're gonna use cranberry BBQ sauce and instead of chicken, we use turkey!
It's sweet-tart, savoury and full of flavour. This is the perfect way to use up those leftovers without re-eating plate after plate of all that heavy food.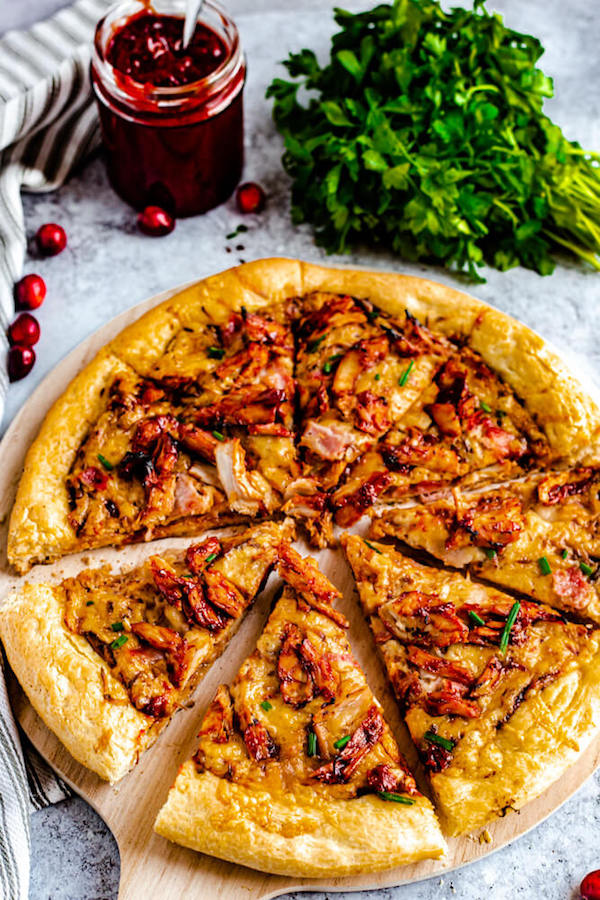 Thick and Chewy Pizza Crust
We start with my favourite homemade pizza crust. Soft, fluffy, chewy and perfect. I'm the type of person who will eat a pizza and throw away the crust. But when I make my homemade pizzas, I finish the crust all the time!
I only recommend using store-bought dough if you have absolutely no time to make it from scratch. Otherwise, please, please, PLEASE make a homemade pizza dough. Trust me, it's a billion times better. I've made an entirely separate post about how to make homemade pizza dough, including helpful tips and step-by-step photos so you know exactly what the process looks like.
The best part is that you can easily prepare the crust ahead of time and keep it in the refrigerator or store it in the freezer for a few months or until your next pizza night!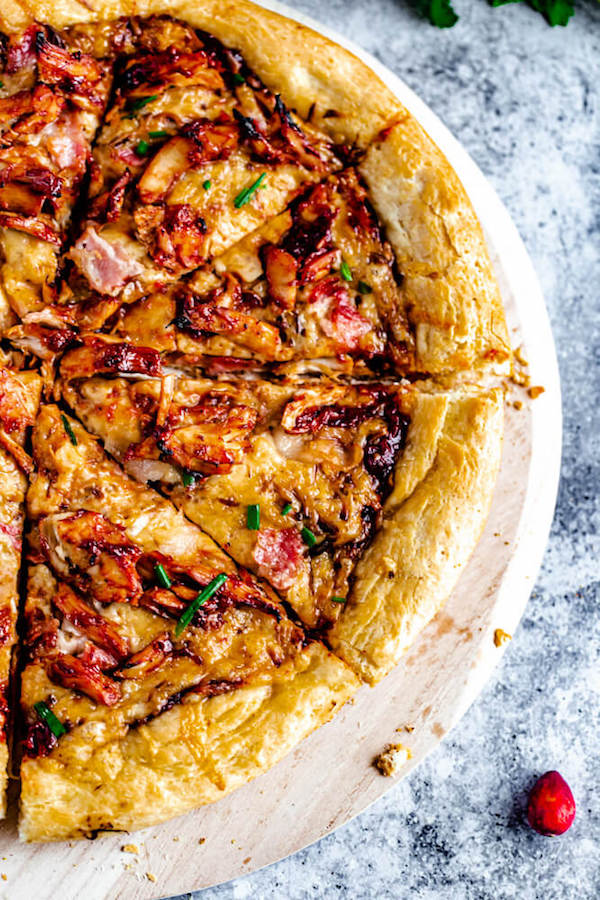 Cranberry BBQ Sauce
This Cranberry BBQ Sauce is to die for! It's thick, rich, sweet-tangy and savoury. This barbecue sauce is made completely from scratch using fresh cranberries, ketchup, brown sugar, molasses, Worcestershire sauce, apple cider vinegar, dijon mustard, lemon juice and a bunch of different spices for extra flavour!
There may be a lot of ingredients, but the process is super simple. Just add all of the ingredients to a saucepan and simmer over the stove for about 20 minutes. Then using an immersion blender, food processor or blender, blend the sauce up until smooth!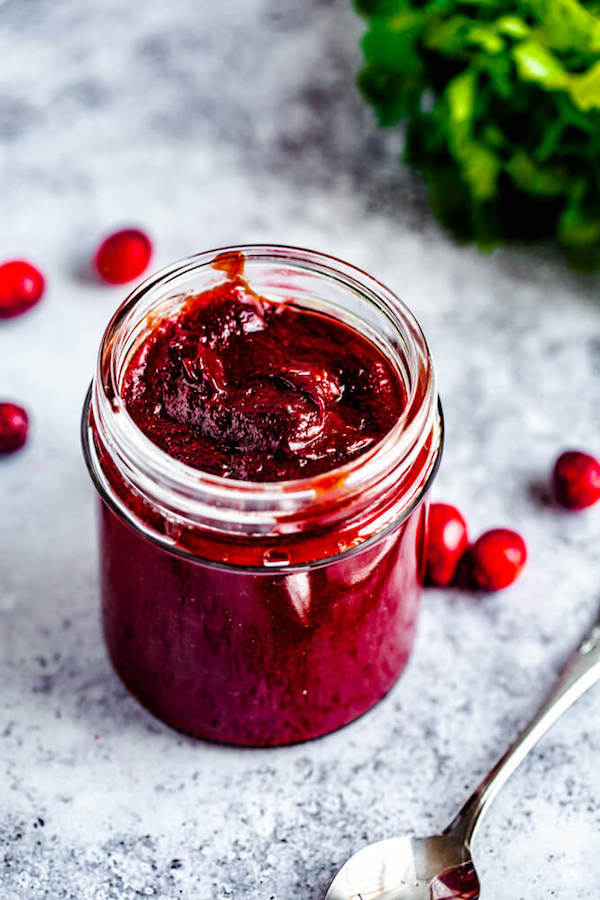 Now if you don't want to make your own BBQ sauce, you can create an easy cranberry BBQ sauce by combining some cranberry sauce and barbecue sauce together on the stove. You can use any leftover cranberry sauce you may have, or you could use store-bought.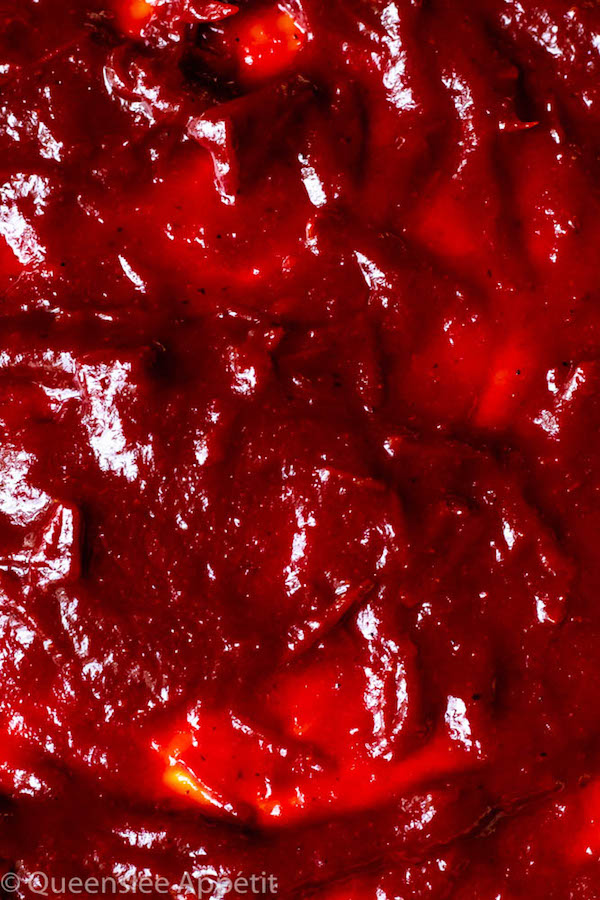 Assembling Cranberry BBQ Turkey Pizza
After shaping the dough and spreading on the sauce, we're gonna add our delicious toppings! You'll need about 1 cup of chopped turkey. Just carve off some of that leftover turkey, chop it up then toss it with some of that cranberry bbq sauce. Tossing it in the bbq sauce will add more flavour and keep the turkey moist while baking!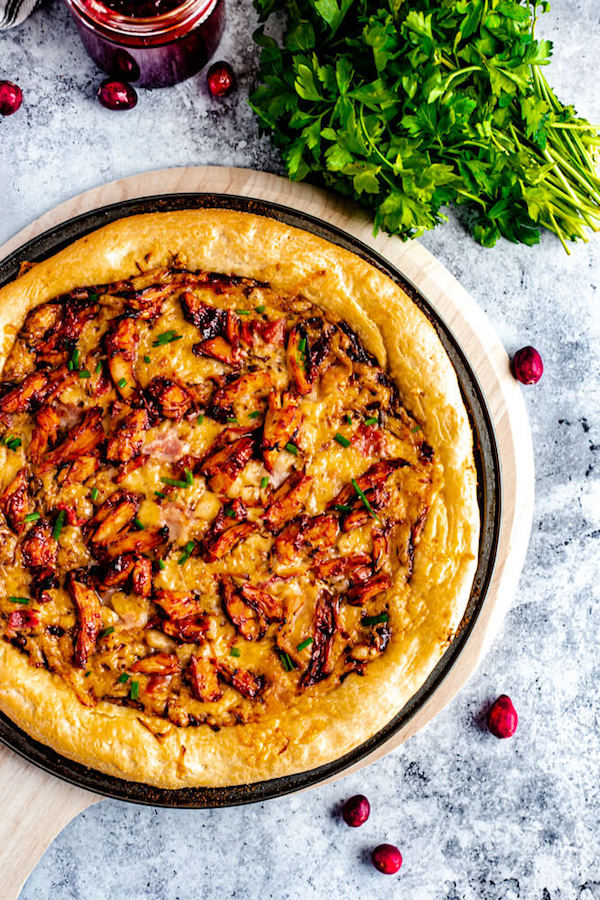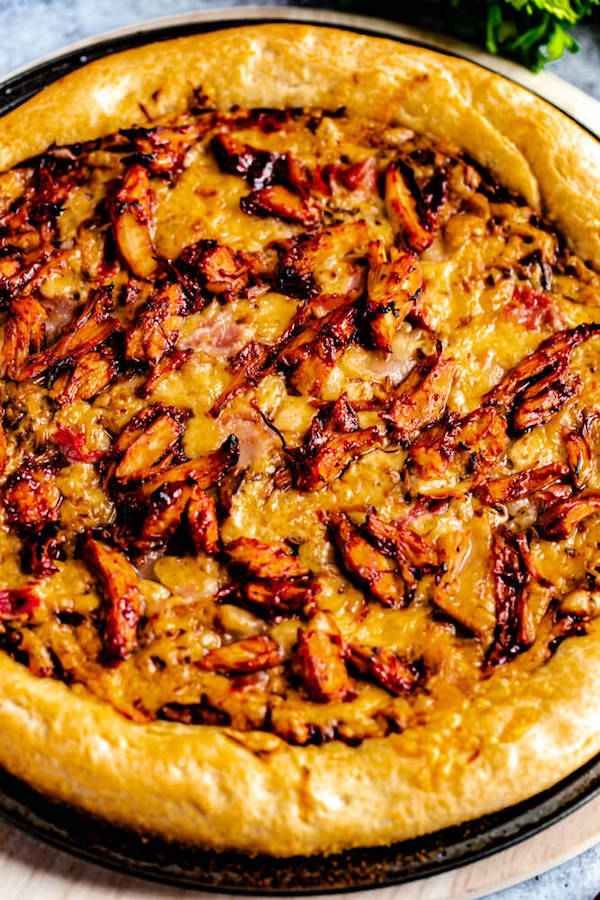 I normally use a mozzarella and parmesan on my pizzas, but for this recipe I used smoked gouda with a bit of mozzarella. The smoked gouda adds so much flavour and pairs perfectly with the sweet cranberry BBQ sauce!
For more flavour and texture, I threw on some cooked bacon and red onions which are a must when it comes to BBQ pizza!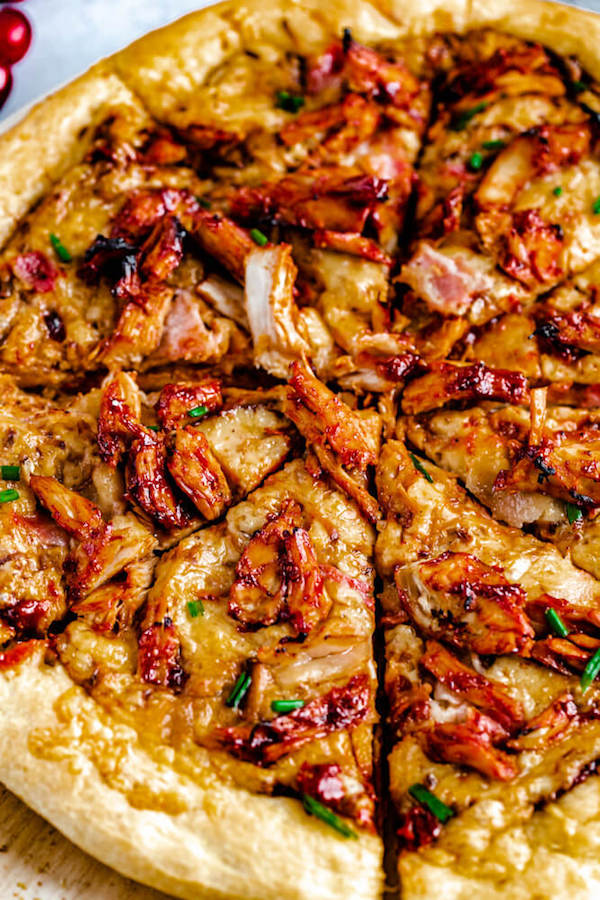 The pizza finishes baking in no time. I should note that the oven needs to be very HOT before adding your pizza. I recommend preheating your oven for at least 30 minutes before you bake the pizza. This allows every inch of the oven to get super hot, which ensures your pizza bakes evenly.
It takes about 15 minutes for the pizza to bake. I like my pizza to have a beautiful golden brown crust with extra melted and bubbling cheese, so to achieve this, I move it to the top rack for an additional 2 minutes.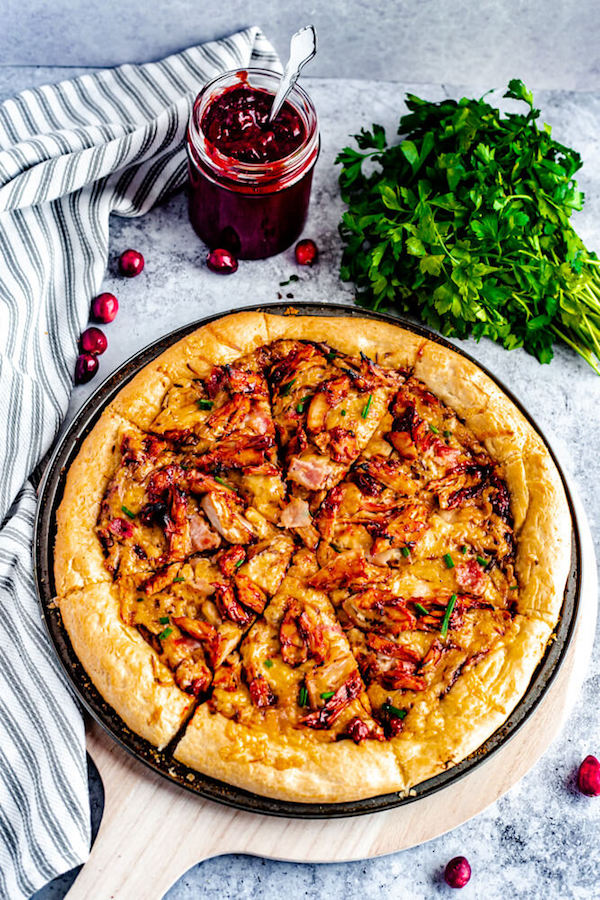 Once the pizza is baked, top it off with chopped fresh cilantro to add extra flavour and a nice kick to every bite! I also drizzled some more cranberry barbecue sauce over the entire pizza, but you can drizzle your own individual slices or leave it off completely. And of course, use the rest for dipping!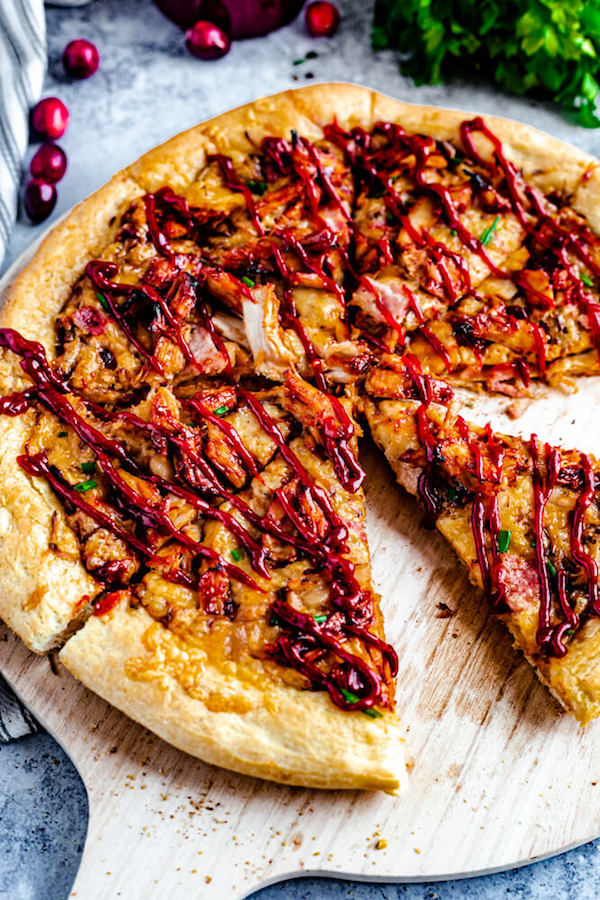 So save some of that roasted turkey, throw away those pizza flyers and make this easy homemade cranberry bbq turkey pizza. Your tastebuds will thank you.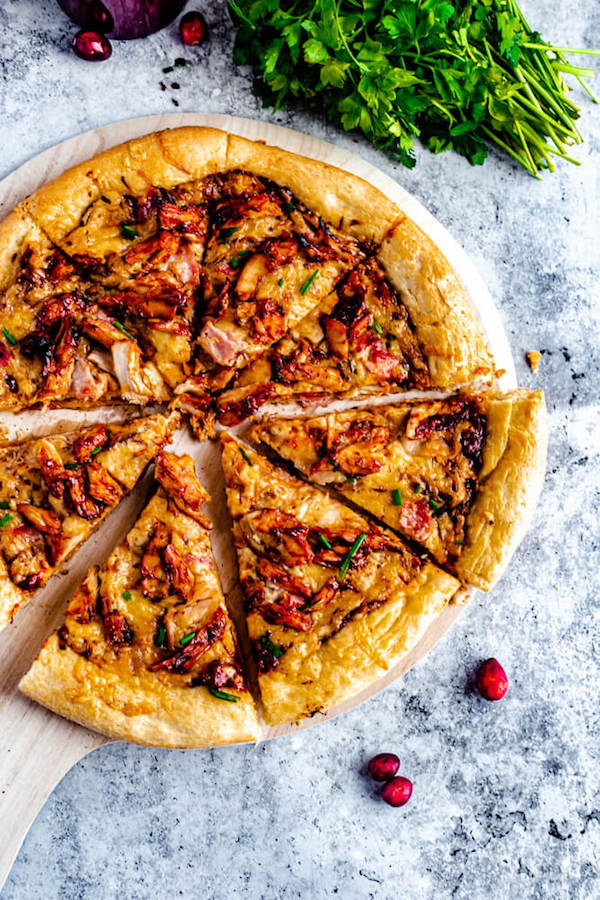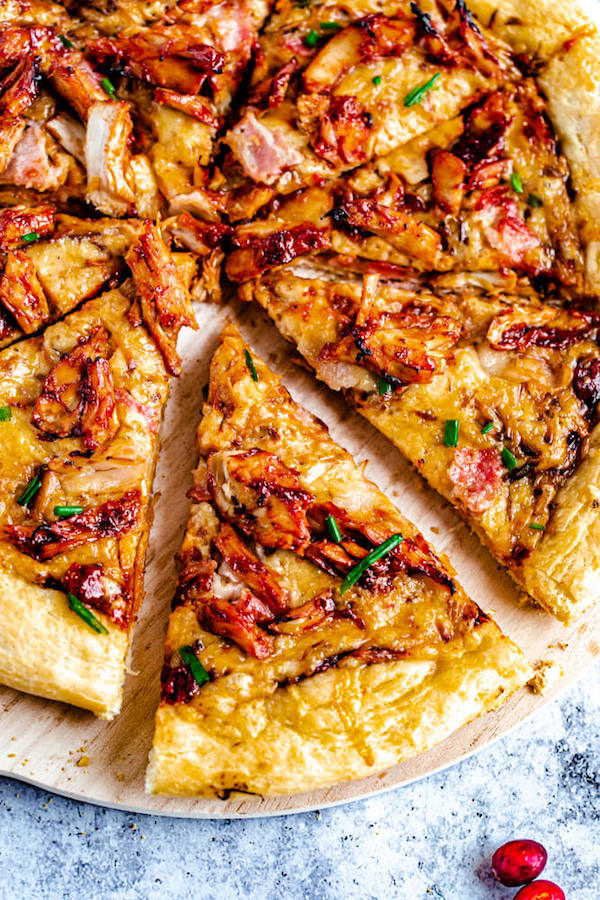 More Pizza Night Ideas:
>>PIN ME FOR LATER<<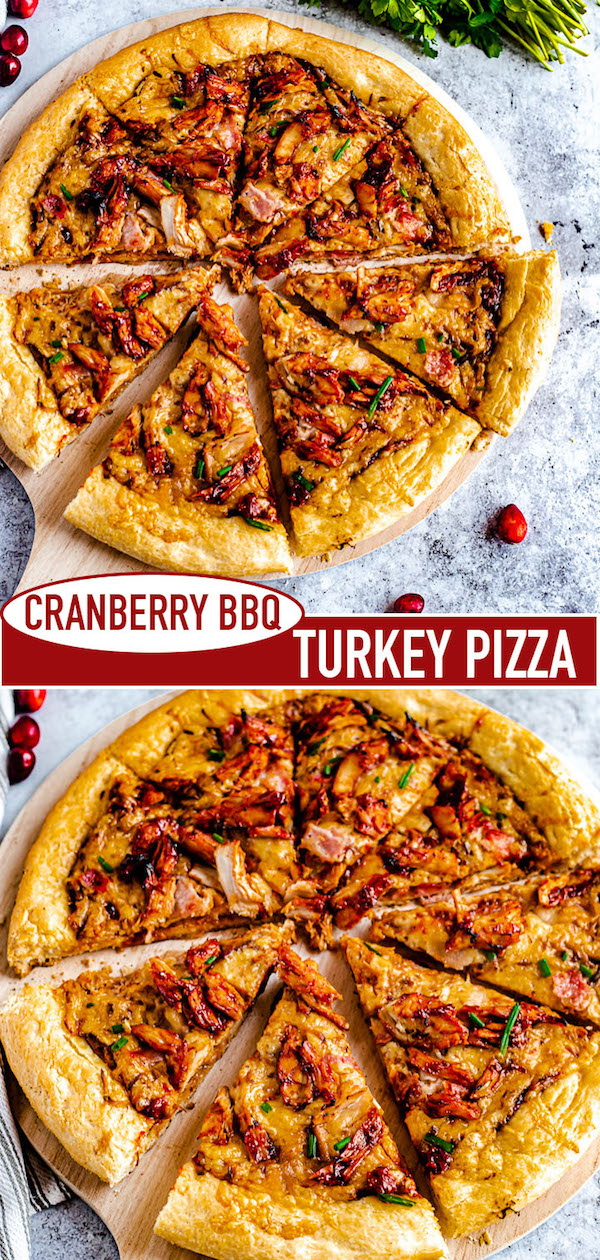 FOLLOW QUEENSLEE APPÉTIT
Like what you see? Make sure you're following Queenslee Appétit for more tasty recipes!
Pinterest | Instagram | Facebook | Twitter |
Have any questions about the recipe? Contact me here, and I'll be happy to help!
SHARE YOUR PICS!
Tag me on Instagram @queensleeappetit or use the hashtag #queensleeappetit so I could see your gorgeous creations!
Let's make pizza!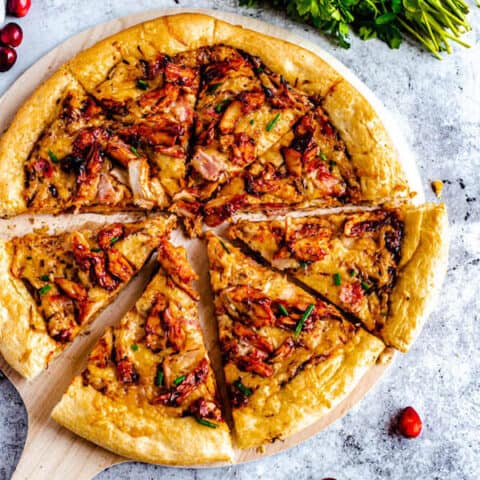 Cranberry BBQ Turkey Pizza
Prep Time:
1 hour
50 minutes
Additional Time:
30 minutes
Total Time:
2 hours
48 minutes
Cranberry BBQ Turkey Pizza — Thick homemade pizza crust topped with sweet homemade cranberry bbq sauce, roasted turkey, red onions, bacon, cilantro and two different cheeses! This is the perfect use for all that leftover Thanksgiving turkey!
Ingredients
Cornmeal, for sprinkling
Olive oil, for brushing
Cranberry BBQ Sauce:
8 oz. fresh cranberries
1 and ½ cups ketchup
½ cup dark brown sugar, packed
¼ cup molasses
1 and ½ tablespoon Worcestershire sauce
¼ cup apple cider vinegar
1 tablespoon Dijon Mustard
1 teaspoon lemon juice
2 teaspoon paprika
1 and ½ teaspoon garlic powder
1 and ½ teaspoon onion powder
½ teaspoon cayenne pepper
½ teaspoon kosher salt
½ teaspoon freshly ground black pepper
Toppings:
½ cup cranberry BBQ sauce (recipe above) + extra for drizzling and dipping
2 cups smoked gouda cheese
⅓ cup shredded mozzarella cheese
1 cup cooked turkey, chopped
4 bacon strips, cooked and crumbled
½ red onion, thinly sliced
Fresh Cilantro, chopped for garnish
Instructions
Prepare one recipe of my Homemade Pizza Crust. Preheat oven to 475° F and allow to heat for at least 30 minutes. Grease a pizza pan with cooking spray and sprinkle with cornmeal.
For the Cranberry BBQ Sauce:
Add all of the ingredients to a medium saucepan and stir to combine. Bring to a boil over medium high heat.
Once boiling, reduce the heat to medium low and continue to simmer uncovered for about 20 minutes, stirring occasionally.
Pour sauce into a food processor or blender and blend until completely smooth. Store in an airtight jar and set aside.
Assembly of the Cranberry BBQ Turkey Pizza:
If you prefer a thin crust, roll out dough into a circle using a rolling pin. If you want a thicker crust, flatten and stretch on prepared pizza pan or hold the dough up on one side and quickly move your hands around the edges to stretch it out. Use your fingers to push up the edges to create a crust. Let dough rest for 10-15 minutes before topping.
Brush the crust with olive oil, top pizza with cranberry BBQ sauce and shredded cheeses.
Add a spoonful or 2 of cranberry BBQ sauce to the chopped turkey and toss to combine. Place on top of the pizza along with the crumbled bacon and sliced red onions.
Bake in preheated oven for 15-18 minutes or until the edges of the crust are golden brown.
If you prefer a darker crust and bubbling cheese, move pan to the top rack and broil for 1-2 minutes.
Top with cilantro leaves and drizzle with extra cranberry BBQ sauce, if preferred. Slice and serve!
Notes
If you can't find smoked gouda, replace it with the same amount of shredded mozzarella cheese.
Recommended Products
As an Amazon Associate and member of other affiliate programs, I earn from qualifying purchases.
Nutrition Information:
Yield:

8
Serving Size:

1
Amount Per Serving:
Calories:

815
Total Fat:

25g
Saturated Fat:

11g
Trans Fat:

0g
Unsaturated Fat:

12g
Cholesterol:

87mg
Sodium:

1219mg
Carbohydrates:

114g
Fiber:

7g
Sugar:

32g
Protein:

35g
BON APPÉTIT!
Love, Dedra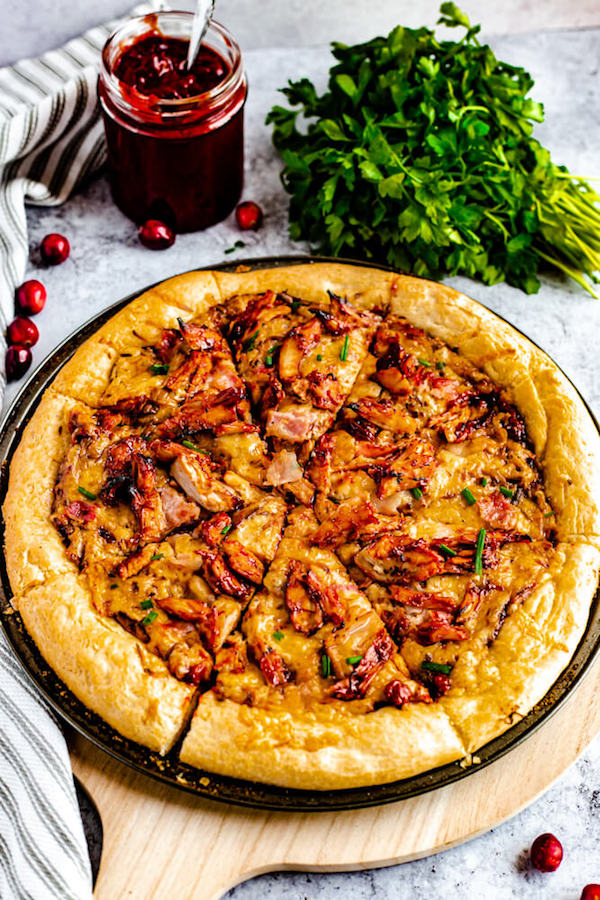 ©QUEENSLEE APPÉTIT. All images & content are copyright protected. Please do not use my images without prior permission. If you want to republish this recipe, please re-write the recipe in your own words, or link back to this post for the recipe.