Hawaiian BBQ Pizza — Thick and chewy pizza crust topped with tangy barbecue sauce, ham, pineapple, bacon, red onions and loads of cheese. This flavourful pizza will definitely be your family's new Friday night fave!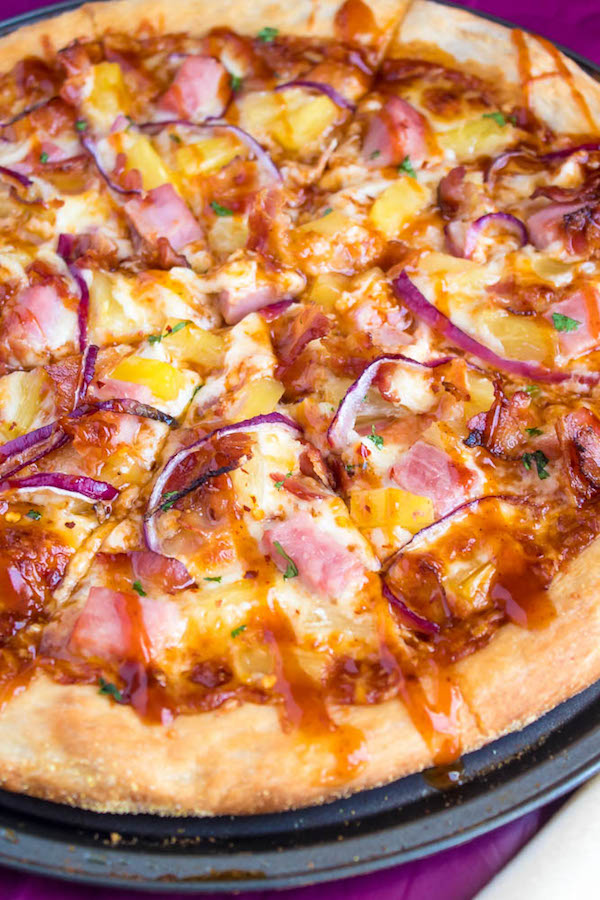 Homemade Pizza: Round 2! I recently shared a recipe for The Perfect Homemade Pizza Dough, which makes enough for 2 pizzas. The first pizza recipe I shared was the incredible Stuffed Crust Pizza, now I'm bringing you the Hawaiian BBQ Pizza!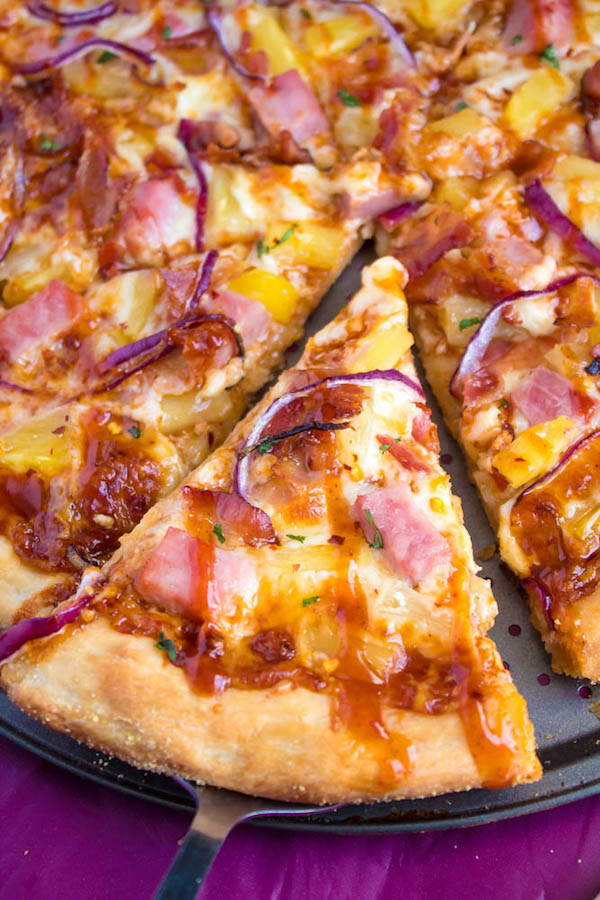 I think I'm gonna start making pizza night a regular thing in my house since it's so easy to make at home! I'd be lying to myself if I said I'll never order out ever again, but that'll be the last resort from now on. Homemade pizza tastes just as great as restaurant-made AND it's cheaper/easier!
The best thing about making pizza at home is that you can be as creative as you want with the toppings! Once you've got the pizza dough down, you can cover it in pizza sauce, BBQ sauce, ranch etc. Then you can top with any kind of cheese and ingredients you love. The possibilities are endless!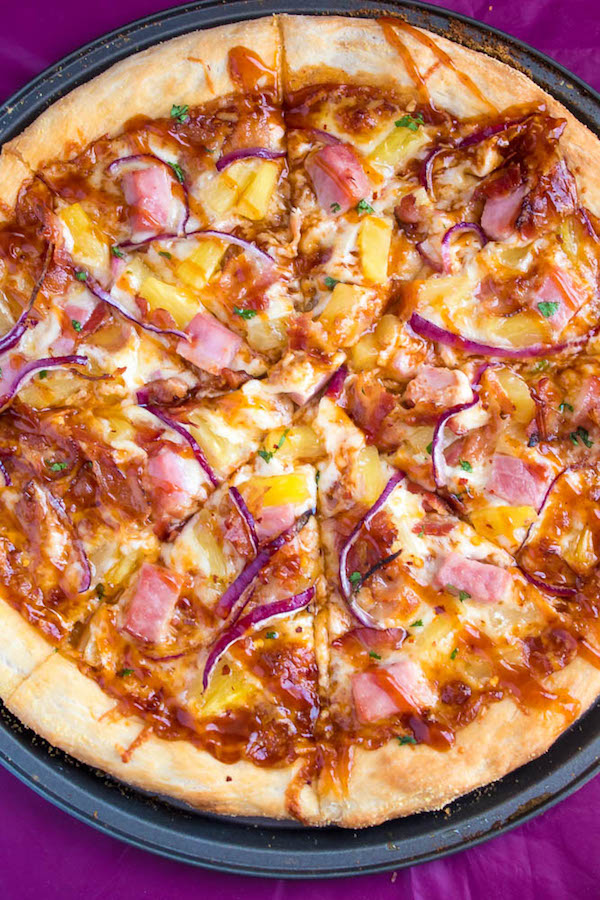 Hawaiian BBQ Pizza
Today's recipe is a BBQ pizza with a Hawaiian twist! It begins with my tried and true Homemade Pizza Dough. I only recommend using store-bought dough if you have absolutely no time to make it from scratch. Otherwise, please, please, PLEASE make a homemade pizza dough. Trust me, it's a billion times better. I've made an entirely separate post about how to make homemade pizza dough, including step-by-step photos.
When it comes to time, you should know the yeast takes around 5-10 minutes, mixing takes 1 minute, kneading takes 7 minutes, rising takes 1 and ½ hours. Once the dough rises, you divide it, then let it rest for 15 minutes, roll it out and let it rest for another 15 minutes.
So all together the crust should take about 2 hours and 18 minutes to make. That may sound like a long time, but you can easily prepare the crust ahead of time and keep it in the refrigerator or store it in the freezer for a few months. This way you already have your dough prepared when you're ready to make your pizza!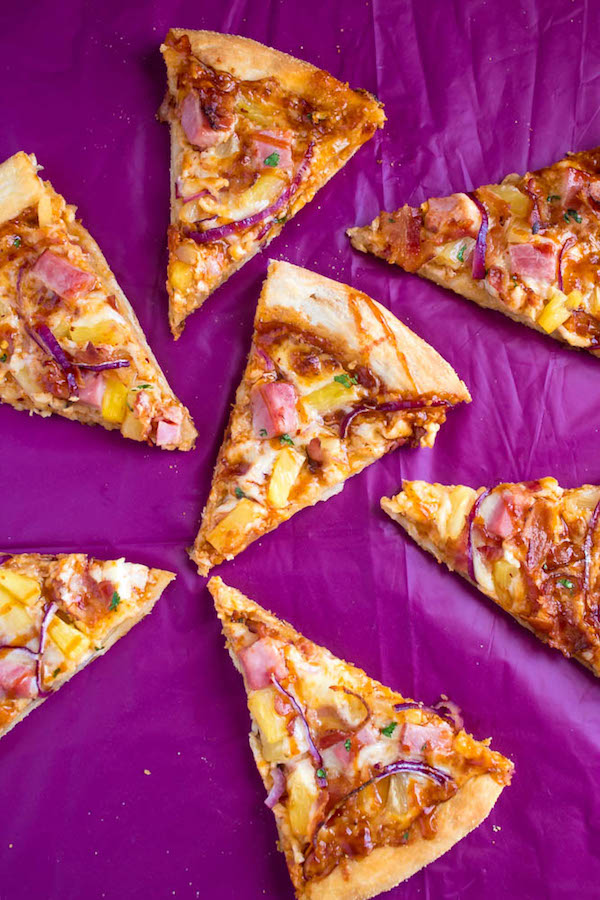 Once the crust is prepared, we're gonna spread some sweet and tangy barbecue sauce on top. For the BBQ sauce, I recommend using your favourite brand. To save money, I just used a bottle that was already in the house, otherwise I definitely would've used Sweet Baby Ray's.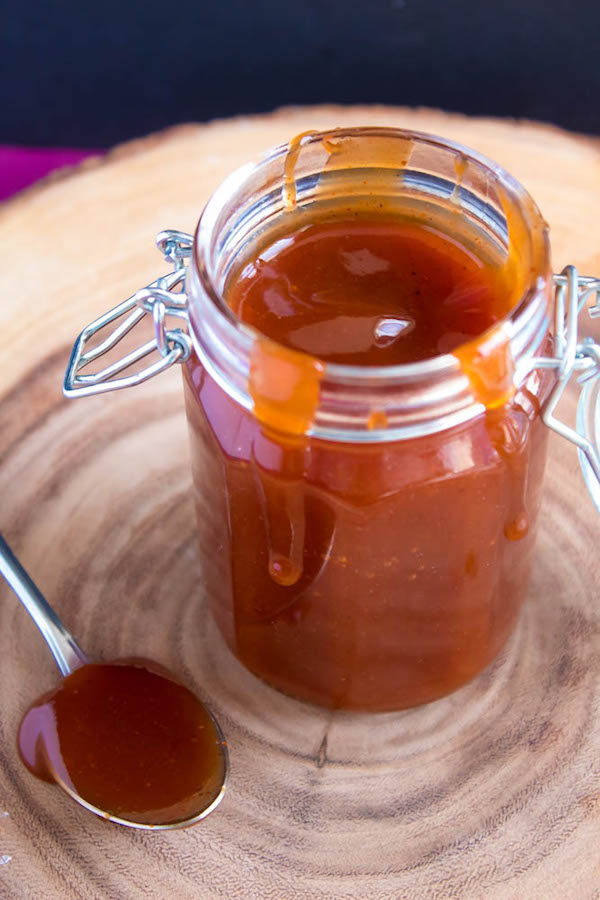 The Toppings
Mozzarella and Parmesan — what's better than one cheese? Two cheeses!Mozzarella is obviously the #1 cheese for almost every pizza, and the Parmesan adds a nice touch of flavour.
Ham — make sure you use cooked ham. I took a thick slice of ham and cut it up into chunks. You can also use the bacon of my people (Canadian bacon), which is similar to ham in taste and texture, but it'll be thinner.
Pineapple — Team Pineapple on Pizza! I used pineapple tidbits which are smaller and thinner than pineapple chunks. You can also cut up your own fresh pineapple if you prefer. I added about ½ cup of pineapple which is plenty, but you can add more or less depending on your family's preference.
Bacon — who doesn't love slices of crispy bacon? Well some people, but I am personally a fan so I threw a handful on top of this pizza. Besides, the saltiness of the bacon really helps balance out the sweetness of the pineapple. Sweet and salty heaven!
Red Onion — you can't have a BBQ pizza without red onions. Of course, if you don't like onions on your pizza you can leave it off. You can add the red onion before or after baking the pizza. I would've preferred adding it after mainly for appearance.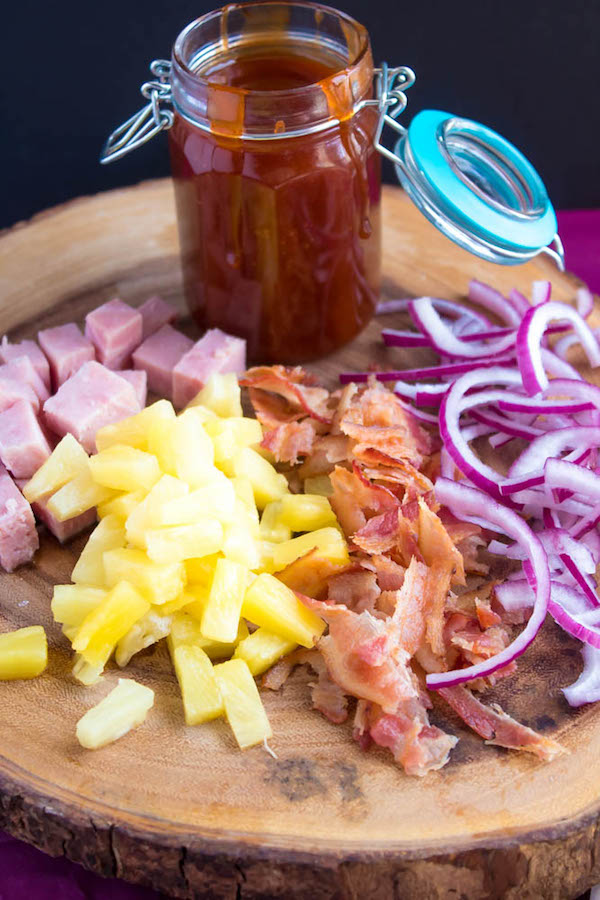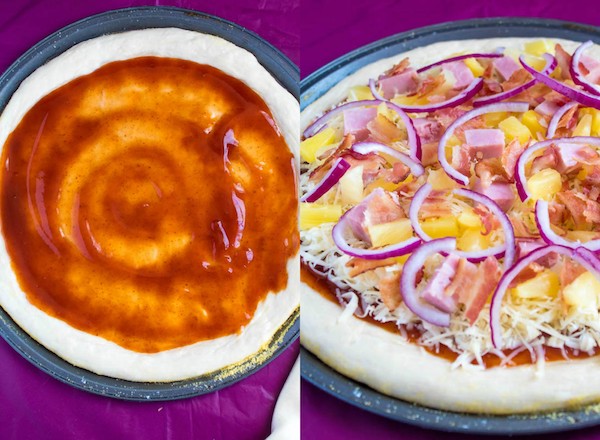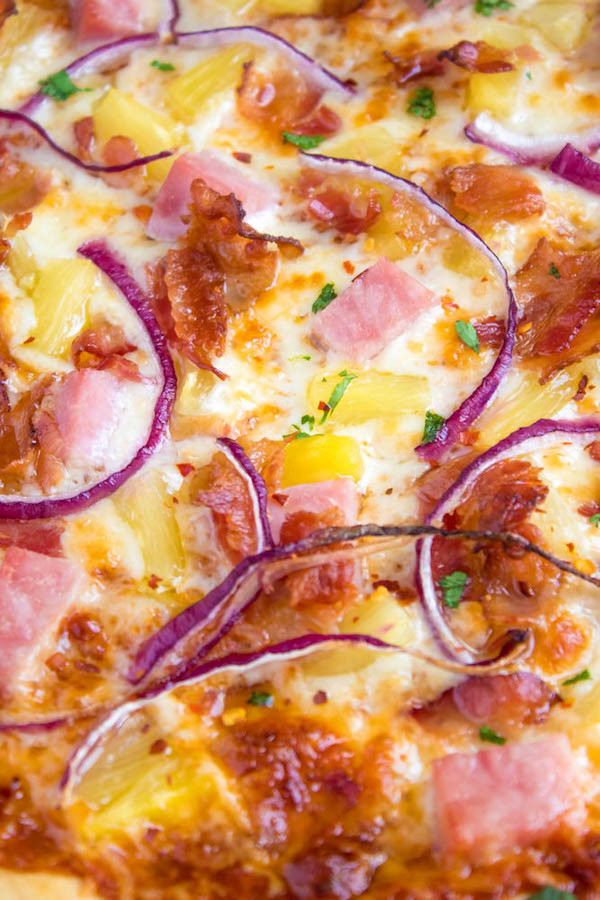 Baking the Pizza
Once you've added all of your tasty toppings, bake the pizza in a 475°F oven. The oven needs to be very HOT before adding your pizza. I recommend preheating your oven for at least 30 minutes before you bake the pizza. This allows every inch of the oven to get super hot, which ensures your pizza bakes evenly. And if you want a beautiful golden brown crust with extra melted and bubbling cheese and a crispy bottom, move it to the top rack for 2 minutes.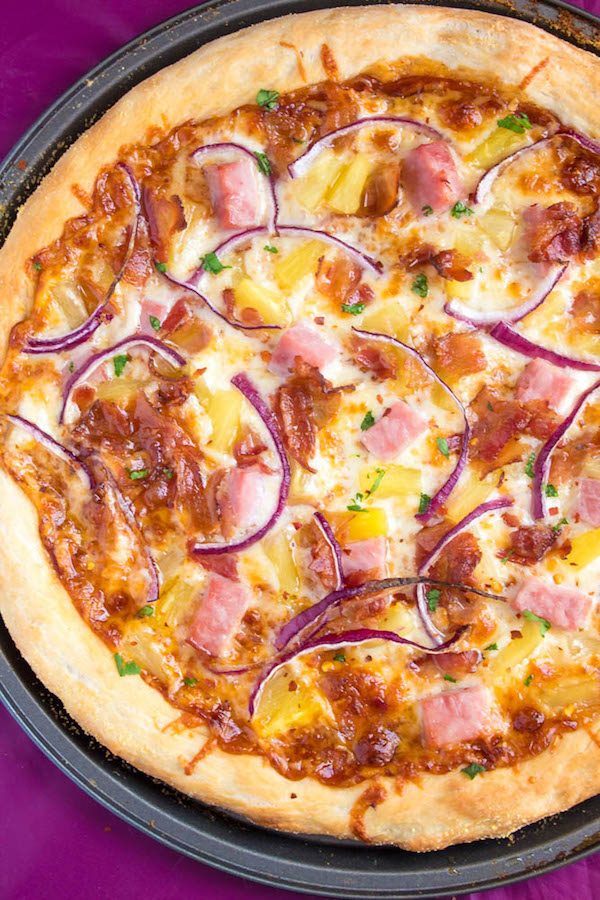 Once the pizza is baked, top it off with chopped fresh cilantro and red pepper flakes. The cilantro adds extra flavour to every bite and the red pepper flakes adds a nice kick. I also drizzled some more barbecue sauce over the entire pizza, but you can drizzle your own individual slices or leave it off completely.
This is hands down my new favourite pizza! The crunchy crust, tangy barbecue sauce, gooey cheese, chunks of ham, sweet pineapple, crispy bacon and tasty red onions makes the flavours and textures in this Hawaiian BBQ Pizza absolutely phenomenal!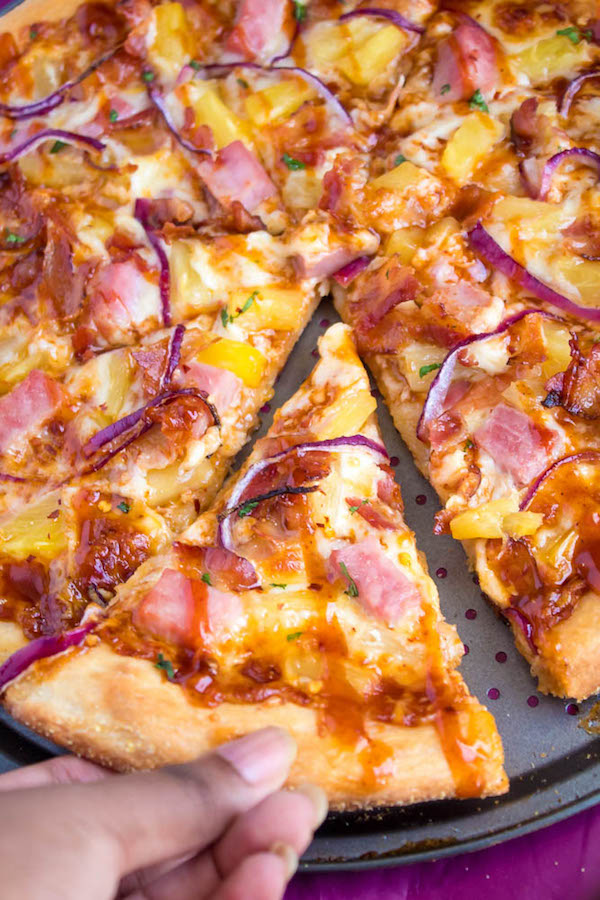 You May Also Like:

>>PIN ME FOR LATER<<

Follow Queenslee Appétit
Pinterest | Instagram | Facebook | Twitter |
Did you make a recipe? I'd love to see how it turned out! Follow me on Instagram and use the hashtag #queensleeappetit so I can see all of the Queenslee Appétit recipes you've made!
Let's get cooking!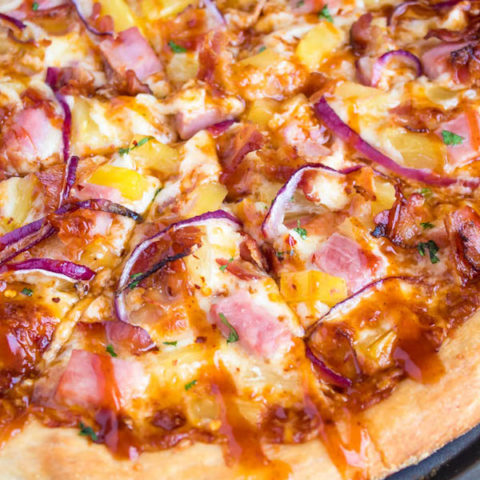 Hawaiian BBQ Pizza
Prep Time:
1 hour
50 minutes
Additional Time:
30 minutes
Total Time:
2 hours
38 minutes
Hawaiian BBQ Pizza — Thick and chewy pizza crust topped with tangy barbecue sauce, ham, pineapple, bacon, red onions and loads of cheese. This flavourful pizza will definitely be your family's new Friday night fave!
©QUEENSLEE APPÉTIT. All images & content are copyright protected. Please do not use my images without prior permission. If you want to republish this recipe, please re-write the recipe in your own words, or link back to this post for the recipe.
Bon Appétit!
Love, Dedra ❤
This post may contain affiliate links. Please see my full disclosure policy for details.