This Homemade Nutella Pudding is super velvety, thick and decadent. Packed with loads of Chocolate-hazelnut flavour, it's a tasty treat everyone will enjoy!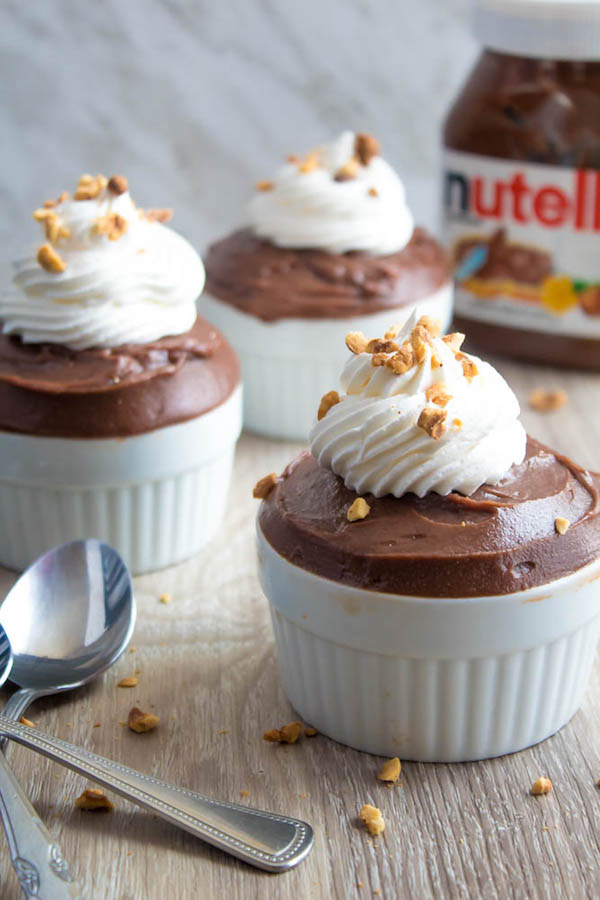 Why didn't I think of this perfection sooner? With all of the delicious pudding variations I've created, I'm surprised Nutella wasn't my first flavour choice. This rich and creamy pudding is so simple to make and will satisfy your deepest Nutella cravings.
I mean who doesn't crave Nutella every now and then? Or everyday for that matter. I'm sure we've all eaten Nutella straight from the jar. Eating this pudding is pretty much equivalent to eating spoonfuls of Nutella, but without all the guilt!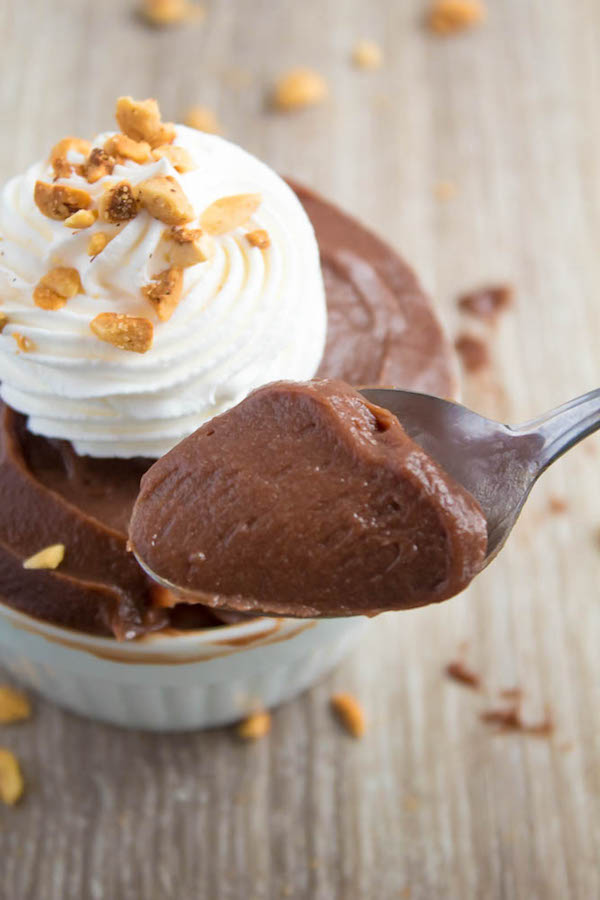 I had a huge craving for chocolate pudding the other day, but I didn't want the store-bought stuff in cups and I certainly didn't want a box mix. I've mentioned before that I've never made pudding from a box mix, and I don't plan on ever using one. I have tasted boxed mix pudding before and found it to be quite gross, with a weird aftertaste. Ever since then, I've sworn off boxed mix puddings for good! Now the only type of pudding I eat is homemade — I know, I'm a snob.
So when I had my chocolate pudding craving, I had planned on making a batch of my smooth, thick and silky Homemade Chocolate Pudding. While I was preparing the ingredients, I stopped dead in my tracks and realized something — I had a full jar of Nutella just waiting to be turned into something delicious!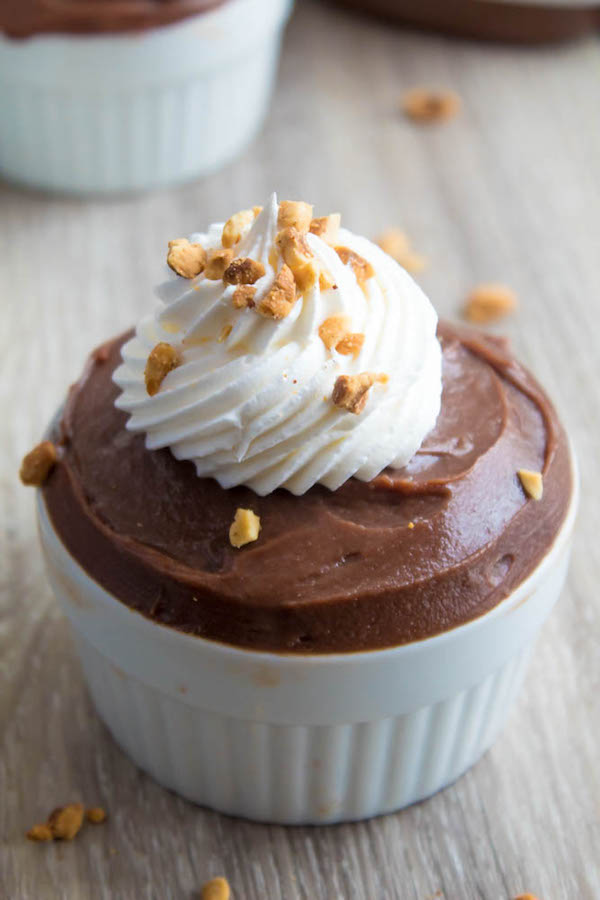 Homemade Nutella Pudding
I'm not even sure if store-bought Nutella pudding exists, but if it does, I'm sure the homemade version is better. What can I say, I believe that "there's no taste like home" which basically means homemade is always best.
The best part about homemade pudding is how quick and easy it comes together. Only a few basic ingredients are required, and it's as simple as combining everything together and cooking it on the stove until it's as thick as pudding. Some people like to eat their pudding warm, but I prefer to let mine chill and thicken even more before consuming.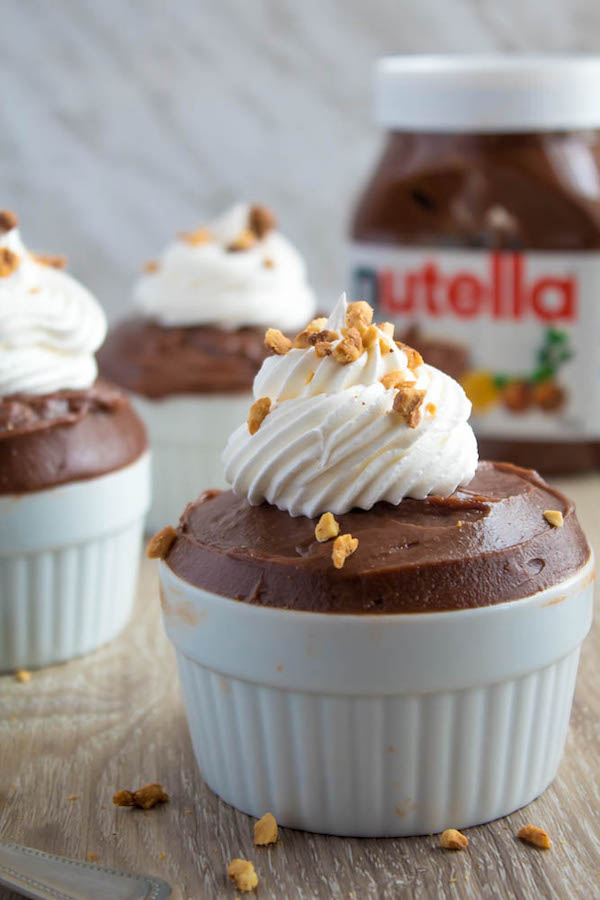 H0w to Make Nutella Pudding
To make the pudding, you'll need: whole milk, heavy cream, Nutella, sugar, cornstarch, salt, egg yolks and butter. This recipe is a bit different from my other pudding recipes. My other puddings just require you to mix the egg yolks with the sugar, cornstarch and salt, then slowly pour in the cold milk/cream mixture.
For this recipe, I began by scalding the milk, cream and Nutella in a saucepan until the Nutella was melted and the mixture was steaming, but NOT boiling. While the mixture is heating up, whisk the egg yolks with the sugar, cornstarch and salt until it's a pale yellow.
Once the milk/Nutella mixture is completely combined, we'll need to temper the egg yolk mixture. This means we add a small amount of the hot Nutella liquid to the egg yolk mixture while whisking constantly. This slowly heats up the egg yolks and keeps them from scrambling when the remaining hot liquid is added.
So once all the liquid is added, we pour it back into the saucepan and cook it on the stove for 8-10 minutes until it thickens up. The pudding will begin to bubble and pop, and you should be able to coat a spoon with it. One thing I should mention is that I ran out of milk and cream while preparing the pudding, so mine came out thicker than it should've been. It still tasted wonderful, but yours should come out thinner and silkier than mine did.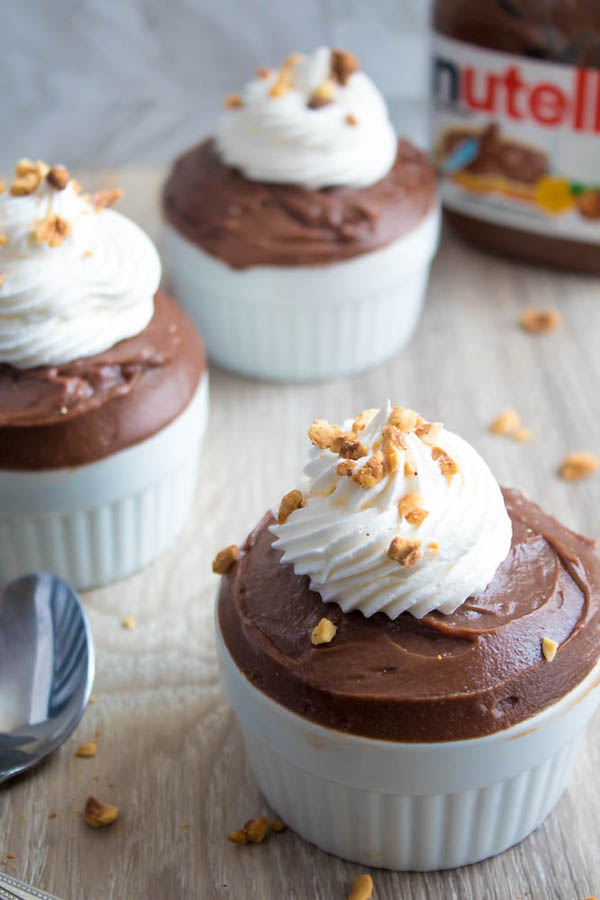 To ensure your pudding is extra smooth, run it through a fine mesh strainer. This will separate the silky pudding from any curdled egg pieces. Although the tempering should prevent that from happening, you're better off safe than sorry.
Another tip to keep your pudding smooth is to place plastic wrap directly onto the surface of the pudding. This will prevent that skin from forming on top and will keep your pudding silky all throughout.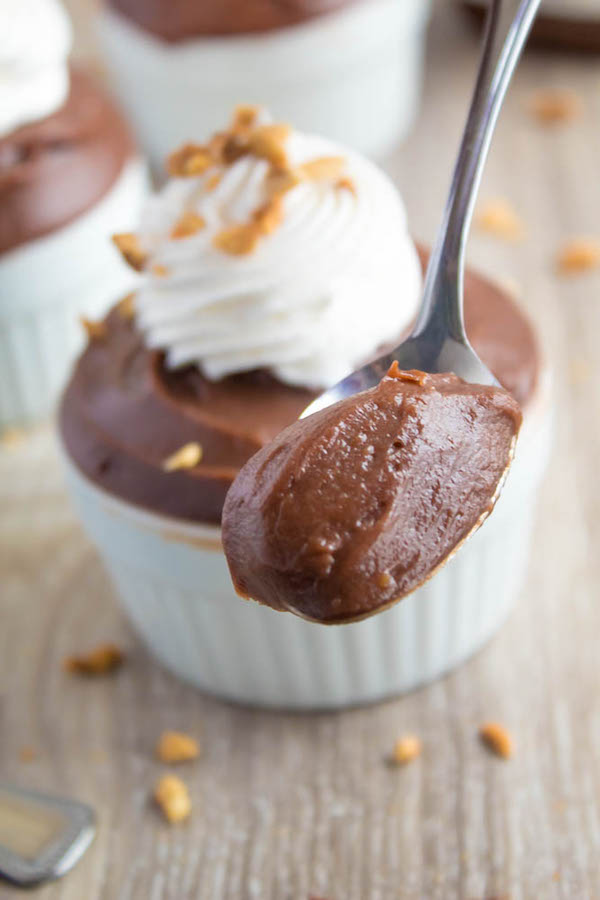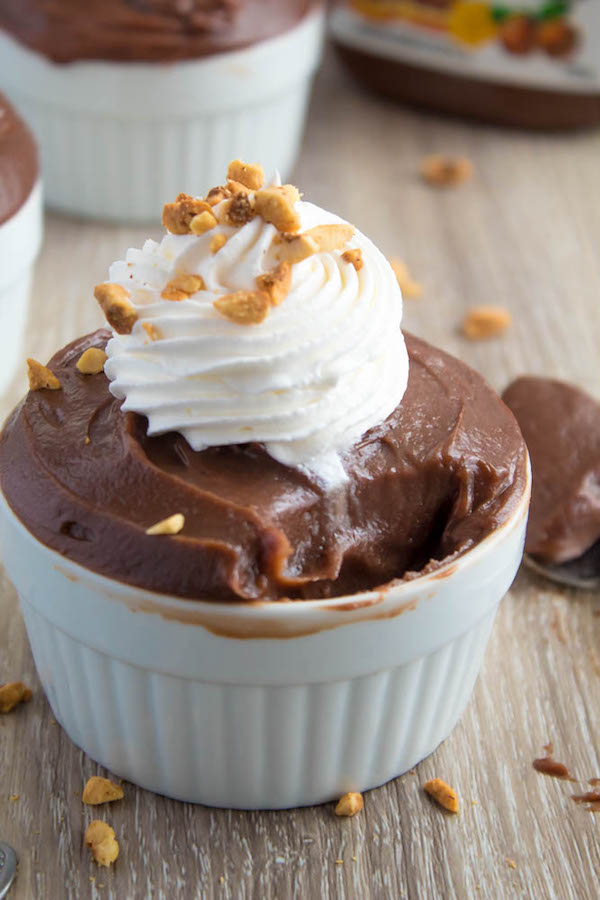 You can serve this pudding as is, or you can top it with a generous dollop of cool whip and sprinkle with chopped hazelnuts. I love the crunchy texture and extra flavour the chopped hazelnuts have, so after taking the photos, I added another handful and mixed them into the pudding!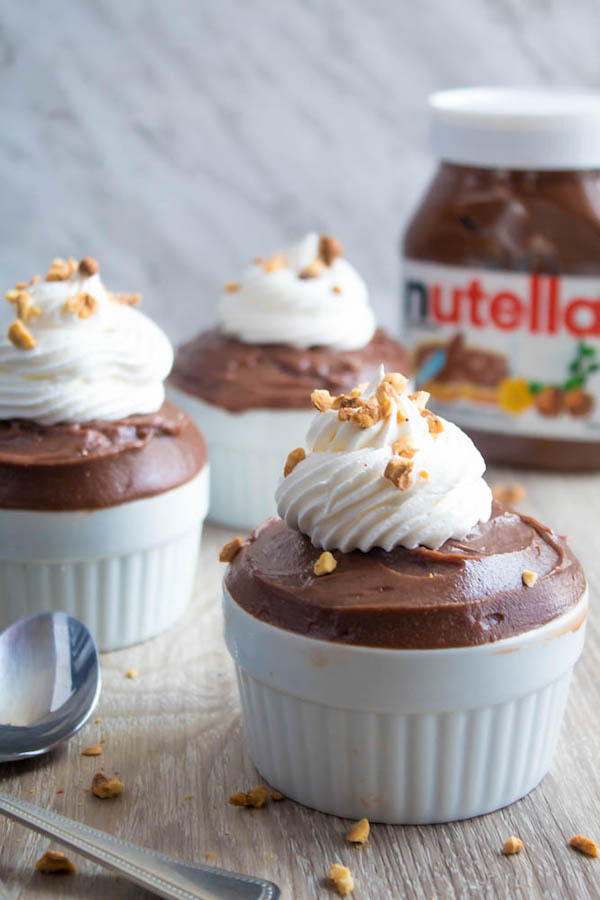 Next time you're craving Nutella, treat yourself to this decadent Homemade Nutella Pudding. It's extremely addictive and is every Nutella lovers dream come true!
>>PIN ME FOR LATER<<

Follow Queenslee Appétit
Pinterest | Instagram | Facebook | Twitter |
Did you make a recipe? I'd love to see how it turned out! Follow me on Instagram and use the hashtag #queensleeappetit so I can see all of the Queenslee Appétit recipes you've made!
Let's get baking!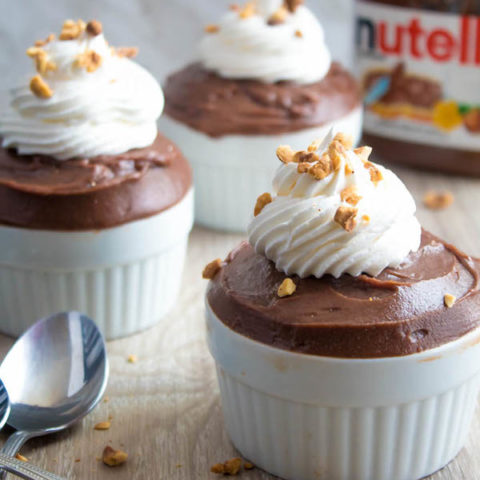 Homemade Nutella Pudding
This Homemade Nutella Pudding is super velvety, thick and decadent. Packed with loads of Chocolate-hazelnut flavour, it's a tasty treat everyone will enjoy!
Ingredients
Nutella Pudding:
2 and ½ cups whole milk
½ cup heavy whipping cream
1 and ¼ cup Nutella
⅔ cup granulated sugar
4 tablespoon cornstarch
¼ teaspoon salt
4 large egg yolks
3 tablespoons unsalted butter, cut into pieces
Optional Garnishes:
Whipped cream (I used cool whip)
Chopped hazelnuts
Instructions
For the Nutella Pudding;
In a medium saucepan, combine the whole milk, heavy cream and Nutella. Heat over medium heat, stirring constantly until the Nutella has melted and mixture is simmering. Set aside.
Sift sugar, cornstarch and salt into a large bowl and whisk together. Add egg yolks and whisk until combined and smooth.
Pour ⅓ of the Nutella/milk mixture into the egg mixture while whisking to temper the eggs.
Slowly pour the remaining Nutella/milk mixture into the egg mixture while whisking constantly until combined.
Pour mixture back into saucepan and place saucepan back on the stove. Heat on medium heat and cook, stirring constantly until the mixture is thickened and begins to boil, 8-10 minutes. Mixture should coat the back of a spoon. Allow to boil for an additional 30 seconds.
Remove from heat and add butter. Whisk until melted and smooth. Strain pudding through a fine mesh sieve into a bowl.
Divide pudding into individual serving cups and cover each with plastic wrap, placing the plastic directly on top of the pudding so it doesn't form a skin while cooling. Chill in the refrigerator for 2 hours or overnight.
Garnish with whipped cream and chopped hazelnuts. Enjoy!
©QUEENSLEE APPÉTIT. All images & content are copyright protected. Please do not use my images without prior permission. If you want to republish this recipe, please re-write the recipe in your own words, or link back to this post for the recipe.
Bon Appétit!
Love, Dedra ❤