These Honey BBQ Chicken Wings are juicy, tender and flavourful. They're covered in a blend of spices, baked to a crisp and then tossed in the best Honey BBQ Sauce!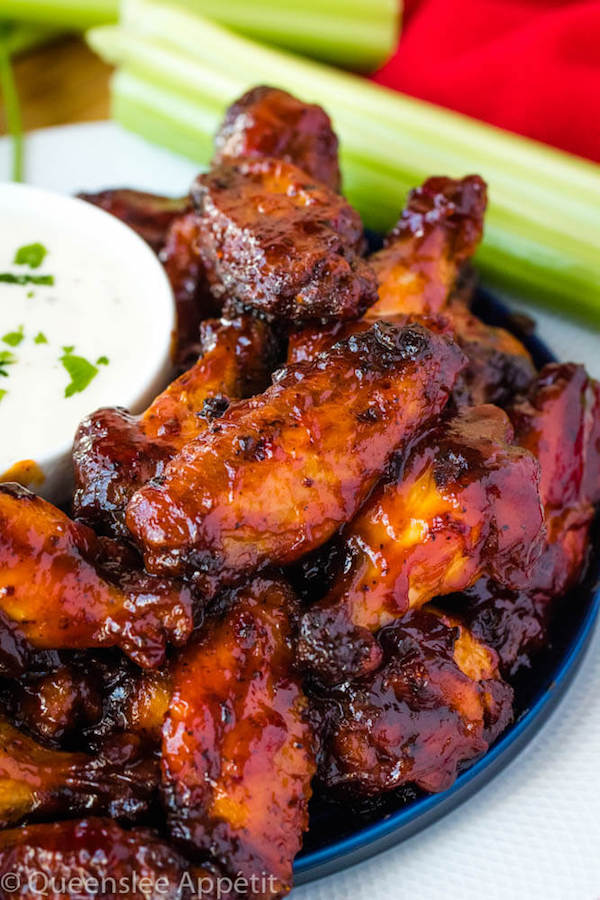 This post may contain affiliate links. Please see my full disclosure policy for details.
Even though this blog mainly focuses on sweet dessert recipes, I still like to post a good ole Savoury recipe from time to time. I've noticed that although I have a perfect Fried Chicken Recipe, I don't have any recipes for chicken wings! And with Memorial Day coming up, I figured you'd all appreciate the perfect chicken wing recipe to make and serve at your gatherings.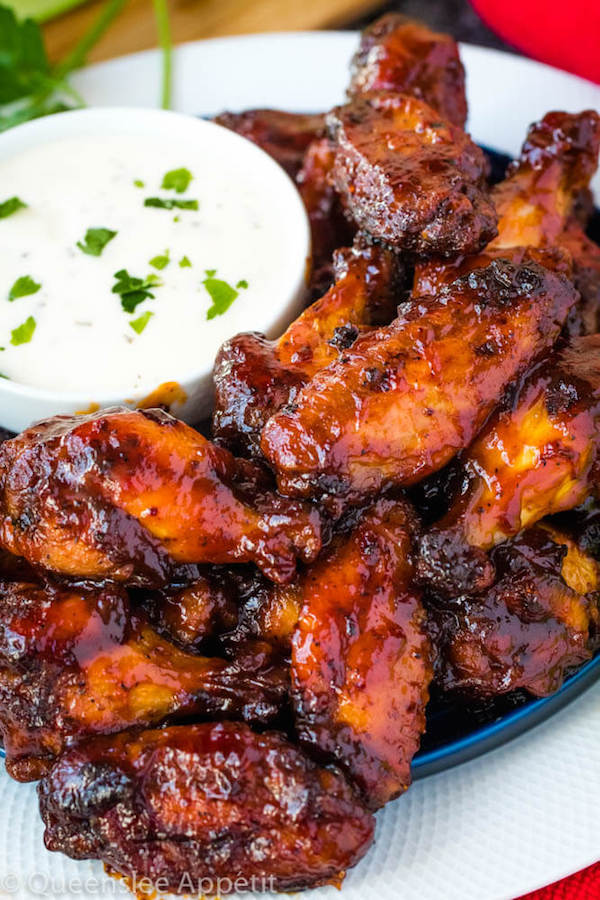 I first made this recipe back in January for a catering order. I didn't even think about sharing it on the blog because I didn't really get to taste test it. It wasn't until I received an email from my client raving about how amazing the wings were and asking if I could make more.
After making her another order of wings, I made a few batches for myself and my family and holy freaking moly these are without a doubt the best wings I've ever had! Since then, I think I've made these wings about 10 more times because everyone who tried them (including myself) couldn't get enough and insisted I made more!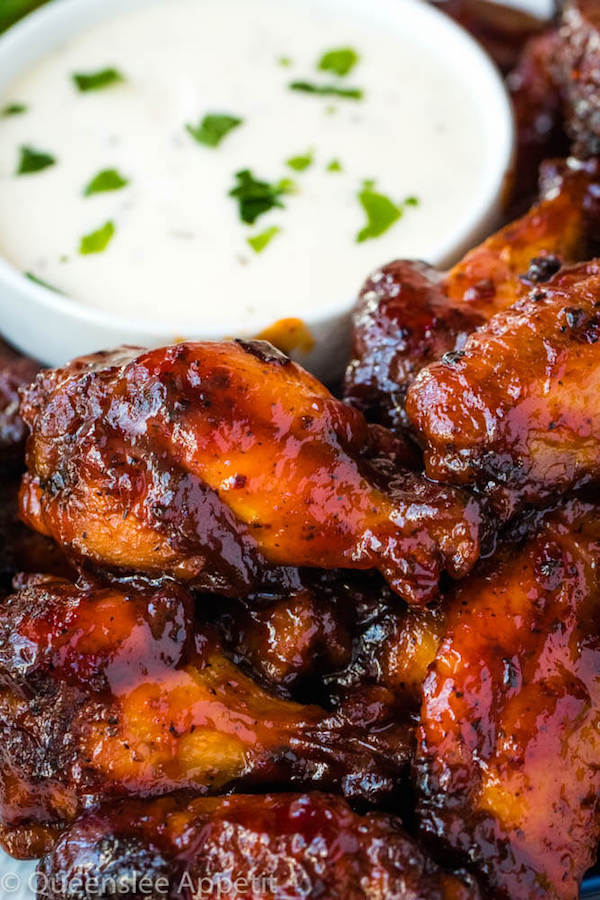 Honey BBQ Chicken Wings
I'll be honest, if I were to go to a restaurant and order chicken wings, BBQ wouldn't even be in my top 5 flavour options. I've never really been a fan of BBQ, but I can say with full confidence that that is no longer the case.
Everything about these wings are AMAZING!! From the crispy perfectly seasoned chicken to the heavenly sweet and tangy Honey BBQ Sauce! They're ridiculously easy to make, which is both a good thing and a bad thing because I can easily eat an entire tray of these babies without even noticing.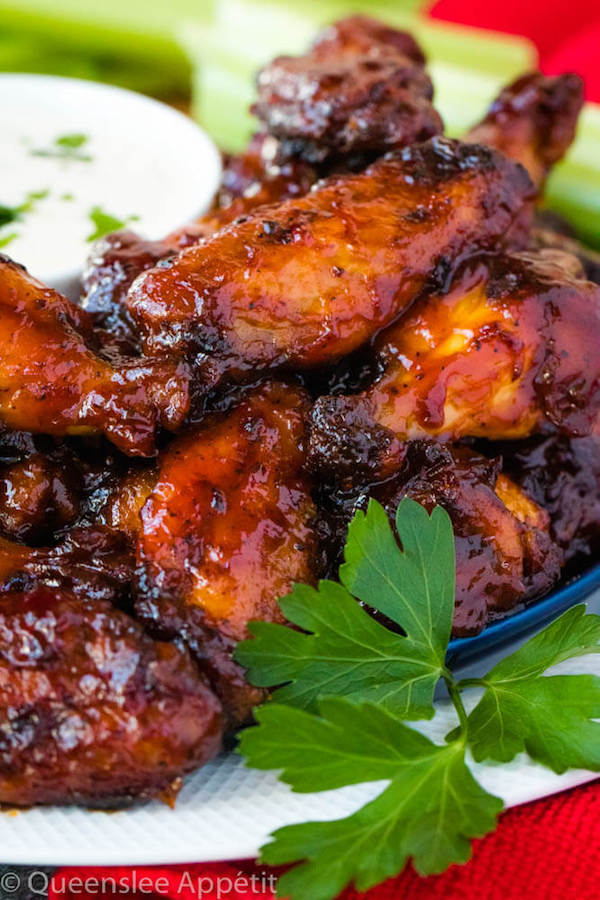 How to Make the BEST Honey BBQ Chicken Wings
I have quite a few tips for making the most perfect chicken wings.
First things first: wash your wings! I always wash my wings with equal parts of cold water and vinegar, then I add a squeeze of fresh lemon juice and allow the wings to soak for about 20-30 minutes.
This method removes the fatty residue from the chicken's skin. My grandmother taught me this method and we all know grandmother's are never wrong when it comes to cooking, especially chicken, so I highly recommend you wash your wings this way.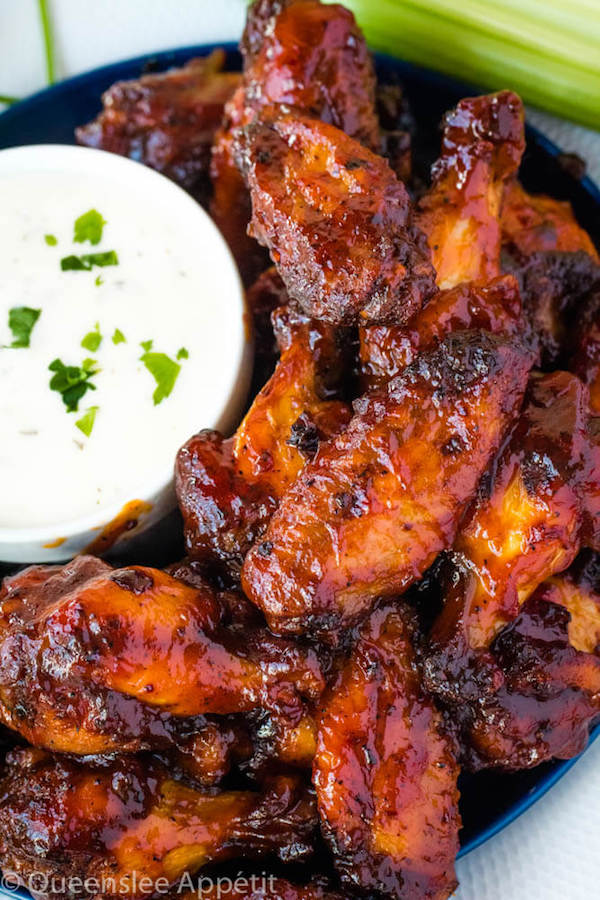 How to Dry Your Chicken Wings
The most common way to dry chicken wings is to pat them with a clean paper towel. If you don't have a lot of time, you can definitely use this method.
However, I recently learned a different way to dry wings, which is to place them on a rack lined baking sheet. Then I placed them in the refrigerator uncovered for 3 hours (you could leave them for 1 hour), turning them halfway through so they can dry evenly on both sides. I cleared the entire top half of my fridge just to avoid cross contamination.
This method is supposed to create a super crispy skin on the chicken once it's baked, and it did! I tried one of the wings without the BBQ sauce coating and they were some of the crispiest wings I've ever tasted!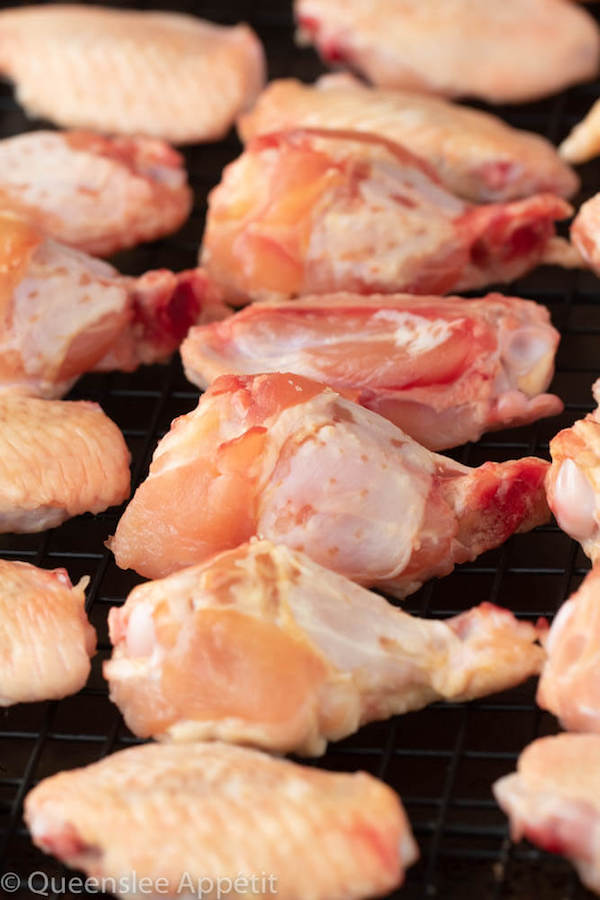 Five Spice Seasoning Blend
One thing I don't play with when it comes to cooking chicken, is the seasoning. These wings are seasoned to perfection with 5 simple seasonings: salt (I prefer kosher), black pepper, hot chilli powder, smoked paprika and garlic powder.
Add an equal amount of each seasoning to a small bowl and stir to combine. Sprinkle seasoning blend onto the chicken about ¼ to ⅓ at a time, tossing with a wooden spoon after each addition. I like doing this because it ensures that every inch of the wings are coated in the seasoning.
Now, if you have time to spare, you could cover the wings and place them in the refrigerator overnight to allow the seasonings to meld with the chicken and enhance the flavour. You don't HAVE to do this, though because the few times I've made these wings, I just baked them immediately after adding the seasoning and they were still incredibly tasty.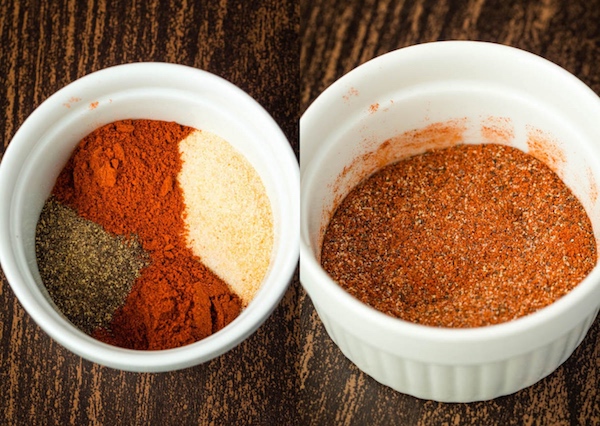 Baking the Wings
We're gonna bake the wings at a high temperature of 425°F, for 20 minutes on one side and 25 minutes on the other side so it bakes evenly. I baked the wings on a parchment lined baking sheet, because unfortunately the oven rack I bought to bake the chicken on couldn't fit in my tiny little oven. So if you do have a baking rack, I highly recommend using it. But if you don't, no worries, the chicken will still be nice and crispy.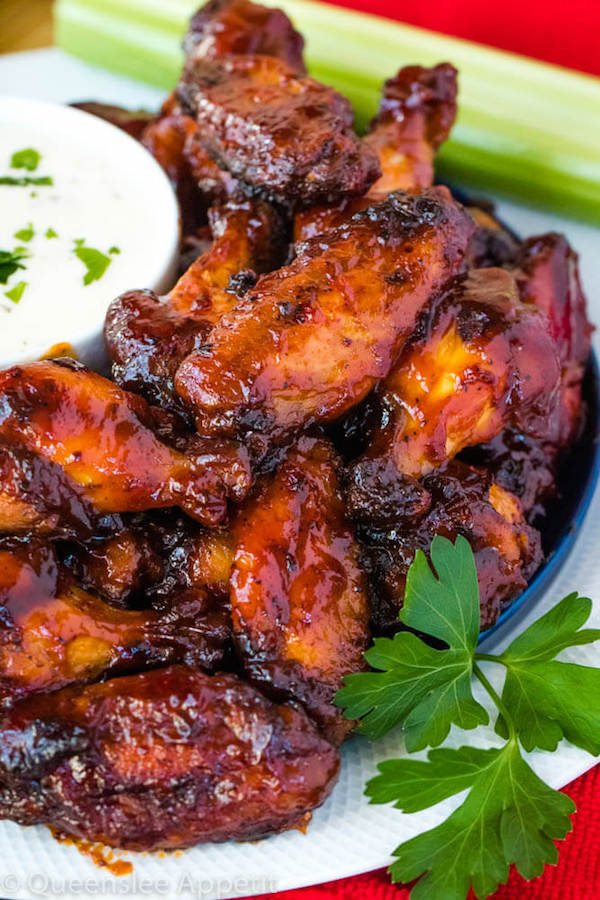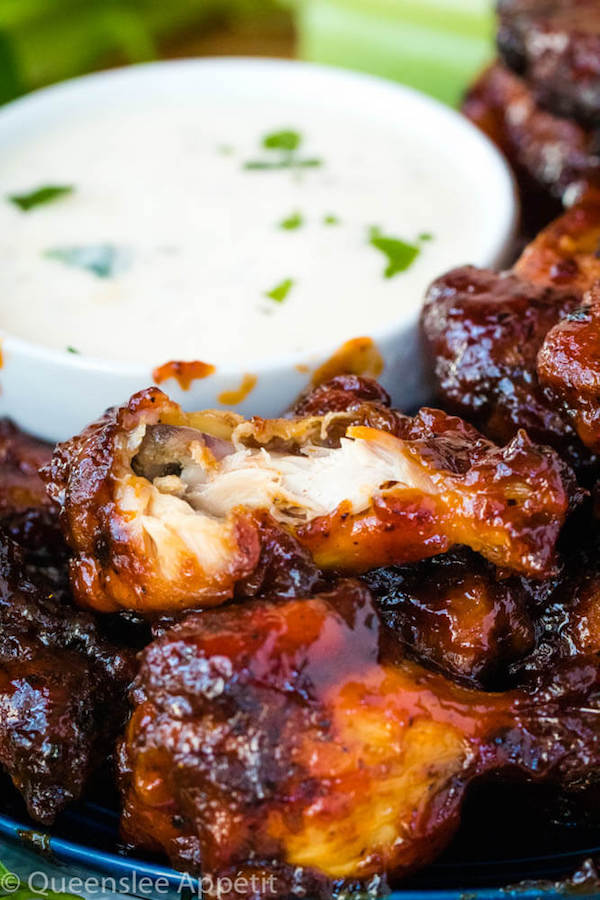 The Best Honey BBQ Sauce
Guys this sauce, THIS SAUCE!!! This is a big reason as to why these are mine and a lot of my family's new favourite wings. This sauce is the literal definition of "finger-licking-good". It's so good that I always end up wiping the excess sauce off the plate and licking it clean. It's my absolute FAVOURITE wing sauce!
The type of BBQ sauce you use plays a huge part in how the sauce turns out flavour wise. I've tried a lot of different BBQ sauces, but there's one sauce in particular that I have fallen in love with: Sweet Baby Ray's Original BBQ Sauce!
A little Disclaimer: I am NOT sponsored by Sweet Baby Ray's, and all opinions are my own. However if you click on the affiliate link above to purchase this amazing BBQ sauce from amazon, I will make a small commission.
Now that we've gotten that out of the way, I just want to say that, in my opinion, Sweet Baby Ray's is the best brand of BBQ sauce. I have yet to try any better and it's the main thing that makes the wing sauce so darn amazing. If you can't find this brand, you can substitute it for any other brand. As long as you use a BBQ sauce that you really enjoy, then the sauce will still be amazing for you.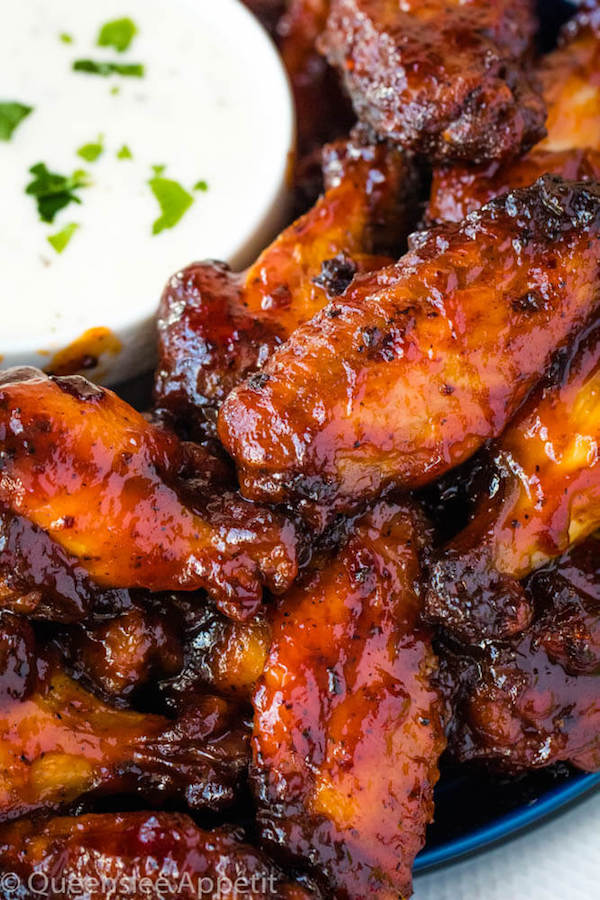 How to Make Honey BBQ Sauce
Sweet Baby Ray's and other BBQ sauce brands sell their own Honey BBQ Sauce, but I prefer to make my own from scratch and recommend you do to. It's completely fool proof, trust me.
Start by melting some butter in a saucepan over medium heat, then add the BBQ sauce, honey and a bit of ketchup. Mix the sauce ingredients together and bring to a simmer, then reduce the heat to low and allow to simmer for about 10 minutes. That's all! Fool-proof.
Once the chicken has finished baking, place it in a large bowl, then pour the sauce over and toss with a wooden spoon to coat all the wings. You could brush the sauce onto both sides of the wings, but I find this method to be much easier. Place wings back onto baking sheet, then return to oven to bake for a few more minutes until the sauce is bubbling and the wings look beautifully caramelized.
This is pretty much the main reason I wish I had a rack to bake the wings on. On the parchment paper, the sauce pools and slightly burns on the bottom. This isn't a huge problem at all, but a rack would prevent this from happening.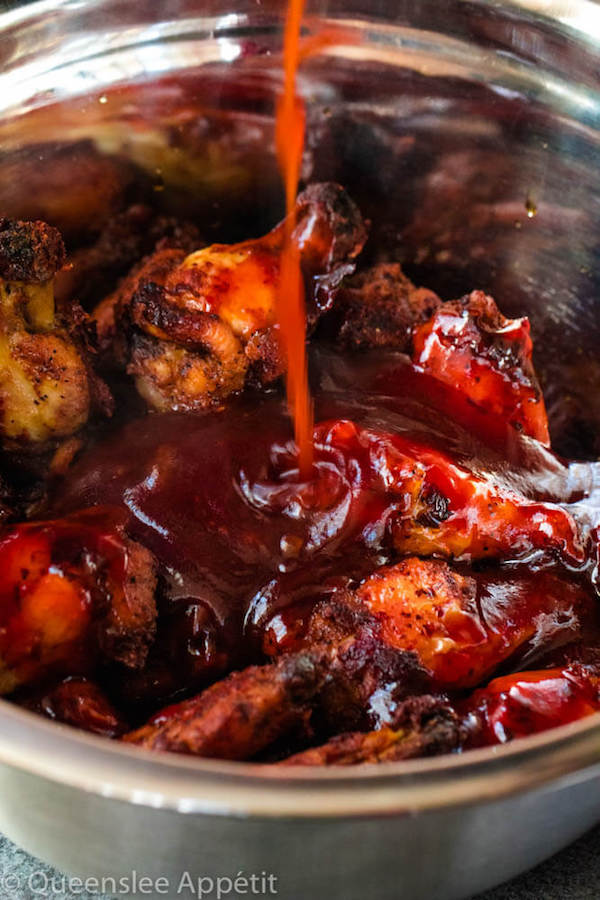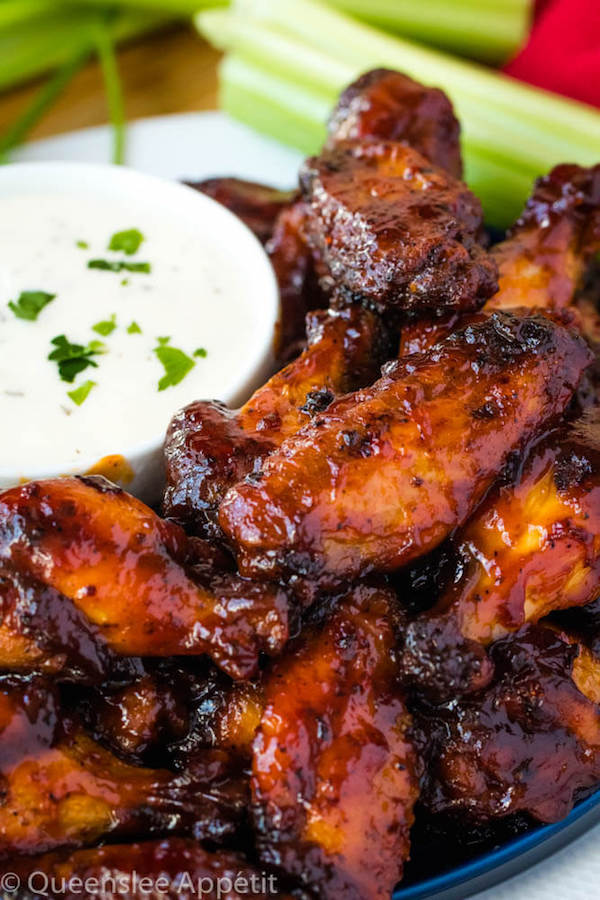 There you have it! The most perfect Honey BBQ Chicken Wings you'll ever make. These are perfect for Game Day, parties, Summer Barbecues or just for lunch, dinner or a midnight snack (I couldn't help myself). So ditch the take-out wings and give these a try. They're much cheaper and taste just as good, if not better than the wings you get from a restaurant!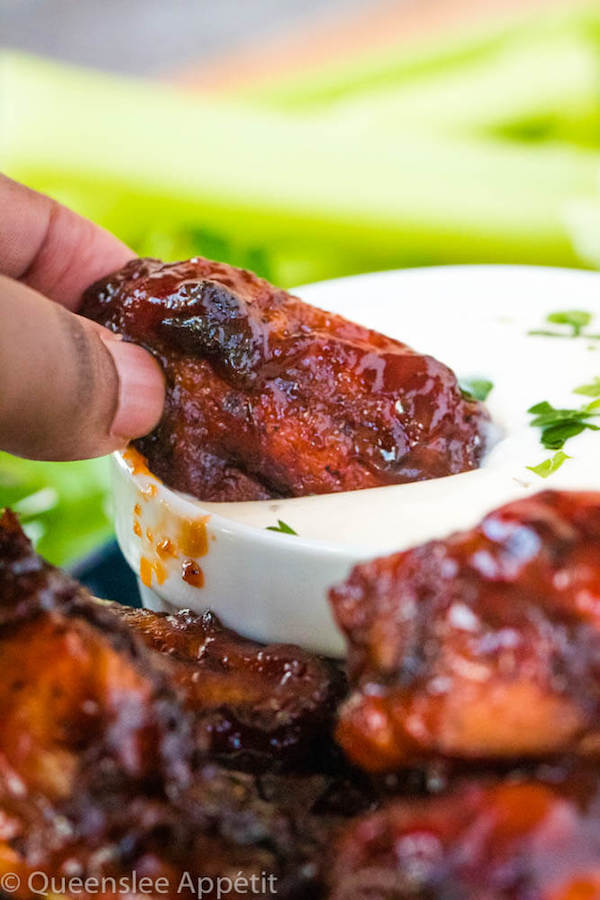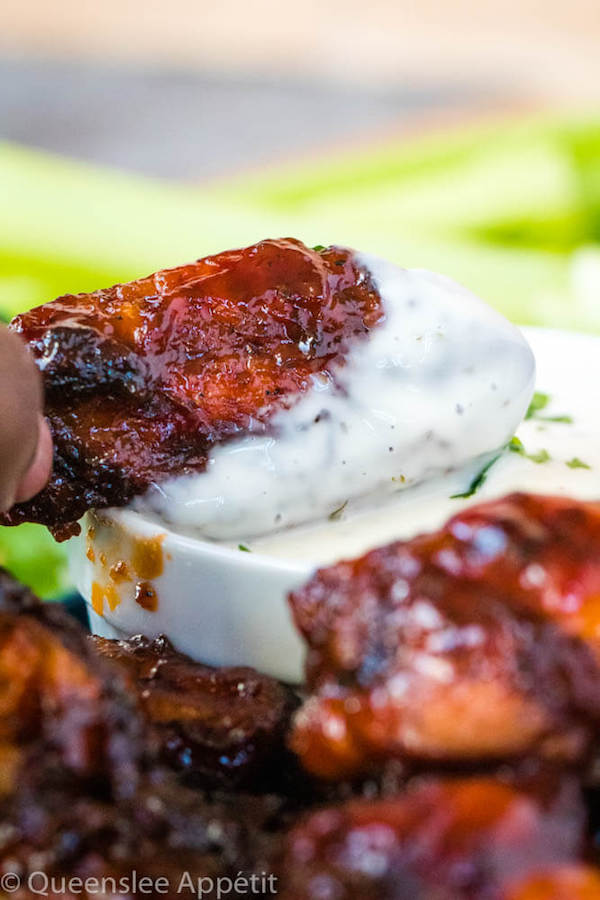 >>PIN ME FOR LATER<<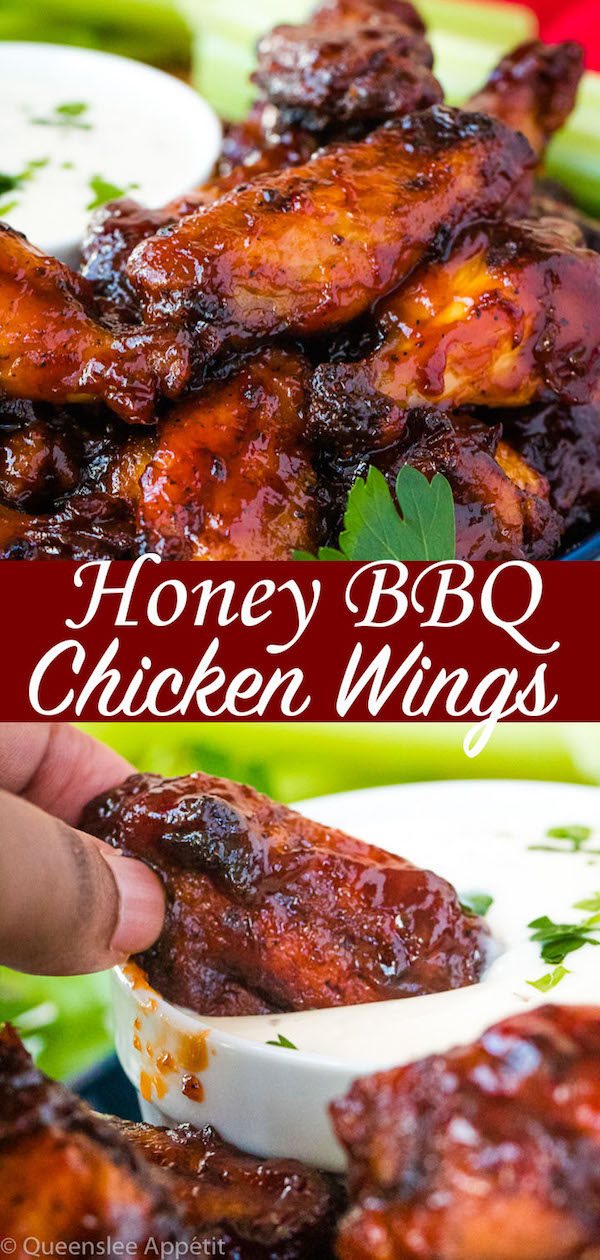 FOLLOW QUEENSLEE APPÉTIT
Like what you see? Make sure you're following Queenslee Appétit for more tasty recipes!
Pinterest | Instagram | Facebook | Twitter |
Have any questions about the recipe? Contact me here, and I'll be happy to help!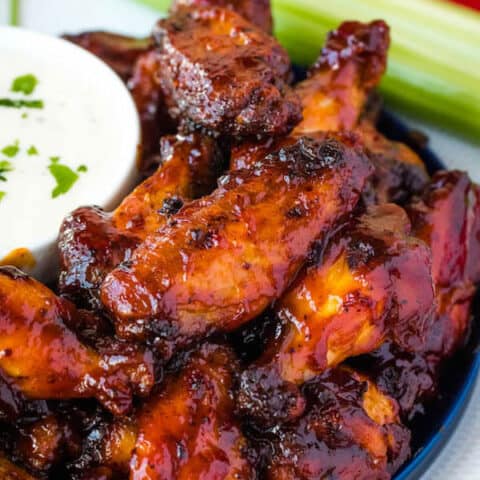 Honey BBQ Chicken Wings
Cook Time:
1 hour
4 minutes
Total Time:
1 hour
9 minutes
These Honey BBQ Chicken Wings are juicy, tender and flavourful. They're covered in a blend of spices, baked to a crisp and then tossed in the best Honey BBQ Sauce!
Ingredients
To Wash Wings:
3 and ½ - 4 lbs. chicken wings, tips removed, drums and flats separated
Cold Water
Vinegar
1 lemon
Seasoning Blend:
1 and ½ teaspoon salt
1 and ½ teaspoon freshly ground black pepper
1 and ½ teaspoon hot chilli powder
1 and ½ teaspoon smoked paprika
1 and ½ teaspoon garlic powder
Honey BBQ Sauce:
¼ cup unsalted butter
1 cup BBQ sauce (I recommend Sweet Baby Ray's)
½ cup honey
2 tablespoon ketchup
Instructions
Washing and Drying the Wings:
Place a wire rack on top of a parchment lined baking sheet. The rack and sheet should be close to the same size. Set aside.
Wash the chicken wings with equal parts of cold water and vinegar. Cut lemon in half and squeeze one half of the juice into the water/vinegar. Allow wings to soak for about 20-30 minutes, then drain the water (Note 1).
Line the wet wings on the wire rack and place in the refrigerator uncovered to dry for about 1 hour or overnight. Flip the wings halfway through so both sides can dry evenly. If you don't have much time, you can go ahead and pat the wings dry with a clean paper towel. (Note 2).
For the Chicken Wings:
Preheat oven to 425°F (220°C). Line a baking sheet with parchment paper or a silpat mat. If you have an oven proof rack that fits on top of your baking sheet, you can place that on top.
In a small bowl, combine the salt, black pepper, hot chilli powder, smoked paprika and garlic powder.
Place all the chicken in a medium bowl, then sprinkle on ⅓ of the seasoning blend.
Use a wooden spoon to toss the wings and coat the wings. Continue to sprinkle on more and more of the seasoning blend while tossing the wings until all the seasoning has been added (Note 3).
Line all the wings onto the lined baking sheet, don't worry about them touching. Bake in preheated oven for 20 minutes. After 20 minutes, remove the wings and flip them to the other side. Return to oven and bake for another 25 minutes. While wings are baking, prepare the Honey BBQ Sauce.
For the Honey BBQ Sauce:
Add the unsalted butter to a medium saucepan over medium heat. Heat until melted.
Once butter has melted, add the BBQ sauce, honey and ketchup. Stir to combine, then allow to come to a simmer.
As soon as the sauce begins to simmer, decrease the heat to low and allow the sauce to simmer, stirring occasionally, for about 10-15 minutes.
When the wings have finished baking, place them all into a large clean bowl. Pour the Honey BBQ Sauce over chicken, then use a clean wooden spoon to toss the wings until they're completely coated in the sauce.
If you used parchment paper, it may be pretty dirty by now so feel free to replace it with a fresh sheet of parchment.
Place coated wings back onto lined baking sheet then return to the oven and bake for another 7-8 minutes, until sauce is bubbling and has caramelized.
Remove from oven and allow wings to cool on baking sheet for about 5 minutes, then transfer to a serving platter. Enjoy!
Notes
Watch the full YouTube video tutorial HERE!
I prefer drying my wings on a rack in the refrigerator rather than patting them dry with a paper towel, because not only can the paper towel leave behind bits of paper on the chicken, but leaving the wings uncovered in the refrigerator is supposed to help create a crispy skin on the chicken once they're baked.
The reason you wanna add the seasoning blend in portions is so that every inch of the wings are covered. So add some of the mix, toss, then add more seasoning blend where you see uncovered spots.
If there's any sauce remaining, store in a freezer safe ziplock bag and store in the freezer. I've noticed that this sauce does not freeze solid at all, so you won't have to thaw it out. Just pour back into a saucepan and reheat before using again.
Recommended Products
As an Amazon Associate and member of other affiliate programs, I earn from qualifying purchases.
Nutrition Information:
Yield:

30
Serving Size:

1
Amount Per Serving:
Calories:

149
Total Fat:

9g
Saturated Fat:

4g
Trans Fat:

0g
Unsaturated Fat:

5g
Cholesterol:

29mg
Sodium:

267mg
Carbohydrates:

12g
Fiber:

0g
Sugar:

8g
Protein:

5g
BON APPÉTIT!
Love, Dedra
DID YOU MAKE A RECIPE?
I'd love to see how it turned out! Follow me on Instagram and use the hashtag #queensleeappetit so I can see all of the Queenslee Appétit recipes you've made!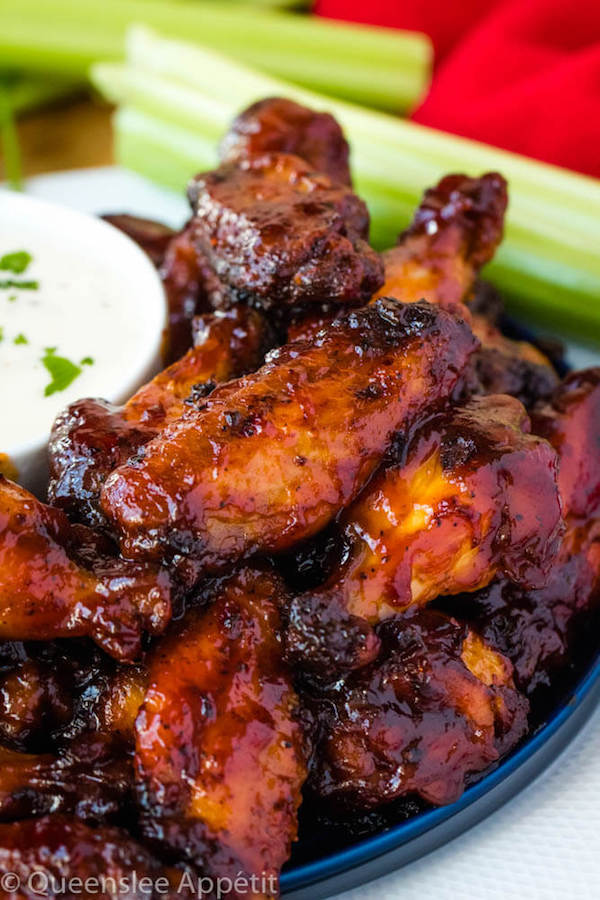 ©QUEENSLEE APPÉTIT. All images & content are copyright protected. Please do not use my images without prior permission. If you want to republish this recipe, please re-write the recipe in your own words, or link back to this post for the recipe.