These Caramel Popcorn Cupcakes are a unique and fun treat that's loaded with caramel popcorn flavour! It starts with a fluffy caramel cupcake that has finely crushed caramel popcorn mixed in. Take it to the next level by filling it with more caramel, topping it with caramel buttercream, caramel popcorn and, you guessed it....more caramel!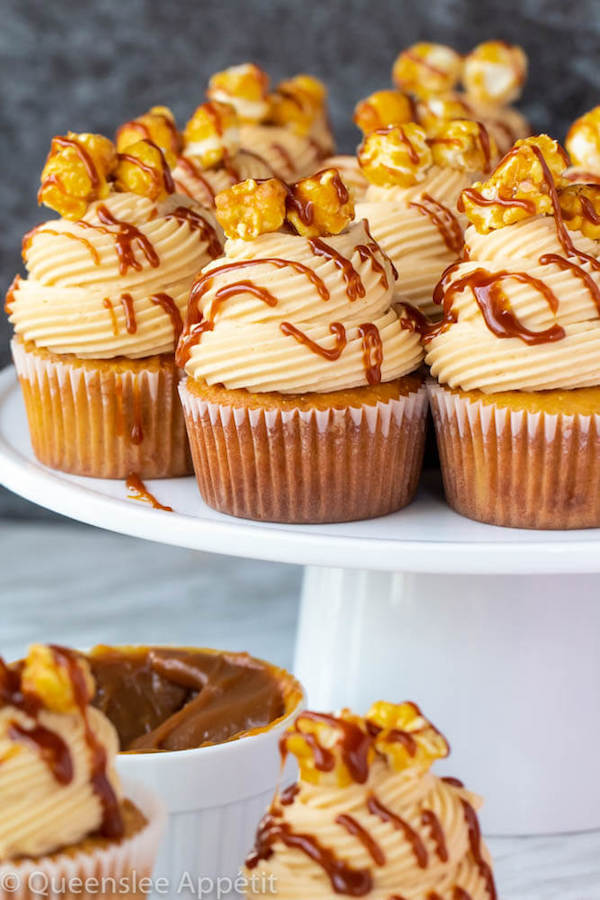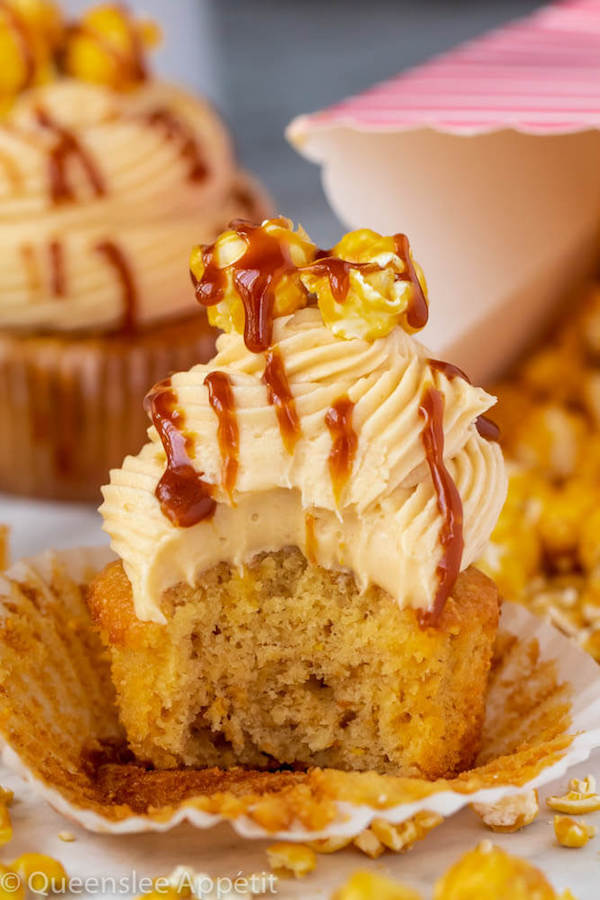 This post may contain affiliate links. Please see my full disclosure policy for details.
Caramel Popcorn Cupcakes
If you're a caramel popcorn lover like me and my family, you are gonna get a kick out of these cupcakes like we did! I know, I know, it sounds weird and I'm pretty sure people who've come across this recipe have had 1 of 3 reactions: Excitement (this sounds amazing!), Confusion (how the heck do you make a popcorn cupcake???), or Utter Disgust (she has lost her mind).
My close friends have reacted the exact same way. But when excited friend and confused friend took a bite, they both agreed that it was surprisingly tasty. Utter disgust friend refused to even have a nibble, her loss.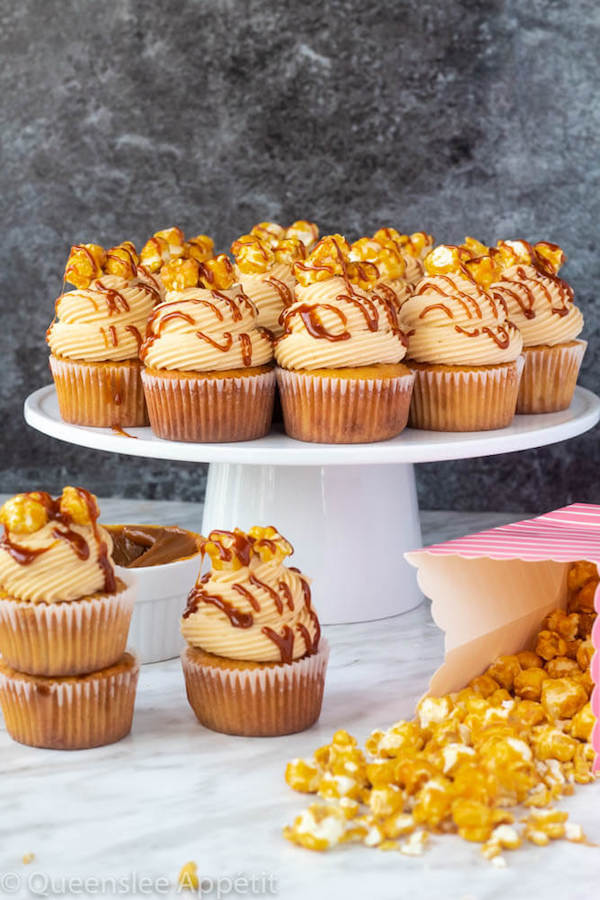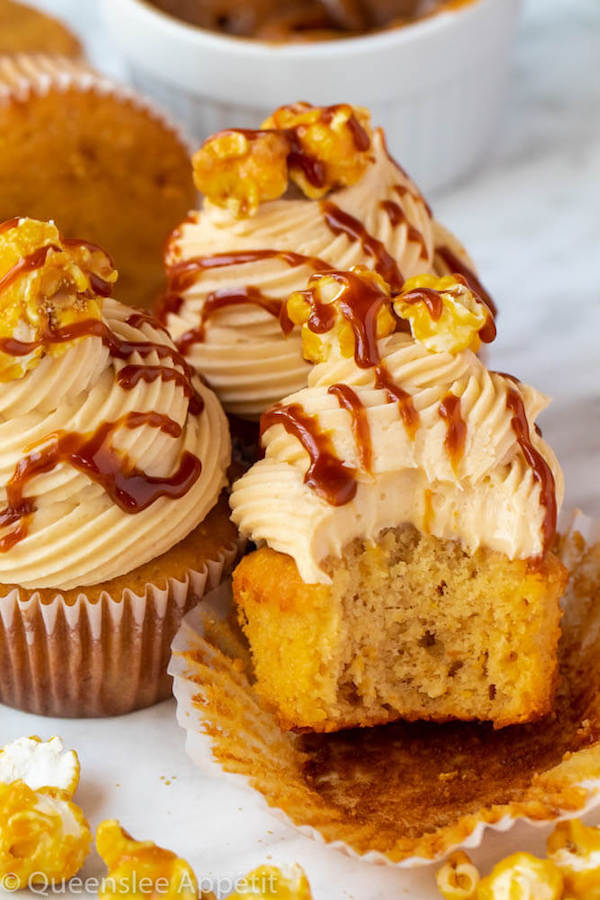 So whatever reaction you had, I still recommend you at least give these a try and see if you change your mind. They're insanely good!
I used store-bought caramel popcorn, but if you want to make your own from scratch, feel free! Actually, not too long after making these cupcakes, I made my own homemade caramel popcorn and it came out amazing! It's surprisingly simple to make.
I don't know when I'll be sharing the recipe since there's still a ton of other recipes waiting to be posted, but when I do I'll come back and link it here incase any of you want to give it a try and throw some into these cupcakes.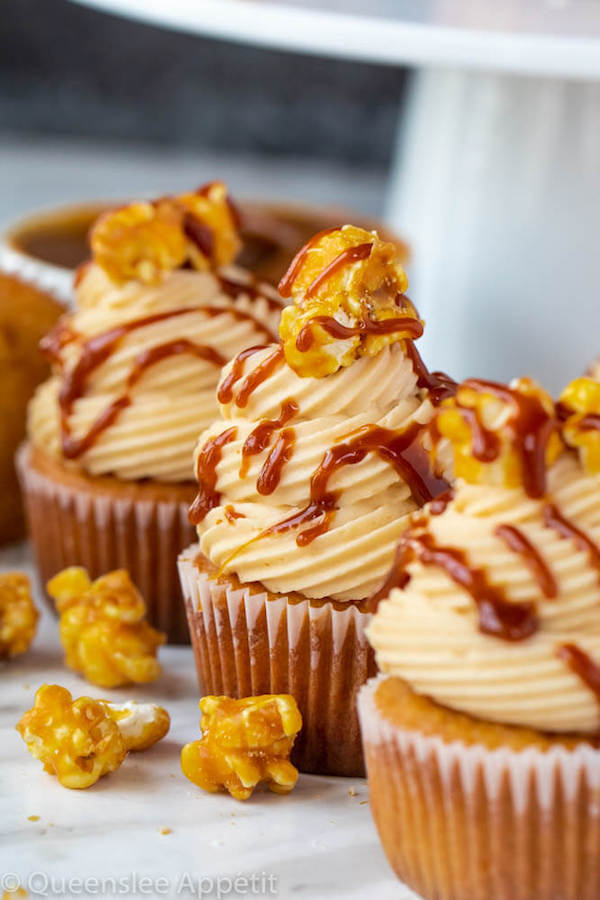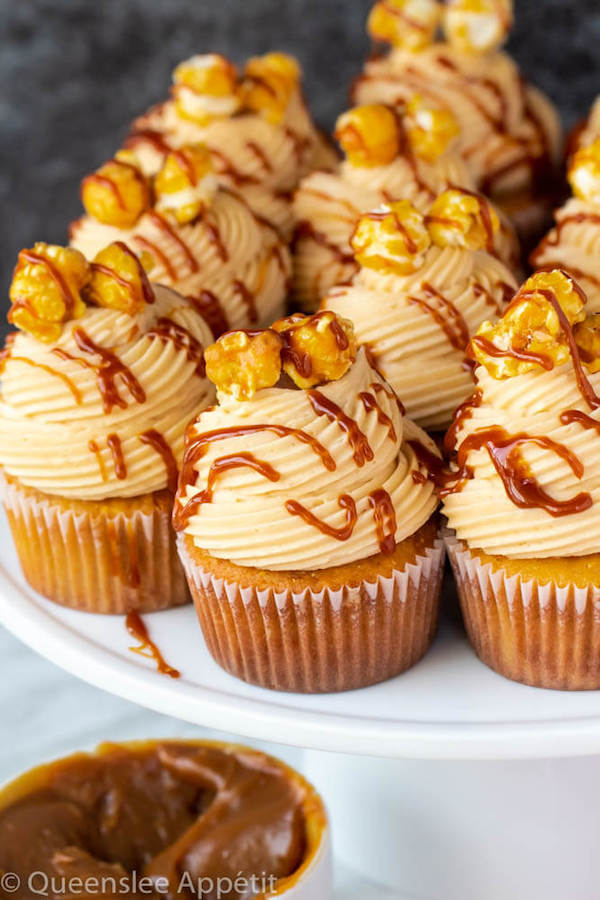 How to Make Caramel Popcorn Cupcakes
Speaking of which, let's get into how we actually make these babies! I took a look at a few caramel popcorn cupcake recipes just for an idea of how I should make them, but most of the recipes were just regular cupcakes with some popcorn and a drizzle of caramel on top.
Now there's nothing wrong with that, but I figured if I was gonna title these CARAMEL POPCORN CUPCAKES I might as well make them Caramel Popcorn flavoured, you know?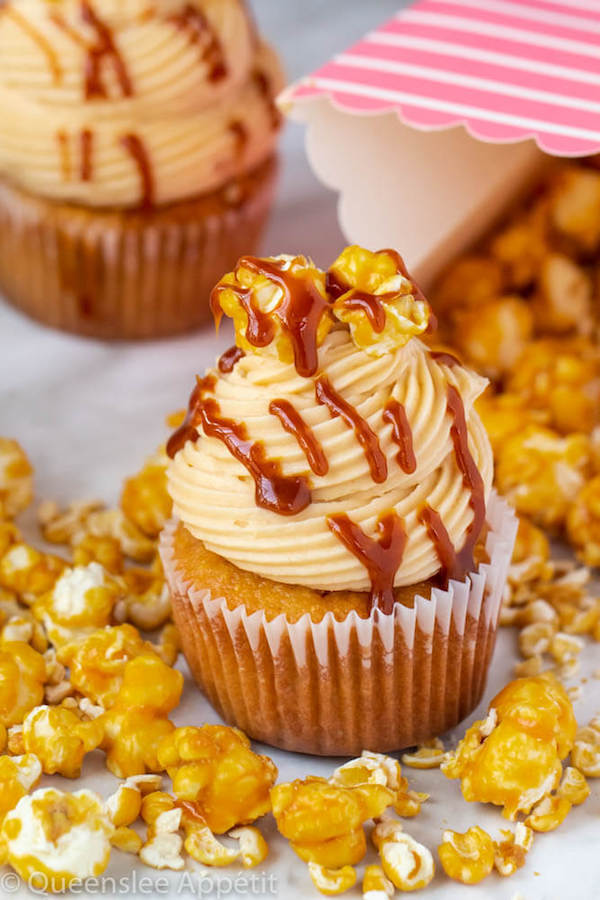 So then I got to brainstorming, how am I gonna make a cupcake that's both caramel and popcorn flavoured?? Well if I wanted to incorporate either of those flavours, simple recipes like my Perfect Vanilla Cupcakes, where you just have to whisk the wet ingredients into the dry ingredients, wouldn't work.
The batter for these cupcakes needed to be thick, so I started by creaming some butter and white sugar together. Make sure not to skimp on the creaming time since this is the key to getting a nice fluffy texture. The colour of the butter should lighten up to be near white before you move on. If you under-mix, the cupcake may sink in the middle or end up dense.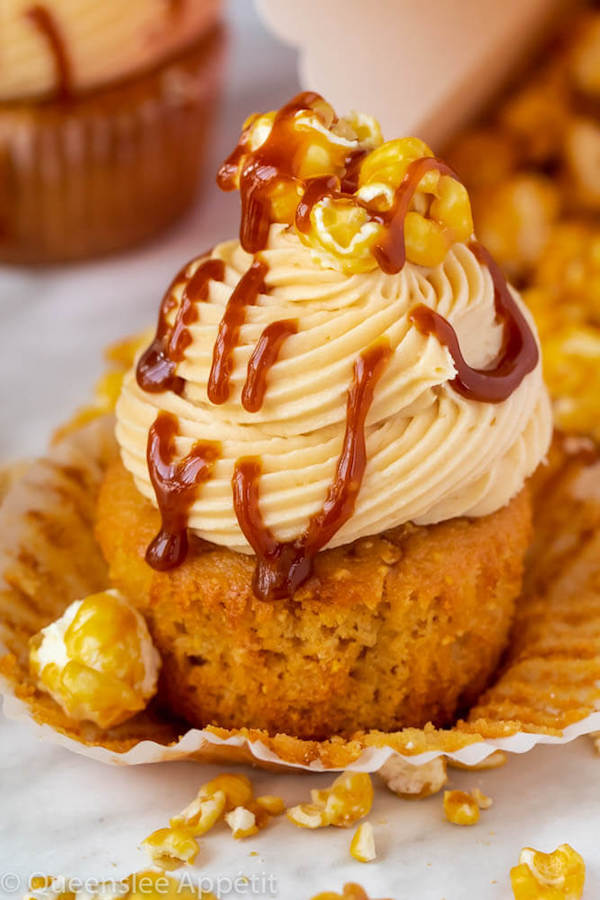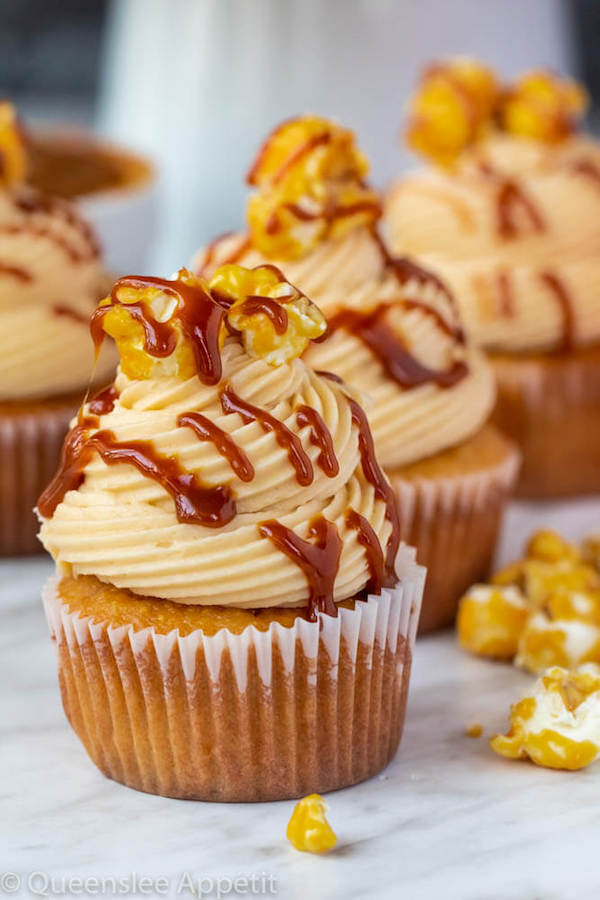 To add the caramel flavour, I used dulce de leche instead of homemade caramel sauce. Dulce de leche is a lot thicker than caramel sauce, so I thought it would mix into the batter easier and have little to no affect on the texture.
While we're on the topic of texture, another tip for maintaining a smooth batter while mixing is to alternate between the dry ingredients and buttermilk. So start by adding ⅓ of the dry mixture, then ½ of the buttermilk and so on. This will keep your batter from being too tough or too thin.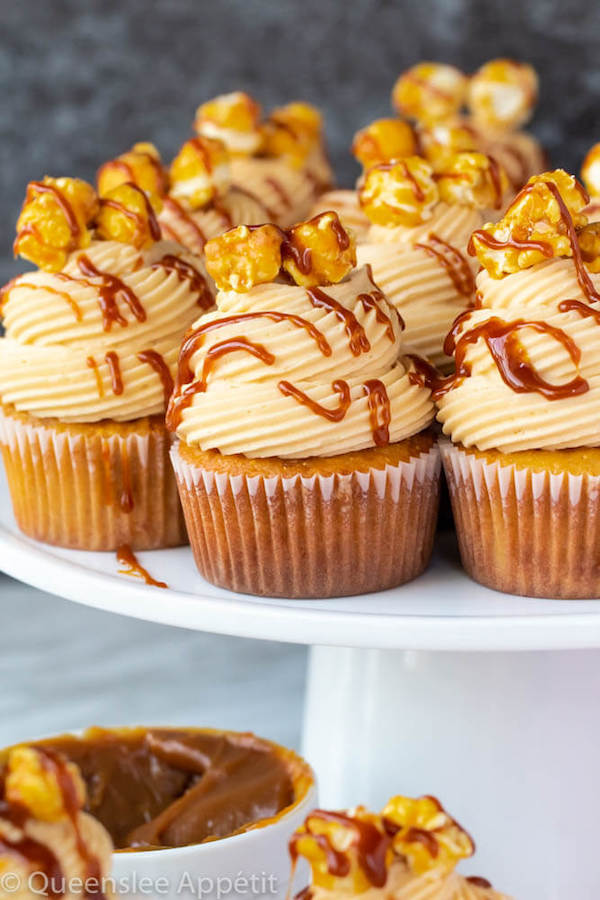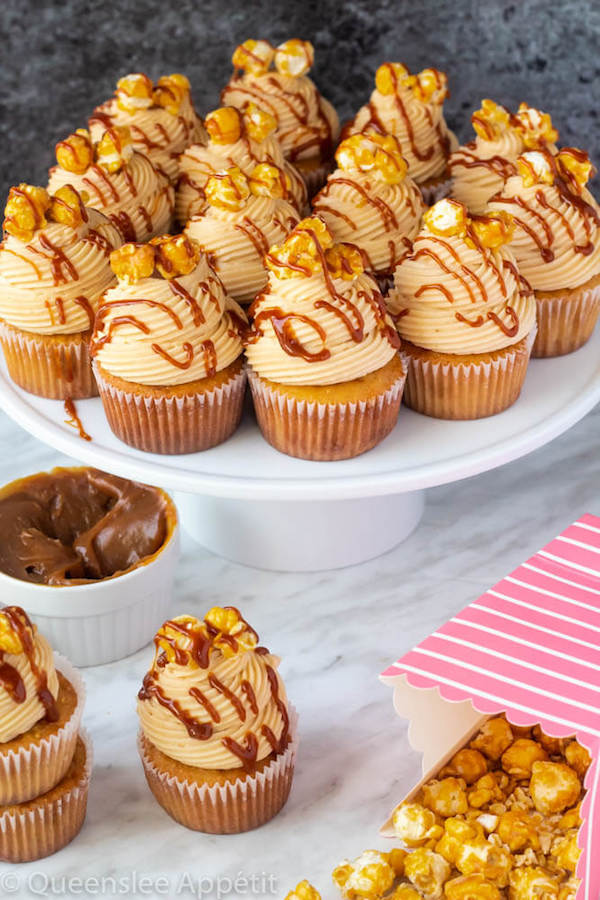 Adding the Popcorn
Ok now it's time for the moment of truth: adding the popcorn to these caramel cupcakes! Now I've actually come across a few recipes where they literally just threw popcorn into the cupcake. Like full blown popped kernel. That doesn't really sound like something I or anyone would want to bite into. Seriously, if I bit into a cupcake and found whole pieces of popcorn in it there's gonna be problems.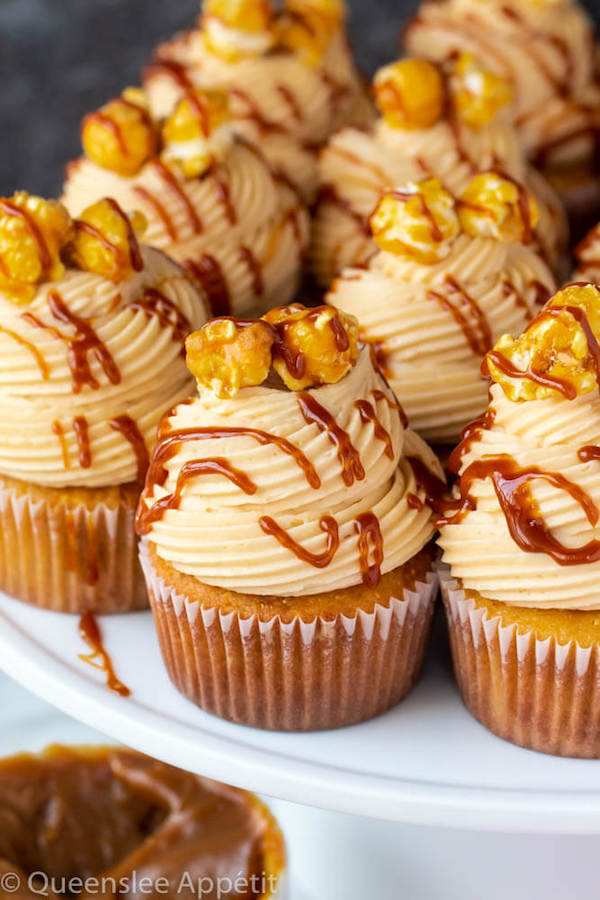 Buuutt, I still wanted to incorporate popcorn into my cupcake, but in a less gross way. So I took a handful of caramel popcorn, threw it into my food processor and ground it up into very, VERY fine crumbs. Then I folded it into the caramel cupcake batter.
You know what I love most about this method? When you grind up the caramel popcorn, it obviously grinds up the caramel coating too so you will also have some nice caramel sugar inside of the cupcake!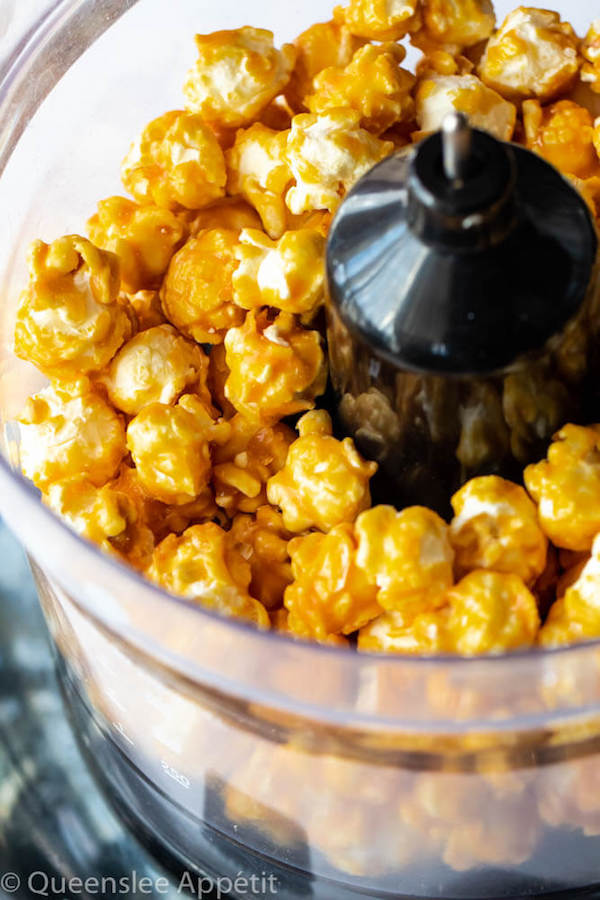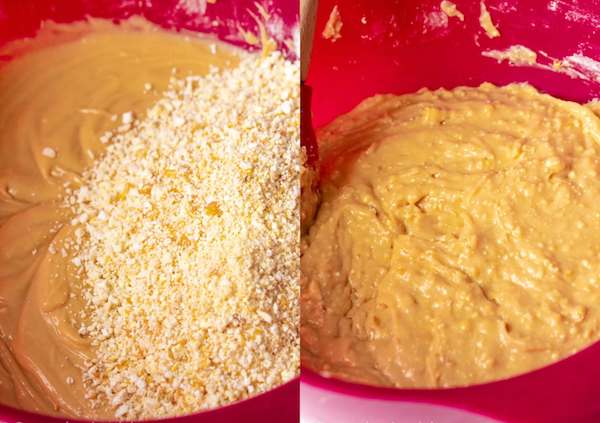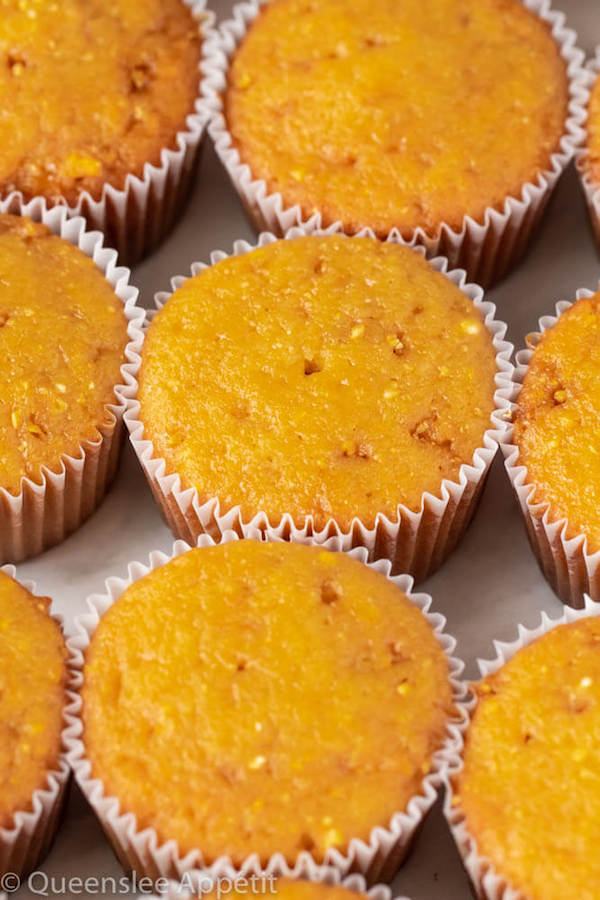 And guess what? When you bite into the cupcake, you still get a very slight crunch from the popcorn bits, but it's not super duper obvious. If you want the pieces to be even finer, you can sift the popcorn crumbs and discard any larger bits of kernels.
But just look! The popcorn practically blends into the cupcake!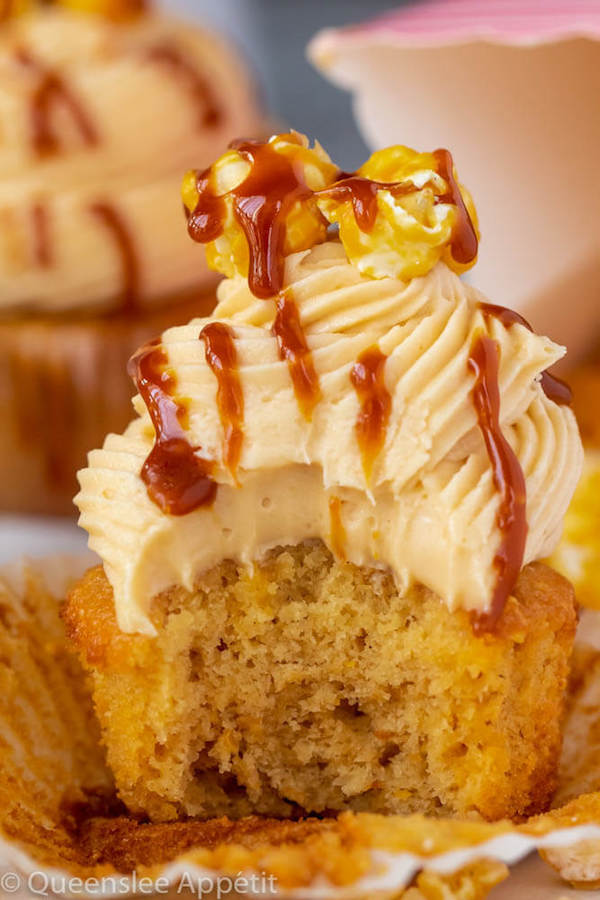 Caramel Filling
I left half of the cupcakes plain, but Lord knows I can't for the life of me, resist a good cupcake filling. So I took some of the extra dulce de leche I had and squeezed it into the centre of the cupcakes.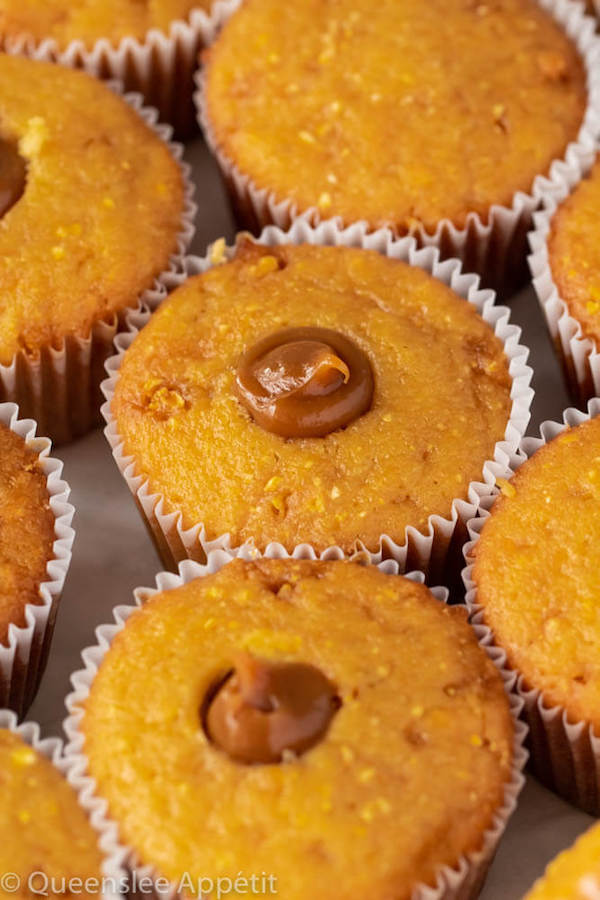 To do this as neatly as possible, I used a cupcake corer, which is pretty much the same as an apple corer. Cored out the centre and used a disposable piping bag to pipe the dulce de leche inside.
If you plan on drizzling some of my Homemade Salted Caramel Sauce on top, like I did, you can even fill the cupcakes with that instead since you'll have a lot extra.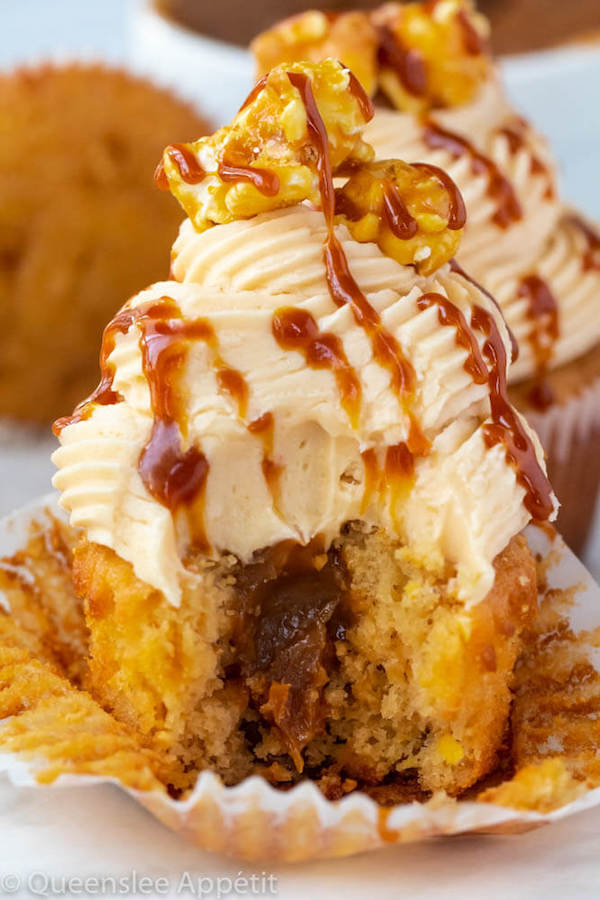 Caramel Buttercream
Or should I say Dulce de Leche Buttercream? I made a regular buttercream recipe, but I couldn't decide if I wanted to add the caramel flavour with dulce de leche or my homemade caramel sauce. In the end, I decided to just stick with the dulce de leche because I wanted to try something new.
You can substitute with the caramel sauce if you want a more salted caramel flavoured buttercream, but the frosting may be a bit softer because the caramel sauce isn't as thick as dulce de leche. You may need to add less so it can be stiff enough to hold its shape while piping.
Also if you plan on adding the caramel sauce, make sure it is cooled completely so it doesn't ruin the texture of the buttercream.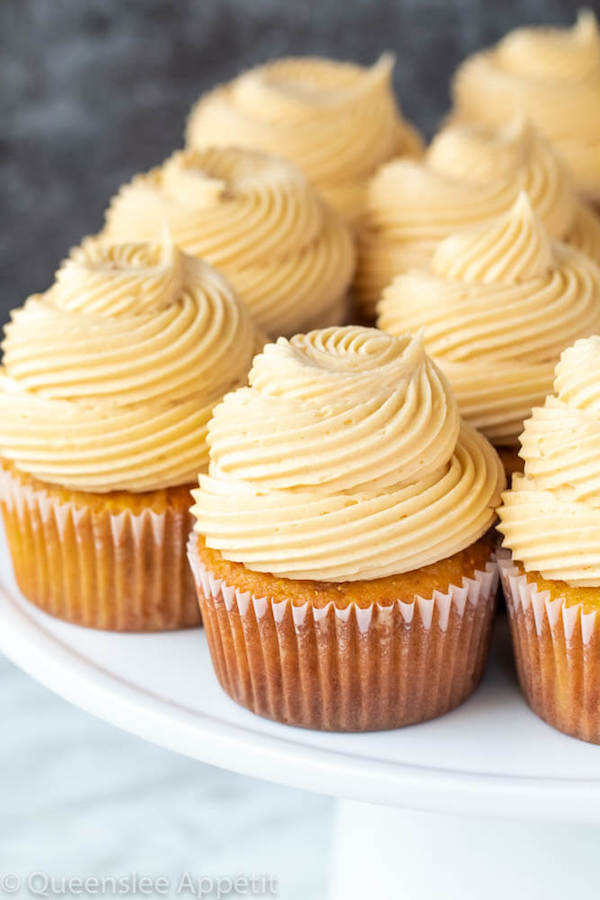 Lastly, to finish things off I topped the big beautiful frosting swirls with a few pieces of caramel popcorn and a generous drizzle of salted caramel sauce. I also recommend picking off the pieces of popcorn and eating them separately before devouring the cupcakes.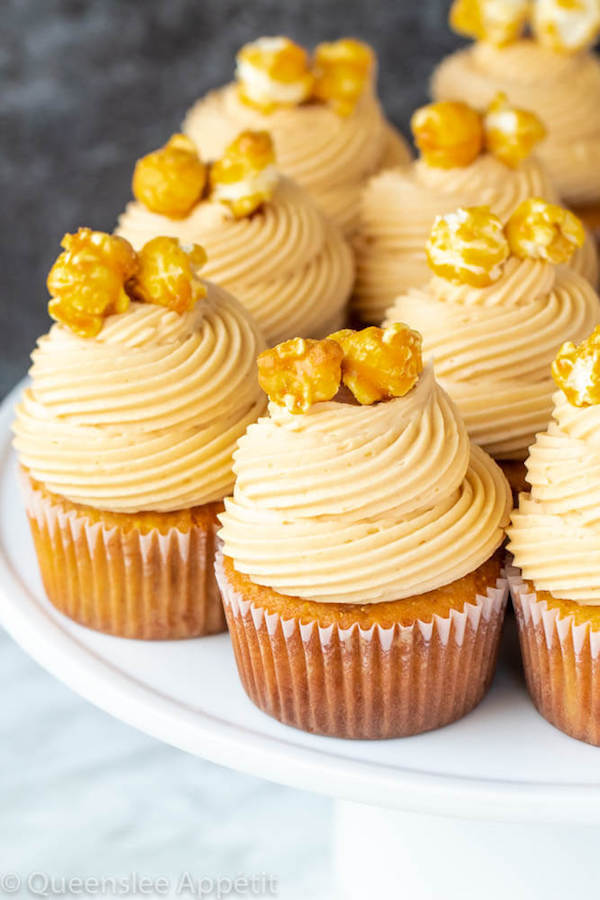 The final cupcake is filled with that delicious caramel popcorn flavour I adore so much! These are a must make and a must try!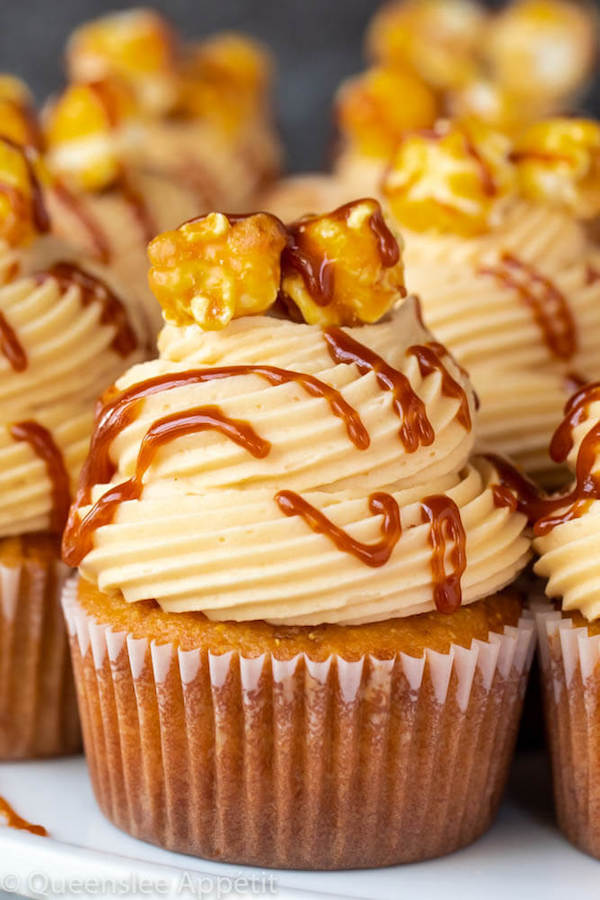 >>PIN ME FOR LATER<<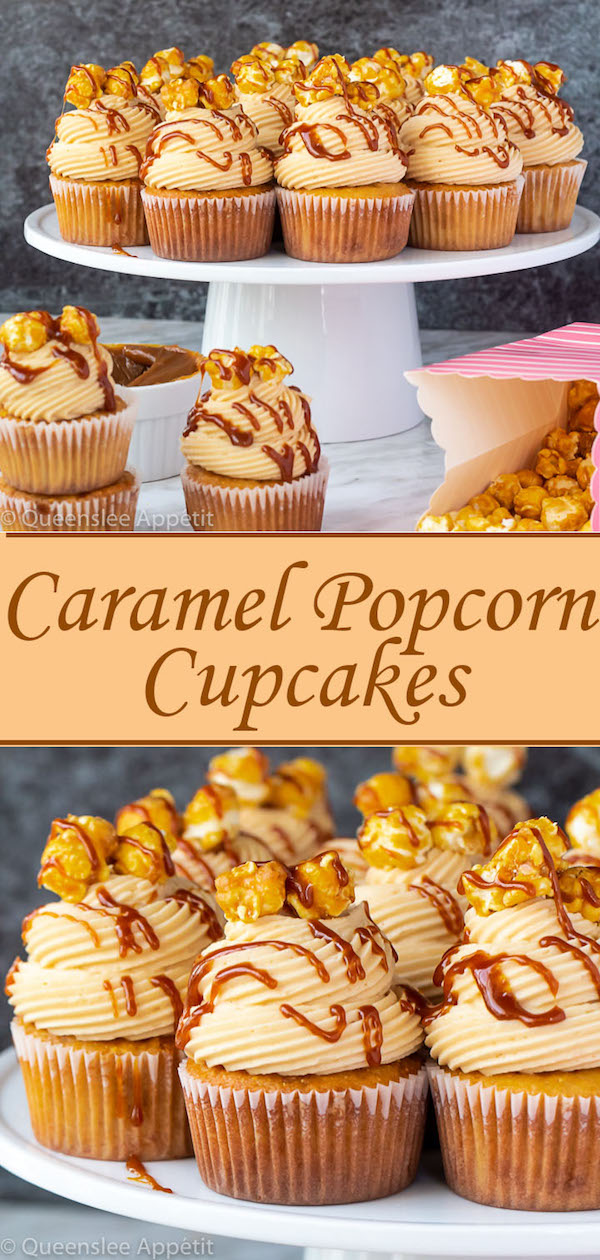 FOLLOW QUEENSLEE APPÉTIT
Like what you see? Make sure you're following Queenslee Appétit for more tasty recipes!
Pinterest | Instagram | Facebook | Twitter |
Have any questions about the recipe? Contact me here, and I'll be happy to help!
Let's get baking!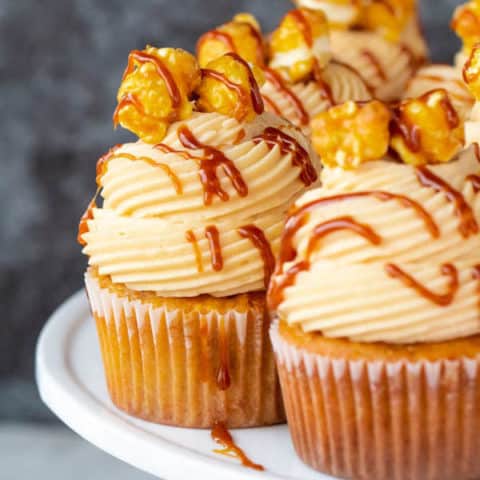 Caramel Popcorn Cupcakes
These Caramel Popcorn Cupcakes are a unique and fun treat that's loaded with caramel popcorn flavour! It starts with a fluffy caramel cupcake that has finely crushed caramel popcorn mixed in. Take it to the next level by filling it with more caramel, topping it with caramel buttercream, caramel popcorn and, you guessed it....more caramel!
Ingredients
Caramel Popcorn Cupcakes:
1 and ½ cups all purpose flour
2 teaspoon baking powder
½ teaspoon salt
½ cup unsalted butter, softened to room temperature
1 cup granulated sugar
¼ cup sour cream, room temperature
½ cup dulce de leche
2 teaspoon pure vanilla extract
2 large eggs, room temperature
½ cups buttermilk, room temperature
1 and ½ cups caramel popcorn, crushed into fine crumbs (optional)
Optional Filling:
Caramel Buttercream:
1 and ½ cups Unsalted Butter, slightly softened
¼ teaspoon salt
5 cups Powdered Sugar, sifted
½ cup Dulce de Leche (or salted caramel sauce)
Toppings:
Extra caramel popcorn
salted caramel sauce
Instructions
For the Caramel Popcorn Cupcakes:
Preheat oven to 350° F (177°C). Line a 12-cup muffin tin with cupcake liners. Line a second tin with 6 liners, this recipe makes about 18 cupcakes.
In a large bowl, sift the flour, baking powder and salt and whisk to combine. Set aside.
In the bowl of a stand mixer fitted with the paddle attachment, or in a large bowl using a hand mixer, beat the butter and sugar on medium-high speed until light and fluffy, 3-4 minutes.
Scrape down the sides and bottom of the bowl. Add the sour cream, dulce de leche and vanilla and continue to beat until completely smooth and combined.
Scrape down the sides and bottom of the bowl again. Lower the speed to medium-low and mix in the eggs, one at a time until just combined.
Add ⅓ of the dry ingredients and beat just until combined, then add ½ of the buttermilk and mix until just combined. Continue mixing in ½ of the remaining dry ingredients, remaining buttermilk, then remaining dry ingredients. Remember to mix after each addition before adding the next.
Pulse the caramel popcorn in a food processor until it forms very fine crumbs. You can sift it after, if you prefer. Measure out 1 and ½ cups and add it to the batter. Fold until completely combined.
Scoop batter into each liner, filling about ⅔ way full. Bake in preheated oven for 16-18 minutes, or until toothpick inserted into the cupcake comes out clean.
Allow to cool in pans for about 5 minutes, then transfer to wire rack to cool completely.
Prepare one recipe of my homemade salted caramel sauce and allow to cool completely.
For the Caramel Buttercream:
In the bowl of a stand mixer, or in a large bowl using a hand mixer, beat the softened butter and salt until super pale and fluffy, about 5-6 minutes.
Scrape down the sides and bottom of the bowl. Add half of the powdered sugar and beat on low speed until combined.
Once combined add dulce de leche OR cooled caramel sauce and continue to beat until combined and smooth.
Add remaining powdered sugar one cup at a time, mixing on low speed until it's all combined.
Increase speed to medium-high and beat for about 5-7 minutes, or until frosting is light and fluffy.
Assembly:
OPTIONAL: Core the centre of each cupcake using an apple corer. Using a spoon or piping bag, fill the cupcakes with dulce de leche or salted caramel sauce.
Transfer frosting to a piping bag fitted with a large star tip (I used Wilton 8B) and pipe swirls onto the top of the cooled cupcakes.
Top with 2 pieces of caramel popcorn and drizzle with salted caramel sauce. Enjoy!
Notes
Store in an airtight container in the refrigerator for up to 4 days.
Recommended Products
As an Amazon Associate and member of other affiliate programs, I earn from qualifying purchases.
BON APPÉTIT!
Love, Dedra
DID YOU MAKE A RECIPE?
Tag @queensleeappetit and use the hashtag #queensleeappetit so I can see all of the Queenslee Appétit recipes you've made!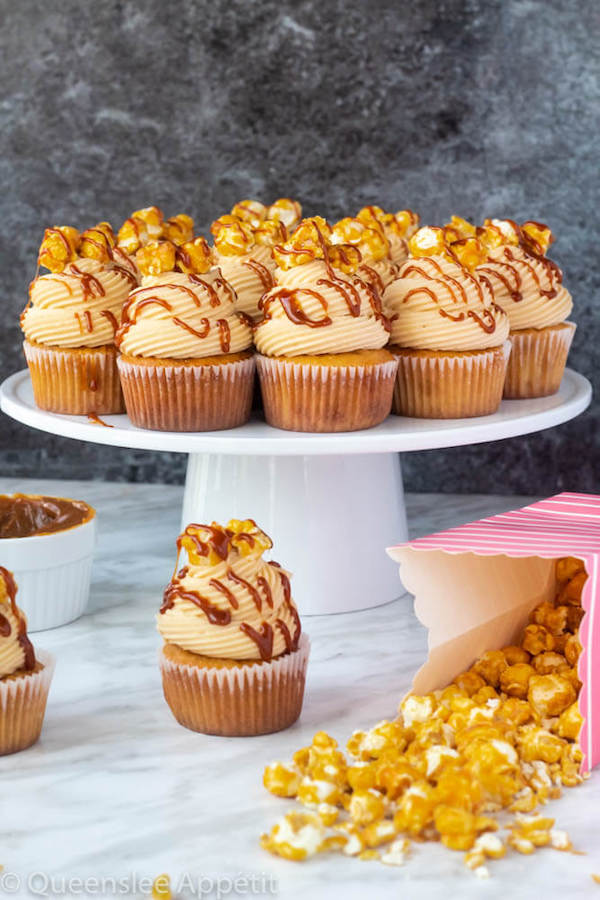 ©QUEENSLEE APPÉTIT. All images & content are copyright protected. Please do not use my images without prior permission. If you want to republish this recipe, please re-write the recipe in your own words, or link back to this post for the recipe.