Save those roasting pan drippings and make this super easy Homemade Turkey Gravy aka Roasting Pan Gravy!
This post may contain affiliate links. As an Amazon Associate I earn from qualifying purchases. Please see my full disclosure policy for details.
Homemade Turkey Gravy
Turkey, roasted chicken, mashed potatoes etc. These are great Thanksgiving dishes, but they all need one thing to be complete: GRAVY! I don't know about you, but I just can't enjoy things like turkey or potatoes without the gravy. No matter how great they taste on their own!
Gravy just makes every dish better, and thankfully it's so simple to make! When my grandmother roasts chicken/turkey, she usually just adds some tap water to the pan, stirs in a spoonful of flour and ends up making the most amazing gravy!
However, this recipe is tied to my Roast Turkey Recipe, and since I roasted my turkey differently than she does, I decided to make my gravy a different way too. Don't tell her, but as amazing as her 3-ingredient gravy is, I think my version is far better.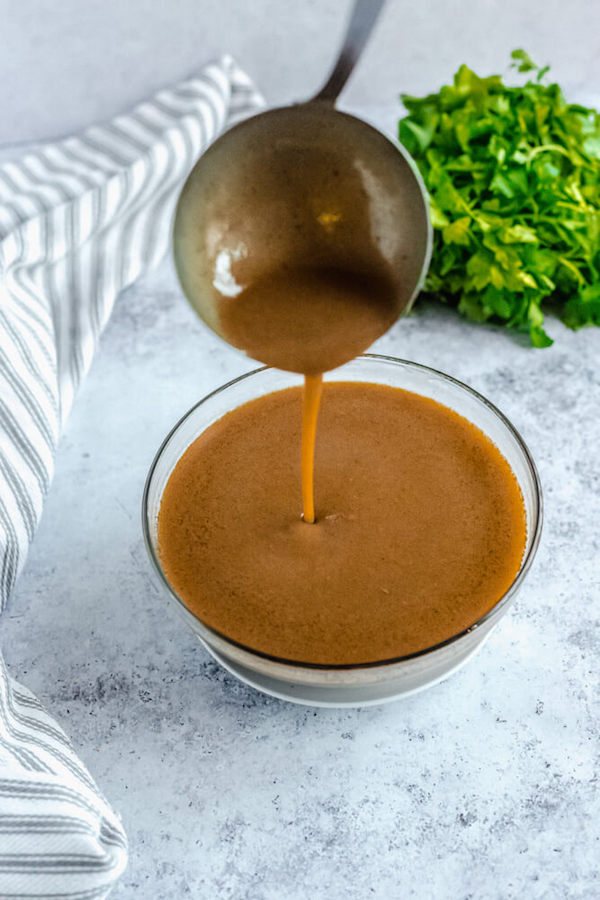 Ingredients For Turkey Gravy Recipe
Let me just note that this recipe was inspired by Nagi over at Recipe Tin Eats, who also posted a recipe using leftover pan drippings. The recipes are similar, however I made a few slight changes for my own taste.
For this turkey gravy recipe, I used:
The leftover drippings from the pan I roasted my turkey in: You don't HAVE to use my recipe specifically. This recipe will work with the leftover drippings from anything you roast, whether it's a different turkey recipe, a chicken or spiral ham. Just take the meats leftover fats and flavours and use this recipe to create some bomb gravy!

All Purpose Flour: Gravy thickener! No one likes watery gravy, so use some flour to thicken it up to the perfect consistency.

Chicken or Beef Broth: You can use either chicken or beef broth, depending on what flavour you want the gravy to be. You can also just use water, since the roasting pan drippings already provide so much flavour.

White or Red Wine: This is a completely optional ingredient, but a tablespoon or two will intensify the flavours of the gravy!
Salt and Pepper: even with all the flavours, you'll still need to add some salt and pepper to season the sauce. There's no measurements in the recipe, just add a pinch, taste the gravy, then adjust the seasoning to taste.

Cayenne: Again, optional, but it adds a nice kick!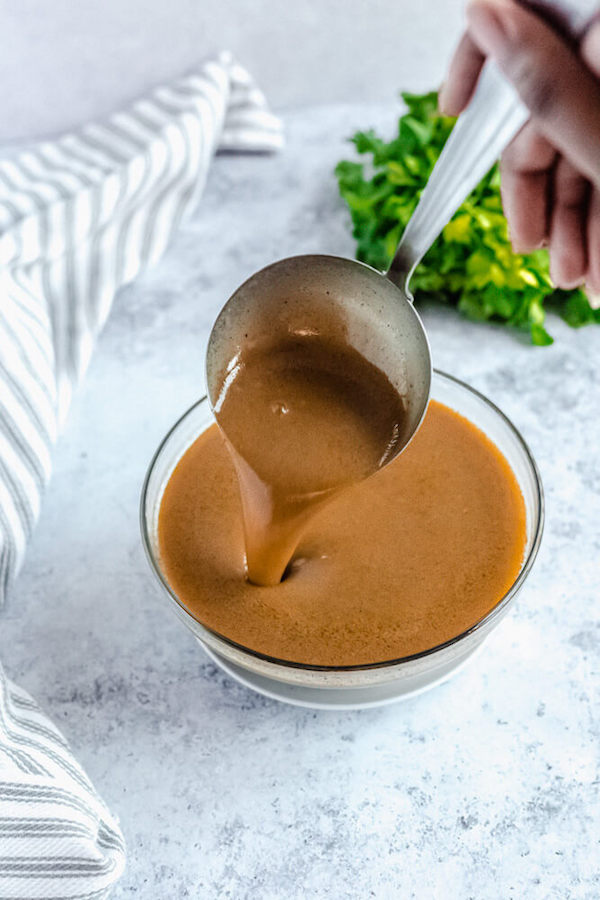 How to Make Roasting Pan Gravy
Well to make roasting pan gravy, you gotta start with a roasting pan. Or more specifically, a used roasting pan with all of the goodness left behind!
You can use the drippings from any roasted meat you've made, but I'll be using my Roast Turkey recipe as an example since it's the base of this recipe.
When preparing my roasting pan, I added 2 halved heads of garlic, 1 quartered onion, a small bunch of herbs, and water to keep the turkey moist. When roasting, the onion and garlic released their juices into the water while the heated herbs added additional flavour. On top of that, I was occasionally spreading seasoned melted butter over the turkey which also dripped into the pan along with any fat/juices from the turkey itself.
All of these things combined will act as a flavour base for our gravy!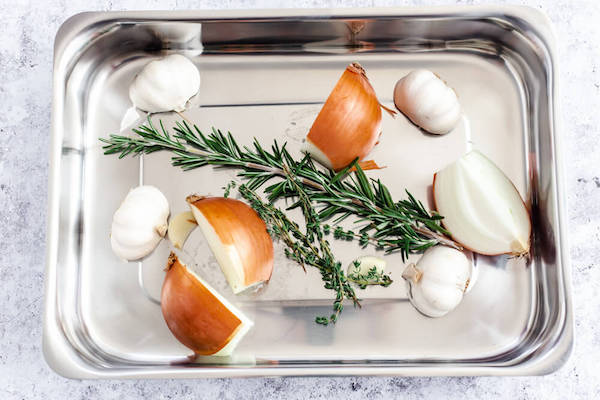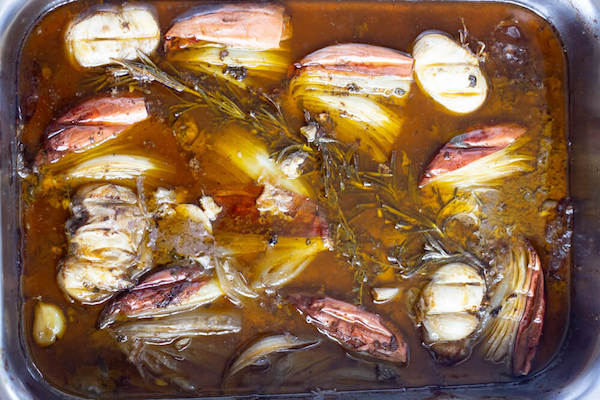 To make the gravy, place the roasting pan on the stove, covering two burners. Turn both burners to medium heat and heat until liquids begin to bubble. Add the flour and stir it into the liquid, cook until everything thickens up, creating a roux.
Slowly pour in the broth or water, while stirring constantly until it's lump free. You can stir in some wine at this point. Now let it simmer and cook until it thickens up a bit. Let all the flavours meld together. Before removing from the stove, season with the salt, pepper and cayenne and taste test to see if you need to adjust the seasonings.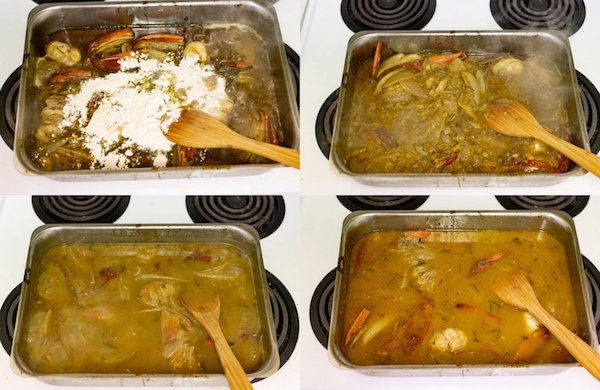 You may need some help for this next part. Strain everything into a separate bowl and use a wooden spoon top press the juices from the onion and garlic into the gravy. Go ahead and discard the onion, garlic and herbs now, they've done their job.
You're just about finished now. The gravy will thicken up as it cools. Transfer it to a gravy boat and serve with turkey, mashed potatoes and more!
Did you make this Homemade Turkey Gravy? Let me know how they turned out in the comments below! And don't forget to leave a rating!
>>PIN THIS FOR LATER<<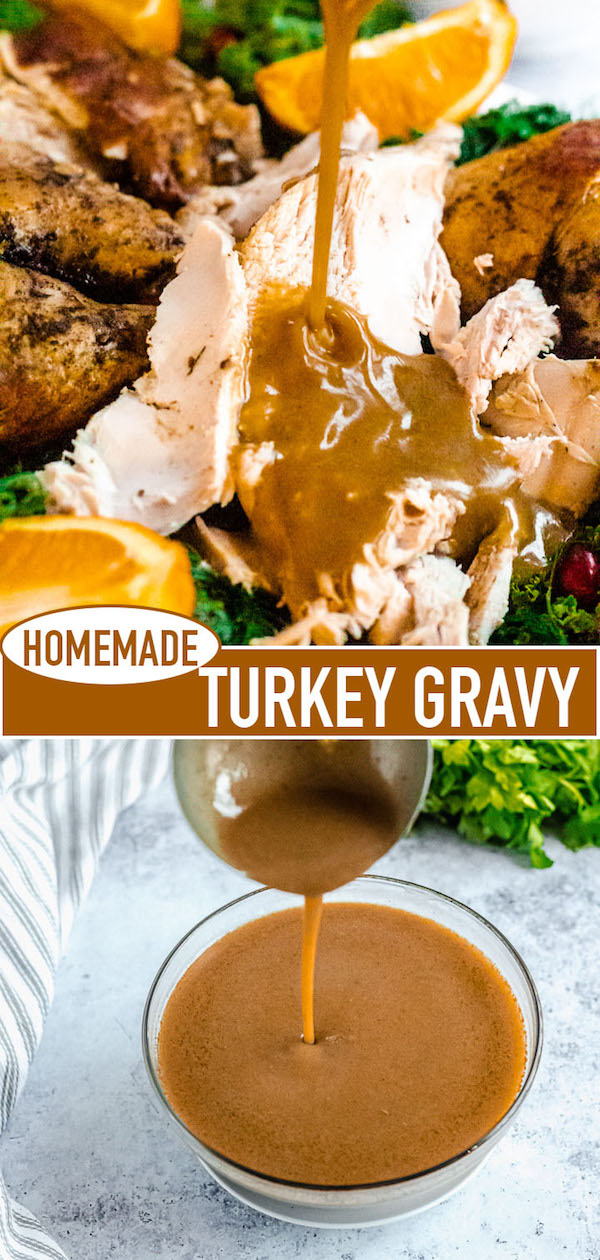 FOLLOW QUEENSLEE APPÉTIT
Like what you see? Make sure you're following Queenslee Appétit for more tasty recipes!
Pinterest | Instagram | Facebook | Twitter |
Have any questions about the recipe? Contact me here, and I'll be happy to help!
SHARE YOUR PICS!
Tag me on Instagram @queensleeappetit or use the hashtag #queensleeappetit so I could see your gorgeous creations!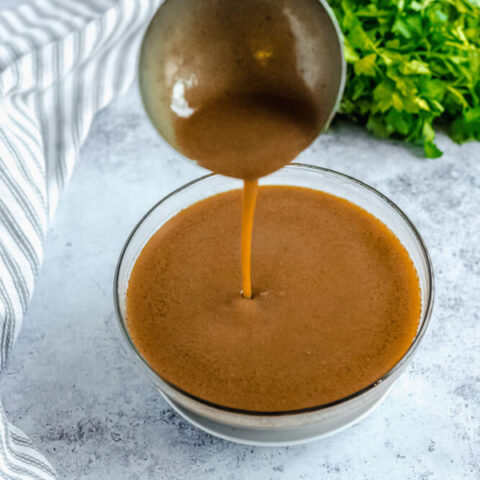 Homemade Turkey Gravy
Save those roasting pan drippings and make this super easy Homemade Turkey Gravy aka Roasting Pan Gravy!
Ingredients
Leftover drippings from roasting pan (See notes)
⅓ cup all purpose flour
4 cups low sodium chicken or beef broth (can also use water)
2 tablespoon white or red wine (optional)
Salt and pepper, to taste
Pinch of cayenne (optional)
Instructions
Place the roasting pan with the leftover drippings onto the stove, covering two burners. Turn both burners to medium heat.
When the liquid begins to bubble, add the flour and stir constantly until it thickens up into a roux, about 1 minute.
Slowly pour in the broth or water, whisking constantly until combined and lump-free. You can add some wine at this point, if desired.
Simmer to allow the gravy to thicken up a bit, about 8-10 minutes. Gravy will get thicker as it cools.
Add some salt, pepper and a pinch of cayenne. Taste to adjust the seasonings, to taste.
Place a fine mesh strainer over a bowl and pour the gravy in. Use a wooden spoon to push the onion and garlics juices through. Discard the scraps.
Pour the gravy into a gravy boat. Serve with turkey, mashed potatoes and more!
Notes
I used the drippings from my roasted turkey recipe, but this will work with any roast you make.
If using drippings from fattier meats like lamb or pork, scoop out some of the excess fat to prevent gravy from getting too greasy.
Adapted from: RecipeTinEats
Recommended Products
As an Amazon Associate and member of other affiliate programs, I earn from qualifying purchases.
BON APPÉTIT!
Love, Dedra
©QUEENSLEE APPÉTIT. All images & content are copyright protected. Please do not use my images without prior permission. If you want to republish this recipe, please re-write the recipe in your own words, or link back to this post for the recipe.