These Vanilla Cupcakes are light, fluffy and incredibly moist! Topped with a creamy and Dreamy Vanilla Buttercream, these are the best cupcakes for a birthday party or any event!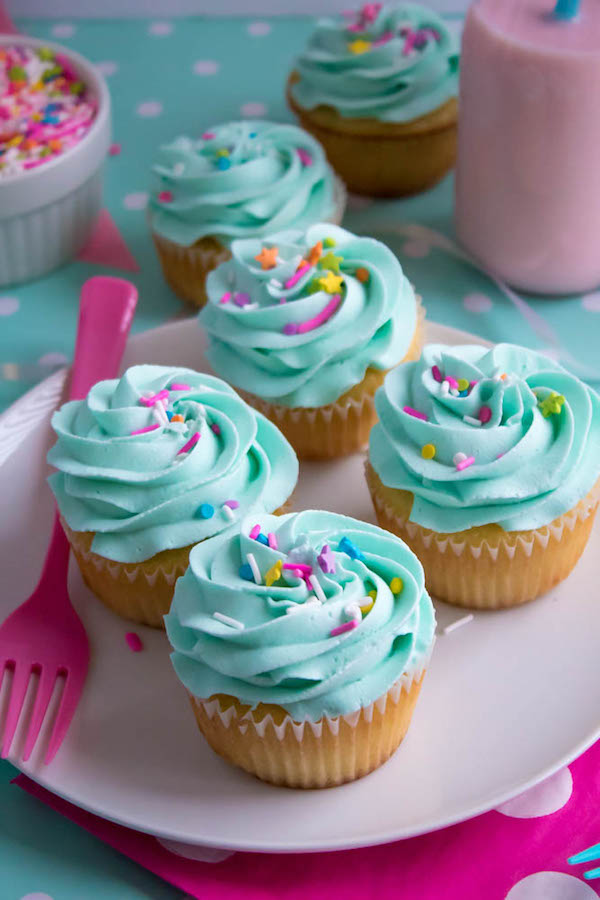 Happy National Vanilla Cupcake Day! How gorgeous are these cupcakes? I swear I'm obsessed, I wish they could last forever, but unfortunately I'm surrounded by vanilla lovers so these barely lasted a week.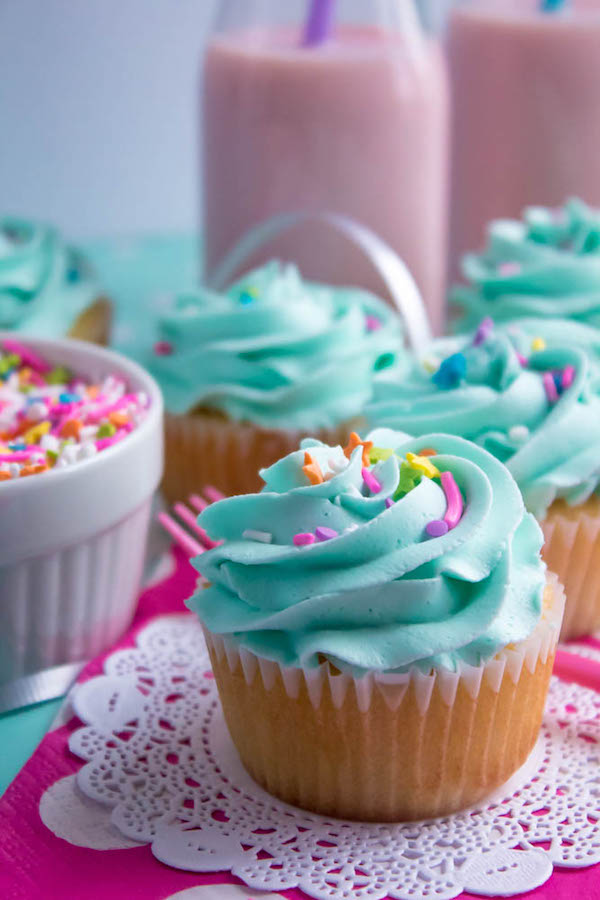 Moist and Fluffy Vanilla Cupcakes
Not only are these cupcakes absolutely gorgeous to look at, but they taste amazing! Like little vanilla flavoured clouds.
This recipe was modified from my go-to chocolate cupcake recipe. Just like my chocolate cupcake recipe, you only need 1 bowl, 1 measuring cup and 1 whisk to make these cupcakes. It's as simple as mixing the dry ingredients together, then the wet ingredients, and mixing them together!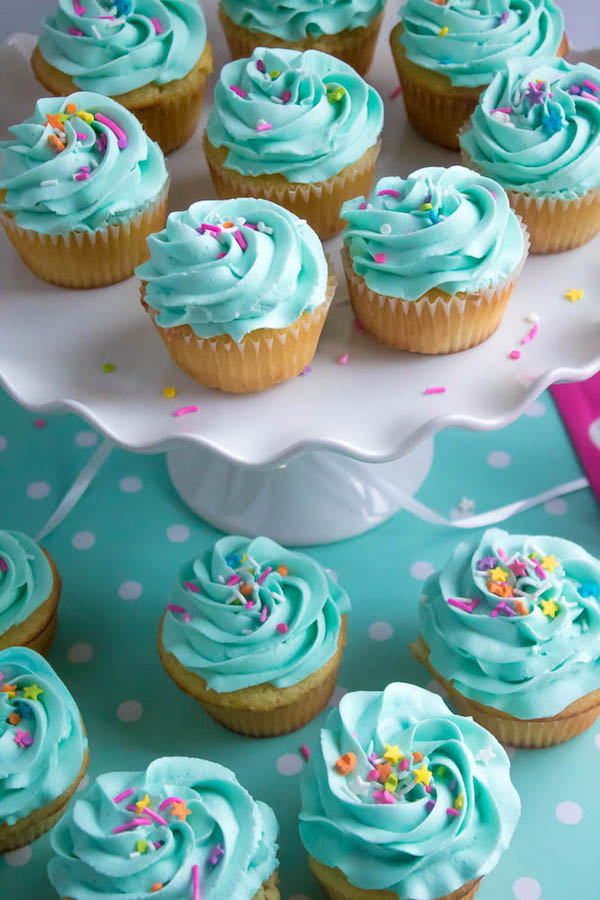 The dry ingredients are pretty simple: flour, granulated sugar etc. The wet ingredients are what give these cupcakes that amazing fluffy texture. The recipe uses a combination of buttermilk AND sour cream, which makes these cupcakes extremely soft and moist.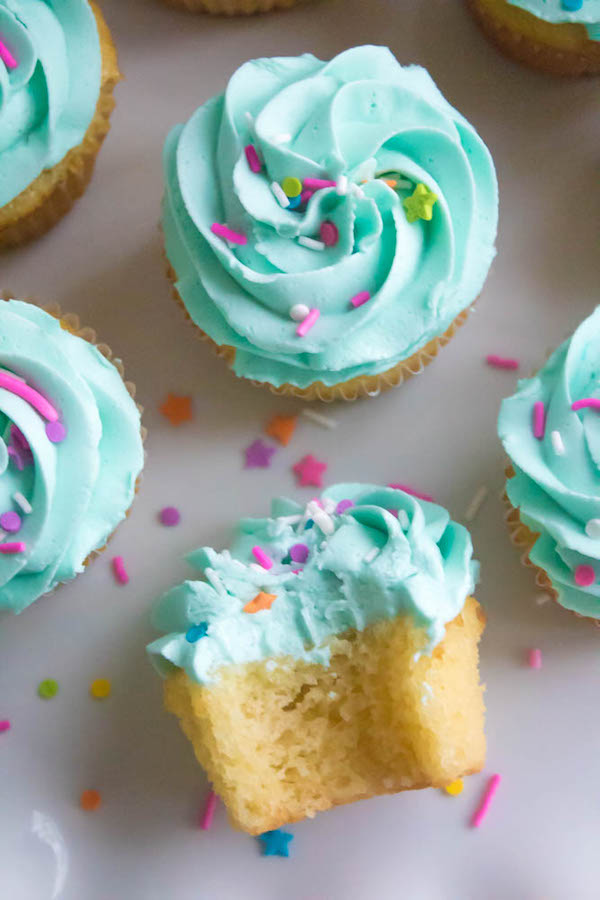 What makes these cupcakes so moist and fluffy?
First thing is vegetable oil. This is the key to making these cupcakes extra moist. Then, as I mentioned above, the addition of the buttermilk and sour cream give the cupcakes that soft and tender crumb that just melts in your mouth after every bite!
I don't recommend substituting the buttermilk for 2% milk or any other milk. If you don't have buttermilk, you can just sour whole milk using vinegar- I'll give more details in the notes below the recipe.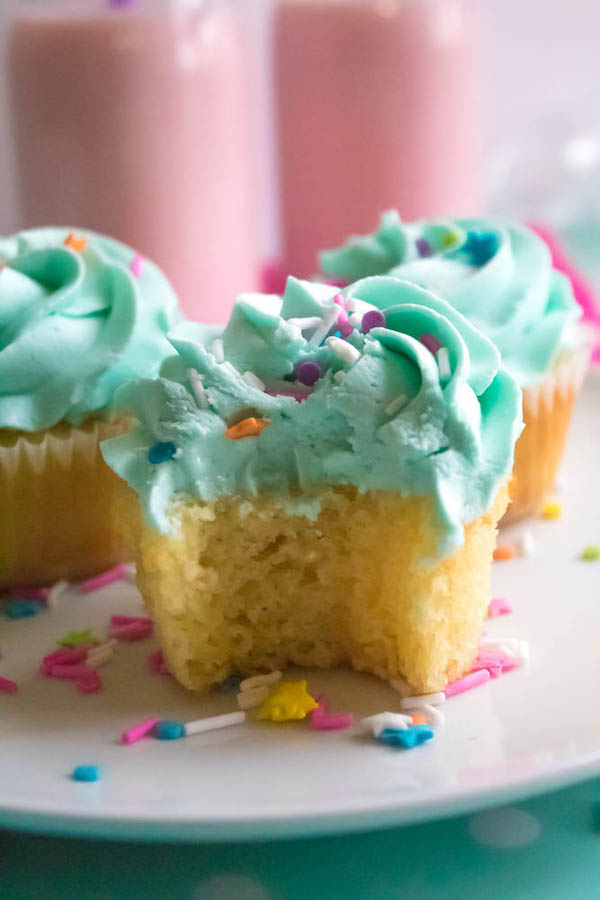 How to properly fill cupcake liners
Alright, so let's talk about filling the liners. The cupcake liners must only be filled HALFWAY! Maybe even less than that. You may feel the urge to fill the liners ⅔ way full, but please don't. I've made the mistake of over filling the liners a few times (even when I made these - ugh!) and it did not turn out well.
The cupcakes will overflow and create a flat and ugly muffin top. The cupcakes will still taste great but it won't be pleasing to look at. Filling the liners about halfway full will create a perfect and even cupcake dome.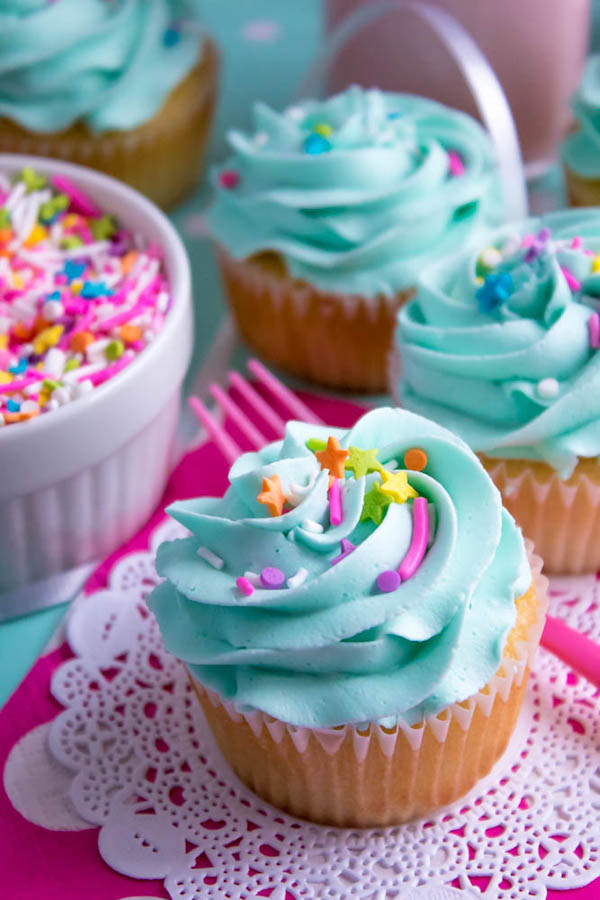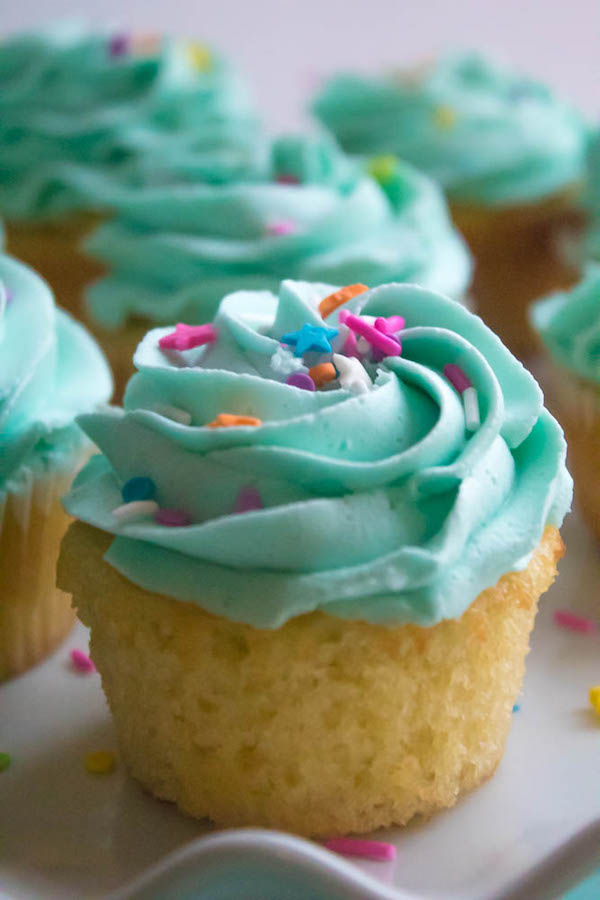 Dreamy Vanilla Buttercream Frosting
Once the cupcakes are done baking, we're gonna make the frosting. Now, what better to top these dreamy cupcakes off than some dreamy vanilla buttercream? I used my Dreamy Vanilla Buttercream recipe, which is the lightest and fluffiest buttercream you will ever make!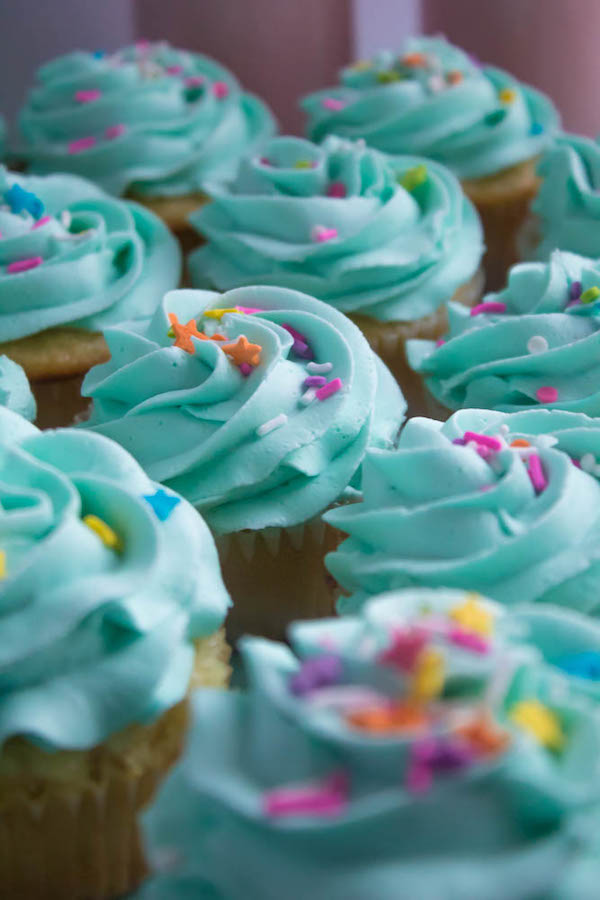 For the vanilla buttercream, I used a mixture of butter and shortening because it creates a buttercream that is much more stable and holds its shape when piping out your beautiful swirls. The addition of shortening also causes the buttercream to form a crust, which means it can hold up in hot weather.
I prefer to use High-ratio shortening in my frostings because it creates a smoother, less greasy buttercream. You can use all butter or you can substitute the high-ratio shortening for regular Crisco shortening.
For the flavouring, I used vanilla and almond extract. The almond extract enhances the vanilla flavour and it won't make your frosting taste like almonds, but feel free to leave it out if you prefer.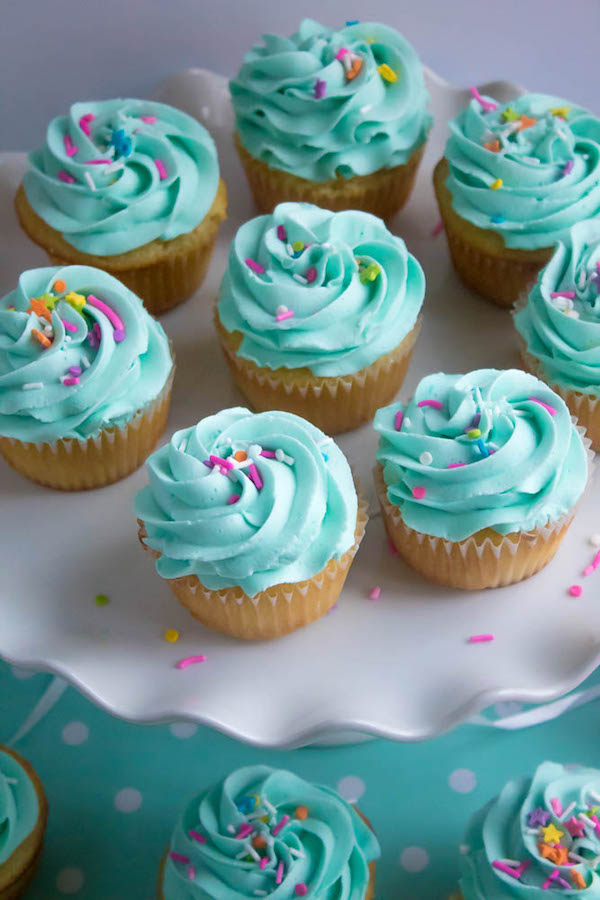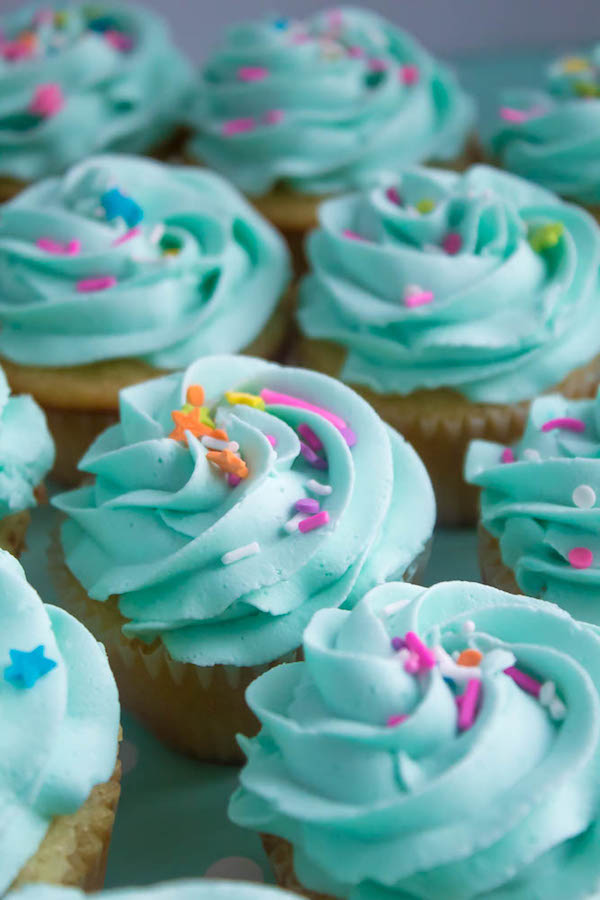 I didn't want these cupcakes to look plain, so I dressed them up by dying the frosting with teal food colouring. You can tint the frosting any colour you want or you can leave it white.
I then topped the cupcakes off with a beautiful blend of sprinkles! For the sprinkle blend, I combined hot pink jimmies, white jimmies, star quinns and confetti sprinkles.
Look how gorgeous!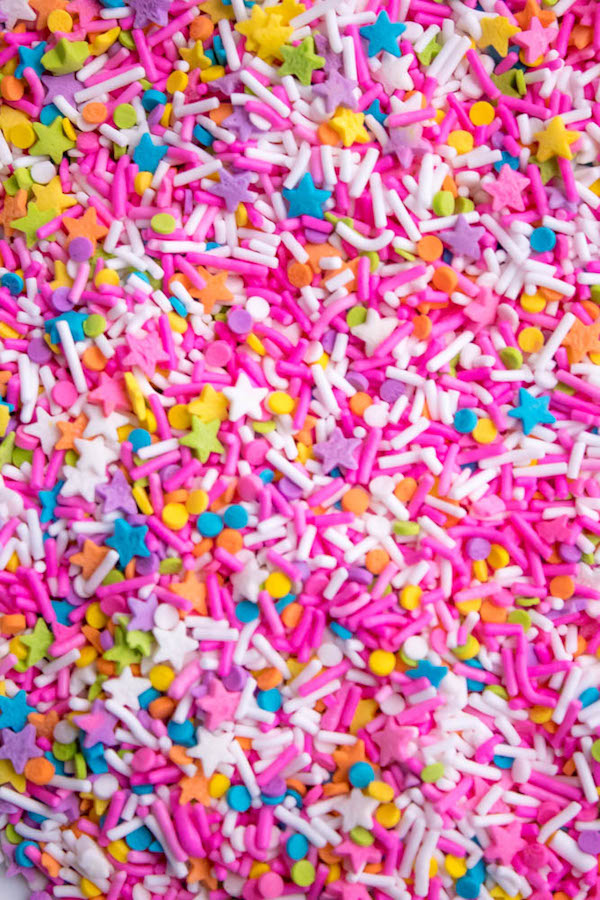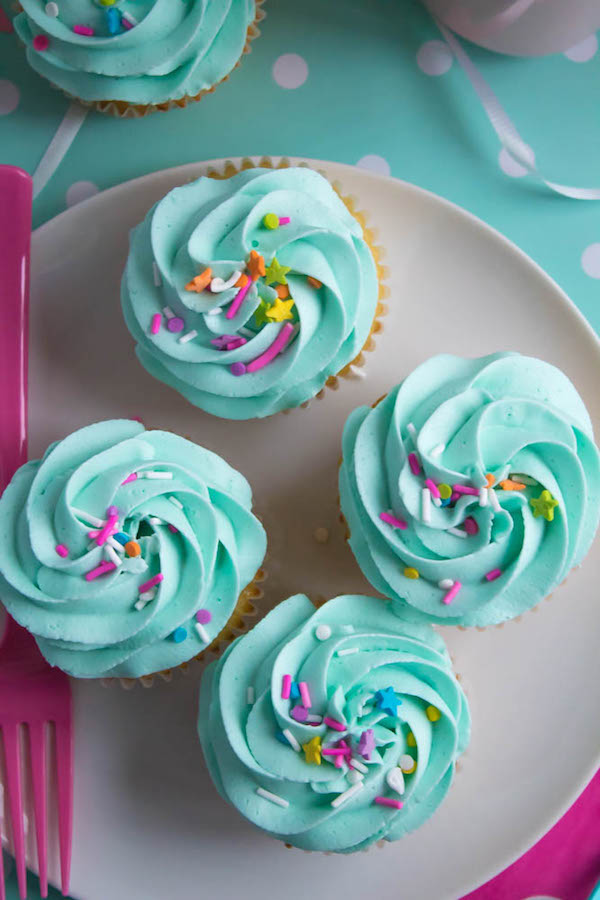 The moist and fluffy vanilla cupcake paired with the light and fluffy vanilla buttercream makes the perfect vanilla cupcakes! Once you try these cupcakes, I promise it'll be your favourite go-to vanilla cupcake recipe from now on!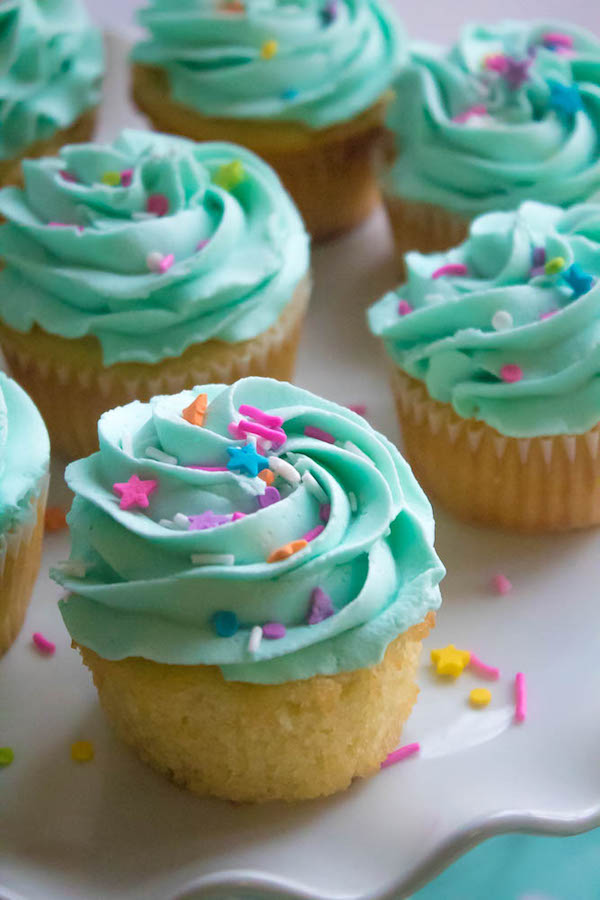 Not a fan of vanilla? Check out my Perfectly Moist Chocolate Cupcakes recipe!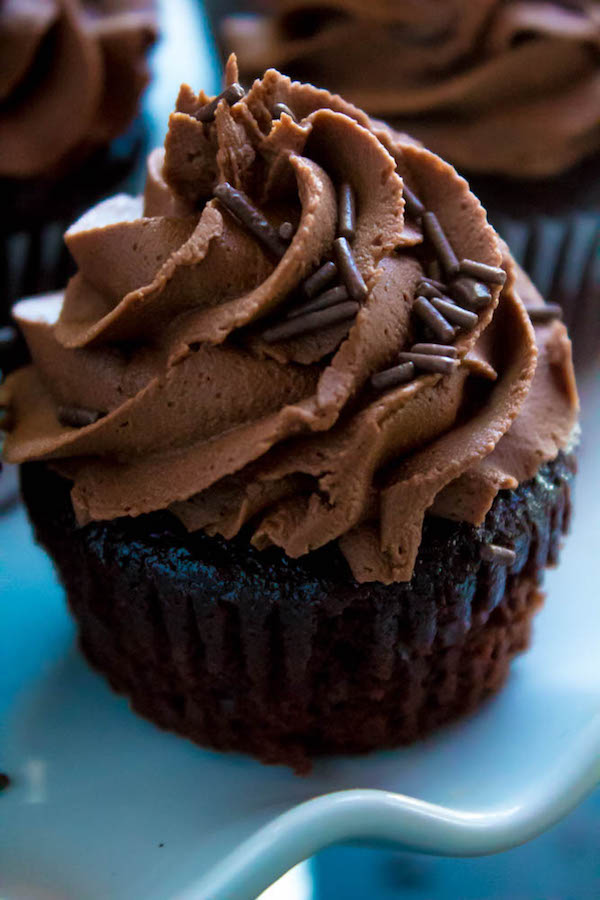 >>PIN ME FOR LATER!<<

FOLLOW QUEENSLEE APPÉTIT
Like what you see? Make sure you're following Queenslee Appétit for more tasty recipes!
Pinterest | Instagram | Facebook | Twitter |
Never miss a recipe, SUBSCRIBE at the bottom of this post!
Have any questions about the recipe? Contact me here, and I'll be happy to help!
Let's get baking!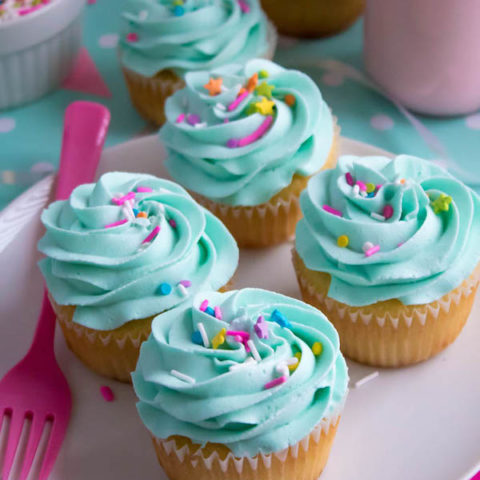 Perfectly Moist and Fluffy Vanilla Cupcakes
Additional Time:
15 minutes
These Vanilla Cupcakes are light, fluffy and incredibly moist! Topped with a creamy and Dreamy Vanilla Buttercream, these are the best cupcakes for a birthday party or any event!
Ingredients
Vanilla Cupcakes:
1 and ½ cups All purpose flour
1 and ½ cups granulated Sugar
1 and ½ teaspoons Baking powder
½ teaspoon Baking soda
½ teaspoon salt
2 large Eggs, room temperature
2 teaspoons Pure Vanilla Extract
⅓ cup Vegetable oil
½ cup buttermilk, room temperature
½ cup sour cream, room temperature
Vanilla Buttercream:
½ cup Unsalted Butter, softened to room temperature
½ cup Hi-ratio Shortening
⅛ teaspoon Salt
4 cups Powdered Sugar, sifted
¼ cup Heavy Whipping Cream
1 and ½ teaspoon Pure Vanilla Extract
¼ teaspoon Pure Almond Extract (optional)
Additional:
Few drops of Teal food colouring (optional)
Sprinkle blend (I used a mixture of Pink sprinkles, White sprinkles and Confetti sprinkles)
Instructions
For the Vanilla Cupcakes:
Preheat the oven to 350 degrees F (177C), and line a standard cupcake pan with paper liners.
In a large mixing bowl, add flour, Sugar, Baking powder, Baking soda and salt. Whisk to combine.
In a measuring cup, whisk together the eggs, vanilla, vegetable oil, buttermilk and sour cream. Pour the wet ingredients into the dry ingredients and whisk to combine. Fill each liner HALFWAY full.
Bake in preheated oven for 14-18 minutes or until a toothpick inserted into the cupcake comes out with a few moist crumbs. Allow cupcakes to cool in pan for 5 minutes.
Remove the cupcakes and transfer to a wire rack to cool completely before decorating.
For the Vanilla Buttercream:
In the bowl of a stand mixer fitted with the paddle attachment, or in a large bowl with a hand-held mixer, beat the butter, shortening and salt on medium speed until light and fluffy (about 5-6 minutes).
Turn the mixer to low, and gradually add half of the sugar one cup at a time. Once incorporated, add heavy cream, vanilla and almond extract and beat until combined.
Add the remaining powdered sugar one cup at a time and mix on low until combined.
Once the sugar is combined, increase mixer speed to high and whip until light and fluffy, about 5-7 minutes. Tint with food colouring, if desired.
Transfer frosting to a piping bag fitted with a large star tip and pipe swirls onto cooled cupcakes. Decorate with sprinkles (optional).
Notes
Store cupcakes in an airtight container at room temperature for up to 3 days.
If you don't have buttermilk, you can substitute by adding ½ tablespoon of vinegar or lemon juice to ½ cup milk. Let it stand for 10 minutes before using.
Recommended Products
As an Amazon Associate and member of other affiliate programs, I earn from qualifying purchases.
BON APPÉTIT!
Love, Dedra
DID YOU MAKE A RECIPE?
I'd love to see how it turned out! Follow me on Instagram and use the hashtag #queensleeappetit so I can see all of the Queenslee Appétit recipes you've made!
©QUEENSLEE APPÉTIT. All images & content are copyright protected. Please do not use my images without prior permission. If you want to republish this recipe, please re-write the recipe in your own words, or link back to this post for the recipe.
This post may contain affiliate links. Please see my full disclosure policy for details.