These Coconut Cream Pie Cupcakes feature light, moist and airy coconut cupcakes filled with coconut custard, topped with creamy coconut frosting and dipped in toasted coconut. Coconut Lovers, meet your new addiction!
This post may contain affiliate links. As an Amazon Associate I earn from qualifying purchases. Please see my full disclosure policy for details.
*This post was first published May 8, 2018 and updated May 11, 2020 with an upgraded recipe and photos*
For Coconut Lovers Only
Today is National Coconut Cream Pie Day, but instead of making a coconut cream pie, I decided to turn the classic dessert into cupcakes!
Here's the thing, I'm not a fan of coconut…at all. There's been a few instances where I hated a certain flavour/food, but once I added it to a baked good, I fell in love. For example, this banana bread. I still dislike bananas, but I ate that entire loaf because it was incredible and made the banana taste more appealing to me.
Unfortunately, I can't say the same for coconut. No matter what form it's in, I just can't seem to enjoy the coconut flavour and especially not the texture.
That being said, the recipes I make are mostly for my readers so I won't let my personal tastes affect the recipes I share with you guys. So if you're a coconut lover, this ones for you!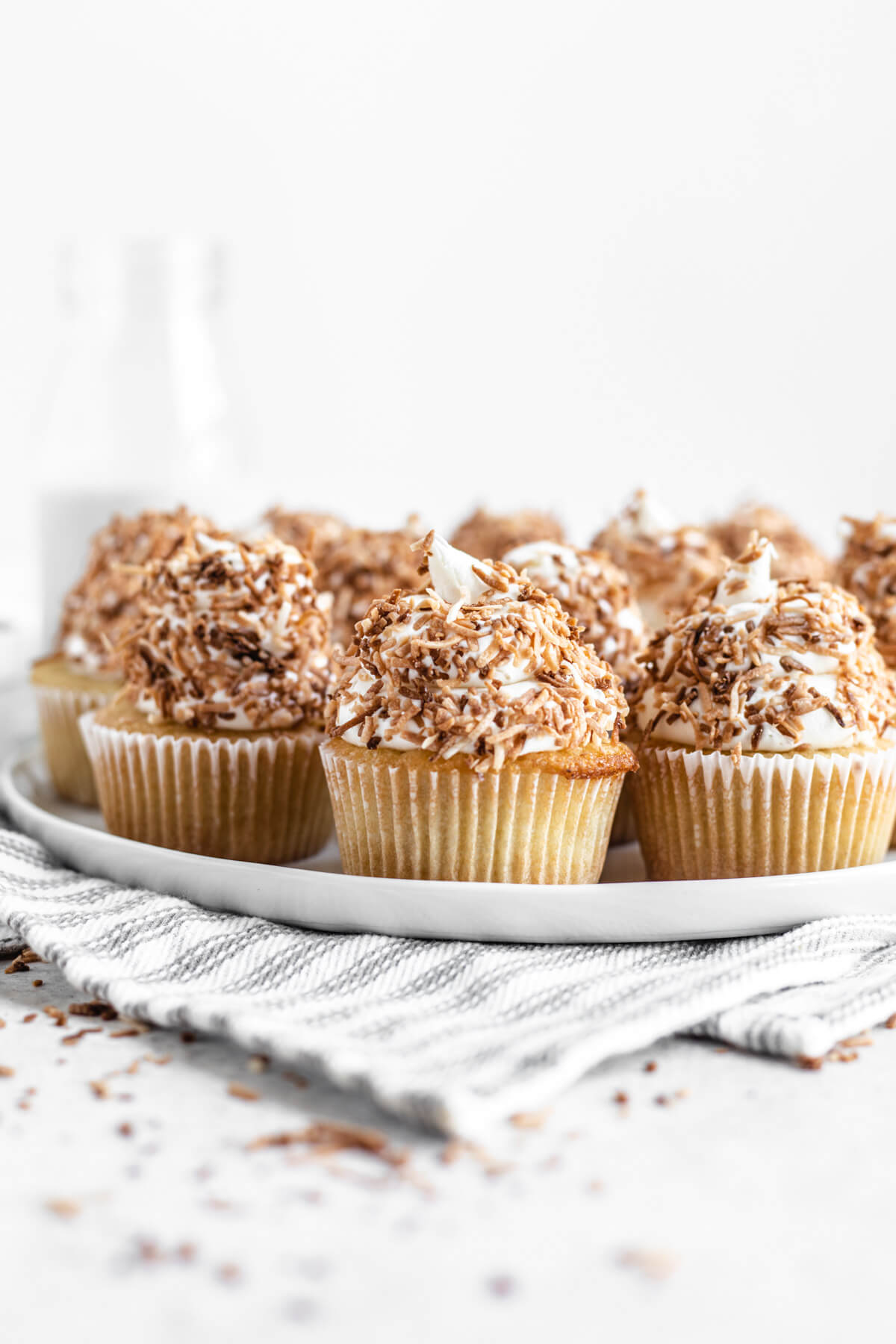 Coconut Cream Pie Cupcakes
These coconut cream pie cupcakes are truly a coconut lovers dreams come true. Every inch of this cupcake is loaded with coconut flavour from the cake to the coconut filling to the coconut buttercream!
These cupcakes look pretty simple, and they are! However, there are quite a few steps, especially since I changed the coconut cupcake recipe, but it's nothing you can't handle. Trust me.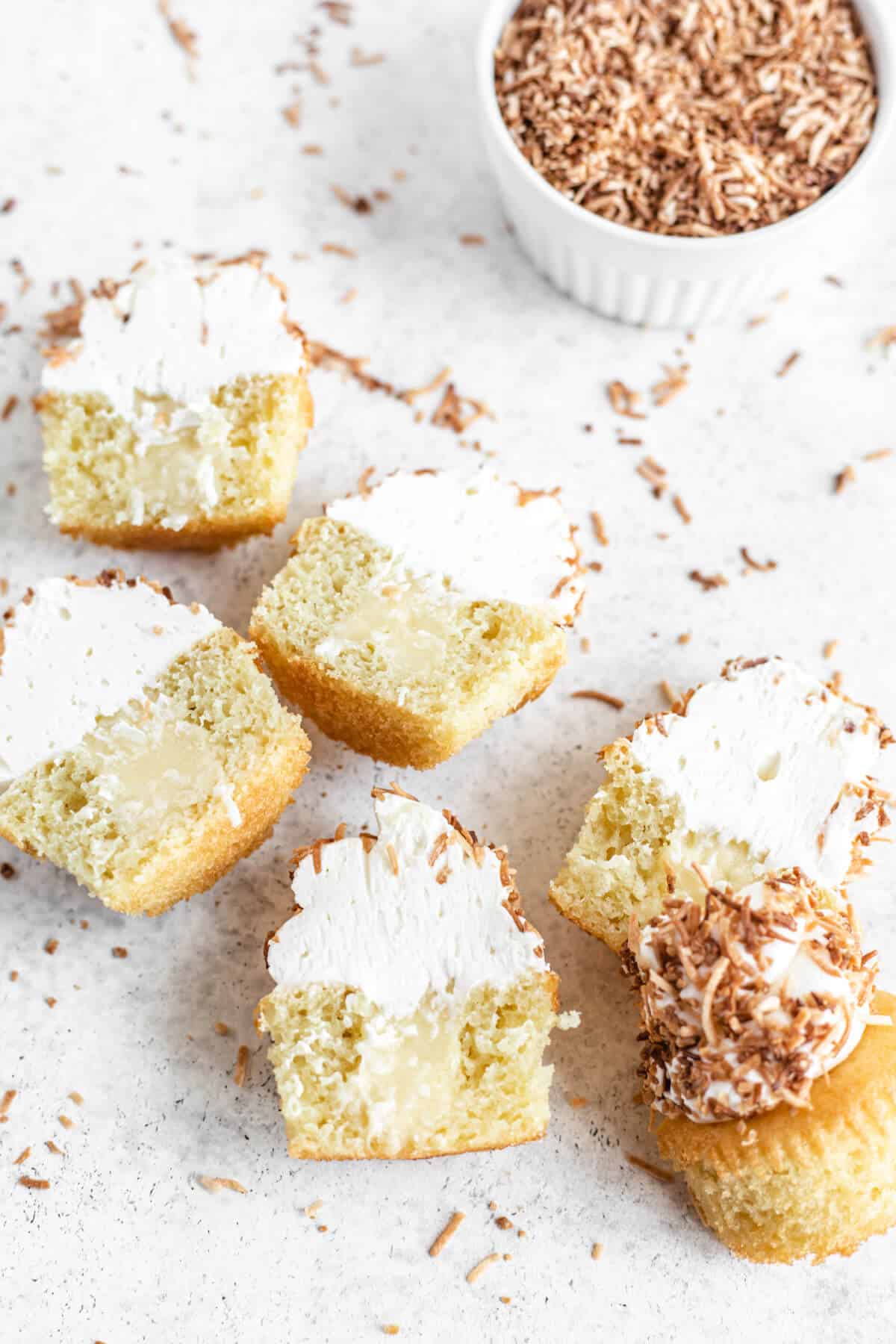 3 Parts to these Cupcakes
There are three parts to this recipe (or four if you count toasting the coconut topping).
Coconut Cupcakes: I replaced the old recipe for a newer, fluffier cupcake adapted from my Lemon Meringue S'mores Cupcakes!
Coconut Custard Filling: super creamy coconut flavoured pudding. To take things up a notch, we'll be adding shredded coconut for extra flavour and texture!
Coconut Buttercream: this silky smooth and extra creamy frosting gets its coconut flavour from both coconut milk and coconut extract.
Each part is pretty easy to make. The most difficult part is the coconut custard, and even that only takes medium level skill.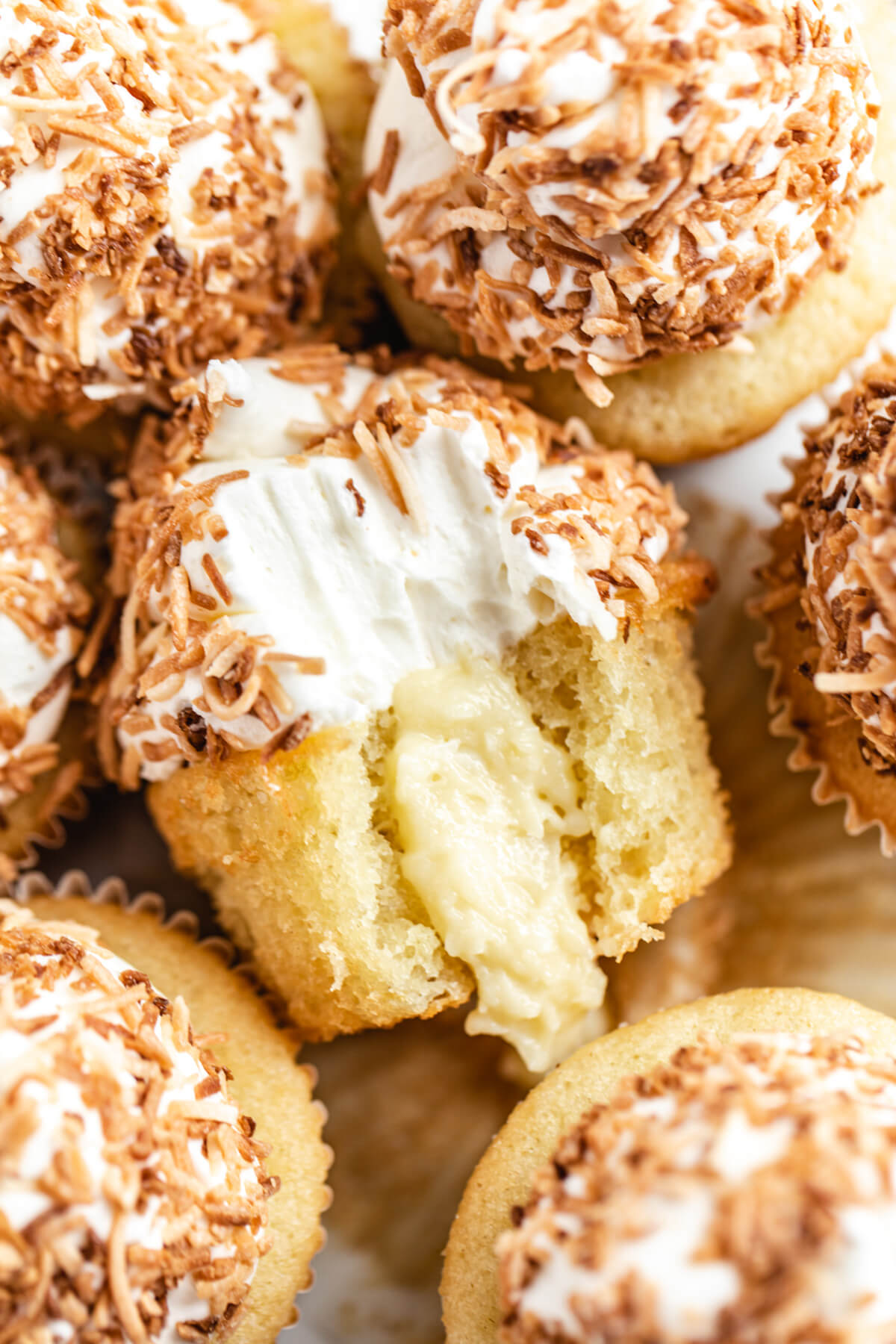 So let's break down every part of this extravagant dessert!
New & Improved Coconut Cupcakes
When I first shared this recipe, the cupcake part was an adapted version of my vanilla cupcake recipe where I replaced the buttermilk with coconut milk and the vanilla with coconut extract.
I did the same with this new recipe, however, this time I adapted my lemon cupcakes. As easy and great as the other recipe was, my butter-based cupcakes are far fluffier!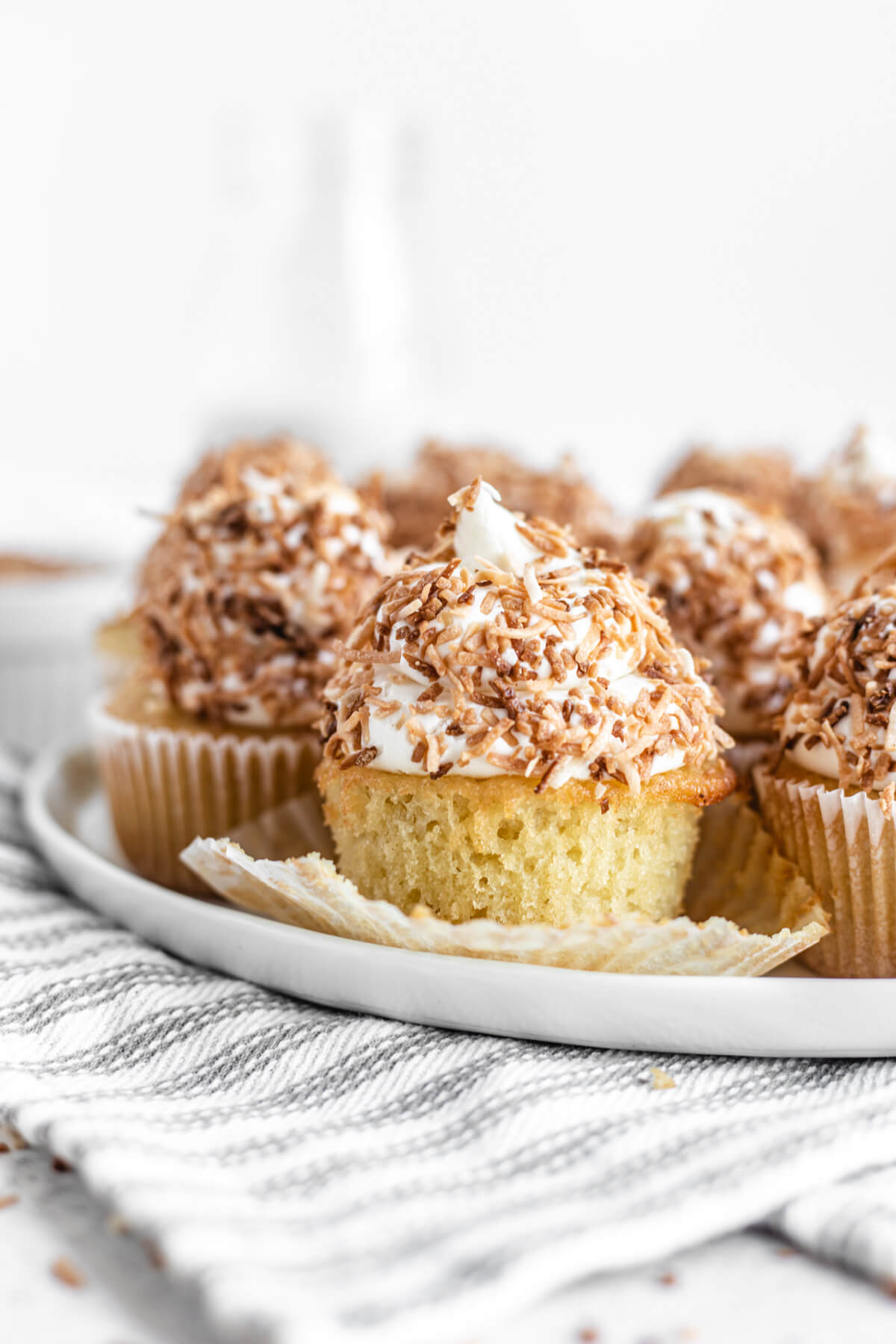 How to Make Coconut Cupcakes
Even though we'll need to use a mixer instead of a whisk, and there's a few more steps, this recipe is still incredibly easy! Here's what you gotta do:
Combine the dry ingredients: sift the flour, baking powder, baking soda and salt in one bowl.

Cream the butter + sugar: using a stand mixer or a hand mixer, beat the butter and sugar until it pales in colour and doubles in volume. Super crucial for the fluffiest texture, so don't skimp on this part. It should take about 4-5 minutes!
Add the eggs: one at a time!
Mix in: the sour cream (softens the crumb) vegetable oil (moistens the cupcakes) and coconut extract (part ½ of the coconut flavour!)
Alternate: between adding ⅓ of the dry ingredients and ½ of the coconut milk. This helps keep your batter nice and smooth while mixing, so you don't over-beat it.
Baker's Tip: When using canned coconut milk, shake it well before opening. Coconut milk can separate, meaning the solid fat rises to the top, so when you pour it, it'll be watery with chunks of coconut. Shaking it well will ensure that everything is combined.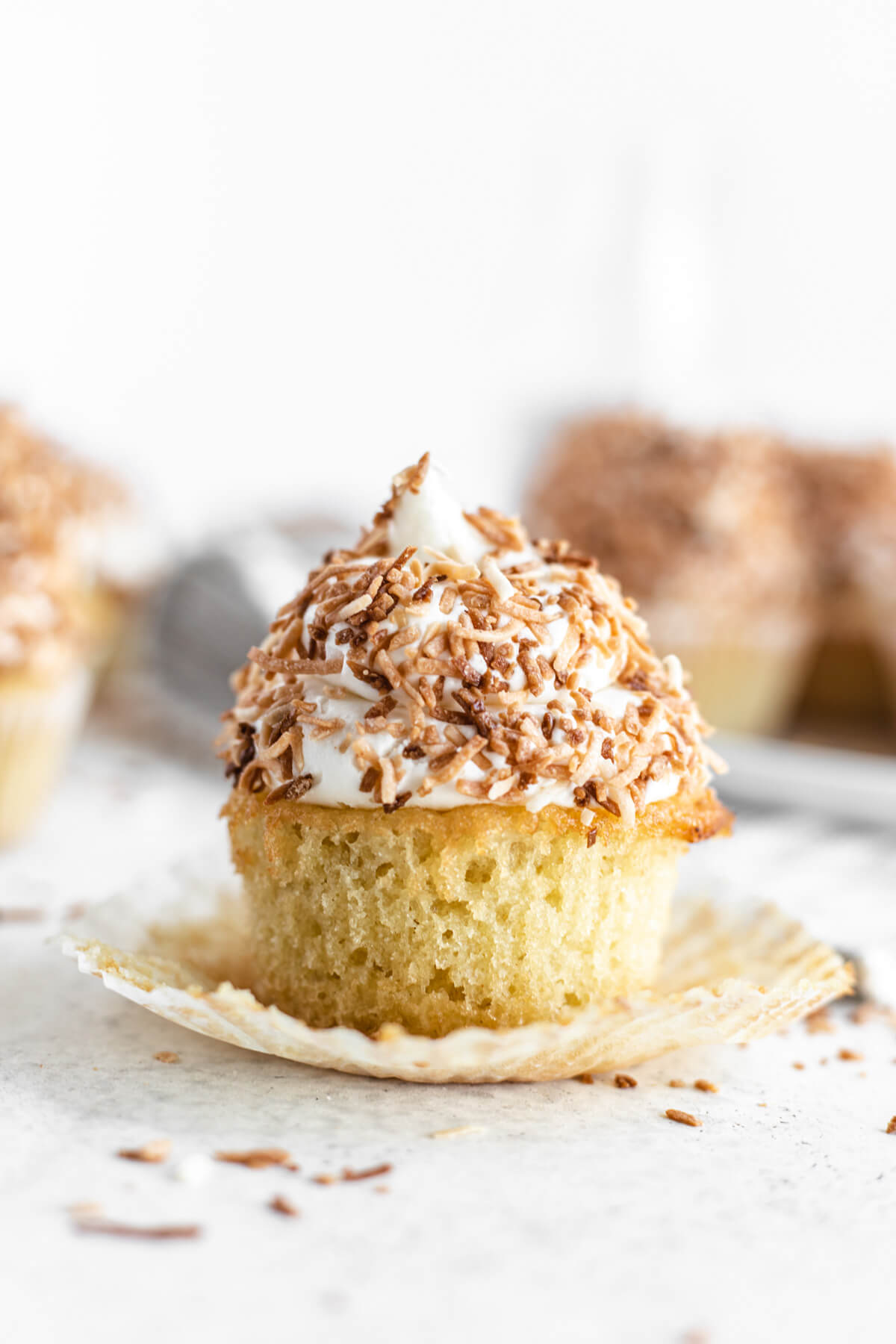 Coconut Custard Filling
Next up is the coconut custard filling. I actually recommend you make this part first so it can chill and thicken up overnight.
For the coconut custard, I used the same base recipe I usually use for all of my pudding recipes. Although, instead of milk and vanilla, I used coconut milk and coconut extract.
The recipe is super simple to make and is ready in no time. Start by whisking the sugar, cornstarch, salt and egg yolks together in a medium bowl until smooth. Then I combined the coconut milk and heavy cream in a saucepan and heated it over the stove until it began to simmer.
Next I poured a little bit of the hot coconut milk mixture into the egg mixture while whisking to temper the eggs so they don't curdle. Pour in the rest of the hot coconut milk mixture while whisking constantly, pour the mixture back into the saucepan, return to the stove then heat until thickened.
Since this is a small batch, the custard will thicken up almost immediately. This is where it gets difficult. You want to watch the custard closely, and once it begins to boil you'll need allow it to bubble for about 30 seconds. This allows the cornstarch to cook down, but again be very careful because it can easily burn.
Once thickened, you'll need to strain the pudding through a fine mesh strainer to make sure there are no lumps. Then mix in the butter and coconut extract for a bolder coconut taste.
I decided to fold in some coconut flakes (much to my disgust), to add more flavour and texture to the custard filling. The only thing I dislike more than the flavour of coconut is the texture, so I dreaded this part. Again, this recipe is for those of you who adore coconut, so who cares about my tastebuds?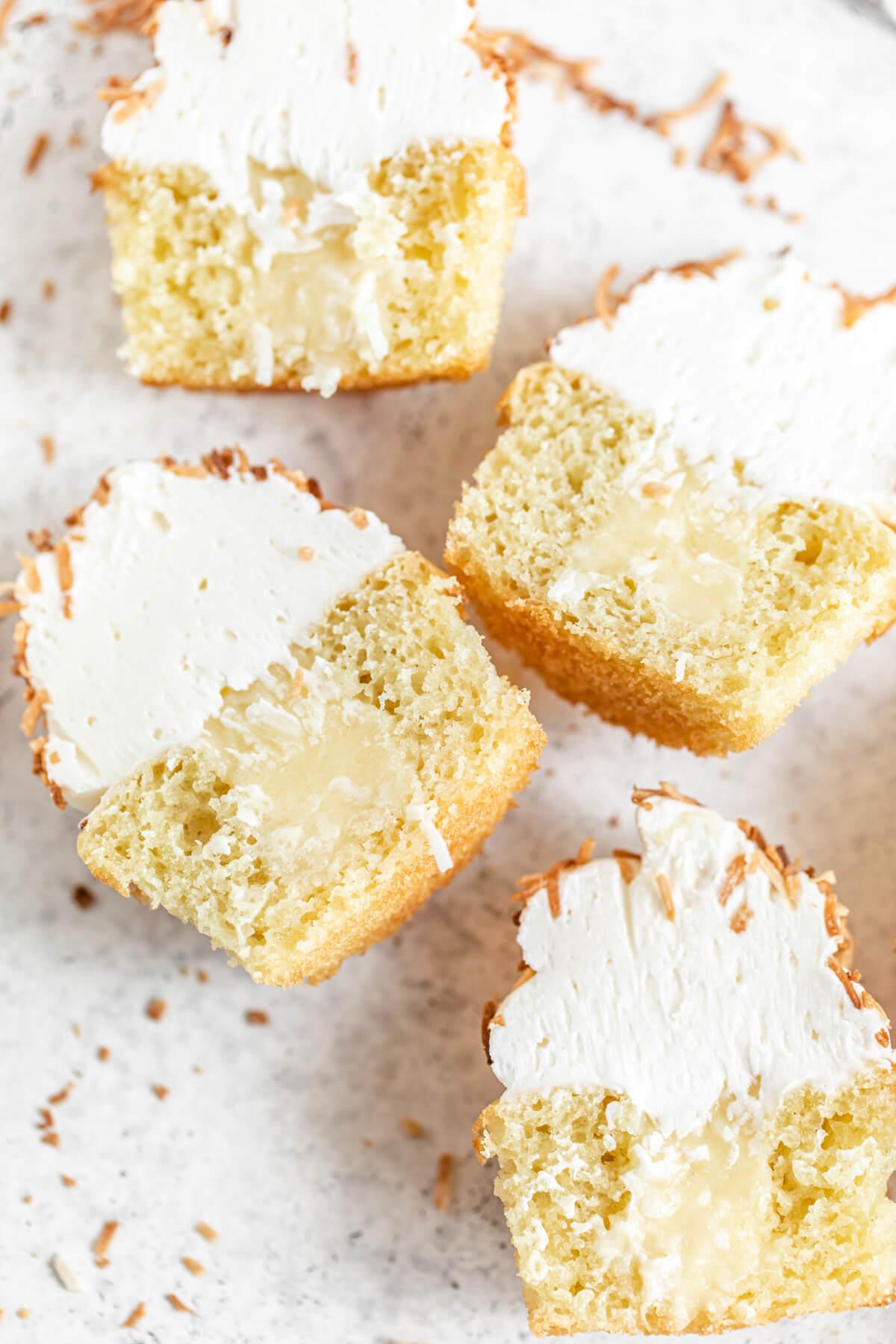 How to Fill the Cupcakes
To fill the cupcakes, start by coring a hole in the middle. I used a cupcake corer to do this. It's basically the same as an apple corer. You can also use the bottom of a large piping tip or a pairing knife to do this.
To make the filling process neater and easier, I spooned the coconut custard into a disposable piping bag and piped it into the cupcakes. If you don't have a piping bag, use a ziplock bag.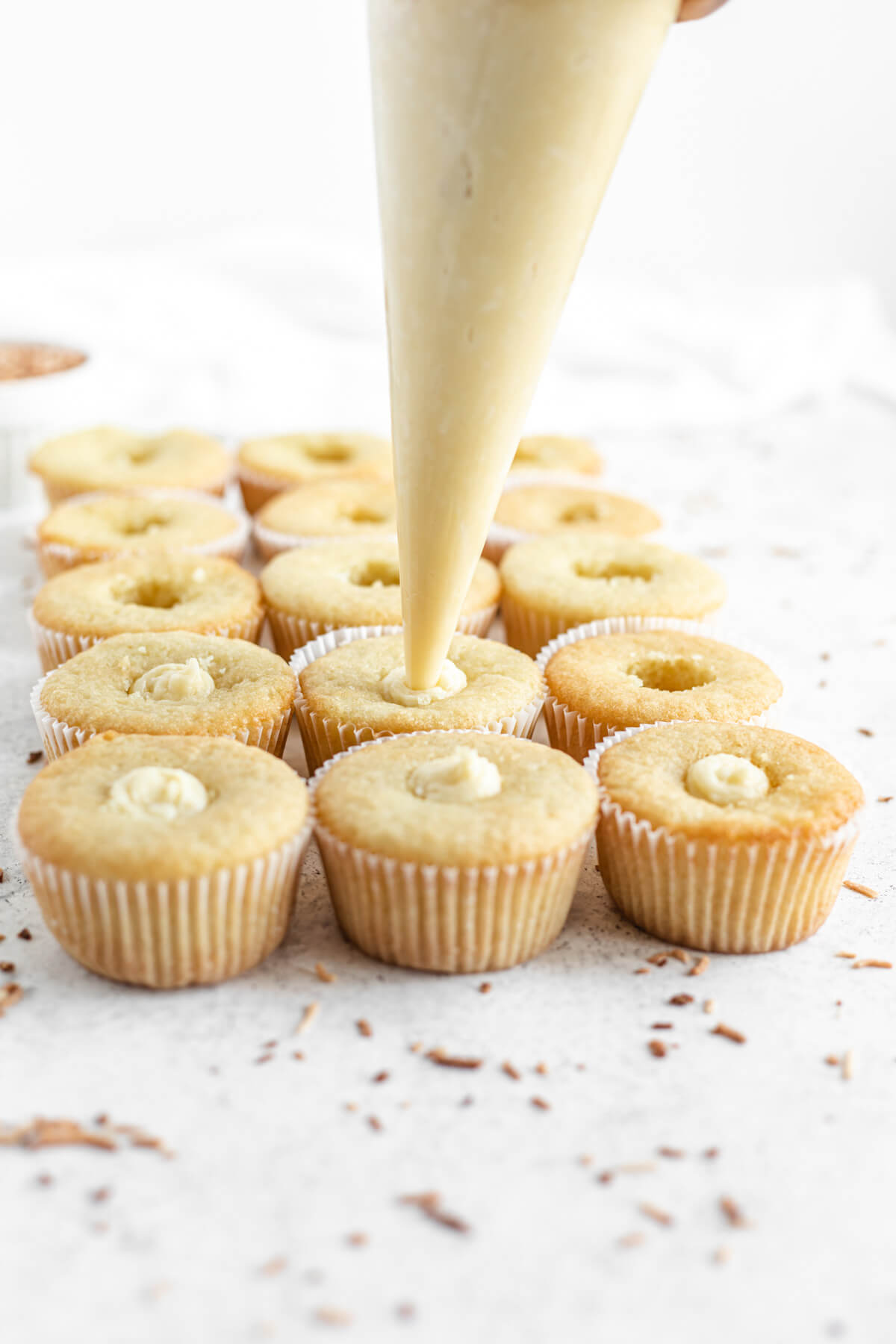 Dreamy Coconut Buttercream
To frost the cupcakes, I used my Dreamy Coconut Buttercream. This silky, creamy, fluffy frosting was also modified from my Dreamy Vanilla Buttercream recipe, I just replaced the heavy cream with coconut milk and the vanilla with coconut extract.
I used the Wilton #2A piping tip to frost these cupcakes, but you can use any piping tip you desire. Though, since the frosting is gonna be covered in toasted coconut, there's really no need to use a piping tip with a design.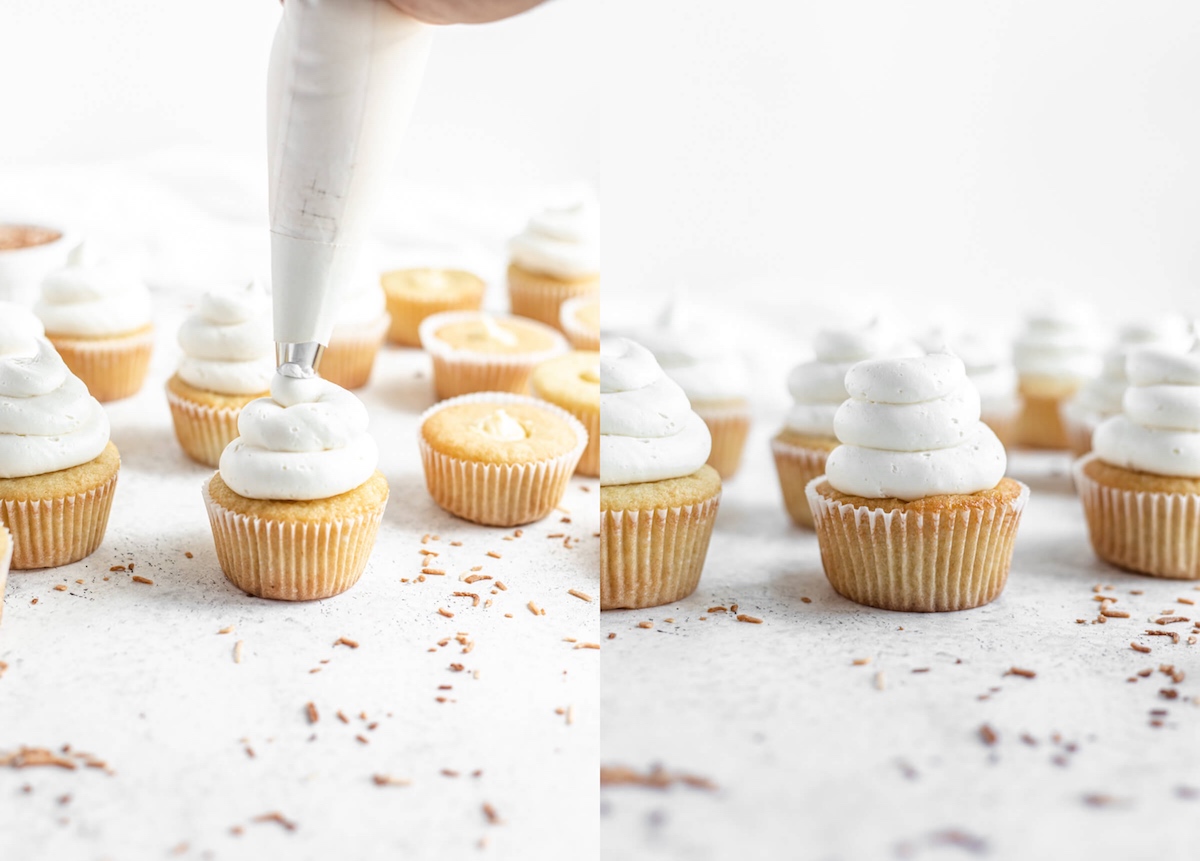 Toasted Coconut Coating
Since coconut cream pies are often topped with toasted coconut, so are these cupcakes! I've tried sprinkling the coconut onto the cupcakes, but most of it just bounces off the cupcakes. So to coat the cupcakes, I poured the toasted coconut into a plate and dipped the cupcakes.
Now the frosting can easily slip off, so you'll need to be careful. Work very quickly while doing this. And to make sure the frosting stays somewhat even, lightly pat the cupcakes into the coconut while turning.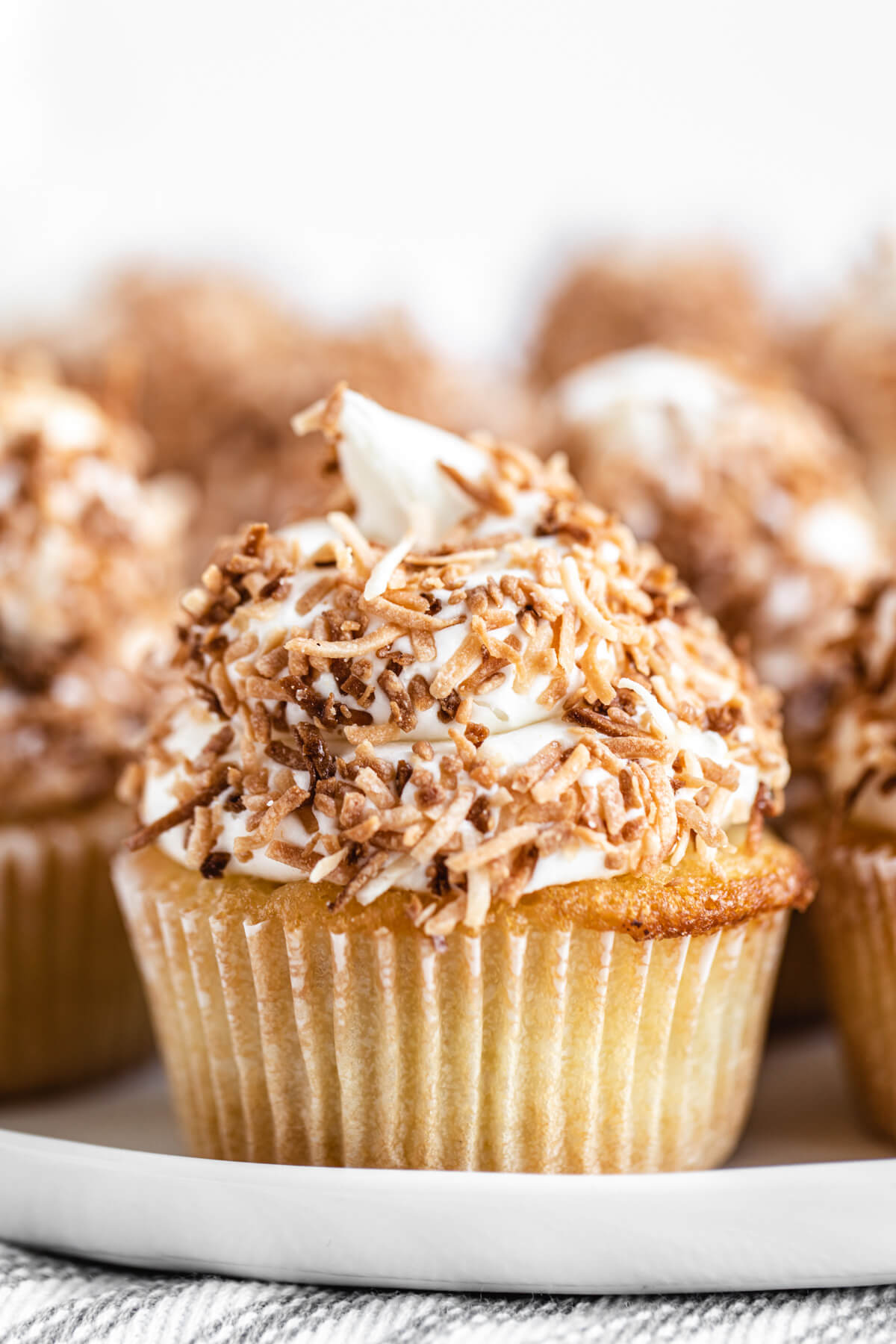 These cupcakes are like eating 2 desserts in 1, and they're a much simpler alternative than having to make an entire pie. They're absolutely irresistible for any hardcore coconut lover, and they have the same coconut cream pie taste in a light and fluffy cupcake!
SHARE YOUR PICS!
Follow me on Instagram and tag #queensleeappetit so I can see and share all of your Queenslee Appétit creations in my stories and the QA Newsletter!
>>PIN ME FOR LATER<<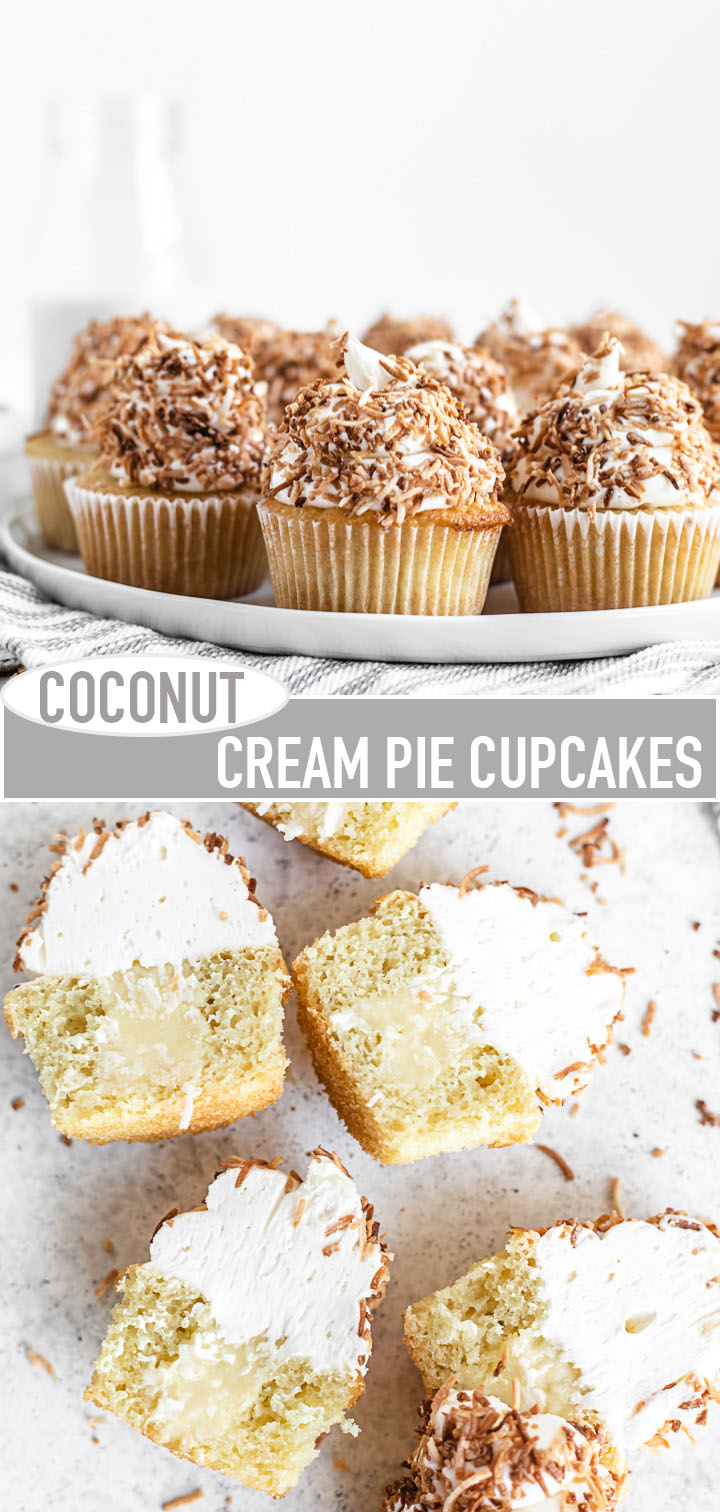 FOLLOW QUEENSLEE APPÉTIT
Like what you see? Make sure you're following Queenslee Appétit for more tasty recipes!
Pinterest | Instagram | Facebook | Twitter |
Have any questions about the recipe? Contact me here, and I'll be happy to help!
SWEETEN UP YOUR INBOX!
SUBSCRIBE to the Queenslee Appétit Newsletter to recieve new recipe notifications, monthly baking tips, sneak peeks to upcoming recipes, exclusive recipes and more!
Let's get baking!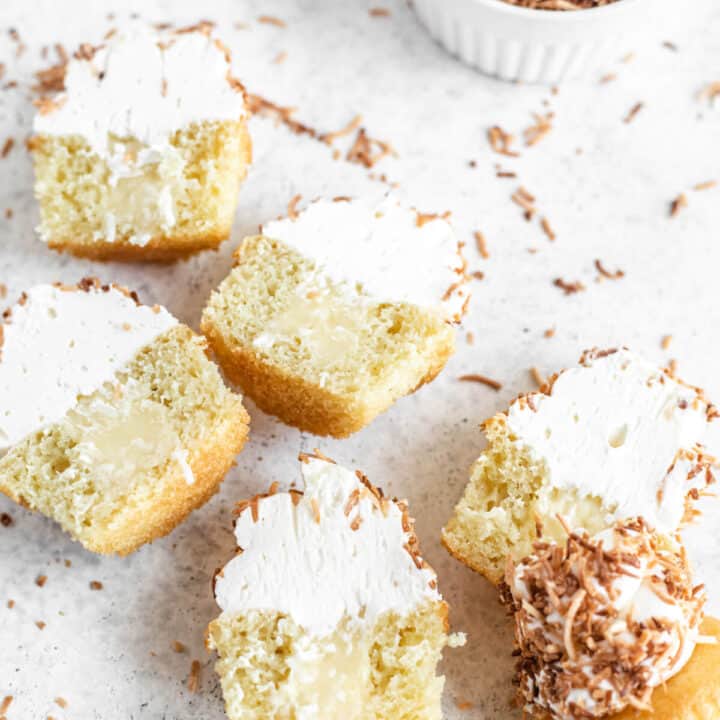 Coconut Cream Pie Cupcakes
Total Time:
3 hours
55 minutes
These Coconut Cream Pie Cupcakes feature light, moist and airy coconut cupcakes filled with coconut custard, topped with creamy coconut frosting and dipped in toasted coconut. Coconut Lovers, meet your new addiction!
Ingredients
Coconut Custard Filling:
⅓ cup granulated sugar
2 tablespoon cornstarch
⅛ teaspoon salt
2 large egg yolks
1 cup coconut milk
½ cup heavy cream
1 teaspoon pure coconut extract
2 tablespoons unsalted butter, cut into pieces
½ cup sweetened shredded coconut (optional)
Coconut Cupcakes:
1 and ½ cups all purpose flour
2 teaspoon baking powder
¼ teaspoon baking soda
¼ teaspoon salt
½ cup unsalted butter, softened to room temperature
1 cup granulated sugar
2 large eggs, room temperature
3 tablespoon sour cream, room temperature
2 tablespoon vegetable oil
2 teaspoon pure coconut extract
⅔ cups coconut milk, room temperature
Topping:
1 cup toasted coconut (see notes)
Instructions
For the Coconut Custard Filling:
Add sugar, cornstarch and salt to a medium bowl and whisk together. Add egg yolks and whisk until combined and smooth. It may be crumbly at first, but keep whisking until a smooth paste forms and it lightens in colour.
In a medium saucepan, combine the coconut milk and heavy cream. Heat over medium heat until mixture begins to simmer.
Once coconut milk mixture begins to simmer, immediately remove from heat and slowly pour a little bit into the egg mixture while whisking constantly to temper the eggs.
Slowly pour the remaining milk mixture into the egg mixture while whisking constantly.
Pour the entire mixture back into the saucepan and return to medium heat. and cook, stirring constantly until the mixture is thickened and begins to boil, about 3-5 minutes. Mixture should coat the back of a spoon. Allow to boil for an additional 30 seconds.
Remove from heat and add coconut extract and butter. Whisk until butter is melted and combined.
Strain custard through a fine mesh sieve into a bowl. Fold in the shredded coconut, if desired.
Place plastic wrap directly on top of the custard to prevent a skin from forming. Chill in the refrigerator for 2-3 hours or preferably overnight.
For the Coconut Cupcakes:
Preheat oven to 350F. Line one 12-cup muffin pan with paper liners. Set aside.
In a large bowl, sift the flour, baking powder, baking soda and salt and whisk to combine. Set aside.
In the bowl of a stand mixer fitted with the paddle attachment, or in a large bowl using a hand mixer, beat the butter and sugar on medium-high speed until light and fluffy, about 5 minutes.
Scrape down the sides and bottom of the bowl. Lower the speed to medium-low and mix in the eggs, one at a time until just combined.
Add the sour cream, vegetable oil and coconut extract and mix until combined.
Add ⅓ of the dry ingredients to batter and beat just until combined, then add ½ of the coconut milk and mix until just combined. Continue mixing in ½ of the remaining dry ingredients, remaining coconut milk, then remaining dry ingredients. Remember to mix each addition until just combined before adding the next.
Scoop batter into cupcake liners, filling them ⅔ way full. Bake for 18-20 minutes or until a toothpick inserted into the centre comes out clean.
Remove cupcakes from oven and allow to cool in pans for about 5 minutes, then transfer to cooling racks to cool completely. Meanwhile, make a batch of my Dreamy Coconut Buttercream Frosting (link above).
Assembly:
Core the centre of each cupcake using the bottom of a large piping tip, or an apple corer.
Remove the coconut custard from the refrigerator and stir to loosen. Using a disposable piping bag or ziplock bag, fill the cupcakes with the custard.
Transfer frosting to a piping bag fitted with a large round tip (I used Wilton 2A). Pipe a swirl onto the cupcakes.
Hold the cupcake over a plate of toasted coconut and lightly dip while turning the cupcake until it's all coated. Serve and enjoy!
Notes
Toasting the Coconut: to toast the coconut, preheat the oven to 350°F. Spread your coconut onto a baking sheet and bake for 6-8 minutes, stirring it around every 2 minutes.
Make Ahead: (1) Cupcakes can be made a day in advance and stored in an airtight container at room temperature. (2) Coconut Custard Filling can be made a day or 2 in advance and stored in the refrigerator. (3) Coconut Buttercream can be made ahead of time and stored in an airtight container in the refrigerator for up to 1 week, or in the freezer for 2-3 months. Before using — allow frosting to come to room temperature, then re-whip in a stand mixer until the frosting is smooth and fluffy.
Coconut Milk: Make sure to shake the can of coconut milk for at least 30 seconds before using, or else you'll end up with chunky coconut water.
Coconut Extract: If you don't have coconut extract, feel free to substitute it with vanilla.
Storage: store the cupcakes in the refrigerator for up to 6 days. Because of the custard filling, these can't be stored at room temperature.
Nutrition Information:
Yield:

16
Serving Size:

1
Amount Per Serving:
Calories:

330
Total Fat:

23g
Saturated Fat:

15g
Trans Fat:

0g
Unsaturated Fat:

6g
Cholesterol:

88mg
Sodium:

194mg
Carbohydrates:

30g
Fiber:

1g
Sugar:

23g
Protein:

3g
BON APPÉTIT!
Love, Dedra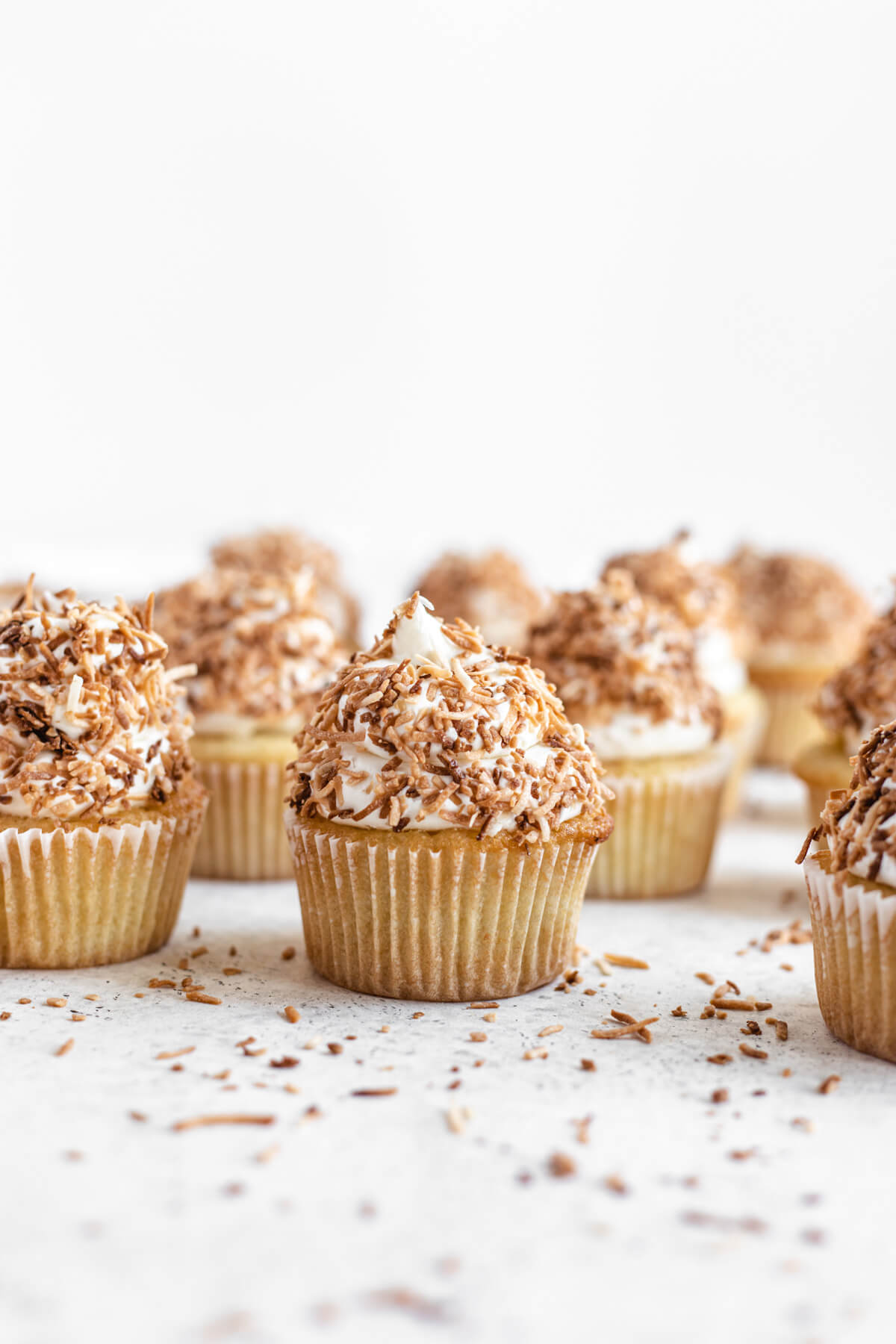 ©QUEENSLEE APPÉTIT. All images & content are copyright protected. Please do not use my images without prior permission. If you want to republish this recipe, please re-write the recipe in your own words, or link back to this post for the recipe.