This Dreamy Coconut Buttercream Frosting is extremely light and creamy! It pairs perfectly with any flavour of cake or cupcakes, and if you replace the butter with vegan margarine, it'll be 100% dairy free!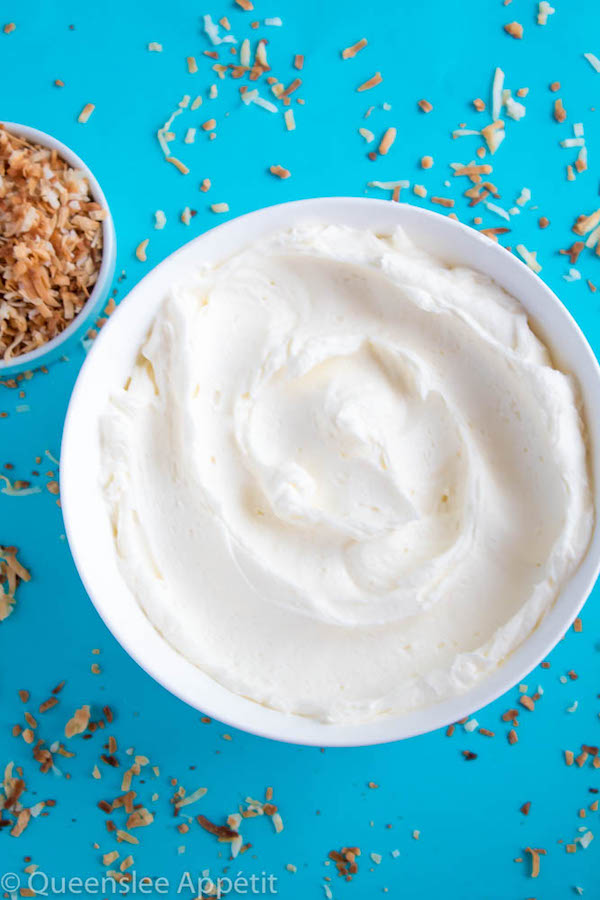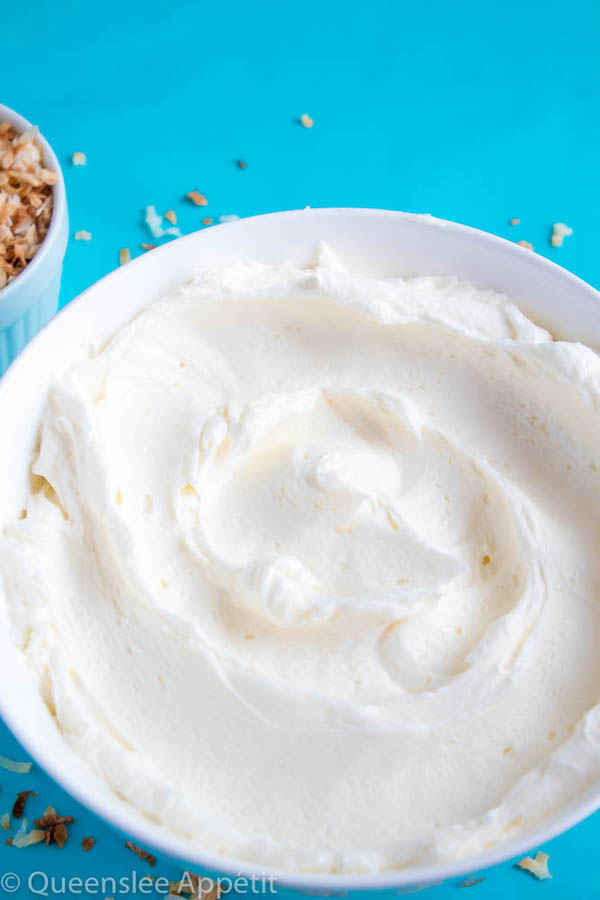 This coconut buttercream is super silky and creamy! It's made with a mixture of butter and shortening so it's perfectly pipe-able and can easily hold its shape. Coconut milk and coconut extract are used to give this frosting it's sweet coconut flavour that would taste great on a lot of desserts!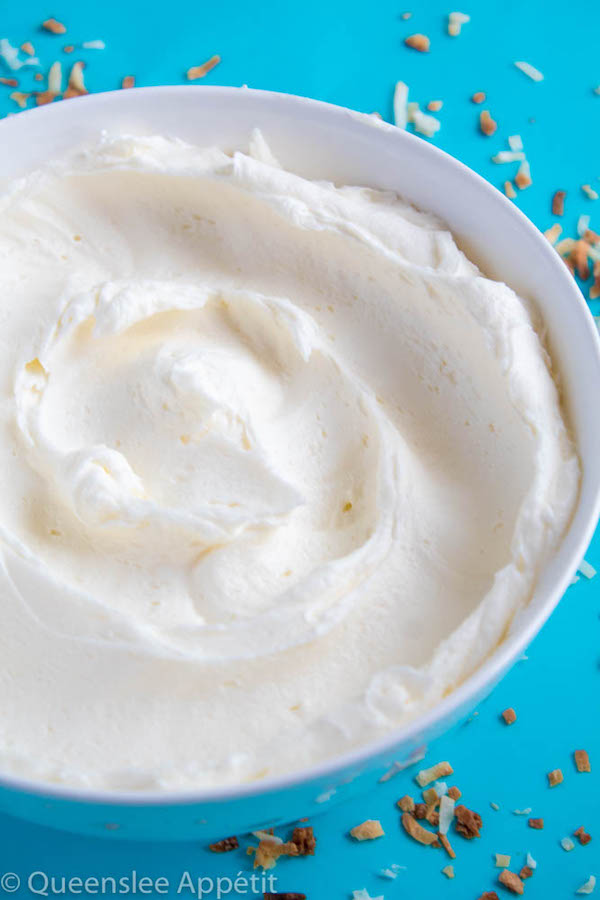 TIPS FOR MAKING DREAMY COCONUT BUTTERCREAM FROSTING:
As with all of my frosting recipes, I used a mixture of butter and shortening. Make sure your butter is softened to room temperature. You'll know you're butter is soft enough when you press your thumb into it and it leaves an indentation. I always take my butter out of the fridge 30 minutes before beginning. You also don't want your butter to be too soft, because we're going to whip it for at least 5-6 minutes to get it extra light and creamy. For the shortening, I used hi-ratio shortening because it gives the frosting a better consistency, but you can substitute with vegetable shortening if you want.
If you want your frosting to be dairy-free and vegan friendly, you can replace the unsalted butter with vegan margarine. You can also replace the coconut extract with vanilla extract for a dairy free vanilla buttercream!
Speaking of the coconut extract, since this is coconut buttercream I wanted to add as much coconut as I could to get that bold coconut flavour. The coconut milk alone gives the frosting a nice coconut taste, so you can leave the extract out completely if you want to.
You must use full-fat canned coconut milk, not the coconut milk you drink. On top of adding coconut flavour, the coconut milk acts as a replacement for heavy cream, which is what I usually use in my frostings. The coconut milk is what makes this frosting super creamy and silky to the point where it just melts in your mouth!
You'll need to beat the frosting on high speed for a whole 5-7 minutes! I know this is a long time, but that's the key to ALL of my dreamy buttercream's! Whipping for a few minutes is what gives the frosting it's creamy, fluffy, luscious texture!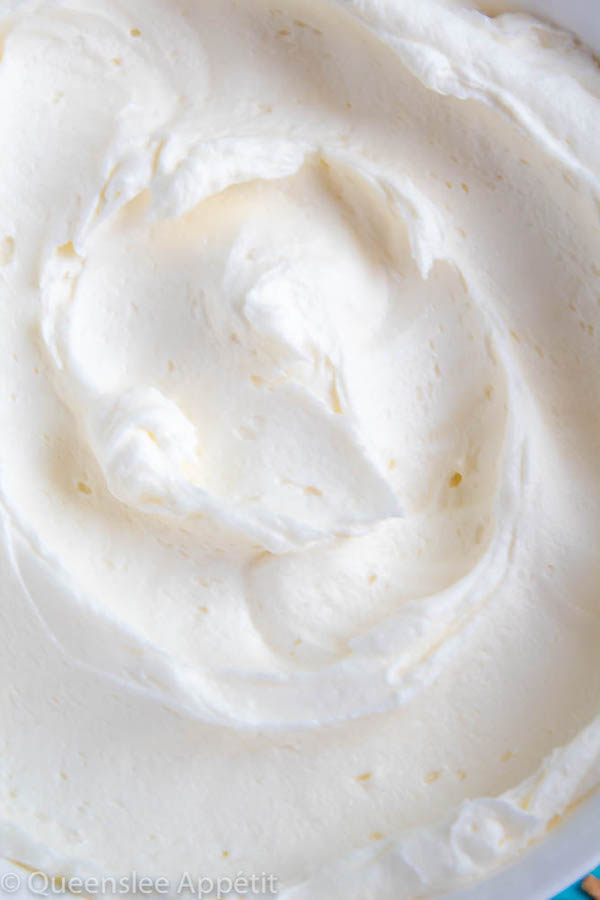 Pair this Dreamy Coconut Buttercream Frosting with these recipes:
Vanilla Raspberry Cake (replace vanilla buttercream filling with coconut!)
Moist and Fluffy Vanilla Cupcakes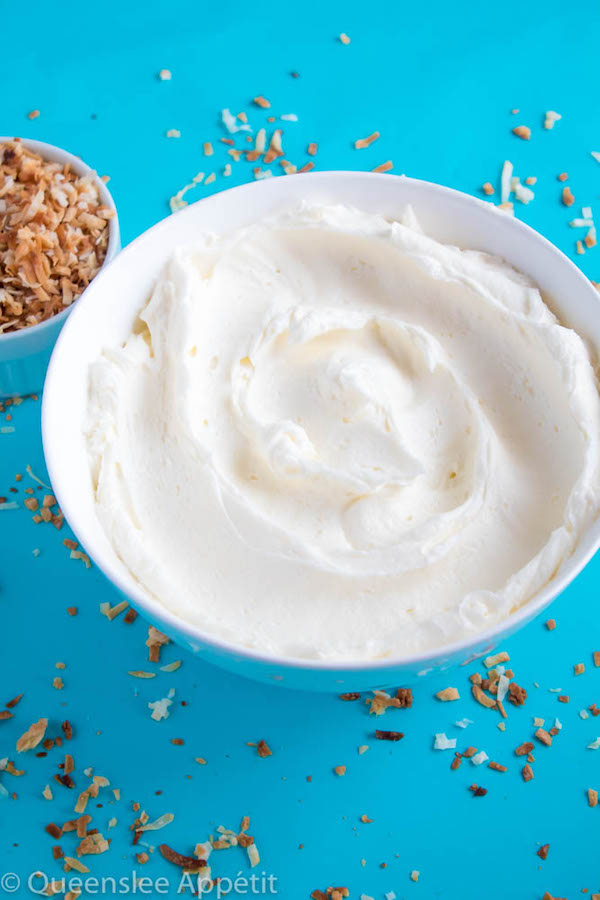 More Dreamy Frosting Recipes
Raspberry Buttercream Frosting
Dark Chocolate Buttercream Frosting
Chocolate Buttercream Frosting
>>PIN ME FOR LATER<<

Never miss a recipe, SUBSCRIBE at the bottom of this post!
FOLLOW QUEENSLEE APPÉTIT
Pinterest | Instagram | Facebook | Twitter |
Did you make a recipe? I'd love to see how it turned out! Follow me on Instagram and use the hashtag #queensleeappetit so I can see all of the Queenslee Appétit recipes you've made!
Let's get baking!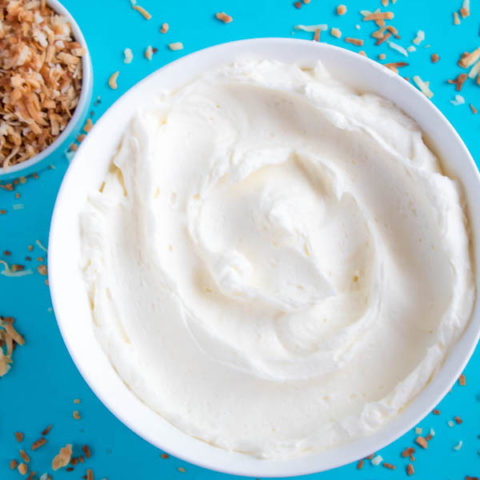 Dreamy Coconut Buttercream Frosting
Yield:
enough to frost 24 cupcakes, or to fill and frost a 9-inch layer cake
This Dreamy Coconut Buttercream Frosting is extremely light and creamy! It pairs perfectly with any flavour of cake or cupcakes, and if you replace the butter with vegan margarine, it'll be 100% dairy free!
Ingredients
½ cup unsalted butter, softened to room temperature
½ cup hi-ratio shortening (can substitute with solid vegetable shortening)
⅛ teaspoon salt
4 cups powdered sugar, sifted
¼ cup canned coconut milk (shake well before opening)*
1 teaspoon pure coconut extract
Instructions
In the bowl of a stand mixer fitted with a paddle attachment, or in a large mixing bowl using a handheld mixer, beat butter, shortening and salt until pale and creamy, about 5-6 minutes.
Add half of the powdered sugar and mix on low until combined. Add coconut milk and coconut extract and mix until well combined.
Gradually add remaining powdered sugar and beat until fully combined. Increase speed to high and beat until light and fluffy, 5-7 minutes.
Notes
- One tip for using canned coconut milk is to shake it well before using. Coconut milk can be separated, meaning the solid fat rises to the top, so when you pour it it'll be watery with chunks of coconut. Shaking it well will ensure that everything is mixed together into one single liquid.

- Store frosting in an airtight container in the refrigerator for up to 2 weeks, or in the freezer for several months. Before using — allow frosting to come to room temperature, then re-whip with a stand or hand mixer until the frosting is smooth and fluffy.
©QUEENSLEE APPÉTIT. All images & content are copyright protected. Please do not use my images without prior permission. If you want to republish this recipe, please re-write the recipe in your own words, or link back to this post for the recipe.
BON APPÉTIT!
Love, Dedra ❤