A light, fluffy, decadent and dreamy Dark Chocolate Buttercream Frosting. Perfect for frosting cakes, cupcakes, and more!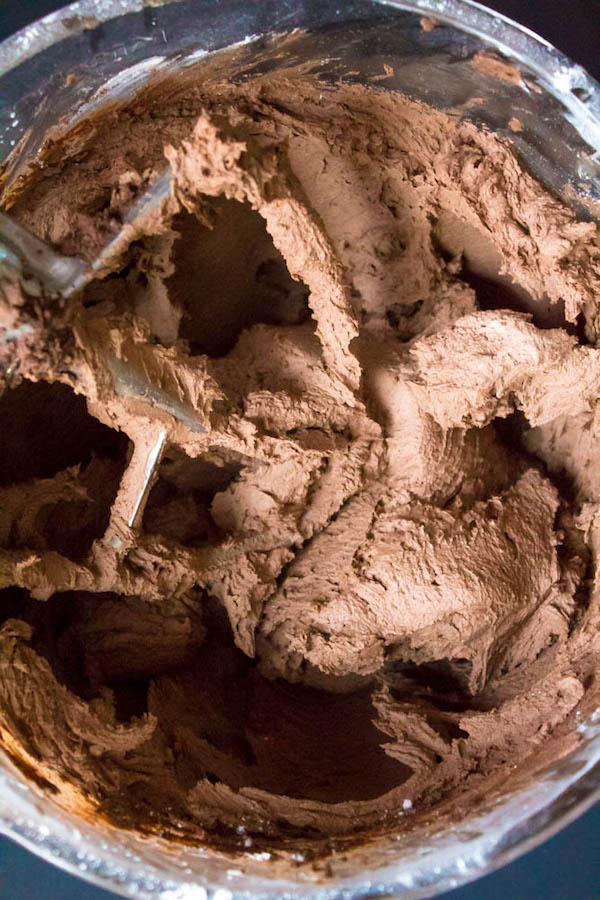 This dark chocolate buttercream has an intense and rich dark chocolate flavour that the dark chocolate lover in you will adore! Pair it with chocolate cupcakes or a chocolate cake for the chocolat-iest dessert ever!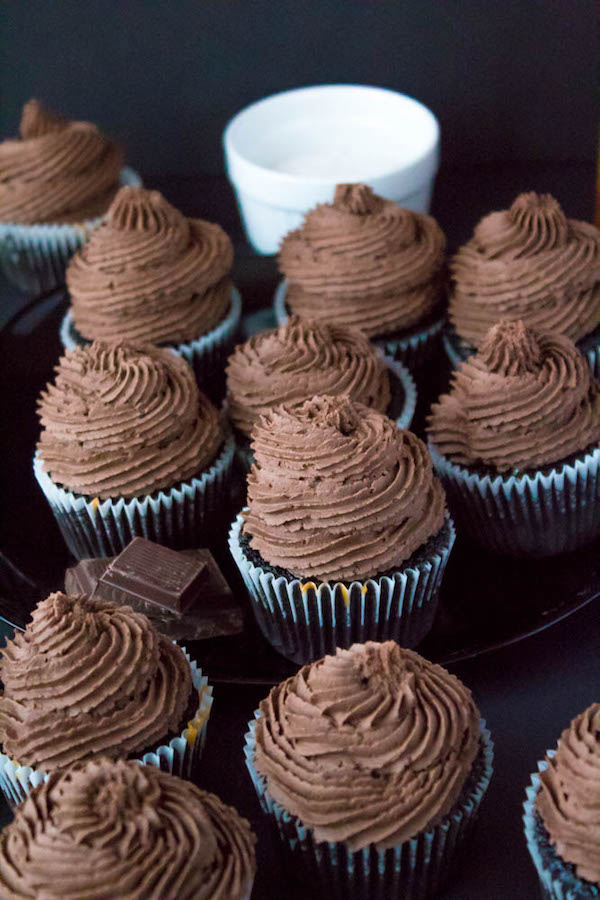 Dark Chocolate Buttercream Frosting
This recipe was slightly adapted from my Dreamy Chocolate Buttercream recipe. The only difference is the type of chocolate and cocoa powder I used.
It only requires 8 ingredients. I know 8 sounds like a lot, but the ingredients are really simple — dark chocolate, unsalted butter, hi-ratio shortening, salt, powdered sugar, dark cocoa powder, vanilla and cream (or milk).
These 8 simple ingredients plus an electric mixer and you're ready to whip up a batch of this deep, rich and creamy dark chocolate buttercream.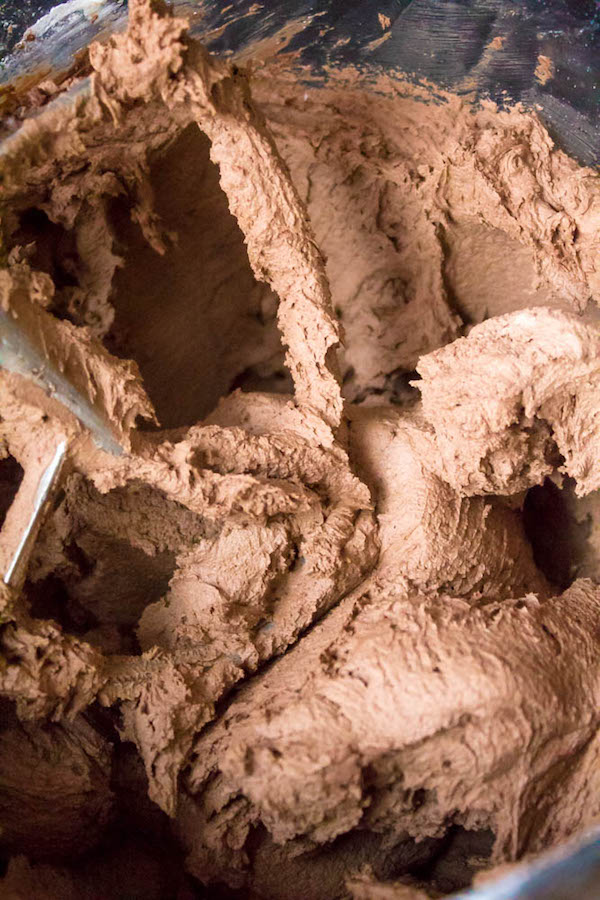 Let's break down the ingredients
Unsalted Butter — We of course need to use unsalted butter instead of salted in this recipe because you don't want your frosting to be too salty. I sometimes use butter that's only slightly softened because that would require extra whipping which results in a fluffier frosting. However, that method really only works if you're using a stand mixer powerful enough to beat the chunks out of the butter. For this reason, I mainly prefer to use softened butter. Take your butter out of the refrigerator 30 mins - 1 hour before you begin to bring it to room temperature. You should be able to leave an indent with your thumb when you press into it.
Throw it into your mixer bowl.
Hi-Ratio Shortening — I use this in all of my buttercream recipes. Using hi-ratio shortening creates a buttercream that is much more stable and holds its shape when piping out designs. The addition of shortening also causes the buttercream to form a crust, which means it can hold up in hot weather. I prefer to use Hi-ratio shortening in my frostings rather than regular Crisco vegetable shortening because it creates a smoother, less greasy buttercream and because it was designed for the purpose of making the perfect frosting!
Throw the shortening into the bowl with the butter along with the salt and beat, beat, beat! We need to beat the butter and shortening until they're VERY light and fluffy, I usually do this for 5-6 minutes.
Powdered Sugar — Make sure to sift your powdered sugar beforehand. This also ensures your frosting is smooth, fluffy and lump free.
Add about half of the sugar to the butter/shortening mixture and beat until combined.
Dark Cocoa Powder — The first thing that gives this frosting its deep and decadent dark chocolate flavour. Not only does it give the frosting a richer flavour, it also gives it a nice dark colour (which you can't really see in the photos cause the bloody AWFUL LIGHTING ARRGGH!) I used black unsweetened cocoa powder that I got from my local bulk store, but Hershey's Special Dark or any other brand of dark cocoa powder should work perfectly.
Sift the lumps out of the cocoa powder and add it to the mixing bowl right after the powdered sugar. At this point the frosting will turn into a beautiful, dark almost black colour!
Dark Chocolate — You can't have dark chocolate buttercream without dark chocolate! I recommend using a high-quality chocolate that you would eat on its own. Keep in mind, high-quality does not mean expensive. I used a brick of Belgian Dark Chocolate that cost about $5 and it tastes great when both eaten by itself and incorporated into this frosting.
Pour melted chocolate into the buttercream, along with a splash of vanilla for additional flavour. Beat until combined and smooth.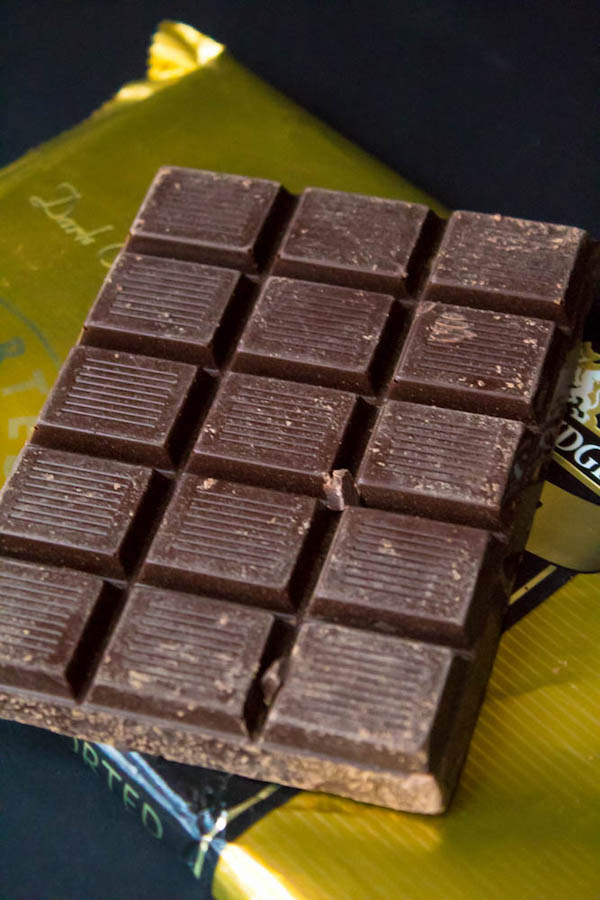 Heavy Cream — This frosting gets very, very thick so you will need to add heavy cream or milk to thin it out. I prefer to add heavy cream because it gives the frosting its creamy and fluffy texture. Add the cream 1 tablespoon at a time to loosen the frosting. This could take anywhere between 6 tablespoons to 8 tablespoons, don't add too little because the frosting will be too thick and don't add too much or else the frosting will be too thin to pipe.
Once you reach the desired frosting consistency, whip the frosting on high for 5-7 minutes. Whipping creates the lightest, fluffiest and creamiest frosting ever!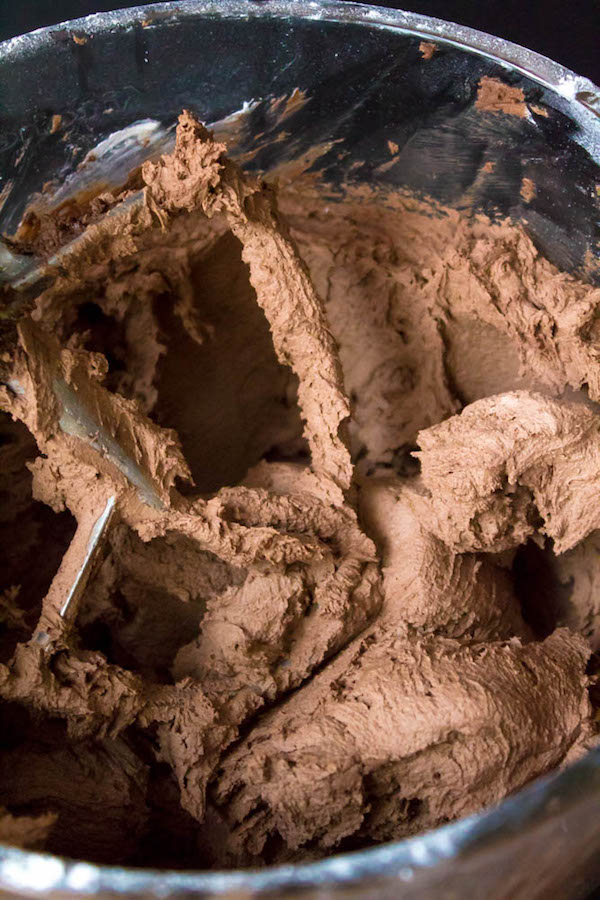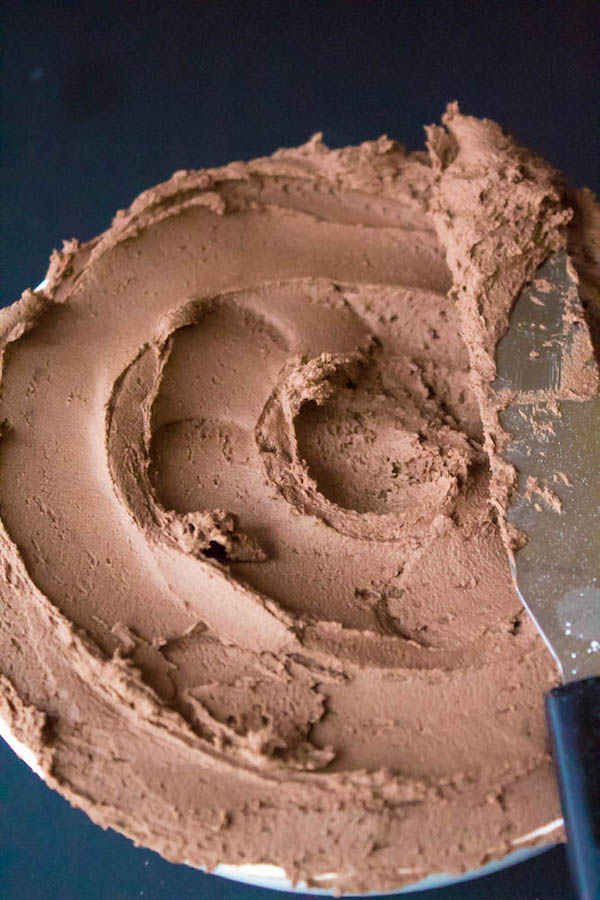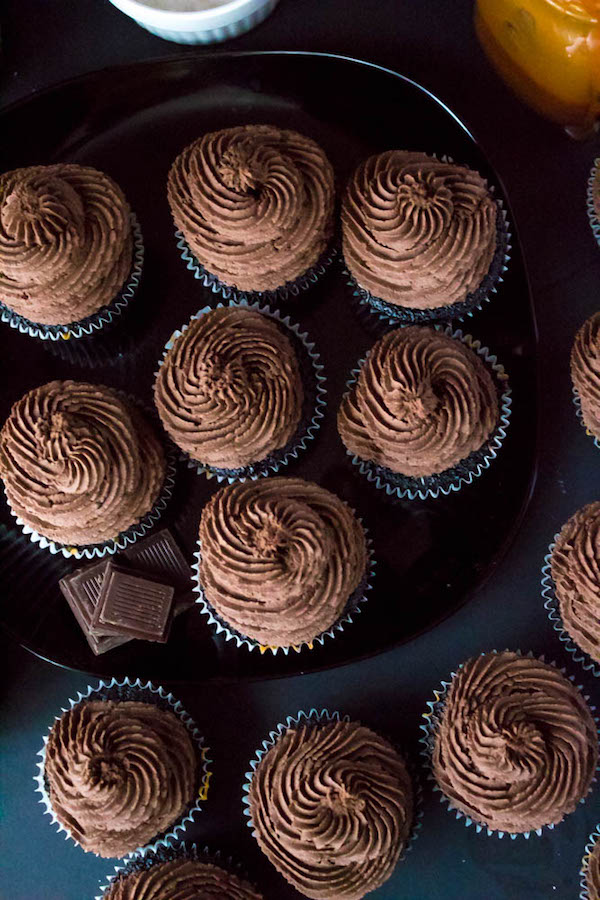 Pair this rich Dark Chocolate Buttercream with these recipes:
Salted Caramel Dark Chocolate Cupcakes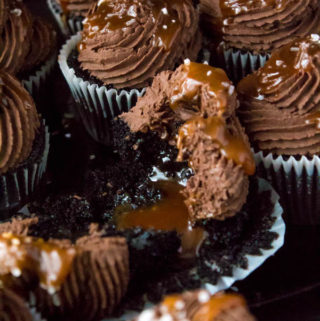 Perfectly Moist and Fluffy Chocolate Cupcakes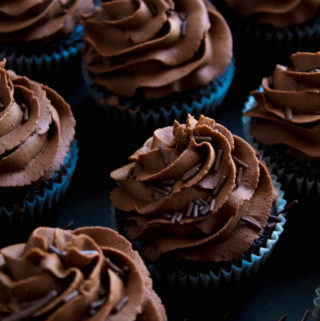 More Dreamy Frostings: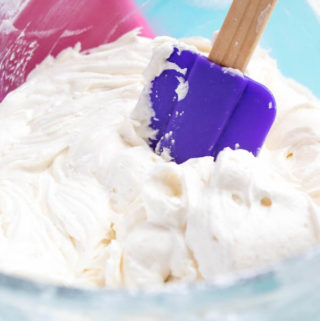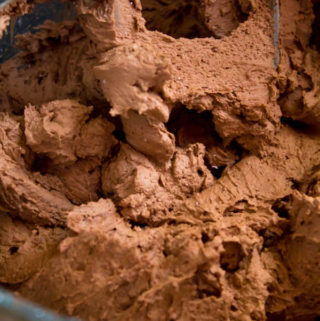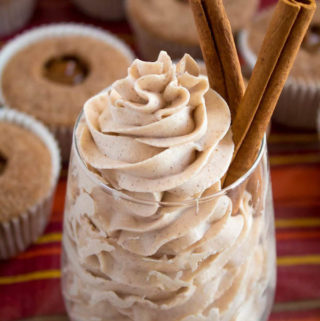 Dreamy Raspberry Buttercream Frosting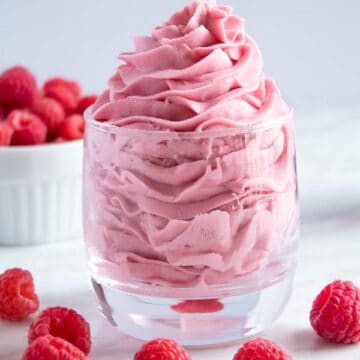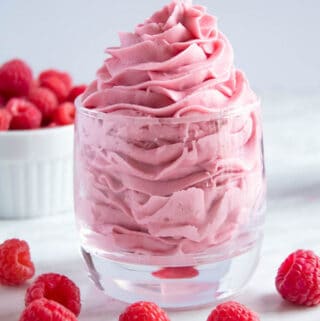 >>PIN ME FOR LATER!<<

Follow Queenslee Appétit
Pinterest | Instagram | Facebook | Twitter |
Did you make a recipe? I'd love to see how it turned out! Follow me on Instagram and use the hashtag #queensleeappetit so I can see all of the Queenslee Appétit recipes you've made!
Let's get baking!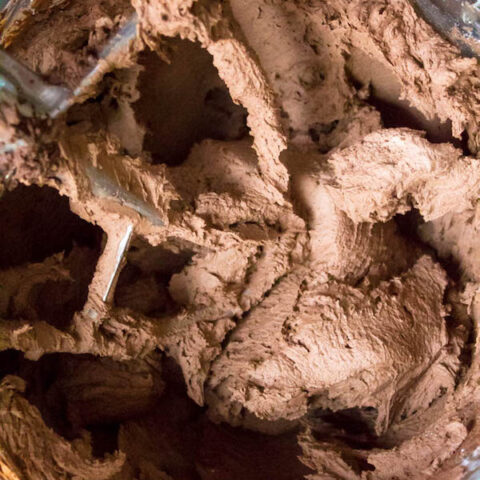 Dreamy Dark Chocolate Buttercream Frosting
Yield:
enough to frost 24 cupcakes or 1 9-inch Layer Cake
A light, fluffy, decadent and dreamy Dark Chocolate Buttercream Frosting. Perfect for frosting cakes, cupcakes, and more!
Ingredients
8 oz. high-quality dark chocolate, chopped (or dark chocolate chips)
1 cup unsalted butter, softened to room temperature
½ cup Hi-ratio Shortening
⅛ teaspoon salt
5 cups powdered sugar, sifted
¼ cup dark unsweetened cocoa powder, sifted
2 teaspoons pure vanilla extract
4-8 Tablespoons heavy cream or milk
Instructions
Melt the chocolate in a heat-proof glass bowl in the microwave in 30 second intervals until melted and smooth. Set aside to cool.
In the bowl of a stand mixer fitted with the paddle attachment, or in a large bowl with a hand-held mixer, beat the butter, shortening and salt on medium speed until light and fluffy (about 5-6 minutes). Scrape down the sides and bottom of the bowl.
Turn the mixer to low, and gradually add half of the sugar and all of the cocoa and beat on low speed until just combined. Pour in the cooled melted chocolate and vanilla and mix on medium-low speed until combined.
Gradually add remaining powdered sugar and mix until combined. Add heavy cream or milk 1 tablespoon at a time until you reach a smooth and creamy consistency.
Increase mixer speed to medium-high and whip until light and fluffy, about 5-7 minutes. Use to frost cakes, cupcakes and more!
Notes
Store frosting in an airtight container in the refrigerator for up to 2 weeks, or in the freezer for several months. Before using — allow frosting to come to room temperature, then re-whip in a stand mixer, adding additional cream or milk until the frosting is smooth and fluffy.
Recommended Products
As an Amazon Associate and member of other affiliate programs, I earn from qualifying purchases.
©QUEENSLEE APPÉTIT. All images & content are copyright protected. Please do not use my images without prior permission. If you want to republish this recipe, please re-write the recipe in your own words, or link back to this post for the recipe.
Bon Appétit!
Love, Dedra ❤
This post may contain affiliate links. Please see my full disclosure policy for details.