These Chocolate Cupcakes are perfectly moist, fluffy and full of rich chocolate flavour! Topped with a silky and dreamy Chocolate Buttercream Frosting - these cupcakes are the perfect treat for chocoholics.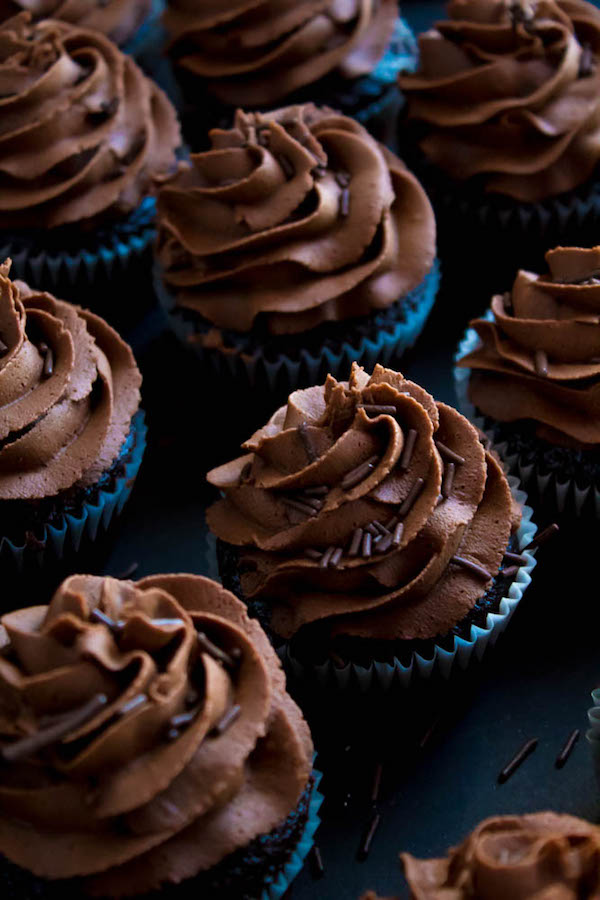 Are you a fan of chocolate? Would you eat absolutely anything as long as it had chocolate in it? Is chocolate the only thing that can cheer you up when you're in a bad mood? If so, these are the perfect cupcakes for you! Moist and fluffy chocolate cupcakes, topped with silky chocolate buttercream and chocolate sprinkles - are you tempted yet?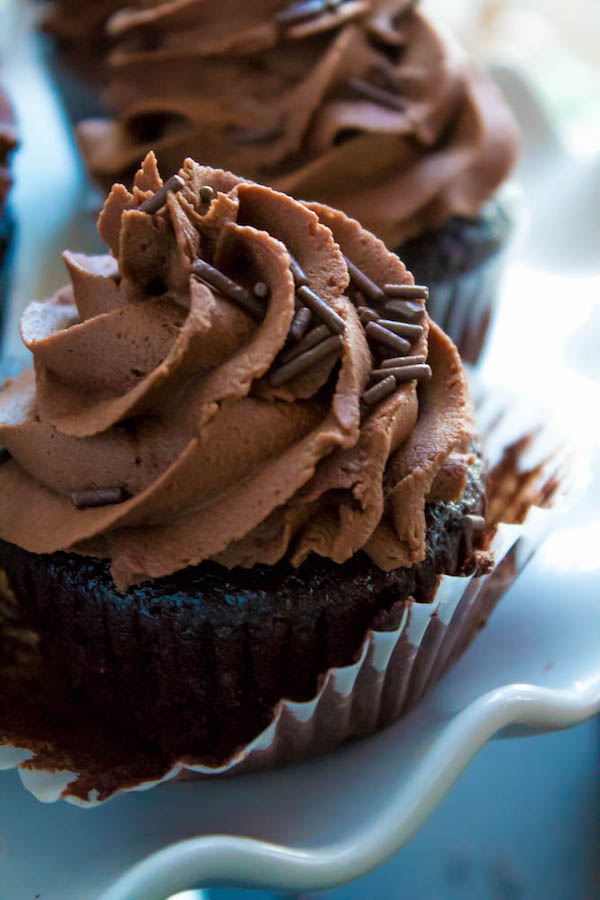 This has been my go-to chocolate cupcake recipe for a while now. They're so easy to make and require no skill at all! You only require 1 bowl, 1 measuring cup and 1 whisk. To make the cupcakes, simply mix the dry ingredients together, then the wet ingredients, mix 'em all together, then add some boiling water. As easy as 1-2-3!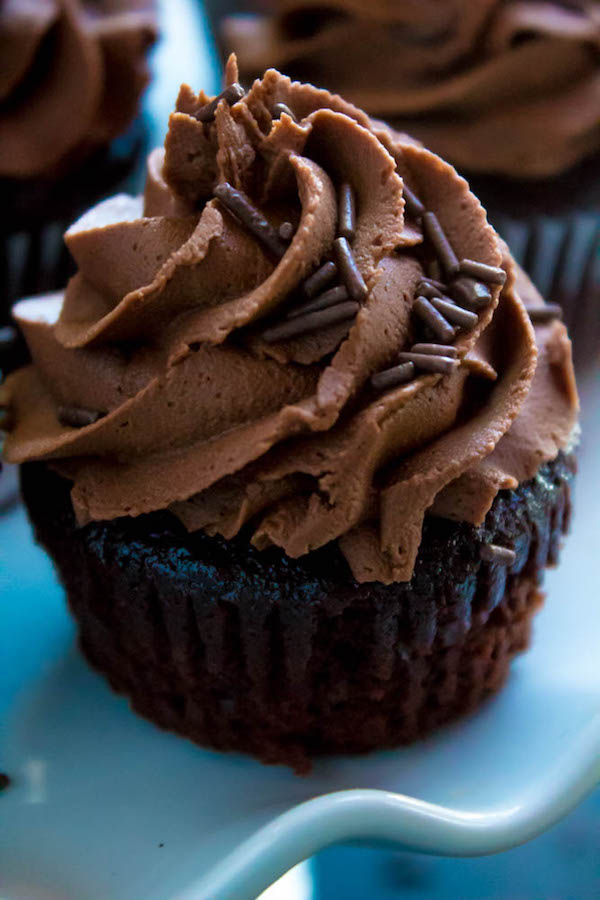 The dry ingredients are just your basic flour, granulated sugar, cocoa etc. The wet ingredients are what give these cupcakes that amazing fluffy texture.
First, I used vegetable oil. The oil is the key to making these cupcakes extra moist. Then we add some buttermilk to give the cupcake that soft and tender crumb. I don't recommend substituting the buttermilk for 2% milk or any other milk. If you don't have buttermilk, you can just sour whole milk using vinegar- I'll give more details in the notes below the recipe.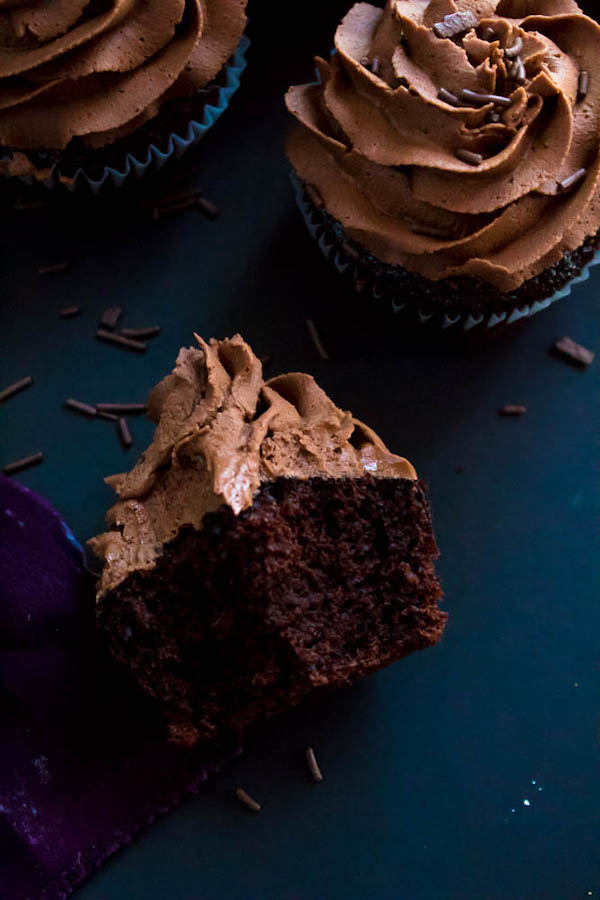 After you mix the wet and dry ingredients together, you'll need to add either boiling water or hot coffee. This is an important addition to the cupcake, as it enhances the chocolate flavour for a more rich and chocolatey cupcake. You normally shouldn't taste the coffee in the cupcakes, but if you're worried about the taste, either use boiling water or instant coffee.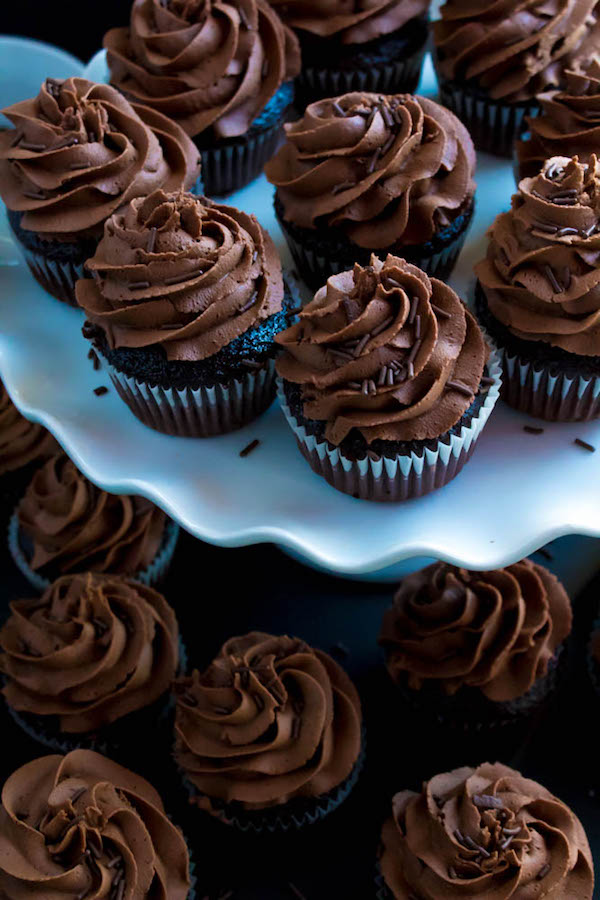 Before adding the hot water or coffee, the batter will be very thick. As sexy and fudgy as it looks, that's not what we want. A thick batter would create a dense cupcake that resembled brownies. Now that may sound delicious, but we're making soft, moist, light and fluffy cupcakes here, not brownies.
Once we had the hot liquid, the batter will be very, very thin. This is what we want. Thin batter = moist cupcakes! I recommend using a 2 tablespoon ice cream or cookie scoop when dividing the batter between each liner. Simply pouring the batter into the liners is just too messy. Using a scoop will ensure that you have the same amount of batter per cupcake and that they all bake evenly.

The cupcake liners only need to be filled about ⅔ way full. You may feel tempted to fill the batter to the top, but please don't! If you overfill the liners, the cupcakes will overflow and create a muffin top. Filling the liners about ½-2/3 way full will create a perfect and even cupcake dome.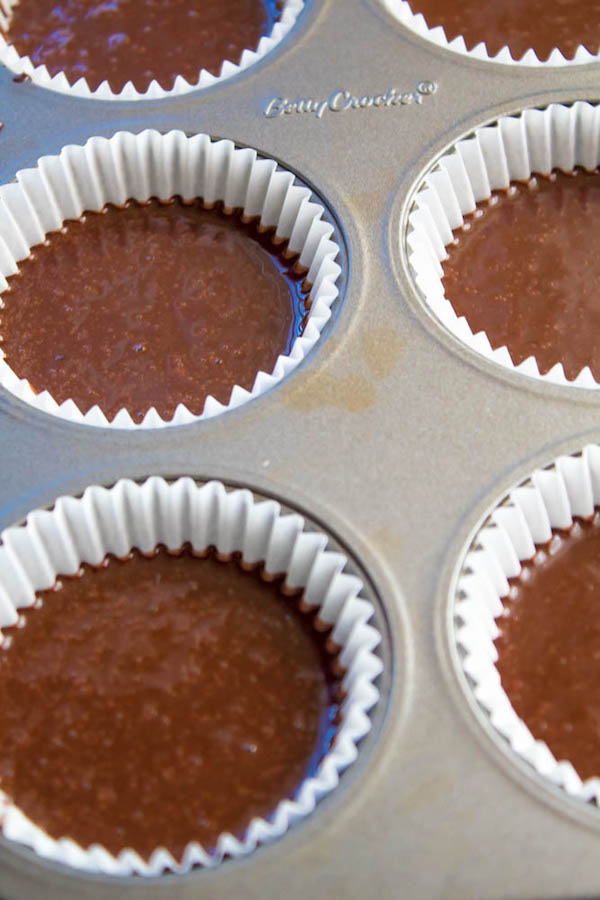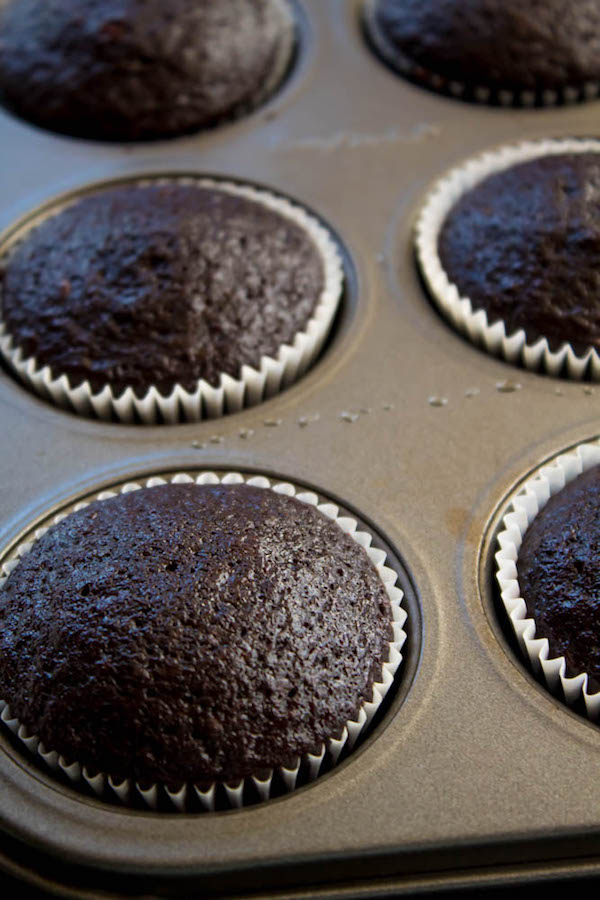 Now that the cupcakes are baked and beautiful, let's move on to the frosting. I topped these fluffy beauties with my Dreamy Chocolate Buttercream Frosting. It's incredibly creamy and has an amazing rich chocolatey flavour that'll send shivers down your spine. I'm not ashamed to admit that I licked the beater, and rubber spatula, clean after whipping this yummy frosting up.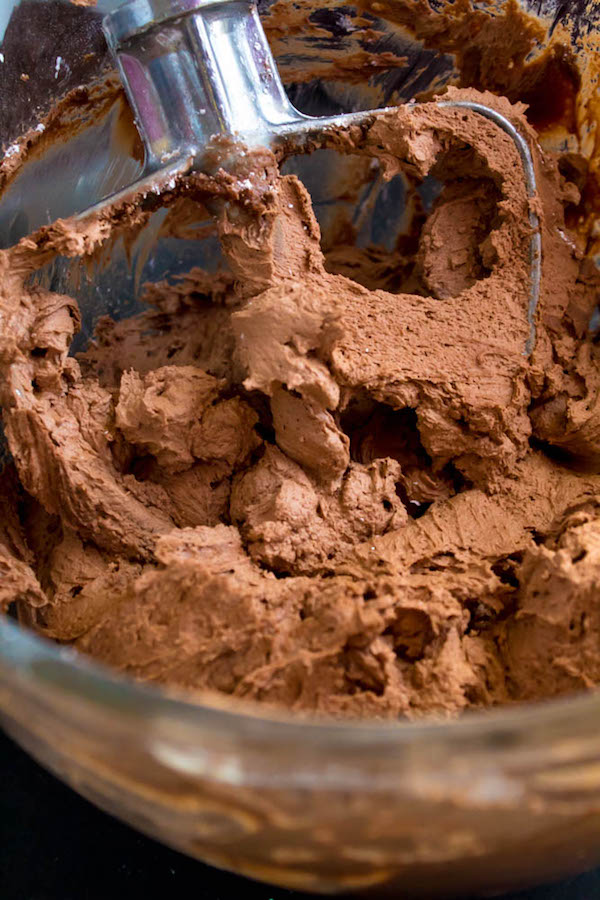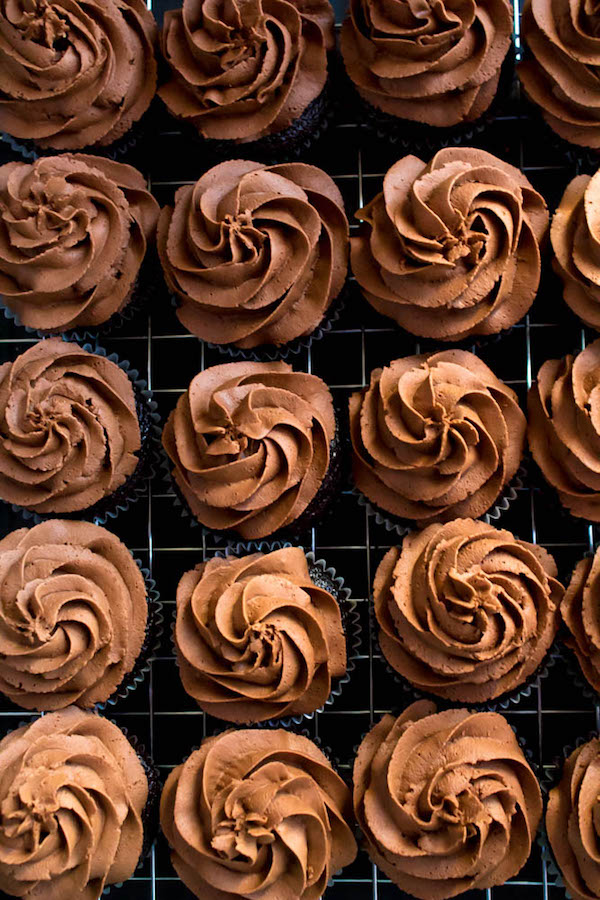 The frosting gets its decadent chocolate flavour from real melted chocolate! The melted chocolate makes this frosting so smooth and silky and delicious! This frosting also requires A LOT of whipping in a stand or hand mixer. Whipping is the key to making your frosting extra light and fluffy!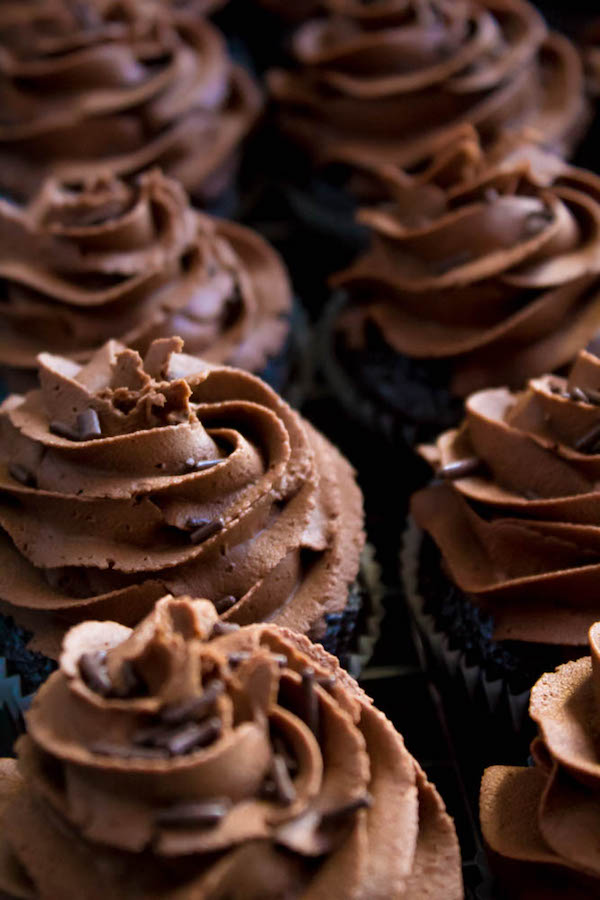 I then sprinkled these cupcakes with a generous amount of chocolate sprinkles. Or at least, I tried to. Here's the thing about sprinkles in Canada - they're much longer and thinner than they are in America. So instead of having cute and tiny little chocolate sprinkles covering my lovely frosting - I got long and sharp sprinkles clinging for dear life in the creases of my frosting swirls.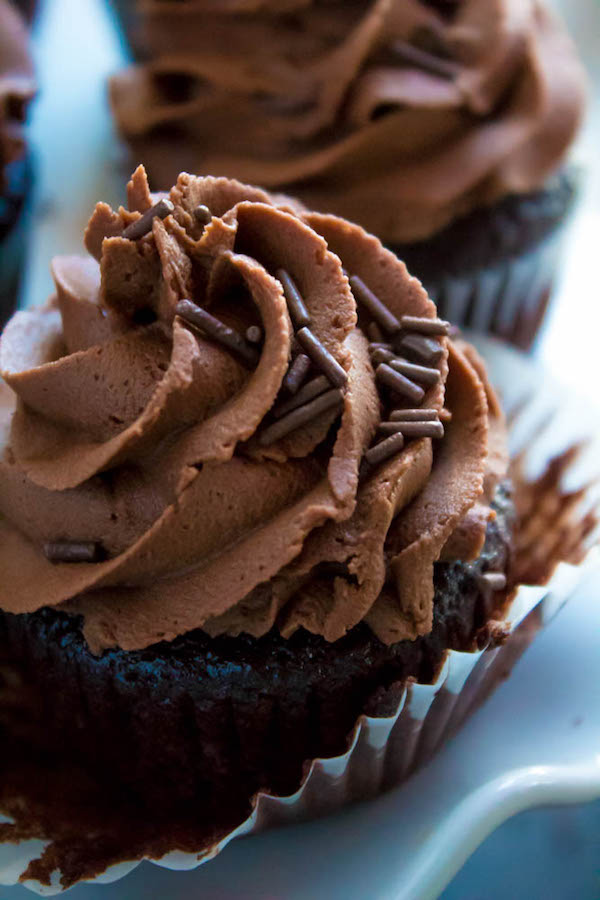 Despite their failure, the chocolate sprinkles added a little extra chocolatey flavour to these cupcakes - which is a win in my eyes.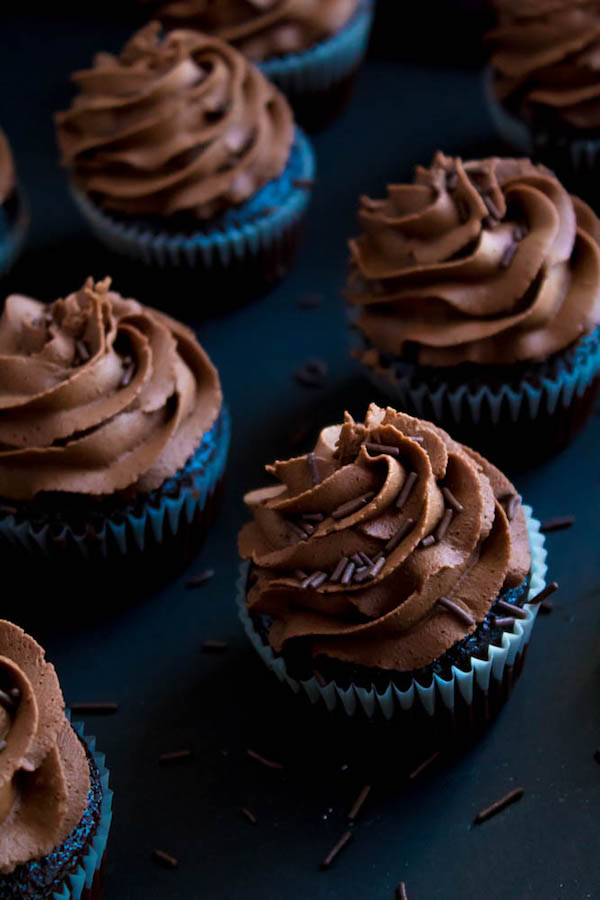 These cupcakes are soft, tender, moist and taste better than a box mix. They're even 10x better when paired with my perfectly fudgy chocolate buttercream that melts in your mouth!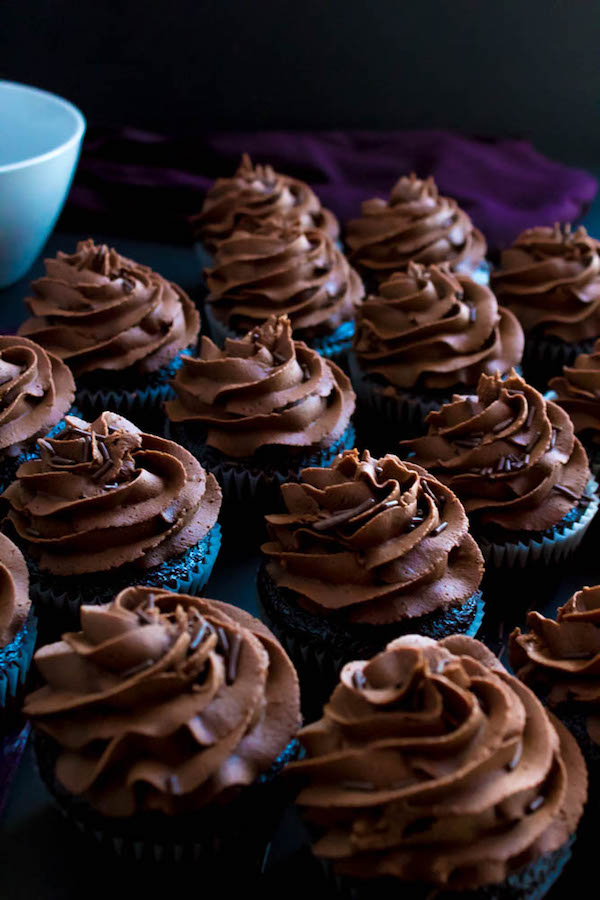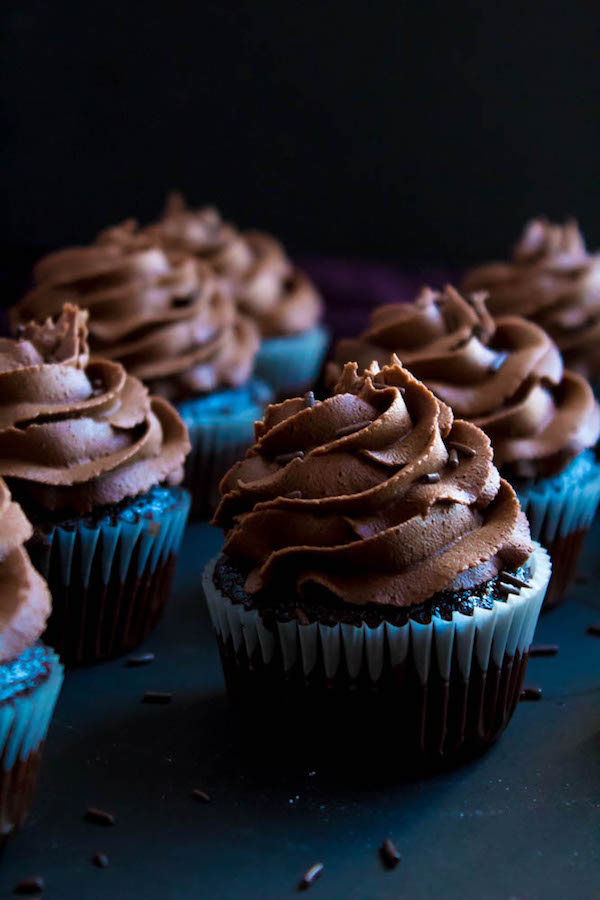 1 bowl, 1 whisk, 24 cupcakes, 1 happy tummy (or more, if you're willing to share). Once you try these cupcakes, I promise it'll be your favourite go-to chocolate cupcake recipe from now on!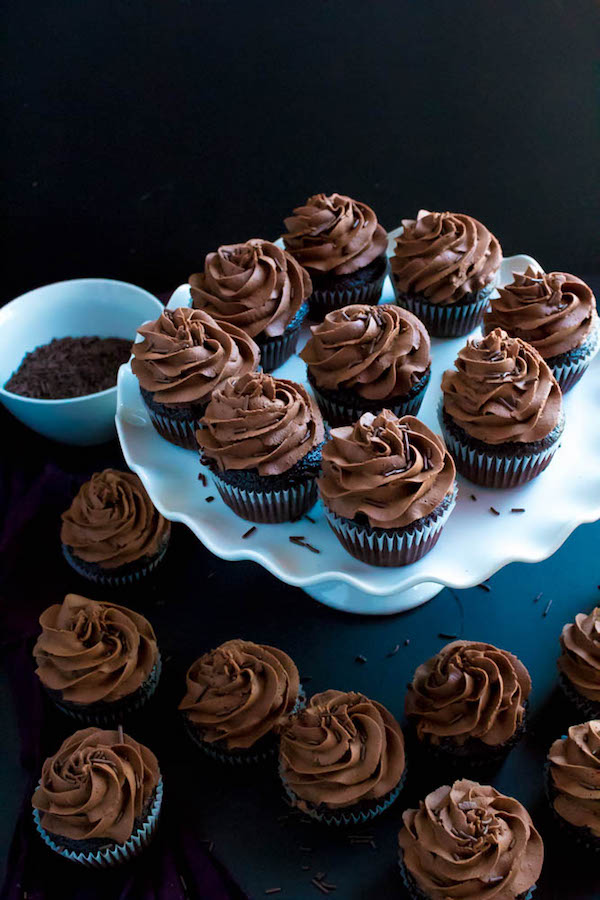 >>Pin Me For Later!<<

Shop The Recipe
Here are some of the tools I used to make today's recipe:
Let's get baking!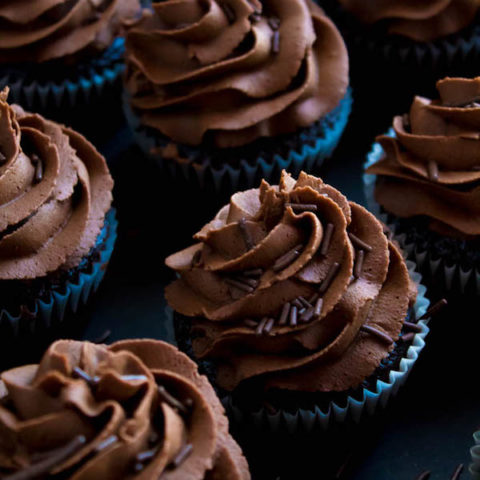 Perfectly Moist Chocolate Cupcakes
These Chocolate Cupcakes are perfectly moist, fluffy and full of rich chocolate flavour! Topped with a silky and dreamy Chocolate Buttercream Frosting - these cupcakes are the perfect treat for chocoholics.
Ingredients
1 and ½ cups All purpose flour
1 and ½ cups granulated Sugar
¾ cup unsweetened cocoa powder
1 and ½ teaspoons Baking powder
½ teaspoon Baking soda
½ teaspoon salt
2 large Eggs, room temperature
½ cup Vegetable oil
¾ cup buttermilk, room temperature
2 teaspoon Pure Vanilla Extract
½ cup hot coffee or boiling water
Chocolate sprinkles for decorating (optional)
Instructions
Preheat the oven to 350 degrees F (177C), and line 2 standard cupcake pans with paper liners.
In a large mixing bowl, sift flour, sugar, Cocoa Powder, Baking powder, Baking soda and salt. Whisk to combine.
In a measuring cup, whisk together the eggs, vegetable oil, buttermilk and vanilla. Pour the wet ingredients into the dry ingredients and whisk to combine. Add boiling water OR hot coffee and mix until combined and smooth. Batter will be runny.
Scoop batter into cupcake liners, filling them ⅔ way full. Bake for 14-16 minutes or until a toothpick inserted into the centre comes out clean.
Remove cupcakes from oven and allow to cool in pans for about 10 minutes, then transfer to cooling racks to cool completely before frosting.
While cupcakes are cooling, make one recipe of my Dreamy Chocolate Buttercream Frosting.
Transfer frosting to a piping bag fitted with a large star tip and pipe a swirl on each cupcake. Decorate with chocolate sprinkles, if desired. Enjoy!
Notes
- Store cupcakes in an airtight container at room temperature for up to 3 days.

-If you don't have buttermilk, you can substitute by adding 1 tablespoon of white vinegar or lemon juice to 1 cup of milk. Allow it to sit for 10 minutes, then measure out ¾ cup for the recipe.
Did you make a recipe? I'd love to see how it turned out!
Follow me on Instagram
and use the hashtag
#queensleeappetit
so I can see all of the Queenslee Appétit recipes you've made!
Bon Appétit!
Love, Dedra ❤️
©All images & content are copyright protected. Please do not use my images without prior permission. If you want to republish this recipe, please re-write the recipe in your own words, or link back to this post for the recipe.