These Guinness Brownies are super easy, fudgy and indulgent! Believe it or not, beer and brownies make a wonderful combo. The beers flavour takes a back seat while it works to enhance all the rich chocolate flavour! Whether you love or hate beer, you'll surely be reaching for seconds after tasting these!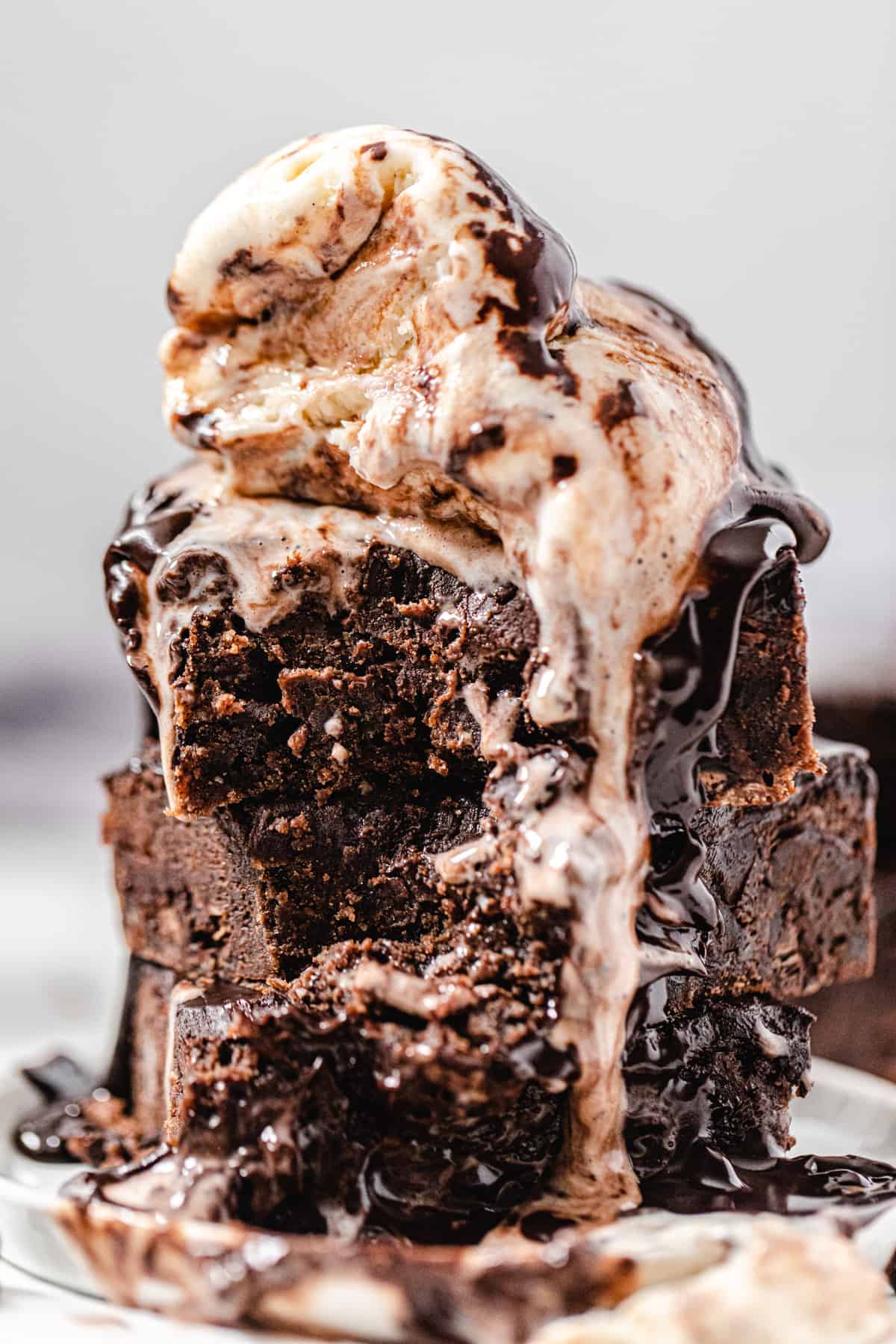 This post may contain affiliate links. As an Amazon Associate I earn from qualifying purchases. Please see my full disclosure policy for details.
The Guinness Goodies are back this year! For someone who strongly dislikes the taste of beer, I continue to buy it. Not to drink, but to make desserts! Chocolate desserts, to be specific, because the beer basically plays the same role in a chocolate dessert that coffee does.
Enhances the superior (chocolate) flavour!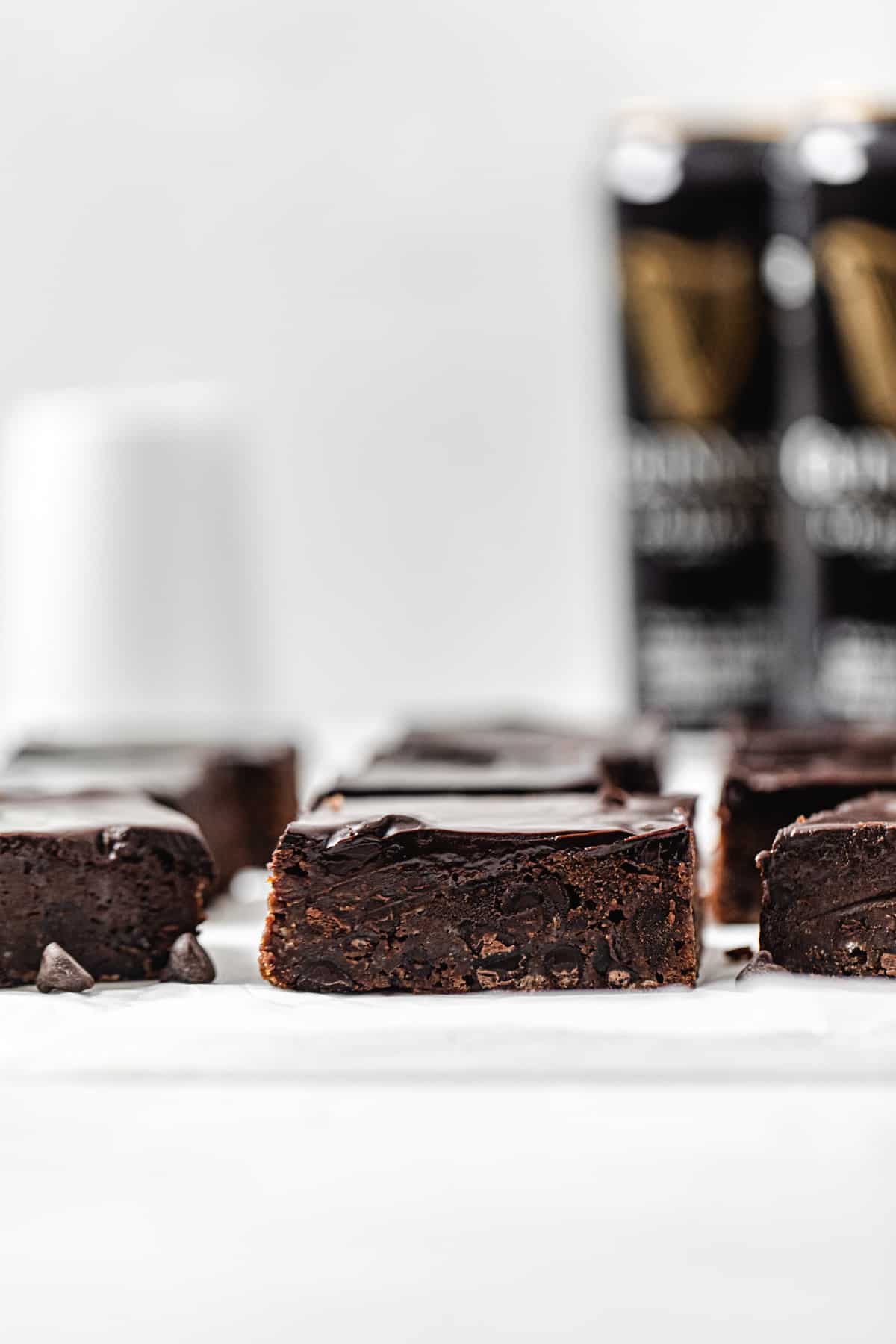 About The Guinness Brownies
Flavour: I think I mentioned this like 3 times already, but if you're someone like me who can't stand drinking beer, don't write this recipe off yet! Trust me, when you bite into these brownies, you won't be completely overwhelmed by the bitter taste of beer. You'll definitely taste it in the background, but all that chocolate is in the foreground so it tastes just like a regular brownie with a more unique flavour.
Texture: fudgy, dense, moist. Aside from the brownie texture itself, there's chocolate chips in the batter to add extra crunch and a smooth, rich ganache on top that melts in your mouth! When refrigerated, they're like softer bars of fudge, but at room temperature, they're your typical dense, soft and fudgy brownie.
Ease: No. Mixer. Needed. I think that's an amateur baker's favourite three words! For the brownies, all you need is a whisk and a bowl (and a saucepan to reduce the guinness and heat some water). And the 2-ingredient ganache is as simple as heating cream an chocolate together and stirring until smooth. Anyone can do it!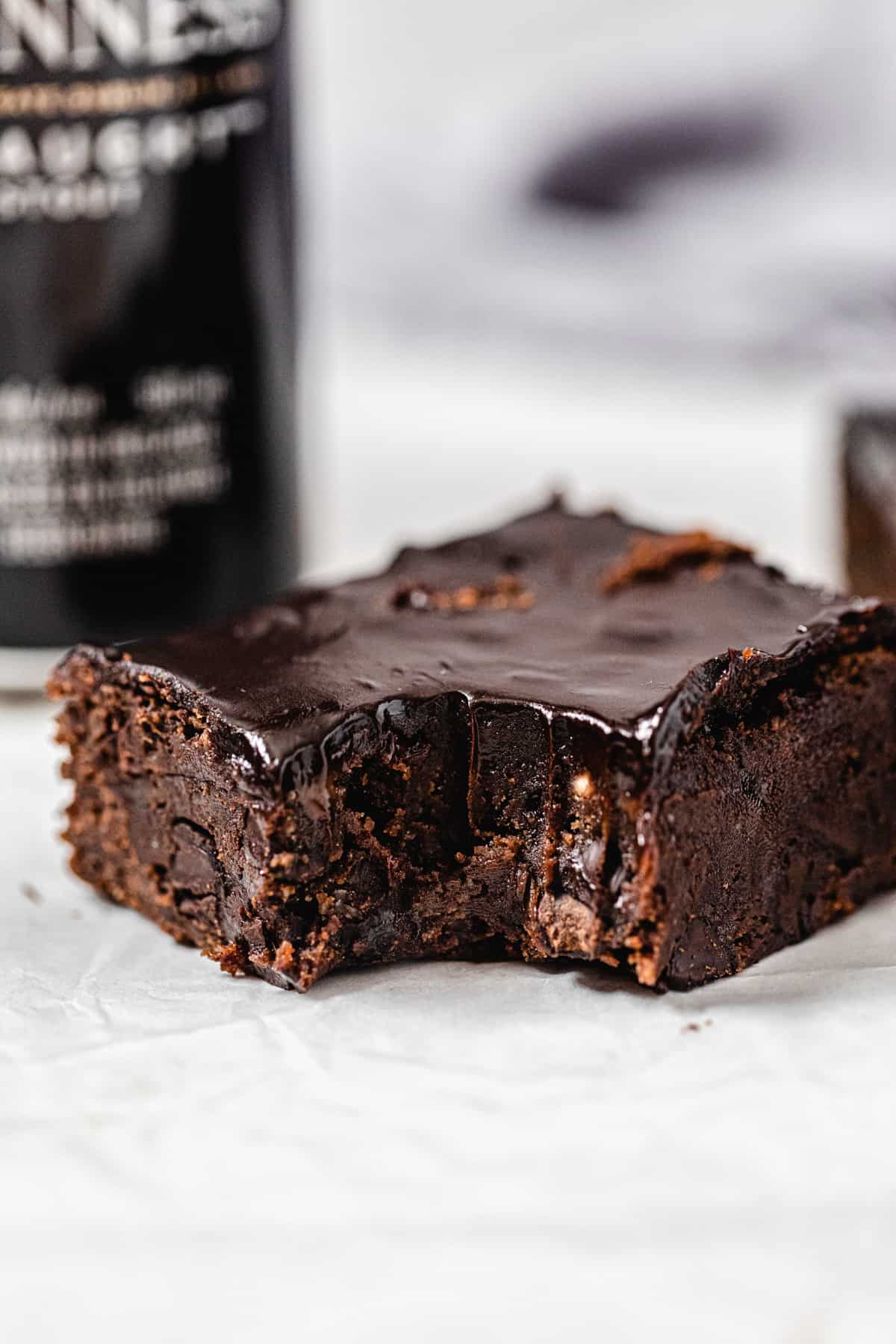 Ingredients for Beer Brownies
Beer: since these are specifically Guinness flavoured brownies, that's the brand I used, but you can use any brand you prefer!

Dark Chocolate: make sure to use the best quality bar of dark chocolate you can find! This provides the best flavour. And yes, it must be dark chocolate. We get enough sweetness from both of the sugars we add.

Unsalted Butter: cut the butter into small pieces so it melts as quickly as the chocolate.

Granulated Sugar: here's that sweetness I was talking about!

Brown Sugar: this adds sweetness, moisture AND extra flavour!
Eggs: 2 whole eggs and 1 egg yolk adds plenty of richness, structure and fudginess to the brownies!
Salt & Vanilla: let's get a little extra flavour in there.

Flour: to ensure these brownies are more fudgy and less cakey, only ¾ cup of flour is needed.

Cocoa Powder: we're already using melted chocolate as the base of these brownies, but a little bit of cocoa powder gives us an even better chocolate flavour.

Dark Chocolate Chips: fold in some dark chocolate chips at the end. This is optional, but definitely recommended!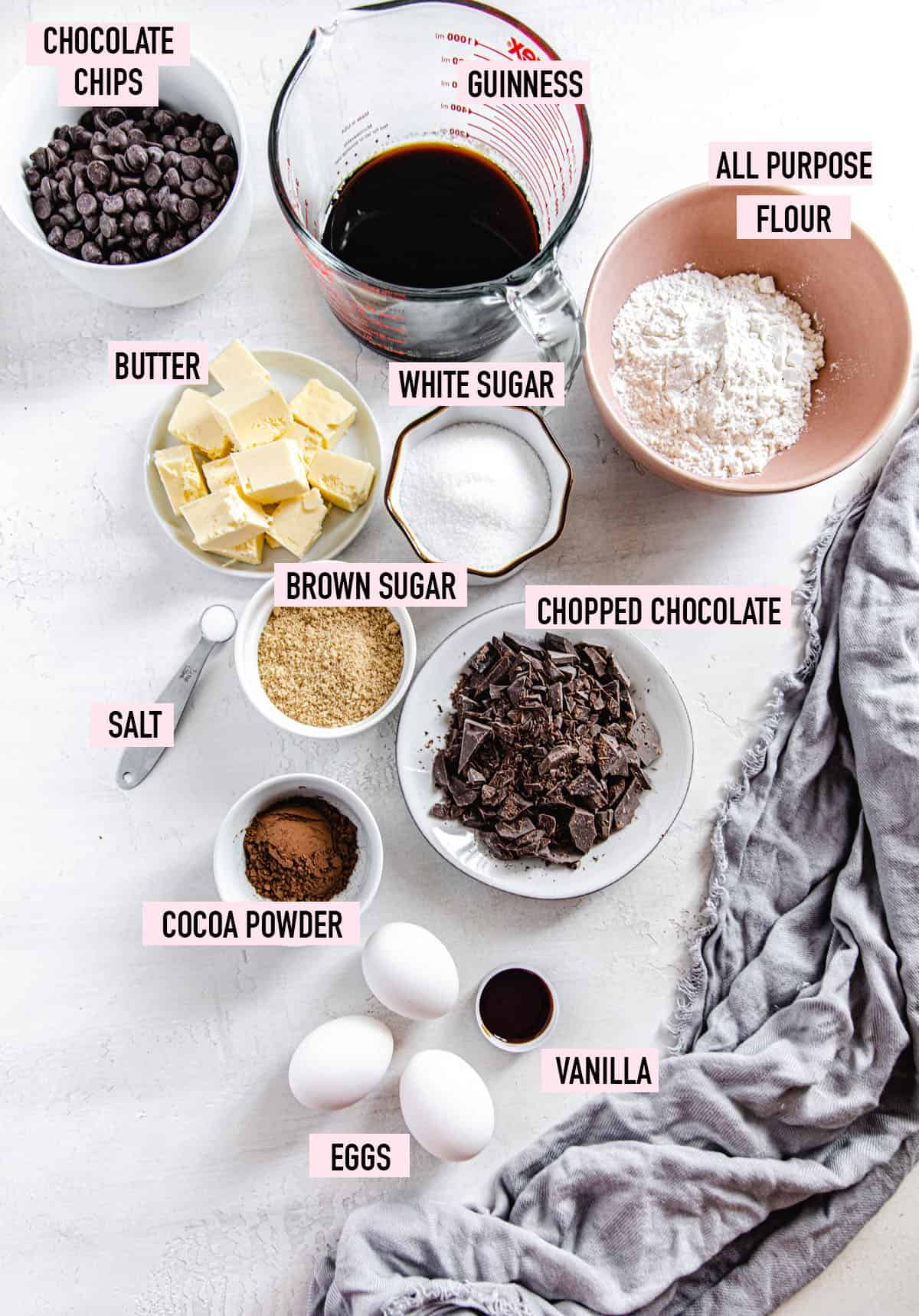 How to Make Beer Brownies
Start by reducing the beer: if you're a beer lover, this might please or annoy you. To start, you'll need to measure 2 cups of beer and simmer it in a saucepan until it's cooked down to ¾ cup. It may seem like a waste of good beer, but this is done to give the beers flavour a huge boost!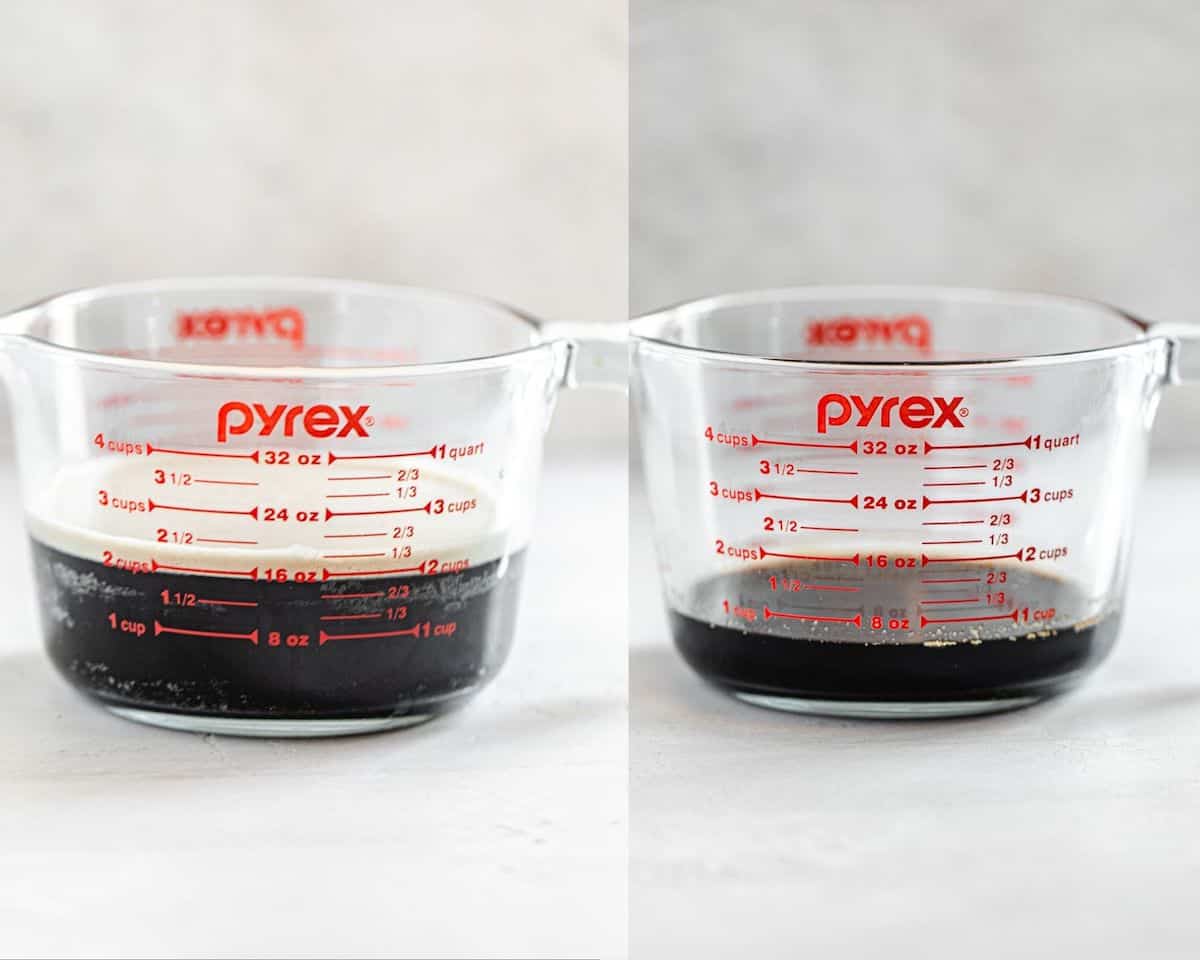 Melt the chocolate and butter: put a saucepan filled with 1-inch of water on a stove and allow it to simmer. Add some chopped chocolate, cubed butter and ½ cup of the reduced Guinness to a heat safe (stainless steel or glass) bowl. Just let the steam melt the chocolate and butter and stir occasionally.
Stir in the sugars, eggs and vanilla: first add both sugars and whisk until they dissolve. Then add all of the eggs and vanilla and whisk until combined.
Fold in the dry ingredients: flour, cocoa and salt. Switch from a whisk to a rubber spatula to fold and stir it in.
Fold in dark chocolate chips: Want extra sweetness? Replace the dark chocolate chips with milk chocolate chips. You can also add chopped walnuts or pecans if you'd like.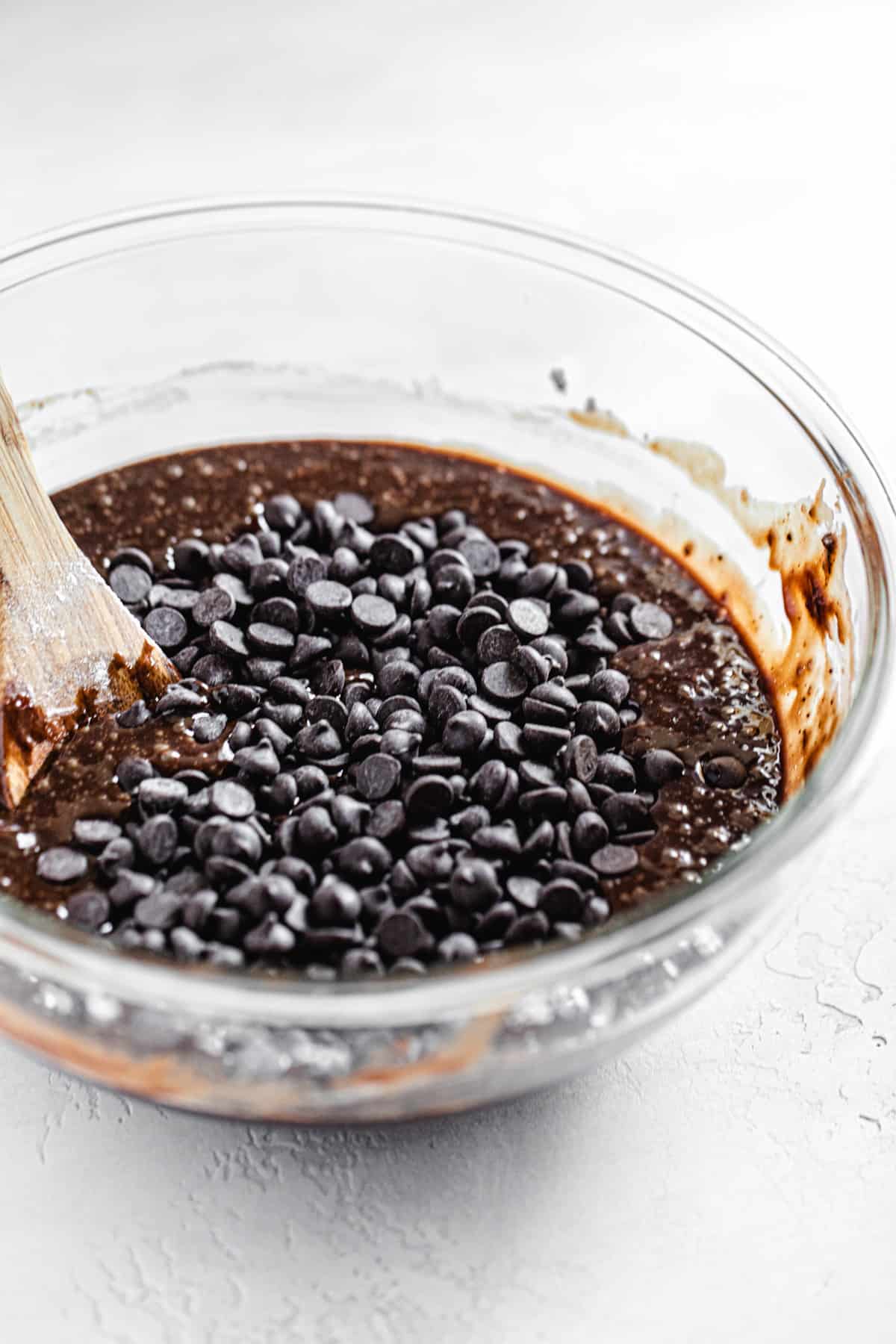 Guinness Ganache Topping
Let's be real, these brownies are PERFECT by theirselves. But I have made my Guinness ganache a few times now, and I adore it too much to leave it out of this recipe!
You could totally skip it if you want and enjoy the brownies as is. If you do want the ganache on top, just heat the cream and remaining ¼ cup of the reduced stout in a small saucepan until the mixture simmers. Add it to a bowl of chopped chocolate, let it sit covered for a few minutes, then stir until it's combined, smooth and glossy.
You can spread the ganache on top and let it spread. Or if you're as crazy as I am, just dip the brownies in it. Yes, I totally had a moment of madness and did this. No regrets.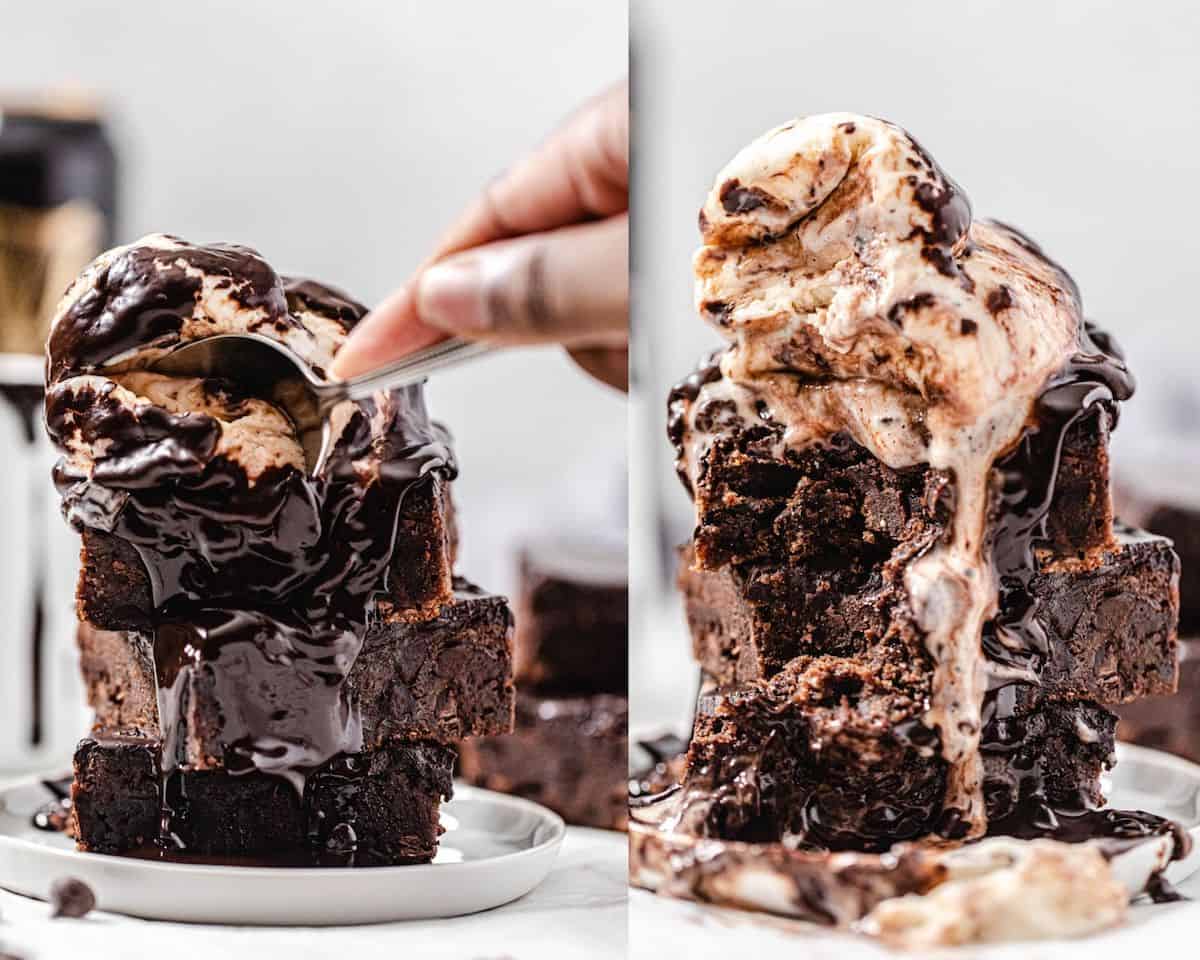 More Guinness Recipes
SHARE YOUR PICS!
Follow me on Instagram and tag #queensleeappetit so I can see and share all of your Queenslee Appétit creations in my stories and the QA Newsletter!
FOLLOW QUEENSLEE APPÉTIT
Like what you see? Make sure you're following Queenslee Appétit for more tasty recipes!
Pinterest | Instagram | Facebook |
Have any questions about the recipe? Contact me here, and I'll be happy to help!
SWEETEN UP YOUR INBOX!
SUBSCRIBE to the Queenslee Appétit Newsletter to recieve new recipe notifications, monthly baking tips, sneak peeks to upcoming recipes, exclusive recipes and more!
Let's get baking!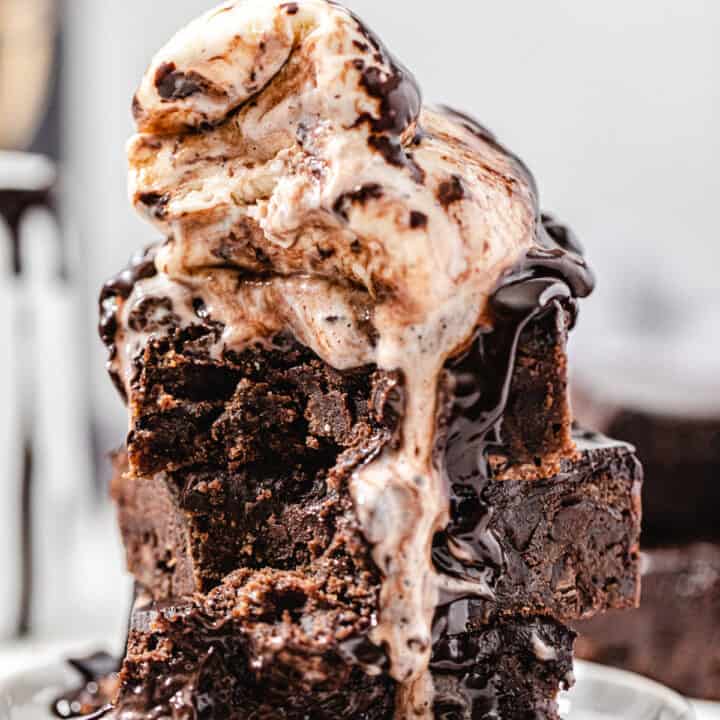 The Best Guinness Brownies
Total Time:
1 hour
10 minutes
These Guinness Brownies are super easy, fudgy and indulgent! Believe it or not, beer and brownies make a wonderful combo. The beers flavour takes a back seat while it works to enhance all the rich chocolate flavour! Whether you love or hate beer, you'll surely be reaching for seconds after tasting these!
Ingredients
Guinness Brownies:
2 cups (480ml) stout beer
6 oz. (170g) dark chocolate (70%), chopped
¾ cup (170g) unsalted butter, cut into cubes
¾ cup (149g) granulated sugar
½ cup (107g) light brown sugar, packed
2 large eggs, room temperature
1 large egg yolk
1 teaspoon pure vanilla extract
¾ cup (90g) all-purpose flour
2 tablespoons unsweetened cocoa powder, sifted
¼ teaspoon salt
1 and ½ cups (255g) dark chocolate chips (optional)
Guinness Ganache:
1 cup (170g) semisweet or dark chocolate chips
¼ cup (60ml) Guinness beer (can substitute for beer of your choice)
¼ cup (60ml) heavy cream
Instructions
For the Beer Reduction:
Add 2 cups of beer to a medium saucepan over medium heat and cook until the beer has reduced to ¾ cup or 1 cup. Make sure it doesn't boil, if it does begin to boil, lower the heat.
To test if the beer has reduced to the right amount, pour it into a liquid or stainless steel ¾ measuring cup. If you have too much, pour it all back into the saucepan and return to the stove and continue to cook, checking every now and then until you are left with the right amount. For me, this took around 20-25 minutes, but it may take longer or shorter for you, so keep checking.
For the Guinness Brownies:
Preheat the oven to 350°F (180°C) (325°F (165°C) for dark non-stick pans). Line a 9x9-inch square baking pan with aluminum foil or parchment paper, leaving about 2-inches hanging over the sides and spray with non-stick spray. Set aside.
Place chopped chocolate, cubed butter and ½ cup of the reduced beer in a large bowl over a saucepan of simmering water. Stir constantly until the butter and chocolate are both melted and mixture is combined, about 3-4 minutes.
Remove bowl from heat and immediately add both sugars, whisk until sugar is dissolved and mixture is smooth.
Add eggs, egg yolk and vanilla extract and slowly whisk until combined. Do not overmix. Add flour, cocoa, and salt and stir with a rubber spatula until well blended. Fold in chocolate chips, if using.
Pour the batter into the prepared pan and spread into an even layer. Bake for 25-30 minutes or until a toothpick inserted into the brownie comes out with a few moist crumbs. Allow to cool completely in the pan on a wire rack.
For the Guinness Ganache:
In a heat safe bowl, microwave the heavy whipping cream, remaining ¼ cup of beer and chocolate together in 30 second intervals, until the cream and beer are steaming hot. This takes me about 1 minute in the microwave.
Stir until the mixture comes together to form a thick and silky ganache. Pour onto brownies and spread into an even layer. Refrigerate until firm, 10-20 minutes. Slice and serve (these taste great with a scoop of vanilla ice cream)!
Notes
Tools I Used: Medium Saucepan | 9x9-inch Square Pan | Mixing Bowl | Whisk | Rubber Spatula
Beer Reduction: this step enhances the beer flavour! If you don't care that much, you can skip the reduction process and just measure out the amount of beer you need for the brownies and ganache. I've done this before and it works just as well!
Storage: store brownies in an airtight container in the refrigerator for up to 1 week.
Freezing: freeze the brownies in an airtight container for 2-3 months. Thaw in the refrigerator overnight.
Beer: this is a recipe for Guinness brownies, but you can use any brand of stout beer you prefer.
Ganache: if you want a thicker layer of ganache, or if you want extra to pour on top, the recipe can easily be doubled.
Nutrition Information:
Yield:

9
Serving Size:

1
Amount Per Serving:
Calories:

210
Total Fat:

7g
Saturated Fat:

4g
Trans Fat:

0g
Unsaturated Fat:

3g
Cholesterol:

87mg
Sodium:

102mg
Carbohydrates:

26g
Fiber:

1g
Sugar:

12g
Protein:

5g
BON APPÉTIT!
Love, Dedra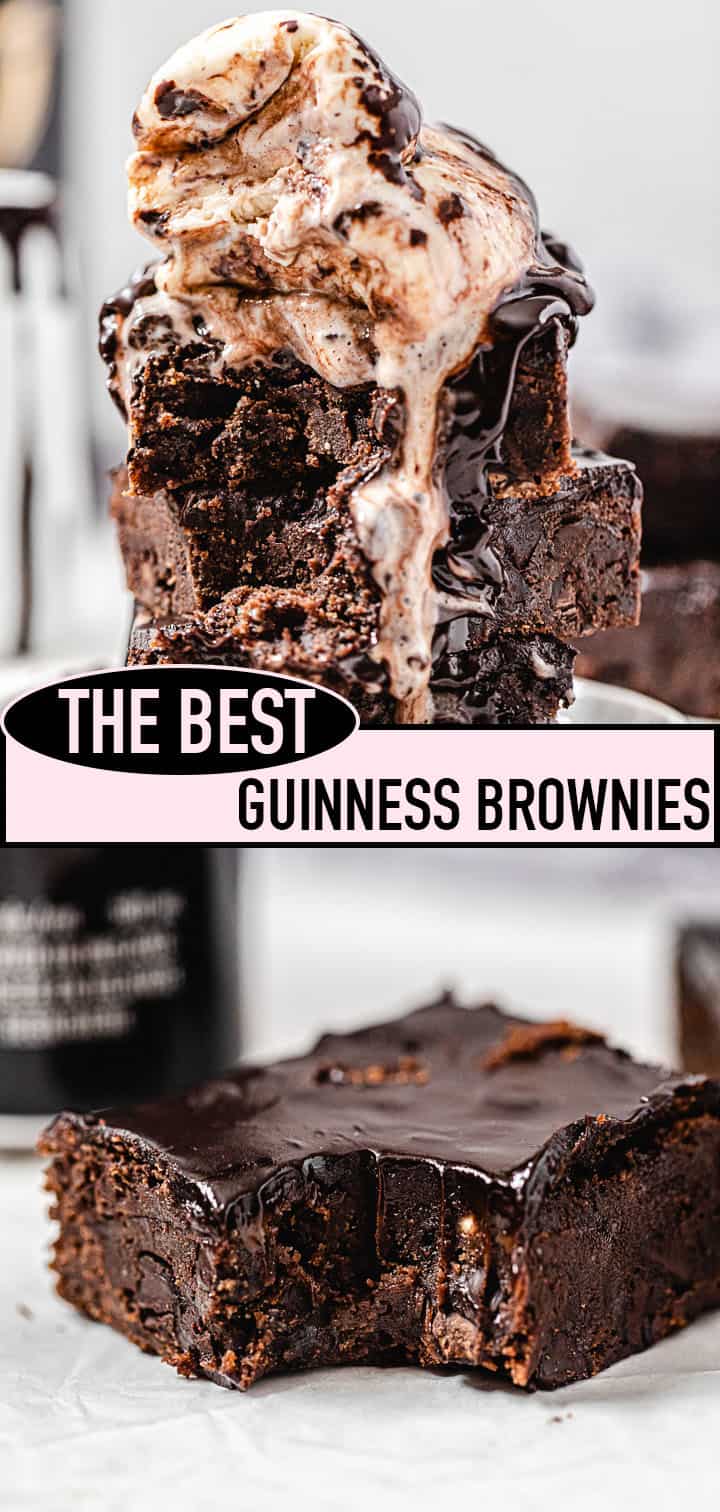 ©QUEENSLEE APPÉTIT. All images & content are copyright protected. Please do not use my images without prior permission. If you want to republish this recipe, please re-write the recipe in your own words, or link back to this post for the recipe.