This No-Churn Brownie Fudge Swirl Ice Cream is for hardcore chocolate lovers only. This rich and creamy chocolate ice cream is loaded with chocolate chunks, chunks of brownies and swirled with silky ganache!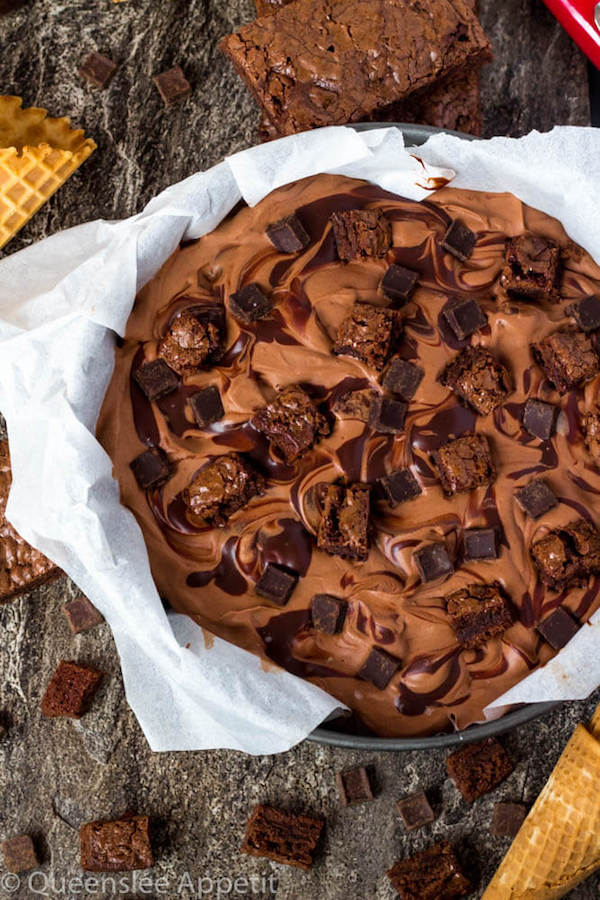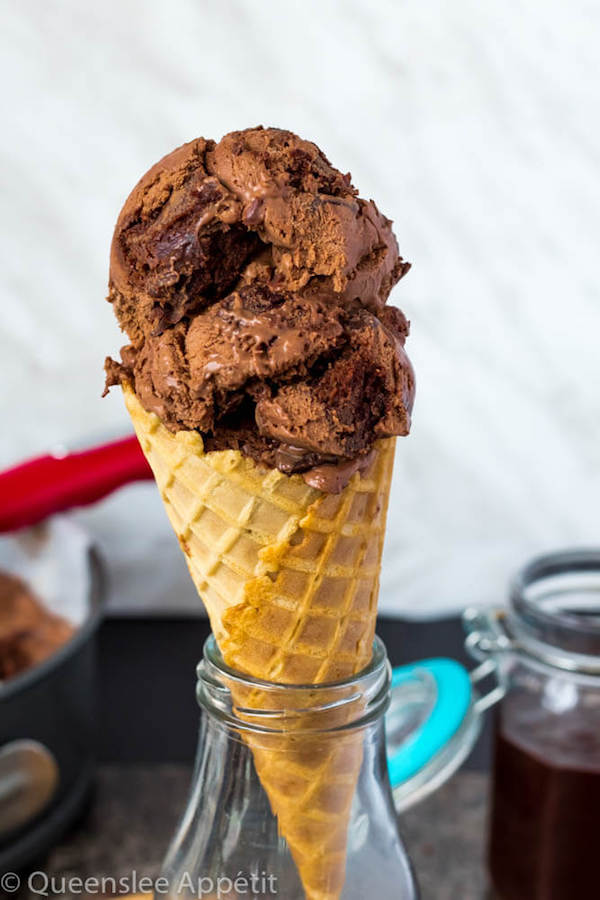 I've made quite a few flavours of ice cream now: Toasted Marshmallow, Oreo, Caramel Pecan, Coffee Oreo, Strawberry Cheesecake — and I can say without a doubt THIS is my favourite ice cream, ever!
I'm a die hard chocolate lover, so this ice cream recipe was a dream come true for me. When those cravings hit (like almost every day), this delightful dessert is the best cure. Just one bite is like a chocolate explosion in your mouth!
It's better than it sounds, trust me.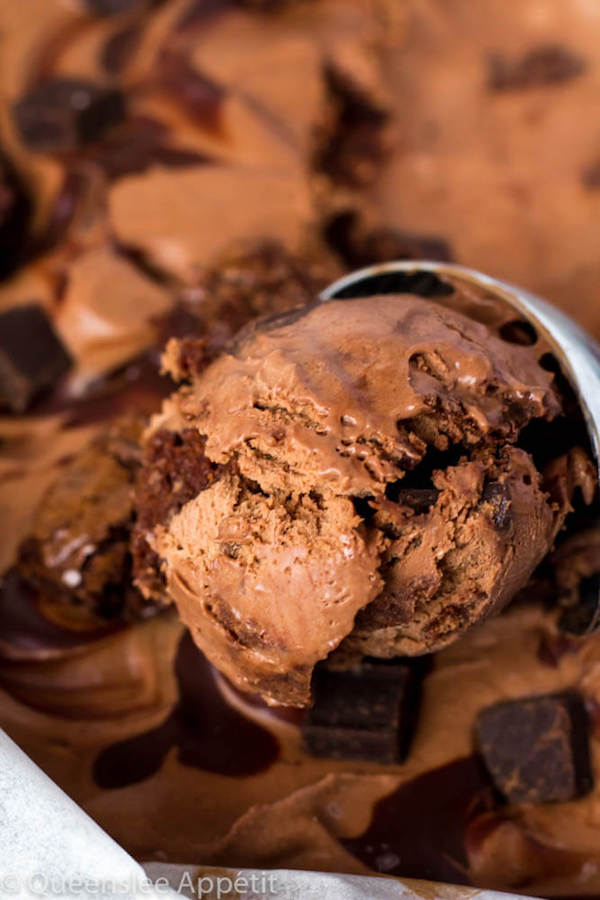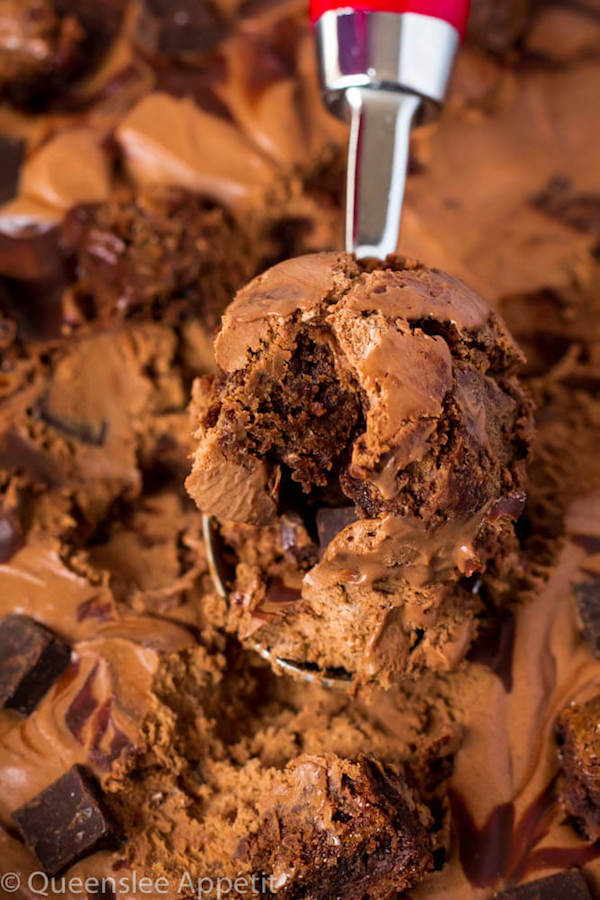 Brownie Fudge Swirl Ice Cream
We've seriously layered on the chocolate here. With the rich and creamy chocolate ice cream base, silky swirls of chocolate ganache, chocolate chunks and chunks of brownie — there's no shortage of chocolatey goodness here my friends!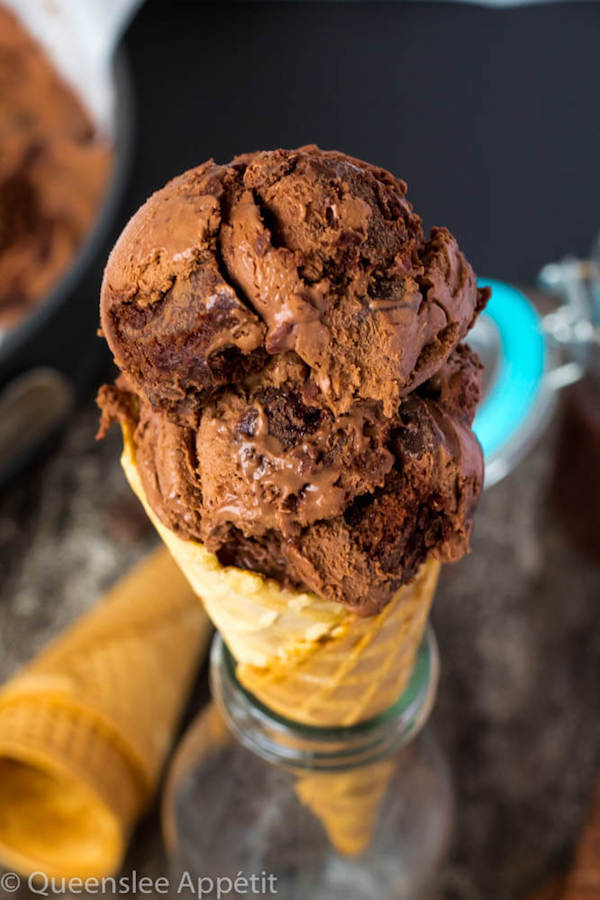 No-Churn Ice Cream
One of the main things I love about no-churn ice creams is the simplicity. You can have a big pan of your own smooth and creamy ice cream that takes less time and effort than an ice cream machine and tastes just as good as store-bought.
Not only is an ice cream maker NOT needed to make homemade ice cream, but only 2 ingredients are needed to make the ice cream base:heavy cream + sweetened condensed milk. These 2 ingredients are the base of all no-churn ice cream recipes.
You start by whipping the heavy cream into stiff peaks. This step replaces the air incorporated into ice cream when churning in an ice cream machine. The egg yolk custard that you would make on the stove is instead replaced with a can of sweetened condensed milk.
From then on you can create absolutely any flavour you want! Today, I bring you my favourite flavour ever: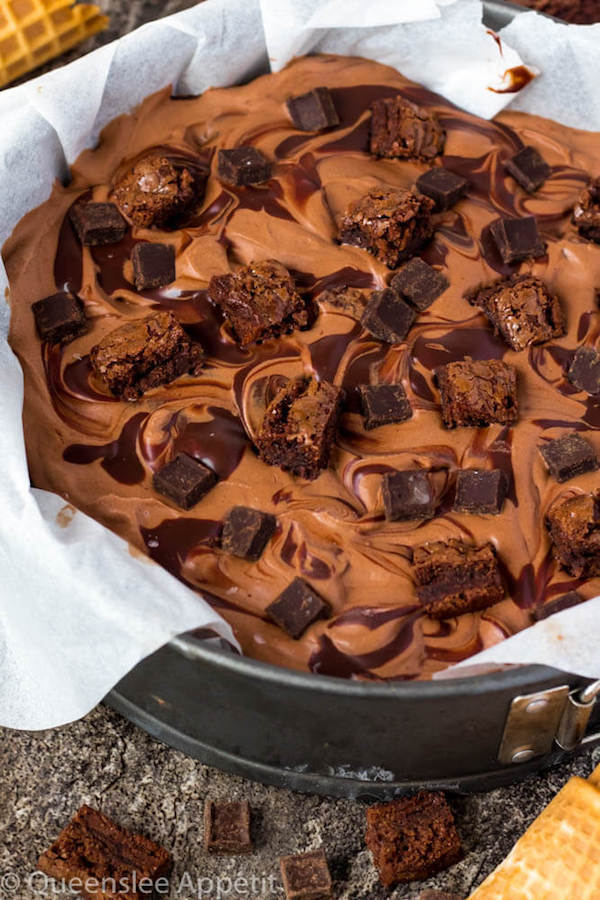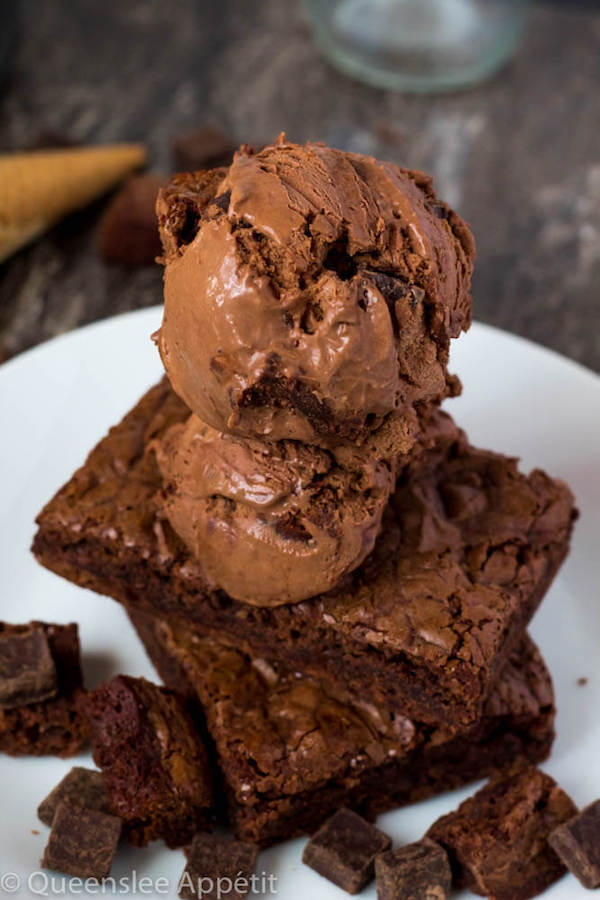 Rich Chocolate Ice Cream
This recipe starts off with the richest chocolate ice cream I've ever had in my entire life. No exaggeration.
To begin, we're gonna combine some chocolate with sweetened condensed milk. I melted them together over a double boiler, but you can microwave in 30 second intervals if you choose. This is gonna create a gorgeous chocolate fudge, but we don't want it to be as thick as fudge which is why I only used 1 cup of chocolate.
You'll want to allow this mixture to sit in the fridge (or freezer to speed things up) so it can cool down because you don't want the whipped cream to melt. I also recommend stirring it every now and then to loosen it up because it will start to form a skin on the top and we want it to be smooth and silky all throughout.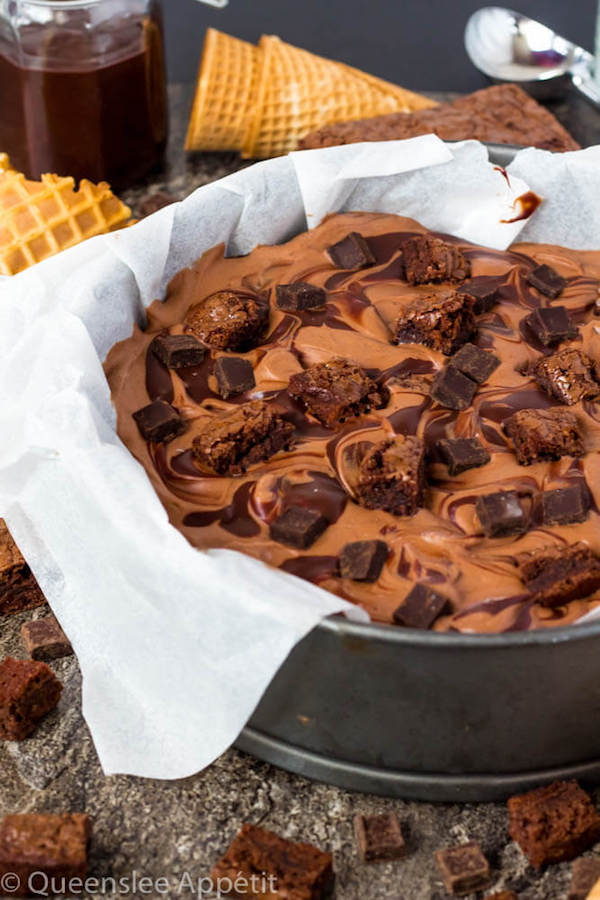 Once the fudgy chocolate mixture is completely cooled, we're gonna go ahead and whip up the heavy cream with some cocoa powder and vanilla to make a chocolate whipped cream. I told you, we're really going to town with the chocolate here, because why not?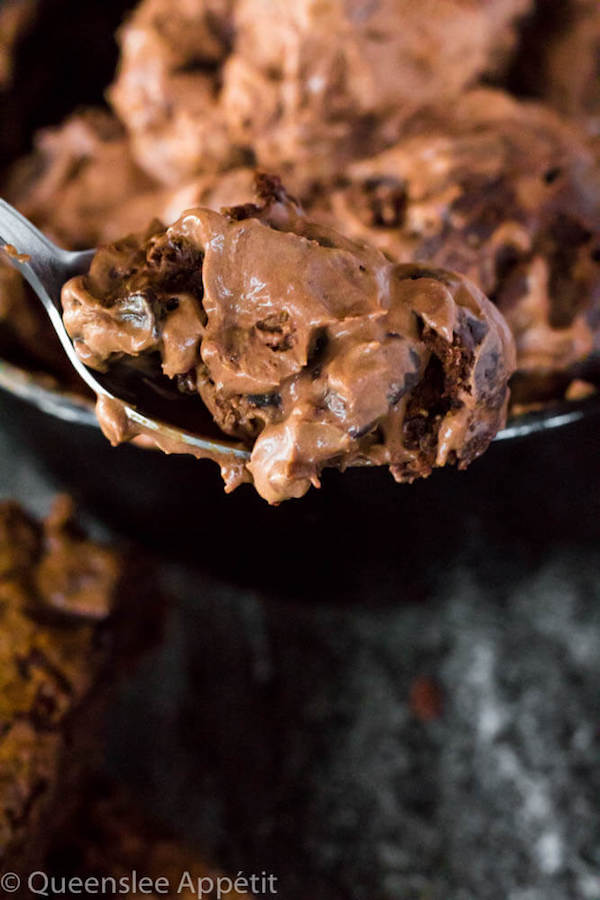 When the cream has reached stiff peaks, gently fold it into the fudge mixture about ⅓ at a time. At this point you can just skip everything else, pour it into a pan and freeze it for the greatest chocolate ice cream you've ever tasted.
But here at Queenslee Appétit, we go above and beyond so we'll be throwing in a ton of brownie pieces, chocolate chunks and swirling it with ganache. Totally diet friendly, right?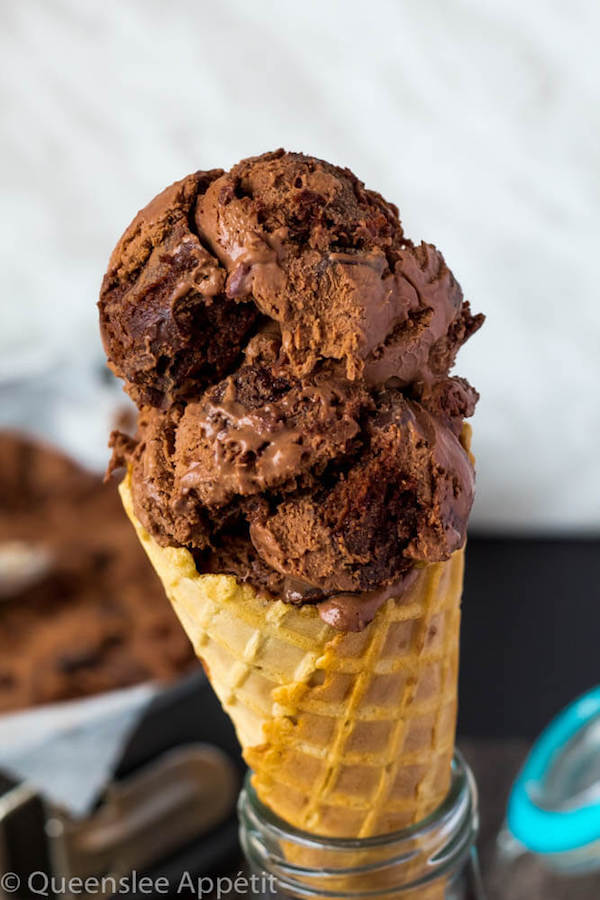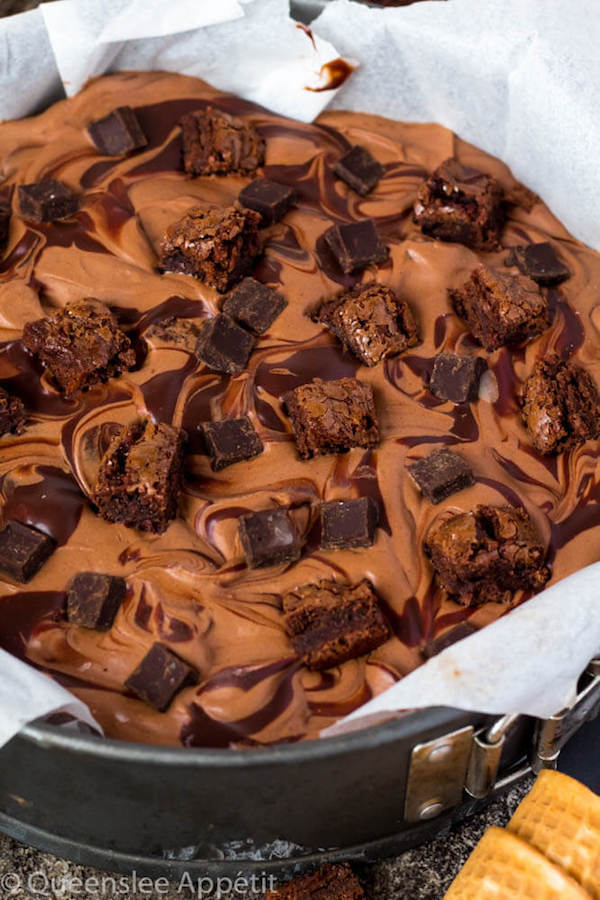 Fudgy Brownies
For the brownies, I made a 9x9-inch batch of boxed brownies and chopped half of them into large chunks. You can use the brownie part of one of my fudge brownie recipes, or you can make your favourite batch. This isn't really necessary and it's just a lot more steps and ingredients in my eyes, so I recommend just using a box mix.
The brownies in the ice cream are just irresistible! They remain nice and fudgy even when frozen and everything just melts on your tongue.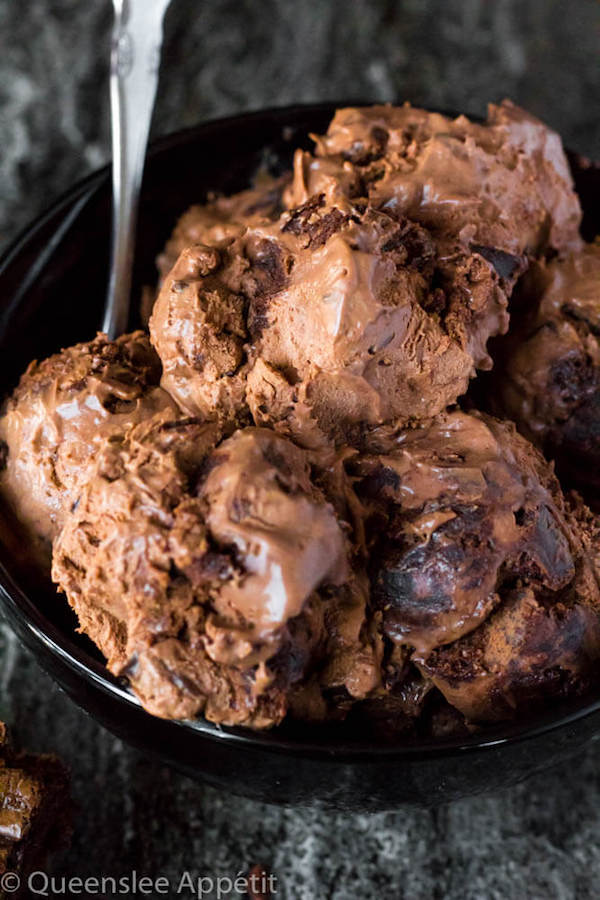 Unfortunately, I can't really say the same for the chocolate chunks. Don't get me wrong, they taste FANTASTIC in this ice cream. The only problem is that when frozen, they get a bit difficult to eat. They're super solid and you have to bite down hard just to eat them.
If you want, you could replace the chocolate chunks with chocolate chips (mini or regular) to make it easier to eat. Or you could leave them out all together to make this ice cream a bit healthier (yeah right).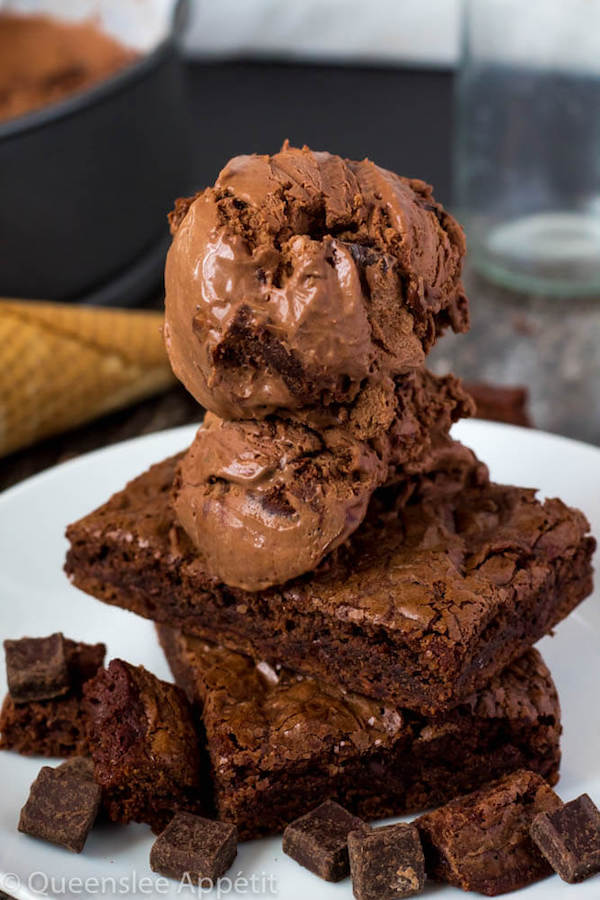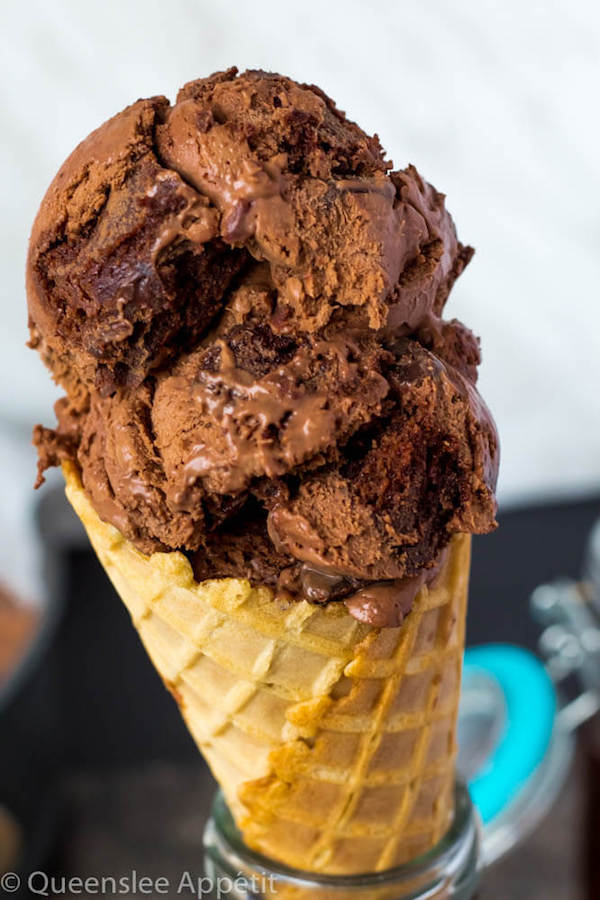 Ganache Swirl
One thing I love to do with my homemade ice creams is swirl in something delicious like strawberry sauce, caramel or Nutella ganache. I love it as much as I love filling cupcakes because it adds extra flavour and fun to an already incredible dessert.
For this recipe, I decided to make a simple ganache to swirl throughout the ice cream. To create the swirl, simply pour in ⅓ of the ice cream mixture into a 9-inch springform pan or a 9×5-inch loaf pan. Then pour on a generous amount of ganache and swirl it around with a butter knife. Repeat two more times with a final swirl of ganache and maybe a few extra chunks of brownies on top. You know, for decoration purposes.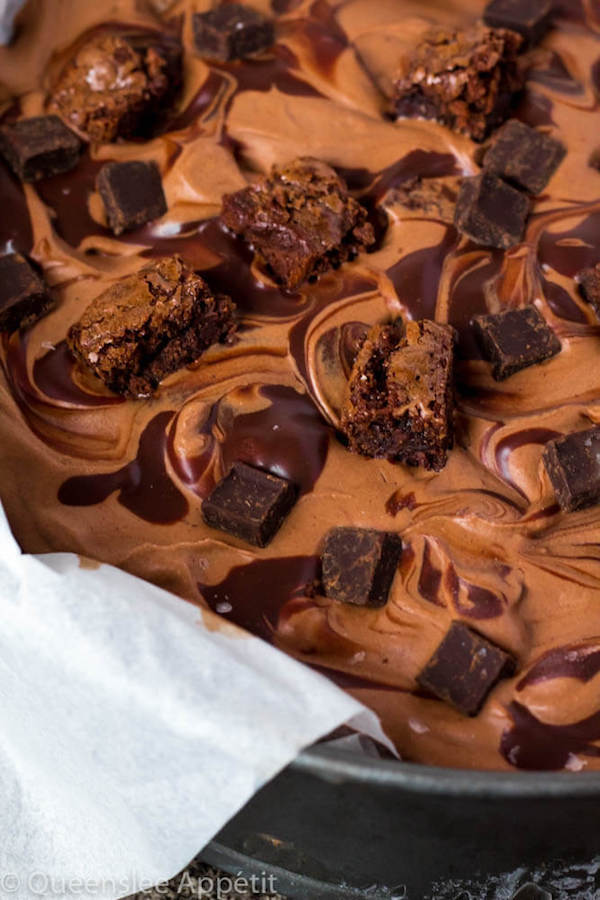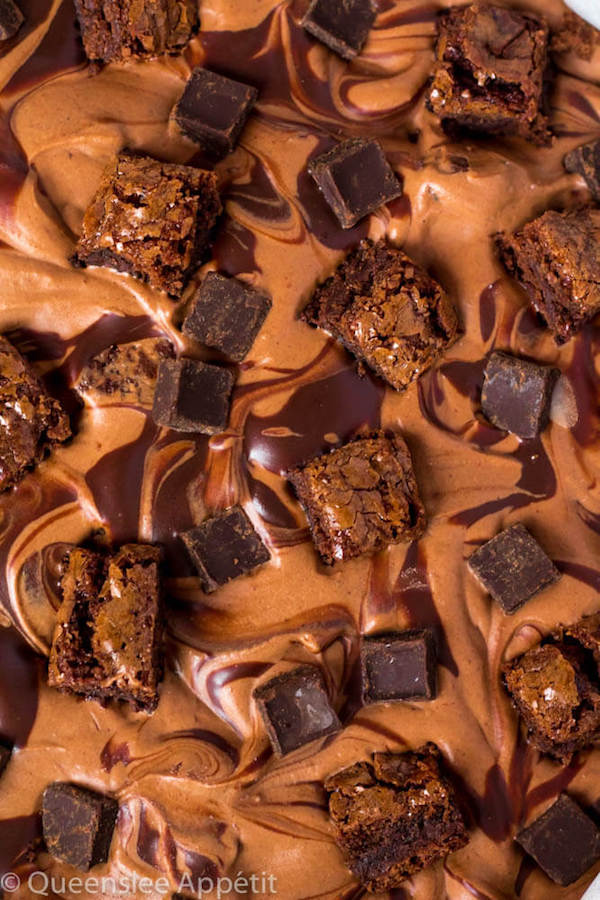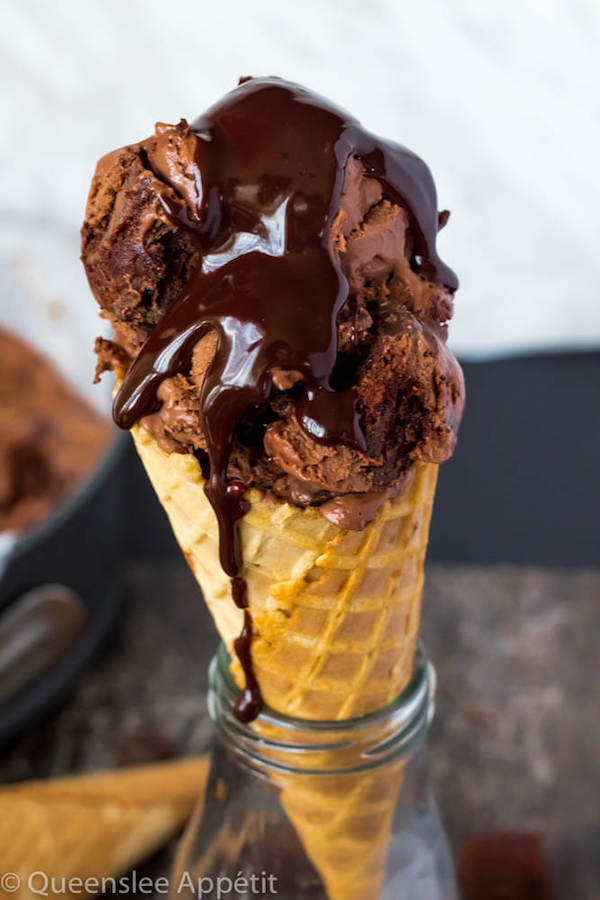 "What do I do with the leftover ganache and brownies?"
The obvious answer is eat, eat, eat. But if you want another solution for what to do with all these leftover goodies, I highly recommend serving the ice cream over the brownies and drenching it with loads of ganache.
But that's just my personal preference.
Enjoy!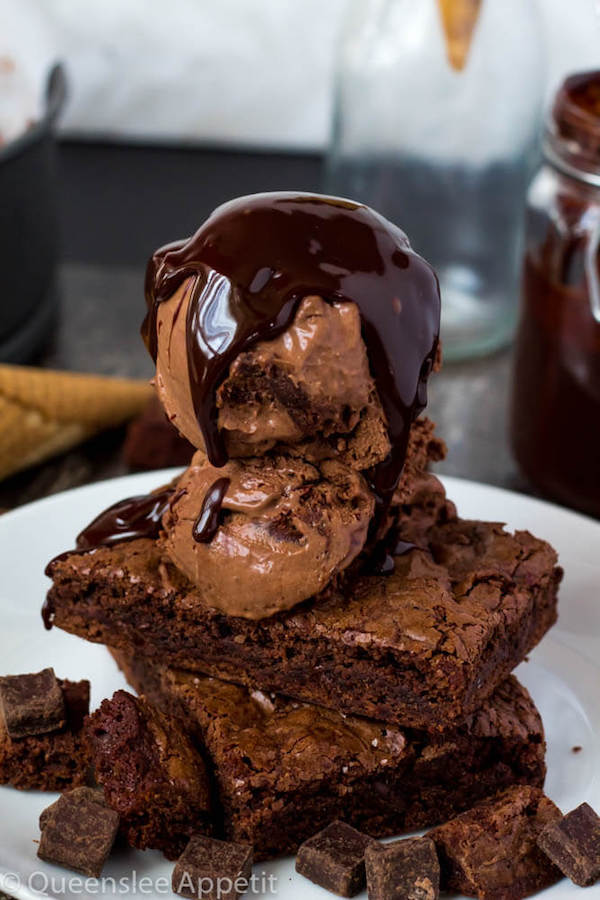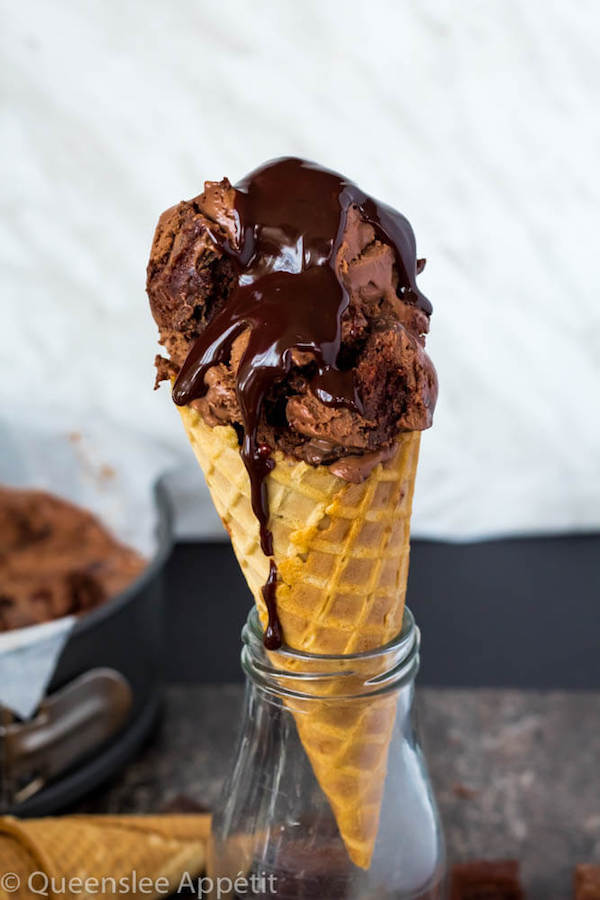 >>PIN ME FOR LATER<<

SHOP THE RECIPE
Here are some of the tools I used or recommend to create today's recipe:
9x9-inch square pan | 9-inch springform pan | Parchment Paper | Rubber Spatula | Stand Mixer |
FOLLOW QUEENSLEE APPÉTIT
Like what you see? Make sure you're following Queenslee Appétit for more tasty recipes!
Pinterest | Instagram | Facebook | Twitter |
Never miss a recipe, SUBSCRIBE at the bottom of this post!
Have any questions about the recipe? Contact me here, and I'll be happy to help!
Let's get baking!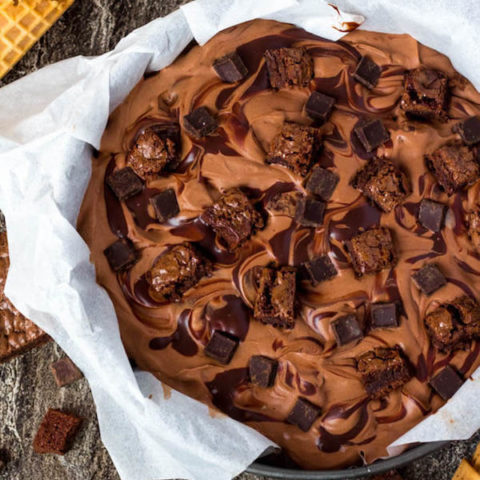 No-Churn Brownie Fudge Swirl Ice Cream
Yield:
one 9-inch springform pan or a 9×5-inch loaf pan
Total Time:
6 hours
30 minutes
This No-Churn Brownie Fudge Swirl Ice Cream is for hardcore chocolate lovers only. This rich and creamy chocolate ice cream is loaded with chocolate chunks, chunks of brownies and swirled with silky ganache!
Ingredients
1 box of Brownie Mix + ingredients needed
Ganache:
8 oz. semisweet or bittersweet chocolate, chopped
½ cup heavy cream
Chocolate Ice Cream:
6 oz. semisweet chocolate chips
14 oz (1 and ¼ cup) sweetened condensed milk
2 cups Heavy Whipping Cream
3 tablespoon unsweetened cocoa powder
1 teaspoon pure vanilla extract
1 and ½ cups chocolate chunks (optional)
½ batch prepared brownies, cut into chunks
Instructions
For the Brownies:
Prepare the boxed brownie mix according to package directions. I baked my brownies in a 9x9 inch square pan, but you can make a larger batch in a 9x13 inch pan if you prefer. Once brownies have finished baking, set them aside to cool completely.
Once cooled, cut half of the brownies into large chunks and set aside.
For the Ganache:
Put the chopped chocolate into a medium bowl. Set aside.
Heat the heavy whipping cream in a small saucepan until it just begins to simmer.
Remove hot cream from heat and pour it over the chocolate. Cover the bowl and allow it to sit for 5 minutes.
Remove cover and stir ganache until smooth. If the chocolate doesn't melt, microwave ganache in 15 second intervals, stirring after each until smooth and combined. Set aside to cool.
For the Chocolate Ice Cream:
Add sweetened condensed milk and chocolate chips to a medium bowl over a saucepan of simmering water and heat on medium-low, stirring constantly until chocolate is fully melted and mixture is combined and smooth.
Remove from heat and set aside to cool completely at room temperature. You can also transfer it to the refrigerator or freezer for at least 15-20 minutes to speed up the cooling process. Make sure to stir the mixture at least every 5 minutes to loosen it up.
In a large stainless steel bowl, whip the heavy cream, cocoa and vanilla until stiff peaks form, about 3-4 minutes.
Add whipped cream to cooled fudge mixture, ⅓ at a time and gently fold until smooth and combined.
Add chocolate chunks and brownie pieces and gently fold into the cream until combined. Pour ⅓ of the mixture into a parchment lined 9-inch springform pan or a 9x5-inch loaf pan and spread evenly.
Drizzle some of the ganache on top and use a butter knife to swirl. Pour ½ of the remaining cream mixture on top and drizzle more of the ganache on top and swirl. Repeat with the remaining ice cream mixture, spread into an even layer, then drizzle and swirl some more ganache on top.
Sprinkle top with more brownie pieces and chocolate chunks, optional.
Cover with plastic wrap and freeze for up to 6 hours or overnight. Serve on the remaining brownies with extra ganache on top. Enjoy!
Notes
If you want, you could replace the chocolate chunks with chocolate chips (mini or regular) to make it easier to eat. Or you could leave them out all together.
BON APPÉTIT!
Love, Dedra
Did you make a recipe?
I'd love to see how it turned out! Follow me on Instagram and use the hashtag #queensleeappetit so I can see all of the Queenslee Appétit recipes you've made!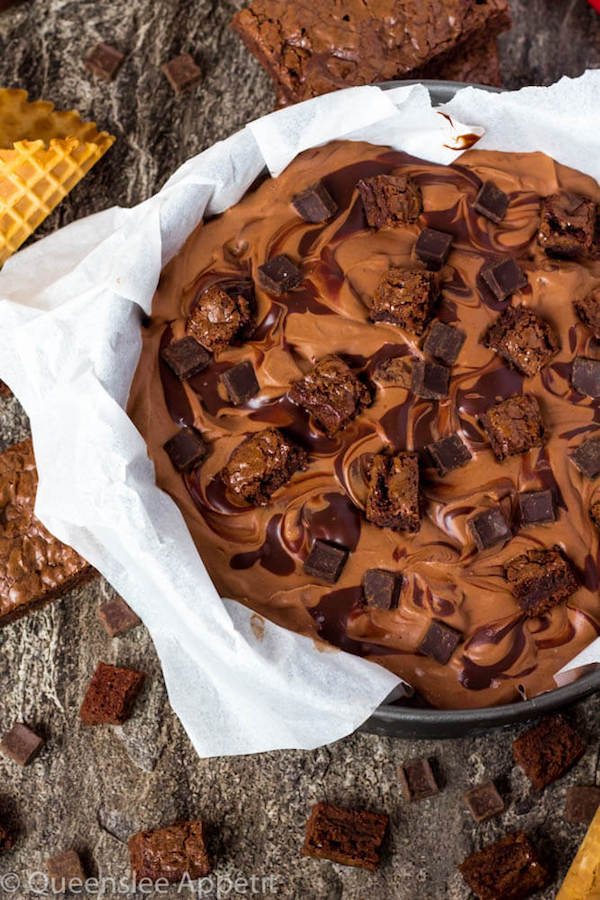 MORE NO-CHURN ICE CREAM RECIPES YOU WILL LOVE
No-Churn Toasted Marshmallow Ice Cream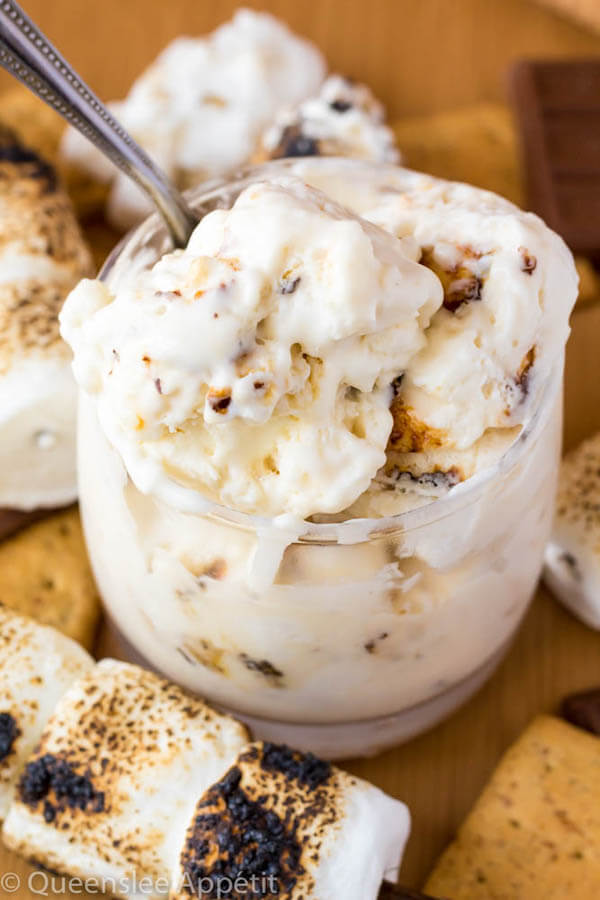 No-Churn Strawberry Cheesecake Ice Cream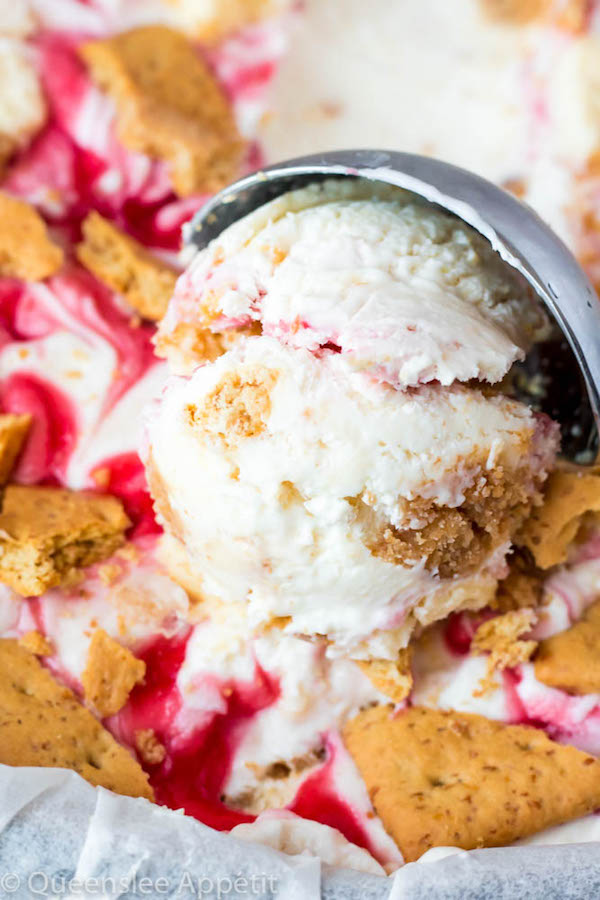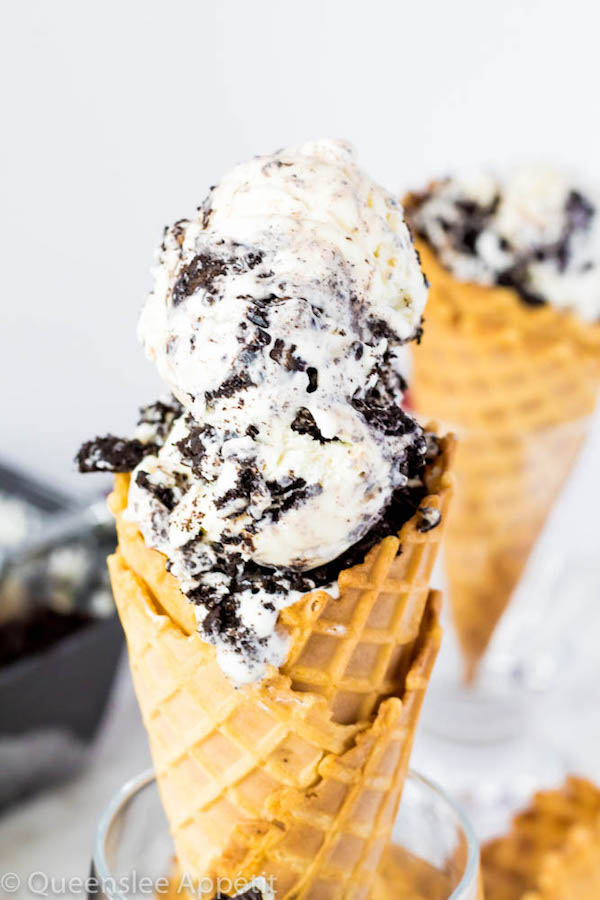 No-Churn Candied Pecan Caramel Swirl Ice Cream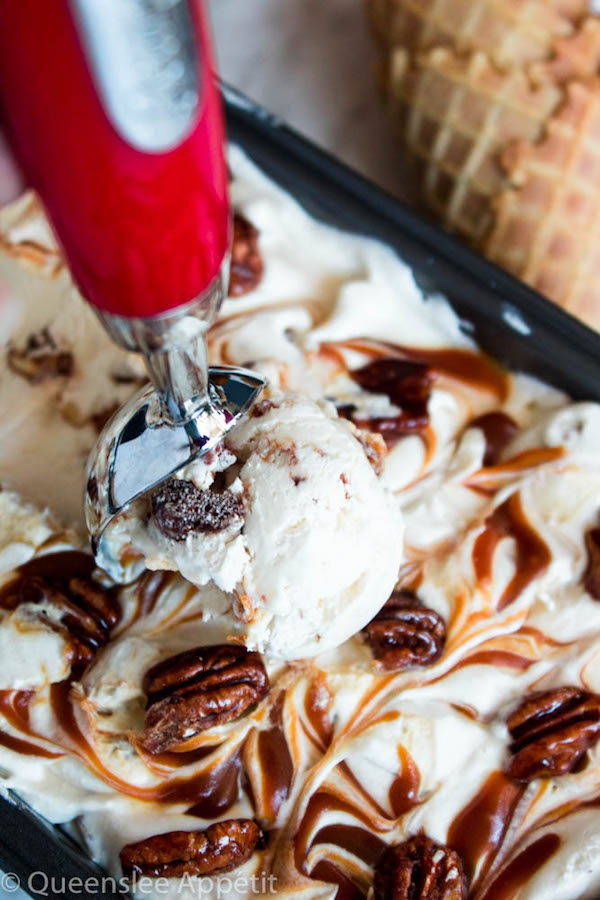 No-Churn Coffee Oreo Nutella Swirl Ice Cream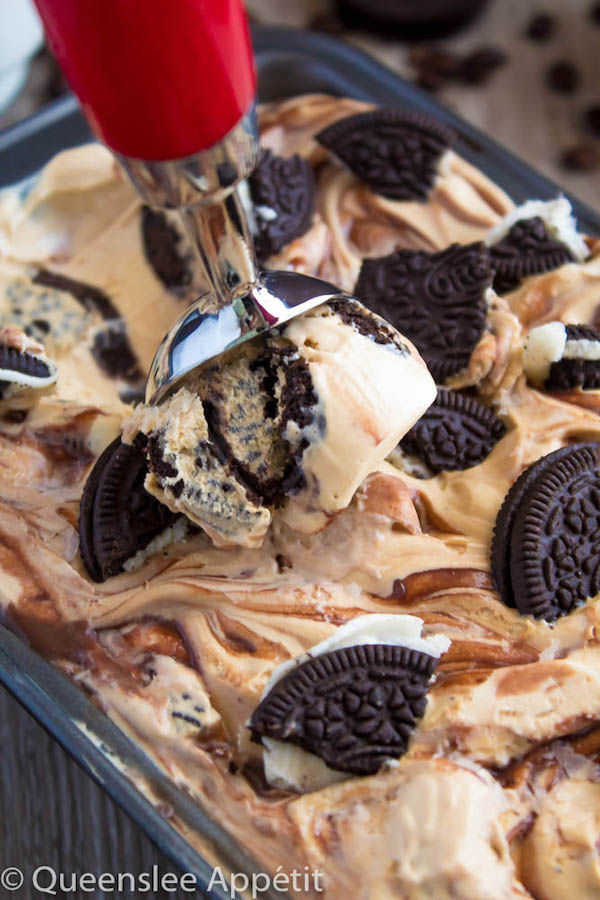 ©QUEENSLEE APPÉTIT. All images & content are copyright protected. Please do not use my images without prior permission. If you want to republish this recipe, please re-write the recipe in your own words, or link back to this post for the recipe.
This post may contain affiliate links. Please see my full disclosure policy for details.