This No-Churn Candied Pecan Caramel Swirl Ice Cream starts with a simple creamy vanilla ice cream. Mix in chunks of crunchy, sweet candied pecan pieces and swirl in a ribbon of silky homemade caramel sauce for a super easy summer treat!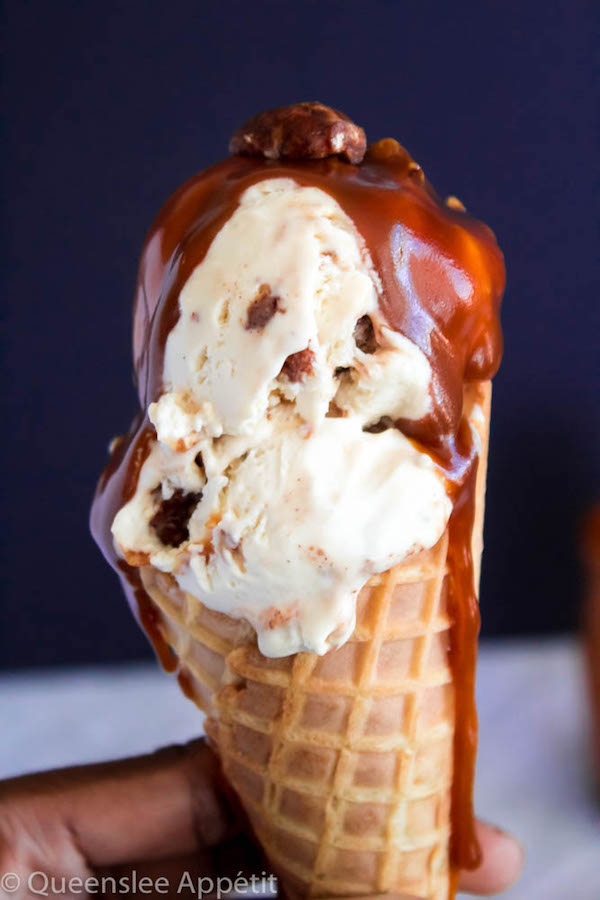 Summer has officially arrived and I've been cooking in this dreadful heat. I used to love summer as a kid because it meant no school, camping, swimming pools, water parks and ice cream trucks! Now that I'm an adult, summer mainly consist of sweating, working and slowly dying while wearing a long sleeved shirt and jeans in public because I was too lazy to shave.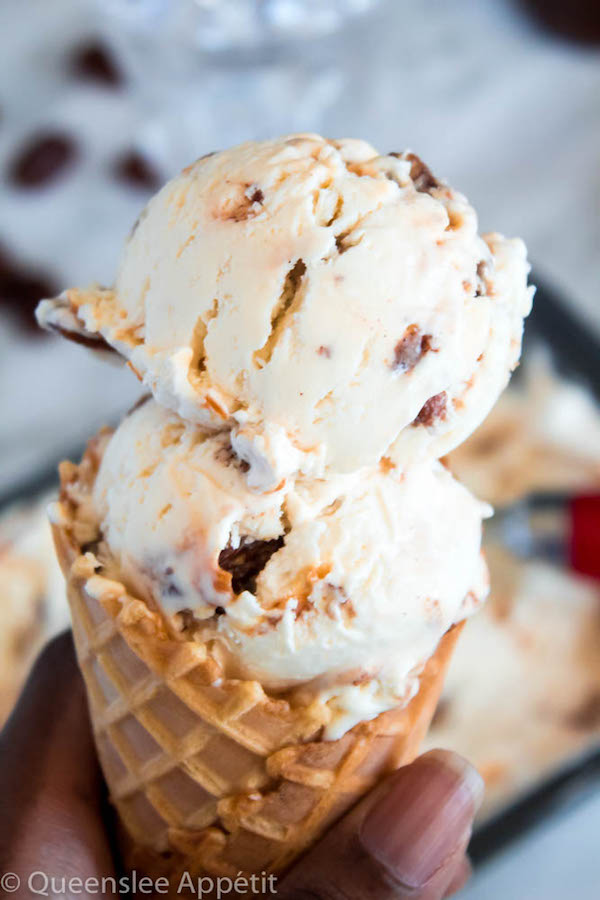 Since there's no better dessert to beat the heat than ice cream, I just knew I had to make another no-churn ice cream recipe to cool down!
The first no-churn ice cream recipe I shared on the blog was this Coffee Oreo Nutella Swirl Ice Cream, and since then I've decided to start making ice cream at home rather than buy it at the grocery store. I told myself this was a healthier option, but that's totally a lie. I mean just look at this sinful treat!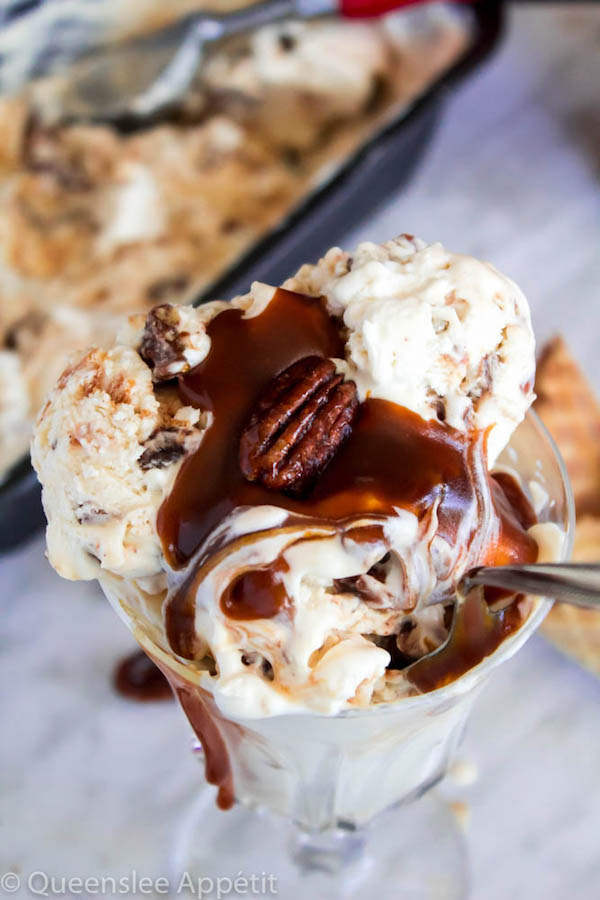 You wanna know what my favourite thing about no-churn ice cream is? To make the ice cream itself, you only need 2 ingredients: sweetened condensed milk + heavy cream. As long as you have those 2 ingredients you can add absolutely ANYTHING you want to the base to create your favourite flavours!
And it's just as creamy and smooth as store-bought ice cream, or the way too complicated ice cream you make using an ice cream machine. The difference is you don't have to spend a lot of money, and it's 100% fool proof! Whip the heavy cream into stiff peaks, then fold it into the condensed milk. Boom, bang, bing you got yourself some ice cream that can be customized to your liking.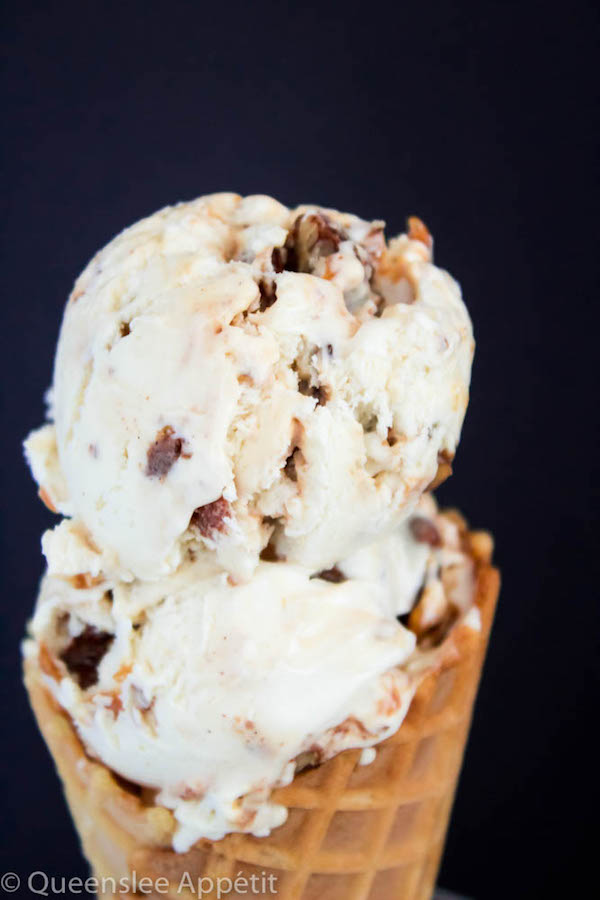 So let's discuss this flavour of ice cream. Before you make the ice cream, you're gonna need to make the candied pecans. These pecans smell and taste amazing! They're also incredibly easy to make.
Simply melt the brown sugar, cinnamon, salt and water on the stove. Then add the pecans and cook until it becomes a sticky glaze. Pour it onto a baking sheet and let it harden, which should only take a few minutes. I just had to pop a few of these into my mouth before folding them into the ice cream. They're just that good!
As tasty as these candied pecans are on their own, when folded into creamy vanilla ice cream, they can't be beat!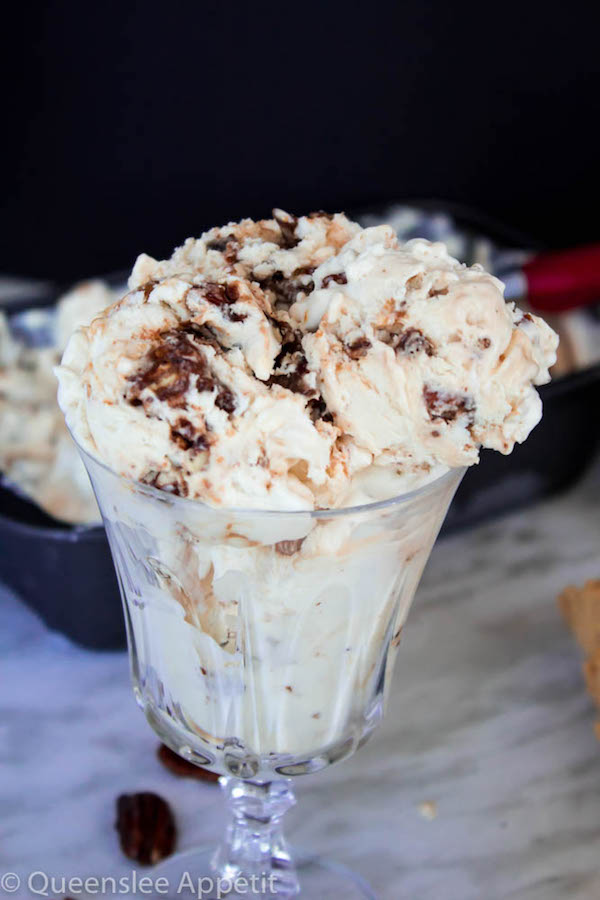 To add even more flavour to this ice cream, I swirled in some of my Homemade Salted Caramel Sauce! You can even use my Homemade Caramel Sauce instead.
I swirled the caramel through 3 layers of ice cream and added some more on top for good measure. Swirling the caramel through the ice cream also gives the ice cream itself a caramel flavour rather than plain vanilla. So much awesome!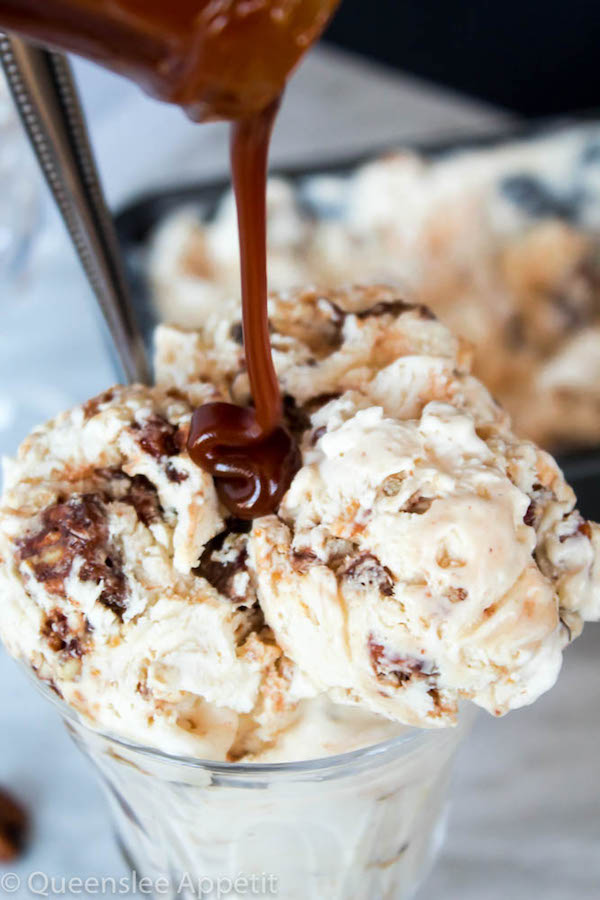 I really love the flavour combination in this no-churn ice cream. The rich and creamy vanilla ice cream paired with the clusters of sweet and salty candied pecans and ribbons of salted caramel sauce are a match made in ice cream heaven!
Only a few ingredients are needed, and an ice cream machine is not. Everyone needs to have some of this super yummy pecan caramel ice cream in their freezer for the most urgent ice cream emergencies, especially in this hot weather. Enjoy!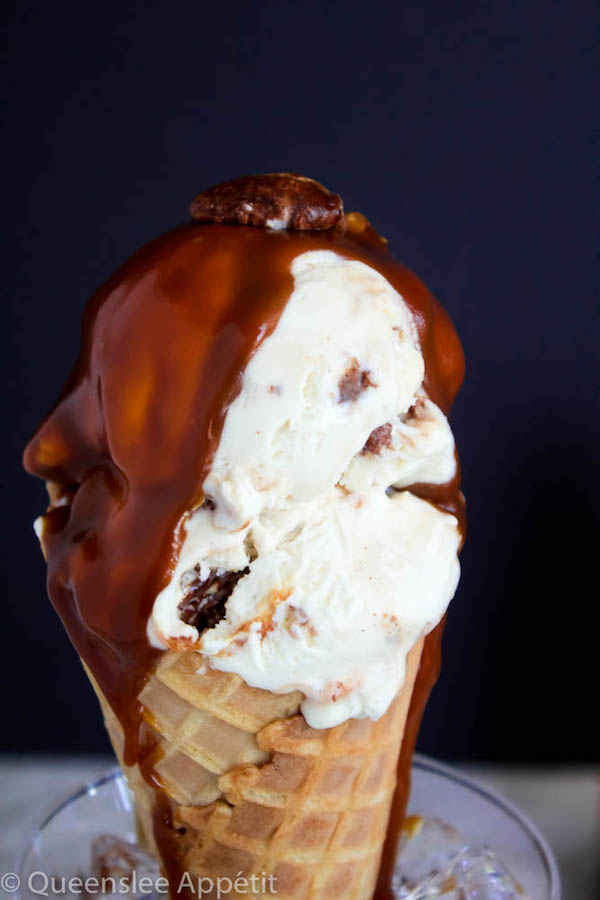 >>PIN ME FOR LATER<<

FOLLOW QUEENSLEE APPÉTIT
Pinterest | Instagram | Facebook | Twitter |
Did you make a recipe? I'd love to see how it turned out! Follow me on Instagram and use the hashtag #queensleeappetit so I can see all of the Queenslee Appétit recipes you've made!
Never miss a recipe, SUBSCRIBE at the bottom of this post!
Let's get baking!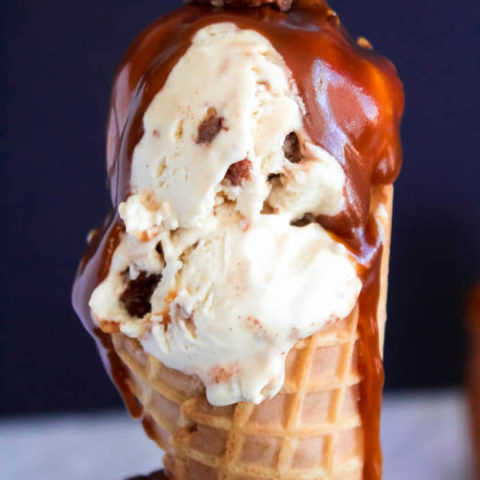 No-Churn Candied Pecan Caramel Swirl Ice Cream
This No-Churn Candied Pecan Caramel Swirl Ice Cream starts with a simple creamy vanilla ice cream. Mix in chunks of crunchy, sweet candied pecan pieces and swirl in a ribbon of silky homemade caramel sauce for a super easy summer treat!
Ingredients
Candied Pecans:
¾ cup light brown sugar
¾ teaspoon ground cinnamon
½ teaspoon salt
3 tablespoon water
1 and ½ cups pecan halves
Vanilla Ice Cream:
2 cups Heavy Whipping Cream
1 tablespoon pure vanilla extract
14 oz (1 and ¼ cup) sweetened condensed milk
Instructions
For the Candied Pecans:
Line a large baking sheet with parchment paper or a silpat mat. Set aside.
Add brown sugar, cinnamon, salt and water to a skillet and cook over medium heat until sugar is dissolved and bubbling, stirring constantly with a wooden spoon.
Add pecans and continue to cook, stirring occasionally for about 3-5 minutes or until sugar cooks down into a thick glaze and coats the pecans. Spread onto prepared baking sheet and allow to cool completely or until it forms a hard shell, 5-10 minutes.
Break into pieces and set aside, or store in an airtight container at room temperature until ready to use. Feel free to roughly chop the pecans, if you prefer.
For the Vanilla Ice Cream:
In a large bowl, whip the heavy cream and vanilla until stiff peaks form, about 3-4 minutes.
Add sweetened condensed milk and mix on low speed until fully combined. Fold in candied pecan pieces.
Pour ⅓ of ice cream mixture into a 9x5 loaf pan and spread evenly. Drizzle caramel sauce on top and use a butter knife to swirl. Pour half of the remaining cream mixture on top and drizzle on more caramel sauce and swirl. Repeat with the final layer of ice cream and a swirl of caramel sauce.
Cover with plastic wrap and freeze for up to 6 hours or overnight. Enjoy!
©
QUEENSLEE APPÉTIT
. All
images & content are copyright protected. Please do not use my images without prior permission. If you want to republish this recipe, please re-write the recipe in your own words, or link back to this post for the recipe.
BON APPÉTIT!
Love, Dedra ❤